Mountaintop yurts and cozy beachside RVs await all backpackers, couples, friends, and families, along with their loyal furry friends in Pennsylvania.
Glamping Pennsylvania is often thought of as a novelty activity, considering it has cities like Philadelphia and Pittsburgh to lure tourists in the droves.
However, those who are drawn to nature know that Pennsylvania is also home to wild forests, flowing rivers, impressive rock formations, misty mountains, majestic waterfalls, and a whole abundance of natural wonders.
If you are someone who seeks thrilling adventures in the heart of nature, there isn't a better place you could have chosen for your next glamping trip.
Just because you love wild adventures doesn't mean you have to rough it up when it comes to your accommodations. You can have a healthy dose of fresh air and watch shooting stars under the night sky, while still enjoying all the modern amenities.
How? Well, check out this list of the best places to go glamping in Pennsylvania!
In a Hurry? Here are The Top Glamping Pennsylvania Sites for One Night
FIRST TIME IN PENNSYLVANIA
Little Bear Luxury Camp
This glamping site is the stuff of dreams! You get to stay in the heart of Pennsylvania's natural beauty near a charming small town, minutes from the best state parks, with all the luxuries at your fingertips. And did we mention that it's budget-friendly?
NEARBY ATTRACTIONS:
Ricketts Glen State Park
Worlds End State Park
Town of Dushore
Is this amazing Pennsylvania Glamping Site booked for your dates? We've got your back with our other favorite properties below!

Unlock Our GREATEST Travel Secrets!
Sign up for our newsletter and get the best travel tips delivered right to your inbox.
What is Glamping?
Most of us have heard of glamping by now, considering how the word buzzed through the tourism industry in the last decade. The word 'glamping' is a blend of the words 'glamorous' and 'camping'. The concept itself is even more flexible and goes beyond traditional tent camping. Today, RVs, buses, treehouses, safari tents, domes, yurts, and a lot more come under the umbrella term of glamping.
One thing that all these accommodations have in common is that, similar to camping, they are found within nature in areas such as mountaintops, the beach, creeks, or a lake. They can also be tucked away in the woods, on the fringes of massive private properties, and be secluded and separate from the concrete world.
That took care of the camping part, but what about the glam? The most basic amenity that almost every glamping site would have – even the absolute cheapest ones – is a bed.
From there, it builds up to the extent that there are glamping sites with amenities that you'd normally find in luxurious châteaux. Depending on your budget and preferences, you can find glamping sites with any number of conveniences such as indoor bathrooms with hot showers, kitchens, fire pits, and more.
At times, you wouldn't even realize you are inside a tent or a dome and not in your apartment or a castle.
OVERALL BEST VALUE GLAMPING SITE IN PENNSYLVANIA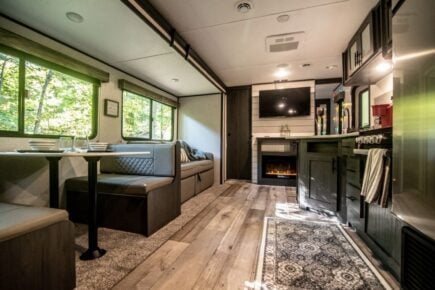 OVERALL BEST VALUE GLAMPING SITE IN PENNSYLVANIA
Little Bear Luxury Camp
> $
> 4 guests
> HDTV with Disney+, Roku, Hulu, Netflix
> Mountain Views
BEST BUDGET GLAMPING SITE IN PENNSYLVANIA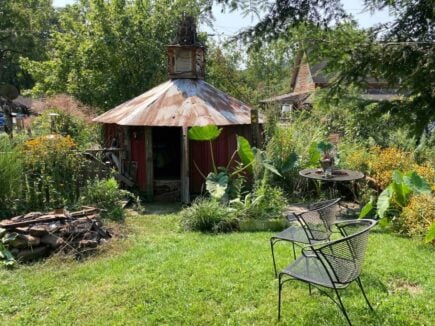 BEST BUDGET GLAMPING SITE IN PENNSYLVANIA
Rafferty Manor Yurt
> $
> 2 guests
> Indoor fireplace
> Rustic Yurt from 1918
BEST GLAMPING SITE FOR HONEYMOONERS
BEST GLAMPING SITE FOR HONEYMOONERS
The Glamper
> $$$
> 2 guests
> Breakfast provided
> A remodeled Vintage 1975 Airstream
BEST GLAMPING SITE FOR COUPLES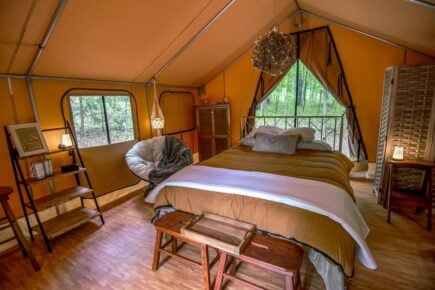 BEST GLAMPING SITE FOR COUPLES
Woodland Streamside Glamping
> $$
> 2 guests
> Indoor fireplace
> Next to a babbling brook
BEST GLAMPING SITE FOR A GROUP OF FRIENDS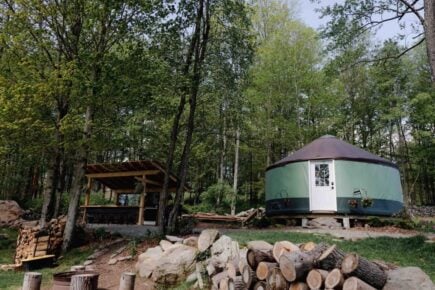 BEST GLAMPING SITE FOR A GROUP OF FRIENDS
Farm Yurt
> $$
> 4 guests
> Pets allowed
> On a working farm
OVER-THE-TOP LUXURY GLAMPING SITE
OVER-THE-TOP LUXURY GLAMPING SITE
Safari Luxury Tent
> $$$$
> 4 guests
> Eco-friendly restrooms
> On a historic farm
BEST GLAMPING SITE FOR FAMILIES VISITING PENNSYLVANIA
BEST GLAMPING SITE FOR FAMILIES VISITING PENNSYLVANIA
Philly Glamping Treehouse
> $$
> 10 guests
> Private hot tub
> 100 years old family farm
The 15 Most Scenic Glamping in Pennsylvania
With summers just around the corner, I'm sure you are planning this year's outdoor excursion and searching for the most scenic and comfortable glamping sites.
With its thousands of miles of challenging hikes and hundreds of fishing, biking, rock climbing, and boating opportunities; there is no shortage of outdoorsy places to visit in Pennsylvania, and glamping is definitely the best way to experience them.
So if that sounds good to you, here is the best glamping in Pennsylvania has to offer:
$
4 guests
HDTV with Disney+, Roku, Hulu, Netflix
Mountain Views
The tiny town of Dushore lures hordes of nature-lovers every year with its idyllic setting and the scenic landscape that surrounds it. Amid its rugged natural beauty is the Little Bear Luxury Camp. We call it luxurious because it has all the luxury, and then some, that you'd find in a lavish hotel suite.
The camper features a spacious living area, AC and heater, a fireplace, full bathroom, HDTV, sound system, fully-outfitted kitchen, Wi-Fi, and so much more. And the patio, from where you can watch the night sky and appreciate the breathtaking view of the mountains, is bedecked with outdoor furniture, a charcoal grill, and a firepit.
This glamping site is best suited for those who want to actively participate in outdoor activities yet want to stay in a quiet, secluded part where the night sky comes alive every evening. Within minutes of Pennsylvania's most popular state parks, the guests get access to hiking, swimming, boating, whitewater rafting, and wildlife watching.
Best Budget Glamping in Pennsylvania – Rafferty Manor Yurt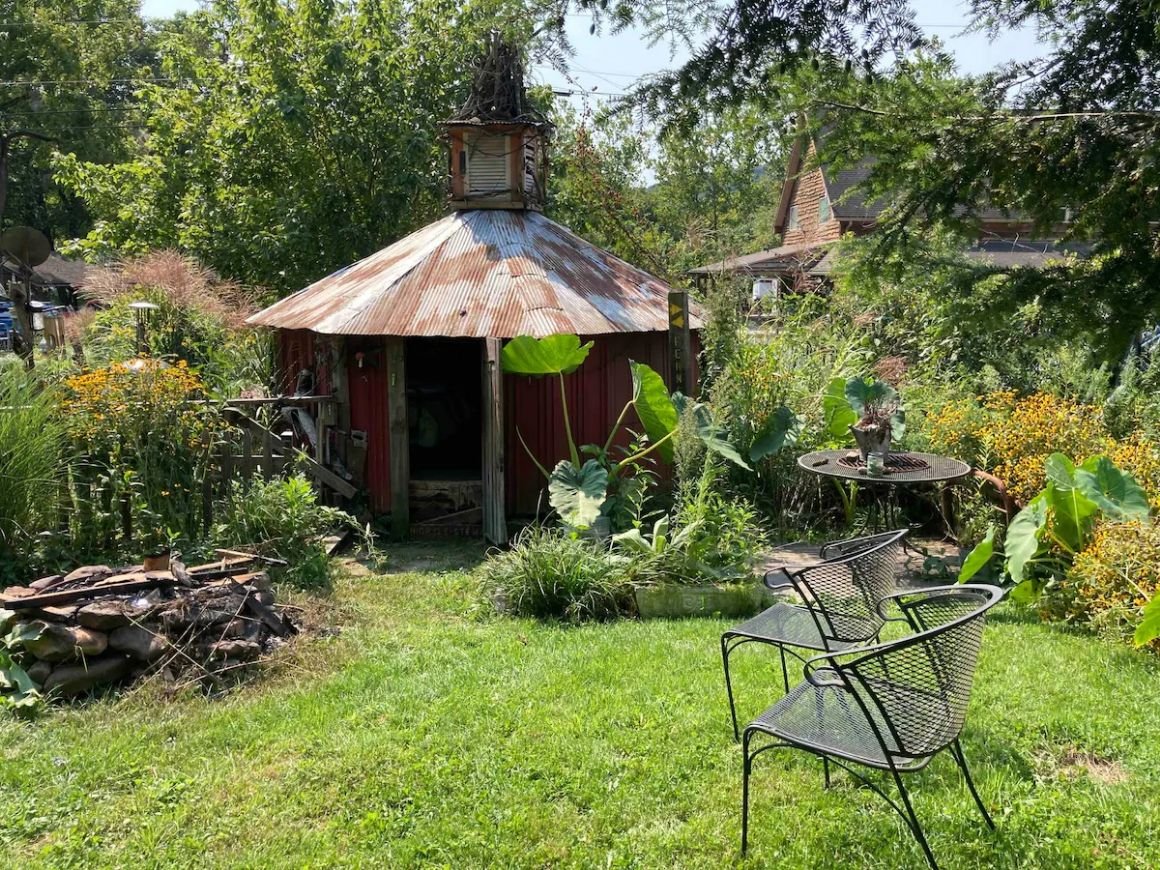 $
2 guests
Indoor fireplace
Rustic Yurt from 1918
This rustic yurt in Rafferty Manor is a jackpot for those with an aptitude for adventure and a love for historical architectural layouts.
Constructed in 1918, the yurt is located in Ohiopyle State Park and has all the cozy comforts you need to disconnect from the modern world and connect with nature and simple living. The yurt features a wood burner, two single beds, large windows, and hardwood floors. The bathroom and shower are provided next door for convenience.
This budget glamping option is for true nature lovers, who are traveling with the sole purpose of spending their days at the river which is within walking distance from the yurt, and biking on the trails with the dense forest on either side.
Best Glamping in Pennsylvania for Honeymooners – The Glamper
$$$
2 guests
Breakfast provided
A remodeled Vintage 1975 Airstream
This glamorous camper in Columbia is just a chef's kiss. Sure, it's a bit on the pricier side, but it's worth every penny. Besides, there's no compromise on class and a little bit of a magical setting, when it's your honeymoon.
This glamping site features a fully remodeled airstream from 1975, located on a farmhouse. From this location, you can go sightseeing at Columbia, Lancaster, Gettysburg, Hershey, and more. Only if you manage to pull yourself out of this piece of heaven, is that it.
Inside the camper, you will find a full-size memory foam mattress, a spacious bathroom, a fully-outfitted kitchen with a two-burner cooktop, oven, and refrigerator, a flat-screen TV, and a dining table.
The kitchen is outdoors under a wooden awning, along with a fire table, and a living area. If you are planning on bringing a dog, this place is ideal as the hosts will provide your furry companion with all the essentials he/she needs for a small additional fee.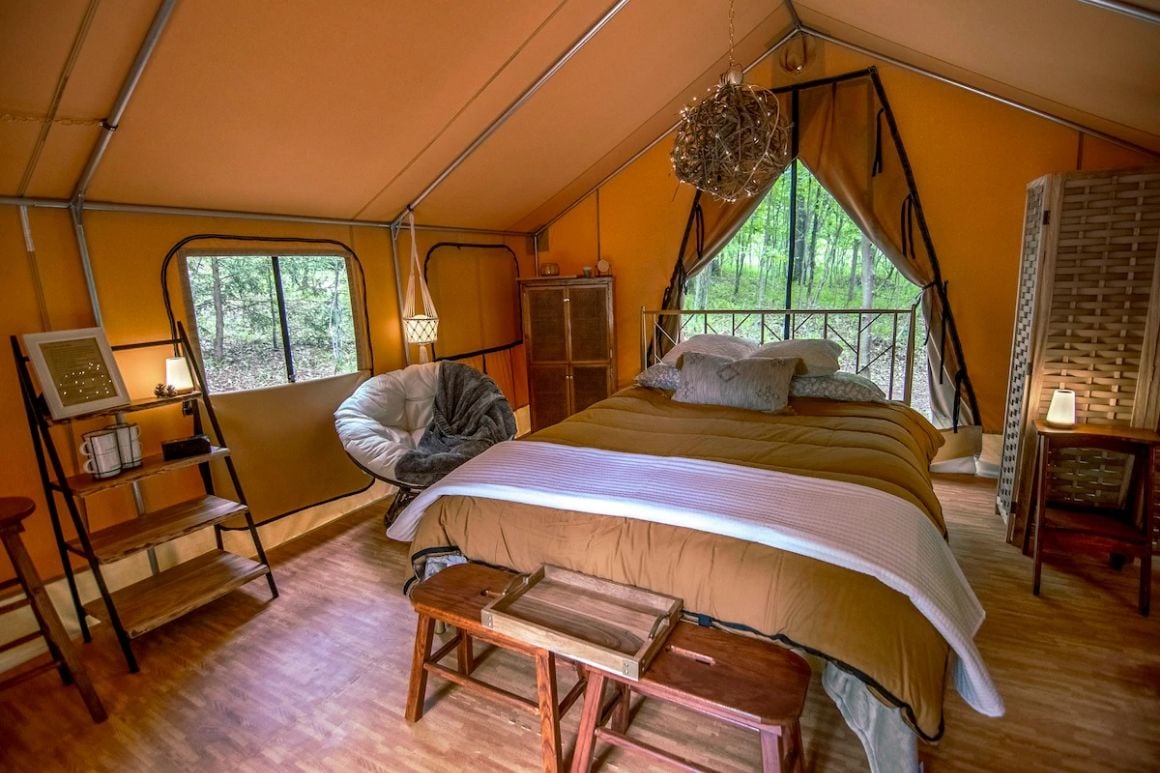 $$
2 guests
Indoor fireplace
Next to a babbling brook
This glamping site in Kane, Pennsylvania takes the couple's retreat to a whole nother level. The outfitter's tent is nestled deep in the woods, right next to a babbling brook, making you feel like the only two people in the world.
The cozy tent features a queen-sized bed, furniture for lounging, a food prep table, wood stove, propane heater, Bluetooth speaker, handmade soaps, electricity, and a separate bathroom and shower tent. This glamping site is well-matched for couples who love the outdoors, nature, luxury, and a chance to disconnect from the modern world and recharge their minds and souls in nature.
Time here passes slowly and peacefully as you spend your days sitting by the stream, sipping your coffee, and enjoying the sights and sounds of nature all around you.
Is This the Best Travel Pack EVER???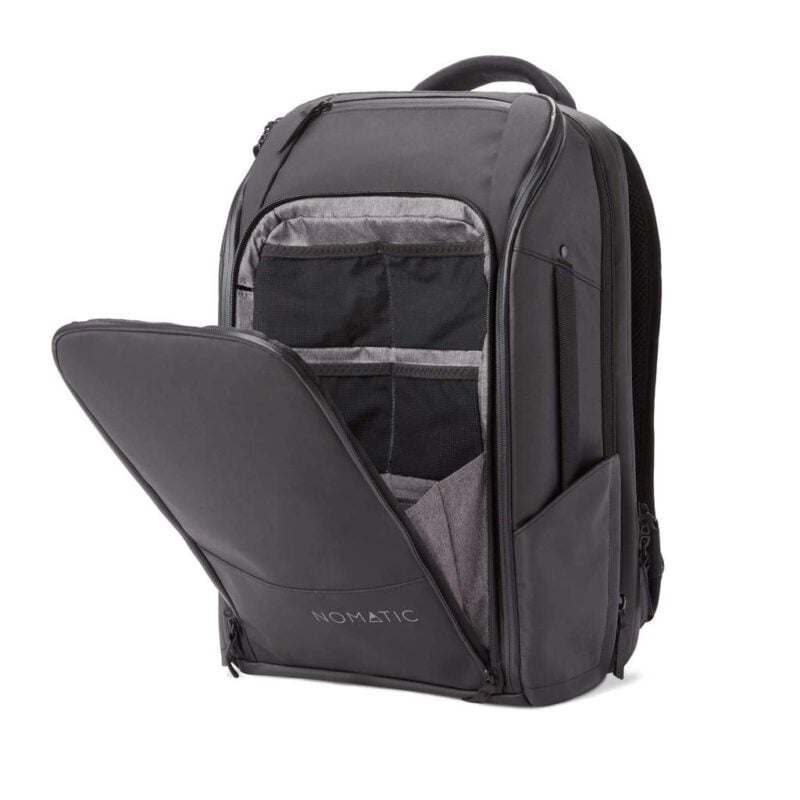 Best Glamping Pennsylvania for a Group of Friends – Farm Yurt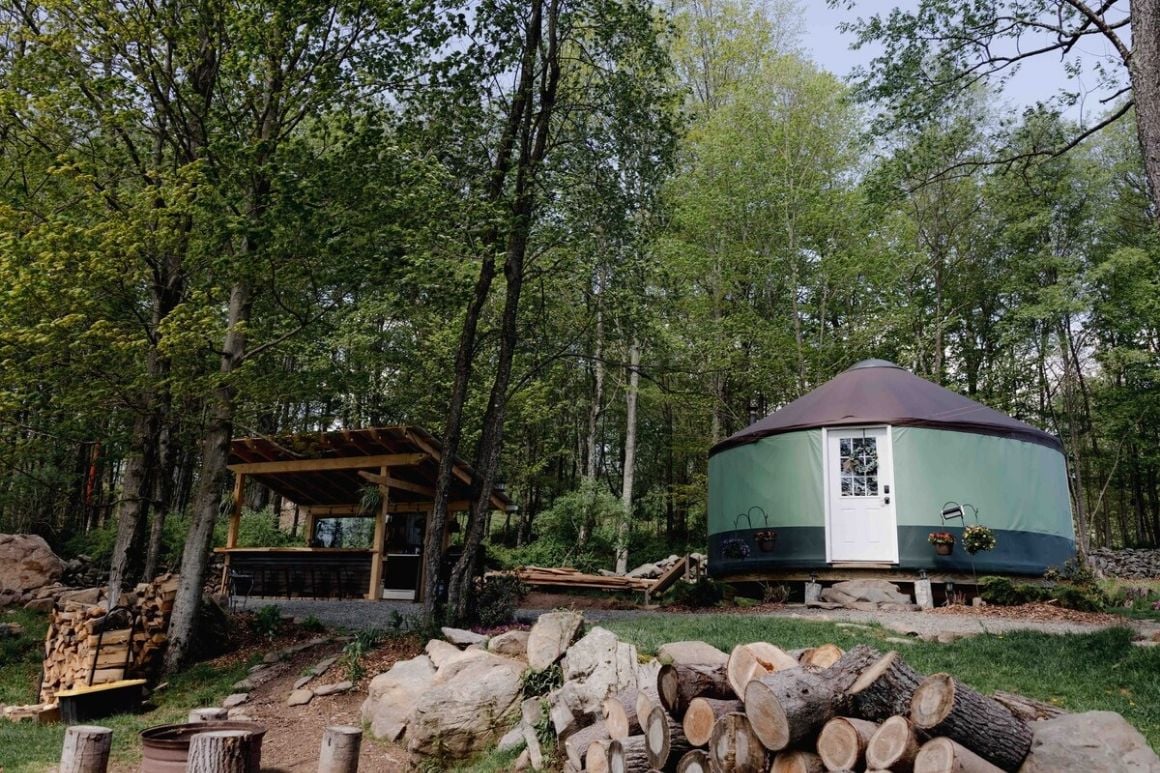 $$
4 guests
Pets allowed
On a working farm
The ultimate recipe to finding peace is hanging out somewhere far from home with your best friends, surrounded by gently grazing farm animals, and only the pastures, green knolls, and wooded lands in your sights. And guess what? This farm yurt on the tranquil lands of South Sterling has figured it out!
The elegant yurt has a charming decor with a queen size canopied bed, a pull-out couch, dining area, water containers, and a dome skylight to give you uninterrupted views of the starry night sky. The outdoor kitchen provides a fun place to cook your gourmet meals as you enjoy the fresh air and wholesome views of the working farm around you.
This yurt is for those groups of friends who are eager to experience the joys of simple country life, and ready to give up some of their dependencies, such as internet connection, an abundance of electricity, and running water.
So, what do you do here to get busy? You head over to Lake Wallenpaupack for boating, fishing, and having access to all kinds of water sports and local restaurants along the coast. Then there are the two-state parks to offer you hiking trails and some more water bodies to explore.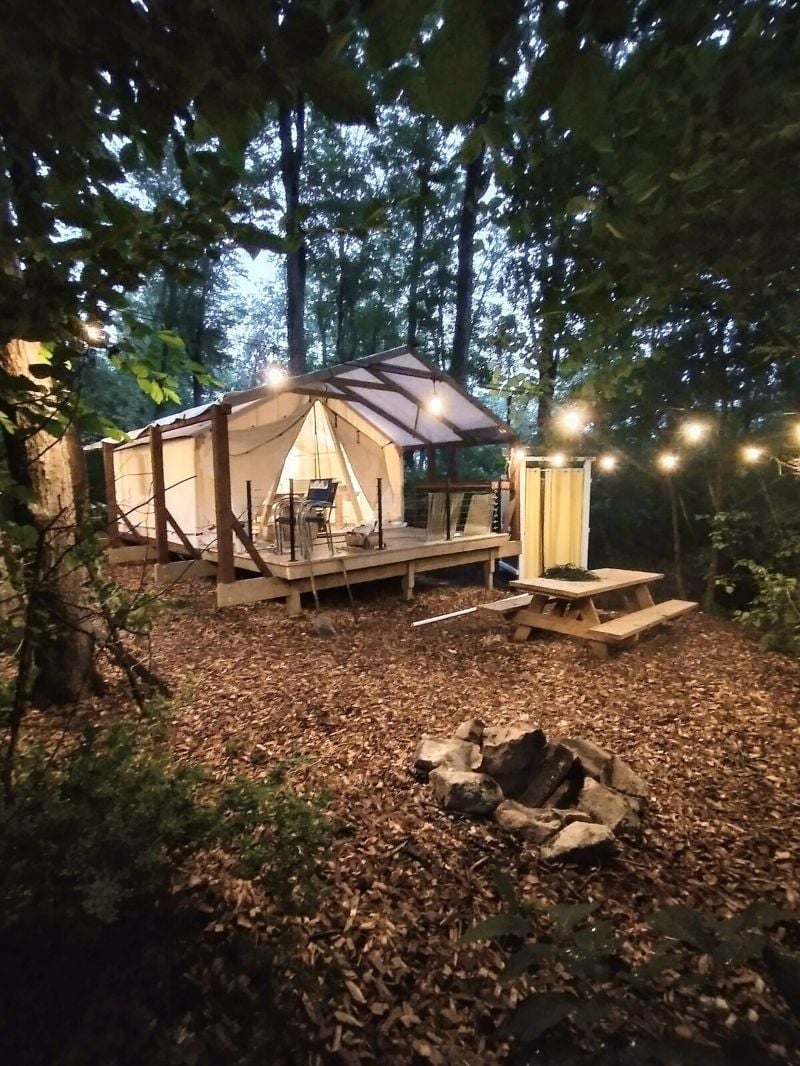 $$
4 guests
Pets allowed
Décor like that of a hotel
Located in the heart of sprawling woods in Mill Creek, Pennsylvania, this glamping site allows you all the luxuries of a hotel room and all the magic of camping. It's super clean and charming, the tent features a queen bed with memory foam, private outdoor showers, a porta-pot nearby, bedroom essentials, string lights, electricity outlets, a propane stove, a Dutch oven, and much more.
The idea of true fun in this glamping site is sitting around a campfire or enjoying your meals on the picnic table and basking in the scenic nature all around you, and at night, you drift off to the most peaceful sleep of your life to the music of nature.
Over-the-Top Luxury Glamping Pennsylvania – Safari Luxury Tent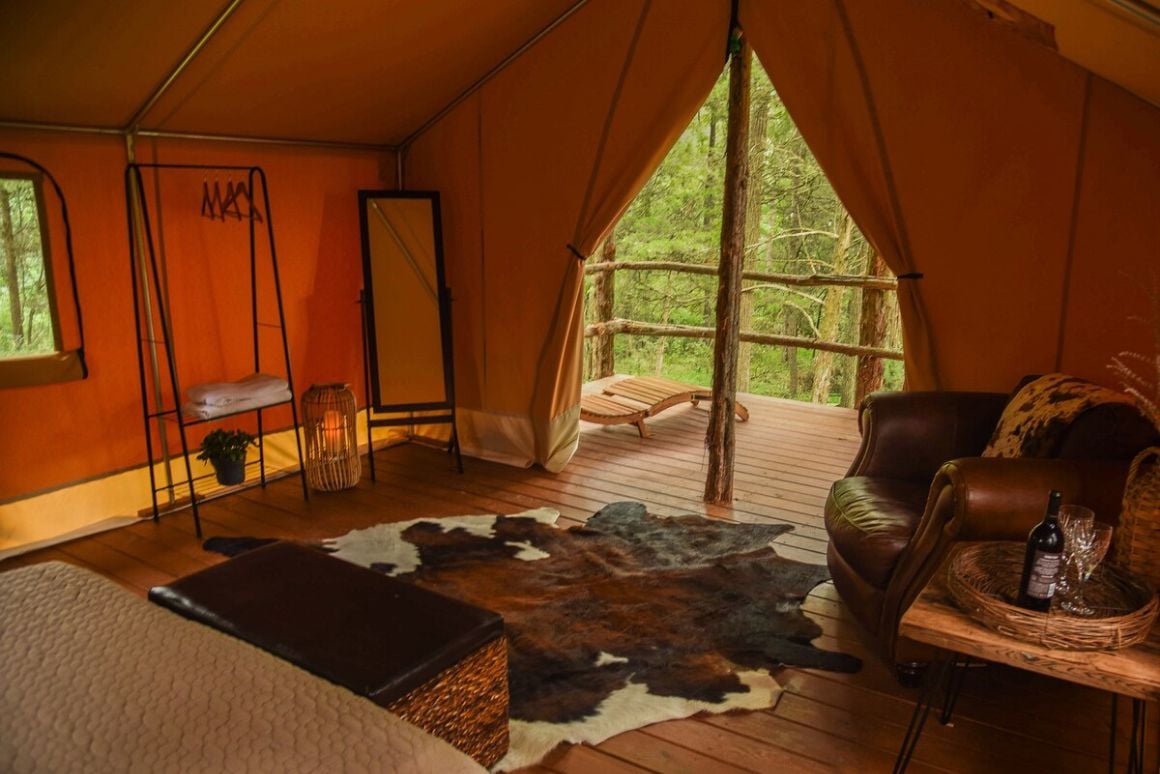 $$$$
4 guests
Eco-friendly restrooms
On a historic farm
Once upon a time, the Confederate Army camped on this historic farm during the Civil War. Today it is home to two luxurious Safari tents, which you can book individually or both at the same time. The 168-acres of the farm is located on a green hill just outside of Gettysburg and is surrounded by lush green, and well-manicured lawns dusted with a blanket of white clover.
By now, you can already imagine how breathtaking and serene this secluded site is. It is just a place to escape to and meditate, in the fresh air, under the star-filled night sky, and to the sound of nature all around.
Each tent features a queen-sized bed, a comfy seating area, and an overlook deck to help guests enjoy the view. There's also a fire pit with a grill, dining area, and an outdoor shower along with an eco-friendly restroom. For some outdoor activities, you are surrounded by a wooded area with tons of defined hiking trails.
Best Glamping in Pennsylvania for Large Families – Philly Treehouse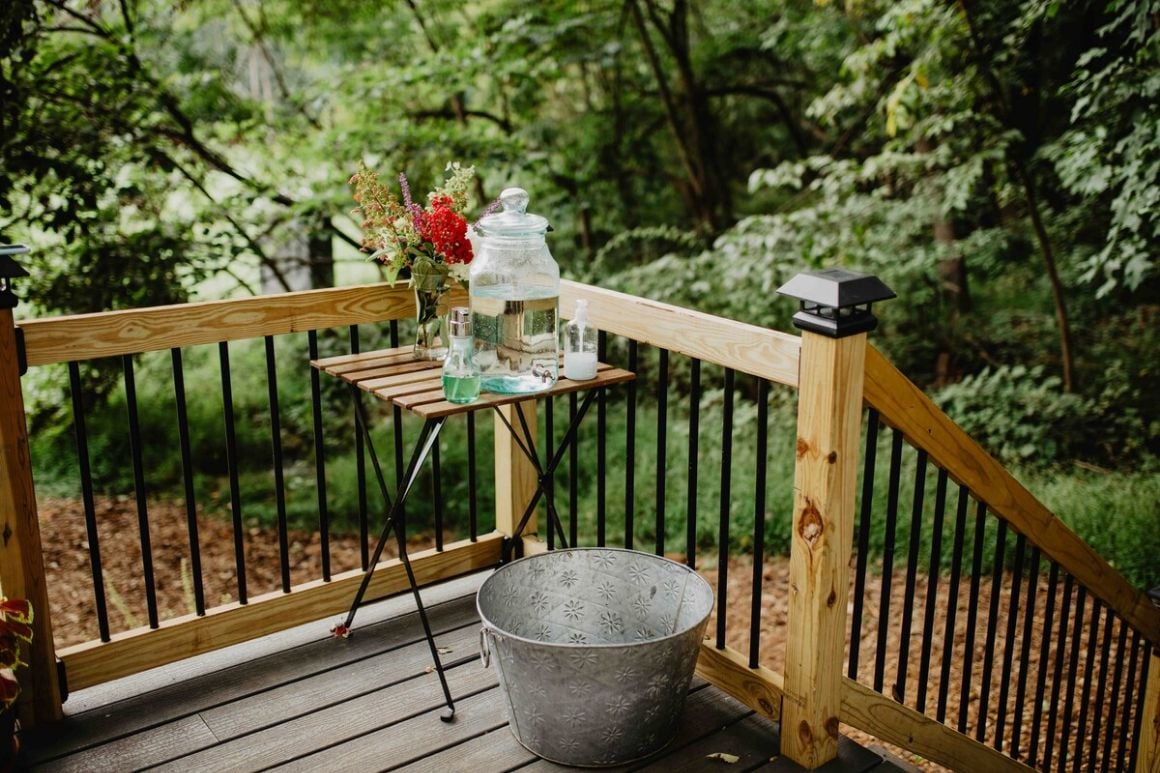 $$
10 guests
Private hot tub
100 years old family farm
This glamping treehouse located on a 100-years old family farm just outside of Philly is just the place to bring your kids and your grandparents for wholesome and quality family time while travelling in Philidelphia. All around the glamping site is a wooded area that is completely safe for the kids and the elders to explore.
The treehouse itself has a deck for a place for the entire family to sit together on the lounge chairs, and enjoy drinks and snacks while appreciating the breathtaking view of the field. There's also a hot tub here to spoil you. The field is all yours too with hammocks, an outdoor dining area, a gas grill, and a fire pit.
Entering the cozy tent, you'll find modern and luxurious décor, with a fully-functional kitchen, a king-sized bed with memory foam, and two twin-sized beds. You can come down on the field using the stairs, or join the kids on the slides. Ringing Rocks Park, a grocery store, and all the local restaurants are walking distance from the glamping site.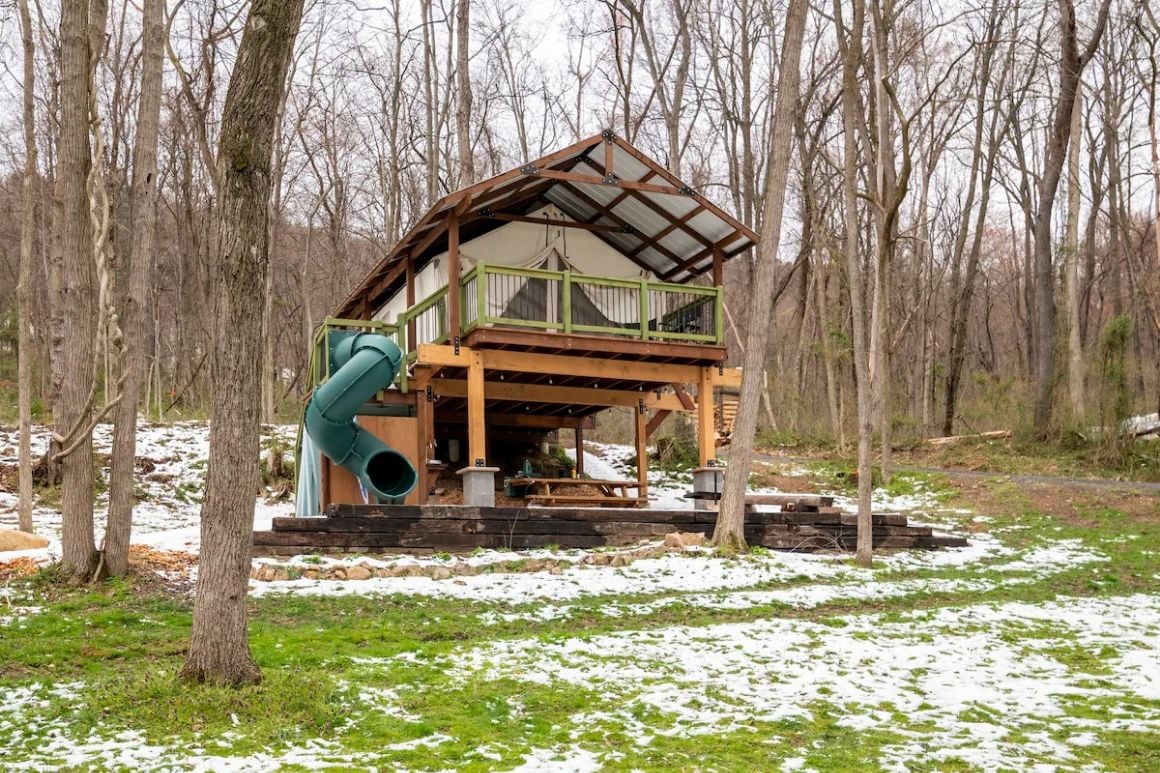 $$
6 guests
Pets allowed
Luxurious family tent
Guests will have an exquisite time in this fun-filled luxurious glamping accommodation in a small village in Big Valley.
Located in Airydale Pennsylvania, the amenities are well-suited for a family traveling with kids. This cabin in Pennsylvania includes a canvas tent and the front porch and provides amenities such as a propane camp stove, fire pit, bunk beds, picnic table, and even a slide, the latter is quite popular amongst the kids and those young at heart!
The hosts also provide a bag of goodies along with a cup of campfire coffee every morning, so you can sip delicious beverages while appreciating the beautiful green views all around you.
For embarking on some outdoor adventures, head over to the nearby Raystown Lake, where activities such as boating, fishing, hiking, water skiing, and much more await you. For some more wild adventures, there are acres and acres of State Parks and State Forests near the glamping site.
Best Glamping Pennsylvania for Backpackers – Eclectic Cozy Yurt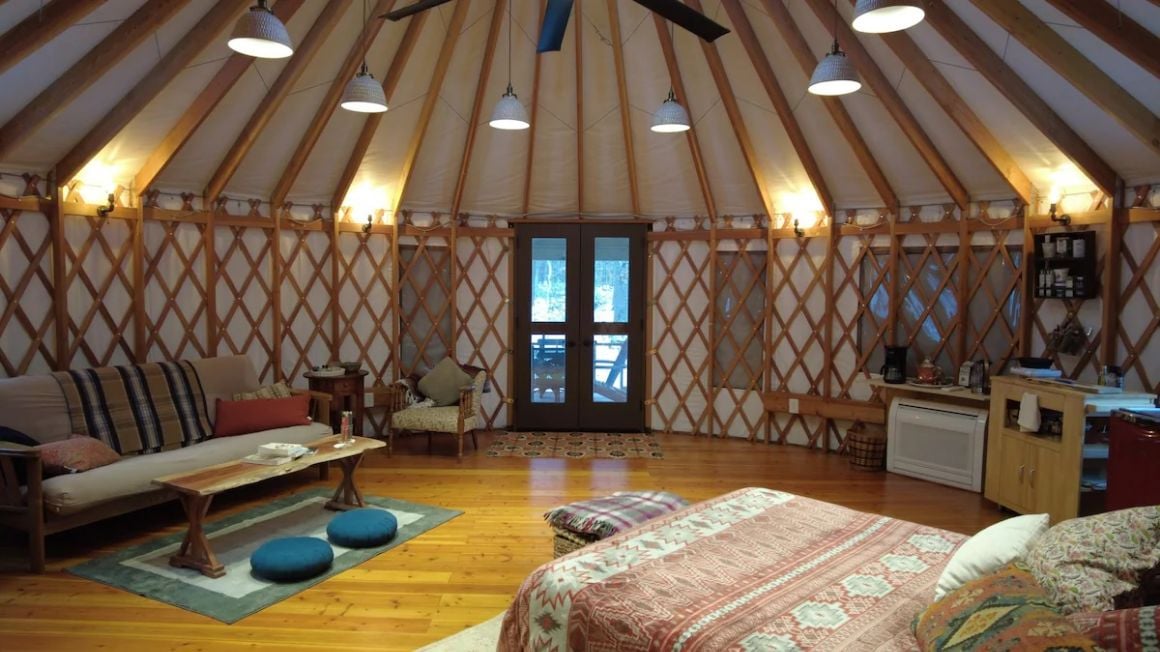 $
4 guests
WiFi
Mountain Views
The amenities and facilities provided by this glamping site are so vast and luxurious, that even those who aren't traveling on a budget will go for this one! And did we mention that the site offers mountain views?
A glamping site like this is truly a great find! The modern yurt is perfect for backpackers traveling on a budget and has high expectations. Far from the hustle and bustle of noisy city life, the yurt is surrounded by woods all around in a peaceful and secluded clearing.
It comes with everything you need to be comfortable including AC/heating, a fully-equipped kitchen with breakfast items, WiFi, board games, a hammock, a queen-sized bed, and a full-sized futon amongst many other things. The front and back porch has plenty of seating arrangements so you can enjoy the beauty of Pennsylvania's nature. The private bathhouse is also heated with hot water and all the toiletries.
When you feel like you have lounged enough, head over to the charming West Reading and explore the town, or you can explore all the hiking and biking trails minutes from this amazing Airbnb in Pennsylvania.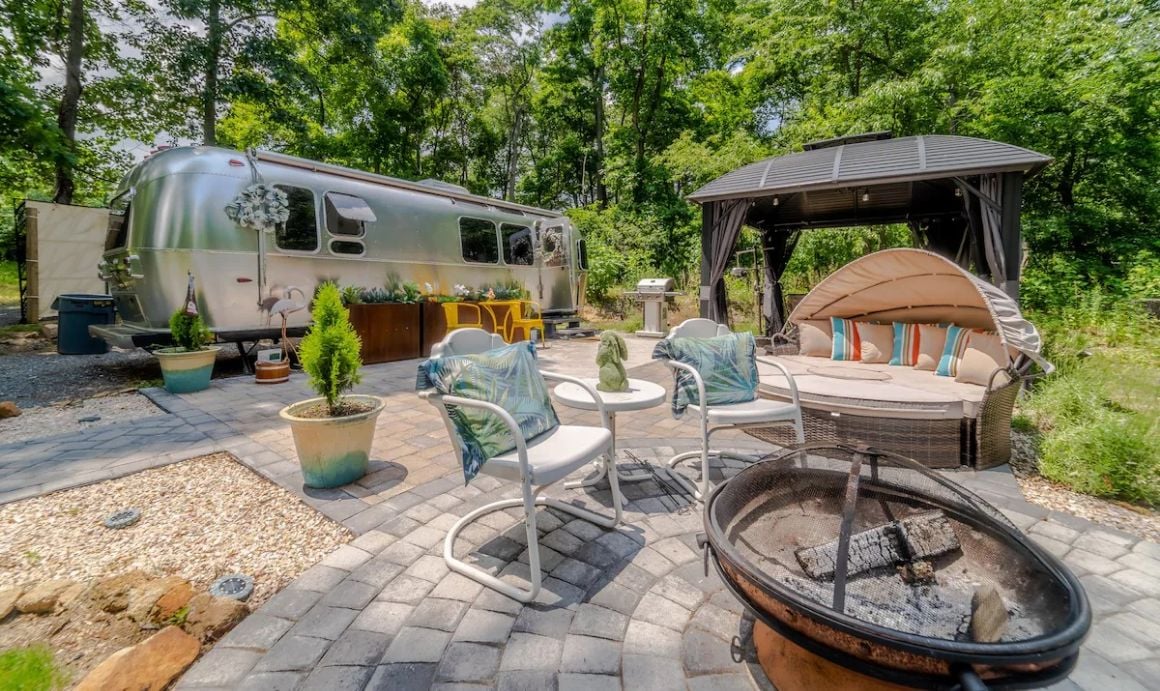 $$$
2 guests
Private hot tub
Finest 1931 Airstream
If you have a few more bucks to spare, then this deluxe airstream in Orrtanna is the best choice in Pennsylvania to make you feel like an elite! With this glamping site, you'll have every luxury and high-end amenities at your fingertips.
Let's begin with the overall appearance of the glamping site, one look, and it will take your breath away, with its modern and state-of-the-art décor. It's ironic because the airstream is from 1931, and has been renovated to look like what it does today.
Inside the coach is like a private airplane with a master suite, a fully-equipped kitchen with an entire cooking range, an expansive and comfy sofa, a living room with a flat-screen TV, and a dining table. You also get WiFi and pocket WiFi. The coach is also heated and air-conditioned, to welcome guests during every season.
The outdoor area is paved and fully furnished – along with a hot tub – so you're as comfortable outside as you'd be inside the coach. The camper is located in the woods, on an old apple orchard, so guests are free to explore.
The Absolute Cheapest Glamping Pennsylvania – Winnebago Weekender
$
4 guests
Fast WiFi
A Vintage 1989 Winnebago
The best thing about glamping is that it doesn't discriminate against anyone based on their financial standing. Even if you can only afford the absolute cheapest glamping site, you'll get the greatest value for your money. For instance, this vintage Winnebago in Mount Union comes with a fast WiFi with a speed of 71 Mbps and a TV with Chromecast.
This glamp site might be cheap, but it isn't lacking in any way. It comes with a clean and well-furnished living room, a full kitchen, a bedroom with twin beds, a full bathroom, and a dining room. You also have a patio with a dining table and a well-manicured backyard.
Since the RV is located right next to the host's house, you get access to full electricity, sewer, WiFi hookups, etc. And the cherry on top, the RV stands only six miles from the Agape Retreat Center, 24 miles from Seven Points Marina at Lake Raystown, and five miles from the American Legion Country Club.
Best Glamping in Pennsylvania for a Weekend – Airydale Glamping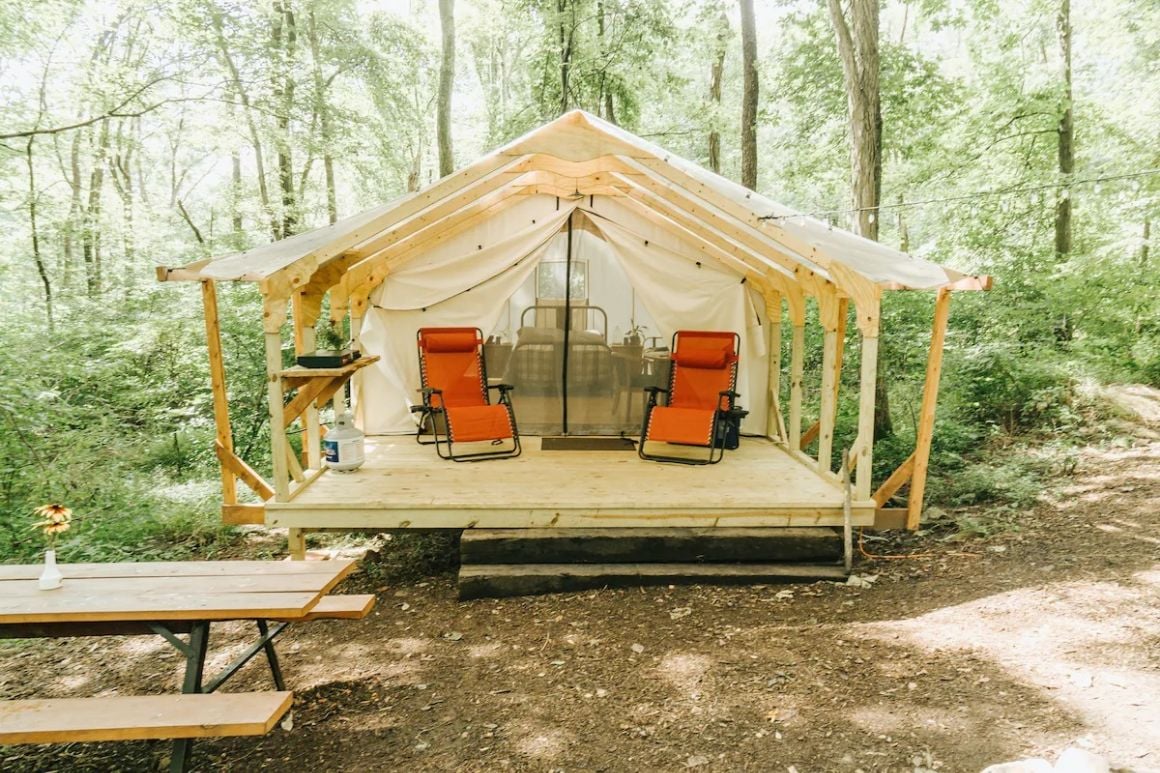 $$
5 guests
Hot water
Off-the-Grid glamping site
For a weekend of fun and relaxation, you need a glamping site that offers the best of both worlds, and we have found a gem for you!
This glamping tent at Airydale is secluded and serene, but also just minutes from Raystown Lake. With room for five people, it is well-matched for families or a group of friends wanting to escape the chaos for a short while. However, it is most popular amongst couples.
The tent boasts a double bed, basic cookware, and a propane camp stove. Couples also get complimentary goodies provided by the hosts. The best time of the year to glamp here is the falls when the woods surrounding the tent take on different colors and there's a sense of magic in the air.
Best Glamping Pennsylvania for Views – Premium Glamping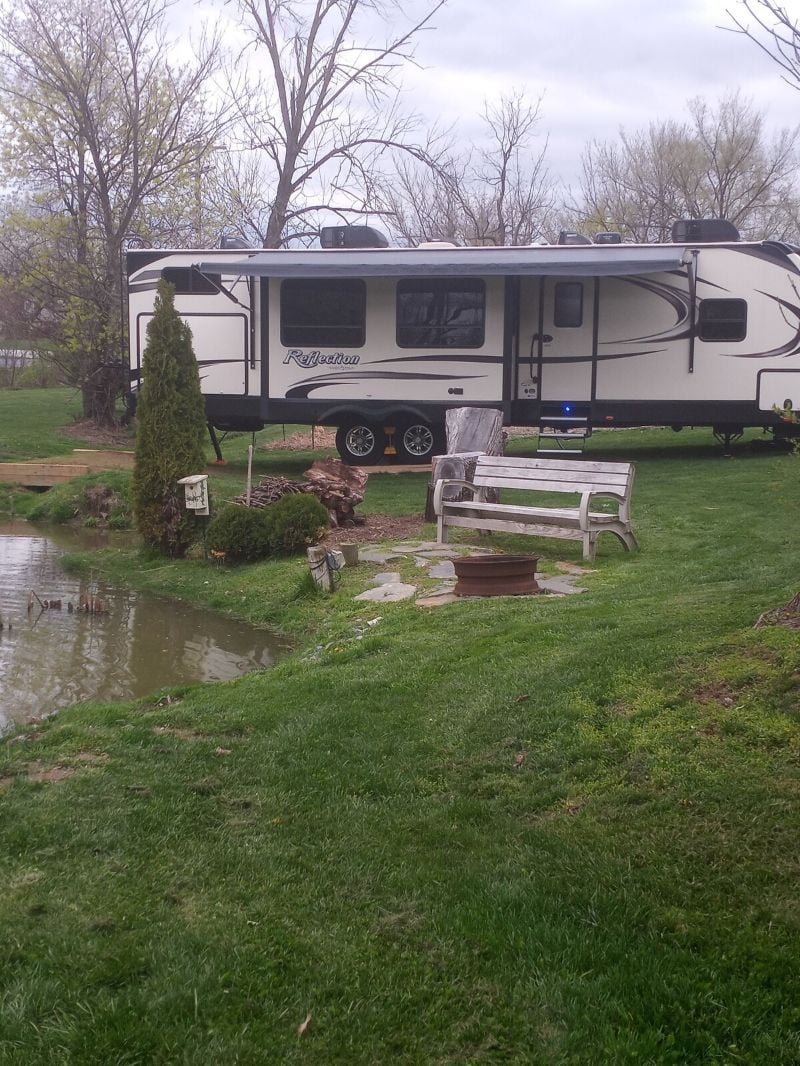 $
4 guests
WiFi and TV
Close to the Appalachian trail
This premium glamping site in Bethel makes you feel like the only people in the world – in a good way! The private site may be devoid of people, but it has an abundance of natural wonders, with such views, that will make your regular life in an urban setting, dull in comparison.
Within minutes from the site is the Appalachian trail, Hershey Park, Yuengling Brewery, mount Gretna, Hawk Mountain, Swatara state park, winery, and Schuylkill River. As a result, you have plenty of outdoor activities to keep you occupied for the entirety of your stay, and views to last you a lifetime. Right on the steps of the RV is a small pond, the very sight of which is calming you enough to lull you to a peaceful sleep.
The top of the line, Grand Design Travel trailer is fully furnished and well-equipped to ensure restful and relaxing days in nature. It also features a hot tub and a beautiful deck with a mountain as well as a pondside bench outdoors.
Glamping in Pennsylvania with an Epic Location – Riverhouse Farm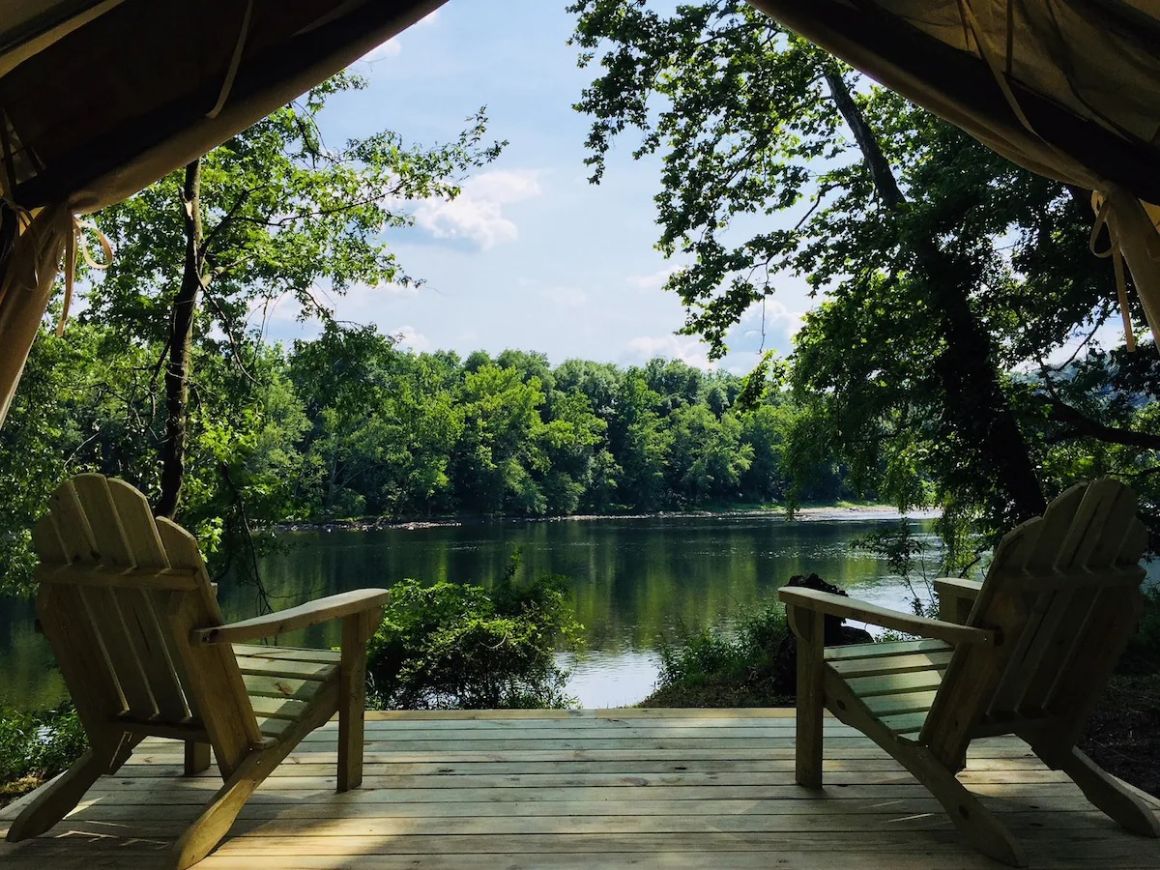 $$
4 guests
Outdoor shower
Riverfront with mountain views
All glamping sites are found in scenic locations; hence, you know a site is epic when it becomes noted for it. Located on 40 acres of farm, this glamping site has so much going on, that we strongly suggest you come here for extended vacations. All around the canvas tent are wonders of nature, starting by the river right across the site.
At this glamping site, you can swim, kayak, canoe, enjoy inner tubing, and fish. Or you can just sit back, relax, and enjoy the sights of wildlife including owls, foxes, wild turkeys, and bald eagles. A guidebook will also direct you to multiple hiking trails nearby as well as wineries, farm markets, music festivals, and antique shops. And if nothing else, go on a biking adventure on the country roads and enjoy the beauty that passes you by.
While the location is epic, your accommodation is just as relaxing with a queen bed, picnic table, outdoor fire pit, two Tentrr Adirondack chairs, and a heater to keep you warm and toasty on cold nights.
Don't Forget Your Pennsylvania Travel Insurance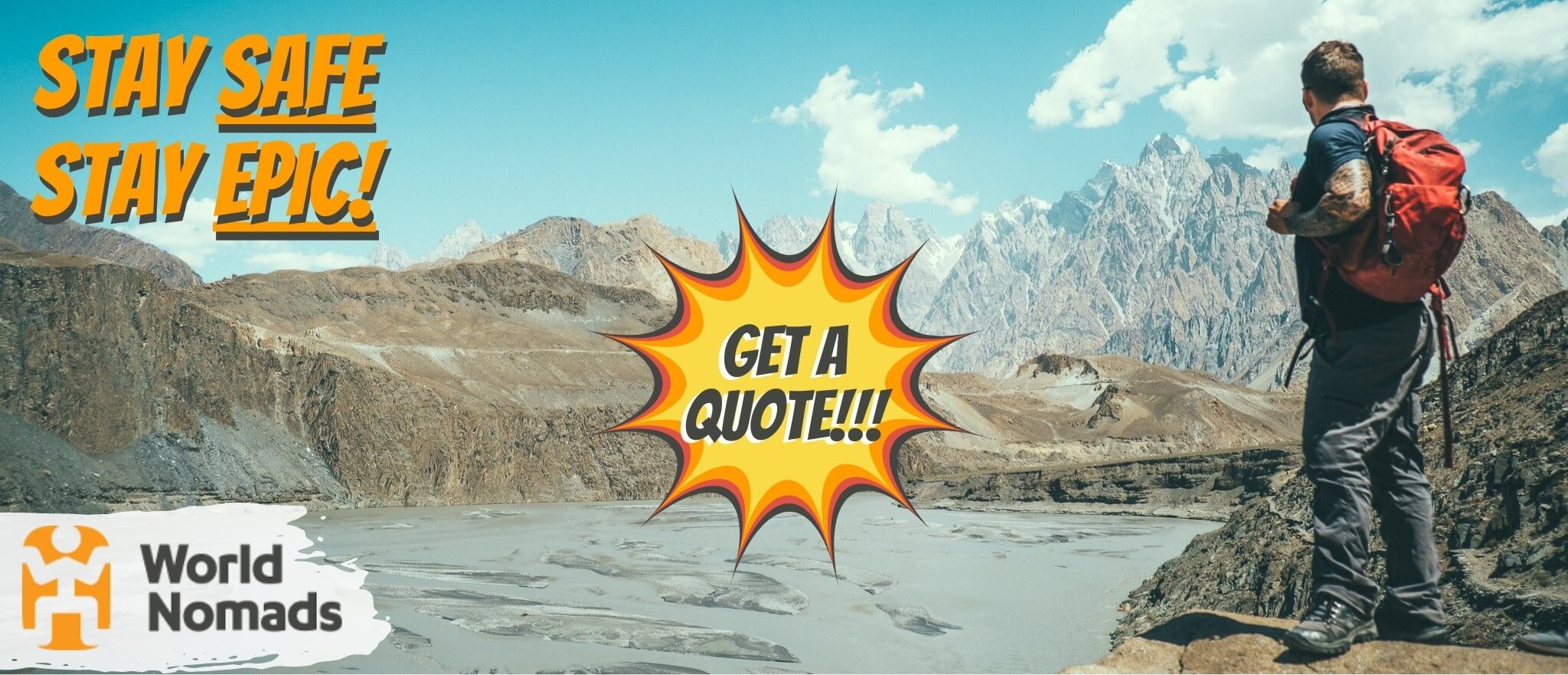 World Nomads' mission is to support and encourage travellers to explore their boundaries. They offer simple & flexible travel insurance, and safety advice to help you travel confidently.
They've been doing it since 2002 – protecting, connecting, and inspiring independent travellers just like you.
Get a quote below or read our in-depth review!
World Nomads provides travel insurance for travelers in over 100 countries. As an affiliate, we receive a fee when you get a quote from World Nomads using this link. We do not represent World Nomads. This is information only and not a recommendation to buy travel insurance.
Final Thoughts on Glamping Pennsylvania
The state of Pennsylvania is blessed with all kinds of natural wonders. From waterfalls to mountainous hills, from deep forests to massive lakes, this state has it all. This is why glamping is such a good idea.
I think you'll agree that there are some absolute gems on this list! But if you're stuck on a choice, my favourite would be the Eclectic Cozy Yurt, which is not only affordable but totally unique.
Do you have a favourite from this list? Let me know in the comments.
And while I take care of your accommodation, you can consider taking care of yourself. Travel insurance will keep you protected against the risks of travel and you can connect with the beautiful state of Pennsylvania with nothing but peace in your mind.
---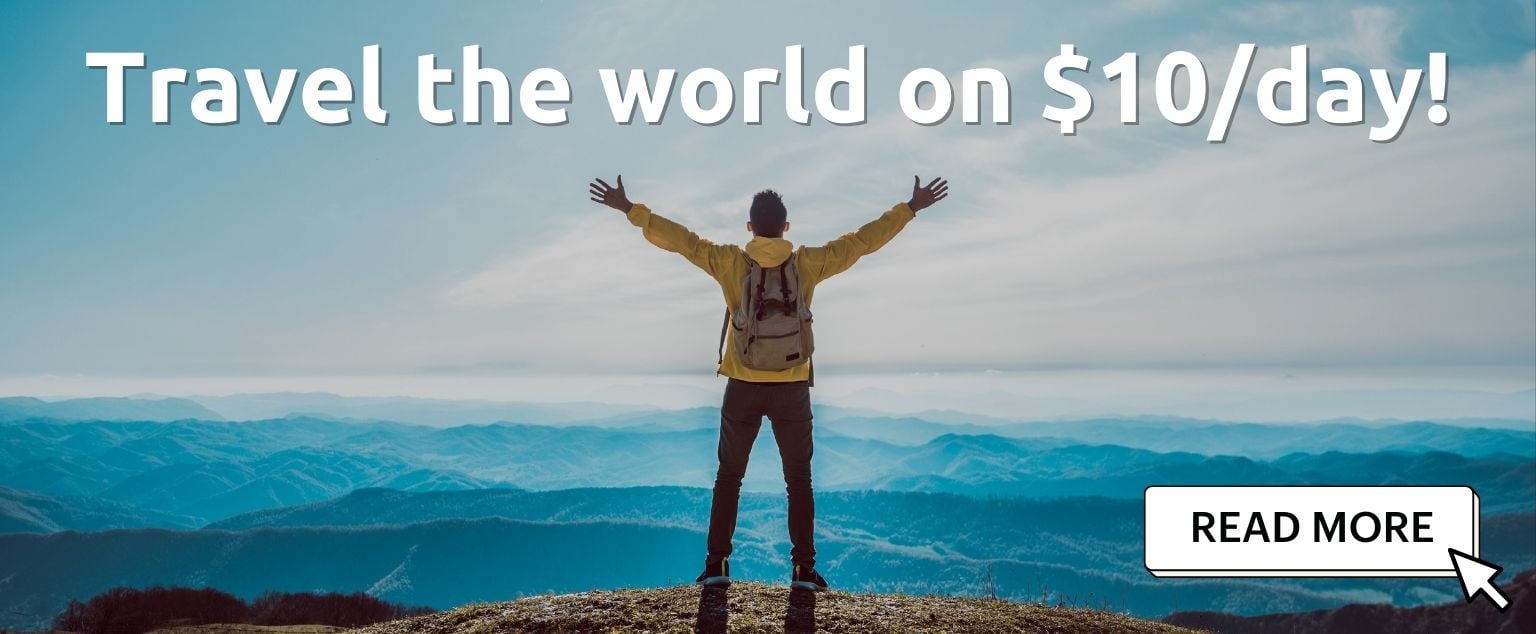 And for transparency's sake, please know that some of the links in our content are affiliate links. That means that if you book your accommodation, buy your gear, or sort your insurance through our link, we earn a small commission (at no extra cost to you). That said, we only link to the gear we trust and never recommend services we don't believe are up to scratch. Again, thank you!