Pennsylvania is a state that houses so much of the country's history. A fascinating place that provides both wonderful cities and gorgeous, rolling countryside.
Home of Hershey's chocolate and the Crayola Factory, you'll also find Kennett Square, the mushroom capital of the world. Over a million pounds of mushrooms are produced here every single week.
America's first zoo was in Philadelphia way back in 1859, as was the first brewery by the company Yuengling in 1829.
There are over 150 state parks to explore, including the outstanding Pocono Mountains, rivers and lakes to paddle, and beaches to laze on.
Ditch the regularity of the usual hotel stay and do something different. Airbnbs in Pennsylvania will open up another world. Change the way you travel, and stay in the wilderness or in the best neighborhoods in each city.
We are here to give you the low down on what Airbnbs are all about, before we dive into the best Airbnbs in Pennsylvania!
Quick Answer: These are the Top 5 Airbnbs in Pennsylvania
Overall Best Value Airbnb in Pennsylvania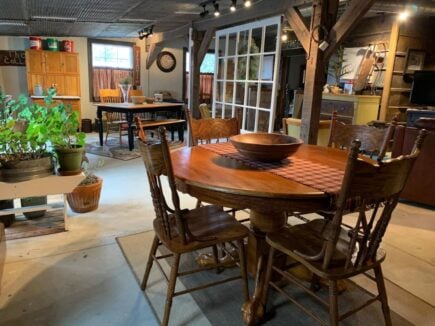 Overall Best Value Airbnb in Pennsylvania
Inn the Barn
> $$
> 5 Guests
> Great location
> 19th Century barn
Best Budget Airbnb in Pennsylvania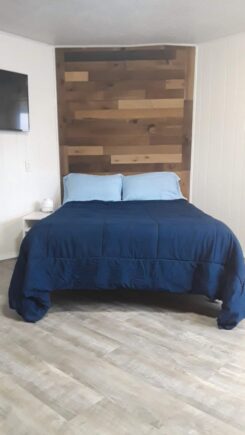 Best Budget Airbnb in Pennsylvania
Studio in Mt Washington, Pittsburgh
> $
> 2 Guests
> Great location
Best Airbnb for Couples in Pennsylvania
Best Airbnb for Couples in Pennsylvania
The Perch, a Tiny Home
> $$$
> 2 Guests
> Kayaks included
> Mountain surrounds
Best Airbnb for Families in Pennsylvania
Best Airbnb for Families in Pennsylvania
Heidi's Lodge
> $$$
> 10 Guests
> Hot tub
> Game room
Over-the-Top Luxury Airbnb in Pennsylvania
Over-the-Top Luxury Airbnb in Pennsylvania
Canal River Oasis
> $$$$
> 16 Guests
> Bicycles included
> Jaw-dropping

Unlock Our GREATEST Travel Secrets!
Sign up for our newsletter and get the best travel tips delivered right to your inbox.
What to Expect from Airbnbs in Pennsylvania
If you are planning on exploring Pennsylvania, you will be happy to know that Airbnb provides an abundance of opportunities.
Whether you are venturing to Philadelphia, or want to uncover the quiet northwest part of the state, there will be an Airbnb that suits your adventure and style.
Apartments, condos, and studios are common throughout the major cities with hosts opening up their doors and offering a private room like a bed and breakfast in Pennsylvania, or sometimes their entire home. Located close to transport, restaurants, and nightlife, you can start ticking things off your must-see list right away.
For stays outside of the cities, you will discover a world of cozy, Victorian-era, contemporary homes. Not only will you have a welcoming place to stay, but you'll also have a great insight into rural Pennsylvania.
Either way, you can find a homely vibe wherever you roam. The majority of Airbnbs in Pennsylvania are run by hosts with single properties, so their focus is on giving you a memorable stay.
Apartment
Apartments are one of the most common Airbnbs in Pennsylvania. From studios for one, to two and three bedders, there is a nice variety to choose from.
Staying at an apartment Airbnb can be particularly handy for those who want to explore between the cities of Pennsylvania. From Pittsburgh to Philadelphia, there are apartments waiting for you.
An apartment will often place you in the heart of your destination. Whether that's along the river, downtown, or in a cultural district. Spend your days hitting up museums, landmarks, sporting fields, as well as dining out and wandering through the nightlife. The best part is that you can do it all without venturing far from home!
At a reasonable rate, you can get a different insight into your destination and choose an apartment that is on the city's fringes. A private room or a simple studio, is a great option for budget travelers.
Cabin
If you want to roam the countryside, hit up Pennsylvania's wilderness regions, or simply escape the noise of the city, a cabin Airbnb is the way to go.
Offering the chance to disconnect from modern life, for a weekend or longer, you can spend time with your loved one, friends, and family without any distractions.
Wake up each morning in nature, minutes away from outdoor activities like hiking, kayaking, and bike riding, and enjoy the rustic charm of the cabin, with a good book in hand.
At night, gather inside or out, around the fire, and toast to another great day in the woods. You can watch the last of the sun's light poke through the trees as the marshmallows roast over the fire.
Cabins in Pennsylvania are found throughout the state. Clusters are located in popular mountain regions such as along the Appalachian Mountain and in the Poconos.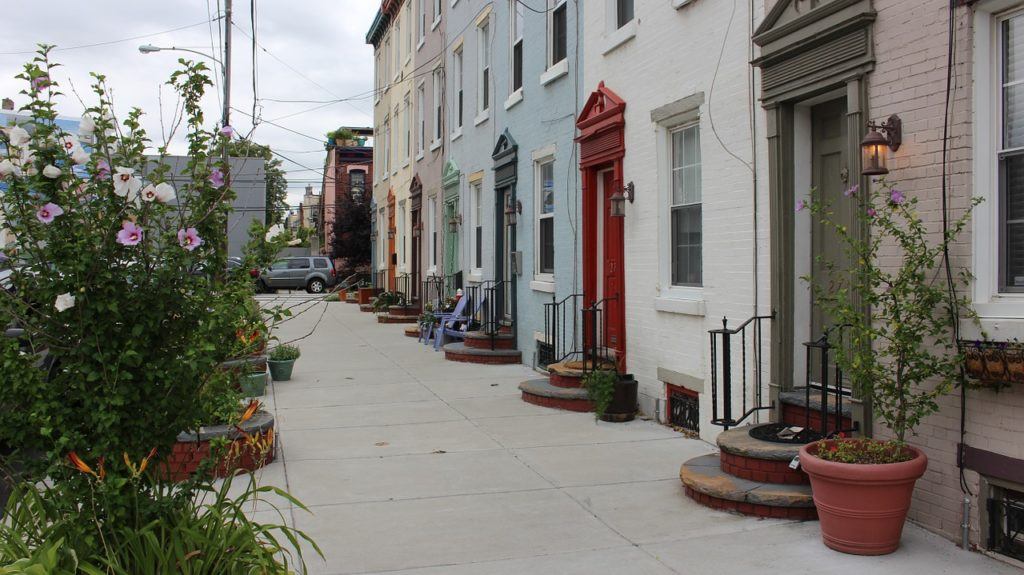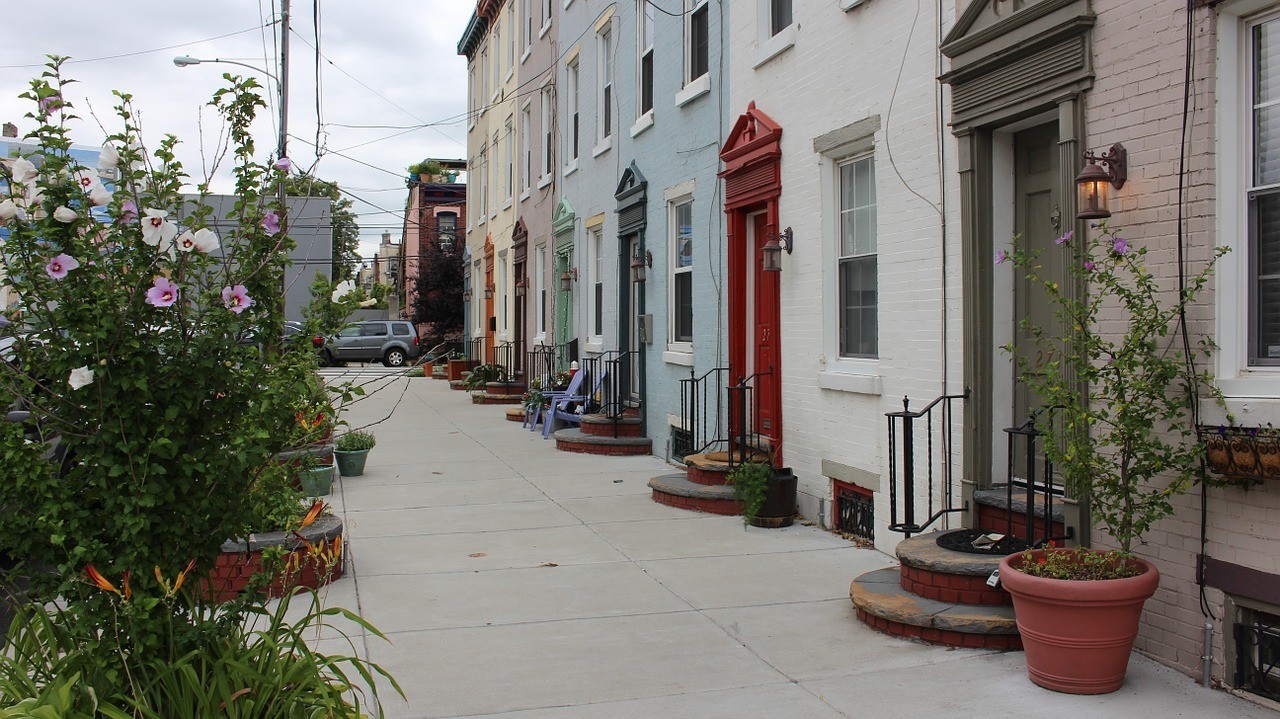 Cottage
A cottage gives you and your traveling crew a great mix of old-time luxury and a large space to hang out. While apartments and cabins are particularly handy for smaller crowds, grab the whole family for a trip to a cottage.
Pennsylvania cottages are either older houses designed for families, or vacation homes that are capable of accommodating for large groups. Rather than spend big money on multiple hotel bedrooms, have an entire property to yourselves, all while being close to the center of town, shops and restaurants.
With full kitchens and proper living rooms, everyone can gather each evening for dinner and board games. Throughout the day, the spacious yards are there for fun and play.
Cottages regularly come with hot tubs, patios, and fire pits which only add to the atmosphere.
Like cabins, cottages are spread all throughout Pennslyvania. You will find them in major towns and on city fringes, also.
Why Stay in an Airbnb?
If you still haven't seen the light, here are some more reasons to stay in an Airbnb:
Unique properties: If you have grown bored of the regularity of hotels, come and enjoy the cabin life, a tiny home, or even a treehouse.
Affordability: A great Airbnb will go for a similar price as a hotel, but with a kitchen, large living space, patio, and lawn.
Safety: Airbnb Hosts are carefully vetted, and the Airbnb team will help to find alternative accommodation if any issues arise.
Last-minute booking: Just arrived in Pennsylvania? Airbnb will show what's available for you to stay in tonight!
Airbnb experiences: Get to know Pennsylvania with the help of locals. Our top Airbnb Experiences are listed below.
The 15 Top Airbnbs in Pennsylvania
Okay, folks, now that you're knowledgable on Airbnbs, here are the best Airbnbs in Pennsylvania!
Overall Best Value Airbnb in Pennsylvania | Inn the Barn
5 Guests
19th Century barn
Head out into the heart of Lancaster County and enjoy the country life at this Airbnb in Pennsylvania.
At 'Inn the Barn' you will be staying in a 19th-century barn which has been totally renovated to be comfortable and homey, but still maintain its country charm. The quaint and cosy decoration helps you to quickly feel at home.
Located just a few minutes from downtown Lancaster, you can wander the streets to find local restaurants and high-quality antique shops.
It is a perfect place to tour the local Amish community, and try fresh baked goods.
3 Places to visit:
2 Guests
Comfortable studio space
Explore Pittsburgh on the cheap from this budget Airbnb in Pennsylvania.
A simple studio apartment, this home is in a great location but won't take away from your spending money. Have a warm, comfy place to kick back in each night, switch on the TV, and scroll through the best of the days photos.
In the morning, you can go for a lovely stroll to Grandview Avenue that boasts panoramic views of the Pittsburgh skyline. The studio has quick access to the Mon Incline which connects to the subway system – perfect for exploring downtown.
If you are too tired for adventures, grab a book and head to the outdoor deck.
1 Guest
Spacious communal room
Located in the woods, high up the mountain is Timbertops Retreat, an Airbnb in Pennsylvania perfect for solo travelers.
Close to numerous outdoor activities, including a wooded trail just for guests, you can roam the property and play their nine-hole frisbee golf course. Or, try your hand at horseshoes and corn hole. Near Timbertops Retreat you will find more hiking trails that lead into the local and state parks.
Once you've had your nature fix, head back home and relax in your own personal space. Join fellow adventurers in the beautiful communal room with its own fireplace that looks out into the woods.
Is This the Best Travel Pack EVER???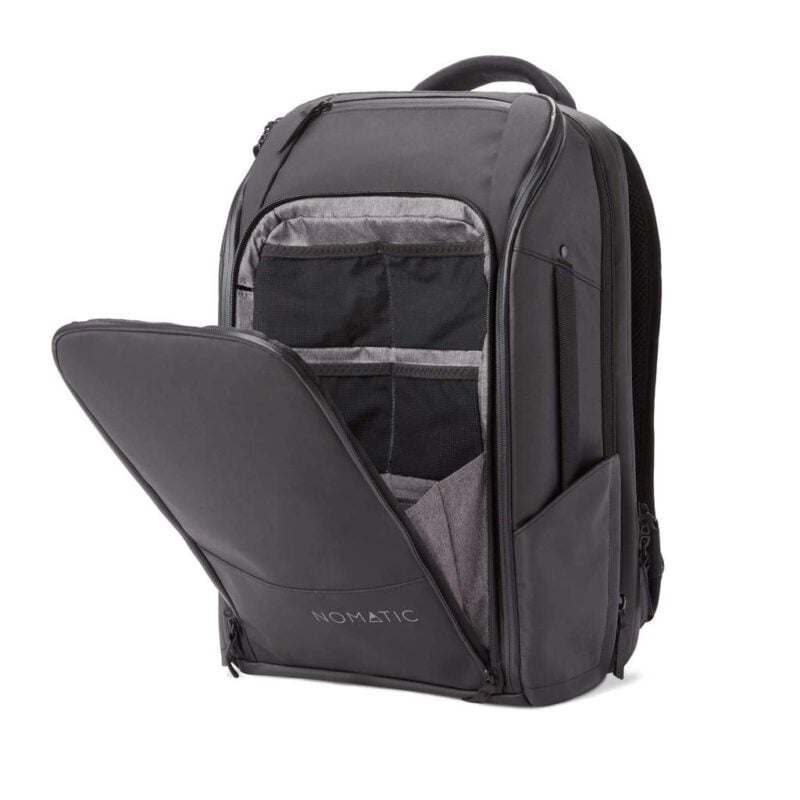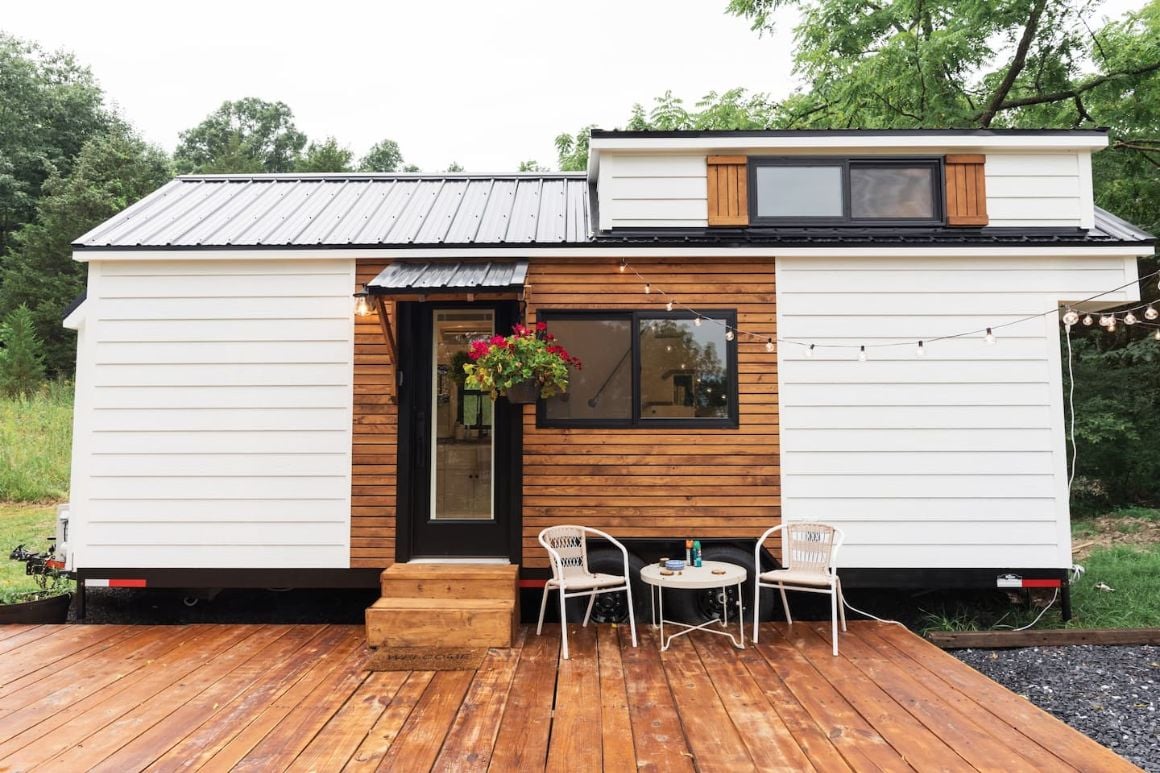 2 Guests
Mountain surrounds
Pack a weekend bag and grab your partner for a romantic escape to this tiny home Airbnb in Pennsylvania.
Located in the foothills of the Conewago Mountain, this tiny home is a stylish and relaxing getaway where you can disconnect from home worries and focus on your partner. Relax together in the hammock, roast marshmallows over the fire, and watch the fireflies zip around the shrubs while you rock back and forth on the deck.
In the morning, you can watch the sun rise over the mountains from the comfort of your bed.
For day adventures, head down for an afternoon on the lake and make use of the complimentary kayaks.
Best Airbnb in Pennsylvania for Families | Heidi's Lodge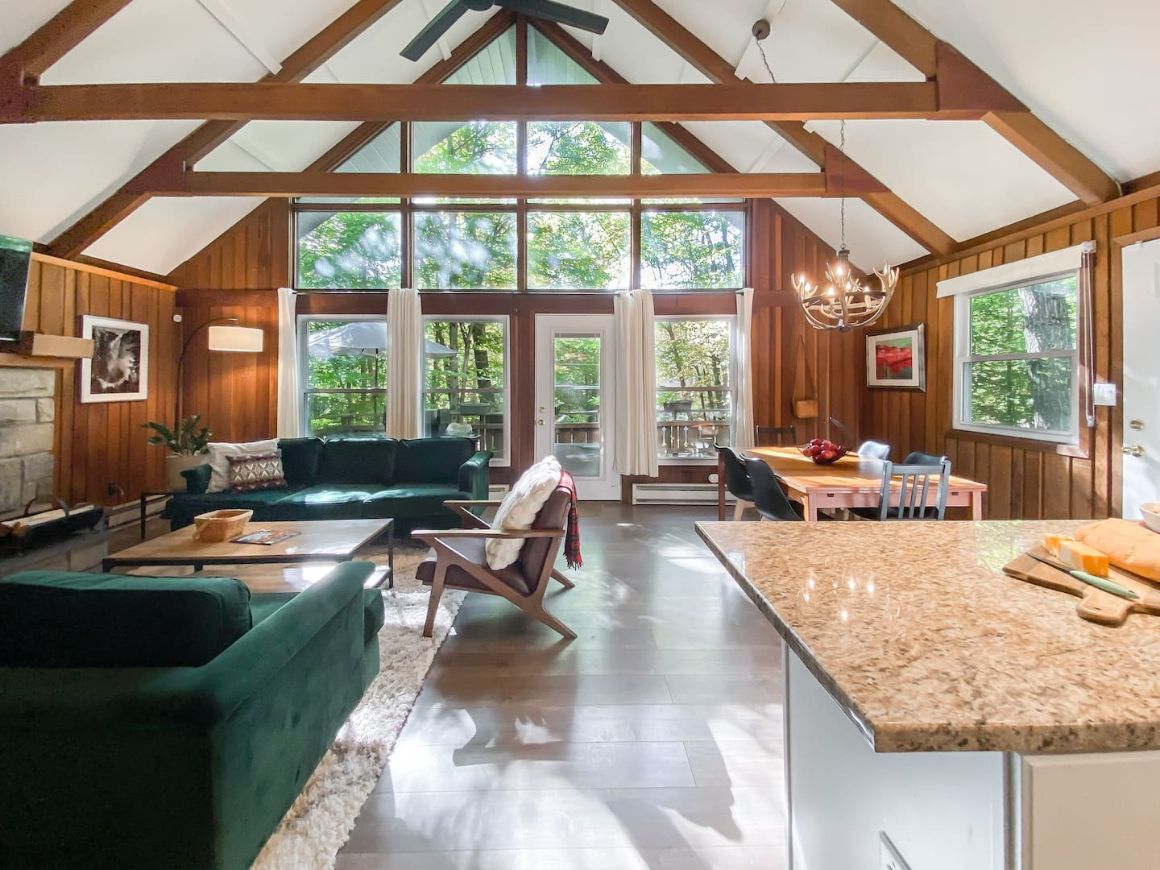 Drive to the Poconos to experience a family vacation you won't soon forget. At Heidi's Lodge, you and your family can enjoy a gorgeous chalet in the popular Locust Lake Village.
This Airbnb was built for families, complete with foosball, retro arcade games, and DigDug. The lofted space has its own reading nook with bookshelves where you can hide away to unwind.
Relax on the large porch that looks out into the woods, and take a moment to breath.
Everyone can gather around the fireplace for board games, and hop into the hot tub and see which stars they can find.
Throughout its 7,000 feet of living space, the Canal River Oasis has everything you could need. If you are ready to splash the cash, this Airbnb in Pennsylvania is for you.
The abundance of floor to ceiling windows fills the space with natural light and provides everlasting views of the forests. The kitchen is a chef's paradise, so make sure to bring along your foodie friend to cook up a feast.
Each of the six bedrooms, have king, queen, and double beds, and are big enough to be their own studio. Perfect for taking a moment to relax in peace!
During the day, take the chance to ride along the Delaware River using one of the homes six bicycles.
Come stay in this historic building, with its original timber beams, vaulted ceilings, and century-old exposed brick.
The color from the layout, plus the light that floods through the huge windows, makes this apartment memorable.
The contactless check-in is great for travelers who want to spend the morning exploring, just rock up at any point after 15:00. Once the bags are dropped and you're rested, wonder the surrounding the vibrant downtown neighborhood full of restaurants and bars.
There are theaters, art galleries, and numerous landmarks within walking distance. You can take in the sights along the Ohio River, and hang out at the Allegheny Riverfront Park.
Perfect for couples and small families, this Airbnb in Pennsylvania lets you live cabin life to the fullest.
The rustic wooden interior has a touch of bohemian style, specifically the living room's floating ottoman chair. Regardless of whether you are a homebody or love the outdoors, you will love this cozy space.
In the heart of the Pocono Mountains, this quiet neighborhood is close to skiing, hiking, kayaking, and waterparks for the kids (or the young at heart). But, for those that just want to stay at home and relax, you will love the open-plan concept. Light up the fireplace, grab a book, and watch the day go by without a care in the world.
Best Cottage on Airbnb in Pennsylvania | Long Acre Hideaway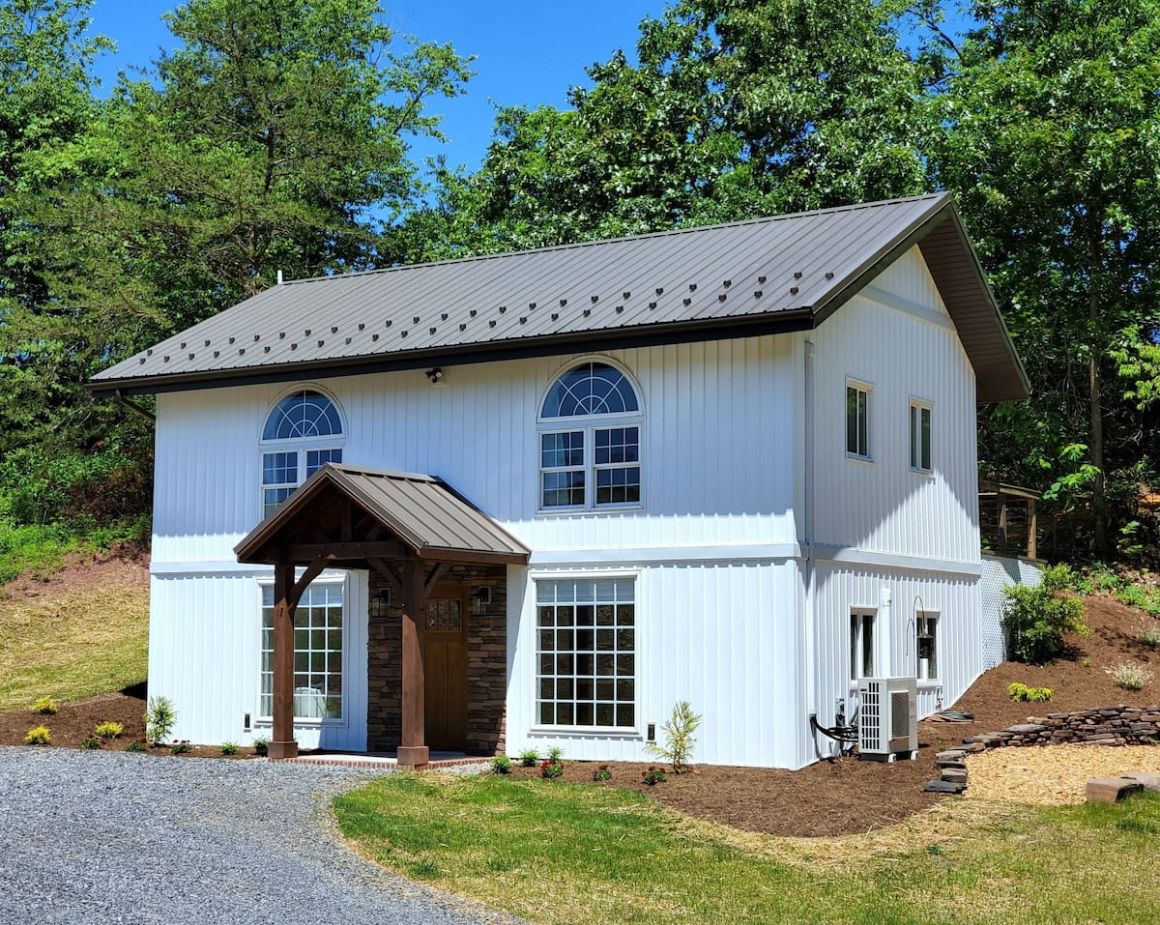 The chance to switch off and be present beckons at this Airbnb in Pennsylvania.
The Long Acre Hideaway has no TV or Wi-Fi, so guests should be prepared to take the day as it comes. A former Art House that was renovated in 2020, it is now dedicated to providing a quiet retreat for couples.
As you come into the property you can spot the farm's cute animals. The cottage has a private walking trail that hugs the farm's perimeter.
When you aren't wandering the surrounding nature, relax on the deck, a cup of coffee in hand, and enjoy spotting wildlife.
This unique circular treehouse has floor-to-ceiling windows all around the edges. Regardless of where you sit or stand, this Airbnb in Pennsylvania has wonderful views into the woods.
Situated on a private nine-acre property, you don't need to worry about neighbors – simply enjoy the privacy. This comes in particularly handy when relaxing in the home's bathtub!
Hang out with friends and loved ones on the deck, or walk down to the lawn for a nightly campfire.
The treehouse glamping site in Pennsylvania is just five minutes from Narrowsburg for local markets and stores, and the state forests are easily accessible.
Perfect Airbnb for Digital Nomads | Conewago Cabins
Wake up to the sounds of the Conewago Creek ahead of another day of remote work.
Grab a cup of coffee and head out to the porch to watch the water flow by right in front of you and hear the leaves rustle. Once you are refreshed and energized, head to the desk and get things rolling.
Take the chance to run and jump into the creek during lunch, or whenever you need a hit of energy and inspiration.
At the end of the day, you can bask in the beautiful surroundings, light a campfire, and choose from one of the cabin's 3,000 movies.
Best Airbnb for a Weekend in Pennsylvania | A Quaint Cabin
4 Guests
Firepit/fireplace
Head out with your partner, friends, or go on an Airbnb double date to this quaint cabin in the woods.
This cabin combines comfy living with a rustic vibe that'll be just the tonic you need after a long week at work. Light up the fireplace, recline into the leather couches and let the cabin whisk your blues away.
The cabin has a classic look, with exposed beams, stone work, and old wood floors. Spend your days unwinding on the front porch, before heading out and exploring the two nearby state parks. On return, relax in the whirlpool tub and gather around the fire pit.
Best Airbnb in Pennsylvania for a Group of Friends | The Treehouse Chalet
Gather all your friends and head out to the Pocono Mountains to stay at this awesome treehouse Airbnb in Pennsylvania. This carefully restored chalet overlooks a rushing creek, and boasts several private acres to explore.
The kitchen opens up to the dining and living rooms allowing everyone plenty of space to hang out.
The real highlight is the homes treehouse which is connected to the main house via a bridge. Relax with a book on the hammocks that hang from the treehouse ceiling and sway yourself into a peaceful nap.
If that's not enough, head out back to the hot tub and watch the stars slowly appear in the sky.
8 Guests
Lakefront with a dock
This beautiful cabin at Indian Lake will be the perfect hideaway for a group of family and friends.
A wholly custom, multi-story cabin, this home has many unique qualities. Heck, the master bath even has a Japanese soaking tub and a steam shower.
With three bedrooms and a bunkroom, there is plenty of room for everyone. Take your group down to the lakefront and hang out on the dock. You can even call ahead to reserve a pontoon, or simply paddle out on one of the cabin's included kayaks.
While the kids play in the treehouse, gather around the firepit and take in the stunning lake views.
Most Unique Airbnb in Pennsylvania | An Earth House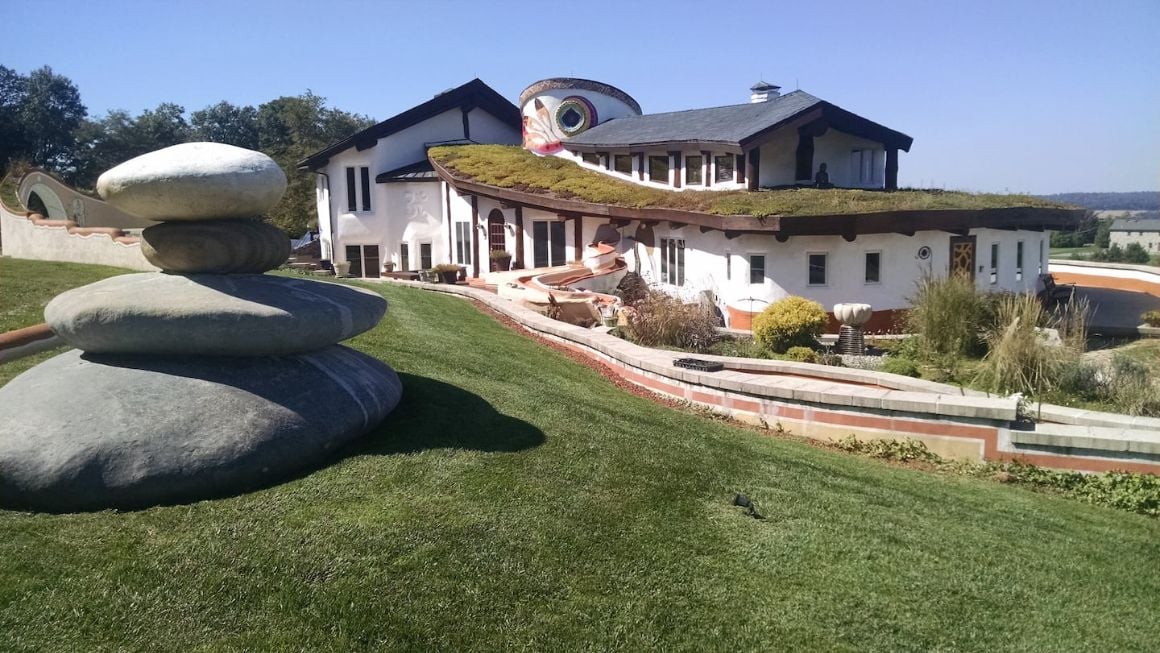 15 Guests
Hobbit style home
La Casa de David (the House of David) is an Airbnb full of unique craftsmanship. Made from earth, stone, straw, and wood, the design aims to reflect nature and the rolling hills of Pennsylvania. Its curvy interior honors the feminine and the principal of the Divine.
As you walk through the home, large pine logs and bamboo ceilings are prominent, while the mosaic-tiled floors light up the space. It is hard not to love the green roof system which is home to succulent desert plants.
La Casa De David can be booked as an entire home stay, or you can select individual rooms for a cheaper vacation.
Top 5 Airbnb Experiences in Pennsylvania
Airbnb Experiences are designed by locals for people just like yourselves. The experiences can range from tours of landmarks, to hikes out in nature, food tours in downtown, and even a variety of classes.
It is a great way to learn new skills, or discover your destination in greater depth with the helping hand of a knowledgeable local.
Instead of going on a major tour that's been running the same beat for decades, switch it up and follow the lead of someone that lives and breathes Pennsylvania. Find hidden gems, and sample food from restaurants that haven't (yet) gone viral. Find out what really makes a place tick by walking through neighborhoods off the beaten path.
Here are the best Airbnb Experiences in Pennsylvania: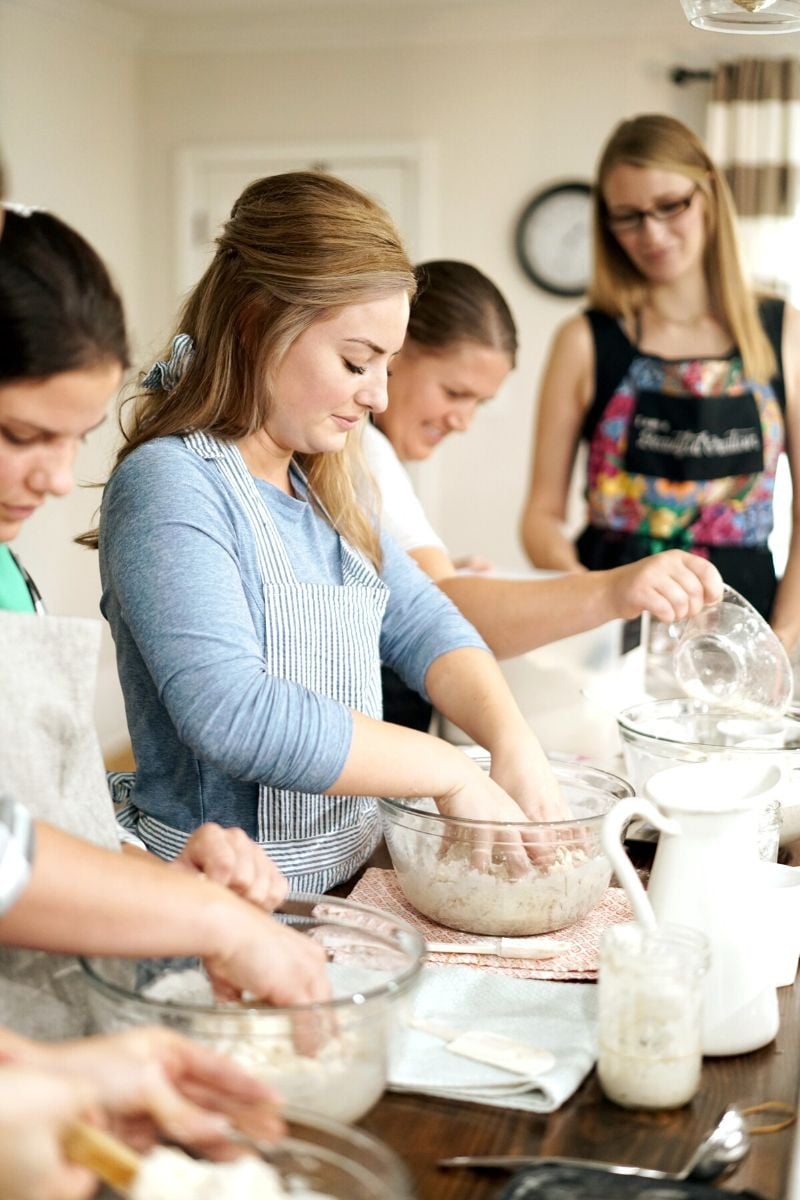 $79 p/p
3 Hours
Up to 8 people
Drinks included
If you're heading to Lancaster, Pennyslvania, there is an opportunity to partake is this hands-on Airbnb Experience.
Under the helpful tutelage of your host you can learn how to begin the process of creating your own sourdough bread.
The first samples will be placed in the oven so you can try them as you learn the steps that follow.
Learn how to properly slash your dough, mix ingredients, and correctly bake it. Your host will conduct a demonstration for a live cultured beverage. You can see how to make it, or simply enjoy it in the class.
At the end, you can walk away with your starter, a loaf of bread to bake, and even a bread-proofing basket.
$40 p/p
1 Hour
Up to 4 people
Equipment included
After a thorough on-land instruction that will teach you the basics of paddleboarding, venture with your crew out onto the lake.
The guide will lead you around the waters and along the shoreline exploring all the best parts.
Put your skills to the test as you venture the gorgeous scenery, complete with dense forest and lakeside cottages.
When you have a handle on things, you will be able to go at a good speed across the lake. Keep an eye out for wildlife, as you may be able to spot the lake's bald eagle!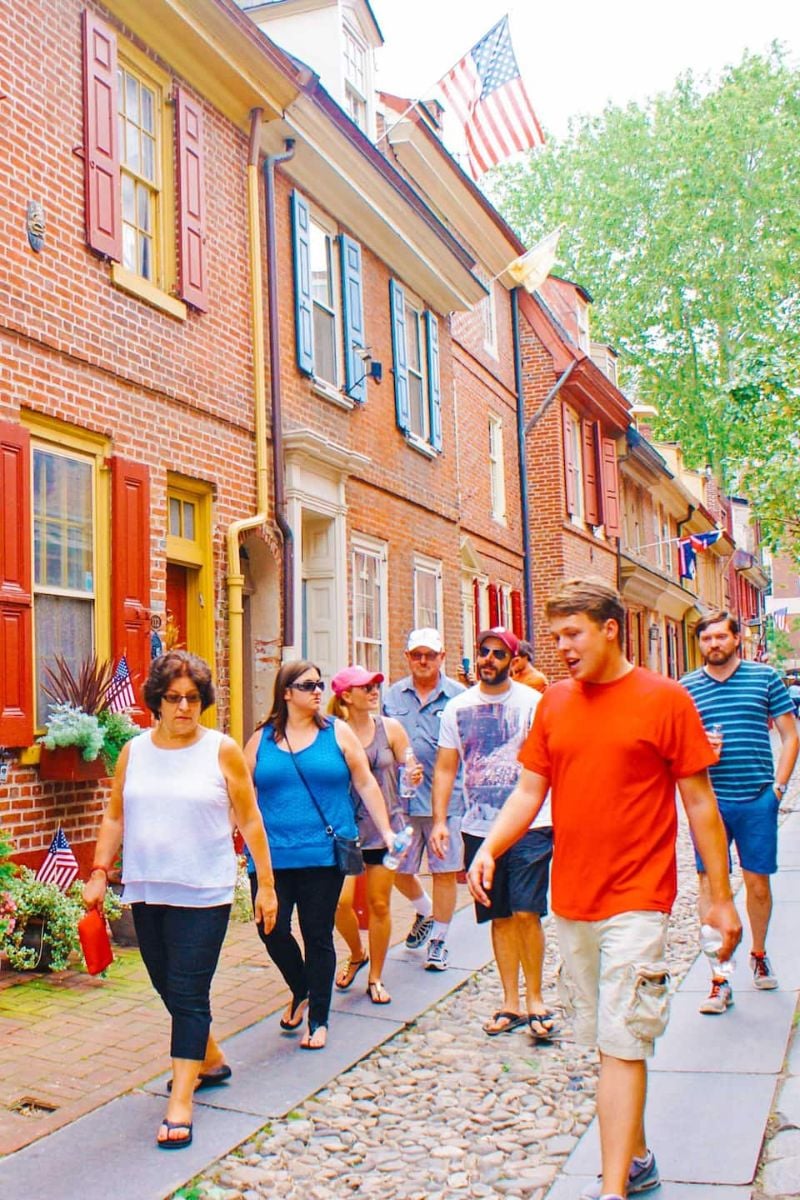 $36 p/p
2 Hours
Up to 10 people
Includes food, tickets
One of the major reasons people visit Philly is to see more of the city's famed history.
On this tour, you will go behind the scenes and discover the real-life neighborhood that the historical district is a part of.
Your guide will lead you on this walking tour along picturesque streets to many must see places. Iconic landmarks include the Independence Hall, Christ Church, and the Betsy Ross House.
This tour goes beyond the norm as you will also wander through the Old City to find charming back streets, warehouses from the early 1900s and coffee shops.
$65 p/p
3 Hours
Up to 10 people
Food included
Fan of Anthony Bourdain? You'll like this tour, which uses the show's template to discover a variety of brilliant Philly restaurants.
But first, learn about the city's art scene as the tour begins with a showcase of incredible murals, mosaics, and street art.
The second stop is when the real fun begins, with a private charcuterie taster at an historic cheese shop. Then, head to Little Mexico for authentic fare before a big secret is revealed at a beloved south Philly restaurant.
Of course, you must have dessert, so finish the tour sampling some mouthwatering Italian pastries.
$29 p/p
2 Hours
Up to 10 people
Drinks included
Get ready to be spooked as you learn the stories that haunt downtown Pittsburgh.
Roam the streets and see historic landmarks light up at night. Without the daytime crowds, you can see these popular spots in a different way.
Learn about the history of each building and the spirits that haunt them. But don't worry, the ghosts remain inside the building. Or so we think!
Prepare to get a little scared, and explore beautiful Pittsburgh under the night sky.
Don't Forget Your Pennsylvania Travel Insurance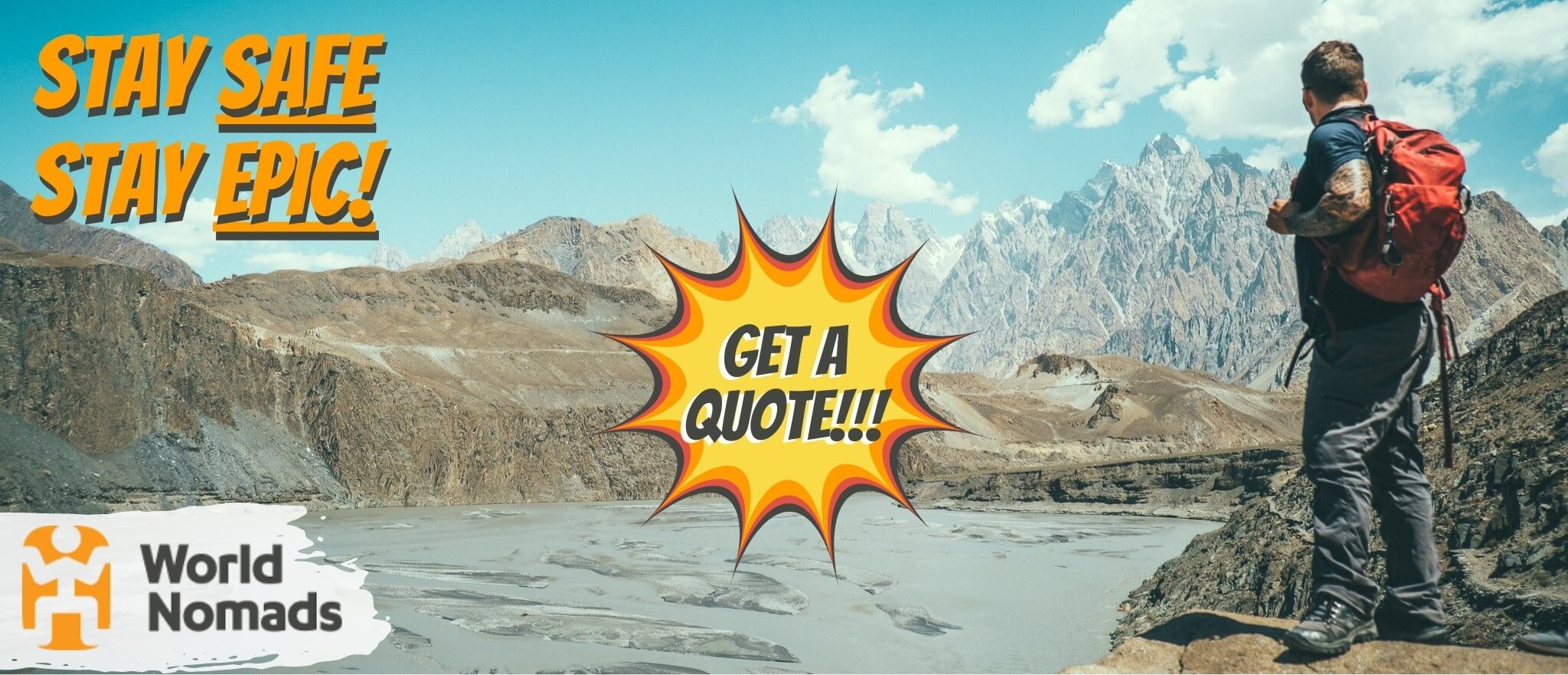 World Nomads' mission is to support and encourage travellers to explore their boundaries. They offer simple & flexible travel insurance, and safety advice to help you travel confidently.
They've been doing it since 2002 – protecting, connecting, and inspiring independent travellers just like you.
Get a quote below or read our in-depth review!
World Nomads provides travel insurance for travelers in over 100 countries. As an affiliate, we receive a fee when you get a quote from World Nomads using this link. We do not represent World Nomads. This is information only and not a recommendation to buy travel insurance.
Final Thoughts on Pennsylvania Airbnbs
When it comes to having a comfy bed to rest your head each night and being close to your destination's best attractions, it's hard to say no to a Airbnb accommodation.
The best Airbnbs in Pennsylvania are well suited for all occasions – from trips with friends and family vacations, to romantic retreats and weekend getaways.
Be in the heart of the city and close to public transport, or have nature right up to your doorstep. Whatever vibe you are looking for, there is sure to be an Airbnb in Pennsylvania for you.
Needs somewhere cheaper, check out the hostels in Pittsburgh instead!
---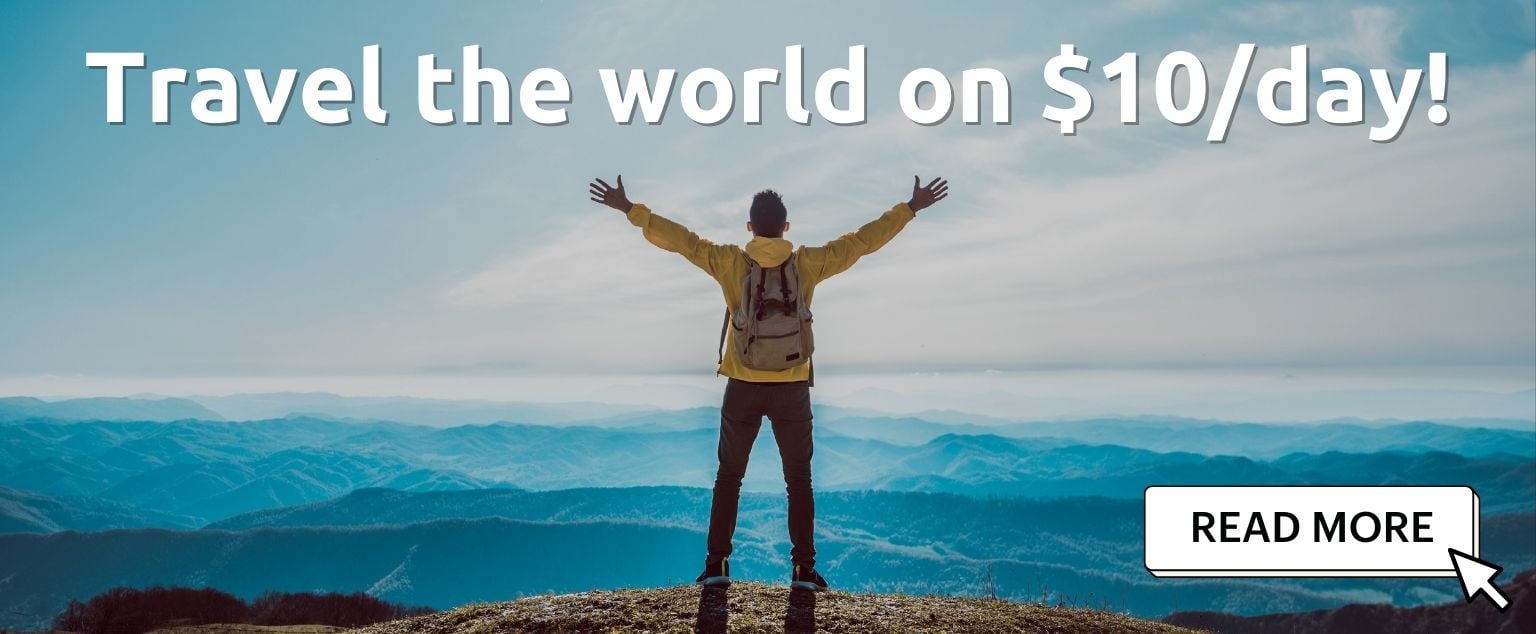 And for transparency's sake, please know that some of the links in our content are affiliate links. That means that if you book your accommodation, buy your gear, or sort your insurance through our link, we earn a small commission (at no extra cost to you). That said, we only link to the gear we trust and never recommend services we don't believe are up to scratch. Again, thank you!