Philadelphia is one of America's most underrated cities. With its rich history, diverse culture, and awesome nightlife scene, Philadelphia is without a doubt one of America's best-kept secrets.
However, Philadelphia is a massive city with tons of neighbourhoods to choose from. Each offers something slightly different to travelers, so knowing exactly where to stay to suit your travel style can be difficult.
That's where we come in!  With this guide on where to stay in Philadelphia, you'll be able to find the best area to suit you and your budget.
So, let's dive right in!
Looking for a specific place to stay? These are our highest recommendations for accommodation in Philadelphia.
This stunning loft is set in a historic building and is stylishly decorated with all the modern comforts of home. It's located right across from Rittenhouse Square, and the local market is right on the doorstep.
Located on a quiet street in Old City, this hostel is close to top landmarks, restaurants, bars, and museums. It has comfortable beds, outfitted with a reading light, electrical outlets, and a USB charging port. It's our favorite hostel in Philadelphia, thanks to its convenient location and amenities.
This elegant four-star hotel is our top pick for hotels in Philadelphia. Amenities include an onsite fitness room and spa, as well as spacious guestrooms. Located at the heart of the Old City neighborhood, this hotel is close to Philadelphia's most famous sightseeing attractions.
Philadelphia is a city bursting with history. The one-time capital of the United States, this massive Pennsylvanian metropolis played a major role in the development of America as a nation. It's where the Declaration of Independence was signed in the 18th century, and history rings out throughout the city to this day.
Philadelphia is the fifth most populous city in the USA. It is home to a thriving arts and culture scene, as well as an impressive selection of nightlife, dining and entertainment offerings.
If it's your first time visiting Philadelphia, we recommend staying in Old City. One of the oldest neighborhoods in the entire nation, it's full of historic landmarks, art museums, upscale boutiques, and nightlife.
If you're traveling to Philadelphia on a budget, you'll find a lot of great accommodation in Center City. It's the city's CBD, and is packed with things to explore at reasonable prices.
Rittenhouse Square is an upscale neighborhood, home to some of the best of Philadelphia's nightlife. If you're looking for somewhere that's as busy at night as it during the day, then this is your best option.
Continuing north from here and you'll pass through Northern Liberties and Fishtown. One of the coolest areas of the city, these adjacent districts are home to vintage shops, trendy eateries, and plenty of hip hangouts.
Boasting a delightful mix of residential dwellings, Midtown is a friendly area ideal for families staying in Philadelphia. There are plenty of shops, and restaurants, home some of the best food in the city.
Still not sure where to stay in Philadelphia? Don't worry, we've got you covered.
Now, let's take a closer look at each of the five best neighbourhoods to stay in Philadelphia. Each one is suited to different travel styles, but they're all well-connected so you can explore each area during your stay.
1. Old City – Where to Stay in Philadelphia on your First Time
Located next to the Delaware River, this downtown district is home to Philadelphia's historical landmarks. From the Liberty Bell to Independence Hall, you can explore all the sites that played a key role in the birth of the nation.
But there's more to Old City than history. Old City is also where you'll find a great selection of contemporary art galleries, interesting museums, upscale shopping, and incredible nightlife. There's so much to discover here, making it the best place to stay if you're just getting to know the city.
Located on a small cobblestone street, this stunning contemporary house is ideal for families or groups visiting Philadelphia for the first time. Interiors are light and spacious, with high ceilings and exposed brick in each room. The house has two double bedrooms and large bathrooms, as well as a fully equipped industrial kitchen.
Located on a quiet street in Old City, this hostel is close to top landmarks, as well as restaurants, bars, and museums. It has comfortable beds, outfitted with a reading light, electrical outlets, and a USB charging port. Its close proximity to everything means you can save money on public transport!
This elegant and stylish four-star hotel is another top recommendation for where to stay in Old City. Located at the heart of the neighborhood, this hotel is close to Philadelphia's most famous sightseeing attractions. It has a fitness room, an in-house spa, and spacious guestrooms.
Set in Old City, this great three-star hotel is ideally located for exploring the city. You'll enjoy top restaurants and shops just a few steps away. This hotel boasts modern rooms, stunning city views, and offers a delicious daily breakfast. You'll also get to enjoy an onsite bar.
Things to See and Do in Old City:
See the Liberty Bell and its mysterious crack.
Visit Independence Hall, where the Declaration of Independence was adopted in 1776.
Browse the exhibits at The National Constitution Center.
Tour the Betsy Ross House, where the first American flag was sewed.
Explore Penn's Landing.
Shop until you drop on the 3rd Street Corridor.
Wander along Elfreth's Alley, the oldest continually inhabited residential street in the US.
Take a tour of the US Mint.
Eat incredible food at Fork.
Dine on local and organic fare at FARMiCiA.
Grab a pint at the City Tavern.
Sip sophisticated cocktails at Sassafras Bar.
2. Center City – Where to Stay in Philadelphia on a Budget
Center City is set at the heart of Philadelphia. The city's central business district, this neighbourhood is the second most inhabited downtown in the USA. It is where you can enjoy a great mix of historical and contemporary attractions, as well as incredible dining, shopping and nightlife options.
This neighborhood is also where you'll find a wide selection of Philadelphia's budget hostels and cost-conscious hotels. If your goal is to save a little money while visiting Philadelphia, this is the place to stay. You'll get to enjoy all the perks of the city center without the hefty price tag.
Best Bed&Breakfast in Center City: Thomas Bond House
Each guest room in this purpose built bed and breakfast comes with an ensuite bathroom and free wifi. Set in a classic building, rooms have traditional and comfortable furnishings complete with a desk space. This accommodation is suitable from anyone from solo travelers to large families, and is situated within walking distance of numerous parks and museums.
Best Hotel in Center City: Alexander Inn
Thanks to its excellent location, this is our favorite hotel in Philadelphia's Center City. Top tourist attractions such as the Liberty Bell are within walking distance, and there are plenty of restaurants and shops nearby. At the hotel, guests can enjoy comfortable rooms and a relaxing on-site spa.
A good location and a stunning pool make this hotel an excellent choice for your time in Philadelphia. It boasts a modern gym, as well as an excellent onsite bar and restaurant. Rooms are contemporary, with comfortable beds and outstanding features.
Best Airbnb in Center City: Beautiful Bedroom for 2
This private bedroom is ideal for solo travelers or couples looking for budget accommodation in Philadelphia. The flat has two guest bedrooms in total and shared spaces include a bathroom, kitchen space and laundry facilities.
Things to See and Do in Center City:
Take a relaxing stroll through Fairmount Park.
Run up the Art Museum Steps and do your best Rocky impression.
See the largest collection of Rodin's works outside of Paris at the Rodin Museum.
Dig into delicious, spicy and savoury fare at Rose Tattoo Café.
Kickstart your day with a hearty breakfast at Sabrina's Café & Spencer's Too.
Sip an awesome craft brew at Prohibition Tap Room.
Grab a pint at Con Murphy's Irish Pub.
Indulge in a delicious cappuccino at Café Lift.
Sample sophisticated cocktails at The Trestle Inn.
See incredible performances from emerging artists at Underground Arts.
3. Rittenhouse Square – Best Area in Philadelphia for Nightlife
If you're someone who loves to stay at the centre of the action, then Rittenhouse Square is for you!
This downtown district is one of the most upscale in the city. The area consists of a lush and manicured park, surrounded by expensive condos and shopping, dining, and entertainment options.
Rittenhouse Square is also our pick for where to stay for nightlife, as it's home to the best bars, clubs and cocktail lounges in Philadelphia. Whether you're looking to dance until dawn, enjoy panoramic views, or sip sophisticated cocktails in a hip speakeasy, this neighbourhood has something for everyone.
Have this whole loft to yourself right across the street from Rittenhouse Square! This awesome Philadelphia Airbnb is set in a historic building and is stylishly decorated with all the modern comforts of home. The local market is steps away from here, so make sure to check it out!
This charming and cozy bed and breakfast is located within walking distance of Rittenhouse Square's top bars and attractions. It has comfortable rooms with en-suites, as well as a desk area and free wifi. The food here is also highly recommended.
This great hotel comes complete with an outdoor swimming pool, a fitness center, and a stylish lounge bar. Located just a few minutes' walk from local bars and restaurants, this hotel is set at the heart of Philly's nightlife district. A gourmet breakfast is provided daily, perfect for curing any hangover.
This modern hotel is another great pick for where to stay in Rittenhouse Square. It sits at the heart of the district and is surrounded by attractions, boutiques, and wining and dining options. Onsite, you'll find a rooftop swimming pool, a contemporary fitness centre, and two restaurants.
Things to See and Do in Rittenhouse Square:
Enjoy cocktails with a view at Vango Lounge and Skybar.
Grab a pint at Monk's Café.
Dine on delicious American fare at XIX Nineteen.
Spend a night eating and drinking at Tria.
Savour delicious drinks in an intimate setting at Library Bar.
Dance the night away at Rumor.
Sample an array of craft brews at Good Dog Bar and Restaurant.
Cosy up with a cocktail at 1 Tippling Place.
Sip classic cocktails at The Franklin Mortgage & Investment Co, a popular prohibition-style speakeasy.
Shop the upscale boutiques along Walnut Street
4. Fishtown & Northern Liberties – Coolest Place to Stay in Philadelphia
Set north of the city center are the neighboring districts of Fishtown and Northern Liberties. These two areas have risen the ranks over the last couple of decades, filling up with trendy establishments and the best eateries in the city.
Unfortunately, Northern Liberties is not the safest neighborhood in Philadelphia. There's relatively low risk when you're exploring throughout the day, but do take extra caution when out at night. Stick to the main streets to stay safe.
Sleeping up to five guests, this bright and airy loft in Fishtown is ideal for families. It's situated steps away from the subway and a short walk from shops, restaurants, and cafes, and free parking is provided. With comfy furnishings and plenty of natural light, this is the perfect spot to relax after a day of exploring Philadelphia.
Each room in this stylish hotel comes with a full kitchen, private bathrooms and a dining area, so your family can enjoy all the comforts of home. Furnishings are modern and comfortable, and free wifi is available in each room. This place is ideal for families or couples heading to Philadelphia, with plenty of top attractions within walking distance.
With the largest rooms sleeping up to six guests, this hotel is perfect for families. Each unit contains a kitchen and private bathroom, and free wifi is also available. The best part of this hotel has to be its rooftop area, where you can catch stunning views over the city.
Best Airbnb in Fishtown: Urban Lodge
Families visiting Philadelphia will love staying in this modern 2-bed house in Fishtown. Interiors feature exposed brick and industrial design, with plenty of space for up to 5 guests to relax in. The house is just a 10 minute drive from Downtown and a short walk from the Delaware River.
Things to See and Do in Fishtown & Northern Liberties:
See live acts at Johnny Brenda's.
Sip incredible coffees at La Colombe.
Satisfy your appetite with a delicious lox sandwich at Philly Style Bagels.
Shop for secondhand and vintage pieces at Two Percent Gory and Urban Exchange.
Grab a slice at Pizza Brain.
Enjoy a scoop at Little Baby's Ice Cream.
Take a stroll through Penn Treaty Park.
Down a pint at Yard's Brewery.
Visit the Edgar Allan Poe National Historic Site where the author lived and worked.
Sample your way through Frankford Hall, a traditional German beer garden with a modern twist.
5. Midtown Village – Best Area in Philadelphia for Families
Midtown Village and Washington Square West stretch across the middle of Philadelphia. These side-by-side neighborhoods are home to an eclectic mix of restaurants, bars, shops, museums, and historic landmarks.
Midtown is our pick for the best neighborhood in Philadelphia for families. Not only is it located within walking distance of the city's top historic and tourist attractions, but within Midtown Village's streets, you'll find a number of some of the best things to explore in the city.
With space for up to ten guests, this large bi-level apartment is ideal for a family trip to Philadelphia! The unit comes with a full kitchen and laundry facilities, as well as free wifi for a convenient stay. It's centrally located within walking distance of Philadelphia's top attractions and public transport services, so you can really make the most of your time in the city.
This simple but cosy apartment can sleep up to four guests, and enjoys an amazing location in the heart of Midtown. Guests will have a full kitchen, as well as wifi and access to laundry facilities. Note that the apartment does sit on top of a bar, which will occasionally play loud music until late.
This stylish four-star hotel is equipped with family rooms, ideal for visiting Philadelphia with kids. Located near the Liberty Bell, this modern hotel is close to restaurants, bars, and popular attractions. Onsite, you can enjoy a restaurant, bar and a rooftop terrace.
The Morris House Hotel is a charming and cozy three-star property in central Philadelphia. It's close to a variety of well-known attractions, bars, restaurants, and shops. Rooms are full of convenient amenities, and there's an awesome onsite restaurant.
Things to See and Do in Midtown Village:
Spend an afternoon people watching in Washington Square Park.
Tour Philadelphia City Hall and marvel at the towering statue of William Penn that tops the building.
Explore and eat your way through the streets of Chinatown.
Visit the Wells Fargo History Museum.
Admire the architecture on Spruce Street.
See a world-class performance by The Philadelphia Orchestra.
Wander through Philadelphia's Magic Gardens and admire a collection of murals and mosaic art.
Visiting in winter? Strap on your skates and go for a spin on the Blue Cross RiverRink
Ride the carousel at Franklin Square.
Indulge in a refreshing treat at Sweet Charlie's.
Here's what people usually ask us about the areas of Philadelphia and where to stay.
World Nomads' mission is to support and encourage travellers to explore their boundaries. They offer simple & flexible travel insurance, and safety advice to help you travel confidently.
They've been doing it since 2002 – protecting, connecting, and inspiring independent travellers just like you.
Get a quote below or read our in-depth review!
World Nomads provides travel insurance for travelers in over 100 countries. As an affiliate, we receive a fee when you get a quote from World Nomads using this link. We do not represent World Nomads. This is information only and not a recommendation to buy travel insurance.
Philadelphia is a gem of a city, bursting with history, culture, and great food. It's an incredibly interesting destination that's always well worth a visit. Whether you're a history buff, a fearless foodie, a party animal, or anything else, there's something for everyone in this city.
If you're still unsure where to stay, you can't go wrong with the Apple Hostels of Philadelphia. Set in Old City, this hostel is within walking distance of tourist attractions, bars, restaurants, shops, and museums.
Penn's View Hotel Philadelphia is our favorite hotel in Philadelphia, thanks to its central setting, wellness features, and comfortable guest rooms.
Do you own an awesome hostel, hotel or apartment? Want to be featured in our list? Email [email protected] to find out how.
---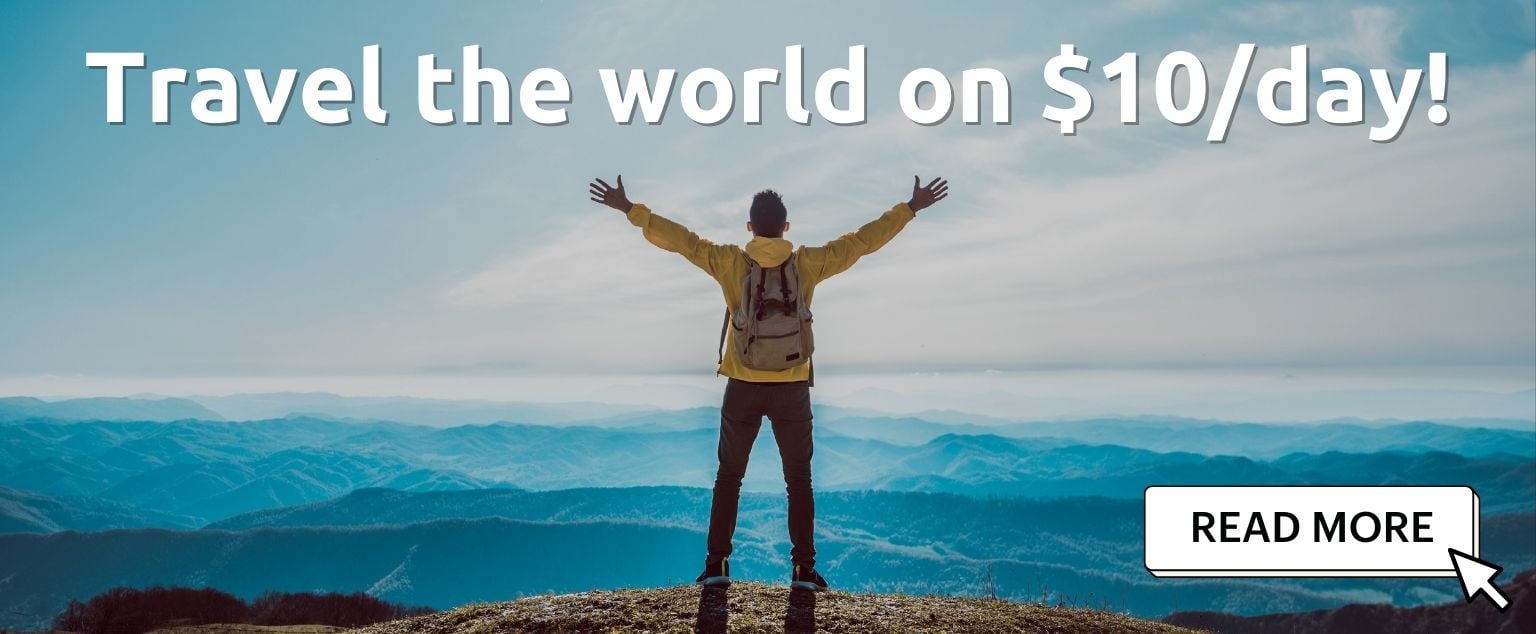 And for transparency's sake, please know that some of the links in our content are affiliate links. That means that if you book your accommodation, buy your gear, or sort your insurance through our link, we earn a small commission (at no extra cost to you). That said, we only link to the gear we trust and never recommend services we don't believe are up to scratch. Again, thank you!