Philadelphia, often shorted to Philly, is a large city in the USA's state of Pennsylvania. Among the largest cities in the country, the wider metropolitan area also includes areas within the states of Delaware and New Jersey. One of the nation's most historically significant cities, Philadelphia is often referred to as The Birthplace of America. A former national capital, it is where the Declaration of Independence was written and it played a key role in the American Revolutionary War. Today, Philadelphia has a thriving culture and arts scene, a diverse ethnic makeup, and many exciting things to see and do.
As a huge and sprawling city, finalising your Philadelphia itinerary can take some time. Deciding where to visit and where to skip can be a tough call, and planning your trip can be rather stressful!
There's no need to spend unnecessary hours figuring out the details, though; our expert team of travel researchers and writers has created the ultimate list of the best places to visit in Philadelphia to help you out. We've included something for everyone, covering diverse interests, themes, travelling styles, and budgets.
We must warn you, though: some of these best places to visit in Philadelphia might just shock you!
Need a place quick? Here's the best neighbourhood in Philadelphia:
BEST AREA IN PHILADELPHIA
Fishtown and Northern Liberties
If you love to eat, Fishtown and Northern Liberties are for you! Dotted throughout these city streets are a great variety of hip, trendy and tasty establishments serving dishes from around the world.
Places to visit:
See live acts at Johnny's Brenda's.
Satisfy your appetite with a delicious lox sandwich at Philly Style Bagels.
Visit the Edgar Allan Poe National Historic Site where the author lived and worked.
Now that we've covered the useful advice, let's discover the best places to visit in Philadelphia …
These are the BEST Places to Visit in Philadelphia!
You've probably heard that it's always sunny in Philadelphia, but do you know where the best areas to stay are? We've got a full guide on accommodation and which neighbourhoods are Philadelphia's finest. Be sure to check out where to stay in Philadelphia before you scroll on down into the fun below!

Unlock Our GREATEST Travel Secrets!
Sign up for our newsletter and get the best travel tips delivered right to your inbox.
#1 – Independence National Historical Park – Possibly one of the most important places to visit in Philadelphia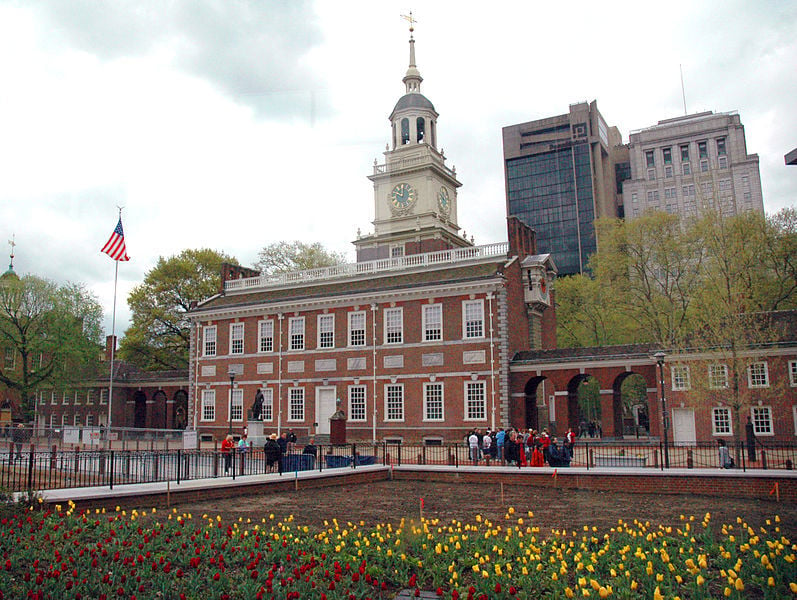 Scene of many key events from America's history
Many historical buildings
Interesting museums
Ideal for budget travellers
Why it's awesome: Independence National Historical Park is one of the most famous places in Philadelphia. It is nicknamed the most historic square mile in America because of its many significant sites. There are several sites related to the founding of the USA and a number of places that played a role during the American Revolution. The UNESCO-listed Independence Hall is a Philadelphia must-see; it was where the Declaration of Independence and US Constitution were drafted and signed. The Liberty Bell Center houses the famous bell, and there are numerous other historic buildings and monuments spread through the large area. Many sights are free to visit too!
What to do there: Start your trip at the Independence Visitor Center to plan your experience—you can get a free map to make sure you don't miss any major points of interest. Take a walk along Independence Mall and visit Independence Hall to see where the USA came into being when the Founding Fathers signed the Declaration of Independence in 1776. Nearby, you can also see the Old City Hall, Philosophical Hall, and Congress Hall. Cross the path to see the large Liberty Bell, a striking symbol of American freedom. Watch the video presentation to learn more about the bell's symbolism.
Visit a former presidential home and stand in the building where both President's Washington and Addams once lived. Inside, there are now moving and thought-provoking displays related to freedom and slavery. George Washington also stayed in Germantown White House. Declaration House is another important former residential building—Thomas Jefferson lived here in times gone by. In Bishop White House (previously home to a revered man of the church) you can see how members of the upper classes used to live in Philadelphia in the past.
Other significant spots to explore include the Free Quaker Meeting House, the Merchant's Exchange Building, City Tavern, and the Second Bank (now home to a portrait gallery). Pay your respects at the Tomb of the Unknown Soldier at the elegant Washington Square, the Korean War Memorial, and the Mikveh Israel Cemetery. See the interesting exhibits in the Benjamin Franklin Museum, and take time out to relax in charming gardens like the Rose Garden, Magnolia Garden, and nostalgic 18th Century Garden.
#2 – Reading Terminal Market – A must-see for foodies!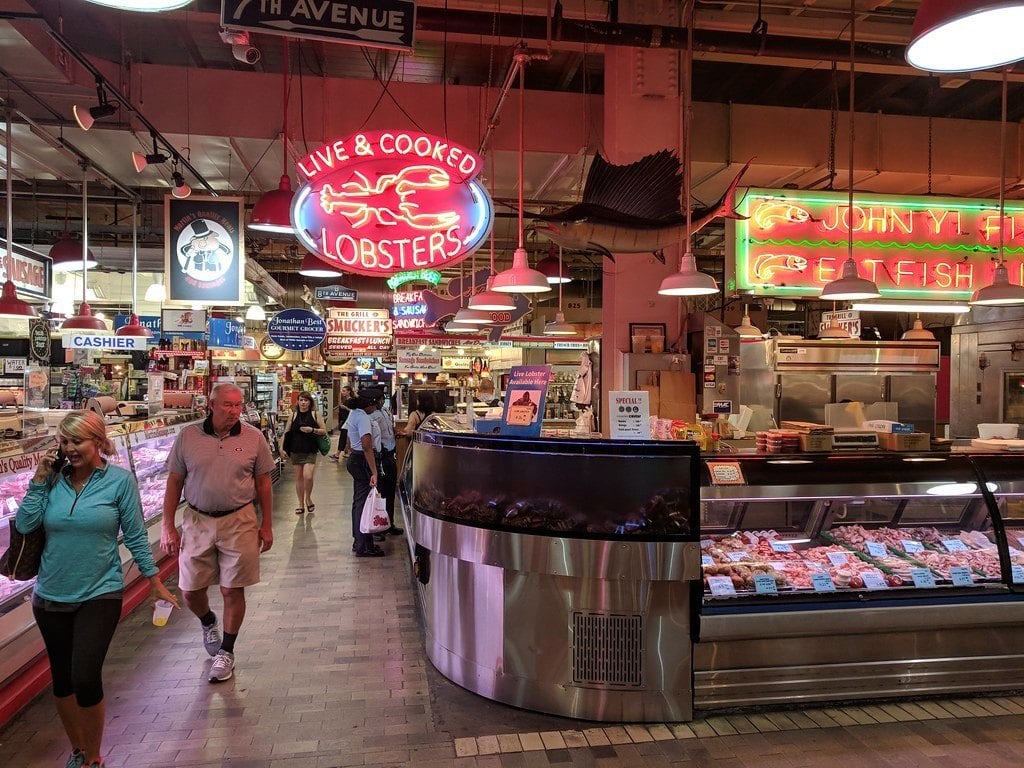 Sells everything related to cooking
Great photo opportunities
Numerous restaurants
Varied cuisine
Why it's awesome: Found within a building that's listed as a National Historic Landmark, the fabulous Reading Terminal Market first started operations in 1893. It is one of the oldest and biggest markets in the USA. Business is still booming today, with a vast assortment of foodstuffs. The farmers' market sells a huge selection of fresh produce, with both locally grown and imported goods on offer, and there are fresh meats, poultry, seafood, cheeses, baked items, and more. As well as ingredients the market also houses numerous restaurants with diverse and tempting menus. It's one of the best places to eat in Philadelphia.
What to do there: While exploring Reading Terminal Market is exciting for any foodie, with its many goods to see, photograph, and salivate over, it's even better if you're staying in a self-catering accommodation! Pick up fresh and juicy cuts of meat, fish, warm bread, all manner of vegetables, and anything else that you need to prepare a sumptuous meal. Need inspiration? You can also buy cookbooks! Hosting a dinner party? How about some fresh-cut flowers to adorn your table? Cookware, kitchen accessories, table mats, cutlery … the market has everything related to food preparation! There are plenty of goodies, including baked goods and sweet treats, to stock up on for a tasty picnic too. Call into one of the enticing restaurants for a delicious meal—there's so much to choose from!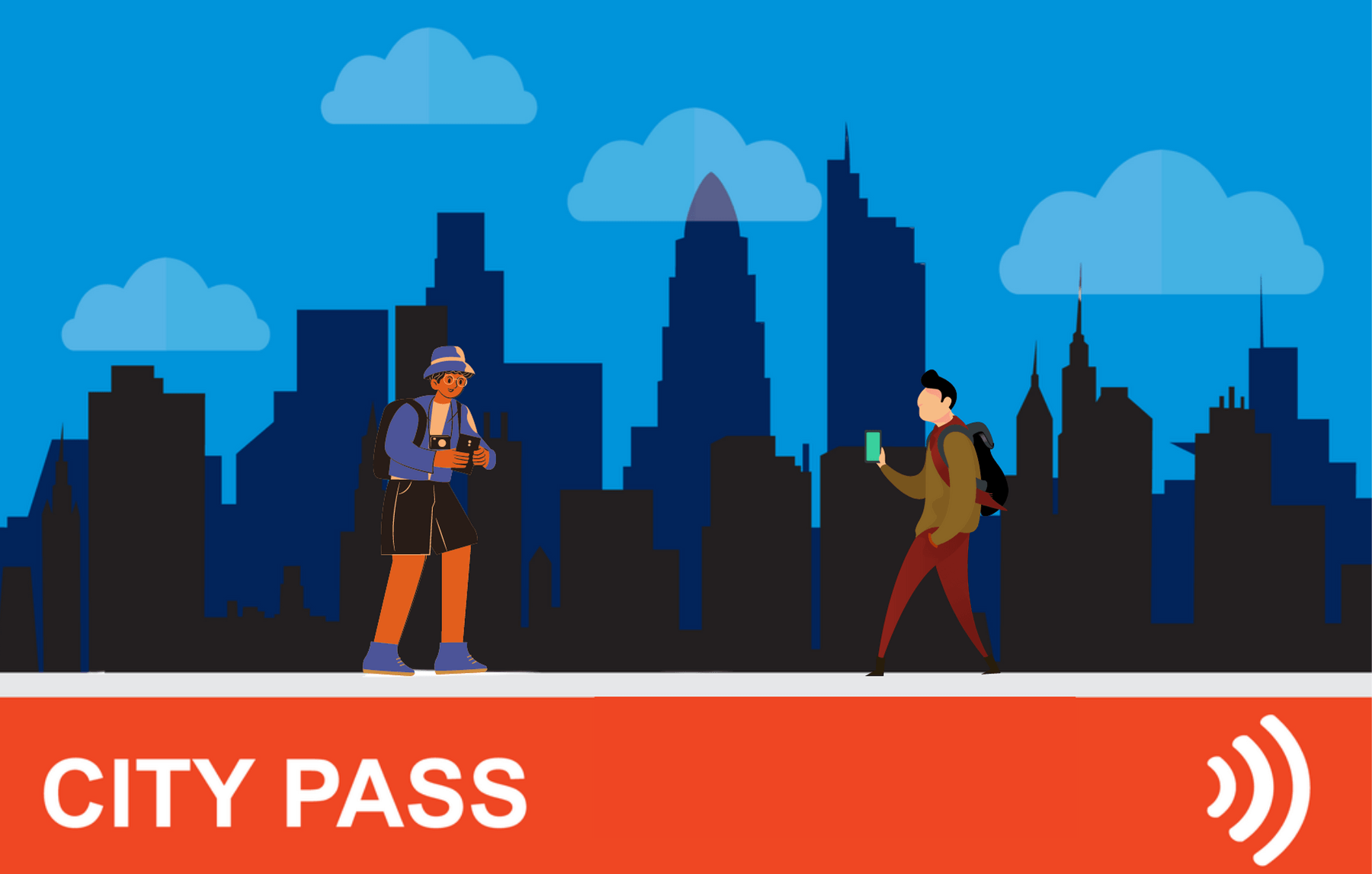 Travelling to Philadelphia? Then plan yo' trip the smart way!
With a Philadelphia City Pass, you can experience the best of Philadelphia at the CHEAPEST prices. Discounts, attractions, tickets, and even public transport are all standards in any good city pass – be sure invest now and save them $$$ when you arrive!
Buy Your Pass NOW!
#3 – Mural Mile – One of the more unique places to visit in Philadelphia!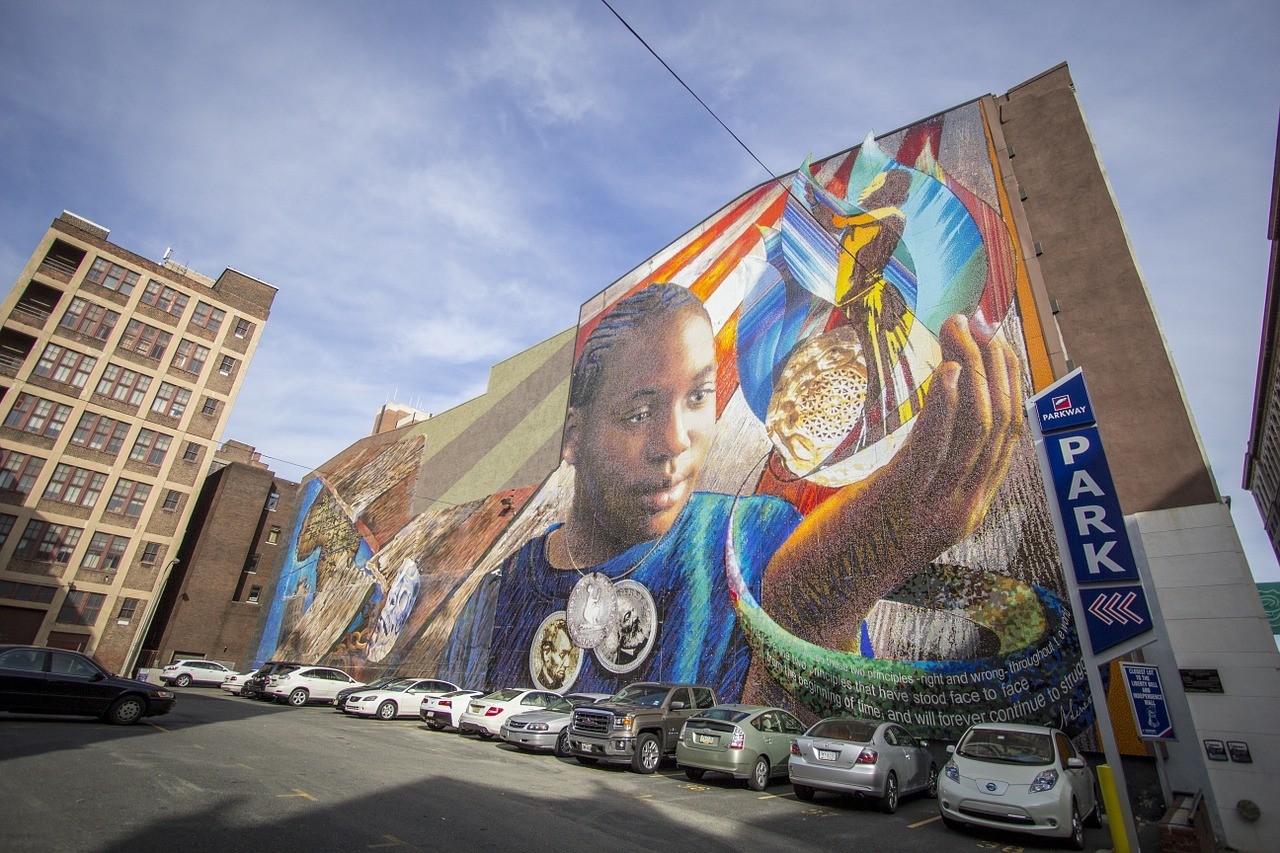 Lots of public art
Interesting stores and messages
Varied ways to enjoy and discover the art
Community projects
Why it's awesome: Despite the name, the huge Mural Mile actually stretches for some two and a half miles (four kilometres), with tons of stunning and striking public art. One of the coolest places to visit in Philadelphia, particularly for art lovers, visitors can combine art appreciation with urban exploration and keeping fit! With more than 3,000 artistic works it's no surprise that the area is often referred to as the world's biggest art gallery.
Big and small, covering various themes, and in all shades of colour, many pieces seek to impart messages and tell stories through visual representations. For example, some reflect historic themes and others reflect city life. It's definitely one of the top things to do when visiting Philadelphia. Adding even more value to the street art, programs are in place that use art in youth engagement programs and rehabilitation of offenders.
What to do there: There are various ways to enjoy Philly's Mural Mile. You can join a guided tour, with both group and private options available, to make sure that you don't miss any of the highlights and to provide in-depth explanations about the artists, painting processes, and themes. For a more independent, yet still insightful, art experience you can also download a podcast and map and follow the route at your leisure. Alternatively, simply go for a walk and enjoy the new surprises that each wall and building brings.
Be sure to take your camera! If you want to know more about any particular piece you can easily call a free-phone number to listen to information. Especially significant and popular works not to miss include those entitled Taste of Summer, Legacy, Philadelphia Muses, Gimme Shelter, Mapping Courage, and Tree of Knowledge.
#4 – Philadelphia Museum of Art – Cool place to see in Philadelphia with friends!
Home to the Rocky Steps
Vast collection of art
Beautiful architecture
Statue of Rocky
Why it's awesome: The Philadelphia Museum of Art is one of the most famous places in Philadelphia for two reasons—not only does it boast more than 240,000 fantastic works, but it also has strong links to Rocky Balboa (a movie character played by Sylvester Stallone in a number of hit films). It's one of the biggest and most-visited art museums on the planet. Open since the 1870s, the museum contains artistic works from across the world, with paintings, sculptures, carvings, drawings, statues, photographs, decorative items, and more. In addition to the fascinating permanent collection, the huge art museum also hosts regular temporary exhibitions.
What to do there: Stand in the sweeping and impressive square and admire the graceful main building from the outside. Check out the sculptures of Greek gods, goddesses, and mythical beings that embellish one of the pediments and see the bronze griffins that sit around the building's façade. Snap a selfie with the large bronze statue of Rocky, found at the bottom of the stairs, before charging up the steps in front of the now-nicknamed Rocky Steps for fab pictures of you copying the fictional boxer. Spend several hours viewing the magnificent collection in the museum, comparing and contrasting works from different eras and from all parts of the world.
Some of the more interesting global exhibits include an Indian temple hall from the 16th century, Persian rugs, a Japanese teahouse, stately furnishings from England, suits of armour, and costumes. Don't miss seeing the collection of Pennsylvanian-German art for a more local flavour. Famous artists represented in the museum include Thomas Eakins, Rodin, Manet, Monet, Renoir, Salvador Dali, Picasso, Jasper Johns, Marcel Duchamp, Van Gogh, Alfred Stevens, and Cézanne.
#5 – Eastern State Penitentiary – One of the most amazing places in Philadelphia!
Ground-breaking penal reforms
Once home to notorious criminals
Tour the old prison
Artworks
Why it's awesome: Once used to house notorious criminals and nefarious characters, Philadelphia's Eastern State Penitentiary was innovative in its attempts at reformation, rehabilitation, and change. Eschewing the previous principles and practices of prisoners working together in silence, EST established a solitary confinement model and focused on reform rather than punishment. There was a strong spiritual focus and an idea that forcing people to reflect on their actions would help them to improve. Indeed, cells had a single window at the top, often referred to as the eye of God. Prisoners never came into contact with each other.
They were allowed to keep pets and do gardening, however, and had regular visits from wardens and other members of prison staff. The prison's design was groundbreaking and was later copied by many prisons across the world. In operation from 1829 to 1971, it was used to detain people like Al Capone, Willie Sutton, and James Bruno (AKA Big Joe). Now a National Historic landmark, the former prison is open as a fascinating museum.
What to do there: Join a tour of the former prison and hear stories of the prison's operations and the inmates that passed through the system. One of the more interesting tales involves a canine prisoner. Pep the dog is said to have been incarcerated for killing a cat! There are also activities for children. See the novel wheel and spoke design and peer into some of the old solitary cells, noting the high windows and small doorways.
Stand in the courtyard and experience the views of a prison guard through the camera in the guard tower. Visit the chaplain's office to see interesting murals, and view other artworks throughout the complex, including The End of the Tunnel, My Glass House, Purge Incomplete, GTMO, Ghost Cats, and Juxtaposition.
#6 – Please Touch Museum – Awesome place to visit in Philadelphia with kids!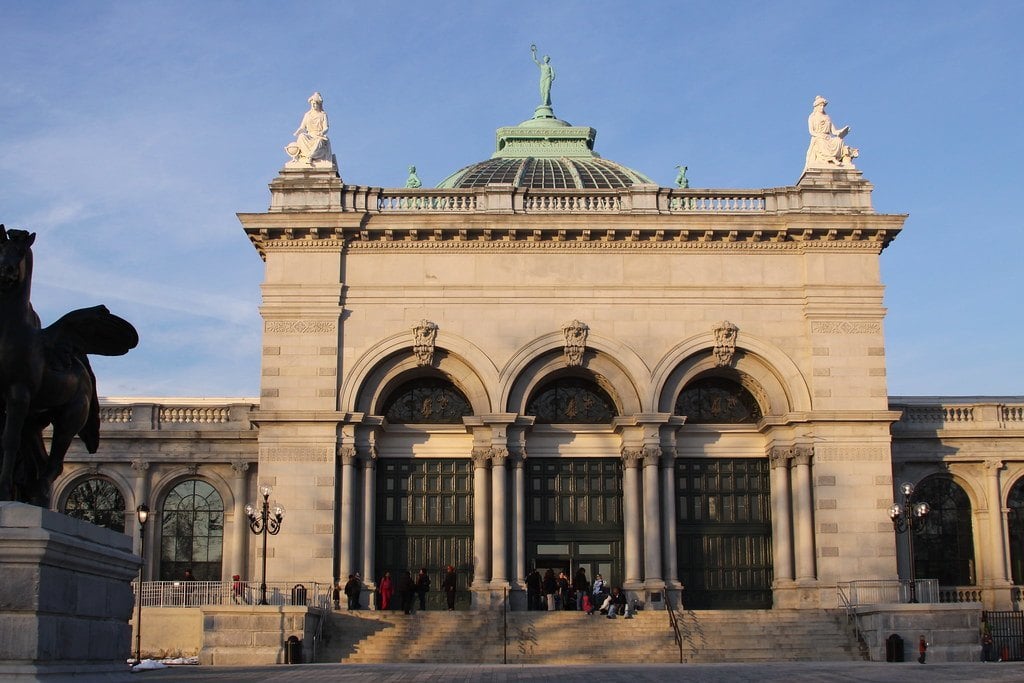 Learning through play
Restored carousel
Designed for kids
Various interactive activities and programs
Why it's awesome: The fun and funky Please Touch Museum is one of the best attractions in Philadelphia for families. Spread over two floors, the museum actively encourages interactions. It aims to promote learning through play, provide cultural awareness, stimulate curious minds, and inspire a love for learning. Aimed at kids between one and seven, there are several areas that are specifically geared towards the youngest members of the family, suitable for children up to three. One of the leading children's museums in the country, it is housed in a historic building that features on the list of National Historic Landmarks.
What to do there: Watch as your little ones have a great time discovering the various games, experiments, toys, and hands-on exhibitions. Smile as their faces light up as they master new skills and learn new information. There are various special programs to enjoy too (included in the cost of entry), including story-telling sessions, puppet shows, workshops, crafts, singing, dancing, science projects, and outdoor play. All members of the family can ride on the charming carousel. Built in the early 1900s it has been carefully restored to bring a sense of nostalgia to adults and joy to children.
#7 – Thaddeus Kosciuszko National Memorial – An unknown (but awesome!) place to see in Philadelphia!
Off the beaten track
Heroic tales
Olde-worlde vibe
Free to visit
Why it's awesome: One of the lesser-known landmarks in Philadelphia, the Thaddeus Kosciuszko National Memorial remembers a Polish hero who was active during the American Revolution. Despite being little remembered today, Thaddeus Kosciuszko was once referred to as a pure "son of liberty" by Thomas Jefferson. He was banished from Poland, at that time occupied by Russia, and spent time recovering in Philadelphia. He lived in a modest boarding house, where he was visited by a number of eminent people, such as Jefferson, William Paterson, and several tribal chiefs. The home has been restored and is now open to the public. It is the smallest memorial in the USA's National Park System and is listed as a National Memorial. It is free to visit the site.
What to do there: Learn more about the life and times of Thaddeus Kosciuszko, a devoted Polish patriot, and see his former home. Travel back in time to the days of the American Revolution and stand in the very room where he met with prominent people. You can also see the bedroom, complete with period furnishings. Discover the role that Kosciuszko played both in the US and in his native Poland, take a self-guided tour, and watch an informative video.
#8 – Morris Arboretum – Great place to visit in Philadelphia for couples!
Wide collection of flora
Beautiful landscaping
Romantic ambience
Relaxation
Why it's awesome: Part of the University of Pennsylvania, the picturesque Morris Arboretum is a great romantic addition to any Philadelphia itinerary. Covering 92 acres (37 hectares), it was once part of a private estate owned by a botany-loving brother and sister. They started landscaping the area and growing plants in the 1880s, and it became a public site in 1933. Home to flora from across the world, today the arboretum has more than 2,500 species, some of which are rare. Mainly designed in the style of a traditional English garden, there are also Japanese influences. The garden has delightful landscaped areas with many trees and flowers, lovely paths and streams, and a sparkling pond.
What to do there: Follow the meandering footpaths through the pretty gardens to admire the rich collection of plants, trees, and flowers. You'll find plants from the Americas, Europe, and Asia throughout the scenic grounds, including azaleas, roses, magnolias, conifers, rhododendrons, maples, and cherry trees. Of particular interest are the dawn redwood trees, which were once believed to be extinct.
Sit in the shade and soak up the peaceful vibe with your love, step into the fernery, see the rustic log cabin, and get a closer look of the trees with a walk along the metal walkway, Out on a Limb. Spot the statues and fountains throughout the gardens, including the Key Fountain, Step Fountain, and statue of Mercury at Rest, and relax in the attractive Japanese-themed gardens, complete with water features, rock gardens, lanterns, and stones. The Swan Pond is another especially romantic spot.
#9 – Elfreth's Alley – One of Philadelphia's coolest historical sites!
Historic alleyway
Once a bustling place for trade
History museum
Beautiful architecture
Why it's awesome: The charming Elfreth's Alley can trace its history back to 1702. It was created when two blacksmiths cooperated to give up parts of the land to be able to create an alley leading down to the river. Indeed, the thoroughfare is named after a blacksmith from the area. Homes were built along the alley, mainly owned by local tradespeople such as silversmiths, carpenters, ship-makers, and glassblowers.
Most of the buildings along the alley were constructed between the late 1720s and the late 1830s. They reflect the Federal-style and Georgian designs that were common during that era. The alley is a National Historic Landmark and there is also a museum there today. One of the coolest parts about the street, however, is the fact that it claims to be the oldest continually inhabited alley in the entire country! If heritage buildings are your thing, why not try finding a beautiful heritage style hostel nearby!
What to do there: Stroll along the atmospheric history, breathing in the air of history as you let your imagination wander and think of the lives of the people that used to live there. Wonder about early immigrants, merchants, and tradespeople and try to visualise how different the street must have looked in times gone by. See the contrast between historic preservation and urban decay. Call into the Elfreth's Alley Museum for a step back in time. You can experience life in the past as you explore the restored 18th-century home, which has a number of period furnishings and exhibits. The property was once owned by two dressmakers.
Is This the Best Daypack EVER???
#10 – Laurel Hill Cemetery – A nice quiet place to see in Philadelphia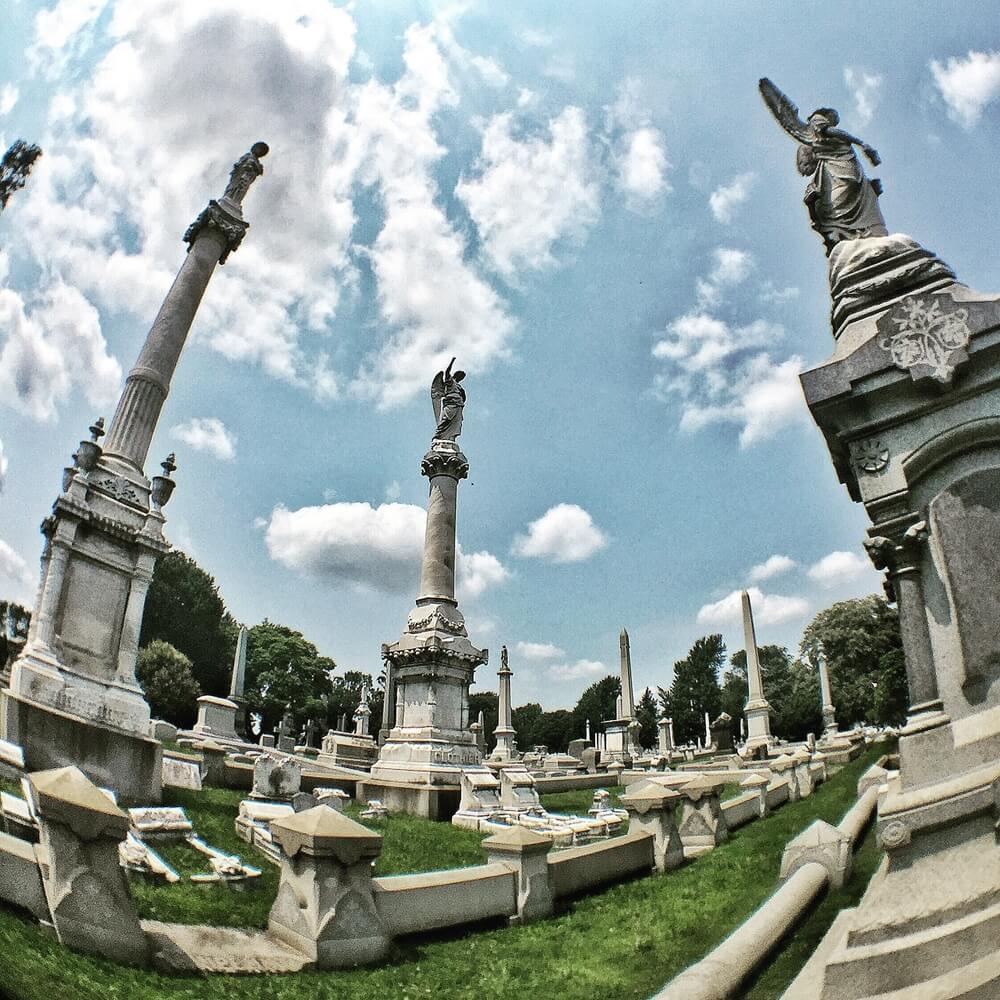 Striking funerary architecture
Gorgeous grounds
Lovely views
Peaceful and quiet
Why it's awesome: The tranquil and attractive Laurel Hill Cemetery is another of the top historical hotspots in Philadelphia. Established in 1836, it was the country's second major rural cemetery. It came into existence because of a man's sorrow at how his daughter had been buried in a regular churchyard, with little surrounding beauty. It incorporated beautiful landscaping into its design. It is one of just a few cemeteries around the nation to have been listed as a National Historic Landmark. Overlooking the Schuylkill River, the burial ground has more than 33,000 graves and monuments, all spread across an area of some 74 acres (30 hectares). It is a terrific place to see striking funerary architecture and art and to enjoy nature, gorgeous scenery, and a sense of peace.
What to do there: Step through the grand and ornate gateway to discover the many magnificent monuments, tombs, and memorials throughout the expansive cemetery, with gleaming marble, sturdy sandstone, cast-iron, and splendid granite used to create ornate mausoleums, tomb stones, statues, carvings, and obelisks in memory of the dead. Pay your own respects to the deceased and spot the final resting places of a number of prominent people from the city's history. Famous burials include Robert Adams Junior (a congressman from the state), Hilary Baker (former mayor), Robert Montgomery Bird (author and playwright), David Bispham (opera singer), and William P. Clyde (shipping mogul).
You'll also see the graves of many military figures from during the American Civil War. Don't miss seeing one of the more interesting graves, that of Adrian Balboa. Nobody is interred in the site—it was created as a prop for one of the Rocky movies! Admire the views from the cemetery and see the abundance of flora and fauna that adds to the picturesque setting and serene ambience.
Get insured for your trip to Philadelphia!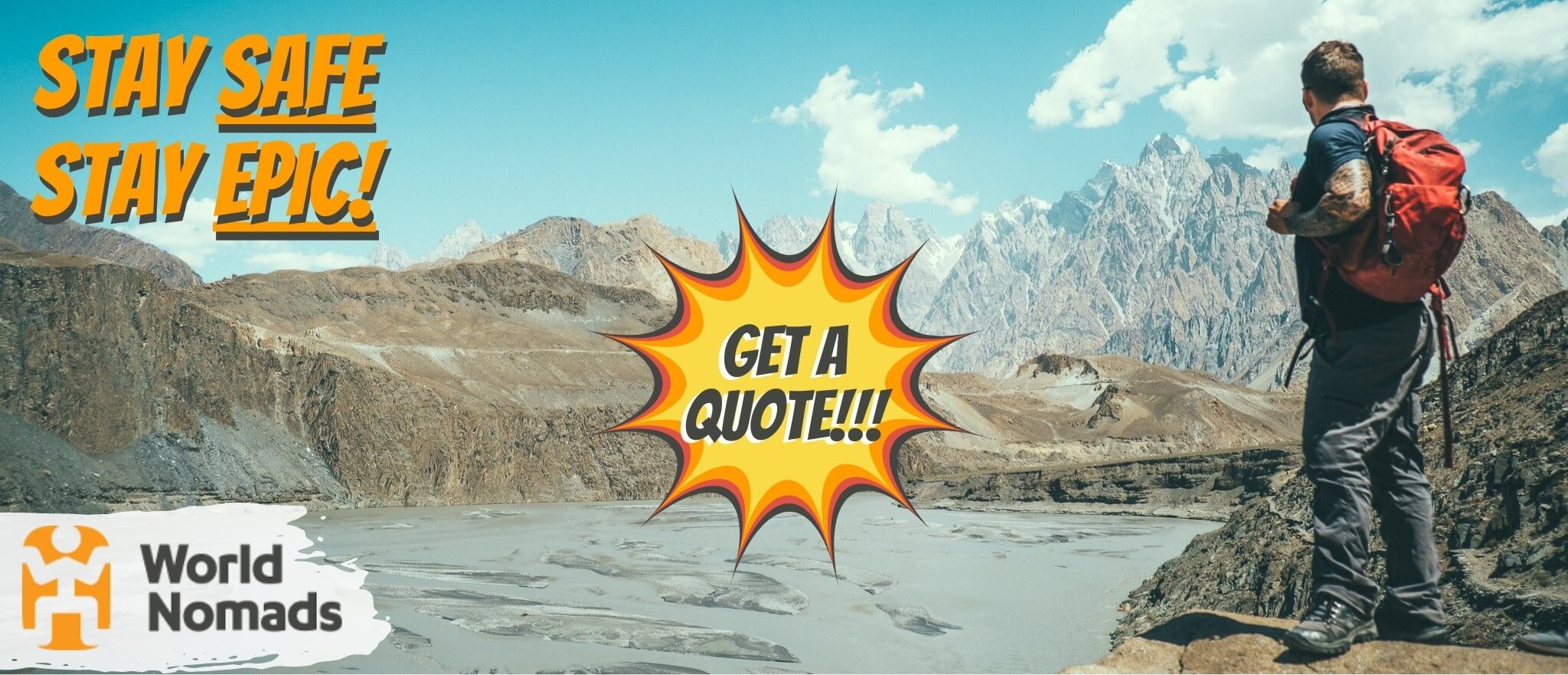 World Nomads' mission is to support and encourage travellers to explore their boundaries. They offer simple & flexible travel insurance, and safety advice to help you travel confidently.
They've been doing it since 2002 – protecting, connecting, and inspiring independent travellers just like you.
Get a quote below or read our in-depth review!
World Nomads provides travel insurance for travelers in over 100 countries. As an affiliate, we receive a fee when you get a quote from World Nomads using this link. We do not represent World Nomads. This is information only and not a recommendation to buy travel insurance.
FAQ on the Best Places to Visit in Philadelphia
Find out what people want to know about the best places to visit in Philadelphia
A few more best places to visit in Philadelphia
Visit Betsy Ross House to see where the very first American flag was born. There are tons of awesome museums to add to your Philadelphia itinerary, including the Penn Museum, the Mutter Museum, the Museum of the American Revolution, the Edgar Allan Poe National Historical Site, the National Liberty Museum, the Independence Seaport Museum, the National Museum of American Jewish History, the TUSPM Shoe Museum, and the Fabric Workshop Museum. Free to visit, the Valley Forge National Historical Park is also well worth the trip for fans of history.
For art enthusiasts wondering what to do in Philadelphia, there's the Rodin Museum, the Institute of Contemporary Art, Woodmere Art Museum, and the Pennsylvania Academy of the Fine Arts. Visiting the enchanting, whimsical, and delightful Philadelphia's Magic Gardens is among the most unusual things to do in Philadelphia.
Absorb the vibrant energy of Franklin Square and the Oval, admire the quaint, colourful, and pretty Boathouse Row, tour the Philadelphia Brewing Company, spend a fun family day out at Philadelphia Zoo, and learn more about creatures from the ocean deep at Adventure Aquarium. Snap a picture in front of the bright red LOVE statue, soak up the views from Cira Green rooftop garden, marvel at Gothic graves in the overgrown and abandoned Moriah Cemetery, take the kids to Sesame Place, and relax in Fairmount Park. The John Heinz National Wildlife Refuge at Tinicum is a nice non-touristy place to visit in Philadelphia where you can spot native flora and fauna and soak up the tranquil ambience.
Don't forget to check our recommendations of the best places to visit in Philadelphia and have a fantastic time in one of the USA's most historic destinations. If you need more inspiration, here are some awesome day trips in Philadelphia.
---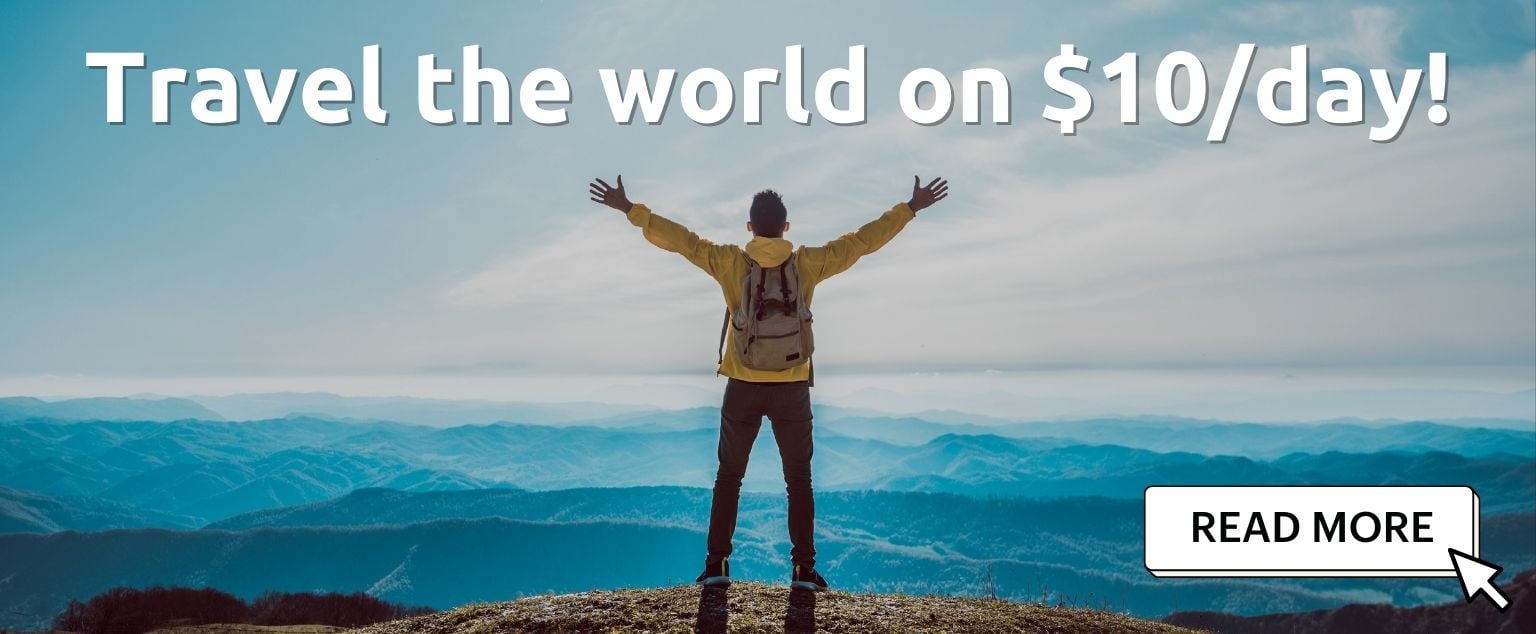 And for transparency's sake, please know that some of the links in our content are affiliate links. That means that if you book your accommodation, buy your gear, or sort your insurance through our link, we earn a small commission (at no extra cost to you). That said, we only link to the gear we trust and never recommend services we don't believe are up to scratch. Again, thank you!