New York City is the beating heart of American culture. For hundreds of years, New York has been an important international hub for immigrants, artists, musicians, social movements, fashion, and progressive thinkers.
Backpacking New York offers up a chance for travelers to experience one of the most dynamic and fascinating cities in the western world.
That is exactly why I have assembled this epic New York City travel guide!
From picnics in Central Park and subway rides to Brooklyn to take in the hip-bourgeoisie in Greenwich Village, backpacking New York has something on offer for every type of traveler.
This New York City travel guide highlights all of my top tips for exploring New York City on a budget. Get up-to-date information on where to stay in New York, top things to do, your New York daily budget, top free attractions, suggested itineraries, cheap eats in NYC, and much more.
Let's go…
What to Expect when Backpacking New York
Few urban places on our planet can match New York City's diversity and general awesomeness. The city is a sprawling concrete jungle with plenty of stuff to keep backpackers busy for all of eternity.
But here's a reality check: New York City is one of the most expensive cities in the world. Accommodation in New York is eye-watering and then don't expect to pay less than $10 for a beer. For many travelers, backpacking New York City on a budget can seem as difficult as free soloing the Empire State building – but that doesn't mean you have to take NYC off your USA backpacking trip!
New York City is a pricey place to travel in—no doubt about that. That said, backpacking New York City is a truly fantastic experience and one that can totally be achieved on a reasonable budget.
For backpackers, NYC is a paradise. The city is a one-stop-shop for all things cultural, tasty, hip, cool, and fun. However, you definitely need to have a rough New York itinerary in order to fit in all of the attractions. Randomly walking around will not only leave you stressed and unhappy, but it might also lead to losing a lot of money by hopping on the next best attraction because you feel like you're missing out.
Which day of the week you arrive in NYC would impact the type of itinerary I would suggest to you if you asked me on the street. For the sake of this New York City itinerary, I am going the Thursday – Friday – Saturday route. This is the long weekend in New York itinerary, but of course, you could arrive any day of the week, on any day of the year, and do some or a majority of this itinerary.
If you're keen on seeing everything that NYC has to offer, you'd have to stay a lot longer than just three days. We'd recommend 2-3 weeks for a stress-free visit that includes all of the cool hotspots.
New York City Itinerary: Day 1
I like to send people immediately to Times Square to get their mind blown right away by the chaos. Also to gain perspective later that not all of New York City is indeed as touristy, commercialized, or busy as Times Square.
Normally I hate popular, touristy, commercialized places, but Times Square is just one of those special places with so much history and importance that you got to check it out. Times Square is fun for about 30 minutes. Then you want to get the hell out of there and never look back. If Times Square doesn't interest you and you skip it altogether, don't feel disappointed.
After leaving Times Square, check out the cool Greenwich Village and Chelsea neighborhoods for a taste of a more authentic side of New York.
From here you can head to the Rockefeller Center. To get to grips with the city, take the elevator to the top for fantastic, sprawling views of human habitat in every direction.
Next, you kill two birds with one stone. Pass through Grand Central Station en route to Lower Manhattan. Trinity Church is worth a quick look, as it is one of the oldest churches in the US.
From here you can walk to a classic New York City sandwich shop: Katz's Delicatessen. Really it is worth traveling to. Come on either end of normal lunch rush over to avoid long wait times.
After a delicious lunch (you're welcome) head back to Lower Manhattan. Here, you will stumble upon where some of the biggest criminals in the USA operate: Wall Street! It is a pretty wild scene at the exchange and around where the financial work is happening.
Take a coffee around Battery Park (anywhere but Starbucks). Check out the Battery Urban Farm before heading out to catch the ferry to Staten Island. The ferry ride is awesome because it is free and also because of the killer views that play out right in front of you.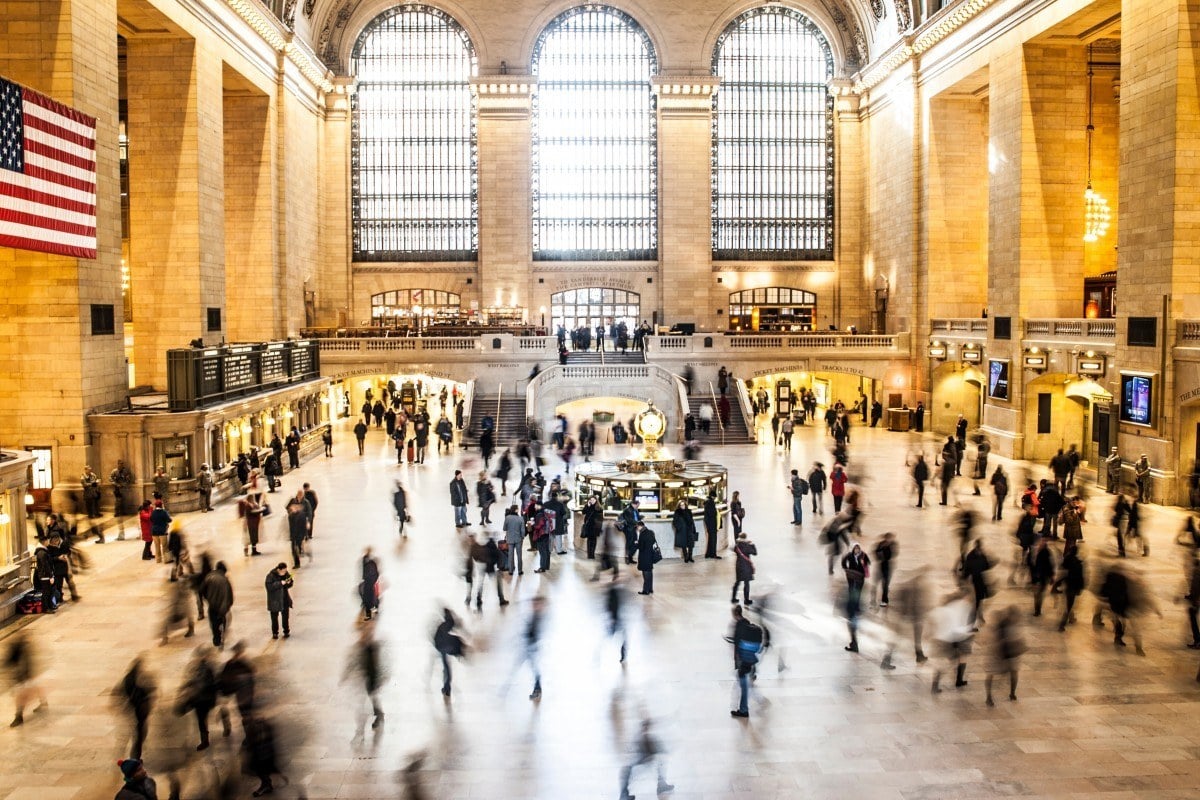 New York City Itinerary: Day 2
Now that you have seen a few of New York's most iconic landmarks, it is time to absorb some culture!
After a delicious bagel and coffee breakfast, head to the Met (Metropolitan Museum of Modern Art). You can easily spend the whole morning (or more) visiting the museum. Now that you have worked up an appetite from all of that incredible artwork it's time to cruise towards Central Park. Stop off at a bodega and pick up some picnic supplies, or simply take away a meal from a place of your choosing.
As I said, Central Park is truly massive as you'll soon see. My favorite picnic spots include the Belvedere Castle (more intimate) and the Great Lawn (more crowded). Great Hill and Bow Bridge are great picnic spots too.
If you have the energy for another museum I highly recommend you check out the Natural History Museum. This museum is loaded with super interesting and educational exhibits. Again, you could easily spend a few hours here.
Keep in mind that both museums I mention in this itinerary have entrance fees, but they are suggested fees.
In theory, you don't have to pay. That said, the museums really do provide a great cultural service to humanity. In my younger days, I would have said, "fuck it, I'm not paying if I don't have to!" I won't blame you if you too share this attitude, but if you can swing it, at least pay something.
After your brain starts to hurt from so much admiring and appreciating, it's time for a little fresh air. Take the subway (nearly direct) to the High Line. Take in another glorious sunset and stop and have a beer or two at one of the dreamy establishments along the wonderful High Line.
New York City Itinerary: Day 3
Day three can almost entirely be dedicated to Brooklyn. Though if you are really digging Manhattan there is a ton more stuff to do there too! And luckily, quite a few amazing Airbnbs as well, so you could even opt to stay longer!
First thing on today's itinerary is a visit to Ellis Island. You can opt for visiting both the Statue of Liberty and Ellis Island or just one. If you took the Staten Island ferry on day 1, then you shouldn't feel compelled to get close to the statue again, but it's up to you.
Ellis Island is a truly fascinating place to see. Learn about the long legacy of the immigrants who basically built New York up from a kind of medium-sized town to the huge metropolis it now is.
By now it should be late morning. It's time to head directly to Brooklyn. A walk across the Brooklyn Bridge might take longer than the train, but it is worth the trek. If you find yourself in Brooklyn on a Saturday, hit up the Brooklyn Flea Market.
After the market, there are plenty of options. You have Prospect Park, Coney Island, DUMBO, and Williamsburg to consider. I recommend spending the night in Brooklyn so you can get the nightlife vibes too.
Even More Things to do in New York City
Have more time on your hands? Here are a few more awesome things to do in New York City:
Visit the Empire State Building: If you didn't make it up to the top of the Rockefeller Center, the Empire State building has some equally impressive views from the top.
Whitney Museum of American Art: Come to see works from America's top living artists.
See a Movie at Nighthawk Cinema: Not your average movie theater. Enjoy a wide variety of beer, gourmet food, and a truly excellent selection of movies.
9/11 Memorial Museum: A sobering tribute to one of the most impactful events of our time.
Solomon R. Guggenheim Museum: Because there are just so many damn important museums in NYC that I couldn't fit this one into my New York itinerary section above.
Smorgasburg: You'll find the Smorgasburg on my top things to do in New York list. If you love food, you'll love Smorgasburg.
Go to a New York Yankees Baseball Game: If you are visiting New York from overseas, going to a baseball game is a great way to experience America's beloved sport.
Off the Beaten Path NYC
New York is the kind of place loaded with obvious, popular attractions. What most people don't experience when they come to New York is its other side: off the beaten path New York. Backpacking New York is all about discovering unusual and fun things to do in the city as well as seeing the top sights!
The Elevated Acre: A park in the sky where two skyscrapers meet? Yes. Oh, and of course there is a full beer garden up here as well.
Check out an Original Piece of the Berlin Wall: Wait, the Berlin Wall? Yes, that wall. The city of Berlin donated a particularly stunning piece of the Berlin Wall to the city of New York around 15 years ago. Now the artfully painted wall is on display around Battery Park. Most people who pass by it don't realize where it came from.
The Tenement Museum: Probably one of the coolest off the beaten path museums in NYC. Get a glimpse into what life was like for immigrants living in cramped tenement housing around Lower Manhattan's East Side. The way the rooms are set up and preserved make you feel like your stepping back in time for sure. Very insightful indeed.
Drink in a Speakeasy: Speakeasies (formerly clandestine bars in the 1920's prohibition era) are now all the rage again. From New York to Paris, Speakeasies are popping up everywhere! Some are not so hidden, whilst others require a password (no joke!). Check out this article for a list (and directions) to the best secret bars in New York City.
Find a Block Party on Stone Street: Granted these happen only a few times a year (in the summer). That said, exploring one of the oldest cobblestone streets in the city is pretty awesome in itself also.
Backpacker Accommodation in New York City
IN A RUSH? THIS IS OUR FAVORITE HOSTEL IN NEW YORK CITY!
Best Neighborhoods in New York
New York City is divided into five boroughs: Manhattan, Queens, Brooklyn, Harlem, and The Bronx.
Each NYC borough has its own distinct draw and character. For first time visitors to New York, I recommend staying in Manhattan or Brooklyn. That said, all five boroughs have plenty of budget accommodation choices for backpackers.
Since there are so many neighborhoods, choosing where to stay in New York can be a real challenge. The great thing about New York City is no matter where you are staying, you can get almost anywhere of interest in the city via the subway in a matter of minutes (or longer if coming from Brooklyn).
To make it a bit easier for you, we've listed up the best neighborhoods in New York.
Tribeca, The Lower East Side, and Nolita
Ok, I'm going 3-for-1 here, but all three of these neighborhoods are next to each other so there you go. Tribeca and the Lower East Side are quite residential, but very much "downtown". There is a good mix of shops, restaurants, and general street life in these areas, especially in Nolita.
Tribeca and the Lower East Side are some of the most expensive places to live in the world so its kind of cool to get a taste of where the high-rollers live and what the area is about.
Chelsea/Greenwich Village
Greenwich Village may not have the same folk/beatnik vibes it once had but it still has plenty of historical charm and cool features. The Village is classic NYC, with heaps of interesting buildings, intimate place to eat, bars, music clubs, and the like.
Chelsea is also a very hip neighborhood and is home to New York's largest LGBTQ community. From here you'll find happening nightlife and a few budget accommodation options. Chelsea is within walking distance to Union Square and Herald Square.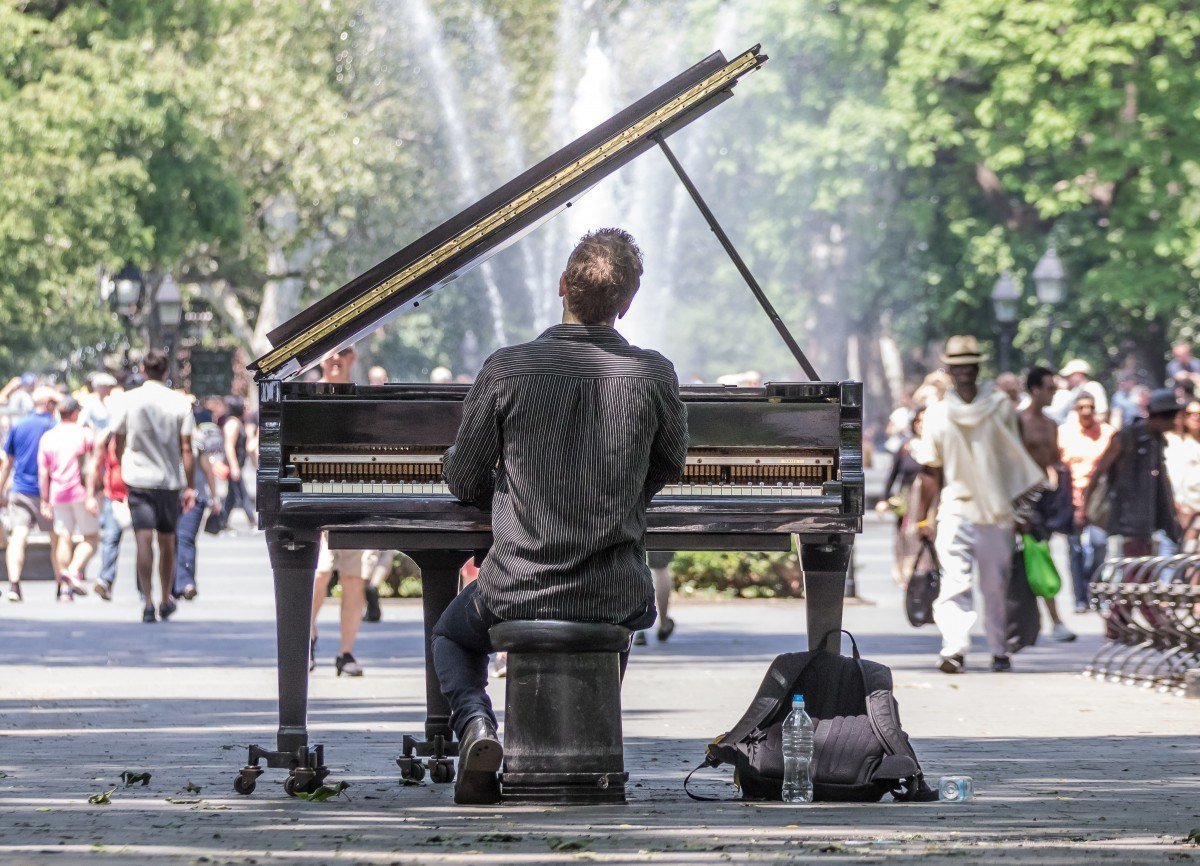 Upper West Side
This neighborhood is quieter and less chaotic than Mid Town Manhattan. The Upper West Side is where many families and small businesses reside. Attractions like Central Park, the Lincoln Center, and the Museum of Natural History are nearby.
You won't be right in the heart of the action (as in downtown), but you are still just a short subway ride away.
Brooklyn
Staying in Brooklyn for a few days is a great option. Whilst it is not super close to Manhattan (45-55 minutes on the train) Brooklyn makes for a super fun base in which to explore this side of the city.
Brooklyn is in the midst of major gentrification at the moment. The cost of rent is skyrocketing and the character of Brooklyn as a whole is changing. Part of the gentrification process has involved a major influx of hipsters, artists, musicians, dancers, tech people, and middle-class twenty-somethings of every category looking for a taste of it all.
Restaurants and accommodation are still not ultra-cheap, but you will find prices here lower than you will in Manhattan. There are a couple of budget hostels in Brooklyn too.
The Financial District
This neighborhood is actually pretty crazy busy during the day and is just the opposite at night. When all of the Wall Street suits head off to do whatever it is they do when not juggling (and screwing up) the world's financial systems, the Financial District really mellows out.
It isn't the most convenient neighborhood to stay in with regard to things to do, but the benefits of sleeping in a quiet area within the city limit do have its merits.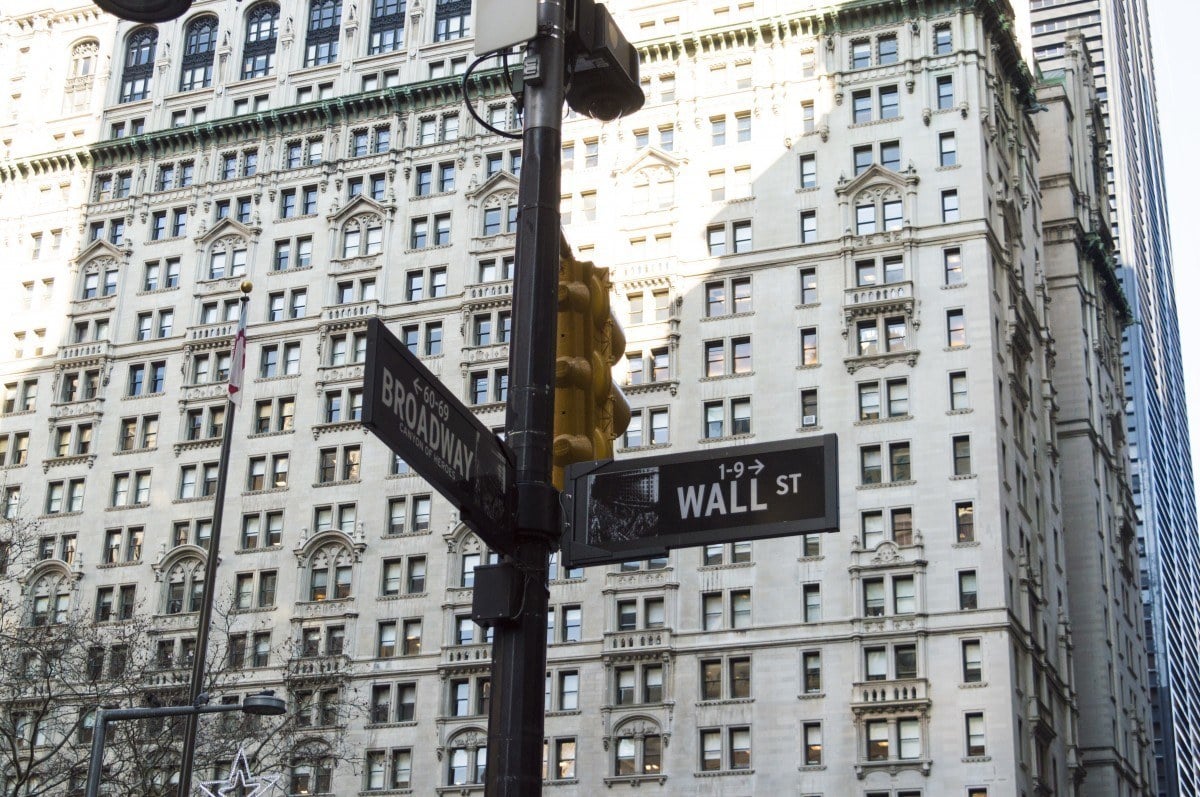 New York City Accommodation Travel Hacks
As budget backpackers, we all want to save money and travel on the cheap. In a perfect world, Couchsurfing hosts would grow on trees like California oranges and we would be able to pluck them off the tree at our leisure.
When contacting a host, leave a very personal message short of selling your soul. Try to connect with the person on an individual level. Couchsurfing hosts are NOT free hostels! You are not entitled to their generosity.
Where to Stay in New York City
Now that I've covered the best neighborhoods in NYC for travelers, we've got to talk about accommodation. In the event that a Couchsurf host isn't available or you want to move around the city a bit, you are going to need to book a hostel. New York's hostels are going to be the most affordable option when it comes to finding a place to stay.
My first ever hostel experience of my life was in New York City when I was 17 years old. It was awesome! Whilst hostels in New York are not the cheapest in the world by any stretch of the imagination, they are certainly one of the best options for backpacking New York on a budget.
Here are our top three hostels in New York City.
Chelsea International Hostel is simply the spot for top budget accommodation in New York. There is plenty of cool stuff on offer here including free continental breakfast each morning and free Wi-Fi. Backpackers can beat the mid-week blues by tucking into free pizza every Wednesday evening.
This hostel is very well located, with the subway and major attractions nearby. There's a bathroom on every floor (score!) and other facilities include outdoor seating in the courtyard, a lounge, two kitchens, and a dining area. All things considered, this is our pick for the overall best hostel in New York.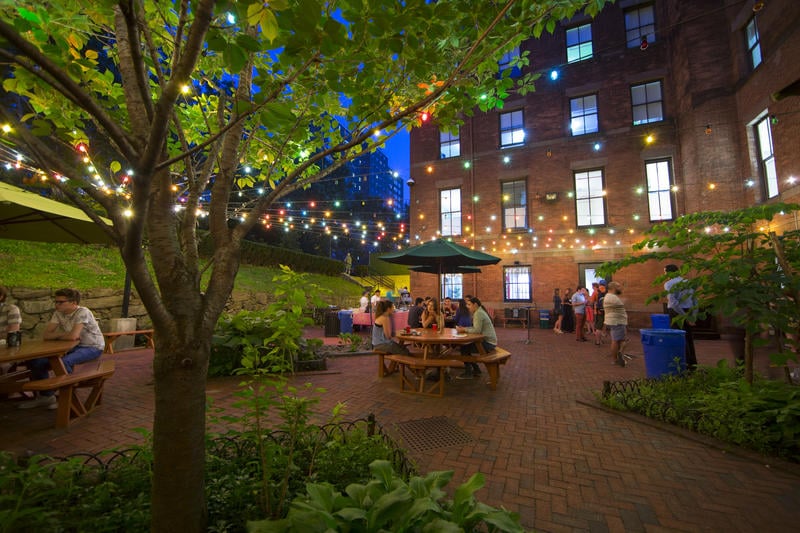 Every night of the week there is something going on at this hostel. Hit the town on a free bar crawl during the week and join clubbing tours at the weekends. There are in-house events most nights of the week too, including variety shows, music, and comedy.
Located in a historic castle-like building, minutes from Central Park and Times Square, Hostelling International New York provides a great base in which to explore New York City.
If you are looking to get a bit rowdy, meet fellow backpackers, and sleep right in the heart of NYC, Hostelling International New York is your perfect match.
Whilst not as cheap as some of the other hostels in the city, Jazz on the Park Hostel is still one of the best budget options in the trendy Upper West Side neighborhood. The hostel really is a beautiful spot too. Its fine qualities include a sociable atmosphere, a sense of fun, terrific location, and top-notch (clean!) facilities.
The cool lounge and coffee bar are great places to swap backpacking stories with other travelers and in the summer months, the BBQs are sure to improve the social vibes even more. Any solo traveler will immediately feel right at home at the Jazz on the Park Hostel. Highly recommended!
New York City is absolutely massive. To experience all that New York has to offer would take several lifetimes indeed.
When exploring any major city, my advice is to keep it simple. Map out a few areas that hold things of interest and plan your trip around that with room for being spontaneous as well.
Do you want to hit up museums? Is a Broadway show on your bucket list? Do you just want to eat your way around New York? Is live music your thing? Maybe you love all or none of these activities… Point being, there is a lot to get into in New York City, and the options of what to do and see are endless.
Here is my list of the 10 top things to do in New York City to get your ideas flowing…
1. Visit the New York Museum of Modern Art
"The Met" as it's called, is one of the world's finest art museums. One could easily spend the whole day here getting lost amongst the various exhibits and art collections. You don't need to be an art aficionado to truly appreciate all that the Met has on offer.
2. Go for a Walk on the High Line
The now-famous New York high-line is a favorite for both locals and travelers. Enjoy the privileged position of the High Line's elevated perch as you weave along eateries, shops, and green spaces. The High Line is the perfect spot to catch the sunset.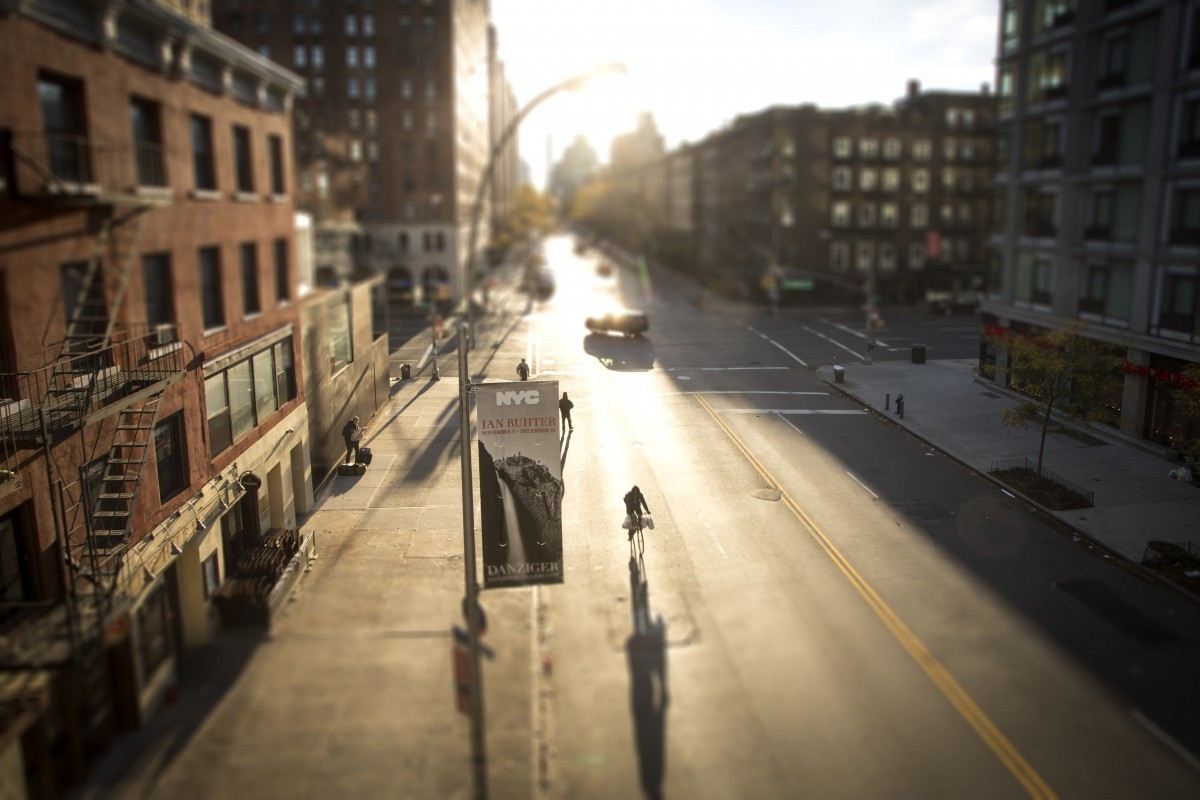 3. Browse the Brooklyn Flea
For the last ten years, The Brooklyn Flea has been the #1 weekend market in New York. Everything is on offer here from vintage clothes, books, knick-knacks and everything else under the sun.
4. Ride the Staten Island Ferry
Catch a ride on the Staten Island Ferry for stunning views of the New York Harbor, Ellis Island, and the Statue of Liberty. Best part? It's free.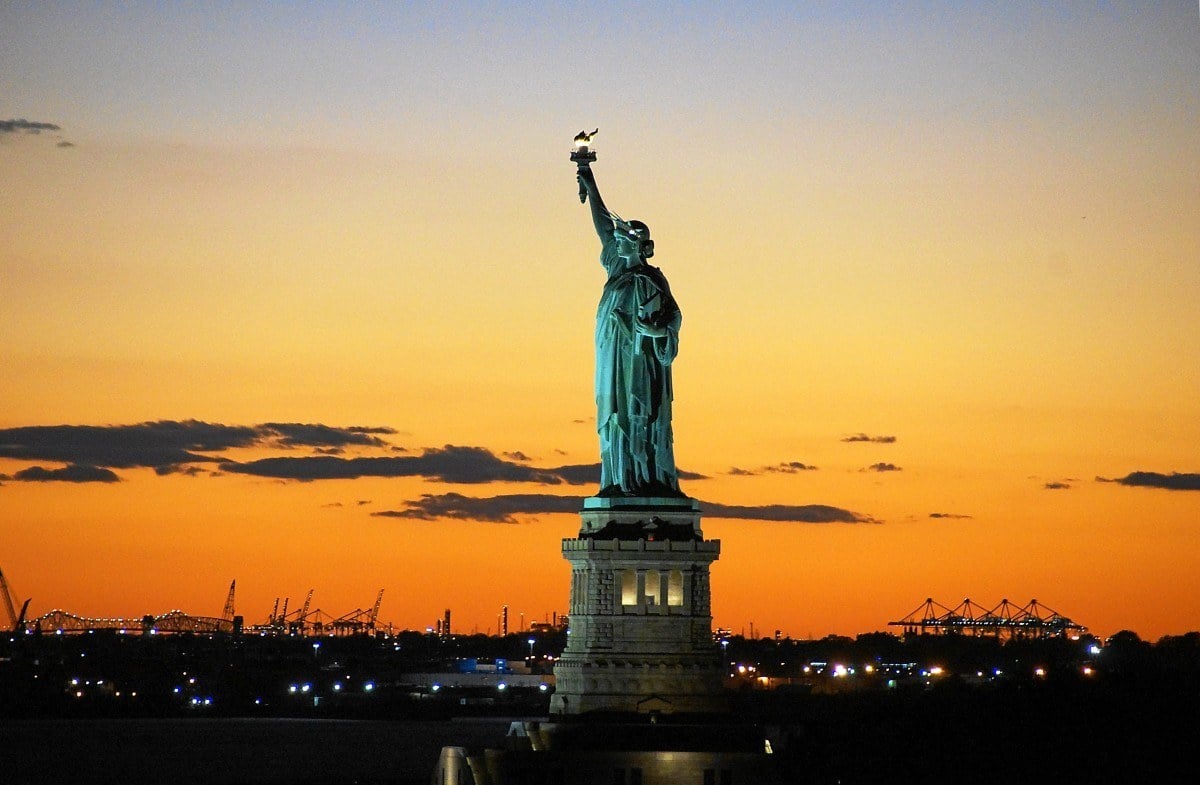 5. Get Lost in The Strand
The Stand has coffee mugs that say "18 miles of books and counting". That is not an exaggeration! With over 2.5 million books in the house, the Strand is one of the most impressive bookshops one can experience. Often they have famous authors coming through on book tours. It's pretty much the spot for people who love words, reading, and books.
6. Have a Picnic in Central Park
Central Park is just one of those classic New York City top sights. Stock up on picnic supplies and settle into a spot near a fountain under the shade. If you have never been to Central Park, you will be shocked by just how massive it is!
I've heard over 25 million people a year come to Central Park. Even with a number like that you still should be able to find a quiet spot to have a picnic.
7. Eat Pizza at Roberta's
There are a million and one places to eat pizza in New York. The city is famous for its tasty pies. However, no pizza joint has the fan base and popularity of Roberta's. Come experience what the buzz is all about. Bring an appetite.
8. Check out an Urban Farm
In Brooklyn, they are taking urban gardening to inspire new heights. The Brooklyn Grange's Rooftop Farms are some of the most impressive urban agricultural projects happening anywhere in the world. The produce more than 50,000 lbs of organic veggies every year! The Grange also serves as an educational hub for members of the community looking to expand their knowledge of healthy eating and living.
9. Taste your way around Smorgasburg
For those backpackers coming to New York in the summer, the Smorgasburg culinary market is truly a food paradise/alternative reality. Chefs from around the city showcase their tastiest creations. It is all on offer here. Prepare to be dazzled. There are now two locations: one in Williamsburg and the other in Prospect Park. I still dream about it.
10. Explore the Ethnic Neighborhoods
Little Italy, Korea Town, China Town, and Little India are just a handful of ethnic enclaves loaded with hidden gems and treasures (mostly to eat). Little Italy, in particular, is very touristy and nothing like it once was.
Best Time of Year to Visit New York
New York is a very popular place to visit year-round The shoulder seasons are early spring and late fall.
Summer in New York has its benefits. Everything is green, outdoor markets and music are in full swing, and the streets are vibrant with life. It's also the busiest season in New York, and tourists come in hoards.
Moreover, New York can be very hot and humid in July and August. Honestly, backpacking New York City when it is hotter than the devil's toilet isn't so much fun.
I strongly recommend that you avoid coming to New York City in July or August, both for the sake of the weather and the sheer number of tourists. Due to the changing climate, summer heat in NYC will only intensify in the coming years, so take notice.
Christmas and New Year should be avoided in New York. There are simply too many people around to enjoy the charm of the city during this time. And if you thought New York was over-commercialized before, if you see it in the weeks leading up to Christmas you will see full-on American consumerism at its worst.
Winter is a fine time to visit New York though. In a gentle rain or light snow storm, New York is indeed a very dreamy place to stroll around.
Fall is beautiful too because of the leaves changing colors. October, in particular, is a stunning time period to catch the fall colors.
Books to Read on New York City
The Backpacker Bible – Get it for free! Learn how to ditch your desk and travel the world on just $10 a day whilst building a life of long-term travel with an online income. To inspire and help the next generation of Broke Backpackers, you can now grab 'How to Travel the World on $10 a Day' for free! Get your copy here.
The Great Gatsby: The Great Gatsby, F. Scott Fitzgerald's third book stands as the supreme achievement of his career. First published in 1925, this quintessential novel of the Jazz Age in NYC. A true classic with plenty of relevance today.
Catcher in the Rye: The hero-narrator of The Catcher in the Rye is an ancient child of sixteen, a native New Yorker named Holden Caulfield. Through circumstances that tend to preclude adult, secondhand description, he leaves his prep school in Pennsylvania and goes underground in New York City for three days.
The Town and the City: In this compelling first novel, Kerouac draws on his New England mill-town boyhood to create the world of George and Marguerite Martin and their eight children, each endowed with an energy and a vision of life. Not all of this book is set in NYC, but I find it still relevant.
Memoirs of a Beatnik: Long regarded as an underground classic for its gritty and unabashedly erotic portrayal of the Beat years, Memoirs of a Beatnik is a moving account of a powerful woman artist coming of age sensually and intellectually in a movement dominated by a small confederacy of men, many of whom she lived with and loved.
Lonely Planet New York City: Up to date, detailed info on backpacking New York City.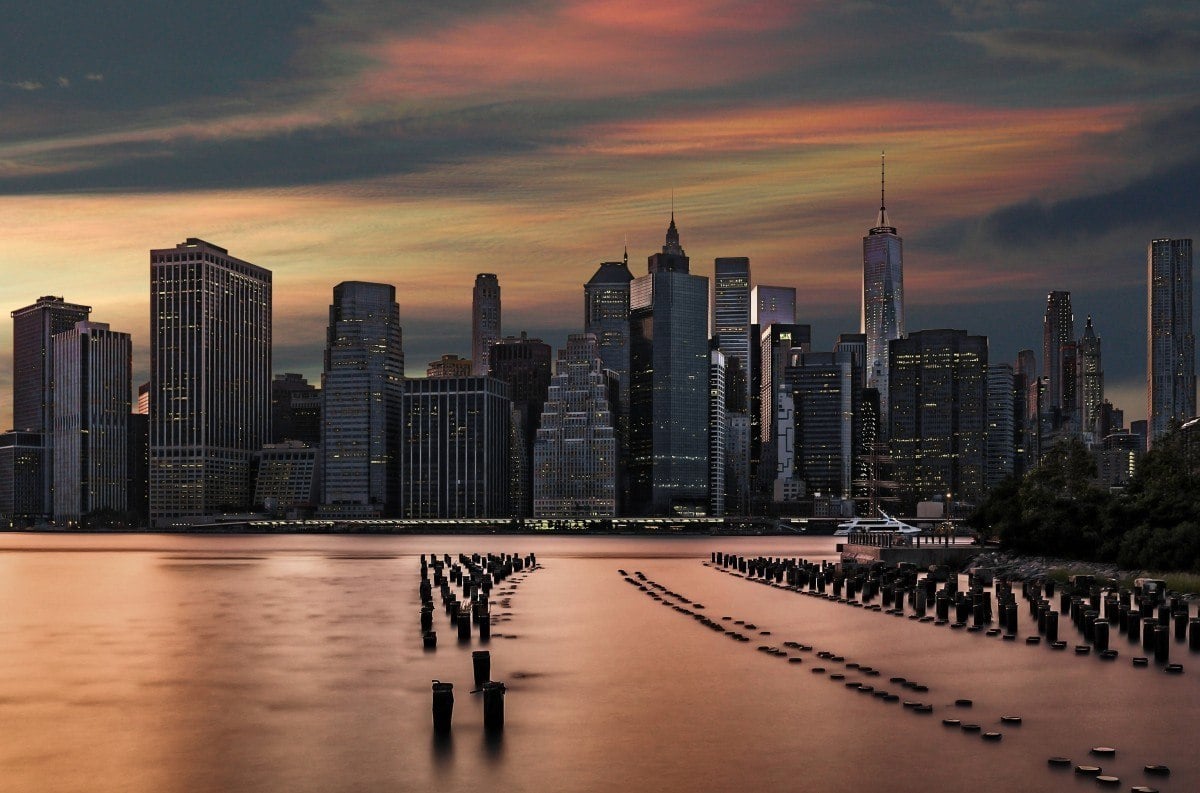 Staying Safe in New York City
In 1990 there were 2,245 killings in New York City. There were parts of the city so sketchy that even police were not so keen to venture in. Violent crime, drug gangs, prostitution rings, armed robbery… You name it; it was going down in NYC.
Now, NYC couldn't be more different. While some crime does exist, the murder rate has plummeted to levels not seen since the 1950s! Gone are the days of mafia turf wars. Gone are the major battles between crack drug lords in the streets. Well, not totally, but you get what I'm saying.
New York City is now much safer than it has been for decades. Petty crime does exist. Pickpockets operating on the subways and in crowded public spaces are just a part of city life.
Do not go wandering around into unfamiliar areas loaded with cash, drunk, and with your attention diverted towards google maps for directions.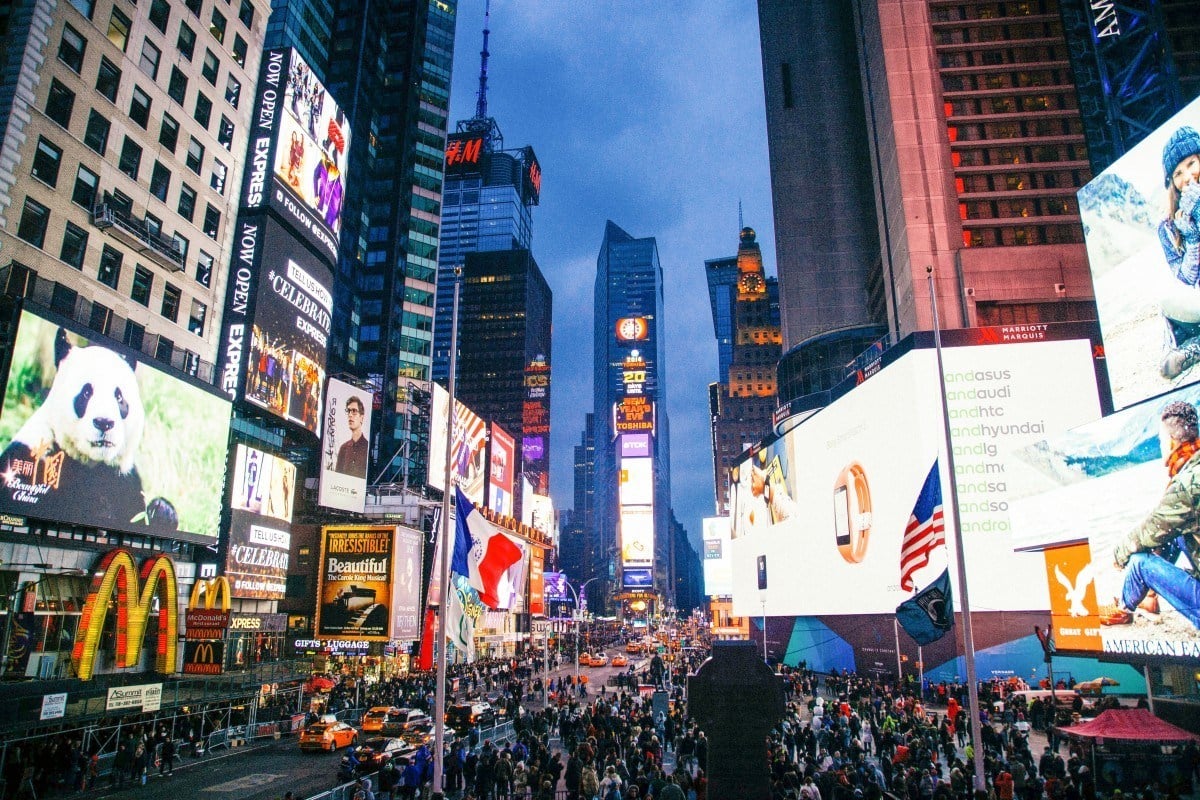 Backpacking New York does not need to be a dangerous endeavor. Use the same common sense that you would in any city in the world and you should be just fine.
Pick yourself up a backpacker security belt to keep your cash safe on the road, and check out Backpacker Safety 101 for tips and tricks to stay safe whilst backpacking.
Check out this post for plenty of ideas on ingenious ways to hide your money when traveling. For even more inspiration check out my in-depth review of the best travel money belts for backpackers.
Travel with peace of mind. Travel WITH a security belt.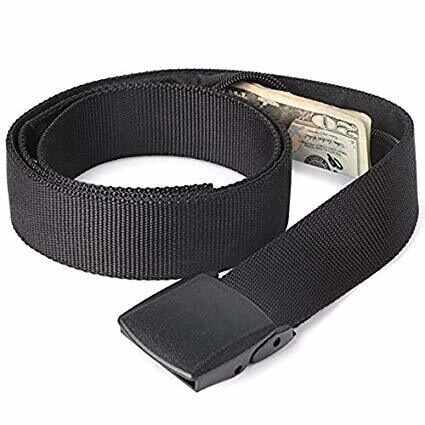 Custom-designed BY the Broke Backpacker FOR broke backpacking, the Active Roots Security Belt will keep your valuables safe no matter where you go.
It looks exactly like a normal belt except for a SECRET interior pocket perfectly designed to hide a wad of cash or a passport copy. Never get caught with your pants down again! (Unless you want to.)
Check on Amazon
Travel Insurance for New York City
Traveling without insurance would be risky so do consider getting good backpacker insurance sorted before you head off on an adventure.
I have been using World Nomads for some time now and made a few claims over the years. They're easy to use, professional and relatively affordable. They may also let you buy or extend a policy once you've started your trip and are already abroad which is super handy.
If there's one insurance company I trust, it's World Nomads. To find out why I use World Nomads, check out my World Nomads Insurance review.
Getting an estimate from World Nomads is simple – just click the button or image below, fill out the necessary info, and you're on your way!

New York City Travel Guide – Getting In and Out
Arriving in New York City
There are three main international airports that serve New York City: John F. Kennedy International Airport (JFK), LaGuardia Airport (LGA), and Newark Liberty International Airport (EWR).
Of the three, I recommend first and foremost flying into the cheapest. If you are staying in Manhattan, the journey from Newark Airport (located in New Jersey) may be quicker than landing at JFK.
All of the airports are connected to the city by train, with LaGuardia being the farthest away (around 1 hr 20 mins). Keep in mind that LaGuardia is consistently rated one of the worst airports in the US. Flights are often canceled or delayed at LaGuardia. What the hell LaGuardia? Get your shit together!
JFK is another fine option. You can zip into the city in about 1 hour.
If you can't be bothered to take the train, you can grab an Uber from the airport. The average cost from JFK to Lower Manhattan using an Uber is around $42. A Taxi for the same route will cost you at least $45.00.
Traveling in New York is now super easy when you book with Flixbus! Buy your Flixbus bus tickets ahead at unbeatable prices for fast and last minute travel.
With connections in 28 European countries and over 2000 destinations, you can sit back and relax knowing that Flixbus will get you there in time. Discover the smartest and cheapest way to travel – book on Flixbus now and hit the road!
How to get around New York City
NYC Bus: Buses in NYC accept tokens, exact change, or MetroCards. They do not accept bills. MetroCard offers a one-day pass for $2.50 and a seven-day unlimited ride pass for $29.
NYC Subway: The Subway is the best way to get around in New York. The New York City Subway System is the second-oldest subway system in the United States and one of the largest and most extensive rapid transit systems in the world, with 468 stations in operation.
Uber/Lyft: for quick trips to locations not served by the metro or the bus, take an Uber.
Taxi: Once synonymous with easy, cheap travel in New York, Taxi cabs in the city are on their dying breath due to Uber and Lyft, so you might want to only use a Taxi in an emergency.
Walking: You will be on foot for a majority of your day exploring New York. Plan your day and route logically, so you're not doubling back many times. To calculate distances in New York City, bear in mind that 20 avenues (north-south) or 10 street blocks (east-west) are equal to one mile. Also, keep in mind that parts of the city do not follow a proper grid layout so the distances will need to be calculated using your GPS.
Ferries: To see a handful of attractions like Ellis Island or the Statue of Liberty, you are going to need the ferry. Remember, Manhattan is an Island after all!
Onwards Travel from NYC
If you are looking to get to bordering states and beyond New York City by train, you probably take the Amtrak. Amtrak is not known for being super cheap, but unless you want to take a bus or rent a car, traveling by train is a quick and reliable option.
Most long-distance trains leave from Penn Station.
Remember, distances within the USA can be huge. Don't think you can just pop over to California for a couple of days from New York (unless you are flying, and even then it is a 5-7 hr flight). This is obvious I know, but I have had to explain this to younger European travelers on multiple occasions!
Buses are definitely the cheapest option, though unlike in Europe, buses in the States tend to be pricey as well.
Greyhound Buses are typically the way to go. Otherwise, check out Megabus, which connects bigger cities for cheap (though they have minimal stations).
Every budget traveler backpacking New York should have an honest and realistic idea of what the associated travel costs are here.
New York City is full of opportunities to spend money. Lots of money. If you're not careful, you could find yourself overpaying for things like food, drinks, and accommodation.
That's not to say you can't eat, drink, and sleep comfortably in New York on a budget. Far from it.
Awareness is the key to saving money whilst backpacking in New York City or any other expensive city in the western world.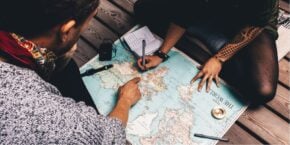 Heading Off-Grid? • Download This Guide as a PDF!
Sign up to The Broke Backpacker's EXCLUSIVE VIP AREA below and download our top backpacking guides as PDFs – go offline with peace of mind!
A Daily Budget for NYC
If you are on an extremely tight budget, it would be possible to visit New York on as little as $25- $45 a day. This would involve outside forces coming together to help you in some way or another, IE Couchsurfing and friends/family.
A comfortable budget allowing you to eat well, do things, stay in a hostel, and take the subway frequently would be more like $80-100+ a day.
Here is what you can expect your average daily backpacking costs to be in New York:
Dorm bed in a hostel: $45-55 (Welcome to NYC!)
Small basic room for two: $90-150
Airbnb room/entire apartment: $30-75+
Single Subway Ride/7 day Metro Pass : $2.75/$32
Train from JFK Airport — Manhattan: $7.75 one way
Uber across Manhattan: $10-15+
Ferry to the Statue of Liberty: $18.50
Slice of late-night pizza: $1-4
NYC MET Museum entrance fee: $25 (suggested)
Meal in a mid-range sit down restaurant:$15-25
Kebab: $7-10
6-pack of decent beer from the shop: $10-12
Coffee from a cafe: $2.50-3.50
Beer at the bar: $5-6
Tips for Visiting NYC on a Budget
In order to have a successful budget trip backpacking New York City on the cheap, you will need to be very budget-conscious. The stuff here adds up fast. One bad choice of where to eat or where to sleep can send your budget into the meat grinder.
If you come armed with the right mentality (and a few tricks) you will certainly be able to enjoy the hell out of your time backpacking New York. In the end, that's what it is all about.
Want to save the world?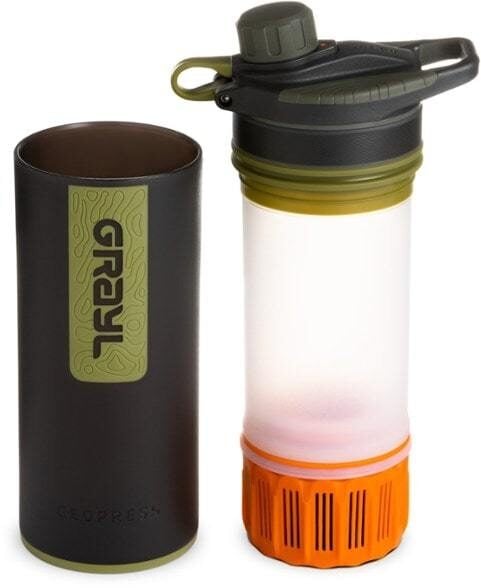 Single-use plastic bottles are a huge threat to Marine Life – Be a part of the solution and travel with a filter water bottle.
The GRAYL GEOPRESS water bottle is the ONLY all-in-one filter water bottle setup you'll need. Whether you need to purify the water from a hostel sink in Kathmandu or a stream trickle in the Andes, the Geopress has got you covered.
Read our full review of the GRAYL GEOPRESS!
Here are a few ideas:
Buy Public Transportation Passes in Bulk: In NYC, it's all about public transportation. If you plan on spending a couple of days in New York, going with a 7-day pass ($32) is the way to go. You may find yourself riding the subway between 5-10 times a day. If you are buying tickets individually at $2.75 each, well, you do the math.
Visit Free Museums: New York has some of the best museums in the world. At certain times, entrance to these museums is free. Whitney Museum of American Art is free on Friday. The Museum of American Folk Art is free. Museum of Modern Art is free after 4 pm on Friday.
Free Tours: The Brooklyn Brewery offers free tours on Saturday. This group called the Big Apple Greeters will link you up with a local person to show you around the city for a day. Sometimes hostels also offer free walking tours, so be sure to ask. On Wednesday, there is a free tour of Grand Central Terminal offered by the Municipal Art Society.
Rideshare Apps: On one hand, apps like Uber or Lyft are absolutely killing the Taxi industry in New York. Many people formerly employed as taxi drivers are really struggling to survive financially. That said, the times have changed and a new beast is king of the New York urban jungle: rideshare apps. For quick rides around the city, Uber and Lyft are the cheapest non-subway/bus options. Sorry taxi drivers… I'm feeling for you.
Enjoy Free Live Music: Many bars have live music on offer, especially on weekends. In the summer, there are plenty of free outdoor music events put on by the city or other various organizations.
Couchsurf: If you can land a host, Couchsurfing is one of my favorite ways to meet locals and save money.
Volunteering in New York City
Long term travel is awesome. Giving back is awesome too. For backpackers looking to travel long-term on a budget in New York City whilst making a real impact on local communities look no further than World Packers. World Packers is an excellent platform connecting travelers with meaningful volunteer positions throughout the world.
In exchange for a few hours of work each day, your room and board are covered.
Backpackers can spend long periods of time volunteering in an awesome place without spending any money. Meaningful life and travel experiences are rooted in stepping out of your comfort zone and into the world of a purposeful project.
Worldpackers opens the doors for work opportunities in hostels, homestays, NGOs, and eco-projects around the world. We've tried and approved them ourselves – check out our Worldpackers in-depth review here.
If you're ready to create a life-changing travel experience and give back to the community, join the Worldpacker community now. As a Broke Backpacker reader, you'll get a special discount of $10. Just use the discount code BROKEBACKPACKER and your membership is discounted from $49 a year to only $39.
Make Money Online whilst Backpacking New York City
Traveling in New York City long-term? Keen to make some cash when you are not exploring the city?
Teaching English online is a great way to earn a consistent income—from anywhere in the world with a good internet connection. Depending on your qualifications (or your motivation to obtain qualifications like a TEFL certificate) you can teach English remotely from your laptop, save some cash for your next adventure, and make a positive impact on the world by improving another person's language skills! It's a win-win! Check out this detailed article for everything you need to know to start teaching English online.
In addition to giving you the qualifications to teach English online, TEFL courses open up a huge range of opportunities and you can find teaching work all over the world. To find out more about TEFL courses and how you can teach English around the world, read my in-depth report on teaching English abroad.
Broke Backpacker readers get a 35% discount on TEFL courses with MyTEFL (simply enter the code BACKPKR), to find out more, please read my in-depth report on teaching English abroad.
Whether you are keen to teach English online or looking to take your teaching game a step further by finding a job teaching English in a foreign country, getting your TEFL certificate is absolutely a step in the right direction.
Budget Drinking and Cheap Eats in NYC
Seek Out Happy Hours: There are so many bars and restaurants in New York City that many offer up happy hour specials as a way to bring in customers. You can score some pretty epic deals on beer, oysters, snacks, and other appetizers. Happy hour is usually sometime between 3 pm to 6 pm (this can vary).
Avoid Fancy Sit Down Restaurants: New York is blessed with a variety of cheap places to eat. Food carts, food trucks, kebab places, Indian/Chinese/Thai… they're all here and they are tasty and cheap. You can almost always score a decent takeaway meal for between $10-15 (or less).
Avoid Drinking at Bars: Going to a bar or two is a quintessential experience when visiting any new city. That said, bars in New York City are expensive as hell. Consider buying wine and drinking it in Central Park like a hobo instead.
Cook your own food: If you are staying in a hostel or an Airbnb that has a kitchen, try and cook at least one meal per day. If you don't feel like cooking, then go to the grocery store and arm yourself with sandwich fixings so that you can make food on the road if need be. $10 spent on sandwich materials can feed several people multiple times. Having some snacks in your day backpack will offset impulse food purchases.
Pack a travel water bottle and save money every day!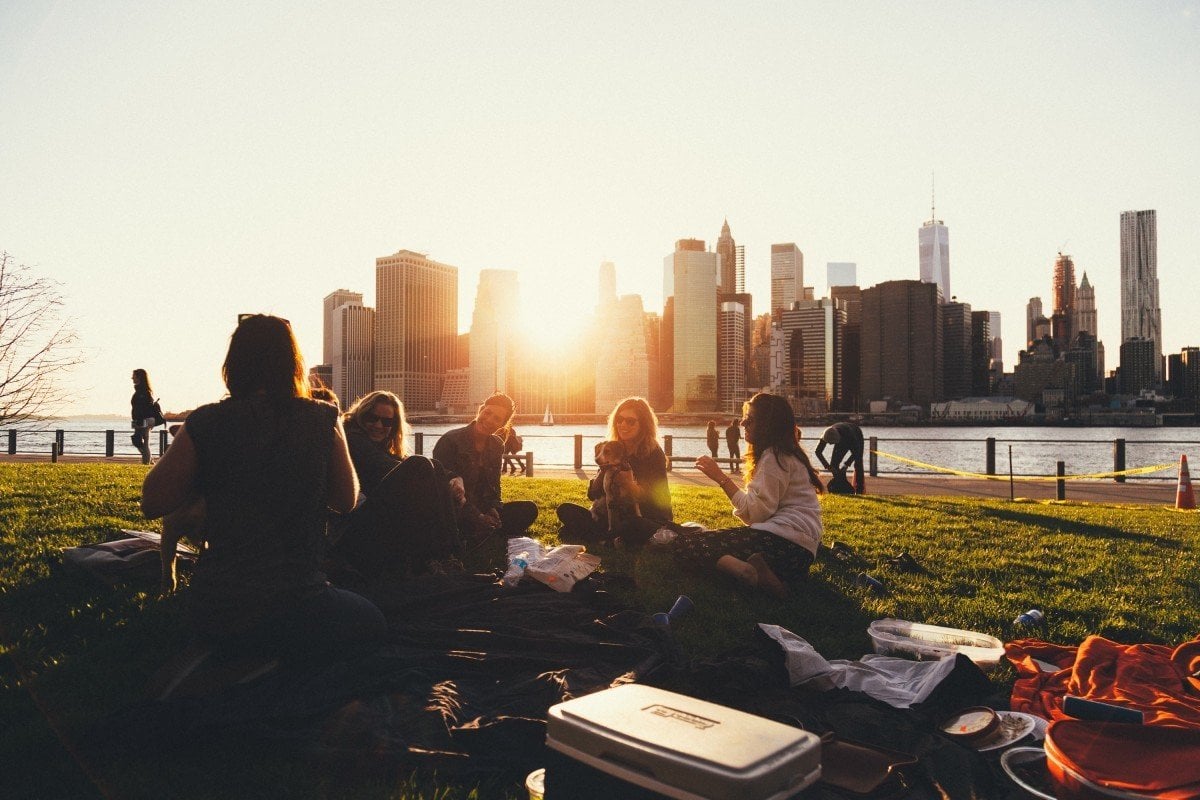 Must-Try Experiences in New York City
Best Hikes and Walks in New York City
Despite the city being a tangled interweaving heap of steel, concrete, and glass, there are still some excellent and beautiful walks to be had in and around the city. These walks definitely are not in the "hikes" category but are very pleasant all the same. (Sometimes steel and concrete are beautiful!)
Central Park: Whilst a walk in Central Park might be obvious, it really is an important urban refuge for New York City. There are many different places to begin and start your walk here. Everywhere you go in the park though there is something new and different to enjoy. I would enjoy walking here alone, late at night.
Brooklyn Bridge: I've already covered the Brooklyn Bridge walk a little bit, But it is worth mentioning again. As you walk the bridge, keep in mind that the bridge was built back in 1899. Quite the feat of engineering.
The High Line: Get to the highlight and enjoy an elevated view of a beautiful New York sunset.
West 4th Street: The route from Washington Square Park to the West Village takes you through some of the most beautiful parts of Manhattan. Even more special is the walk under light snow, hand in hand with your lover.
Prince Street: This SoHo walk is short, but still packed with plenty of history and interesting sights. Begin at Bowery and end at MacDougal Street.
Best Hiking Near NYC
New York City might not have ample hiking opportunities, but within an hour or two of driving, you can escape to some truly stunning hiking trails. Here is a list of some of the best hiking near NYC:
Bull Hill/1.5 hrs from NYC: Enjoy a challenging hike to the summit of Bull Hill where beautiful views of the Hudson Valley will take your breath away (if the hike didn't).
Loop Road to the Ice Caves/1 hr 45 mins from NYC: I love this part of New York. There is excellent rock climbing to be had all throughout the Shawangunk Mountains. This 3-hour hike takes you past some nice waterfalls, places to swim en route to a pretty cool cave.
Black Mountain Loop Trail/1 hr from NYC: This hike takes up a sweaty 800 feet to the top of Black Mountain. A part of the Appalachian Trail runs through here too, so expect to see some thru-hikers in the summer. For only being, one hour from NYC, it feels like a total world away.
Appalachian Trail on Bellvale Mountain/ 1.5 hrs from NYC: Another beautiful AT section consisting of waterfalls and nice lake views at the top of Bellvale Mountain, the highest point on New York section of the AT. Be sure to grab some ice cream at Bellvale Farms Creamery nearby.
Is This the Best Travel Backpack EVER???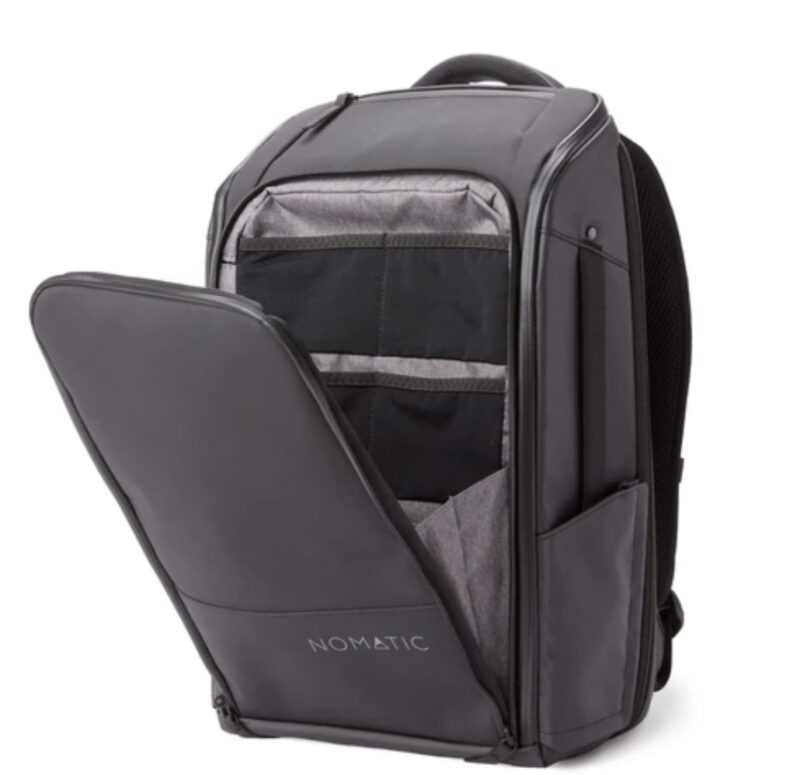 Eating and Drinking in New York City
Now onto one of the best parts about traveling: eating and drinking! New York is blessed with a very diverse population. Like very diverse. Every imaginable nationality has culinary representation in New York.
If you crave it, you can certainly find it. Indian, Caribbean, African (very general I know, but there are too many countries represented to list!), Puerto Rican, Vietnamese, Chinese, Japanese, Pakistani, and pretty much every European country all have their delicious culinary traditions on display in NYC.
Here is a quick rundown of the different types of places to eat and drink in New York:
Diner/Cafe ($-$$): Diners can be generic franchise stores open 24/7, frying up all things American i.e. bacon and eggs, pancakes, burgers, sandwiches, milkshakes, etc. Diners can also be high-end, offering seasonal brunch menus that use local ingredients. These are of course better, though more expensive. New York has some pretty awesome family-run diners too that offer up a more homey vibe than any chain restaurant ever could.
Restaurant ($$-$$$): You'll have to be careful with restaurants. They certainly have a way of eating a hole in your budget pretty quickly. If you must go to a sit-down place, use good judgment in choosing a place to eat (with regards to price, I mean). Late-night Chinese places in China Town are super tasty and quite affordable FYI.
Club ($$$): Clubs are always expensive. They are, well, clubs. People go to them to party and have fun. In New York City, the clubs are world-famous. If going to a club is your idea of a good time, there is no shortage of them in NYC. Just be prepared to pay for the pleasure. You probably want to avoid eating at a club altogether.
Cheap Eats in NYC
Food Trucks ($-$$): Food trucks in NYC are awesome. You can find some really delicious, authentic, reasonably priced NYC cheap eats at food trucks! Check out this list of the best food trucks in New York City. Yum.
Fast Food ($): It's available, but try not to eat it (I mean corporate fast food in particular.) There is plenty of cheap food around that isn't McDonald's. Pizza, Kebabs, Sandwich shops are all excellent places to score cheap food, especially for lunch.
Bar/Pub ($-$$): Bars also vary across the board in New York, but generally speaking they are good places to both socialize and blow your budget. Go to a bar whilst backpacking New York City but try not to get more than a drink or two if you want to hold onto your money.
Best Beer Gardens in NYC
Beer Gardens are sprouting up all over the NYC faster than seedlings after heavy rain. There is just something about a cozy, green, outdoor space to drink that soothes the soul. For a friendly, welcoming atmosphere head to one of the many beer gardens in New York City.
Here are some of my favorite beer gardens in NYC:
Zum Schneider: An authentic German beer garden that attracts hordes of revelers every evening in the summer.
Bohemian Hall and Beer Garden: A Czech flavored beer garden serving up delicious plates of sausage to go with a fine selection of European beers.
Mission Dolores: A great place to spend an afternoon day drinking and catching up with old friends. The beer garden is kind of in a weird location, but that is its charm.
The Standard Biergarten: One of the most popular beer gardens in New York City and for good reason. The Standard offers up great beer in a cheery environment.
Threes Brewing: Always some unique beer flavor to try here at Three Brewing. If you love a good experimental ale (and some old classics), Three Brewing is for you.
Best Wine Bars in New York City
Are beer gardens not your thing or are you just in the mood for a smooth glass of wine? There are plenty of awesome wine bars in New York City as well. Keep in mind that eating and drinking at wine bars in NYC tend to be more expensive than beer gardens.
Here is a short list of the best wine bars in New York City:
Wildair: Wildair is wonderful and unpretentious, which I really value in a wine bar! This run by two young chefs who are doing a good job keeping things down to earth.
The Four Horsemen: This wine bar has gained immense popularity probably due to the fact that it is owned by LCD Soundsystem's frontman, James Murphy.
The Ten Bells: A fine wine bar found on the Lower East Side. Come to taste the nice organic wines they have on offer.
Rebelle: Rebelle is probably out of a backpacker's price range, but this Michelin starred spot is bound to make you dance.
101 Wilson: Skateboard deco and string lights? That sounds more appealing for a more down-to-earth backpacker crowd eh? If wine isn't calling to you they also have $2 beers served in cans. Hipster AF.
Nightlife in New York City
If you are looking for a big night out in New York City, the options are endless. I was in New York for Halloween one year, and it a damn good time…just when you thought New York couldn't possibly produce any more characters… Whew! That was a crazy night…
It isn't hard to find a good party any time of the year though. Whether you are looking for a mellow, social atmosphere, or a full-on hipster/PBR-can-rager, you can find it in NYC.
You should know by now that going out on the town in NYC is expensive. You can easily find yourself paying more than $10 a pop for a well-drink. In a couple of hours, you could easily drop more than $50, especially if you get the late-night munchies.
Go out and drink in NYC, just remember to watch what you spend. Go and pick up a $10 bottle of wine before you go out if you are trying to get a good buzz going. That way, you'll only buy a beer or two instead of buying six or seven.
There is a thriving LGBTQ nightlife scene in New York City as well, mostly centered around SOHO and Hell's Kitchen.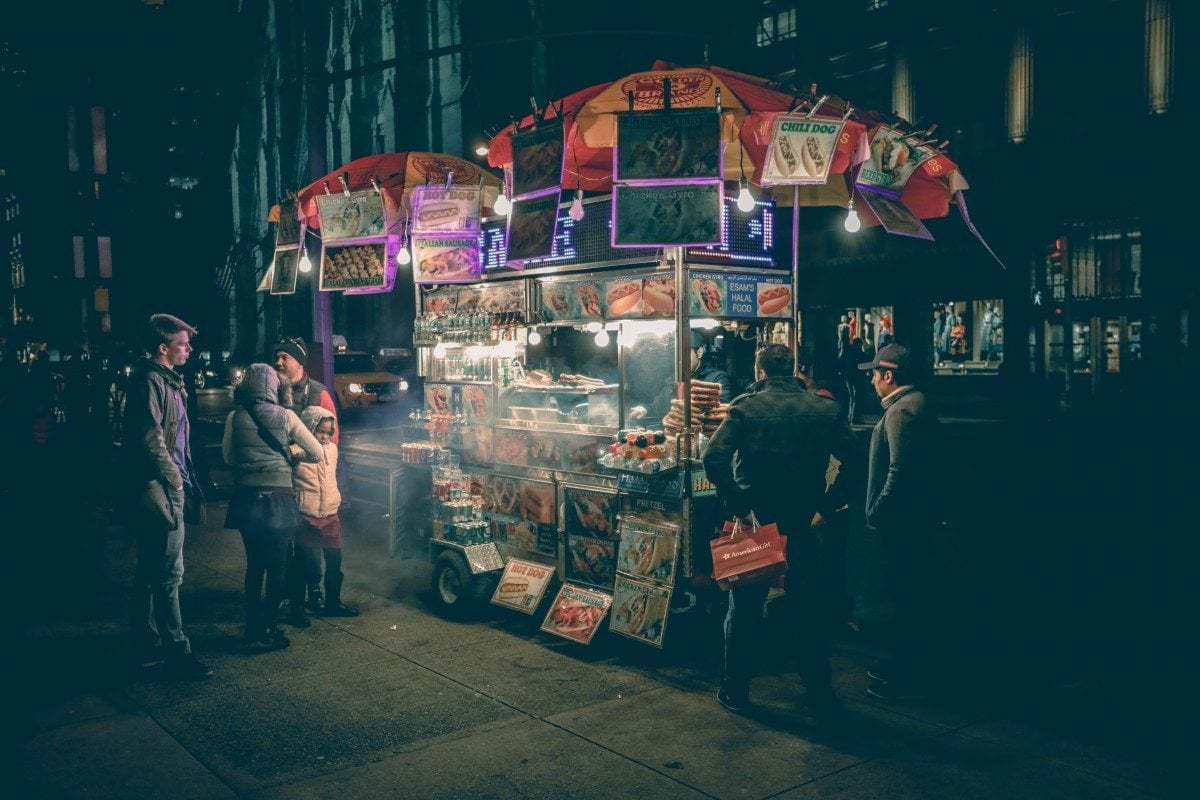 Being a Responsible Backpacker in New York City
Reduce your plastic footprint: Perhaps the best thing you can do for our planet is to make sure you do NOT add to the plastic problem all over the world. Don't buy one-use water bottles, the plastic ends up in a landfill or in the ocean. Instead, pack a tough travel water bottle.
Go and watch A Plastic Ocean on Netflix – it'll change how you view the plastic problem in the world; you need to understand what we are up against. If you think it doesn't matter, get off my fucking site.
Don't pick up single-use plastic bags, you're a backpacker – take your daypack if you need to go to the shop or run errands.
Bear in mind, that many animal products in countries you travel through will not be ethically farmed and won't be of the highest quality. I'm a carnivore but when I'm on the road, I only eat chicken. Mass-farming of cows etc leads to the rainforest being cut down – which is obviously a huge problem.
Need more guidance? – Check out our post on how to be a responsible backpacker.
Backpacking in NYC will bring you ample opportunities to participate in debauchery, and it is very important to have fun, let loose, and get a bit wild at times—as you will soon find out. Most backpacking trips I have been on across the world have included at least a few mornings where I wake up knowing I went too far.
There are some things that will put you in the category of a straight-up jackass if you do them. Being super loud and obnoxious in a tiny hostel at 3 AM is a classic rookie backpacker mistake.
Everyone in the hostel will hate you when you wake them up. Show your fellow travelers (and locals) respect whilst backpacking in New York City and anywhere else for that matter!
---
Find out how YOU can support the site.
We work hard to put out the best backpacker resources on the web for free! It's all about helping out our tribe of awesome backpacker readers (that's you!). Please visit the link to find out how you can help keep the site going 🙂
For the sake of transparency, some of the links in our content are affiliate links. This means that if you book your accommodation, buy a piece of gear, or sort your insurance through our link, we earn a small commission at no extra cost to you. We only link to stuff that members of the Broke Backpacker team has actually used and never endorse products or services that are not up to scratch. Thanks for your support!