Though the smallest borough in New York City, Manhattan is still home to more than 1.6 million people. Home to some of New York's best-known attractions, such as Times Square, Central Park, and the Empire State Building, it's perfect for a first-time visitor to the Big Apple.
With one of the world's most exciting nightlife and dining scenes, it's the only borough you should consider staying in. Hotels can be astronomically expensive, so another way to get good value for money is by checking out vacation rentals in Manhattan. It's amazing what you can find!
There's a lot to look through, but we've decided to help you out. You're about to read a list of the best Airbnbs in Manhattan. Not only that, but some of New York's best Airbnb Experiences are on there too – so all bases of your vacation are covered.
Quick Answer: These are the Top 15 Airbnbs in Manhattan
Overall Best Value Airbnb in Manhattan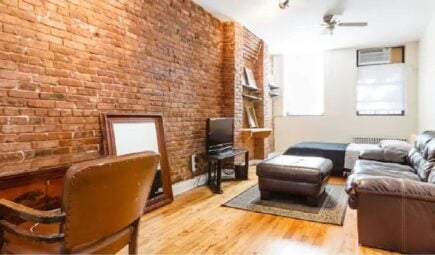 Overall Best Value Airbnb in Manhattan
Amazing East Village XL Studio
> $$
> Four Guests
> Queen bed
> Indoor brickwork
Best Budget Airbnb in Manhattan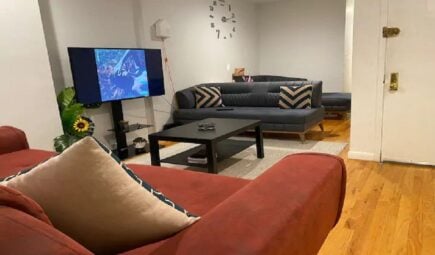 Best Budget Airbnb in Manhattan
Cozy Room in Times Square
> $
> Two Guests
> Awesome location
> Shared room with bunk beds
Best Airbnb for Couples in Manhattan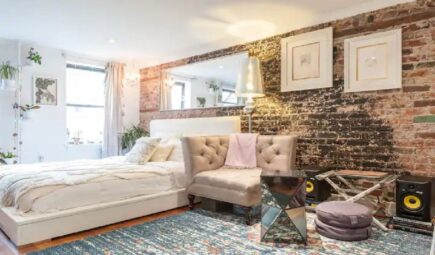 Best Airbnb for Couples in Manhattan
Charming East Village Studio
> $$
> Two Guests
> Queen bed
> Exposed brick and wooden flooring
Best Airbnb for Families in Manhattan
Best Airbnb for Families in Manhattan
Modern Manhattan Stay
> $$$
> Six Guests
> Fully equipped kitchen
> Great location
Over-the-Top Luxury Airbnb in Manhattan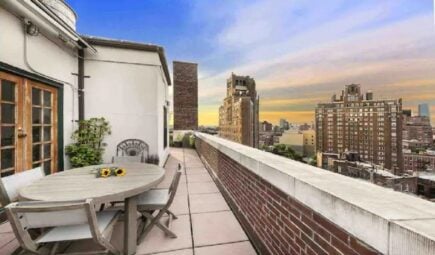 Over-the-Top Luxury Airbnb in Manhattan
LUX West Village Penthouse
> $$$$$$$$$
> Five Guests
> Private terrace
> Epic views

Unlock Our GREATEST Travel Secrets!
Sign up for our newsletter and get the best travel tips delivered right to your inbox.
What to Expect from Airbnbs in Manhattan
As you might expect, many of the properties in Manhattan are flats and loft apartments, especially close to Times Square. However, it's a big place, so you can find some other, cheaper places to stay in Manhattan further out.
The main thing you'll notice about Manhattan is cost. The island is home to some of the world's most expensive real estate, so it's important to plan according to your budget. That's not as hard as you'd expect, though, which is why we've included several private rooms in our list below.
You will find with private rooms that you're dealing with a local host, but the majority of New York's larger apartments will be run by a business. They'll do everything to make your stay as comfortable as possible!
Loft
Loft apartments are synonymous with New York, and you'll find some here that will really take your breath away! Expect warehouse-style spaces with indoor brickwork, high ceilings, and open plan living spaces.
Lofts can be found all across Manhattan, and they'll always be found above the first floor. Otherwise, they'd just be an entire flat. As well as a fully equipped kitchen and living space, you can expect big windows, or even a roof terrace or balcony offering views over NYC – especially if you're willing to pay more.
Manhattan lofts come in all shapes and sizes, so where one can be suitable for a couple or solo traveller, another might be the perfect spot for that family gathering you've been arranging!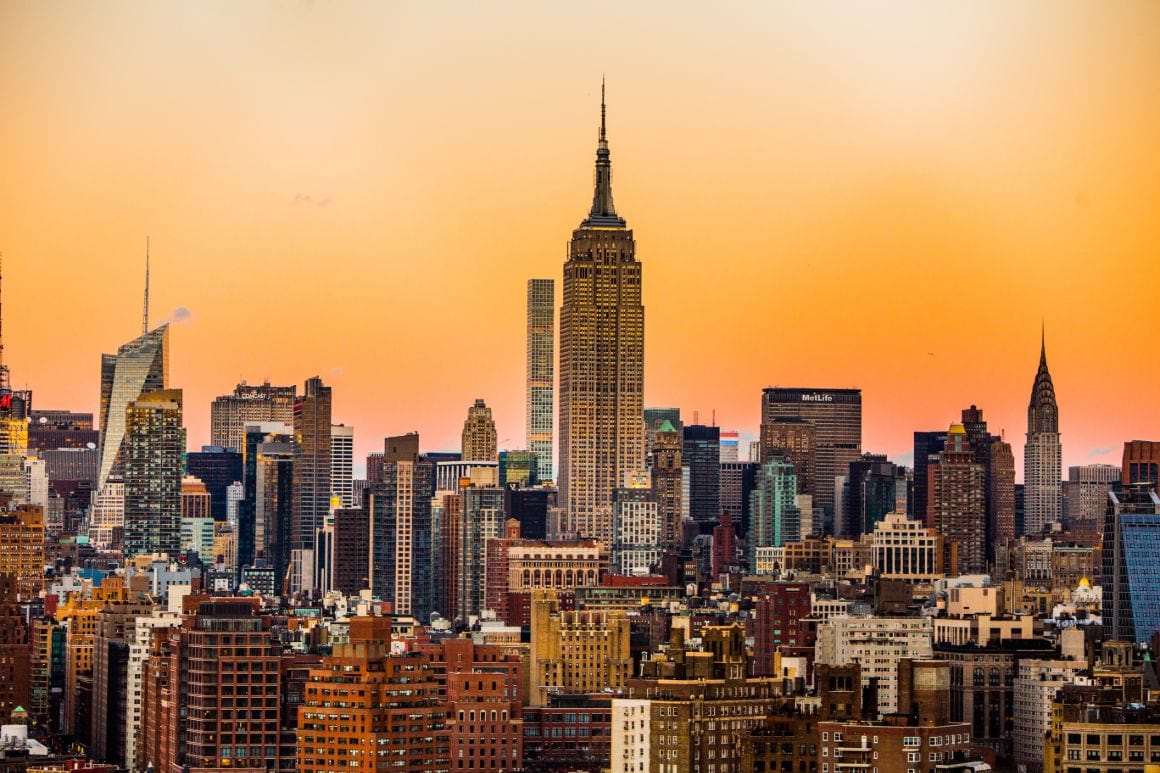 Townhouse
Less common than lofts, townhouses are normally multi storey properties. They're well suited to groups – especially families – as they usually offer a home away from home.
Yep, you'll be able to enjoy all the facilities you'd get at home, such as a fully equipped kitchen, living space, and multiple bedrooms and bathrooms across all levels of the house. In some, you may get a garden, but that's not a given with how built-up Manhattan is.
Most townhouses are entire properties, but if you're on a budget, it should be possible to find a private room.
Private Room
Usually, we wouldn't use a private room as a unique type of accommodation in our best Airbnbs list. However, Manhattan is the exception to that for two reasons. One, because it's so built up you're not going to find tiny houses, treehouses, and cabins here.
The second comes down to budget. Because Manhattan is so expensive, you'll need to be more creative to stay within budget. And that may mean staying in a private room where you'd usually choose an entire place.
A homestay is a great way to enjoy your trip though: as well as saving money, you'll be able to get travel tips from your local host – a great way to get off the beaten tourist track in the big apple!
Why Stay in an Airbnb
Still not sure a vacation rental is for you? Here are five of the top reasons to stay in an Airbnb.
Local Experience: With a local host, you'll be able to get all the inside info on your destination – the best things to do and places to eat and drink that aren't in the guidebook!
Privacy: Many Airbnbs have self-check-in, and you can even filter for completely private accommodation. Great if you want some well-earned me-time.
Affordability: Cost is so important in Manhattan. So, ditch the hotel and make your money go further with an Airbnb!
Safety: Airbnb's review system vets both host and guest, so you can be safe in the knowledge that everything is going to be fine. Airbnb Support are on hand 24/7, too!
Airbnb Experiences: It's not just about where to stay; it's about what to do when you get there. We'll talk more about Airbnb Experiences later.
The 15 Top Airbnbs in Manhattan
Now you know what you can expect and why you should stay in an Airbnb in Manhattan, it's time to see the properties themselves. This list has been curated with you in mind, so all you need to do is pick your favourite!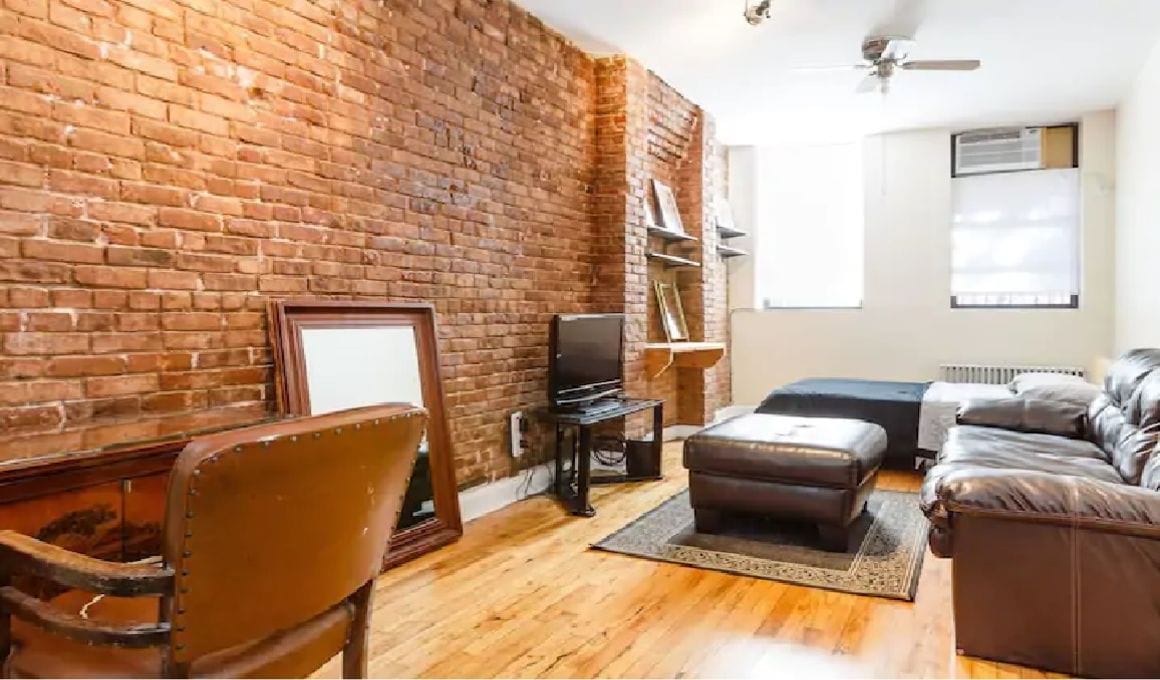 Four Guests
Indoor brickwork
Perfect if you're on a budget, this studio apartment is on the ground floor of a building in Manhattan's East Village. There is another mattress in the closet, but it might be a bit of a squeeze. Still, as an apartment for a solo traveller or couple, you really can't beat this! It has a loft feel with the indoor brickwork, and there's a dedicated workspace should you be travelling as a digital nomad.
This is an affordable and safe accommodation that would perfectly suit a solo traveller or couple. Situated in Manhattan's East Village, the city's main attractions are all within walking or cycling distance. It's pretty stylish, too!
Two Guests
Private room with double bed
If you're looking to keep costs down without compromising on location, then this Airbnb has got to be the ultimate find! Here you'll find a trendy private room with a light and airy feel as well as access to household amenities like a full kitchen, washing machine and dryer. There's even a games console you can jump on! What's even better is its location, you're literally right at the heart of things just a short walk from Times Square!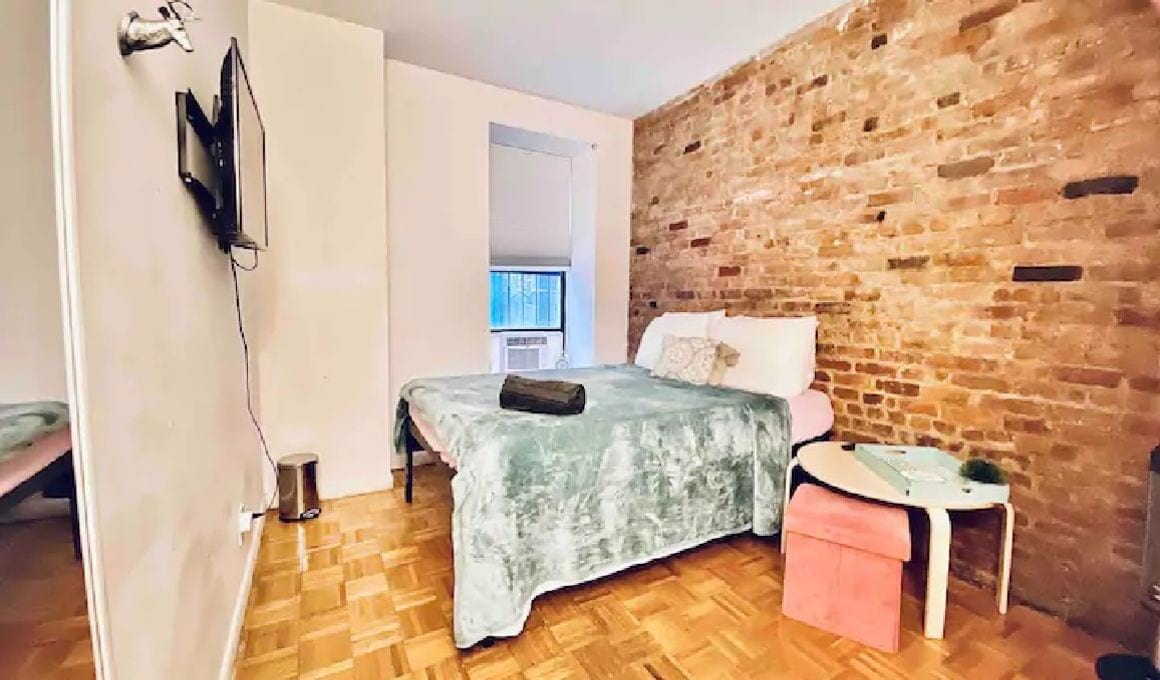 If you're travelling solo, you'll often be recommended a hostel. However, that doesn't work for everyone. Perhaps a homestay will suit you better – it gives you the chance to keep your spending under control while getting recommendations from your local host. The best of both worlds! Though this listing is only for one person, you still get a queen bed. So, you can starfish after an exhausting day exploring the Big Apple.
Is This the Best Backpack EVER???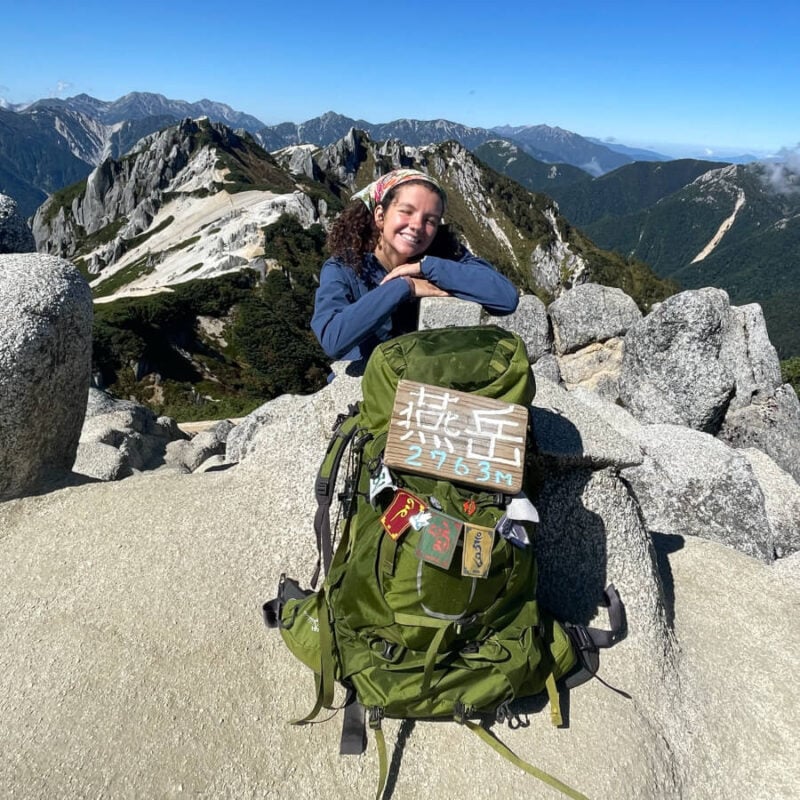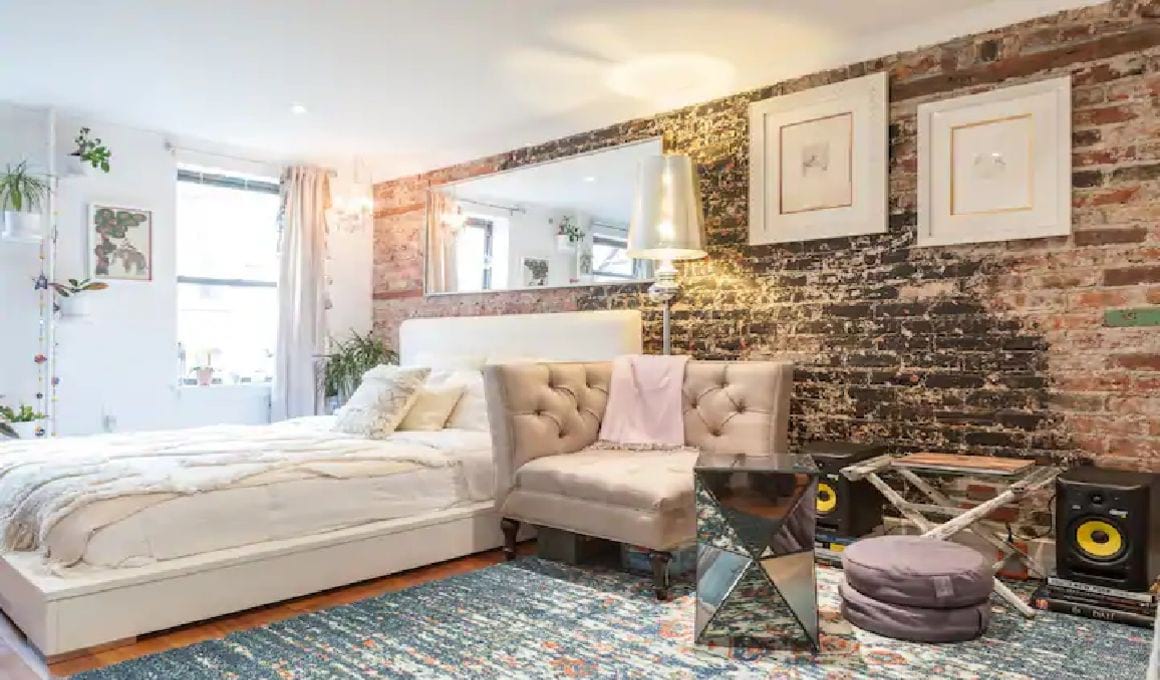 Two Guests
Exposed brick and wooden flooring
It's back to the East Village again for Manhattan's most romantic apartment. With a queen bed and a love chair by the bed, it is sure to take the breath of you and your other half away. Though you'll no doubt try some of the epic restaurants in New York during your stay, you can whip up a favourite in the fully equipped kitchen should you fancy a night in. Why not eat in front of a movie on the flatscreen TV?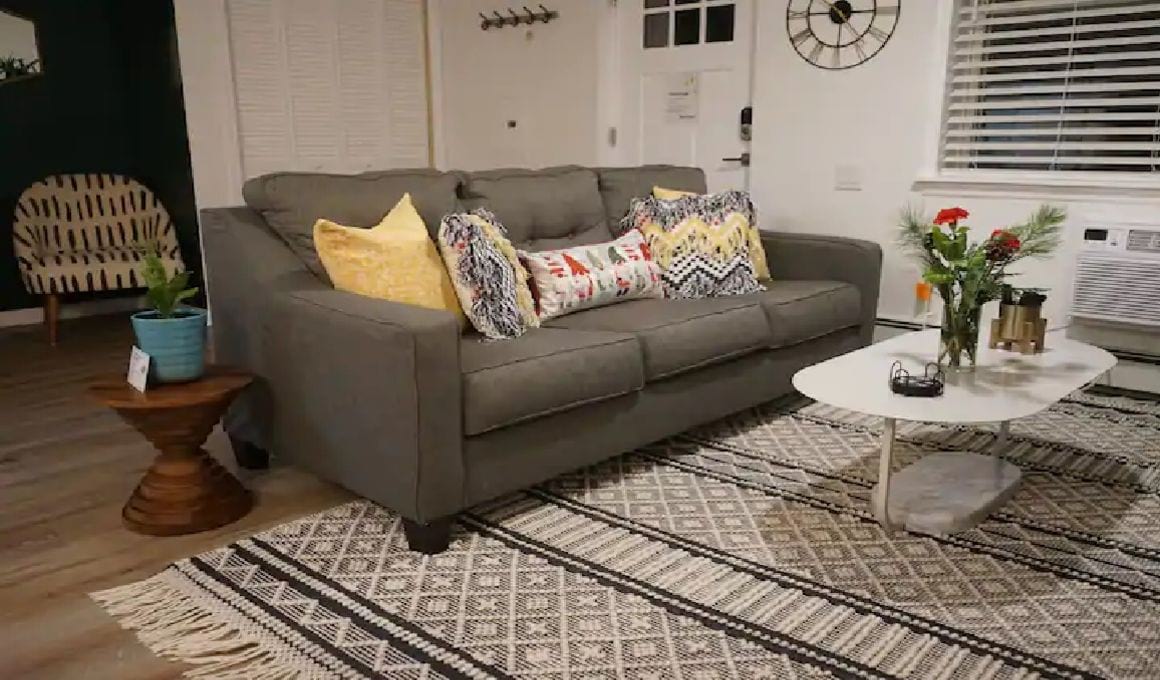 $$$
Fully equipped kitchen
This townhouse in Harlem has two bedrooms and is perfect for a family, no matter what age. It was renovated in 2019 and has modern conveniences and furniture that you'll be pleased to come back to after a day of exploring NYC. As well as the two listed bedrooms with queen beds, there's a sofa bed in the spacious living room.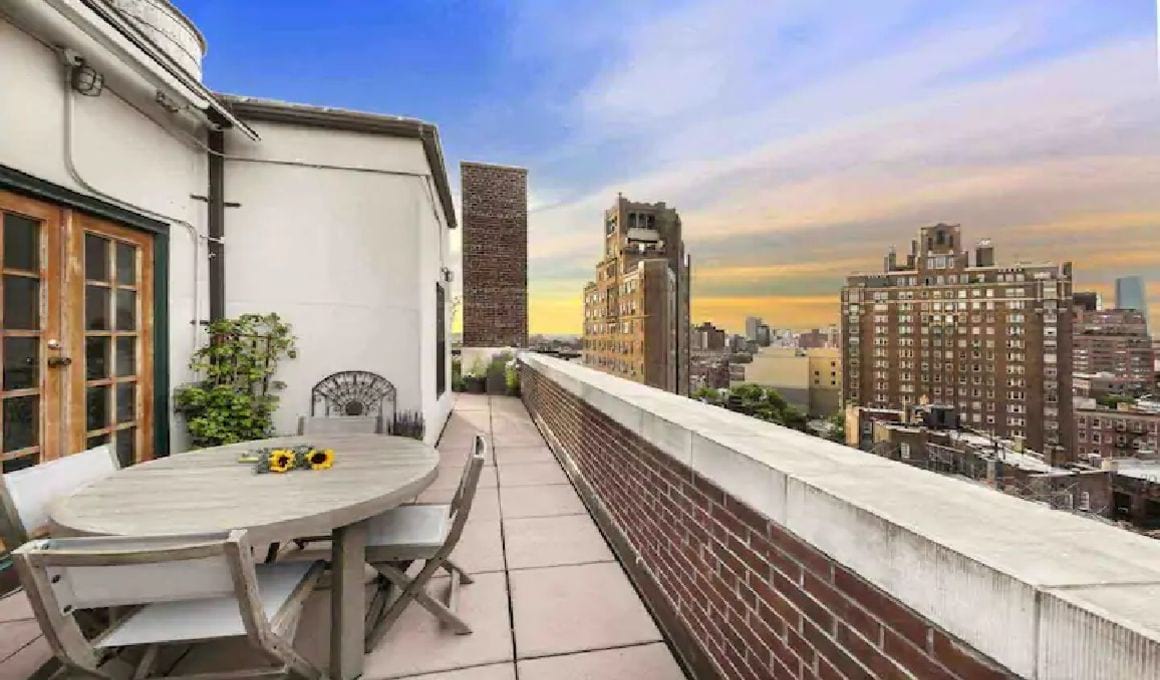 We've been really hammering home how expensive Manhattan is so far. But what if you're willing and able to spend a lot of money? Then you really are in for a treat. This luxurious penthouse in the West Village offers spectacular views out over the city from your very own private room terrace! Enjoy your morning coffee out there, or watch the sunset with something a little stronger.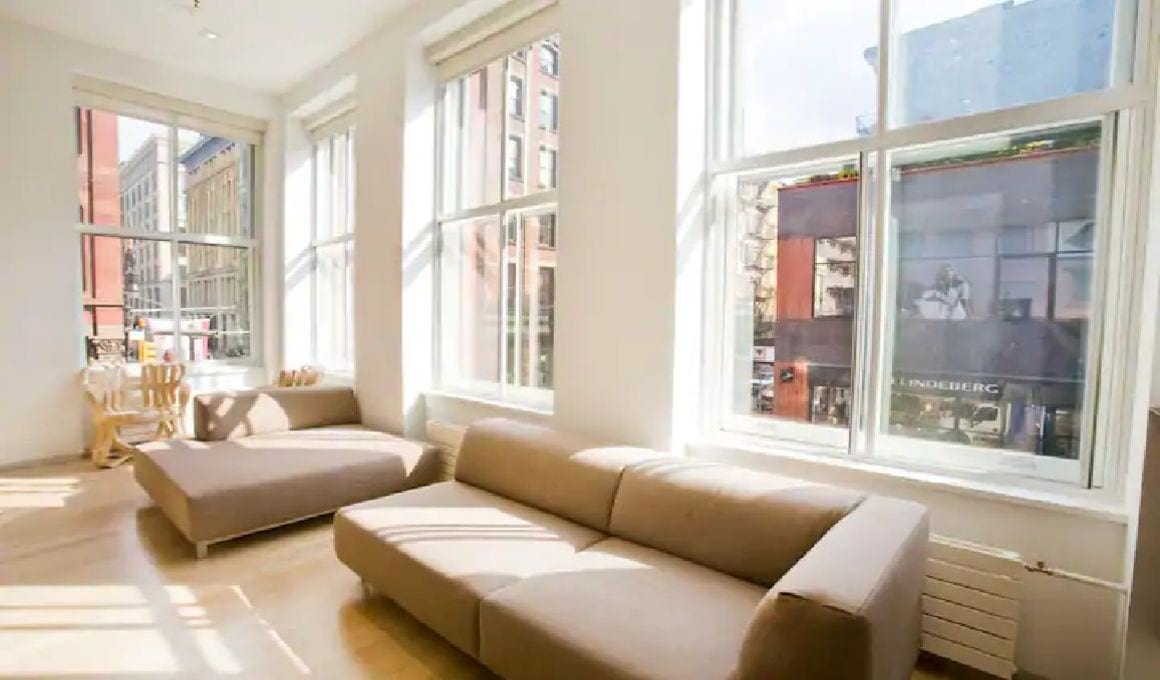 $$$$$$$
Sauna and soaking tub
High ceilings and enormous windows are one of the key features of any New York loft apartment. This one offers both those and much more. If you've spent the day walking or cycling through Manhattan, you're probably going to be a bit achy. What better to sort that out than by spending some time in the soaking tub, or your own private sauna?! Though the restaurants in the neighbourhood are amazing, put your own cooking skills to the test with the fully equipped chef's kitchen.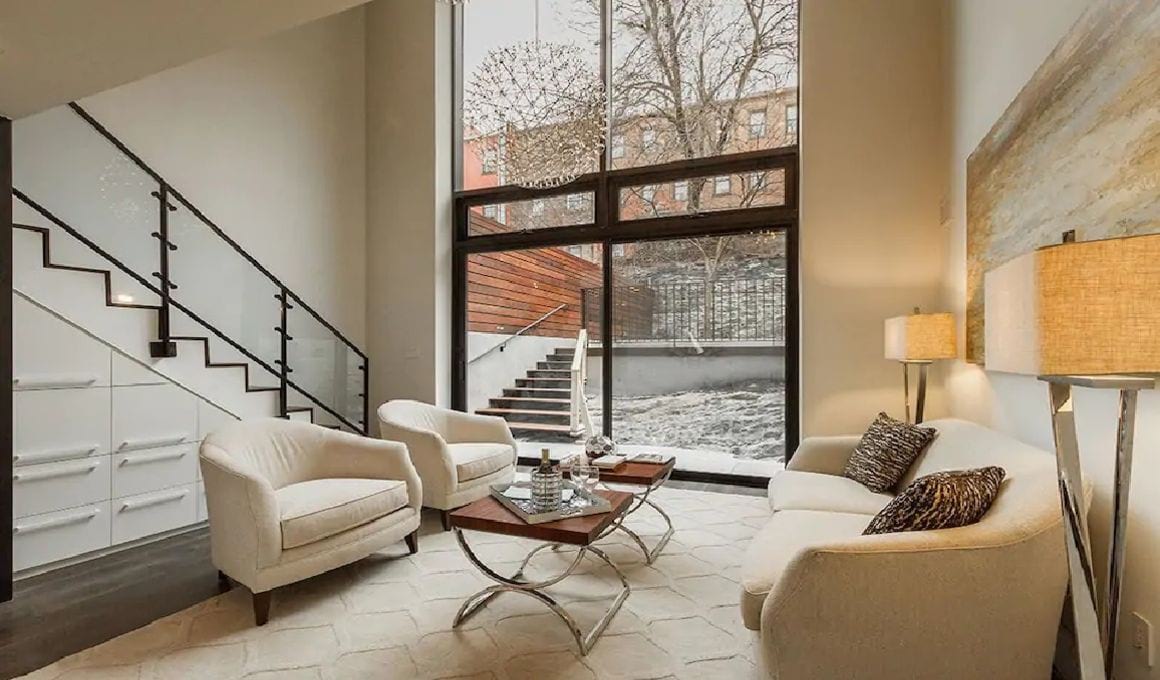 $$$$$$
Private backyard oasis
13 Guests
Huge dining area
Thankfully, five million dollars refers to the build cost, not how much it is to rent this townhouse per night! With space for up to 13 guests, this is perfect for any large gathering of family or friends. Set over four floors, there are five bedrooms and 4.5 bathrooms (not sure how you get half a bathroom, but there we go). You even have your very own backyard oasis – and gardens are rare in Manhattan!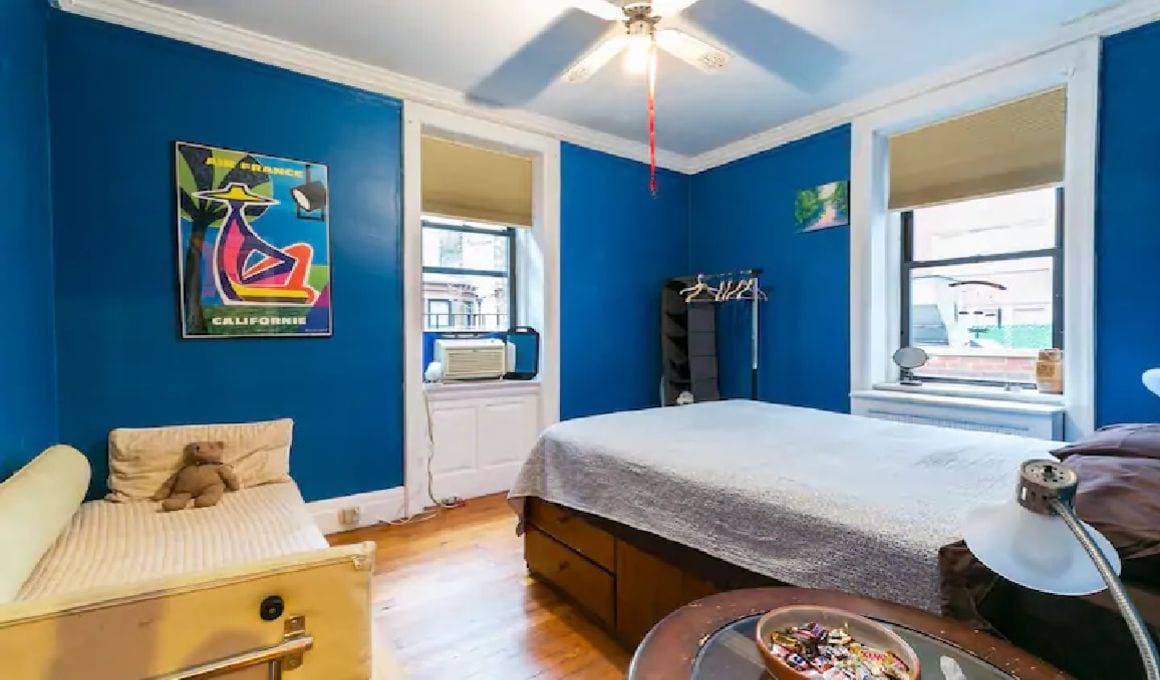 Three Guests
Shared kitchen
We've already seen a couple of private rooms in Manhattan, but this is our favourite. It's so versatile: it can be used for a solo traveller, couple, or even a family with a baby or toddler, thanks to the small crib included. You'll have access to your host's kitchen when you stay, and though you're just a block from Times Square, it's surprisingly quiet.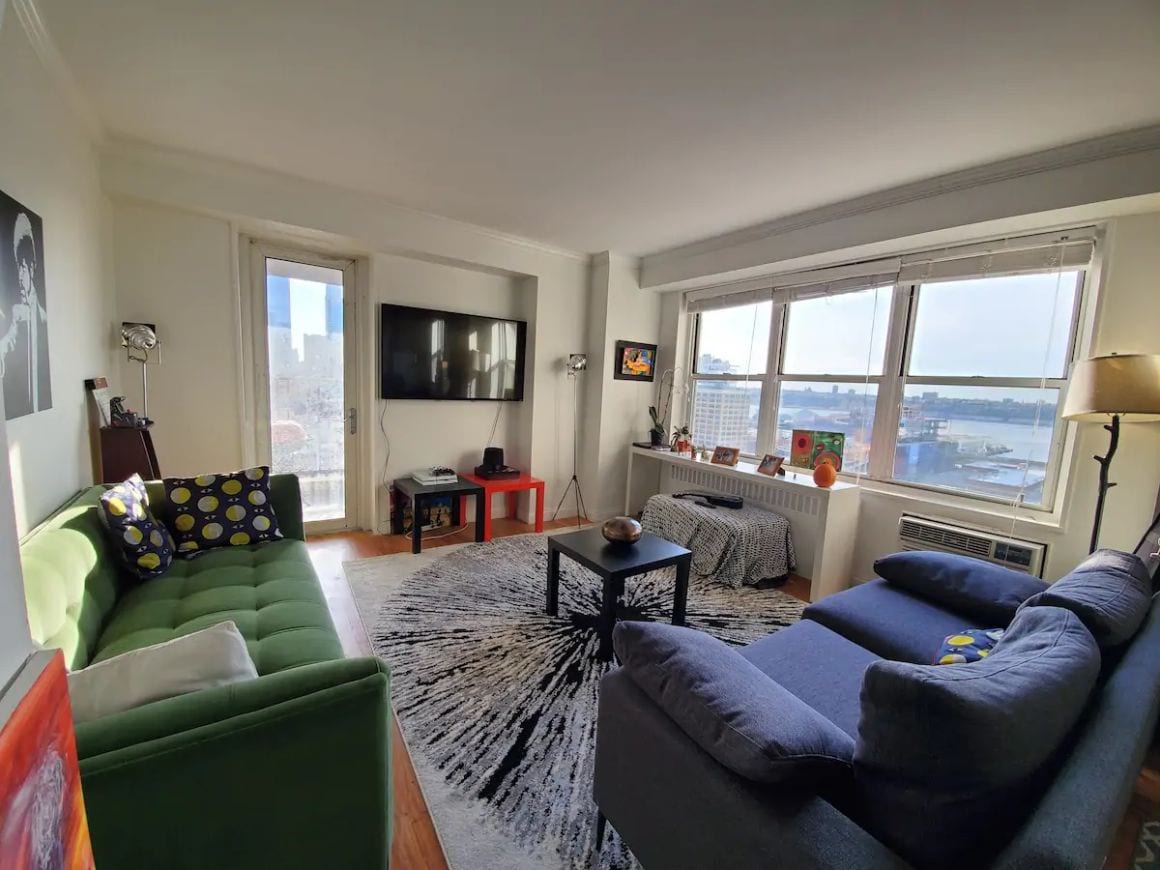 Is there a cooler place in the world to be a digital nomad than New York? The city has inspired so many books, music, and films, that it might stir something up within you. In this cool flat, you've got a dedicated workspace and fast Wi-Fi, so you can do any research you might need to. Even if you're remote work is a little more mundane, looking out over the concrete jungle where dreams are made should perk you up!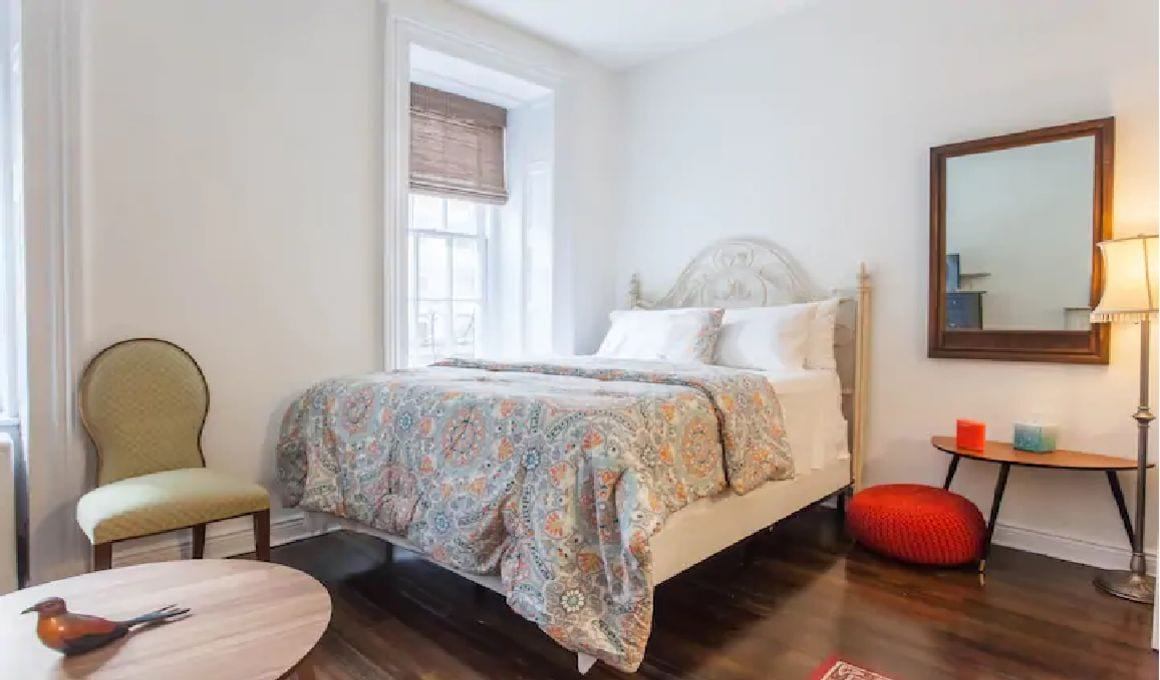 Two Guests
Indoor fireplace
When it comes to spending a weekend in New York, location is the most important thing. We've chosen one right by Central Park, so you've got access to the city and its most loved green space. Even if you don't spend a lot of time in this cute studio, it's a lovely place to come home to. There's an indoor fireplace, and that queen bed is super-comfy!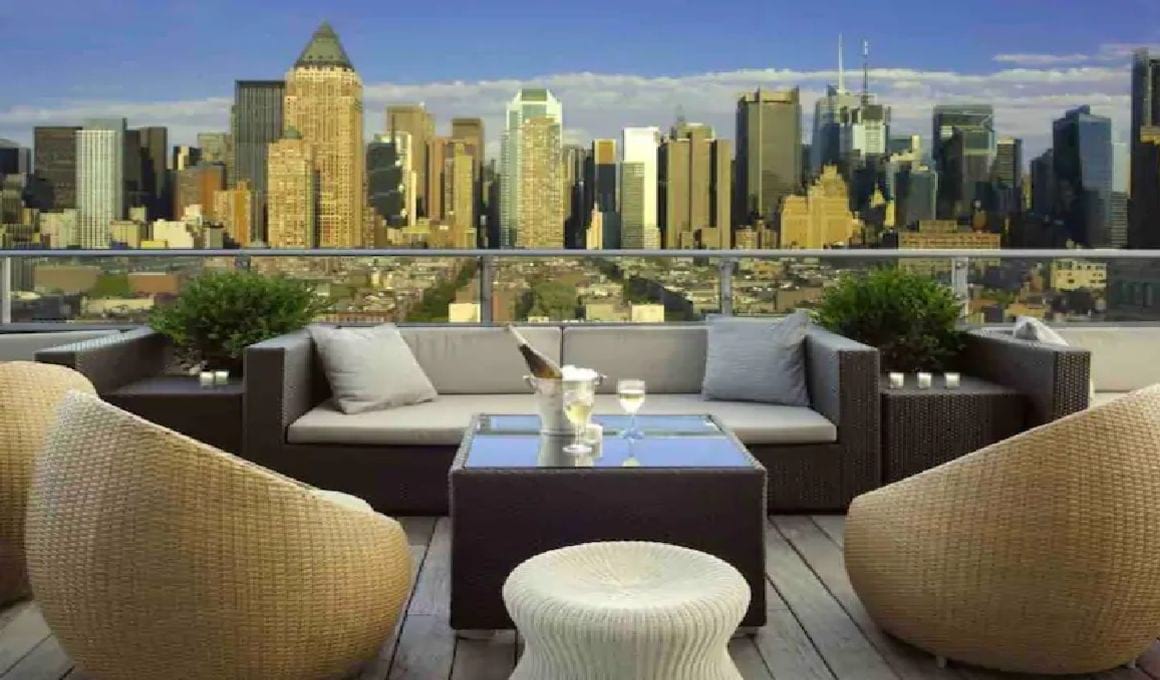 If you look at that view above and think, nah, I don't fancy it, there can only be one conclusion – you're afraid of heights! From the rooftop terrace of this condo, you can pick out the most iconic buildings from the most famous skyline of all. The apartment isn't bad either, offering a fully equipped kitchen, three bedrooms, and access to a gym.
Best LGBTQ+ Friendly Airbnb in Manhattan | Unique Village Apt
Three Guests
Bohemian style apartment
Lots of Manhattan is LGBTQ+ friendly, but nowhere more so than Greenwich Village. This apartment is on the doorstep of the NYC gay scene, and you can visit many important LGBTQ cultural sites from here. You can also chill out and enjoy the apartment, which comes with complimentary toiletries and an eat-in kitchen.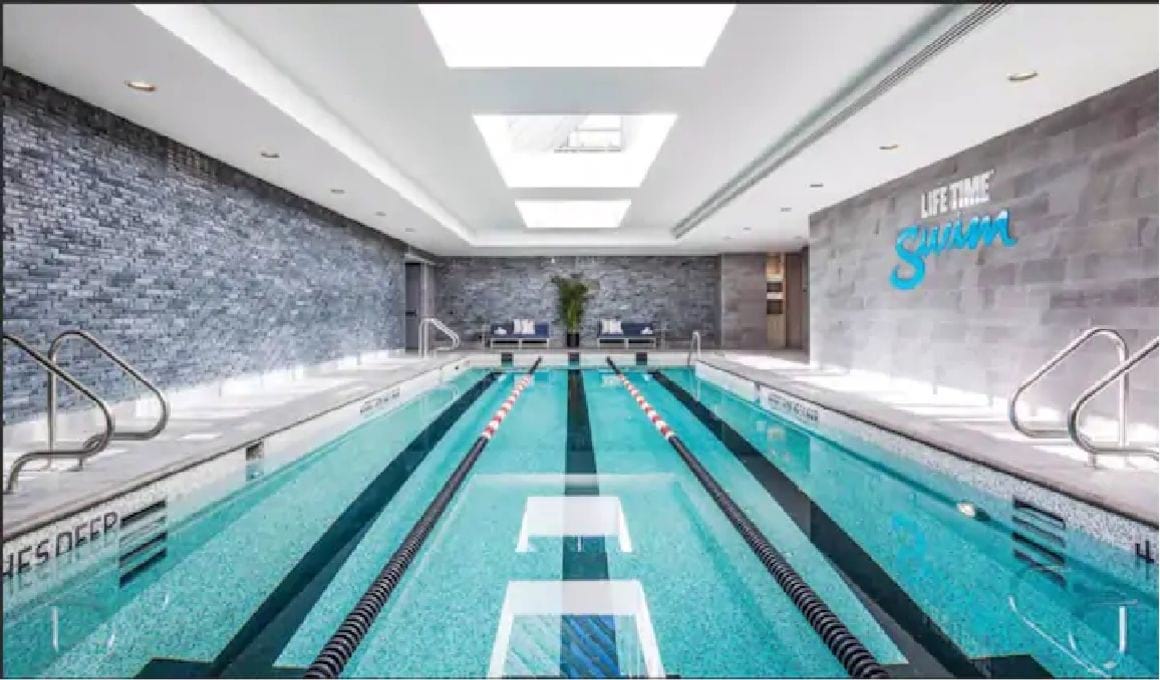 It's harder than you might expect to find a Manhattan apartment with a pool. However, it's far from impossible. Here, you'll be able to swim lengths to your heart's content and make the most of a workout in the gym too. That's before you even get through the door of your luxurious apartment with space for up to 12 guests. Like games? There are pool and ping pong tables too!
Best Airbnb in Manhattan for a Group of Friends | Walk to Central Park
Seven Guests
Lovely living space
If you're staying with friends, the most important thing is that you have somewhere to spend quality time together. The large living room should do that, but if you want to breathe in some fresh air, you have Central Park on your doorstep! There's space for up to seven here across four beds, and though it's technically a shared space, you've got a private bathroom, living room, and kitchen.
Top 5 Airbnb Experiences in Manhattan
Now that you've seen the best Airbnbs in Manhattan, let's turn our attention to what you can do on your vacation. There's so much to see in the Big Apple that if you don't have a plan of what to do, you might miss some of the most important sights!
That's where Airbnb Experiences come in. Curated by locals, they can be anything from a historical walking tour to a cooking class or a bar crawl. Manhattan has more than 300 Airbnb Experiences – more than most cities, so it shouldn't be hard to find something to do.
It's been hard, but we've narrowed it down to five of the best Airbnb Experiences in Manhattan. We think you're going to love them!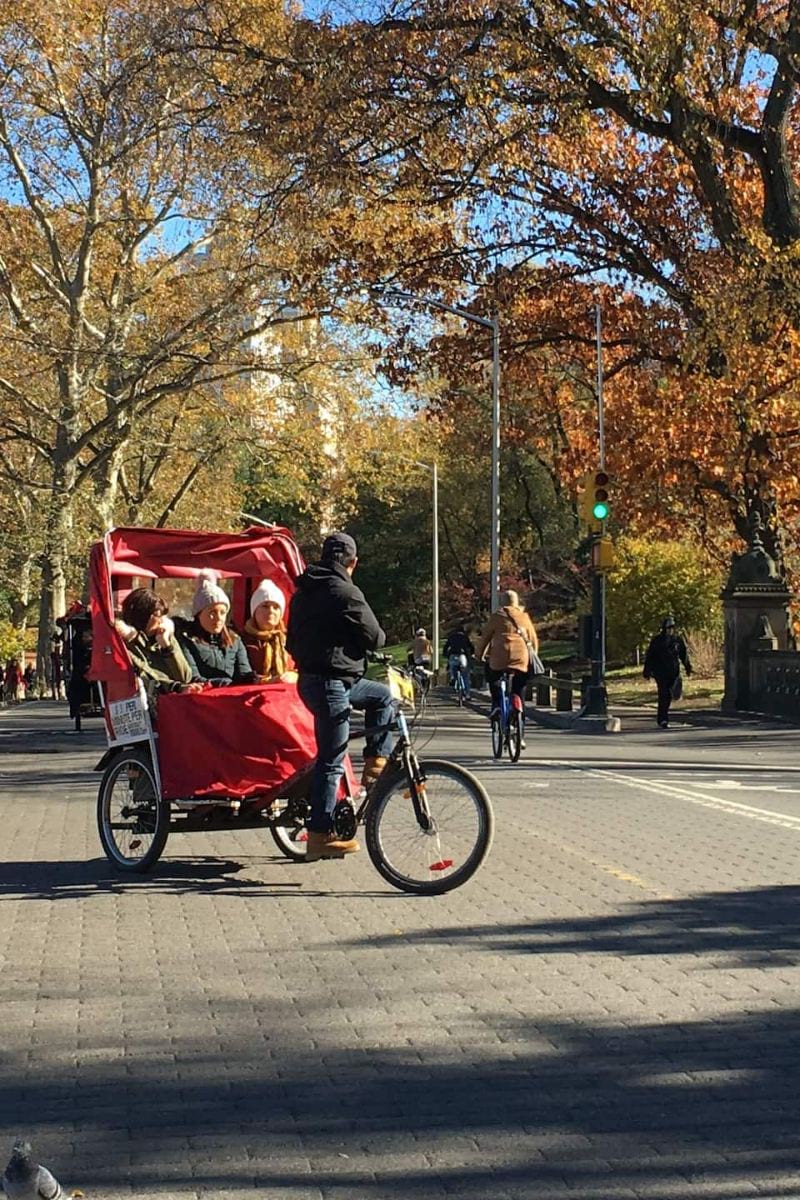 $45/person
1 hour
Up to 10 Guests
Central Park is enormous. If you want to walk the whole thing, it'll take you several hours at least. Better then to take a tricycle tour. Powered by nothing more than your guide, you'll travel between the most iconic spots in the park, such as Bow Bridge and the Strawberry Fields. This is a popular tour, so it's recommended that you book in advance.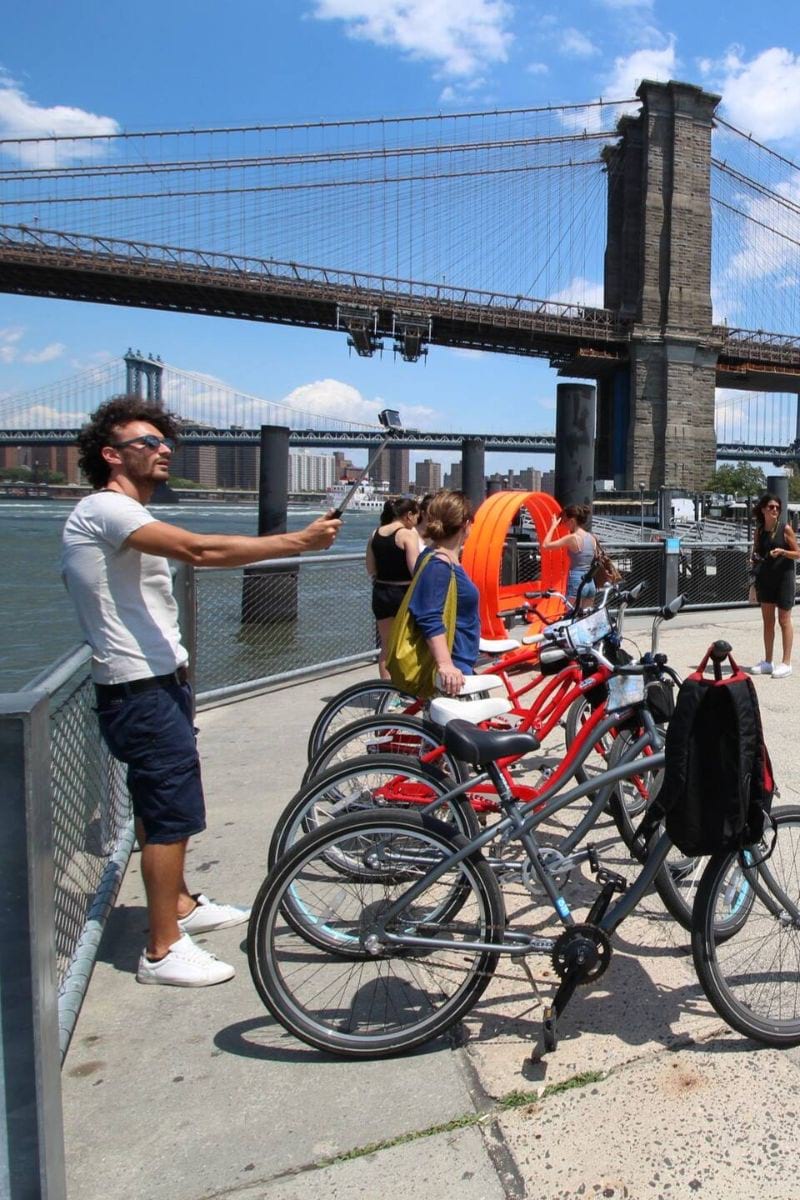 $100/person
6 hours
Up to 10 Guests
Don't want to rely on someone else cycling for you? Then this is the tour for you. You'll start in Midtown Manhattan, where you'll pick up your bike before carrying on to Central Park and Times Square. The Rockefeller Center and Grand Central Station are both on your Manhattan itinerary before you cross over Brooklyn Bridge and check out NYC's other districts. You'll cycle 20 miles in total, so you do need to have a decent level of fitness!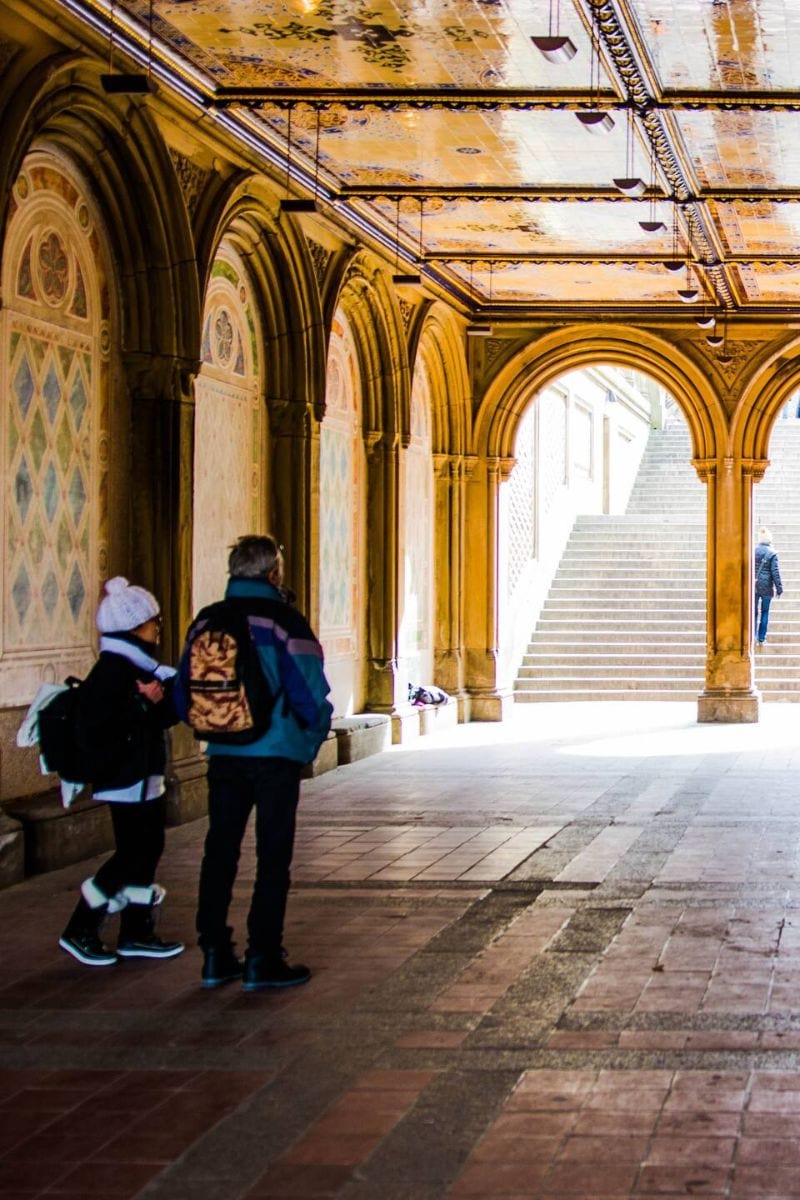 $27/person
3 hours
Up to 10 Guests
It's hard to choose a walking tour in Manhattan because there are so many. Central Park and Fifth Avenue are a safe bet though – and there are plenty of spots where you can get photos. After a stroll through Central Park, you'll go to the Rockafeller Center, Radio City Music Hall, and Grand Central Terminal. Make sure you're wearing comfortable shoes, and it's also recommended to bring snacks and drinks.
$60/person
2 hours
Up to 10 Guests
It makes sense that you'd be heading to Hell's Kitchen for the best food Airbnb Experience in Manhattan! You'll not only taste desserts in New York's busiest neighbourhood, but you'll also learn about the city's culinary history – and in a wider context, its culture too. It's around the world in 80 desserts on this tour, with baklava, chocolate brigadeiros, and sour cream apple pie just some of the sweet treats on offer!
$63/person
3 hours
Up to 8 Guests
New York has so many bars and nightspots that it's impossible to know where to begin. However, you can't miss a night out in the city that never sleeps, so find someone to show you the magic! With a local guide, explore the Meatpacking District, which has everything from cocktail bars and speakeasies to night clubs. Two alcoholic or soft drinks are included in the tour, but it's a good idea to bring some extra dollars along!
Don't Forget Your Manhattan Travel Insurance
ALWAYS sort out your backpacker insurance before your trip. There's plenty to choose from in that department, but a good place to start is Safety Wing.
They offer month-to-month payments, no lock-in contracts, and require absolutely no itineraries: that's the exact kind of insurance long-term travellers and digital nomads need.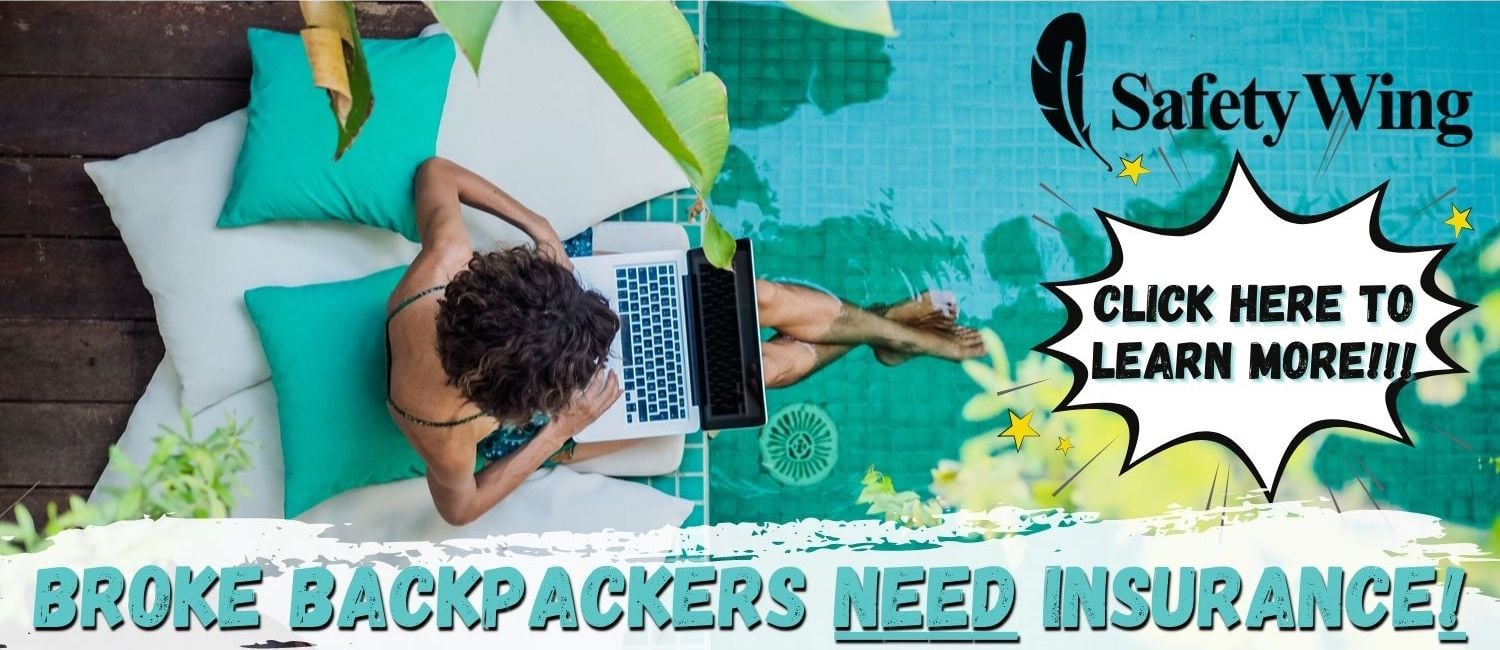 SafetyWing is cheap, easy, and admin-free: just sign up lickety-split so you can get back to it!
Click the button below to learn more about SafetyWing's setup or read our insider review for the full tasty scoop.
Final Thoughts on Manhattan Airbnbs
Well, there you have it. Those are the 15 best Airbnbs in Manhattan, along with some cool experiences you can make the most of during your trip. Whether you want to be in a 5th Avenue loft apartment, a flat with a view of Central Park, or you just want the cheapest option possible, there's an Airbnb in Manhattan for you.
And if you're still struggling to make your mind up on where to stay, check out our favourite Airbnb in Manhattan. That's the Amazing East Village XL Studio. The stylish apartment looks amazing while having an unbeatable location.
We hope that wherever you choose to stay in Manhattan, you have an excellent vacation. And be sure to take out a travel insurance policy with World Nomads to take care of you and your belongings.
---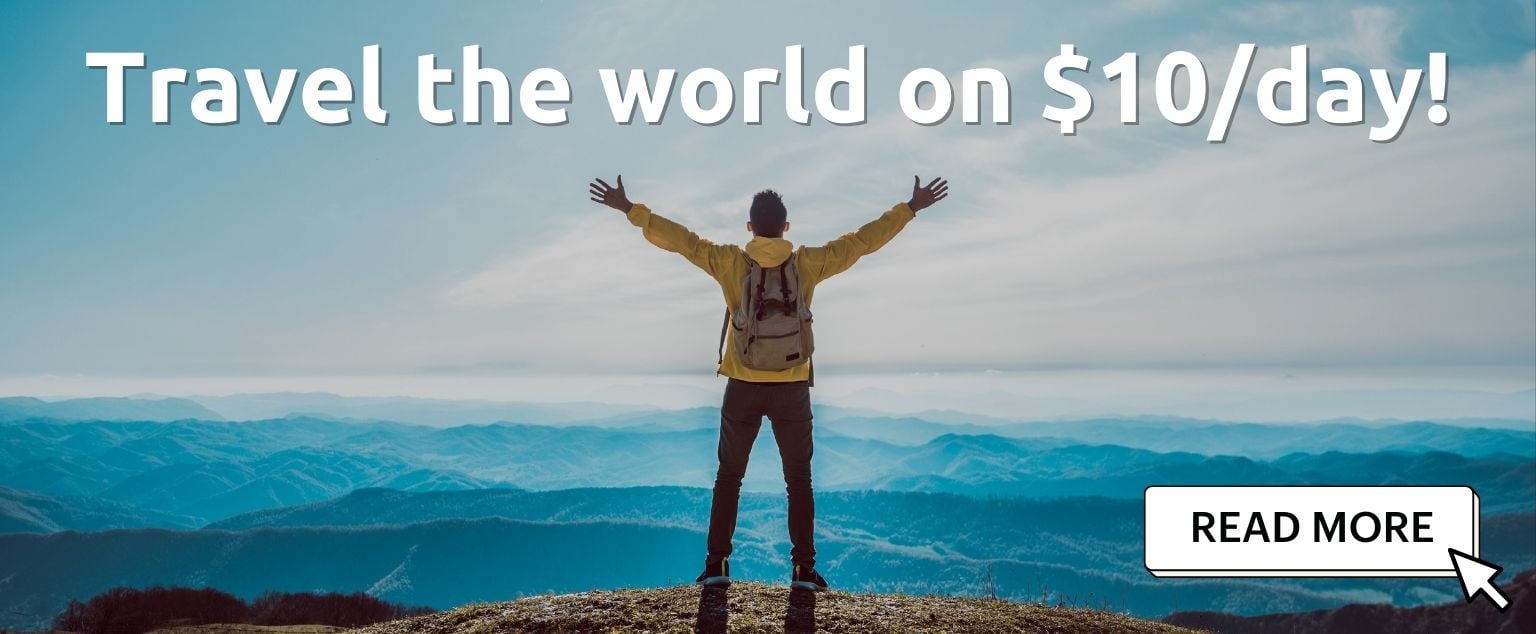 And for transparency's sake, please know that some of the links in our content are affiliate links. That means that if you book your accommodation, buy your gear, or sort your insurance through our link, we earn a small commission (at no extra cost to you). That said, we only link to the gear we trust and never recommend services we don't believe are up to scratch. Again, thank you!