It's a good thing New York is the city that never sleeps because you'll need the extra time to fit everything in! There is literally an endless list of incredible shows, hidden gems and iconic landmarks that have been gracing our movie screens for decades. It's one of those places that feels familiar as soon as you arrive!
Whether you're looking for an idyllic experience ice-skating in Central Park or a bona fide rave, we've compiled a jam-packed list of the best things to do in NYC this weekend.
Get packed, get pumped and head on a weekend adventure in a city known for being one of the most exciting and intoxicating places to visit in the world. Guaranteed, after a weekend here you'll be coming back for more time and time again, and each time you do, you'll discover something new!

Unlock Our GREATEST Travel Secrets!
Sign up for our newsletter and get the best travel tips delivered right to your inbox.
Insider Tips for an AMAZING Weekend in New York
If you're looking for a whirlwind weekend trip packed with activities or much-needed time out, NYC is the dream vacation spot. Whether you're planning to chill in lush parks with a picnic or hit the pavement every day searching for the most underrated spots in New York, this is the city for you!
Know Where to Stay in New York
New York is famously known for its five boroughs (Manhattan, Brooklyn, Queens, the Bronx and Staten Island), each with a unique atmosphere and fantastic attractions. While New York does have a top-notch subway system, it's a good idea to remain central and find NYC accommodation close to the things you're planning to do!
Most of central Manhattan is laid out well with Fifth Avenue as its equator and the main streets labelled for easy exploration. Midtown Manhattan is one of the best NYC areas to stay in because it's nearby to so many NYC haunts and landmarks, as well a sprinkle of iconic New York skyscrapers.
The best place to stay for easy access to bars and eateries is Williamsburg in Brooklyn. This hipster paradise is a New York staple and home to a myriad of coffee shops, bistros and bars. With everything from pub grub to NYC's finest cuisine, Williamsburg is the go-to stop for foodies.
We could go on about all the fantastic areas to stay in, but we'll finish it off with the unassuming Meatpacking District, the perfect place for anyone interested in high-end wine bars and fashion. With household names lining its cobblestone streets and Chelsea Market nearby, as well as the amazing High Line, this fantastic New York area hits the sweet spot.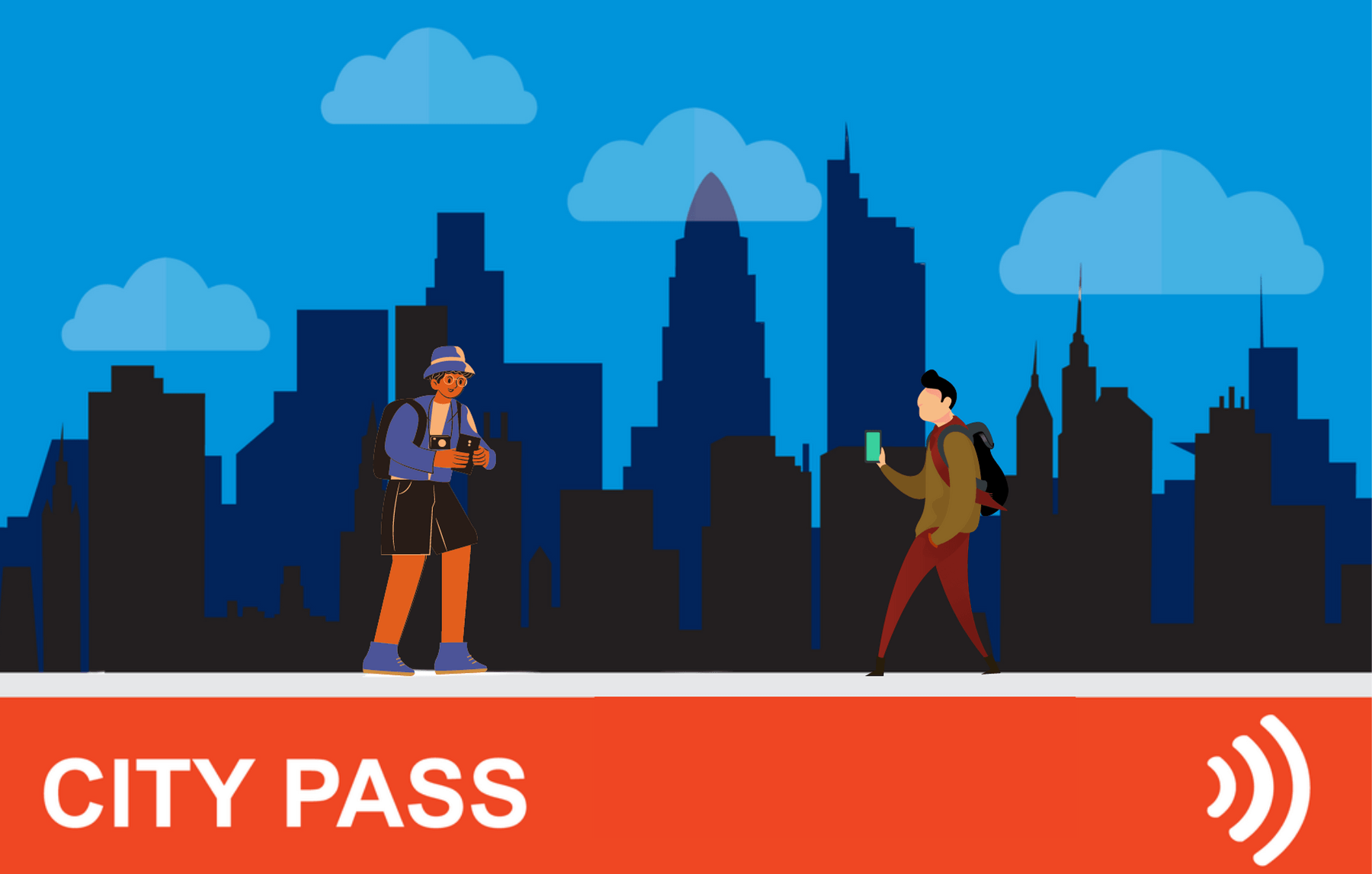 Travelling to New York? Then plan yo' trip the smart way!
With a New York City Pass, you can experience the best of New York at the CHEAPEST prices. Discounts, attractions, tickets, and even public transport are all standards in any good city pass – be sure invest now and save them $$$ when you arrive!
Buy Your Pass NOW!
Delicious breakfast served between 7 am and 11 am every morning.
Has a wonderful chilled atmosphere.
With a prime spot in lower Manhattan, this classic and comfortable NYC hostel makes for the perfect NYC accommodation. Situated near the Empire State Building, Madison Square Park and a subway station for easy access to the rest of NYC, the American Dream Hostel checks all the boxes.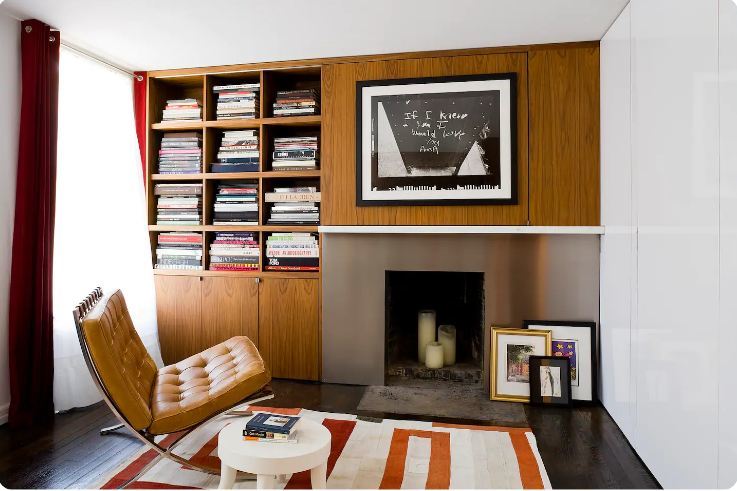 Perfect if you're on a budget, this studio apartment is on the ground floor of a building in Manhattan's East Village. There is another mattress in the closet, but it might be a bit of a squeeze. Still, as an apartment for a solo traveller or couple, you really can't beat this! It has a loft feel with the indoor brickwork, and there's a dedicated workspace should you be travelling as a digital nomad.
However, there are plenty more Airbnbs in Manhatten waiting for you. if this is not the right one for you, check out the others!
Our Favorite Budget Hotel – Hotel Mimosa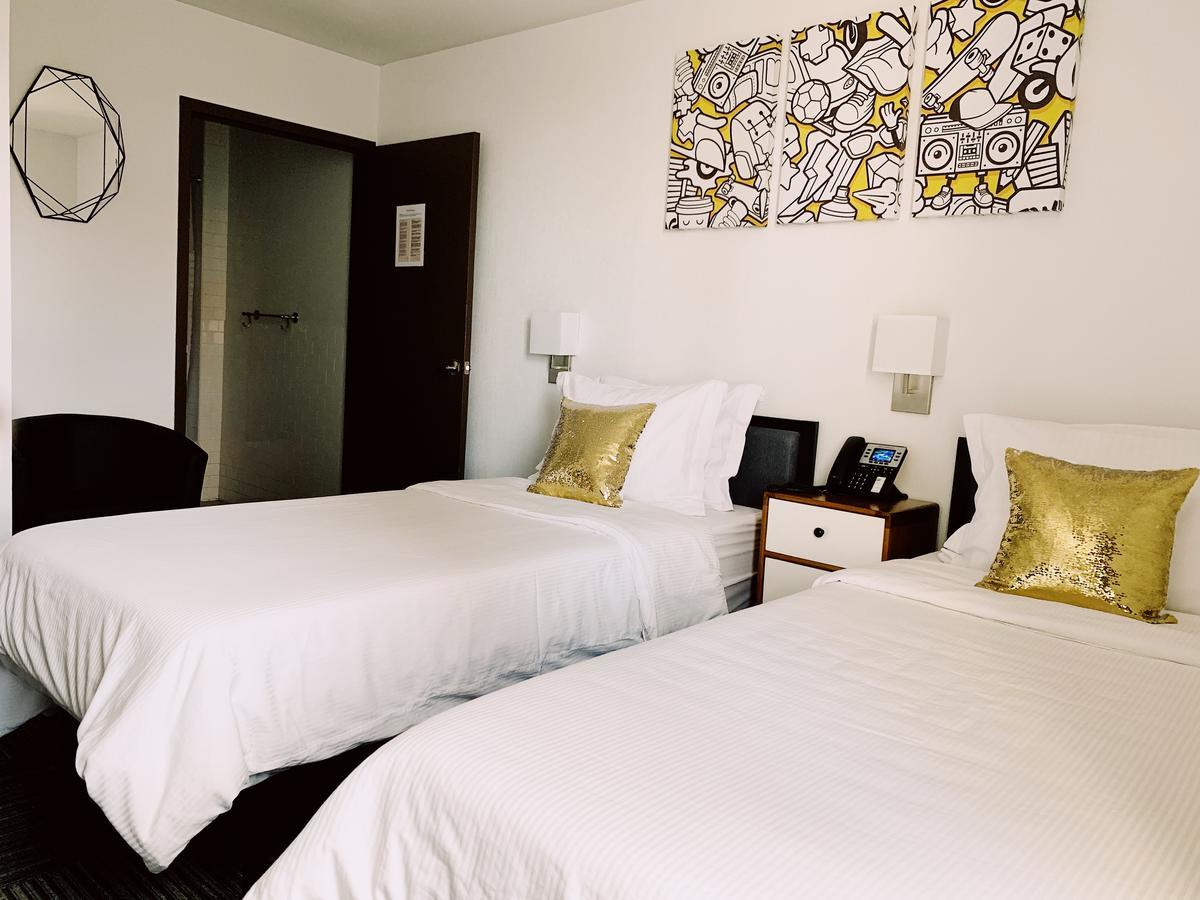 Tasty Coco Bubble Tea is offered on-site.
The hotel is close to Madison Square Garden, Time's Square and the Met.
This lovely gem in the middle of Chinatown makes for the perfect home-away-from-home. With a fantastic central location near the famous Brooklyn Bridge and just a stone's throw from Little Italy, this welcoming hotel with an amazing view of the New York skyline is a perfect choice!
There is a curated art exhibition celebrating prominent artists throughout the hotel.
Enjoy delicious cuisine at the hotel's on-site restaurant and rooftop bar.
Feel incredibly swanky at this first-class hotel in Midtown Manhattan. With a rooftop terrace as well as an incredible spa with an indoor pool, the hotel promises a luxurious experience. The Peninsula is nearby to Central Park, The Rockefeller Center and the Museum of Modern Art.
Know How to Get Around in New York
You could jump into a classic yellow taxi which is a well-trusted mode of transport! Being the most populated city in the world, NYC is also accessible by alternative taxis such as Uber and Lyft.
The public bus is also a good option( and yes, it's safe!)especially if you're trying to get between the five boroughs. If you're a first-time visitor, it's a good idea to get a map of the bus routes!
One of the most well-known modes of transport is the New York Subway, which operates 24 hours a day. Check out one of the maps in the station to avoid any mishaps (although that's all part of the New York experience)!
You can also try out one of the water taxis where you can travel via the city's waterways. You can also cycle around the city streets and rental passes can be bought from the Citi Bike app or from one of the kiosks.
You can also make use of the super-touristy Hop-On-Hop-Off bus, which is perfect for all the incredible places to visit in New York and to get your bearings. Finally, pop on your walking shoes and head out into the concrete jungle just like a true New Yorker.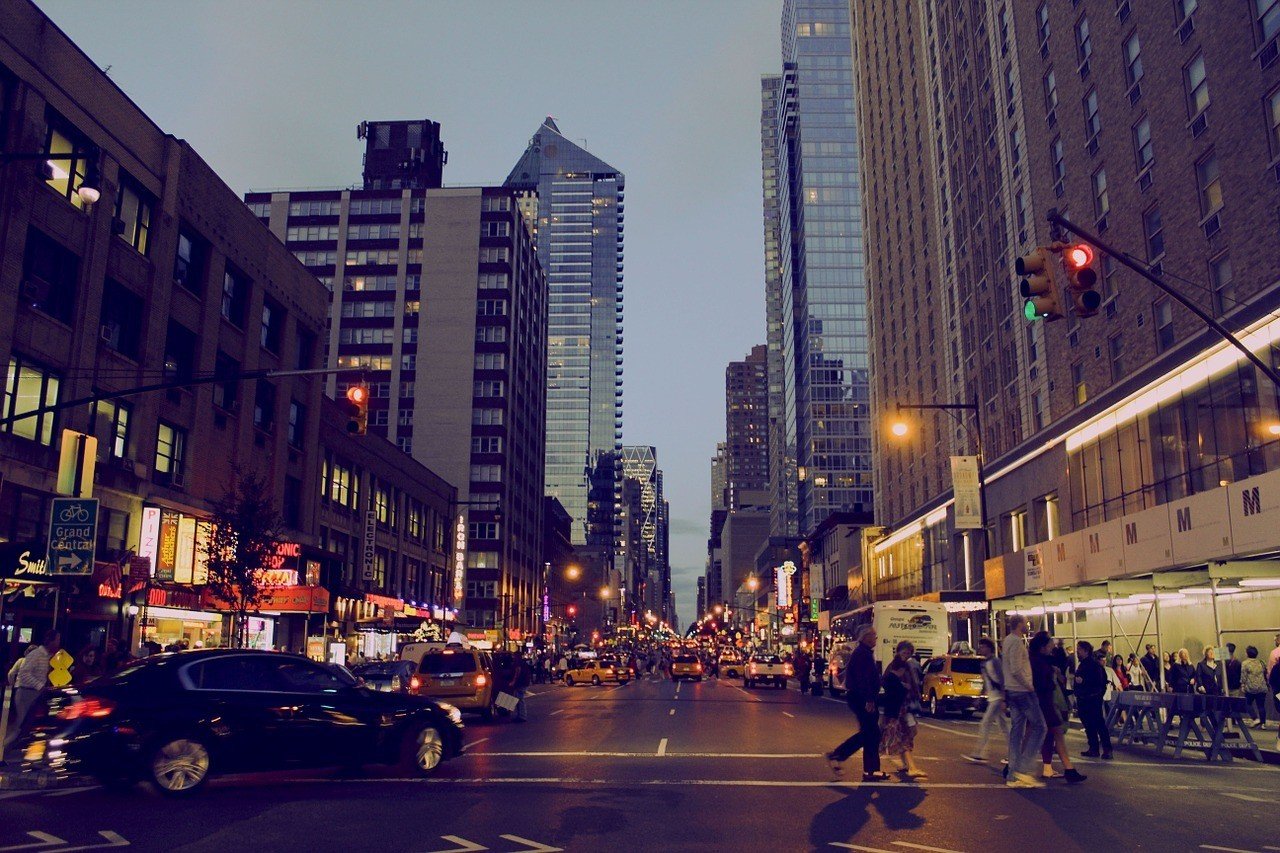 If you're looking for an unforgettable weekend in New York, check out our list of fun things to do in NYC this weekend. Between old school Jazz or modern urban hangouts, New York comes alive at night, so don't miss your chance to join in!
Gotham City Lounge
Enjoy signature themed drinks like the Green Lantern.
Home to an amazing range of superhero collector's items.
Take some 'instagram-able' pictures in front of their life-sized mural.
This slightly off-kilter pool bar is an underrated New York feature! Tucked beneath the tracks of the elevated M train, lies the Gotham City Lounge.
If you're a comic book fan or even just looking for an eclectic NYC spot, you'll find chilled vibes and next-level superhero memorabilia at this quirky dive bar. Keep an eye peeled for the bat signal aka a giant Batman mural outside and you'll know you're in the right place.
Enjoy an animated night at one of New York's most unique bars!
Chelsea Music Hall
Join in an old school swing dance session.
The uber-popular Mizon restaurant handles the music hall's cuisine.
It combines old school with a mix of modern sounds to create a unique experience.
In the basement of the unmissable Chelsea Market is its underground music hall. Filled with smooth Jazz, gut-busting comedy nights with groups like The Juice, and fantastic musical performances, the Chelsea Music Hall has something for everyone!
You can also keep a lookout for the nights when a bona fide orchestra comes to play at the music hall. Join in the unbelievable Soul in the Horn, a weekly dance party and musical showcase, all to the sound of a horn-infused musical performance!
For a truly vibrant experience of New York's music scene, head to the incredible Chelsea Music Hall!
Staten Island Ferry
Enjoy the fun atmosphere of a nighttime ferry ride.
Head for Roller Jam USA where you can skate the night away on Staten Island.
Perfect for For a unique view of the New York skyline.
If you're searching for amazing things to do in NYC tonight, take a ride on New York City's best 'free bar'! Bring your drinks and snacks as you take a moonlit sail on the Staten Island Ferry.
With a stunning view of the lower Manhattan skyline all in lights, a nighttime ride on the ferry is a truly memorable experience! Head for the back of the ferry for the best view as it sets sail onto the Hudson River. You can see the incredible Statue of Liberty with her torch held high, the historic Ellis Island and Brooklyn Bridge with its garland of lights!
After your ferry ride, why not explore Staten Island for a while (but don't forget to catch the ferry back before it closes for the night).
Give your tastebuds the New York experience at some of the best eateries in the city. With everything from next-level ice creams to picnics in the park, New York has some excellent grub!
Milk and Cream Cereal Bar
Enjoy some truly unique cones with multicolored designs.
This is the perfect place for a photo op with its simple and retro interior.
You can even grab a bowl of cereal (with some toppings and drizzles thrown in there).
Bring your favourite cereals to new life with modern twists and some incredible combinations!
At the Milk and Cream Cereal Bar, you're invited to "treat yo'self" with every Froot Loop-topped ice cream creation. Enjoy any cereal from Apple Jacks to Frosted Flakes, which you can combine with some epic toppings.
Milk and Cream also offer some incredible signature 'dishes' including the Cookie Crisp Carnival (with everything from Oreos to cookie dough) or the P-Nut Jelly Crumble, a twist on the classic PB&J, just with Reese's Pieces and Puffs!
Make this your stop for a sweet treat of the day, or even breakfast, this is New York after all!
Frankel's Delicatessen
Enjoy a taste of home-cooked food at this New York staple.
Grab your food and then visit McCarren park for a picnic.
Don't forget to try the oh-so-delicious latkes with their crunchy interior and creamy inside.
Head out for lunch at this classic, family-owned restaurant in Williamsburg!
Frankel's chef has dug out some favourites from the family recipe box and added a twist to some traditional Jewish dishes. The Frankel brothers keep it simple with their tasty menu and decor, which is fresh and nostalgic.
With everything from the beefy hot pastrami sandwich or braised brisket, to homemade matzo ball soup, Frankel's serves up some feel-good dishes.
Joe's Pizza
The restaurant is run by the original Joe Pozzuoli himself!
According to trusted sources, the sauce is what makes Joe's pizzas so delicious.
Joe's pizza has been listed in Time Out and GQ as one of the best on earth.
It would be almost criminal to visit NYC and not have a slice of true-blue New York pizza!
This Greenwich Village institution serves up some tried and true (and unbelievably tasty) pizza! You can keep it simple with a margarita or go all out with a Sicilian Square.
Whether you're grabbing a slice to eat and walk as you explore the city, or heading there for a late-night dinner, it's the perfect spot for a taste of New York.
For any sports fans looking for NYC events this weekend, the city always has something going on. From league giants like the New York Mets to the US Open, there's something for the hardcore sports lovers to the budding enthusiast!
Catch a Knicks Game
The team has hosted famous players like Patrick Ewing and Larry Johnson.
New York is home to 2 NBA teams, including the New York Knicks and the Brooklyn Nets.
The Knicks have become a long-standing New York sporting institution.
If you're a basketball fan (or a keen visitor), you have to watch a Knicks game when you're in NYC. The team usually has games from October through to June, as long as they make it to the playoffs. All home games are played at the incredible Madison Square garden where you can see the team in action!
Watch a Baseball Game
You can take a tour around the impressive Yankee Stadium or Citi Field where the Mets play.
Famous Yankees players include Babe Ruth and Joe Dimaggio, while the Mets had well-known players like Mike Piazza and Dwight Gooden.
The Yankees' old mascot, Dandy, was created from the classic folk song, Yankee Doodle Dandy.
Enjoy a taste of one of the USA's great pastimes – a game of baseball. New York City is home to two national league baseball teams, the Yankees and the Mets. If you're not from the USA, brush up on your baseball rules and then head down to the stadium for a unique sporting experience!
Take in a New York Ice Hockey Match
Ice hockey season is between October and April.
The Rangers play home games in Madison Square Garden.
Prominent players include Wayne Gretzky and Brian Leetch.
You don't often get to see an action-packed ice hockey game if you're not from the USA, so take advantage of being in NYC and head to a New York Ranger's game. As one of the 'Original Six' teams who competed in the National Hockey League, the Rangers have a long-standing reputation!
Small Pack Problems? 😉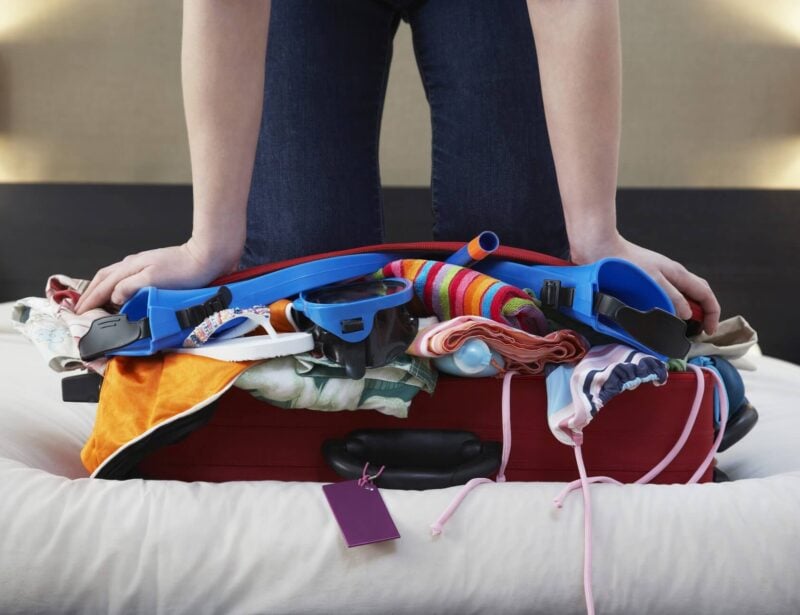 Wanna know how to pack like a pro? Well for a start you need the right gear….
These are packing cubes for the globetrotters and compression sacks for the real adventurers – these babies are a traveller's best kept secret. They organise yo' packing and minimise volume too so you can pack MORE.
Or, y'know… you can stick to just chucking it all in your backpack…
Get Yours Here
Read Our Review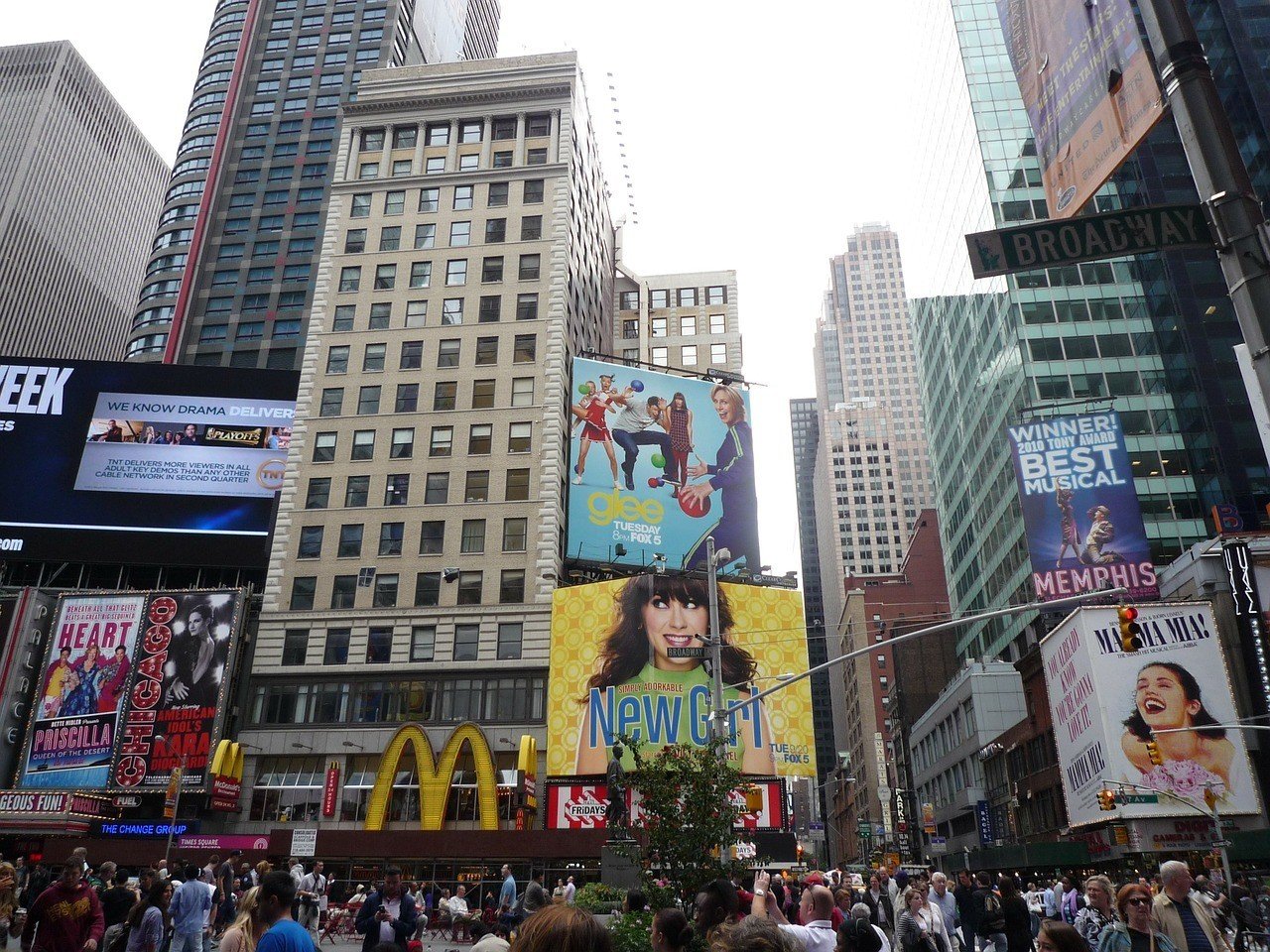 New York will never be short on incredible shows to watch or music to listen to, but we've compiled some of the best options on offer if you're wondering what's happening in NYC this weekend!
The Punderdome
Enjoy a unique form of comedy where puns are an art form.
The Firestone comedian duo runs the show!
The Punderdome has become a favorite at the Littlefield Theatre.
If you're looking for a beyond hilarious and, at times, cringe-worthy show, head for the Punderdome! Led by the suitably hilarious 'alleged' father-daughter duo, this beloved competition incites participants to bring their best pun game in a battle of wits!
The first individuals or teams to sign up at the door enter a pun-off to end all pun-offs as they go through 3 hours of competitive pun-making, which is judged by a human clap-o-meter until 2 winners remain.
This monthly competition takes place between May and September each year and is unmissable on a visit to NYC!
Watch a Broadway Show
You can find some incredible adaptations of famous movies including The Lion King, Frozen or King Kong.
You could see some big names from films doing a Broadway show.
Broadway shows can sell out very quickly so try and book in advance for shows in NYC this weekend.
One of the all-time best things to do tonight in NYC is enjoying an incredible show on Broadway!
This iconic theatre lane in Midtown Manhattan has become a New York stalwart and is known the world over as a place where incredible music and theatre is made. The majority of Broadway shows are musicals with some of the most recent favourites being Hamilton and Dear Evan Hansen.
You can even choose to get tickets to the avant-garde Off-Broadway or the truly non-traditional Off-Off-Broadway. Whether you're heading for a long-running Broadway classic or something more edgy and intimate, catching some New York theatre definitely belongs on your NYC itinerary!
Brooklyn Bowl
It has an amazing history of performers including Elvis Costello, The Roots and Guns 'N Roses.
Enjoy Family Bowl on Saturdays from 11 am to 5 pm.
Delicious gourmet to classic bowling alley food is served up by Blue Ribbon.
Head to Williamsburg for a night out at the Brooklyn Bowl! With the winning combination as a vibrant music venue, restaurant and bowling alley, you get it all at the Bowl – one of the best things to do in Brooklyn this weekend!
Feel like a kid again at the 16-lane bowling alley alongside its giant dancefloor! The Brooklyn Bowl's high-tech green construction and fantastic musical acts including the likes of Pk.Kid on 100% vinyl or Spinback Saturday featuring pumping Top 40 mash-ups.
With everything from themed tribute nights, original DJ mixes and live bands, the Brooklyn Bowl meets all your music needs!
Travel with peace of mind. Travel WITH a security belt.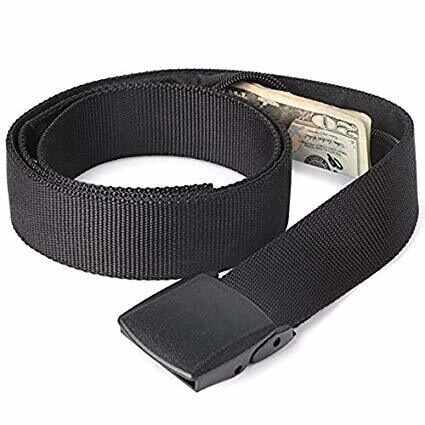 Stash your cash safely with this money belt. It will keep your valuables safely concealed, no matter where you go.
It looks exactly like a normal belt except for a SECRET interior pocket perfectly designed to hide a wad of cash, a passport photocopy or anything else you may wish to hide. Never get caught with your pants down again! (Unless you want to…)
Hide Yo' Money!
9 Other Awesome Things to do in New York This Weekend
Make the most of your weekend in New York as you find the best in art, shopping and sightseeing! With an unending list of fun things to do, NYC is your oyster!
#1 – The Metropolitan Museum of Art
The stunning Metropolitan Museum of Art sits on the iconic Museum Mile and is home to a permanent collection of over 2 million artworks. Incredible works from antiquities and prominent European styles sit alongside a huge collection of American and modern art! The Met's collection also extends to the Cloisters, which is the home to art and artefacts from Medieval Europe, while the Met Bauer is where you'll find some incredible collections of musical instruments, traditional dress and weapons from across the globe!
#2 – Central Park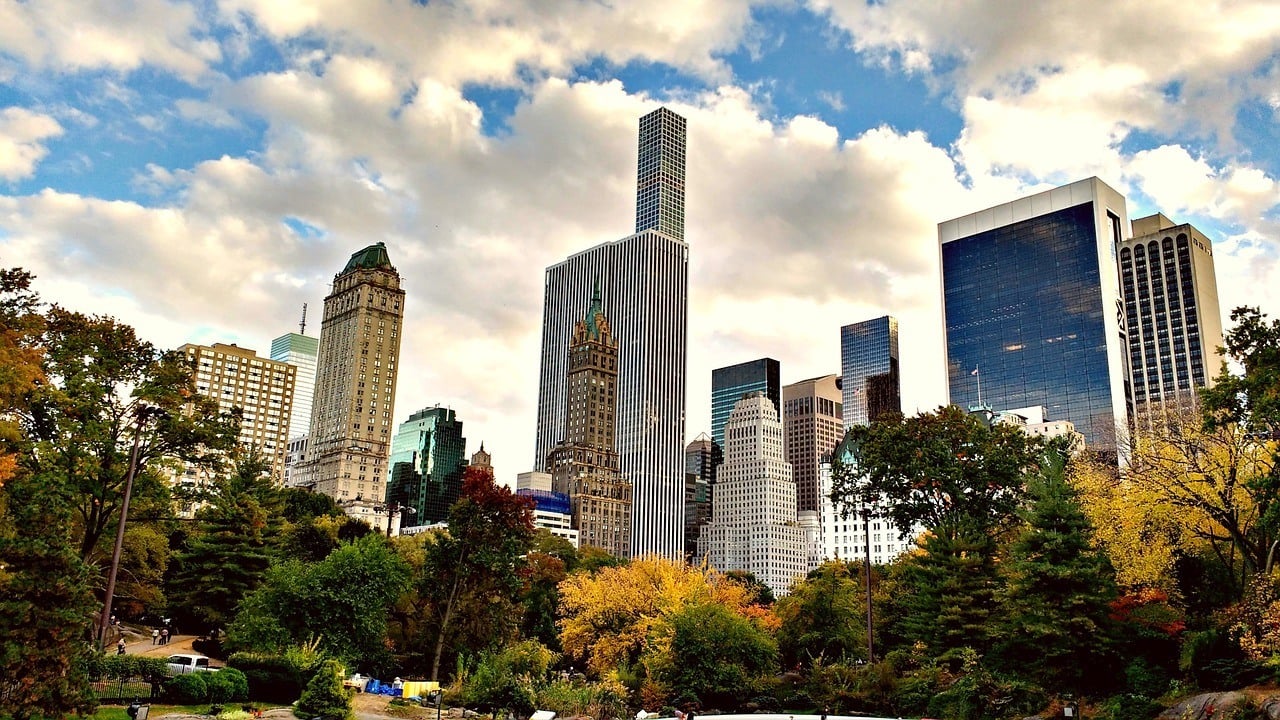 Like a scene from a movie, Central Park awaits with its ice-skating rink turned fun park in the summer, an iconic fountain or incredible lake with tiny rowboats gliding along. The designated national historical landmark is the most visited urban park in the USA and, unsurprisingly, is known as one of the most filmed in locations in the world. Get lost in this all-season New York location on a Hidden Secrets tour or make the most of its gorgeous landscape with a photo tour!
#3 – Visit the Iconic Empire State Building
Nothing says NYC more than The Empire State Building, this iconic structure has stood proud over the city since 1931 and was the tallest building in the world for nearly four decades. The building symbolises the city and its pioneering hopes and dreams over the years. A visit to New York wouldn't be complete without scaling to the top of this Art Deco skyscraper and taking in the impressive view.
#4 – Chelsea Market
This all-in-one food hall and shopping market makes for the perfect day out in New York! Beneath a collection of major media companies, including YouTube, lies a unique combination of traditional farmer's markets and hipster foodie paradise. Pick up yourself anything from classic artisan bread to personalized baskets this the Chelsea Market.
IN A RUSH? THIS IS OUR FAVORITE HOSTEL IN NEW YORK!
#5 – Times Square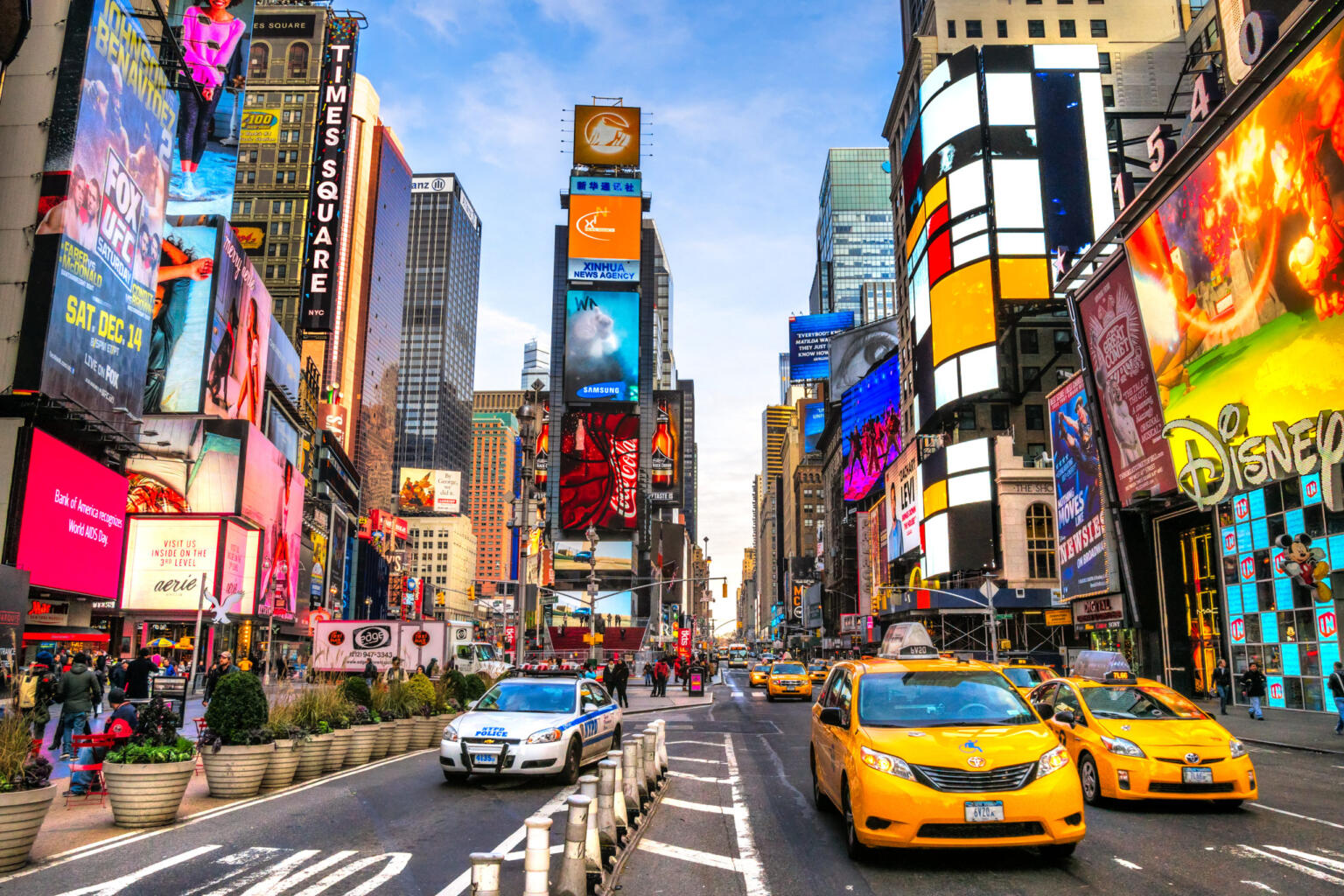 Don't miss this iconic New York attraction off your list! Take a Hop-On-Hop-Off sightseeing tour, and jump off at the vibrant and neon-infused Times Square. You can visit the National Geographic Encounter: Ocean Odyssey, where you can get up-close with the digital habitats of some amazing marine life. Then take a trip around the world (in miniature) at Gulliver's Gate – a replica of landmarks from across the globe! If you stick around till midnight, you'll see the billboards put on a stunning digital show in perfect synchronisation.
#6 – International Centre of Photography
Explore the world of image-making at the ICP, which is dedicated to preserving the legacy of concerned photography. Make your way through exhibits featuring photographs that have had a social or political impact on the world, as you learn about the community of artists, photographers and scholars the ICP has created. Experience the legacy and future of photography through the incredible dynamic exhibitions!
#7 – Pay a Visit to Lady Liberty
The Statue of Liberty is possibly the most well-known icon of NYC after the Empire State Building. Dedicated in 1886, it was a gift to the people of the USA from France and has greeted many people sailing into the famous harbours for generations, including scores of immigrants arriving on these shores for the first time looking for the liberty and opportunities not available in their homeland. The statue is a symbol of the culture of the USA and a symbol of hope. You've just got to visit!
#8 – TV Show Taping
Wondering what to do in NYC this weekend? New York is the home to a plethora of late-night hosts so why not get tickets to one of their tapings! Most tapings are free and you can try to book a reservation online, or just rock up and see if there's a space. Getting a ticket to the monologue rehearsal can also be an awesome experience. Get an inside look at some of the wittiest and most popular talk shows in NYC!
#9 – Top of the Rock Observation Deck
Get a unique look at the city from the ultimate vantage point on top of the Rockefeller Center! Take in the skyscrapers and landmarks of the skyline in NYC this weekend. Head up to one of the three unforgettable observation decks, including the Radiance Wall on Level 1 or the 70th-floor open-air deck for the perfect photo op!
#10 – Take a Once in a Lifetime Helicopter Tour
If you're short of time and you want to take in the whole of Manhatten on just a weekend, well how can you fit it all in? Why not fly overhead and see it all in one! Get a birdseye view of one of the most iconic cities in the world and a view that will stay with you forever. For such an incredible experience, it's actually pretty affordable and you'll come away with some epic photos of NYC.
Is This the Best Daypack EVER???
Here are some of the most frequently asked questions if you're visiting New York this weekend!
Don't Forget Your New York Travel Insurance
ALWAYS sort out your backpacker insurance before your trip. There's plenty to choose from in that department, but a good place to start is Safety Wing.
They offer month-to-month payments, no lock-in contracts, and require absolutely no itineraries: that's the exact kind of insurance long-term travellers and digital nomads need.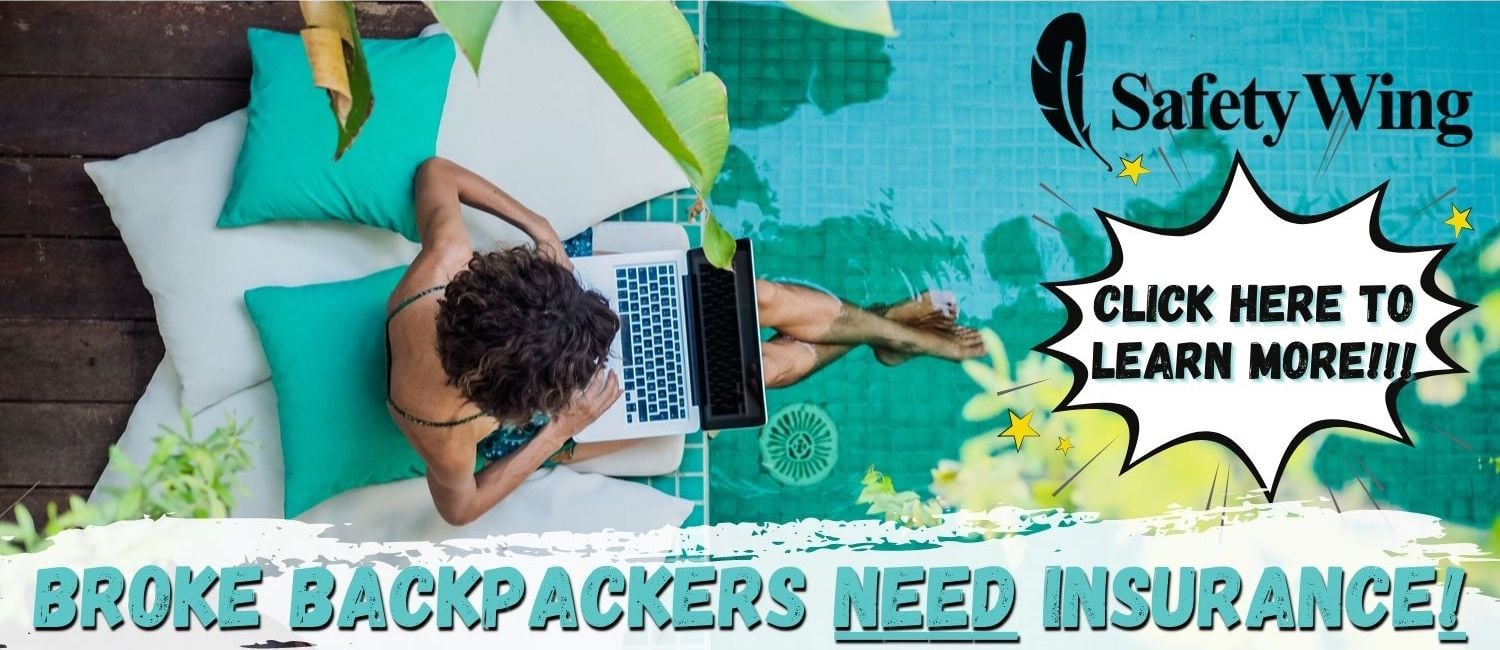 SafetyWing is cheap, easy, and admin-free: just sign up lickety-split so you can get back to it!
Click the button below to learn more about SafetyWing's setup or read our insider review for the full tasty scoop.
Final Thoughts on a Great Weekend in New York
Whether you're heading on a 4-day NYC holiday or a weekend getaway to New York City, just jump right in because there's a whole heap of things to do in New York! As one of the most visited cities in the world, NYC has so much to offer. It's the home of incredible street art, museums galore and incredible cityscape that will have you snapping pics left and right! Whether you're looking for a laid-back getaway or a jam-packed NYC experience, you'll never run out of things to do in New York this weekend!
---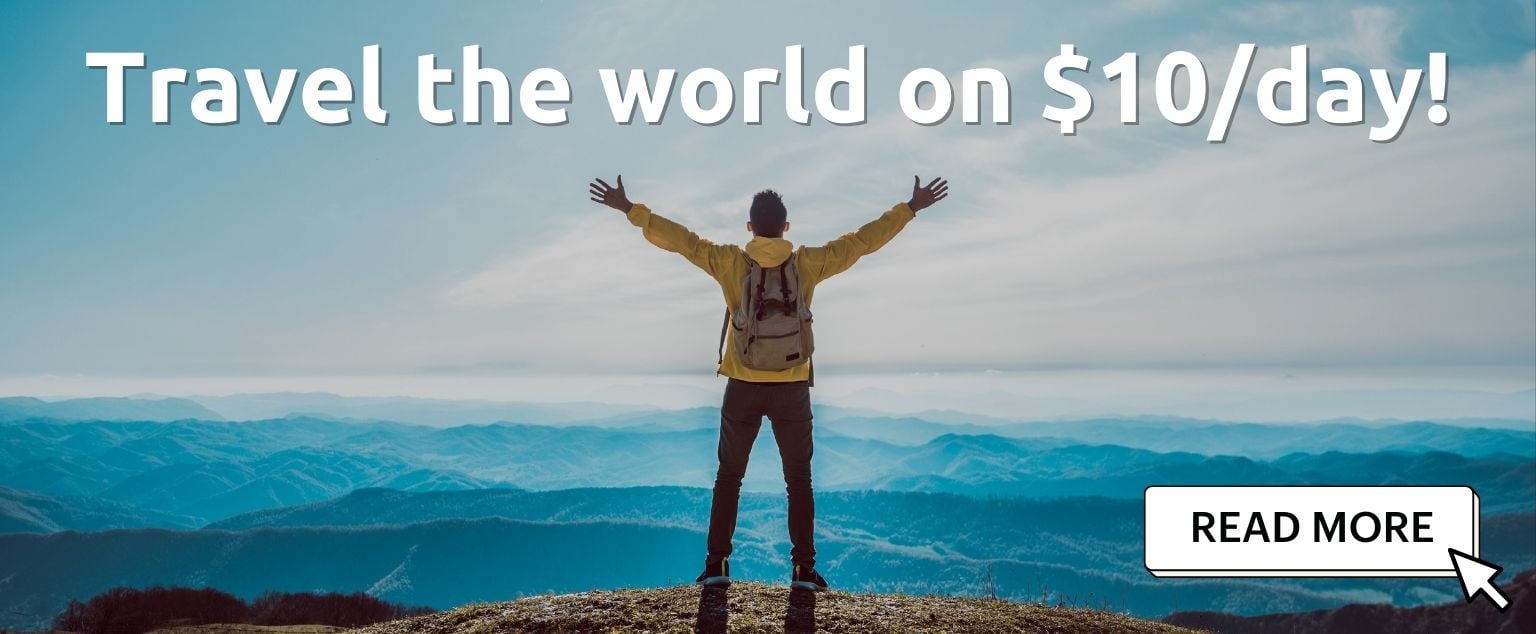 And for transparency's sake, please know that some of the links in our content are affiliate links. That means that if you book your accommodation, buy your gear, or sort your insurance through our link, we earn a small commission (at no extra cost to you). That said, we only link to the gear we trust and never recommend services we don't believe are up to scratch. Again, thank you!