Often referred to as the capital of the world, New York is an energetic destination that really does offer something for everyone all around the clock. From iconic landmarks like the Statue of Liberty, world-class shopping, and sports, to global cuisine, sprawling parks, a pulsating night scene, and a thriving arts scene, there is heaps to keep you busy in the Big Apple.
New York is a huge city with places of interest in almost every district and neighbourhood. Figuring out where to begin can give you a headache!
We're here to make planning your New York trip a whole lot easier. Our dedicated team of travel writers have hunted high and low to bring you the very best places to go in New York, meaning that you can stop sweating the planning and start looking forward to your fantastic vacation.
Add these best places to visit in New York to your bucket list and you're sure to have a ball!
Best places to stay in New York
Wondering where to stay in New York? Then heck out our EPIC New York neighborhood guide.
The Local NYC is a hip and happening award-winning hostel in New York's area of Queens. There are single-gender and mixed dorms, each with its own bathroom and lockers to keep your valuables safe. The awesome roof terrace is a top place to mingle and enjoy the views and you can watch the city that never sleeps through the large windows too. Socialise in the bar and join in with fun events like beer tastings and movie nights.
Board games and a Wii are great for any periods of downtime. Cook up a storm in the shared kitchen, catch up with your laundry, and make of facilities like the onsite ATM, luggage storage, and tour desk. The computer room is perfect for digital nomads and for keeping in touch with home and there's also free Wi-Fi available throughout the hostel.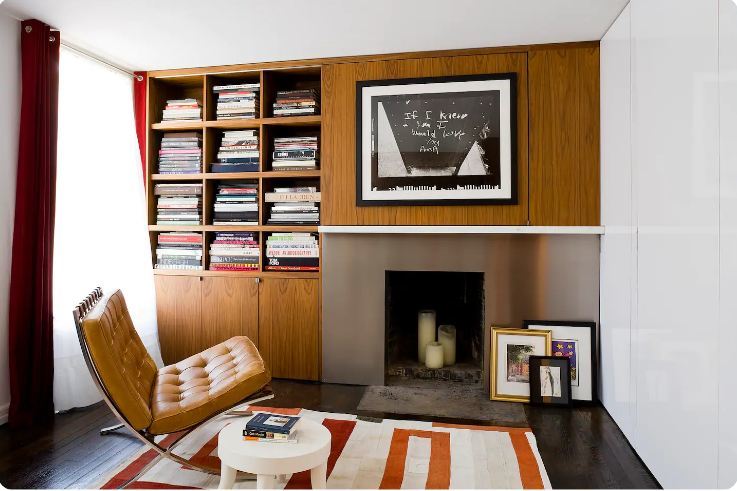 Perfectly located in West Village, this New York Airbnb apartment with every amenity you can imagine also has a shared garden with a bubbling fountain that has a high-security monitoring system with 16 cameras throughout the building's public areas and entry doors controlled by electric fobs. This place is recommended for where to stay in New York City if you want to have a home away from home.
Best Budget Hotel in New York: Hotel Newton
Hotel Newton is located in a prime position in Manhattan's Upper West Side. It's a terrific budget hotel for couples, families, and friends. There are several room types for between two and four people, some with shared bathrooms and others that are en suite.
Rooms are clean and spacious and all come with a fridge and microwave, TV, and free Wi-Fi. Reception is staffed around the clock and the hotel offers laundry services, a tour desk, vending machines, and luggage storage. Breakfast is available for a surcharge and there is paid parking close to hand.
Best Luxury Hotel in New York: The Pearl Hotel
The Pearl Hotel is a lavish New York hotel where you can enjoy luxurious touches and plenty of TLC. Various rooms and suites are available, sleeping between two and six guests. All have a private bathroom (complete with free toiletries), tea and coffee making facilities, a TV, free Wi-Fi, a safe, and an iPod docking station.
Room service is available around the clock and a continental breakfast is available each morning. Get active in the modern fitness centre and pamper yourself in the spa. Laundry and dry cleaning services are available and the hotel can assist with booking tickets for transportation, attractions, and events. You'll find The Peal Hotel in the heart of Times Square.
Need a place quick? Here's the best neighbourhood in New York:
BEST AREA IN NEW YORK
Midtown
Midtown is the neighbourhood at the center of Manhattan. Stretching from the Hudson River to the East River, this neighbourhood is home to famous architecture, vibrant streets, and world-renowned landmarks. Midtown has hotels, hostels, Airbnbs and even New York Homestays to choose from.
PLACES TO VISIT:
Visit the iconic home of Broadway and watch an incredible play or musical performance.
Stand at the center of Time Square, surrounded by the sights, sounds and smells of New York City.
See unbelievable works of art at the Museum of Modern Art (MoMA).
These are the BEST Places to Visit in New York!
#1 – Statue of Liberty
Possibly one of the most important places to visit in New York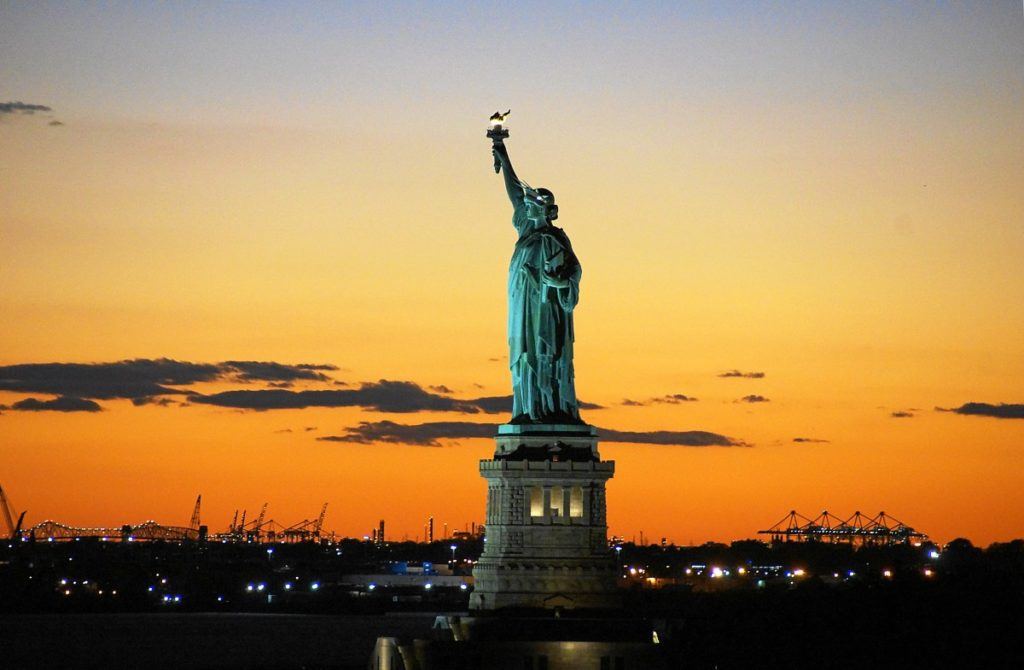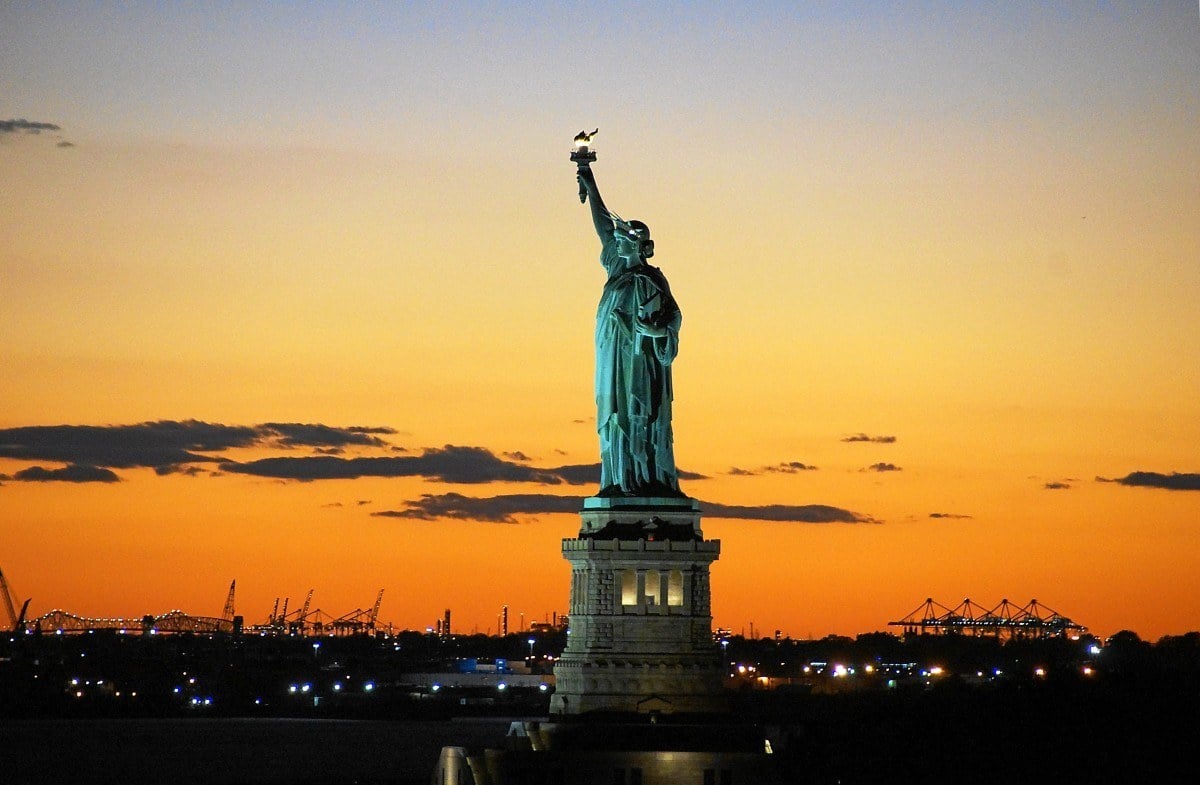 Iconic landmark
Striking symbol of freedom
UNESCO World Heritage Site
Incredible views
Why it's awesome: She's been welcoming New York travelers and immigrants for over 150 years now. The Statue of Liberty needs little introduction—it is one of the world's most recognisable monuments. The famous statue was a gift from France to the USA in the 1880s and has stood proudly on Manhattan's Liberty Island ever since. Once used as a lighthouse, it was one of the first things that early immigrants saw on their arrival to the US. Depicting the Roman goddess of freedom, the female statue wears a flowing robe and a crown and holds a torch high above her head.
In her other hand, she holds a tablet inscribed with the date of the US Declaration of Independence. The broken chain around her foot as she strides forward is another strong symbol of freedom. Today, it is a UNESCO World Heritage Site and one of the most-visited places on the planet.
What to do there: Ride the ferry across to Liberty Island, admiring the mighty statue rising up into the sky. The boat ride provides great opportunities to snap some terrific pictures. Take time to admire the statue from the base and read the various inscriptions and plaques. See the original 1886 torch in the lobby and visit the display related to the changes made to the torch.
Learn more about the world-famous statue in the Statue of Liberty Exhibit, which details the statue's creation and history, symbolism, and status. You can also see a variety of historic artefacts, photos, and documents. Climb the 354 steps up to the crown for awesome views and a real sense of achievement! Do note that you are recommended to purchase your tickets for the crown well in advance as places are limited and tickets sell out quickly.
#2 – Coney Island
Easily one of the most fun places to check out in New York
Family-friendly destination
Seaside fun
Ethnic diversity
Various rides and attractions
Why it's awesome: The seaside Coney Island was once the biggest amusement area in the USA. Interestingly, the area was also responsible for several innovations and technological advances in the past, including baby incubators. Although Coney Island went into decline for a period it is again today a thriving area for fun. There are rollercoasters and other rides, sideshows, carnival-like games, movies, a museum, and more. Coney Island was once the best places to go in New York for young couples and families, it still holds some charm.
What to do there: Wander along Coney Island boardwalk and marvel at the huge array of activities and attractions, with all the sights, sounds, smells, and shrieks of excitement of the fair. Bask in the sunshine on the beach and take a refreshing dip in the sea. Play beach volleyball, build a sandcastle, and feast on tempting street food. The hotdogs are especially popular. If the heat gets too much, how about a spot of ice skating?
Feel a rush of adrenaline on rides like Thunderbolt Roller Coaster and Coney Island Cyclone, enjoy great views atop Deno's Wonder Wheel, challenge your friends on the bumper cars, and feel a sense of nostalgia as you sail around on the carousel. Brave the parachute jump, watch movies on the beach, explore the underwater world at the aquarium, and learn more about the area at Coney Island Museum.
#3 – First Street Garden
One of the most incredible free places to go to in New York
No entrance charge
Striking murals and street art
Dedicated to influential and inspirational women
Peaceful and quiet vibe
Why it's awesome: First Street Garden is a beautiful and thought-inspiring community garden in New York's Lower East Side. There's no charge to enjoy the garden when it's open and, even if the gate is locked, you can still admire the interesting artwork through the railings. Established as a garden in the 1980s, striking murals were painted on the walls. What makes these art pieces different to many other artworks, however, is that they all honour influential women who made a difference in America.
What to do there: If the garden is open you can sit on a bench and enjoy the serene ambience, perhaps losing yourself in a good book for a while and enjoying respite from the chaotic city streets. Take time to appreciate the diverse paintings and pay your respects to the strong ladies from throughout America's history. It's one of the top places in New York to experience the beat spirit.
You'll see people like Rosa Parks, the famous female activist who contributed to the civil rights movement in the United States of America, Dorothy Day, a social justice fighter and journalist, Shirley Chisholm, the first black lady to be elected into the US Congress, Sojourner Truth, a staunch women's rights advocate and abolitionist, and Susan B. Anthony, a women's rights activist who played a major role in the suffragette movement.
#4 – Central Park
A beautiful outdoor place to visit in New York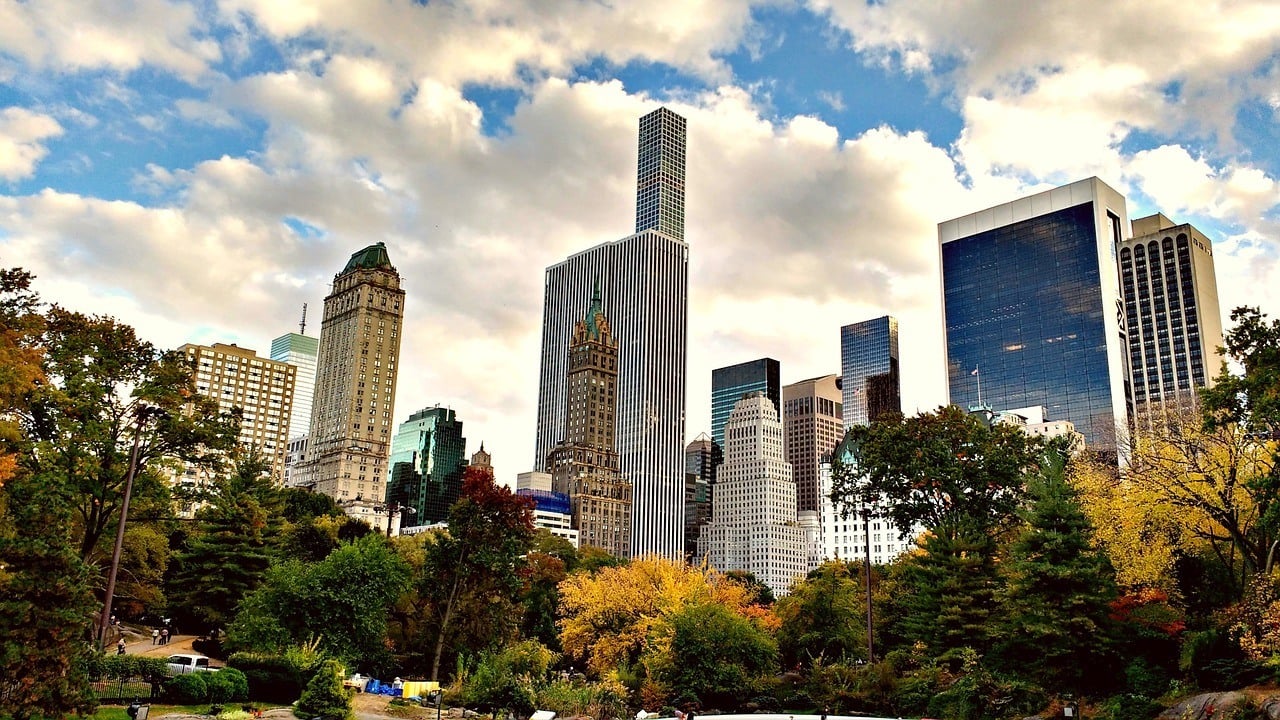 Large and beautiful park where you can enjoy nature
Various sights and activities
Most-visited park in the USA
Used for many films and TV shows
Why it's awesome: Central Park is one of New York's most famous places. Covering some 843 acres (341 hectares), the park has been a popular place for leisure, sports, and relaxation since it first opened in the mid-1800s. Today a National Historic Landmark, there are many statues and monuments scattered throughout the park. There are diverse natural features too, including hills, meadows, lawns, lakes, ponds, and gardens.
Lots of fauna calls the park home, and you'll also see a wide variety of flora. Visitors can enjoy a wide selection of activities and entertainment, and there are plenty of play areas where little ones can let off steam. No matter the season, you'll find lots of ways to enjoy being outdoors in Central Park. Central Park is also the best place in New York to come for a run.
What to do there: Take a walk through the large park spotting the various statues and sculptures such as Angel of the Waters, Cleopatra's Needle, the Duke Ellington Memorial, Strawberry Fields, and the Alice in Wonderland Margaret Delacorte Memorial. See the remains of the 1814 Fort Clinton, enjoy the rides and other attractions at the Victoria Gardens amusement park, watch an enchanting performance at the Swedish Cottage Marionette Theatre, and ride the whimsical carousel.
Admire Bethesda Fountain, go ice skating, marvel at the Gothic and Romanesque folly of Belvedere Castle, and take kids to more than 20 play areas around the park. Play croquet or volleyball near Sheep Meadow, row across the lake, pound the running track, look for birds in the Ramble, enjoy a picnic, see creatures in Central Park Zoo, watch a band, take a ride in a horse-drawn carriage, and more.
Is This the Best Travel Backpack EVER???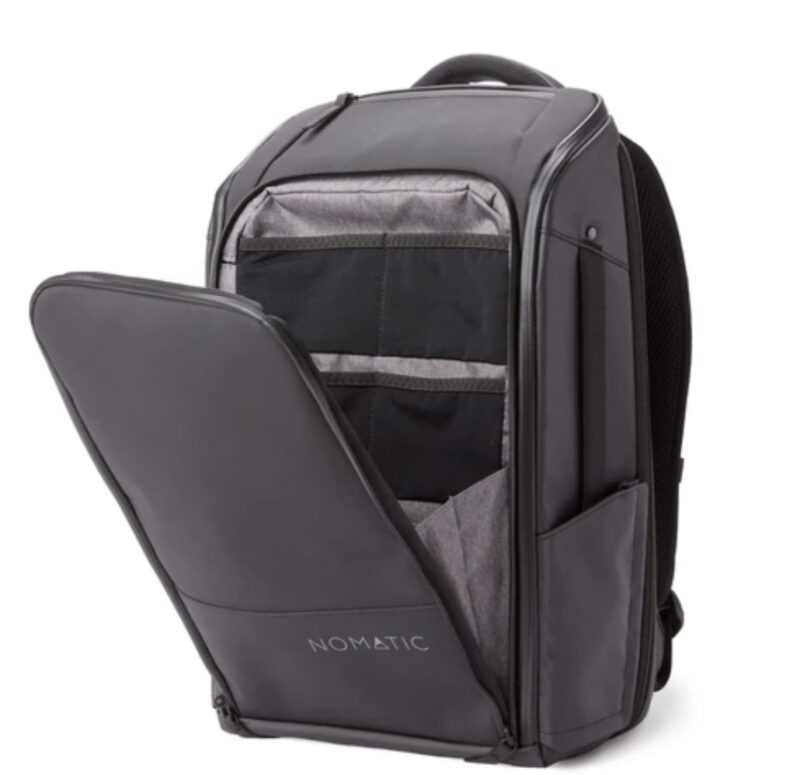 #5 – Metropolitan Museum of Art
A great place to visit in New York if you are alone/traveling solo
Biggest art museum in the USA
Home to more than two million works
Art from ancient times right up to the present day
Beautiful architecture
Why it's awesome: The Metropolitan Museum of Art in New York (often known as simply The Met) is the biggest art museum in the USA and one of the most-visited museums in the world. It first opened in 1872 and is amongst the best places in New York for art lovers. Spread between different areas, the museum contains pieces from all over the world, with collections covering all time periods from classical antiquity to the present day.
The museum showcases many of humanity's finest achievements, with spectacular exhibits that include Renaissance art, an Egyptian tomb, Islamic art, furnishings, clothes, weapons, and more. A fantastic place for all lovers of art, you can spend hours exploring the vast museum without barely scratching the surface.
What to do there: Take plenty of time to fully appreciate the many marvels in the Metropolitan Museum of Art. Be dazzled in the two-level Greek and Roman Sculpture Court, home to ancient statues from ancient civilisations. Travel overseas in the Asian Art Collection, a quiet part of the museum that is perfect for reflection and admiration as you view works from across the continent. Be wowed as you gaze upon the re-assembled Temple of Dendur, transported overseas from Egypt and dating back to the ancient Egyptian era.
See an exceptional private collection in the Robert Lehman Collection, travel through the history of American art, explore the world of fashion of clothing culture in the Costume Institute, see around 5,000 musical instruments, and be impressed by the striking photography collections. Before leaving, unwind in the Roof Garden as you soak up the views of Manhattan and enjoy a drink.
#6 – St Patrick's Cathedral
One of the best places to see in New York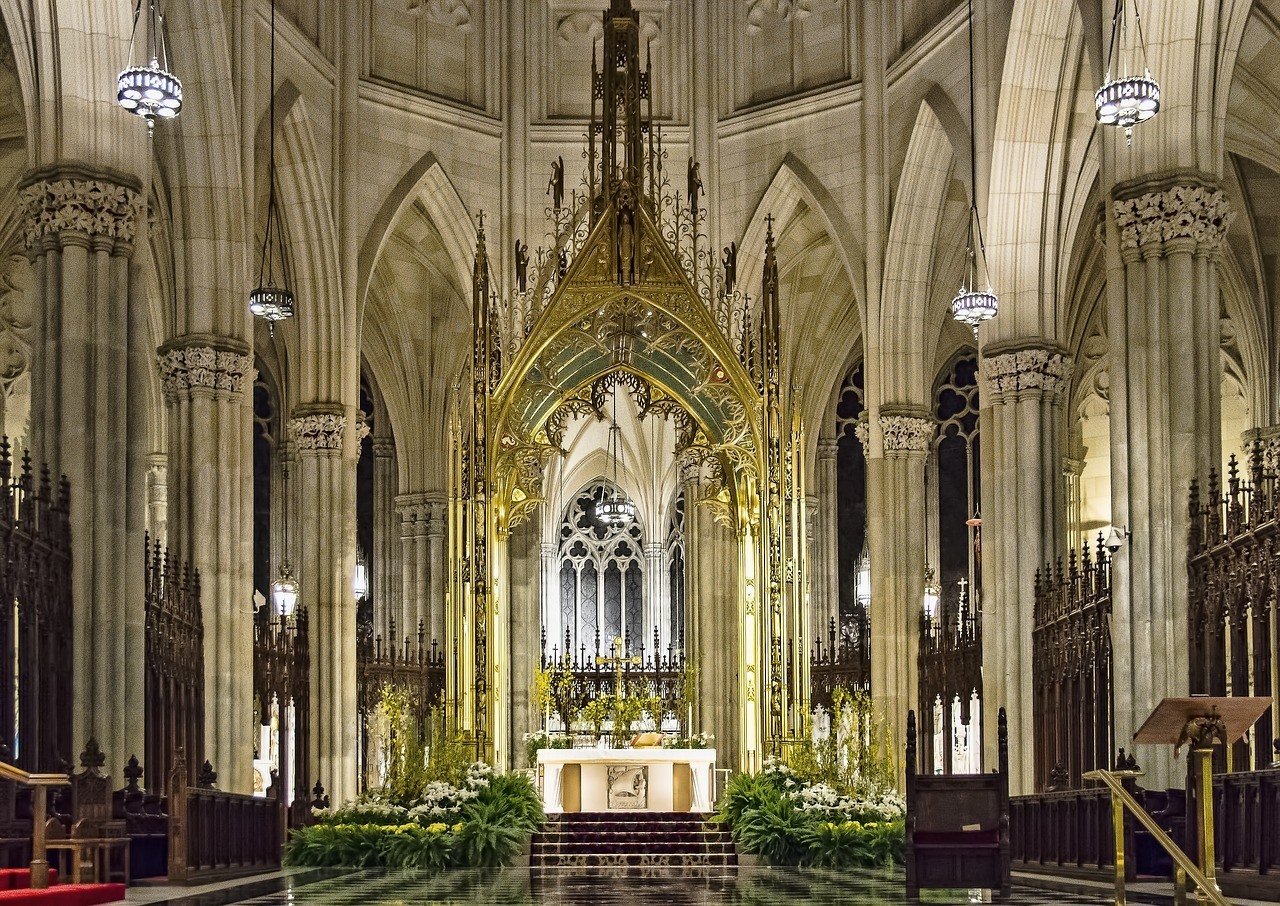 One of the most striking religious buildings in the USA
Spectacular architecture
Long history
Serene and tranquil vibe
Why it's awesome: Built in the mid-1800s, New York's St. Patrick's Cathedral is the biggest Gothic Roman Catholic Cathedral in the USA. It was named after the patron saint of Ireland because of the large numbers of Irish immigrants in the city. The huge place of worship can seat around 2,400 people at any given time and the gigantic spire rises 100 metres (330 feet) into the air. It's certainly amongst the best places to visit New York to make your confession.
The glorious building has plenty of striking features inside and out, including ornate stained glass, arches, many shrines, an ornate altar, bells, tombs, and a huge organ. Each shrine is named after a different saint. An active place of worship, the cathedral has been featured in several films and TV shows and a number of prominent funerals have been held there.
What to do there: While you can visit St Patrick's Cathedral independently, a volunteer-led guided tour is the ideal way to learn more about the mighty building's construction, purpose, and place in society, as well as about Catholicism in New York in general. The self-guided audio tour also provides tons of interesting information. Gaze up at the magnificent church from the outside, taking in the many splendid details carved into the marble.
See the stunning rose window and all the other opulent and detailed stained glass windows, complete the Stations of the Cross, admire eye-catching religious art, and be blown away by the sheer size and grandeur of the building. Sit for a while in peaceful contemplation and, if you're religious, attend a service.
Quick Note – Staying safe in New York
Despite news stories to the contrary, New York is amongst the safest big cities in the Americas. As with any major city, however, there are some risks and certain areas that are best avoided, particularly after dark. Places to skip after dark include Hell's Kitchen, the Lower East Side, Alphabet City, Hunts Point, and Brownsville. If you're sticking to popular tourist areas, though, your visit will probably be trouble free. Be aware of pickpockets, especially in crowded places and on public transportation.
Choose a busier subway car over one that's empty. Only use official taxis and ride-sharing services like Uber. As with most places in the world, avoid walking through deserted dark areas at night, and keep out of Central Park in the night. Don't flash the cash and keep expensive items, like cameras, secure and hide your money.
Don't forget to sort your travel insurance! We've put together a roundup of the best travel insurance for backpackers, or if you're low on time, get a quote from World Nomads now, our favourite travel insurance provider.
Travel with peace of mind. Travel WITH a security belt.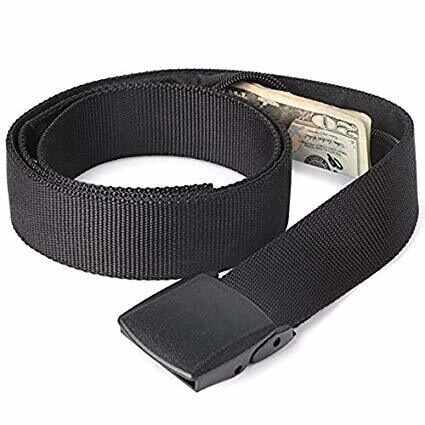 Custom-designed BY the Broke Backpacker FOR broke backpacking, the Active Roots Security Belt will keep your valuables safe no matter where you go.
It looks exactly like a normal belt except for a SECRET interior pocket perfectly designed to hide a wad of cash or a passport copy. Never get caught with your pants down again! (Unless you want to.)
Check on Amazon
#8 – Theatre District
Great place to visit in New York for couples!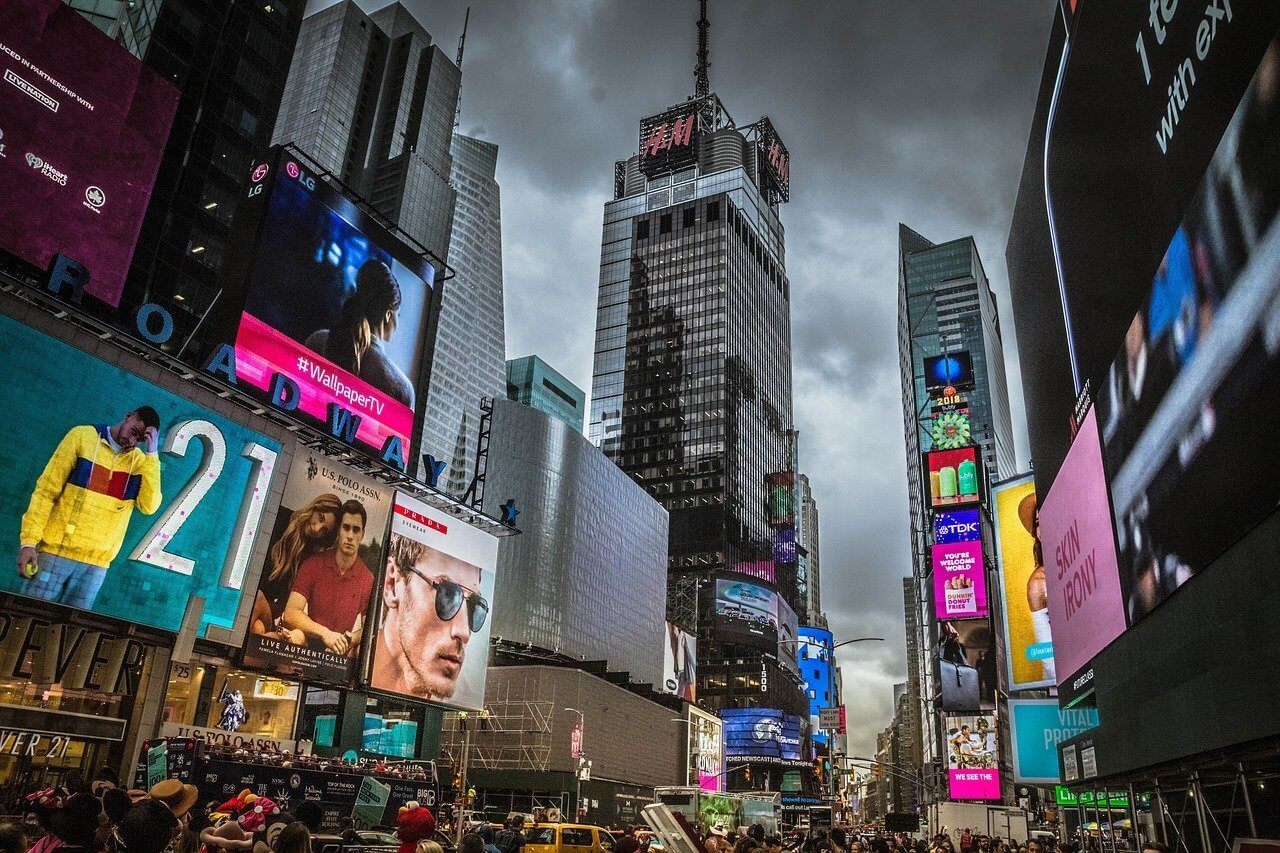 Home to the famous Broadway
Watch famous long-running productions as well as modern shows
Many other forms of entertainment
Lots of restaurants
Why it's awesome: New York's Theatre District has everything you need for a great night out, and it's an especially top place to visit with that special someone. Located in Manhattan, the area has a number of terrific restaurants that serve a variety of global cuisines and various entertainment establishments, though it is best known for its top-class theatres and stage productions.
The area has been a magnet for theatres since the 1880s and it was one of the first places in the USA to have electric street lighting. Locals have called the area by various names over the years, including, The Rialto, The Street, and the Main Stem—all refer to the same great destination.
What to do there: Visit Theatre District in the daytime to see grand statues. See all the billboards and promotional materials for all manner of shows. Enjoy a classy dinner in one of the area's restaurants and watch as the area transforms at night time, with illuminated billboards and theatregoers hurrying to take their seats.
Watch a fabulous Broadway show with your beloved; whether you opt for a classical musical or a more contemporary production, there's something to suit most tastes. How about a long-running favourite, like the Phantom of the Opera, Lion King, Chicago, Mama Mia, or Cats? Alternatively, watch an art-house production, a comedy performance, or a drama if you're not in the mood for a musical.
#9 – Empire State Building
One of the most amazing places in New York!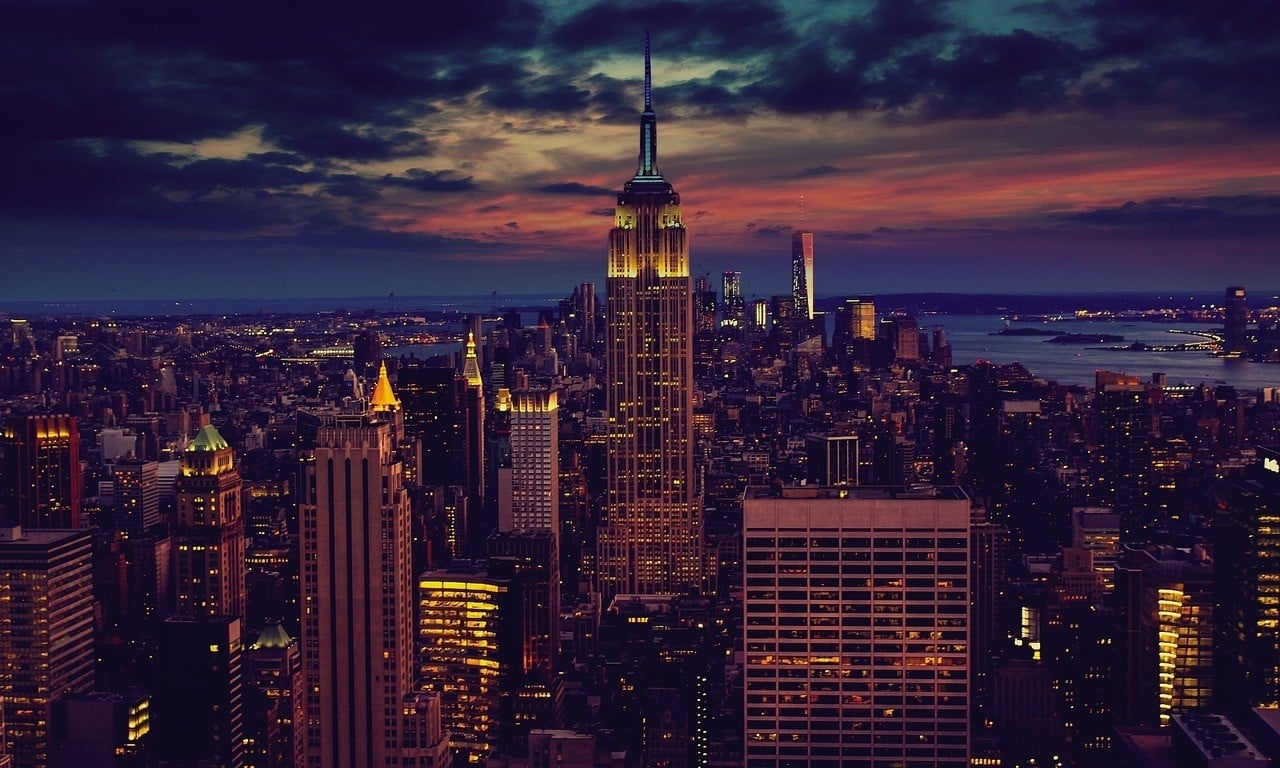 One of New York's iconic landmarks
Once the world's tallest building
Featured in many movies, including King Kong
Excellent city views
Why it's awesome: With 102 floors and standing proudly at 443 metres (1,454 feet) tall, the iconic Empire State Building was the tallest building in the world for some 40 years. Completed in 1931, it took fewer than two years to design, plan, and build the mighty tower. Almost synonymous with the popular 1930s movie King Kong, the tower has appeared in more than 250 films and TV shows since its creation. It's possibly the best place to go in NYC for a view and a bit of vertigo.
It is often said to be one of the Seven Wonders of the Modern World. The Art Deco tower is home to numerous offices as well as indoor and outdoor viewing decks, an observatory, a broadcasting station, exhibitions, gift shops, and restaurants.
What to do there: Marvel at the colossal structure before stepping through the revolving doors to enter the main lobby, where you'll find bronze depictions of the crafts used to build the tower. Browse in the shops and maybe pick up some souvenirs, enjoy a tasty meal in one of the iconic building's restaurants, step back in time at the historical Dare to Dream exhibit, and ride one of the elevators to the 86th floor to soak up spectacular views from the highest outdoor observation deck in all of New York.
Circled around the spire, you can enjoy panoramic views of the city streets far below, seeing landmarks like Central Park, the Brooklyn Bridge, the Hudson River, and the Statue of Liberty. Then, go even higher and soak up the views from the indoor observation deck, located on the 102nd floor. Don't miss seeing the tower in the evening, when it is gloriously illuminated, standing as a colourful beacon against the inky skies – its one of the best places to see New York lit up.
If you want an alternative view of the New York skyline then consider a trip to Jersey City.
#10 – Times Square
A must visit place to visit in New York on the weekend!
Often referred to as the Crossroads of the World
Main destination for New York's New Year's Eve celebrations
Major entertainment area and popular tourist destination
Long history
Why it's awesome: Times Square is a major retail, commercial, and entertainment area in New York. One of the world's busiest pedestrianised zones, 330,000-odd people walk through the square every day. Often referred to as The Centre of the Universe and the Crossroads of the World it's a thriving part of an already hectic city. Numerous advertisements and billboards line the busy square and many street performers provide enchanting entertainment right on the pavements for free. Times Square is amongst the best places in New York for people watching.
You'll even see people dressed up as popular Disney characters and other well-known characters from cartoons and movies. (Do note that you'll need to tip if you want a picture.) There's stuff for families, couples, and groups of friends to enjoy here and, while busy on all days, it is especially vibrant at the weekends. The energy is electric and it's a place that you can't forget in a hurry.
What to do here: Indulge in a spot of people watching; Times Square is one of the best places in the world for seeing all kinds of people from all walks of life. There are several famous landmarks around the square. See the Paramount Building, which was once home to the Paramount Theatre, famous for Frank Sinatra fans swooning and passing out. Make sure you're outside for just before midnight when all of the signs are synchronised for a huge show of digital art.
#11 – New York Botanical Garden
Certainly one of the most exotic places to see in New York!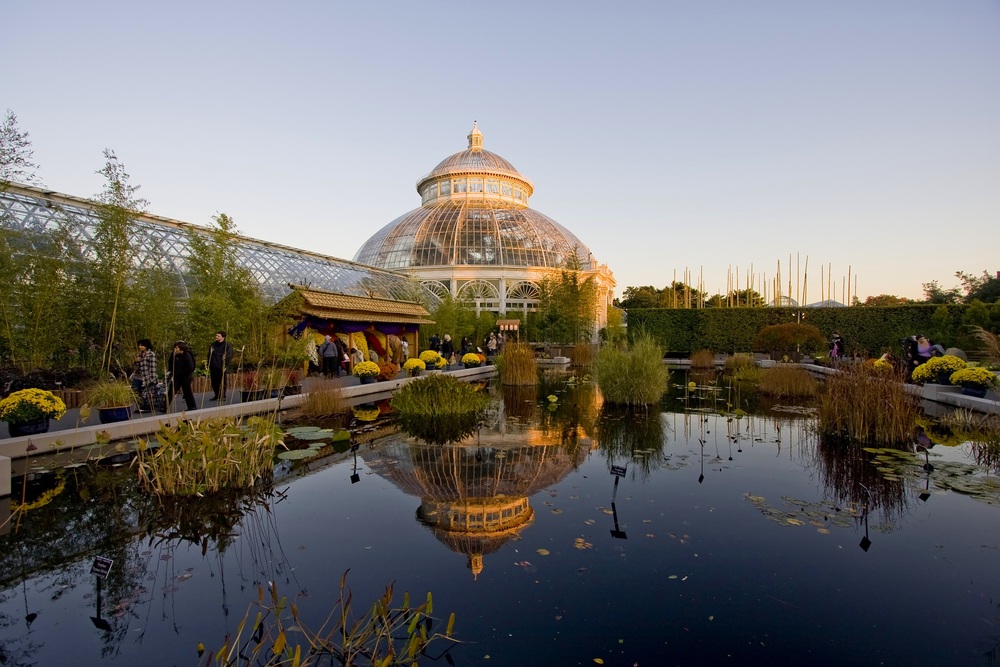 Huge selection of plant life from all over the world
Major centre of research and education
Diverse terrain
Picturesque and photogenic
Why it's awesome: New York Botanical Garden is home to more than 1 million plants spread over 250 acres (100 hectares). A national historic landmark, the beautiful garden also plays a major role in education, research, and conservation. There are diverse landscapes to explore with some 50 different gardens to admire. You'll find forests, a waterfall, wetlands, a library, laboratories, and a conservatory too.
There are walking trails as well as rest areas and there are places to eat and shop inside the extensive grounds. The huge selection of plants from various parts of the globe makes this one of the most exotic and picturesque places in all of New York City. This is best place to visit New York for lovers of fauna.
What to do there: Discover the various beautiful gardens that make up the extensive complex, including the Rose Garden, Lilac Collection, Tree Peonies, and Azalea Garden. Inhale the sweet scent of magnolias, follow the Wetland Trail, stroll along the Seasonal Walk, admire the large waterfall, explore the old-growth forest, and feel instantly relaxed as you unwind next to the water lilies and lotuses.
Learn more about local flora in the Native Plant Garden, travel overseas in the Japanese Rock Garden, and enjoy the nation's largest herbarium. See the beautiful Fountain of Life in the grounds of the historic Stone Mill, located alongside the banks of the Bronx River, discover the attractive Haupt Conservatory, and see birdlife and other creatures in the wetlands.
#12 – Rockefeller Centre
Cool place to see in New York with friends!
National Historic Landmark
Art Deco architecture
Fantastic views
Varied activities
Why it's awesome: Built in the 1930s (with later additions), the Rockefeller Centre is an extensive complex of buildings in Midtown Manhattan. There are 14 Art Deco buildings around a private street and square, along with five buildings that were added to the complex at later periods. A National Historic Landmark, the Rockefeller Centre is home to Radio City, offices, a cinema, restaurants, shops, an ice rink, and more. It's one of best places in New York to visit.
What to do there: Take a tour of the Rockefeller Centre, learning all about the interesting art and history as you explore the main buildings, squares, and gardens. Soak up stunning city vistas from the Top of the Rock Observation Deck and descend underground to the Concourse for some high-class shopping. The underground passageways connect all of the complex's buildings and there are many well-known brands to peruse as well as myriad places to eat and drink.
Enjoy a sense of tranquillity in the pretty Channel Gardens and look out for superb art installations around the centre. There's a large mural in the lobby of 30 Rockefeller Plaza that depicts Gandhi, Abraham Lincoln, and Ralph Waldo Emerson, a huge metal relief over the entrance to 50 Rockefeller Plaza, a statue of Atlas facing Fifth Avenue, and a golden statue of Prometheus in the sunken plaza. Take a tour of the Radio City Music Hall and visit the NBC Studios—there's lots to do at the Rockefeller Centre!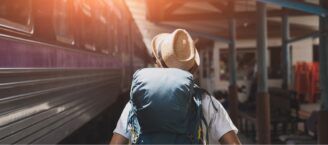 Unlock the The Broke Backpacker's GREATEST Travel Secrets
Sign up for The Broke Backpacker Newsletter to receive weekly tips on how to travel on a budget + a FREE copy of The Backpacker Bible!
#13 – Tenement Museum
A fascinating educational place to visit in New York
Fascinating insights into life as an immigrant
Once housed around 15,000 people from around the world
Aims to promote tolerance
Brings history to life
Why it's awesome: The Tenement Museum is spread over two large former housing tenements. The apartments were still used as living quarters up to the year 2011. They were first used as accommodation in 1863 around 15,000 people once lived in the buildings, with occupants from various parts of the globe. Today it's a museum. There are restored homes and shops, complete with historic items and archives. The museum shows how immigrants to New York lived and seeks to promote tolerance and understanding. For me, this is one of the great places to go in New York for a real sense of the cities history.
What to do there: Take a tour of the Tenement Museum, looking into restored apartments and shops, to gain greater understanding of immigration in the wider citywide and nationwide perspective. Hear real-life stories about people who once lived in the buildings, learning about the dreams of immigrants, the challenges they faced, and how they helped contribute towards making America what it is today.
The Under One Roof exhibition looks at the lives of a Chinese migrant family, an immigrant family from Puerto Rico, and a family of refugees fleeing the Holocaust. The Hard Times exhibition shows how two families coped in times of extreme economic hardship, Irish Outsiders looks at Irish immigration, and you can learn about two families who worked in the clothing industry in the Sweatshop Workers exhibition.
See the wide collection of artefacts to really help bring the past to life, with clothes, household items, toiletries, documents, furnishings, and more, and feel a sense of connection and empathy as you look at the large collection of photographs of people from times gone by.
#14 – The High Line
A beautiful and scenic place to check out in New York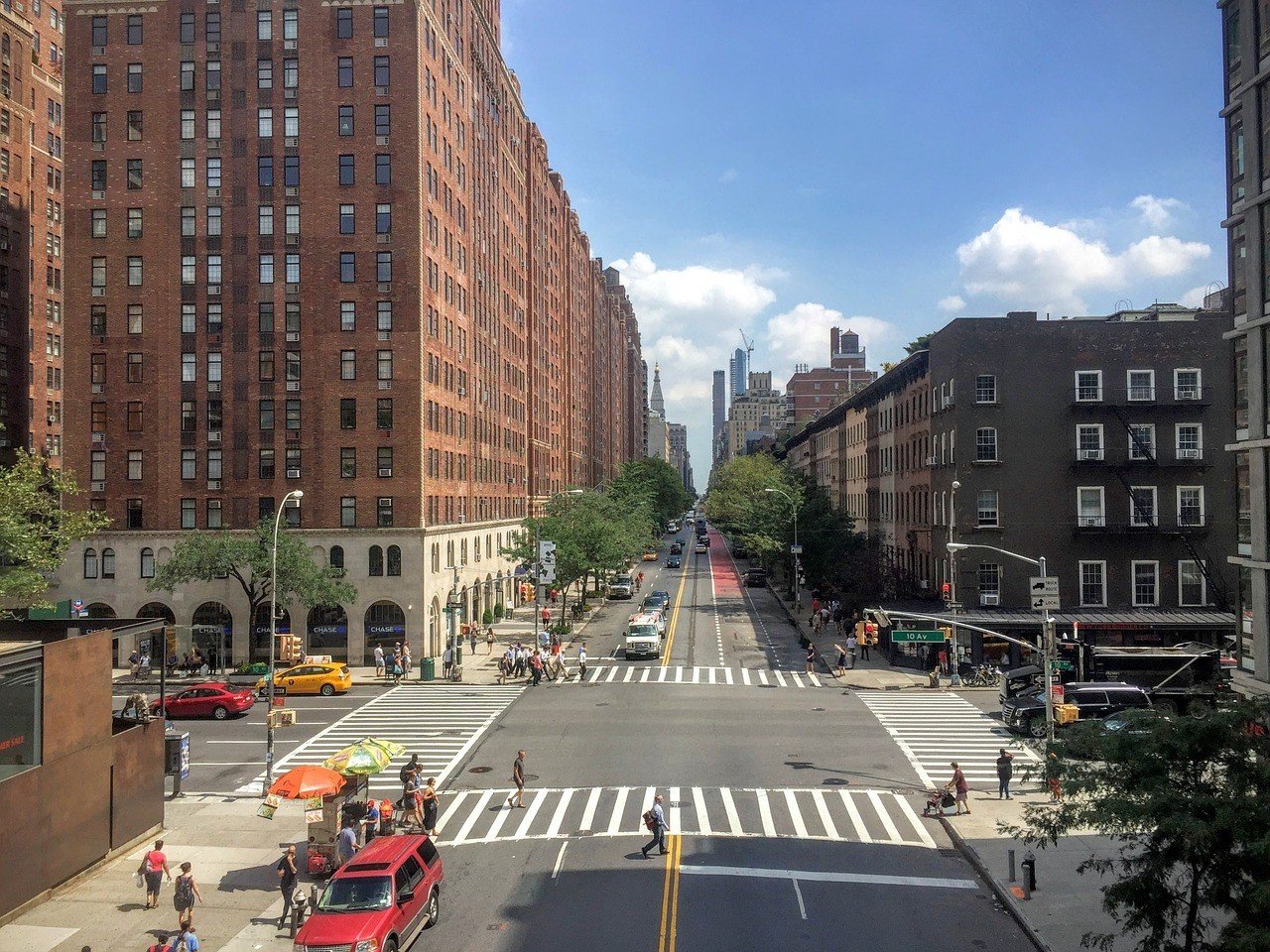 Quirky park
Disused railway track
Great views
Public art installations
Why it's awesome: What better way could there be to make use of a disused railway line than by turning it into a cool public park? Open since 2009, the High Line sits on an old 1.4-mile-long (2.3-kilometre-long) section of track in Manhattan. There's lots of lush greenery and the elevated position offers terrific views over the surrounding areas.
A masterpiece of modern urban architecture, the park has brought a whole new lease of life to the area, helping to raise property prices, providing a place for locals and visitors to relax and enjoy being outdoors, and helping to instil a sense of local pride in nearby residents. There are various things to see and do in the park and it has featured in several TV shows and films.
What to do there: Walk along the elevated park and admire the views of the Hudson River and the cityscape, and pause to relax at one of the benches as you enjoy the vistas. Your stroll will lead you through different gardens, including the enchanting Diller – von Furstenberg Sundeck, complete with its enticing water feature that is great for a quick paddle to cool down on a warm summer's day.
Spot the various art pieces in the park, including the colourful window art called The River That Flows Both Ways at an old loading dock. Other eye-catching pieces include the steel and wood sculpture that attracts birds and butterflies, the colourful mural of the Statue of Liberty, and a piece called Broken Bridge, which is made from recycled mirrors and tin cans.
If you want to support the great work carried out by the park you can adopt a plant. At dusk, you can watch informative videos in 14th Street Passage. Feeling peckish? Grab a bite to eat from one of the mobile vendors or from the stalls in Chelsea Manning Passage.
#15 – SoHo
A great place in New York if you love to shop!
Trendy and arty neighbourhood
Famous for its excellent shopping scene
Lots of interesting cast-iron architecture
Plenty of classy restaurants
Why it's awesome: Located in Lower Manhattan, SoHo (South of Houston Street) earned a reputation for being a cool and arty part of the city. While there are still a good number of artists' lofts and galleries, the area is more famous for shopping today offering almost everything you could ever want to buy! Establishments cater to all budgets and tastes. The architecture is pretty unique too; SoHo has the biggest amount of cast-iron buildings of anywhere in the world! Going back in time, the land was once farmland given to freed slaves, and it was the first free settlement of black people in Manhattan.
What to do there: Walk around the neighbourhood, today featured on the National Register of Historic Places, and see the numerous cast-iron buildings. Admire the intricate and decorative details, such as lavish window frames and railings. Discover the area's art heritage and enjoy a bite to eat in one of the excellent eateries before hitting the shops. Give your credit cards a workout as you hop between the chain stores and boutiques. Take a walk along Spring Street, Broadway, and Prince Street and browse the stalls brimming with knickknacks, cheap t-shirts, souvenirs, and accessories.
#16 – Chinatown, Manhattan
A must-see for foodies!
One of the oldest Chinatowns in the city
Interesting architecture and temples
Lots of eating joints
Evocative atmosphere
Why it's awesome: Manhattan's Chinatown provides a glimpse into a different world. The rich history, heritage, culture, and traditions blend to create an enchanting and captivating place. It's a top place to try an assortment of mouth-watering Chinese fare and pick up unusual items such as herbal remedies, amulets, and stress relievers. Museums, temples, and statues add to the area's appeal, and you'll find massage parlours, reflexology shops, palmists, tarot card readers, and more.
What to do there: Wander along Chinatown's narrow, busy lanes to see a different side to the Big Apple. Learn more about the Chinese diaspora at the Museum of Chinese in America and absorb the spiritual air in the Mahayana Buddhist Temple. Call into a tea house for a quick pick me up and browse in stores that sell everything from traditional Chinese remedies, lucky amulets, and a wide selection of loose teas to trinkets, cheap electronics, gold, and imported ingredients.
Relax and watch the world go by in Columbus Park, popular with locals looking for a place to unwind, socialise, and practice a variety of skills. You may see fortune tellers, dance troupes, acrobats, opera singers, tai chi practitioners, and groups of people playing games like mah-jong.. China town is amongst the best spots in New York to eat -relish things like dim sum, bowls of steaming noodles and soups, and the ever-popular Peking duck.
#17 – Greenwich Village
One of the nicer places in New York to sightsee!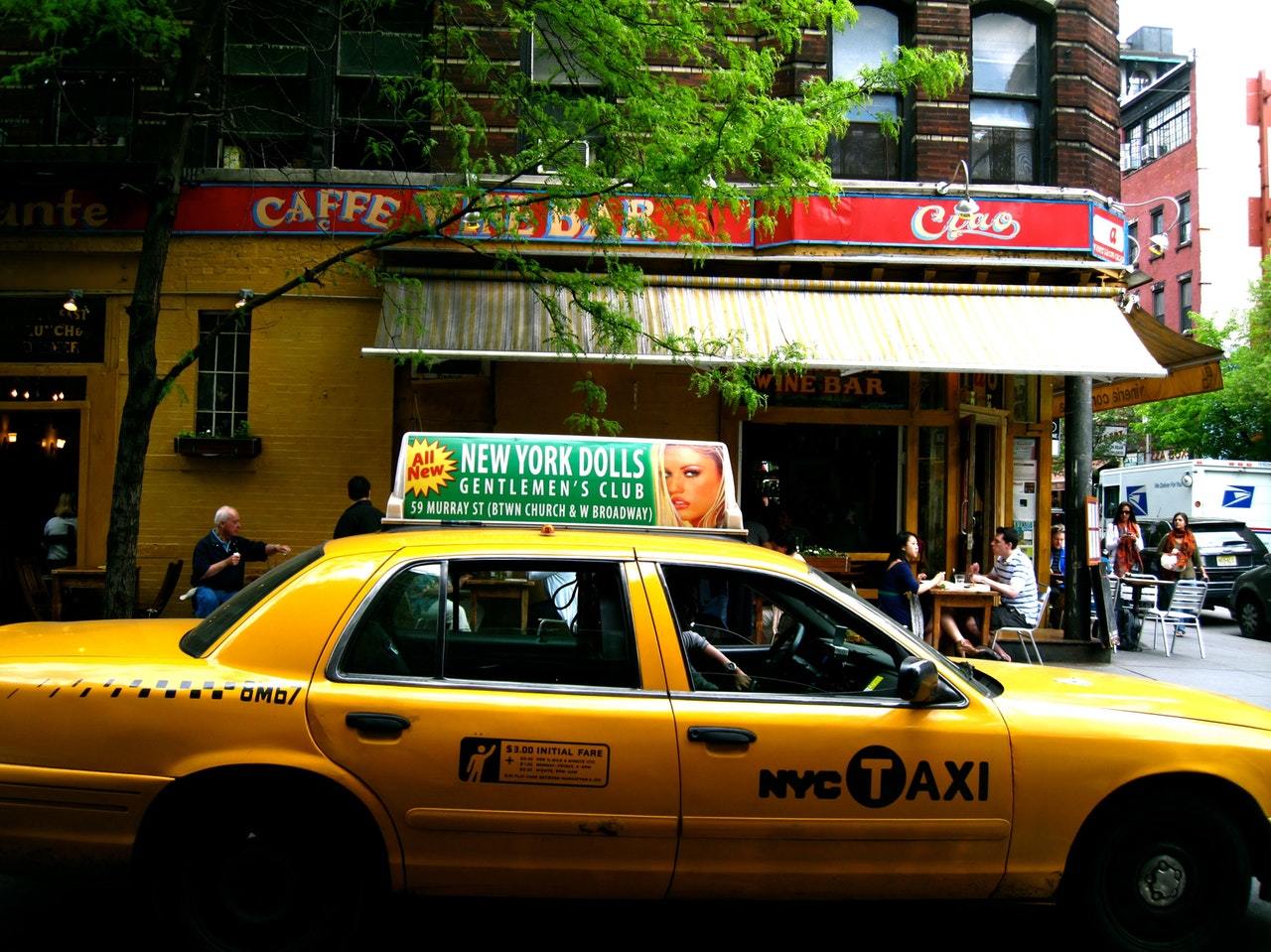 A former haven for artists and an area known for its Bohemian vibe
See the Washington Square Arch and other interesting pieces of architecture
Vibrant performing arts scene
Diverse and inclusive neighbourhood
Why it's awesome: Greenwich Village is a bustling neighbourhood in Lower Manhattan. In contrast to the rest of the city, you won't find soaring skyscrapers here; instead, you'll find leafy residential areas, tree-lined streets, pretty parks, and several olde-worlde buildings. Known as the city's Bohemian heart in times gone by, the area gave birth to several counterculture movements and was also home to the city's gay movement.
In earlier times the area was home to New York's first prison. It also boasts the city's longest-running off-Broadway theatre. Each year, Greenwich Village hosts the biggest Halloween Parade in the world. There are many interesting landmarks throughout the area and plenty of establishments where you can eat, drink, shop, and have fun.
What to do there: Walk around Greenwich Village and you'll likely notice that, unlike many other parts of the city, streets have names rather than numbers. See major landmarks, such as the Church of St. Luke in the Fields, Isaacs-Hendricks House (the area's oldest remaining home), the eye-catching Greek revival homes, the Cherry Lane Theatre, the Hotel Albert, the Tenth Street Studio Building, and the old Jefferson Market Courthouse.
Walk along the cobbled streets and past the townhouses in the historic Meatpacking District. Visit the Stonewall Inn, the cradle of the gay rights movement and the scene of the Stonewall riots. Admire art in the Grey Art Gallery. Pose for a selfie in front of the Washington Square Arch and soak up the eclectic vibe in the green park. You may spot street performers of all types and it's a top place for people watching. Kids are sure to love the different playgrounds throughout the park.
#18 – The Irish Hunger Memorial
An unknown (but awesome!) place to see in New York!
Off the beaten track
Free to visit
Links to history and immigration
Designed to look like an Irish landscape
Why it's awesome: The Irish Hunger Memorial is located in Manhattan. Built in the early 2000s, the memorial remembers the large amounts of Irish people who starved to death in the mid-1800s during The Great Irish Famine. More than one million people lost their lives during this period. A peaceful and scenic spot where you can pay your respects, the memorial contains stones from all of Ireland's 32 counties (including those in both Eire and Northern Ireland).
The earth and plants were moved to the site from the western coast of Ireland, lending even more authenticity to the area. It's certainly not the best place to go in New York but those with Irish ancestry (like me) should pay a visit.
What to do there: Absorb the peace and tranquillity as you remember those who lost their lives through starvation. If you have Irish heritage or an interest in immigration, it is especially moving. Visit the 19th-century Irish cottage, donated to the park by the Slack Family. Admire the vistas, made to look like rural Ireland, complete with dry-stone walls, potato fields, and plants that are common in the wetlands of Connacht.
#19 – Ellis Island
An awesome place to visit in New York for half a day!
Historic port that was the first point of entry for many immigrants to New York
Previously one of the USA's busiest immigration areas
Partly made from reclaimed land
Interesting and insightful museum
Why it's awesome: Ellis Island was the busiest immigration entry point in the USA for a number of years, acting as the first place that new arrivals saw upon entering the nation. Some 12 million people entered the USA through this port, with up to 5,000 people arriving per day at the busiest periods. In the 1920s, with the reduction in the number of immigrants arriving in the USA, the island was largely used as a detention and deportation centre.
It was also used as a prison to detain wartime prisoners. Although the southern side of the island isn't open to the public it is possible to visit the old hospital as part of a tour. Today part of the Statue of Liberty National Monument, Ellis Island is most popular today for its interesting immigration museum. Its one of the top places to go in New York for a sense of history.
What to do there: Catch the ferry over to Ellis Island and spend a few hours seeing the various displays and exhibits in the Ellis Island National Museum of Immigration. Within the main building of the previous immigration centre, you can learn more about the millions of people who moved to the USA and entered through Ellis Island. Hear inspirational and moving personal tales on the audio tour and uncover more of the island's history.
See old photos, which help to bring the past to life. Stand in the Great Hall, still buzzing with the energy of hope, excitement, and relief. If your ancestors were among those to move to the Land of the Free you can search for their names in the public records.
#20 – Flatiron Building
A great place to see in New York if you love architecture
National Historic Landmark
Featured in many movies, TV shows, and books
Iconic symbol of New York
Unusual design
Why it's awesome: The 22-level Flatiron Building, located in Manhattan, dates back to the early 1900s. Designed in a wedge shape it takes its name from the fact that it looks like an old-fashioned clothes iron. Now listed on the National Register of Historic Places, the building features Beaux-Arts designs with elements from Greek and Renaissance architecture. Home to many offices, the inside spaces also have unusual designs, with angular walls and great views towards the Empire State Building.
The signature building has been used in various TV shows and films over the years, including Godzilla, Spider Man, and Friends. Fun fact: the original elevators in the Flatiron Building were powered by water!
What to do there: Often said to be among the most photographed buildings in the world, one of the main things for tourists to do at the Flatiron Building is to snap plenty of pictures of the building's unusual form. Enter the grand lobby and admire the interiors. Although visitors aren't allowed into other parts of the building the nearby area has plenty to keep you busy after you've taken lots of photos.
Shop in cute boutiques, satisfy your hunger in a restaurant and call into a speakeasy for a refreshing drink. There are quirky museums close to hand, including the Museum of Sex and the Tibet House US, and you can relax for a while in the leafy Madison Square Park. It's the best place to visit in New York for quirky architecture.
#21 – The Solomon R. Guggenheim Museum
One of the more unique places to visit in New York!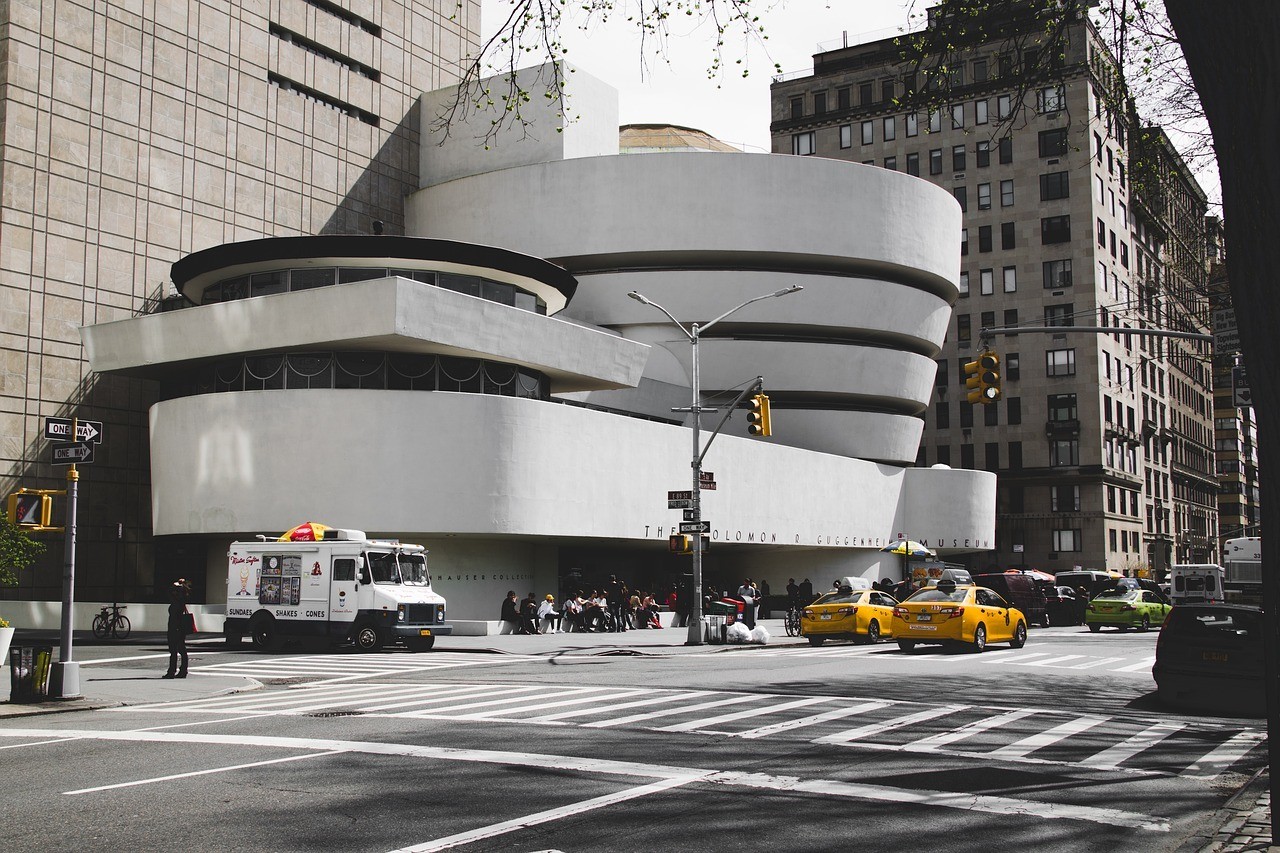 Major art museum
Beautiful architecture
Global icon
National Historic Landmark
Why it's awesome: The Solomon R. Guggenheim Museum (often referred to as the Guggenheim) is a renowned art museum housed within an iconic building. From the vast permanent collections to the eye-catching architecture, there is certainly nothing ordinary about the Guggenheim. An incredibly popular attraction in New York, the museum is now listed as a National Historic Landmark. Although the museum can trace its roots back to the late 1930s the present striking building was constructed in the late 1950s.
The building project was headed by the renowned architect Frank Lloyd Wright. Circular in shape, the gallery follows a spiral ramp inside. Light floods in through the huge skylight highlighting the interesting pieces. Indeed, the museum was said to be a Temple of the Spirit, providing a new way for people to admire art.
What to do there: Before entering, admire the interesting architecture from outside, appreciating the circular form and unusual design. Stand in the atrium, looking up at the balconies with their wave-like form. Then, spend a few hours seeing the large collections in the permanent and temporary exhibitions. Major pieces include those by Paul Cezanne, Marc Chagall, Paul Klee, Albert Gleizes, and Georges Braque.
There are regular film screenings, workshops, lectures, and performances, with art classes for people of all ages to learn new skills and learn more about the world of art. The restaurant is the ideal place to sit and reflect on the glorious works.
#22 – East Village
A great place to visit in New York at night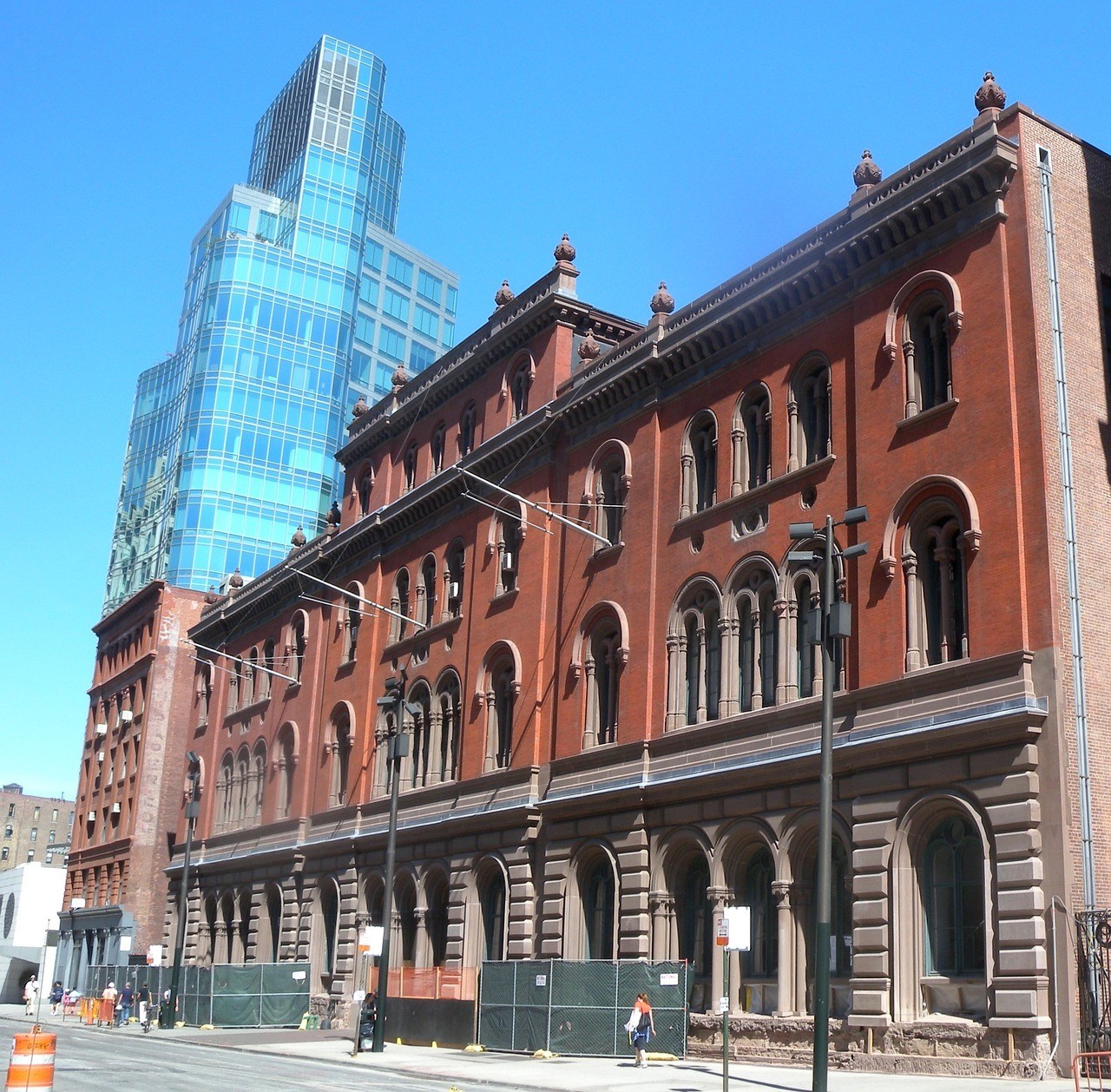 Home of punk rock
Ethnic diversity and blend of cultures
Fantastic nightlife
Arty atmosphere
Why it's awesome: East Village, located in Manhattan, is known for its Russian, Ukraine, and Jewish heritage and for its past arts scene and hippie vibe. A place that celebrated differences and promoted tolerance, various subcultures found their home in East Village. Indeed, punk rock was born here. There are many parks and community gardens in the neighbourhood, and you'll also find interesting landmarks, art galleries, eateries with an international flavour, and a wealth of bars and clubs.
What to do there: During the daytime, there are plenty of interesting museums to keep you busy—the Museum of Reclaimed Urban Space, Ukrainian Museum, and Museum of the American Gangster are just a few to add to your list. Stroll through Little Ukraine, see the St. George Ukrainian Catholic Church, and see a different culture. In Alphabet City, experience Japanese street culture and follow the Mosaic Trail with lampposts adorned with interesting designs.
Shop in quirky stores, thrift shops, record shops, independent outlets, vintage stores, and small boutiques. Enjoy being outdoors in places like Tompkins Square Park, East River Park, and the many community gardens, and admire the details in the marble cemeteries. As nighttime falls the areas bursts into even more life, taking on something of a rock star ambience.
Get insured for your trip to New York!
Do you need Travel Insurance for your trip? I have been using World Nomads for some time now and made a few claims over the years. They're easy to use, professional and relatively affordable. They may also let you buy or extend a policy once you've started your trip and are already abroad which is super handy.
If there's one insurance company I trust, it's World Nomads. To find out why I use World Nomads, check out my World Nomads Insurance review.
Getting an estimate from World Nomads is simple – just click the button or image below, fill out the necessary info, and you're on your way!

Visit many great places in New York
Whatever your budget and whatever your interests, there's never a dull moment in vibrant New York. Have a great time by day and by night, visiting cultural icons, world-renowned architectural masterpieces, museums, art galleries, shopping areas, parks, skyscrapers, amusement parks, and more.
With a truly global dining and drinking scene and a wealth of excellent accommodations to suit every taste, you really can cram every moment of your New York adventure with fun.
Tick off these best places to visit in New York for a fun-filled, action-packed, and memorable time in one of the world's most exciting destinations. When you're done with that, consider grabbing a car and checking out some epic road trips in New York.
What is the best place in New York in your opinion? Leave a comment and let us know!
---
Find out how YOU can support the site.
We work hard to put out the best backpacker resources on the web for free! It's all about helping out our tribe of awesome backpacker readers (that's you!). Please visit the link to find out how you can help keep the site going 🙂
For the sake of transparency, some of the links in our content are affiliate links. This means that if you book your accommodation, buy a piece of gear, or sort your insurance through our link, we earn a small commission at no extra cost to you. We only link to stuff that members of the Broke Backpacker team has actually used and never endorse products or services that are not up to scratch. Thanks for your support!