The Big Apple is a cultural tornado with high energy 24/7, so the fact that it's one of the most-visited cities in the entire world is a mystery to no one.
However, it's just one of many wonders in the state of New York that fewer people get out into. A dream for outdoor enthusiasts, it's packed with amazing hiking, waterfalls, and mountain ranges upstate.
A road trip here is the best way to see the state; you can travel to the Finger Lakes, Catskills, and the Adirondack Mountains at your own pace. You can enjoy all the outdoor activities and dive deeper into the picturesque small towns that feel a million miles away from NYC.
The only problem? Deciding how to pack it all in!
And that's why we've made this guide. Read on to discover the best road trips from New York, so you can find your dream way of escaping into a city that actually lets you sleep. Moving on…

Do You Want to Travel FOREVER??
Pop your email in below to get a FREE copy of 'How to Travel the World on $10 a Day!'.
Why Roadtrip from New York?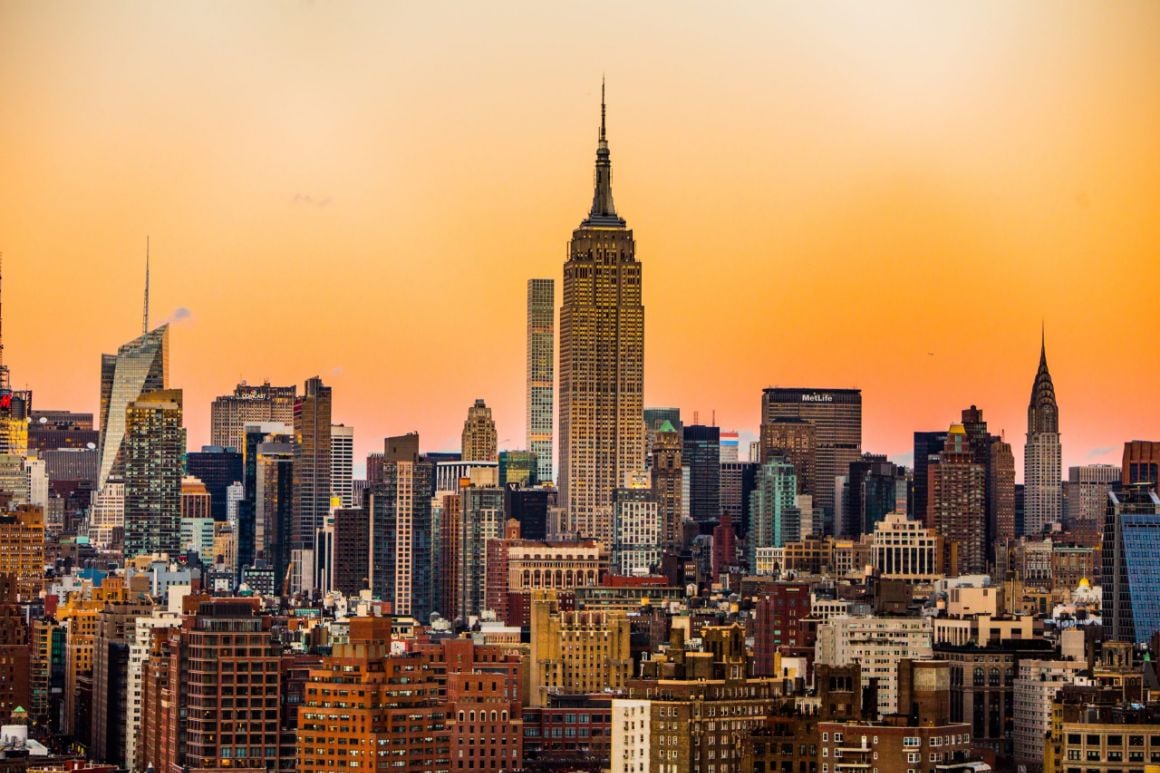 While driving in New York City itself can be a bit hellish (unless you like sitting in traffic), getting out of the city is anything but that. Here are five great reasons why you should road trip in New York:
Exploring the Catskills Mountains at your own pace, with more time to stop off at roadside attractions and picturesque small towns in the mountains.
Choosing scenic backroads over the quickest routes. These include the Catskill Mountain Scenic Byway (we'll get to that one later), High Peaks Scenic Byway, and Whiteface Veterans Memorial Highway.
Diving deeper into New York State's Finger Lakes – The Cayuga Lake Scenic Byway will take you 100 miles around the lake. You'll pass rolling farmland and state parks, and there are lots of towns to stop off at.
Visiting some spectacular trailheads that you'd never get to on public transport. Park up and give yourself plenty of time to explore waterfalls, forests, and immerse in nature.
Seeing the world's smallest church, the world's largest pancake griddle, and the Big Duck of New York — New York State offers some wacky roadside attractions worth making a detour for!
By now, you're probably hyped up and ready to drive in New York. So buckle up, 'cause we're hittin' the road… Here are the best road trips from New York City!
From: New York City
To: Niagara Falls
Total Distance: 553 miles
Days: 4 – 5
Top Road Trips Stops: Kaaterskill Falls (the Catskills), Green Lakes State Park, Finger Lakes, Eternal Flame Falls, Niagara Falls.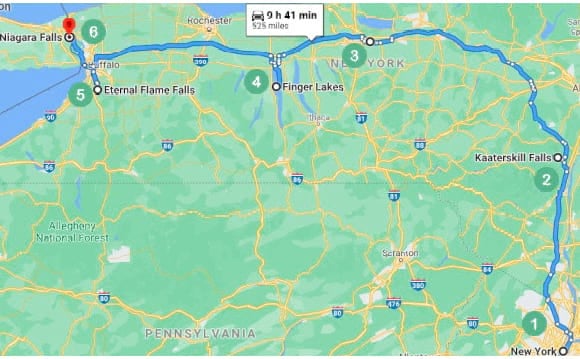 After spending a few days in New York City, the bright lights and constant hustle will make you want to run out of town, straight into nature.
New York State has several waterfalls, including the iconic Niagara Falls — arguably the most famous in the world — and this route will take you through some lesser-known waterfalls before that grand finale!
Want to save money on the road? Look at staying in motels in New York state which are designed for road trippers!
Road Trip Highlights
The Catskills
Finger Lakes
Eternal Flame Falls
Niagara Falls
Day 1: New York City to Woodstock (2 hours)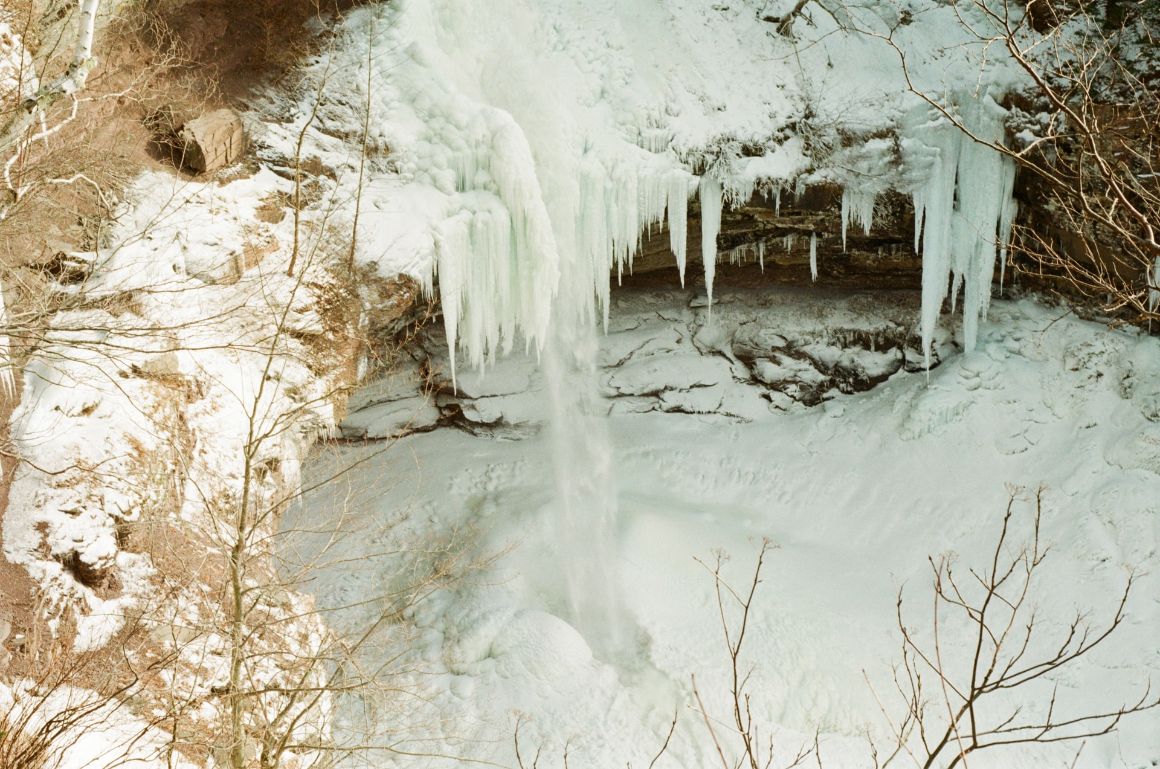 The first day of your road trip from New York will have you driving for two hours, but you can extend that if you feel like it. Hit up the charming village of Woodstock in the Catskill Mountains, where you'll have a couple of options.
If you want to stay in town, make sure to hike up Overlook Mountain – one the best hikes in New York state. It takes around two hours and you'll get spectacular views across the Catskills.
There are some great places to stay in Catskills, which you can use as a base to explore the mountains by car. The Catskill Mountain Scenic Byway (also known as Route 28) is a winding 52-mile route with lots of natural wonders along the way. Head along the shores of the Ashokan Reservoir to Andes and back for the best views.
Alternatively, take a trip to Kaaterskill Waterfalls for some hiking in the summer and snowmobiling in the winter!
Best Things to Do: Hike up Overlook Mountain in Woodstock, visit the Emerson Kaleidoscope, Drive along the Catskill Scenic Mountain Byway, Kaaterskill Wild Forest and Waterfall.
Where to Eat: Sharkie's, The Green Palate, Nana's Creative Cafe (Woodstock), Phoenicia Diner (Phoenicia)
Where to Stay: The Kaaterskill, Tentrr – Shady Knolls
Day 2: Woodstock to Green Lakes State Park (3 hours)
Your next stop is the Green Lakes State Park on the outskirts of Syracuse, featuring two stunning glacial lakes surrounded by upland forest.
There are three routes you can there. The quickest will take you along the Hudson River Valley and through Albany, and while the other two are longer, one will take you back along the Catskills Scenic Byway and the other past Kaaterskills Wild Forest. No bad options here!
If you're not too tired of driving, we recommend taking a detour to Oneida, where you'll see Cross Island Chapel — said to be the world's smallest church.
Then, it's on into Syracuse to find somewhere to stay for the night. There are many great bed and breakfasts in this area, so be sure to check one out. Be sure to grab some food here, as the restaurant scene is packed with absolute gems that won't break the bank. If you stick around for longer, there's plenty of things to do in Syracuse as well!
Best Things to Do: Go hiking or kayaking at Green Lakes State Park, visit the World's Smallest Church at Oneida.
Where to Eat: Apizza Regionale, Lemon Grass (Thai food), Modern Malt, Pastabilities (Syracuse)
Day 3 and 4: Green Lakes State Park to Taughannock Falls (Cayuga Lake) (1.5 hours)
You can squeeze all of this into one day if you really want to, but we'd advise against it. There's a lot to see as you reach the 'Finger Lakes' (weird name, right?) but it's Cayuga that you'll be most interested in today.
The first stop is Buttermilk Falls State Park in Ithaca. There are four trails in the park, ranging from 1.6-4.5 miles, so you can choose according to your energy level. You can swim at Buttermilk Falls, so bring your swimsuit if the sun is shining!
After walking back to your car and drying off, it's only half an hour before your next stop at Taughannock Falls State Park. The falls here plunge more than 200 feet, so you can imagine why it's the main attraction. No swimming allowed, though.
If you're not fancying a hike nor a swim, take the Cayuga Lake Scenic Byway. It's a 100-mile trip around the lake that will cover all the best views of the lake.
Best Things to Do: Swim at Buttermilk Falls, admire Taughannock Falls – the tallest single-drop waterfall east of the Rockies, drive around Cayuga Lake.
Where to Eat: Glenwood Pines, The Boatyard Grill (Ithaca), State Bakery + Smokehouse (Seneca Falls), Fargo Bar & Grill (Aurora).
Where to Stay: La Tourelle Hotel & Spa, Inn at Taughannock Falls, Inn at the Finger Lakes.
Day 5: Cayuga Lake to Buffalo via Penn Yan and Eternal Flame Falls (3.5 hours)
We're reaching the end of the road trip, and the penultimate day will take you on a 3.5-hour journey to the town of Buffalo. There's a couple of stops you can take on the way, either to fuel up or to gaze at some more waterfalls.
Head south-west and skirt the bottom of Seneca Lake, the largest of the glacial Finger Lakes — you even could stop at Montour Falls if you wish to squeeze in another waterfall.
Carry along the lake until you reach Route 7, then turn west towards Penn Yan. Stop off at Birkett Mills to see the largest pancake griddle in the world, where they made the world's largest pancake back in 1987, and enjoy a regular-sized one at Penn Yan Diner.
Work off that pancake with a walk at the Eternal Flame Falls. It's 2.3km on an out-and-back trail, so you can do it in less than an hour if you're in a hurry. You'll see another stunning waterfall here, lit by a natural gas leak that gives the falls their name.
After your walk, head on to Buffalo for food and board for the night.
Best Things to Do: Stop off at Penn Yan, Hike to the Eternal Flame Falls, Buffalo Canalside.
Where to Eat: Penn Yan Diner (Penn Yan) Anchor Bar, Charlie the Butcher (Buffalo).
Day 6: Buffalo to Niagara Falls (0.5 hours)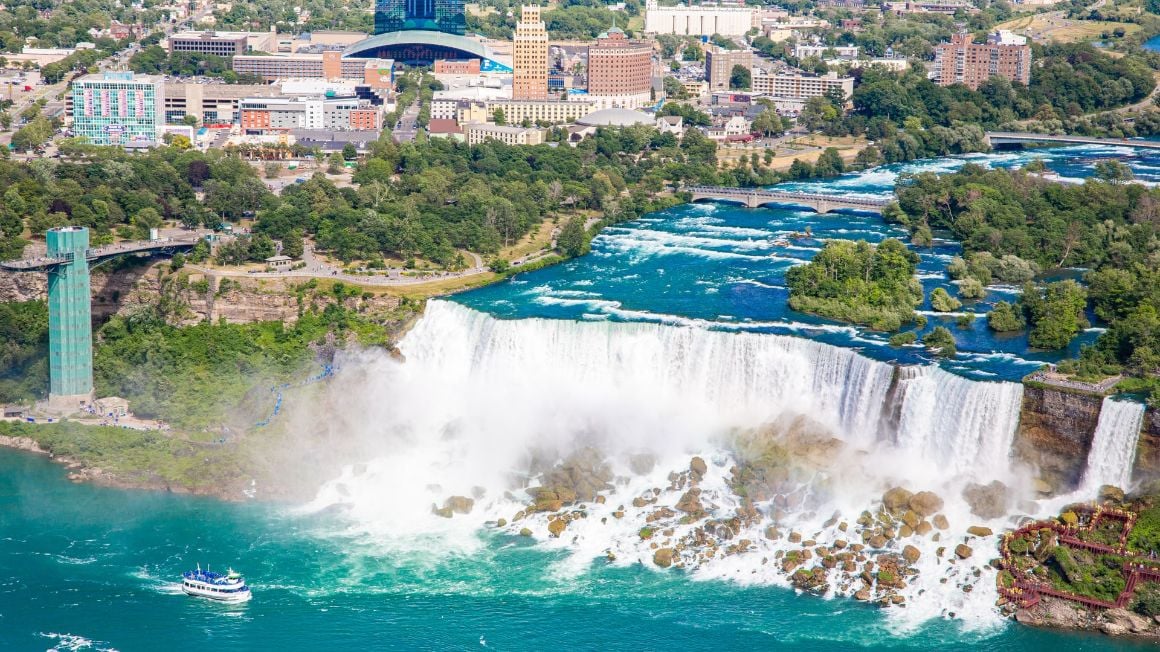 The last day of your trip will have you witness nature at its fiercest. Niagara Falls is one of the most popular tourist attractions in the world, but there's more to do than just admiring the power of the elements. Take a cruise on the Maid of the Mist, learn about history at Old Fort Niagara, or get a view of your surroundings from the Skylon Tower.
Best Things to Do: Skylon Tower, Cruise on Maid of the Mist, Old Fort Niagara, Niagara Parks Botanical Gardens and Butterfly Conservatory.
Where to Eat: Marketside Restaurant, Rock Burger, Top of the Falls.
Where to Stay: Hyatt Place Niagara Falls, Hampton Inn Niagara Falls
Is This the Best Daypack EVER???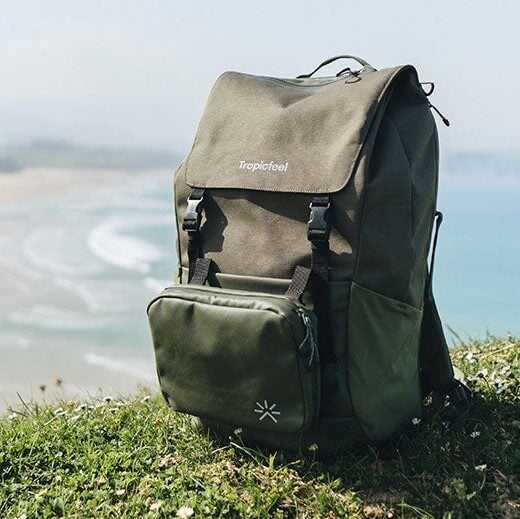 We've tested countlessday packs over the years, but the Tropicfeel Shell is something else. There are a lot of flashy backpacks on the market but not many come with a detachable wardrobe.
Weatherproof, eco-friendly, durable, feature-loaded, and comfy as fudge brownies: these are just some of the words people might use to describe the Tropicfeel Shell. But we just call it bloody beautiful.
Learn More • View on Tropicfeel
Small Pack Problems? 😉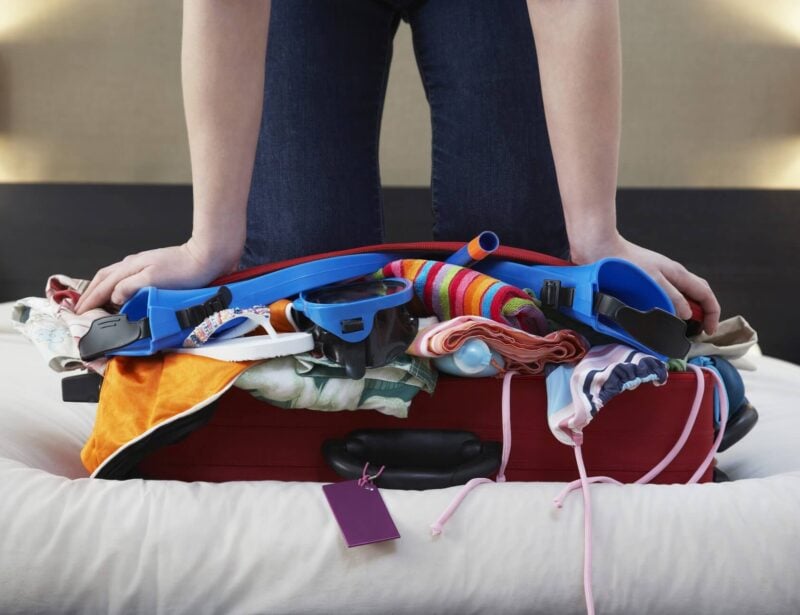 My missus travels with all her clothes in ziplock bags: don't be like my missus. UP YOUR PACKING GAME!
Packing cubes for the globetrotters and compression sacks for the real adventurers – these babies are a traveller's best kept secret. They organise yo' packing and minimise its volume too so you can pack MORE.
Or, y'know… you can stick to ziplock bags.
View Our Fave Cubes
Or Check Out the Sacks!
From: New York City
To: Lake Placid
Total Distance: 391 miles
Days: 3 – 4
Top Road Trips Stops: Walkway Over the Hudson, Hunter Mountain, Saratoga Springs, Prospect Mountain, Lake Placid.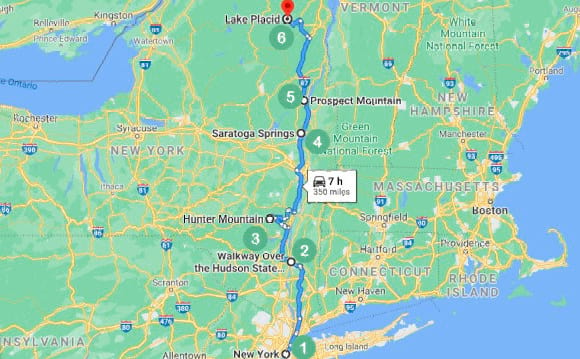 On this road trip, you'll be heading north for around 400 miles until you reach the Adirondack Mountain Range. Outside of New York City, you'll drive into the Hudson Valley and find an array of mountains and lakes to call your own. While this road trip can be done at any time of the year, it's particularly beautiful during fall.
Road Trip Highlights
Walkway Over the Hudson (Poughkeepsie)
Day 1: New York City to Poughkeepsie (2 hours)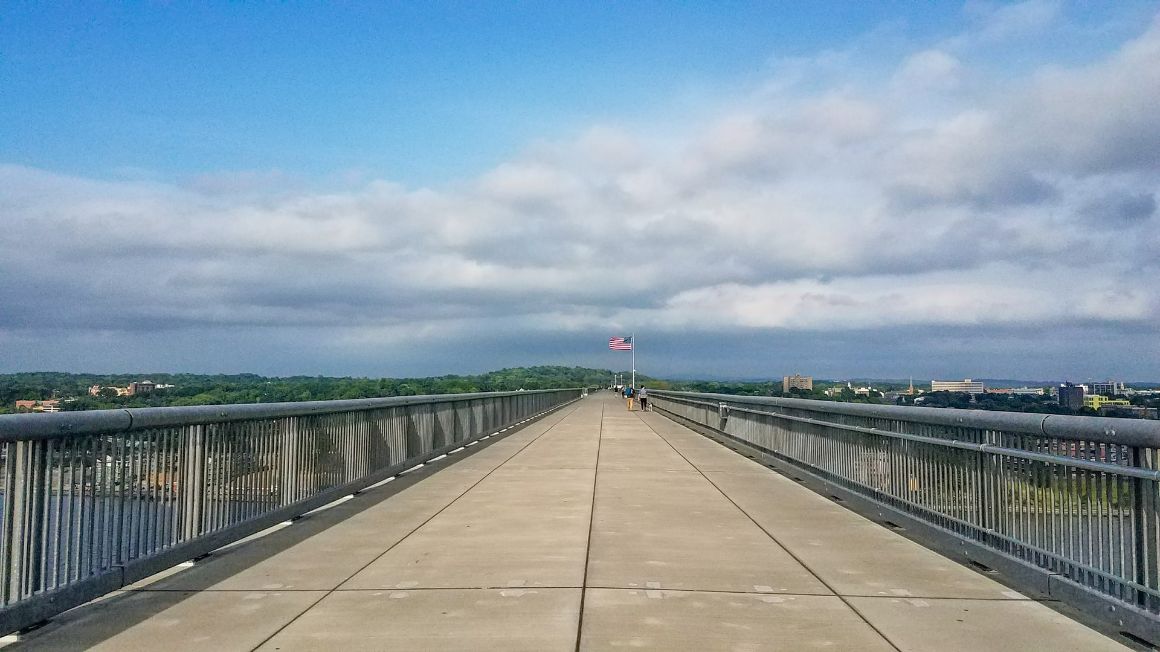 Your first stop will be Poughkeepsie, in the Hudson River Valley — you can choose between the Taconic State Parkway or I87 North to head out there. This busy college town dates back to the 17th century, and the main thing to do is taking the Walkway over the Hudson, the longest footbridge in the entire world.
After walking across the 1.3-mile bridge and back, check out any of the 22 green parks or fine dining restaurants. If you don't fancy spending the night, it's time to carry on to Woodstock.
Day 2: Poughkeepsie to Albany (3.5 hours)
The Poughkeepsie to Albany route would normally take you around two hours, but where's the fun in taking the shortest route?
Spice it up by heading into the Catskills towards Hunter Mountain. Leave your car there and jump on the chairlift that takes you to the summit. When the weather's clear, you'll see the autumn leaves all the way to New England.
Then, it's onto Mount Utsayantha. For those running short of time, you can actually drive to the top. We'd recommend hiking, but whichever you choose, be sure to climb the fire tower.
Your final stop before finding food and somewhere to stay in Albany is the stunning John Boyd Thacher State Park. Besides the picturesque views of the Hudson-Mohawk and Adirondack Valleys, there are scores of fossils found here.
Note — if you want to do all three of these activities, it may be a good idea to spread them over two days.
Best Things to Do: Chairlift on Hunter Mountain, Hike/Drive to the top of Mount Utsayantha, several outdoor activities in John Boyd Thacher State Park.
Where to Eat: Ma-Ma's Pizza Parlor (Hunter Mountain), Altamont Old Stone House Inn, Jack's Oyster House (Albany)
Where to Stay: Thompson's Lake State Park Campground (near JBT State Park), Renaissance Albany Hotel, Hampton Inn and Suites Albany – Downtown
Day 3 and 4: Albany to Lake Placid (3 hours)
The final two days of your road trip from New York will lead you into the Adirondack Mountains. Head north from Albany on I-87 North and park up in the town of Saratoga Springs.
The city is best known for its racecourse, but it also boasts hot springs and a beautiful state park. You could spend an entire day or two here if you're looking for R&R. The Adirondacks also has awesome accommodation options if you want to immerse yourself in nature. If you really want to enjoy nature, consider staying in a cabin in New York which often has the most rural settings.
If you're not, continue onto the next stop, Prospect Mountain. The attraction here is not the mountain itself, but rather the Prospect Mountain Highway. The two-mile route gives spectacular views over Lake George and the surrounding Adirondack Mountains. There are some beautiful places to stay in Lake George if you fancy extending your trip.
Carry on to Whiteface Mountain, which has another stunning scenic route — the Whiteface Veterans Memorial Highway. The beautiful route will take you down to Lake Placid, where you can enjoy several Olympic Sites.
Best Things to Do: Saratoga Spa State Park, Saratoga Automobile Museum, Prospect Mountain Highway, Whiteface Veterans Memorial Highway, Lake Placid Memorial Sites
Where to Eat: Olde Bryan Inn, 15 Church (Saratoga Springs), Smoke Signals, The View (Lake Placid).
Where to Stay: Crowne Plaza Lake Placid, Town & Country Manor Inn
Driving in New York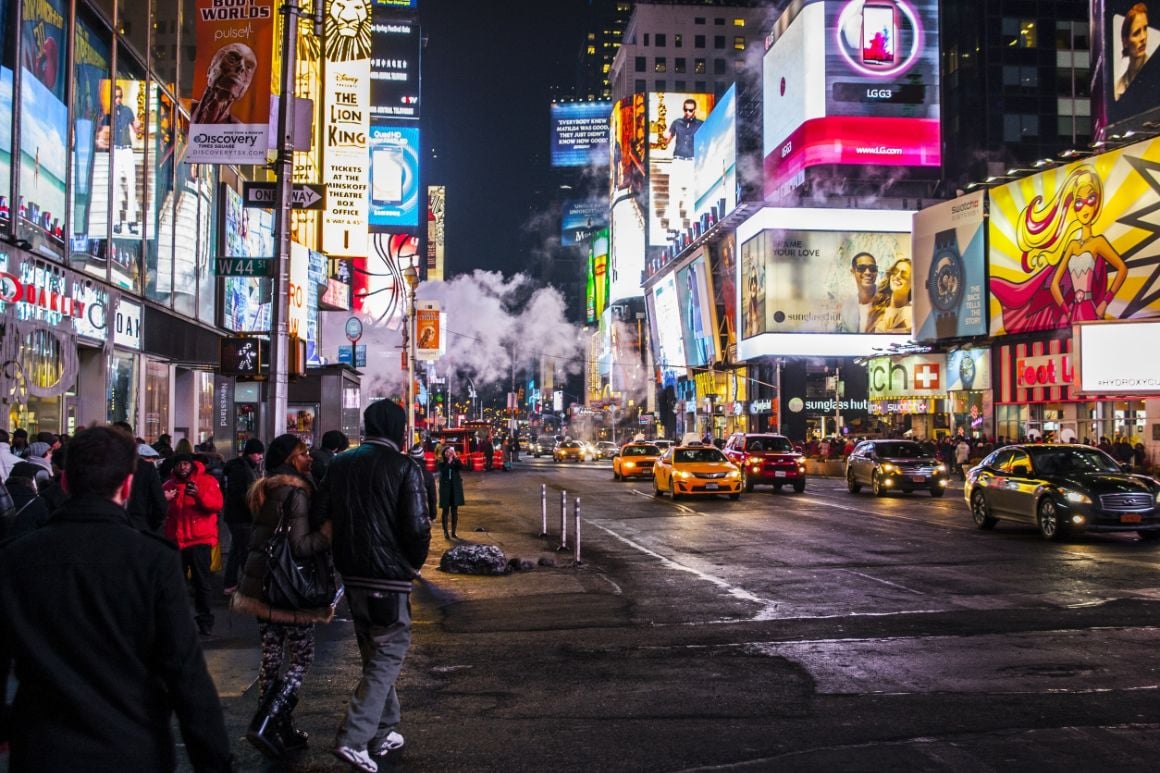 Renting a vehicle in New York
Renting a car is the perfect way to enjoy your road trip, especially if you're planning to get out of NYC. This is the easy part, as you'll find agencies both downtown and at the city's main airports — JFK, LaGuardia, and Newark.
Here are some useful things you should know if you're renting a car in New York:
Rental companies cannot refuse to rent to you unless you purchase their insurance cover. If you have your own insurance, check if it already covers rental cars.
Companies are required to allow your spouse to drive, as long as they are over 18 and have a valid driving license.
You don't need a credit card to rent a car in New York.
Knowing this should help you avoid the unnecessary charges, so you have more cash to spend on enjoying the trip itself. Bear in mind that there are a few common extra charges that you may have to pay for, and we cover them below.
Age Surcharge: Rental companies are required to rent to drivers who are at least 18 years old. However, until you're 25, you'll be faced with a driver surcharge. This is usually around $20 for smaller and cheaper vehicles but can increase for larger cars.
Bond/Deposit: It's normal to put a holding deposit on your debit or credit card, but the amount will depend on who you're renting from. Expect somewhere between $200-400.
Additional Driver Charge: This one is usually cheap – as little as $3-5 per day. Go for it if you're on a longer road trip, so you can split the driving and just enjoy the views!
If you don't already have a car insurance policy that covers rental cars, you'll need cover. Rather than choosing the expensive option at your rental company, prepare in advance and buy from RentalCover.com.
Don't have a car? Well, we're going to have to sort that out! Use rentalcars.com to find the best deals on the web and save heaps of cash!
Road Rules in New York
Driving upstate and driving in the city are two VERY different things. You definitely won't need a car to visit New York City, and we'd advise you never try to… The subway will take you everywhere and will prevent you from tearing your hair out and having a mental breakdown on the road.
New York City has a lot of rules that might get you a fine if you're not aware of them — it's illegal to turn right on a red light, for example. Not knowing the difference between parking, standing, and stopping might also get you in trouble.
Thankfully, New York State is a whole different ball game. Though roads can get busy in high season, they're much wider and easier to navigate. The best part? Far fewer traffic lights, so you can enjoy the taste of freedom in the form of open road driving.
New York State does have a speed limit lower than most states in the US. The maximum speed is 55mph on highways, but it goes as low as 40 on the I-787 and 495. Make sure to follow the two-second rule when you're behind another vehicle and adjust your driving for poor weather and road conditions.
What To Pack for a Road Trip in New York
1.Security Belt with Hidden Pocket: I never hit the road without my security belt. This is a regular looking belt with a concealed pocket on the inside – you can hide up to twenty notes inside and wear it through airport scanners without it setting them off. This is hands down the best way to hide your cash.
2. Travel Water Bottle: Always travel with a water bottle – it'll save you money and reduce your plastic footprint on our planet. The Grayl geopress is a true behemoth amongst water bottles acting as a purifier AND temperature regulator – so you can enjoy a cold red bull, or a hot coffee, no matter where you are.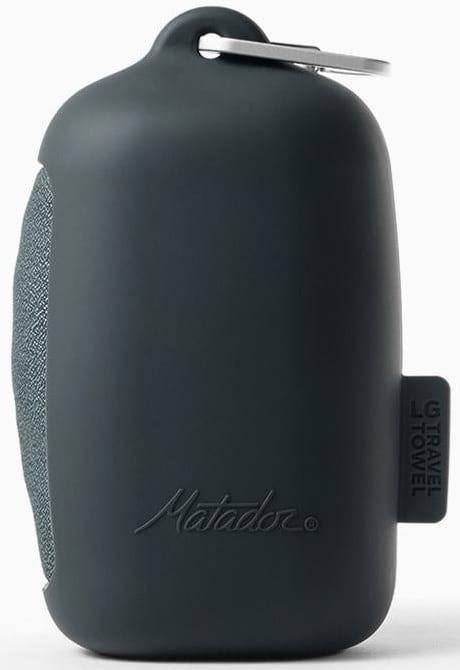 3. Microfibre Towel: It's always worth packing a proper towel. Hostel towels are scummy and take forever to dry. Microfibre towels dry quickly, are compact, lightweight, and can be used as a blanket or yoga mat if needed.

4. Headtorch: Every backpacker should have a head torch! A decent head torch could save your life. If you want to explore caves, unlit temples, or simply find your way to the bathroom during a blackout, a headtorch is a must. Currently, I'm using the Petzl Actik Core rechargeable headlamp. It's USB-chargeable so you'll save on those Earth polluting batteries.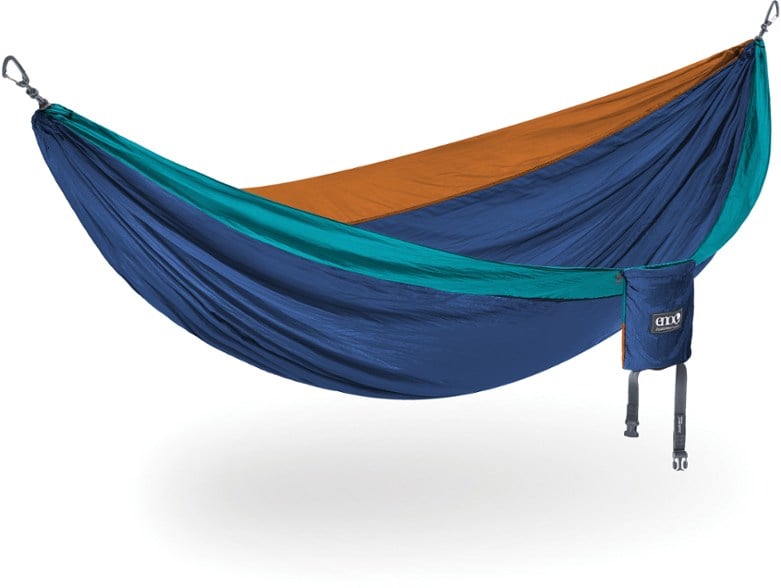 5. Hammock: Taking a tent is not always practical but hammocks are lightweight, cheap, strong, sexy (chicks dig hammocks) and allow you to pitch up for the night pretty much anywhere. Right now, I'm rocking a lovely parachute hammock – it's light, colourful and tough.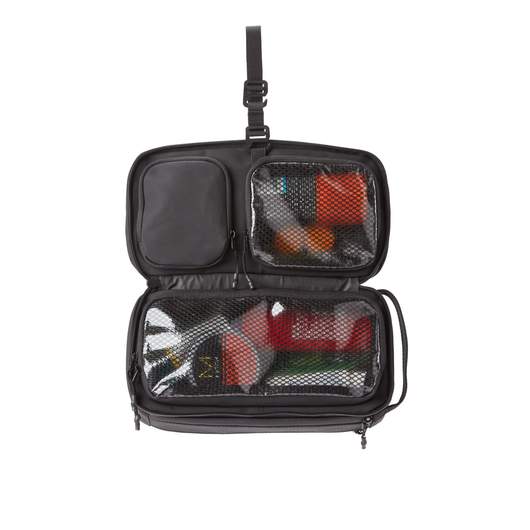 6. Toiletry Bag: I always travel with a hanging toiletry bag as it's a super-efficient way to organise your bathroom stuff. Well worth having, whether you are hanging it from a tree whilst camping, or a hook in a wall, it helps to have quick access to all your stuff.
Insurance in New York
The New York State Department of Motor Vehicles dictates that all cars need liability insurance, with minimum cost requirements for injury coverage, death coverage, and property damage coverage.
Now, it can be confusing trying to sort all of this yourself, but RentalCover.com has an easy guide to driving in the United States to put your mind at ease. They offer collision damage coverage (which is equivalent to rental companies' collision damage waiver), meaning you can have peace of mind and just focus on enjoying your road trip.
Insurance is a must for your trip, so do your research beforehand and avoid being lumbered with a big bill at the rental desk!
We've put together a roundup of the best travel insurance for backpackers, but you can also go for special rental car insurance.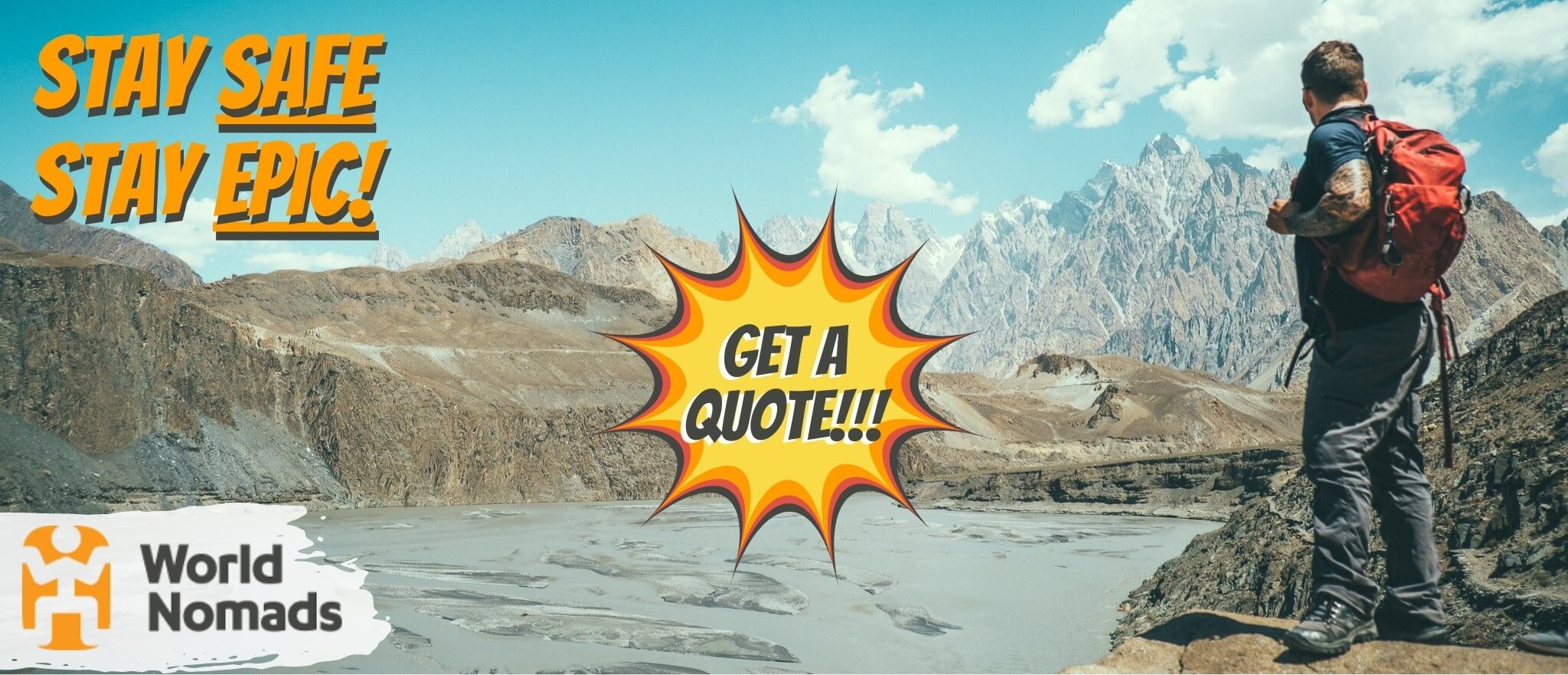 World Nomads' mission is to support and encourage travellers to explore their boundaries. They offer simple & flexible travel insurance, and safety advice to help you travel confidently.
They've been doing it since 2002 – protecting, connecting, and inspiring independent travellers just like you.
Get a quote below or read our in-depth review!
World Nomads provides travel insurance for travelers in over 100 countries. As an affiliate, we receive a fee when you get a quote from World Nomads using this link. We do not represent World Nomads. This is information only and not a recommendation to buy travel insurance.
Final Thoughts on the Best Road Trips from New York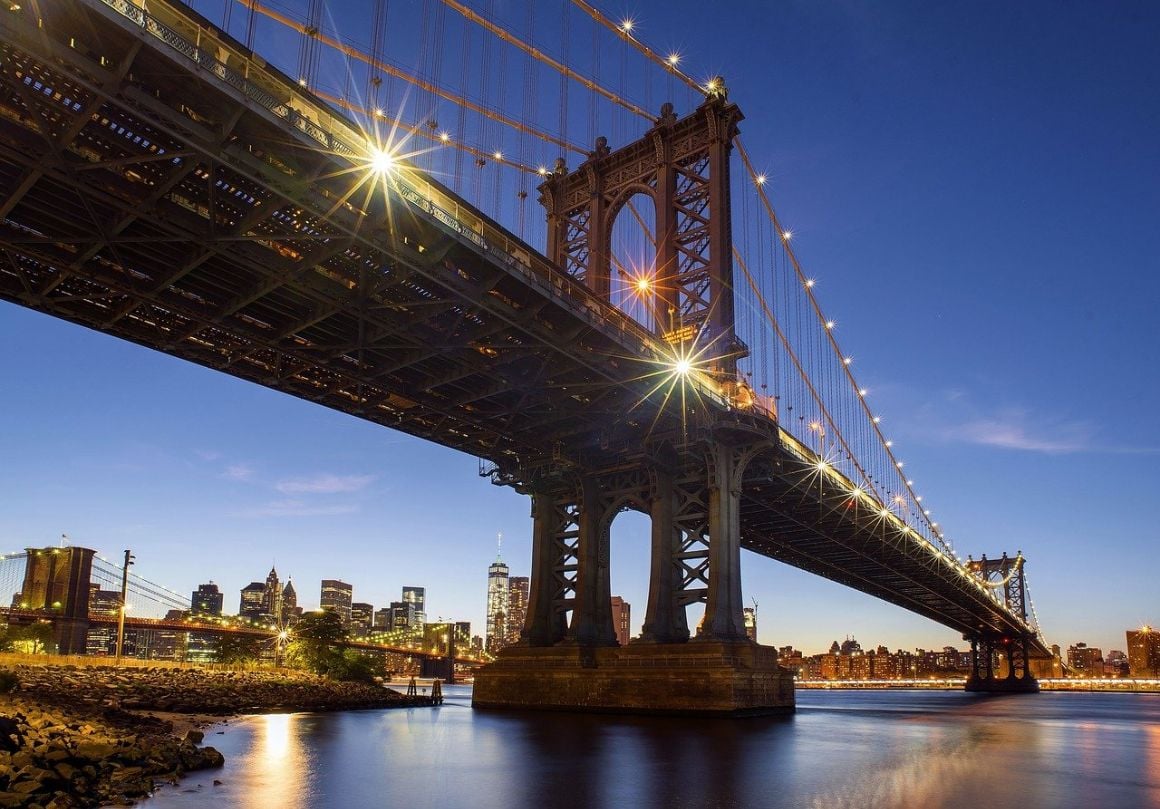 Now that you know exactly how to plan a road trip from New York, you better get choosing the car for your trip. Since you'll be doing long distances, an auto with cruise control might save you some energy on the drive!
With epic scenic routes, you'll want to sit back and appreciate the picturesque beauty of New York State (as much as you can) and stop off at nature trails and cute small towns… not to mention the rather bizarre roadside attractions.
While you may have only really considered visiting NYC before now, your road trip in New York State might just be the first of many. Get ready for the drive of a lifetime!
PS: if you're travelling around the whole country, check out our guide on the Best USA Road Trips.
---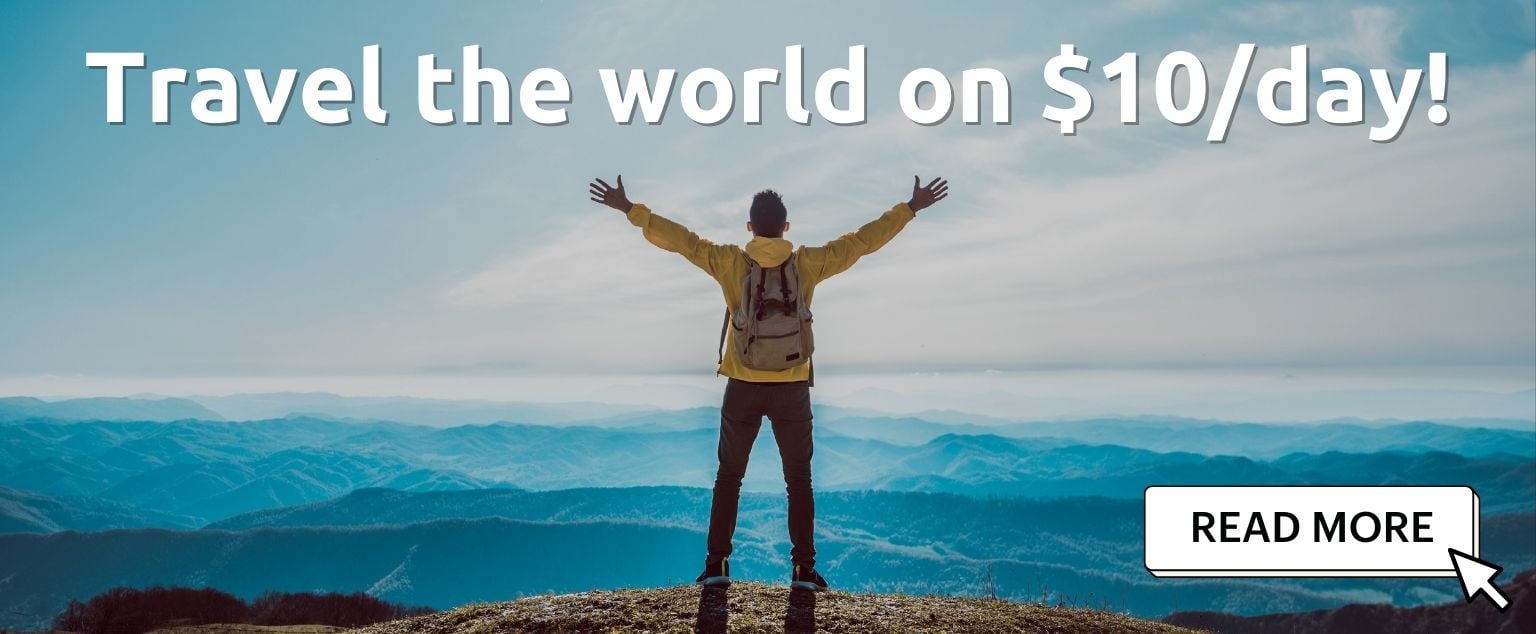 And for transparency's sake, please know that some of the links in our content are affiliate links. That means that if you book your accommodation, buy your gear, or sort your insurance through our link, we earn a small commission (at no extra cost to you). That said, we only link to the gear we trust and never recommend services we don't believe are up to scratch. Again, thank you!