The shadows cast by the incredible skyscrapers of New York City, and the glorious metropolitan life, have left many unaware of the breathtaking natural beauty that exists within its outskirts.
If you're looking to get back to nature, New York State is ripe with so many hidden gems that are not to be missed on any visit to New York. For a laid back retreat in the scenic parts of the Empire State, you'll find some of the most picturesque mountain ranges, gushing waterfalls, and deep woodlands just off-the-beaten paths.
If you wish to escape the crowds, the fast-track life, and the bright lights in New York City, then a cabin in a natural setting is the best way to detox and escape. It is also an excellent way to feed the explorer in you and enjoy all parts of the amazing state's spectacular nature. A cabin in New York means having all the space to yourself, and the comfiest, most comfortable silence surrounding you.
Are you ready to spend some time in a slice of heaven with views of Catskill and Adirondack Mountains, or one of the Finger Lakes right outside your door? Here's a list of some incredible cabins in New York State where you can get your wellness fix in the most therapeutic surroundings.
In a Hurry? Here's Where to Stay in New York for One Night
FIRST TIME IN NEW YORK
Cozy Catskills Cottage
This cozy Catskills cabin has not one but many selling points! Perfect location, tasteful interior, jaw-dropping views, and tons of activities to ensure you're enjoying every second you spend here. This cabin in New York is an excellent bargain for its rate and is hosted by a super host.
NEARBY ATTRACTIONS:
Esopus Creek
Phoenicia
Woodstock
Is this amazing New York Cabin booked for your dates? We've got your back with our other favorite properties below!

Unlock Our GREATEST Travel Secrets!
Sign up for our newsletter and get the best travel tips delivered right to your inbox.
Staying in a Cabin in New York State
Cabins in New York understand the importance of the right views from your window. From budget to over-the-top luxury, you'll find every cabin in New York State with either a view of the mountains, the river, even a pond, or strategically placed in a meadow where nature's colors can be appreciated the most.
Additionally, to ensure that you remain connected with the beautiful world outside, there are windows in New York Cabins galore. Skylight, sunrooms, floor-to-ceiling glass walls, and multiple windows in a room are all placed to give you a 180° or 360° view of your surroundings. The designers and architects are well aware that most people visiting these cabins are getting away from the metropolis and need views other than that of crowded cafes, streets, and skyscrapers.
This is also the reason why a cabin is one of the best types of accommodation in New York State. You get to see a different side of the Empire State and are reminded that while it stays under the radar, the natural beauty of New York easily rivals its man-made beauty.
For ultimate privacy, and to have some amazing time in the company of people you like, a cabin is the best place to retreat in the backwoods of New York State.
What to Look For in a Cabin
Cabins are big on relaxation, comfort, coziness, and an elated feeling of having no worries in the world. To help with that, cabins in New York are usually always accompanied by sizeable living areas or outdoor seating by a firepit. Hammocks, saunas, hot tubs, and Jacuzzis are also common amenities in the cabins.
Because cabins tend to be in more remote locations, you should check what entertainment options are provided, especially if you're travelling with kids. New York cabins often provide books for entertainment, and sometimes board games. Some deluxe cabins feature entire libraries stocked with quite a collection. You'd find a cabin in our list that is located near the quaint town of Hobart, endearingly referred to as the Book Village for its impressive collection of antique book stores.
You should also check the cell service and WiFi coverage, as in remote locations these can be spotty – you can read former guest reviews to see what other guests have said about this. You might also want to check if the road to the cabin is accessible, as you will need to have a car to access them. If you're on an New York road trip, don't worry, because nearly all cabins have parking.
If you are heading off to the cabin for seclusion and privacy, make sure it comes with a well-stocked kitchen with all the appliances you are used to. Fortunately, the majority of cabins in New York have a full kitchen with everything you might ever need to cook yourself a feast. Just remember to pick up supplies before your visit.
If you wish to surf through some more cabins in New York, Vrbo has quite a collection to expand your research.
OVERALL BEST VALUE CABIN IN NEW YORK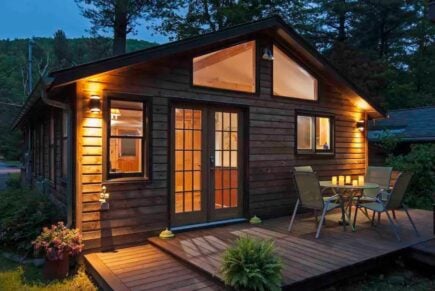 OVERALL BEST VALUE CABIN IN NEW YORK
Cozy Catskills Cottage
> $$
> 4 Guests
> Pocket WiFi
> Riverfront
BEST BUDGET CABIN IN NEW YORK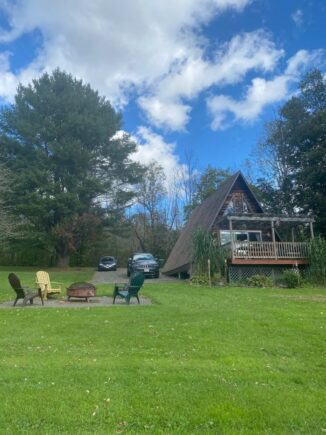 BEST BUDGET CABIN IN NEW YORK
Corner's Cabin
> $
> 2 Guests
> Outdoor dining area
> Waterfront A-frame cabin
BEST CABIN FOR A GROUP OF FRIENDS
BEST CABIN FOR A GROUP OF FRIENDS
The A-Frame at Harvest Moon Acres
> $$
> 4 Guests
> Hammock
> An A-Frame cabin with mountain views
OVER-THE-TOP LUXURY CABIN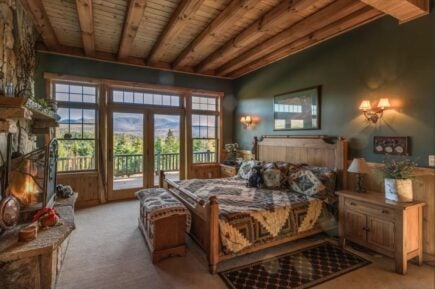 OVER-THE-TOP LUXURY CABIN
Whispering Pines Lodge
> $$$$
> 16 Guests
> Outdoor private pool
> Mountain views
BEST CABIN FOR FAMILIES VISITING NEW YORK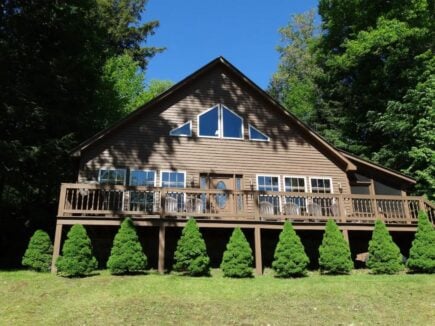 BEST CABIN FOR FAMILIES VISITING NEW YORK
Adirondack Getaway Waterfront Cabin
> $$
> 6 Guests
> Double Jacuzzi
> Beachfront with mountain views
BEST CABIN FOR COUPLES
BEST CABIN FOR COUPLES
The Cabin
> $$$
> 2 Guests
> Outdoor shower
> Adjacent to a river
BEST CABIN FOR BACKPACKERS
BEST CABIN FOR BACKPACKERS
Loft in a Family Cabin
> $
> 1 Guest
> Free washer
> A rustic cabin
The Top 10 Cabins in New York
New York State has an incredible collection of plush and rustic cabins that are suitable for any type of traveller. If you're ready to start planning the getaway of your dreams, read on to see the best cabins in New York.
$$
4 Guests
Pocket WiFi
Riverfront
This creekside cabin in Phoenicia is a traditional fishing cottage from the 1920s that has been cleverly renovated to add modern features without losing its original charm. This cozy cabin is perfect for those who can't quite decide if they are introverts or extroverts.
On days you feel like relaxing at home, just sit down next to the creek surrounded by the tranquility of nature, or cozy up by the indoor fireplace and make use of all the books and entertainment available at the cabin – with a French press coffee in hand.
And on days you feel like socializing and exploring, spend your days hiking and tubing, head over to one of the many ski mountains, or shop your heart out in Phoenicia just 20-minutes away.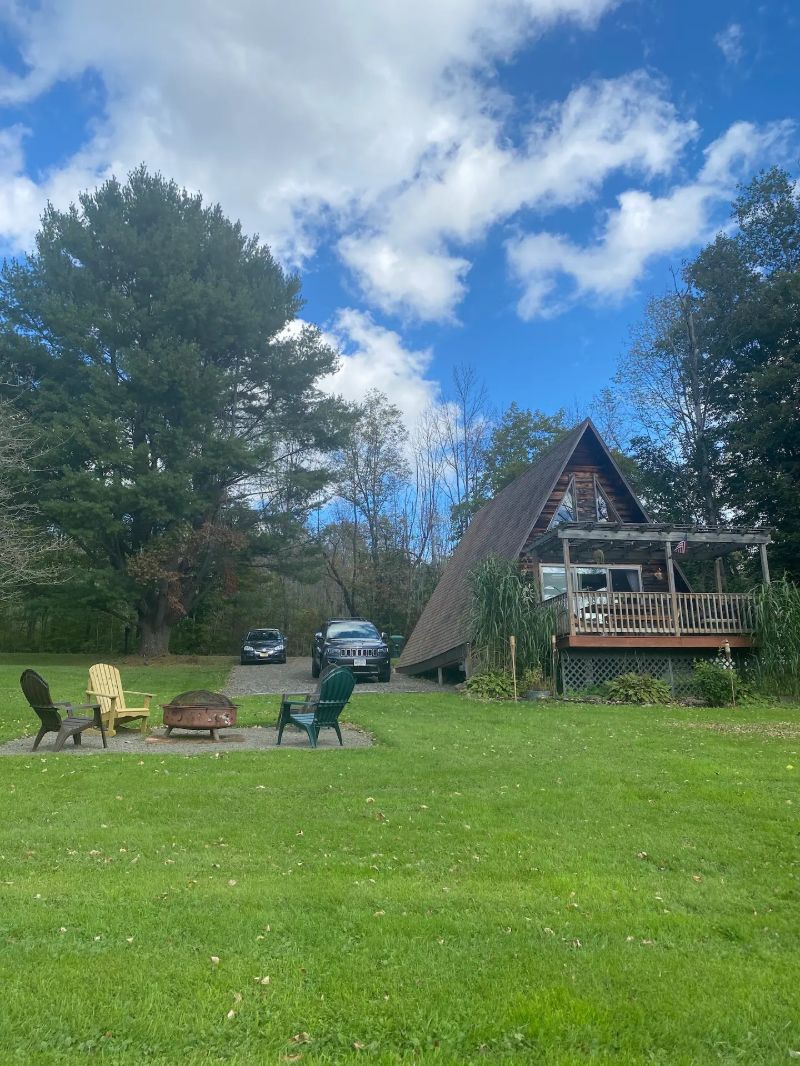 $
2 Guests
Outdoor dining area
Waterfront A-frame cabin
Adjacent to Butternuts Town Park – which is also one of the nicest town parks to exist – this cabin is tucked deep into the woods, surrounded by green meadows and tall trees all around. The cabin comfortably houses two, but if some last-minute traveling partners ended up joining you, the cabin can accommodate up to five guests. The cabin is all wood, hand-built, and tastefully decorated to give that cozy and warm feeling.
The loft, full kitchen, and workspace with WiFi give you a home away from home. And when you step out, you'll have an alfresco dining area, fire pit, a hammock, a large deck, and beautiful vistas of a pond with a fountain to keep you occupied. And at last, when you are rested, head over to the town park for a dip in the river, or you can go fishing and kayaking all day long.
$$
4 Guests
Hammock
An A-Frame cabin with mountain views
Not your typical cabin, this A-Frame has been crowned the Queen of Catskills, because that's how this property sits. It's secluded and private on six acres of land with nothing but trees adorned with every color of the fall, surrounding it. With room for four, this modernistic cabin is perfect for friends seeking a retreat in nature. Perfect if you're looking for some places to visit in New York that are out of the hustle and bustle of the city,
While this cabin will give you the impression of going off the grid, you're only just a 10-minutes drive from the nearest grocery store, liquor store, general store, and gas station. Not to mention the quaint town of Hobart (also known as the Book Village), which is the same distance and has an impressive collection of antique book stores.
Staying here, you can kick back and relax in the hammock or around the firepit, or you can head over to all four of the Catskill Ski Mountains close by. Or in the summers, you can go hiking and biking, kayaking, zip-lining, golfing, and fly fishing.
$$$$
16 Guests
Outdoor private pool
Mountain views
This cabin puts the lux in luxury. If you're heading to New York to vacation with family and friends and no expenses are spared, then these deluxe lodgings are the right fit for you. The reason we are using the plural is that this is not just one cabin; the massive Adirondacks sprawls for over 8,000 sq ft and includes a main house and a guest house.
This custom-built cabin is decorated with hand-built artisan furniture and has windows strategically designed and placed to give its occupants a 180° view of the spectacular mountain range and its surroundings.
There are no limits to the fun indoor and outdoor activities you have access to from this cabin. You can either kick back and relax in the cabin's well-stocked library, cinema, sauna, and enjoy plenty of board games, or you can head out into nature and hike one of the many trails.
Is This the Best Travel Pack EVER???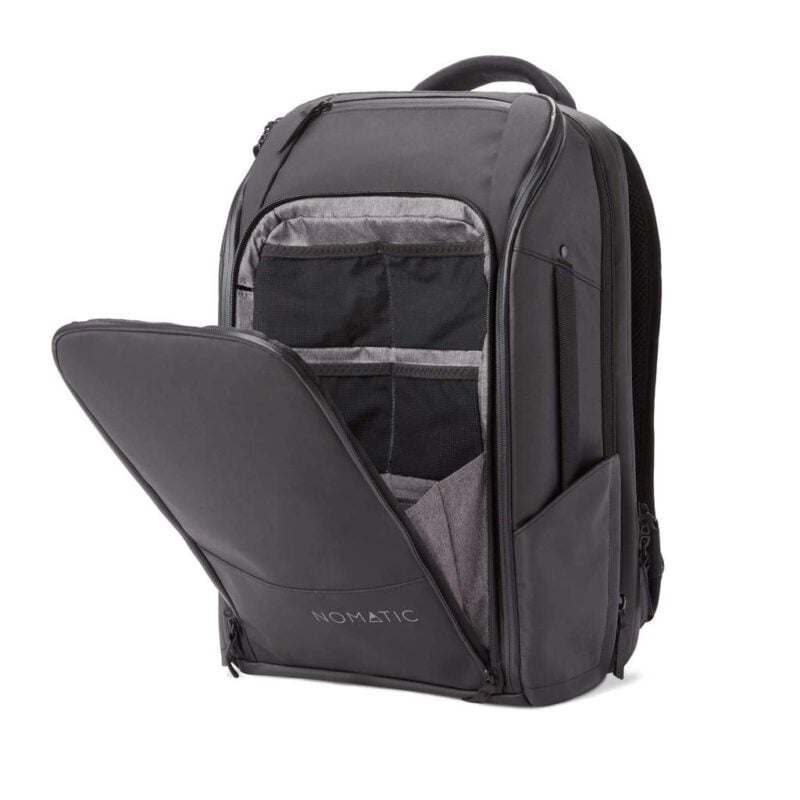 $$
6 Guests
Double Jacuzzi
Beachfront with mountain views
As if the spectacular mountain views weren't enough, this Adirondack Cabin also has waterfront river views and has the coziest, most comfortable décor to offer its guests. With three bedrooms, including one with twin beds, board games, children's books, toys, and fireplace guards this cabin is particularly designed for families looking to create some wonderful memories.
The outdoor activities this cabin has to offer are endless. You can start every single day here with a walk along the river. Or you can jump in for a morning swim. Then there's fishing, hiking, biking, tubing, kayaking, skiing, snowshoeing, and much more! You can also just sit around the fire pit, with the mountains and the lake keeping you company. Oh, and look out for the wildlife galore!
Budget Cabin in New York for Families – Keuka Lake Log Cabin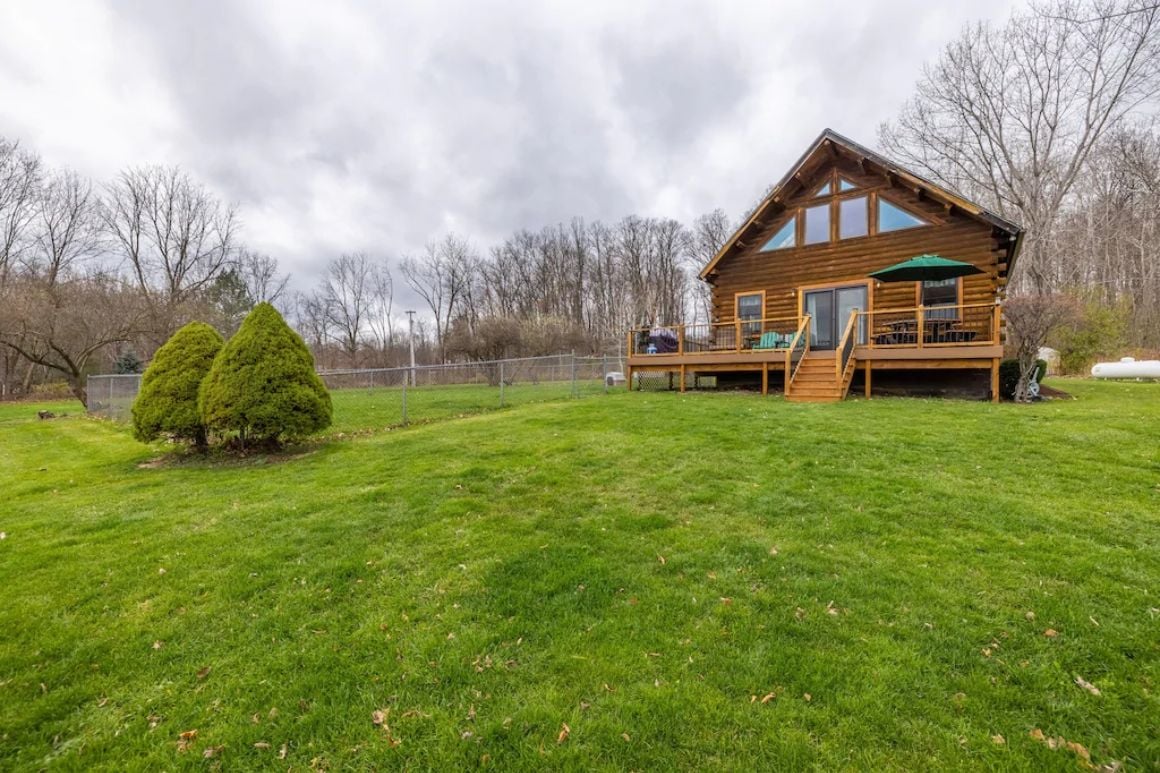 $$
8 Guests
Pets-friendly and children-friendly
Right above Keuka Lake
This cabin vacation rental in New York is the epitome of perfection for families wanting to get far from the usual chaos and worries of life. Nestled in the hills, above Keuka Lake, this cabin guarantees blissful days with its cozy décor and ideal location. You have six acres of land all around you and the lake just outside your doors, to create some great memories with your family.
And for exploration, you have the beautiful rural village of Penn Yan just two miles away, Keuka College, Keuka State Park, several well-known restaurants, and Finger Lakes' numerous award-winning wineries. Planning to stay here will be the best decision you ever make.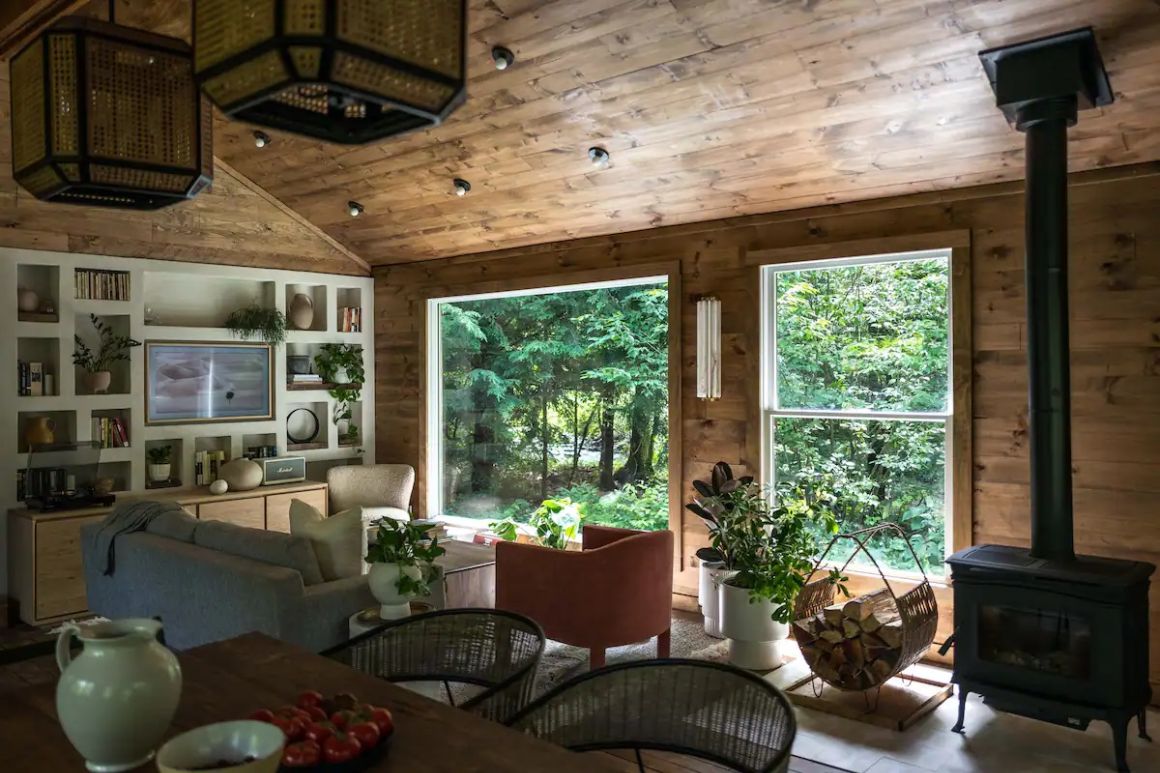 $$$
2 Guests
Outdoor shower
Adjacent to a river
A dark wood décor inside, thick foliage outside, and so much beauty all around make this one of the most romantic cabins to spend time with your significant other. While reasonably priced, this cabin has an opulent feel to it, with plants bringing some of the nature inside and the seclusion and privacy making it wonderfully romantic.
It's located in a tiny hamlet called Maplecrest, just 10-minutes from the popular ski mountains of Windham and Hunter.
A short stroll will lead you to the cascading Kaaterskill Falls and towards two different lakes. Since the cabin is delightfully secluded, it is well-equipped to provide you with everything you might need to feel at home in this gorgeous cabin.
Unique features include a floating dock, an outdoor fireplace, covered eating and dining area outside, and open grounds for sunbathing. This would be the ideal spot for a weekend getaway to New York.
$
1 Guest
Free washer
A rustic cabin
You might be paying a small amount for a loft in this family cabin homestay in New York, but you'd be getting the full experience of a nature's retreat while staying here. This cabin is a jackpot for backpackers in the USA who don't have the budget to have their choice of location.
This family cabin is located a short distance from the Village of Saranac Lake, where backpackers can meet other people while fishing and paddling or enjoy some solo time with access to plenty of hikes of all lengths and difficulties.
The cabin features a spacious loft with a comfortable bed where you'd be sleeping. You'd also have shared access to the bathroom and the kitchen with the family. It's a great place to stay as you spend your days exploring the region.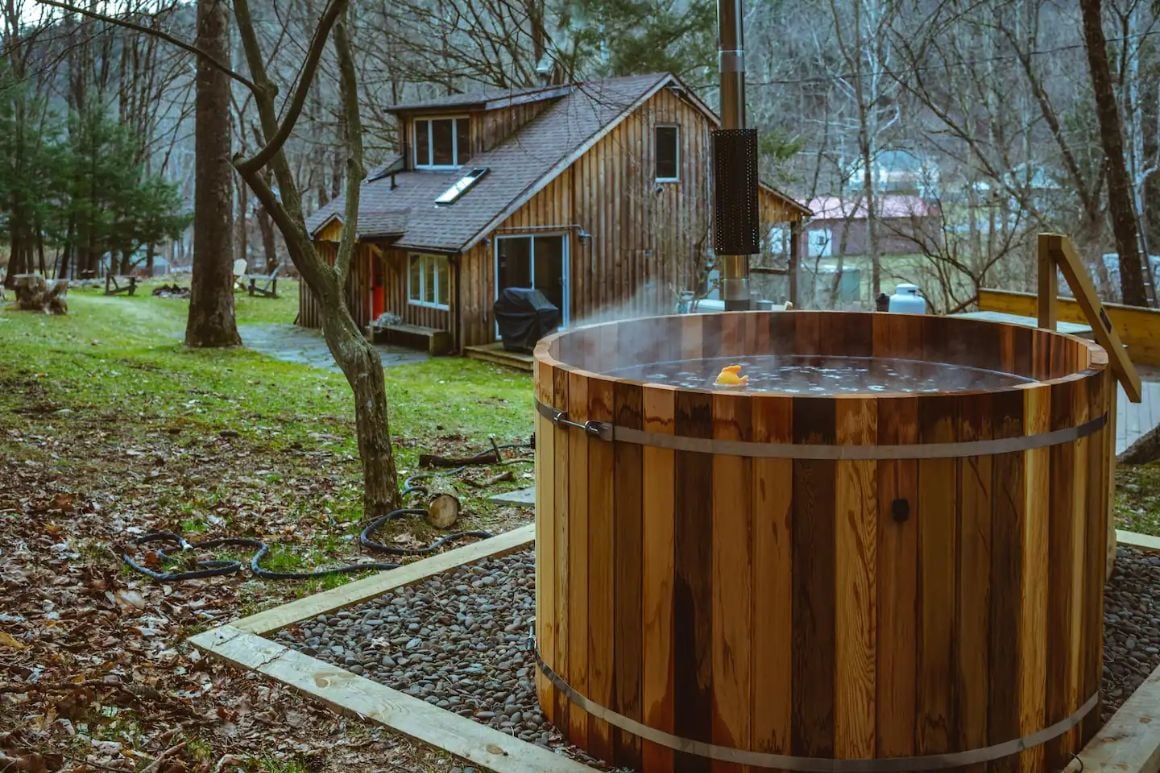 $$
4 Guests
Fast WiFi
Waterfront
Although renovated with modern amenities, this chic cabin dates back to the 1800s and is something akin to what you'd stumble upon by accident at the end of a long road. Located in the small settlement of Hortonville, this cabin is completely hidden, and as you follow the path, you'd be surprised to find this adorable cabin in an impossibly green clearing, next to Callicoon Creek.
With room for four, this chic cabin is ideal for families, friends, and couples looking for a wholesome place to stay during their vacation in New York. The cabin has an old-school architect. One step inside and you could tell that it has many stories to tell.
The aged joists, big planks, and the hearthstone stove is proof of that. In direct contrast, you'll have super-fast WiFi, Apple TV with multiple streaming services, and the cute chic décor. If you're travelling on a New England road trip, this would make for an ideal break stop.
$$
2 Guests
Pets are welcome
Waterfront
There are plenty of waterfront cabins in New York, but this one stands out because of how close it is. Less than ten steps from the door, and you'd be ankle-deep, in the beautiful bass pond out-front.
Not to mention, every surface of the 100 acres of private land is covered in well-maintained grass that is pleasing to the eyes. Since the cabin adjoins the New York State Forest, the backdrop of this cabin is pure wilderness with thick tall trees.
This cabin is spectacularly romantic and is a perfect place for honeymooners. The house features a sleeping loft that can be accessed through a spiraling staircase, a fully-equipped kitchen, and a shower bath.
Activities around the cabin include fishing and cooking in the kitchen or heading off to the quaint ski resort town 12-minutes from the cabin. In this town, you can ski, golf, shop, and taste some mind-blowing delicacies.
Don't Forget Your New York Travel Insurance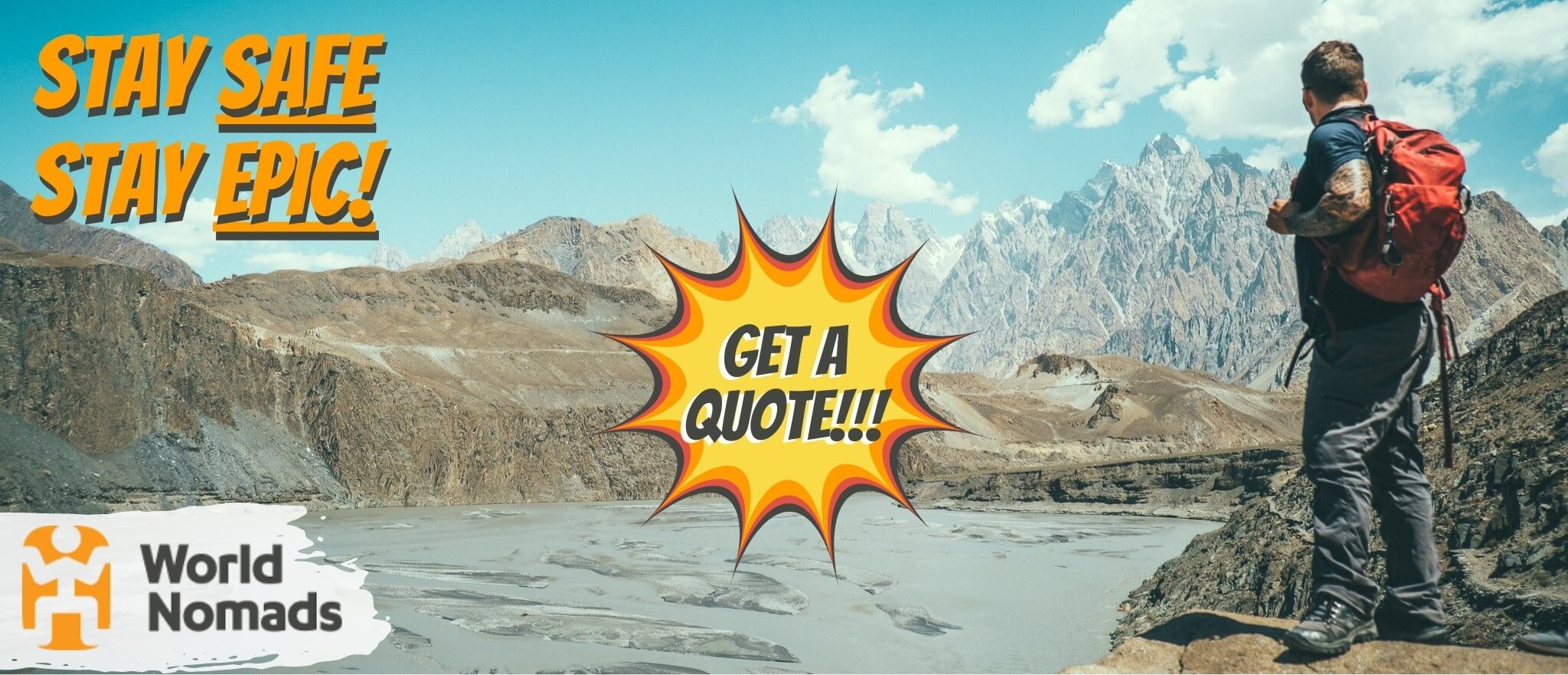 World Nomads' mission is to support and encourage travellers to explore their boundaries. They offer simple & flexible travel insurance, and safety advice to help you travel confidently.
They've been doing it since 2002 – protecting, connecting, and inspiring independent travellers just like you.
Get a quote below or read our in-depth review!
World Nomads provides travel insurance for travelers in over 100 countries. As an affiliate, we receive a fee when you get a quote from World Nomads using this link. We do not represent World Nomads. This is information only and not a recommendation to buy travel insurance.
Final Thoughts on New York Cabins
If the idea of spending your nights around a fire pit under the clear sky, with a stream rushing close by, and picturesque beauty surrounding you sounds appealing, then a unique accommodation in New York is an excellent place to stay. Even more so, if you're looking for an escape from the great city life.
New York State is no stranger to architectural geniuses, nor is it lacking in natural beauty. These incredible, highly-rated cabins in the state are guaranteed to make you fall in love with them. If you're visiting New York on an East Coast road trip, then you've got plenty of options here for stopovers along the way.
And if you still can't choose where to stay, there are some fantastic eco-lodges in New York that would also connect you to nature and disconnect you from the busy city life.
Remember, good times must always be accompanied by responsible decisions. If you're traveling to the Empire State from out of the country, consider travel insurance to safeguard against unexpected circumstances.
---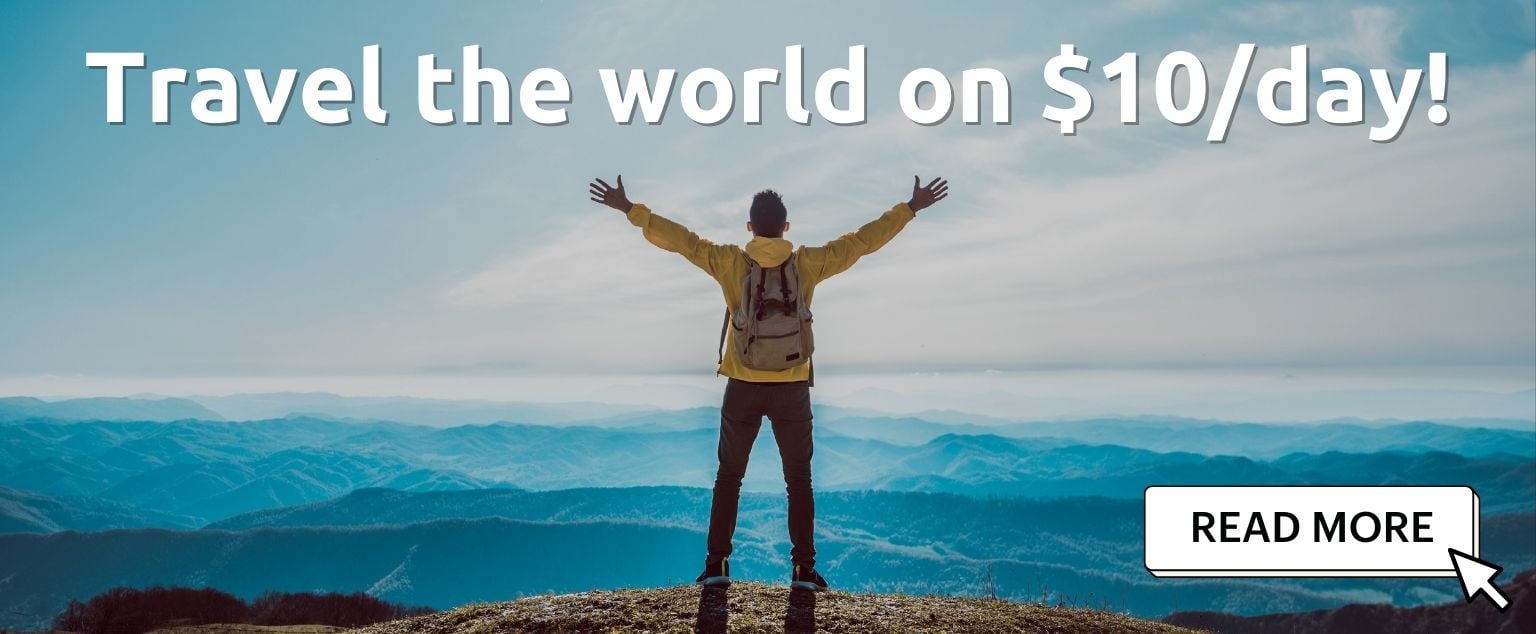 And for transparency's sake, please know that some of the links in our content are affiliate links. That means that if you book your accommodation, buy your gear, or sort your insurance through our link, we earn a small commission (at no extra cost to you). That said, we only link to the gear we trust and never recommend services we don't believe are up to scratch. Again, thank you!