Shimmering skyscrapers, celebrity-scattered streets, and some of the world's best restaurants and shops – New York isn't too far off anybody's radar. If you've had the privilege of visiting this dynamic metropolis, you'll know that the city is as expansive as it is iconic. From the prestigious tree-lined streets of the Upper East Side to the hip graffitied Brooklyn neighbourhood, there's neither a bad place nor a bad time to visit New York.
You'll find some of the world's best vacation rentals in New York. From unique ultra-modern penthouses overlooking the famous Central Park to authentic brownstone apartments in Harlem – there's something for everyone. This city has you covered when it comes to accommodation, and we've got a list of some of its best.
Quick Answer: These are the Top 5 Vacation Rentals in New York
Overall Best Value Vacation Rentals in New York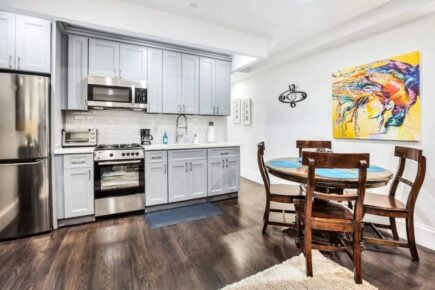 Overall Best Value Vacation Rentals in New York
2 Bed Condo with Eclectic Interiors
> $$
> 4 Guests
> Open-plan living space with modern yet eclectic furniture and art
> Located in Central Harlem, close to green parks and delicious eateries
Best Budget Vacation Rentals in New York
Best Budget Vacation Rentals in New York
Industrial Style Studio with 2 Beds
> $
> 4 Guests
> Original brownstone building with industrial brick walls, exposed ceilings, and wooden walls
> Located in an old building in central Brooklyn, near green parks
Best Vacation Rentals for Couples in New York
Best Vacation Rentals for Couples in New York
Sleek and Modern Condo with Office
> $$
> 3 Guests
> Black and white condo with marble bathroom and sleek interiors
> Located just steps away from Times Square and tons of shops and attractions
Best Vacation Rentals for Families in New York
Best Vacation Rentals for Families in New York
Bright 2 Bed Apartment with City Views
> $$$
> 4 Guests
> Sophisticated space with modern fittings and a unique modern bay window bedroom
> In Tribeca, overlooking stunning city views
Over-the-Top Luxury Vacation Rentals in New York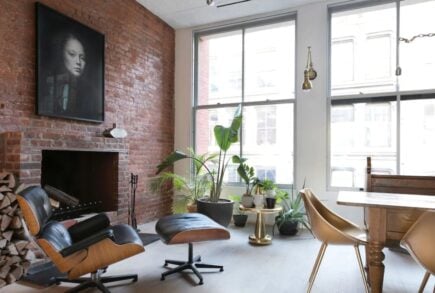 Over-the-Top Luxury Vacation Rentals in New York
Luxury 4 Bed Loft with Private Elevator
> $$$
> 6 Guests
> Huge loft designed by famous interior designer, with trendy finishes
> Located in the heart of Tribeca, walking distance to tons of world-class eateries and shops

Unlock Our GREATEST Travel Secrets!
Sign up for our newsletter and get the best travel tips delivered right to your inbox.
Types of Accommodation in New York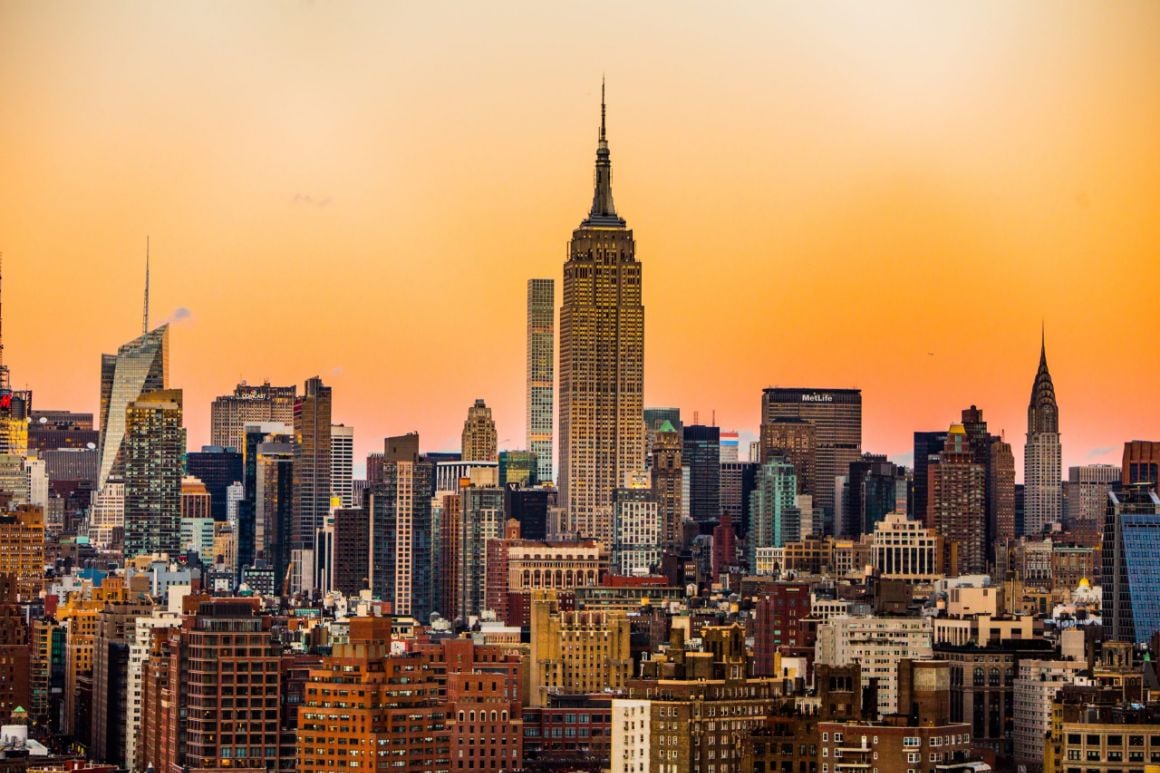 Apartments and Penthouses
The most common accommodation in this high-rise city comes in the form of apartments, including lofts, studios, and penthouses. While they were built out of sheer necessity for maximizing space, many of these apartments boast floor-to-ceiling glass windows with world-class city views. Gazing down at the bustling New York streets while enjoying your morning coffee is one of the most exciting ways to start a day.
Depending on their size, location, and views, you can expect to find both budget and luxury apartment rentals in New York. Known for their central location and access to shared amenities, apartments are a great option for all types of travellers.
Brownstone Apartments
Brownstone buildings have graced the streets of New York City since the early 19th century. Typically lined in organized rows in wide streets, these homes are most common in Brooklyn, Harlem, and the Upper West Side. 
Brownstone buildings are made from a famous brown-coloured sandstone facade while the rest of the building is red brick. Buildings are usually three to four stories high and were originally built as single-family homes. Today, you can rent these historic authentic homes in some of New Yorks's most desired neighbourhoods. Many have been refurbished to boast modern and contemporary interiors while still retaining their authentic high ceilings and wooden floors.
With up to four bedrooms, brownstone apartments are a great option for families, couples, and groups of friends searching for an authentic luxury vacation rental in New York.
Townhouses
If the humming sounds of buildings and honking vehicles don't appeal to you, you might prefer renting out a more private townhouse in a quieter area. From single-story family homes to duplexes and even multi-story houses, townhouses are a popular type of accommodation. originally built for the working-class American family. 
These homes were originally built for the working-class family. They offer more space than an apartment, open-plan living, and a ton of character and charm. You might even be so lucky as to find a townhouse with a small garden or a private patio with a BBQ.
Townhouses are most appropriate for families and couples who wish to be away from the traffic-filled city. If you're traveling on a budget, you could even find a private room in a townhouse bed and breakfast in New York. Don't worry about being too removed from the action, though! You'll only ever be a few stops on the underground or even a few blocks away from the city centre.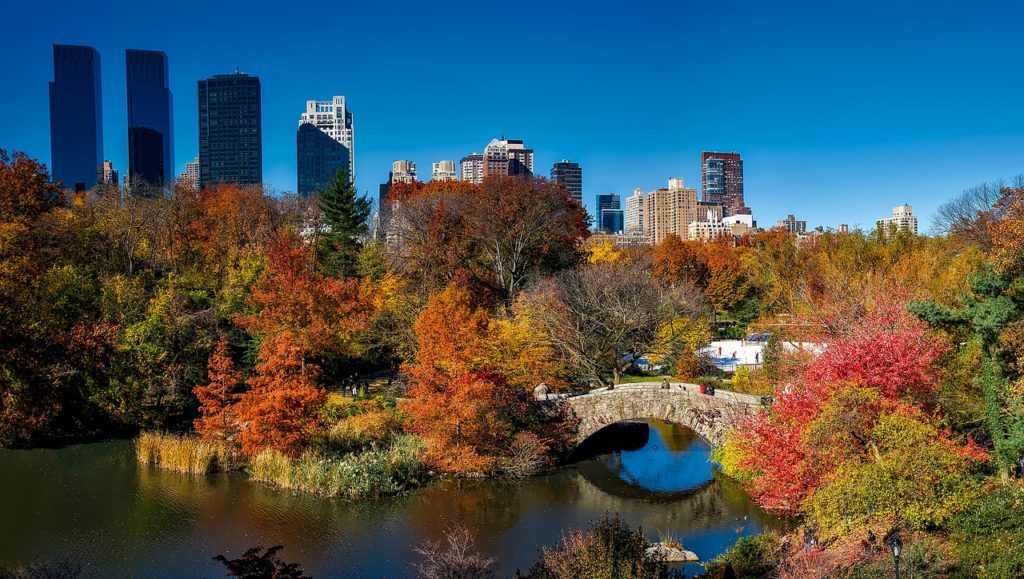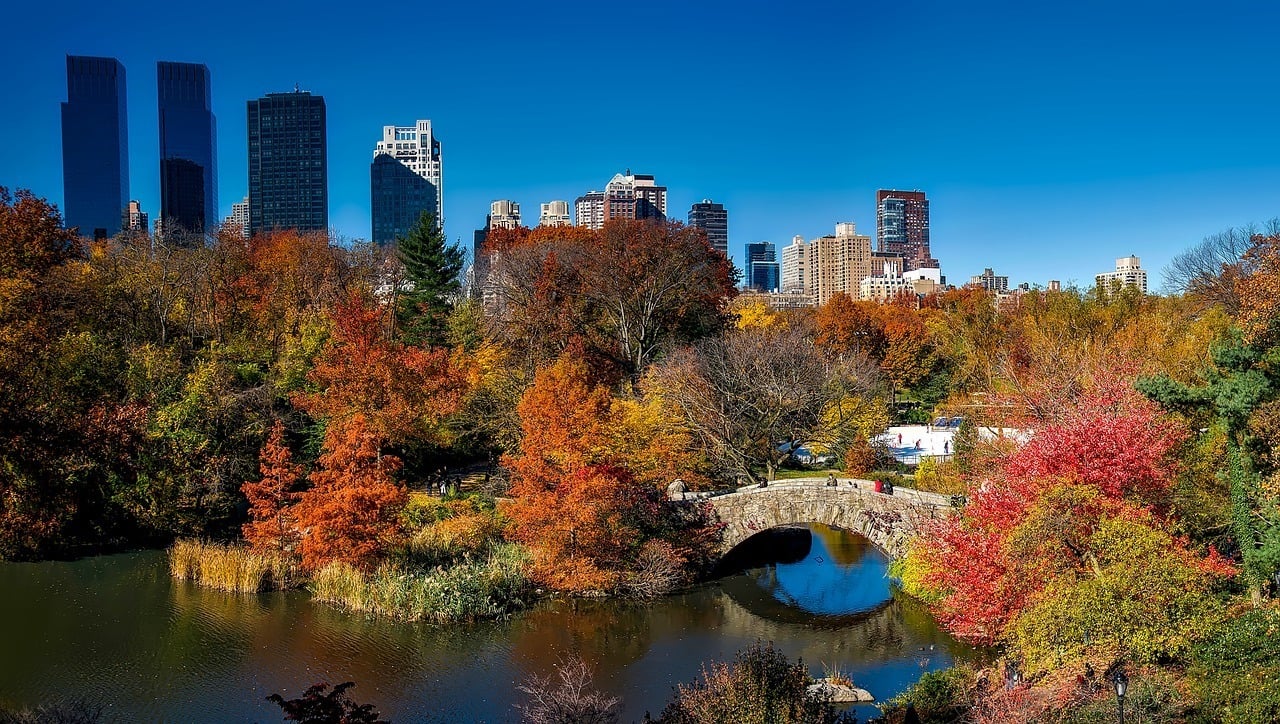 Top 20 Vacation Rentals in New York
New York is full of awesome accommodation rentals. Whether you're after a penthouse for your family, a cosy brownstone loft for two, or anything in between, here are some of the best ones!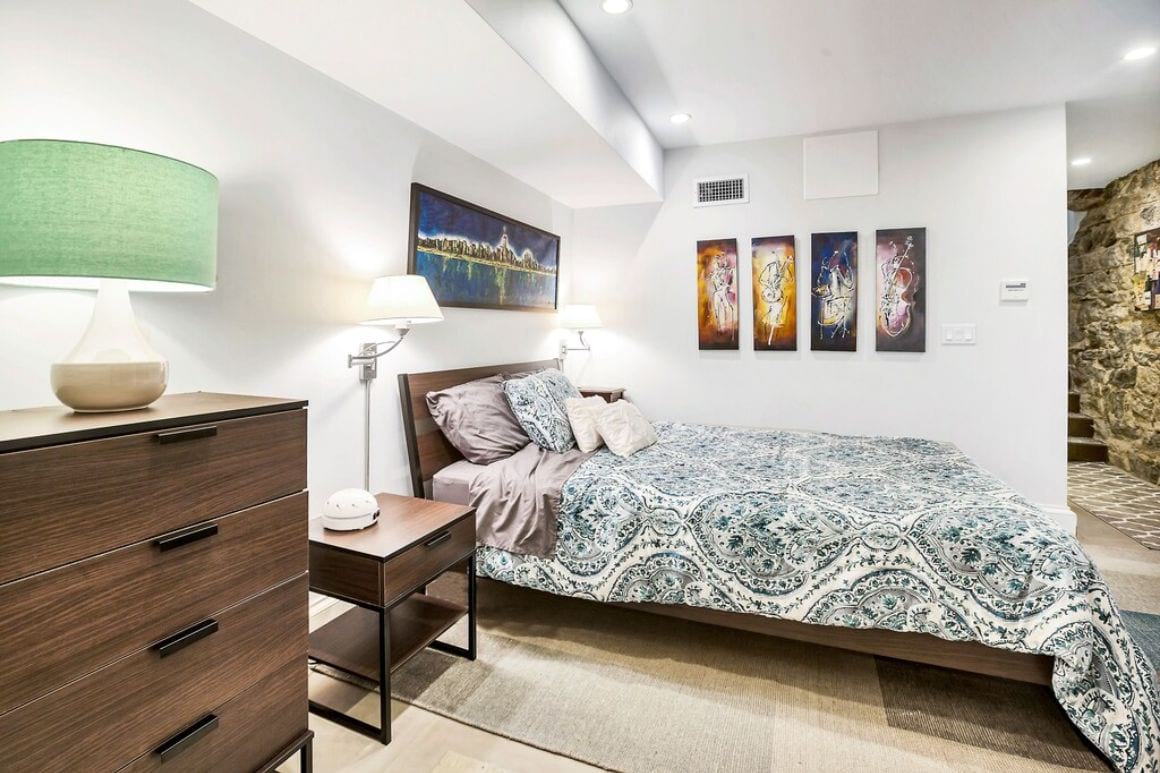 $$
Modern, open-plan living space
4 Guests
Central Harlem location
This is our all-out favourite vacation rental in New York because of its perfect balance between affordability, location, and beauty. It sits in an original Harlem brownstone townhouse and has been refurbished entirely with modern fittings. However, it still maintains its historical integrity with its original hardwood floors, classic furniture, and exposed stone walls.
This bottom-floor condo is a lot cheaper than other alternatives and even has its own private entrance! Its lower price also makes it one of the best New York rentals for a long stay or for digital nomads.
$
Industrial meets bohemian style
4 Guests
Old building in central Brooklyn
This gorgeous duplex is tucked in a quiet corner of artsy Brooklyn. It offers a private kitchen, shared bedroom and living space, and separate bed space in a loft (which is only accessible by ladder). 
The rental is perfect for couples and small families, boasting a spacious living area and even a dedicated workspace. The building itself is old and industrial, which is reflected in some of the decor. Picture old wooden floors, exposed beam ceilings, and arched brick window details.
$$
Newly remodelled townhouse with a spacious yard
5 Guests
Brooklyn based, walking distance from top restaurants and shops
Classic modern interiors, tons of glass and natural light, and touches of greenery make this townhouse one of the best around. The kitchen has been recently refurbished and is the star of the house. Guests will have access to a hot tub and even an outdoor living area, as well as handy extras like wifi and laundry facilities. Up to six guests can stay here, making it an ideal base for groups of friends (especially when you split the price!). 
The brilliant blend of indoor and outdoor living space makes this place a super unique find, and really will make your trip to New York a truly memorable experience.
Is This the Best Travel Pack EVER???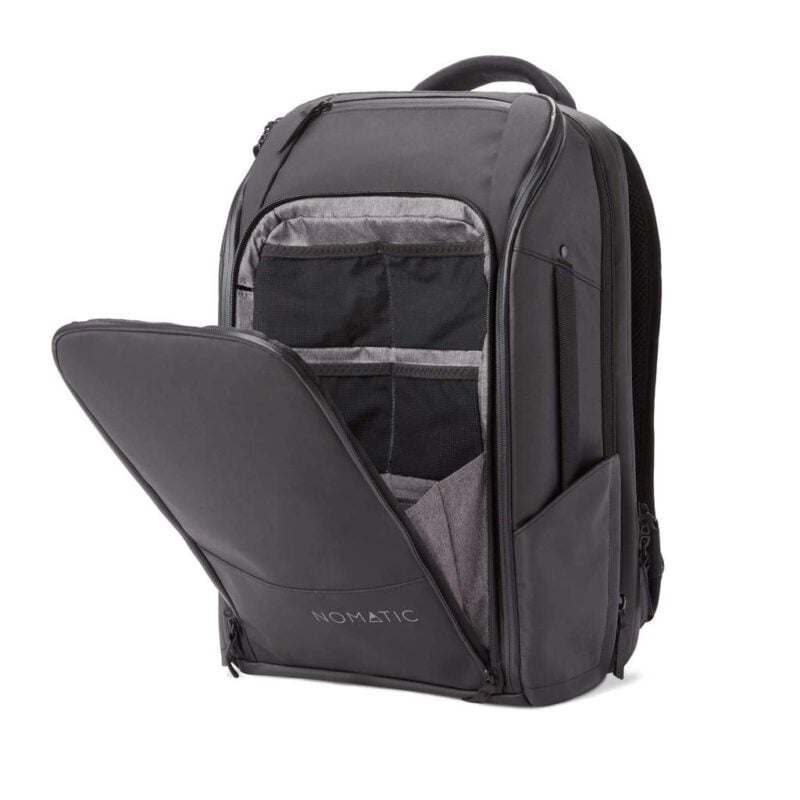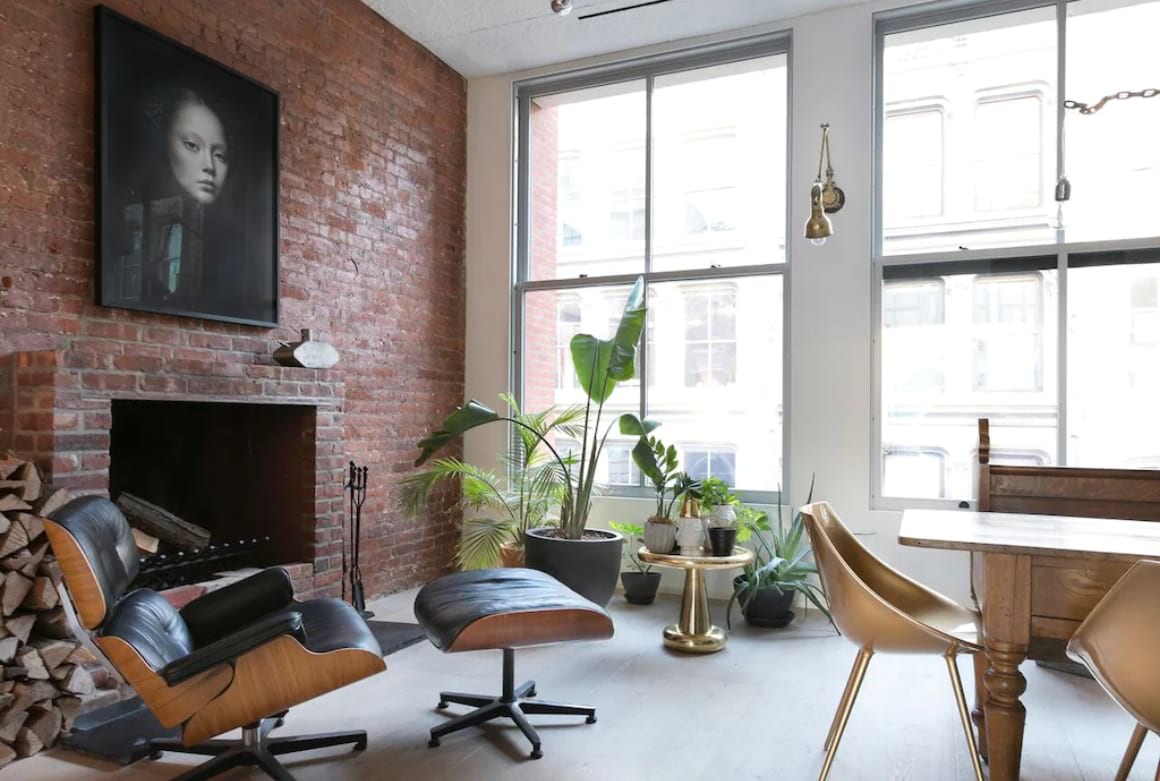 $$$
Designed by a famous interior designer
6 Guests
In the heart of Tribeca
This beautifully remodelled luxury vacation rental in New York perfectly combines old industrial charm with modern and contemporary interiors. The spacious living area has a huge wall of windows, inviting natural light into every corner of the space. 
One of my favourite parts of this rental is the small office nook. If you just can't get away from the emails during your trip, then this private space is the perfect place to engage with them. 
The loft also comes with a snazzy private elevator and enough sleeping space for your clan or your best pals. You may not want to leave the place, but if you do get outside, you'll have plenty of world-class eateries right at your fingertips.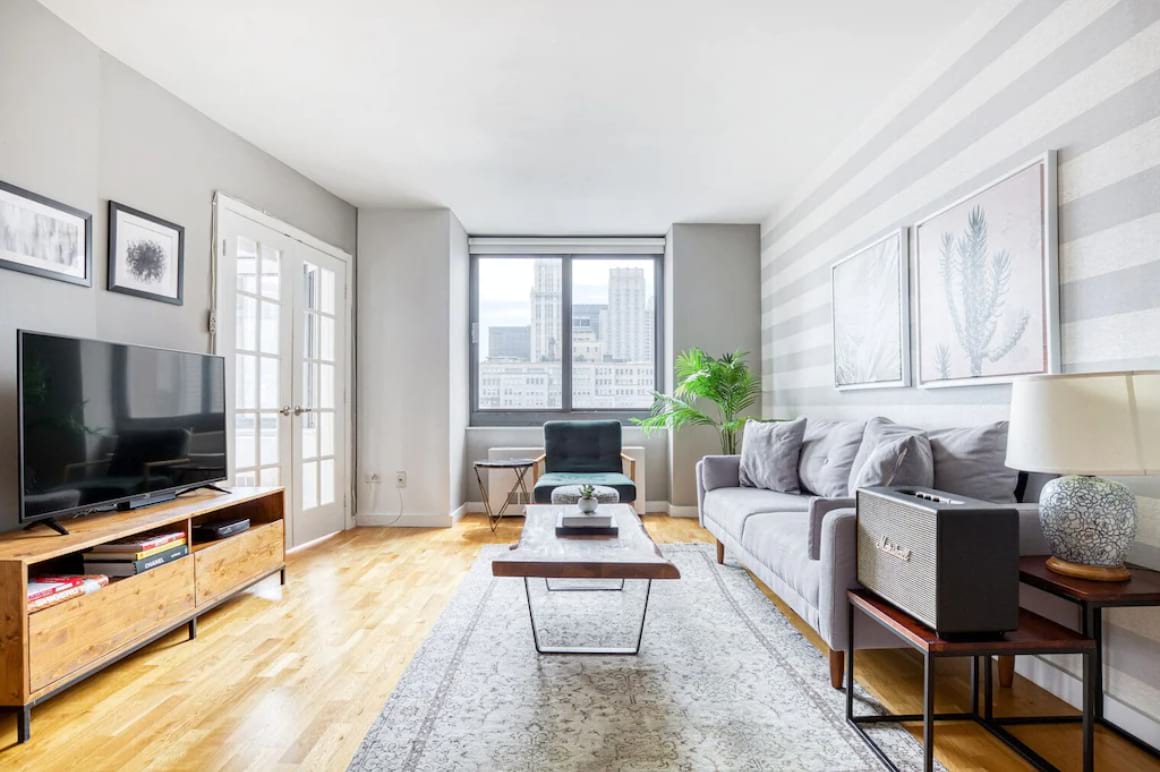 $$$
Sophisticated space with city views
4 Guests
Located in Tribeca
This gorgeous contemporary apartment has been filled from wall to wall with trendy furnishings. The thoughtfully decorated space includes a shared living area and stunning city views.
The bedrooms are designed with an equally sophisticated flare. The first bedroom has an emerald green feature wall and gold textured lighting features, while the second bedroom boasts bay windows with epic views. The bed is quite literally surrounded by glass windows overlooking the dynamic city.
4 Guests
Awesome Soho location
This simple and stylish self-catering vacation rental in New York includes two bedrooms, each with its own bathroom. Although small, this space is more than big enough for a family of four, a couple, or a few friends.
Alongside the stylish interior, one of the coolest things about this place is the Soho location. It's a vibrant place to return to after a day of exploring. Its super convenient location makes it ideal for anyone spending a weekend in New York.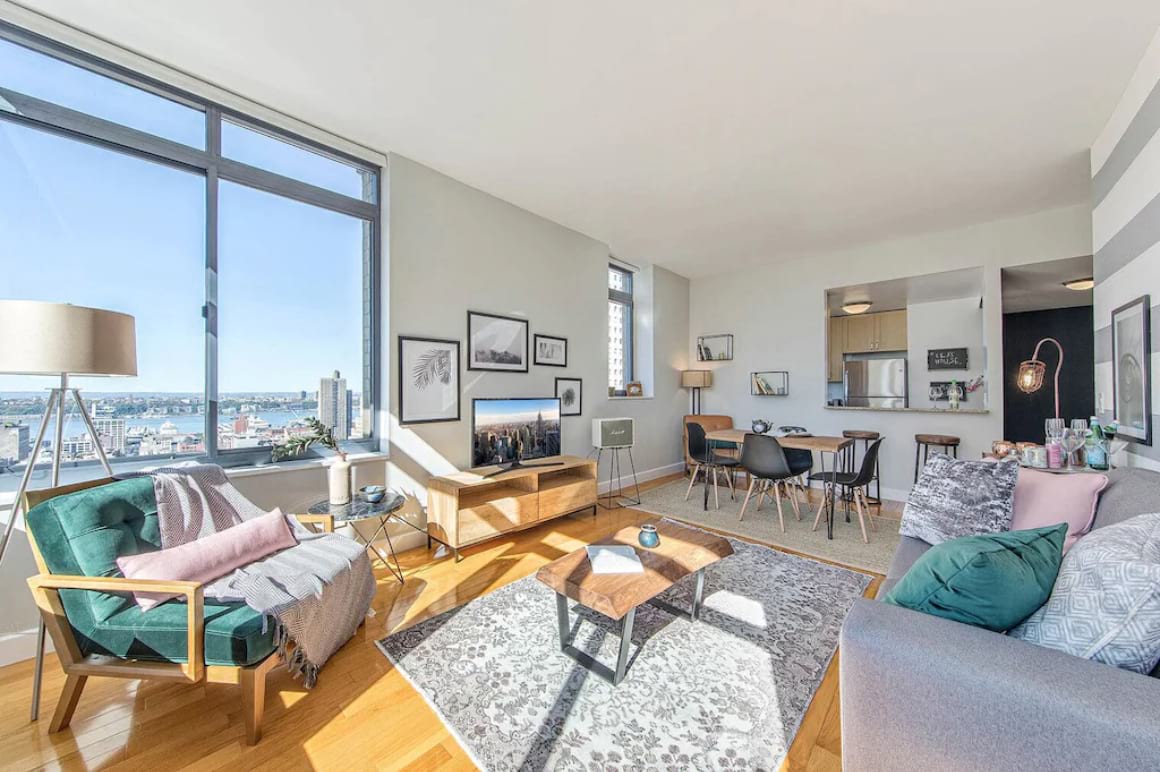 $$
Unrivalled Manhattan view and a shared pool
2 Guests
Close to Times Square
Beautiful interiors, unmatched city and river views, and access to a swimming pool – what more could you possibly wish for from a holiday rental in New York? This one-bedroom apartment is all about open-plan living and natural light. 
You'll have everything you could need or want from this place, including a fully-equipped kitchen. The lounge is filled with comfortable furniture with exciting pops of colour and texture. Modern lighting, wooden floors, and cosy carpets bring a sense of warmth into this corner apartment with extraordinary views.
$$
Modern apartment with funky features
5 Guests
Located on Wall Street, in the Financial District
This ultra-simple, no-fuss apartment offers everything you need and more for wheelchair users and others with accessibility needs – lift access, no stairs, and wide-open spaces included.
Best of all, this apartment unlocks access to a bunch of shared facilities, including a fully equipped gym and rooftop deck. As an aparthotel, you'll even have access to concierge services and assistance. Whether you're trying to order take-outs delivered to the room or access a babysitting service, the resident staff will be happy to help!
$
Beautiful bright interiors with floor to ceiling windows
2 Guests
Close to Chelsea's exciting nightlife
Location, location, location. It's all about location in the Big Apple. While public transport is efficient and can get you almost anywhere, it's always ideal to be in the thick of the city and walk on foot. 
This elegant condo is in the hip Chelsea neighbourhood. It's spacious, bright, and is located on the corner of a high-rise building which means double the views! Even better, you're only a few steps away from some of the city's most exciting attractions, shops, and nightlife, making this one of the best vacation rentals in New York for its central location.
$$
Beautiful interiors with a warm sunroom
7 Guests
Located in Weehawken, just across the bridge from the city
If you want an awesome home in New York for the whole family, you're best off finding a spacious home just outside the city. This home is technically not located in Manhattan but is just a short drive away from the city in Weehawken. 
The best thing about this stylish home is its large living space. From its comfortable lounge to a big dining table and a newly refurbished kitchen, there's plenty of room for everyone to spread out. A crowd favourite is the home's rooftop deck with views of the Manhattan skyline, as well as the sunny glass conservatory which is flooded with warm light.
$$$$
Luxurious apartment with modern art
6 Guests
South side of Central Park
There are three things you should look for in a rental for a friend's getaway – a central location, a comfortable living space, and private bedrooms. This rental is literally across the road from Central Park, has luxurious furnishings, and each bedroom comes with an ensuite!
The apartment boasts a stunning open-plan living area, with modern furnishings and epic views. It's also got three full bedrooms, so you'll all have a peaceful retreat to return to after a busy day out.
In terms of location, the rental sits right amongst the city's hottest dining options and nightclubs. It's the perfect base for a group trip to New York!
8 Guests
Floating in Queens Harbor
We bet you didn't know you could rent out a houseboat in New York. Well, this houseboat sits docked in a peaceful harbour in the trendy Queens neighbourhood, only a short train ride from the city centre. 
This surf-inspired vessel offers clean wooden interiors, funky tropical wallpapers, and iconic blue wooden floors. The four-bed spot has a fully equipped kitchen with a double-door refrigerator and everything else you might need from a self-catering vacation rental in New York. On top of that, there's a sunny rooftop area and a floating BBQ deck!
$$$$
Stunning interior with large industrial windows
2 Guests
Brand new building in trendy Soho
This is one of the most gorgeous spots in Soho; it's decorated with impeccable style that could grace the likes of home magazines and has an incredible view. As one of the lower apartments in a building situated on a tree-lined road, the view contrasts typical high-rise buildings with tons of green trees.
Inside the home, you'll find contemporary furniture and modern art. Huge industrial-style windows clad the entire one side of the apartment, inviting waves of natural light inside.
2 Guests
Close to Colombia University, surrounded by nightlife
New York is well known for its exciting nightlife and world-class restaurant scene. This small and basic studio is located on the Upper West Side near the prestigious Columbia University. Therefore, it's surrounded by entertainment hotspots, bars, and nightclubs for a young adult crowd.
The studio itself is simple and beautiful. With a fully equipped kitchen, a comfortable bed, a basic living area, and a brand new bathroom, it is one of the top simple luxury vacation rentals in New York for travellers on a budget.
$$$
Access to two pools, rooftop deck, and concierge
3 Guests
Located in Hell's Kitchen
With top-of-the-range fittings and sleek marble and glass touches, this contemporary one-bed condo is made for luxurious living. Despite the gorgeous design, we reckon the best thing about this spot is its city views. 
It's a corner apartment, which has near-panoramic views from the Hudson River to the upper side of the Manhattan skyline. At night, you'll feel like you're swimming in a sea of stars as you gaze out the huge floor-to-ceiling glass walls. If you're afraid of heights, this might not be the place for you!
Another plus? This rental includes access to two shared swimming pools, one of which is on a rooftop deck overlooking equally as impressive vistas.
3 Guests
Steps away from Times Square
If I had to personify this condo, 'sexy' would be the best way to describe it. The interiors are ultra-luxurious, with black marble bathroom walls, a walk-in shower, and subtle yet sleek furniture. 
On top of this, you'll be able to enjoy access to a range of shared amenities including a gym and pool, a rooftop lounge with stunning city views, and concierge services. I can picture it now, ordering a bottle of champagne from the concierge with the click of a button! This is luxury living defined.
$$$$
Spacious townhouse with private enclosed yard
6 Guests
Walking distance to some of New York's top eateries and cafes
Outside the busy financial district clad with skyscrapers, New York's suburbs offer a bunch of peaceful townhouses. This spacious townhouse is ideal for a family or a group of friends who enjoy a balance between fresh air and city dynamism.
This self-catering vacation rental in New York is located just around the corner from the beautiful Washington Square Park. It's a classic old home that includes a spacious yet small private garden, with lush wall creepers and bougainvillaea plants.
7 Guests
Just outside the city traffic in the trendy Williamsburg neighbourhood
This is without a doubt one of New York's best vacation rentals. If you're more into nature and would prefer returning to greenery after days exploring New York, then you'll love this place. This Williamsburg gem has a large wooden outdoor living area built for nature lovers, as well as a modern and spacious interior.
Decorated in a classy surf-inspired theme, this is the perfect home-away-from-home for families. It's also pet-friendly and provides free parking, so you can easily bring Fido along! And if you do fancy staying in a more natural setting, you can also check out these epic cabins in New York.
$$
Refurbished Brownstone building
2 Guests
In the trendy Brooklyn neighbourhood, 5 miles from Penn Station
Brooklyn is well-loved for its spacious homes when compared with Manhattan's high-rise apartments. This historic home offers guests an oasis of peace in the middle of the Big Apple. The luxury apartment is fitted with sophisticated interiors and modern art, authentic wooden floors and decorative wall skirtings and fireplaces.
Best of all, this spot has a sun-drenched dual-level outdoor living space – both a deck and a yard. Scattered with hammocks and furniture, this is the ideal place to enjoy a glass of wine.
$$
Eclectic touches with a dedicated workspace and fast internet
2 Guests
Around the corner from the Metropolitan Museum of Art
Being a digital nomad in New York is a dream come true. However, you will want to ensure you're in a comfortable space with a workspace and in a convenient and safe area – all for an affordable rate. 
This budget-friendly spot is perfect for up to two digital nomads. There is a comfortable space by the window to work and the apartment is fitted with high-quality fast Wi-Fi. Included in your stay is a basic yet equipped kitchenette.
Don't Forget Your New York Travel Insurance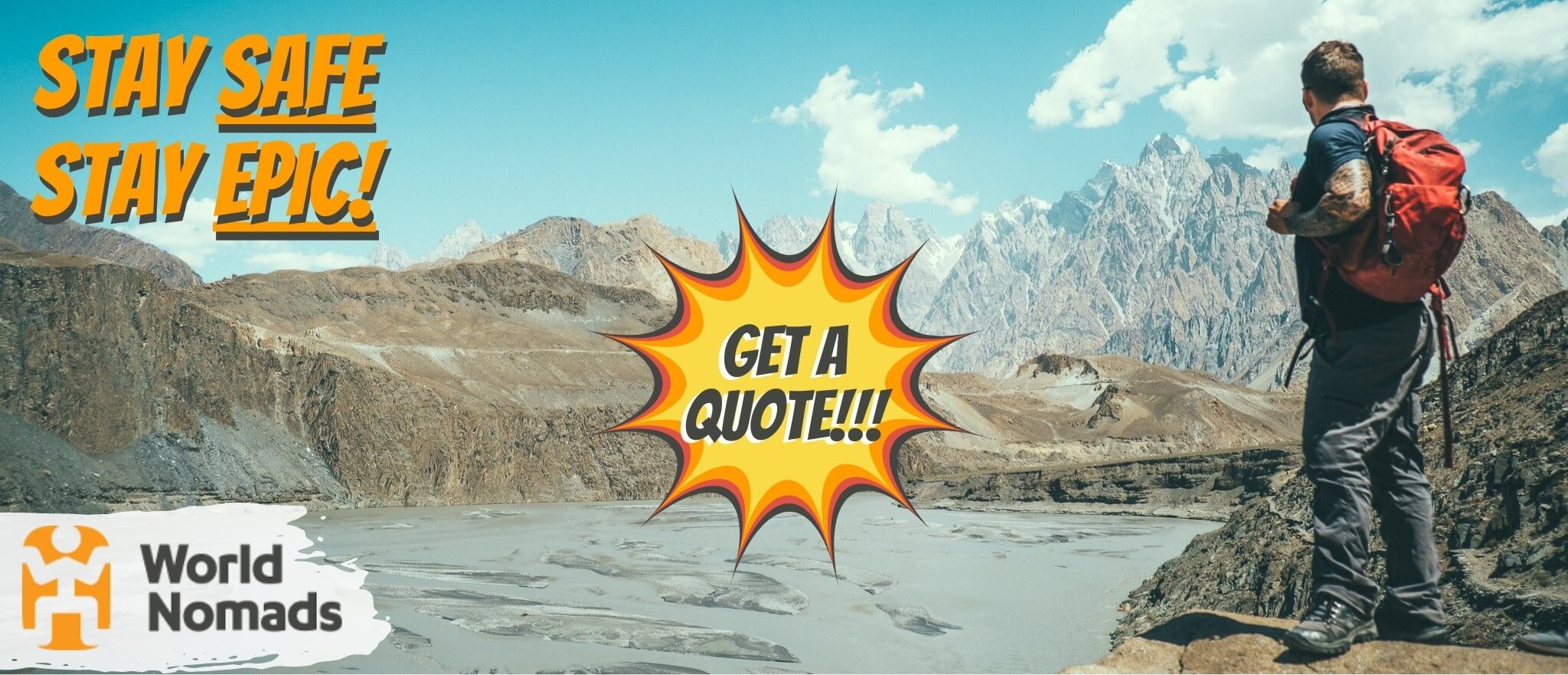 World Nomads' mission is to support and encourage travellers to explore their boundaries. They offer simple & flexible travel insurance, and safety advice to help you travel confidently.
They've been doing it since 2002 – protecting, connecting, and inspiring independent travellers just like you.
Get a quote below or read our in-depth review!
Final Thoughts
If you've never visited New York, it's a worthy addition to the bucket list. Whether you're travelling here on a family vacation, stopping by on a New York road trip, or visiting as a long-stay digital nomad, there are tons of options for accommodation here. 
It's recommended to spend a vacation split between two different suburbs, as each neighbourhood has such a unique charm. With efficient public transport connecting all surrounding residential areas and business districts, you're never too far from the city's top attractions, eateries, and shops. 
---
Bye for now, but not forever!
If you want MORE top-tier Broke Backpacker content like this, then sign up for our weekly newsletter below to get the latest and greatest!
And for transparency's sake, please know that some of the links in our content are affiliate links. That means that if you book your accommodation, buy your gear, or sort your insurance through our link, we earn a small commission (at no extra cost to you). That said, we only link to the gear we trust and never recommend services we don't believe are up to scratch. Again, thank you!