Trying to visit New York City in four days is like trying to travel around the world in 80 days in 1889 by ship, train, jinricksha, horse and donkey (true story). Impossible? No. But a feat to go down in history? You betcha.
So before we get to how to do 4 days in New York City, I want you to recognize that the big apple is absolutely massive and the laundry list of places to visit and awesome things to do in New York is literally endless.
There are always new places and events popping up in the city; I have been to New York City several times now, each time discovering an array of new restaurants, events, exhibitions, and bars.
With so much to do and see, how do you spend 4 days in New York?
In this 4 day New York itinerary, you'll understand where to go and what to do: yes there's a whole lot more to NYC than Wall Street and Fifth Avenue.
So let's dive right into everything you need to put on your 4 days in New York City itinerary.

Unlock Our GREATEST Travel Secrets!
Sign up for our newsletter and get the best travel tips delivered right to your inbox.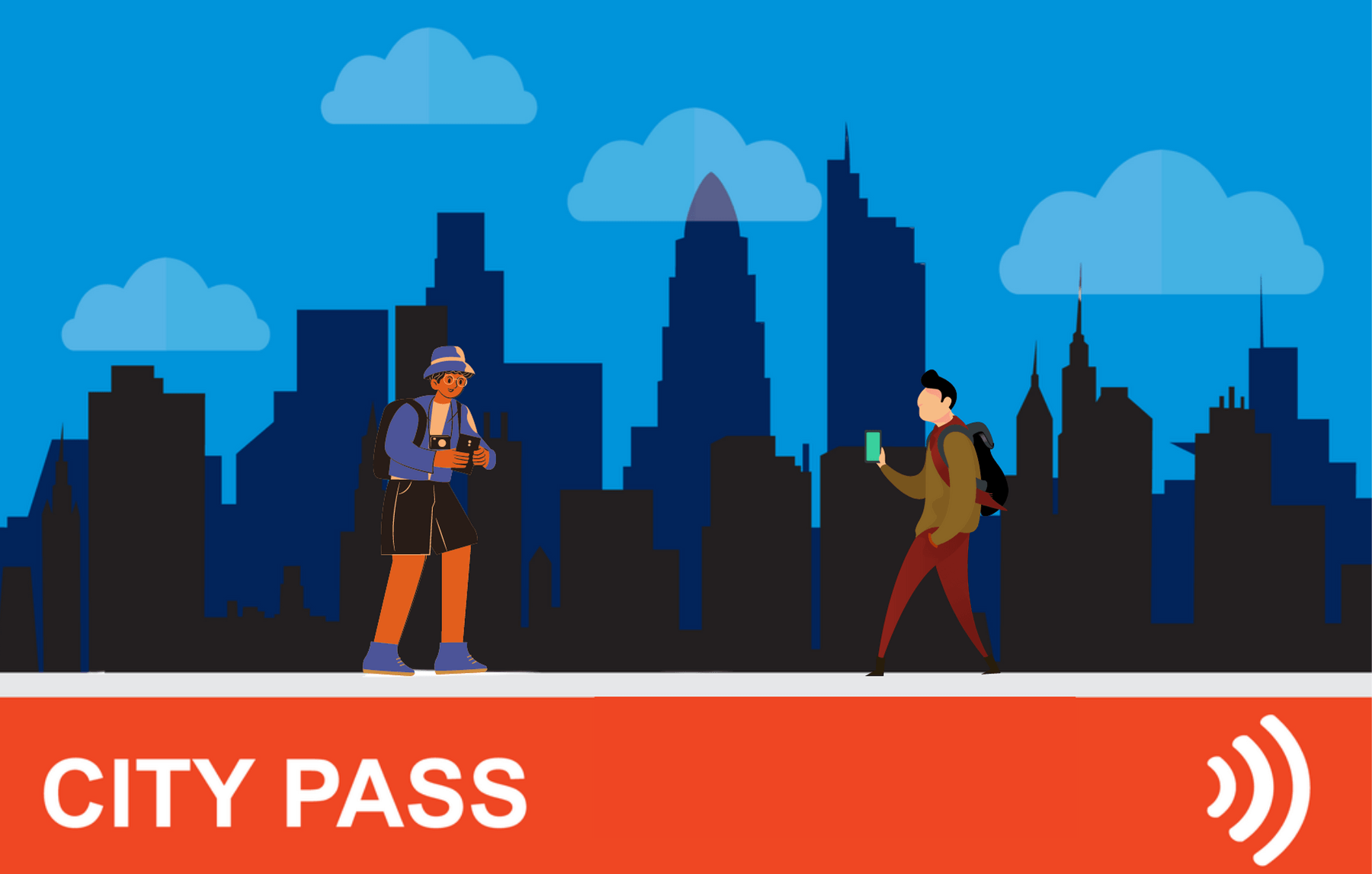 Travelling to New York? Then plan yo' trip the smart way!
With a New York City Pass, you can experience the best of New York at the CHEAPEST prices. Discounts, attractions, tickets, and even public transport are all standards in any good city pass – be sure invest now and save them $$$ when you arrive!
Buy Your Pass NOW!
Is 4 Days in New York City Enough Time?
Let's face it – it would truly take a lifetime to see the entire city. But in general, 4 days is a great amount of time to execute an NYC itinerary. While you won't be able to see everything, you'll be able to get a feel for New York's best sights and a handful of boroughs.
You don't want to make your plan too tight though–spontaneous and random discoveries are part of the NYC experience, so do factor in some breathing room into your plans.
New York City is divided into five boroughs, each with its own atmosphere: Manhattan, Queens, Brooklyn, Harlem, and The Bronx.
With only 4 days in New York, you could never visit all five boroughs, so I focused on Manhattan and Brooklyn, with an opportunity to visit Queens too.
For first time visitors to New York, I recommend staying somewhere in Manhattan or Brooklyn, maybe even splitting your trip between the two. Check out our guide on the best neighborhoods in New York, or my reference below.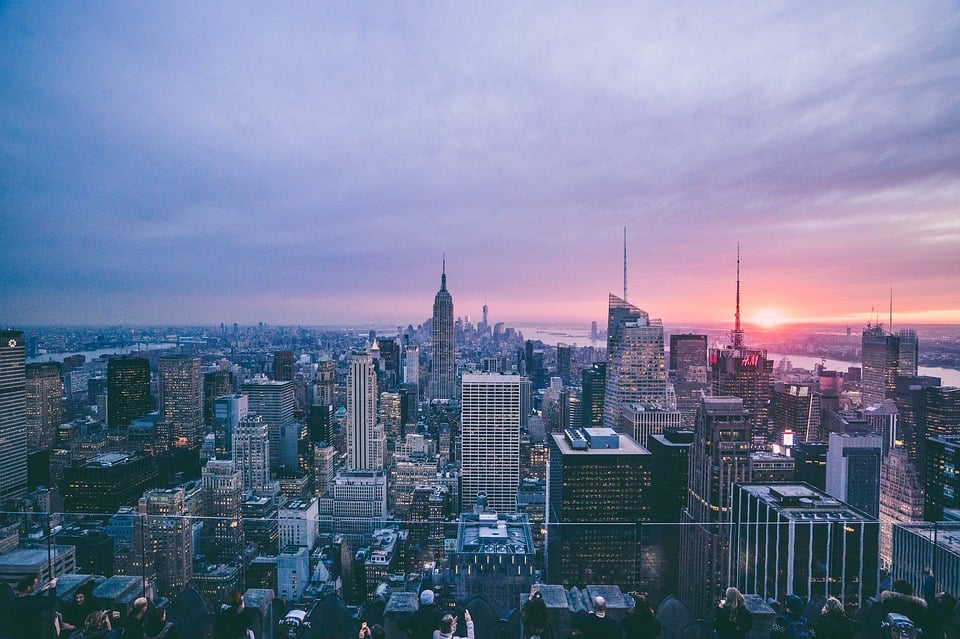 Best Neighborhoods to Stay in Manhattan
Tribeca, The Lower East Side, and Nolita: All three of these neighborhoods are next to each other. They're residential, but very much "downtown." There is a good mix of shops and restaurants here, though it won't be the cheapest place to stay in New York.
Chelsea/Greenwich: As covered in day 1 of my New York Itinerary, this area of New York is quite trendy and great for day and night activities. You will have plenty of options for places to eat, drink, part, and more. You'll also find a few budget accommodation options.
Upper West Side: This is a great area to stay if you want something quieter, and it will set you up nicely for day 2 in my New York itinerary, as you will be close to Central Park and the Museum of Natural History.
Midtown Manhattan: Great for first-timers to the city, this is where you'll find the city's most iconic attractions like Radio City Music Hall, The Empire State Building and more.
Best Neighborhoods to Stay in Brooklyn
Williamsburg: This area is a great place to stay i as you will be close to the weekend flea markets and food stalls! It's also one of the best places for thrift store shopping, bar hopping, and things to do at night.
Park Slope: Here you will be in the prime spot for some of Brookyn's best restaurants as well as right next to Prospect Park.
Bushwick: This is the best neighborhood to stay in New York for street art and all around vibes.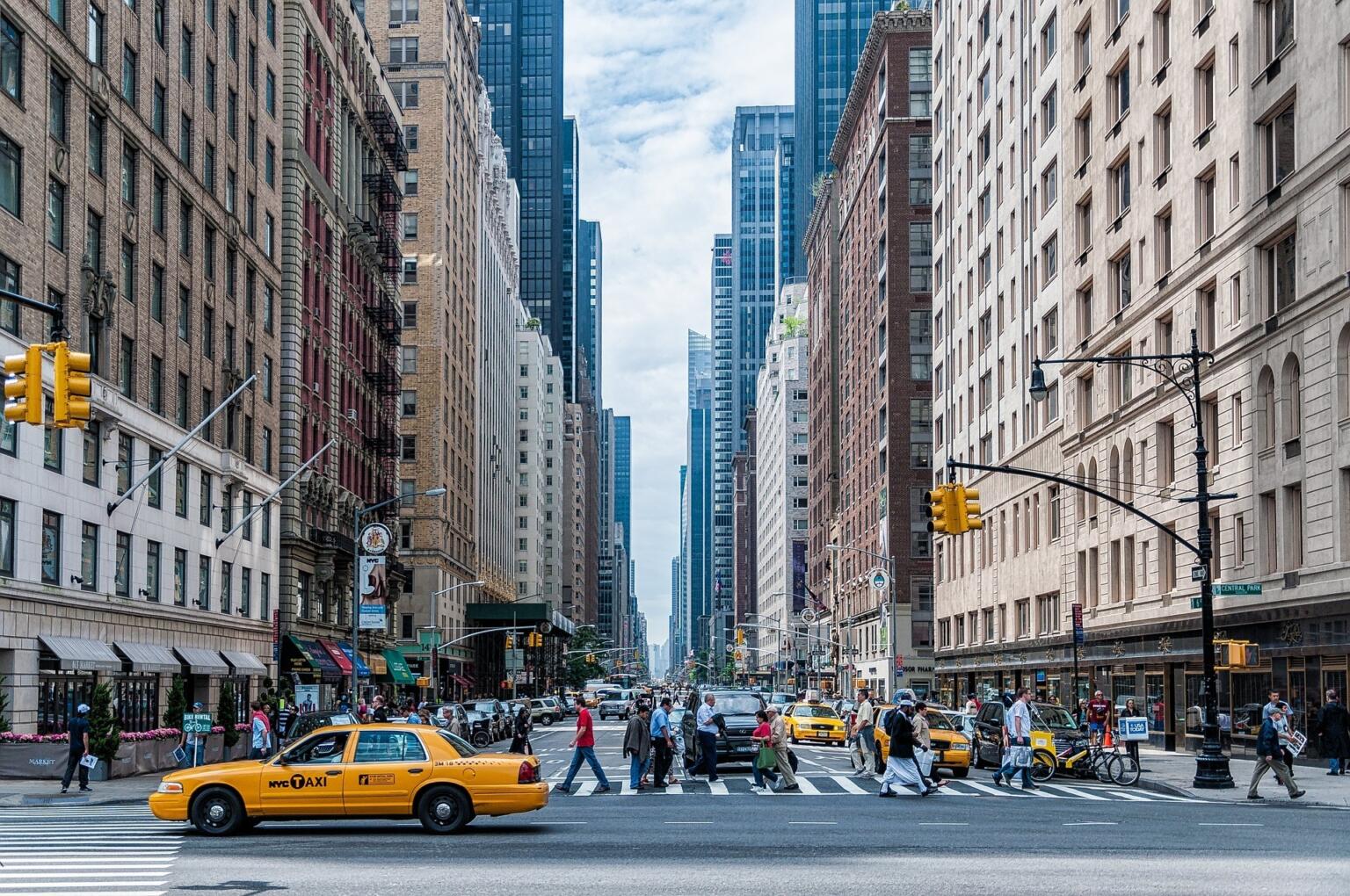 Best Hostels in New York City
Now that I've covered the best neighborhoods in New York City for travelers, below are my top 3 picks for hostels in New York City. For even more awesome hostels, check out our ultimate guide to the best hostels in New York City.
The Chelsea International Hostel is the best cheap hostel in New York for budget travelers, hands down! They have free breakfast, free pizza every Wednesday, free wi-fi, and tons of attractions nearby, so you can travel on foot.
Other facilities include outdoor courtyard seating, two kitchens to cook your own meals, and a social lounge. All things considered, this is one of the best hostels in New York as you are in the heart of Chelsea!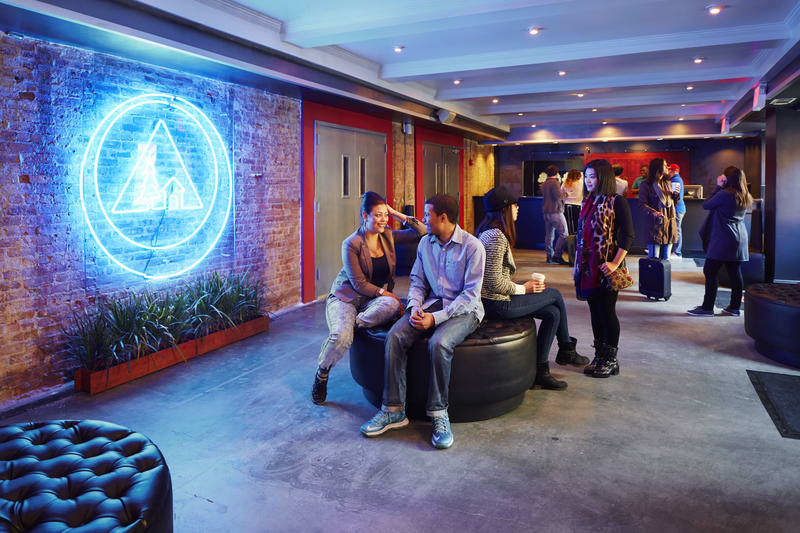 Hostelling International New York is the best hostel for parties because they have free bar crawls, clubbing tours, in-house talent, music, and comedy shows, and an excellent location.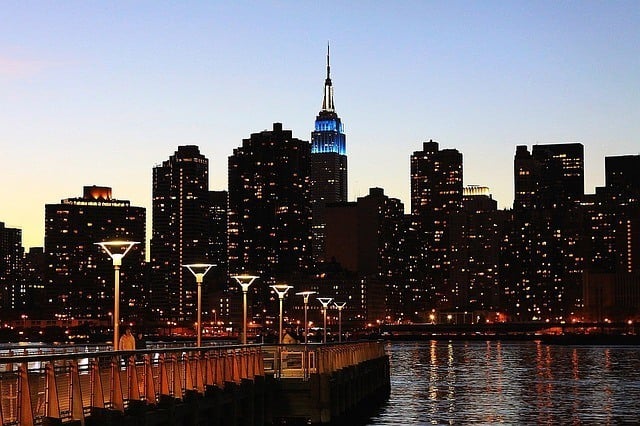 What to do in New York City: Day 1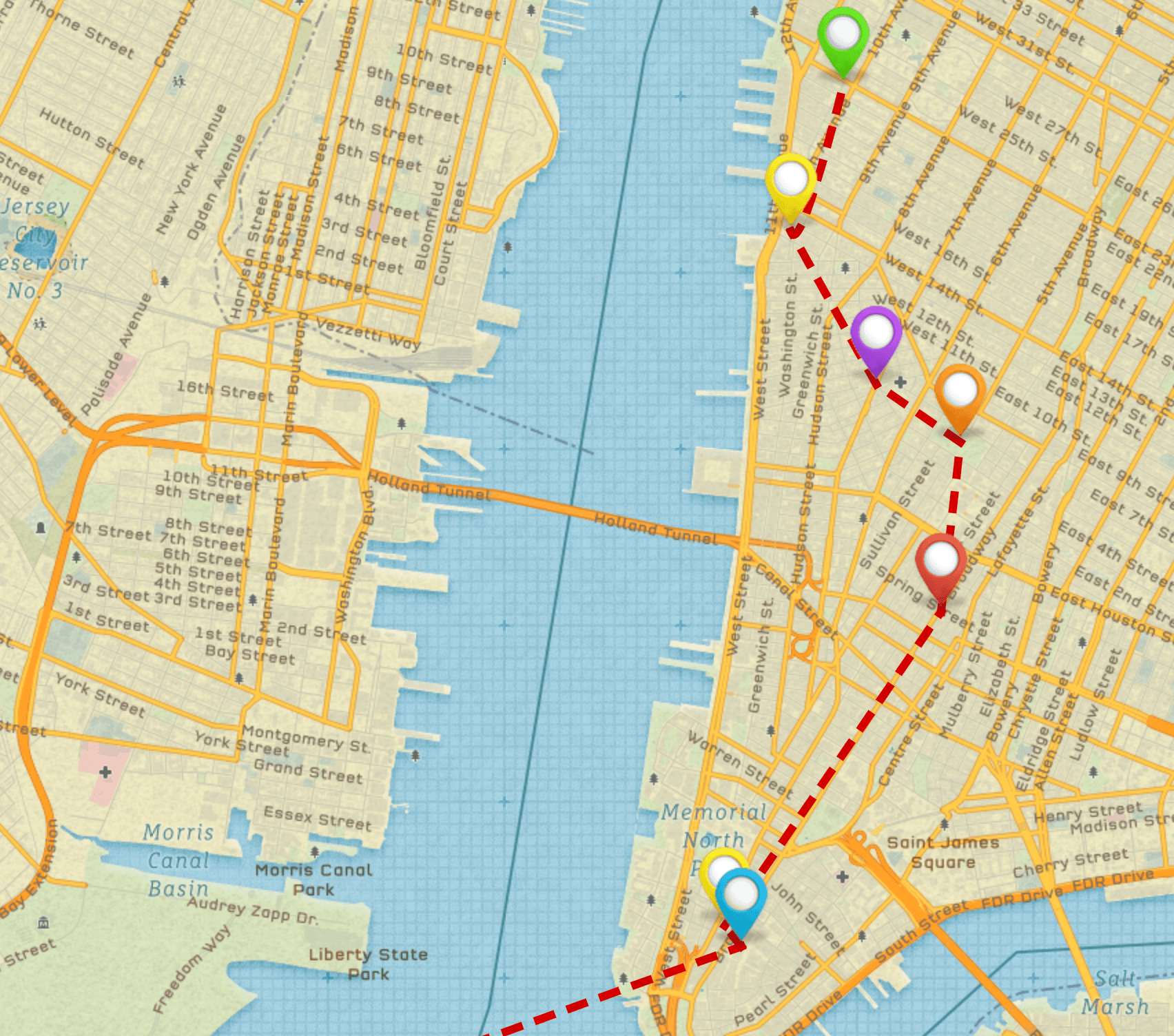 Day 1 for New York City Itinerary: Manhattan's Best Neighborhoods and Lots of Food
On your first day in New York City, get ready to walk… a lot. Better base yourself in one of the awesome Airbnbs in Manhattan to gove your feet a rest after a long day!
But that's good if we are backpacking New York on a budget. We're going to see the majority of Manhattan's most popular neighborhoods. This is probably the day to splurge on eating out and sitting down at an awesome restaurant too.
You should start your morning early with a visit to New York's most iconic attractions: The Statue of Liberty and Ellis Island. It's best to get a combi-ticket that also includes
One of the first times I visited NYC, we made the trip to Ellis Island, where I had the chance to see my great-grandma's immigration records! (Apparently, she was 5'11", which answered my sister's mysterious height).
I definitely suggest trying to get to Ellis Island as early as possible to beat the lines.
Brokebackpacker Tip: Visiting New York on a budget? Consider taking the Staten Island Ferry instead! This route passes right by the Statue of Liberty for free.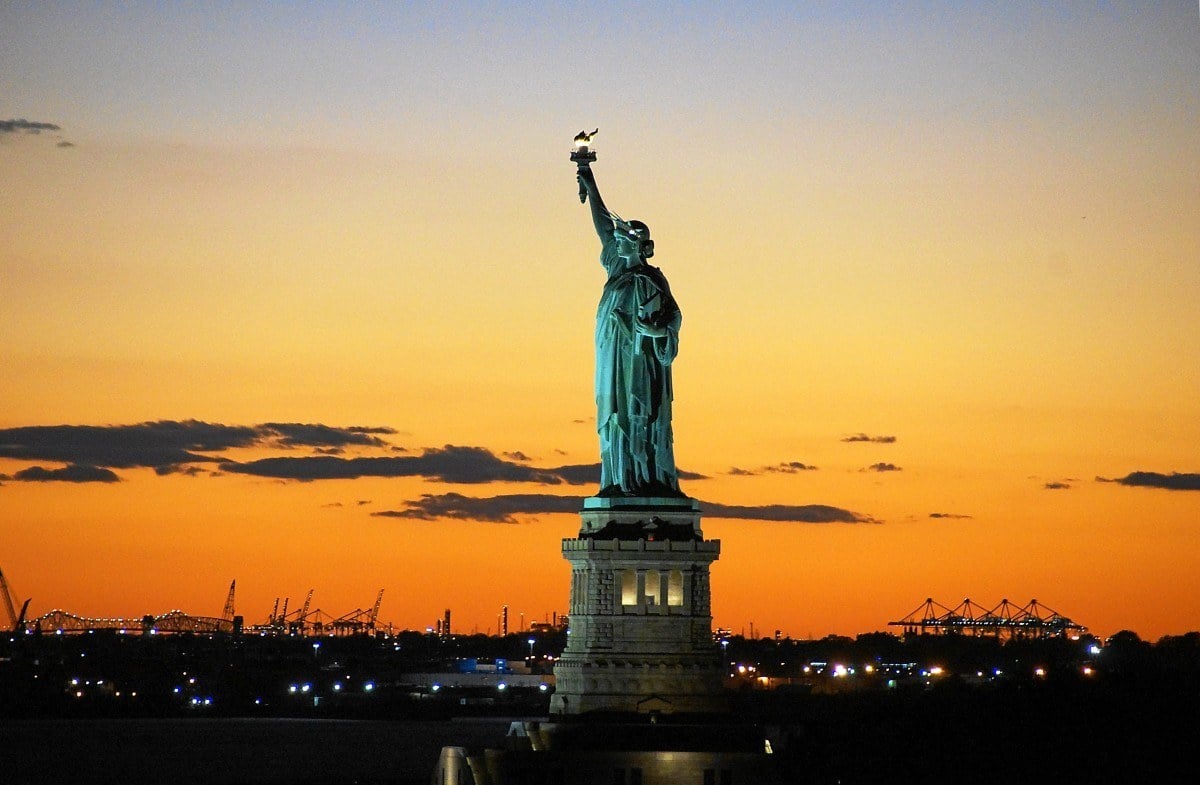 By late morning, you should reach lower Manhattan via the ferry. This entire area of New York City is buzzing with energy and rich history, so soak it in and live it up.
You've got stockbrokers in $10,000 suits speed walking New York walking to their next meeting alongside thousands of tourists craning their necks as they gawk up at the Stock Exchange. This is where America's big business deals go down.
Then you have some of America's best history, like Trinity Church, one of the oldest churches in America and the Federal Hall, where George Washington was sworn into office! It's definitely worth the visit, but can best be explored with a nice walking tour of Manhattan.
Assuming you've worked up an appetite, may I suggest two of New York's most famous takeaway foods? You can walk to a classic New York City sandwich shop: Katz's Delicatessen or grab a world-famous New York City bagel.
Don't stuff your face too much… we're about to hit some of New York's trendiest neighborhoods if you feel like sitting down for lunch.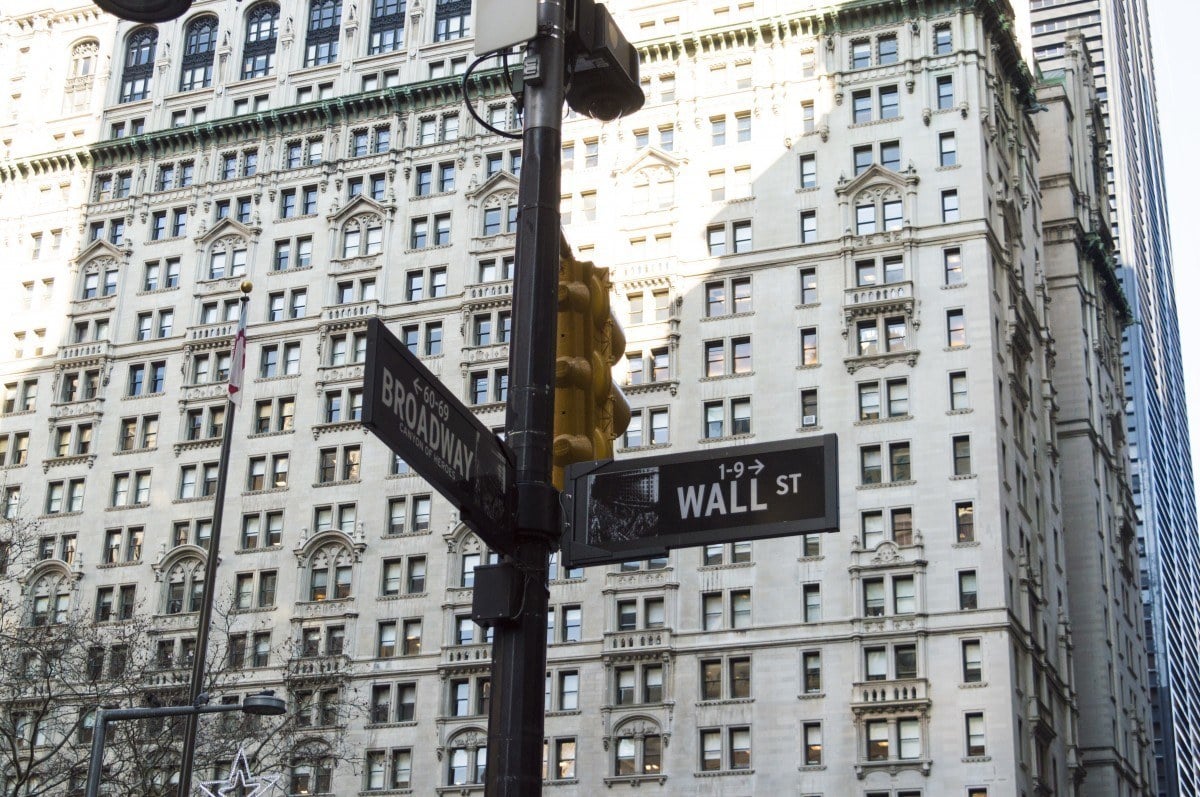 After exploring the financial district, take a walk or catch the subway to SoHo, South of Houston Street, a neighborhood that is home to modern art galleries, trendy shops, and good food and cafés. Those visiting New York on a budget will probably want to window shop though.
(If you're in need of a sugar fix, might I suggest Black Tap, a restaurant that is known for its gigantic milkshakes topped with cookies, brownies, and even slices of pie.)
Then you're off to Washington Square Park through TriBeCa to listen to street performers, and maybe sit on the lawn and eat that bagel.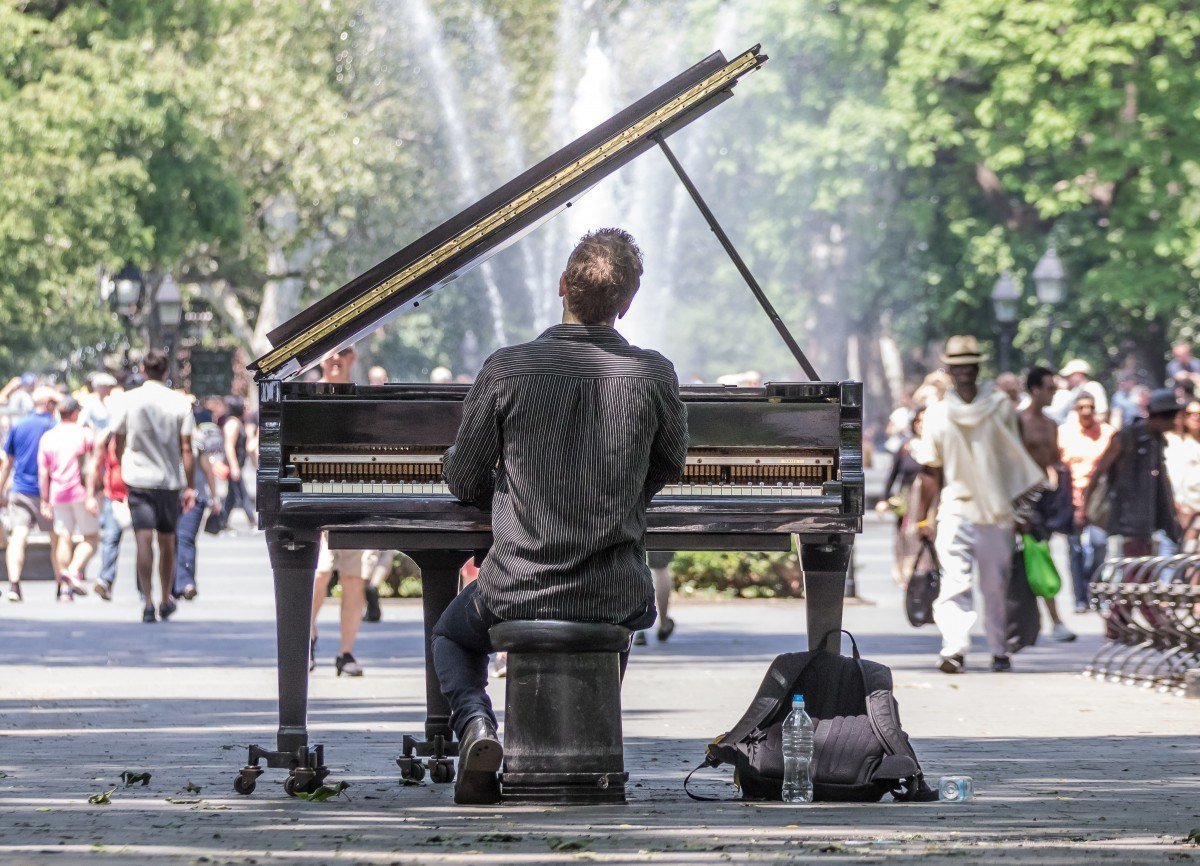 Then head to Greenwich Village, a tree-lined neighborhood filled to a coffee cup's brim with quaint cafés. This area was once the epicenter of the 1960s counterculture movement and is known to be very LGBTQ friendly. While it doesn't have the beatnik vibes it once did, it's still a historical and cool area of NYC.
(You are passing through Greenwich in the daytime, but consider coming back for the nightlife. It's also one of the best and most central areas to stay in New York.)
Aside from continuing to eat and drink your way through New York, you can visit the Whitney Museum of American Art in Greenwich Village just by the High Line and Washington Street. The Whitney presents 20th century and contemporary American Art.
By the early evening, continue your walk on the High Line in Chelsea, one of the best things to do in New York City.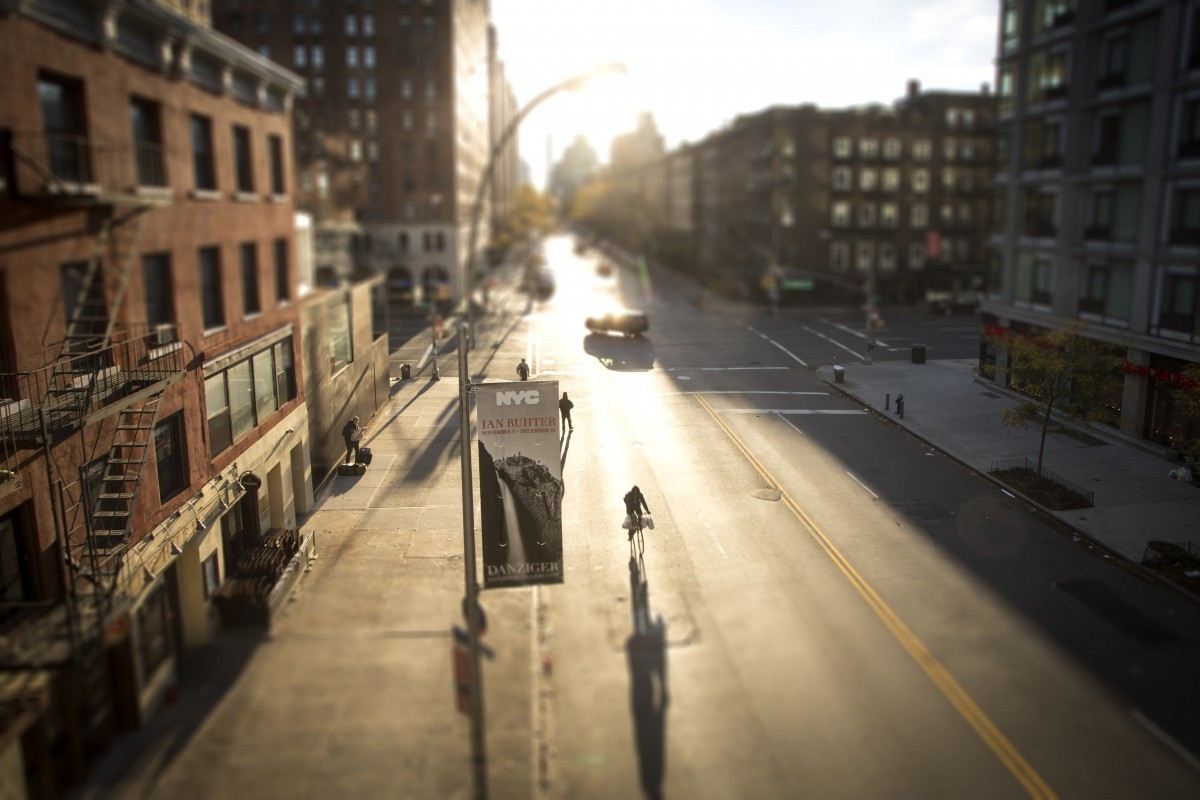 The High Line used to be a series of abandoned railroads, but the city cleaned up this area and turned it into an urban walkway/park that stretches from 24th street to the Meatpacking District. The line overlooks the city with food stalls, public art, and greenery and will take you through the neighborhood of Chelsea and into Hell's Kitchen.
Both Chelsea and Hell's Kitchen have dozens and dozens of restaurants that serve amazing food – are you seeing a trend here? – so this may be a good time to eat dinner.
Don't worry, backpackers, you will be able to find something in your budget with all of the options around here.
Brokebackpacker Tip: Chelsea Market is one of New York's most notable indoor food halls that boasts more than 35 vendors. You can get anything from Middle Eastern to Mexican to American food at your leisure. If you are visiting New York on a budget, grabbing food at a stall versus a sit-down restaurant is a great option.
For some food inspiration, check out this article on the best restaurants in Chelsea.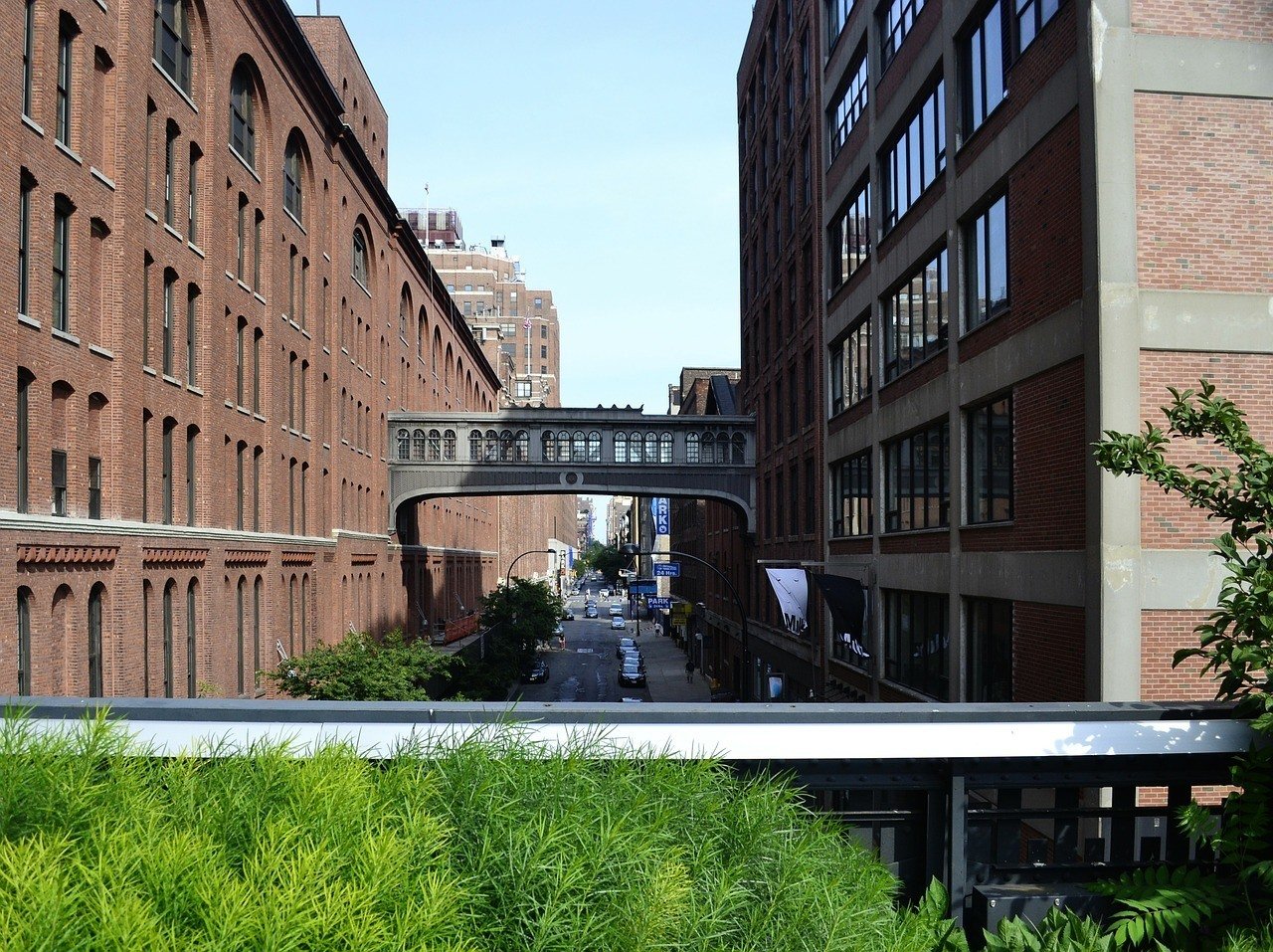 Night 1 for New York City Itinerary: Manhattan continued
Today was a jam-packed day of walking and wandering, and you may have logged in a dozen miles on your #Fitbit. I wouldn't blame you for keeping it a low-key kind of night, but this is the city that never sleeps and you should experience that.
Another awesome thing to do in Chelsea at night is hit up the art galleries. It's one of the best things to do in New York for free, and I cover all of that in the "free things to do in New York" section below.
You could catch a concert, dance show, or even a comedy show afterward. Consider heading to one of the best in NY, Upright Citizens Brigade Theatre.
After catching an awesome live performance, go out in Greenwich Village or Chelsea for a taste of a more authentic side of New York with plenty of bars, restaurants, and things to do in New York at night. This area is also quite festive around the holidays!
Here, you'll find anything from swanky cocktail bars and lounge rooms to dives with $8 beer pitchers and clubs in the Meatpacking District.
It would obviously be impossible to do all of these things in one night, so whatever you miss that you want to do, you'll have time on your second night in New York.
What to Do in New York City: Day 2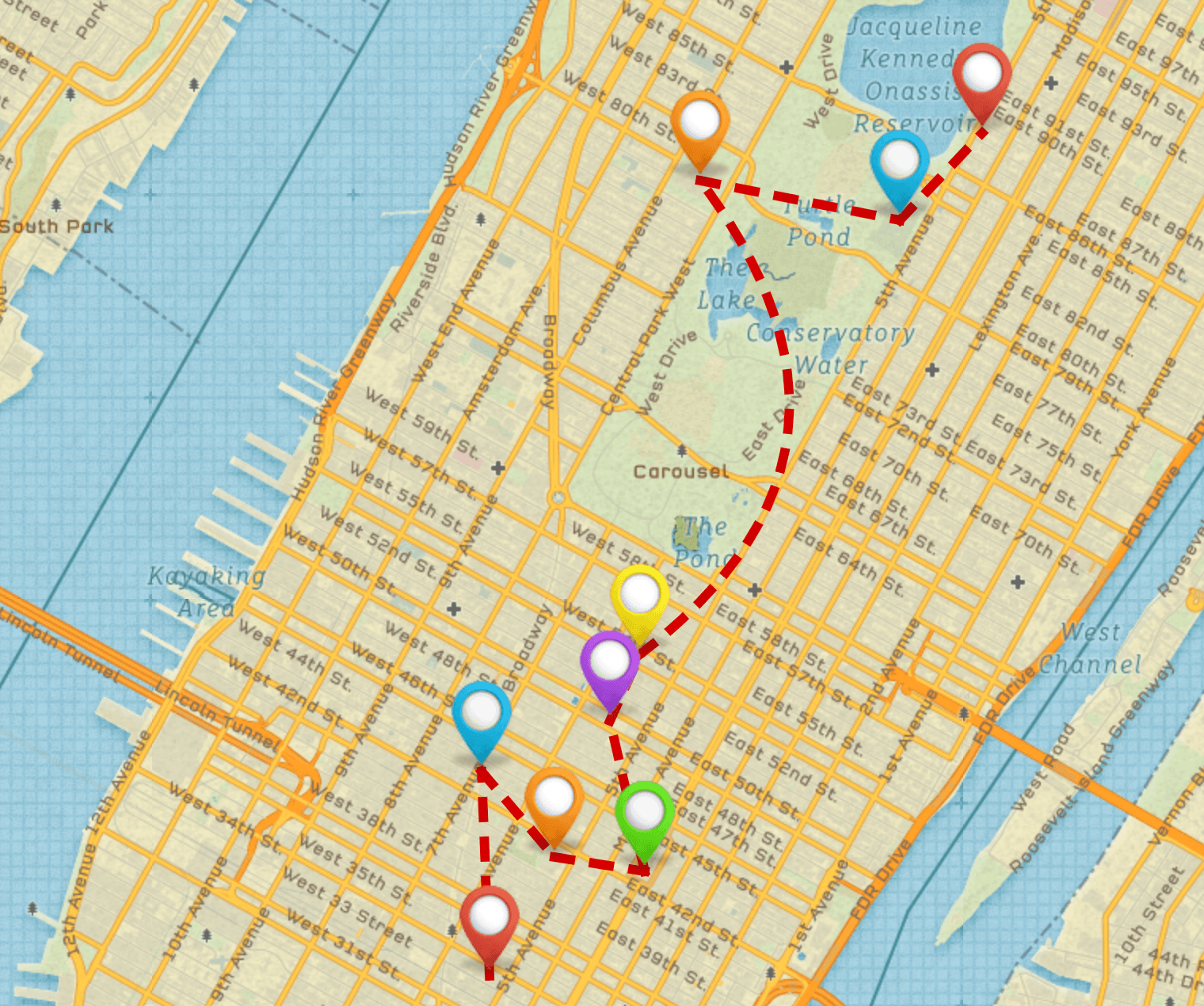 Day 2 in New York: Manhattan Continued
On your second day in this New York City itinerary, we're going to continue to explore the monstrous metropolis of Manhattan by hitting some of the star attractions. This is your day to visit some of New York's best museums too!
On this day, you have a few options for seeing New York from a bird's eye view. You can go up the Empire State Building or Rockefeller Center. All of the entrance fees are going to cost around $35, so I suggest picking just one.
If you don't feel like spending $35 for a view, then might I suggest a roof-top bar for happy hour? Sure, a can of beer is $15, but that's less than half an entrance fee to the Rockefeller and you get a drink out of it.
Start your morning off in Central Park, where you will have plenty of opportunities to visit New York's best museums. This is also a good time to grab a New York Bagel or piece of pizza, as we're going to be on-the-go. Do as the locals do.
The MET (Metropolitan Musuem of Art) is one of the biggest museums in the world and offers art, historical artifacts from Egypt to Ancient Greece, photographs, and other changing exhibits. There's even a real Egyptian tomb in here!
Hopefully, your second day in this New York itinerary is a weekday (maybe a Friday on your long weekend?) and the MET won't be as crowded. It's always a good idea to get your MET entry ticket beforehand though.
If you are interested in natural history and science, then hit the American Museum of Natural History (made famous by the Night at the Museum movies). You can easily spend a few hours here learning about nature and human history and visiting the Hayden Planetarium. The Guggenheim is close by too!
Tip: I don't suggest tackling more than two museums today unless you have the stamina of a Kenyan runner.
Once you feel like you have attained your cultural fix, take a break or a nap in Central Park and continue to walk through it, south to the MOMA for modern art and a chance to see Van Gogh's "Starry Night."
(I was thoroughly disappointed it wasn't in his museum in Amsterdam when I went, so now is your chance!)
By now it is probably late afternoon and the perfect time to head for the Rockefeller Center and/or Empire State Building.
In between the two buildings, you can visit the New York Public Library, the second largest library in the US, and one of the country's most famous train stations: Grand Central Terminal. Although it might just be a terminal, there are plenty of things about this place that you don't know that can be discovered on a Secrets of Grand Central Terminal walking tour.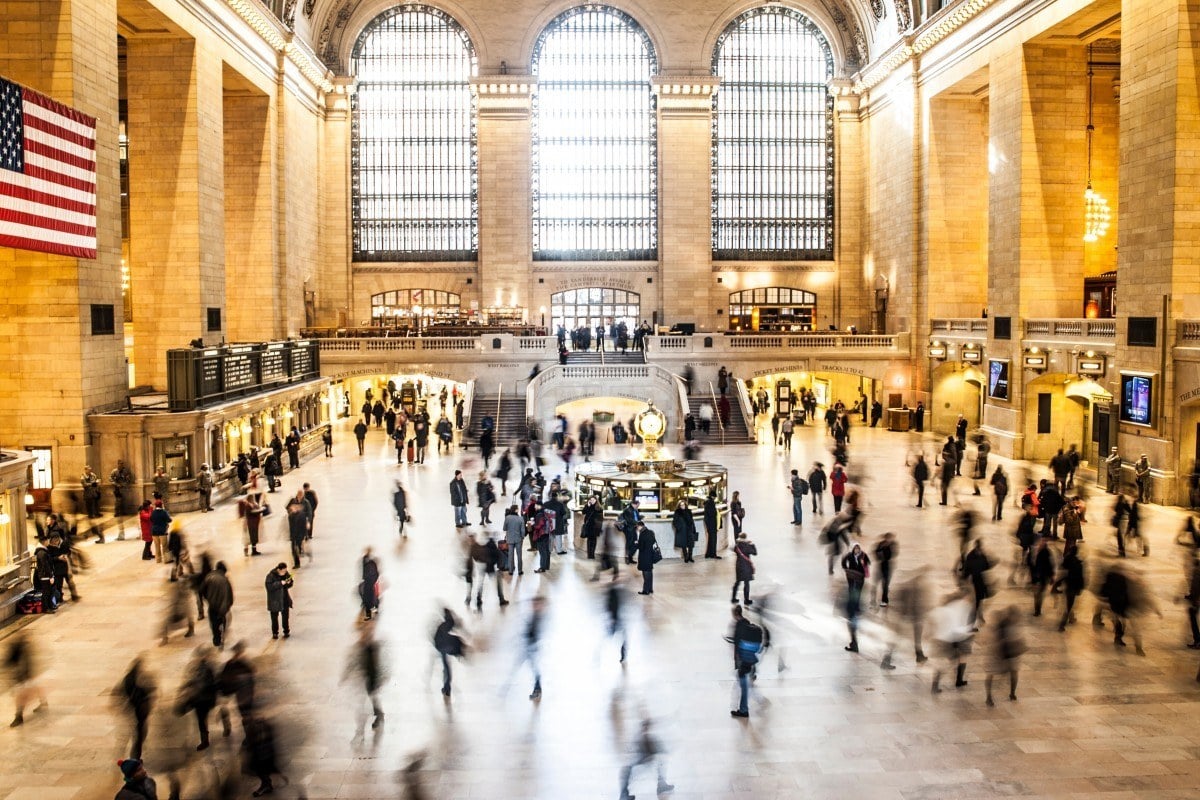 As the day comes to a close, head to the top of the Rock or Empire State Building for a sunset view of the Manhattan Skyline. Another option is to head up a rooftop bar as I mentioned before.
One recommendation would be 230 Fifth Rooftop Bar just across the Empire State Building.
This would also be a great time to catch the filming of a show – one of the most unique things to do in New York. You can watch a live taping of Saturday Night Live, for example. Tickets are free but require a reservation far in advance.
Night 2 for New York City Itinerary: Time Square and Christmas Trees
If you are visiting New York City in winter, Rockefeller Center will be lit up for the holidays. Be sure to rent some ice skates for The Rink and live out your movie fantasy.
By nightfall, you should head over to Times Square. Normally, I'm not a fan of crowded, commercialized places, but everyone needs to experience Time Square lit up at night. There really is no place like it.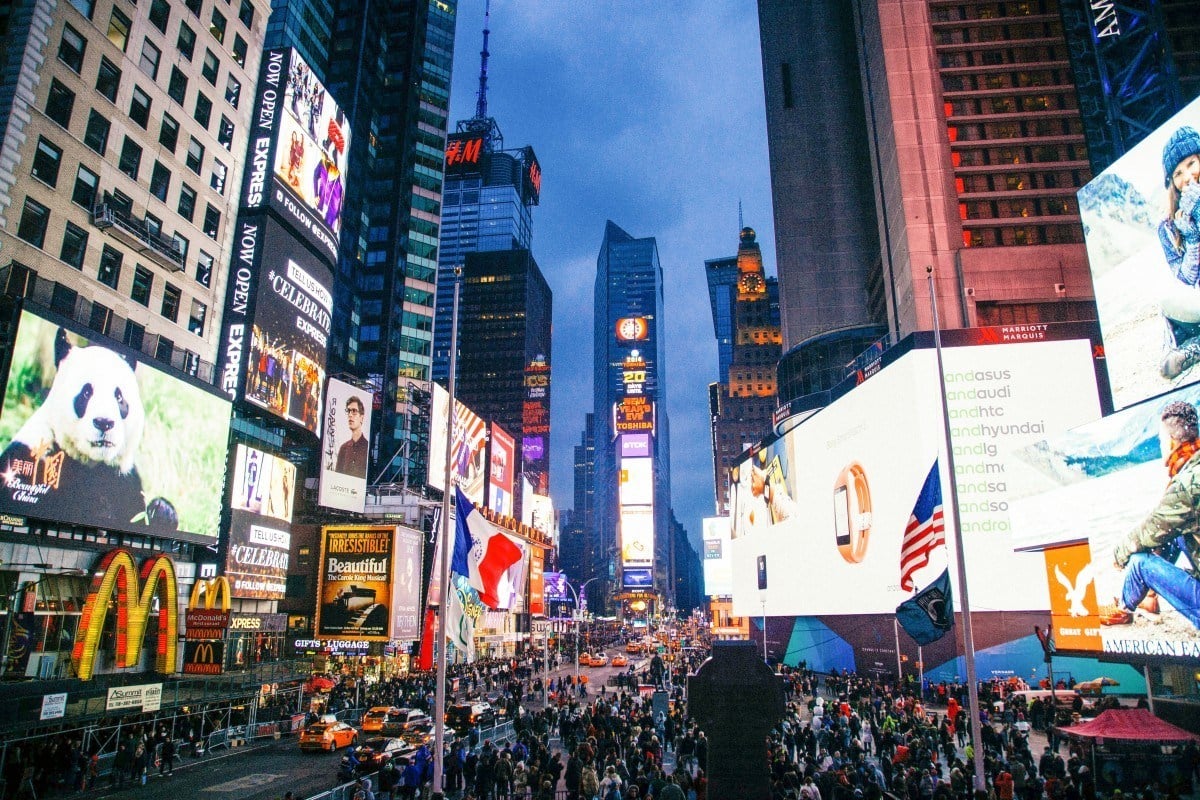 Tonight is another great night to catch a show. You could loop back to any of the places you may have missed last night, or head over to East Village and explore the nightlife there.
This would also be the best night to watch a Broadway show since you are already in Times Square. Other options include a Friday night concert, the Philharmonic Orchestra, or a performance at Carnegie Hall. The world is your oyster!
Small Pack Problems? 😉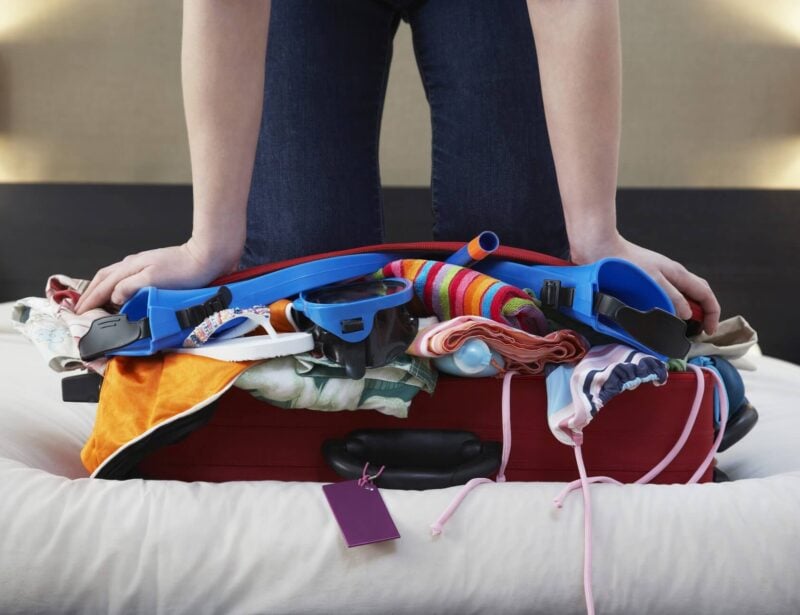 Wanna know how to pack like a pro? Well for a start you need the right gear….
These are packing cubes for the globetrotters and compression sacks for the real adventurers – these babies are a traveller's best kept secret. They organise yo' packing and minimise volume too so you can pack MORE.
Or, y'know… you can stick to just chucking it all in your backpack…
Get Yours Here
Read Our Review
What to do in New York City: Day 3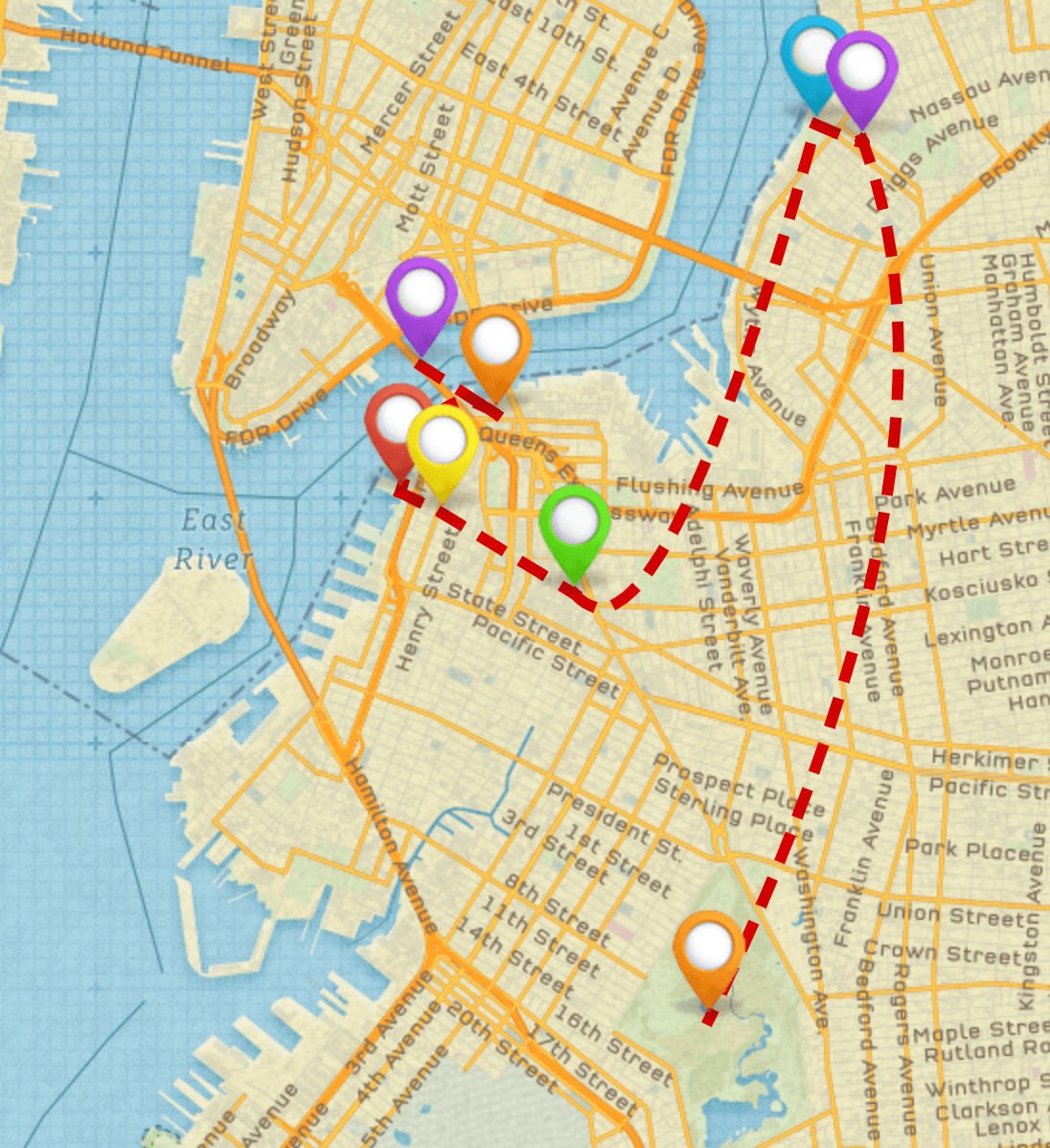 Day 3 in New York City: Brooklyn
Today, we're going to Brooklyn, baby. Brooklyn is a huge borough, by the way, (remember when I said it could be America's fourth biggest city?) so you can't expect to see all of it in one day.
Rather, I'm going to give you some suggestions on how to spend a perfect Saturday in Brooklyn if you have never been here before.
Brooklyn used to be known mostly for its seedy reputation and East Coast rappers like Jay-Z and Notorious B.I.G. Nowadays, it's one of the trendiest and most ultra-hipster places to visit in New York City.
With its historic neighborhoods, awesome food and art scene, and all-around coolness, there is really so much to soak up in Brooklyn.
If you are staying in Manhattan, I suggest starting your morning with a walk to Brooklyn via the Brooklyn Bridge. This is one of the best things to do in New York, as the steel-wired bridge is actually quite impressive, and you get awesome views of Manhattan the whole way down.
For another view of the bridge, walk over to DUMBO (down under the Manhattan Bridge Overpass) and then continue your walk on the Brooklyn Bridge Park waterfront and to Brooklyn Heights Promenade, a wealthy, brick building and tree-lined neighborhood. If you want to know more about the bridge's history and the area around, check out this amazing Brooklyn Bridge walking tour.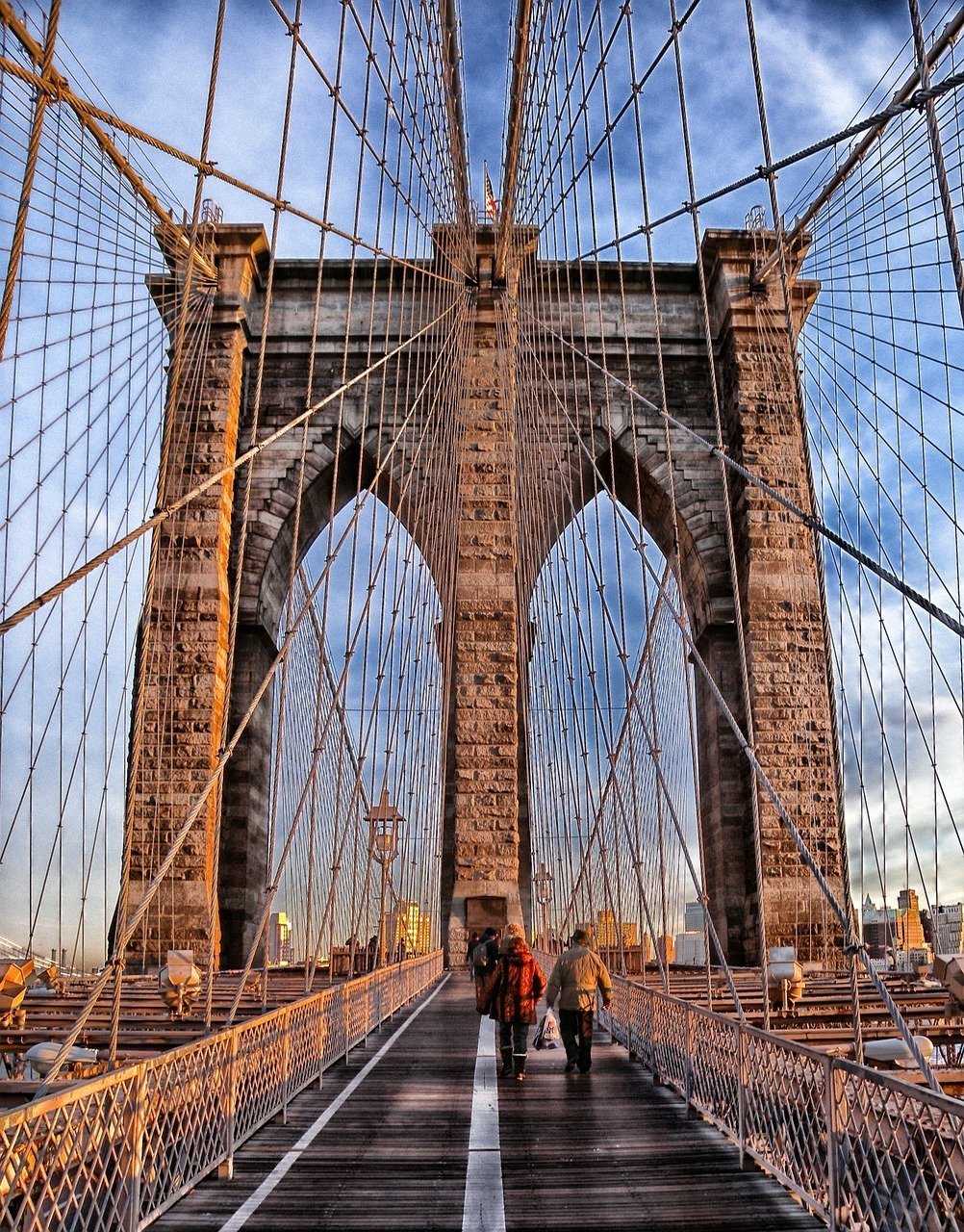 For the better half of the day, you can explore a couple of different neighborhoods, like Williamsburg at the center of Brooklyn, Bushwick, and Redhook.
Now, these neighborhoods are the poster children for Brooklyn's widespread urban renewal and inspiration for the show, Girls.
Like many cities throughout the entire US, these neighborhoods kind of define gentrification with their converted artist lofts and expensive thrift shops. Yes, you'll find plenty of eclectic restaurants, bars, hip tattoo parlors, and rustic rooftop patios… but you'll also find some of the city's best art and creative expression.
If it's raining or the weather is crap, eat lunch at Brooklyn's amazing indoor Dekalb Market Hall, featuring 40 vendors like the iconic Katz's Deli, and must-try cake push-pops.
Another fine option is to take advantage of a sunny day and hit up the Brooklyn Flea Market then grab lunch at Smorgaburg, one of the largest weekly open-air food markets in the US.
On Saturdays, Smorgaburg takes place in Williamsburg, where you can also spend a couple of hours exploring.
Afterward, grab a beer flight at the Brooklyn Brewery and then maybe partake in some drunk bowling at Brooklyn Bowl.
If you're visiting Brooklyn on a Sunday, you can hit up Smorgasburg in Prospect Park, which is next on the itinerary anyway.
Take the subway to the 526-acre Prospect Park. In good weather, you can have a picnic, rent a bike, go roller skating, or paddle boat on the LeFrak Lake. (In the winter, the LeFrak turns into an ice skating rink!)
If you are visiting New York in the summer, try to go to one of the Celebrate Brooklyn! concerts in Prospect Park. This outdoor series of concerts hosts indie-rockers and pop acts under the stars. Otherwise, head to a rooftop bar or an outdoor seating area to start your night.
Night 3 for New York City Itinerary: Continue in Brooklyn
If you are visiting New York in the winter, why not get cozy and catch a movie at the Nitehawk Cinema in Williamsburg? They screen new indie flicks with full-on meals and drinks (sometimes coordinated with the playing movie).
If you don't feel like watching a movie, there are plenty of cool breweries, happy hour joints, speakeasies, and eclectic bars, like Barcade in Williamsburg, a retro arcade game bar with a great beer selection.
There's also Bar Lunatico in Bedford-Stuyvesant, which hosts live music nearly every night. You can even play life-size shuffleboard at Royal Palms Shuffleboard. They're redefining a retire-person game with their 21+ bar, DJs, food trucks, and games.
Finally, if you feel like dancing into the wee hours of the morning, get a little weird at House of Yes, an establishment all about artistic expression and creativity, or head to The Bell House for themed-dance parties and music.
Is This the Best Daypack EVER???
What to do with 4 Days in New York: Day Four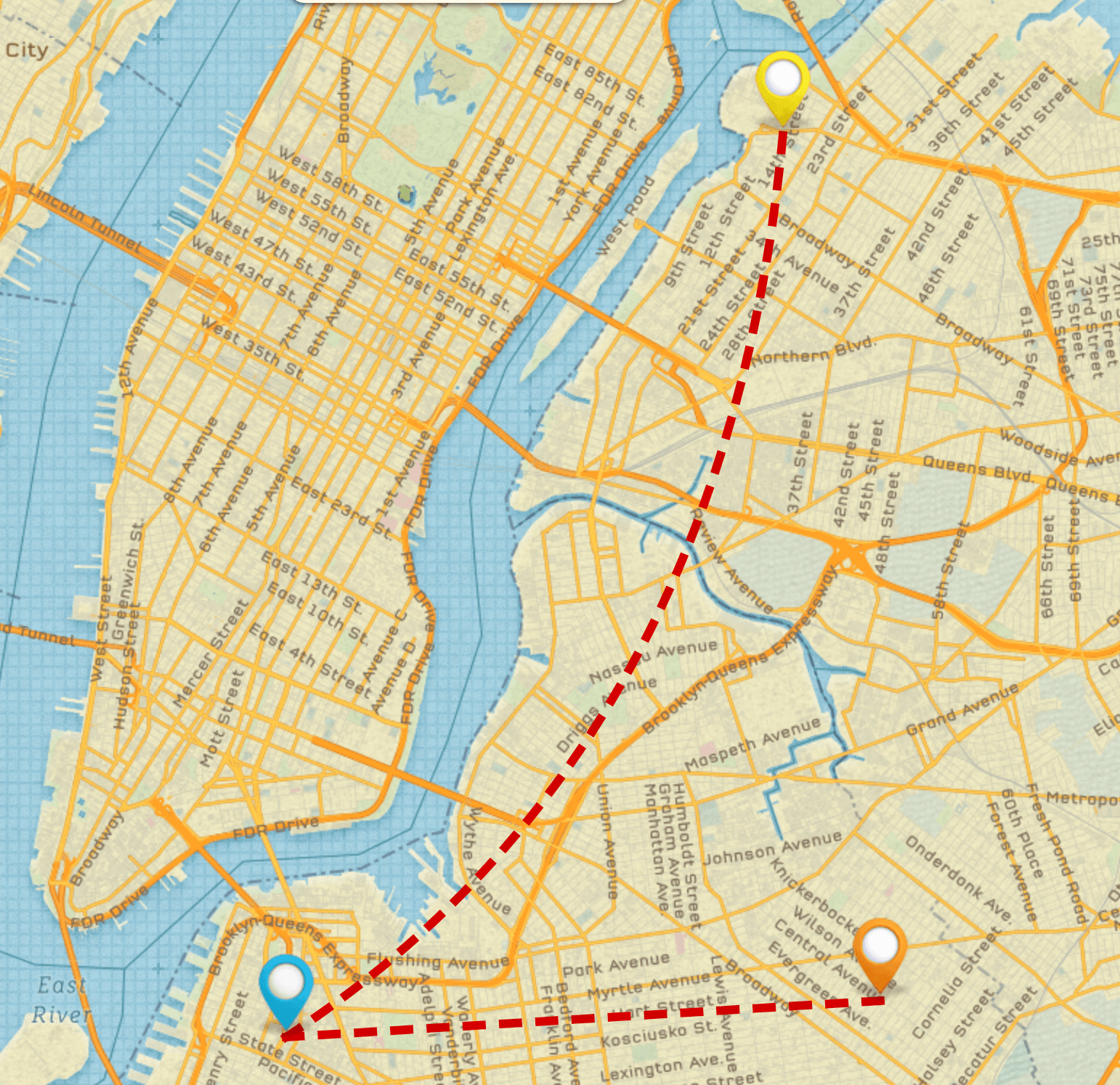 Day 4 in New York City: Whatever Your Heart Desires
When I create itineraries, I always like to leave some room for you to design a day based on your interests or have some time to hit up places you may have missed in the previous days.
You can retrace your steps, and continue exploring anything you missed in Manhattan, or you can stay in Brooklyn for a second day, which would be my personal preference.
In Brooklyn, you can visit other neighborhoods like Bushwick and Red Hook.
Bushwick has some of the best street art and tons of incredible art galleries and studios. (Check out the outdoor exhibit called The Bushwick Collective.)
I would also go on a free graffiti tour led by Free Tours by Foot, and then grab some French or Vietnamese food for lunch. You are in one of the best neighborhoods for the aforementioned foods.
In Red Hook, I highly suggest visiting Pioneer Works, a space for alternative expression in the arts, technology, music, and science. They have galleries and workshops here, and free admission Wednesday through Sunday from noon to 6 pm.
For an alternative thing to do in Brooklyn, visit the largest rooftop soil farm, Brooklyn Grange, which hosts educational programs and workshops that promote sustainable living and local ecology. This is the kind of stuff that creates a better future.
If you want to see a different side of New York, head over to Astoria in Queens for dinner. This area has the best Greek food in New York and tons of other great restaurants too.
Another cool spot to check out in Astoria is the Bohemian Hall and Beer Garden. As far as beer halls go, it's one of the most authentic ones in the city, complete with Czech and Slovak brats and kielbasa.
Other suggestions can be found in my sections below, like catching a sports game, heading to a Sunday farmer's market, or heading to Rockaway Beach! A day trip from New York could be an amazing way to finish your stay too.
The options are endless!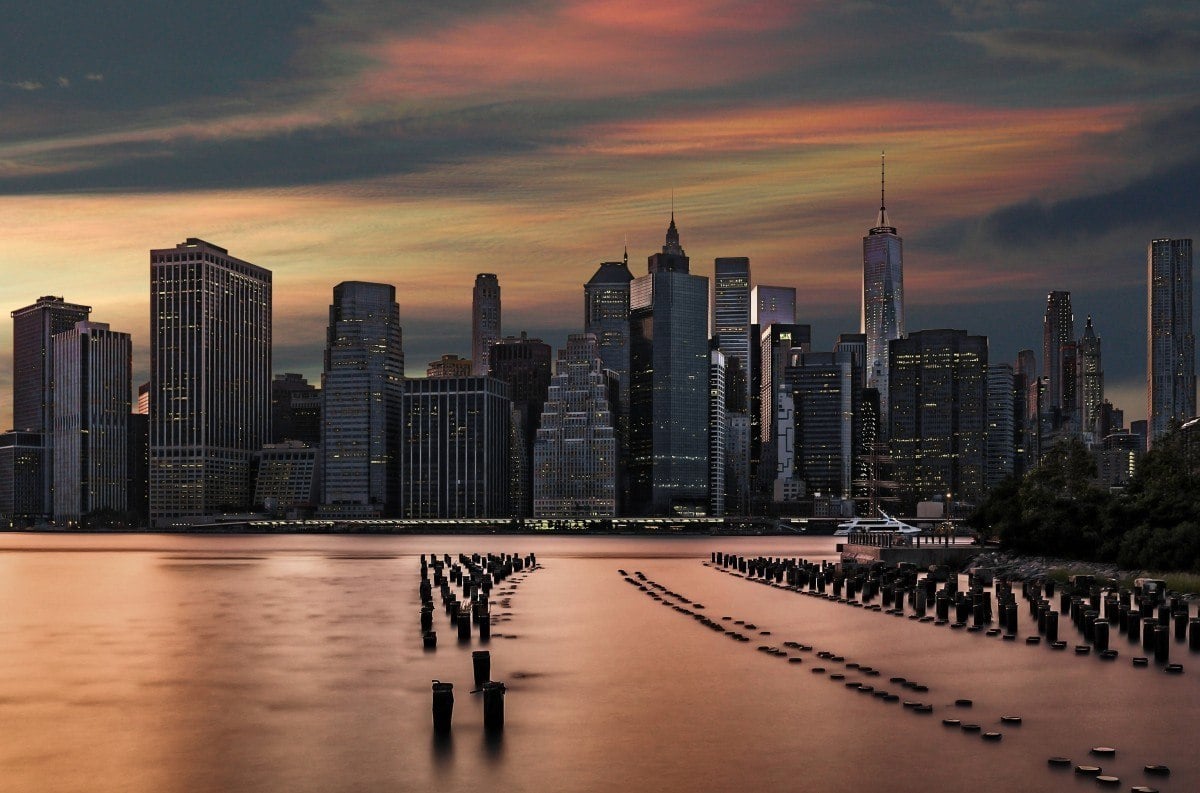 Here is a list of my favorite things to do in New York City on a budget… Some things have been covered in my 4 days in New York itinerary, but some may also need repeating!
You will be paying an arm and leg for food in New York – even groceries cost more in NYC – but with this list, you will be equipped to spend 4 days in New York without feeling like you're always pinching pennies. Be sure to check out some of the best hidden gems in NY too!
Travel with peace of mind. Travel WITH a security belt.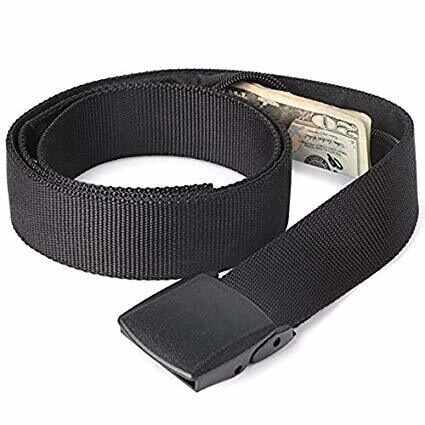 Stash your cash safely with this money belt. It will keep your valuables safely concealed, no matter where you go.
It looks exactly like a normal belt except for a SECRET interior pocket perfectly designed to hide a wad of cash, a passport photocopy or anything else you may wish to hide. Never get caught with your pants down again! (Unless you want to…)
Hide Yo' Money!
1. Go to the free museums
You can visit the 9/11 Memorial at the New World Trade Center for free on Tuesdays after 5 pm. The MET and American Natural History Museum are by donation only. The MoMA is free after 4 pm on Fridays.
The Guggenheim is pay-what-you-can on Saturday nights, as is the Frick Collection on Wednesdays from 2pm-6pm. The Jewish Museum is free on Saturdays. Basically, all of the big time museums have some form of a free or affordable entrance at one point or another!
2. Visit New York's Green Spaces
Spending time exploring Central Park, the High Line, Prospect Park, Madison Square Park, and every other green space is always free!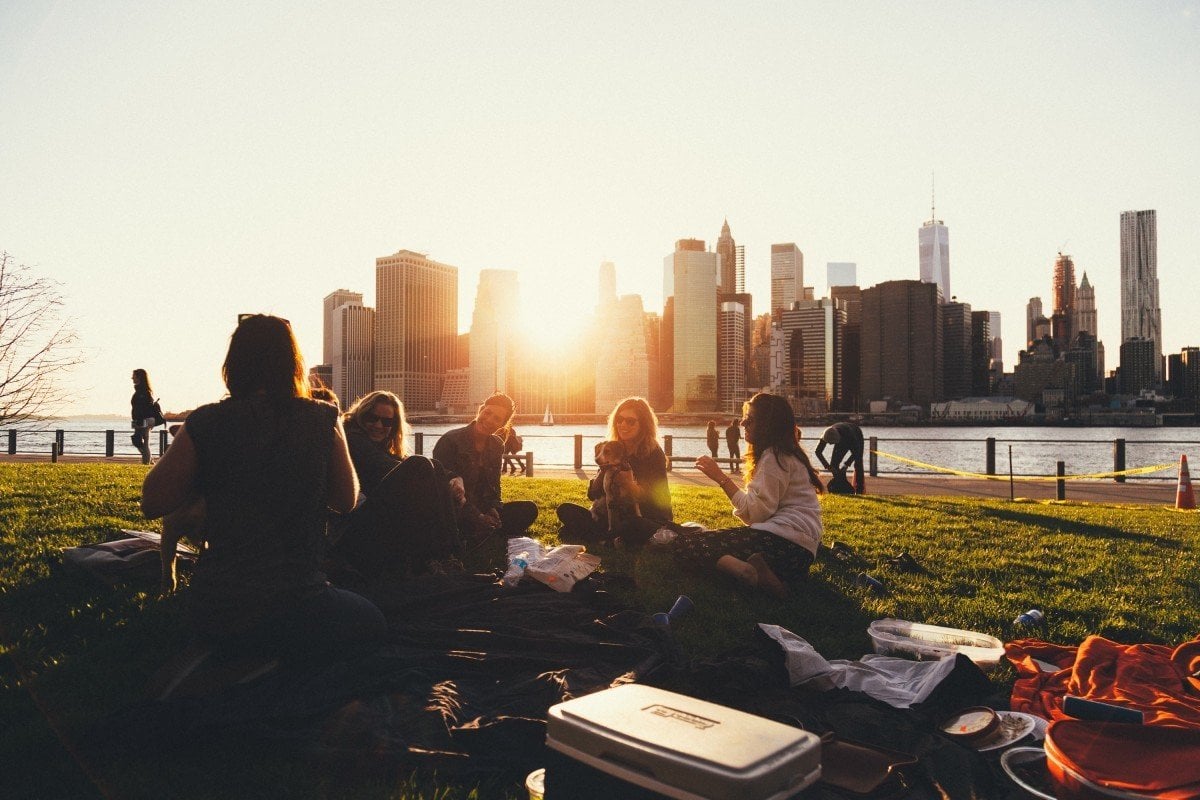 3. Take a Walking Tour
Many of New York's best walking tours offer free tours! (Don't forget to tip though!) Take one of these tours to get a unique view of the city from a local guide. A great walking tour is the graffiti tour of Bushwick, Brooklyn.
Otherwise, you can give yourself a self-guided tour. Take in the energy and architecture that is New York City.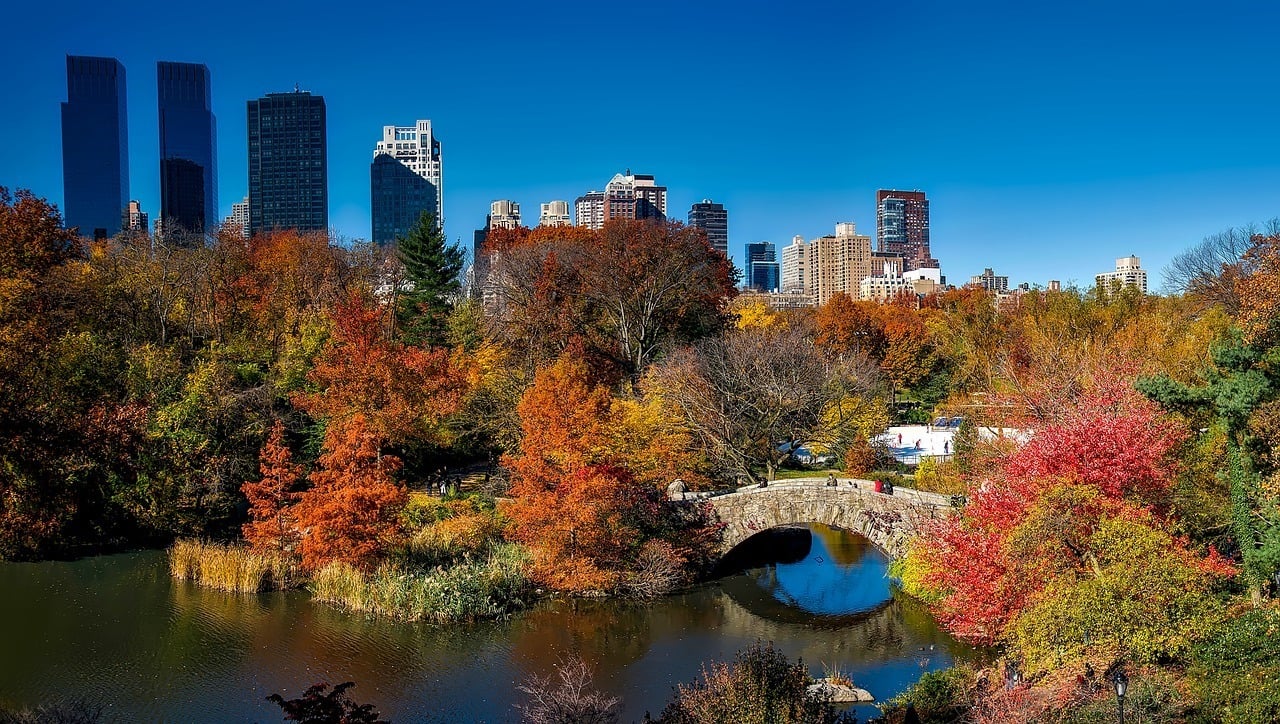 4. Visit the New York Public Library
The New York Public Library is absolutely incredible and is free for New Yorkers and cheap for visitors. Founded in 1895, the building is a stunning piece of architecture on Fifth Avenue.
5. Watch your favorite TV Show being filmed
Some of TV's most iconic shows, like Saturday Night Live, Late, Night with Stephen Colbert, The Daily Show, and Late Night with Jimmy Fallon offer free tickets to the tapings!
Remember though, you will have to reserve them at least about a month in advance, so this requires some proper planning.
6. Go to Chelsea's Gallery Night
Thursday night is art night in Chelsea, as all the galleries open up free to the public for viewing current collections. It's a great way to spend day 1 in my New York itinerary. The Chelsea galleries feature the latest in New York city art, mostly concentrated between West 19th and 28th streets, and 10th and 11th avenues.
7. Outdoor Movie at Brooklyn Bridge Park
This is one of the best things to do in Brooklyn in the summer. Every Thursday night in July and August, you can catch an outdoor screening of a cult-classic or family favorite movie. Best of all, you have an awesome view of the Brooklyn Bridge!
8. Catch a free show at Celebrate Brooklyn!
As I mentioned in day 3 of my New York itinerary, you can catch free (or at least very affordable) outdoor shows at Prospect Park. Bring a blanket and a 6-pack!
9. Bask in the Sun at Rockaway Beach
Aside from your subway ticket, you can take an hour train to the coast and boardwalk of Rockaway Beach.
10. Hit the Farmer's Market and Picnic in the park
Whenever I visit a new city, I love checking out the local farmer's markets. I know that Union Square in Manhattan has one of the biggest ones, operating four days a week.
Grab some delicious, fresh food and cook up some dinner at your hotel, or take-away a picnic to the park! It's a great way to take a break from the madness of the city!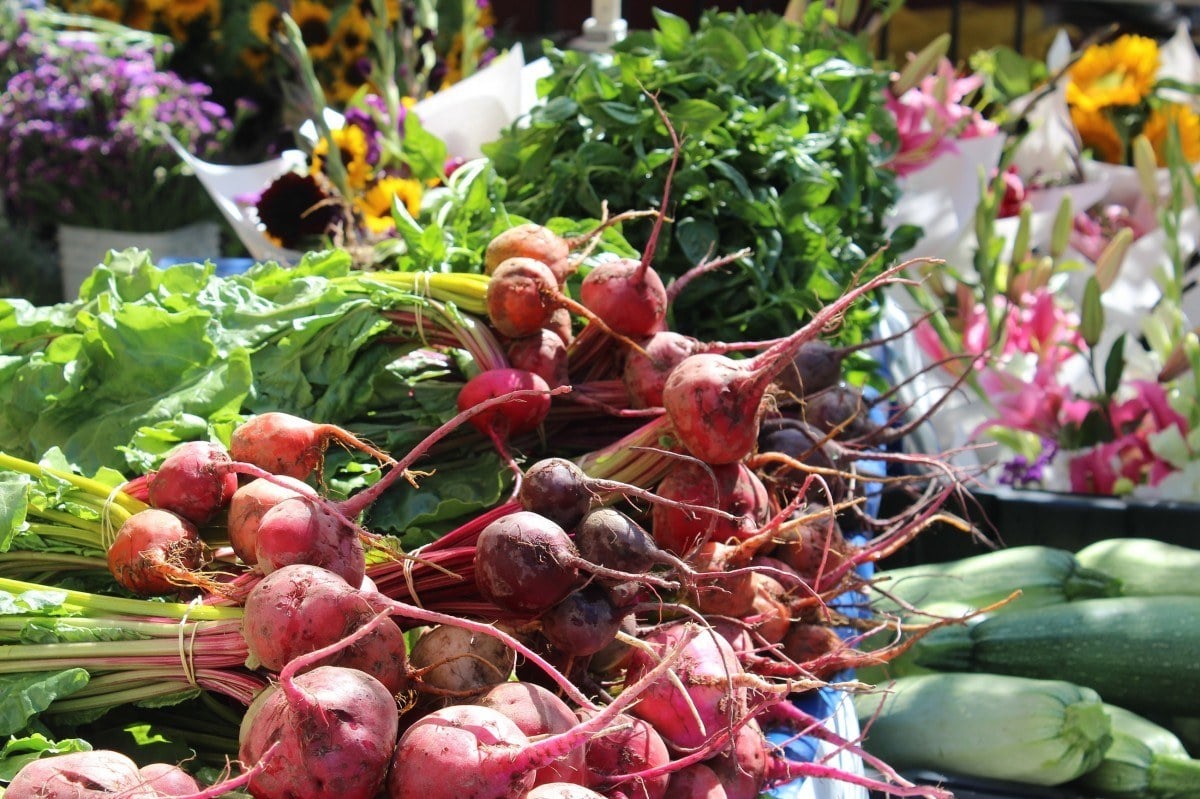 11. Last-minute Broadway Show
New York is one of the most famous places in the world for theater, and with a little planning and good fortune, you can watch a show for under $80 (versus $160). Many shows offer first-come, first-served tickets of lotteries on the day of performances. While some spots are partial-view, they are a fraction of normal price.
You can also find discounted, often half-price, theater tickets for a day-of Broadway show at the TKTS offices around the city (Time Square, South Street Seaport, and Downtown Brooklyn).
12. Catch a hockey game or concert at Barclays Center
You can watch a game or concert at Barclays for a fraction of the prices at Madison Square Garden!
13. Watch some Live Music
Aside from one of the hundreds of live concert venues around the city, be on the lookout for current events and free outdoor concerts.
14. Catch a Comedy Show
Broadway ticket prices got you down? Laugh it up at a comedy show instead. As I mentioned in my 4 days in New York itinerary, Upright Citizens Brigade Theatre in Hell's Kitchen is one of the best improv theaters in New York.
This is one of the venues Lena Dunham and Stephen Colbert caught their breaks. You can catch a show for around $10.
15. Catch a Flick at Nitehawk Cinema
Again, this one was mentioned in my New York itinerary, but Nitehawk is a fun theater to catch a classic movie or indie flick in Brooklyn.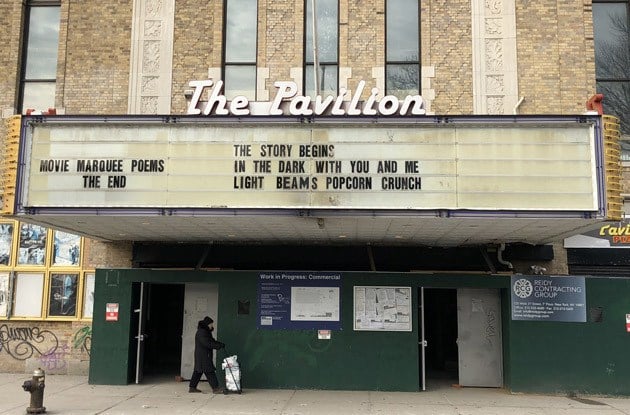 16. Game Cafe
These are popping up all over New York. Game cafes are a fun, creative way to grab a drink and get off your feet after a day of sightseeing.
In my New York itinerary, I mention a visit to Chelsea, so consider stopping by the Uncommons. They take "café with board games" to a new level, as they have an awesome beer selection, good coffee, and the largest library of games on the East Coast. Okay, I see you guys.
17. Outdoor Film in Bryant Park
I know, I know, another movie spot, but outdoor movies are one of the most fun things to do in New York in summer! If Brooklyn is too far, you can enjoy an outdoor film in Bryant Park with the city as a backdrop.
Showings take place on Monday evenings. Get there early to get a good spot!
18. Visit all the food trucks or and markets
There are tons of awesome indoor and open-air markets in New York. The aforementioned Smorgaburg, Dekalb Market, and Chelsea Market are just a few of the best.
Check out this list of the best food trucks in New York City too.
Have you sorted your accommodation yet?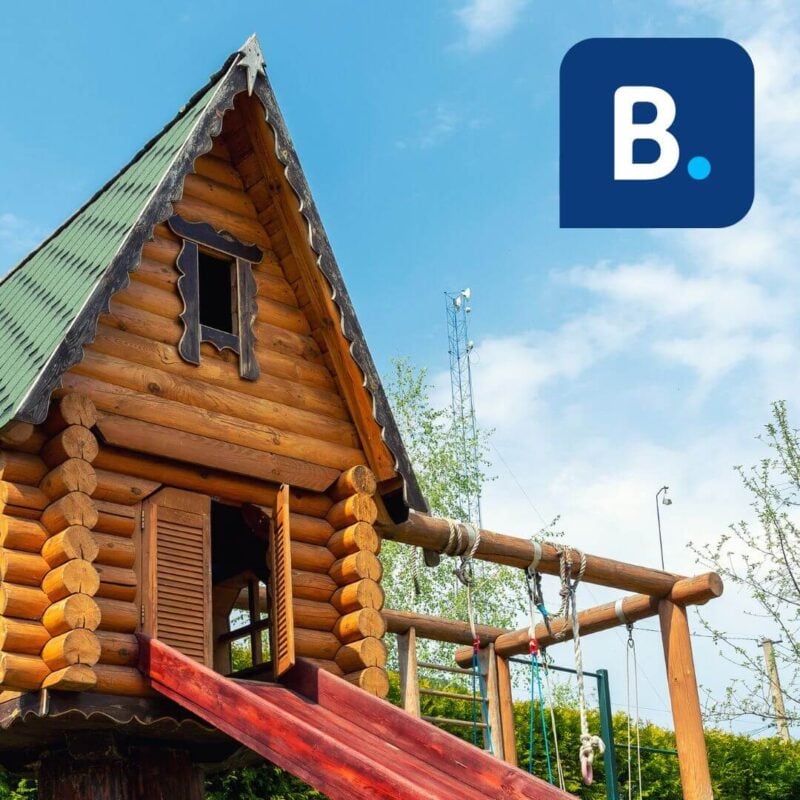 Get 15% OFF when you book through our link — and support the site you love so dearly 😉
Booking.com is quickly becoming our go-to for accommodation. From cheap hostels to stylish homestays and nice hotels, they've got it all!
View on Booking.com
Below I have more travel tips for visiting New York that will help you explore the city on a budget! This includes books to read and cheap eats in New York.
Breakdown of New York City Daily Costs
New York City is full of opportunities to spend money, and if you're not careful, you could find yourself overpaying for food, drinks, and accommodation.
A comfortable budget allowing you to eat well, do things, stay in a hostel, and take the subway frequently would be more like $80-100+ a day.
Here is what you can expect your average daily backpacking costs for 4 days in New York:
Hostel Dormitory: $30-$50
Basic room for two: $225
Airbnb/temp apartment: $175
Average cost of public transport: $10
City-Airport transfer: $10-$50
Sandwich: $8-$12
Beer at a bar: $7
Coffee: $3-$4
Bottle of Whiskey from market: $18
Dinner for two: $60-$80
Cheap Eats in New York City
New York City has some of the best food in the world. While I would love to list all of the best restaurants, the truth is there are too many to name, and they're always changing. Moreover, I can't always afford to eat at them…
In my itinerary, we visit all of the best neighborhoods for New York foodies, but there are plenty of equally delicious alternatives to NYC's prime (and expensive) restaurants.
Many of NYC's staple foods are very inexpensive, and frankly, you can't visit New York and not get a piece of pizza or bagel: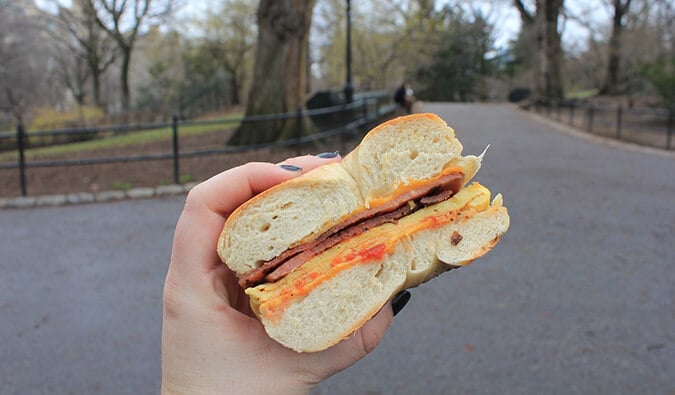 Bagels — A bagel with cream cheese is usually $1.50–$2.00. Wonderful bagels can be found at Ess-a-Bagel, Murray's Bagels, and Lenny's Bagels.
Pizza – A single-topping slice is usually $2.50–$3.50, but many pizzerias are offering plain cheese slices for only $1.00. One of the most popular "dollar joints" is Two Bros. Pizza, with seven locations in Manhattan and one in Brooklyn.
Chinatown street food — Food carts on Canal Street (between Broadway and the Bowery) sell steamed, grilled, and fried Chinese food for $1–$2. Neighborhood bakeries have savory and sweet pastries for 80 cents, and dumpling stands (Tasty Dumpling, 54 Mulberry St., and Fried Dumpling, 106 Mosco St.) offer five dumplings or pork buns for $1.00. Enjoying these treats in bustling Columbus Park is a unique cultural experience in itself.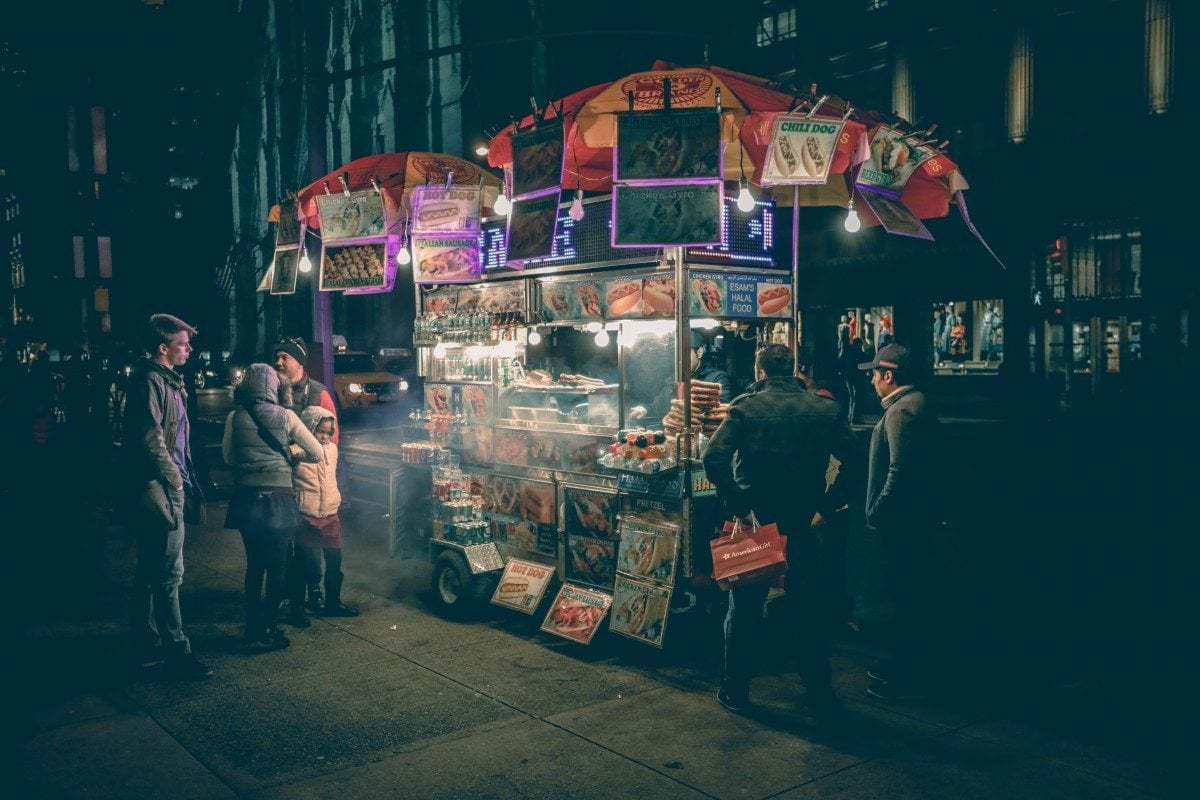 If you prefer to dine in a restaurant, many along Mott, Pell, and Bayard Streets offer dim sum and noodle entrees for $6–$10.
These eats will also help you save money:
Falafel stands — There are many in Manhattan selling inexpensive falafel and gyros. One of the best is Mamoun's, offering baba ghanouj and kebabs for under $6.00.
Harlem soul food — Jacob Restaurant and Manna's feature big buffets of soul food and salads (they're popular, so the food remains fresh), sold by weight: $7.49–$8.49 per pound.
Food trucks and stalls— NYC has some excellent food trucks, serving everything from BBQ to lobster rolls to gourmet desserts at reasonable prices.
Finally, in warm weather, head to the city's greenmarkets like the Union Square Greenmarket, to gather locally grown foods for a picnic in one of the city's parks. Large gourmet stores like Fairway and Zabar's are also good places for picnic supplies.
Don't Forget Your Travel Insurance
ALWAYS sort out your backpacker insurance before your trip. There's plenty to choose from in that department, but a good place to start is Safety Wing.
They offer month-to-month payments, no lock-in contracts, and require absolutely no itineraries: that's the exact kind of insurance long-term travellers and digital nomads need.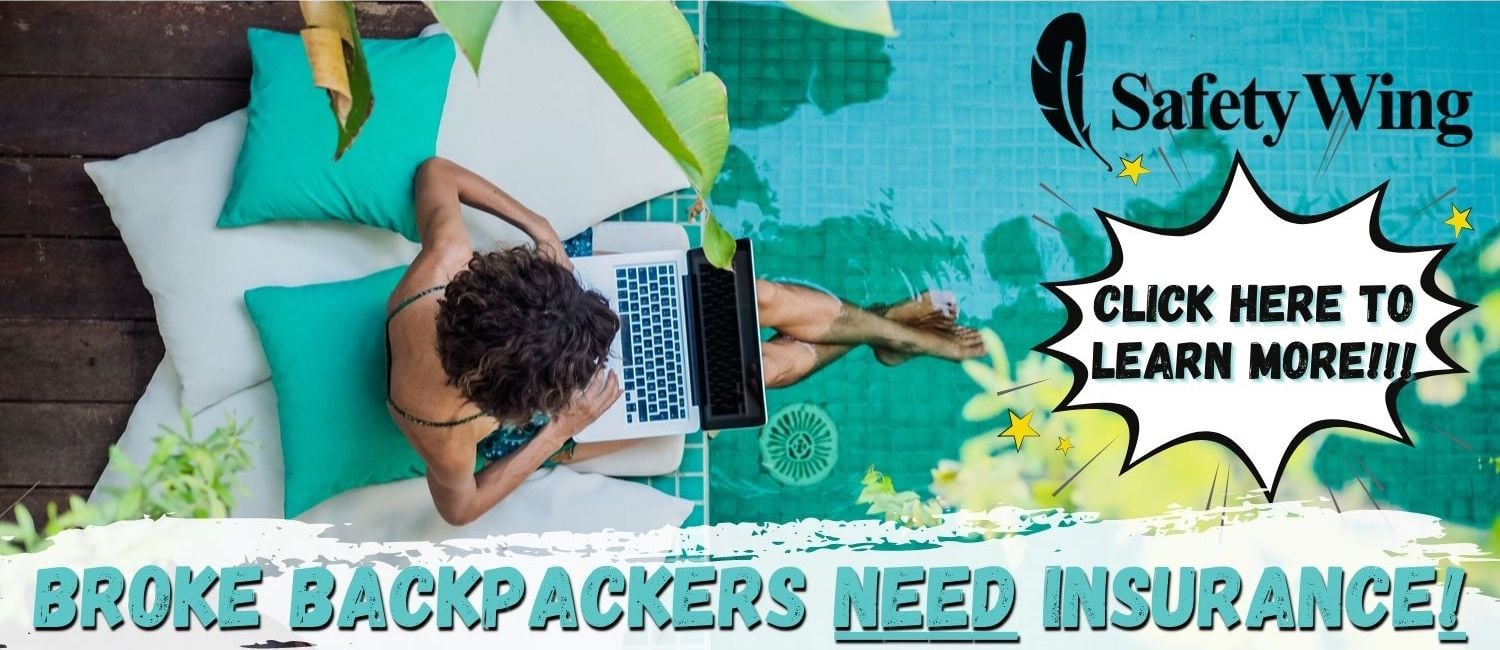 SafetyWing is cheap, easy, and admin-free: just sign up lickety-split so you can get back to it!
Click the button below to learn more about SafetyWing's setup or read our insider review for the full tasty scoop.
Final Thoughts on Your 4 Days in New York City Itinerary
That wraps up my guide for how to spend four days in New York! Above, I included a detailed day-by-day New York itinerary that takes you to New York's hippest neighborhoods, best food sports, star attractions, best parks, and best places by night!
I also included a list of free and cheap things to do in New York to encourage you to enjoy the city without completely breaking the bank.
If you have more time and want to explore further, we have a handy guide on the best road trips from New York that is worth checking out.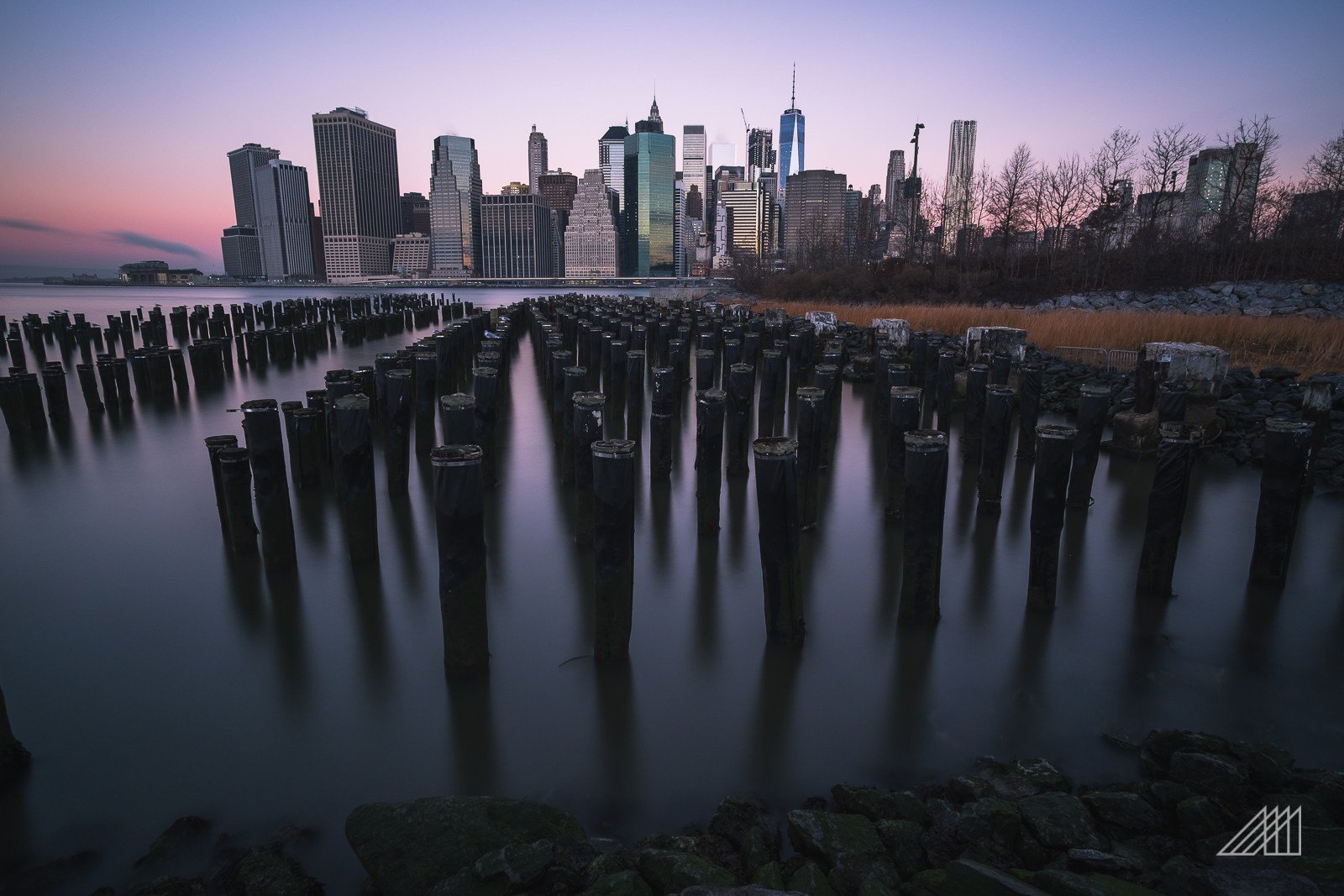 Updated March 2023
---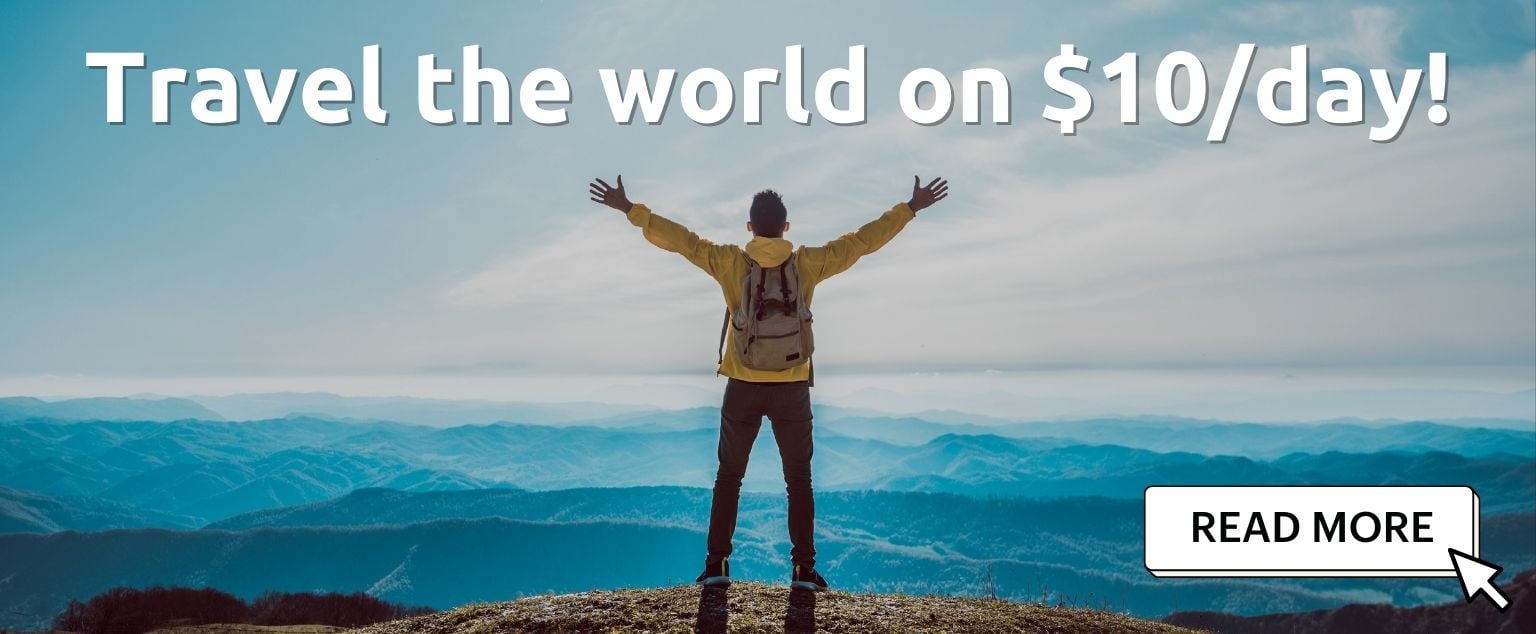 And for transparency's sake, please know that some of the links in our content are affiliate links. That means that if you book your accommodation, buy your gear, or sort your insurance through our link, we earn a small commission (at no extra cost to you). That said, we only link to the gear we trust and never recommend services we don't believe are up to scratch. Again, thank you!