New York, New York. So nice, they named it twice. The Big Apple. NYC. It is THE city – a world city with a population from all over the world. An icon where about a million movies have been set and filmed. It's no wonder you're thinking of visiting this awesome metropolis!
There is a little bit of a problem though. Lots of crime. That's right: New York City has a bit of a reputation for crime. From petty theft, bag snatching and pickpocketing to outright violence and mugging, there's a dark side to NYC that is enough to put you off.
Of course, if you're now wondering "Ok, so is New York safe to visit? Are the rumors true? Is that reputation for crime actually a real thing?" that makes total sense. So to help you figure all of that out we'll be exploring it all in our guide to staying safe in New York.
We'll explore whether or not New York is safe to visit for women, if it's worth renting a car and driving around on its famous streets, or if it's safe to catch the infamous NYC subway. Solo travelers, women, families, and foodies will all find their relevant bits in this guide!
How Safe is New York? (Our take)
This city is one heck of a place to visit. The list of landmark sights is endless. Just think: the Empire State Building, the Statue of Liberty, Grand Central Station. That's not to mention the amazing art galleries and museums.
Obviously, it's one of the most visited cities in America!
But with all those tourists come pickpockets and other petty criminals out to steal unsuspecting visitors' stuff.
There are also some pretty sketchy New York neighborhoods that you probably won't want to be visiting – and trust us: you won't want to be riding that subway at night by yourself!
But for all the scare stories and potential for crime, New York is pretty much like any other city. As long as you follow your street smarts, New York will be safe.
Is New York Safe to Visit? (The facts.)
With an estimated population of 8.74 million people, New York is the BIGGEST in the USA.
It also gets the lion's share of tourists to the country. In 2017 it received a record 62.8 million tourists. Only 13.3 million of these were international tourists.
So people aren't afraid to go – Americans even less so!
Whilst there is a reputation for crime in New York, this has been dropping radically since 1994 and ex-Mayor Rudy Giuliani's 'zero tolerance' policy for crime.
Violent crime has dropped around 50% over the last 10 years; in 2009, the homicide rate was the LOWEST since 1963.
Even better: in 2017 there were only 290 homicides, the lowest number since the 1940s.
So it's safe to say that New York is getting safer to visit, all the time!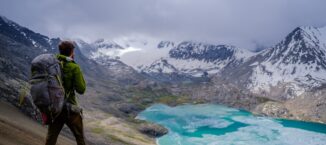 Discover Broke Backpacker Travel Secrets!
Pop your email address in below and we'll send you your copy of the Backpacker Bible for free – learn how to travel on $10 a day!
Is it Safe to Visit New York Right Now?
New York has seen a lot of gentrification in recent years.
Many areas that were once practically 'no-go' a decade or so ago, are now pretty cool areas. For example, Greenpoint was once a hotbed of crime, but has since transformed into the hipster area it is today.
However, there are still some areas of New York to be aware of right now. Alphabet City is one of them. The whole Lower East Side after dark. Be wary of mugging in Hell's Kitchen. Brownsville and Hunts Point are sketchy too.
These aren't likely to be visited by you anyway. That said, it's MOST risky to visit those places at night, like most places in the world. Head there in the day time.
A lot of the popular tourist hotspots – Times Square, the Meat Packing District, Chinatown and also the Garment District – have surprisingly high rates of violent crime. This indicates that criminals may be targeting tourists. It's best to stay vigilant in these areas.
Sometimes the weather affects New York City – and pretty badly, too. Heatwaves can be extreme. Blizzards can blanket the city in winter. Keep an eye on the news!
Obviously, NYC was the scene of the 2001 World Trade Center attack. This left a lasting impact on the city – and the world. There isn't high alert right now, but it's important to be vigilant. See something weird that isn't 'New York weird'? Report it.
New York IS safe to visit right now though. The most you will have to worry about, we would say, is being pickpocketed in a crowd of tourists somewhere like Madison Square Gardens.
Do you need Travel Insurance for your trip? Even if you're only going for a few days, that's more than enough time to get smote by wrathful angels. Have fun in New York, but take it from us, overseas medical care and canceled flights can be seriously expensive – insurance can, therefore, be a life-saver.
Travel mishaps can and do happen and it is well worth thinking about insurance before you leave home.
We have used World Nomads for years now and I have personally made several claims. Why not get a quote from them yourself?
Do be sure to read the terms and conditions to make sure that the policy covers your needs.
Getting an estimate from World Nomads is simple – just click the button or image below, fill out the necessary info, and you're on your way!

Yes, it may have a reputation for crime – of all kinds – but New York is about as safe as any other huge city in the Western world. That means maybe sketchy areas at night mean assaults; it also means pickpockets and petty thieves in touristed areas. That's how these big cities work and there are certain things to have in mind when traveling in them. So to help you stay as safe as possible, here are some top safety tips for traveling to New York to keep you safe and sound.
Don't leave valuables unattended – they will LITERALLY disappear.
Keep belongings secure – dangling bags, SLRs, shoulder straps, all that stuff – make sure it's ON you not hanging OFF you.
Limit the amount of money you're carrying around with you – just more money to LOSE if something bad happens. You can split up your money into different caches and keep some in a money belt.
Be vigilant – especially at night – this is when most 'bad stuff' will happen.
If you are around at night, stick to well-lit streets – the best idea is to stay with the crowds.
Know where you're going before you head out – and try not to look TOO much like a tourist. Just helps a little to blend in.
Don't show off all your valuable possessions – even your smartphone. This will make you more of a target.
People in New York are surprisingly friendly – ask someone if you're lost. They'll most likely help you out!
Don't use empty subway carriages at night – again, go with the crowds. Or to the conductor's car.
Careful when you're buying tickets for Broadway shows – if they're super cheap, they're probably too good to be true.
Also, be aware of other scams – like buying 'tickets' for the Staten Island ferry – because it's free.
Be wary of swindlers – people may try to get your money in elaborate ways. If it SEEMS weird, it probably is.
Watch out when getting money out at ATMs – check who's behind you, as these are good places to get robbed!
At the end of the day, New York is a developed city. It's not a warzone. There ARE things to look out for, but most of the things that you may fall for or be a victim of are easily avoidable and violent crime is not something that often involves tourists. Just make sure you travel smart and keep an eye on your belongings – and who's around you. Use your noggin and have a blast!
Some General Safety Tips from the OG Broke Backpacker
Keeping your money safe in New York
With the worry of being a victim of pickpocketing (or worse) anywhere in the world, you're going to want to keep your money safe wherever you are. That's no different in New York.
This could happen. There's no 100% guarantee that your money is going to stay safe in New York. ESPECIALLY if it's in your pocket! So we have a very simple solution to that problem. And that's a money belt.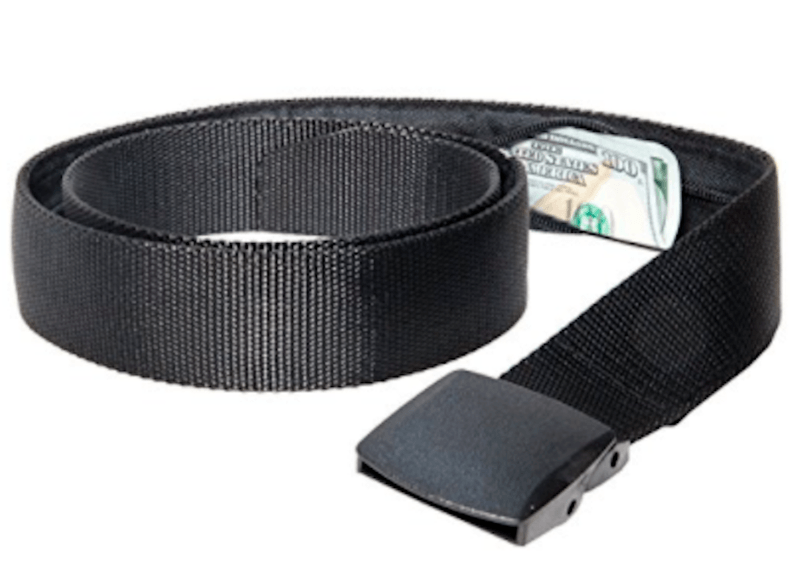 There are quite literally thousands of different money belts out there to choose from, which in our opinion is a bit much to choose from. We're going to make things EVEN simpler for you and recommend the Active Roots Security Belt.
This thing really is a great option for a money belt. It looks like a NORMAL belt, which we love. It's also affordable and sturdy.
If you are a little bit apprehensive about money belts, don't worry. This isn't your run of the mill money belt. No complicated compartments or weird pockets. No discomfort wearing some sort of chest strap thing. Nope. This looks and acts like a normal belt. You just put your stash of cash in the zip… And away you go! Out to the New York places to visit without the worry of having your pockets pilfered.
If you need a little more room for your passport and other travel valuables, have a look at a full-size money belt that tucks under your clothes instead.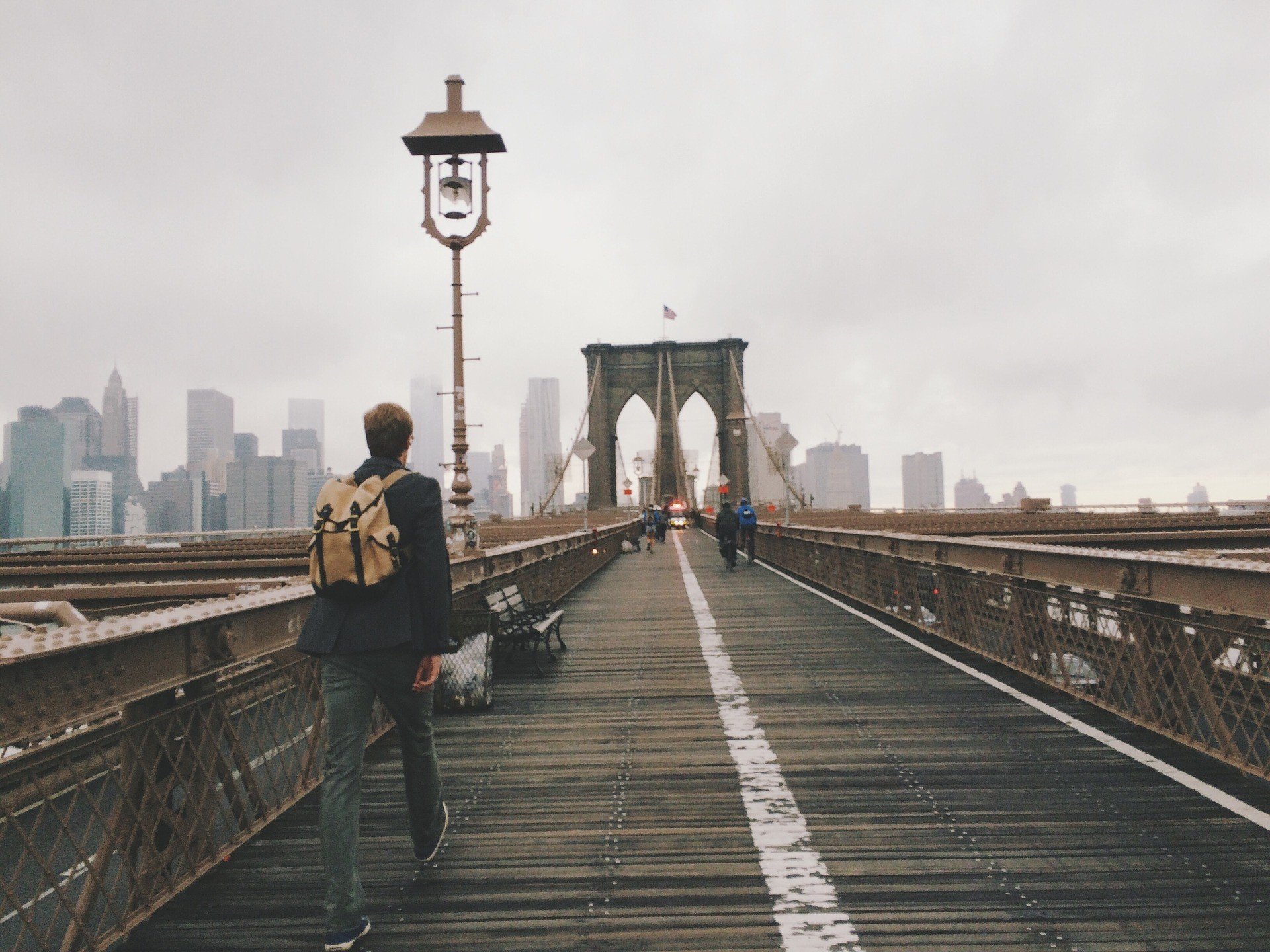 We are big fans of solo travel, and New York is a great place for it. Yes, that's right: New Yorkers may have a reputation for being a little rude (you can thank the movies for that), but people are actually super friendly!
Of course, there are a TON of benefits to solo travel. You get to do what you want, when you want, and maybe you'll challenge yourself and learn a thing or two. There ARE downsides though, but don't worry. Here are our tips to help you stay safe and beat the solo travel blues.
Stay at one of New York's cool hostels. These are going to be great places to meet friendly locals working there and cool travelers doing what you're doing staying there. Obviously, do your research. Find somewhere with great reviews that seems like it's going to be your kind of place. Get chatting, make friends – it's a good way to NOT get bored or lonely on your NYC trip.
Whilst you could make a travel buddy to explore the city with, you shouldn't be afraid to explore New York by yourself. There's plenty to see and do, all of which you can do in your own time. No need to rush. Enjoy yourself: it's your time!
But you could always go on a tour! Your New York hostel might offer up a free walking tour of a certain area, or you could just as easily book yourself on a different organized tour instead. Again though, make sure you do your research and find the BEST tour for you. Chances are you'll get to explore the city safely, learn about the history of New York, and maybe even make a couple of mates.
Since you'll be relying on yourself alone, make sure you LOOK AFTER YOUR MONEY! Stash your cash in different places, don't keep it all in one wallet, purse or bag – if that goes missing, you're screwed. Consider a money belt and maybe even an emergency credit card, just in case.
Don't party too hard. Being a sloppy drunk in the city is just going to make you a much easier target. So go easy on the alcohol and make sure you know how to find your way home.
Keep emergency numbers in your phone – and save them so that they appear at the top of your contacts. Imagine an emergency situation where you have to spend time scrolling through stuff.
Ask the staff at your hostel about things to do in the local area – or any other kind of local tips that will lead you to some hidden gems of the city. There's more to life than your guidebook, and chances are it's going to be LOCALS who know the best spots.
Since you're traveling by yourself, you should keep in touch with people. Friends and family, mainly. This will help you to stay grounded, stave off the solo travel blues, and give you someone to talk to if you're finding it hard. It CAN get difficult to get out there and do stuff by yourself, we get it, so call up your bestie for a pep talk if you're in need of one.
There you have it. Some of our best tips for solo travelers in New York. Chances are, safety-wise, you'll be fine and have an absolutely AWESOME time exploring this iconic metropolis. The most problematic thing is going to be feeling a bit alone in a big city. Especially if you're not USED to big cities. So make sure you keep in touch with people, make friends at your hostel, and go on a tour to keep sane!!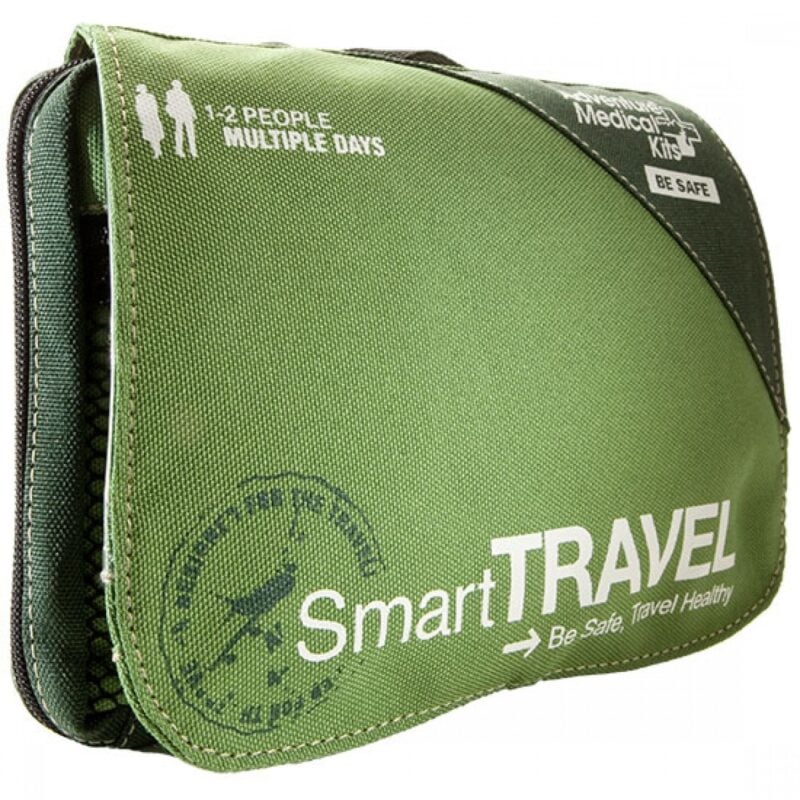 Be prepared for what life throws at you on the road. Pick up an AMK Travel Medical Kit before you head out on your next adventure.
View on REI
View on Amazon
Is New York safe for solo female travelers?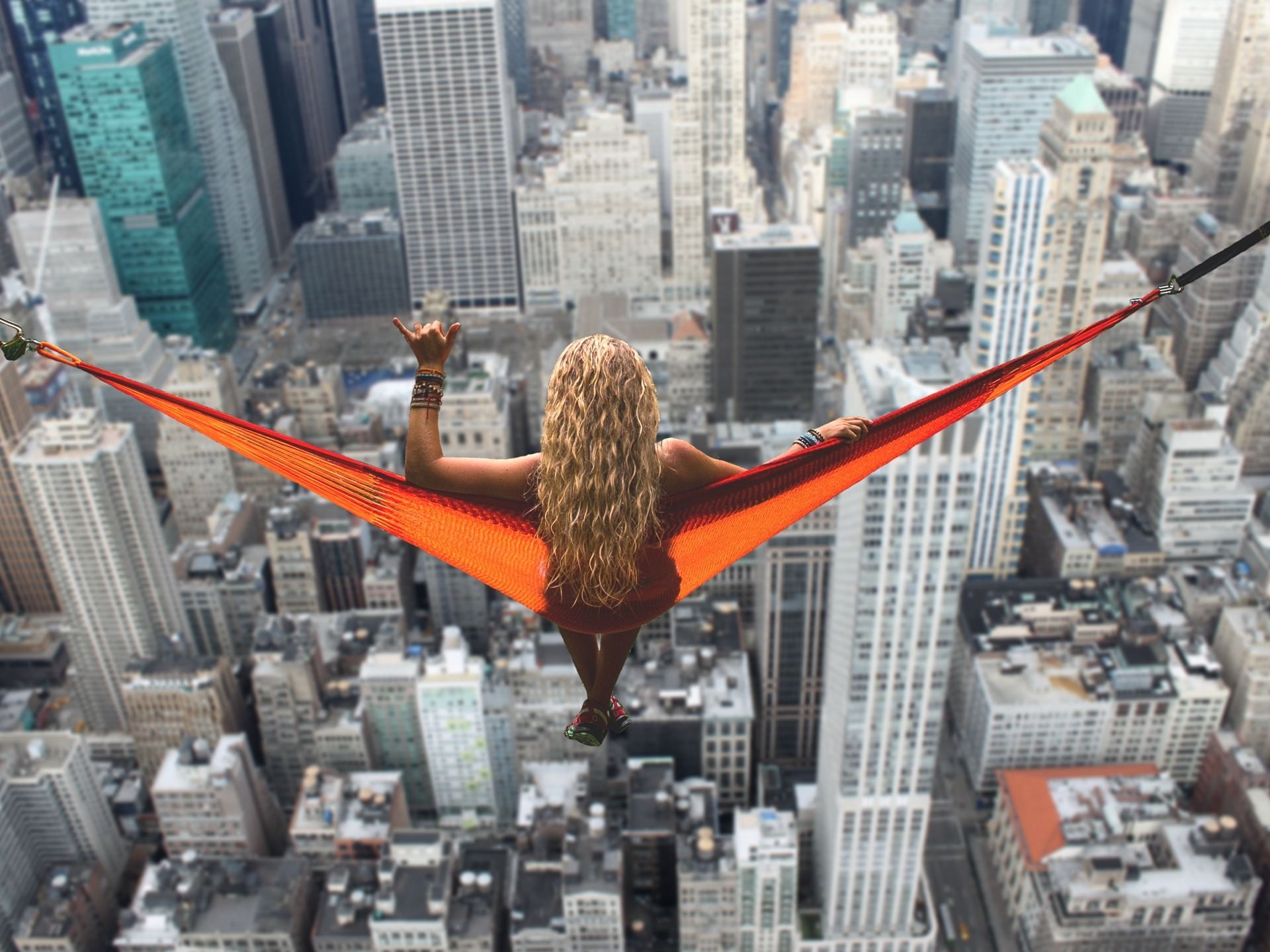 Yes. New York is a fun and friendly city that's great to explore and dive into headfirst as a solo female traveler. You can strut across Brooklyn Bridge, sip cocktails in SoHo, it's all here. But of course, being a solo FEMALE traveler comes with a little more risk.
So you're probably wondering if it's safe to go it alone in the city. We think it is. But here are some tips for keeping safe as a solo female traveler in New York to make it EXTRA safe for you – and make sure you know what the score is when it comes to potential dangers.
There has been a rise in drink spiking in New York. We would DEFINITELY recommend that you buy your own drinks, don't accept drinks from strangers, and once you HAVE your drink – don't let it out of your sight. Just keep it close.
If someone is making you feel uncomfortable when you're out and about, speak up about it. If you're on a night out, ask the bar staff for help. If you're elsewhere, out in the daytime, make a fuss. Remove yourself and find help in the nearest establishment, shop, cafe, etc.
Don't tell people EVERYTHING about yourself. There is no reason to tell a complete stranger personal details just because they're asking you. Where you're staying, where you're going, where you're from, what you're doing tomorrow, whether or not you're married – they don't need to know. Tell white lies or say nothing at all. Strike up a conversation with someone else, preferably another woman.
Avoid walking around by yourself after dark. Especially in unfamiliar places and poorly lit, quiet streets. This is kind of a no-brainer, but it helps to remember that this is really something you SHOULDN'T be doing in New York.
Walking in a purposeful way can be a good way to avoid unnecessary/unwanted attention. In order to do this, maybe plan a route ahead of time and know where you're going. Looking more like a local and less like a lost tourist will help you NOT look like an easy target.
Google Maps – or any maps app – is definitely helpful, BUT – don't follow the directions if they take you down backstreets in shady areas. They find the QUICKEST route, which can mean some questionable shortcuts. Even if it takes two minutes longer, stick to busier roads. Especially at night or in areas that just seem a bit sketchy.
Definitely research where you're staying. It helps to read reviews from fellow female travelers. Are there weirdo members of staff? Are the doors secure? Is the area safe and well lit without sketchy people hanging around outside? Choose the safest place for you – and if it's got a female-only dorm too then it's bound to a be a good shout.
Generally, New York is safe for solo female travelers. It's an amazing city to explore, we're not going to lie. There are also a load of other awesome women to meet up with – not just travelers, but locals too. It's a cool, creative city with a TON of energy to absorb and explore.
Of course, being a woman anywhere in the world comes with extra risk. It's annoying, it's sad, it's true. And in New York, like most other big cities, you're going to want to avoid walking around sketchy areas. Walking around at night time. That sort of thing. Simple stuff!
Yes, there may be weirdos out there who may be overly interested in what you're doing in New York, but there's nothing in this incredible city that should be actively keeping you away from it. So come pay the Big Apple a visit. We're betting you'll absolutely love this place!
Is New York safe to travel for families?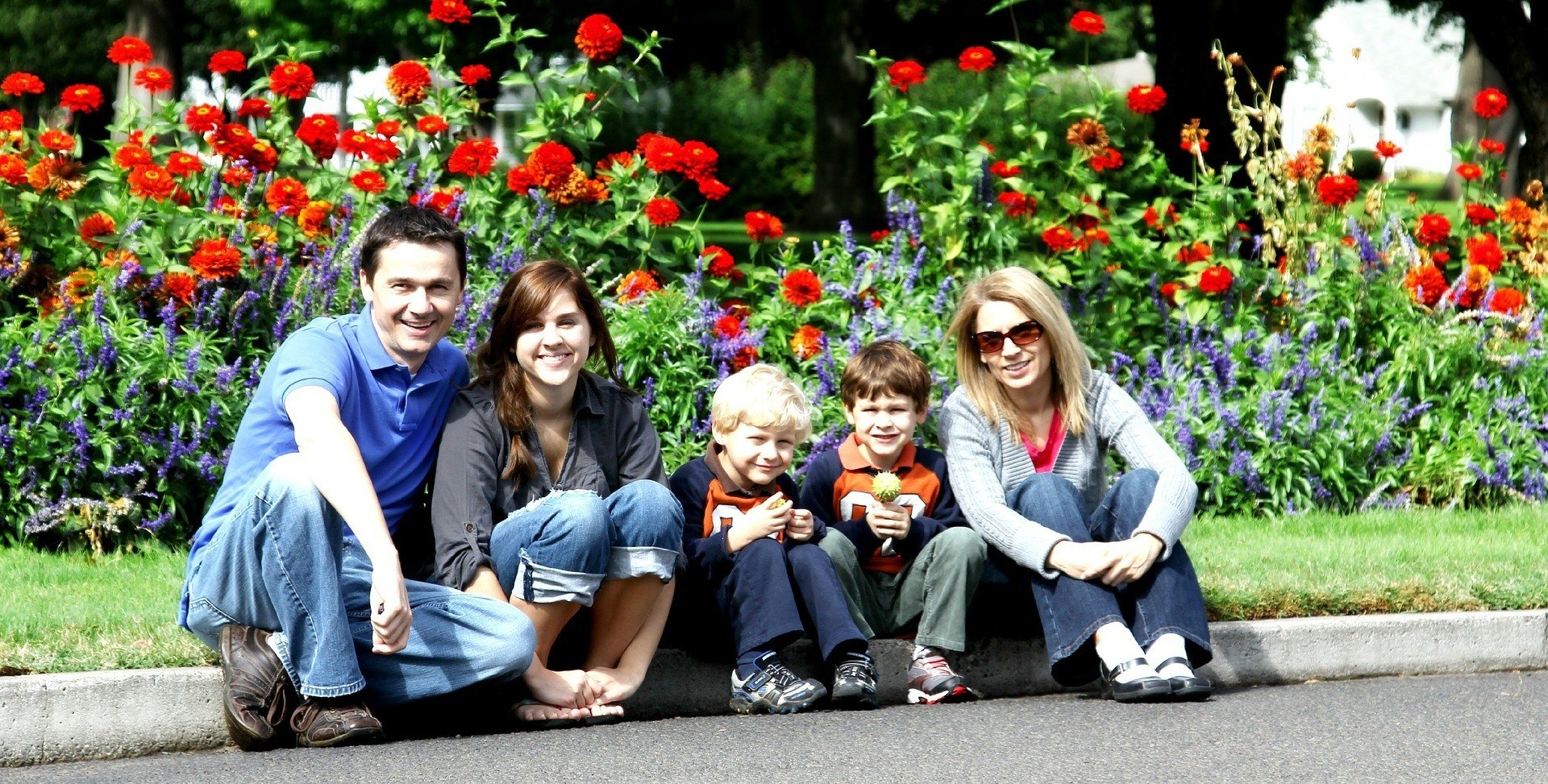 New York is going to be a pretty epic place to take your children.
There are a ton of things to do in this world city. Zoos, museums, shows, playgrounds and parks galore mean nobody's going to be getting bored anytime soon!
Central Park is the famous one. You can even get a carriage ride around here!
There are fun days out like Bronx Zoo or you could even get a boat around the iconic Statue of Liberty. Then there's New York Transit Museum and the world-renowned MoMA. There's a lot to pack into a family trip to New York.
For the most part, New York is safe to travel for families.
However, there are a few things to bear in mind when you visit. Like, when you grab a cab, any children under 7 can sit on your lap. No car seats. UberX does provide car seats though!
It's a good idea to have a chat with your child when it comes to crossing busy city streets. Knowing how to cross the road safely is very important.
The sidewalks themselves can be overwhelming for children. It could be easy to get lost. So maybe organize a safe spot to meet up. Stranger danger goes without saying (have you seen Home Alone 2?).
Be aware of your surroundings when you've got children. Easily distracted parents watching street performances with their children are going to be easy targets for pickpockets. Stay extra aware!
Pretty much though, you'll be fine! It's NEW YORK. There are a load of city moms and dads doing their thing every day here. So join in and have fun!
Is it safe to drive in New York?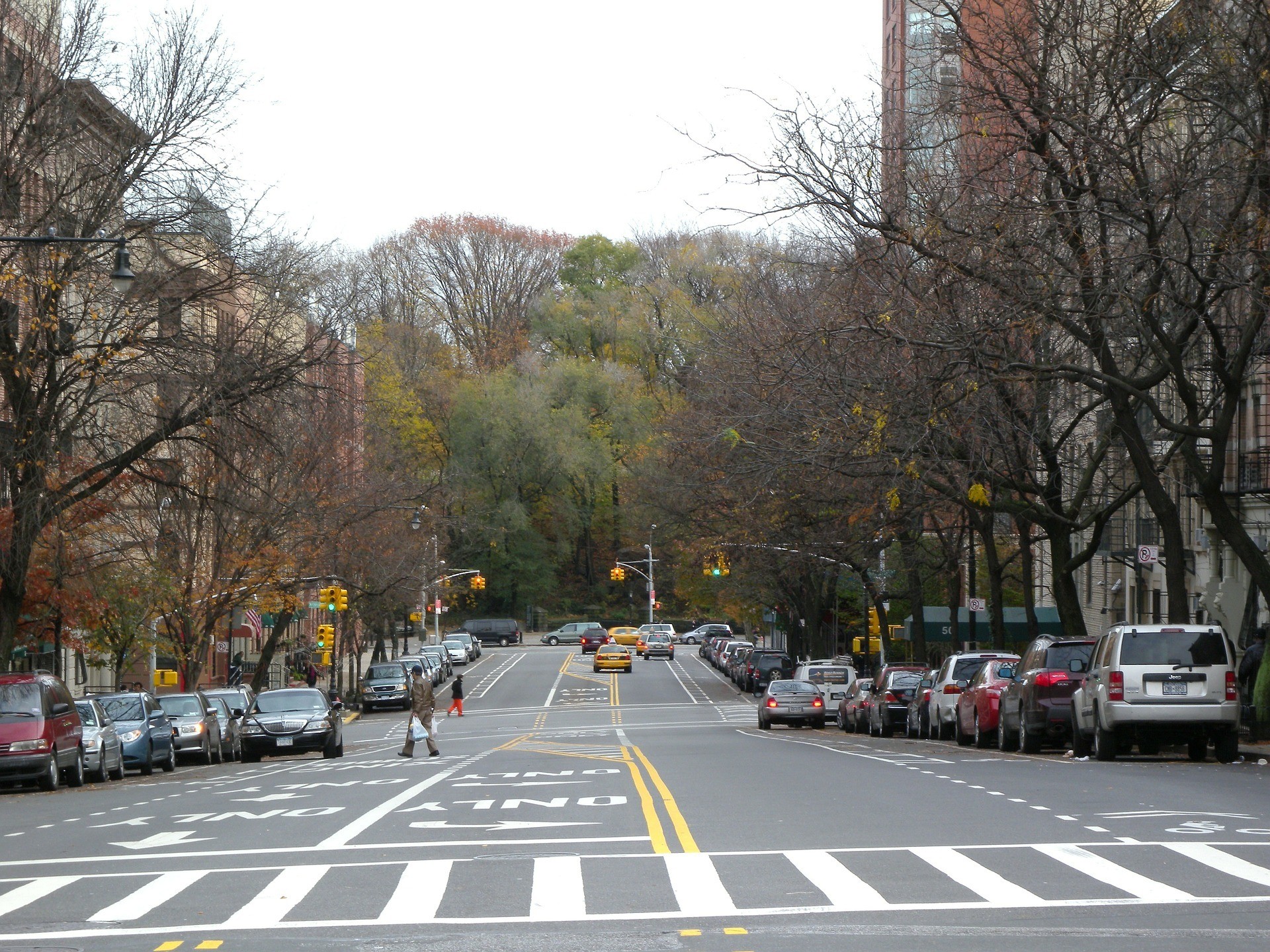 Whilst it IS safe to drive in New York, there are some things you might want to know.
The streets are VERY busy. There are LOADS of pedestrians – sometimes crossing whenever they want. Most people in the city would usually opt for taking public transport rather than driving.
There are definitely hassles involved in driving. Traffic is one of them, especially in Manhattan. Signs can be confusing, especially if you've never driven in the US before. And parking? Yep, that's expensive.
The speed limit in NYC is 30MPH so things can move quite slowly. And you'll be sharing the streets with other drivers, taxis, buses, cyclists, Uber Eats delivery people, street vendors, and a whole lot of traffic lights.
One of the most dangerous things about the city is watching out for pedestrians and cyclists. You'll have to be aware of what's happening around you at all times. Bike lanes have been implemented throughout much of the city and you'll have to take care when you're turning.
Pedestrians have the right of way. You have to wait for them to cross. Makes sense to us!
About that parking – it's a headache. You'll have to make sure you park somewhere secure, too, as break-ins and carjackings DO occur.
Parking enforcement in the city is pretty hardcore so DO pay at the meter – always!
Traffic jams in rush hour (7-9AM and 4-7PM) are a literal nightmare. The bridges and tunnels that connect the city can be SUPER stressful at these times.
Basically, we try to avoid driving in New York. It's safe, but unless you want to be going on road trips to places like Long Island or Upstate New York, there's not a lot of point to driving around the city.
Is Uber safe in New York?
Uber is definitely safe in New York, but make sure you check the information on the app against the car (and driver) that turn up.
Getting into a random car can be super dangerous, so definitely check the driver's photo, car type, registration, etc. That's even more important if you're trying to get home with an Uber at night.
But other than that, Uber is a good way to get around.
Just be careful that you don't mistake a totally random car or driver for your Uber.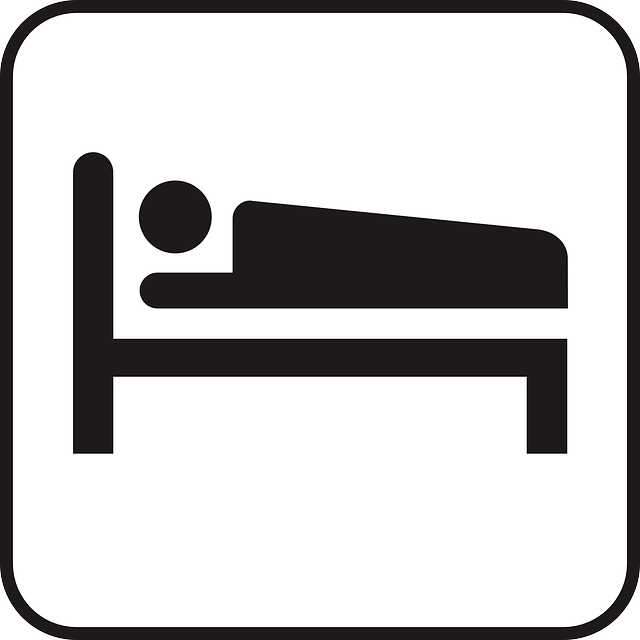 Sleep safe! Choose your hotel, hostel or Airbnb ahead of time so you're not last-minute booking a less-secure place.
Read our New York Neighborhood Guide for our favorite accommodations in New York City by area.
Check out our Brooklyn Hostel Guide for the best budget options.
Are taxis safe in New York?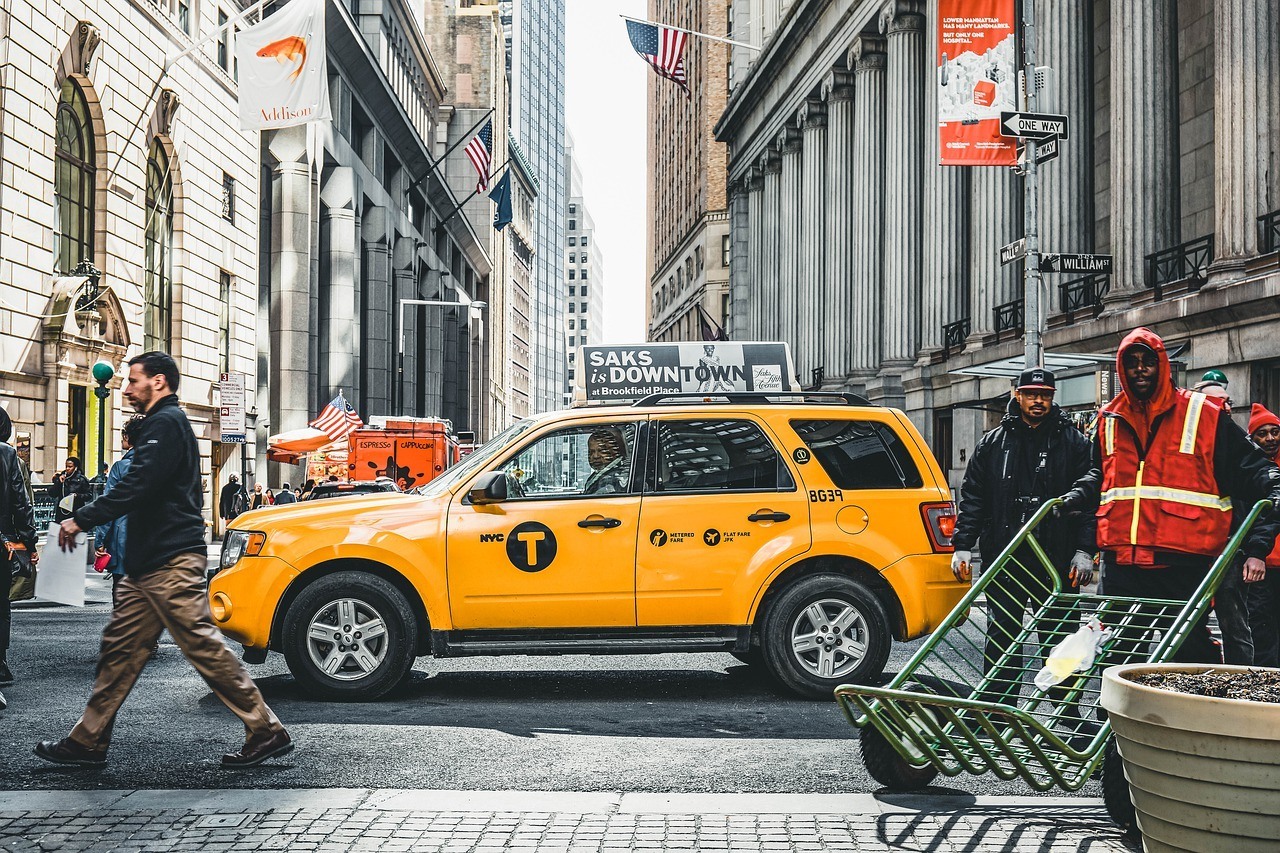 New York's famous yellow taxicabs are – as they are in the movies – ALL OVER the city.
They are easily identifiable, obviously. They're YELLOW.
Make sure you get a licensed cab though. You'll be able to tell these are legit from the ID number on the taxi sign on the roof and on the hood of the car.
There ARE other companies, which aren't yellow, like the street hail liveries, which are light green. Again, IDs are on the sign and the hood.
Inside official New York City taxis, there should be a license sticker inside the car being clearly displayed. If you can't see it, you should get out.
You can either hail a cab on the street or go to a taxi rank. But you'll need to make sure you know where you're going and speak confidently to the driver so they don't mess you around.
Make sure you exit on the curbside of the car but DO watch out for pedestrians and cyclists as you do so!
When arriving in New York at the airport, you may be offered a taxi from a tout at Arrivals. But don't think you'll be saving any time by doing this – these taxis are often unlicensed and generally not safe – for your money, at least. You'll run the risk of getting ripped off.
Either queue up at the airport taxi rank or call a New York City car service which will take you to your destination for a flat rate.
Taxis are safe in New York. And you're bound to have an experience in taxis alone, pretending you're right out of a movie.
Is public transportation in New York safe?
Another famous sight of New York is its public transport. This has also been featured in films.
It's very likely you'll find yourself using it at some point during your trip.
The iconic subway is an intricate web of lines and stations that can take you pretty much everywhere in the city for a snip. Get yourself a metro card and join other New Yorkers, tapping in and out of stations.
Also, get an app to help you navigate the subway. You'll need help – trust us. There's also an official website, Subway Time, which has times and any delay reports.
You may be a little worried about taking the subway in NYC. We get it. It IS safe, but certain stations are safer than others. Most crime actually happens at the BUSIER stations: 34th Street-Penn Station and 161st Street-Yankee Stadium. In these kinds of places, and all over the subway system, you should pay attention to your surroundings and your belongings at all times.
During peak hours, getting on the subway (especially if you're not used to them) can be overwhelming. It's common to not make eye contact with people. Keep yourself to yourself. Be aware of your surroundings.
When it comes to using the New York subway at night, a good tip is to stand close to the metro card booth and near to the sign that says "off hours trains stop here" – they tend to be busier spots. Don't ride in empty carriages – always opt for busy ones or the conductor's car (the center carriage).
It runs until midnight – 2am on weekends. Whatever you do, don't fall asleep and watch out for weirdos hanging around stations. If you do find yourself close to someone who's acting weirdly, follow your gut and go stand with a crowd of people.
Obviously, more antisocial behavior happens at night, so just be aware. Apart from that, it's SAFE. It's part of being in New York!
Then there's a bus service which runs across all five boroughs. You can also use the metro card on this. They are popular with commuters and can get SUPER busy in rush hour.
The downside of buses is that they get affected by traffic. There are over 6,000 buses that ply 320 routes around the city, so you should be able to get wherever you want to go pretty easily.
The same sort of rules apply: watch out on busy buses for pickpockets, and be careful riding the bus late at night.
Public transport is safe in New York – just not AS safe after dark.
Keep everything on you in transit!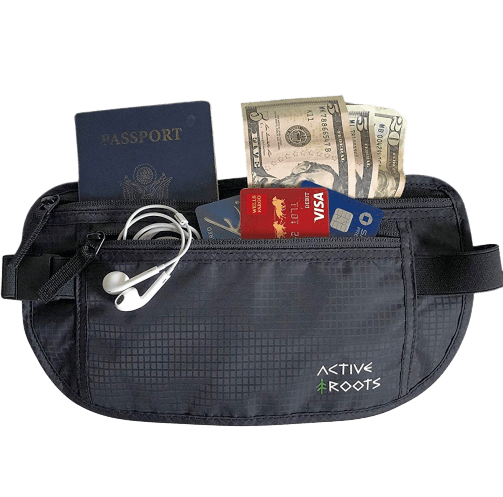 When moving from place to place, you shouldn't store travel documents in a bag, even if it's under your seat or overhead.
A full-sized money belt that stays tucked under your clothes keeps your documents and cash organized during your travels and assures nothing critical gets left behind or stolen.
Is the food in New York safe?
Food glorious food – New York is a foodie heaven. We're talking burgers, pizzas, hot dogs, bodegas, Chinese food, Greek food, tons of diners and coffee joints, Italian food, donuts, cronuts. Man oh man, New York is ALL food. It's truly one of the best parts of the city!
There are LOADS of independent restaurants to try, cool hangouts, retro classics, and even high-end dining if you've got the money to spare for that sort of thing. Of course, not all establishments are created equal, so here are some foodie tips for eating in New York.
Follow the locals. They'll know where the best food stands are. Whether you want a falafel pitta bread or a big ol' slice of pizza, New Yorkers are going to have their favorites, so if there's a queue at a particular street vendor – and you're hungry – definitely stop to see what all the fuss is about. Your stomach will thank you.
On the theme of street vendors, watch out for dirty-water dogs. These are hotdogs that have been cooked in water which hasn't been changed in a while. Not all hotdog stands are amazing just because they're in New York. Some are downright dirty and will give you a bad stomach.
There's a grading system which evaluates eateries based on their health and safety. If you see anything that's B- or C, you may want to avoid it. This means they don't have the best sanitary conditions going… If you're REALLY worried, you can find out the restaurant's health credentials online at NYC Department of Health Restaurant Grades.
New York City has a load of chain restaurants. These MAY grab your attention when you're hungry, but don't give up looking for a good place to eat. Starbucks is NOT your friend. You're in NEW YORK. Check Google Maps for somewhere to eat, read reviews, go to the good ones. Easy!
Times Square is the tourist mecca of New York, but it's not a good place to find good food. In fact, it's going to be tourist trap galore. This means less quality, more making money. Wander a little off the beaten path to find something actually authentic that won't break your bank – and potentially make you ill.
And last but definitely not least – WASH YOUR HANDS. You may have found a good place to eat that's clean, but you still may get ill if you don't wash your hands. Walking around a city can get pretty gritty and grimy, so wash your grubby mitts before getting your hands on some of some NYC food. A lot of it is eat-with-your-hands sort of stuff anyway.
So there you go. There are so many tasty things to eat in New York. So many things! Pretzels, bagels, New York cheesecake for crying out loud! Pastrami. Breakfast sandwiches. Kebabs. Just get involved. There are a ZILLION places to choose from in this big city.
And don't, whatever you do, get yourself involved in a clinical chain restaurant or some sort of dodgy tourist trap. This will give you a warped view of New York's food scene. Don't be afraid to get stuck in! Read reviews, follow locals (and your nose), and ENJOY!!!
Can you drink the water in New York?
The water in New York is safe to drink, don't worry. If you're particularly sensitive to chlorine, you can filter it with a carbon filter. No matter what, have a refillable water bottle with you (insulated, if it's summertime) so you can stay hydrated on the go without buying environmental-murdering single-use plastic bottles!
Want to save the world?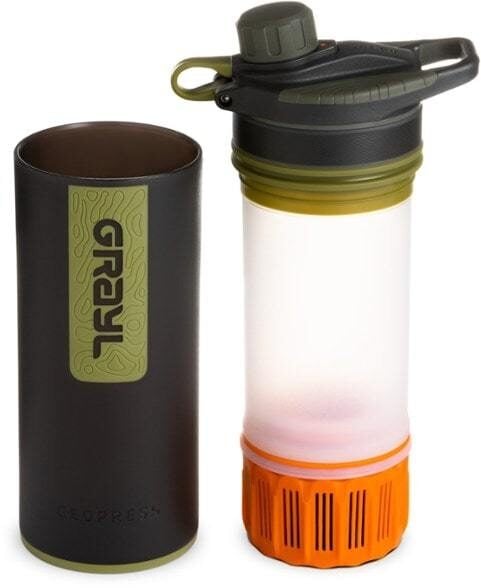 Single-use plastic bottles are a huge threat to Marine Life – Be a part of the solution and travel with a filter water bottle.
The GRAYL GEOPRESS water bottle is the ONLY all-in-one filter water bottle setup you'll need. Whether you need to purify the water from a hostel sink in Kathmandu or a stream trickle in the Andes, the Geopress has got you covered.
Read our full review of the GRAYL GEOPRESS!
Is New York safe to live?
Living in New York isn't like living in any old city.
It'll mean a change in lifestyle in a city that's absolutely teeming with different cultures and communities all tangled together across the five boroughs.
Contrary to what you may think, NYC isn't a scary place to live. Over 8 million people already live there anyway.
It's literally overflowing with arts, food, business, creativity – all sorts of things to keep you interested. A city of endless possibilities.
There are, of course, neighborhoods you should avoid. And then there are ones that you should consider.
Those in the 'yes' list start with Astoria (Queens). It's diverse, got loads of great food, as well as good trains to Midtown Manhattan and JFK Airport. Then there's the famous West Village with its tree-lined boulevards, chic townhouses and plethora of independent establishments. The tranquil Upper East Side – next to Central Park – is a family-friendly place to live.
Of the twenty safest neighborhoods in New York, the borough of Queens has NINE of them. It's a pretty low key place in general, lacking in tourist attractions – which is a GOOD thing if you're planning to live here.
Wanting to avoid crime? Steer clear of neighborhoods known for alcohol, nightlife, and tourists. This always seems to be the best cocktail for crime in New York.
As long as you do your research, you'll be safe living in New York. Make friends, join Facebook groups, involve yourself in the creativity and get swept up in all the excitement of the city!
If you want a tiny taste of New York living, why not book a New York homestay on your next visit?
How is healthcare in New York?
Like all of the USA, healthcare in New York is for the most part private.
If you need over the counter advice, this city is absolutely covered with 24-hour pharmacies. Chains like Walgreens and Rite Aid can offer advice over the counter at all times – as well as medication, obviously.
But if you've got something that needs a prescription, or you need to see a doctor, you'll definitely want insurance. Being healthy is EXPENSIVE here.
A good way to see a doctor if you're on holiday in New York is by finding an urgent care clinic. These can be found across the city. They're essentially 'walk-in' centers, can do X-rays, put casts on, that sort of "clinic" stuff.
A quick internet search, or asking the staff at your accommodation, should help you find the one nearest to you. The cost will depend on the amount of treatment you need but can EASILY run into a few hundred dollars. And that's just for a VISIT!
Also, there may be long waits, depending on your condition.
If something's REALLY wrong with you, call an ambulance. Even these cost money. They'll take you to the Emergency Room at a hospital. It's New York: these are good quality places, so that's not what you'll have to worry about.
It's the COST you'll fret over. We can't stress enough the importance of having health insurance in New York. If you not a U.S. citizen, you'll need travel insurance.
Final thoughts on the safety of New York
New York may have a reputation for crime. But that's sort of a hangover of the '80s and '90s movies and TV series that are basically embedded in everyone's psyche. It's not as bad as most think. Of course, there IS crime. Petty crime – pickpockets in busy tourist areas, crowded public transport and transit hubs. However, that's not any different to any other big city. Common sense plays a big part.
That goes for more serious crime too. If you're walking down a poorly lit street at night and there's no one else around, it'll feel scary. And if something feels scary, that's because you imagine that something BAD could happen to you on streets like this. So what's the best thing to do? Don't walk around NYC on deserted streets at night.
Other than that, there isn't MUCH about New York that you should be worried about. It's SAFE. And if you look like you know what you're doing, avoid tourist traps, and steer clear of dodgy neighborhoods, you're going to have an AWESOME time here. Don't forget, New York also has a reputation for being SUPER COOL. And that's for a good reason: it IS super cool. And have you thought about getting Travel Insurance for your trip? You can get a quote from World Nomads by clicking on the link below.
Disclaimer: Safety conditions change all over the world on a daily basis. We do our best to advise but this info may already be out of date. Do your own research. Enjoy your travels!
"Find out how YOU can support the site. We work hard to put out the best backpacker resources on the web, for free! It's all about helping out our tribe of awesome backpacker readers [that's you!]. Please visit the link to find out how you can help keep the site going 🙂
For the sake of transparency, some of the links in our content are affiliate links. This means that if you book your accommodation, buy a book or sort your insurance, we earn a small commission at no extra cost to you. I only link to stuff I've actually used and never endorse products or services that are not up to scratch. Thanks for your support.