By most measures, New York is probably the most popular city in the world. The 'Big Apple' is a goldmine of sights, sounds, foods and experiences unlike anywhere else on earth.
But looking for a great place to sleep in America's coolest city can be a challenge and very expensive, which is why we wrote this list of the 20 best hostels in New York. 
Our guide to the top hostels in New York is unlike anything else on the web, as we have organized the hostels based on YOUR travel needs.
So whether you are looking to save as much money as possible, or party as hard as possible – we've helped find the perfect hostel for you.
Let's take a look at some of the best hostels in New York!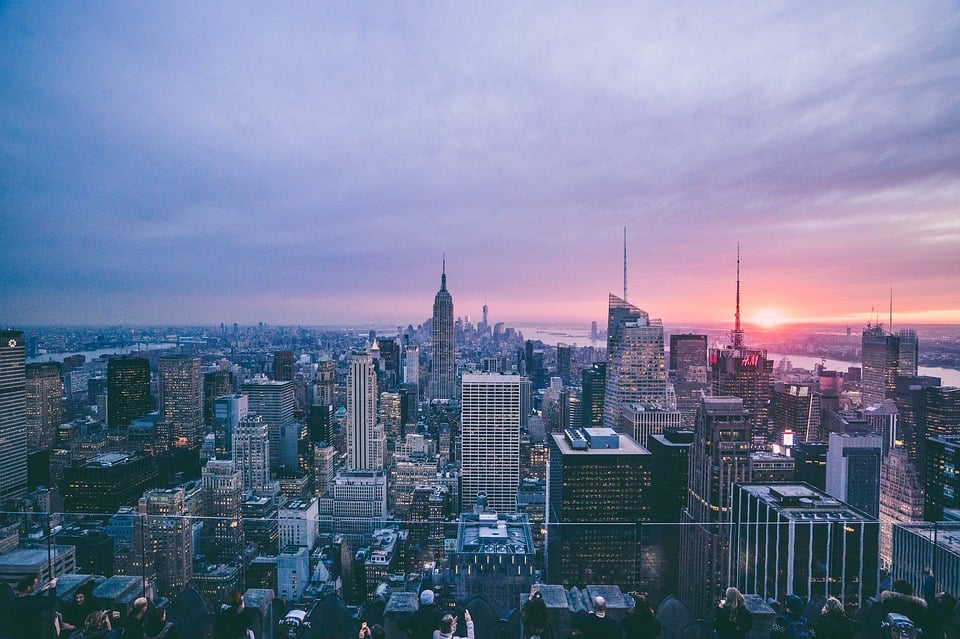 Insider Guide to the 20 Best Hostels in New York
Staying in New York isn't cheap. Sorry to break that to you.
When looking for a budget or cheap hostel in New York, expect to spend a minimum of $30 USD for a dorm bed. And don't expect cheap hostels in New York that offer these low prices to be in Manhattan. Instead, look at hostels in Brooklyn or in other borough areas.
The good news is that although the cheap hostels in New York aren't super cheap, they are of the highest quality and a ton of bang for your buck! In particular, keep an eye out for free breakfast, free storage or free lockers to keep your valuables safe. These little things (especially breakfast!) can really add up.
Check out our top hostels in New York for a terrific stay in the Big Apple. From the best cheap New York hostel and the best hostel for digital nomads in NYC to the ultimate party hostel in New York, you're sure to find the NY hostel that's perfect for you.
(Don't forget to check out our epic Backpacking New York City Travel Guide either for travel tips, itinerary advice, and more!)
Things DO go missing sometimes…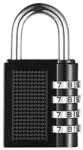 Psst! Heading to a hostel? Don't forget to pack a padlock! It's well worth having one so you can secure your locker and protect your stuff!
$$
Free Breakfast
Luggage Storage
Bike Parking
One of the biggest independent backpacker hostels in New York, Chelsea International Hostel is a top place to meet new people and have fun. There are some cool freebies too; as well as a free continental breakfast each morning and free Wi-Fi, travellers can beat the mid-week blues by tucking into free pizza every Wednesday evening.
Lockers are free to use too, though you'll need your own padlock. The hotel is one of the most convenient places to stay in Manhattan as the subway is just outside. There's a bathroom on every floor and other facilities include outdoor seating in the courtyard, a lounge, two kitchens, and a dining area. It's one of the cheapest hostels in the city, and our pick for the overall best budget accommodation in New York in 2021.
$$$
Games Room
Tour Desk
Key Card Access
Although this may be a pricey hostel in New York's trendy Upper West Side, the sociable atmosphere, sense of fun, terrific location, and top-notch facilities make this a top New York hostel for solo travellers.
There are heaps of attractions just a short walk away, and the subway is close to hand too. The cool lounge and coffee bar are great places to swap travelling tales with other backpackers and in the summer months the BBQs are sure to put a smile on your face. Pub crawls are also arranged in the warmer months and the hostel has a tour desk to take care of your daytime adventures.
Best Cheap Hostel in New York #1 – Q4 Hotel
$
Travel Desk
Luggage Storage
Book Exchange
The best budget hostel in New York, Q4 Hotel offers plenty of bang for your buck. Located in a lively part of Queens, the newly renovated hostel has a communal kitchen and dining area, a brightly coloured den with comfy seating, a book exchange, a movie area with a large screen, and a games area with a pool table and ping pong.
All dorm guests have a large locker and access to the hostel is by key card. There are single-sex and mixed dorms in various sizes, as well as private double rooms with their own bathroom. Most dorm rooms also have their own bathrooms; no hopping from foot to foot in the morning while someone takes a long shower!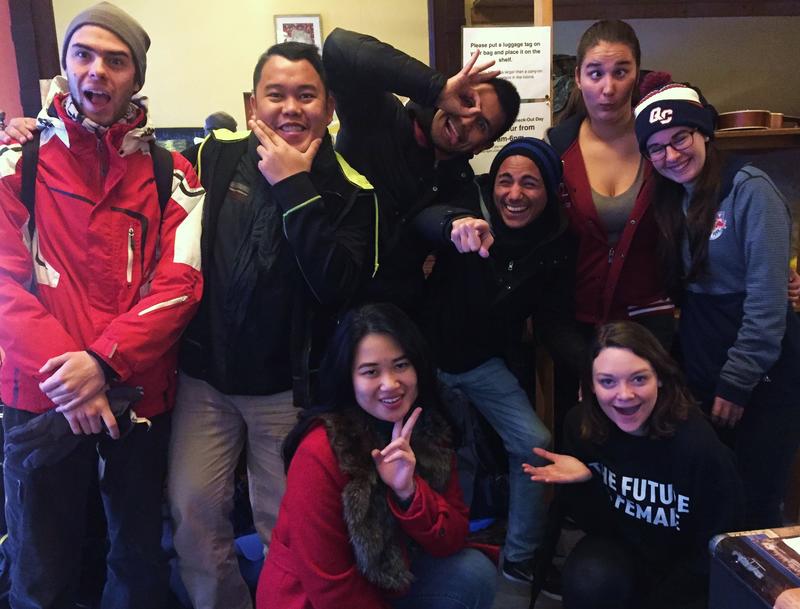 $
Housekeeping
Luggage Storage
Cable TV
A great budget hostel in New York, International Student Center has a cool location too, right in the heart of Manhattan's Upper West Side. There are 40 beds in total, spread between ten-bed mixed dorms and eight-bed female-only dorms. Do note that age restrictions apply; guests must be between the ages of 18 and 35 to stay at this New York backpackers hostel.
The staff members are friendly, the vibe is chilled, and the decoration is funky. Save even more dollars by doing some DIY cooking in the kitchen and unwind with a yoga session.
$
Free Breakfast
Laundry Facilities
Lockers
One of the cheapest hostels in New York, The Brooklyn Riviera is a good choice for travellers who are looking for a budget backpackers' pad in Brooklyn. Dorms can accommodate either four or six people, and there are separate dorms for females as well as mixed dorms.
Each bed has a privacy curtain and an individual power outlet and reading light. All guests have use of a locker too. A basic breakfast is including in the price and Wi-Fi is free. There's a common room with a TV and a Wii, or you can relax outdoors in the yard.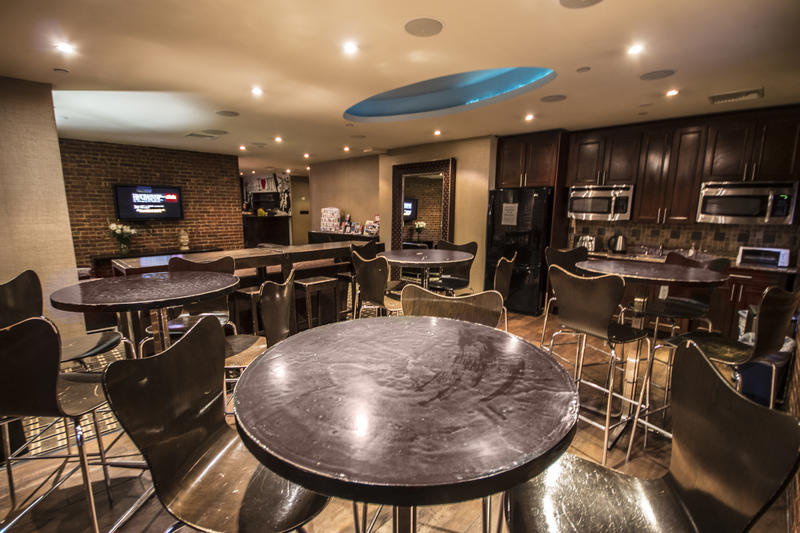 $$$
24-Hour Security
Tour Desk
Housekeeping
A swanky boutique youth hostel in New York's fashionable Upper West Side, The Broadway Hotel and Hostel is a recommended New York hostel for couples seeking a little bit of posh. Modern designs and funky features can be found throughout the property and there are dorms for two and private rooms for two and four.
The plush ensuite double rooms, complete with a TV and coffee machine, make this the best hostel for couples in New York. There's a shared kitchen, lounge, library, and business centre too. And, as well as daily housekeeping services there's even a bellhop who will help you to carry your luggage! How fancy is that for a backpacker pad?!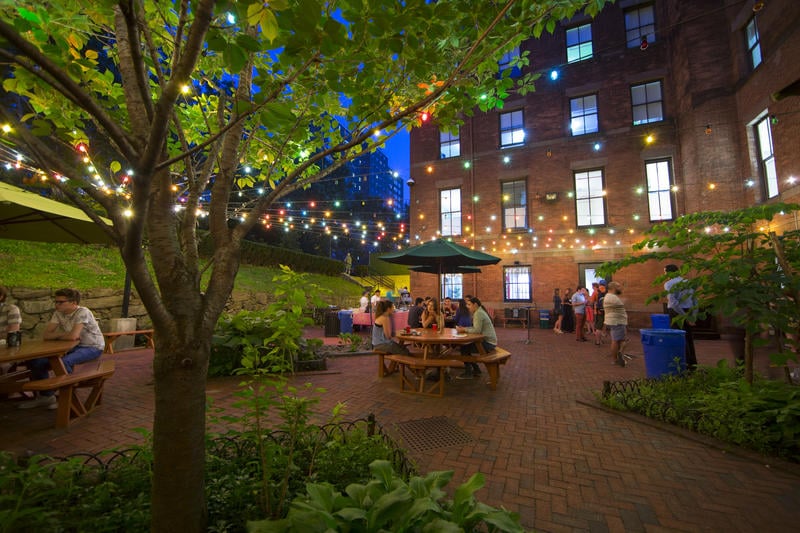 $$$
Café
Pool Table
Laundry Facilities
Hostelling International New York might not be an actual real castle, but the cool building certainly does a good impression of one. The varied program of events each night makes this the best party hostel in New York too. Imagine—partying in a castle! Head out on a free bar crawl every night and join clubbing tours at the weekends.
There are in-house events most nights of the week too, including variety shows, music, and comedy. Daytime tours are affordable too. Chill out and mingle in the impressive common areas—there are over two floors dedicated to your comfort! With a huge kitchen (complete with a staggering 36 burners!), a spacious patio, a movie room, games room, and 24-hour lounges, what more could you ask for?
Coolest Hostel in New York and Best Hostel for Digital Nomads in New York – The Local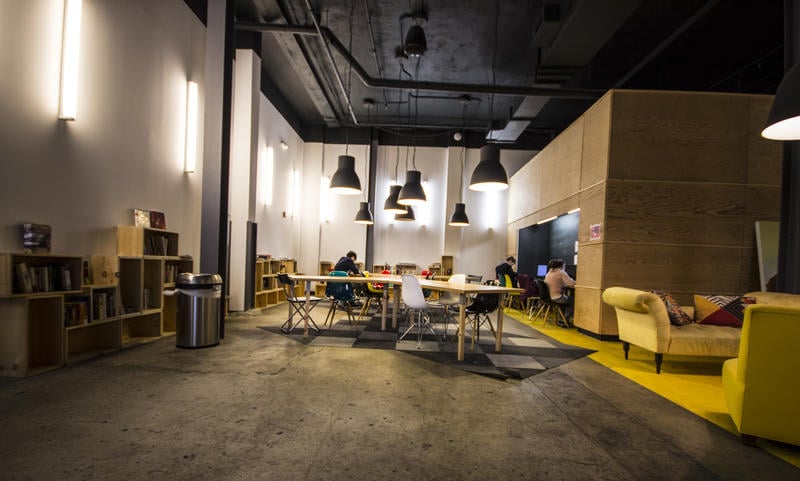 $$
Bar-Café
Laundry Facilities
Tour Desk
Probably the coolest hostel in New York, the award-winning The Local is also the best hostel in New York for digital nomads. There's a computer room where you can get your head down and crack on to meet those deadlines in a quiet environment, as well as free Wi-Fi throughout the hostel.
When all your work's done, mingle with other travellers in the bar, watch the sunset from the roof terrace, or chill in the movie lounge. The hostel hosts various events too, such as comedy evenings and wine tasting, and the tour desk helps you make the most of your stay in New York.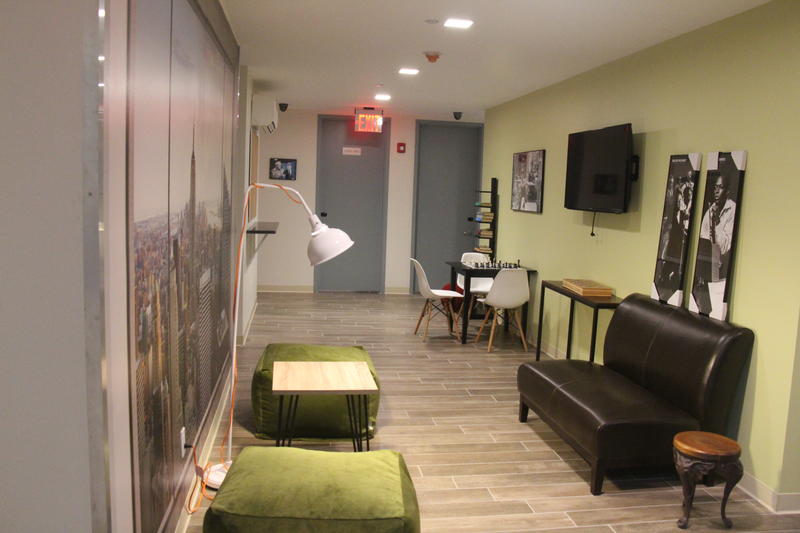 $$$
Lockers
Luggage Storage
Steam Room
Located close to the sprawling Central Park, Jazz on Columbus Circle is a clean, modern, and safe youth hostel in New York. With a lounge on each floor, there are plenty of places to chill and chat. Rooms and the building are accessed by key card, and all guests have a locker for added safety. There are comfy mixed and female-only dorms for four, five, and six, or you can check into a private en-suite double room.
Is This the Best Travel Backpack EVER???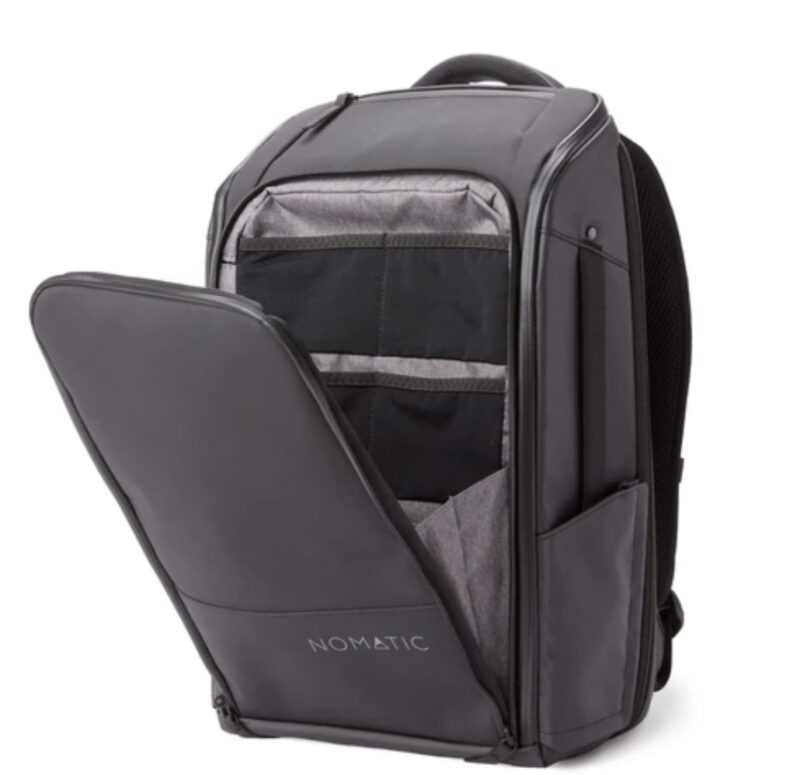 More of the best hostels in New York
And, with even more top hostels in New York below, finding your perfect backpackers' base in NYC should be a piece of cake.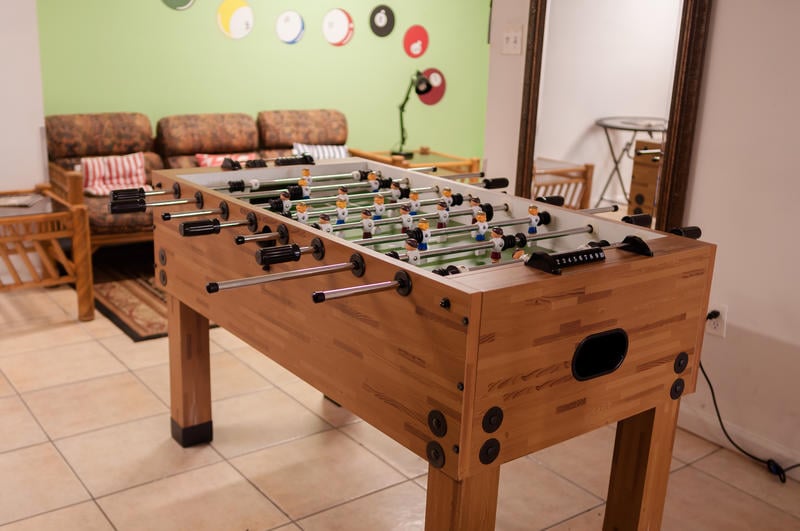 $$
Games Room
Tour Desk
Luggage Storage
A top hostel for solo travellers in New York, NY Moore Hostel has a sociable vibe and small dorm rooms. Mixed and female-only dorms sleep from three to six, and each dorm has its own bathroom. Meet other travellers in the comfy common room or out in the courtyard.
A game of pool or foosball, a board-game playoff, or a PS3 bonanza is a great way to break the ice. There's a tour desk to assist with your New York sightseeing and other top facilities include a communal kitchen (complete with a dishwasher so no need to wash up), a book exchange, bike parking, free Wi-Fi, lockers, and luggage storage. Other perks include 24-hour security and housekeeping services.
$$$
Onsite Restaurant
Luggage Storage
Tour Desk
Blue Moon Hostel is among the best New York hostels for 2021. A highly recommend hostel in New York's stylish Lower East Side, you're just a hop skip and jump away from trendy shopping and dining, cool sightseeing, and lively bars. The metro is close to hand too.
Although there's no kitchen here, you can grab a tasty bite from the onsite restaurant if you don't feel like going out. The comfy common room is the ideal place to chill after a day of sightseeing and you can update your Instagram with the free Wi-Fi. Alternatively, enjoy some fresh air in the courtyard. There are mixed and female-only dorms as well as private rooms.
$$$
Free Breakfast
Swimming Pool
Laundry Facilities
Within easy reach of both JFK and La Guardia, Flushing YMCA is an ideal New York hostel near the airport. Other parts of the sprawling city can easily be reached by subway.
Although there are only private rooms (for one, two, three, and four), it could be a good choice for solo travellers, couples, and travelling friends who want to be within easy reach of the airport. Catch up with your laundry before taking your flight, get active in the gym, relax in the steam room or sauna, and swim some laps in the pool. Breakfast and Wi-Fi are free.
$$
Swimming Pool
Games Room
Free Luggage Storage
Conveniently located close to several subway stations, Harlem YMCA is bursting with cool facilities and amenities. Get active in the gym, which has, along with high-tech fitness equipment, a pool, sauna, and steam room. There's a TV lounge, free Wi-Fi, free luggage storage, book exchange, garden, and business centre.
Give your legs a break too—there's an elevator! Rooms are for two, with either bunk beds are twin beds, and there are plenty of bathrooms to reduce morning queuing time. It's a top hostel in New York for budget-conscious couples and a cheap stay with your BFF.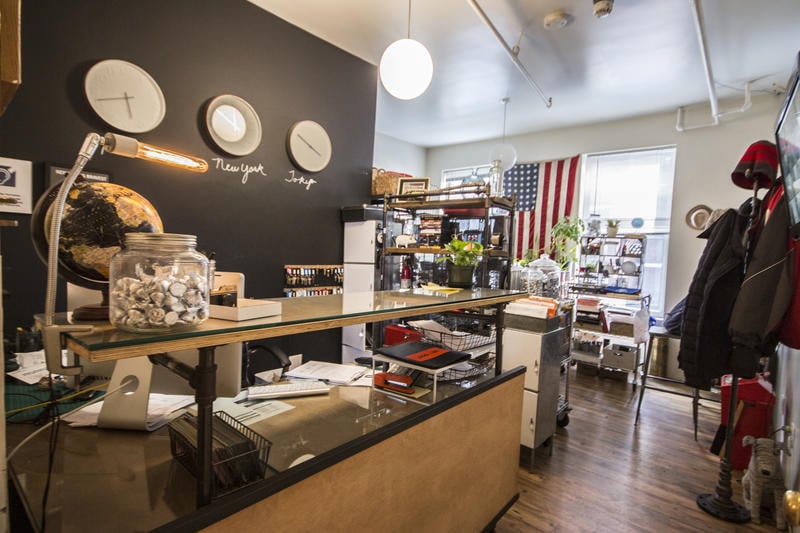 $$$
Free Breakfast
Lockers
Luggage Storage
Wake up! American Dream Hostel is a terrific base to explore New York! The family-fun youth hostel in New York can be found in Manhattan's Flatiron district, with many of the city's most iconic sights just a short walk away. There are bathrooms on each floor and bunk beds are arranged through the private rooms for two and three.
Of course, single rooms have just the one bed—no need to climb a ladder! Start each day with a filling and free breakfast, cook up a treat in the communal kitchen, surf the free Wi-Fi, keep your stuff safe in security lockers, chillax in the common room, and challenge your pals to a board game.
$$$
PlayStation
Lockers
Tea and Coffee
Situated in Brooklyn, Adventure Residence JFK/NYC is a top hostel in New York for a quiet home-from-home vibe. Just a short distance from many major sights, the intimate New York backpackers hostel has mixed dorms for eight people. As well as a TV lounge you can hang out on one of the two balconies and get to know your fellow travellers over a BBQ.
There's a well-equipped kitchen too if you fancy some home-cooked favourites. A PlayStation and Wii will keep you entertained, and there's free Wi-Fi throughout the hostel.
Want to save the world?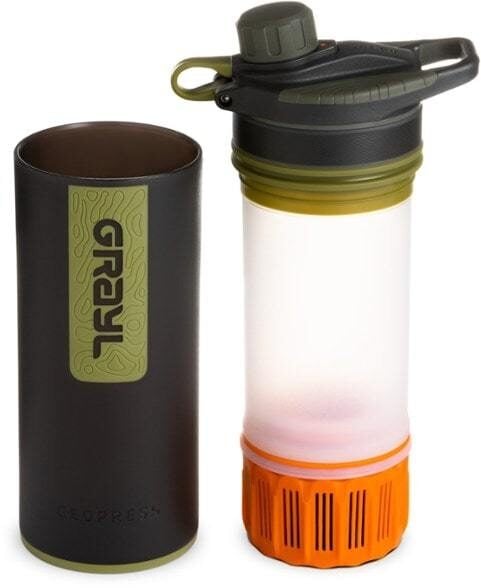 Single-use plastic bottles are a huge threat to Marine Life – Be a part of the solution and travel with a filter water bottle.
The GRAYL GEOPRESS water bottle is the ONLY all-in-one filter water bottle setup you'll need. Whether you need to purify the water from a hostel sink in Kathmandu or a stream trickle in the Andes, the Geopress has got you covered.
Read our full review of the GRAYL GEOPRESS!
$$$
Café
Games Room
Laundry Facilities
Close to the subway, International Student Residences is also within walking distance of the centre of Manhattan. A recommended hostel in New York, the place has a cool common area with a TV, a pool table and foosball, a spacious kitchen, a book exchange, and a terrace. There are dorms in various sizes, including some only for women, and private rooms.
Don't forget to hit up the friendly members of staff for all the inside scoop on how to execute a perfect New York itinerary.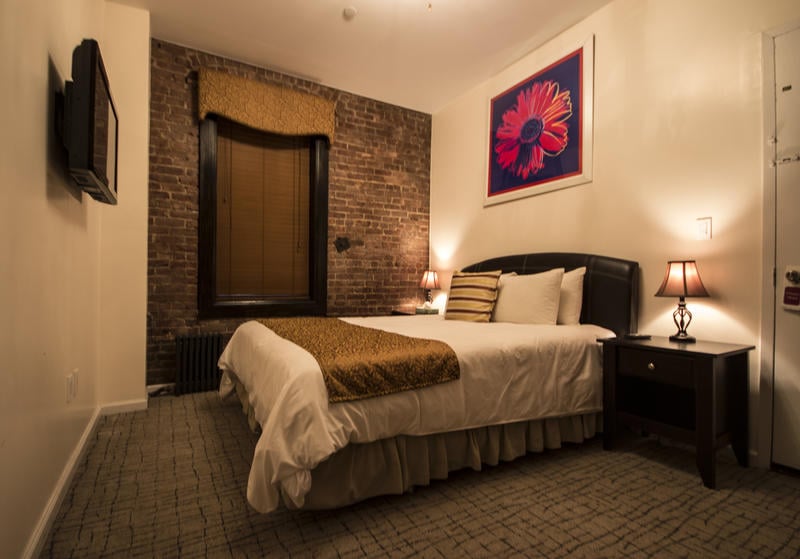 $$$
Swimming Pool
Luggage Storage
Elevator
Situated in Upper West Side, Manhattan, Royal Park Hotel has private rooms in various sizes, some en-suite and some with shared bathrooms. There's no need to worry about what time you arrive—the hostel has round-the-clock reception services and there's no curfew.
A top hostel in New York for people seeking some relaxation away from the busy city streets, the hostel has a swimming pool and a steam room.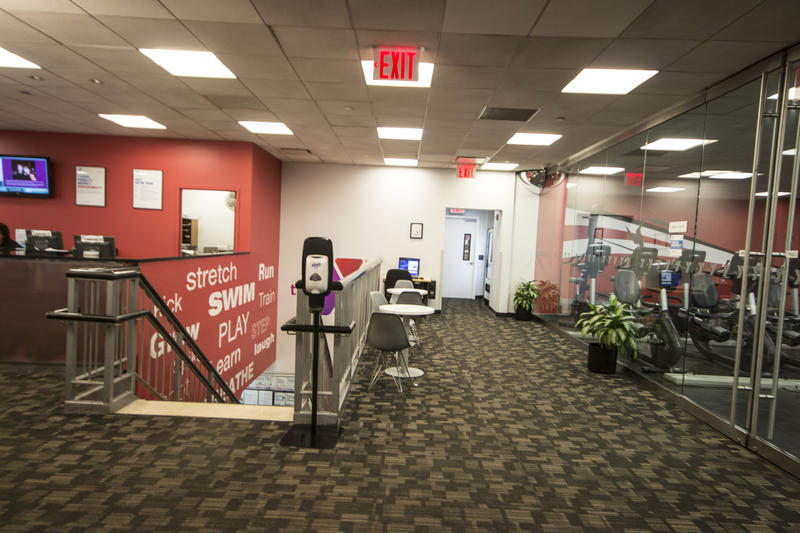 $$$
Swimming Pool
Laundry Facilities
Tour Desk
A centrally located New York backpackers hostel, situated in Manhattan's East Side, Vanderbilt YMCA has heaps of bars and restaurants close to hand, as well as fab shopping and some of the city's most famous sights.
A recommended hostel in New York for solo travellers or groups of friends, the hostel has private rooms that can accommodate from one to four guests. Full of great facilities, you'll find a shared kitchen, a fitness centre, two swimming pools, and laundry facilities.
$$$
Bar
Fitness Centre
Tour Desk
Close to the N and Q Train, Hotel & Hostel Vetiver is a comfy and stylish accommodation. It's a recommended hostel in New York for people who like a bit of style when on vacation. All rooms are private and en-suite. And rooms above the third storey all have a balcony too. Rooms can sleep between two and five guests.
There are no self-catering facilities but you can buy an affordable and filling breakfast each morning, there's an onsite bar, and, if none of the many nearby restaurants float your boat, you can order food from room service. Other amenities include a fitness centre and a tour desk.
$$
Fitness Centre
Swimming Centre
24-Hour Security
It's not only the comfortable rooms for two and the convenient location in Brooklyn that make Greenpoint YMCA one of the best budget hostels in New York—the hostel has heaps of great facilities too.
Feel the burn in the well-equipped and modern fitness centre, take a dip in the swimming pool, or refresh with a sauna. Housekeeping services keep everywhere looking clean and neat, and reception is open around the clock.
Why you should travel to New York
If you are going to travel to New York, plan to have the time of your life! But as budget travelers, don't lose track of your spendings!
With the help of this article, you'll be able to book your cheap New York hostel quickly so you can focus on what's important – eating as much New York pizza as humanly possible.
And remember, in case you can't decide, we recommend booking Chelsea International Hostel – our top pick of 2021!
Heading to New York and looking for something epic to do? My friend Jessie runs New York City Photography Tours and Broke Backpacker readers get $10 off – just use the code BROKEBACKPACKER 🙂
If you're a foodie, definitely check out this awesome post on the best brunch spots in NYC.
FAQ about Hostels in New York
Here are some questions backpackers ask about hostels in New York.
Travel Safety Tips for New York
There's more information than we can list here, so have a look at our NYC safety guide for specific advice for your travel style.
And don't forget Travel Insurance! We've put together a roundup of Travel Insurance for backpackers – check it out here, or if you're low on time, get a quote from World Nomads, our favorite travel insurance provider.
Getting an estimate from World Nomads is simple – just click the button or image below, fill out the necessary info, and you're on your way!

More Epic Hostels in USA and North America
Hopefully by now you've found the perfect hostel for your upcoming trip to New York.
Planning an epic trip all across USA or even North America itself?
Don't worry – we've got you covered!
For more cool hostel guides around North America, check out:
Over to you
By now I hope our epic guide to the best hostels in New York has helped you choose the perfect hostel for your adventure!
If you think we've missed anything or have any further thoughts, hit us up in the comments!
---
Find out how YOU can support the site.
We work hard to put out the best backpacker resources on the web for free! It's all about helping out our tribe of awesome backpacker readers (that's you!). Please visit the link to find out how you can help keep the site going 🙂
For the sake of transparency, some of the links in our content are affiliate links. This means that if you book your accommodation, buy a piece of gear, or sort your insurance through our link, we earn a small commission at no extra cost to you. We only link to stuff that members of the Broke Backpacker team has actually used and never endorse products or services that are not up to scratch. Thanks for your support!