Jersey City sits on the mighty Hudson River just across from its famous cousin, New York. Because of its proximity to NY, a lot of travellers use Jersey City as a budget base for visiting the Big Apple. However, Jersey City itself actually has a lot going for it as we will show you in this post.
Some of the most popular things to do in Jersey City involve wandering around the waterfront trying to get the best possible view of the NYC skyline from across the water and you'll also be able to glimpse Ellis Island and the Statue of Liberty from this New Jersey city, too. However, if you wan't to seek out the heart of Jersey City itself, you'll want more right?
Don't worry: there is more to Jersey City than just being a conveniently placed observation point for the Big Apple. In fact, there's a ton of cool and off the beaten track things to do in Jersey City that warrants making this urban area your primary destination. And to help you figure out exactly what sort of hidden gems you'll be uncovering here, we've put together this very handy list.

Unlock Our GREATEST Travel Secrets!
Sign up for our newsletter and get the best travel tips delivered right to your inbox.
Top Things to Do in Jersey City
There are more than enough things to do in Jersey City to keep you busy for a while. Let's take a look at the best of them.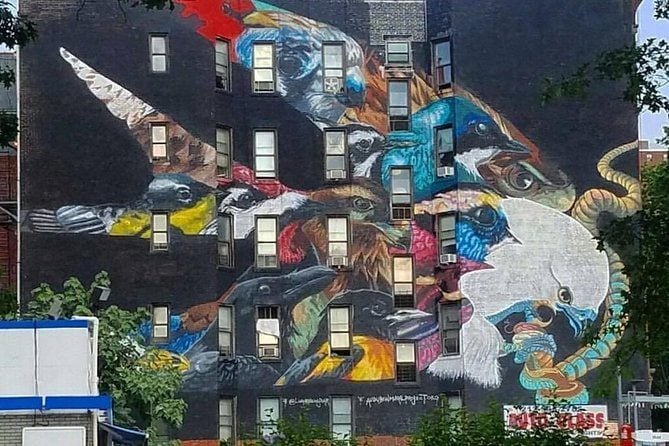 For one of the more off the beaten track things to do in Jersey City right off the bat: check out the street art going on here. In fact, street art is actually so well received in the city that there's even a city-wide program to actively promote street art (Jersey City Mural Arts Program), favouring big pieces of art over regular ol' graffiti.
It can be pretty hard to find some of the best spots, however, so whilst you could wander around trying to find it all by yourself, you may want to get yourself a guide to show you what's what. One of the most recent pieces is the 180 foot tall portrait David Bowie by Brazilian artist Eduardo Kobra.
2. Marvel at the Central Railroad of New Jersey Terminal
Constructed way back in 1889 in Richardsonian Romanesque style, this big, historic building may not be a passenger terminal anymore, but it what it lacks in railway-based practicality today it makes up for in grandeur. Step inside and marvel at the huge interiors, inquire about and purchase Ellis Island (or Statue of Liberty) ferry tickets here…
… Or you could just spend your time wandering around, imagining the rush of commuters would have been absolutely jam-packing this station in the 1940s and '50s. If you're a fan of history, this is definitely one of the more off the beaten track things to do in Jersey City. It's actually super cool (we're into it).
FIRST TIME IN JERSEY CITY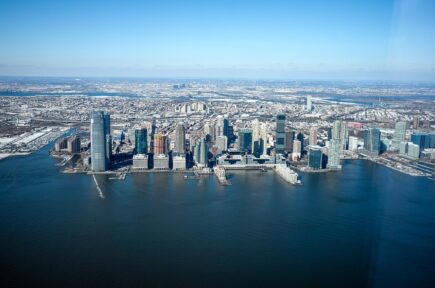 Newport
Newport is probably the best place to stay in Jersey City. Where else in this part of town can you get such good transport connections with Manhattan? Or find such affordable accommodation? It's just virtually impossible to stay anywhere else unless you're rolling in money.
Places to visit:
Easily take the PATH train from Newport, Jersey City and be in Manhattan
Have a few drinks and play some old school videogames at Barcade
Get an amazing breakfast bagel at Wonder Bagels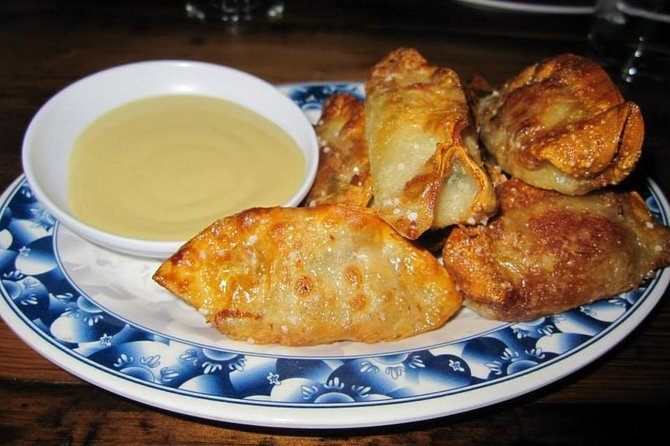 Just like its next door neighbour, New York City, Jersey City is also a great option for foodies. The waterfront Downtown area, for example, is completely buzzing with a literal smorgasbord of different things to eat from all over the world, making it one of the most unmissable things to do in Jersey City if you're interested in eating food specifically.
Downtown Jersey City has always had potential but is now securely on the map as a dining destination. Dig in deep and try out everything from Chinese to Italian and Mexican fare; in particular, try out everyday eats at local favourite The Kitchen Step, devour Portuguese classics at Broa, or try out some Latin American dishes at Mi Casa.
4. Spend some time at the Empty Sky Memorial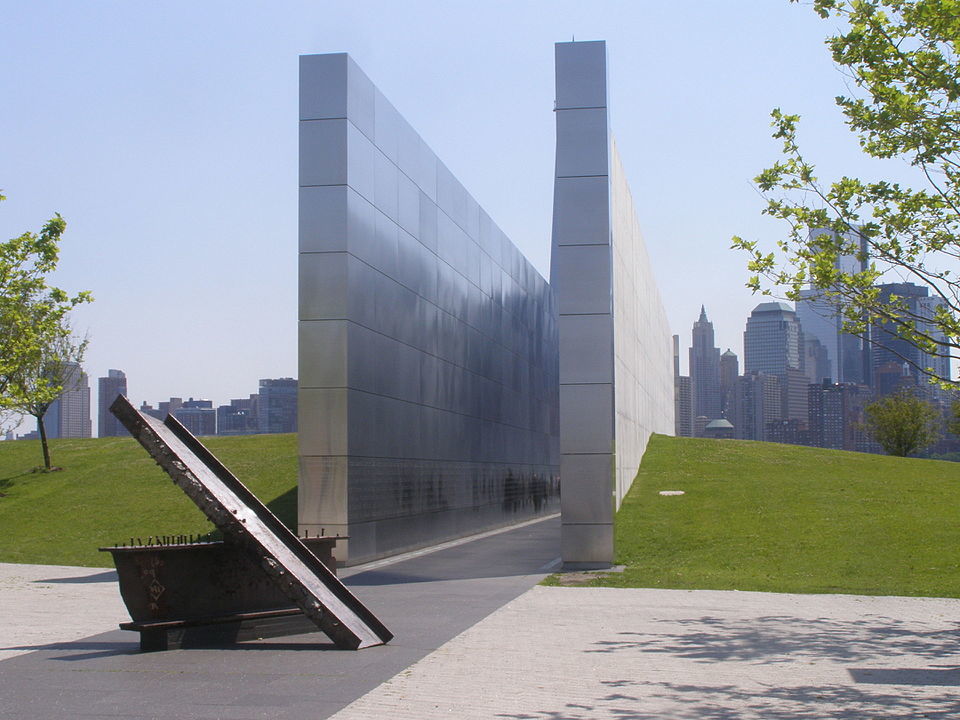 Dedicated to the victims of the 9-11 terrorist attacks, this touching memorial is located in the Liberty State Park and marks the place opposite where the Twin Towers once stood in the New York City skyline. A stark, moving and very effective reminder of 2001 attacks, visiting the Empty Sky Memorial is one of the most poignant, quintessential things to do in Jersey City.
Made of two steel walls inscribed with the 749 names of New Jersey people who lost their lives in the World Trade Center attacks, in the evening this memorial is lit up beautifully: even every letter of every name shines with light.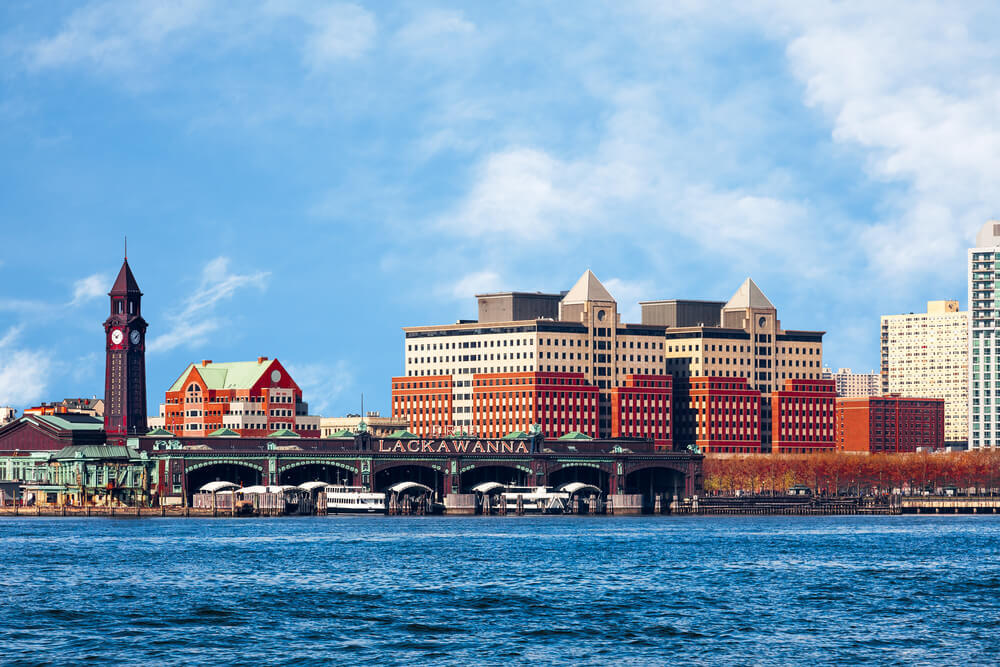 Just north across an imaginary administrative line is another neighbourhood of New Jersey: Hoboken. This square mile of a district is surprisingly charming and, with its cobbled streets, colourful historic buildings and cute shops, is perfect for strolling around. Exploring the neighbourhood makes for one of the more unique things to do in Jersey City.
Stroll along Washington Avenue and stop off at Hoboken Pilsner Haus & Biergarten for a libation or two. Then, have some lunch at a great little bistro like Anthony David's, stroll along the Hudson River Waterfront Walkway for views the New York City skyline, and stop off to feed your sweet tooth at the famous and historic Carlo's Bakery. Fun fact: Hoboken has the most bars per capita in the USA.
6. Check out at exhibition at Mana Contemporary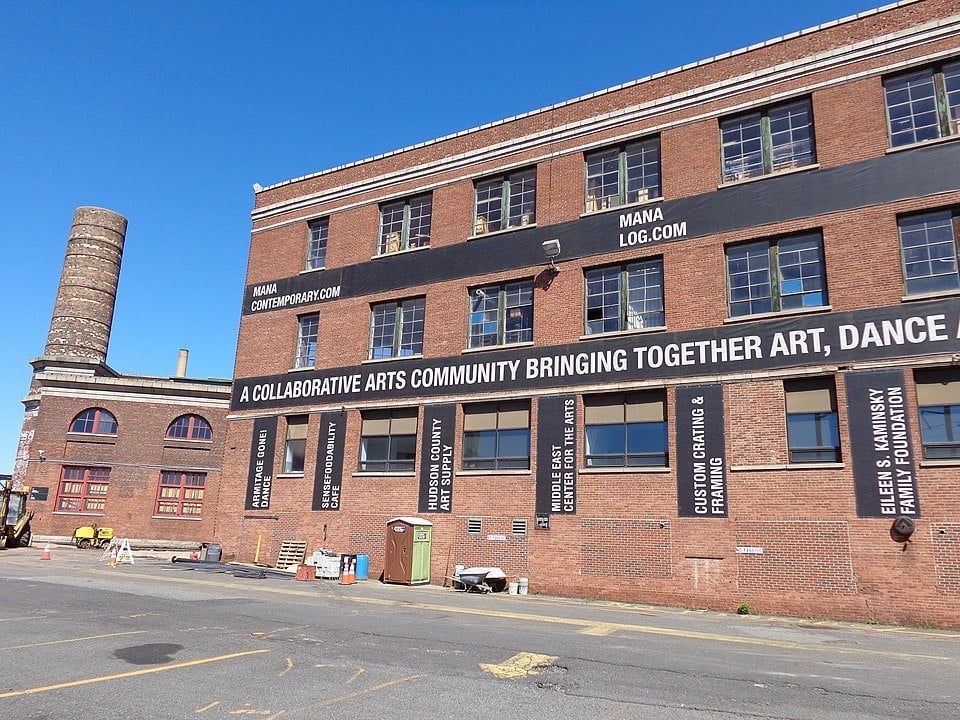 The culture centre that is Mana Contemporary is a must-visit for anybody with a creative mind – or who likes seeing cool stuff in general. Celebrating the creative process the Jersey City institution aims to show off local and regional creative talent with a range of sometimes interactive exhibits and shows.
One of the best artsy things to do in Jersey City, the Mana Contemporary is open from 11am to 5pm and can easily take a whole day to explore, especially if you're really into checking out every single thing. Tip: It's free to enter, but it's best viewed via a tour from Tuesday to Friday, which are available at noon and at 3pm.
Small Pack Problems? 😉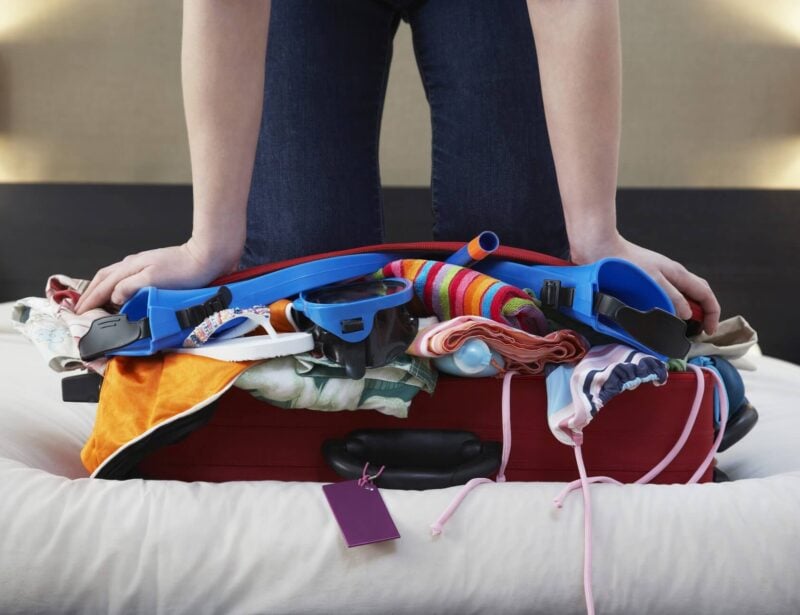 My missus travels with all her clothes in ziplock bags: don't be like my missus. UP YOUR PACKING GAME!
Packing cubes for the globetrotters and compression sacks for the real adventurers – these babies are a traveller's best kept secret. They organise yo' packing and minimise its volume too so you can pack MORE.
Or, y'know… you can stick to ziplock bags.
View Our Fave Cubes
Or Check Out the Sacks!
Unusual Things to Do in Jersey City
We know that you guys just love to leave to get off the beaten track and seek out the weird and wonderful. With that in mind we have compiled this awesome little list of Unusual Things To Do in Jersey City.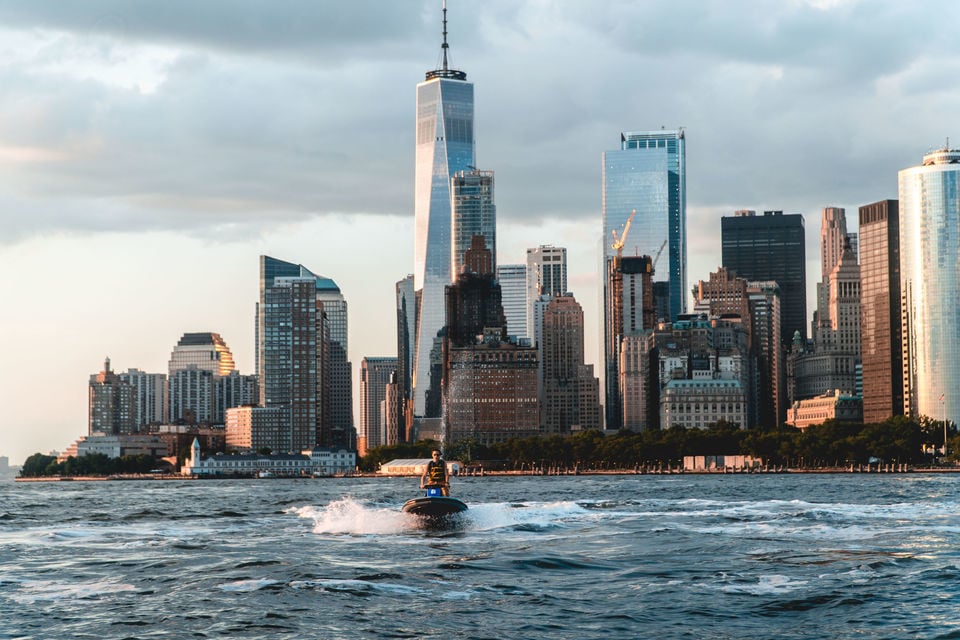 Can you think of anywhere more iconic for a jetski ride than New York Harbor? We mean, what a way to see such a famous city skyline! And this isn't just some fantasy: all you have to do is head over to the marina and pick up your wetsuit, lifejacket and jetski (courtesy of Sea The City) and head out.
This is definitely one of the more unusual things to do in Jersey City and one of the more kooky, offbeat ways to see the sights of New York City from the water. Anybody who loves a bit of an adrenaline rush will 100% love this. Get yourself a jet-ski and happy zooming!
8. Go shopping in Jersey City's independent stores
Jersey City has quite a lot of independent stores just waiting for your exploration. Away from the NYC skyline and more conventional attractions of the city, we think this has got to be one of the more off the beaten track things to do in Jersey City.
There is actually a city-wide policy to promote independent stores, with the aim of stopping big chains from taking over. We 100% support that. It means you'll find some lovely, little, local gems; we're talking an independent community bookstore in the form of Word, vintage finds to be had over at Another Man's Treasure, and stranger stuff to buy at Kanibal & Co. Tip: Check out JCI Magazine, a free publication detailing the independent stores.
9. Eat your way around Little Manilla
You may have heard about places like Little Italy and Chinatown, but what you don't often hear about is New Jersey's Filipino population. Approximately 20,000 Filipinos (7% of Jersey City's population) call the city home and naturally, you'll find a whole lot of Filipino-run businesses in the city… and that means food.
Centred around Manila Avenue and the Five Corners district of the city, there are a load of places you can check out. Going to Red Ribbon, for example – one of the most popular bakery chains in the Philippines – is definitely one of the more unusual things to do in Jersey City, whilst Max's Restaurant is famous for fried chicken, and Phil-Am Grocery is very cool: it's the biggest and oldest in the city.
Safety in Jersey City
Jersey City is generally a safe place to visit, and for the most part, tourists will be totally fine hitting up the most visited areas and well-trodden routes of the city.
However, it's at night time that the crime rate in Jersey City tends to increase. Particularly this happens in southern areas of the city, namely in Bayonne, but as long as you stick to the rule of thumb of not walking around after dark in deserted places by yourself, you should be fine.
Most places – like Downtown and the Historic District, you'll be alright. These areas are similar in vibe to some of the safer areas of neighbouring New York City.
Basically, some parts of Jersey City have a higher crime rate and are more "notorious" for being more unsafe than other areas – but that's like pretty much any urban area in the world.
Try not to look like a lost tourist, don't let Google Maps lead you down random alleyways, and exercise caution (especially at night)…
Read our tips for traveling safely before you fly and always get travel insurance. Check out our roundup of the best travel insurance.
Travel with peace of mind. Travel WITH a security belt.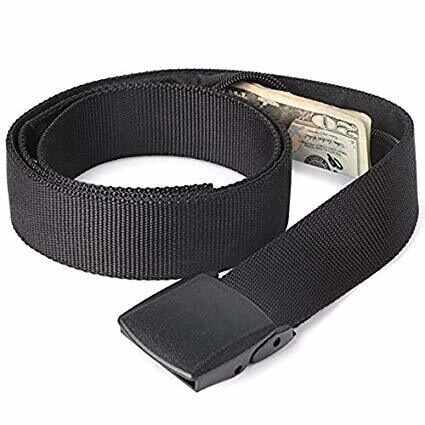 Get your cash stashed with this awesome Pacsafe money belt. It will keep your valuables safe no matter where you go.
It looks exactly like a normal belt except for a SECRET interior pocket perfectly designed to hide a wad of cash or a passport copy. Never get caught with your pants down again! (Unless you want to.)
Hide Yo' Money!
Things to Do in Jersey City at Night
From dive bars to watching the New York skyline, there is plenty going on in Jersey City at night to keep visitors occupied long after the sun has gibe down.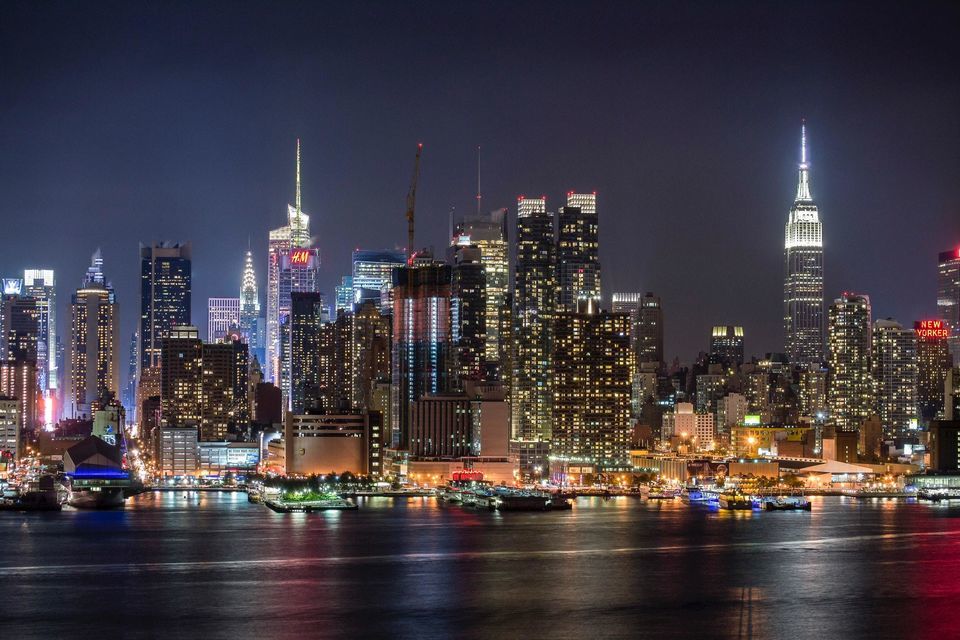 Let's face it: one of the most unmissable things to do in Jersey City actually involves another city in another state that's just across the water. We've said enough times, but in case you didn't get it yet, that'll be New York City.
The best time to get a view possibly one of the most iconic skylines in the world is at night when the skyscrapers and towering temples of business, finance and good old fashioned capitalism are lit up in all their glittering splendour. Grab a seat on a bench and get ready for one of the best things to do in Jersey City at night.
11. Go and watch some live music
If you're a music fan, then definitely you should head and see what you can discover in Jersey City's live music scene. There are a fair few venues in the city where you can regularly turn up to see pretty cool bands and other live acts playing to crowds large and small.
One of the biggest is White Eagle Hall; at 800 capacity, it hosts major acts but is also pretty historic, dating back to 1910. If you're looking for something a little more hipster to do in Jersey City at night, head to Monty Hall: home to indie acts galore. Another place to catch smaller, lesser-known artists is the FM Bar – a venue and restaurant.
Where to Stay in Jersey City
Looking for a specific place to stay in Jersey? From quaint bed and breakfasts to rural cabins in New Jersey, there are plenty of great places to stay. These are our highest recommendations for Jersey City.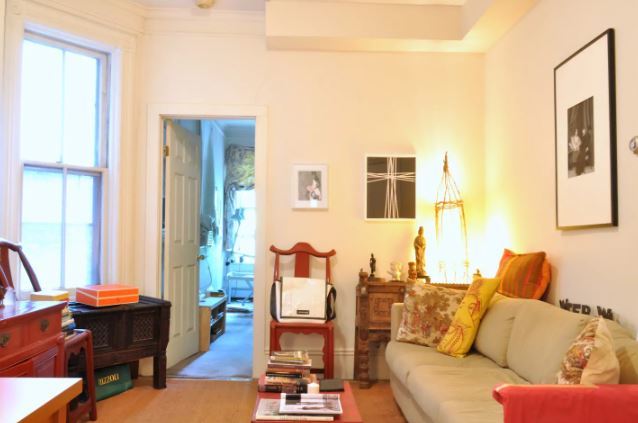 As the name implies, this is a large, sunny room in a friendly, stylishly decorated apartment, where you'll have plenty of space to stretch out, but also have a knowledgeable host to chat to. The location in Newport is pretty amazing, considering the super affordable price, with both Jersey City and Manhattan (10-15 minutes on PATH train) at your fingertips. Easily the best Airbnb in Jersey City.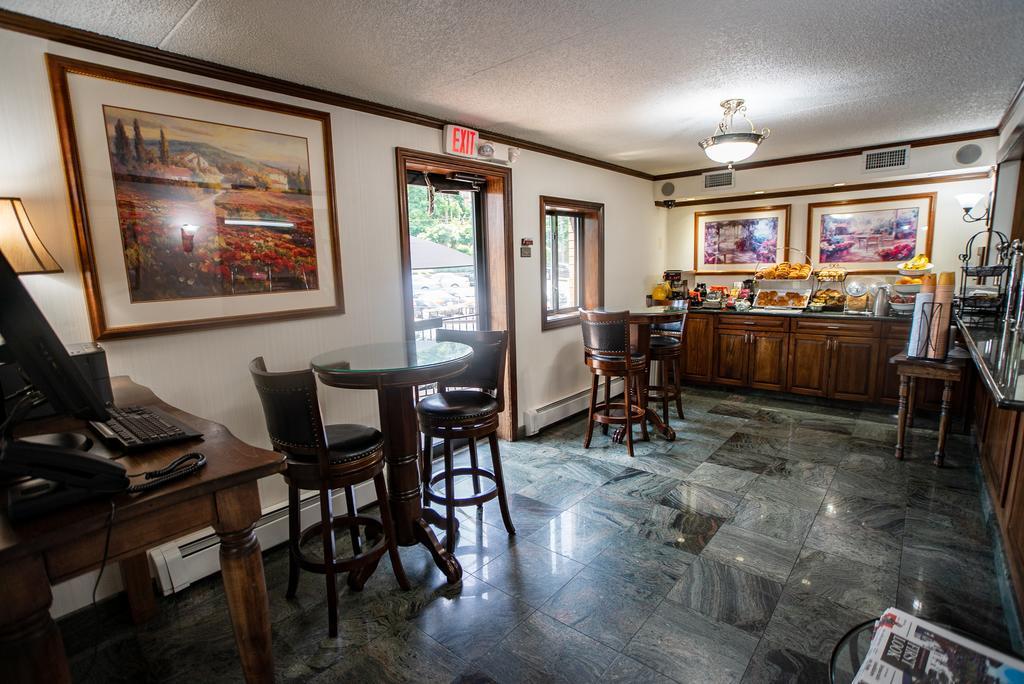 For an affordable stay in Jersey City, you can't really go wrong with this bed and breakfast in New Jersey. This place is reasonably priced, has nicely sized and nicely styled rooms, has a free breakfast of pastries and coffee, but plenty of places to eat on the doorstep, too. Location wise, this top Jersey City hotel is around a 10 minute walk to the PATH station that'll zip you right into Manhattan should you wish.
Romantic Things to Do in Jersey City
The romantic thing to do would be to take your other half for a winter walk around Central Park or shopping at Macy's. However, in case New York is full, then let's see what Jersey City has to offer for love birds.
12. Meander around the Midnight Market
For one of the best things to do in Jersey City for couples, you can't get much better than spending time with your partner wandering around the city's Midnight Market. Billed as a foodie's event, it will definitely help your enjoyment levels if you both happen to be avid fans of edible things.
This indoor food-fest is packed full of a load of venues and whilst it doesn't actually go on until midnight – taking place from 6:30pm to 10pm – it's still one of the coolest things to do in Jersey City for couples who just want to have fun. Here you can listen to DJs, have a few drinks and, of course, grab a bite or two (or three) to eat.
13. Catch a show at the Landmark Loew's Theatre
Built back in the 1920s (and opening one month before the stock market crashed, ushering in the Great Depression), the historic Landmark Loew's Theatre is a treat for the eyes both inside and out; whilst the stark, palatial exteriors are a contrast to the cityscape, the interiors are like something from another time and place completely.
Think regal, ornate, opulent – all sorts of elegance you can imagine, and the perfect venue for one of the most romantic things to do in New Jersey. Check the schedule online; whether you see a play, a musical, or even a classic movie, you and your partner are going to absolutely love this one.
Best Free Things to Do in Jersey City
Visiting Jersey City on a budget? No problem, our list of the very best free things to do in Jersey City will show where to go and what to see.
14. Take a breather at Lincoln Park
Opened in 1905, this Westside park is a decent place to catch up with your thoughts and find some space in amongst the skyscrapers and big buildings of the city. The 270 acres (or so) of Lincoln Park is split into two sections, east and west, by a highway – but this is easily crossed via a bridge.
Here you'll find wetlands, a river walk, plenty of trails to meander, places to sit and chill for a minute, sports fields, running tracks, and even a lake. Visiting and having a breath of fresh air in this slice of greenery is one of the top free things to do in Jersey City – no doubt about it.
Is This the Best Daypack EVER???
15. Go and see the iconic Newport Lighthouse
Any Jersey City local could tell you exactly what you're looking at when you see the red and white stripes of their city's beloved landmark: it's the Newport Lighthouse. Officially known as LeFrak Lighthouse, named after the local LeFrak family, this has been a major attraction in the area since the 1980s and is a popular spot for chilling out with a picnic.
Obviously, this is weather dependent, but finding a spot to relax with a bite to eat from a local bakery or something makes for one of the best free things to do in Jersey City. Tip: Though it isn't part of it, there is something called the Lighthouse Challenge – finding all the lighthouses in New Jersey (good if you like tick lists and you plan to be in NJ for a while).
Books to Read in Jersey City
These are some of the greatest American novels of all time. Be sure to grab a few them of them while backpacking in America.
Sometimes a Great Notion – A tale of a hardheaded Oregonian logging family that goes on strike, leading the town to drama and tragedy. Written by PNW legend, Ken Kesey.
Walden – The transcendental masterpiece by Henry David Thoreau that helped modern Americans rediscover nature and her beauty.
To Have and To Have Not – A family man gets involved with the drug smuggling business in the Key West and ends up in a strange affair. Written by the great Ernest Hemingway.

Our GREATEST Travel Secrets…
Pop your email here & get the original Broke Backpacker Bible for FREE.
Best Things to Do in Jersey City with Kids
If you are visiting Jersey City with kids in toe, then you need to find something to pacify them. We know this can be tough which is why we scoured the city to find this rundown of the best things to do in Jersey City with kids.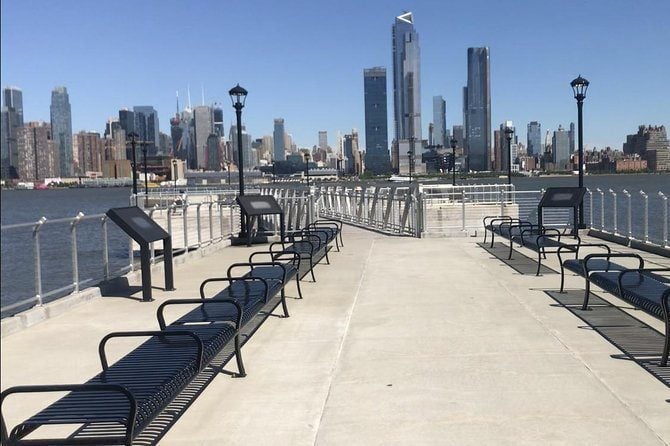 If you're looking for another harbourside spot you haven't been to yet in the city, and you're in town with your family, then you might want to check out Weehawken Recreation Pier. You'll get great views of New York City here and makes for an awesome place for family pictures with the Empire State Building as a backdrop.
One of the best family-friendly things to do in Jersey City, it's a great spot to stroll around, let your kids run about a little bit, get some fresh air, and soak up some of the best views of NYC that you can get from this side of the Hudson River.
17. Get hands on at Liberty Science Center
The Liberty Science Center, fittingly situated in Liberty State Park, is a very cool place to bring your children. This is a huge space that's home to (allegedly) the largest planetarium in the Western Hemisphere and is a must-visit if you're in town and searching for things to do in New Jersey with your kids – young or old(er).
Join the search for life on other planets, journey through the solar system, ride the Dinosaur Train and discover all there is to know about prehistoric beasts, feel your way through the 80 foot, pitch-black Touch Tunnel, learn about evolution, and even get to grips with local stuff like, what exactly lives in the Hudson River? Even adults will learn a thing or two from this cool space.
Day Trips from Jersey City
Though Jersey City is cool enough to stay within the confines and explore on its own merit, there's too much on the doorstep to not head out from the city to see what's going on out there. From natural wonders to one of the most famous cities in the world, we're sharing our two favourite (and very easy) day trips from Jersey City to give you some inspiration if you plan on exploring the surrounding area…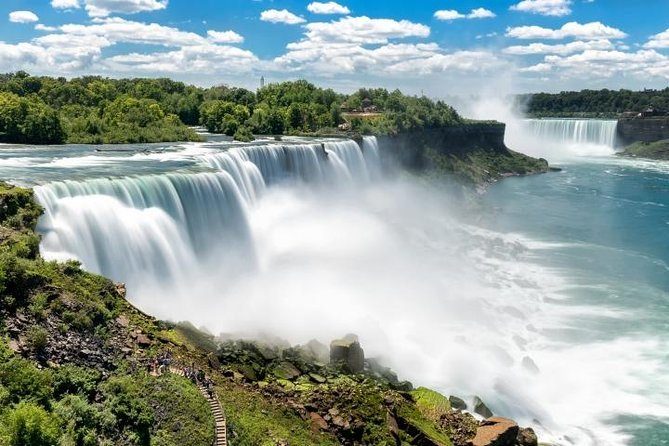 From one of the most iconic man-made skylines in the world to one of the most famous natural wonders in the world, taking a day trip from Jersey City to the magnificent Niagara Falls has to be one of the best things you could be doing with your time. If you only have a couple of days here, we could forgive you for not going to see this waterfall, but if you're here for a week or more? You should do this one!
From Jersey City itself, it's actually pretty far to the famous falls – around 6 hours by car – but if you really want to do it, and if you're a big fan of road trips anyway, this can be done in one day. You'll just have to leave super early (we're talking crack of dawn) to make the most of it. Alternatively, you could make this a two-day trip and stay overnight, making sure you see the falls in the morning light. Beautiful.
Explore Manhattan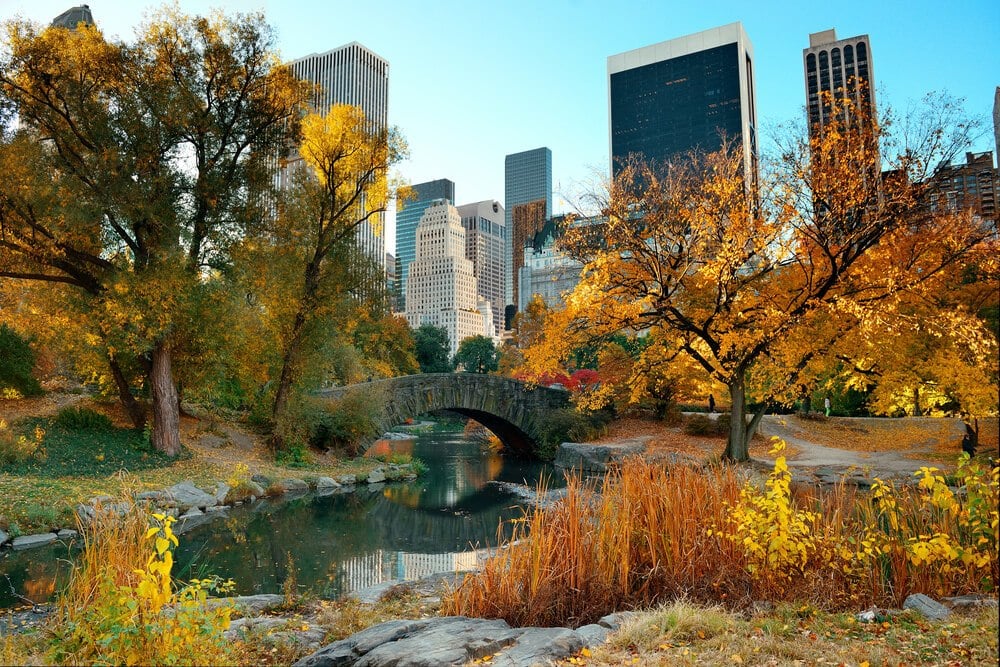 You'll be staring at Manhattan pretty much the whole time you're staying in Jersey City. If you feel as if you should stay in Jersey City just for the sake of, you know, only exploring what Jersey City – well, that's foolhardy. Not a clever move. With one of the world's best cities on your doorstep, you should most definitely take a day trip from Jersey City into the very famous NYC: specifically, Manhattan.
You already know pretty much every destination you could visit in Manhattan, right? You could visit Central Park, stroll around the Upper West Side, go to Rockefeller Center, ogle the Empire State Building (and ride the elevator for awesome views), hit up Chinatown, and loads of other places besides. Basically there are a ton of things to do in Manhattan so you'll have an absolute blast exploring here!
Save $$$ • Save the Planet • Save Your Stomach!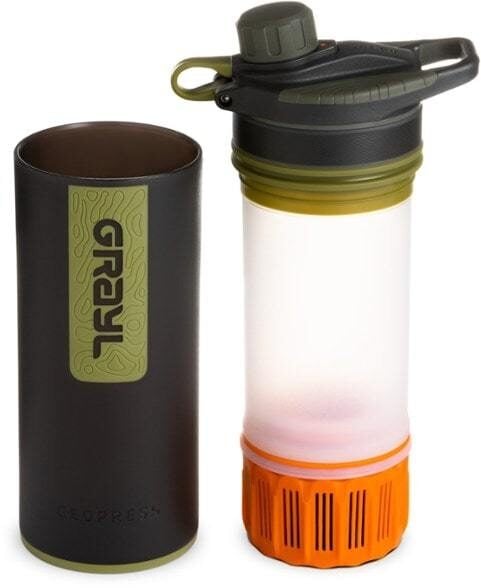 Drink water from ANYWHERE. The Grayl Geopress is the market's leading filtered water bottle protecting your tum from all the waterborne nasties. PLUS, you save money and the environment!
Single-use plastic bottles are a MASSIVE threat to marine life. Be a part of the solution and travel with a filter water bottle.
We've tested the Geopress rigorously from the icy heights of Pakistan to the tropical jungles of Cuba, and the results are in: it WORKS. Buy a Geopress: it's the last water bottle you'll ever buy.
Buy a Geopress!
Read the Review
3 Day Jersey City Itinerary
Well that was our rundown of the very best things to do in Jersey City. In case you are now wondering exactly what order to do them in, we have compiled this 3 day Jersey City itinerary for you.
Day 1 – Just Jersey City
Spend a unique morning admiring the New York City skyline in a pretty wild, unusual way courtesy of the folks over at Sea The City. Yes, that's right: we're talking a jet ski ride around the harbour. After going full-throttle on the water, you'll be buzzing with adrenaline and you may want to eat everything in sight. Head to Downtown where you can grab tasty bites at Wonder Bagels (it's worth the wait).
After filling up on some of the best bagels imaginable, or with your bagel in hand, walk the 19 minutes to get some fresh air at Liberty State Park. You'll be able to see the icon that is the Statue of Liberty across the water, as well as Ellis Island. Whilst you're here, you may as well pay a visit to the grand and historic Central Railroad of New Jersey Terminal. Pop in to marvel at the interiors.
After this, you'll be at the Empty Sky Memorial. But make sure you stay until after the sun goes down to get the full effect of this poignant memorial, with the sky changing colour dramatically and people's names lit up in yellow lights on the NYC skyline (closes at 10pm). Get a change of scenery at Zeppelin Hall Beer Garden with its happy hour from 4pm and late-night food.
Day 2 – Cool Jersey City
On your second morning in the city, we recommend heading out early and hopping over the imaginary line to Hoboken. Lucky for you: this charming old part of town is a great spot for brunch. For something that's really going to fill you up, go for Turning Point – situated right on the water, though a chain, the location – plus the killer pancakes and sandwiches on offer – more than make up for that fact.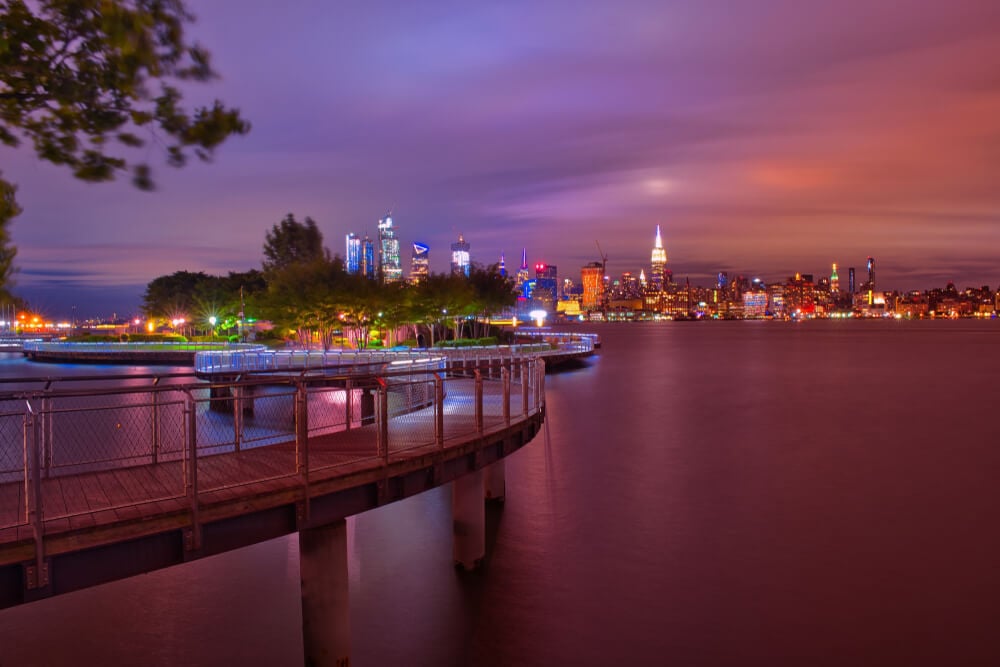 Spend some more time exploring the Hoboken area; for more sugar after those awesome pancakes, check out the infamous Carlo's Bakery. Suitably dosed up with sweet stuff, head out to explore Jersey City's independent shopping scene. Situated in the Downtown area, there's the vintage stuff of Another Man's Treasure as well as Word, a very cool bookstore, amongst other things.
From Downtown Jersey City, it's 10 minutes on the Hudson-Bergen Light Rail to the fascinating Liberty Science Center. Spend a couple of hours being amazed like a big kid (it closes at 5:30pm). For your evening entertainment, it's all about seeing a show at Landmark Loew's Theatre (a 30 minute train ride away). Drink and dine at one of many Indian eateries along Newark Avenue.
Day 3 – Local Life
Your third day in Jersey City begins by seeing what the city seems to be officially championing these days: street art. There are plenty of examples, from the Greetings from Jersey City mural amongst others (over 130, by some accounts) spread throughout the area to combat graffiti. You'll be hungry after wandering around so much, so brunch at The Hamilton Inn. It's tasty here.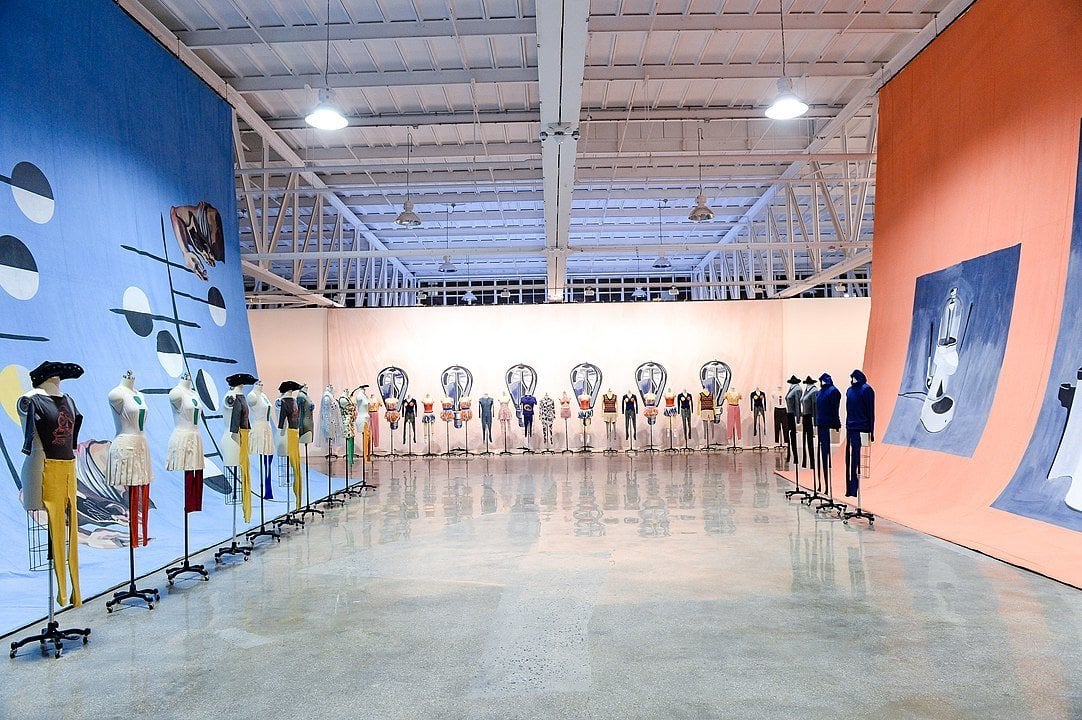 Continue your odyssey of walking around discovering the street art here, then begin making your way to the Five Corners area; around a 26 minute walk from your brunch spot, this is where you'll find a whole lot of Filipino delights. For one particularly good recommendation, hit up Philippines chain Red Ribbon Bake Shop for some Pinoy classics. It's an absolute must for foodies, for real.
After your deep dive into Little Manila, keep strolling up Newark Avenue and you'll find Mana Contemporary. Get there for 3pm for a tour of this pretty cool creative space (highly recommended). Catch the PATH train back to Downtown (around 27 minutes), catch an indie band playing at Monty Hall, then walk the 12 minutes or so to the super fun Barcade, serving food till 12am – and drinks till later!
Don't forget your travel insurance for Jersey City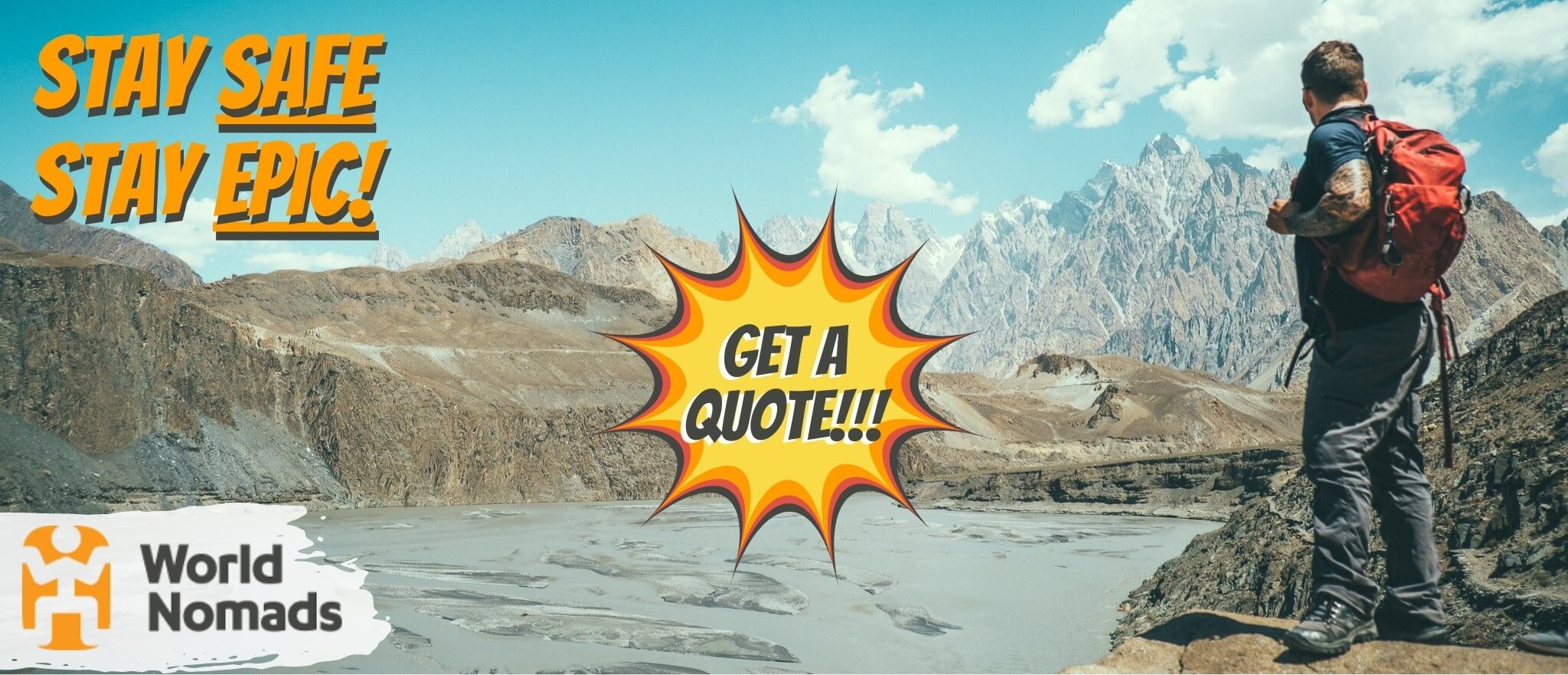 World Nomads' mission is to support and encourage travellers to explore their boundaries. They offer simple & flexible travel insurance, and safety advice to help you travel confidently.
They've been doing it since 2002 – protecting, connecting, and inspiring independent travellers just like you.
Get a quote below or read our in-depth review!
World Nomads provides travel insurance for travelers in over 100 countries. As an affiliate, we receive a fee when you get a quote from World Nomads using this link. We do not represent World Nomads. This is information only and not a recommendation to buy travel insurance.
FAQ on Things to Do in Jersey City
Here are some quick answers to common questions about what to do and see in Jersey City.
Conclusion
Jersey City may not be everyone's first choice when thinking of somewhere to stay in this area of the US. Most people would probably pick Manhattan, or somewhere cool in Brooklyn, but Jersey City has a charm all of its own.
You may be visiting as a couple, you may be visiting as a family – either way, choosing to make Jersey City your base for exploring the area is more than just a price hack: it's a place to discover lesser-visited sights and un-touristed hotspots.
---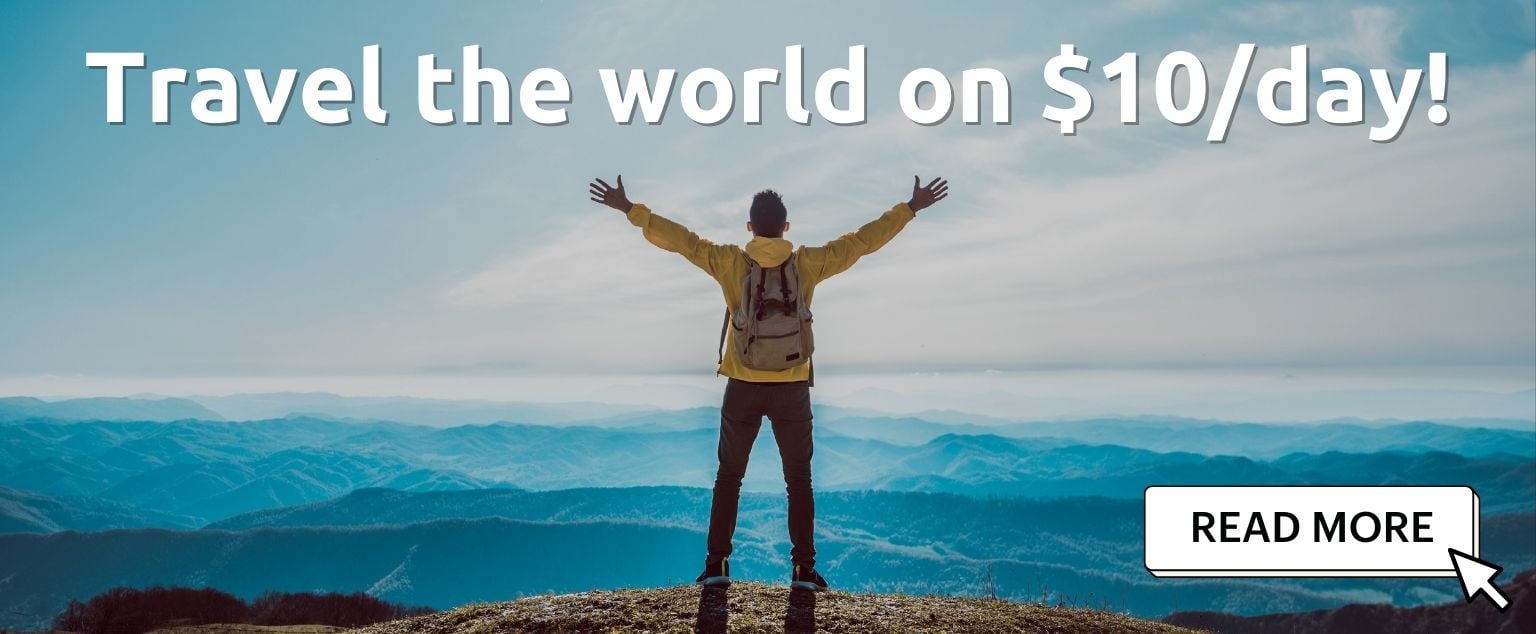 And for transparency's sake, please know that some of the links in our content are affiliate links. That means that if you book your accommodation, buy your gear, or sort your insurance through our link, we earn a small commission (at no extra cost to you). That said, we only link to the gear we trust and never recommend services we don't believe are up to scratch. Again, thank you!