Known locally as the 'City of Brotherly Love' and known worldwide as the home of the Philly Cheesesteak, Philadelphia is a city that offers so much. It's packed with colonial history, has some of the oldest streets in America, and even has the country's first post office.
But that's not all that Philly offers. Since it sits just inland of the Atlantic Ocean along the Schuylkill River, and is just a short drive from New Jersey, New York, Delaware, and Maryland, it's the perfect base to explore other areas in the country.
While Philadelphia has so many attractions to see, there are just as many incredible day trips in Philadelphia you can take. Whether you're looking for a full beach day in Cape May or a cultural visit to Amish country, Philly is the perfect base for exploring.
If you're thinking of heading out the city for a half-day or full day of adventuring, but don't know what to see nearby. Don't worry, I got your back. In this guide, I've shared all the best day trips from Philadelphia so you can explore some of the best sites of the country.

Unlock Our GREATEST Travel Secrets!
Sign up for our newsletter and get the best travel tips delivered right to your inbox.
Getting Around Philadelphia, and Beyond
Did you know that Philly is ranked as one of the best walking cities in the USA? The compact city is laid out in an easy-to-follow grid format that makes exploring the most famous neighborhoods super easy on foot.
In fact, you can follow the colorful 'Walk! Philadelphia' signs or asks a friendly community service reps for directions if you need them.
But when it comes to traveling Philadelphia and the rest of the state, there are multiple routes you can take. One route is by bike. The city has adequate bike lanes and thousands of bikes you can rent from over 140 stations.
Indego is the leading bike-share company and has made cycling an affordable and convenient way to explore the city.
Philadelphia's public transport is operated by SouthEast Pennsylvania Transport Authority (SEPTA), which runs an extensive and affordable network across the city. SEPTA is wheelchair accessible and bike-friendly and ranks in the US's top five most extensive transport systems.
The service runs trolley, rail, high-speed train, and bus lines throughout the city and surrounding towns. The PATCO train line (The Speed Line) connects Philly with Southern New Jersey.
Different ticket options for public transport:
The Philly PHLASH Downtown Loop is the most convenient way to explore the historic center. A single ride costs $2, while a full-day pass is just $5. The service only operates between March and December, servicing each stop every 15 minutes.
With thousands of metered parking spots and affordable garages, renting a car in Philly is a good option for those wanting to explore the surrounding areas in Pennsylvania by car.
You can rent a car at the international airport or in the city center for as low as $30 per day.
Half-day Trips in Philadelphia
When you're done exploring the top things to do in Philadelphia and don't want to venture too far out, how about joining a half-day trip from Philadelphia?
This way, you can better understand the surrounding area without spending too much time or money on transport or tours. Here is my pick of the top half-day trips in Philadelphia.
Brandywine River Valley, PA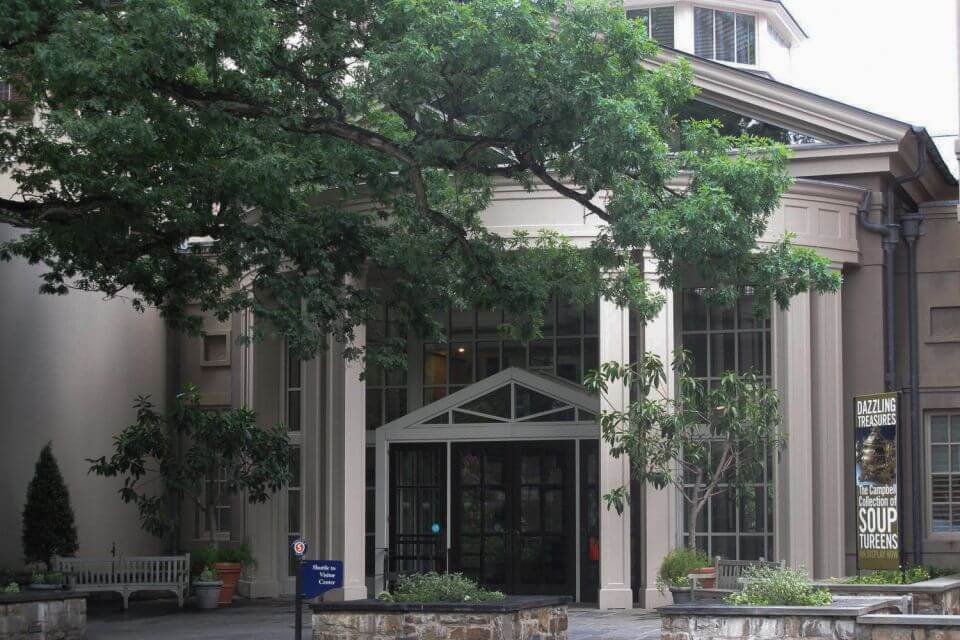 Surrounded by lush countryside and rushing rivers in Chester County, PA, Brandywine River Valley is one of the most gorgeous places in the Philadelphia region. It will take you under an hour to drive to from the city and is a must-visit for anyone who appreciates gardens and beautiful views.
There is so much to see and do here; you could easily spend a week soaking up all the sights. But the main draw of Brandywine is its gorgeous gardens and outdoor spaces. With more than 30 public gardens to explore, Brandywine is known for being America's Garden Capital.
The region has a rich horticulture tradition, from manicured gardens once enjoyed by some of America's most famous families to botanical arboretums and greenhouses.
Discover Philly's history, art, antiques, and countryside mansions at the Jenkins Arboretum. The Mt. Cuba Center in Delaware, which has been named one of the best botanical gardens in North America, is also worth a visit.
The area is also the site of the historic 'Battle of Brandywine', which took place during the American Revolution in 1777. If colonial history grabs your attention, you could join a Philadelphia day trip and hike through the hills of the battles and experience reenactments of the wars and celebrations that happened here.
Suggested trip: Private Brandywine Valley Driving Tour
Wilmington, DE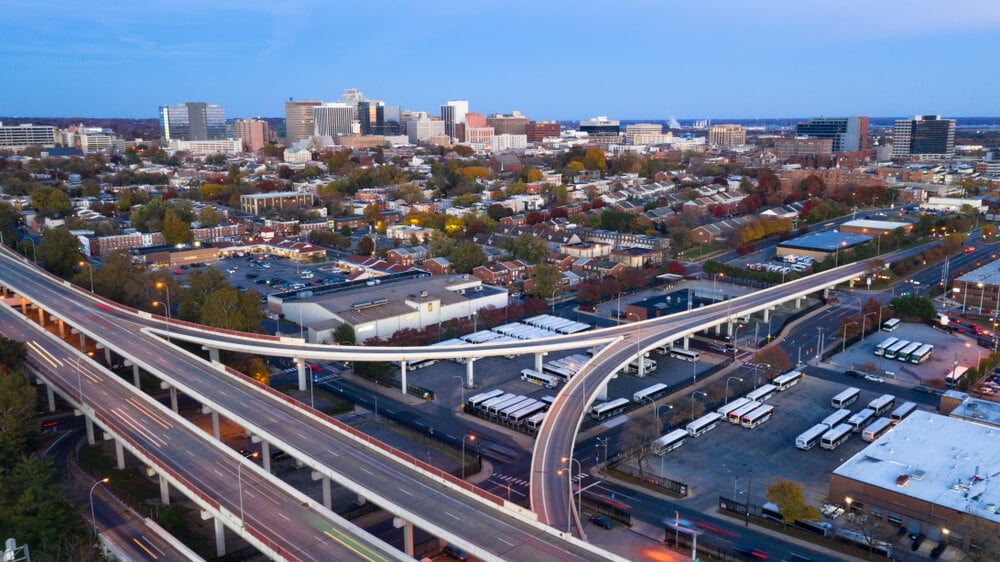 Just three-quarters of an hour from the center of Philadelphia, Wilmington is the largest city in Delaware. Home to some exquisite gardens and mansions, some of the best things to do in Wilmington are to visit the Airlie Gardens and the Bellamy Mansion Museum.
Speaking of mansions, Wilmington is most well-known for its location near Winterthur, America's premier art museum. The museum is open year-round and houses an incredible collection of art and objects dating back to the 1600s. Almost 90,000 artifacts and objects, to be exact!
The museum is set on the Winterthur Estate, an impressive 1800s Greek-Revival mansion initially owned by the famous Du Pont family. Today, the manor house has 175 rooms and is set in a 1000-acre garden of rolling hills, meadows, and forests.
If research and academics get you excited, don't skip out on the Winterthur Library. The library is an independent research library with an incredible collection of rare books, manuscripts, and articles on the country's cultural, social, and academic history.
Suggested trip: Flower Cutting at Strawflower Farm
Valley Forge Historical National Park, PA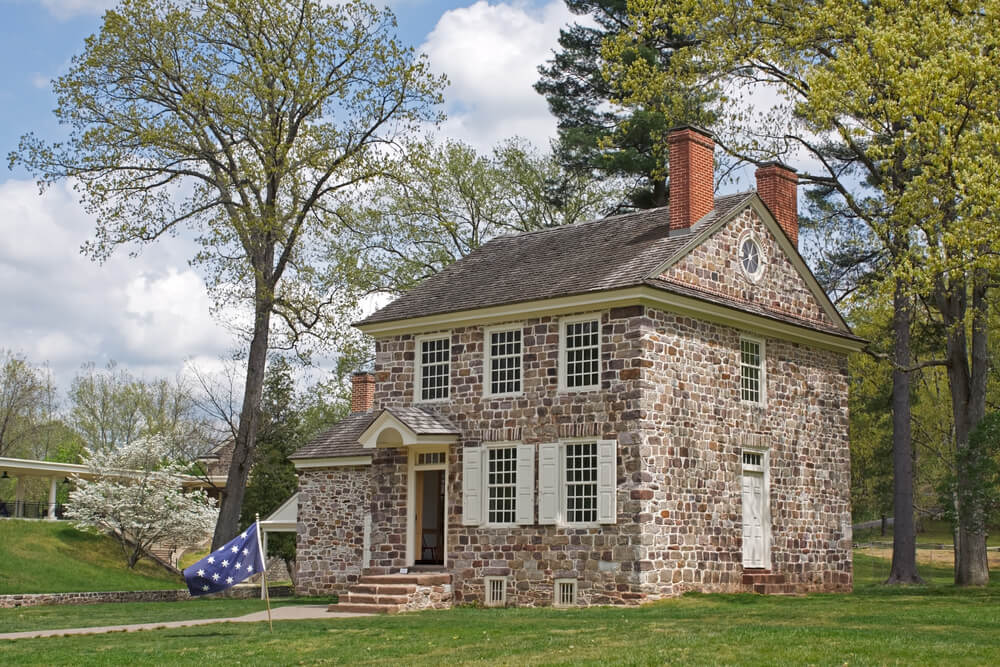 The entire region surrounding Philly is steeped in colonial history. Take a step back in time with a day trip from Philadelphia to Valley Forge Historical National Park, just a 45-minute drive from the heart of Philadelphia.
This incredible site marks the winter encampment of the Continental Army and is preserved in memory of the sacrifices made during the American Revolution War.
Members of the Continental Army were ordinary citizens like you and me; however, they lived during unprecedented times and were thrown into extraordinary situations.
The best way to experience this historical park is on a guided or self-guided tour, leading you through nine major tour stops that follow a ten-mile route known as 'The Encampment Tour'.
The journey can take between half an hour and two hours, depending on where your interests lie and how often you stop. You will pass historical monuments and Instagram-worthy viewpoints along the way.
Once you've had your daily dose of history, there are many other activities to enjoy in the area. Why not rent a bike or set out on a hike along the 30 miles of trails throughout the meadows, woodlands, and forests?
Suggested trip: Valley Forge National Historical Park Tour from Philadelphia
Is This the Best Daypack EVER???
Full Day Trips in Philadelphia
Anyone visiting for an extended stay should consider taking a few full day trips in Philadelphia. These trips are undoubtedly the best way to experience the surrounding landscape, learn about the area's long history and taste the local culture and heritage.
New York City, NY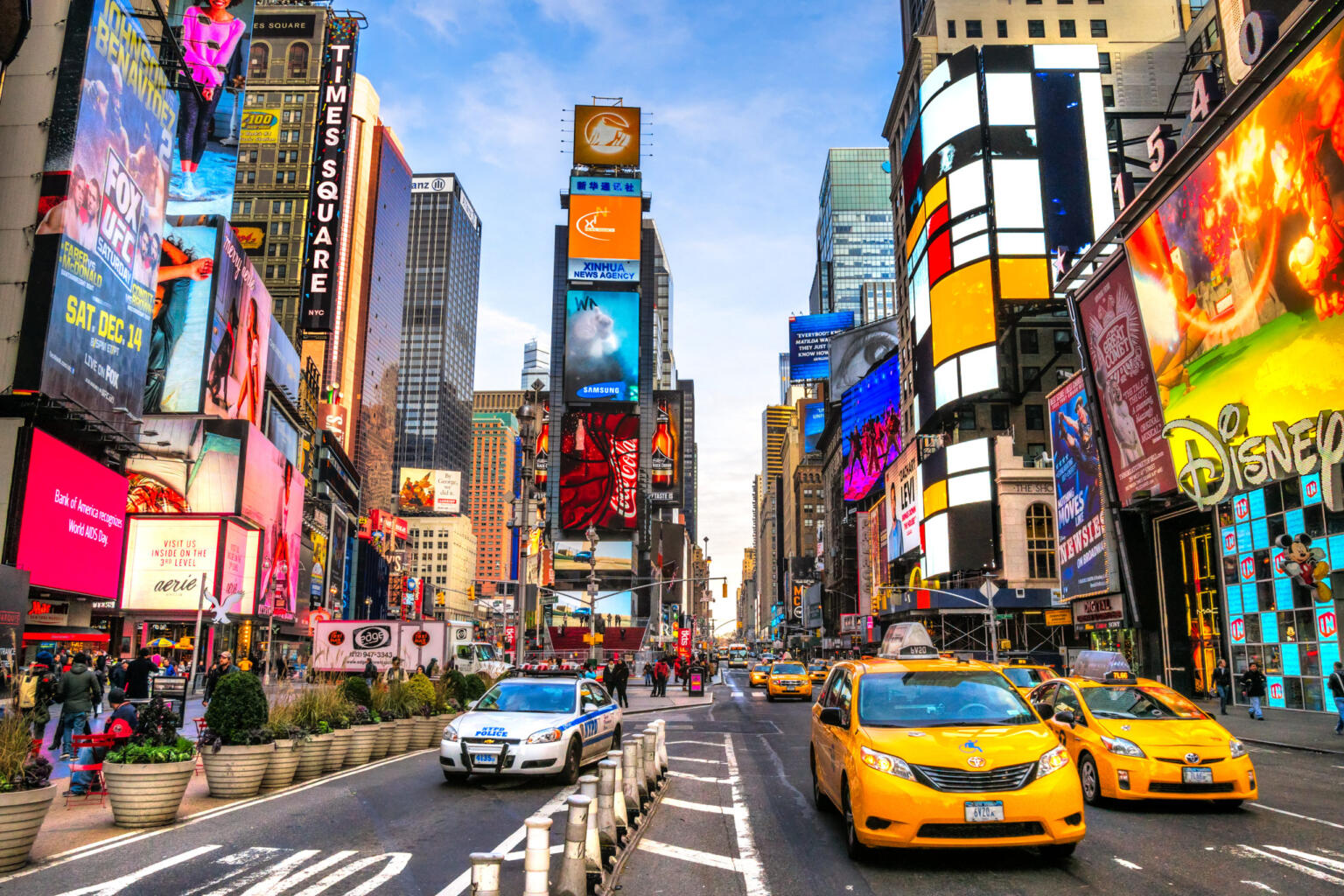 Only a couple of hours drive and under two and a half hours away by train, New York City is an iconic day trip to take from the Pennsylvania capital.
As you can imagine, there is enough to do in New York City to keep you busy for weeks, so I suggest carefully planning your trip and ticking off a few top spots on your hit list. As a museum fanatic, I would opt to hit two of the top museums in the city, the Metropolitan Museum of Art and the Guggenheim Museum.
It's pretty hard to skip Central Park, which can be accessed from just about anywhere in the city center. Central Park is a gorgeous spot for a breath of fresh air and my personal best place to people-watch local New Yorkers in their natural habitat.
You'll have to grab a bite to eat in the city, so make sure you taste some of the local cuisines while you're in town. New York is famous for its American version of Napolitana pizza, bagels, and classic cheesecake.
If you prefer to visit the main cultural attractions, hop on a ferry and cruise over to the Statue of Liberty and Ellis Island, where you can join a historical tour of an iconic landing point of the Americas.
Suggested trip: New York City: Manhattan Island Helicopter Tour
Belleplain State Forest, NJ
There is no better escape from the city than a visit to a state park, and Belleplain State Forest is one of the best places to visit on a Philadelphia day trip with young children.
It's just over an hour's drive from Philly towards Cape May in New Jersey, and is the perfect location to unplug from the outside world.
The park was established in 1928 for recreation, wildlife management, timber production, and water conservation. If you're up for a night under the stars, there are hundreds of tent and trailer sites across the park, with fire pits, picnic tables, and basic bathrooms.
Bring your bathing suits and jump into the fresh water on the north side of Lake Nummy. This is a trendy place to visit during Memorial Day and Labor Day weekend, when families flock to the park for sunshine and good vibes.
You could even rent out a few canoes during the summer months and explore the park on water.
Hiking enthusiasts can take advantage of many trails across the park, which cater to different fitness levels. This is a sure way to recharge fully before heading back into the city.
Atlantic City, NJ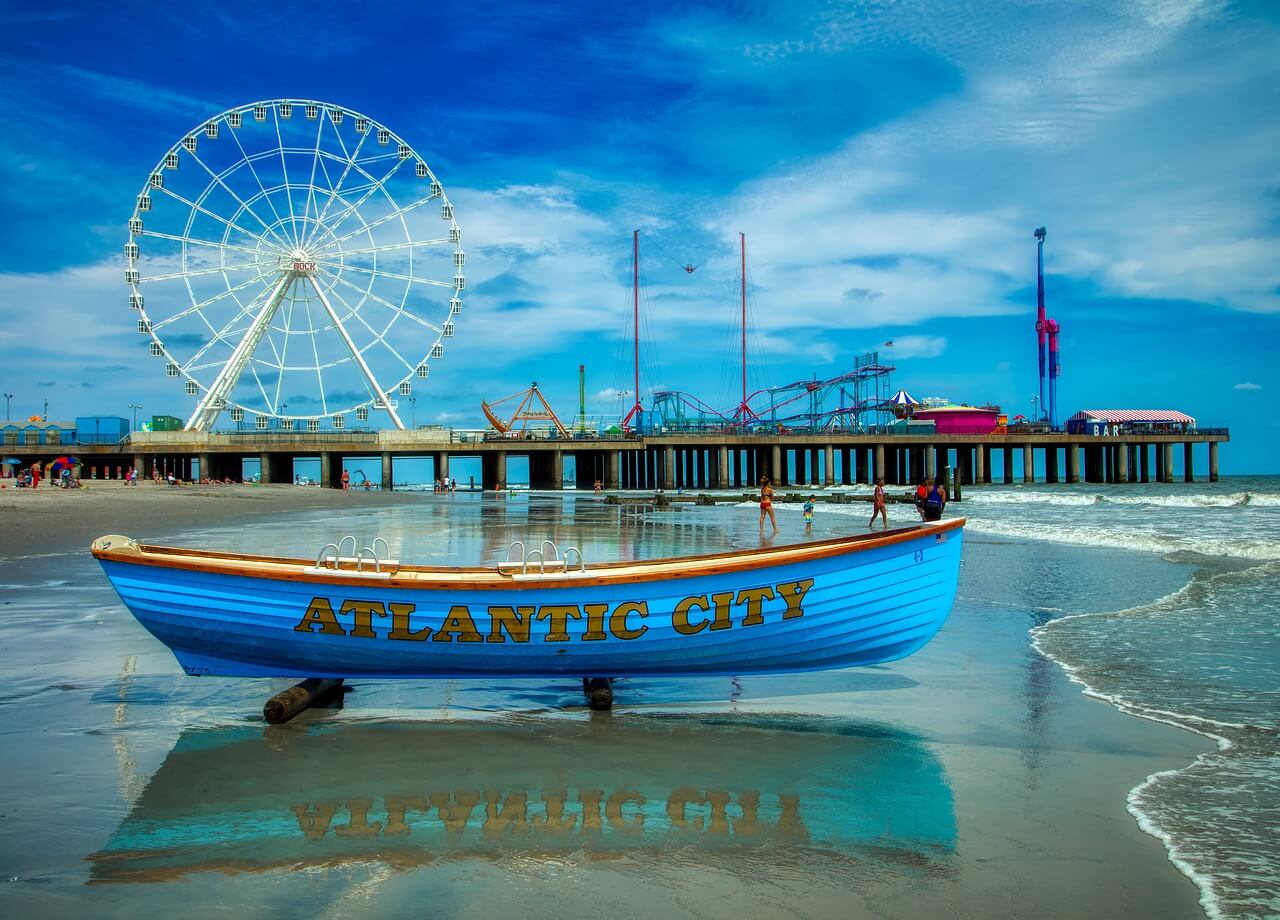 Get your glitz on for a day trip from Philadelphia to Atlantic City, New Jersey. Atlantic City is an exciting place to visit year-round, but there is no better time to explore this coastal metropolis than during the summer.
The city is best known for its gorgeous beaches and resort atmosphere, where beaches are lined with world-class restaurants, buzzing nightlife, and glamorous resorts.
Like any resort town, Atlantic City is an ideal destination for water sports lovers. You can do just about any water-sport or adrenaline-related activity in these waters, from flyboarding to parasailing!
I recommend making your own way to the city, which is just an hour's drive or a two-hour train ride from Philadelphia. Once you arrive, head straight to the Atlantic City Boardwalk, which is an iconic attraction lined with eateries and shops.
Walk toward the Steel Pier Amusement Park, which looks just like the Santa Monica Pier with its brightly colored roller coasters and candy distributors. Your kids will thank you!
If you're itching to learn about New Jersey's history, take a trip to the historic Absecon Lighthouse, built in 1857 on the coast of the Atlantic Ocean. This is the third tallest lighthouse in America, featuring 240 steps that visitors can climb for an incredible panoramic view.
This is one of the best starting points for an East Coast road trip, if you're planning an extended stay in the States.
Suggested trip: Atlantic City Morning or Afternoon Skyline Ocean Cruise
The Pocono Mountains, PA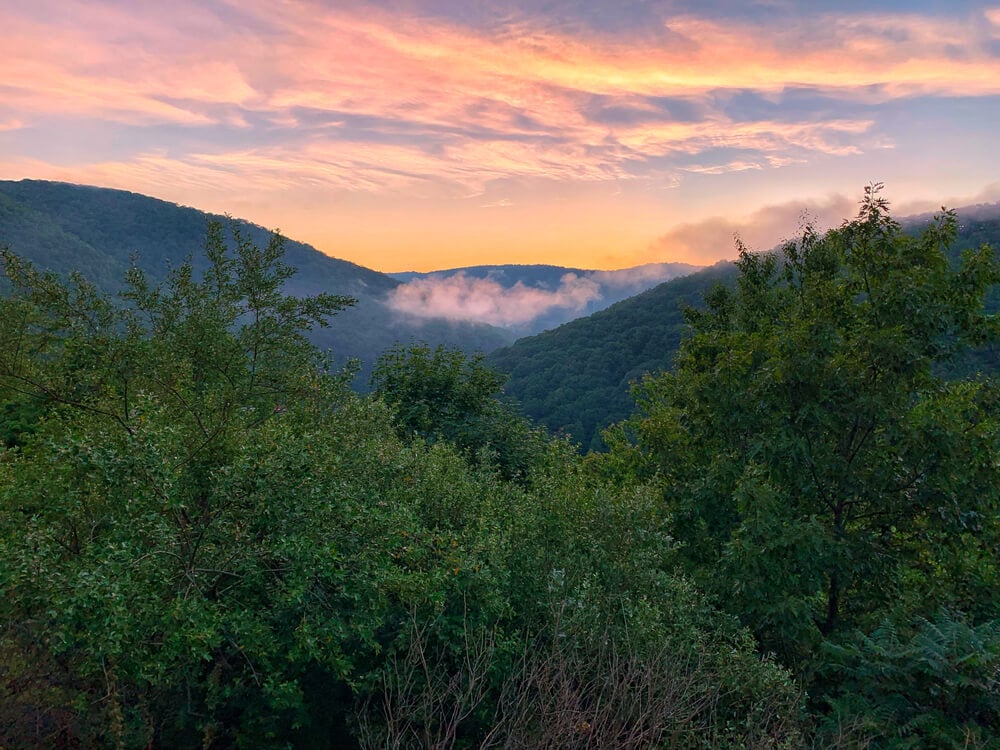 Whether you visit during the balmy summer months or in the depths of winter, a Philadelphia day trip into the exquisite Poconos is a no-brainer. Depending on where you go in the mountain range, the trip should take between an hour and forty-five minutes and two and a half hours by car.
Festivals are held throughout the region during summer, including the month-long Honey and Blueberry Festival. Adrenaline junkies will enjoy a whitewater rafting adventure, horseback riding, boating, or paintball adventure, which can be arranged throughout the summer season.
As fall comes, reconnect with nature and enjoy the fresh mountain air with a hike through the 260 miles worth of trails. Hiking in the Lehigh Gorge State Park is especially beautiful during these cooler months when the trees are an incredible range of yellow, red, and orange colors. You might even get a glimpse of the local wildlife preparing for winter.
Once winter rolls through, the Poconos are one of the most gorgeous spots to visit for a day on the slopes. Lake Harmony and Tannersville are two small yet well-organized ski resorts that offer ski lessons and rentals perfect for a day trip.
Suggested trip: Private Mount Pocono Observation Air Tour
Amish Country, Lancaster County, PA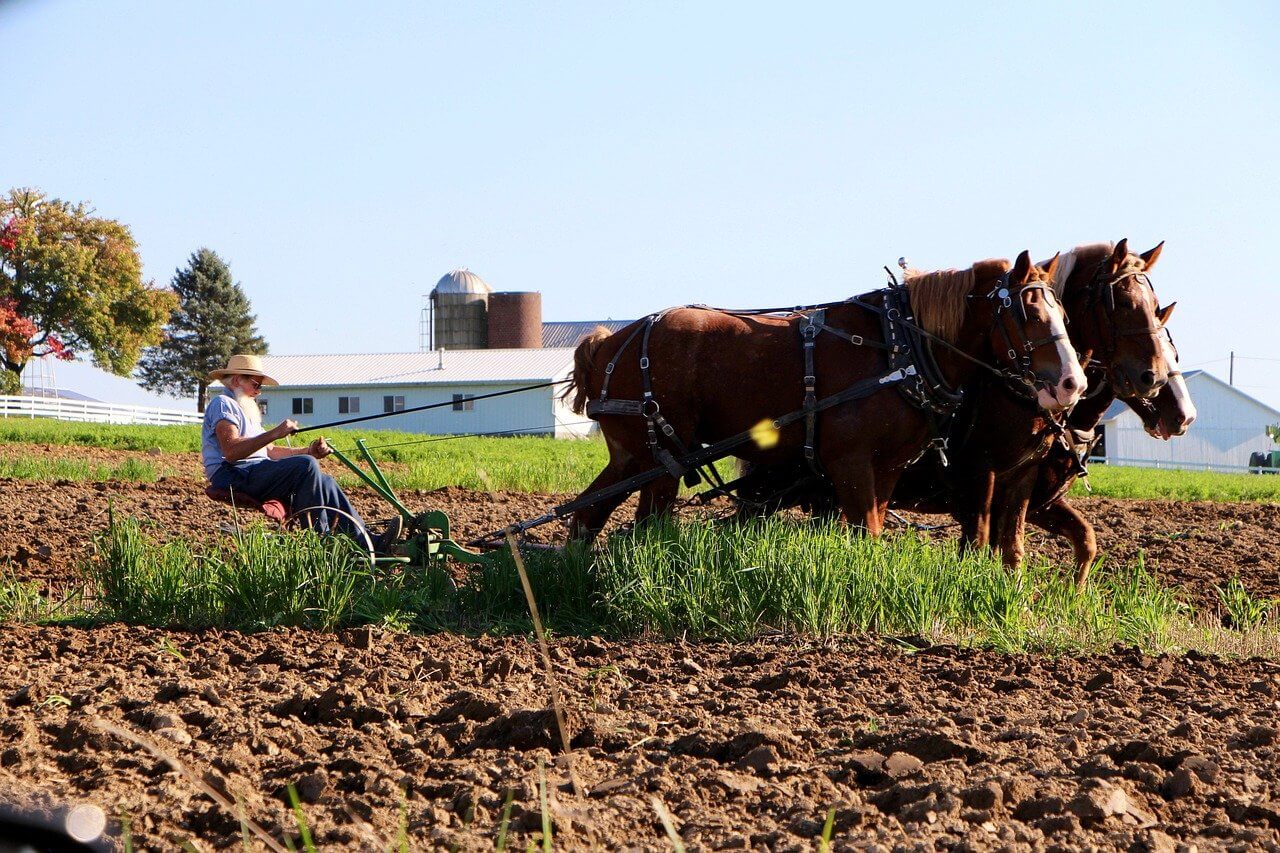 A day trip in Philadelphia wouldn't be complete without a visit to Amish Country. Lancaster County, just an hour and twenty-five minutes from Philly, is one of the best places to check out the Amish culture and community in their home environment.
Lancaster County is home to the Amish, Mennonites, and other cultures generally known as the Pennsylvania Dutch. It is a region of rolling hills and countryside farmland, which is recognizable by its tall windmills.
As this is a main attraction for the area, there are countless tours to join from Philadelphia. I highly advise jumping on a planned tour to get the whole experience. If you visit on your own accord, you won't be able to access certain areas.
Take a step back in time and ride in a traditional horse-drawn wagon, or do some shopping at the local village shops in Bird-in-Hand, where you will find many hand-made straw hats, baskets, quilted blankets, and tasty pastries.
Don't leave without visiting the Lancaster County Market, which is America's longest continuously operating farmers market. Here, you'll be able to taste and purchase fruit and vegetables grown around the county and learn more about local life in the area.
Suggested trip: Lancaster County Amish Community Tour
Cape May, NJ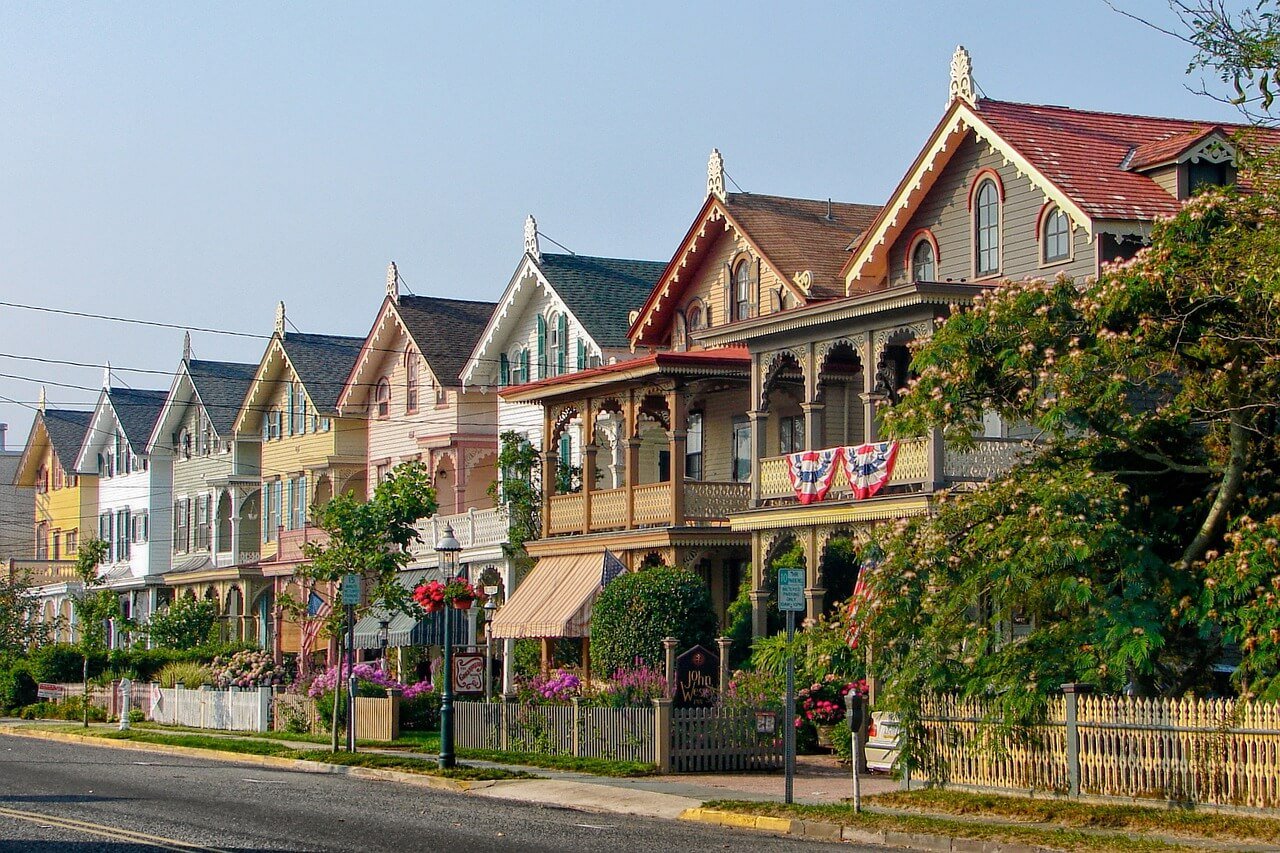 Cape May is one of those bucket list USA destinations we all have our eyes on. Escape the busy city atmosphere and head to this picturesque coastal region in New Jersey, which is just over an hour and a half drive from Philadelphia.
This southern NJ beach town has everything you might want from a beach vacay – from exquisite architecture to idyllic ocean fronts to a casual atmosphere.
Start your day trip from Philadelphia with a rest on the beach and a refreshing dip in the ocean. Once you feel rejuvenated, there are plenty of restaurants to choose from along the beachfront, from high-end eateries to street food vendors and everything in between.
Those interested in local bird life can join a bird-watching tour along one of the state park hiking trails. If great views are what you're after, climb to the top of the iconic Cape May lighthouse, which overlooks unparalleled panoramic views of the ocean and town.
End your day with a sunset cruise on the Atlantic, and you might even be rewarded with a few dolphin sightings along the way.
Between the gorgeous beaches, delectable cuisine, and low-key atmosphere, I won't blame you if you want to spend longer in this beachside town.
Suggested trip: Cape May Island Sunset Cruise and Dolphin Watching
Longwood Gardens, PA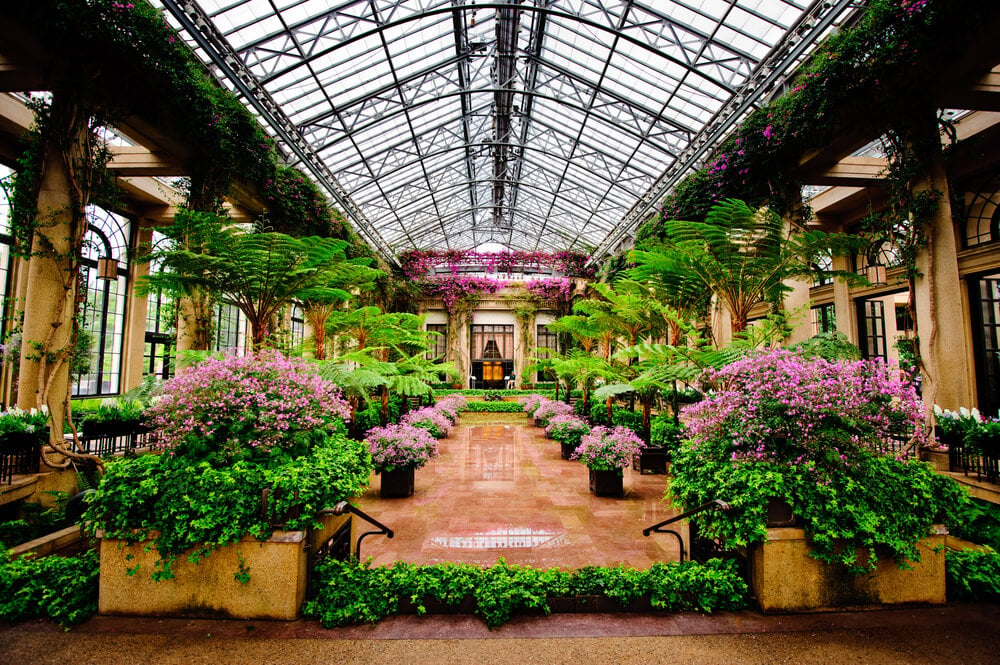 Even though Longwood Gardens are located in the Brandywine Valley region already mentioned above, these exquisitely landscaped gardens are large enough to enjoy a full-day trip from Philadelphia and deserve their own spot on this list.
The gardens encompass over 1077 acres of exquisite landscape, making it one of the largest nature conservatories in America.
Explore the gardens at your leisure, or join a guided tour for more information on the flower species and conservation methods. There are over 9000 species and varieties of plants and flowers in the garden!
This sprawling horticultural paradise celebrates the summer months with various festivals and events. The Festival of Fountains is my personal favorite, showcasing an impressive light show and blooming flowers.
Once satisfied with your garden experience, pop across to Kennett Square for a bite to eat. This small town in Chester County is known as the Mushroom Capital of the World, so if you're a fan of your fungi, this is a good opportunity to stock up on your favorites.
As of 2022, it will cost an adult $25 to enter the gardens, while students and seniors will pay $22. Those under the age of four enter for free, and youth between four and eighteen will pay $19.
Suggested trip: Longwood Gardens Experience
Long Beach Island, NJ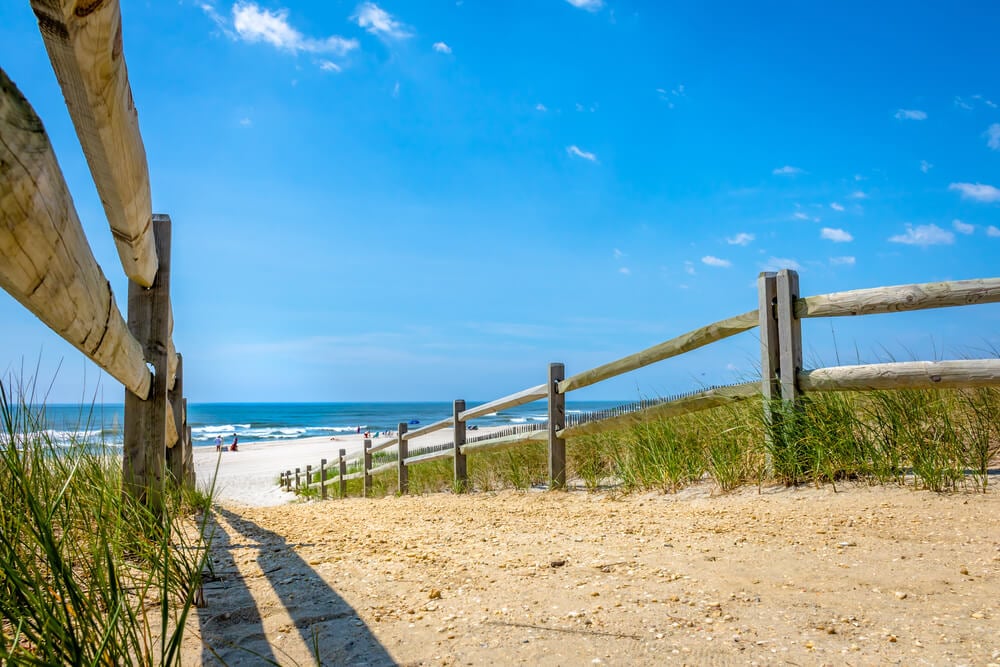 This Philadelphia day trip goes out to all the beach bums. Long Beach Island in New Jersey comprises a stretch of coastline packed with cute coastal towns, enticing eateries, and local attractions. The long stretch of beach makes it a top destination for a beach day, seaside picnic with family, and sunset strolls.
Long Beach Island is just over an hour's drive from Philadelphia, and is a top spot for a family day trip, romantic getaway, or even as a solo traveler. If you're visiting with young kids, why not get your adrenaline pumping at the Fantasy Island Amusement Park or the Thundering Surf Water Park in Beach Haven?
Long Beach Island has more to offer than just sand and surf. At the New Jersey Maritime Museum, you can learn all about the seafarers who used to dock in the area and examine artifacts from shipwrecks lying beneath the Atlantic surface. It's a great way to learn about the nautical history of New Jersey.
The Barnegat Lighthouse State Park is another gorgeous attraction worth checking out. Located along the New Jersey Coastal Heritage Trail, the lighthouse marks one of the most important places for ships to change course in the region.
Lambertville, NJ and New Hope, PA
Lambertville and New Hope are two quaint towns that sit across the Delaware River from one another, one in New Jersey and the other in Pennsylvania. The towns are so small and easy to walk around that you could tick both off your Philadelphia day trip list in one day.
While the villages are beautiful enough to keep you entertained for hours, their main attraction here is antique shopping. The towns are connected with a walking bridge, making it easy to explore the antique shops, boutique galleries, and enticing eateries.
It will take you just under an hour to drive to the towns from Philadelphia. Once you've explored your fair share of quirky shops, you could rent a bike and follow the biking trail that will tour you around the area. I've linked an eBiking tour for those who wish to save their energy for the rest of the day.
The cycling will no doubt leave you peckish, and the best place to satisfy your cravings is at one of the restaurants along the picturesque riverfront. End your day with a stroll through the Ferry Market and check out what the local vendors have to offer.
Suggested trip: Canal Towpath eBike Tour through Lambertville
Baltimore, MD
How about a city-landscape trade? I have no doubt you're familiar with Baltimore, and if you aren't planning to visit the city during your vacation, it is certainly worth taking a day trip from Philadelphia.
The city is quite literally nicknamed 'Charm City' and is just over an hour away from Philly by train.
Easily one of the most attractive cities in the country, Baltimore sits on the Patapsco River, close to where it empties into the Chesapeake Bay. Known for its crab cakes and harbor views, there is no better place to enjoy a crab meal than Baltimore.
The National Aquarium is one of the best rated in the world and is definitely worth a visit, especially if you're visiting with young kids.
The aquarium is located at the Inner Harbor, which is packed with shops and restaurants. However, there are a bunch of other museums you might also want to visit, so make sure you do your research before and plan your day accordingly.
The city is divided into over 200 distinct neighborhoods, making it difficult to know where to spend your time. However, the main spots you'll want to check out on a one-day visit will be Inner Harbor, Harbor East, Fell's Point, and Mount Vernon.
Suggested trip: Baltimore Inner Harbor Sightseeing Cruise
Doylestown, PA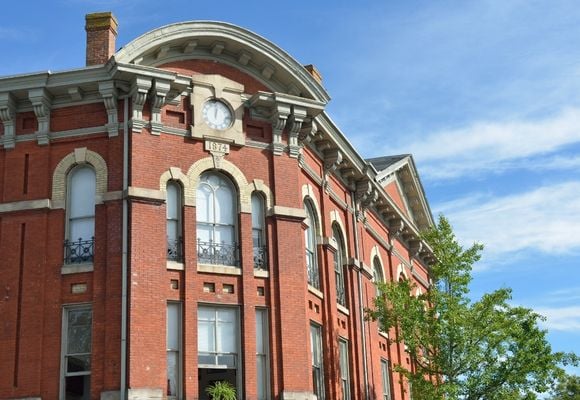 The picturesque town of Doylestown lies just a short 50-minute drive from Philly, making it a top spot for a day trip in Philadelphia. This historic place dates back to the 1700s when it was founded as the intersection of what is now known as Route 202 and Route 611.
The most charming thing about Doylestown is its historic buildings and century-old architecture. Just about everywhere you walk through the historic center, you will be treated to views of Victorian residential houses, Civil War attractions, and Federal buildings lining the commercial streets.
It's hard to miss Fonthill Castle, which stands tall in the heart of the town. However, this historic-looking building is, in fact, not a castle and was built as a residential home for an eccentric man in the early 1900s.
Regardless of its purpose, this incredible building has 44 rooms and 32 staircases and is filled with unique books, collector items, and handmade tiles collected from across the world.
Small Pack Problems? 😉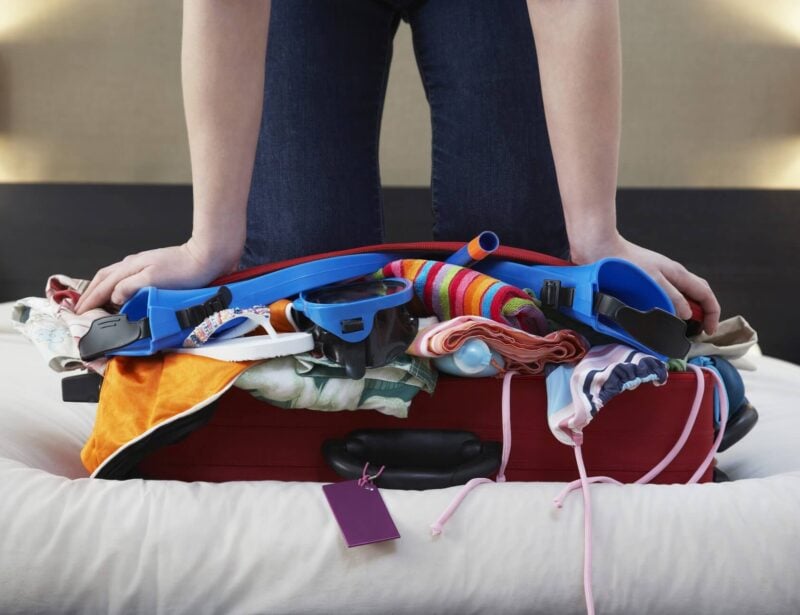 Wanna know how to pack like a pro? Well for a start you need the right gear….
These are packing cubes for the globetrotters and compression sacks for the real adventurers – these babies are a traveller's best kept secret. They organise yo' packing and minimise volume too so you can pack MORE.
Or, y'know… you can stick to just chucking it all in your backpack…
Get Yours Here
Read Our Review
Don't Forget your Philadelphia Travel Insurance
ALWAYS sort out your backpacker insurance before your trip. There's plenty to choose from in that department, but a good place to start is Safety Wing.
They offer month-to-month payments, no lock-in contracts, and require absolutely no itineraries: that's the exact kind of insurance long-term travellers and digital nomads need.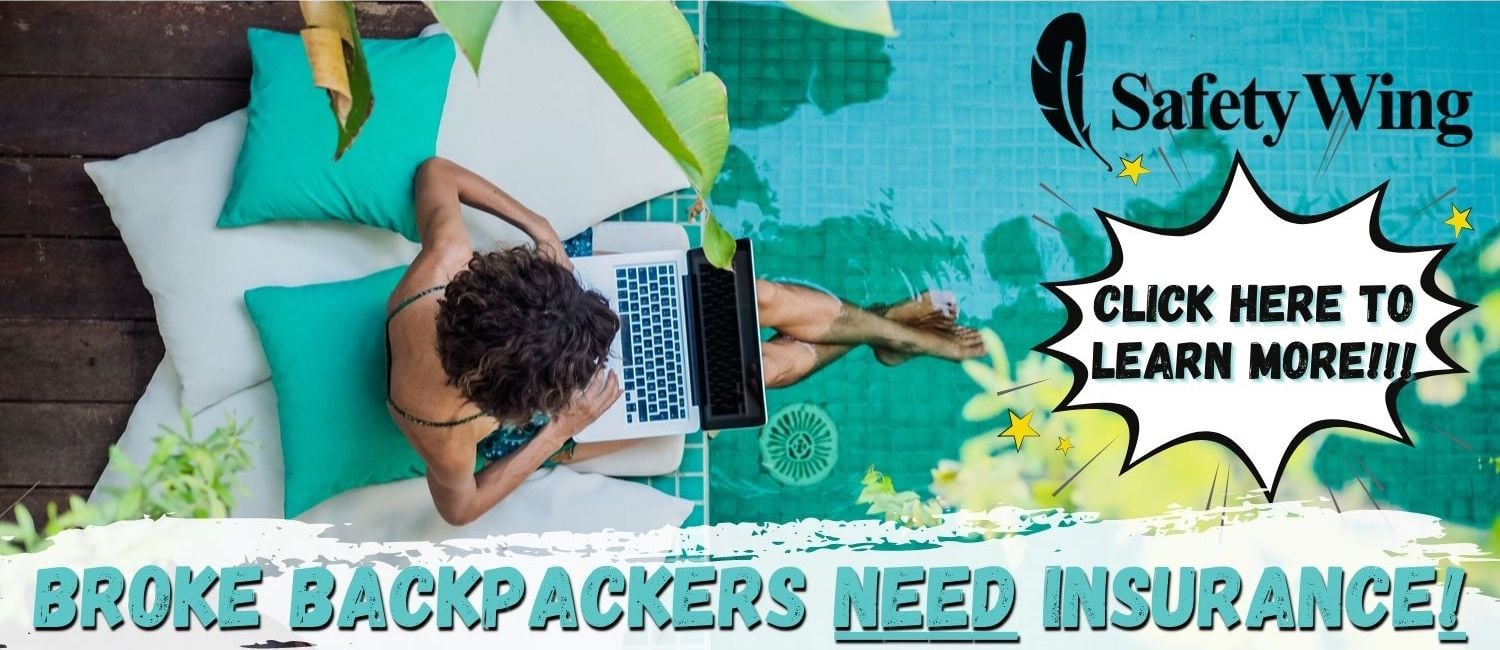 SafetyWing is cheap, easy, and admin-free: just sign up lickety-split so you can get back to it!
Click the button below to learn more about SafetyWing's setup or read our insider review for the full tasty scoop.
Final Thoughts on Day Trips From Philadelphia
By now I hope you have at least a few day trips in mind for your Philadelphia adventure. Philly is a dynamic city with unparalleled history to share, but it's the neighboring towns, cities, and natural environment that make this place so special.
Conveniently for taking day trips from Philadelphia, the city is pretty much surrounded by gorgeous countryside, beaches, and iconic cities, lying at the intersection of four other USA states.
After some time in the city, my best day trip would have to be a trip to Lancaster County. Not only is this countryside adventure the perfect respite from the big city, but it's also one packed with history and culture that you won't find in any other part of the world.
---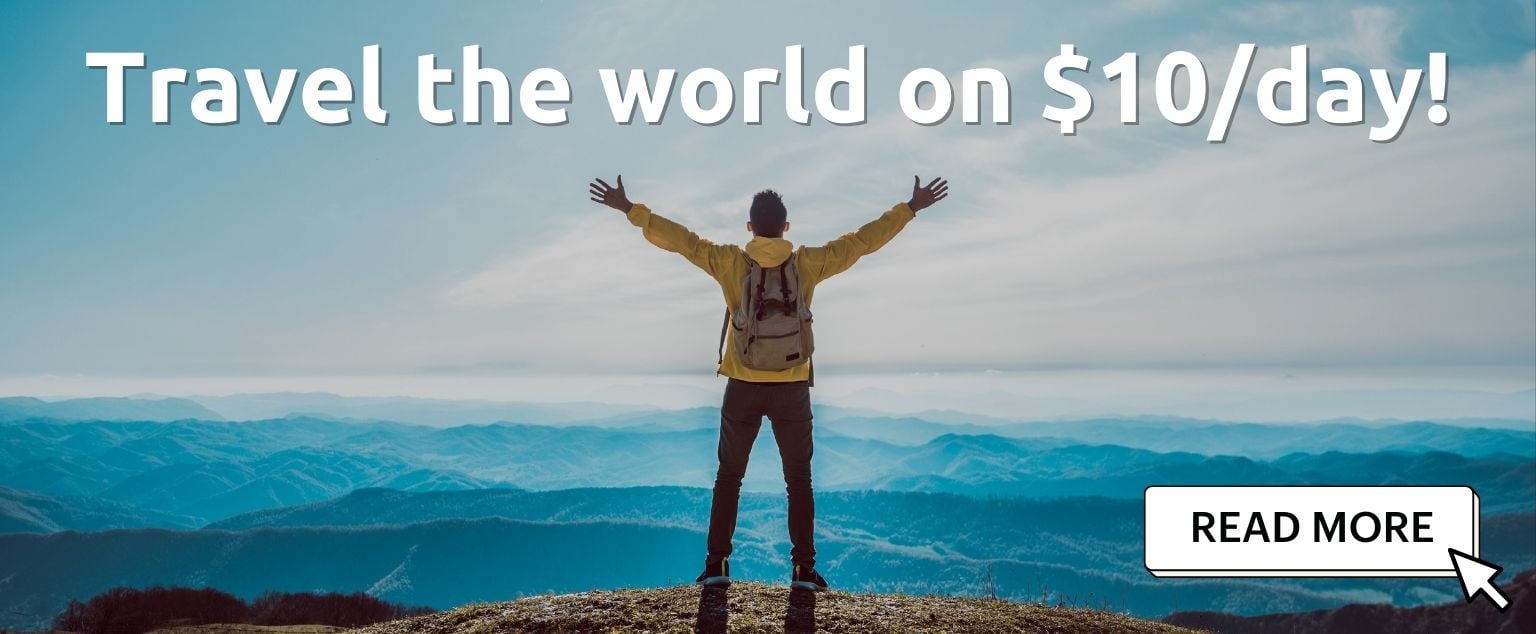 And for transparency's sake, please know that some of the links in our content are affiliate links. That means that if you book your accommodation, buy your gear, or sort your insurance through our link, we earn a small commission (at no extra cost to you). That said, we only link to the gear we trust and never recommend services we don't believe are up to scratch. Again, thank you!