Planning an escape to the stunning landscapes of Pennsylvania? You couldn't have chosen a better place to unplug and unwind.
Pennsylvania is home to some of the most breathtaking sites, both natural and man-made. The forested mountains of the Poconos, mysterious valleys, clear lakes, and colorful flowers attract nature lovers of all kinds.
Whether you are traveling solo, or with family, friends or your significant other, the beauty of Pennsylvania will mesmerize like nothing else.
To truly enjoy the spectacular beauty of Pennsylvania's landscape, skip the cities and its high-rise hotels and avoid the crowded resorts too. Nothing can come close to the experience of staying in a cabin in Pennsylvania, with only a handful of people around.
Staying in a cabin in the Coal State allows you to stay within nature itself, as well as embark on outdoor adventures right on your doorstep.
With such splendid nature, comes lots of options for cabins. To narrow it down for you, I have selected the best cabins in Pennsylvania so you don't have to worry about finding one. Get ready to find your dream cabin!
In a Hurry? Here's Where to Stay in Pennsylvania for One Night
FIRST TIME IN PENNSYLVANIA
Is this amazing Pennsylvania Cabin booked for your dates? We've got your back with our other favorite properties below!

Unlock Our GREATEST Travel Secrets!
Sign up for our newsletter and get the best travel tips delivered right to your inbox.
Staying in a Cabin in Pennsylvania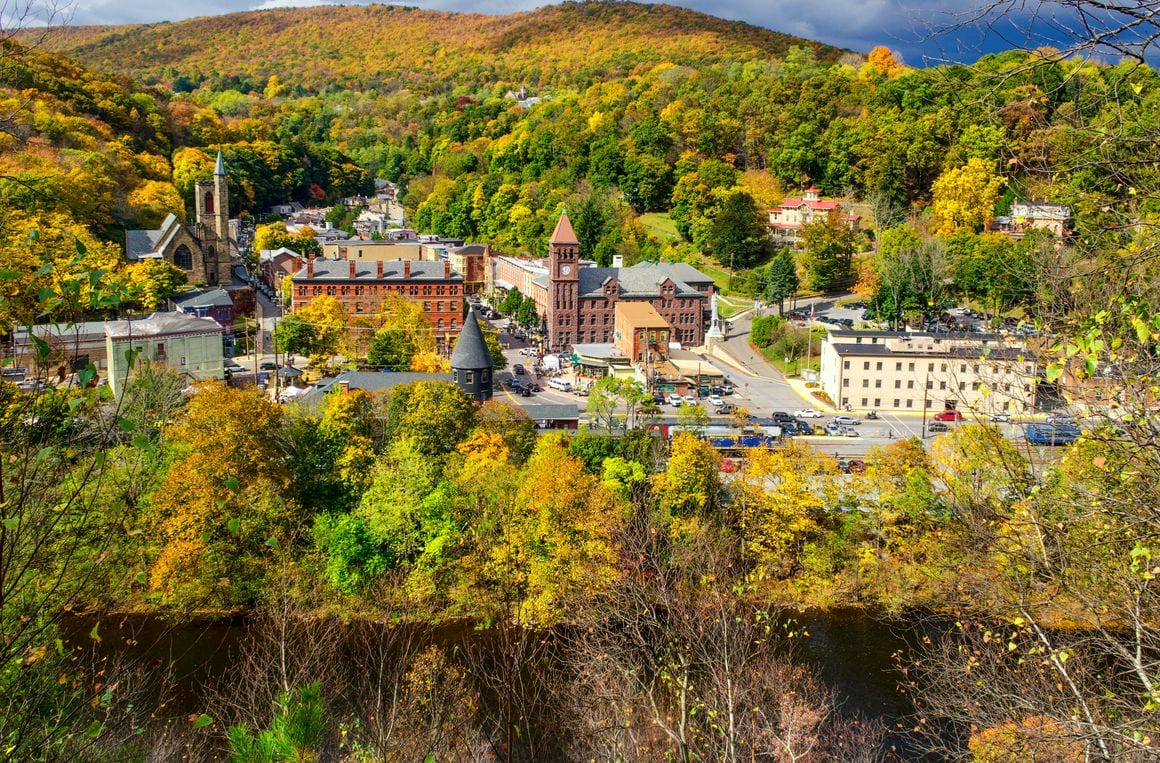 Cabins in Pennsylvania are innovative and unique, yet somehow, they never stray too far from that classic, rustic characteristic of cabins. From A-frames to tree-houses, quirky little details, and hidden nooks and crannies, the architects haven't held back from bringing something new to the designs. Staying in a cabin is not without luxuries, in fact, it's more like glamping in Pennsylvania.
When you are staying in a cabin in Pennsylvania, exploring your lodgings becomes just as fun as exploring your surroundings. And it's not just the designs that have people rushing to book a cabin in Pennsylvania, as they are rented as entire rental units there is much more freedom to come and go as you please, which you sometimes don't get with a bed and breakfast in Pennsylvania.
And exploring is not something you would want to miss out on when you are in Pennsylvania. The natural setting of Pennsylvania is mind-blowing, and every season brings its magic. Travelers rush to Pennsylvania in the winter for skiing and snowboarding in the same numbers as they do in summer for hiking and biking.
Fall brings out the prettiest colors of the leaves, and the last thing you'd want is to be stuck in a town or a city with cars, buildings, and crowds ruining the vibe for you. Staying in a cabin in Pennsylvania is the only way to enjoy a nature retreat with only the sound of wildlife and a flowing river to distract you.
What to Look For in a Cabin
Since both summer and winter are popular times in Pennsylvania, most top-rated cabins come with adequate heating and cooling systems. A lot of cabins are also family-friendly and you'd find travel cribs, high-chairs, and children's books in a large number of them.
However, cabins tend to be in more remote locations and so you will need to check whether the cell network and WiFi connection are strong before booking. You'll also need to think about access, as often they can be located down dirt tracks that are only accessible by 4×4. If you are travelling on an East Coast road trip though, you'll find plenty of cabins with parking.
You might also want to check how far you are from the nearest town, as you'll want to pick up some supplies.
Because Pennsylvania is all about the outdoors, most cabins will have a BBQ grill, picnic table, and a fire pit outside, to encourage gathering or quiet reflective times under the night sky, but you should check to see what entertainment facilities are provided – especially if you're in a remote location. You will want to check that the kitchens come fully equipped with all pots and pans, so you can easily prepare your breakfasts and meals.
Pennsylvania has a lot to offer when it comes to this unique accommodation and whatever you prefer, you are sure to find it. To look at some more selections, check out Vrbo and its budget-friendly options.
OVERALL BEST VALUE CABIN IN PENNSYLVANIA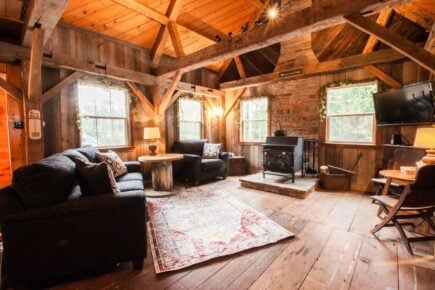 OVERALL BEST VALUE CABIN IN PENNSYLVANIA
Black Bear Cabin
> $$
> 4 Guests
> Family-friendly
> Tucked away in the woods with mountain views
BEST BUDGET CABIN IN PENNSYLVANIA
BEST BUDGET CABIN IN PENNSYLVANIA
Cabin on the Creek
> $
> 2 Guests
> Child-friendly
> Overlooks a creek
BEST CABIN FOR COUPLES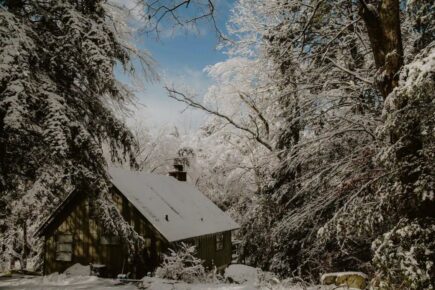 BEST CABIN FOR COUPLES
Cabin in Pocono Mountains
> $$
> 2 Guests
> Hot water
> Waterfront property
BEST CABIN FOR A GROUP OF FRIENDS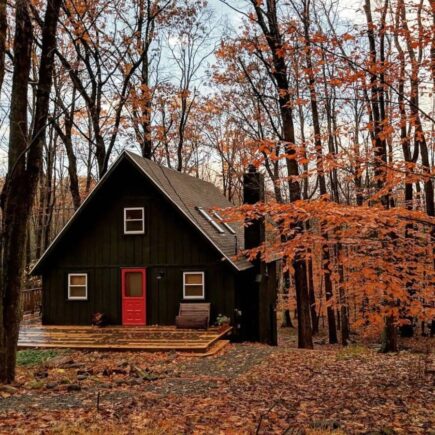 BEST CABIN FOR A GROUP OF FRIENDS
The Pocono Cabin
> $$$
> 6 Guests
> Shared outdoor pool
> Walking distance from the lake
OVER-THE-TOP LUXURY CABIN
OVER-THE-TOP LUXURY CABIN
Long Pond Cabin
> $$$$
> 16 Guests
> Game room
> Variety of entertainment options
BEST CABIN FOR FAMILIES VISITING PENNSYLVANIA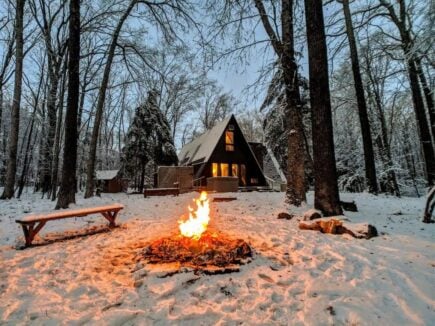 BEST CABIN FOR FAMILIES VISITING PENNSYLVANIA
The Alpine Cabin
> $$$
> 6 Guests
> Private hot tub
> Lake access
CABIN WITH AN EPIC LOCATION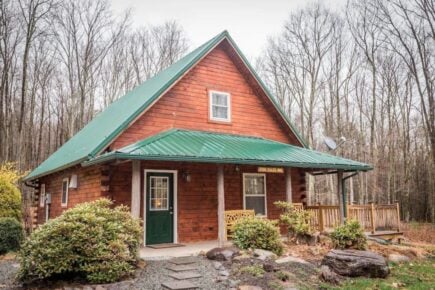 CABIN WITH AN EPIC LOCATION
Fish Tails Cabin
> $$
> 6 Guests
> Fireplace
> Numerous hiking trails and waterfalls nearby
The Top 10 Cabins in Pennsylvania
Traveling to Pennsylvania? No need to settle for average accommodation when you can enjoy the charm and beauty of cabins.
From rustic to absolute luxurious, from secluded to the most romantic, I've got you covered! Find the cabin that fits your style and plans an epic vacation to Pennsylvania.
Overall Best Value Cabin in Pennsylvania – Black Bear Cabin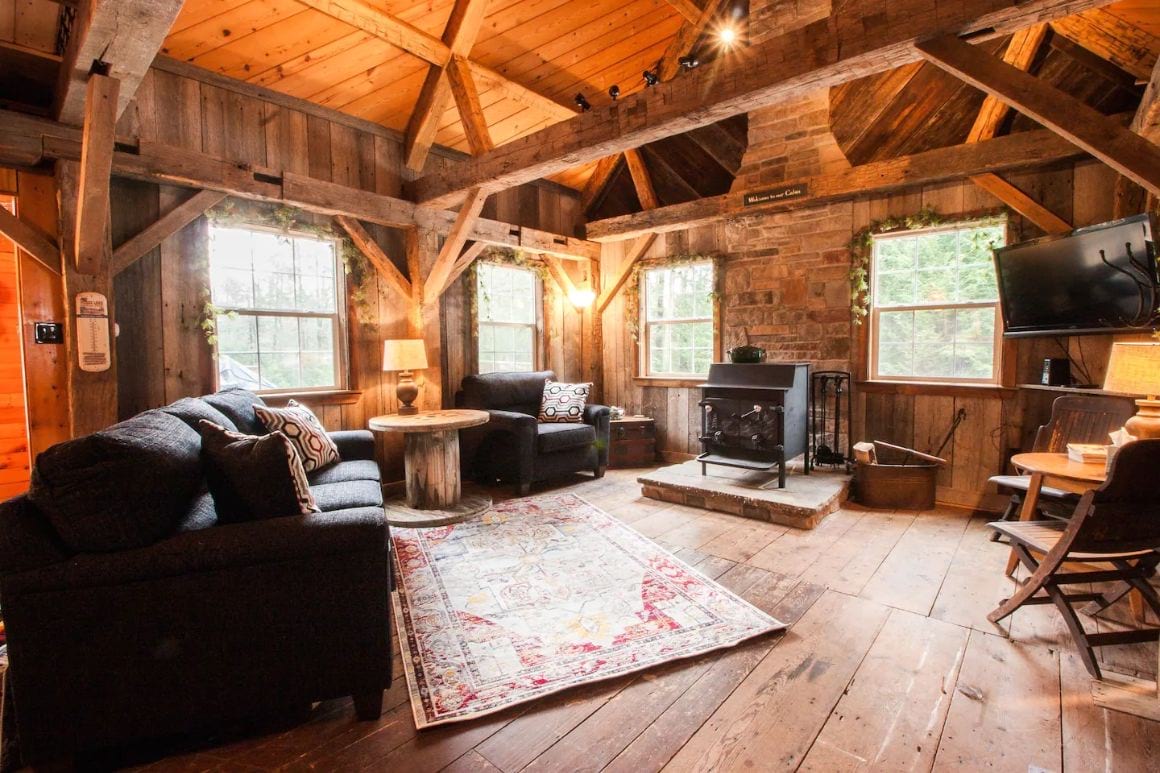 $$
4 Guests
Family-friendly
Tucked away in the woods with mountain views
Built in the 1960s, Black Bear Cabin has lots of details that make it a classic, such as hand-hewn beams, stonework, and old wood floors. The combination of the antique decor and modern amenities allows the guests to experience the true charm of staying at a traditional cabin, without losing any lavishness they are used to.
With room for four guests and amenities such as a high chair, travel crib, children's dinnerware, and board games, families will love this cabin. A group of friends and couples will also enjoy the long list of amenities provided by the hosts.
To unplug and unwind, this cabin is situated amid two state parks and surrounded by some of the most famous hiking trails. The state parks will make sure you get to enjoy swimming, kayaking, and picnics.
Black Bear Cabin tucked away in rural Pennsylvania in Benton, which is just the place to disconnect with the world and reconnect with nature. The classic cabin surrounded by woods, creeks, and state park provides the greatest value for money.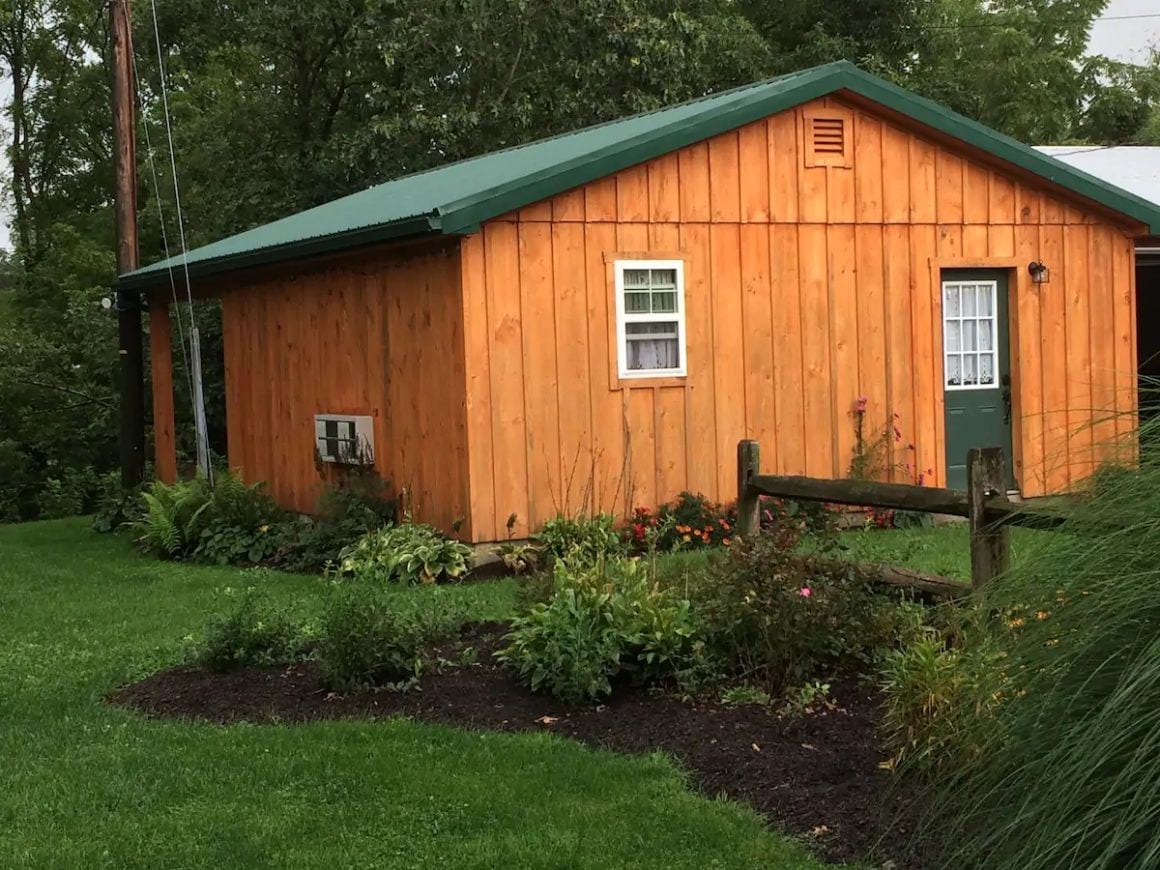 $
2 Guests
Child-friendly
Overlooks a creek
Have you ever wanted to escape to a cabin where peace and tranquility surround you and where the simplicity of things tugs at your inner artist? Well, you'll find that cabin in Kutztown.
This beautiful rustic dwelling is where the time stops and it feels like you've entered a little piece of paradise. The best part? This charming cabin overlooking a large creek comes at astonishingly budget-friendly rates. It's perfect for a solo traveler but just as fitting for couples. But then, the cribs, high-chair, and children's books and toys make it ideal for families too.
The cabin, featuring one room, can house up to four guests and offers a kitchenette, seating area, and a dining table. The back porch is designed to chill and relax with a picnic bench so you can eat and drink while enjoying the creek view. Fun activities include berry picking in the woods around the property, exploring, biking, and hiking.
$$
2 Guests
Hot water
Waterfront property
Think splendid sunsets with your partner by your side, idyllic romantic dinners by the water, and nights spent around the fire pit under the dark starry sky! If that isn't a perfect romantic getaway, we don't know what is! And this cabin in the Pocono Mountains is just the place to create cherished memories together.
The chic cabin is right beside a stream, where you can sit for hours and dip your toes in or fish for some fancy seafood later. There are plenty of lakes and the Delaware River nearby for kayaking too. The Pocono Mountains are breathtaking in summer and a wonderland in winter.
The cabin is fully-equipped to host your romantic getaway during snowy days. The cabin has an open floor concept with a wood stove to warm it in the winter. The loft upstairs is a cozy bedroom with a reading nook to help you stimulate your mind during this dream vacation. Look out for wildlife in the area!
Best Cabin for a Group of Friends – The Pocono Cabin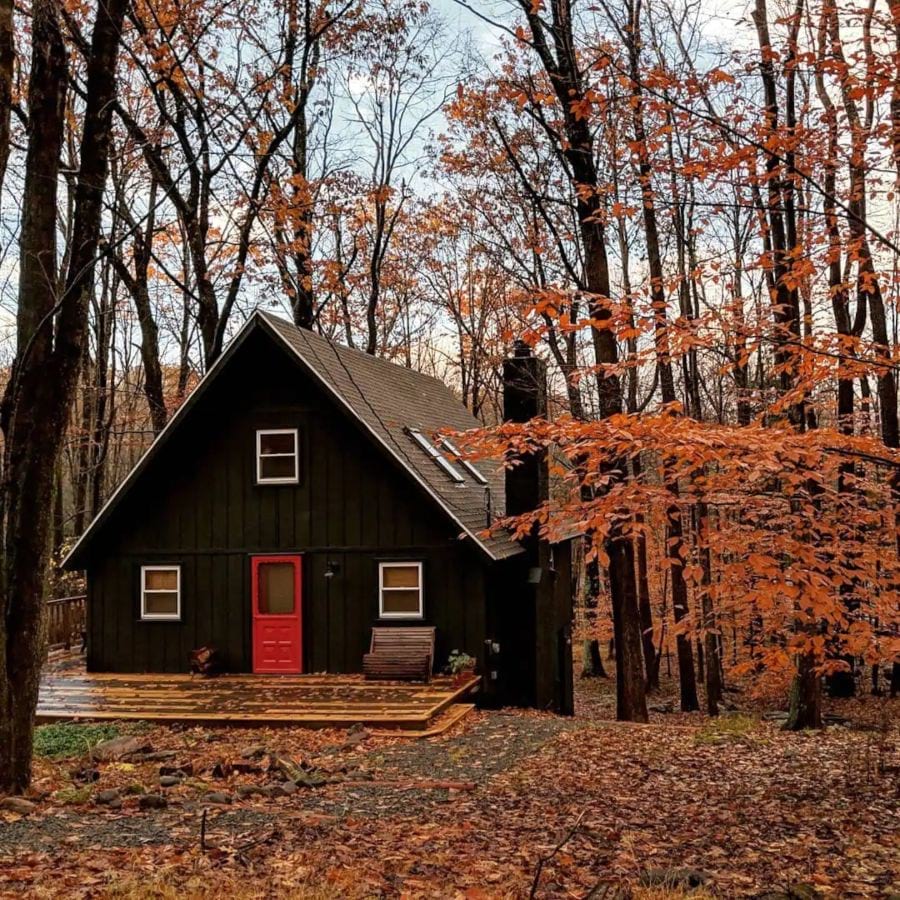 $$$
6 Guests
Shared outdoor pool
Walking distance from the lake
An epic getaway with your friends doesn't have to be in an average accommodation. Level up this time with this enchanting cabin in the gated Arrowhead Lake Community in Tobyhanna Township. Ideal for a retreat, the 1960s cabin holds the charm and originality of authentic cabins but has all the modern amenities to make your stay comfortable. And it's run by a super host, so satisfaction is guaranteed.
The cabin has three bedrooms and accommodates six guests comfortably. The loft bedroom even has a skylight and a half-bath. The cabin also features an open kitchen and a fireplace to cozy around and enjoy game nights and favorite shows. If the outside views have you mesmerized, take your meal outside on the picnic table and make use of the charcoal BBQ.
Outdoor fun includes access to two lakes, swimming pools, sledding hill, basketball, and tennis.
Is This the Best Travel Pack EVER???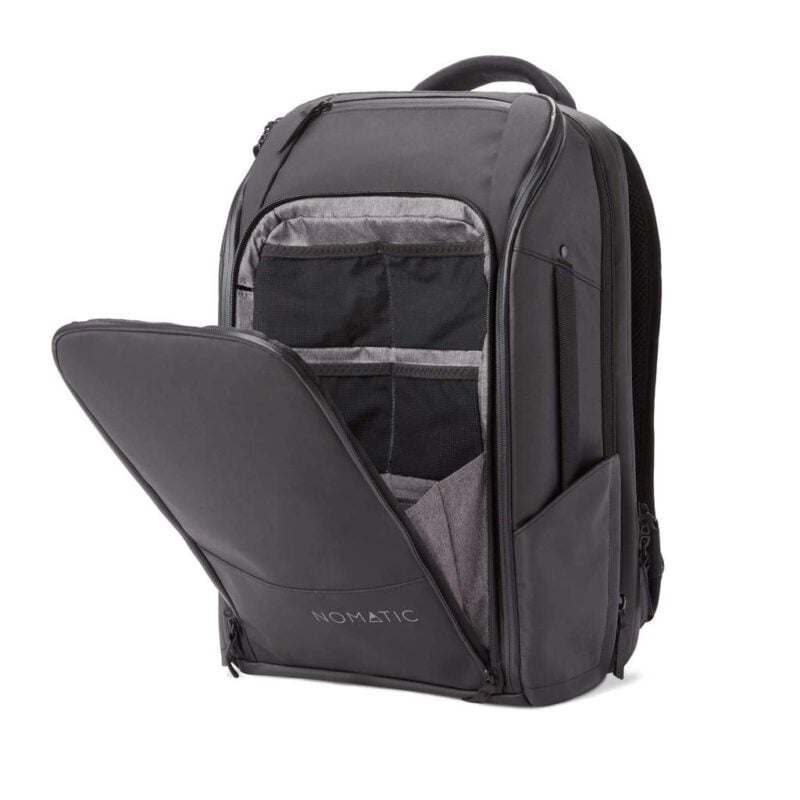 $$$$
16 Guests
Game room
Variety of entertainment options
One of the most lavish getaways in Pennsylvania is this exciting cabin in Long Pond. It is perfect for big families or friends who want to use every second of this getaway connecting and bonding with their travel partners.
With room for 16 guests, the spacious cabin offers various streaming services, a large patio with a grill, a hammock, a game room, a theater room, fast WiFi, an outside dining area, a fully-equipped kitchen, and much more.
The house is also kid-friendly and has bunk beds, children's books, board games, and baby safety gates. And this is just what's inside the cabin, Long Pond is a beautiful secluded place in the Pocono Mountains and you can step out and enjoy the sight of Big Boulder Mountain, lakes, resorts, and a waterpark that are all less than a half-an-hour drive away.
Best Cabin in Pennsylvania for Families – The Alpine Ski Cabin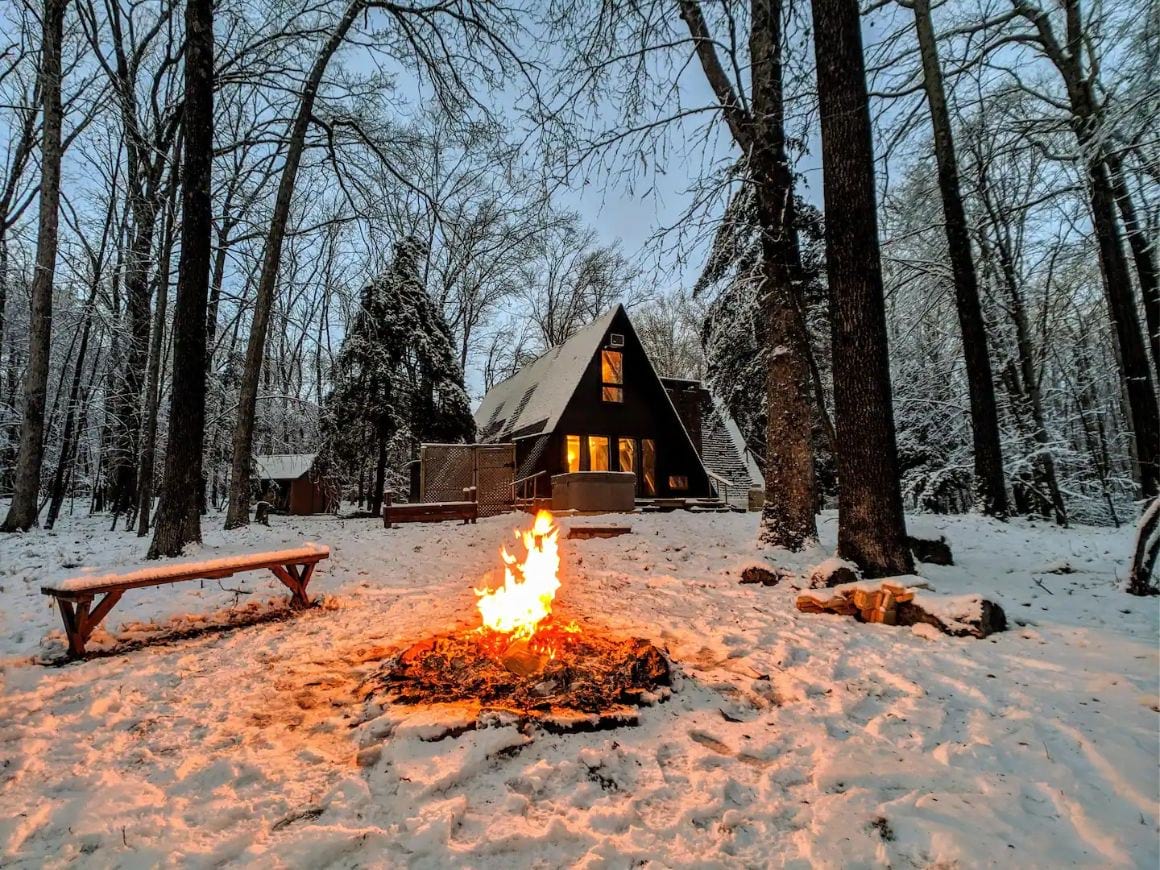 $$$
6 Guests
Private hot tub
Lake access
For an exciting and cozy Airbnb in Pennsylvania in the mountains, look no further than the Alpine Cabin in Henryville. This A-frame cabin has details and fun little details that will be a delight for families to discover. The spiral staircase, the mezzanine catwalk, and the floor net lounge are just some of those unique features. The gorgeous cabin provides you with a modern kitchen, living room, and dining room in the open plan.
The bedrooms are downstairs and upstairs. Outdoor enthusiasts would love this place, as the cabin is surrounded by woods to explore, and the Camelback Ski is just a few minutes away. What's more, the community lake is only a 100-meter walk away.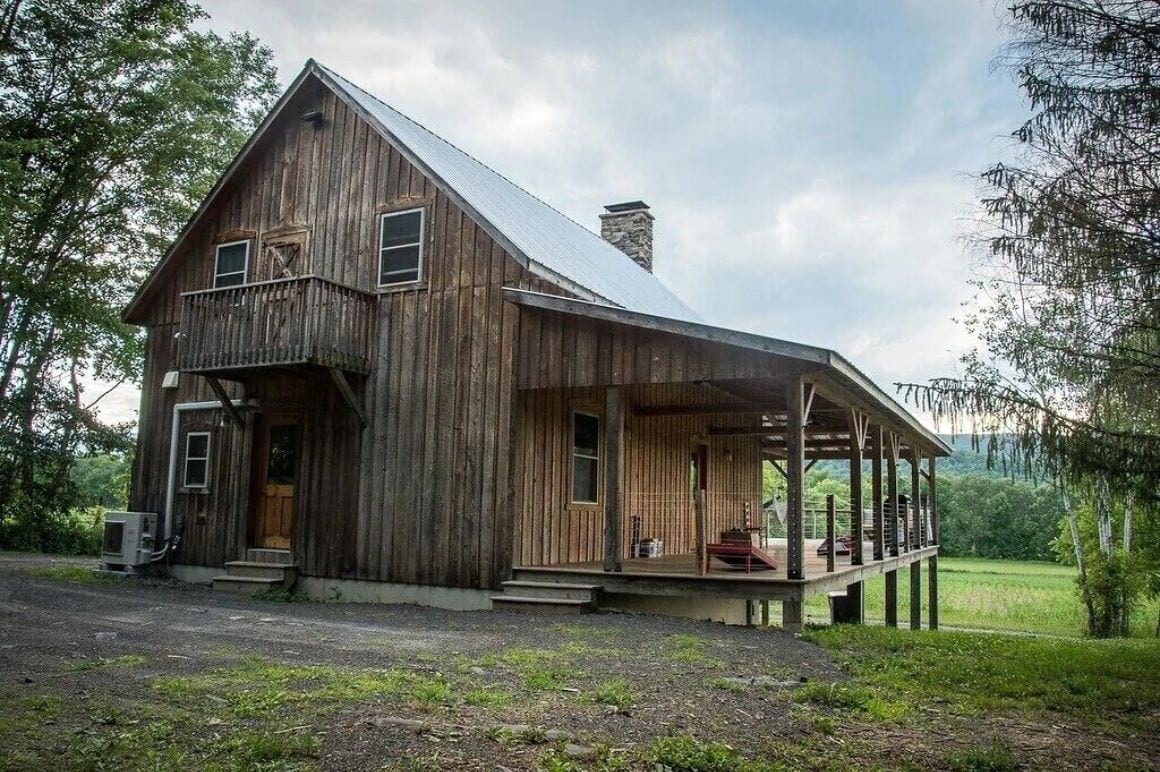 $$
12 Guests
Parking provided
View of the Jack's Mountain from the deck and the loft
Those planning a destination family reunion, need to hear about this unique cabin. With room for 12 guests, this accommodation is adorned with Amish-made furniture and is surrounded by 10 acres of property.
The tasteful décor includes a granite countertop, custom fireplaces indoors and outdoors, and a spacious deck with bench seating.
The cabin faces the incredible Jack's Mountain and provides a breathtaking view to its guests. In addition to the mountains, Raystown Lake is a short drive from the cabin, giving you access to numerous activities including fishing, bird watching, wildlife viewing, mountain biking, shopping, and much more.
$$
6 Guests
Fireplace
Numerous hiking trails and waterfalls nearby
A cozy and rustic cabin surrounded by acres and acres of woodland with mountains backdropping it and quite a few waterfalls bringing in the magic, not to mention that just a few minutes away is the Ricketts Glen State Park!
To say that this cabin is in an epic location would be an understatement. Thanks to its idyllic spot, guests can enjoy a wide range of outdoor activities during their stay in this cabin.
Some of the most popular activities include canoeing, swimming, beachside relaxing, fishing, ice skating, hiking, and much more. The cabin itself is tastefully decorated and designed with wooden beams and plush comfy furniture to match.
It also features a fully-stocked kitchen, an indoor fireplace, and a large deck. The cabin is kid-friendly with a high chair and games.
Best Cabin For a Weekend in Pennsylvania – Elk Mountain Cabin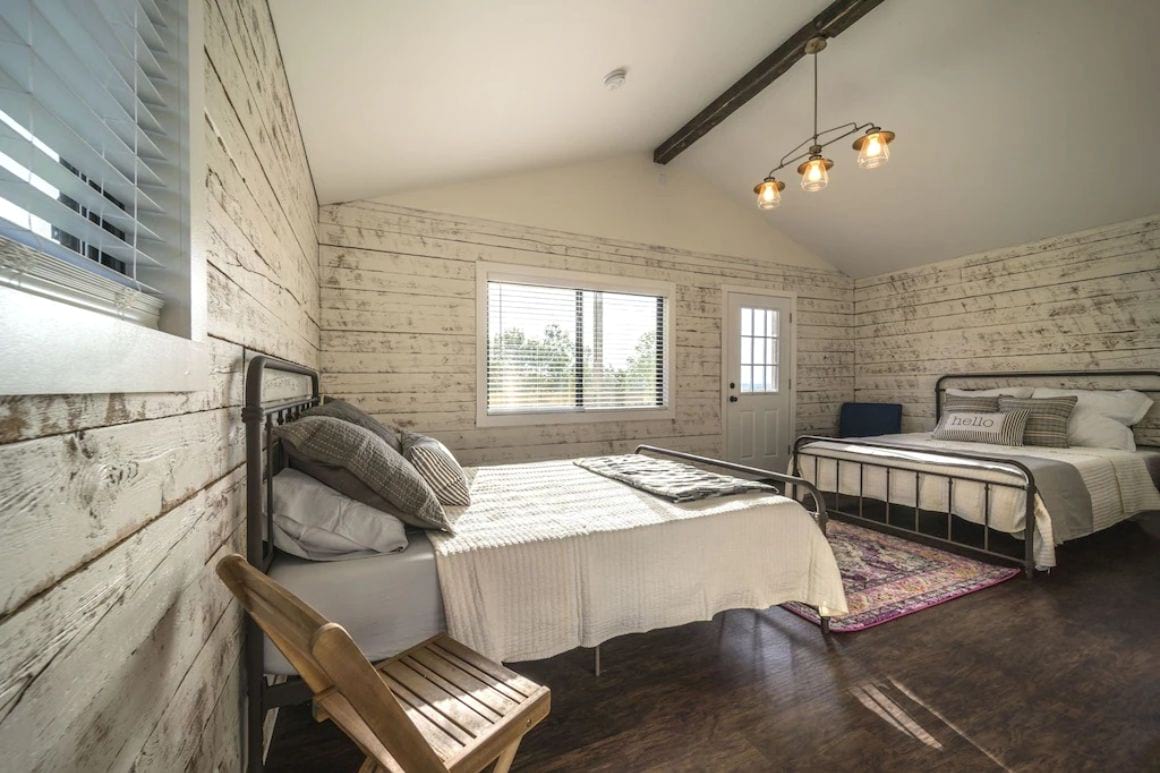 $$
4 Guests
Pets allowed
Immersive Outdoor activities nearby
Don't have enough time to enjoy a full-length vacation? Here's a solution, a gorgeous cabin near the Elk Mountains where you can pack a month-long worth of outdoor activities in just two days!
The Bluestone Cabin features two queen beds, a large bathroom, a well-stocked kitchenette, and a private deck with phenomenal views. With room to sleep four, this cabin is fit for couples, families, or friends. There's a pavilion, a BBQ area, and a fire pit for you to gather around at night and enjoy hearty meals with wonderful company.
As for daytime, get some one-on-one time with nature by enjoying the endless mountain views or you can step up and enjoy biking, canoeing, kayaking, hiking, fishing, and skiing in the winters. Don't forget to venture towards one of the many golf courses nearby.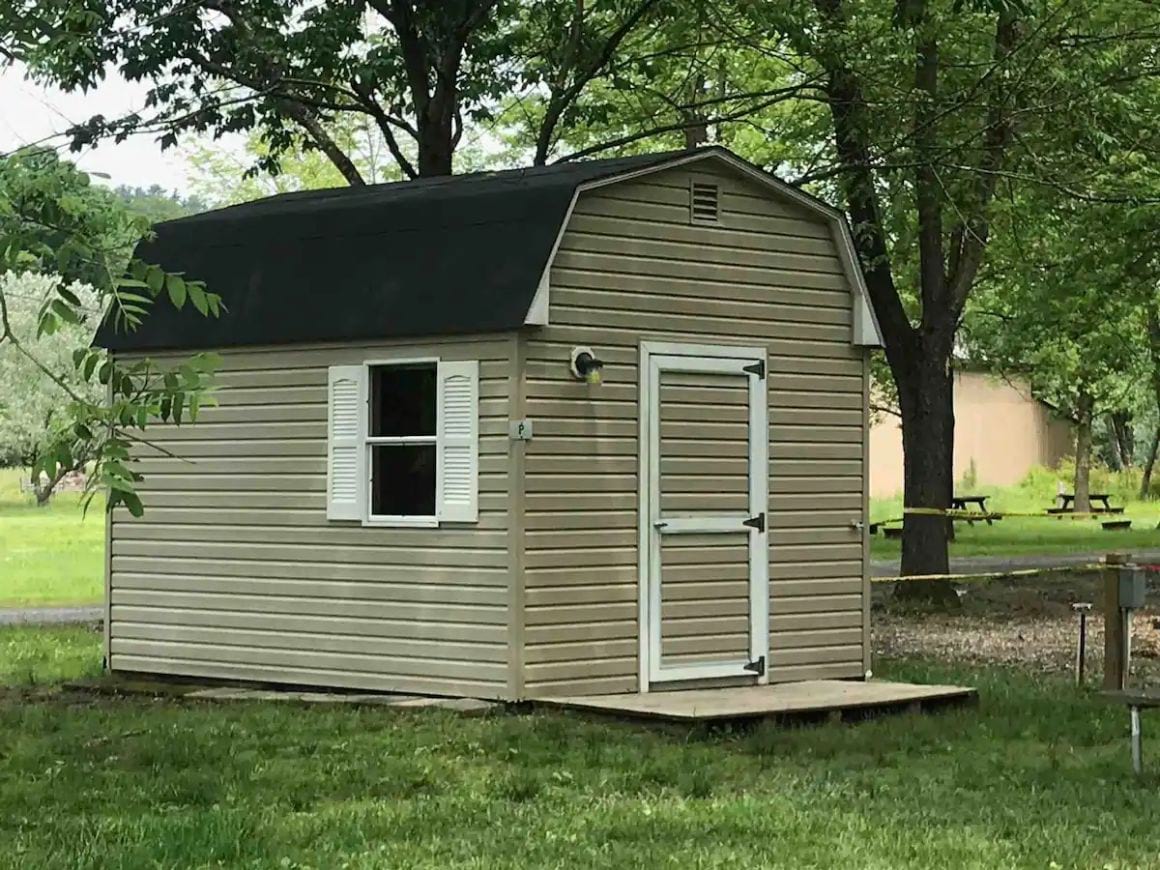 $
4 Guests
Pool table
In the woods and near a stream
This cabin is a dream come true for every backpacker in the USA who is traveling on a limited budget! It's because for once they won't just get a decent enough place to sleep, but a gorgeous cabin on a family-run campground, which is filled with warmth and lots of beauty. All around the cabin are hardwood trees and a stream stocked with trout.
The cabin features one room with three beds and can accommodate up to four guests. There's also a large pool and a kiddie pool outside the cabin. Backpackers can set their base here and enjoy endless hiking and biking in the surrounding areas. There's also rafting and kayaking available for your enjoyment.
Don't Forget Your Pennsylvania Travel Insurance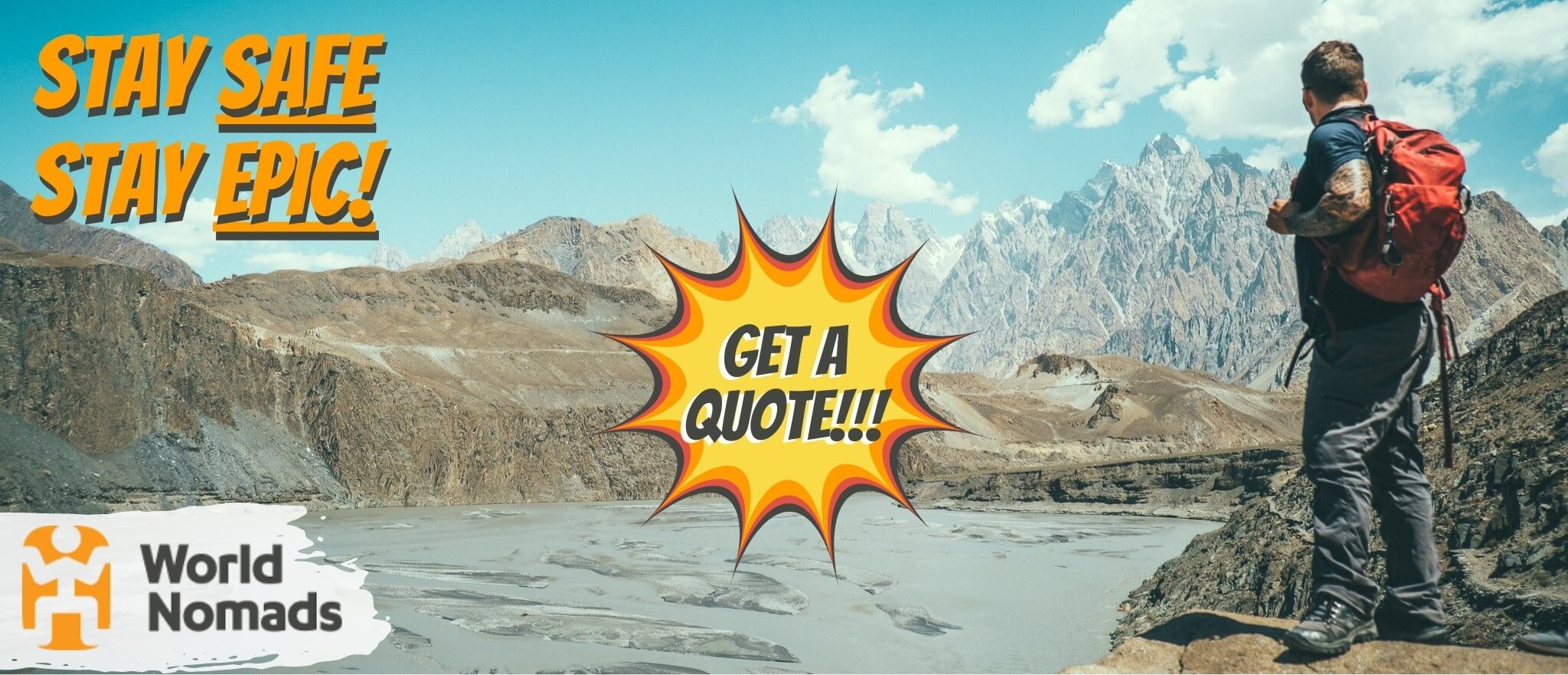 World Nomads' mission is to support and encourage travellers to explore their boundaries. They offer simple & flexible travel insurance, and safety advice to help you travel confidently.
They've been doing it since 2002 – protecting, connecting, and inspiring independent travellers just like you.
Get a quote below or read our in-depth review!
World Nomads provides travel insurance for travelers in over 100 countries. As an affiliate, we receive a fee when you get a quote from World Nomads using this link. We do not represent World Nomads. This is information only and not a recommendation to buy travel insurance.
Final Thoughts on Cabins in Pennsylvania
Pennsylvania is a paradise for all outdoor lovers. The mountains, lakes, rivers, deep woods, waterfalls, and off-the-beaten paths are the state's specialty, and perhaps that's why you can always find the best cabins in Pennsylvania, at any spot you wish to retreat to.
With my eclectic list, you are sure to find a lodging that will fill you with excitement and check all your boxes.
Whether you are backpacking through Jack's Mountains or looking for a romantic retreat in the woods, there's a cabin for you on our list. Pick one of these magical unique accommodations in Pennsylvania, and get ready to have the time of your life.
If you are a foreigner traveling to Pennsylvania, do consider travel insurance to safeguard your investments and to stay prepared for travel emergencies.
---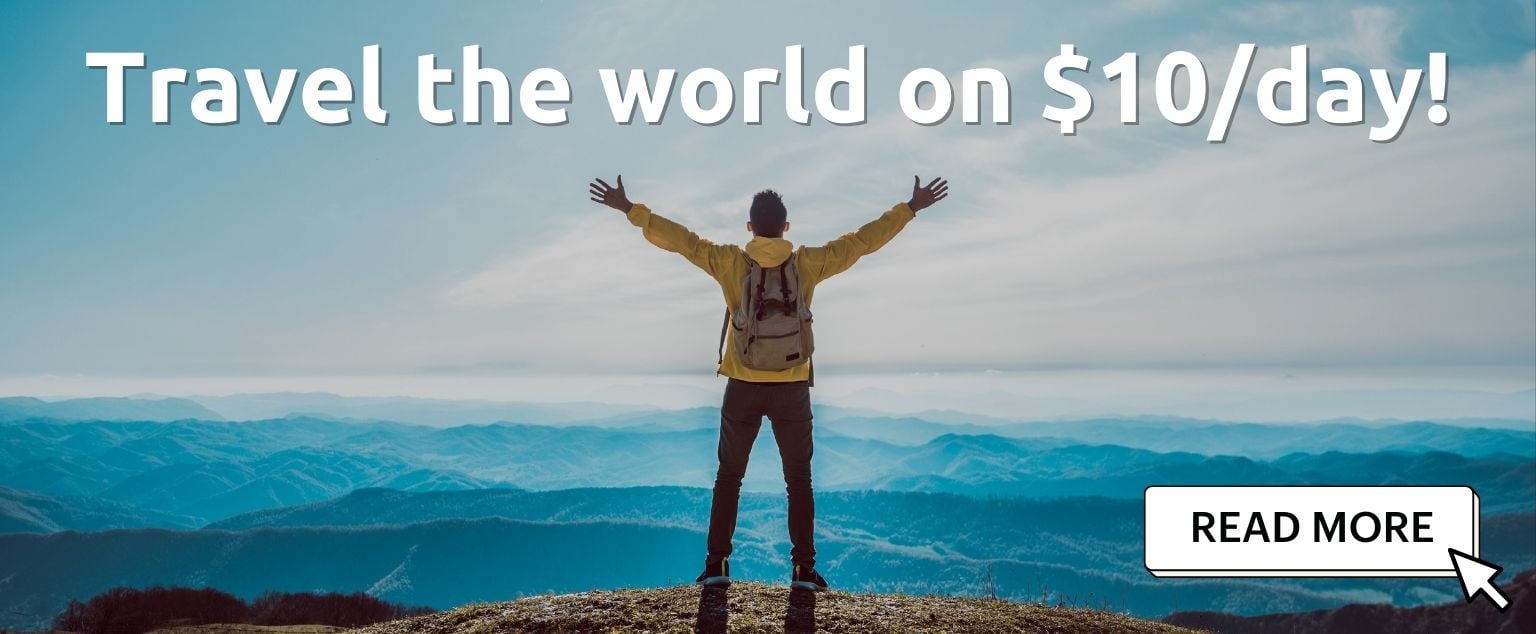 And for transparency's sake, please know that some of the links in our content are affiliate links. That means that if you book your accommodation, buy your gear, or sort your insurance through our link, we earn a small commission (at no extra cost to you). That said, we only link to the gear we trust and never recommend services we don't believe are up to scratch. Again, thank you!