The largest city in North Carolina, a trip to Charlotte is well worth your time. With world-class museums like the NASCAR Hall of Fame and Levine Museum of the New South, it's packed with cultural attractions. However, there's more to Charlotte than skyscraper-studded Uptown. Head outside of the city for jaw-dropping countryside and incredible places to stay!
Vacation rentals in Charlotte are a great way to make the most of your time in or around the city. Not only do they offer great value money for money, but they're bursting with individuality and character too. The area around Charlotte has some of the coolest accommodation offerings in the US!
With that in mind, we've put together a list of 15 of the coolest Airbnbs in Charlotte. Not only that, but we've thrown in a few Airbnb Experiences too. Let's jump straight in and explore North Carolina's largest metropolis!
Quick Answer: These are the Top 5 Airbnbs in Charlotte
Overall Best Value Airbnb in Charlotte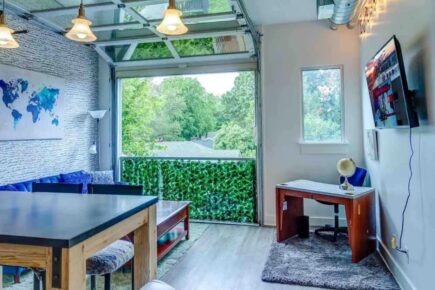 Overall Best Value Airbnb in Charlotte
Plaza Midwood place with parking pass
> $$
> 4 guests
> Central location
> Free parking
Best Budget Airbnb in Charlotte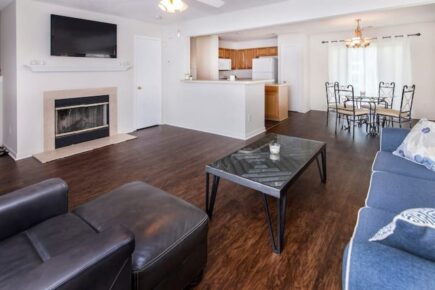 Best Budget Airbnb in Charlotte
Be my guest in Charlotte
> $
> 2 guests
> Use of kitchen and living room
> Work area in loft
Best Airbnb for Couples in Charlotte
Best Airbnb for Couples in Charlotte
Queen studio with rooftop lounge
> $$
> 2 guests
> Queen bed
> Rooftop lounge
Best Airbnb for Families in Charlotte
Best Airbnb for Families in Charlotte
Family getaway with pool and arcades
> $$$$
> 14 guests
> Swimming pool
> Renovated man cave
Over-the-Top Luxury Airbnb in Charlotte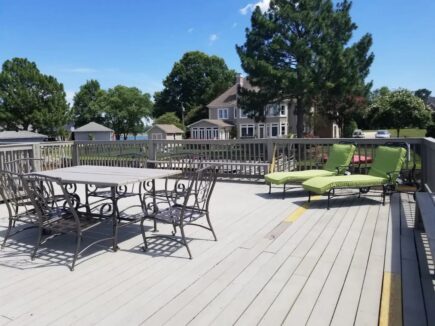 Over-the-Top Luxury Airbnb in Charlotte
Relaxing retreat with private beach
> $$$$$$$$$$$$
> 8 guests
> Private beach on Lake Norman
> Gourmet kitchen

Unlock Our GREATEST Travel Secrets!
Sign up for our newsletter and get the best travel tips delivered right to your inbox.
What to Expect from Airbnbs in Charlotte
Charlotte has a whole lot of Airbnbs in and around the city, and you're in for a tough time picking your favourite. That's no bad thing, though; it's lots of fun to look through tiny houses, cabins, and even treehouses!
What you get completely depends on your budget. It's one of the few places where Downtown (or in Charlotte's case, Uptown) has the cheaper properties. Larger and more expensive properties can be found outside of the city limits. Cabins and treehouses are common in areas such as Concord and Lake Norman.
While some of the smaller properties such as flats and private rooms have a local feel, many properties in Charlotte are professionally run by companies. Let's take a look at the different types of unique accommodation in Charlotte.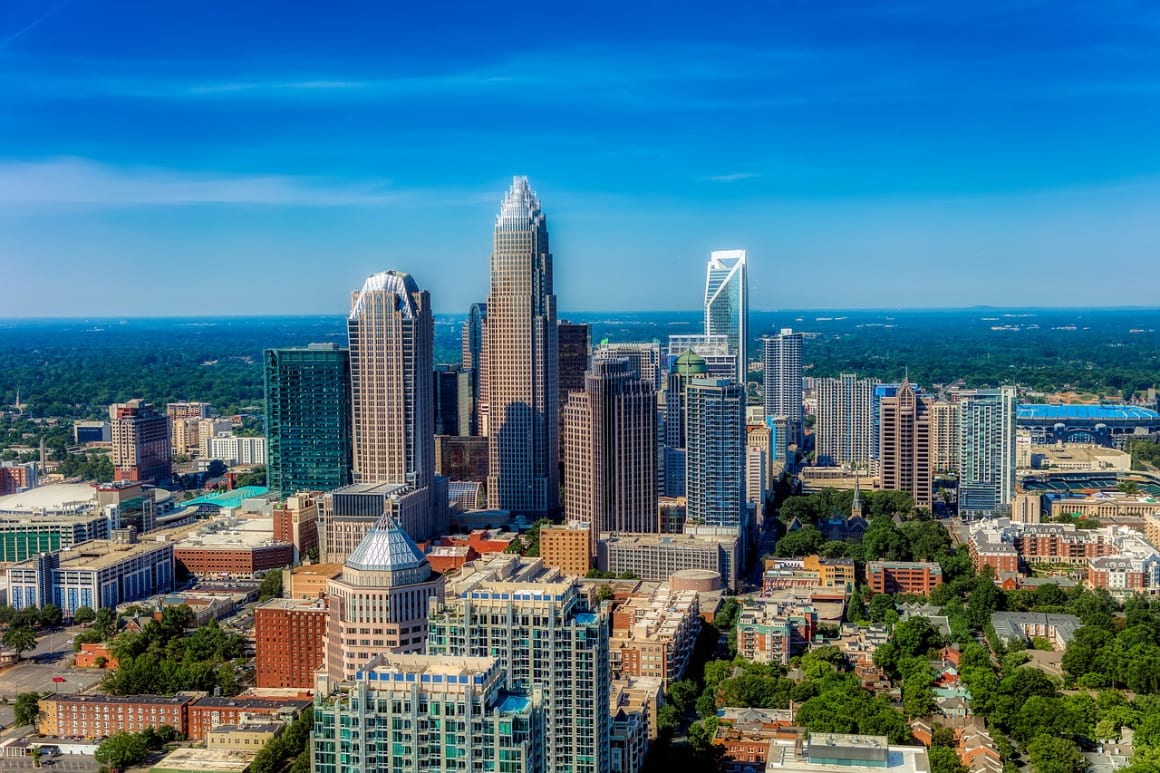 Cabin
Lakes Norman and Wylie are two of the closest bodies of water to Charlotte, and they both boast a range of cabins for different types of travel. You can have anything from a couples' waterfront escape to a huge log cabin with enough room for an entire family or group of friends. Those are the ideal homes if you need a stopover on your USA road trip.
Because cabins are often quite far from Charlotte, it's best to have your own transport if you're looking to book one of these properties. Once you arrive, you can expect fully equipped kitchens, living spaces, multiple bedrooms, and gardens. Some of the highest-end properties may even come with private beaches and/or swimming pools!
We'd suggest looking at cabins if you're planning a big family celebration or a getaway with a group of friends. You can split the cost multiple ways, which makes them much more affordable.
Tiny House
Everyone loves a tiny house, and it's not hard to find one in Charlotte. They can be anything from a converted shed or an old boathouse to a purpose-built house that's been magically shrunk!
Because of their size, we'd say that tiny houses are usually best for couples. Though some have listings for up to six people, filling it to capacity can be a little bit cramped. Despite their small size, their clever use of space means they usually have all the mod cons you'd expect in a normal flat or home.
We're talking fully equipped kitchens, living areas, king or queen beds, and gardens or outdoor spaces.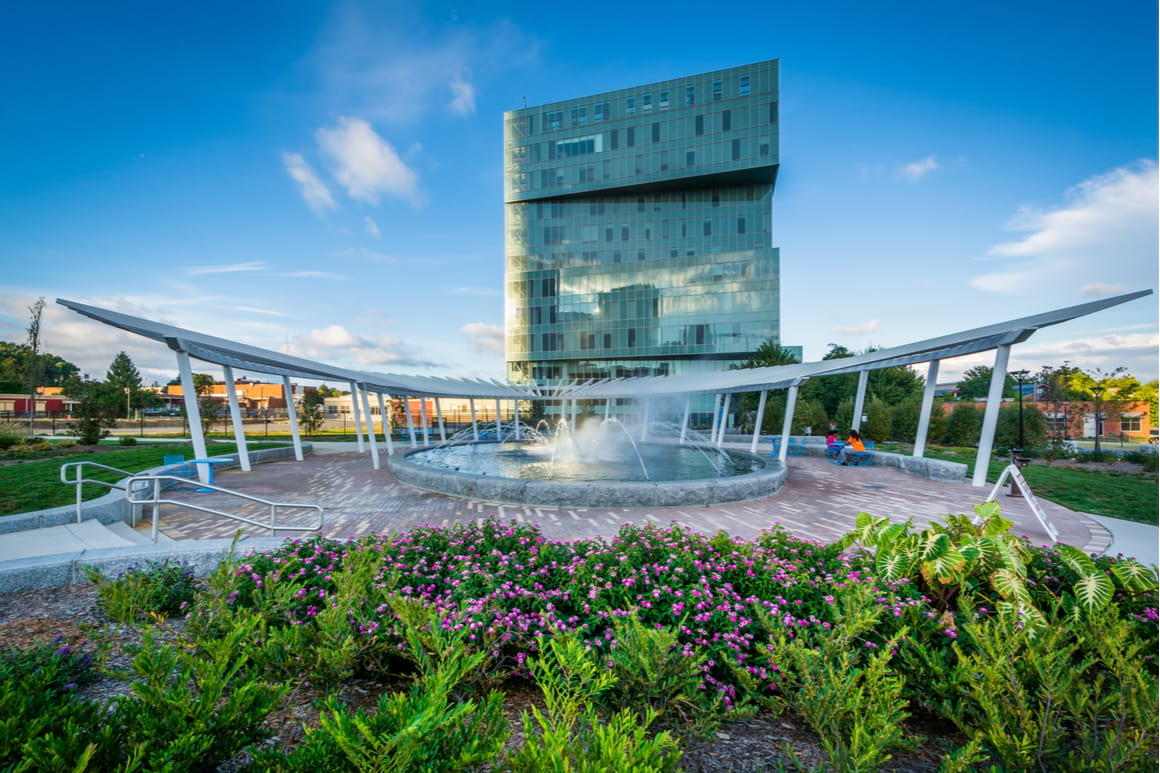 Treehouse
Treehouses, unsurprisingly, aren't anywhere near Uptown Charlotte. No, they're in the woods and forest surrounding the city! Treehouses are uber-cool but can be quite expensive, but that's to be expected from such an unusual property.
Treehouses are more than just wooden buildings up in the branches and leaves. Highly sophisticated, they've got living areas, fully equipped kitchens, and their clever designs let in huge amounts of light and make you feel like you're part of nature. And yes, they'll often have an outdoor terrace where you can sit and take in your surroundings!
There are only a handful of treehouses in Charlotte, so if you've got your heart set on this unique type of accommodation, book as soon as you know your dates.
Why Stay in an Airbnb
Now that you know what's on offer, we're sure you're itching to book. However, if it's your first time booking a vacation rental, you may understandably have doubts. Here are five reasons you should book with Airbnb for your next trip.
Local Experience: With the guidance of a local host, you can find all the coolest things to see and do that aren't in the guidebook. This doesn't just go for Charlotte, but for all other USA travel destinations as well.
Unique Properties: As you're about to see, Charlotte has its fair share of unique properties. Why stay in a hotel when you can enjoy the charms of a cabin or treehouse?!
Affordability: It may sound like we have a vendetta against hotels, but there's only one winner between a hotel and an Airbnb when it comes to value for money.
Safety: Even if you're staying out in the deep, dark woods, you'll be perfectly safe and snug. That's thanks to Airbnbs review system, which vets hosts before they're able to receive guests!
Airbnb Experiences: It's not just about awesome places to stay; Airbnb Experiences offer tours and trips curated by locals. More on that later…
The Top 15 Airbnbs in Charlotte
Now that you know what's on offer and why you should stay in an Airbnb in Charlotte, let's get to the part you've been waiting for. Here are the 15 best Airbnbs in Charlotte, selected with you in mind.
This central Charlotte Airbnb is perfect if you're planning a short break in the city. It's just a block away from the bars, restaurants, and entertainment of Plaza Midwood – one of the coolest neighbourhoods in town. You've got a car parking pass too, so if you want to get out into the surrounding countryside, there's no need to worry about paying extra to store your vehicle. The listing is for four people, but we'd suggest it's best for a couple.
$
Use of kitchen and living room
2 guests
Work area in loft
As well as a comfortable bedroom with a queen bed, you've got access to the living room and kitchen in this delightful budget Airbnb. Set in a residential neighbourhood, you're just moments away from UNC Charlotte. It's ideal for students and digital nomads: not only is it cheap, but there is a work area in the loft, and you have Wi-Fi!
2 guests
Access to communal areas
A homestay is a great way to keep your costs down and have a local experience – and a comfy room in a home beats a sweaty and smelly dorm in a hostel any day! In this residential neighbourhood in South Charlotte, you've got access to your host's kitchen, dining room, and living room. Your host does have a dog, so if you're allergic, perhaps there are better options.
Is This the Best Backpack EVER???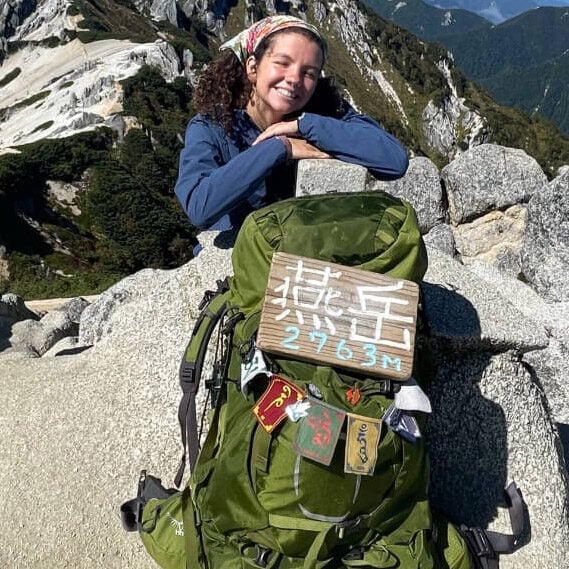 South End is one of the coolest neighbourhoods in Charlotte, and it's ideal for a romantic break – especially if you pick this cool studio with a rooftop sky lounge! From here, you can enjoy spectacular views of the city skyline with your morning coffee. Back in the privacy of your apartment, there's a queen bed and a fully equipped kitchen.
14 guests
Renovated man cave
Perfect for families of all ages, there's no way any of your party will get bored at this huge Charlotte home. There's something for everyone, with a swimming pool, hot tub, and lots of communal spaces. The renovated man cave boasts an arcade and pool table! This place is perfect for a big group gathering – and it's just ten miles from Downtown Charlotte.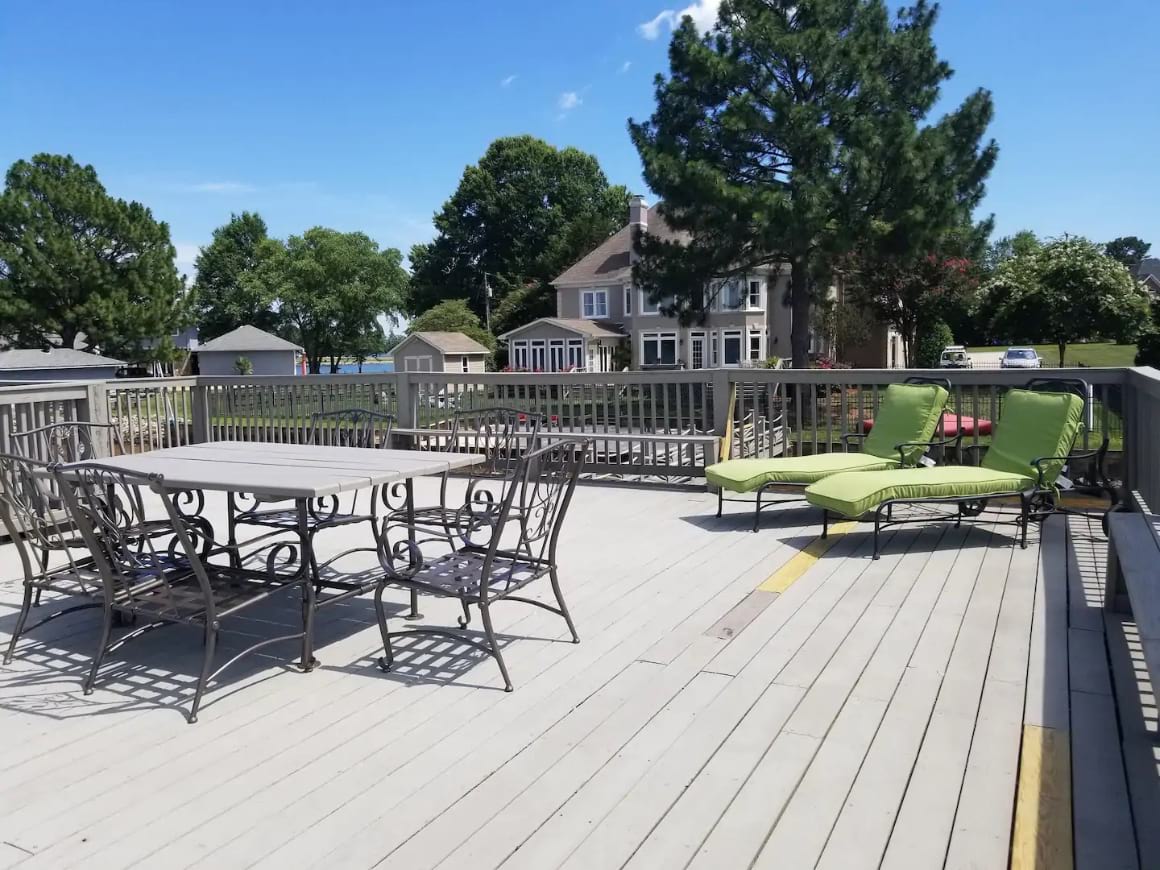 $$$$$$$$$$$$
Private beach on Lake Norman
The journey outside of the city limits is well worth it to have your very own private beach. Not only that, there's a huge deck out from the house where you can enjoy a meal prepared in the fully equipped gourmet kitchen! Time it right, and you can enjoy a spectacular sunset here before warming up the night in the hot tub. There are family and game rooms, so this is perfect for a family vacation.
7 guests
Expansive lake views
You're spoiled for choice when it comes to cabins in Charlotte. And you're even more spoiled when it comes to this enormous property on the shores of Lake Norman. Chill with your friends around the fire pit with a sunset view of the lake after a day of kayaking or paddleboarding. The property is in Lake Norman State Park, so you can also enjoy hikes and biking in the area.
3 guests
Lots of natural light
What this tiny house lacks in size, it makes up for in colour and character. The Svartkub – or black cube, in English – is in the Plaza Midwood neighbourhood and is designed by a local architect. The tiny house is surrounded by trees and nature – and it really lets you get close to that. There's a hammock out back, while the home welcomes lots of natural light. An awesome and quirky option for a couple or solo traveller!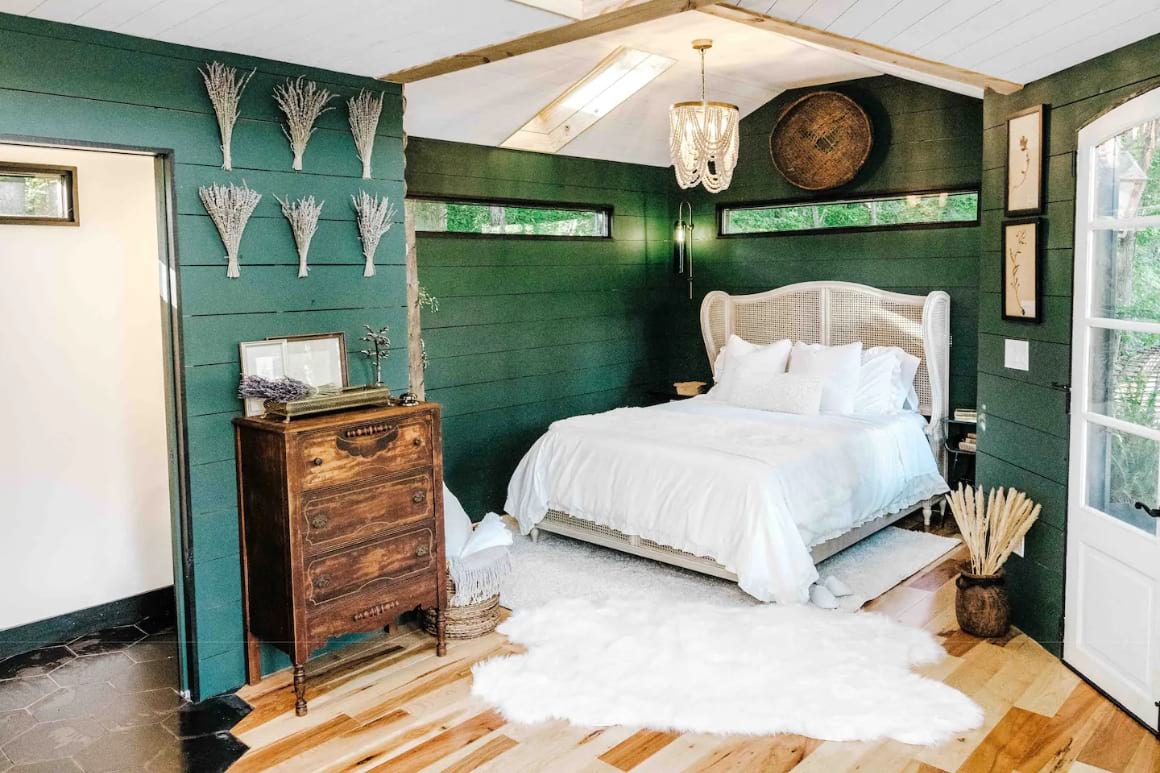 The only treehouse in Charlotte's city limits, this is one of the most spectacular Airbnbs in North Carolina. Designed to be relaxing and peaceful, there's a swing bed overlooking a private pond where you might just spend the entire day if you're not careful. The treehouse is lavishly furnished inside and out, and there's a fire pit right by the lakeside for toasting marshmallows with a friend or your other half in the evening.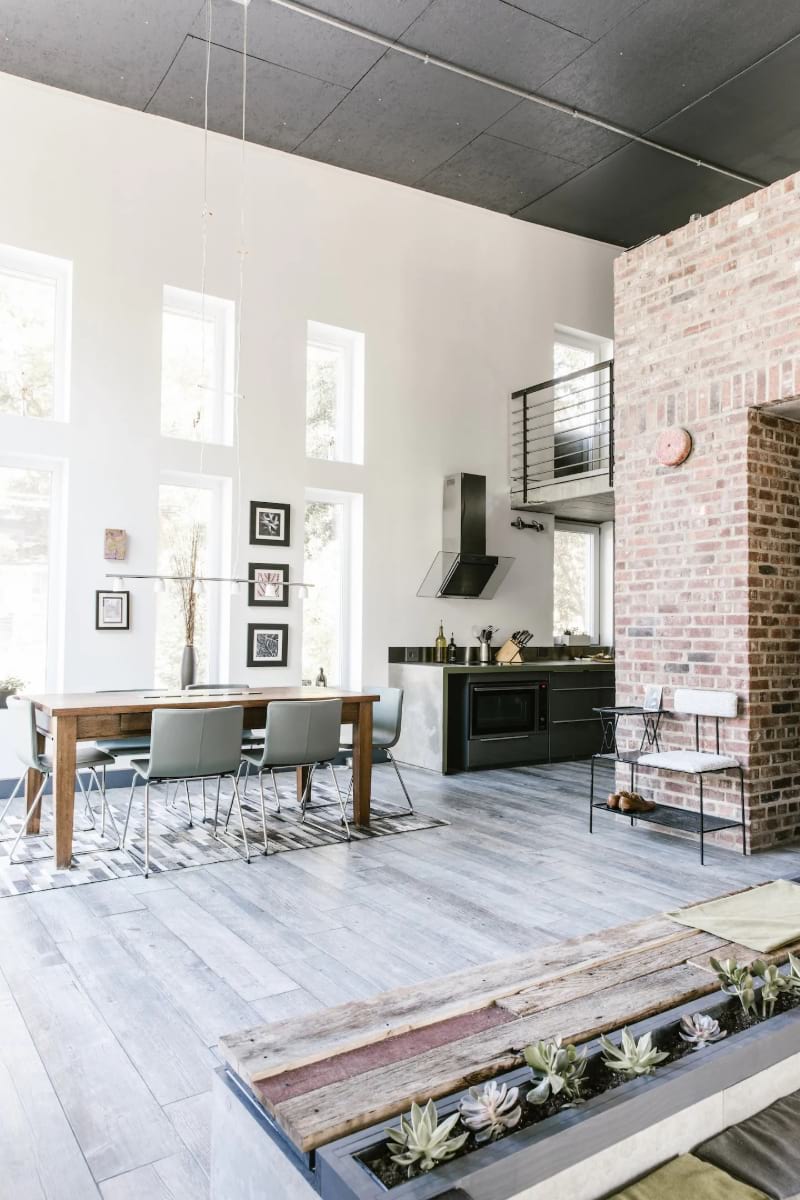 2 guests
Kitchenette and bathroom
Not only do you have a dedicated workspace and fast Wi-Fi, but there's also a kitchenette and bathroom in this funky property in the No-Da neighbourhood. It is a shared property, and you have access to the kitchen, living room, or backyard patio along with other guests. There are even goats grazing outside! The perfect place to blend socialising with work.
Want a fun and budget-friendly Airbnb in Charlotte? Look no further than the Boathouse tiny house. It'll feel like you're all at sea, with bottle bottom glass walls and porthole windows. Fans of glamping will love this quirky and unique accommodation – but it has some cool mod cons too. You've got Egyptian cotton sheets to keep you warm and a Keurig coffee maker to wake you up in the morning.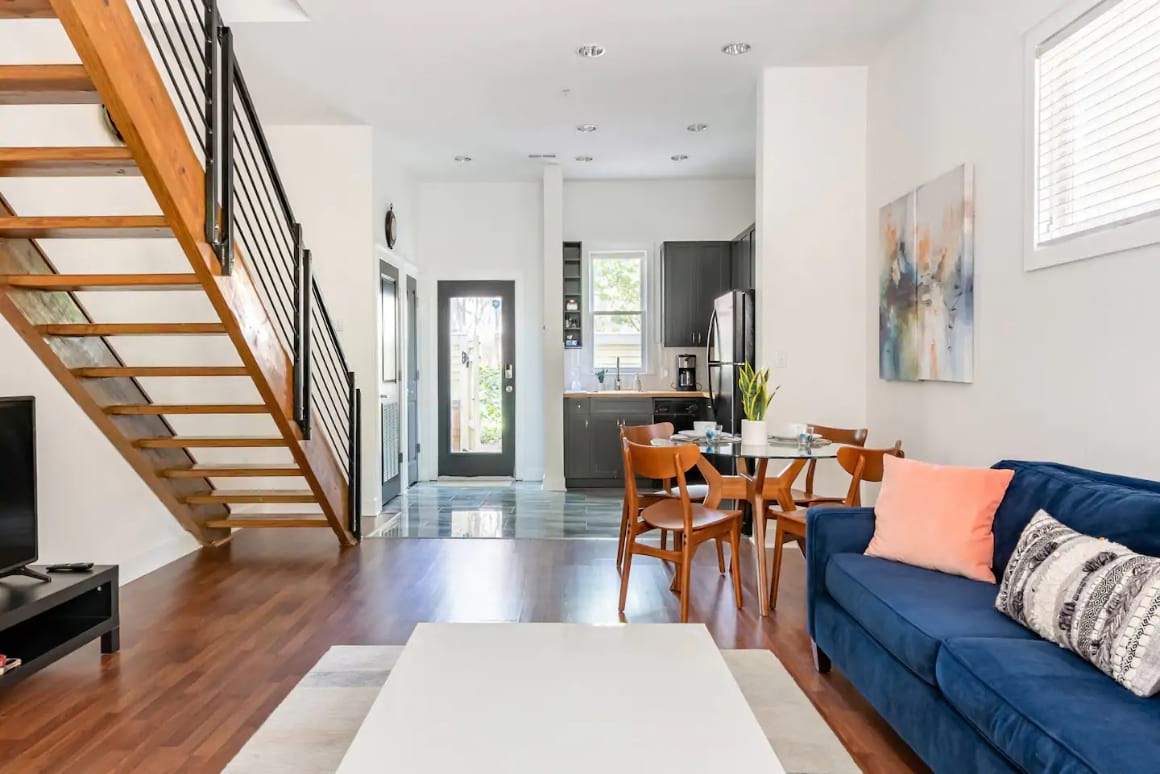 4 guests
Quiet residential neighbourhood
Some would say Airbnb Plus properties are the best the platform has to offer. They're certainly a cut above the rest – with high review scores, attentive hosts, and a seal of approval from Airbnb itself. This pet-friendly apartment has a private back patio and lounge area and is perfectly suited to a small group. It's in the family-friendly First Ward neighbourhood, just a stone's through from Uptown Charlotte.
If you're just married, you need to stay somewhere truly special to mark the occasion. That's where this jaw-dropping treehouse comes in. The luxury stone and timber building is on a farm in nearby Concord; it's the perfect way to sweep your other half off their feet and wind down with some privacy after the wedding. There's a hot tub, pool, and fire pit you can make use of during your stay too.
Love swimming? Well, at this cool guest house, you have the choice of doing it in the pool or in Lake Norman. The pool is a safer and warmer bet! As well as a refreshing pool, the guest house offers a ping pong table, covered patio, fire pit, and kayaks for rent. And that's just naming a few things! The room is set up for five guests, so it would suit a small family or group of friends.
$$$$
Fire pit in the woods
8 Eight guests
Terrace with rocking chairs
Let's round off our list with another treehouse, and this one is a real stunner. Located in nearby China Grove, there's space for up to eight guests, making it ideal for a group of friends. It may not be one if you have a fear of heights though, as it's located 25 feet off the ground! There's a terrace with rocking chairs where you can spend time together taking in the peace and quiet of your surroundings.
Top 5 Airbnb Experiences in Charlotte
Once you arrive in Charlotte and you've seen all the main tourist attractions, you may feel like you're at a loose end. So, get some cool ideas for things to do by visiting Airbnb Experiences.
Airbnb Experiences are activities and trips curated by locals, who will show you how to travel like you're from the city itself.
Though there aren't many listings in Charlotte's city limits, just a short drive can see you doing cool stuff like guided hikes and astronomy adventures!
For now, here are five of the best Airbnbs Experiences in and around Charlotte.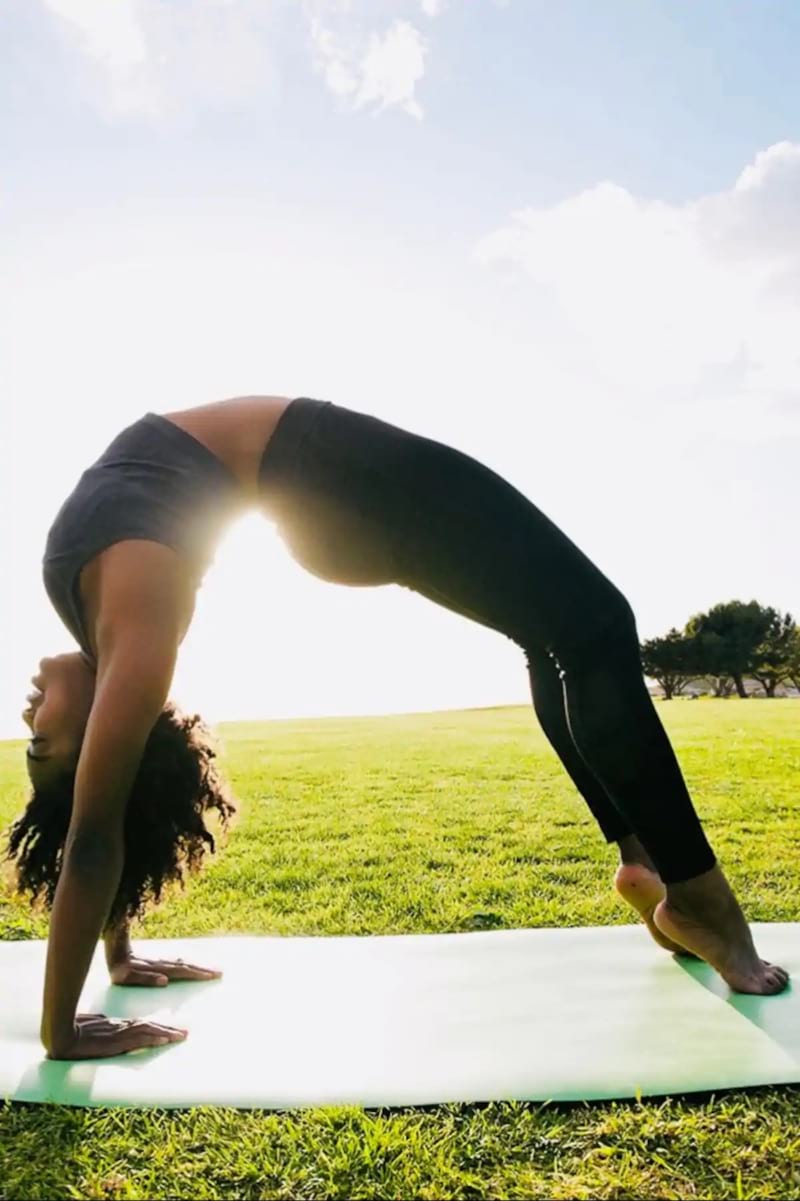 $56/person
1 hour
Up to 10 guests
Missed your fitness class thanks to your vacation? That's a shame – but you can always catch up at this BodyZen fitness session. There's a brief skills assessment before you embark on a tour around the lake via a path, where you'll occasionally stop off for different exercises. A great way to get your heart rate up while appreciating the sights and scenery of Charlotte.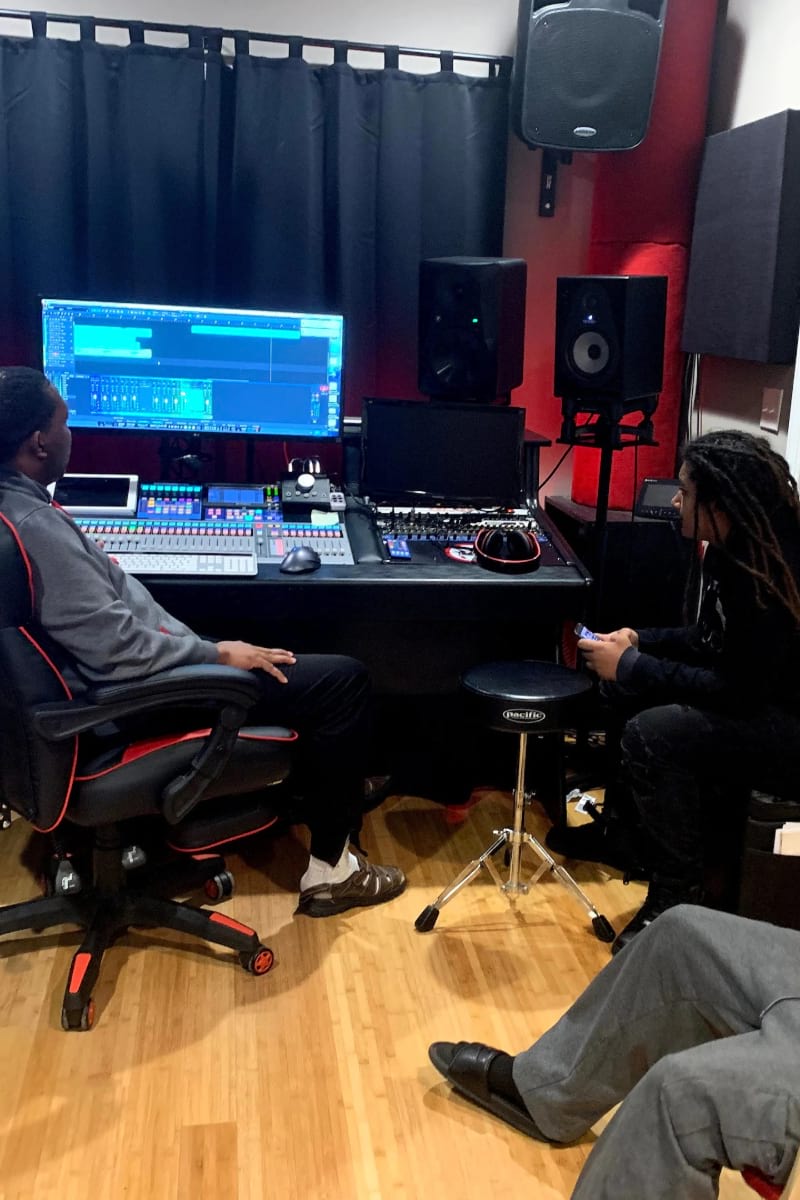 $50/person
1.5 hour
1 guest
Always wanted to make your own music? Here's your chance. You'll be briefed on how to use the Audio Mixing Console before getting hands-on and putting your own stamp on a pre-recorded track. Drinks are provided during the session.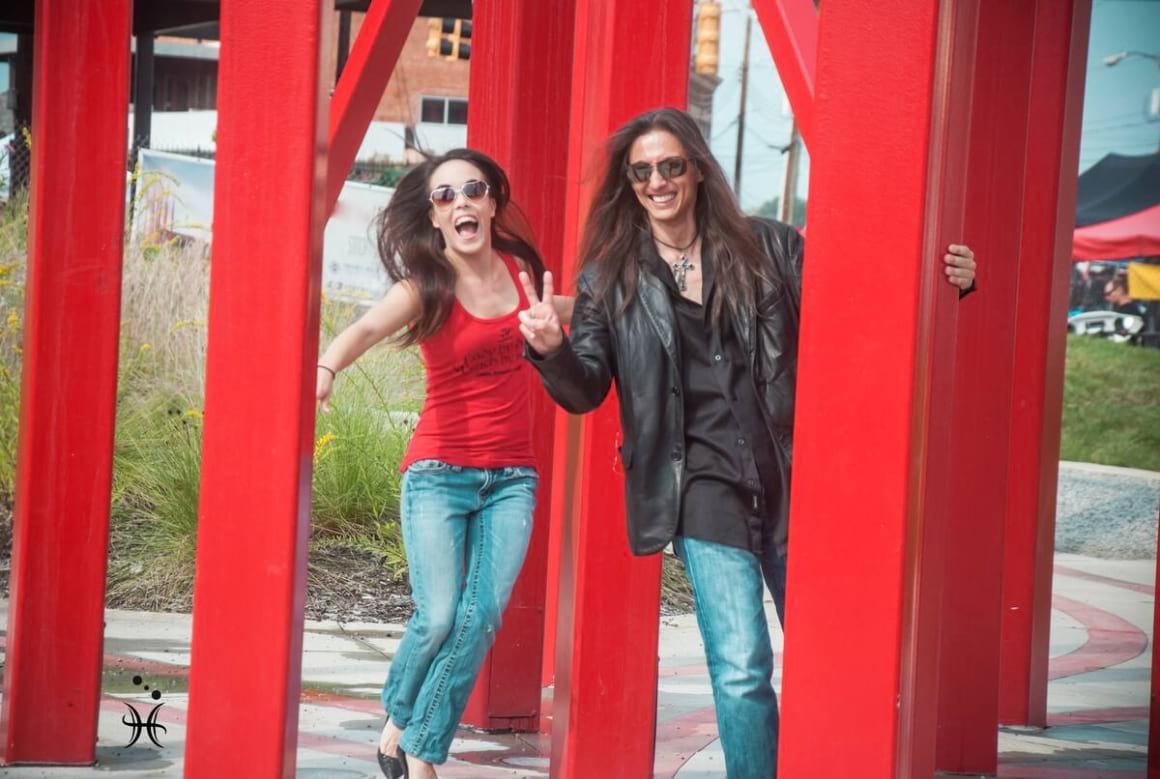 $20/person
2 hours
Up to 2 guests
On this photography tour in nearby Winston-Salem, you'll be provided with a professional Nikon camera and gear. After learning the workings of the camera and how to get the most out of it, you'll take a walk around the city and get photographs of the Industrial District, Historic District, and city parks.
$49/person
2 hours
Up to 10 guests
Want to enjoy stargazing in cloudless skies far from the city lights? Then head to Albemarle, where this tour will introduce you to deep sky objects such as nebulae and other galaxies!
Because this is a nighttime activity, you may not want to drive on unfamiliar roads once the experience is over. Happily, overnight experiences are available, and you can check out your host's on-site accommodation through the listing.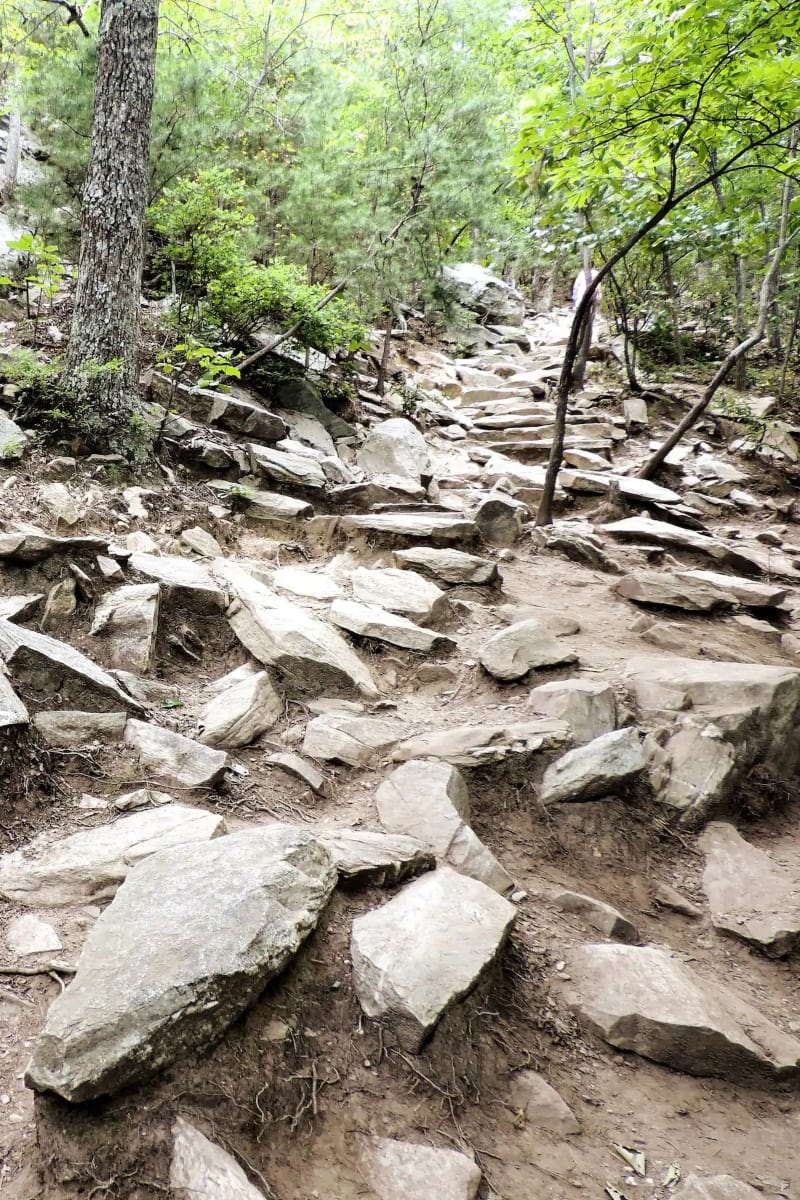 $80/person
2 hours
Up to 10 guests
Danbury is north of Charlotte and home to Hanging Rock State Park. The park is known for stunning views and majestic waterfalls, and there is a range of hiking trails for you to enjoy the natural delights of the park. The trails can be difficult if you're not familiar with the area, but your guide can tailor the trek to a route that suits you and your level of fitness/hiking experience.
Don't Forget Your Charlotte Travel Insurance
ALWAYS sort out your backpacker insurance before your trip. There's plenty to choose from in that department, but a good place to start is Safety Wing.
They offer month-to-month payments, no lock-in contracts, and require absolutely no itineraries: that's the exact kind of insurance long-term travellers and digital nomads need.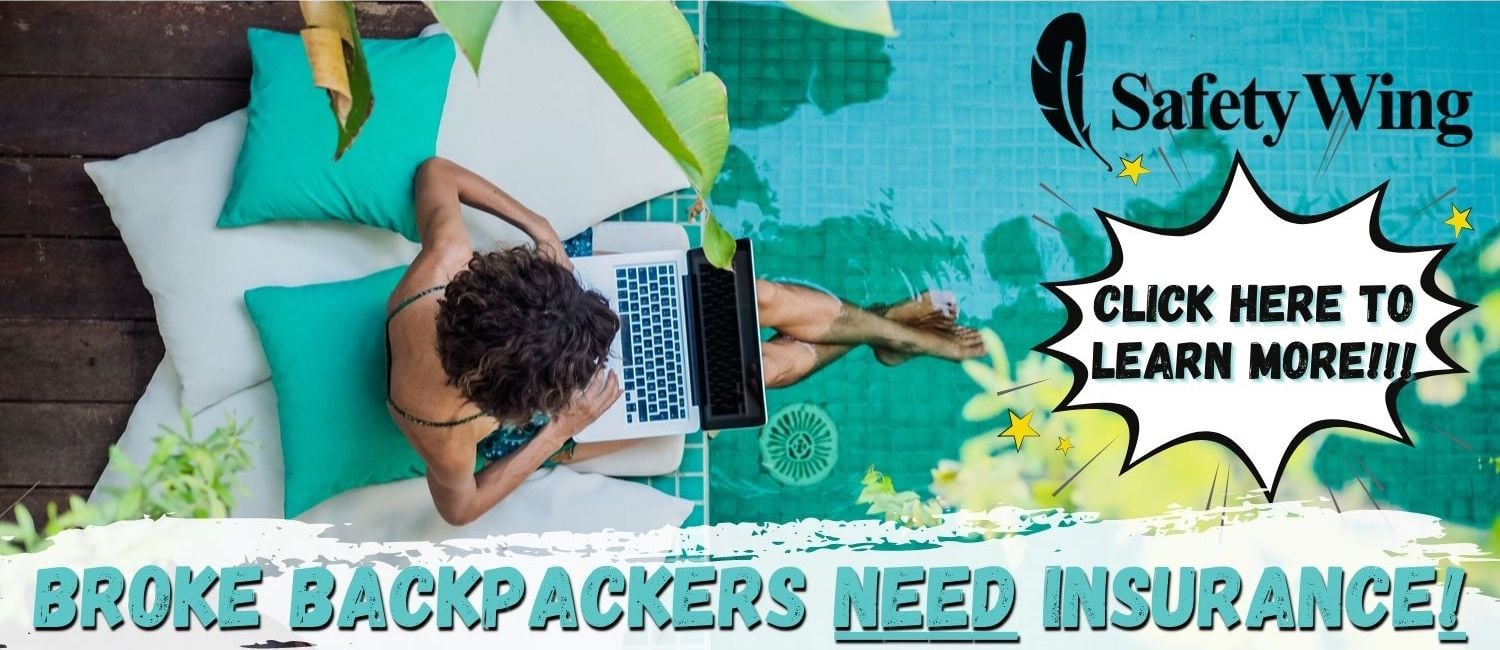 SafetyWing is cheap, easy, and admin-free: just sign up lickety-split so you can get back to it!
Click the button below to learn more about SafetyWing's setup or read our insider review for the full tasty scoop.
Final Thoughts on Charlotte Airbnbs
So there you have it. Those are the 15 best Airbnbs in Charlotte, with some of the coolest Airbnb Experiences. Whether you want to stay in a city centre condo, a treehouse out in the woods, or a friendly local homestay, there's an Airbnb in Charlotte for you.
If you still can't make your mind up where to stay, keep it simple. Scroll back up and go for our overall best value Airbnb in Charlotte. That's the Plaza Midwood place with a parking pass. It benefits from a central location, and it's pretty stylish!
We hope that wherever you choose to stay in Charlotte, you have a fantastic vacation. To make sure that you and your valuables stay safe for the length of your trip, check out World Nomads for a travel insurance policy.
---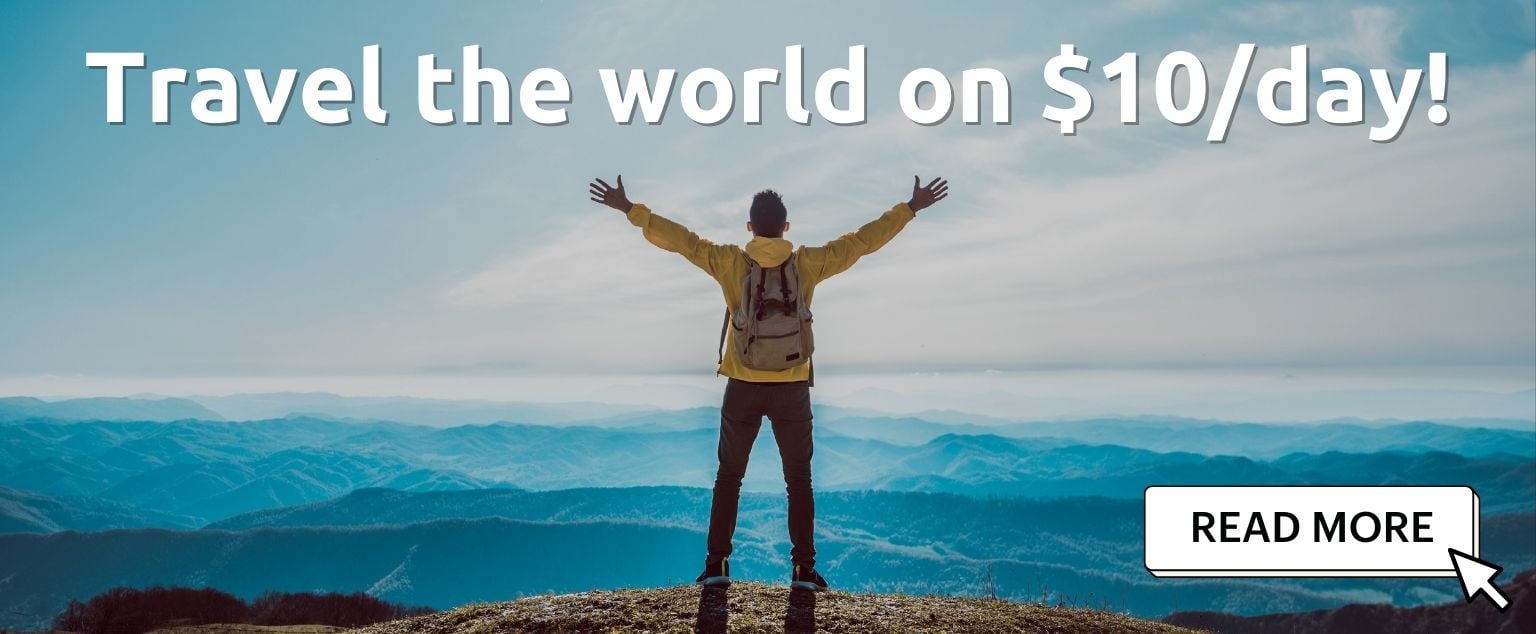 And for transparency's sake, please know that some of the links in our content are affiliate links. That means that if you book your accommodation, buy your gear, or sort your insurance through our link, we earn a small commission (at no extra cost to you). That said, we only link to the gear we trust and never recommend services we don't believe are up to scratch. Again, thank you!