As the largest city in North Carolina, Charlotte is the perfect place to base yourself for an epic East Coast adventure. This southern city is surrounded by mountains and epic hiking, and it's just a few hours away from the iconic Appalachian Trail.
It's a city where tradition and 21st century coexist harmoniously, with many remnants of the Civil War era still standing today. The city is modern and vibrant, with some examples of jaw-dropping architecture.
Whether you're visiting with family or friends and want to check out the theme parks or you're a couple looking to explore the nearby hiking trails, there's a wealth of things to do in Charlotte. Plus, it's blessed with 212 days of sunshine a year, so no need to worry about the weather spoiling your trip.
Of course, putting together your Charlotte itinerary is tricky when there's so many attractions to enjoy. So I've gathered this list of the best things to do in Charlotte to help you plan your trip without getting overwhelmed by the sheer volume of unforgettable experiences.
Let's take a look!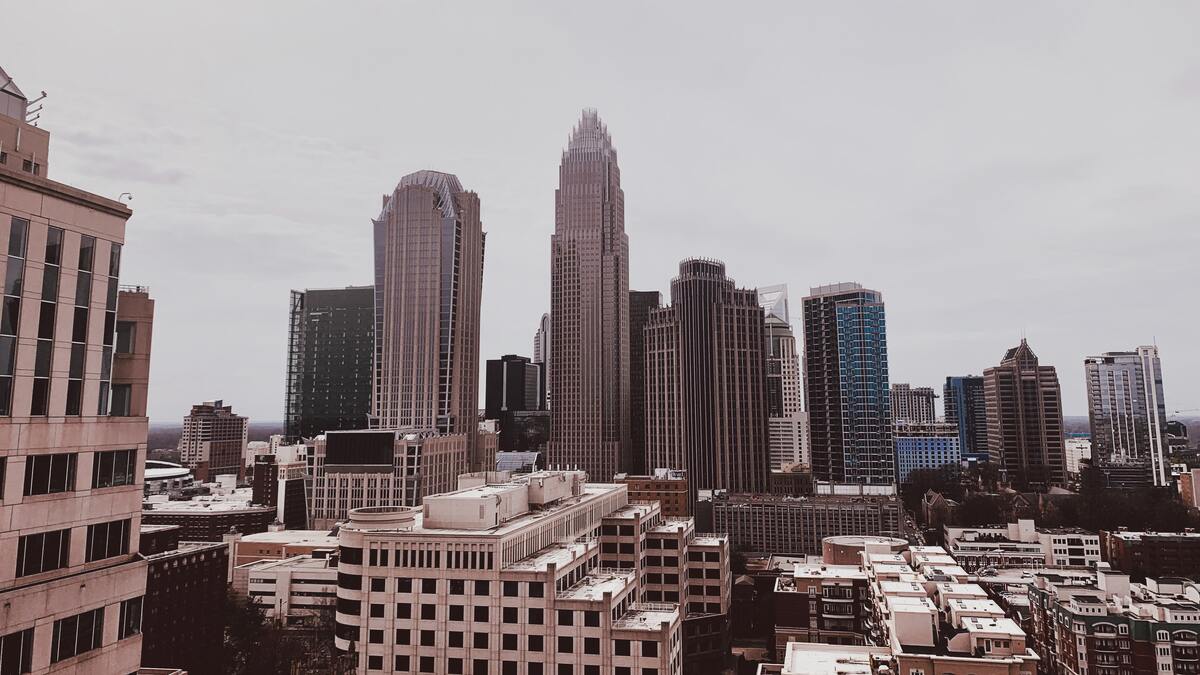 Unlock Our GREATEST Travel Secrets!
Sign up for our newsletter and get the best travel tips delivered right to your inbox.
The Top Things to Do in Charlotte
With so many attractions in Charlotte, it can be easy to get overwhelmed by all that's on offer. If you're only visiting for a quick stop on an East Coast road trip, then these are the most unmissable attractions.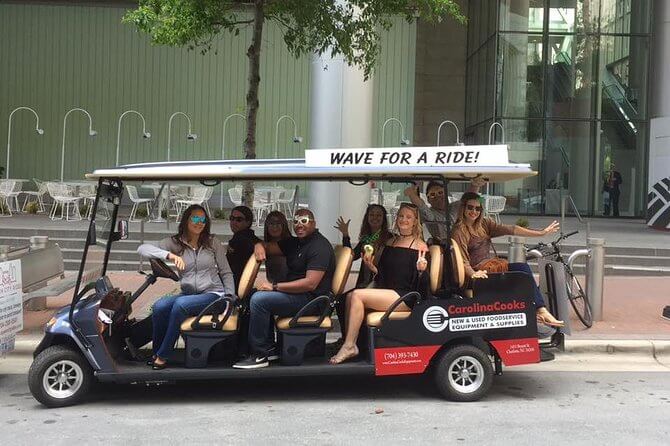 If you're only visiting for a short while on a backpacking adventure, you're gonna want to hit as many attractions as you can in one hit.
One way to take in all the top attractions in Charlotte is on a guided tour through the city on a gold cart. No, you won't be crammed in like on a tour bus with scores of other sightseers. You'll enjoy the sunshine and fresh air from a unique 7-seater golf cart, with just you and your friends.
Pass through the modern cityscapes with impressive architecture and into the city's more historic neighborhoods as your guide fills in the details with fascinating facts and exciting tales.
This activity is ideal for visitors who are short on time but want to see all the highlights, this tour is highly recommended.
Entrance: $38
Hours: Tour times vary
Address: Tour departs from 201 E 5th St, 201 E 5th St, Charlotte
2. Visit the NASCAR Hall of Fame
Petrolheads and motorsport enthusiasts won't want to miss the opportunity to go full throttle into the history and heritage of NASCAR. You can explore over 50 interactive experiences, take your turn behind the wheel of an iRacing simulator and test your skills in the Pit Crew Challenge.
Families looking for a fun outing should pop past to say hi to Lightning McQueen or sign up for Camp Vroom's spring and summer camps which cater to little ones of all ages.
Activities include games, crafts, and thrilling challenges.
Entrance: Adults – $27, Children (4 to 12 years) – $20
Hours: 10:00 to 18:00 (Monday to Sunday)
Address: 400 East Martin Luther King Jr Blvd. Charlotte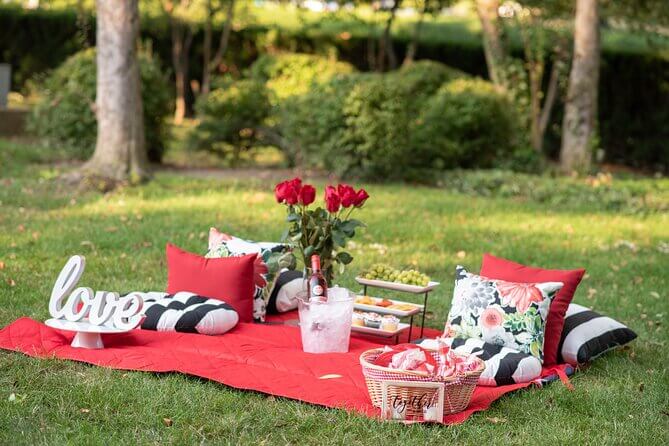 A picnic date is undoubtedly one of the most romantic things to do in Charlotte, and the city has plenty of parks that offer a natural escape from the hustle and bustle of city life.
Get outdoors, unplug, and relax in a park with breathtaking city views. Reconnect with your special someone over a drink. Date night conversation starters are included to help you set the right tone.
You'll have a picnic basket filled with all the gadgets required, including a picnic blanket, cutlery, and tableware. Bottled water and sparkling cider are provided. Bring along any tasty morsels you'd like to share with your significant other. Food is not included, but charcuterie boards are available on request.
Entrance: $199
Hours: Times vary
Address: 301 E 7th St, 301 E 7th St, Charlotte
4. Get Your Rollercoaster Thrills at Carowinds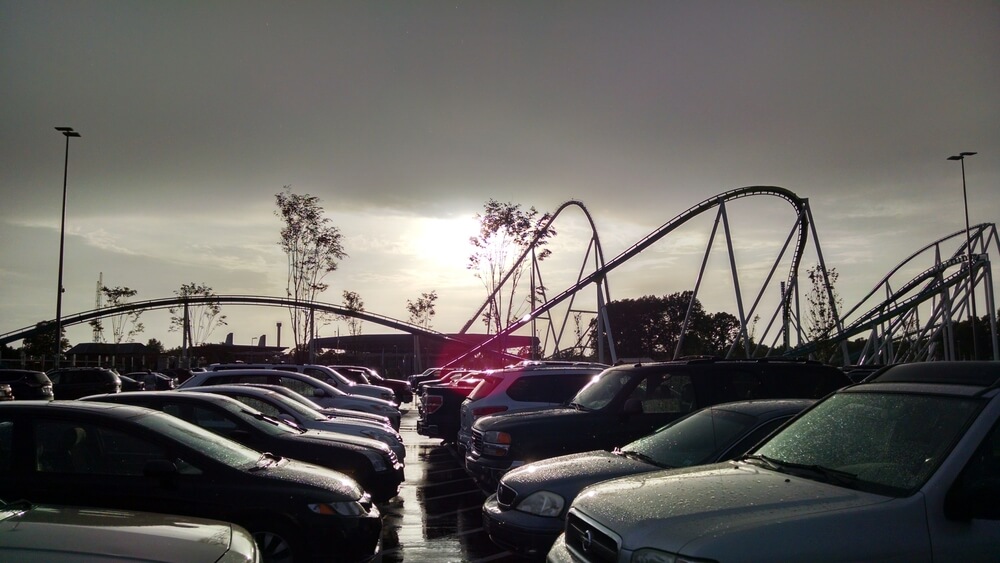 What do you get when you combine the big thrills of rides and rollercoasters with Carolinas' best waterpark? A day of more fun than you ever thought possible! When it comes to family-friendly things to do in Charlotte, you can't do better than Carowinds.
Carowinds features 57 thrill rides and roller coasters, while the Carolina Harbor Waterpark offers all kinds of water slides, wave pools, and a two-acre children's area. Children of all ages will have plenty to keep them entertained the whole day.
Entrance: From $45
Hours: 10:00 to 22:00 (Carowinds), 11:00 to 18:00 (Carolina Harbor)
Address: 14523 Carowinds Blvd, Charlotte
5. Feast Your Eyes on Fabulous Art at the Mint Museum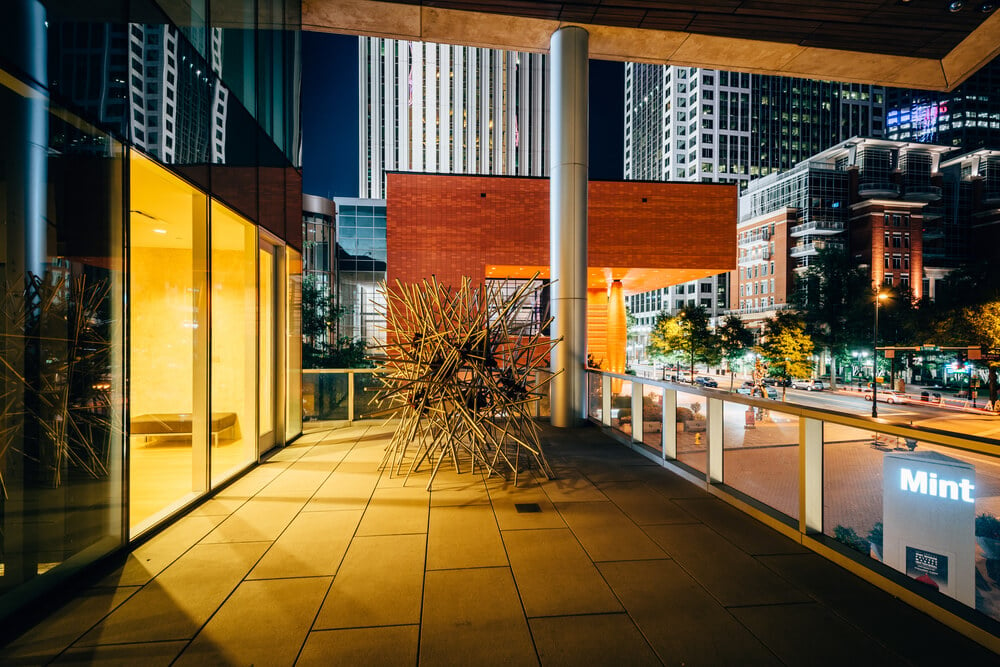 The Mint Museums is a popular attraction in Charlotte. The museum, the first art museum in North Carolina, comprises two campuses: Mint Museum Uptown and Mint Museum Randolph.
The Mint Museum Uptown houses the Craft and Design collection and American, contemporary, and European art. The Randolph Road location offers visitors the chance to engage with ceramics, decorative arts, European and African art, and the art of the ancient Americas.
In addition to these collections, the museum regularly hosts various exhibitions.
Entrance: Adults – $15, Children (5 to 17 years) – $6
Hours: 11:00 to 18:00 (Tuesday to Saturday), 13:00 to 17:00 (Sunday)
Address: Mint Museum Uptown: 500 South Tryon Street, Mont Museum Randolph: 2730 Randolph Road
6. Make a Splash at the US National Whitewater Center
The Whitewater Center is a one-stop facility offering over 30 outdoor recreational activities. The center encompasses 1,300 acres of land with 50 miles of trail and access to the Catawba River and Long Creek.
Get your thrills whitewater rafting, kayaking, stand-up paddling, and climbing. Hit the trails on a mountain bike or on foot for a run or a hike through the forest.
Of course, all this high-energy outdoor fun will work up an appetite, and for that, there are several options to fill up on tasty food and drink.
Entrance: Adult day pass – $75, Child day pass – $65
Hours: Activities have varying operating hours
Address: 5000 Whitewater Center Parkway, Charlotte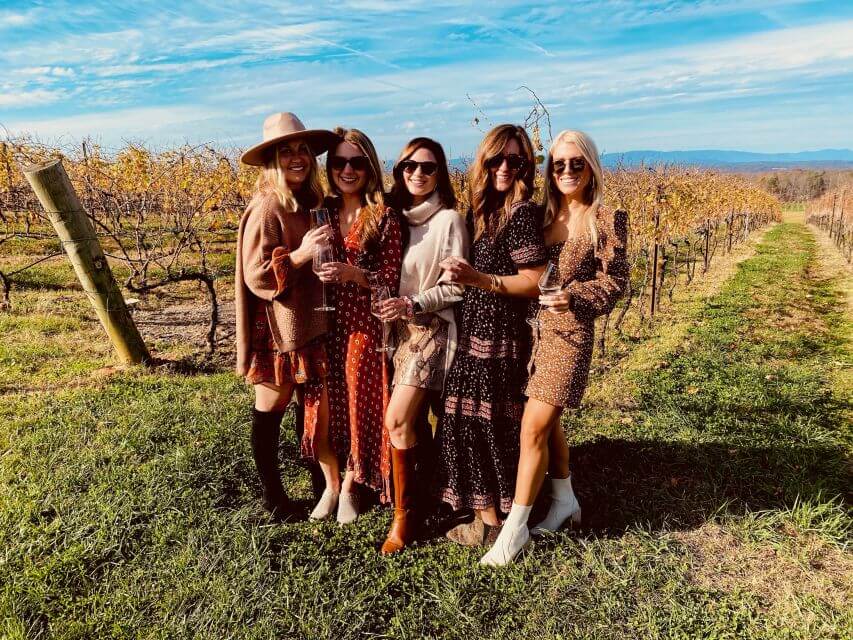 North Carolina has a thriving wine region which you can experience on a fun day trip from Charlotte. Visit three of the region's top wineries to sample some of their best wines, artfully paired with snacks and dishes to complement them.
Each winery has a distinctive style. At the first winery, you'll sample rosé. At the second, you'll enjoy robust reds. The final winery on the route will offer a full tasting of between six and ten wines, offering the full spectrum of the region.
Entrance: $172.58
Hours: Tour times vary
Address: To be confirmed on booking
Small Pack Problems? 😉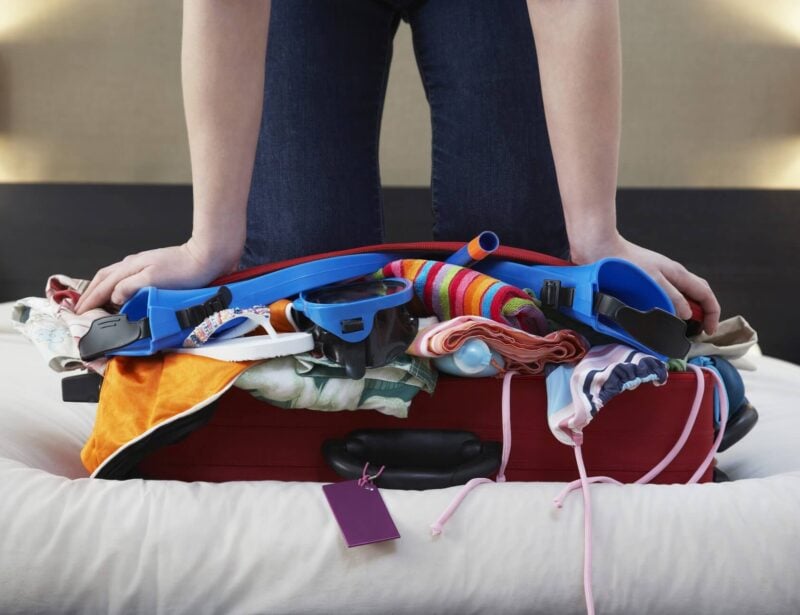 My missus travels with all her clothes in ziplock bags: don't be like my missus. UP YOUR PACKING GAME!
Packing cubes for the globetrotters and compression sacks for the real adventurers – these babies are a traveller's best kept secret. They organise yo' packing and minimise its volume too so you can pack MORE.
Or, y'know… you can stick to ziplock bags.
View Our Fave Cubes
Or Check Out the Sacks!
8. Visit the Metalmorphosis
Arguably one of Charlotte's most iconic attractions, the Metalmorphosis is a one-of-a-kind sculpture of a human head.
The statue, made up of horizontal slices that rotate in opposite directions, takes up pride of place in the plaza outside the Whitehall Corporate Center.
The form, mechanics, and sheer size of this sculpture are only fully appreciated in person. Images and video simply don't do it justice, which is why it's known as one of the seven wonders of Charlotte.
Entrance: Free
Hours: 24 hours
Address: 3701 Arco Corporate Dr, Charlotte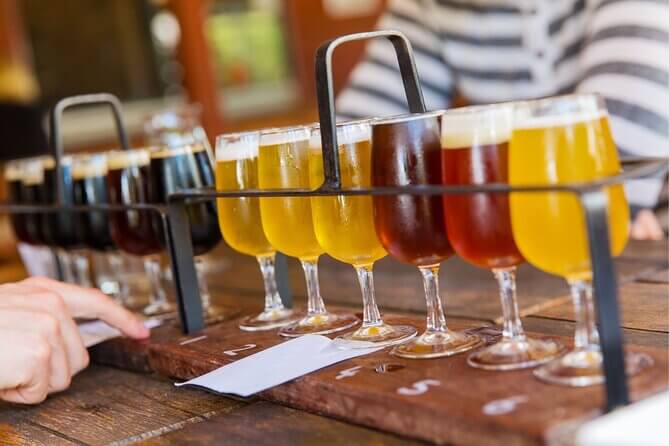 One of the best things to do in Charlotte at night is to take a brewery tour to experience the thriving craft beer subculture of the city.
Visit four different local breweries where you'll sample not only the beers but also gain a fascinating insight into the brewing process. Each brewery has its distinctive style and personality to enjoy, which explains why they're so popular with locals and visitors alike.
Enjoy a good meal at a famous local smokehouse to round off the experience.
Entrance: $115
Hours: Tour times vary
Address: The Westin Charlotte, 601 S College St, Charlotte
10. Surround Yourself with Beauty at the Botanical Gardens
No matter what time of year you choose to visit Charlotte, a visit to the Daniel Stowe Botanical Gardens is always recommended. It's one of the best things to do in Charlotte on a sunny day.
Surround yourself with 110 acres of spectacular gardens, which include displays of tropical plants, annual and perennial displays, walking trails, and glittering fountains. The orchid conservatory is one area of the gardens not to be missed if you wish to see a variety of strange and otherworldly blooms.
The Botanical Gardens are located a 20-minute drive outside the city center in the town of Belmont, but it is accessible via public transport.
Entrance: Adults – $14.95, Children (2 to 12 years) – $7.95
Hours: 9:00 to 16:00 (Closed on Tuesday)
Address: 6500 South New Hope Road, Belmont
Is This the Best Daypack EVER???
11. Get Curious at Discovery Place Science
Of all the things to do with kids in Charlotte, one of my favorites has to be Discover Place Science. It's a world of learning through fun exploration and creativity.
From the indoor rainforest to the Unseen Oceans exhibit, which teaches about the fascinating world of underwater creatures, there's something to ignite the curiosity of children of all ages.
Activities include immersive IMAX movies, hands-on learning in a lab, building projects, and human anatomy exhibits, all tailored specifically to appropriate age groups.
Entrance: Adults – $29, Children (2 to 13 years) – $26
Hours: 10:00 to 17:00 (Monday to Friday), 10:30 to 17:00 (Saturday and Sunday)
Address: 301 N Tryon St, Charlotte
12. Find Food Heaven at Optimist Hall
Optimist Hall is a quirky food hall offering a range of dining options, bars, and specialty shops. Bring your appetite because there's plenty to try.
Feast on options ranging from pizza to ramen and tacos. Sip on cocktails, coffee, and craft beer. And if you've still got room, top it off with gelato or a pastry. If truth be told, you may need to pop in here more than once to really get a good sample of all the incredible food and drink on offer.
Entrance: Free
Hours: 07:00 to 21:00 (Monday to Thursday), 8:00 to 22:00 (Saturday), 8:00 to 21:00 (Sunday)
Address: 1115 N. Brevard St., Charlotte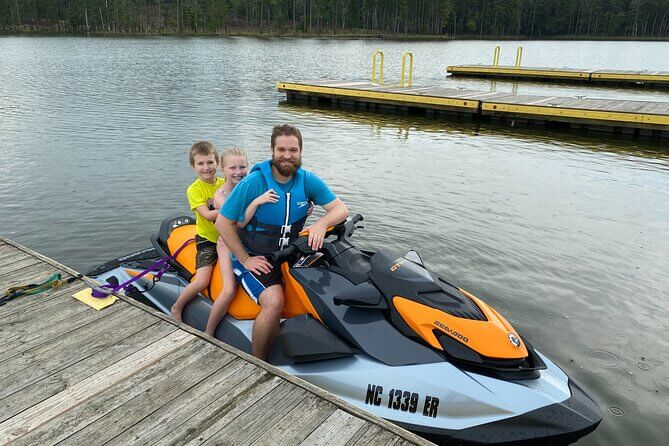 Jordan Lake is a 14,000 acre reservoir that offers a great day of outdoor fun on the water. There are various swimming beaches to enjoy, hiking trails, and boating opportunities on the water.
But of course, the most exhilarating activity on offer is a Sea Doo jetski adventure. Whether you plan to speed along or take a more leisurely approach to explore the waters of Jordan Lake is up to you.
Either way, this day on the water is well worth the 2-hour drive from Charlotte.
Entrance: $400 per group (up to 3)
Hours: Tour times vary
Address: Jordan Lake,
14. Catch a race at the Charlotte Motor Speedway
If the sound of engines and the smell of hot tires get your heart pumping, you'll definitely want to visit the Charlotte Motor Speedway. Racing categories range from NASCAR and monster trucks to hot rods.
Visit the world's first four-lane drag strip at zMAX Dragway and the Dirt Track for all the thrilling action. Get a behind-the-scenes look at the raceway on a guided tour. Ideally, if you're visiting on a race week, you'll see everything that goes into planning a race weekend.
Entrance: Ticket prices vary
Hours: Race times vary
Address: 6570 Bruton Smith Blvd, Concord
Travel with peace of mind. Travel WITH a security belt.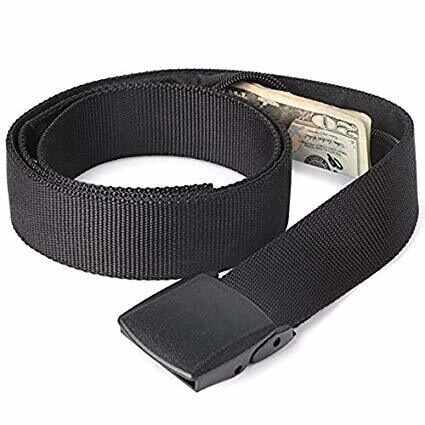 Get your cash stashed with this awesome Pacsafe money belt. It will keep your valuables safe no matter where you go.
It looks exactly like a normal belt except for a SECRET interior pocket perfectly designed to hide a wad of cash or a passport copy. Never get caught with your pants down again! (Unless you want to.)
Hide Yo' Money!
15. Discover the City's History at the Charlotte Museum of History
Housed within the oldest surviving house in Mecklenburg County, the Charlotte Museum of History uncovers the past and connects it to the present. Engaging exhibits and tours appeal to a wide range of age groups.
Explore the pre-Revolutionary War home, which dates back to 1774. Learn about the lives of the residents of Charlotte through the ages, including the history of slavery. The museum also hosts temporary exhibits dedicated to Charlotte's people and history.
Entrance: Adults – $10, Children (6 to 17 years) – $7, Children (under 5) – free
Hours: 11:00 to 17:00 (Tuesday to Saturday)
Address: 3500 Shamrock Dr., Charlotte
Soak up the very essence of Charlotte from a gorgeous accommodation in the heart of historic uptown. You can enjoy incredible views of the city skyline from this modern space on the sixth floor.
There's a rooftop terrace where you can relax and take in the view and a lovely courtyard with a pool.
The surrounding area offers tree-lined streets and beautiful Victorian houses. There's a lovely green space nearby. In addition, there are many top attractions within walking distance, including the Blumenthal Performing Arts Museum and the Hornets Panthers Knights Stadium.
Entrance: $100 per night
Hours: N/A
Address: 4th Ward, Charlotte
17. Admire Modern Art at the Bechtler Museum of Modern Art
If you're a fan of modern art, you'll want to make sure to add the Bechtler Museum of Modern Art to your list of Charlotte attractions to explore.
The Bechtler is the second museum in the country to be designed by Swiss Architect, Mario Botta. This small and intimate museum holds a collection of some of the most iconic pieces in the mid 20th century, including from the works of Miró, Picasso, Warhol and many more.
It's very rare to see an original Picasso painting, so make sure you check it out while you have the chance!
Entrance: $9
Hours: 10-5pm (Monday- Sunday, Closed Tuesday)
Address: 420 S Tryon St, Charlotte
18. Shop Til You Drop at 7th Street Public Market
Browse the bustling and ever-popular Market at 7th Street for delectable delights from a range of emerging chefs, restaurateurs, and artisans. Stop in for breakfast, lunch, and supper to sample everything from Asian Fusion food to plant-based cuisine and sublime waffles.
Shop for assorted gifts and treats from the many local retailers, from foodie gifts to Charlotte branded items, plants, and handmade items. The market is the ultimate small business incubator, so you know you're supporting local entrepreneurs.
Entrance: Free
Hours: 9:00 to 19:00 (Tuesday to Saturday), 9:00 to 17:00 (Sunday)
Address: 224 E. 7th St., Charlotte
19. Stroll Through Marshall Park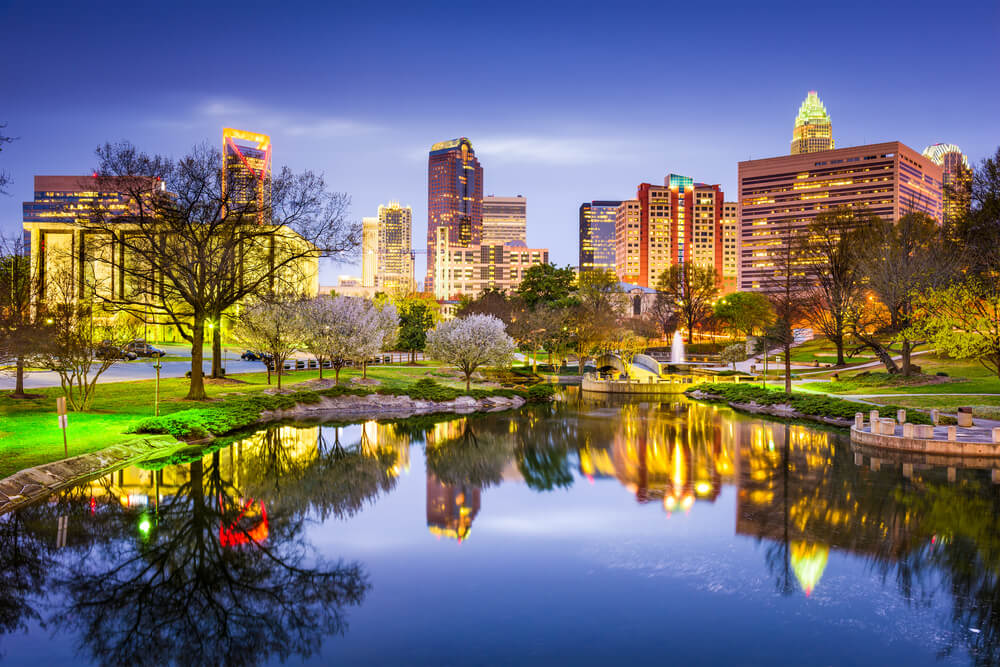 You'd probably not expect to enjoy such a peaceful setting so close to the city center, but Marshall Park is an oasis of laws and trees – perfect for a lovely picnic or a morning stroll with your pooch. It's also a great place to enjoy a run.
But that's not all. Within the five and a half acres of this park, you'll also find a large fountain and a picturesque lake, all against the backdrop of the city skyline.
Visit the statue of Martin Luther King Jr., head over to the Holocaust war memorial, or simply feed the geese and ducks.
Entrance: Free
Hours: N/A
Address: 800 E 3rd St, Charlotte
20. Take a Stroll at Little Sugar Creek Greenway
Extending nearly 4 miles, the Sugar Creek Greenway connects various top attractions in Charlotte. Places to see include Freedom Park, the Charlotte Nature Museum, and the Metropolitan shopping area, to name a few.
Stroll along the paved walkways, past trees, gardens, and fountains, and enjoy the tranquil setting despite its urban location. There are loads of public amenities, including restrooms, snack stands, and benches to sit on.
The trails here are suitable for walking, jogging, and cycling. Dogs are permitted on a leash – and if you don't have one of your own, there are plenty of canine friends to meet and greet along the way.
Entrance: Free
Hours: Dawn to dusk
Address: 1133 Metropolitan Ave, Charlotte
21. Watch a Concert at the PNC Music Pavilion
A popular summertime attraction in Charlotte is the PNC Music Pavillion, an outdoor live music venue. The large-capacity amphitheater has hosted numerous top acts and performers and continues to do so today.
During the summer, the Pavilion sees a full line-up of events to choose from, so there's always something to see. What could be better than enjoying a warm summer evening listening to your favorite artist perform live beneath a canopy of stars?
Entrance: Ticket prices vary
Hours: Hours depend on performance times
Address: 707 Pavilion Blvd, Charlotte
Where to Stay in Charlotte
As varied as the attractions in Charlotte are, so are the accommodation options. Charlotte offers a diverse range of accommodations to suit every pocket and travel style, from glitzy hotels to comfortable homestays of every kind.
Here are my top recommendations for places to stay in Charlotte.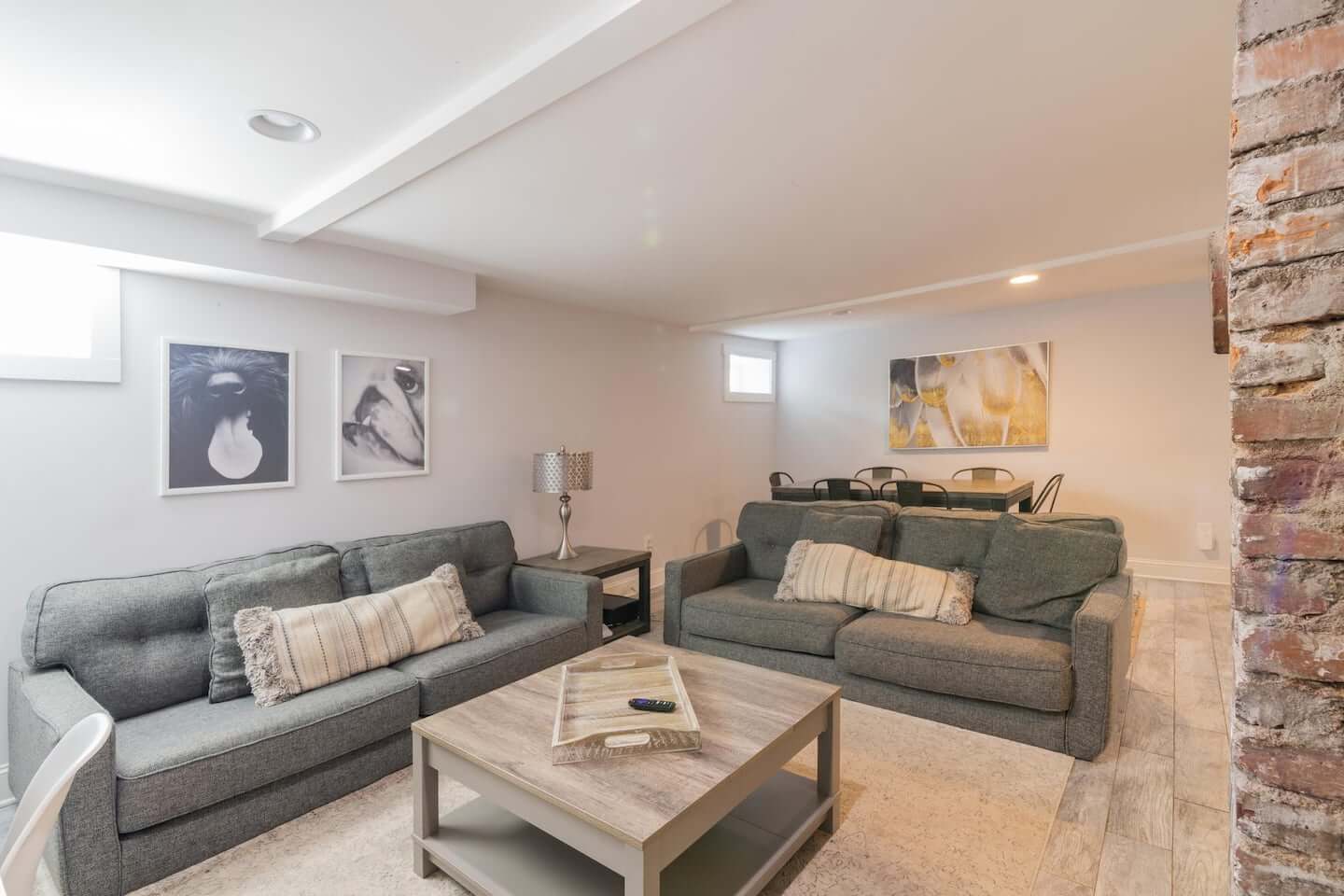 Located in a vibrant historic district, this charming Airbnb in Charlotte is within walking distance of the city center. With a private entrance and private patio, it's a great retreat to return to after a day of exploring the city. The space has bright interiors, all the comforts of home, and a large bedroom with two queen beds.
Best Hotel in Charlotte – The Ivey's Hotel
https://www.booking.com/hotel/us/the-ivey-39-s.en-gb.html
Anyone looking for a great value bed and breakfast in Charlotte in a prime location should look no further than The Ivey's Hotel. It's located on Tryon Street, the city's main street, so you'll be close to all the best attractions in Charlotte. The rooms and level of comfort on offer are superior. Enjoy a luxury experience at a great rate.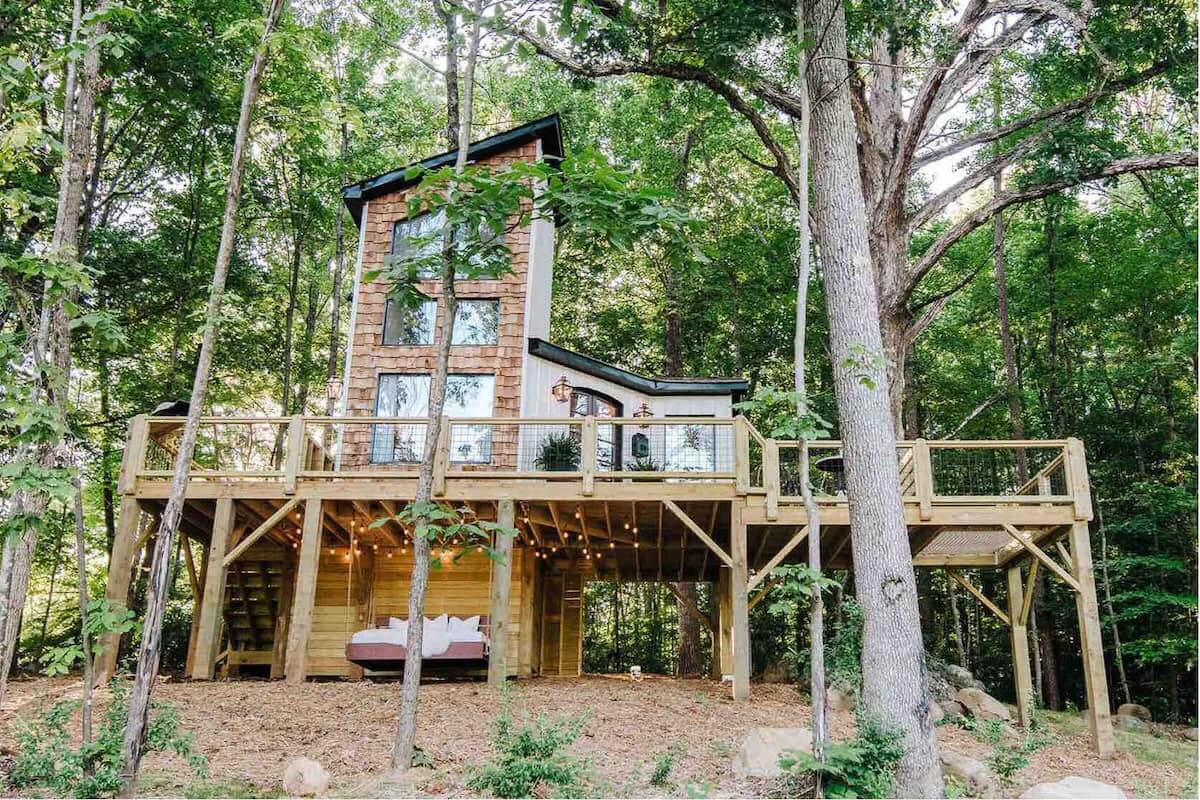 Looking for somewhere unique to stay in Charlotte? I don't blame you. You won't find anything more unique than staying in a treehouse overlooking its own private pond. It's located a little distance out of the city center in a quiet, rural neighborhood but is still accessible to the city center by a short drive. It's been kitted out with luxury features such as an outdoor shower, a fire pit and swing seat.
Some Additional Tips for Visiting Charlotte
Before you pack your suitcase and board a plan, I have just a few more tips for visiting Charlotte…
Walk as much as possible. Like most big cities, Charlotte is plagued by rush hour traffic and parking woes. That said, it's very walkable and even doable by bicycle.
Winter is the best time to visit. If you're visiting on a budget, plan your trip during winter. Snow is rare, temperatures are mild, and other tourists are blissfully rare. As a result, you're likely to pick up a great deal on accommodation.
Weekends offer better deals. Because Charlotte is a business hub, hotels are busiest during the week with corporate travelers. Plan a visit on the weekends for better deals.
Check out food halls for decent eats. Charlotte is a melting pot of cultures. As such, the cuisine here is varied. Visit a food hall to taste a bit of everything at very reasonable prices.
Don't forget your travel insurance for Charlotte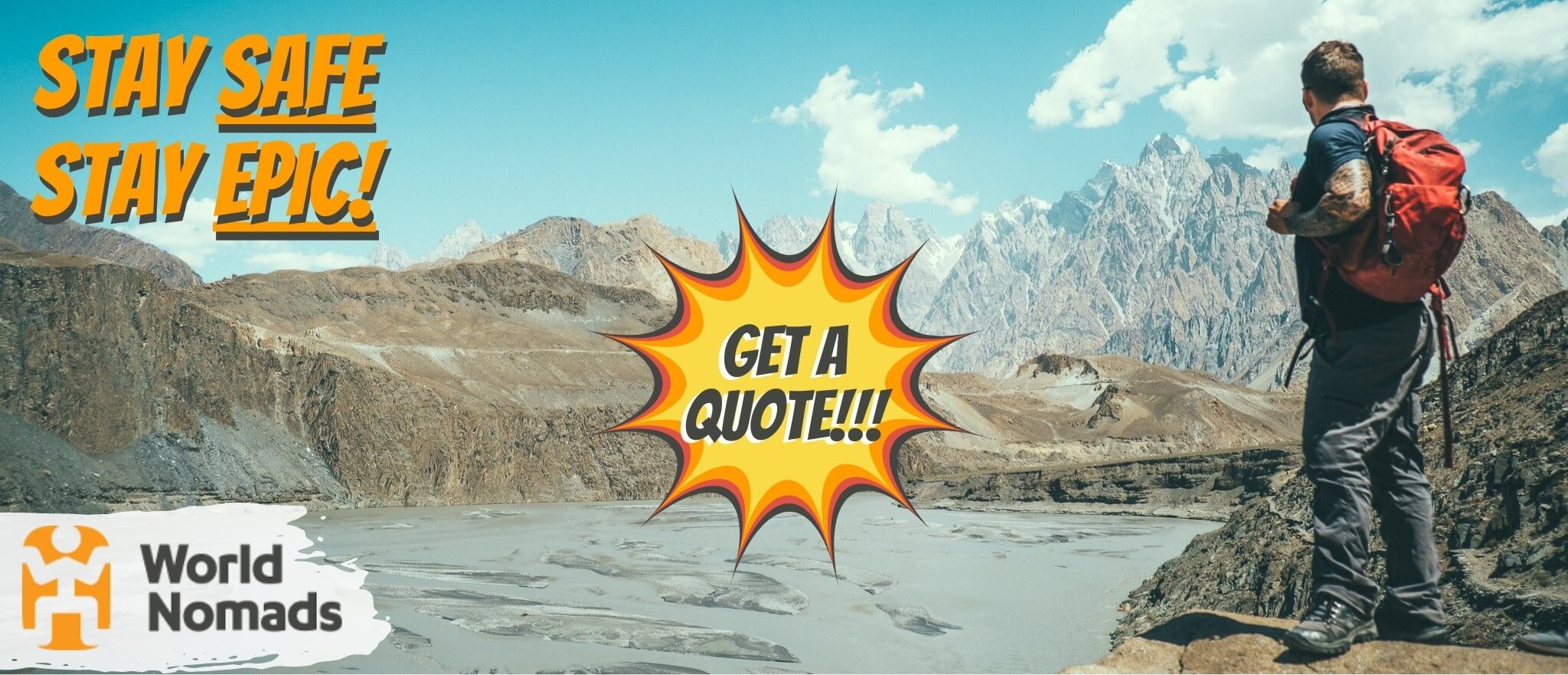 World Nomads' mission is to support and encourage travellers to explore their boundaries. They offer simple & flexible travel insurance, and safety advice to help you travel confidently.
They've been doing it since 2002 – protecting, connecting, and inspiring independent travellers just like you.
Get a quote below or read our in-depth review!
World Nomads provides travel insurance for travelers in over 100 countries. As an affiliate, we receive a fee when you get a quote from World Nomads using this link. We do not represent World Nomads. This is information only and not a recommendation to buy travel insurance.
Final Thoughts on Things to Do in Charlotte
When it comes to it, Charlotte is the kind of city you can visit again and again and have a totally different experience each time. This city has a lot to offer with its rich cultural heritage, fascinating museums, abundance of outdoor attractions and warm hospitality.
If you're planning a trip here, I hope this list of the top things to do in Charlotte comes in handy. You should now have all the information you need to make the most of everything Charlotte offers.
---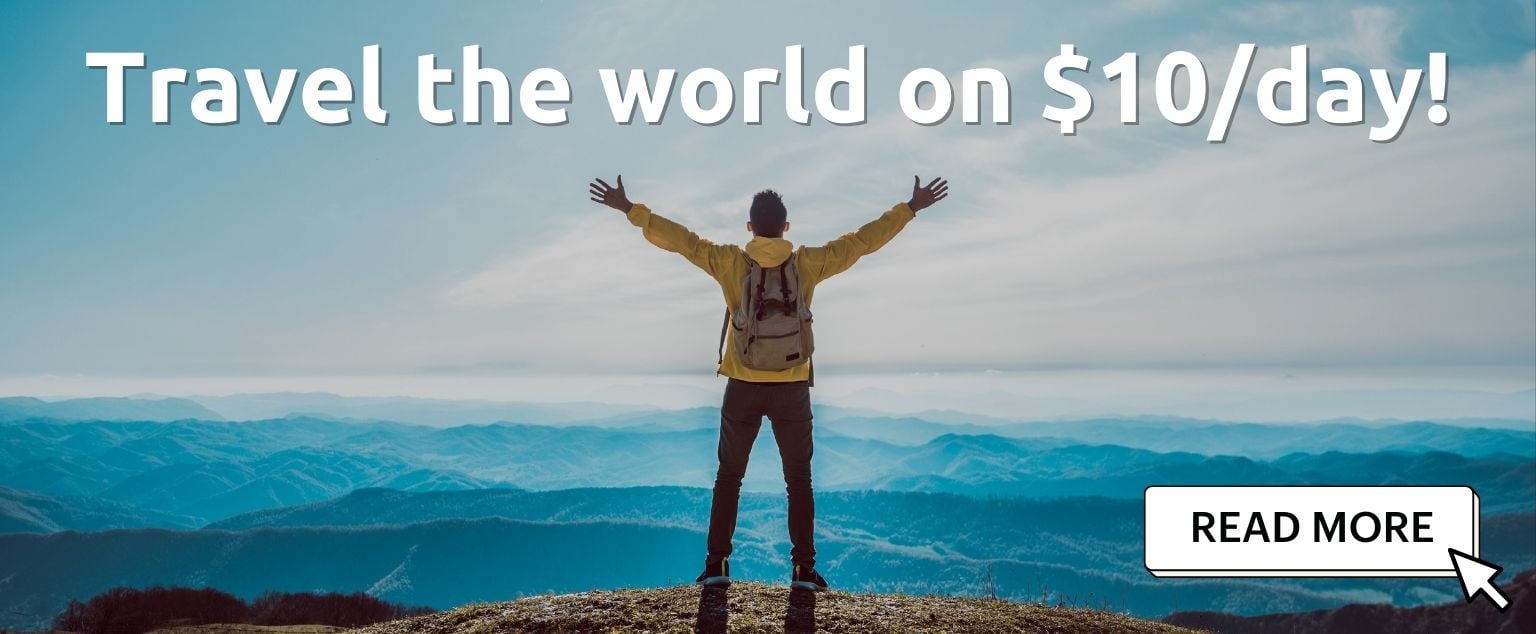 And for transparency's sake, please know that some of the links in our content are affiliate links. That means that if you book your accommodation, buy your gear, or sort your insurance through our link, we earn a small commission (at no extra cost to you). That said, we only link to the gear we trust and never recommend services we don't believe are up to scratch. Again, thank you!