The only country to ever make me jealous was Canada.
Let me put that into context: I've been to over 35 countries and few have attained such a perfect blend of livability, accessibility, and sublimity as Canada has. Not only that, I was born and raised in the United States, a country that has indoctrinated its citizens to constantly poke fun of our northern neighbors.
I don't get all the blatant disregard for Canada. Call me traitorous, call me a poor American, but I just can't seem to get enough of the Great White North.
Choosing to go backpacking in Canada is an awesome idea.
In this glorious nation, there is so much to do and see. Hike in the world-class Canadian Rockies. Tour the cafes of Montreal. Ski in the quaint and sometimes debaucherous mountain towns. All this and more is possible when you travel to Canada.
In this travel guide for Canada, you'll find everything that you could need to start your adventure. We'll cover topics ranging from "getting a Canadian visa" to "how to spend as little money as possible" and "where the best parties are." With these insider tips to backpacking around Canada, you'll be an expert in no time, ya hoser.
Why Go Backpacking in Canada?
Canada has so much going for it. On a global scale, this country holds many distinctions: its economy is one of the strongest, its cities are some of the most habitable, and its people are some of the happiest.
I can find few faults with Canada except that mullets were once the apex of badassness here. (See!? I just can't help but make fun of them.) I can (somehow) forgive Canada for that last bit though, it's pretty obvious that Canada's got us all beat.
Canada is a massive country with tons of things to do and see! From kayaking around Vancouver Island to partying in Montreal to attending a rodeo in Calgary, Canada's got it all. It's the goal of this Canadian travel guide to help travelers get the most out of their backpacking trip by giving them plenty of ideas and tips on where to stay in Canada and, most importantly, what to do.
Before getting into the nitty-gritty though, we're going to outline the best itineraries for how to go backpacking in Canada, properly. Each one is specially drafted to give you the best possible experience with whatever period of time you have available.
Afterward, we're going jump into the meat of the guide – the destinations – and then follow with some more specific information e.g. Entry Requirements, Festivals, Sex, Drugs and Rock 'n' Roll, etc. By the end of this guide, you'll be equipped with all of the necessary tools to go backpacking in Canada!
Before you head off, grab a pre-paid sim card for Canada so you can stay connected.
Best Travel Itineraries for Backpacking Canada
Below is a list of four travel itineraries for backpacking Canada. They vary from one to four weeks in length and cover the majority of the top things to do in Canada.
None of the following itineraries venture very far into Northern Canada, which accounts for a substantial amount of the landmass. Most who go backpacking in Canada barely see 10% of the actual country. Backpackers can and should visit the North but doing so will require a lot of time and money.
Backpacking Canada 7 Day Itinerary – The Big Cities
Travel to Canada's biggest and busiest cities over the course of a week! On this 7-day itinerary, you'll visit Toronto, Ottawa, and Montreal. All of these cities are hugely multicultural and full of fascinating sights and experiences. You're sure to have a great time while visiting any one of them as you go backpacking through Canada.
Visit one of Toronto's many neighborhoods for a taste of some amazing culture and food, or ascend the CN Tower to see the city in its entirety. Don't forget to make a day trip out to Niagara Falls either!
After Toronto, make a quick pit stop in Ottawa for a healthy dose of history and politics. This is one of the most pleasant and efficient cities in the world and makes for a great break from the bustling metropolises.
Finally, drop by Montreal for a little slice of French culture and big ol' heaping of nightlife. The parties in this Euro-esque city are among the best in the world.
Backpacking Canada 10 Day Itinerary – The West Coast
Explore Vancouver and the surrounding province of British Columbia, which are among the best places in Canada! On this 10-day itinerary, you'll go from sea to sky, visiting the stunning coast of Vancouver Island to the snowy mountains around Whistler-Blackcomb.
Start by flying into the glittering city of Vancouver. Walk, bike or kayak around its many streets and waterways and savor the magnificent urban scenery.
Take a ferry across the channel to see Victoria and Vancouver Island. Here are among the wildest and most beautiful beaches in Canada, not to mention some awe-inspiring mountains and woods.
Head back to Vancouver and then drive up the Sea to Sky Highway all the way to Whistler. Passing through and by the Howe Sound, Stawamus Chief, and Garibaldi Provincial Park, this is one of the best drives in Canada. Stay in Whistler for a few days and hit the slopes followed by the rowdy local bars.
Backpacking Canada 2 Week Itinerary – The Canadian Rockies
The Canadian Rockies are absolutely breathtaking and hiking here is a must when planning a trip to Canada. Start in either Calgary or Edmonton and make your way through the mountains, visiting both Banff and Jasper National Parks in doing so.
Banff is the country's premier outdoor destination. Here are some of the coolest places in Canada including the likes of Lake O'Hara, The Great Divide, and Mount Assiniboine.
For a more intimate meeting with the mountains, head to Jasper, one of Canada's national parks, which receives far fewer tourists than neighboring Banff. This park has some equally gorgeous spots though like Mt Robson, Maligne Lake, and the Columbia Icefields.
Be sure to spend some time in Calgary as well as Edmonton as well. Both are very affluent cities with lots of activities going on.
Backpacking Canada 4 Week Itinerary – The Epic Road Trip
This is the ultimate backpacking itinerary for Canada! Over the course of a month, you'll travel to Canada's top destinations including Nova Scotia and the vast Prairielands, in addition to all the locations previously mentioned in the preceding itineraries. This itinerary is best done as a road trip – with your own car you'll have maximum freedom to see each attraction.
Begin the first leg of your road trip – from Vancouver to Calgary – navigating lush and crossing the epic Rocky Mountains along the way. Dive down into the endless wheat fields of Saskatchewan and Manitoba before reaching the urban megalopolises of Toronto and Montreal. End your trip on the wild and rugged beaches of Nova Scotia and its capital city, Halifax. Here is a bastion of English tradition, where the customs are wholly unique and definitely worth experiencing. Eat some seafood and learn about the origins of Canada.
Places to Visit in Canada
Backpacking Vancouver
Nestled at the foot of the Coastal Range mountains of British Columbia, Vancouver is an absolute gem of a city. Year after year, this glittering, ultra-modern metropolis ranks amongst the best cities to live in both Canada and, for that matter, the entire world. Vancouver is gorgeous, brilliantly designed, offers superlative dining experiences, and is chalked full of things to do.
Backpackers in Vancouver will probably notice first the dense and hyper-developed City Centre, which appears both harmonious and somewhat claustrophobic at the same time; this is quintessential Vancouver. The city's planning – an effort to house as many residents in the center as possible – has been so effective that it's even given rise to its own term: vancouverism. Here is where most tourists spend their time.
The first places to visit in Vancouver are probably visiting picturesque Stanley Park and Coal Harbor. Afterward, check out one of the many impressive galleries and/or museums scattered throughout the city, like Science World or the Vancouver Art Gallery.
The best way to experience Vancouver is not so much by visiting individual sites but by just walking around and being a part it. There are several pathways spread throughout the city that offer panoramic views. Visiting one of the many parks, like Queen Elizabeth, Charleson, and English Bay, is a great way to soak in the views.
Vancouver's greatest asset is its proximity to some spectacular nature. Being so close to the mountains means that there's plenty of hiking to do. A walk across the Capilano Suspension Bridge, on the outskirts of the city, is one of the most well-known attractions. In the winter, skiers/snowboarders will be spoiled with slopes that are no more than 45 minutes away.
Need help deciding between Montreal or Vancouver? Check out our helpful guide.
Backpacking Whistler
Whistler is one of the premier places to ski in Canada; getting there is half of the fun. Departing from Vancouver, travelers will most assuredly drive on the impressive Sea to Sky Highway (HW 99), which is one of the finest roads in North America. Skirting the edge of the Howe Sound as it carves into the mainland offers some of the best scenery in Canada.
Along the roughly hour and a half journey from Vancouver to Whistler, you'll pass by several notable attractions. Halfway is the town of Squamish, which is considered by many to be the rock climbing capital of Canada. Here you'll find the mighty Stawamus Chief (ALL HAIL THE CHIEF), whose granite profile evokes images of California's Yosemite. Other must-see locations on the Sea to Sky Highway include Garibaldi Provincial Park, with its superlative hiking opportunities, and the mighty Brandywine Falls.
Whistler is our final stop and the vibe here is very dependent on the seasons. In the summer, Whistler is quite sleepy; during the winter though, this town can get downright crazy!
Whistler is one of the best places in Canada to visit in the winter and, at times, feels like a huge party! Skiers and snowboarders from all over the world swarm to this resort town to hit some of the finest powder in North America. When they aren't on the slopes, the skiers are usually in the pubs. Australians, in particular, are quite present in Whistler though they ski less and work more in the restaurants.
Summer in Whistler is quieter as the slopes are usually dry. Most people head out to the wilderness for extended backpacking trips or go mountain biking instead during this time. That said, there are still plenty of hostels in Whistler that remain open in the summer.
Backpacking Victoria
Across the Salish Sea from Vancouver is the large island of the same name, Vancouver Island, and the garden city of Victoria. This moderately sized city of 80,000 inhabitants is much calmer than booming Vancouver but still offers many of the same sorts of attractions. Here are several parks, a lovely harbor, and the means to go adventuring in some lovely nature.
Victoria's main attractions include the British Columbia Parliament Building and Craigdarroch Castle. Victoria is also full of gardens – notable green spaces include the Butchart Gardens, for which is the city is very proud, and the Abkhazi Gardens.
Walking between the city's landmarks is certainly possible, though renting a bike would be a more reasonable and convenient means of getting around.
Definitely stay in Victoria for a couple of days but don't overlook the rest of the island. The landscape of Vancouver Island is absolutely magical; a mix of rugged mountains, hidden beaches, and lush temperate rainforest, the outdoor opportunities that Vancouver Island offers are splendid as they are varied. Luckily there are plenty of great Airbnbs in Canada, so you can base yourself right in the middle of all the action.
5 hours outside of Victoria by car is Tofino, which is most famous for its surfing. There are even a couple of hostels in Tofino as well! Nearby is the Pacific Rim National Park, a wonderfully lush and rugged coastal park filled with some of the most beautiful beaches in Canada. Here you can embark on the infamous West Coast Trail but only if you're prepared for near-constant cold and rainy weather.
The interior of Vancouver Island is full of mostly jagged, mountainous terrain that affords outdoorsmen with many hiking options. Popular trails in these mountains include the climb up to Landslide Lake, summiting Mt Arrowsmith, plus several more around Strathcona Provincial Park.
Backpacking Banff
Banff has achieved near-legendary status. This part of the Canadian Rockies is a paradise for alpine enthusiasts and is one of the most beautiful places in Canada. Visiting Banff is an absolute must for those who are backpacking through Canada.
Banff refers to two distinct locations: one is the Banff National Park, which is where the actual mountains are, and the town of Banff. Most people stay in the town of Banff and then explore the national park from there.
The only other largish town in the area is Lake Louise, one of Canada's best lakes, which is famous for its elegant hotel. Staying around Lake Louise is perfect for adventure lovers, and those travelling in Canada for its skiing opportunities.
The village of Banff is a typical touristy mountain town: cozy, over-developed, and swarming with people during the peak seasons. Like Whistler, Banff receives its fair share of foreigners looking to hit the slopes during the winter. Unlike Whistler though, Banff has a very busy summer season as hikers flock here to go trekking in the Canadian Rockies.
TLDR – Almost every time of the year is busy in Banff so be sure to book your lodge in advance.
Honestly, there are very few landscapes that can compare to the Rockies – these mountains are simply sublime and an absolute joy to explore. Banff National Park is the premier spot in the Canadian Rockies and, out of all of the parks, attracts the most tourists. It's arguably one of the most beautiful places in Canada altogether!
Several postcard-worthy sites in Banff are accessible by car like Moraine Lake, of photographic infamy, as well as Peyto Lake, which is en-route to Jasper National Park. Hiking will unlock heaps more though. Those who are interested in hiking in the Canadian Rockies should refer to the Trekking section for more in-depth info.
If you should find Banff too crowded, try visiting lesser-known Golden or Invermere on the other side of the Rockies Range. From these two towns, you will have the chance to explore the surrounding parks of Kootenay and Yoho, which are equally stunning.
Backpacking Jasper
Several hours north of Banff is the remote Jasper National Park. Jasper is far less developed than its southerly sister; here you will find no mountain towns, no posh eateries, and little to no ski resorts. It is for these reasons though that Jasper is, arguably, the superior of the two.
Jasper's landscape is classic Canadian Rockies and is no less brilliant than Banff or any other national park. Here you will find superlative sights like Maligne Lake, Athabasca Falls, the Miette Hot Springs and the Columbia Icefields, all of which can be visited by car. On the northern edges of Jasper is Mount Robson, which is the highest peak in the Canadian Rockies and a sight to behold.
Because it lacks the infrastructure that makes Banff so appealing, Jasper has the benefit of being much quieter. Those looking for something more wild and free from the madding hoards will have better success in Jasper.
That is not to say that Jasper is completely devoid of human settlement. There are several forms of lodging – huts, the occasional hotel, even hostels – spread throughout the park though they are far and few in-between. Should one want a cool beverage, some restaurant fair, or just a break from the sleeping bag, they'd best head to one of these establishments.
If you decide to stay in Jasper National Park, note that there is little public transport on offer. You will most certainly have to have your own car or hitchhike to get around. Note that drivers will have to pay a fee of $20 per vehicle to enter the park, which is comparable to what someone would pay to enter Banff.
Backpacking Calgary
Calgary is the largest and richest city in Alberta. Once a hopeless town, Calgary is now a thriving metropolis of 1.3 million inhabitants thanks in part to several oil booms for which it banked on. With a surging economy in addition to a high standard of life, Calgary is a very livable and enjoyable city.
Unlike Vancouver, Calgary is fairly spread out. The Downtown area is where you'll find the majority of corporate offices and skyscrapers. The towers are impressive and the locals are quite proud of them. The many eclectic neighborhoods found on the edges of Downtown are where you'll most things to do in Calgary.
Trendy Beltline is mostly affluent with lots of upscale restaurants and shops. Beyond Beltline is the Entertainment District on 17th, which is where you'll find most of the city's nightlife. Inglewood is the historical quarter and has some of Calgary's oldest buildings. Finally, International Avenue is where you'll find most of the immigrant population – the food here is consequently spectacular.
These are just a few districts though – there are lots more great neighborhoods in Calgary to stay in and explore!
Outside of the central neighborhoods is mostly uninteresting suburban sprawl. There are a number of vista points around these suburbs that offer commanding views of the skyline though, like Nose Hill, Scotsman Hill, and Tom Campbell's Hill.
Note that despite Calgary's size, it's actually quite easy to get around. Traffic is limited and public transit is very good. Walking is definitely an option in the packed city center but just be careful in the winter – cold snaps are common in this part of the world and frostbite can easily occur.
Backpacking Edmonton
For a city of its size and significance – it's the capital of Alberta – Edmonton is surprisingly devoid of tourists. Perhaps it's the startlingly cold winters – record low is -50 F – that deter people or maybe it's that Calgary gets all of the attention. Whatever the reason, Edmonton is still one of the best cities in Canada and worth staying in (for a day or two).
Edmonton's greatest strengths are its parks and vibrant performing arts scene. The North Saskatchewan River Valley is one of the most impressive city parks in the world. It's so large – 22 times larger than New York's Central Park – that one would think to bring a map and compass with them just in case.
If the outdoors isn't your thing, you must be sure to visit a theater, which Edmonton is also famous for. These venues play everything from broadway to opera to jam bands.
A fairly young city, Edmonton doesn't have the architectural diversity that Montreal or Toronto has. There are only a couple of interesting buildings around like the Muttart Conservatory and Art Gallery of Alberta. Like most of Canada west of Ontario, this city is best seen at a distance e.g. while walking in the park.
For those wanting to drive away the cold or boredom, Edmonton has a pretty thriving nightlife as well. There are two main areas for drinking in Edmonton: the first is Downtown along Jasper Avenue, which attracts a more professional crowd, and the second is along Whyte Avenue by the university, which, obviously, attracts a younger, hipper crowd.
Outside of the city. You'll find one of Canada's more impressive national parks: Elk Island. Here you can few a huge variety of wildlife, including bison, elk, and caribou, as well as go camping and hiking. If that's your thing, make sure to check out the best campsites in Ontario!
Backpacking Toronto
Bustling and dynamic, Toronto is the largest city in Canada and a damn good time. Often compared to New York City, Toronto is super-diverse, fast-paced, and a little gritty. There's so much to do in this city; a shit ton, really. It may seem daunting at first, the amount that Toronto has to offer but, as they say, a thousand-mile journey starts with a single step.
Start your itinerary in Old Toronto, which is where most of the city's main attractions are. Visit worthwhile sites like the Art Gallery of Toronto, the Distillery District, St. Lawrence Market, and the iconic CN Tower. On the edges of Old Toronto are several other places of interest, including the Royal Ontario Museum and Casa Loma.
Toronto is one of the most ethnically diverse cities in the world. Half of the population is foreign-born and many have their own national neighborhood. Little India on Gerrard Street, Little Italy/Portugal Village on College and Grace, and Chinatown on Spadina are all wonderful examples. A visit to one of these communities would be time well-spent as you'll find authentic, world-class cuisine and a generous amount of culture in each.
Lying on the edge of Lake Ontario, Toronto actually has a number of beaches. The aptly-named Beaches neighborhood has many beaches though many more lie across the river on the Toronto Islands. The ferry ride alone to one of these is worthwhile as the views of the city are stunning.
There are so many Ontario day trips to be taken from Toronto. No trip to Toronto is complete without a trip to mighty Niagara Falls, which is considered one of the three largest waterfalls in the world. You can easily arrange a day trip to see the falls or stay a night in one of many lodges.
Backpacking Ottawa
Ottawa is the federal capital of Canada and an amazing city in its own right. With a rapidly expanding economy – thanks to the tech boom – huge tracts of green space, and some of the nation's top research centers, Ottawa is an extremely habitable city and one of the best places in Canada to live.
Like nearly every Canadian city in this guide, Ottawa is best experienced as a pedestrian. Base yourself somewhere central in the city and then opt to walk or bike around. There are several bicycle rental companies throughout the city and most official city maps should include a list of them.
Parliament Hill is the most popular attraction in Ottawa and most visitors head there first. Situated on the banks of the Ottawa River, Parliament Hill is a gorgeous neo-baroque building filled with art and chatty politicians. Tours of the federal building can be arranged and are totally worth it. After seeing the interior of the building, settle on the grass outside and have yourself a picnic.
North of Parliament Hill is the ByWard Market neighborhood, admired for its large open-air market of the same name and the stunningly ornate Notre-Dame Cathedral Basilica. Separating ByWard and Parliament is the Rideau Canal, which a great place to go kayaking. In the winter, the canal freezes over creating the world's largest ice skating rink.
Ottawa hosts some very impressive galleries and museums, including the Canadian War Museum and National Gallery of Canada. Art and history buffs could easily spend whole days exploring these voluminous buildings.
That being said, most people opt to spend a few days or a weekend in Ottawa before moving on.
Backpacking Montreal
Montreal is infamous for being one of the most energetic and enjoyable cities in the entire world. This French transplant of a metropolis is a mecca for the arts, technology, food, drink, and a whole lot more. Notably, the nightlife here is on another level as partygoers stay up well past sunrise to revel with one another.
Because of its strong French roots, backpacking in Montreal does have a distinctly more European feel. French is the primary language here and most of the population prefers to speak it. The architecture is rich and the vibe is very cosmopolitan as cafes line the streets and quaint little boutiques are appearing everywhere.
Old Montreal is where you'll most of the city's attractions not to mention the best places to stay. Notable landmarks include Montreal's own Basilique Notre-Dame, the Place d'Armes, Saint Paul Street, and Bonsecour Market.
There are a number of museums to visit in the Downtown district as well, like the Musée d'art contemporain and the Redpath Museum. Near to Downtown is Mont Royal, which offers some lovely walks and great views of the city as well.
It would be worthwhile to visit one of Montreal's many orbiting neighborhoods, like The Plateau, Mile End, Quartier Latin-Le Village, and Rosemont-La Petite-Patrie as all of these are chalked full of interesting things to see. There's honestly so many cool things to do in Montreal that you really can't go wrong here.
As mentioned before, Montreal likes to have a good time. The festivals are endless and there seems to be a bar or club on every street corner. The most popular nightlife areas are around Rue Crescent, Boulevard Saint-Laurent, and Rue Saint-Denis; each has their own look and feel.
Backpacking Quebec City
The administrative capital of Quebec is Quebec City and it's quite the foil to neighboring Montreal. The main difference between Montreal and Quebec is that Montreal is known for its vibrant city life and commercial prosperity, Quebec City is more regarded for its historical significance and leisurely lifestyle.
Quebec City is a relic from the origins of Canadian sovereignty. Built upon the cliffs overlooking the Lawrence Seaway, Quebec City is a treat to look at. The original stone walls from when it was a colony are still intact and the city itself is full of cultural landmarks.
Old Town is the nexus for most of Quebec City's attractions. Must see are the Château Frontenac, the Basilica of Sainte-Anne-de-Beaupré, the Musée national des beaux-arts du Québec, and the Plains of Abraham.
The Old Town of Quebec City is quite compact and so most of its noteworthy sites of are all within walking distance of each other. It can be quite steep in some places, especially around the Côte de la Montagne, but there is a funicular to give you a lift if needed. Public transit and bike lanes will provide all the extra transport that you could need.
Quebec City still has it fair share of cafes and bars for you to unwind at, even if the amount pales in comparison to Montreal. Popular nightlife areas are around the Grande Allee and La Rue St. Jean.
Although there are lots of great places to stay in Quebec City, the surrounding countryside is equally as charming. On the outskirts, you'll find many surprises, including the Ice Hotel, Montmorency Falls, and the Basilica of Saint-Anne-de-Beaupre, which is believed to have healing properties. The nearby alpine village of Mont-Tremblant is a great place to go hiking or skiing as well.
Backpacking Halifax
Located in the eastern province of Nova Scotia, Halifax is the most important city in the Atlantic region of Canada. It was here that Europeans first colonized the Canadian land due in part to the bountiful harbor. Nowadays, Halifax is a bustling port city that handles the majority of Atlantic trade that comes from across the pond. Halifax was and still is a cornerstone of Canadian identity.
By North American standards, Halifax is pretty small with a population of around 400,000 people. There's plenty of unique culture and history here though and anyone backpacking through Canada with an interest in either should stay a few days in Halifax.
Popular attractions in Halifax are mostly maritime and historical in nature. Citadel Hill is a must-see as are the Maritime Museum of the Atlantic and Pier 21. Luckily, there are plenty of Airbnbs in Halifax, so you've got loads of accommodation options to choose from if you want to stay longer.
Of course, Halifax has arguably the best seafood in Canada and at a very good price. Mussels are ubiquitous and other Atlantic staples like haddock and lobster are easily found. Another interesting local eat is the donair, which is a variation of the doner kebab that uses meatloaf and condensed milk.
One cannot overlook the beaches while visiting Halifax or Nova Scotia. The coastline of this region is brutally rugged and gorgeous to behold. There are many beaches here whose beauty will surprise you; some examples are Crystal Crescent, Carters Beach and Lawrencetown Beach.
Cape Breton is the favorite holiday spot among locals and hosts some of the best outdoor activities in Nova Scotia. The Cabot Trail is one of the best biking routes in North America and the Skyline Trail features some of the finest scenery in Eastern Canada. Other activities include whale watching and visiting one of the many Gaelic historical landmarks.
Off the Beaten Path in Canada
75-90% of the population of Canada lives within 100 miles of the US border. Over half the population lives in just Ontario and Quebec alone. There's a whole lotta fuck-all out there, which means that there are lots of chances to get off the beaten path.
Hidden in the deepest reaches of Canada are some of its greatest prizes like Bella Coola, Baffin Island, and Tombstone Territorial Park, to name a few. As you venture further into the wilder parts of this country, you'll begin to understand that it is here where the heart of the country is really found.
Note that you will definitely need a car to visit any of the following locations. Hell, you may even have to charter a seacraft or bush plane. Hitchhiking, though possible, would be very inconvenient as passenger vehicles will be very far and few in-between. Best to have your own form of transport and the freedom that goes with it.
Backpacking The Prairies of Canada
East of the Rocky Mountains is the vast and sparsely populated prairielands of Canada. Comprised of the provinces of Saskatchewan and Manitoba, this part of Canada is known for its bountiful harvests and remarkable flatness. A journey through this section of the country can be an enriching experience as you'll have the chance to see lots of historical sites and wildlife. In addition, you'll meet some lovely people along the way.
Traveling east from Alberta, Saskatchewan is the first province that you'll cross into. Saskatoon is the largest city in the region. At 250,000 residents though, it's still a relatively quiet place with only a handful of interesting sites like the picturesque Bessborough Hotel or the avant-garde Remai Modern. Far to the north of the city, you'll find a collection of over of 10,000 gorgeous lakes for which Saskatchewan is very proud of.
Next to Saskatchewan is Manitoba and it has slightly more going on. Its capital Winnipeg, is a surprisingly busy city that is worth staying in for a few days (but only a few). Outside of the city is the Interlake region, which is home to some very expansive lakes that actually have beaches! Onwards to the northern reaches is where you'll find lots of wildlife viewing opportunities.
Long ago, Manitoba was once the edge of the Canadian frontier. Many forts were built to serve as launching points into the West and several of these still exist today. Lower and Upper Fort Garry(s) are excellent examples and a visit to either would provide wonderful insight into Canada's history.
In terms of wildlife, Manitoba is a menagerie full of Canada's most iconic creatures. When visiting a refuge, like Riding Mountain National Park, visitors can spot all kinds of animals.
Backpacking the Atlantic Provinces
The Atlantic Provinces are some the oldest, most rugged communities in the whole of Canada. They include, in addition to Nova Scotia, Prince Edward Island, New Brunswick, and Newfoundland and Labrador. Here you'll find remnants from the very first settlers of the country, including Vikings and Acadians, the latter of which is the offspring of the original French colonials.
New Brunswick is probably the first province that you'll reach should you be traveling from the interior. This province is dominated by trees and enclosed by a mighty, sometimes violent sea. It's capital, Fredericton, is a bit sleepy but most people visit this province for the outdoors anyways. Fundy National Park is the province's favorite outdoor retreat.
Near New Brunswick is Prince Edward Island. This is a small province that is pretty much dominated by its singular city, Charlottetown. This is where you'll find the majority of Prince Edward's accommodation and things to do.
To the north is the expansive Newfoundland and Labrador, which is, perhaps, the most enthralling of all of the Atlantic Provinces. Composing of two landmasses, Labrador is a part of the mainland while Newfoundland is a large island to the southeast.
Most people base themselves in St. Johns, which is the largest city in Newfoundland. From here, travelers can participate in several activities, from taking a boat to one of many seaside communities to whale watching to hiking in the superlative Gros Morne and Terra Nova National Parks.
Note that, because of their isolation and far-flung heritage, people from these provinces speak and behave in very distinct ways. A third of New Brunswick' speaks Acadian, which is an offshoot of French. Newfoundlers speak an old version of English that sounds really strange at first. Bear with the locals and you'll be fine though.
Backpacking The North
Here we are in the Great White North and on the other side of "the wall," if you will allow the Game of Thrones reference. There are no White Walkers present though; only some of the most beautiful landscapes that you could possibly. Here are mountains that could put Patagonia to shame, rare creatures, and the ever-elusive Aurora.
Three provinces compose the North: Yukon, Northwest Territories, and Nunavut. These are some of the most sparsely populated places on Earth. Being so far north, the geography is mostly tundra, boreal forest, and glacier-carved mountains. Peoples of the First Nation, including Inuit, are the primary inhabitants here and they see very few visitors throughout the year.
Visiting the North can be a huge and expensive undertaking as visitors will have resort to several means of getting around, which really add up. Roads range from pleasant to maddening at times, as the weather can easily shut down whole networks, either because of flooding or snow. Travel by boat will sometimes be necessary to reach some ultra-remote destinations, especially so in Nunavut.
Should you make it this far though, your efforts will be totally rewarded. Here are some of the most beautiful places in Canada. Locations of special note include Auyuittuq National Park on Baffin Island (Nunavut), Kluane National Park and Tombstone Provincial Park (Yukon), and the settlement of Yellowknife (Northwest Territories), which is one of the best places in the world to view the Northern Lights.
Because of its isolation, the western fjords of British Columbia may also be a part of this section. Those who want to take a long detour should consider dropping by off-the-beaten-path destinations like Bella Coola, Fiordlands, Haida Gwaii, and the Great Bear Rainforest.
Top Things to Do in Canada
1. Kayak around Vancouver
Vancouver is one of the coolest places in Canada and, arguably, one of the most gorgeous cities in the world. Grab a kayak and admire this metropolis from afar while paddling in English Bay.
2. Go trekking in the Canadian Rockies
The Canadian Rockies are one of the most beautiful places in Canada! Plan a multi-day trek in the wilderness or make day hikes while staying in one of the many charming mountain towns.
3. Explore the many neighborhoods of Toronto
Toronto is one of the most diverse cities in the entire world. Consequently, it is full of wonderful neighborhoods that are inhabited by dozens of different ethnicities. Explore them all and sample a little bit of culture from each.
4. Go skiing in one of the many mountain towns
Canada is full of quaint little mountain villages, which are among the best places in Canada to visit in the winter! Book a cabin and go skiing, snowshoeing, boarding, or just have a drink or ten at the local dive.
5. Visit Niagara Falls
Niagara Falls is one of the greatest waterfalls in the world. When planning a trip to Canada, a visit to these gargantuan falls is an absolute must. It's possible to stay near the falls as well.
6. Party it up in Montreal
Montreal's nightlife is legendary among those backpacking through Canada. Be sure to stay a few nights in this dynamic city and a few nights more to recover from that hangover.
7. Attend a hockey game
Ice hockey is Canada's favorite sport and attending a match should be mandatory. Watch this fast, action-packed and get ready for some blood.
8. Roadtrip across the country
There's so much open space and off the beaten destinations in Canada; having your own car will allow lots of freedom and flexibility when backpacking Canada. It'll be a wicked good time as well!
9. See the Aurora in the Great White North
There are few sights in this world that are as magical as the Northern Lights; Canada is one of the best places to see them as well! Visit one of the northern outposts, like Yellowknife, during the winter to see the Aurora in all of its glory.
10. Get a History Lesson in the Atlantic Provinces
Some of Canada's most far-flung destinations house some of its greatest histories. In the Atlantic Provinces, where Canada was first settled, travelers will find many interesting relics, from archaic languages to odd customs to aging artifacts. Visit these parts to discover the real Canada.
Backpacker Accommodation in Canada
Canada is full of wonderful hostels and backpacker lodges! Those backpacking through Canada should have little problem finding a place to stay, even in the wilder and more remote parts of the country.
Hostels are the primary form of backpacker accommodation in Canada and there's plenty of them. Big cities, like Toronto, Montreal, and Vancouver, will have larger selections to choose from. The quality of hostels in these locations will also be very high as the facilities are modern and the vibes are awesome.
In my opinion, Canadian hostels are superior to the Americans ones as they, for some reason, attract a greater international crowd and just feel more lively.
Canada has wilderness hostels as well! These behave very much like mountain refuges and are mostly located in the national parks. Most are accessible by car but there are many that can only be reached by walking, especially so in the winter when most roads are closed. These huts make for great bases in both the winter and summer and it's highly recommended to book one at least once.
Couchsurfing is a great option for those who are trying to save as much money as possible while backpacking Canada. Canadians are famously polite and extremely good hosts. Staying with a local could be a great way of experiencing this amazing country.
The Best Places to Stay in Canada
Canada Backpacking Costs
Don't let the value of the Canadian dollar fool you – even though it may be less than the USD, Canada can be a pretty expensive place, more so than the USA at times. Lavish spendings, like eating out often, drinking a lot or taking copious flights, can quickly drain your pockets when backpacking in Canada. To maintain a steady budget and avoid depleting your funds, it is important to have good habits.
An average daily budget for backpacking Canada will be around $40-60. This will get you a dorm bed, groceries, the occasional restaurant meal, plus some extra spending money. Note that this budget doesn't account for renting a car, which is the best way to experience Canada.
The average dorm room bed will cost around $20-$30. Camping may be a more budget friendly option at times though some campgrounds will cost the same as a dorm bed. Be sure to check for free campsites around Canada to save cash. Couchsurfing is also a good way to cut costs when you're looking for a place to stay in the cities.
As I always suggest, cooking your own food and buying your own booze will be some of the best ways to save cash. Prepare meals and then, if you're planning on going out, prefade at the lodge before hitting the bars – better to show tipsy already than to spend more money on overpriced drinks.
There are a number of budget-friendly ways of traveling within Canada including long-distance buses, hitchhiking and ride sharing. Should you decide to rent a car, which is highly recommended, it'll set you back about $30-70/day. Because of higher taxes, gas can be expensive in Canada as well – research where the cheapest gas is.
A Daily Budget in Canada
*Prices listed in this table are in USD, not Canadian.
Money in Canada
The official currency of Canada is the Canadian Dollar or "loonie." As of May 2018, the official exchange rate of the Canadian Dollar is 0.78=1 USD.
American currency is widely accepted in most parts of Canada as well. Paying with American dollars at a private business means that the exchange rate will be at the business' prerogative though. Private rates are almost always fair and can even be better than the official exchange rate at times. Relying solely on this practice can be reckless though as there's always a chance that you'll get a shitty rate from some frugal shop owner.
ATMs are widely available in nearly every part of the country. Most ATMs accept the usual forms of card and dispense both American and Canadian dollars. Note that withdrawal fees can be quite high especially with third-party machines. Stick to official banks and exchange offices for the best withdrawal fees.
Let me point out that the unequal exchange rate between the Canadian and American dollar is a little misleading. Even though the Canadian dollar is less than the American, Canada is often more expensive than the US. This is because Canadian taxes are quite high compared to America and, as a consequence, you almost always end up paying more than you thought. Buy local goods to avoid higher prices caused by import taxes and maybe wait until you go backpacking in the US to splurge on products.
Top Tips for Broke Backpackers
Camp: With plenty of gorgeous places to camp, Canada can be a great place to camp in rural areas. You can also ask to pitch a tent in people's yards. Check out this post for a breakdown of the best tents to take backpacking. If you're feeling real adventurous and want to save some cash, consider picking up a backpacking hammock.
Cook your own food: If you are on a tight budget, you can save money by cooking your own food – I recommend bringing a portable backpacking stove.
Book your transportation early: Both plane and train tickets are much cheaper if you purchase them in advance. This rule does not apply to buses, which you can often book within the day or even hour.
Couchsurf: Canadians are awesome, but I would be cautious if you are a woman traveling alone. Check for reviews. That being said, Couch surfing to make some real friendships and see this country from the perspective of locals.
Why You Should Travel to Canada with a Water Bottle
Plastic washes up on even the most pristine beaches… so do your part and keep the Big Blue beautiful
You aren't going to save the world overnight, but you might as well be part of the solution and not the problem. When you travel to some of the world's most remote places, you come to realise the full extent of the plastic problem. And I hope you become more inspired to continue being a responsible traveller.
Plus, now you won't be buying overpriced bottles of water from the supermarkets either! Travel with a filtered water bottle instead and never waste a cent nor a turtle's life again.
Best Time to Travel to Canada
There's a popular saying in Canada that there are only two seasons in the year: Winter and July. Because Canada is so far north, it can certainly feel cold more often. Jokes aside, there are definitely four observable seasons in most of this country though.
Though brief, summers are usually warm and dry while winters are almost always cold and snowy. Many coastal settlements, like Vancouver, benefit from a milder, maritime climate, while the interior ones, like Calgary, are battered by frigid Chinook Winds. Obviously, it gets colder the father norther you go but few will have to consider this since the grand majority of civilization is in the south of Canada.
Visitable year-round, traveling to Canada is really a matter of what you want to do and see. Summer is a predictably busy time in the country as people are enjoying the warmer weather. There are many festivals during this time. Lots of people head outdoors in the summer as well when the trails and campgrounds are free of snow.
Visiting Canada during the winter can be a very different experience. The city streets may be devoid of people because it's either too cold to go outside or everyone's left to go skiing for the weekend. You can definitely count on this latter phenomenon; the ski resorts will be absolutely packed in the winter. If can handle the cold temperatures, winter is a very good time to be in Canada.
Spring and autumn are lovely times to go backpacking in Canada even if they're very brief. Lasting maybe a month or two each, temperatures are cool and the flora is astounding as everything is either blooming or changing colors. Prices will be slightly more moderate and tourists will be more sparse as well.
There are heaps of amazing festivals to attend in Canada! The grand majority of festivals occur in the summertime when the weather is pleasant and the locals begin to emerge from their winter hibernation. Canadians absolutely go berserk at these celebrations and hold nothing back!
Below is a list of the top festivals in Canada.
Quebec Winter Carnival (February) – Celebration of all things winter. Includes parades, ice skating, sleigh races, dance parties, and much more. Held in Quebec City, Quebec.
Pride Toronto (June) – One of the largest gay pride celebrations in the world.
Montreal International Jazz Festival (late June-July) – One of the largest Jazz festivals in the world. Features over 20 stages and 3,000 artists.
The Celebration of Light (July) – Magnificent firework shows w/ live concerts. Organized as a competition, where several nations battle to have the best show. Held in Vancouver, BC.
Calgary Stampede (July) – Canada's premier rodeo event. One of the largest outdoor festivals in North America that attracts millions of visitors.
Pemberton Music Fest (July) – 10-year-old music festival that is quickly becoming one of the most highly regarded in Canada. Set in the mountains (Pemberton, BC) and features acts from all musical styles.
Just for Laughs (July) – The largest comedy event in the world. Many of the greatest comedians started their careers at this festival. Held in Montreal, Quebec.
Shambala (August) – One of Canada's best electronic festivals. Lasts 4 days. Held near Nelson, BC in the Kootenay.
Toronto International Film Festival (September) – One of the most important film festivals in the world.
What to Pack for Canada
On every adventure, there are six things I never go traveling without:
For plenty more inspiration on what to pack, check out my full backpacking packing list.
Staying Safe in Canada
Though Canada is regularly ranked as one of the safest countries in the world, crime still does occur from time-to-time. Petty theft and robberies, though very rare, do occur more frequently in the larger cities like Toronto and Calgary. Travelers should exercise caution when wandering around urban areas as things can still go wrong.
Chances are you'll be attacked by a wild animal before another human while backpacking in Canada. Bears are a very real threat in Canada that can really fuck you up should you become cross with one. Bear deterrence should always be practiced while hiking in Canada. If you see a bear in an urban area, be sure to report it to the local authorities who will be able to deal with the creature in a safe manner.
In addition to bears, moose and bison can be dangerous as well. These are huge, powerful animals and can be territorial especially during mating season. Just do yourself a favor avoid anything bigger than you when traveling to Canada.
Those backpacking in the Canadian backcountry must take the utmost precautions. Hiking in the Canadian Rockies or in any remote place for that matter is not like a jaunt in the Alps – these are real wildernesses where there is little to no infrastructure to support you. If you find yourself in a dire situation while out in the middle of nowhere, chances are that you're fucked.
Always be prepared when venturing out into the Canadian wild. Research the trails, have the proper forms of navigation and pack accordingly. Bring bear spray, a bear can, enough food and water, and the 10 Essentials. You'll be glad that you did.
Sex, Drugs, and Rock 'n' Roll in Canada
Docile and sensible reputation be damned – Canadians still love to get rowdy and have a good time! Whether they are trying to escape the frigid cold of winter or enjoy the few summer months that they get, Canadians will find a way to party.
The legal drinking age in Canada is between 18-19 years old depending on the province. Beer and the country's distinctive rye whiskey are the beverages of choice here but popular spirits, like vodka and tequila, can also be purchased.
The larger cities are usually the best places to party. It's already been said but Montreal is one of the best party cities in the world. Other metropolises like Toronto and Halifax have very active nightlives too. During the peak seasons, many mountain towns become microcosms of mayhem – Whistler, in particular, is known to be extra raucous in the winter.
Good news for pot heads: weed's set to be legalized by the end of the summer (2018)! It's been a long process with lots of delays but all signs are pointing to recreational use. Lovers of that BC Bud and Manitoba Poison will be able to smoke in peace very soon. Until weed is legailzed though, possessing it is still a crime so be careful.
Drunk driving in Canada is a very serious crime. 0.08% is the official rate that you can be tried for drunk driving in Canada, though people can still be fined for as low as 0.04%. Checkpoints are randomly set up throughout the provinces, which serve to pull over cars and do random testings.
Should you be caught driving drunk in Canada, you could face some grave consequences. Deportation will probably be assured, not to mention the possibility of real jail time. Just don't drink and drive, eh?
Travel Insurance for Canada
Traveling without insurance would be risky so do consider getting good backpacker insurance sorted before you head off on an adventure.
World Nomads' mission is to support and encourage travellers to explore their boundaries. They offer simple & flexible travel insurance, and safety advice to help you travel confidently.
They've been doing it since 2002 – protecting, connecting, and inspiring independent travellers just like you.
Get a quote below or read our in-depth review!
World Nomads provides travel insurance for travelers in over 100 countries. As an affiliate, we receive a fee when you get a quote from World Nomads using this link. We do not represent World Nomads. This is information only and not a recommendation to buy travel insurance.
How to Get into Canada
Travel in Canada is very straightforward as the country benefits from an excellent transportation network and well-maintained highways. Arriving from an international destination is also a breeze as Canada is serviced by many flights and shares a border with only one other country. Those backpacking through Canada will have many options when comes to entering and getting around the country.
Entry Requirements for Canada
Those who travel to Canada will need either an eTA or a Temporary Visitor's Visa to enter the country. The following list outlines which countries need an eTA and which need a Temporary Visitor's Visa. Note that citizens of the USA and Saint-Pierre and Miquelon don't need a visa at all.
So what is an eTA in Canada? eTA stands for electronic transit authorization and essentially acts like an online visa. An eTA, once acquired, costs $7 and lasts 5 years. Note that eTAs are only valid if you're entering by air, which is 90% of cases. Upon arrival, you'll still need to pass border control vetting processes. Refer to this website for more information on eTAs.
When arriving in Canada, travel documents will need to be ready and relevant. Canadian customs is very strict and only allows people who meet certain standards inside. You will need to pass a "character assessment" and prove that you're not a miscreant or otherwise.
Health and finances will sometimes be taken into consideration when applying for Canada travel visa. A signed bill of health from a doctor will be beneficial to entering Canada. Having a recent bank statement to prove adequate funds may also help. Though rare, credit history may be also be assessed – outstanding debts and/or bankruptcies may hurt your chances of acquiring a travel visa for Canada.
There are working holiday and longer visiting visas that are perfect for a gap year in Canada.
When judging visa applications, Canada looks most scrutinizingly at criminal history. Anyone with a serious crime on their record may be banned from entering Canada for several years. What constitutes a serious crime is dependent on Canadian law e.g. drunk driving is a misdemeanor in the USA but a felony in Canada, which is grounds for denial. Concerned applicants should refer to this webpage for more information on this subject.
There are a number of land borders with the US including the one between Detroit and Windsor, Canada.
For those looking for a working holiday without the hassle, consider going with Global Work and Travel. You'll get working holiday visa guidance as well as a guaranteed interview before you step on a plane (with unlimited chances to re-interview).
How to Get Around Canada
Almost every major Canadian destination is reachable via bus, train, plane, or ferry. Should you rely on public transport, buses will be the most affordable way of getting around. Trains and planes have limited routes and are notoriously expensive. This is more so the case as you get off the beaten path and venture into the far northern regions. It's at times like this where you'll wish you really had your own ride.
The best way to get around Canada is by having your own car; with it, you'll be able to come and go as you please. For visiting some far off locations, like Jasper National Park or Gros Morne, having a car is mandatory as there are no buses in these places aside from private ones, which are available only by expensive tours.
If you're feeling even more adventurous, get yourself a rental RV in Canada!
Rentals are the most popular form of vehicular travel for those backpacking in Canada. Rates can be reasonable and you may even get a better deal should you decide to rent long term. Having your own vehicle will allow you to car camp as well, which can save you heaps of cash should you stick to the free campsites. Make sure you also purchase a RentalCover.com policy to cover your rental vehicle against any common damages such as tires, windscreens, theft, and more at a fraction of the price you would pay at the rental desk.
Because it takes so long to see and travel, many people just end up buying their own beater for Canada road tripping. The pros of doing this are that you'll be able to sell the car at the end of your trip and get some if not most of your money back. You'll have to acquire (expensive) car insurance though, whose rates vary depending on the province that you're applying in.
Hitchhiking in Canada
Hitchhiking in this country is pretty standard by way of practices and etiquettes. Most drivers will be very welcoming and quite talkative. Should the driver turn out to be a little nutty, just politely ask them to drop you off.
The prime places to find a ride in Canada are on the edge of towns/cities or around a wide roadside shoulder. Gas stations may be an inconvenient place to hitchhike as truckers are not legally allowed to pick up passengers – they'll do so outside of town when no one is looking though.
The biggest obstacles when hitchhiking in Canada are the weather and remoteness of some locations. In winter, temperatures can drop to near fatal levels and thunderstorms/wildlife are very active in the summer – best not to deal with either.
Hitchhiking in Canada should be treated like a wilderness experience in that you need to have all of your supplies on you should the shit hit the fan. Have some sort of shelter and food on you when sticking your thumb out – just in case.
Should you become a pro at finding free rides in Canada, the country will open up to you. There's so much to do and see on the road in this country that you may find hitching vastly superior to driving or taking public transport.
Onwards Travel from Canada
Unless you plan on flying out of Canada or sailing to the North Pole, there's only one real onward destination from this country: the good ol' U S of A. While both countries maintain very friendly relations, travel to Canada from the US and vice versa can still be a bit of a process, if not a headache at times. It is very important to take the United States border crossing seriously if you intend to go backpacking there.
When crossing the border into the United States by car, you should have the following paperwork ready: 1) proper identification 2) a valid visa and 3) car registration. You must also be prepared to answer lots of questions and be compliant with searches. Having been subject to many an inquiry from the US-Canadian border control, I can definitely say that these are some of the strictest officers that I've encountered. Both Canada and the US don't fuck around when it comes to their borders.
If you're a Canadian or US citizen crossing each other's borders, be sure to have your documentation ready. If you're traveling to Canada by car, driver's licenses are usually an acceptable form of ID though border patrol may ask for passports in addition. Have the proper car insurance as well; special non-resident insurance is sometimes but not always required for entering Canada.
If you're not a citizen of Canada or the US, you need to take a few special precautions. Keep your Canada travel documents on hand to appease guards. Know also that time spent in Canada applies to the allotted days of your American visa i.e. spending 45 days in Canada while you have a 90-day American visa means that you've used 45 days.
Check out our epic guide on visiting the United States!
Backpacker Work in Canada
Being one of the more better-off Western nations, the costs of living are pretty expensive in Canada. Having a regular, relatively high-paying job is pretty crucial to living here.
Canada is one of the few nations in the world that offers Working Holiday Visas and these are without a doubt the easiest way to score work as a traveler. These visas are only available to certain nationalities though, like Ireland and Australia. You will find that Canada is full of Auzzies with working holiday visas.
For more information on the Canadian Working Holiday Visa scheme, you should check the official site here.
If you're a digital nomad and plan on working while traveling in Canada, then you shouldn't have to worry about staying connected. Canada is a modern nation with very reliable internet speeds. Public Wifi can be found in most cafes and restaurants in the urban areas and is usually available to paying customers.
Note though that in the north of Canada, internet is notoriously expensive and very dodgy.
If you do not qualify for a Working Holiday Visa and are not a digital nomad, then, never fear, there are still ways to extend your trip in Canada. You can volunteer.
Volunteer in Canada
Volunteering overseas is a great way to experience a culture whilst doing some good in the world. There are lots of different volunteer projects in Canada which you can join ranging from teaching, to animal care, to agriculture to pretty much anything!
Canada may not need as much volunteer help as less-developed countries, but that doesn't mean that opportunities are hard to come by. Whether you have skills in housekeeping, farming, web design, or anything in between, you'll find some great volunteering opportunities. You usually won't need a work permit on top of your visa to volunteer in Canada, but it can vary depending on what you're doing.
If you want to find volunteering opportunities in Canada, then we recommend that you Signup for Worldpackers – a volunteer platform that connects local hosts directly with traveling volunteers. As a Broke Backpacker reader, you'll also get a special discount of $10 when you sign up. Just use the discount code BROKEBACKPACKER and your membership is discounted from $49 a year to only $39.
Volunteer programs run through reputable work exchange programs like Worldpackers are usually very well-managed and reputable. However, whenever you are volunteering, do stay vigilant especially when working with animals or children.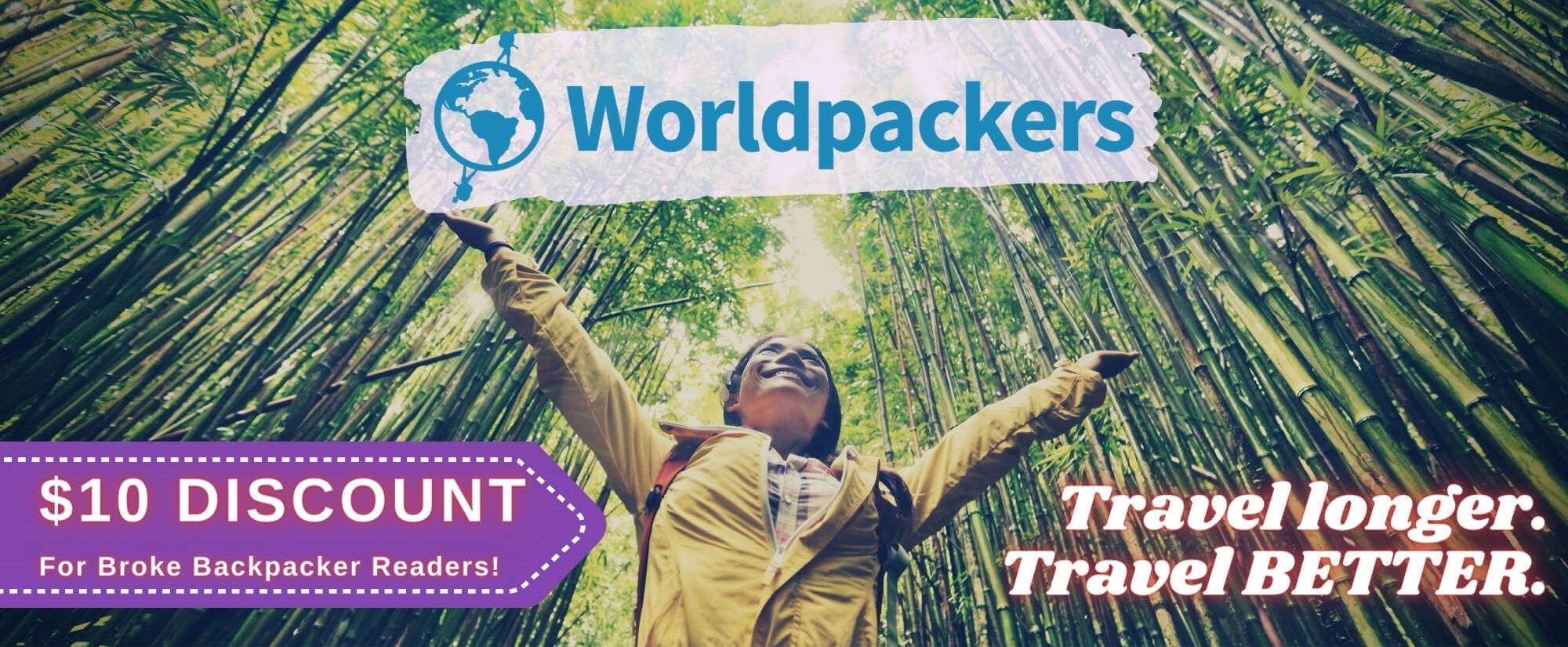 Worldpackers: connecting travellers with meaningful travel experiences.
What to Eat in Canada
Canadian cuisine is a usually rich and hearty affair that draws inspiration from many domestic and international sources. The primary influences in Canadian cooking are from England, France, and an assortment of First Nation peoples. Canadian cuisine is highly variable based upon the region as well – food from Quebec will obviously be more French in nature while that from the Atlantic Provinces will resemble more Scottish or English cooking.
Because of its multiculturalism, Canada is full of cooking styles from all over the world. Asian cuisine, particularly Chinese, is very popular in Canada, especially so in British Columbia. Many European styles can be found in Toronto and Montreal. Middle Eastern and Jewish food are also quite prominent in the larger cities.
So diverse is Canadian cooking that many people – even the locals – have trouble identifying what "true" Canadian cuisine is. It's frankensteinian nature combined with the fact that it coincides so much with American cooking lead many people to just lump the both into the same category. Canadian food is and should be considered distinct though as it has many unique characteristics that set it apart from American cuisine.
Popular Canadian Dishes
Below is a list of Canada's most popular dishes for your pleasure.
Canadian Culture
Canadians definitely have a reputation of being an extremely friendly, warm, and polite people. They're so nice that Canadians are often the butt of endless jokes, most of which are spewed by their American neighbors. To be honest though, a lot of Americans, myself included, are really just jealous of Canada and its people. As tweeter @Dre_77_ aptly put it: "Every time I hear a mean joke about being Canadian, I go right to the hospital and get my feelings checked for free." Burn.
Canadians are just so damn happy all of the time and for good reason! They live in an amazing country, full of beauty, wealth, opportunity, and free health care – Canadians really have a lot going for them. If it were my decision, there's no doubt in my mind as to which passport I'd choose; I'm digressing though.
Canadians are a supremely generous and well-off people. They are almost always cheery and very accommodating to any and all sorts of people. Some Canadians may get slightly offended when they are made fun of by their American neighbors but I think that most shrug this off. Canadians are overall pretty confident in their own nation's worth.
When I say that Canadians will accept any type of foreigner as well (minus criminals), I mean it. Canada is an extremely diverse place and racially one of the most equal places in the world. A quick glance at the demographics of a city like Toronto will confirm this as no single ethnicity is in the majority. Nearly every shade is represented and championed in Canada, from the Asian population in Vancouver to the strong Arabic community in Montreal.
Useful Canadian Travel Phrases
Canada has two official languages: English and French. Both have a uniquely Canadian flavor.
If you've read this far into the article, I won't bother explaining the intricacies of the English language – it's clearly not lost on you. I will say that accent-wise Canadian English is almost identical to American English albeit with a few peculiarities. The classic Canadian accent e.g. 'aboot' is most prominent in the central-east regions – Vancouverites have a more neutral tone and the Atlantics speak a form of old English.
French is the language that most should study before visiting Canada. Quebecers, though usually proficient in English, use French 99% of the time and prefer to speak it. Most labels and road signs will exclusively be in French as well. Note that a lot of cafes and restaurants will still have an English menu.
Quebecian French is very similar to native French and speakers of both will have no problem understanding one another. Quebecian French does have a distinct accent, which, for some reason, does annoy some continental French people. The French jokingly refer to the Quebecian variety as "fake French", which the Quebecers don't really appreciate. Stay away from this subject to avoid being ostracized.
To help you on your journeys, I have written the pronunciations for a few French phrases with English translations.
Books to Read While Traveling Canada
These are some of my favorite travel reads and books set in Canada, which you should consider picking up before you begin your backpacking adventure…
Brief History of Pre-20th Century Canada
Prior to the arrival of Europeans, Canada was home to a myriad of indigenous peoples. Huge swathes of Canada were inhabited by the likes of the Iroquois, Algonquin, Shuswap, and Inuit and for many eons they flourished. Experts believe that the precursors to these peoples arrived in Canada via the fabled Bering land bridge that once connected Russia to Alaska.
The first white men to reach Canada were the Norse Vikings in 1000 AD, who established the first extra-European settlement at L'Anse aux Meadows in Newfoundland. Not much is known about this period of Viking settlement except that it was short lived. After fleeing the New World for whatever reason, no European would step foot on Canada for another 500 years.
During the Age of Exploration, several European sovereignties would survey the lands of Canada over the course of many expeditions. France was particularly interested in the New World after the English made claims upon the arrival of John Cabot. It was at this point that the race began – both England and France began to make huge land grabs and establish regular colonies.
Tensions were high during the formative years of a European Canada. France and England fought countless wars between themselves, rebels, and Indian tribes. After the Seven Years War ended in 1763, France would cede the Canadian territories to England.
Governing such a landmass proved difficult for the English though. Between its sheer size and the ongoing conflict with the American revolutionaries, Britain struggled to defend their New World territory. So that Canada could be better self-governed, the English strived to make Canada an independent state. In 1864, Canada was officially confederated and became an independent member of the Commonwealth; this was the birth of a modern Canada.
Unique Canadian Experiences
Trekking in Canada
With nearly every type of landscape represented (even desert!) within its borders, Canada is one of the best countries in the world for hikers! Thanks to an extensive backcountry road and trail system, most of Canada's outdoors are relatively accessible by car as well. Having a 4×4 will be necessary in many places while in others, like Nahanni and Kluane, you will need more drastic forms of navigation, like bush planes and watercraft.
Of grave importance is bear prevention while trekking in Canada – these wild and powerful creatures are very active in this country. See the end of the Staying Safe section for info on dealing with bears.
If you're planning on going hiking in Canada, then you'll definitely need a tent. Also, consider buying a sleeping mat or a hammock instead. A wilderness stove will also be very useful for preparing food while you're in the backcountry for days at a time.
I always suggest getting a sturdy backpack as well, especially so if you intend venturing deep into the wilderness. My first backpack was a cheap one. Though it lasted a respectable amount of time, it would eventually be held together by duct tape and carabiners. Needless to say, it was far from waterproof.
Take my advice: invest in a quality backpack because by the end of your trip you'll be wearing it so much that it'll become an extension of your own body. You want the best.
I suggest the new Osprey Aether AG 70 backpack, which you can read about here, and don't forget to consider a daypack as well. A good daypack will be just as useful during your day-to-day activities and should slide nicely into your larger backpack.
The Best Trails in Canada
Below is a list of some of Canada's best trails:
The West Coast Trail – A trek that navigates through a large portion of southwestern Vancouver Island. This is a very serious trail that receives high amounts of rain – lack of waterproof gear may prove fatal. The coastal scenery is among the best in the world though.
Panorama Ridge Trail – Very popular hike that is within a few hours drive of Vancouver. Offers spectacular views of Garibaldi Lake and the Coastal Range; can camp at the former to make this an overnight trek.
Skyline Trail (Jasper) – Arguably the most scenic trail in all of the Canadian Rockies. A traverse that stays above the treeline, affording panoramic views for most of the walk. Requires permit.
Mount Assiniboine Trail – A hike to the base of the Matterhorn of the Rockies, Mount Assiniboine. Camp at Lake Magog and be sure to climb up The Nublet for the best views.
Berg Lake Trail – Trail leading to Berg Lake at the foot of Mt Robson, the highest peak in the Canadian Rockies. Passes by Emperor Falls and has multiple outlet trails at Berg Lake. Requires permit.
Long Range Traverse – An unmarked trail through the valleys and fjords of Gros Morne. Requires expert navigation skills that will be tested by park rangers prior to starting the hike. Requires permit.
East Coast Trail – A long-distance trail that runs north from Cappahayden to Portugal Cove on the coast of Labrador. Passes by over 30 seaside villages and offers spectacular views along the way. Voted one of the greatest adventures by Nat Geo in 2012.
Akshayuk Pass Trail – The top hike in Auyuittuq National Park. Offers a superlative Arctic experience. Allows views of Mt Asgard and Thor Peak, which are amongst the most distinct and beautiful mountains in the world.
Joining an Organized Tour in Canada
For most countries, Canada included, solo travel is the name of the game. That said, if you are short on time, energy, or just want to be part of an awesome group of travelers you can opt to join an organized tour. Joining a tour is a great way to see a majority of the country quickly and without the effort that goes into planning a backpacking trip. However—not all tour operators are created equal—that is for sure.
G Adventures is a solid down-to-earth tour company catering to backpackers just like you, and their prices and itineraries reflect the interests of the backpacker crowd. You can score some pretty sweet deals on epic trips in Canada for a fraction of the price of what other tour operators charge.
Check out some of their awesome itineraries for Canada here…
Final Advice Before Visiting Canada
Canadians are pretty easy going people and it'd take quite a lot to actually piss one off; such is the level of their nicety. Just because someone doesn't get angry or offended easily doesn't give one carte blanche to do and say whatever you want though – it's still necessary to act like a responsible human being here. Be respectful of the locals and they, in turn, will respect you.
Racism is, and always should be unacceptable behavior. Given Canada's large immigrant population, this topic is a particularly sensitive one to the population.
Be mind especially of those who belong to the First Nation. A collection of indigenous tribes, the people of the First Nation are very proud and usually keep to themselves. Be respectful and avoid words like "indian" or "eskimo," which are dated and offensive.
I said it once during this travel guide for Canada and I'll say it again: as an American, I really am jealous of what they got going in the Great White North. Canada is an amazing country: gorgeous landscapes, amazing citizens, culture out the wazoo; you name it they got it. If it was my choice, I'd trade in my passport immediately for a chance to join the Canadian ranks.
For travelers, backpacking in Canada is one of the best choices that they could make.
With this guide in hand, full of tips on travel in Canada, you have everything that you could need. Go walking in the Canadian Rockies! Have some poutine in Montreal! Lax on a beach on Vancouver Island! The possibilities are endless in this northern paradise called Canada.
---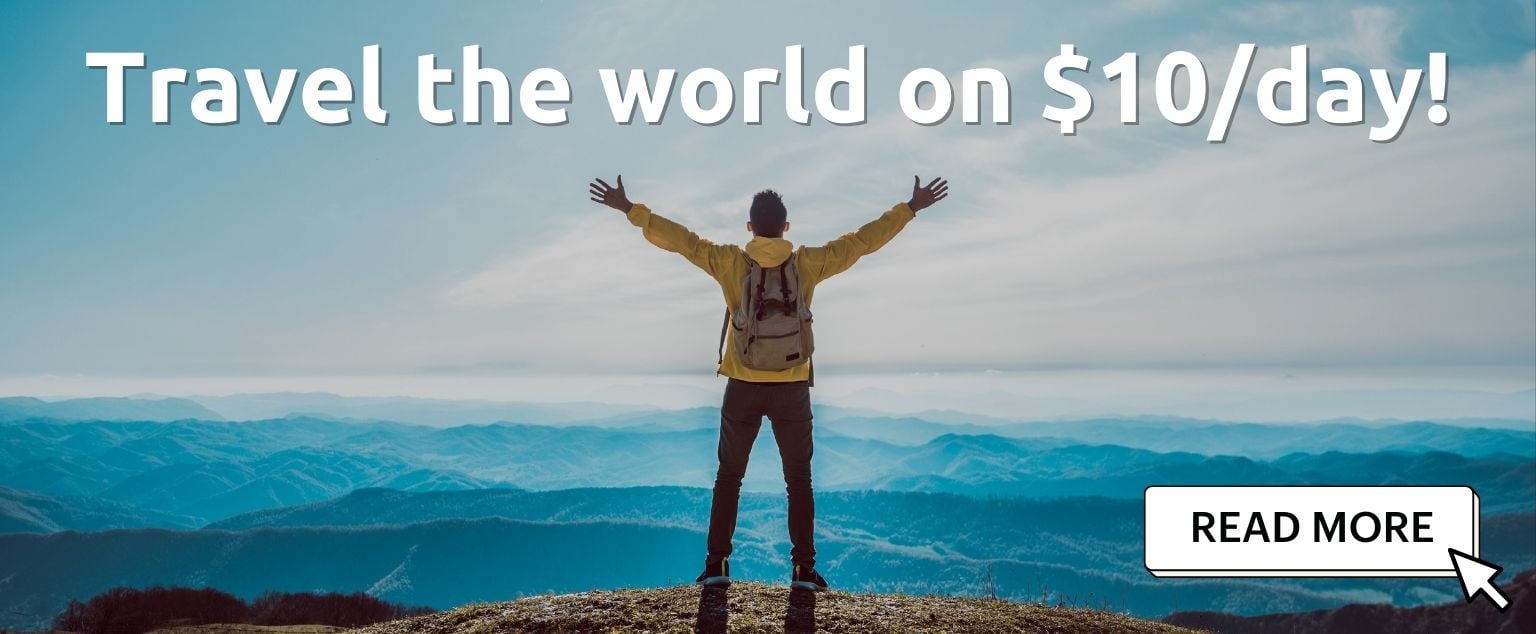 And for transparency's sake, please know that some of the links in our content are affiliate links. That means that if you book your accommodation, buy your gear, or sort your insurance through our link, we earn a small commission (at no extra cost to you). That said, we only link to the gear we trust and never recommend services we don't believe are up to scratch. Again, thank you!