As the second-largest country in the world, Canada is a vast land with a huge variety of attractions on offer to visitors! Though most of the population live in the urban areas – which are packed with restaurants, bars and landmarks – Canada is known for its stunning natural beauty along the coasts and in the Rocky Mountain region.
As such a large country, figuring out where to stay can be tricky! Whilst Ontario and Quebec are easily the most populated areas, other cities are well spread out across the country. Aside from the English and French divide between Quebec and the rest of Canada, every part of Canada has its own unique culture that will influence whether you want to stay there.
That's why we wrote this guide. We've consulted bloggers, travel experts and locals to come up with the eight best places to stay in Canada. Whether you want stunning scenery, vibrant dining scenes or unique cultural highlights – we have you covered!
So let's get started!

Unlock Our GREATEST Travel Secrets!
Sign up for our newsletter and get the best travel tips delivered right to your inbox.
Quick Answers: Where is the Best Place to Stay in Canada?
Map of Where to Stay in Canada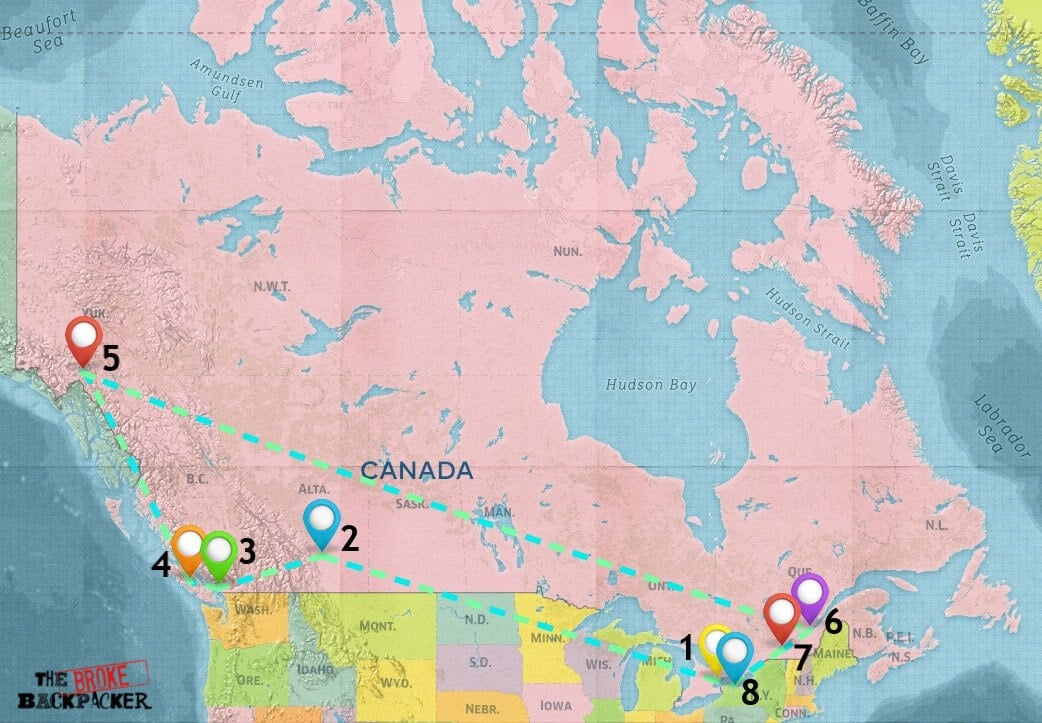 Toronto – Overall Best Place to Stay in Canada
Toronto is the largest city in Canada and is often the main gateway into the country! This eclectic melting pot is a great place to discover the country's vibrant culinary scene and multicultural attractions. Toronto is one of the most visited cities in the world, with something to offer everyone (there are a ton of great places to go).
The Downtown area, in particular, is world-famous for the CN Tower and gorgeous skyline! If you want to head out into nature, Toronto has some excellent parks on offer as well as boat rides along Lake Ontario.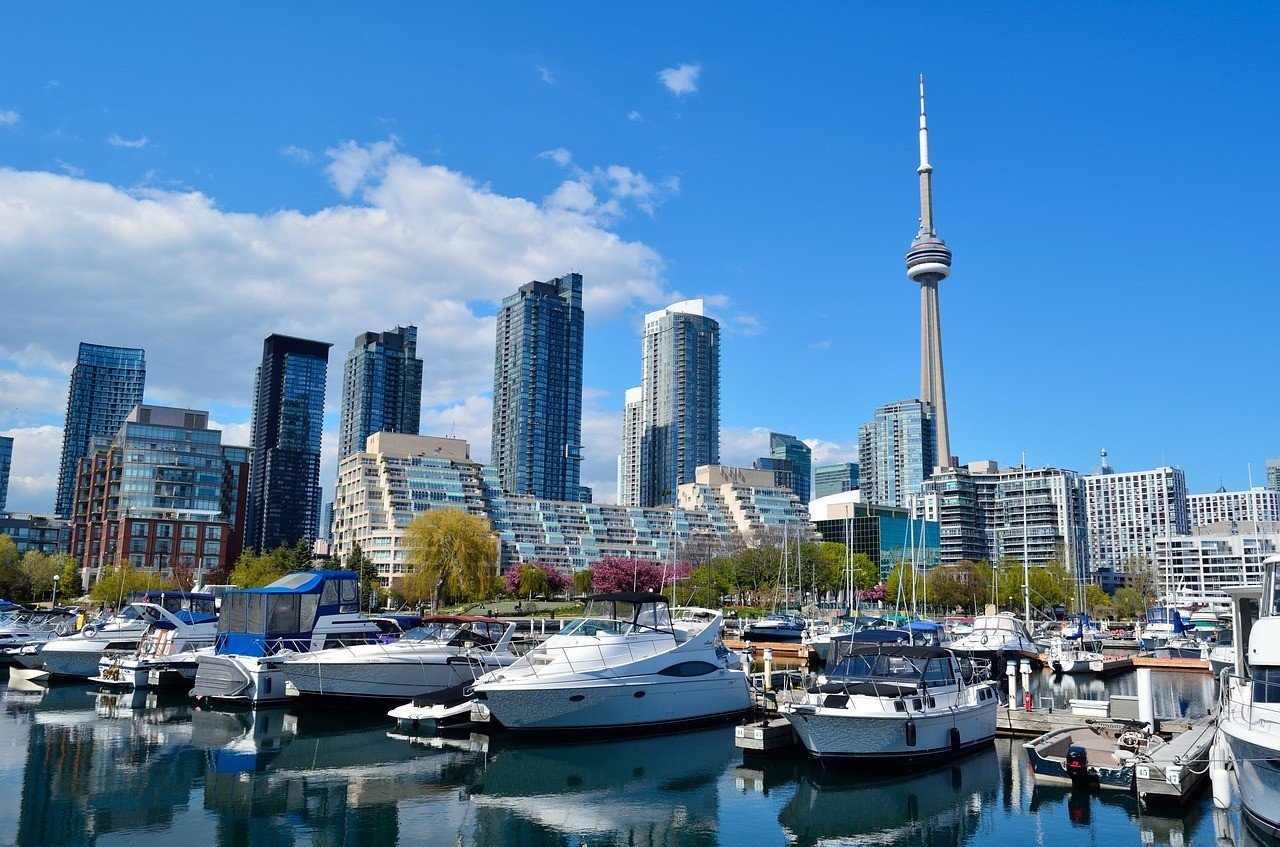 Toronto is also well connected with many other destinations in eastern Canada – including most of Ontario and Quebec! There are also regular trips into the United States for those taking a wider trip around North America. If you only have a short time in the country and want an overview of Canadian culture, Toronto is an absolute must.
Best Places to Stay in Toronto
The Downtown core is where you will find most of the main attractions, and is our top recommendation for those only in the city for a short while! Toronto does have plenty of great neighborhoods, such as Chinatown and Little India, that are a good way to soak up the multicultural atmosphere – and Yorktown is often considered one of the hippest destinations in the city.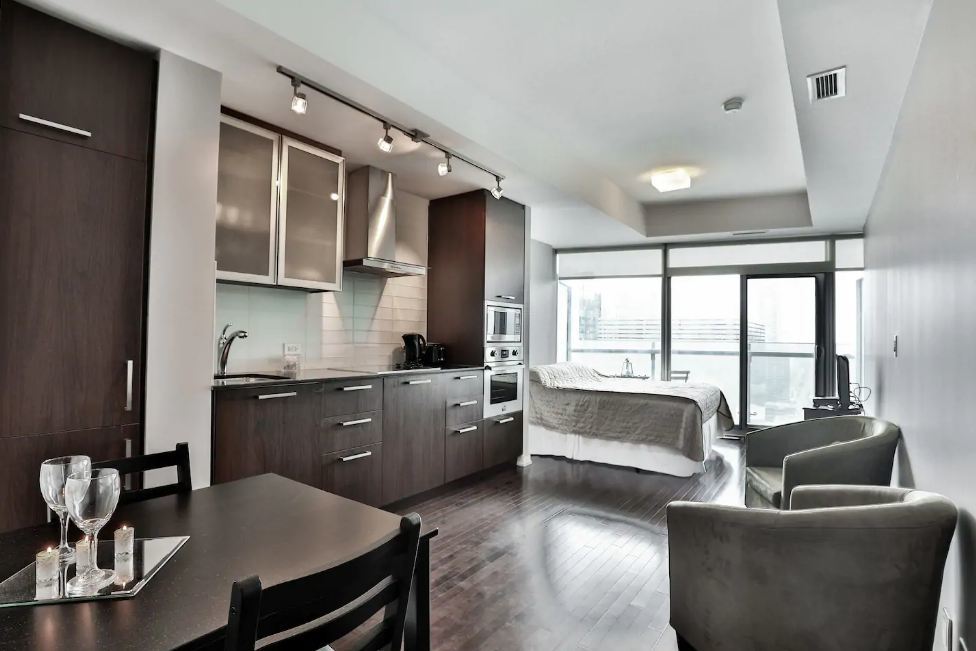 Towering above central Toronto, this apartment comes with a balcony that gives you unbeatable views of the CN Tower and other city centre attractions! It is only a short walk from the harbour – giving you immediate access to some of the most famous parts of the city. They provide self check-in, which is great for guests arriving late at night.
This creative hostel is the best rated independent backpackers accommodation in Toronto, and is immediately recognisable with the vibrant graffiti at the front! Though it is a little further out from the city centre than the chain hostels, its location in a budget-friendly neighborhood is perfect for saving some money in one of the most expensive cities in the world.
This four-star hotel is a great compromise for those that want to enjoy some additional comforts without breaking the bank! Right in the heart of Downtown Toronto, it is only a short walk from St Lawrence Market and other attractions. There is a great restaurant on-site, as well as an extensive fitness suite. A buffet breakfast is included.
Niagara Falls – Best Place to Stay in Canada for Families
A long-standing symbol of Canada (though partially in the United States), Niagara Falls has long been considered a must see attraction in North America! The Canadian side of Niagara Falls is the most heavily visited area – largely because it provides the best views of the falls themselves.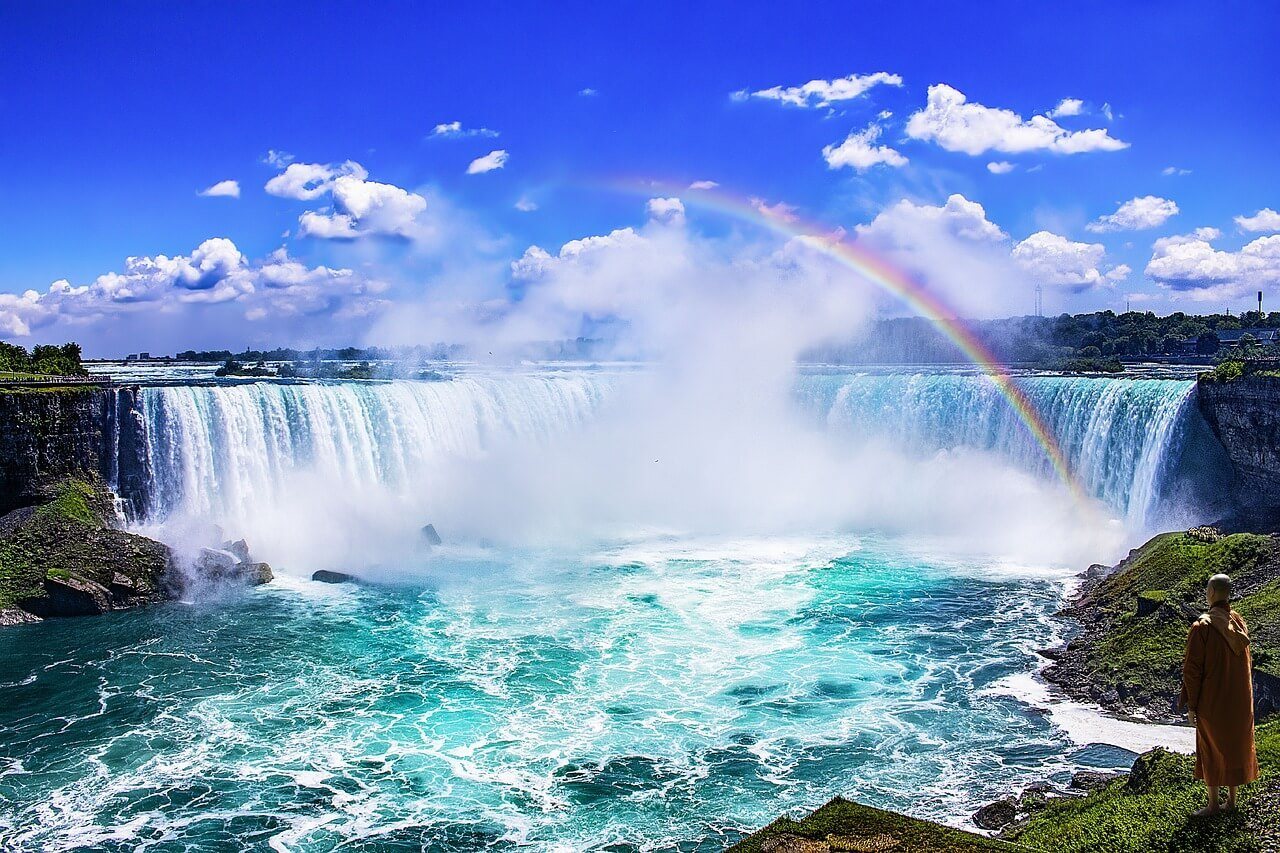 For families, Niagara Falls is packed with entertainment attractions, family-friendly hotels and grand restaurants that cater to adults and kids alike! Whilst this is easily one of the most touristy parts of the country, this is not without good reason. Niagara Falls has some excellent boat trips along the river – and even some nature trails beyond the falls.
Its location on the Canada-United States border also makes it an important city for travelling around the continent. Most journeys connecting New York City with Toronto pass through the area, and there are plenty of good connections heading further afield.
Best Places to Stay In Niagara Falls
The main tourist area in Niagara Falls is Fallsview! As the name suggests, this is where people come to get the best view of the falls themselves – but it also has the bulk of entertainment attractions. The downtown core, as well as the United States side, are great picks if you're on a budget. There are some lovely cabins in Canada, huts and lodges in Niagara Falls too.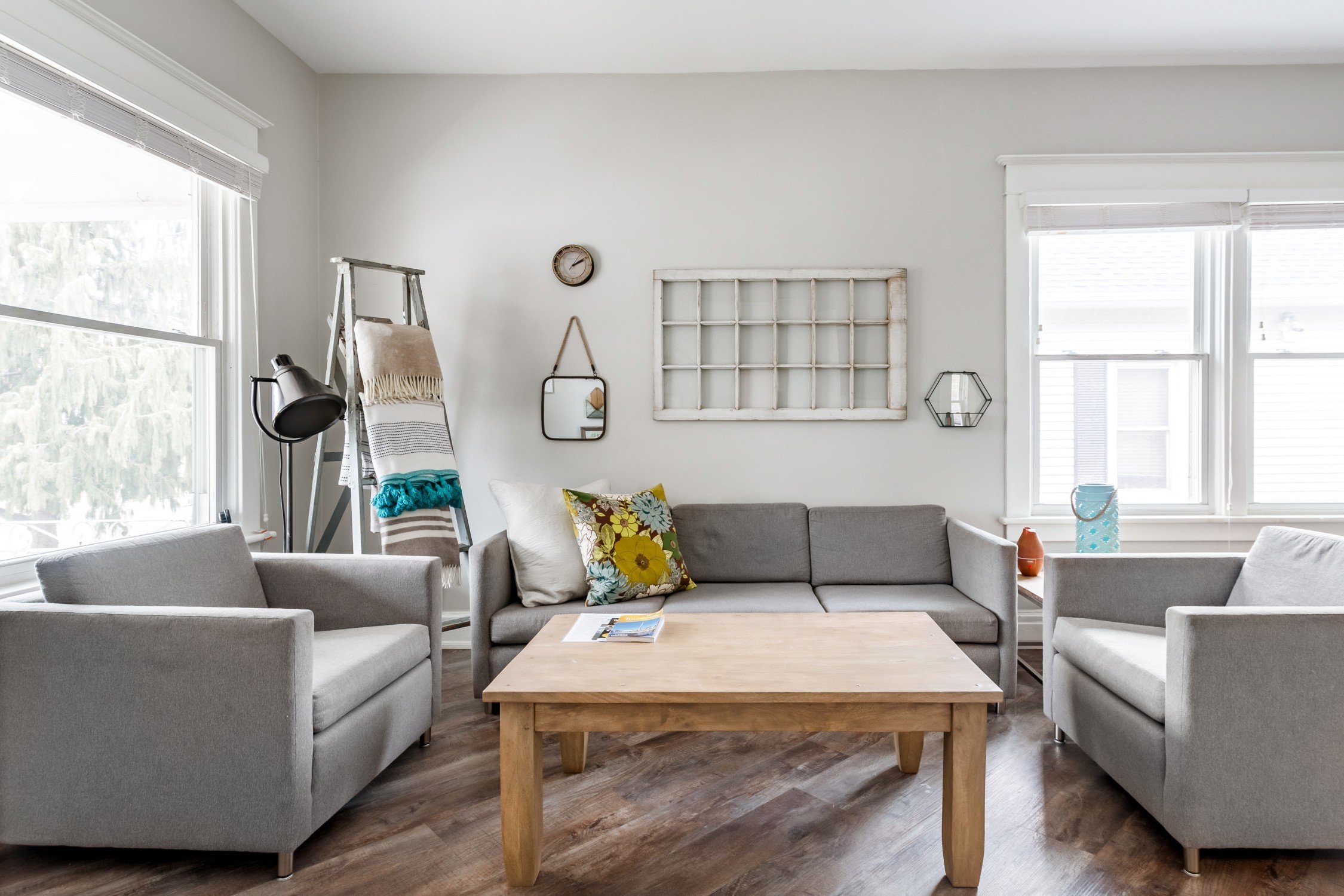 Best Airbnb in Niagara Falls: Renovated Home
Airbnb Plus is a range of properties on the website that are chosen for their beautiful interior design and excellent guest reviews! This gorgeous two-bedroom house is perfect for families staying in Niagara Falls that want the added privacy of their own home. It is only a short walk away from the Horseshoe Falls, with great public transport links to the tourist area.
Best Hostel in Niagara Falls: Let's Bunk
This small and basic hostel is relatively new – and is a great option for those on a tight budget that simply want a place to sleep! They provide a complimentary breakfast every morning, and there are a few excellent social spaces on-site. Rooms themselves are spacious, with limited guest numbers to ensure a calm and quiet stay.
This gorgeous hotel is not only located right in the heart of the main tourist district – but also enjoys views of the falls from the higher up rooms! The Fallsview Casino is right next door, with many of the main entertainment attractions only a short walk away. Rooms are furnished in the traditional colonial style, and the on-site restaurant offers a complimentary breakfast. All guests have free access to the observation deck.
Vancouver Island – Most Romantic Place to Stay in Canada for Couples
Vancouver Island is a vast region in the far west of British Columbia! As the largest island off the coast of North America, it deserves an article in its own right – with plenty of quaint towns and villages along the coast, as well as some gorgeous natural attractions with hiking trails, hills and forests around every corner.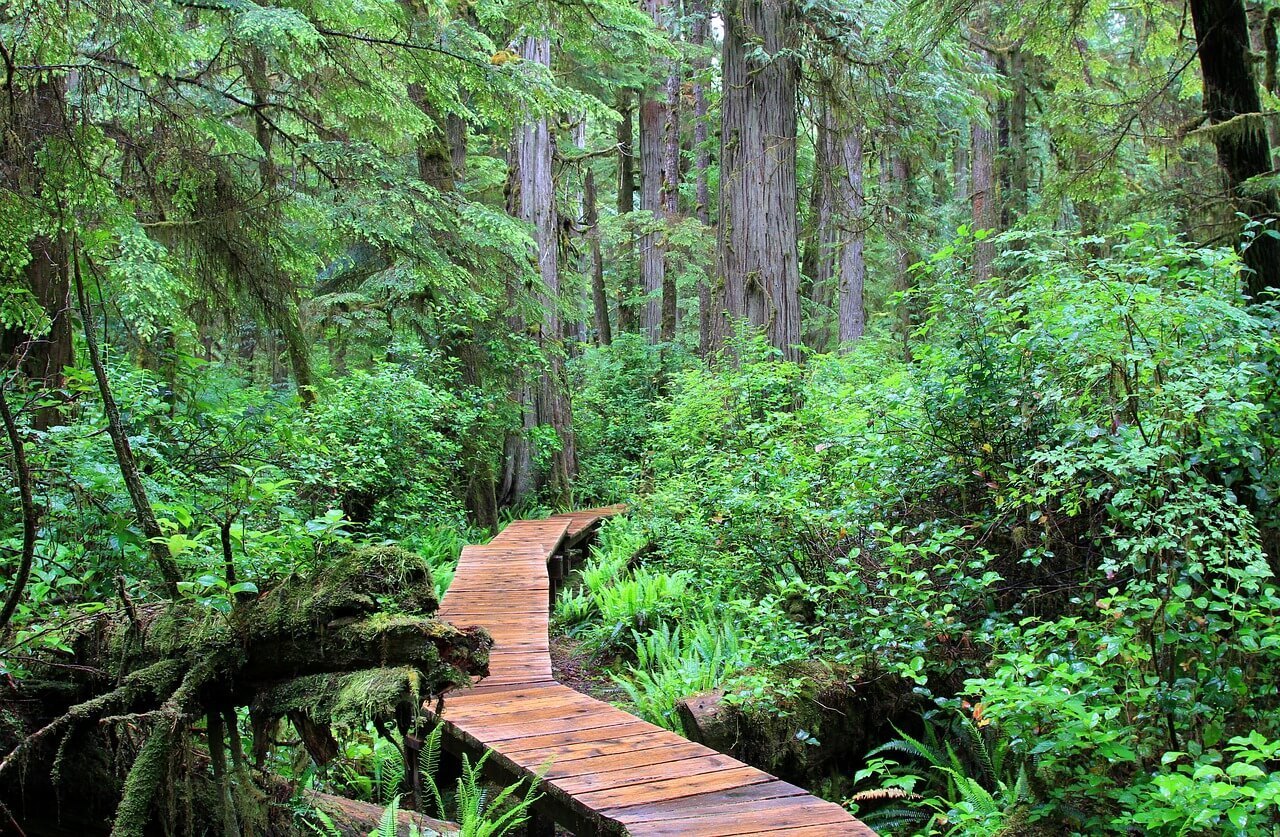 For couples, Vancouver Island offers a peaceful getaway from the bustling urban hubs elsewhere in Canada. It is a popular area for outdoor activities – including bike rides and yacht sailing – which can be romantic date ideas for more active couples. The towns also have an Old World charm, with Victoria often being considered a small piece of England in Western Canada.
Best Places to Stay in Vancouver Island
Victoria is the capital of British Columbia and main entry point to the island – so if you don't want to be completely disconnected from society, we recommend staying there. For a truly secluded experience, the Gulf Islands are the perfect choice.
Best Airbnb in Vancouver Island: Cob Cottage
This quaint cottage is one of the most unique options available on Airbnb in Canada, and is perfect for a romantic retreat away from more bustling tourist resorts! Though technically on a separate island, it is well connected to Victoria by ferry – and this isolated location gives it a more peaceful ambiance. It is built using natural materials.
This hostel is truly unique, located in the Denman Island region of Vancouver Island! The rural location is ideal for backpackers that want some peace and quiet – and they also offer some private rooms that are ideal for couples wanting to save some cash. This hostel has a creative and social ethos, with regular music events and even a vegetable garden.
If you're planning a romantic getaway to Canada, splashing out on a gorgeous five-star hotel is a great way to enhance the experience! The Oak Bay Beach Hotel is located in a peaceful neighborhood of Victoria, the main city on the island. It has an extensive spa on-site with a variety of holistic therapies on offer, and every room comes with a kitchenette. The bar benefits from a terrace right on the waterfront.
Is This the Best Backpack EVER???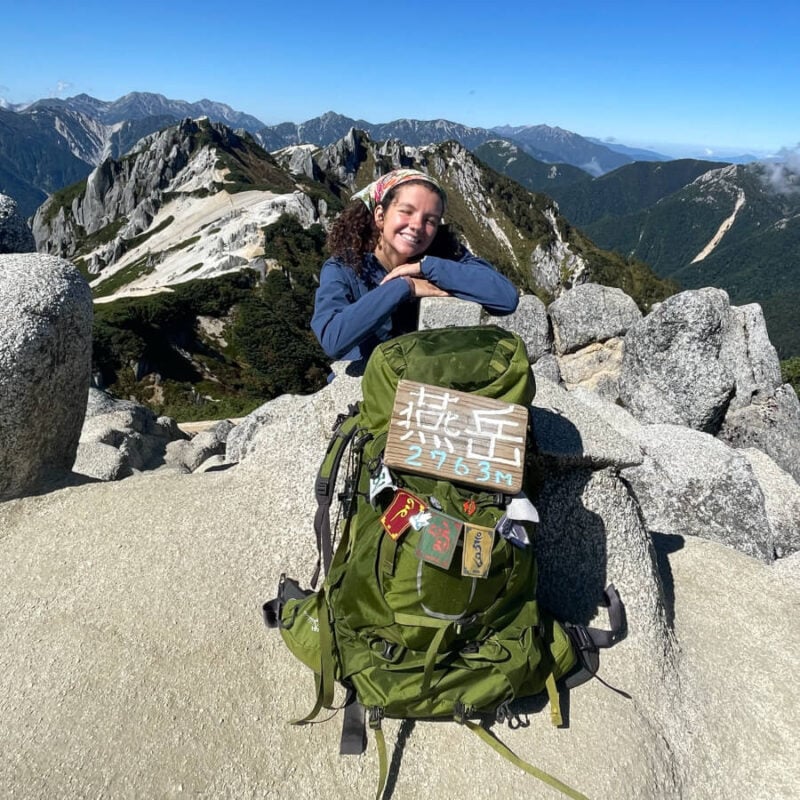 Vancouver – Coolest Place to Stay in Canada
Vancouver is a truly incredible city on the West Coast of Canada! Known for its gorgeous natural scenery (thanks to the surrounding mountains and the Pacific Ocean), it also has a hip and youthful atmosphere that means it is often considered one of the best places to live in the world.
A little known fact about Vancouver is that it is often used as a stand-in for New York City in movies. Indeed, it still holds the same cool atmosphere that NYC is known for – but without the stifling crowds! On the contrary, Vancouver is a spacious city with plenty of green spaces where you can get away from the urban hustle and bustle.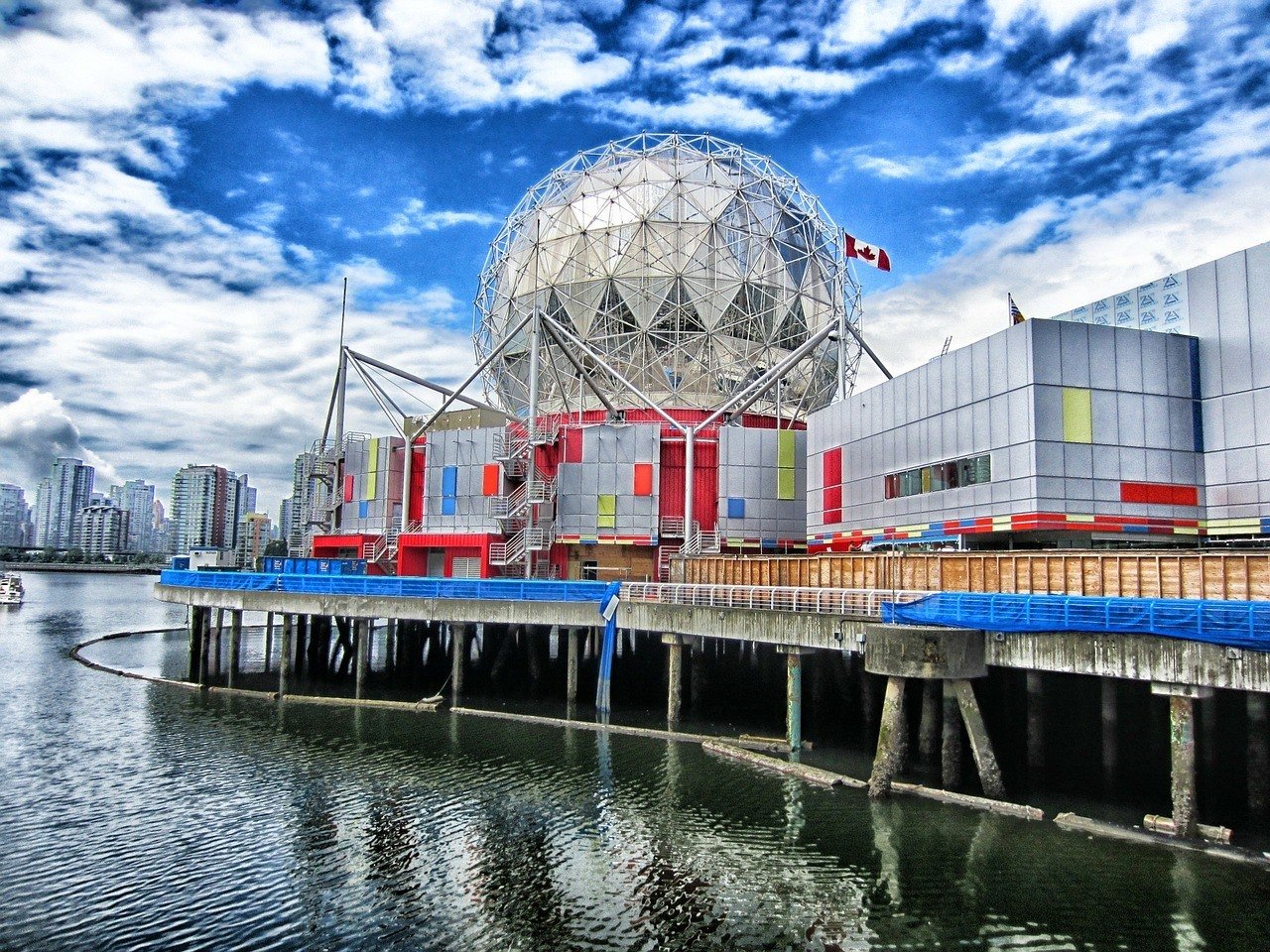 Whilst Vancouver is on the completely opposite side of the country from most of the other urban centres, its status as the third-largest city in Canada keeps it well connected by air, rail and bus! It is also only a short trip from Seattle, which we also consider to be one of the coolest cities in the United States.
Best Places to Stay in Vancouver
The City Centre is home to some of the coolest districts in the world, but we also like the West End for its peaceful, yet urban, atmosphere! Granville Island is the main shopping hub, and if you're more interested in nature it is better to stay in the southern suburbs such as Kitsilano.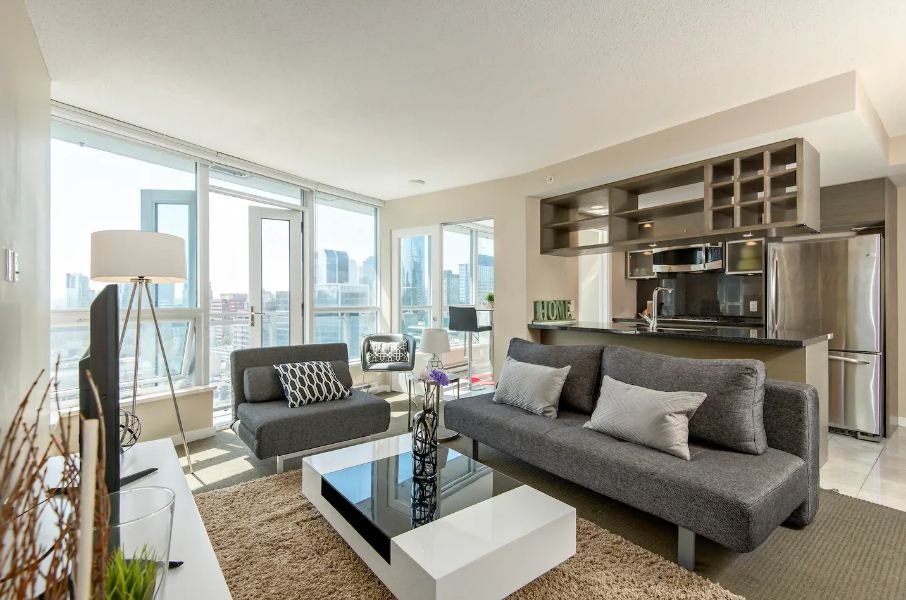 Samesun are a popular hostel chain across Canada, and their Vancouver accommodation is the best rated in the city! It's only a short walk from the Skytrain, as well as plenty of restaurants and bars. The hostel has a social atmosphere, with regular events and tours conducted throughout the week and large communal spaces. There is also a laid-back bar on the premises.
This ultra-modern hotel is located within one of the most recognisable skyscrapers in the city, with sleek architecture and gorgeous views of the surrounding Downtown area! Rooms come with spacious en-suites and modern convenience – and there is a large pool on-site for guest use throughout the year. There is also a great restaurant and bar within the hotel complex.
Best Airbnb in Vancouver: Heart of Downtown
Right in the middle of the city, this apartment comes with gorgeous views of the surrounding skyscrapers and tower blocks! It is only a short walk away from the main restaurant district in the city, and it comes with private underground parking – perfect if you're planning a road trip in Canada. Though it only has one bedroom, there are also two additional sofa beds. There are few better places to stay in Vancouver.
Heart of Downtown is one of our favourites in Canada but they're not taking guests right now. We're not sure if they're closed for good but we hope they'll come back soon.
Quebec City – Where to Stay in Canada on a Budget
There's no escaping that Canada is one of the most expensive countries in the world – and if you truly want to stick to a shoestring budget it's better to stay in the lesser-known towns and regions. If you still want to sample some great cultural highlights and cuisine, without breaking the bank, staying in Quebec City is a great option.
Price aside, Quebec City is known for its historical sites as the only city in Canada to still have its original city walls! The Old Town (known simply as Old Quebec to locals) is a UNESCO World Heritage Site, and the founding place for French Canadian history and culture.
Best Places to Stay in Quebec City
In general, we recommend staying in Old Quebec, though if you really want to save some cash you can head out to the suburbs. Haute-Ville and Basse-Ville are well connected with the historic centre.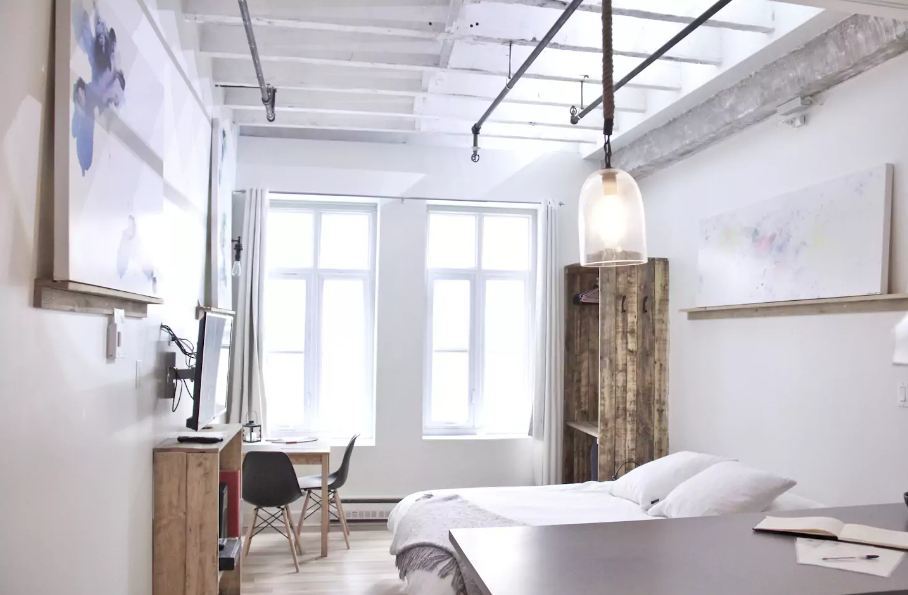 Hostelling International is a popular backpacker chain across the world – and their Quebec City accommodation is one of the best-rated options! For those on a budget, this is the perfect place to stay in Canada and mingle with other visitors. They have events every evening, as well as a wide selection of tours to choose from. Private room guests also receive a complimentary breakfast.
This three-star hotel is one of the cheapest in the country that also provides a spa facility – letting you enjoy some luxury without breaking the bank! It is right in the city centre and is housed within a renovated monastery. Despite the historic architecture of this Old Quebec Hotel, the interiors are contemporary and comfortable with plenty of modern conveniences. Breakfast and parking are included.
Best Airbnb in Quebec City: L'Atelier
This designer apartment is located right in the heart of Old Quebec – perfect for exploring some of the city's historic attractions! This loft apartment is lit with a skylight, and is designed to resemble a French atelier. It comes with a small kitchen area that is well equipped and is housed within a historic hotel that has since been converted into apartments.
L'Atelier is one of our favourites in Canada but they're not taking guests right now. We're not sure if they're closed for good but we hope they'll come back soon.
The Future of the SIM Card is HERE!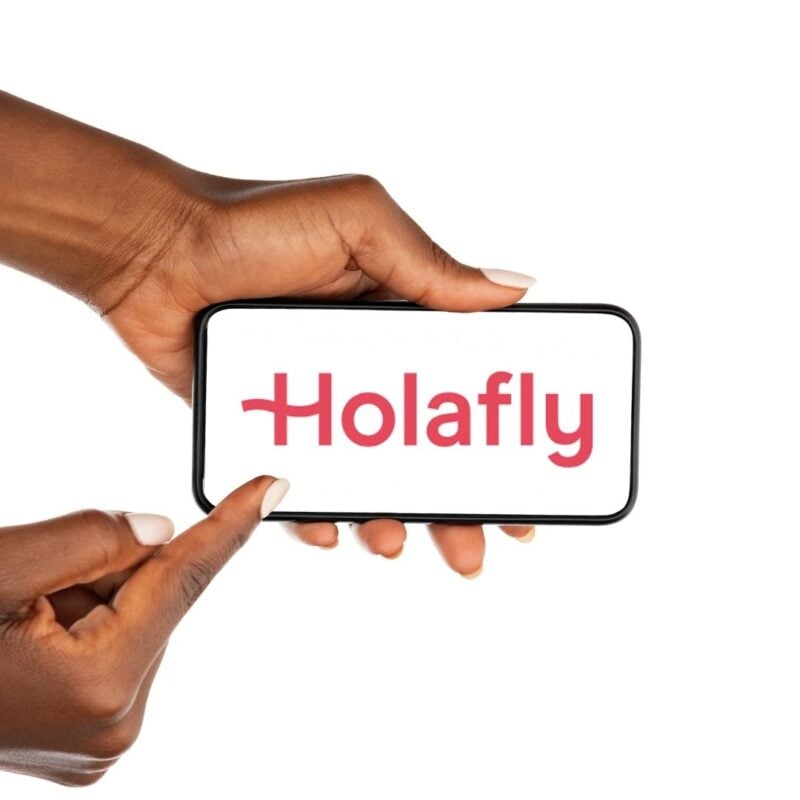 A new country, a new contract, a new piece of plastic – booooring. Instead, buy an eSIM!
An eSIM works just like an app: you buy it, you download it, and BOOM! You're connected. It's just that easy.
Is your phone eSIM ready? Read about how e-Sims work or click below to see one of the top eSIM providers on the market and ditch the plastic.
Grab an eSIM!
Montreal – One of the Most Unique Places to Stay in Canada
Montreal is one of the coolest cities in the world and an absolute must-visit in French Canada! This is the largest urban centre in Quebec and is home to a vast and multicultural population that is rivalled only by Toronto. It's no wonder that Montreal is fast becoming one of the most visited cities in North America.
Whilst Quebec City is the official capital of Quebec, Montreal is the cultural heart of the province and where you will find cutting edge entertainment, bustling art galleries and fantastic restaurants! With the Old Port and Central Business District bordering each other, Montreal is a city of contrasts that delicately blend tradition with contemporary style.
Montreal might be the second-largest French-speaking city in the world behind Paris, but most of the population can also speak English – making it the most accessible place in the province! The French influence remains apparent around every corner, with some of the most unique architecture in North America.
Best Places to Stay in Montreal
If you're only staying in Montreal for a short time, we recommend staying as close to the Old Port as possible! The Central Business District is corporate, but has some great modern lodgings. Heading towards the Gay Village and Quartier Latin you will find some of the best nightlife areas.
This gorgeous Airbnb Plus apartment comes with stylish interior design and intriguing works of art on the walls! The huge window stretches from floor to ceiling, giving you panoramic views of the Montreal skyline. The spacious bathroom has two sink areas, as well as a large bathtub with jacuzzi jets. They provide self check-in, and the apartment is only a short walk from the main shopping strip.
Best Hostel in Montreal: M Montreal
This huge hostel was named the best in Canada by the 2020 Hostelworld Hoscar Awards, and it's easy to see why! It comes with a large roof terrace that not only provides great views of the city, but also acts as a major social venue with seating, lawns and jacuzzis. Alongside the high-speed WiFi, they also provide complimentary apple computers for guest use.
This stunning four-star hotel is a great option for those that want to enjoy a stylish and elegant space without having to fork out too much! The rooms are beautifully designed with exposed stone walls and traditional furnishings. The on-site restaurant offers a variety of North American dishes, as well as a complimentary breakfast every morning.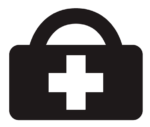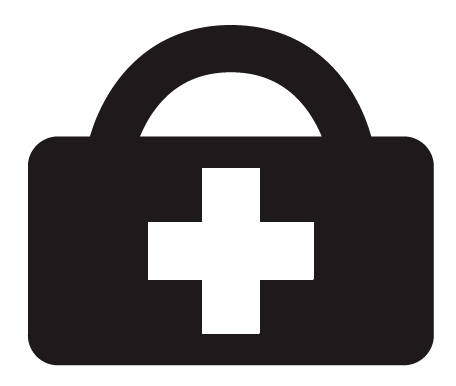 Canada is a very fun place and one could easily get carried away while visiting. It's important to remember that no country is perfect though.
Read our safety guide for Canada before planning your trip so you will be extra prepared when you arrive.
Save $$$ • Save the Planet • Save Your Stomach!
Drink water from ANYWHERE. The Grayl Geopress is the worlds leading filtered water bottle protecting you from all manner of waterborne nasties.
Single-use plastic bottles are a MASSIVE threat to marine life. Be a part of the solution and travel with a filter water bottle. Save money and the environment!
We've tested the Geopress rigorously from the icy heights of Pakistan to the tropical jungles of Bali, and can confirm: it's the best water bottle you'll ever buy!
View on REI
Read the Review
Calgary and Banff – Where to Stay in Canada for Adventure
Banff National Park is easily one of the most visited areas of natural beauty in Canada – and is actually the oldest national park in the country! Scenery aside, Banff has some excellent adventure activities – including canoeing on Lake Louise, canyoning in the various caves, and, of course, mountain climbing and hiking across the area.
Calgary is the closest city to Banff National Park and therefore the best option if you want to stay in an urban hub whilst exploring the gorgeous region! Nestling the boundary between the vast plains and the Rocky Mountains, Calgary provides an interesting insight into Prairie culture in Canada – with rodeos throughout the year and massive sporting events.
As a major tourism hub, getting into both Calgary and Banff is relatively simple from across the country – with Calgary Airport having transport connections to both areas! This beautiful region is a must-visit if you are planning a longer itinerary throughout the entire country.
Best Places To Stay in Calgary and Banff
Whilst Calgary is the largest city in the Prairie region, it is still relatively small and can easily be navigated on foot from the Downtown area. Banff National Park is a vast area, with most tourist activities based in the town of Banff itself. Accommodation in Lake Louise is another great option if you're looking for adventure in the area.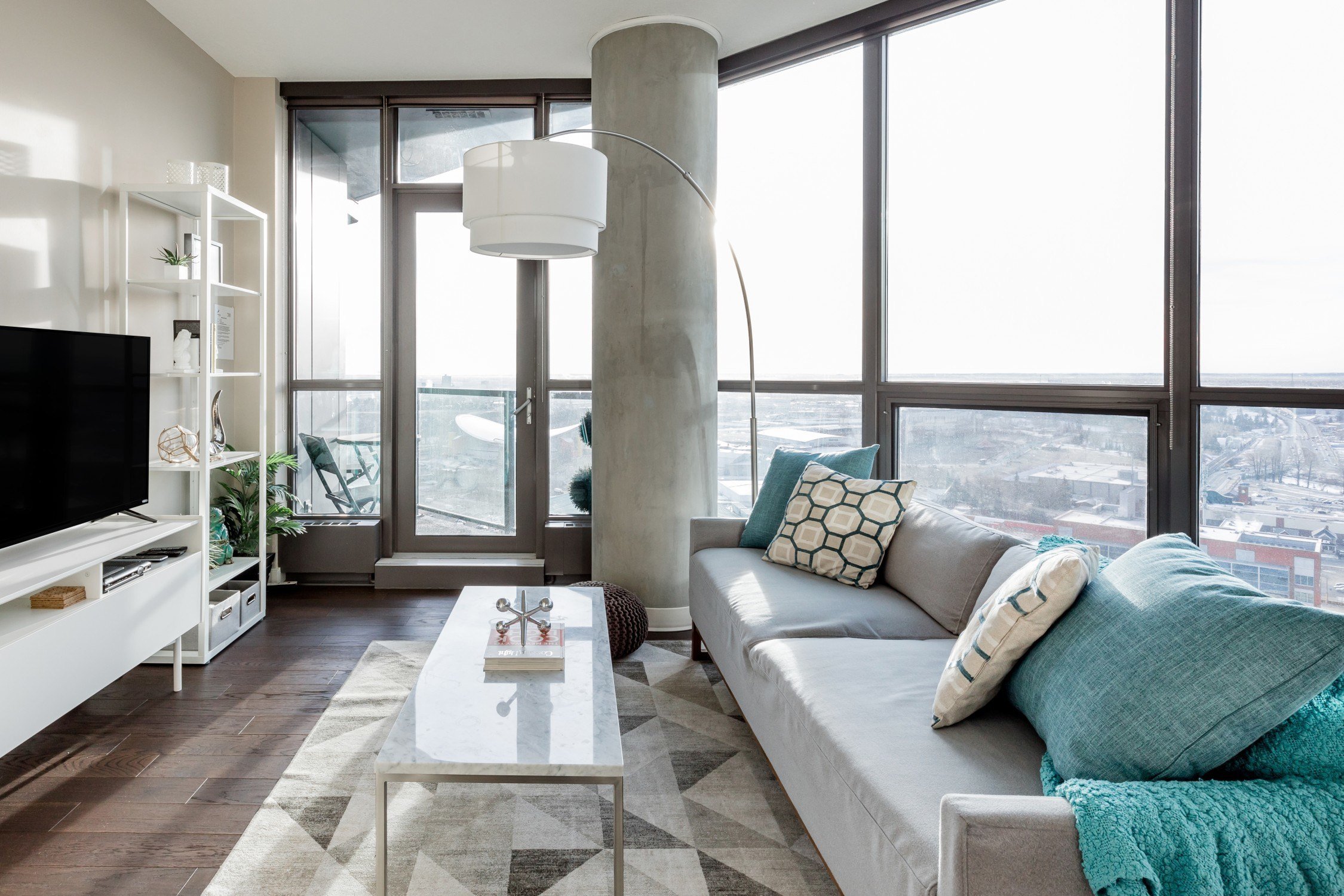 Best Hostel in Calgary and Banff: HI Lake Louise
Lake Louise is a good place to base oneself near Banff National Park because there are lots of things to do nearby. Luckily, Hostelling International has an immensely popular hostel in the area! The hostel is designed like a typical Rocky Mountain cabin – and comes with an outdoor terrace that can be used throughout the summer. In the winter, sit by the fireplace and mingle with others or enjoy the on-site spa.
This quaint hotel is located in the town of Banff itself, giving you immediate access to the best attractions in the area! Surrounded by towering mountains, this is an excellent option for photographers looking for somewhere to grab that perfect shot. There is a large spa centre on-site, as well as a hugely popular bar and restaurant. Breakfast is available every morning.
Best Airbnb in Calgary and Banff: Stunning Mountain Views
Right in the heart of Calgary, this Airbnb Plus apartment is perfect if you want to stay close to Banff National Park whilst still enjoying an urban lifestyle! The large windows come with views across the entire city skyline and towards the surrounding mountains. The modern kitchen has a breakfast bar with granite worktops, and the double bedroom is spacious.
Stunning Mountain Views is one of our favourites in Canada but they're not taking guests right now. We're not sure if they're closed for good but we hope they'll come back soon.
Whitehorse – Where to Stay in Canada Off the Beaten Path
Most visitors to Canada don't have time to visit the territories in the North – especially during the harsh winter months. If you want a truly off the beaten path experience without heading too far from the main visitors destinations, Yukon Territory has some excellent outdoor activities!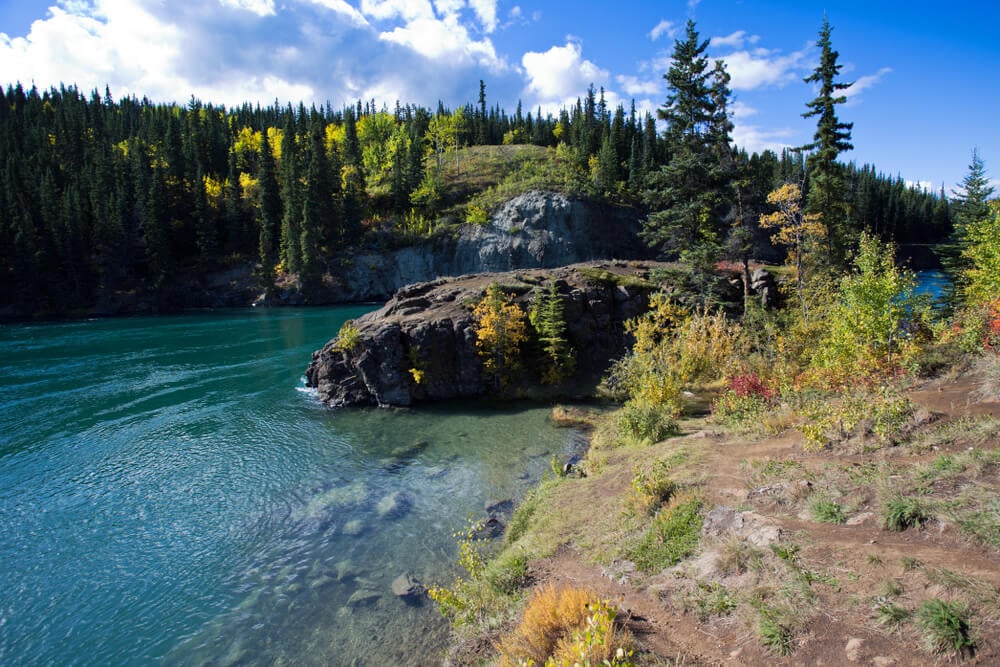 Whitehorse is the largest city in Yukon, and a great jumping-off point for exploring the Canadian North! It comes with some great hiking trails in the summer – as well as skiing activities and the Northern Lights in the winter. If you want to see a completely different side to Canada, Whitehorse should be on your itinerary.
Best Places To Stay in Whitehorse
Whitehorse might be the largest settlement in the Yukon Territory, but it is still relatively small by Canadian standards. With a population of 24,000, most attractions can easily be reached on foot from the centre.
Best Airbnb in Whitehorse: Tiny House
Tiny houses, which are usually hand-built, are becoming a popular option for travellers trying to save some money! This one is located within the grounds of a farm, embedding guests in local culture. It is also a perfect spot for gazing at the aurora borealis whenever it is available in the town. It is somewhat basic, but a great pick for adventurous solo travellers and couples.
This four-star bed and breakfast is somewhat basic, but for hotels in Whitehorse it is well priced and comes with excellent customer reviews! It is located within a typical Yukon house, and has a large garden area where you can unwind during the summer months. A continental breakfast selection is included as part of the rate.
Best Hostel in Whitehorse: Beez Kneez Bakpakers
Though Beez Kneez is the only hostel in Whitehorse, it still provides excellent levels of service that have resulted in some excellent reviews! They only offer six-person dorms, giving it a small and intimate atmosphere. They also have a tent pitch outside for those on an extreme budget, and there is an excellent barbecue area for use throughout the summer.
Beez Kneez Bakpakers is one of our favourites in Canada but they're not taking guests right now. We're not sure if they're closed for good but we hope they'll come back soon.
Top Places To Stay in Canada
Canada is a huge country with plenty of excellent accommodation options. These are just some of our favourites overall, but each city has its fair share of great hotels, hostels and Airbnbs.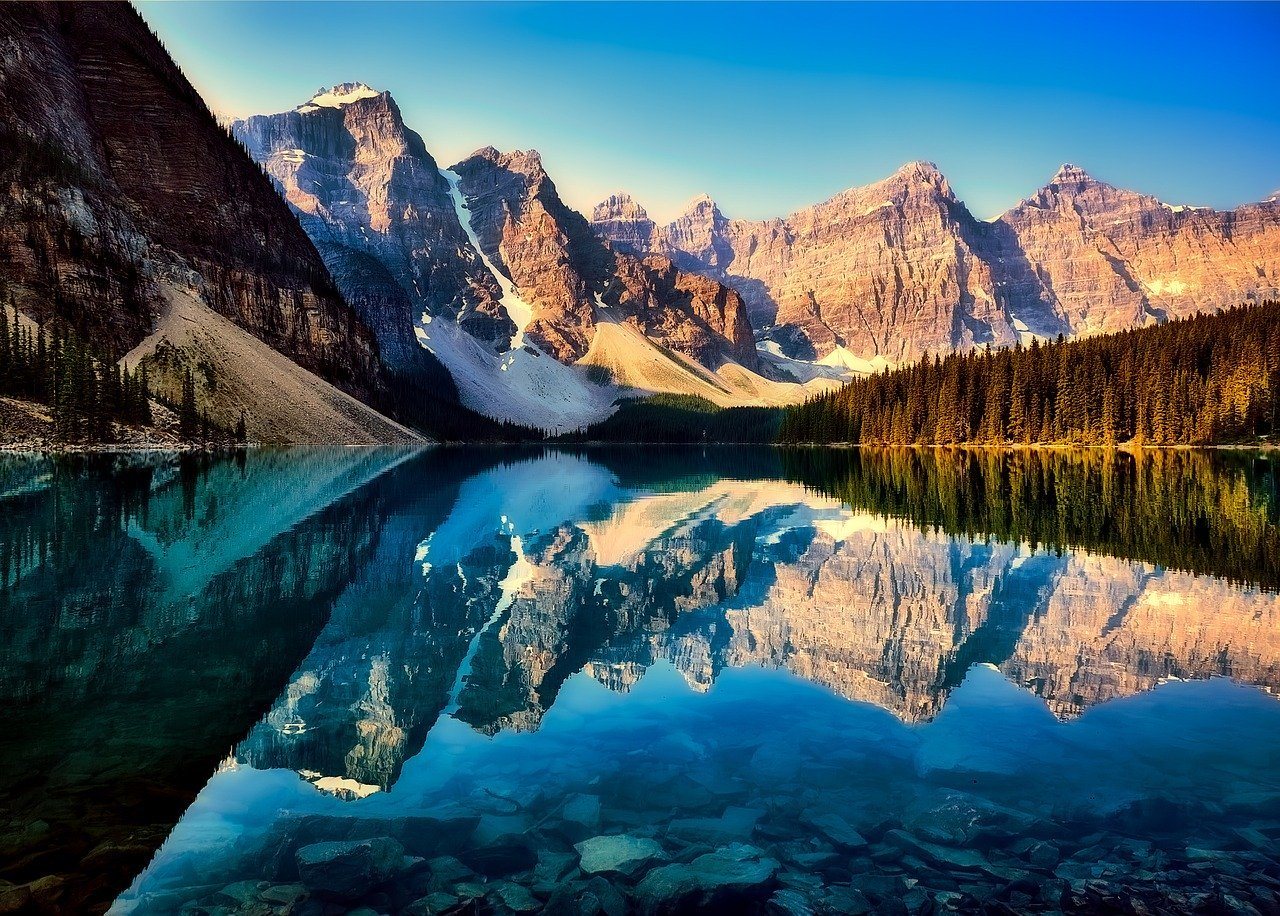 Best Airbnb in Canada – Cob Cottage – Vancouver Island
This is easily one of the most unique Airbnb properties in the world! Located on a small island within the Vancouver Island region, Cob Cottage was hand sculpted using materials from the surrounding forest. The owners have an environmentally-friendly ethos, making this a fantastic choice for those wanting to keep down their carbon footprint. It is perfect for couples and solo travellers.
Best Hostel in Canada – M Montreal – Montreal
As the winner of Best Hostel in Canada in 2020, M Montreal, of course, had to take our top spot for backpacker accommodation in the country! This huge hostel has everything you could possibly want – with vast social areas, a spacious roof terrace with views of the city and even jacuzzi baths. What's more – they also have complimentary city tours and a free breakfast every morning.
Alberta is increasingly becoming one of the most visited provinces in Canada – and it's easy to see why with hotels like the Moose Hotel and Suites! Nestled amongst the mountains of Banff, this is a must for anyone wanting to experience the awe-inspiring beauty of Canada's Rocky Mountains. They have a great restaurant on-site, as well as a full spa service and indoor pool.
Books to Read While Visiting Canada
These are some of my favorite travel reads and books set in Canada, which you should consider picking up before you begin your Canadian backpacking adventure…
The Handmaid's Tale – An acclaimed novel that takes places in a futuristic and dystopian New England. Now a popular TV show.
Beautiful Losers – Musician/writer Leonard Cohen's final novel. Highly controversial and very experimental in nature.
King Leary – An aging hockey star embarks on one last adventure to solidify is legacy before kicking the bucket. One of Canada's most hilarious novels.
Lonely Planet Canada – It's sometimes worth traveling with a guidebook. Despite Lonely Planet's history of selling out and writing about places they haven't been to, they've done a good job with Canada.

Our GREATEST Travel Secrets…
Pop your email here & get the original Broke Backpacker Bible for FREE.
More Places to Stay in Canada
We've only covered a handful of locations and there's a lot more where these come from! After all, Canada is a huge country with a huge variety of places to check out.
Here are some cities and towns that weren't able to cover in this guide. They're all unique and worth exploring on their own!
Don't Forget Travel Insurance for Canada
ALWAYS sort out your backpacker insurance before your trip. There's plenty to choose from in that department, but a good place to start is Safety Wing.
They offer month-to-month payments, no lock-in contracts, and require absolutely no itineraries: that's the exact kind of insurance long-term travellers and digital nomads need.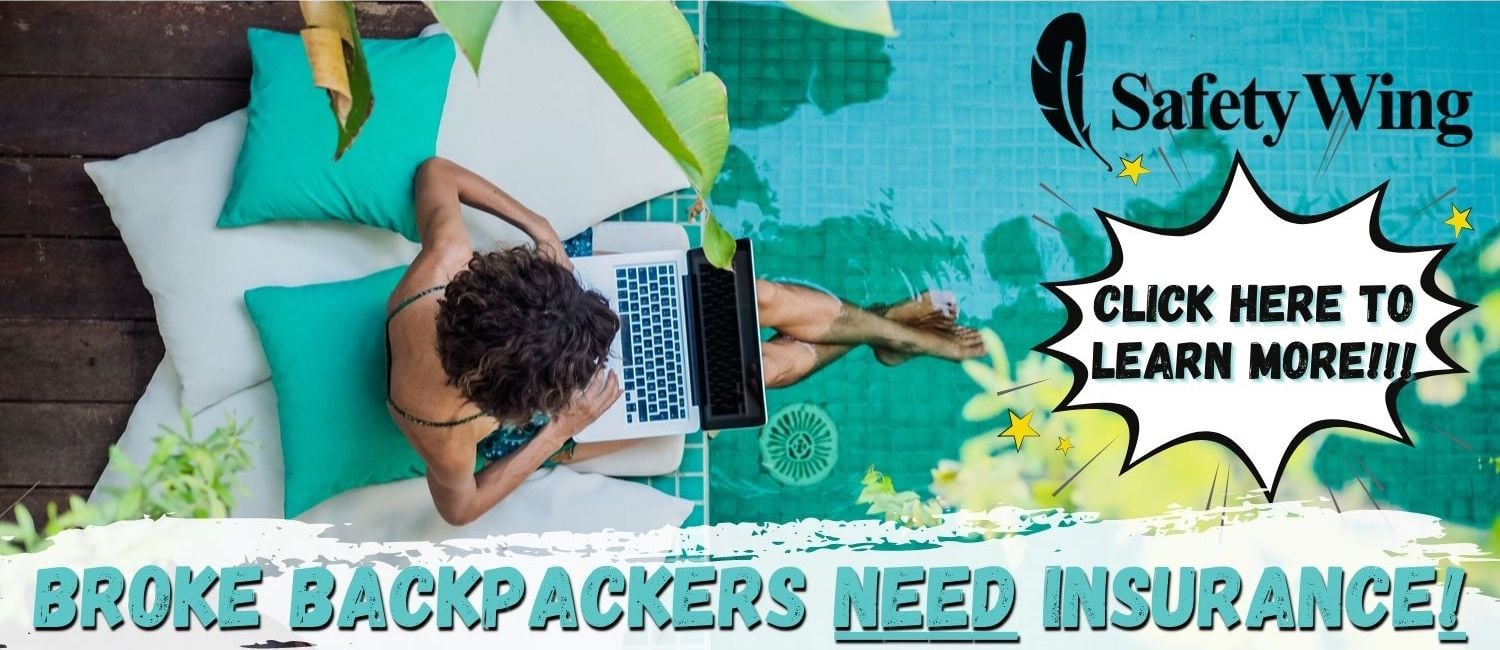 SafetyWing is cheap, easy, and admin-free: just sign up lickety-split so you can get back to it!
Click the button below to learn more about SafetyWing's setup or read our insider review for the full tasty scoop.
Final Thoughts on Where To Stay in Canada
Canada is truly a beautiful and vibrant nation that will appeal to a wide variety of travellers! It is a very multicultural corner of the world, so even within cities you will have a wide variety of things to do and places to explore. The country also has some of the most beautiful scenic regions in the world, and the cosmopolitan culture makes it one of the easiest destinations for first-time travellers.
If you haven't found the perfect place to stay at yet, maybe looking at the best hostels in Canada will help you out a bit!
If we had to pick our favourite place, we would go with Montreal! This unique destination is not only one of the most unique parts of the country, it is well connected with the major destinations in the east and has a vibrant atmosphere.
That being said, everywhere mentioned in this guide has its own benefits – and where is best for you will depend on what you want to get out of your trip! We hope we have helped you narrow down your options for your upcoming trip to the Great White North.
Did we miss anything? Let us know in the comments!
Do you own or run a kick-ass hostel? Want to be featured on this list? Get in touch at [email protected]
---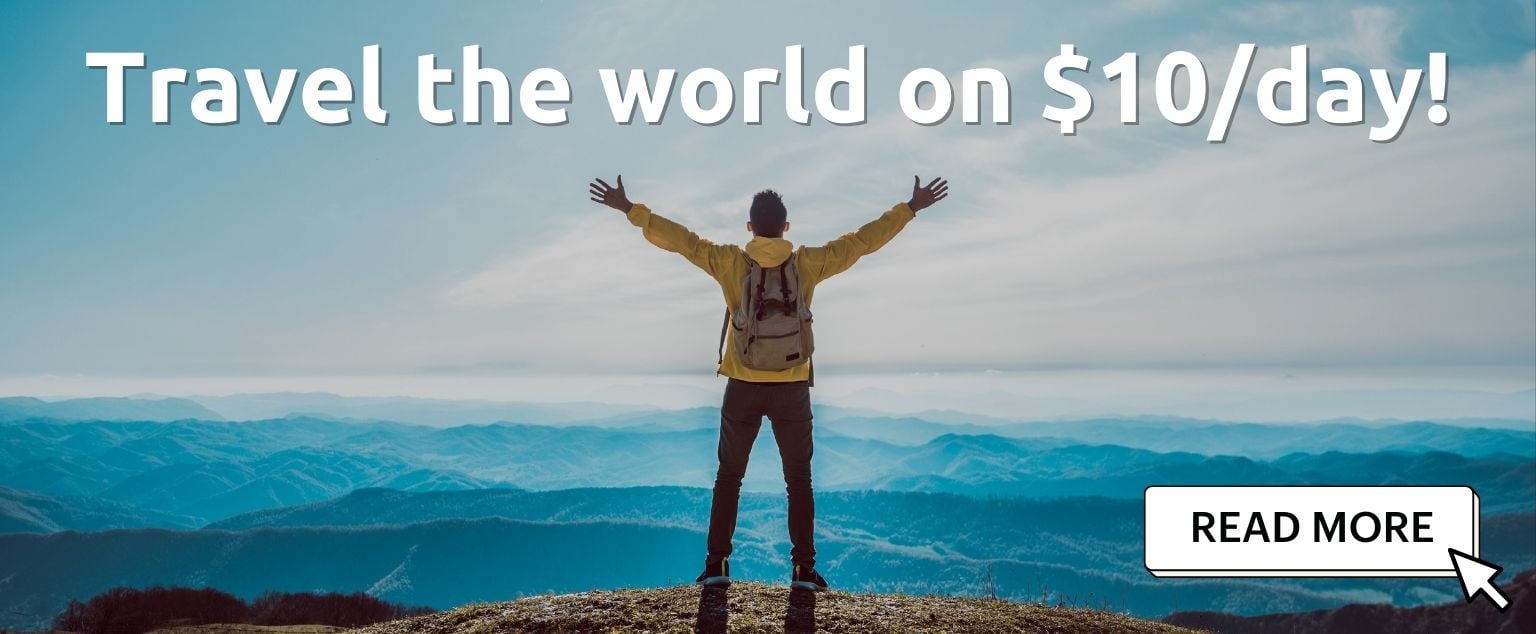 And for transparency's sake, please know that some of the links in our content are affiliate links. That means that if you book your accommodation, buy your gear, or sort your insurance through our link, we earn a small commission (at no extra cost to you). That said, we only link to the gear we trust and never recommend services we don't believe are up to scratch. Again, thank you!