The razor sharp wit of Reddit suggests that the most engaging occupation of one's time in Toronto is "A rail of coke off Rob Ford's headstone".
Alas, local governance has never officially approved it, and the questionable ethics of it seem to put off most families.
Thankfully, there are a great range of far more admissible places and activities to interact with in Toronto, and some of them are even (almost) as exciting!
In my EPIC guide to the best places to visit in Toronto, I will be taking you through much more than just the 'basic' tourist attractions (like the 'Are you sure we're in Canada?' Hockey Hall of Fame,  or the 'queue like the English' CN Tower). There is so much to explore in Toronto, and I'm gonna pick out the best, just for you…
…Let's take a peek!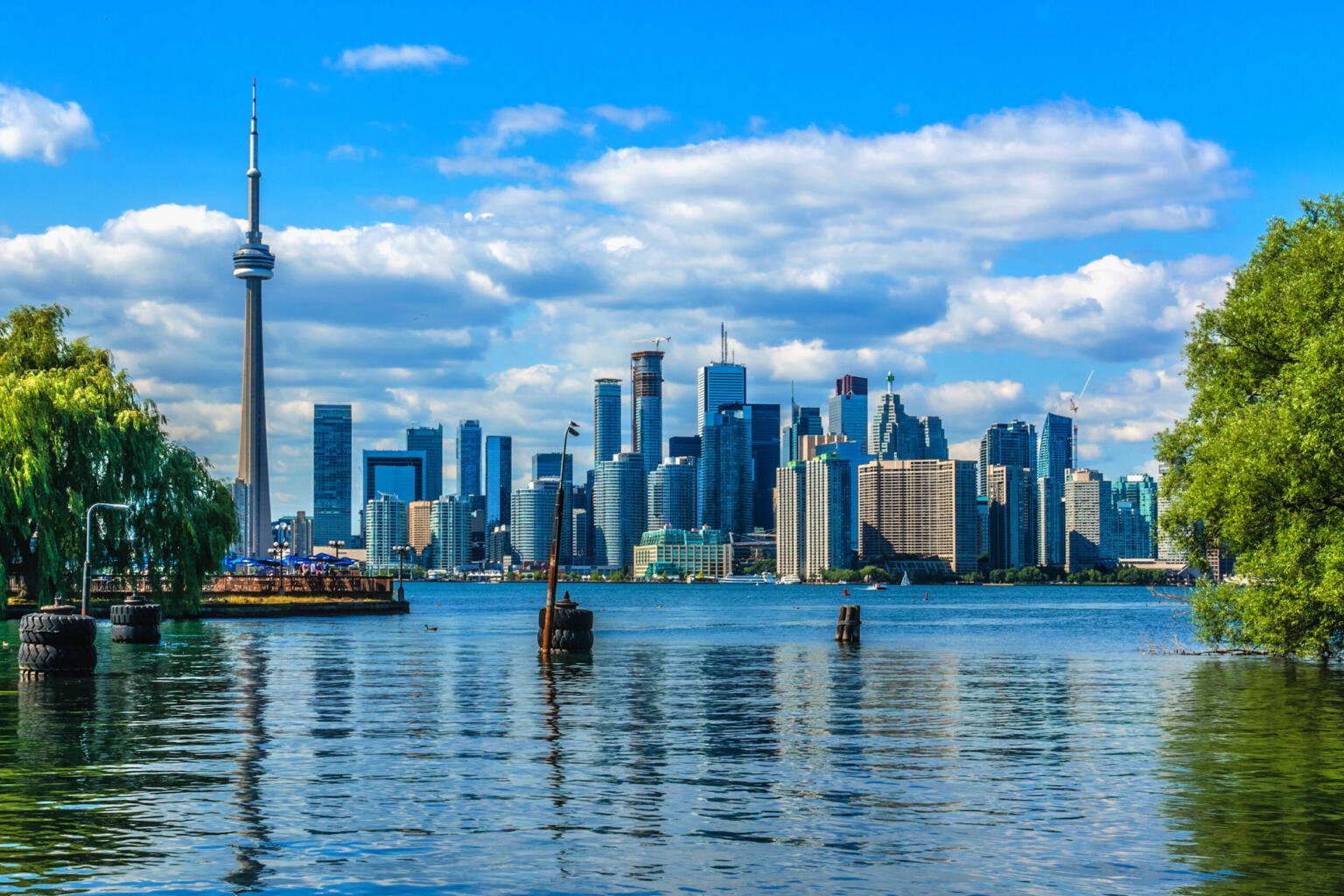 What are the BEST Places to Visit in Toronto?
Have you found that your Toronto itinerary is meeker than a nun in a men's first XI changing room? Then you're going to need some extra spicy attractions to top it up. Read on fellow travellers…

Unlock Our GREATEST Travel Secrets!
Sign up for our newsletter and get the best travel tips delivered right to your inbox.
1. Ontario Science Centre
Droves of interactive exhibits
Rocket Chair
Ageing Machine
Touch a Tornado
What to do there: It's seriously possible to spend an entire day exploring the whacky insides of the Ontario Science Centre, which makes it one of my top picks for places to visit in Toronto! You can check out an actual Moon rock, touch a tornado, and even investigate what you will look like in the ageing machine!
If you're set on staying in Toronto, I wouldn't miss this! The sheer quantity of information means that it is superb value for money too!
Why it's awesome: The Museum is dedicated to educating, which makes it great for kids, and there is a superb array of interactive activities. Even adults will be impressed at the amount of information and spread of experiments that are accessible. Truly one of the most interesting places to go in Toronto.
2. CN Tower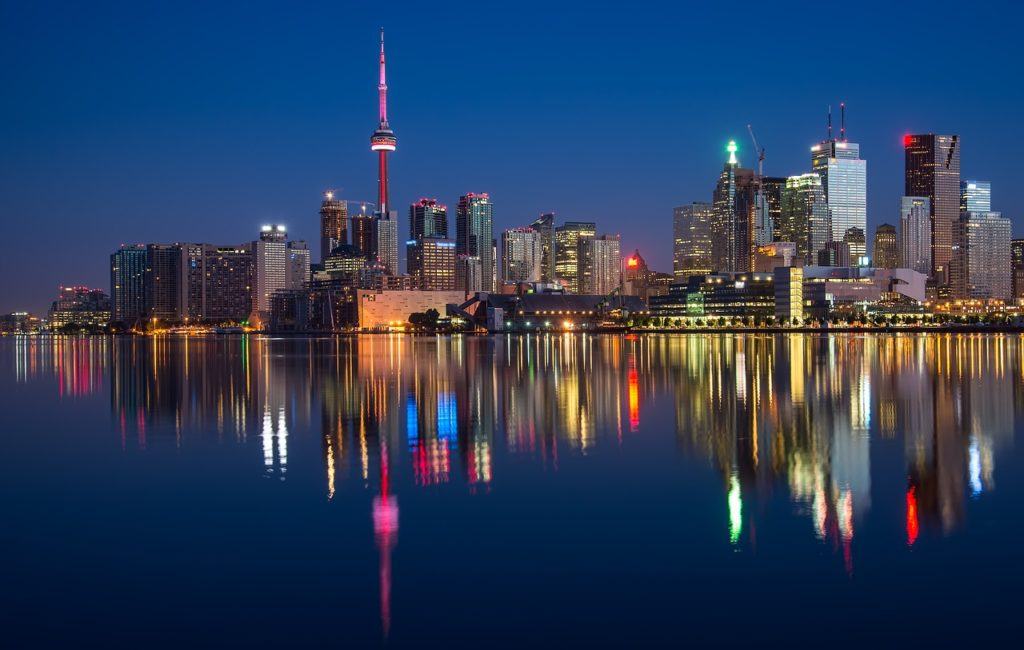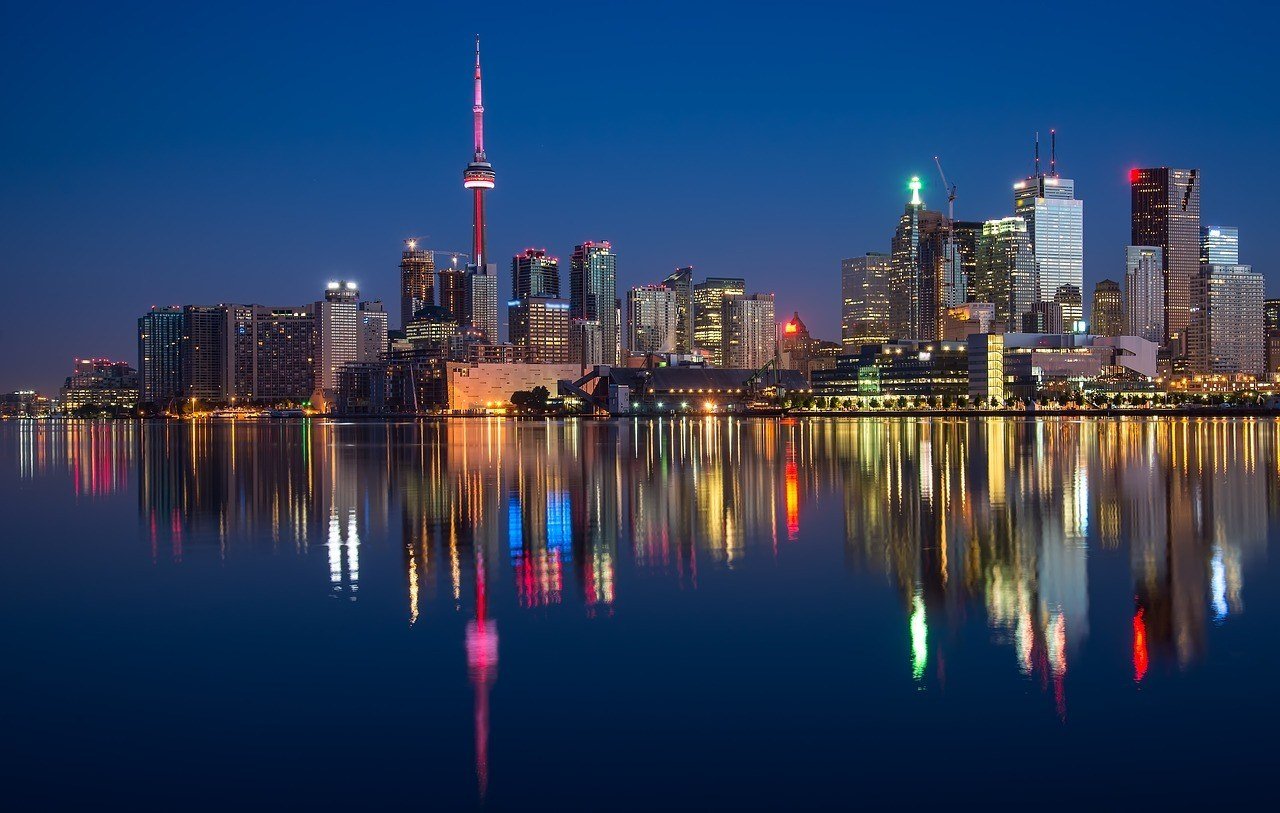 Iconic Toronto landmark
Amazing views
Tallest free-standing structure in the Western Hemisphere
Thrilling activities
Why it's awesome: One of the most famous places in Toronto, the soaring CN Tower is a major sight on the city's skyline. Built in the 1970s, it was the world's tallest free-standing structure for many years. Today, it is still the tallest free-standing structure in the Western Hemisphere and is often classed as one of the Modern Seven Wonders of the World. A major sight on the Toronto skyline, the tower stands 553 metres (1,815 feet) tall in the heart of Downtown Toronto. The high observation deck provides incredible views across the city and beyond. If you're here for a sneaky weekend, don't put it down!
What to do there: Admire the towering structure from afar before riding one of the glass elevators to the observation deck. You can enjoy the terrific views as you ascend and get many great pictures from your high vantage point. If you're feeling brave you can step out onto the EdgeWalk, a hands-free walkway that encircles the tower at some 356 metres (1,168 feet) above the ground. Don't worry—you're securely tethered! Dine on the tasty fare in the 360 Restaurant as you soak up the panoramic views.
3. The Toronto Islands
Group of small islands in the scenic Lake Ontario
Easy to access from the city
Outdoor activities
Relaxation and leisure
What to do there: Catch the 15-minute ferry service from Toronto Harbour to reach the Toronto Islands and spend a day walking around and crossing between the islands to explore. You can rent bicycles to travel around the islands. Bask in the sunshine on several sandy lakeside beaches, including the nudist beach at Hanlon's Point, and swim in the refreshingly cool waters on a pleasant sunny day.
Relax in pretty parks and try a range of water-based activities, such as kayaking, boating, canoeing, and yachting. Kids can have fun at the play areas, the small kid-friendly farm, and the fun Centreville Amusement Park, which has a charming carousel and a cool mini train. Don't miss seeing the historic lighthouse. Even the locals reckon this is one of the best things to do in Toronto!
Why it's awesome: The Toronto Islands is a group of 15 small islands in the huge Lake Ontario, with bridges and walkways linking the islands. Regular ferries connect the city with the pedestrianised islands, and the islands are a popular day-trip destination from Toronto. There are diverse activities to enjoy as well as a variety of attractions to see. From beaches and parks to water sports and family-friendly attractions, the islands offer something for everyone.
4. Hockey Hall of Fame
An essential Canadian attraction
Home to the Stanley Cup
Tons of Hockey Artefacts
Top architecture
What to do there: The Hockey Hall of Fame is a quintessential Canadian attraction, which brings visitors from all over! Wander the halls, explore the trophy room and check out some exciting interactive displays. If you're a big hockey fan, then this is sure to interest you, as it houses the largest publicly accessible collection of hockey memorabilia in the world! You should probably spend around 2 and a half hours here.
Why it's awesome: There are serious quantities of hockey trivia hanging around. If you love hockey (or sports in general), then the Hockey Hall is sure to interest you. The top attractions include the Stanley Cup, Max Bentley's stick and Terry Sawchuck's goalie gear. If you've rented a saucy Airbnb downtown, you should be able to pop in, with no trouble!
5. Graffiti Alley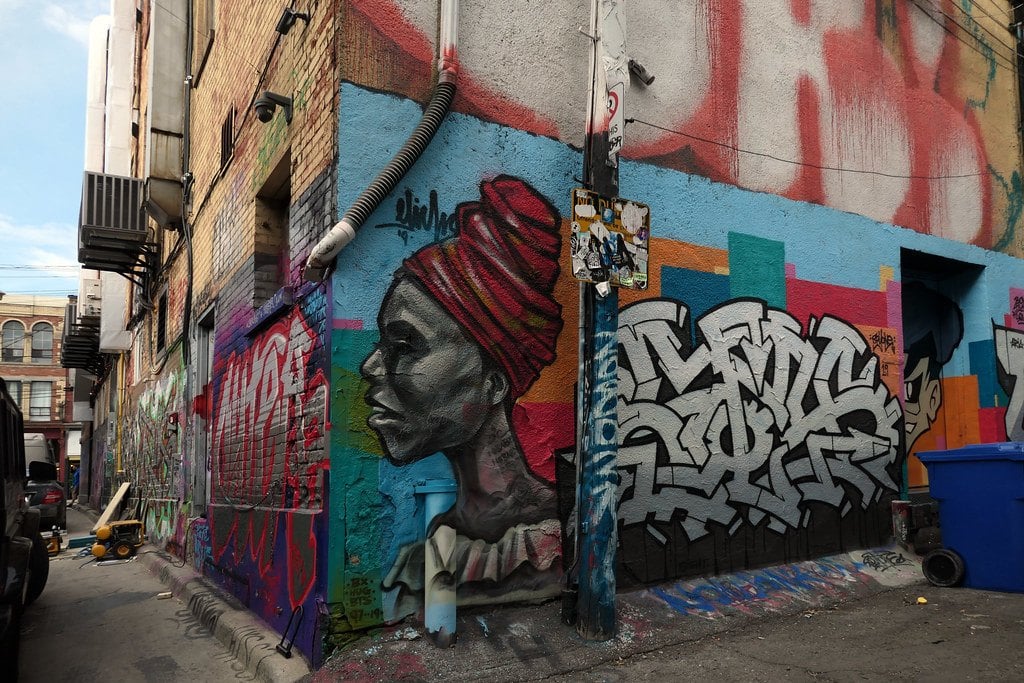 Interesting street art
Great photo opportunities
No charge to enjoy
Tucked-away colourful alleyway
Why it's awesome: Located in the Fashion District, Toronto's Graffiti Alley (officially called Rush Lane) is tucked away from the hustle and bustle. Stretching for almost three blocks, the alley is one of the most unusual things to do in Toronto. While many of the eye-catching pieces have remained the same for some time, there are often new additions to the vibrant walls along the narrow lane. It's somewhat like an open-air art gallery full of imagination and expression. Even better, a visit won't cost you a cent.
What to do there: Don't forget your camera! You're sure to want to snap plenty of pictures of the funky street art along Graffiti Alley—you'll definitely be able to add lots of colour and funk to your Instagram feed! Look at the tags and you'll notice that many famous local names in the street art scene have made their mark here, including Poser, Spud, Uber5000, and Skam.
6. Niagara Falls
Iconic natural landmark
Picturesque scenery
Outdoor activities
Varied leisure options
Why it's awesome: One of the most famous waterfalls in the world, the gigantic Niagara Falls attracts millions of visitors each and every year. The largest of three falls, the glorious Horseshoe Falls, sits on the border between Canada and the USA (with the other two falls located entirely within the US). Dropping some 57 metres (187 feet) and covering around 790 metres (2,590 feet) in width, it really is a jaw-dropping sight that is easy to get to from Toronto. As well as being one of the world's most iconic and scenic places, the magnificent Niagara Falls is also a major source of hydroelectric power. There are various activities to enjoy in the area and it's a terrific place for photography lovers. It's the perfect way to get out of Downtown Toronto and see one of the most incredible natural tourist attractions close to the city.
What to do there: Gape in amazement at the spectacular waterfalls. Make sure your camera batteries are fully charged as you're sure to want to take many awesome photographs from various angles. Take a stroll through the pretty Queen Victoria Park for more terrific vistas of both the Horseshoe Falls and the two cascades on the American side of the border. Pass historic war sites along the scenic Niagara River Recreational Trail, take an exciting ride on the cable car and chance your luck in one of the casinos.
If you're planning on visiting the mighty Niagara Falls, why not stay at one of these epic lodges in Hamilton? It's a great base for your adventure, with easy access to the falls and Lake Ontario.
7. Royal Ontario Museum
One of Canada's most-visited museums
Links with the University of Toronto
Large collection of items
Displays related to history, culture, art, natural history, and anthropology
Why it's awesome: The Royal Ontario Museum (often abbreviated to ROM) has been open since 1914. It's Canada's biggest museum and also one of the biggest museums in North America. With more than 1 million visitors every year, it's also one of the country's most-visited museums. The huge collections span diverse themes; the museum has more than six million items spread through some 40 galleries and exhibition areas. From natural history and art to world cultures and interactive learning areas, there are plenty of opportunities to discover new facts about the world. The buildings are also interesting.
What to do there: See the different buildings of the Royal Ontario Museum, with the original Romanesque Revival building (complete with Gothic gargoyles, mosaics, and rounded windows) a striking contrast to the modern, gleaming Crystal. Allow plenty of time to explore the different sections. Younger visitors are often drawn to the exhibitions on dinosaurs and fossils and the wider natural history exhibits, and the hands-on displays and activities in the CIBC Discovery Gallery are sure to inspire curious minds. Other displays include textiles, art, design, architecture, gemstones, old tools, pottery, ceremonial masks, sculptures, jewellery, manuscripts, religious items, and much more.
8. Black Creek Pioneer Village
Experience Canada was in times gone by
Many heritage buildings
Watch artisans at work
Period costumes and historical re-enactments
Why it's awesome: The open-air heritage museum of Black Creek Pioneer Village is one of the best places to visit in Toronto for people interested in history. A Toronto must-see if you like seeing what life was like in yesteryear, the museum recreates life as it was in the 19th century. Visitors can glimpse into the rural life of times long passed and there are numerous heritage buildings with period furnishings inside. People dress in period costumes to further bring the past to life and there are various demonstrations as well as explanations and activities.
What to do there: Step inside heritage buildings for a peek into the past. From Charles Irwin Weaver, Dickson's Hill School, and Rose Blacksmith Shop, to Snider Workshop, the Half Way House Inn, and the Dominion Carriage Works, there are heaps to keep you busy and engaged at the Black Creek Pioneer Village. You can also visit places like an old shoemaker's shop, a church, a firehouse, a doctor's house, a cider mill, former private homes, a cemetery, and barns. See plants used for food (and medicines) in the Herb Garden, Berry Garden, and Kitchen Garden, and call by the beautiful Market Garden to see items grown for trade.
9. BAPS Shri Swaminarayan Mandir
Hindu place of worship
Unique architecture
Spiritual atmosphere
Biggest Hindu mandir in Canada
Why it's awesome: Located in Etobicoke, BAPS Shri Swaminarayan Mandir was constructed in the early 2000s and officially opened in 2007. The biggest mandir in Canada, it was built from striking materials from across the globe, including Indian stone, Turkish limestone, and Italian marble. It was created in India and then later shipped to Canada where it was assembled by Indian workers.
Built according to details set out in ancient Hindu scriptures, it is a spiritual place where devotees go to pray and perform religious rituals. Surrounded by well-tended gardens, the complex also has a Heritage Museum and a carved wooden cultural centre referred to as a haveli. Open to visitors, it has some of the most stunning architectural details of the many points of interest in Toronto.
What to do there: Experience India as you explore Toronto, admiring the glorious hand-carved details of the spectacular Hindu complex. See the various shrines within the beautiful building, each with statues of various Hindu deities. Monks and laypeople offer prayers, songs, and material offerings to the statues throughout the day, with lots of ceremonial significance.
Look inside the eye-catching haveli, complete with grand columns engraved with mythological creatures, animals, symbols, gods, and goddesses. Pick up tasty vegetarian snacks from the onsite shop, learn more about the basics of Hinduism in the Heritage Museum, enjoy quiet moments in the meditation area, walk through the ornate gardens, and marvel at the domes, arches, pinnacles, and other stunning details.
10. High Park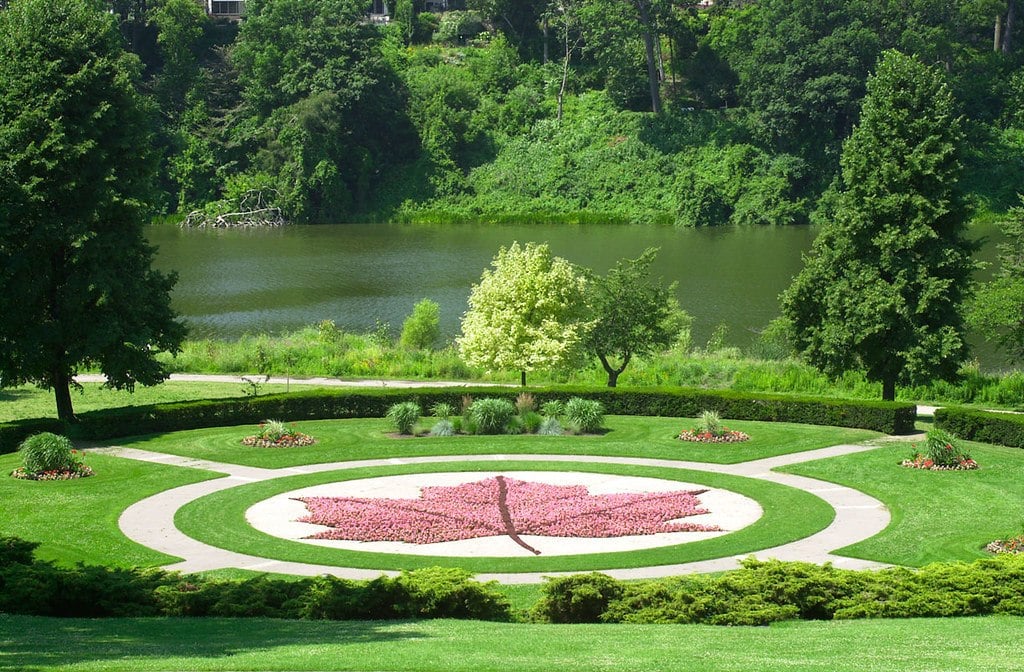 Green and leafy park
Diverse leisure and recreational options
Interesting monuments
Picturesque setting
Why it's awesome: One of the major outdoor hotspots in Toronto, the extensive High Park covers around 400 acres (161 hectares) and has natural areas as well as great leisure and recreation facilities. The terrain is hilly with two deep ravines, ponds, and forested areas. Various flora and fauna live in the park, including black oak trees, flowers, herons, ducks, and insects. There are picnic areas and sporting facilities, along with a small zoo, monuments and statues, nature trails, pretty gardens, and a museum. It's a pleasant place to visit in Toronto with your family or significant other.
What to do there: Relax and stroll alongside the attractive Grenadier Pond, often said to be bottomless because it's not possible to accurately gauge the depth because of all the mood below the water. Pass a few leisurely hours fishing in the shimmering pond, home to perch, carp, bass, and bluegill. You can either toss back anything you catch or cook up a fish feast. Feed the ducks at Upper Duck Pond, follow the nature trails, keeping your eyes open for wildlife, and wander through the charming cherry tree grove and hillside gardens.
11. Distillery District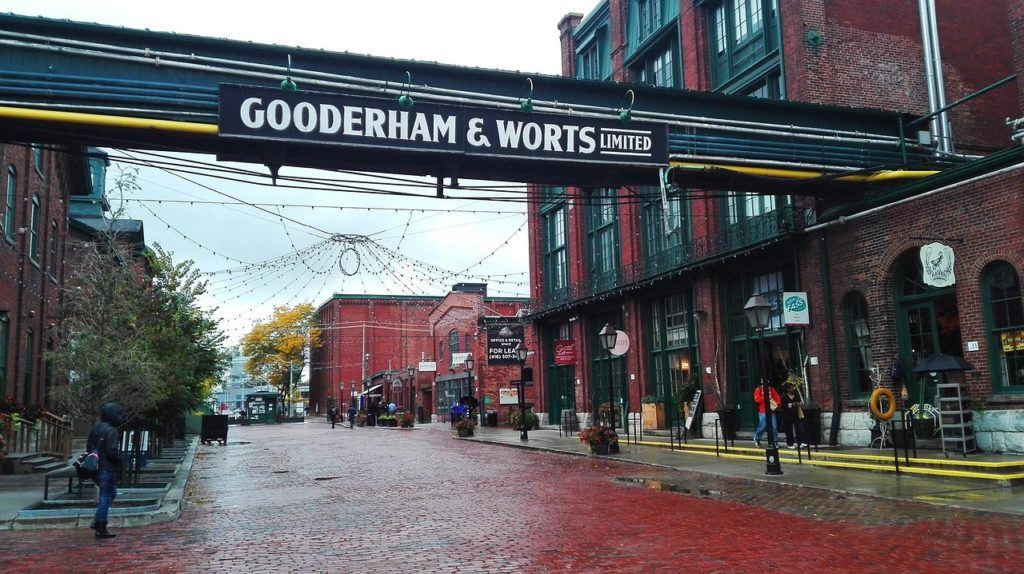 Gorgeous restored Victorian Buildings
The Distillery District is a National Historic Site of Canada
Diverse shops
Many eateries
Why it's awesome: Visiting the Distillery District is a Toronto must-do. It features the biggest collection of Victorian buildings in all of North America and is a National Historic Site of Canada. The area has many buildings that were previously part of the huge Gooderham and Worts Distillery, many of which have now been repurposed. The distillery, established in the 1830s, was once the world's largest distillery. By the time the distillery finally finished operations in 1990, much of the area was derelict. After regeneration projects, today the area has diverse shops, cafes, and restaurants and is a popular place to visit in Toronto. Each year the area hosts the annual Toronto Christmas Market.
What to do there: Wander along the ten pedestrianised (and cycle-friendly) streets that make up the Distillery District, seeing old buildings like the 1873 Pure Spirits Building, the 1886 East Boiler House, the 1863 Malt House, the 1859 Stone Distillery, and the 1889 Tank House. Snap pictures of the towering chimney stack on top of the Boiler House, one of the major landmarks in Toronto.
Don't worry if you have a feeling of déjà vu as you explore the Distillery District—numerous movies and TV shows have shot scenes in the atmospheric part of the city. Several interesting sculptures add to the ambience too. Shop till you drop in the diverse stores, including cool and quirky vintage boutiques, browse fresh produce and artisan treats in the weekly Sunday Market, peek inside trendy art galleries, and stop for refreshments in a cute café or top-class restaurant.
12. Canada's Wonderland
Biggest amusement park in Canada
Many rides and attractions for all ages
Dedicated areas for kids
Fun water park to beat the heat
Why it's awesome: Open since 1981, Canada's Wonderland is the biggest theme park in Canada. Spread across 330 acres (134 hectares), the large amusement park has plenty for people of all ages. In addition to a wide assortment of rides, people can cool down in the warmer temperatures at the water park with slides, pools, a lazy river, wave pool, and cabanas where you can take some time out and chill. There are great shows to enjoy throughout the day and a wide assortment of places to eat and drink. A visit to Toronto's Canada's Wonderland promises to be a fun-filled day out, and there's also an onsite resort if you want the thrills and giggles to last for longer. It's a popular place for families, couples, and friends visiting Toronto.
What to do there: Brave Leviathan, one of Canada's fastest and tallest roller coasters, strap into Flight Deck, the country's first inverted coaster, and ride the long wooden coaster of the Mighty Canadian Minebuster. Feel the rush on rollercoasters like Behemoth, Wilde Beast, The Bat, and Time Warp, with rides like the Drop Tower, Psyclone, Shockwave, and Riptide also sure to get the adrenaline pumping. Kids can enjoy tamer rides like the Ghoster Coaster, Swing Time, Pumpkin Patch, and Frequent Flyers.
13. St. Paul's Basilica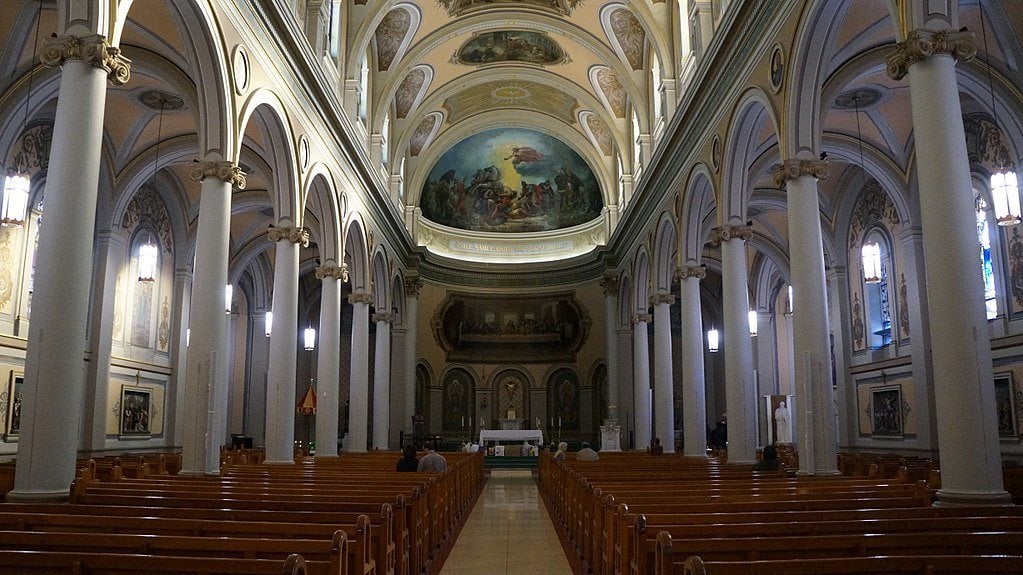 Striking architecture
Oldest Catholic church in Toronto
Modelled on a church in Rome
Serene and tranquil
Why it's awesome: Built in 1889 and standing on the site of an earlier church, Toronto's lovely St. Paul's Basilica is the city's oldest Catholic church. There used to be a school near the church too, meeting the educational and religious needs of the Irish immigrant community (who were predominantly Catholic). The Italian-like building was built to resemble Rome's Basilica of St. Paul Outside the Walls. The insides are beautiful, with lots of religious artwork. Today, it is an active place of worship still as well as one of the most religious attractions in Toronto.
What to do there: Appreciate the Italian-esque building from the outside, complete with its soaring bell tower, religious statues, large roof-top cross, and grand columns. Step through the doorways to stand at the end of the sweeping nave, with colourful stained glass windows and many paintings to catch your eye. The ceilings are especially impressive. Take a few moments for some quiet reflection and, if you're religious, visit the church for mass.
14. Chinatown
One of the biggest Chinatowns in North America
Home of Toronto's first Chinese-run business
Many places to sample delicious food
Lively atmosphere
Why it's awesome: Toronto's vibrant Chinatown is one of the largest Chinatowns in North America. A buzzing ethnic enclave, it can trace its immigrant roots back to the 1890s. One of the first Chinese-run businesses (a launderette) had previously opened in the area in the late 1870s and the first-known Chinese café opened in the early 1900s, with many others following. Today, it's a great place for visitors to immerse themselves in a different culture and see a different side of the large Canadian city. It's a top place to fully appreciate Toronto's rich multi-cultural and multi-ethnic facets.
What to do there: Walk around Chinatown, absorbing the many sights and sounds among the bustling crowds. Admire art in Bau-Xi Gallery, with a wide selection of works by both national and international artists on display, stock up on Asian groceries in one of the area's international stores and supermarkets, and take a peek inside the traditional herbal remedy shops. If you're feeling weary from all your sightseeing, how about a traditional massage?
A few blocks away is Planet Traveler, one of the best hostels in Canada. We'd recommend staying here so you are close by and able to soak up all that Chinatown has to offer.
15. St. Michael's Cemetery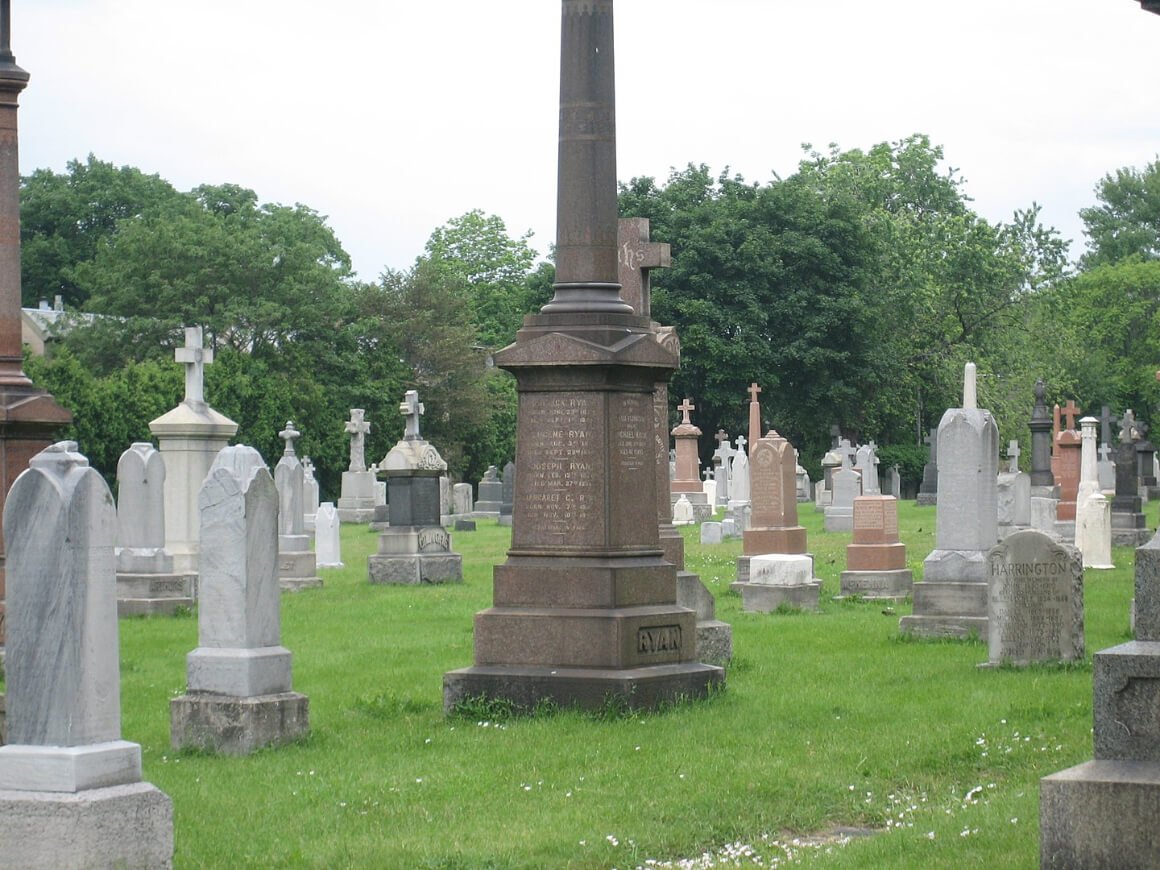 Hidden away and off the beaten track
Large burial ground
One of the oldest Catholic cemeteries in Toronto
Atmospheric and peaceful
Why it's awesome: Nestled behind towering buildings and shops in Toronto's downtown is a hidden gem—the quiet and atmospheric St. Michael's Cemetery. Although it could hardly be said to be small (it covers around 10 acres / 4 hectares), many people are unaware of the cemetery's existence. One of the oldest Catholic cemeteries in Toronto, it was established in the mid-1800s due to the large numbers of Irish immigrants to the city who sadly passed away shortly after their arrival. Trees line the edges and there are neat rows of old graves, some beautifully ornamented and others rather plain.
What to do there: The cemetery is usually closed to the public, its entrance blocked by large gates, but you can still peer through the metal gates to get a sense of the size and serenity of the burial ground. Access is possible through gates of private homes, but this isn't usually a realistic way of entering the grounds for most travellers. You may, however, strike it lucky and find somebody at the gate who is willing to let you look around and pay your respects to the deceased inside, or you can join a historical walking tour that includes access to the old burial ground. Among the graves there's a small cluster of cross-shaped markers, marking the spot where a whole group of nuns was laid to rest.
16. Rogers Centre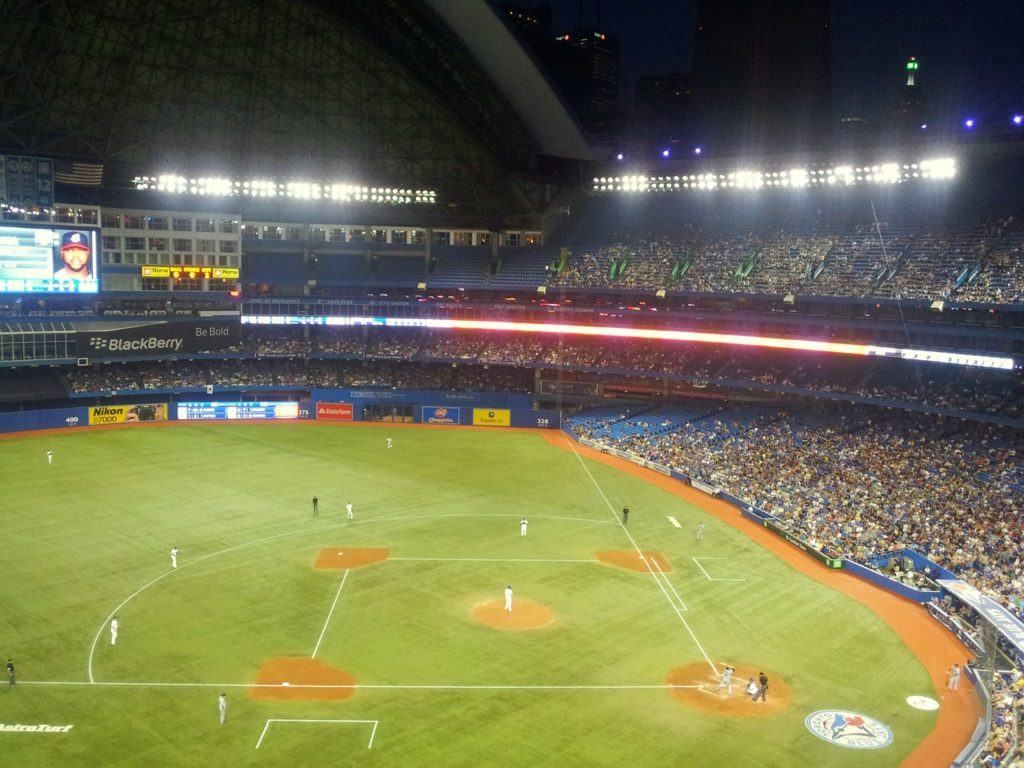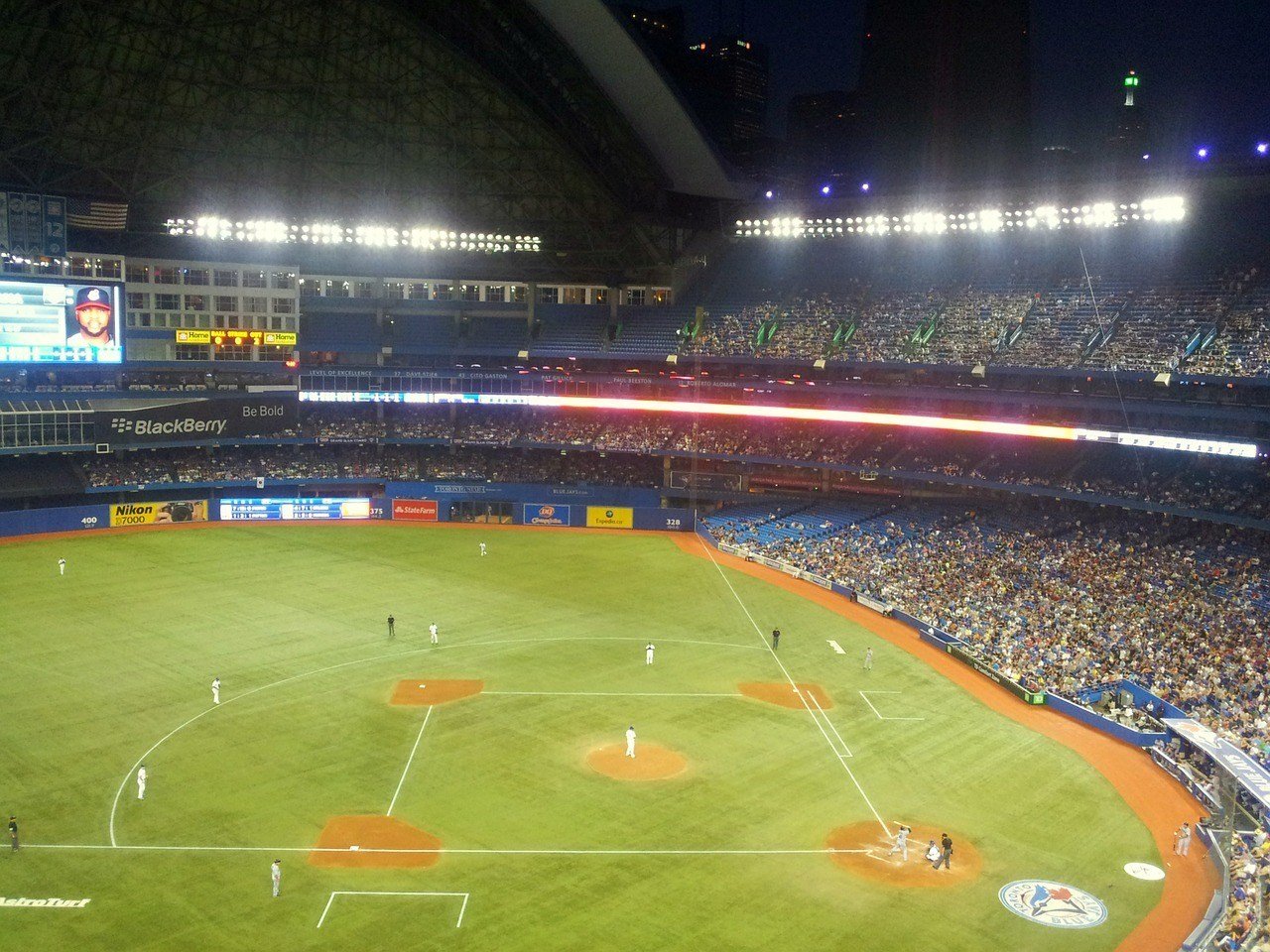 Major sports stadium
The only Major League Baseball stadium in Canada
Home of the Toronto Blue Jays
Interesting architecture
Why it's awesome: Sitting close to the shores of Lake Ontario, the Rogers Centre is a large multi-purpose stadium. It's home to the Toronto Blue Jays (a Major Basketball League team). Built in the late 1980s, the stadium is noted for its fully retractable motorised roof and for being the first stadium of its kind in the world. During construction, many historic artefacts were discovered in the ground, including pottery and cannonballs. The stadium is used for various sporting events, including baseball, basketball, soccer, football, cricket, and tennis. It also hosts various shows and exhibitions and has seen diverse concerts over the years including Bon Jovi, the Rolling Stones, Bruce Springsteen, and Madonna.
What to do there: Buy tickets to watch a sporting event and cheer on your favourite team as you revel in the electric atmosphere. There's no need to worry about missing a second of the action thanks to the gigantic video screen and TVs in the eateries. Several of the restaurants also offer terrific views of events. See stunning pieces of artwork throughout the complex, including the gleaming steel and glass The Art of the Possible, the fabulous Salmon Run fountain, and the joyful and golden The Audience. You can peek behind the scenes, and visit areas that are usually off-bounds to visitors, with a stadium tour. It's a must on your Toronto Itinerary.
17. Iskcon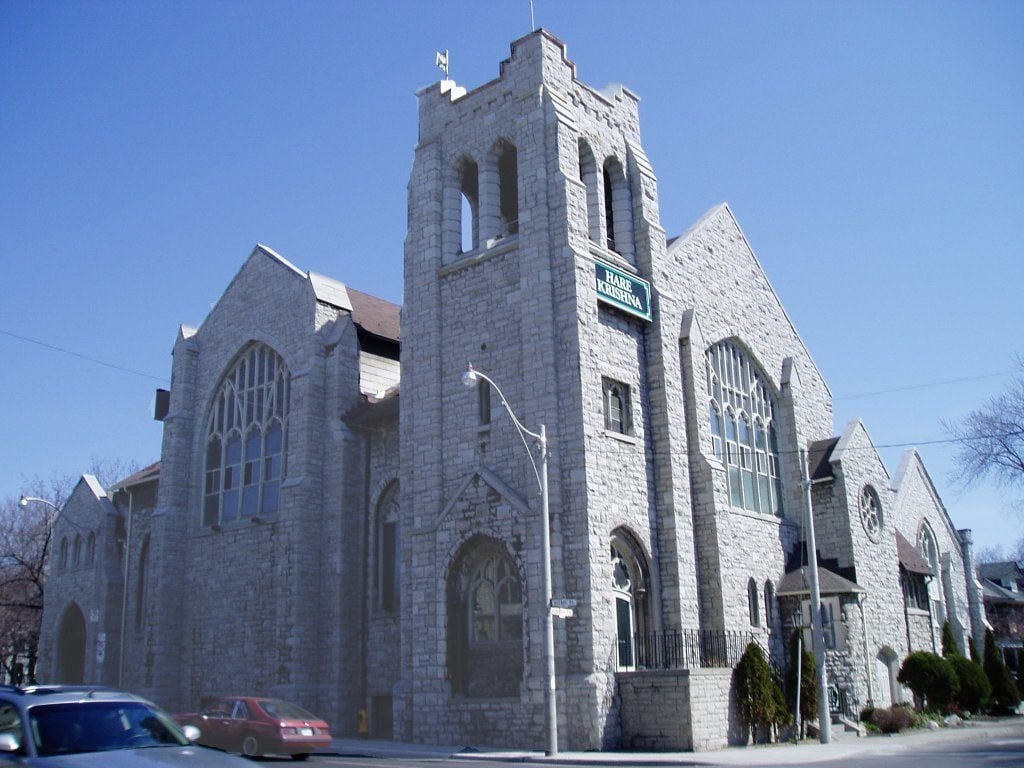 Housed in a former church
Major centre for the Hare Krishna movement
Varied program of community events
Top place to experience Hindu culture
Why it's awesome: Iskcon is a great place to experience Hindu culture when you travel to Toronto. Housed in a former church, the historic building looks like many other Christian places of worship from the outside, with a tall bell tower and Gothic-like windows. Upon further inspection, however, it's easy to spot flags flying from the top where you may expect to see crosses and a large sign that shows it's a Hare Krishna place of worship. The International Society of Krishna Consciousness was first established in Toronto in 1969, eventually moving into its present home (after a number of setbacks) in 1975.
What to do there: Admire the beautiful building from the outside and go inside the temple to see colourful statues of various Hindu deities and learn more about the Hare Krishna movement. If you visit on a Tuesday evening you can join in with lively discussions on spirituality and enjoy a vegetarian dinner. The centre also runs classes to study ancient religious texts, yoga classes, cooking lessons, dramatic productions, and more.
18. Fort York National Historic Site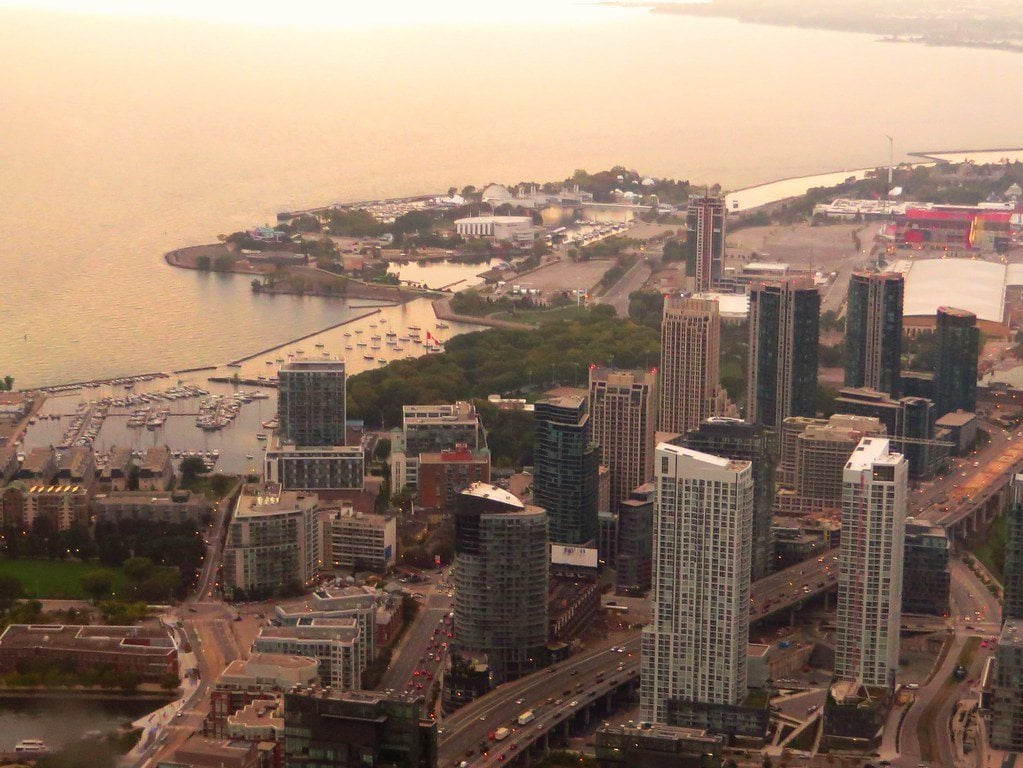 Long history
Built by Canadian troops and British soldiers
Some of the oldest buildings in Toronto
Interesting Museum
Why it's awesome: One of the best places in Toronto for history lovers, Fort York National Historic Site dates back to the early 1800s. The defensive structure was built because of tensions between the British and Americans, and the British wished to protect their territories. The circular battery was built in 1811. In 1812 the USA declared war and Fort York was attacked in 1813. The fort was eventually captured and destroyed.
It was rebuilt in 1814 and the war subsequently ended. Defences were strengthened over later years when trouble seemed imminent. The fortress was restored in the early 1900s as a celebration of the incorporating of the city. It was opened as a museum in the 1930s. Today, some of the structures within the complex are among the oldest buildings in Toronto. Visitors can explore the once mighty fortress and see an array of artefacts and military memorabilia.
What to do there: Discover Ontario's troubled and turbulent history as you wander around the once-powerful Fort York. Learn more about past battles and relations between Canada, the USA, and Britain and take tours to dig deeper into times gone by. See old barracks, munitions storage areas, storerooms, and gates, and step into reconstructed period rooms to experience the life of yesteryear. You can also see various exhibits, including weapons, pottery, and items recovered from a shipwreck. Relax in the Fort York Community Garden, pick up souvenirs in the museum store, and watch impressive displays (in the summer months) by the Fort York Guard.
19. The Entertainment District
Excellent night scene
Diverse cuisine
Lively theatre district
Popular with both locals and tourists
Why it's awesome: The Entertainment District is, as the name suggests, one of the best places to visit in Toronto for fabulous nightlife. It also promises to be a fun visit during the daytime too! A previous industrial area, it went through a major transformation in the 1980s and is today a popular part of the city for anyone seeking leisure activities and fun. In addition to a wide array of restaurants, bars, and clubs, the area also boasts some excellent theatres, cinemas, and shops.
What to do there: Catch a top show in one of the theatres along King Street West or watch a movie at the TIFF Bell Lightbox. Dine on the delicious global fare in one of the many restaurants, with something to appeal to all tastes and budgets. From French and Italian delicacies to Asian specialities and fast food, the Entertainment District is sure to satisfy your hunger. As night descends you can hop between cool bars, some of which feature live music, or dance the night away as the DJs keep the tunes spinning in one of the spirited nightclubs.
If you've ever wondered, is Toronto safe, rest assured that it was ranked the 4th safest city in North America. Make sure to take the necessary safety precautions as a traveller in particularly rowdy drinking areas at night, though, just as you would anywhere else.
20. Craigleigh Gardens Park
Off the beaten track
Impressive entrance
Walking trails
Dog-friendly area
Why it's awesome: Close to the affluent Toronto neighbourhoods of Bayview and Bloor, Craigleigh Gardens Park is a lesser-visited park. Quiet and peaceful, the pretty park is a top place to escape the tourist crowds and spend some time outdoors. There's an area where visitors can let dogs of the lead too, meaning that all visitors, human and canine, can enjoy the park. The park was once the site of a grand Victorian house. The home was demolished, however, in the 1920s and the gardens were turned into a lovely city park. The park covers 8.4 acres (3.4 hectares) and there's lots of open space. There are also walking trails close to hand.
What to do there: Pass through the impressive Gothic gates to find yourself in a beautiful and quiet verdant park. Don't be surprised if you spot very few other souls—it really is a hidden Toronto treasure! Stroll through the green expanse and let children run and play. Take a walk down the narrow Milkman's Lane next to the park and explore the scenic ravine trail. The nearby area also has lots of elegant homes to admire as you daydream.
Get insured for your trip to Toronto!
Don't forget your travel insurance when you travel. Canada might be super safe, but you just never know what might happen when you travel overseas!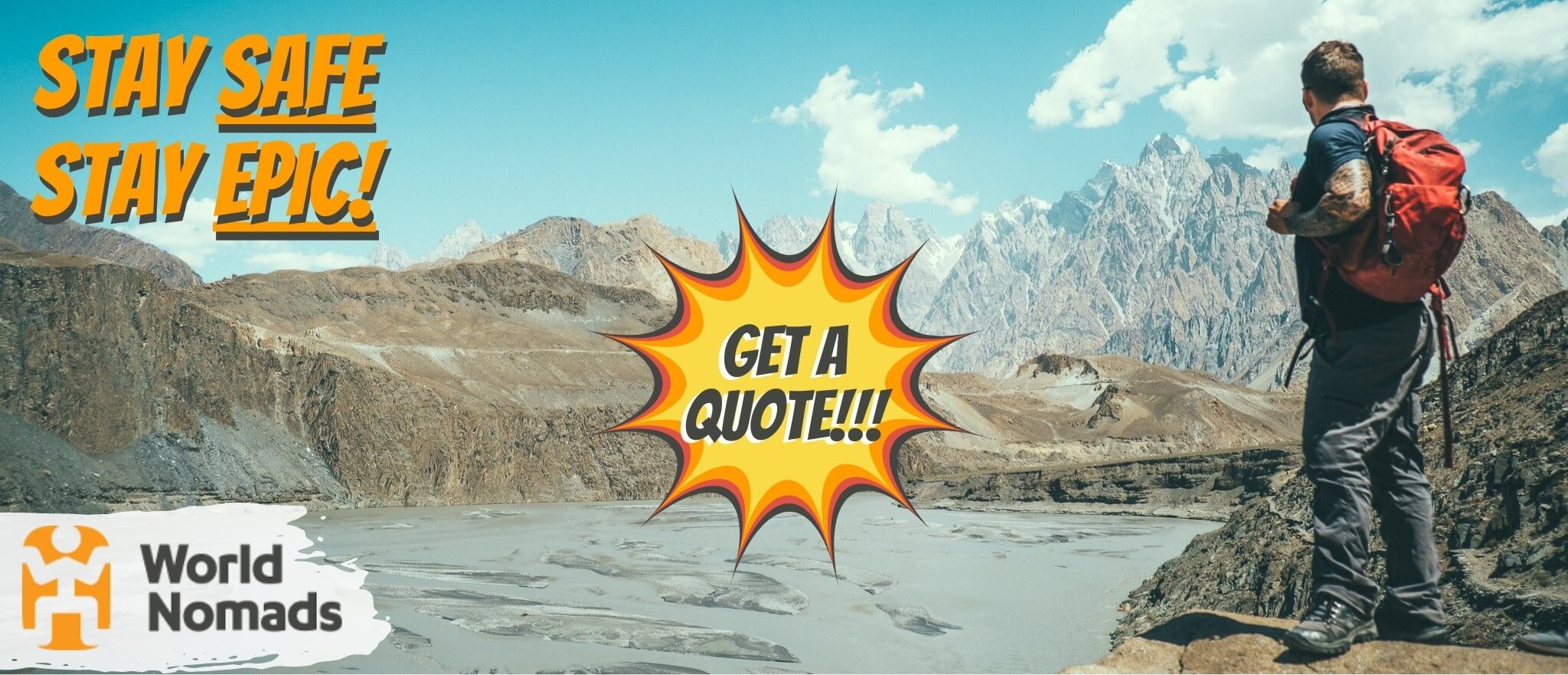 World Nomads' mission is to support and encourage travellers to explore their boundaries. They offer simple & flexible travel insurance, and safety advice to help you travel confidently.
They've been doing it since 2002 – protecting, connecting, and inspiring independent travellers just like you.
Get a quote below or read our in-depth review!
World Nomads provides travel insurance for travelers in over 100 countries. As an affiliate, we receive a fee when you get a quote from World Nomads using this link. We do not represent World Nomads. This is information only and not a recommendation to buy travel insurance.
FAQs on the Best Places to Visit in Toronto
Here's what we're usually asked about the top attractions and excursions in Toronto.
Final Thoughts
Toronto is a vibrant city with much to appeal to the senses. There are plenty of ways to have fun in Toronto; whether you're into shopping, dining, sightseeing, or outdoor pursuits, you'll find lots of ways to enjoy your Toronto visit.
Whether you want to watch the Toronto Maple Leafs, explore a variety of world cultures, or just explore heaps of coffee shops, there's plenty to do when you visit Toronto.
Other fantastic places to visit in Toronto include the pretty Toronto Botanical Garden, the awesome Art Gallery of Toronto, Lawrence Market and City Hall, the romantic Allan Gardens Conservatory, and the lesser-visited Riverdale Park.
Don't miss calling by Casa Loma too, one of the most unusual things to do in Toronto as well as exploring the city's East End. As you can see, there's plenty of variety when it comes to tourist attractions in Toronto.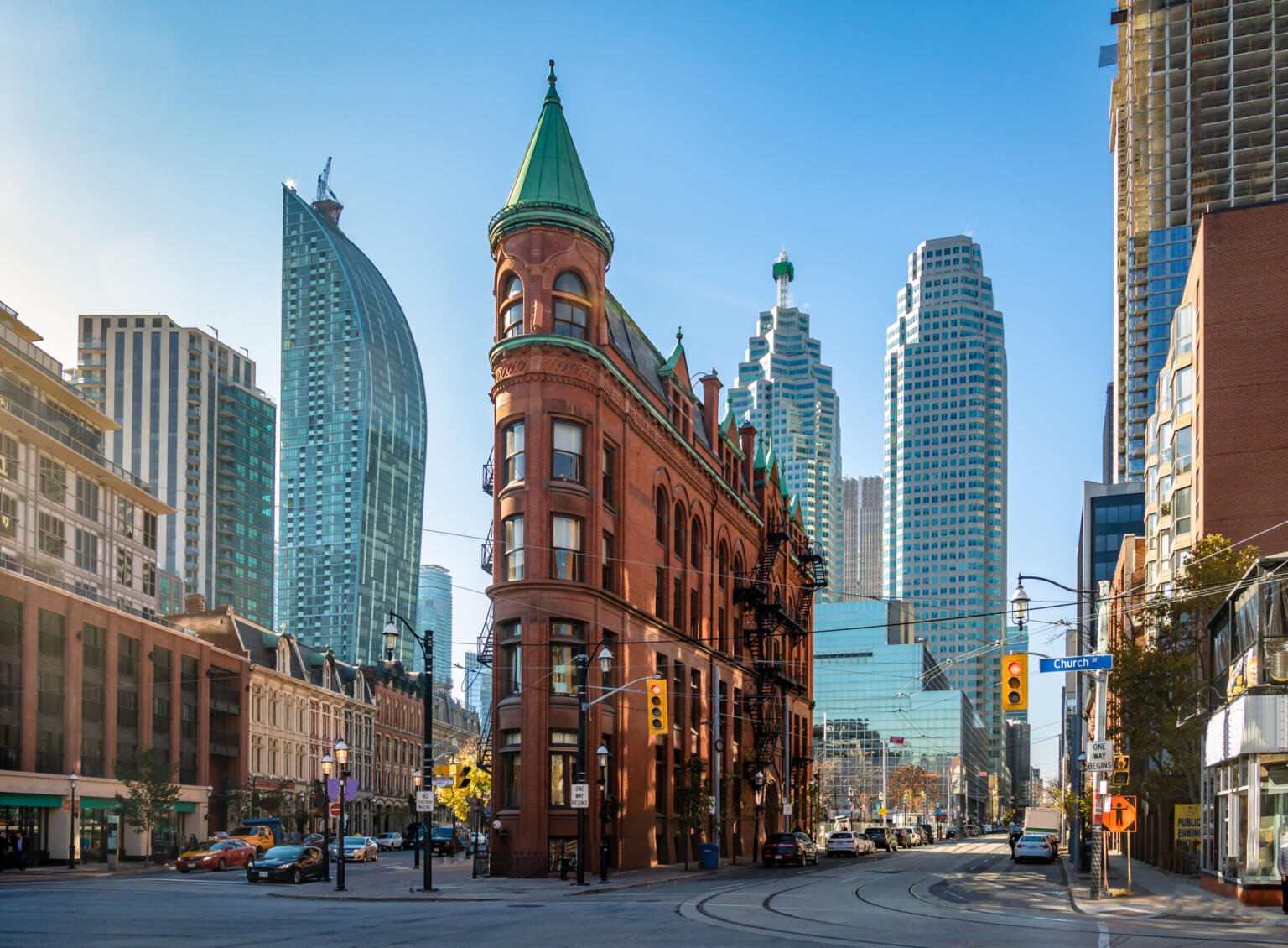 ---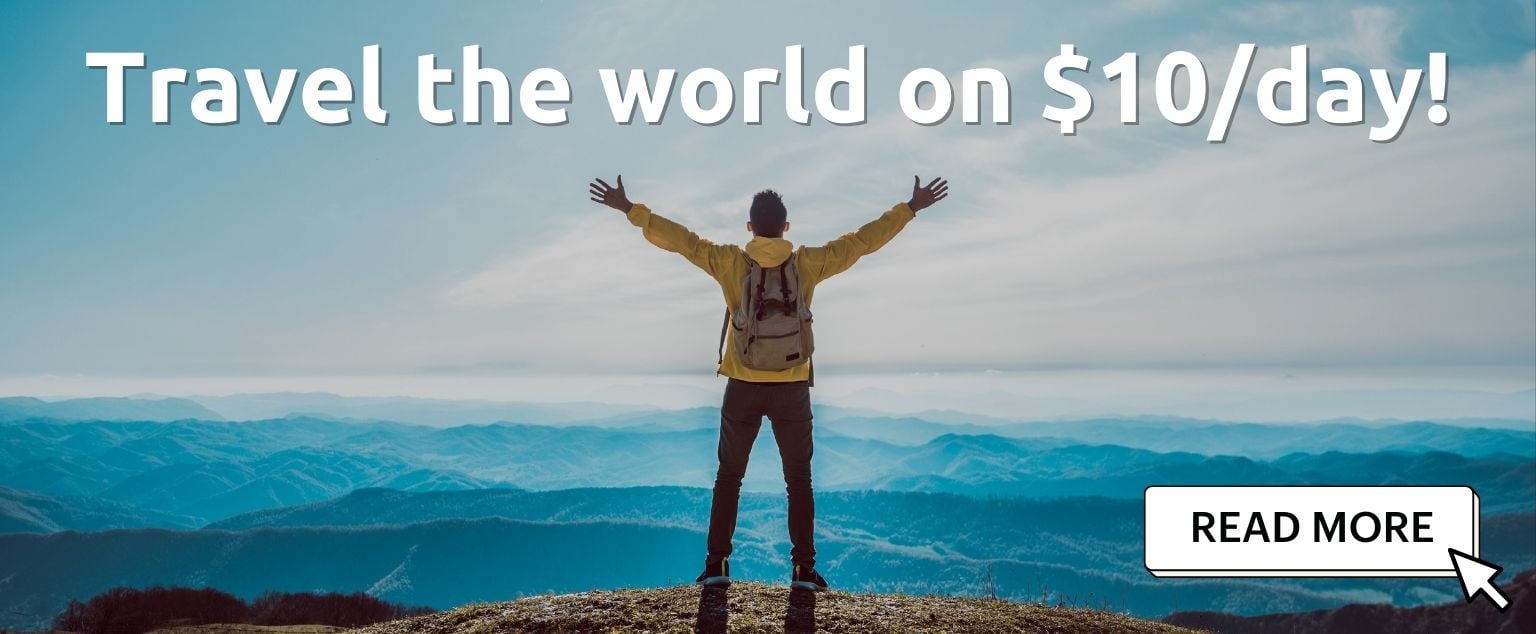 And for transparency's sake, please know that some of the links in our content are affiliate links. That means that if you book your accommodation, buy your gear, or sort your insurance through our link, we earn a small commission (at no extra cost to you). That said, we only link to the gear we trust and never recommend services we don't believe are up to scratch. Again, thank you!