A dynamic metropolis with an abundance of cultural activities and attractions, Toronto is an incredible city to visit! Whether you're planning a trip to Toronto in summer or winter, there's more than enough to keep you occupied.
If you've only got 2-3 days in Toronto, don't stress. It can be difficult to plan a short holiday to fit everything in – but we've got you covered!
This Toronto trip itinerary includes all the best Toronto has to offer, come rain or shine. Whether you want to visit art galleries, head to the Hockey Hall of Fame, wander around the Royal Ontario Museum, sail to the Toronto Islands, climb the CN tower or just explore Downtown Toronto or indulge at Kensington Market. There's so many Toronto attractions, it can be stressful to plan it all out!
Visit lush parks and the enormous entertainment district, marvel at the cultural and historic artefacts at Toronto's best museums, and try all the delicious local cuisine!
You'll experience every side of Toronto and all without breaking a sweat with our perfect Toronto itinerary.

Unlock Our GREATEST Travel Secrets!
Sign up for our newsletter and get the best travel tips delivered right to your inbox.
Little Bit about this 2-Day Toronto Itinerary
Toronto is a large city but is a lovely place to walk across. Many of the attractions are in the same area in Downtown Toronto, so you can walk between them. Furthermore, the neighbourhoods themselves are so interesting and diverse that a little 'slow travel' between them is a wonderful way to experience the city.
The public transport in Toronto is also fantastic. You can buy a day ticket – or if you're spending more than 3 days in Toronto, a weekly pass – which then applies to all public transport. You can use your ticket to catch a bus, subway or streetcar.
You can buy the ticket at one of the city's subway stations, or as you climb onto a streetcar or bus. We suggest you also pick up a free Toronto transport map if you visit a station. It will make travel easier!
The city is also improving its cycling infrastructure. So if you want to rent a bicycle to get you around during the day, or join a cycling tour, that's another great option! However, if you choose this means of transport, always keep safety in mind. Drivers don't always look out for cyclists, so the onus is on you to stay safe.
Whether you're on the vacay of a lifetime or backpacking around Canada, a visit to Toronto is a must and there's plenty to keep you entertained both in and around the city. So here we go, let's get on with it!
2-Day Toronto Itinerary Overview
Day 1 in Toronto: Lake Ontario | Royal Ontario Museum | Kensington Market | CN Tower | Royal Alexandra Theatre
Day 2 in Toronto: Woodbine Beach | Casa Loma | St. Lawrence Market | Hockey Hall of Fame | The Art Gallery of Ontario | Eaton Centre | Hockey Game
More Places to See in Toronto: Historic Distillery District | High Park | Toronto Islands | Allan Gardens Conservatory| Niagara Falls Day Trip
Toronto's sights and attractions are spread across the central city! This means that many of the charming neighbourhoods are great options as the best place to stay in Toronto.
Where to stay in Toronto simply depends on the type of experience you're looking for when you visit Toronto. The neighbourhoods differ greatly, and Toronto has even come to be known as 'the city of neighbourhoods' because of their unusual range! If you walk for 10 minutes you'll find your view changes greatly.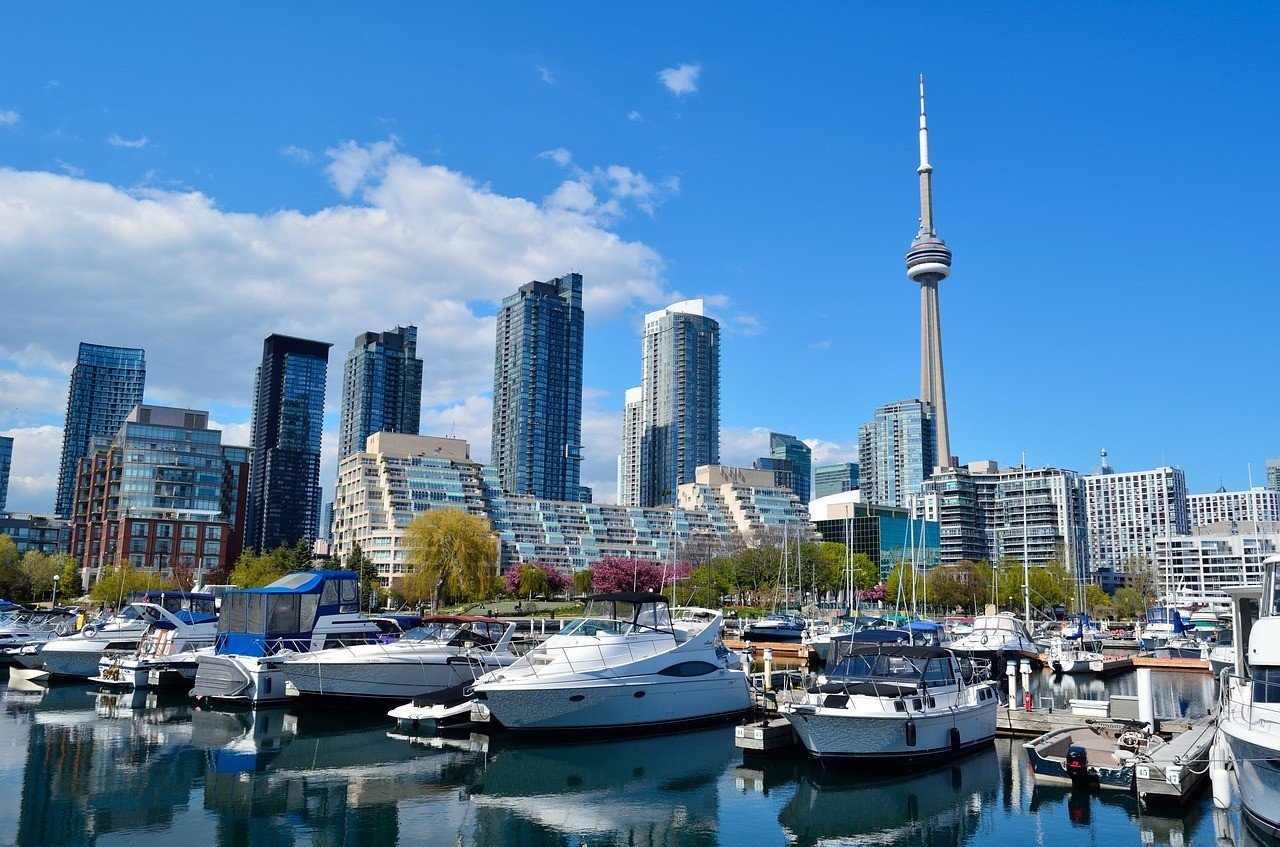 One of the best neighbourhoods with easy access to the best Toronto points of interest is Harbourfront. This beautiful suburb sits on the shores of Lake Ontario, where you can catch a ferry to the islands, or around the city. This area is also a great place to find lovely cafes, theatres, and parks. It's the perfect location for a cultural, laid-back vacation in Toronto.
For a livelier holiday, stay in The Annex. This neighbourhood is situated right next to a university, so the bars and cafes will always have some fun locals. You'll also find some great museums and concert venues, making it the perfect destination for some Canadian fun and history!
There are also a lot of cool, well-situated Airbnbs in Toronto priced to suit all budgets. They tend to be spread out across the city and not so much in Downtown Toronto.
Be sure to stay here public transport and particularly the subway for easy assess to Toronto Pearson International Airport. It will also make it easy to plan out your perfect Toronto itinerary if you can get around as easily as possible.
Vibrantly colourful and bright, this cheerful hostel is a fantastic place to spend your holiday! There are great shared spaces inside and out, with a comfortable homey atmosphere.
You'll get a free daily breakfast, and you can pop down to the in-house pub and cafe for a drink with your fellow travellers!
If the Backpacker's Inn is closed, consider one of these other great hostels in Toronto!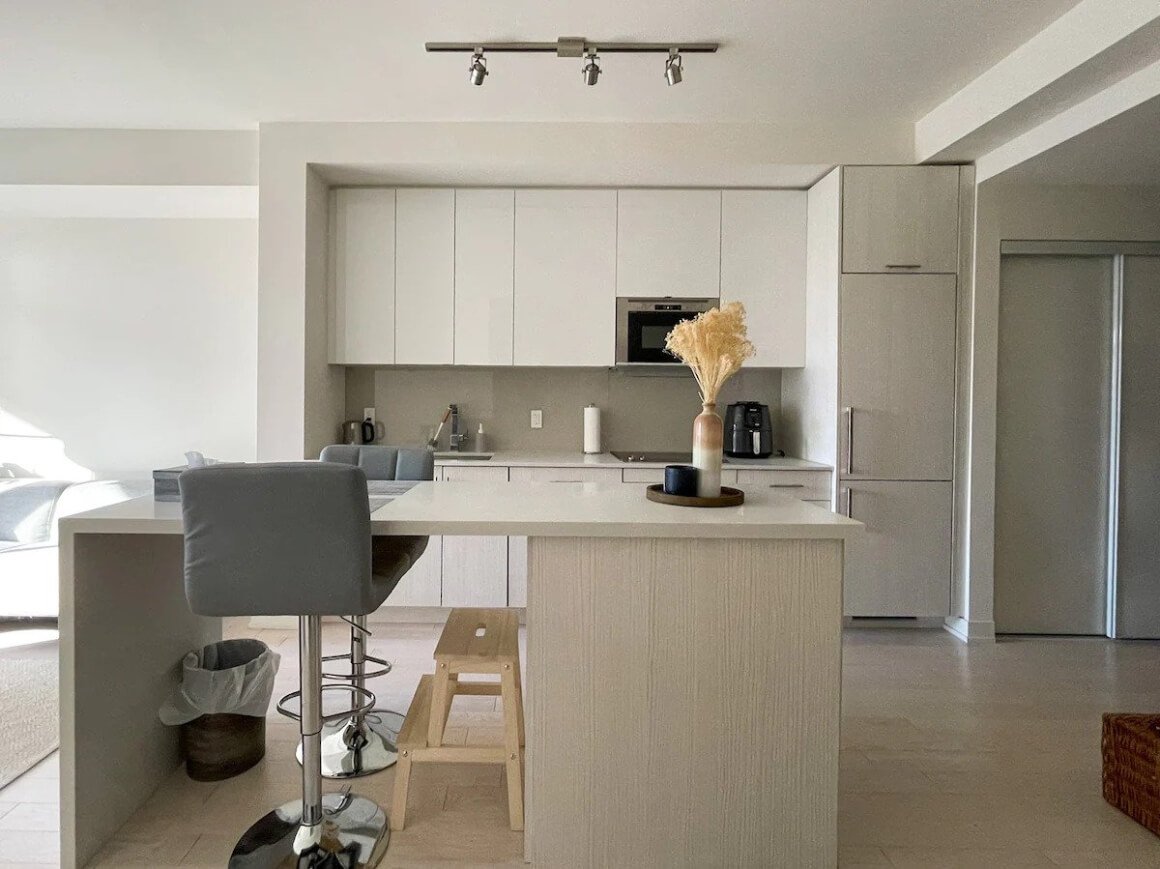 Modern, comfortable and plush, this downtown Toronto apartment is in a super central location with all the amenities you could need for a relaxing city stay. Spend your days exploring all the sights of the Canadian hotspot with a chic and bright home to return to. Air Canada Centre, Rogers Centre and the Harbourfront Centre are all just steps away!
Best Budget Hotel in Toronto – Hotel Ocho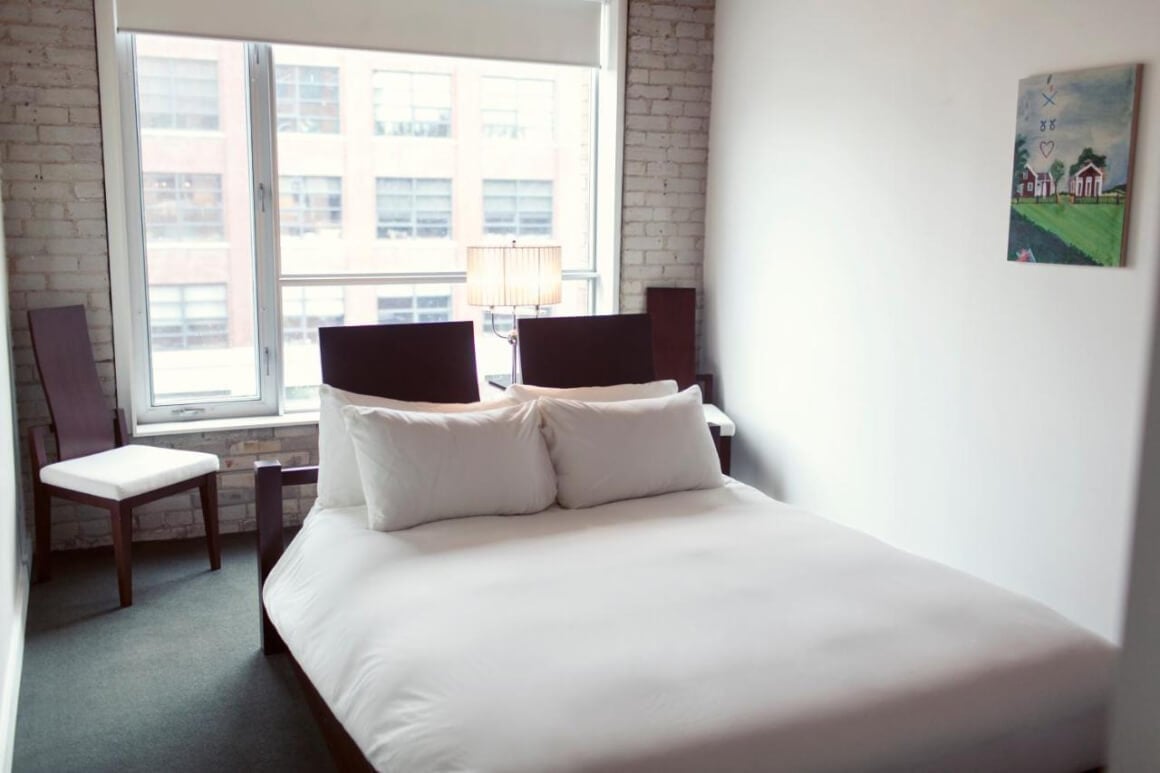 Situated in Chinatown, Hotel Ocho provides cosy rooms at a good price. They are stylishly decorated with exposed brick walls and industrial-style furnishings. The hotel offers an on-site bar and restaurant, as well as bicycle hire.
Best Luxury Hotel in Toronto – Hotel X Toronto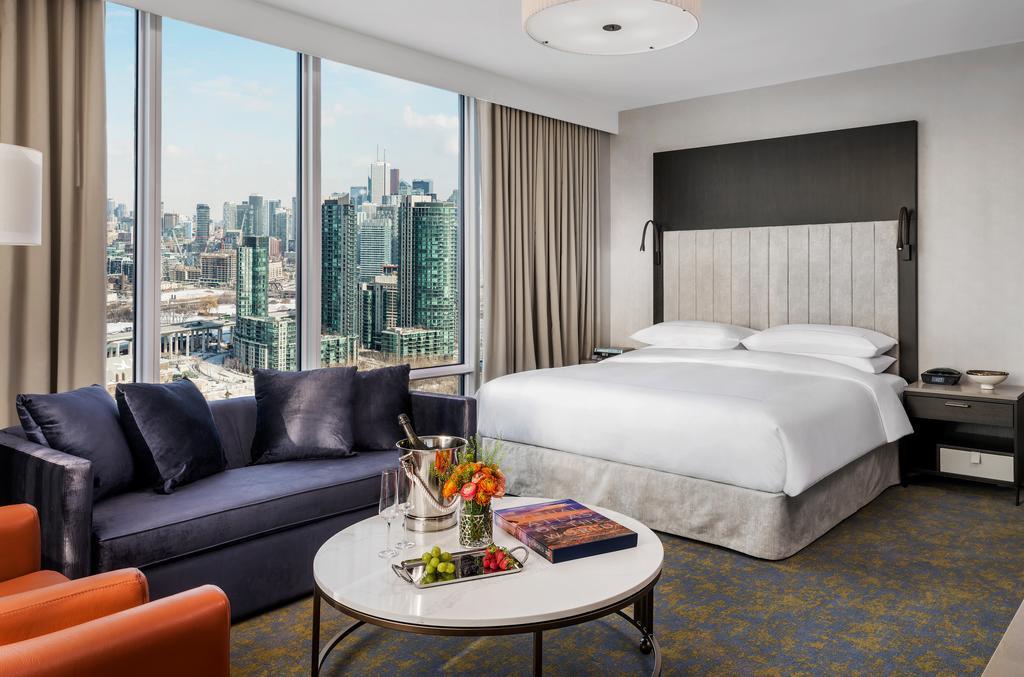 With phenomenal views and a whole new level of service and amenities, Hotel X is exquisite. Facilities include tennis, fitness and wellness spaces, a gallery and theatre, a rooftop pool, and greenhouse-style dining!
Enjoy views over the lake or the city, and the perfect location in Downtown Toronto.
Every map that you see in this article includes a hyperlink to an interactive version on Google Drive. After clicking the map image, the interactive version will be opened in a new tab.
Toronto Itinerary Day 1: Culture Old and New
Day 1 of your 2-day itinerary in Toronto is the perfect day to spend strolling between stops! Grab a map and enjoy a self-guided Toronto walking tour. Everything is in or near the Entertainment District, so you can dedicate all your time to the stops themselves!
9:00 am – Stroll beside Lake Ontario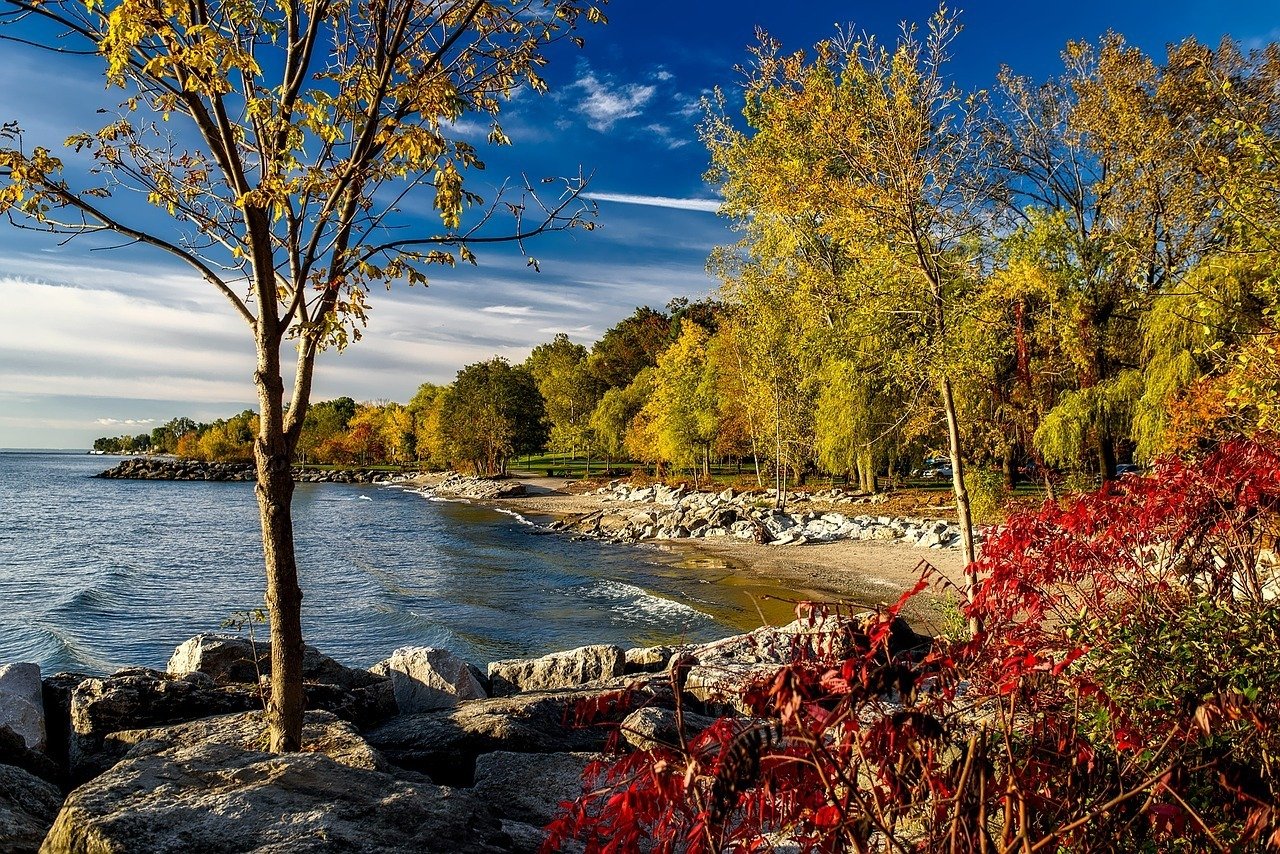 Lake Ontario is one of the 5 Great Lakes of North America! With some of Canada's biggest cities formed along its banks, it's one of Canada's most important landmarks. The best way to start off a trip to Toronto is to explore a strip of the lake, and admire how it has shaped the city!
Since the rest of our day 1 itinerary is sprawled across the Entertainment District, we suggest you stroll along the Waterfront Trail, right here!
However, if you want to experience the lakeshore with a quieter, more natural atmosphere, start the day at Scarborough Heights Park! This gorgeous lakeside park is the perfect place to enjoy a leisurely morning before things get started. It gets busy later in the day, but you'll be sharing it with ducks and the occasional dog walker in the morning!
Cost – Free
How long should I stay here? 1 hr
Getting there – Head to Bay St at Harbour St South Side or Queens Quay West at Harbourfront Centre.
10:00 am – Royal Ontario Museum
If you travel to Toronto for any length of time, this is a necessary stop! The massive museum has everything and exhibitions from all over the world. Interactive and educational displays, art, culture, and natural history it's all here. Any holiday in Toronto simply has to include a trip to the Royal Ontario Museum!
Whatever you're interested in, this museum will have it. There are over 30 galleries!
Grab a map and stroll through the exhibitions, discovering new things about the natural world, and art you've never imagined. Some of the best galleries in the museum explore African art and ancient civilization, Roman art and culture, the age of dinosaurs, and Chinese sculpture! There is simply so much to see.
At this carefully curated museum, cultural heritage is explored, delving into the greatest civilizations in history. The diversity of life is contrasted with human similarities across time and place. It's an adventure!
Cost – $23 USD general admission
How long should I stay here? 2 hrs
Getting there – Take line 1 on the subway to Museum Station.
11:00 am – Explore Kensington Market
After spending a couple of hours in the museum, a bit of fresh air is just the ticket! Stroll over to Kensington Market, Toronto's most interesting and unique shopping neighbourhood!
Explore the many art spaces in the area – including the walls of many of the structures. Stop at vintage boutiques and quirky stores. There's a great array of cafes, bakeries and speciality stores, you'll want to turn in to every door.
This is a brilliant place to enjoy some window shopping and people-watching. Locals love this area, and it's well frequented by hipsters and unusual types.
The market itself offers both indoor and outdoor shopping and browsing. It's colourful and vibrant, making it a lovely space to spend an hour or two! Even if you only have one day in Toronto, we recommend you experience this city hub! It's a great place to grab some lunch too.
Cost – Free
How long should I stay here? 1.5 hrs
Getting there – Take the subway to Queen'S Park Station and change to the tram at College St at Queen's Park, get off at College St at Major St.
2:00 pm – CN Tower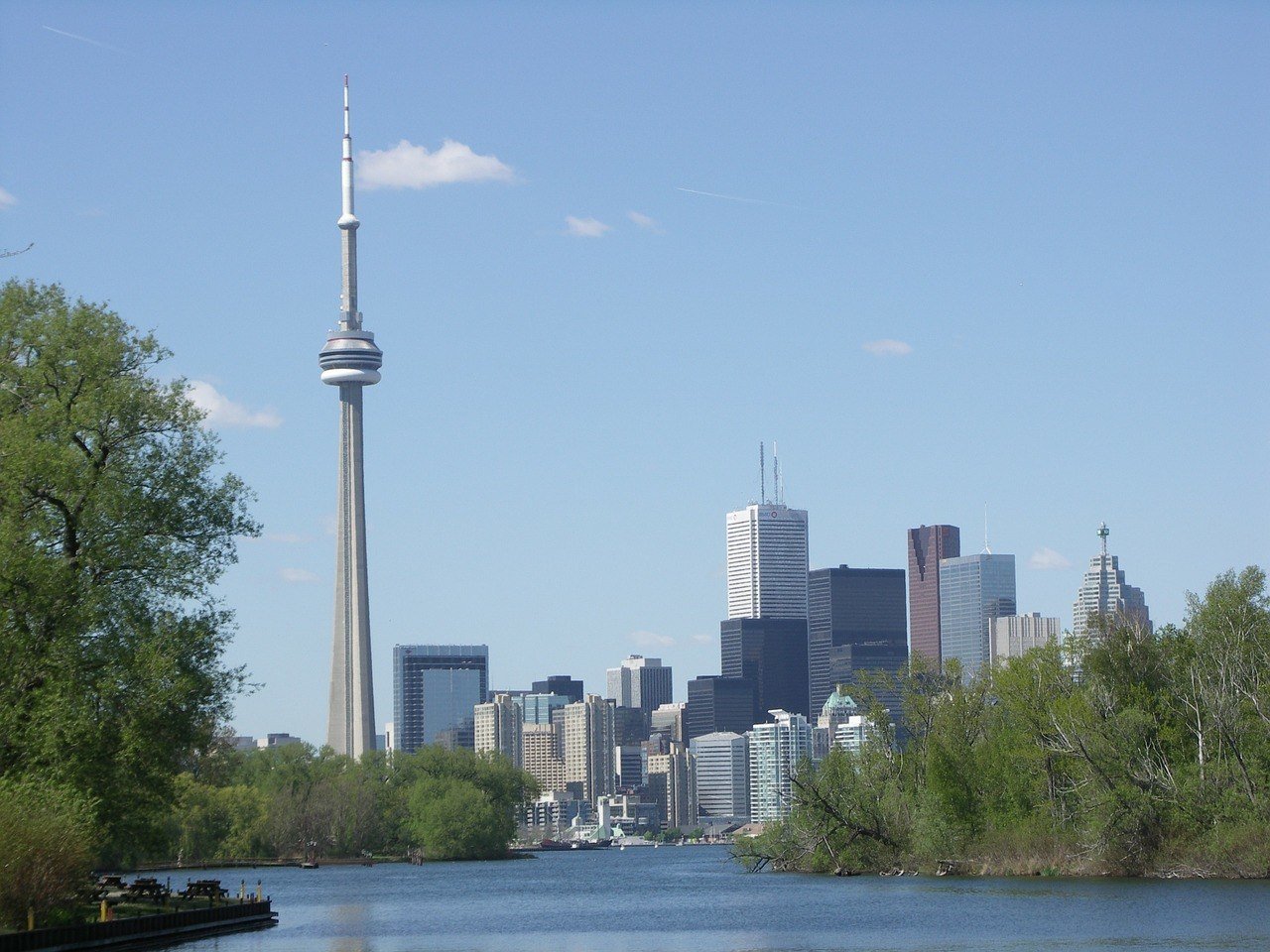 Enjoy the best views of Toronto at CN Tower! You'll have seen the tower from other spots on your Toronto itinerary – it's so tall, you can see it from many places in the city and it's an iconic part of the Toronto skyline.
The CN tower experience is a thrilling one. The LookOut Level is your first stop, where you'll have phenomenal views – see if you can spot all of the stops on day 1 of your itinerary for Toronto!
From there you can choose to walk on the world-renowned Glass Floor and see everything right below you. This was the first of its kind when it opened in 1994, and continues to be one of Toronto's top attractions! On the same level, you can step outdoors and check if the air is thinner up here, on the SkyTerrace of the CN tower.
If you've timed day one of your Toronto itinerary so that you can be here at sunset. Watch the sky change colour and the buildings glow golden at this most beautiful time of day. It'll also make for some truly fantastic pictures! But either way, whatever time you head up the CN tower you'll have awesome views of Downtown Toronto and beyond.
Cost – $38 USD general admission
How long should I stay here? 1.5 hrs
Getting there – Take the Line 510 tram to Queens Quay West at Rees St and it's a 5 min walk from here.
Insider Tip: This stop may be too intense for those afraid of heights, so if you don't think you can handle it, rather give it a miss! If you're going with friends or family, chill out at the Olympic Park just next door while you wait for them.
5:00 pm – Royal Alexandra Theatre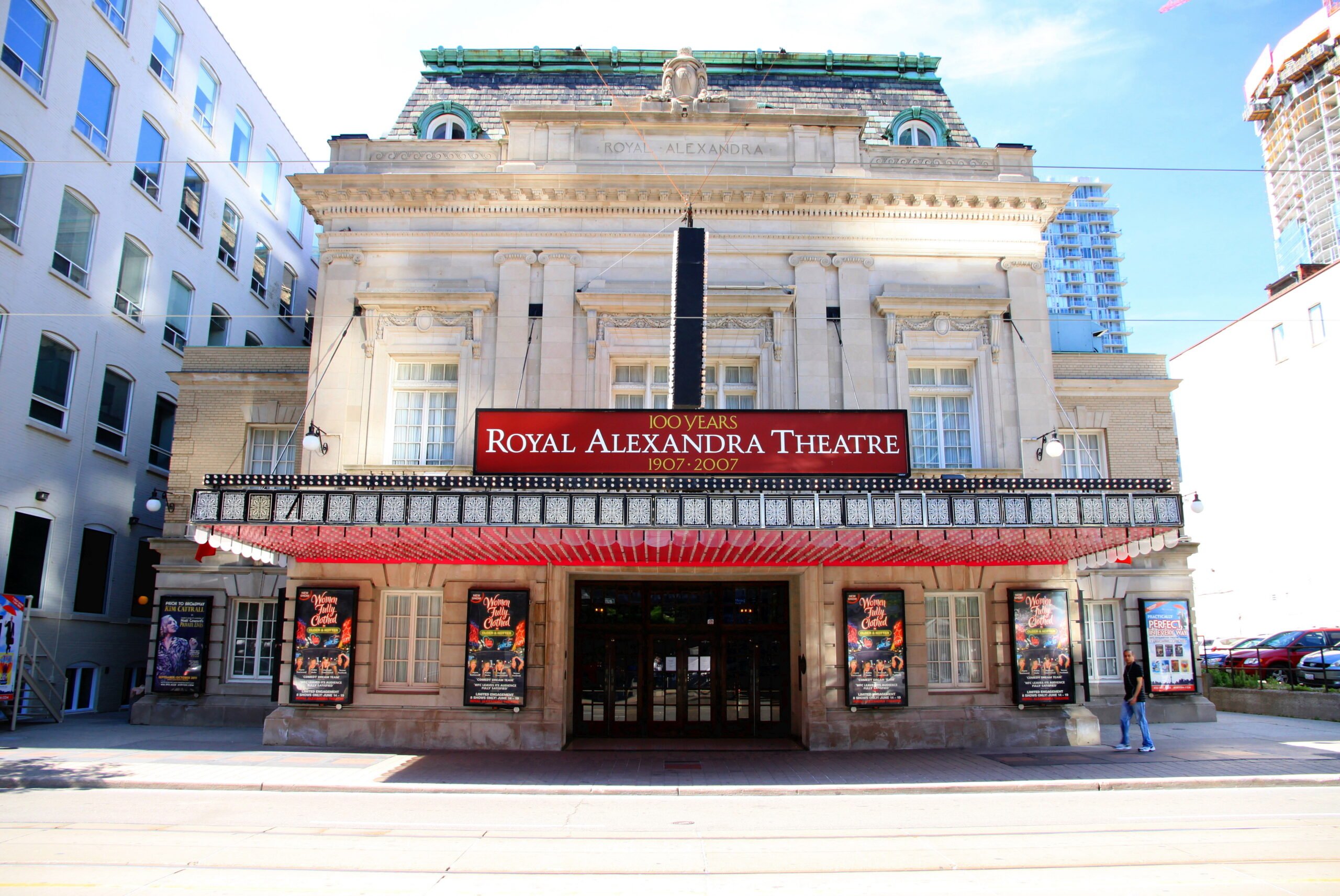 Opened in 1907, this historic theatre is an incredible place to see a show! The style follows 19th-century British theatres, designed to be the finest theatre in North America. The building has so much character and class.
Plays are performed at the theatre most days of the week – but keep in mind that weekends are substantially pricier, with Tuesday being the cheapest day!
Cost – $110 USD + depending on seat and day
How long should I stay here? As long as the play/ a few hours.
Getting there – This is a 10 min walk from the CN Tower.
Small Pack Problems? 😉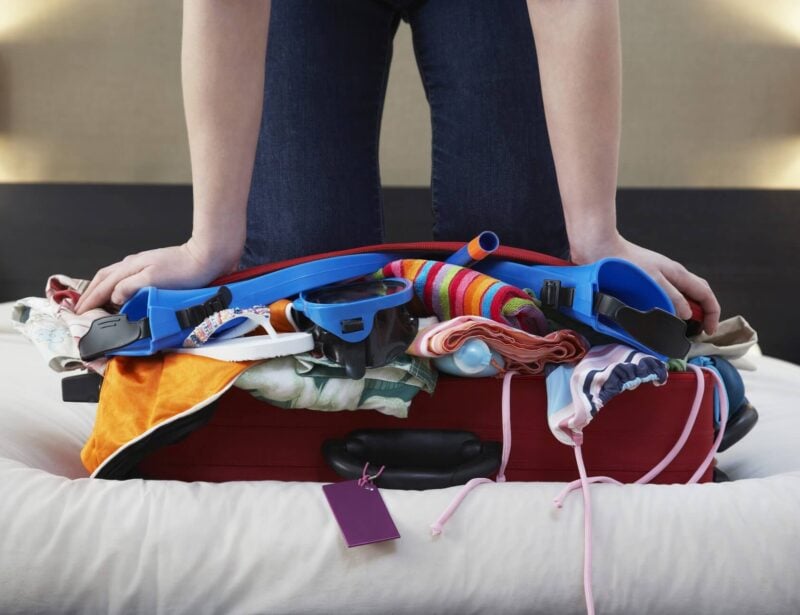 Wanna know how to pack like a pro? Well for a start you need the right gear….
These are packing cubes for the globetrotters and compression sacks for the real adventurers – these babies are a traveller's best kept secret. They organise yo' packing and minimise volume too so you can pack MORE.
Or, y'know… you can stick to just chucking it all in your backpack…
Get Yours Here
Read Our Review
With 2 days in Toronto, you'll spend your second day exploring Toronto's impressive cultural offerings. These are the very best places to visit in Toronto!
9:00 am – Woodbine Beach
This lovely lakeside beach is a great place to start the morning. Unless you're here in summer you may find it too chilly to swim, but there's a lot more to enjoy. You can enjoy a breakfast picnic on the beach, or simply grab a coffee and sit on the shore, admiring the view.
You can also play a game or two of volleyball with the locals to get a bit of exercise in. This way, maybe you'll even want to take a dip despite the chill in the air?
If you don't like to get sandy, stroll along the boardwalk. Especially in summer, it's the perfect Toronto stop.
Cost – Free
How long should I stay here? 1 hr
Getting there – Take Line 501 tram from Queen St West at York St to Queen St East at Coxwell Ave.
Insider Tip: If you're an early waker, get here before sunrise! The pink sky above the lake is incredibly beautiful, and will really set the tone for the rest of your day.
10:30 am – Casa Loma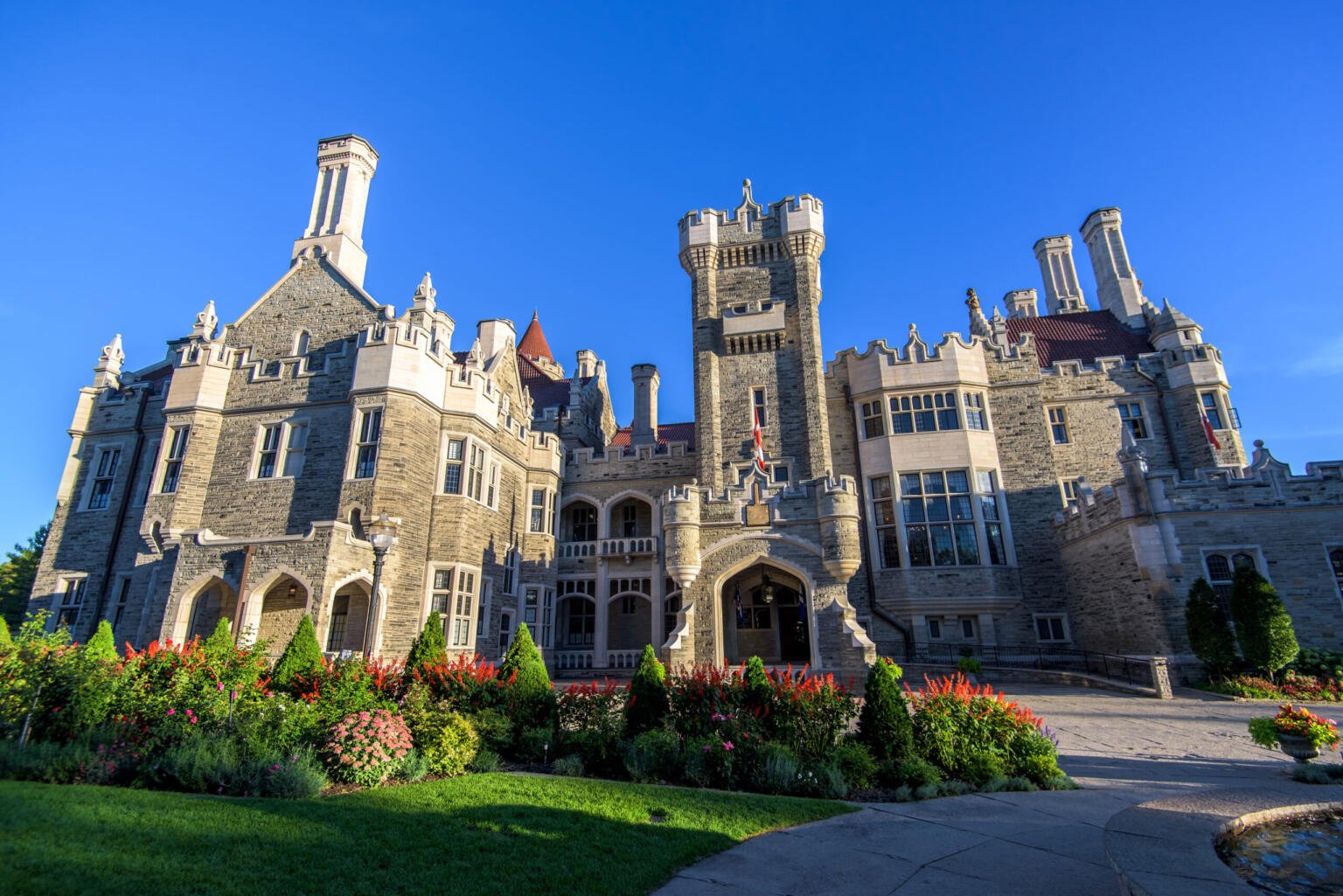 With 98 ornate rooms, stables and a wonderfully curated garden, Casa Loma is an incredibly unique stop in Canada. The Edwardian-style castle is built on a hill overlooking Toronto. While it bankrupted its millionaire financier, it remains well-maintained and very impressive!
While it may look like a 19th-century British castle, the project was only begun in 1911. It's designed to mimic the castles Sir Henry Pellatt, it's former owner, loved as a child traveling in Europe. It took over 300 men 3 years to complete, at a massive expense!
The Castle is now open to visitors and can be explored with the aid of audio guides for a self-guided tour at your own pace. There's a lot to explore, and you can spend the whole day here, enjoying the luxurious extravagance of a castle that was enjoyed by its owner for less than 10 years before it bankrupted him!
Cost – $30 USD
How long should I stay here? 1.5 hrs
Getting there – Take Line 501 tram from Queen St East at Coxwell Ave to Queen St West at University Ave. Transfer to Osgoode Station and take line 1 to St Clair West Station.
12:30 am – St. Lawrence Market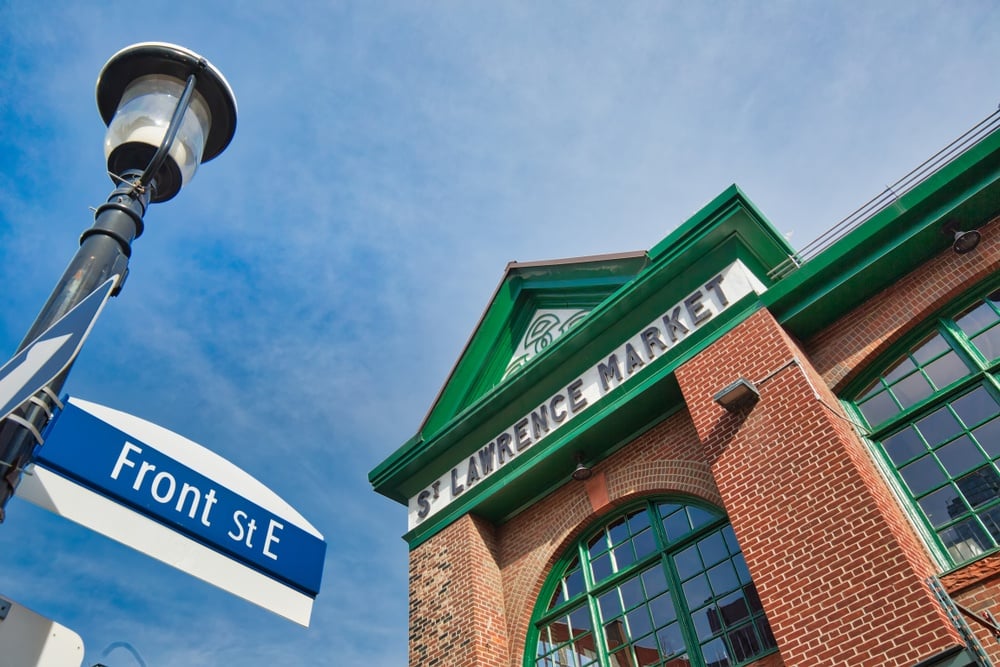 Experience traditional Canada at this fantastic Toronto market! The vendors are really varied, with fresh foods, creative cuisines, and some good old Canadian classics. Bring cash and explore the large market for an hour or two, tasting different options and enjoying the friendly laid-back atmosphere.
There are lots to see here and the smells are always amazing! Enjoy the delicious selections and find some fantastic deals. The crowds can be big and busy, but it remains comfortable and pleasant even in the middle of the day, crowd and all. It's a great spot to grab lunch before the rest of the day.
Cost – Free
How long should I stay here? 1 hr
Getting there – Take line 1 subway from St Clair West Station to King Station and walk 8 mins.
Insider Tip: Bring cash! Many vendors don't have card machines. Also keep in mind that the market is open most days, but not on Sunday and Monday.
1:30 pm – Hockey Hall of Fame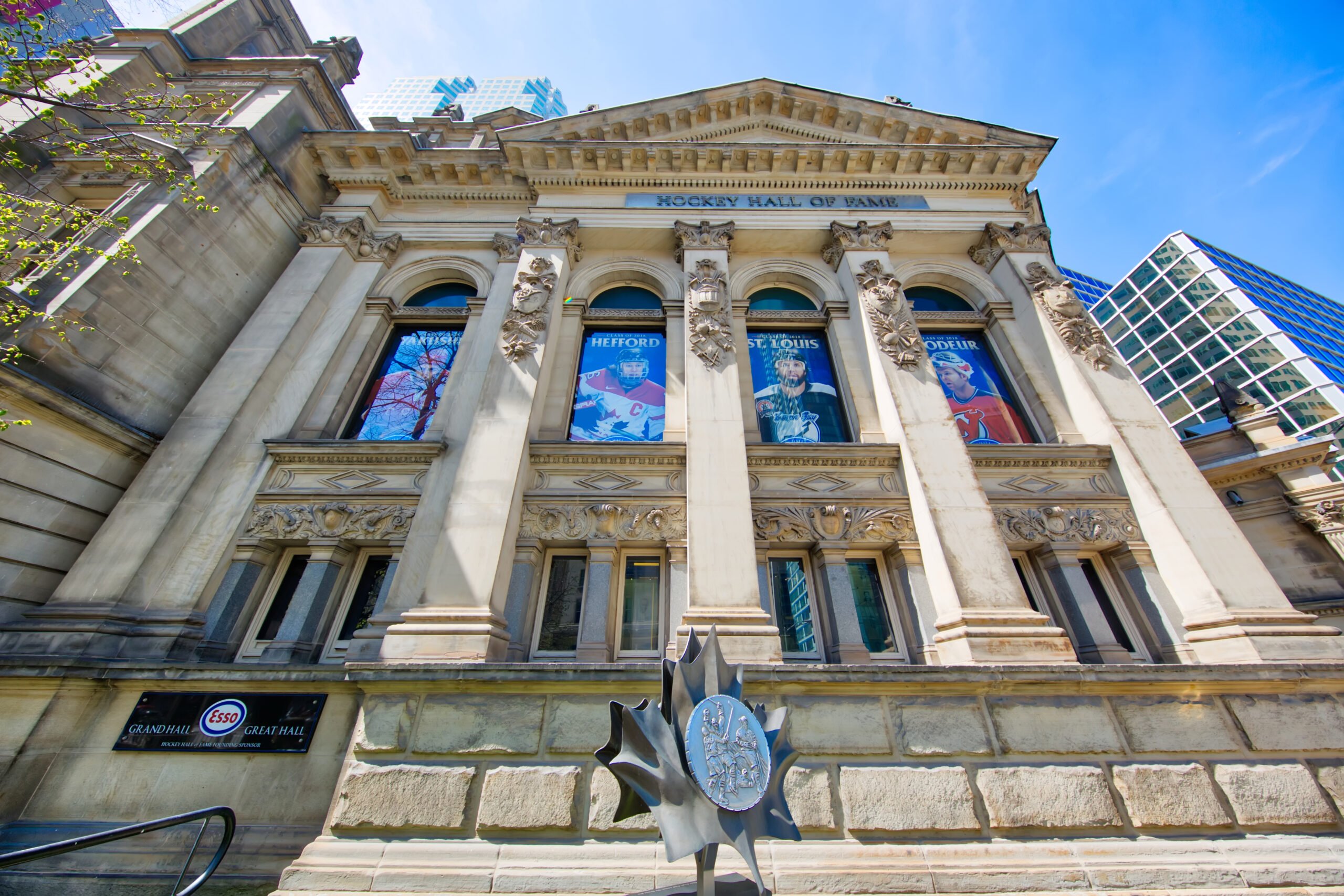 Both an ice hockey museum and a hall of fame, this is the most Canadian stop you can imagine. Ice hockey dates back to the 19th century and remains an extremely popular – and pretty violent – sport.
The Toronto hall of fame is dedicated to the interesting history of ice hockey in the country – the people who have made it great.
You'll find exhibits about players, teams, and memorabilia like the Stanley Cup! While hockey may not be your favorite sport, or even something you think about outside of Canada, this is a worthwhile stop either way. It's such an important part of Toronto culture and a lot of fun. If you are a hockey fan, this place will blow your mind!
The Hall of Fame is much more than just a museum. It has two theatres, where you can feel the thrills watching hockey's first 3D film! You can also go up against animated versions of the world's greatest goalies! It's something you certainly can't do outside of Canada.
Cost – $20 USD
How long should I stay here? 1.5 hrs
Getting there – The Hall of Fame is an 8 min walk away.
3:00 pm – The Art Gallery of Ontario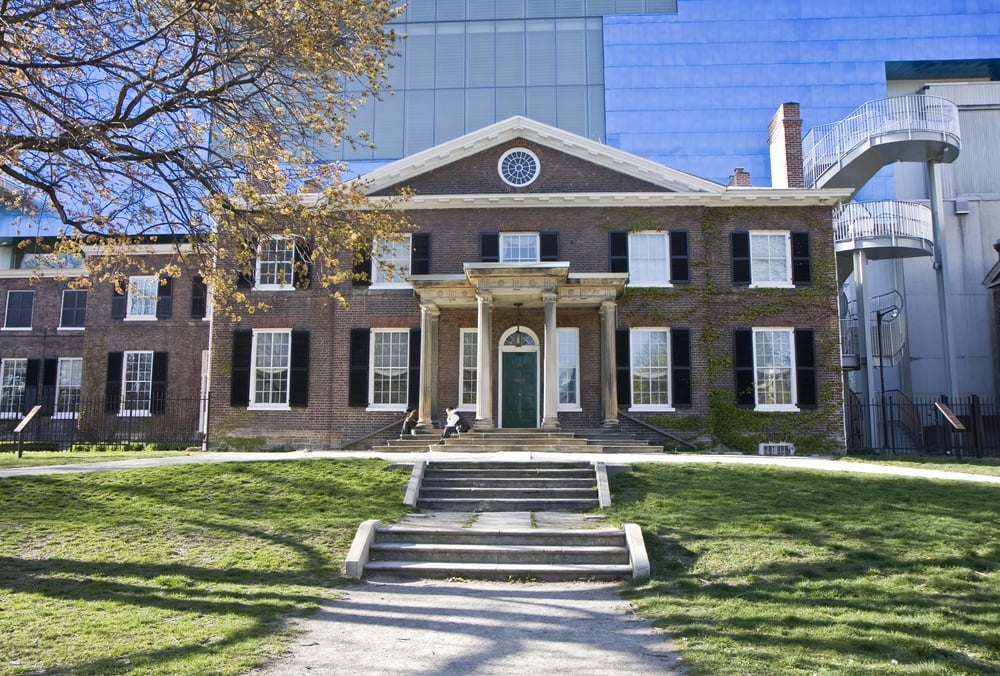 The Art Gallery of Ontario, or AGO, hosts an eclectic mix of brilliant art! The large national gallery is never dull, with ever-changing exhibitions and events. Even the architecture is really great!
The atmosphere at the gallery is serene and peaceful, and you'll find that your fellow gallery-goers tend to be wonderfully respectful, and everyone's having a great time. Entrance is free both for younger people and all indigenous peoples!
AGO has a fantastic combination of sculpture, photography, and art always on display, and introduces some incredibly talented new artists to the scene, as well as showcasing classic works!
They even have workshops every week. So if you fancy the idea of painting with water-colors in the park, or combining art and writing in a guided exploration, check out what's on offer for the rest of your time in Toronto.
Cost – Free for under 25s, $25 USD for older
How long should I stay here? 1.5 hrs
Getting there – Head to King Station and take the line 1 subway to St Patrick Station and walk 8 mins from there.
Insider Tip: If your Toronto itinerary overlaps with a Wednesday, be sure to visit the gallery after 6 pm for a fantastic free evening!
4:30 pm – Toronto Eaton Centre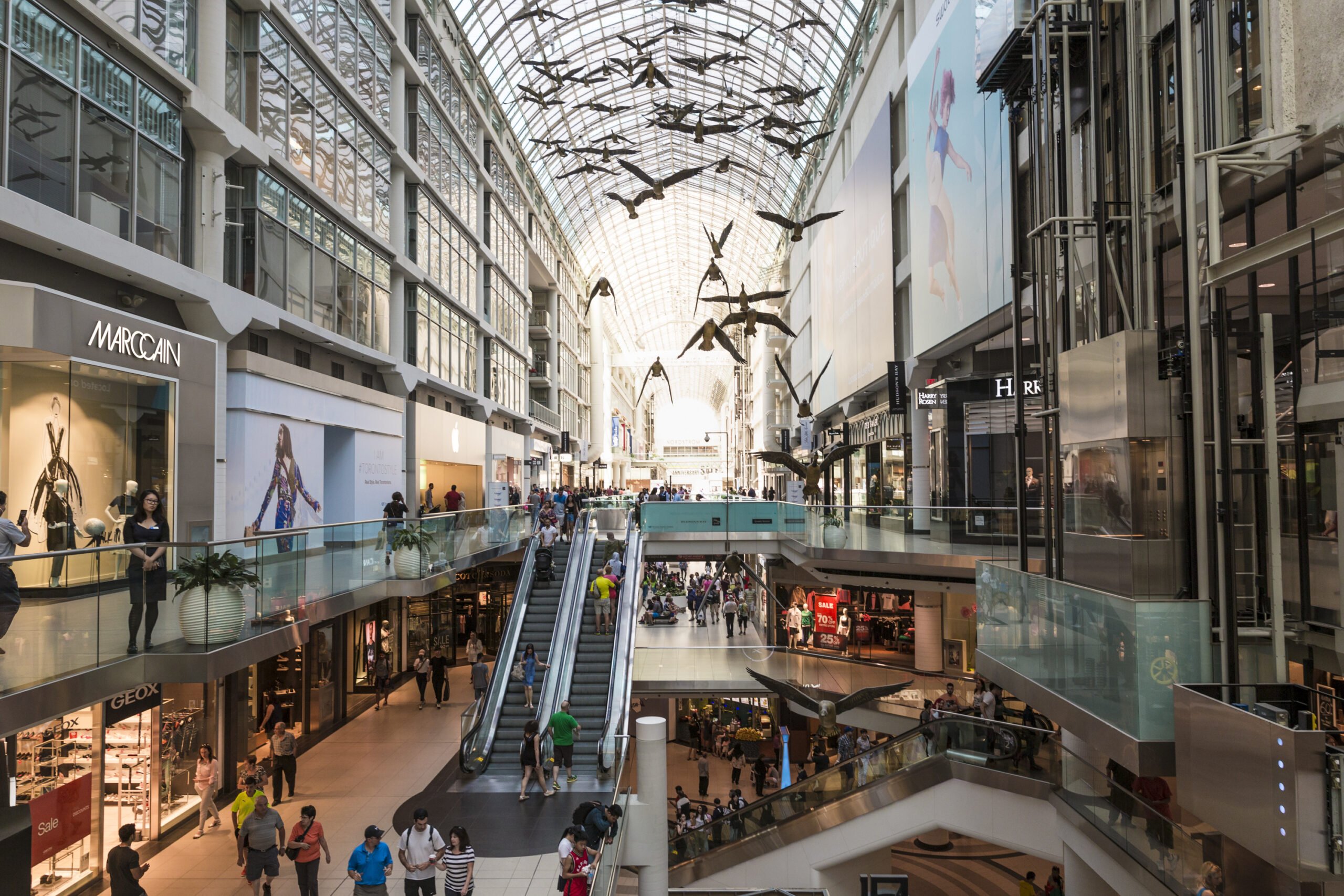 This fantastically large shopping centre is the perfect place to find everything you need. Bring back specialty chocolates as gifts for the folks back home, or get some new gear for that great Canadian journey.
You'll find all the Candian brands at this vast mall! The atmosphere is vibrant and fun, the mall filled with enthusiastic Canadians and tourists.
With an arching glass roof and innovative design, the Eaton Centre is a truly impressive sight. While you're strolling past stores, you won't be able to help but look up and appreciate the grandeur of the place!
Cost – Free
How long should I stay here? 1 hr
Getting there – Take line 505 tram from Dundas St West at McCaul St to Dundas St West at Bay St and walk 5 mins.
7:00 pm – Watch a Hockey Game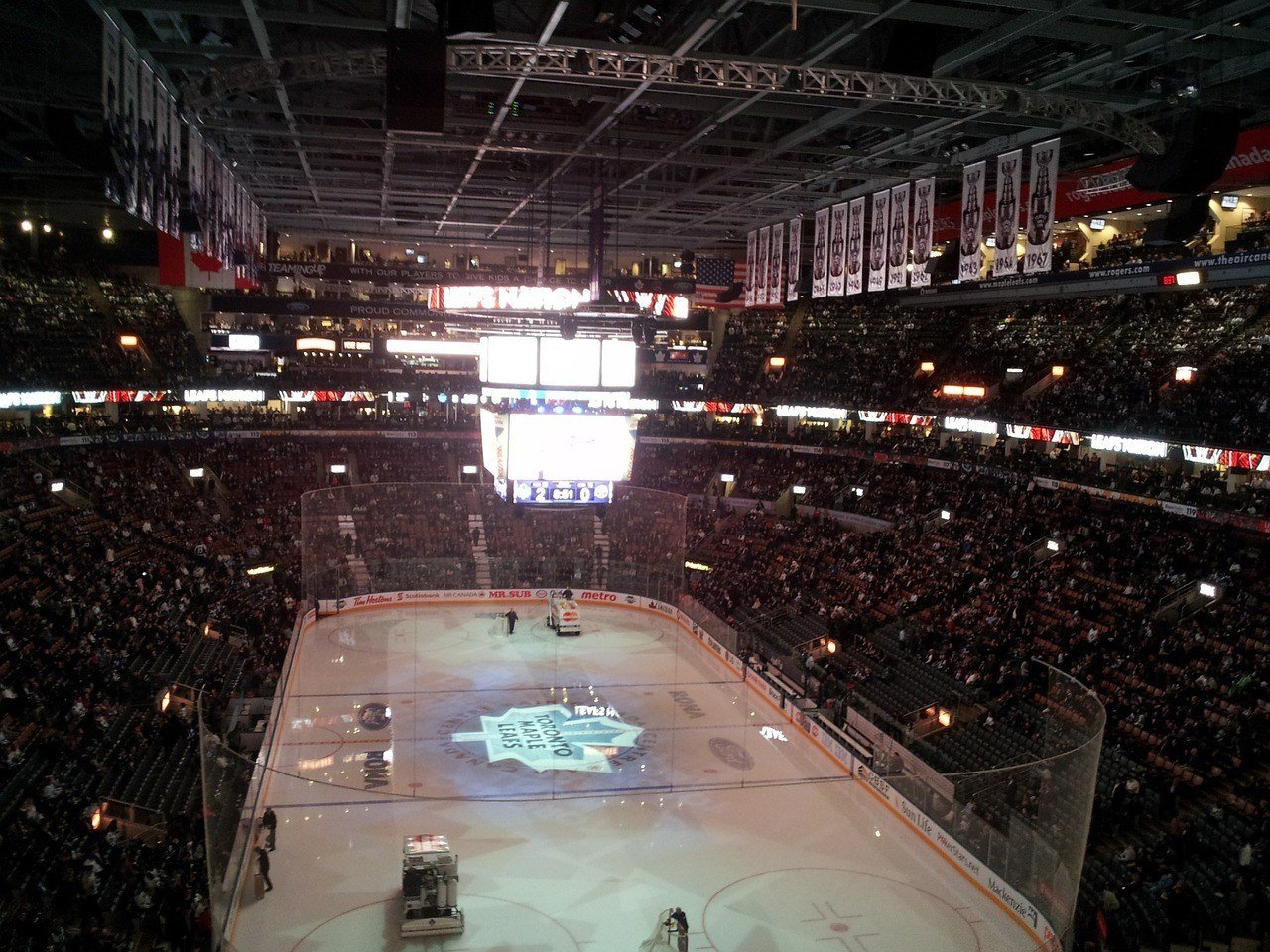 Now that you've got a better understanding and appreciation for this great Canadian game after stop 4, it's time to watch it played! You can watch a game every Wednesday and weekend in Toronto through most of the year, whether it's during NHL season or not.
This is a full-contact sport, and can get quite violent. It's also incredibly fast, as the ball gets shot across the ice, and the men hardly move any slower. Whether you have no prior interest in ice hockey, or you love the sport, it's a thrilling thing to watch!
There are a number of arenas in Toronto. You can choose your game based on where it's played, or who's playing! Grab a hotdog and a beer, and settle into your seats (safely behind the glass panels). This will be a perfect end to your 2-day itinerary in Toronto!
Cost – $30+ USD depending on seat and season
How long should I stay here? 3 hrs
Getting there – Take Line 320 bus from Yonge St at Shuter St to Bay St at Front St West South Side and walk 4 mins.
IN A RUSH? THIS IS OUR FAVORITE HOSTEL IN TORONTO!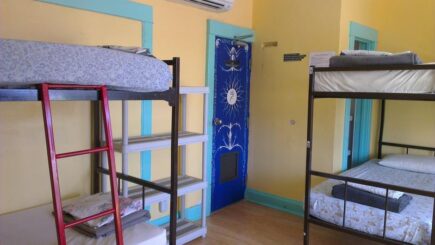 The Only Backpacker's Inn
Vibrantly colorful and bright, this cheerful hostel is a fantastic place to spend your holiday! There's great shared spaces inside and out, with a comfortable homey atmosphere.
$$
Free Breakfast
Free WiFi
If you've got 3 days in Toronto or more, check out these further Toronto itinerary stops! Whether you choose to do them over a long vacation in Toronto or fit them into one more day, they're sure to make your holiday ever better.
1. Historic Distillery District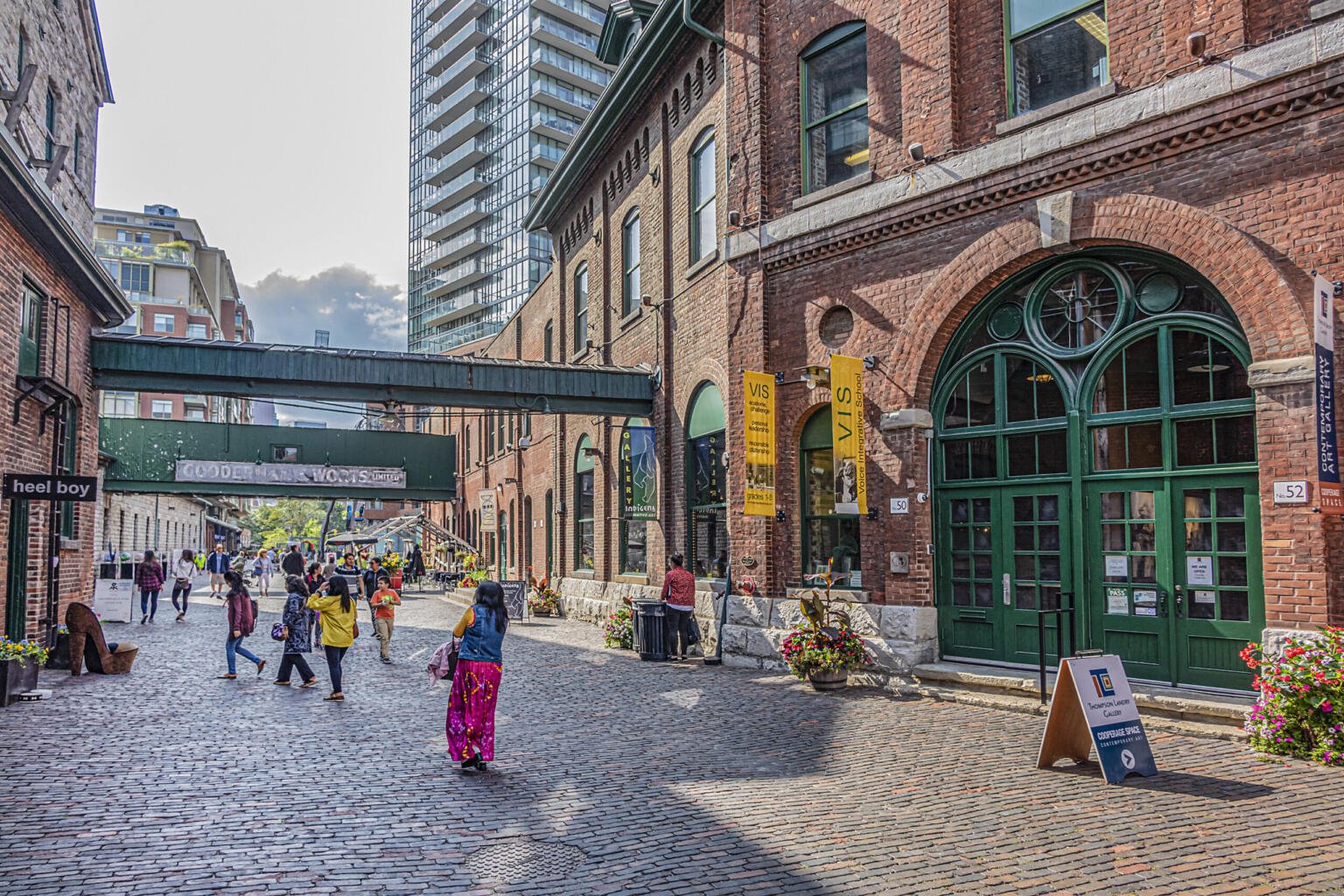 For all art lovers, cultural enthusiasts, or hipsters, the Distillery District is a fantastic place to explore! You'll find outdoor sculptures and spontaneous dance performances among the cobblestone streets.
You'll also find some fantastic art galleries hosting local artists and theatres with musical and stage performances. Step into Young Centre for the Performing Arts and see what's on at the moment! The arts centre has 4 venues for theatre, music, and dance – there's usually something going on.
We suggest you visit the Distillery District in the evening, as it comes alive at night, and there's even more to see and do!
This is the perfect area for some chilled-out bar hopping. It's also a superb place to meet new people and make some interesting friends. The Victorian industrial buildings form the setting for some interestingly modern attractions, contrasting old with new!
The whole area is filled with fantastic food and trendy, unique restaurants. Our favourite is Balzac's Distillery District! Set in an 1895 pump house, the exposed-brick interior and matching decor is the perfect place to enjoy some delicious pastries and coffee.
We love that this whole district is reserved for pedestrians! It means you can enjoy strolling with no concerns and transports you back in time to when the district was just set up – but with better food and service. If you've got 3 days in Toronto then be sure to check out this area too.
Cost – $30 USD
How long should I stay here? 1-2 hrs
Getting there – Take the Line 72 bus from near the CN Tower and walk 7 mins.
2. High Park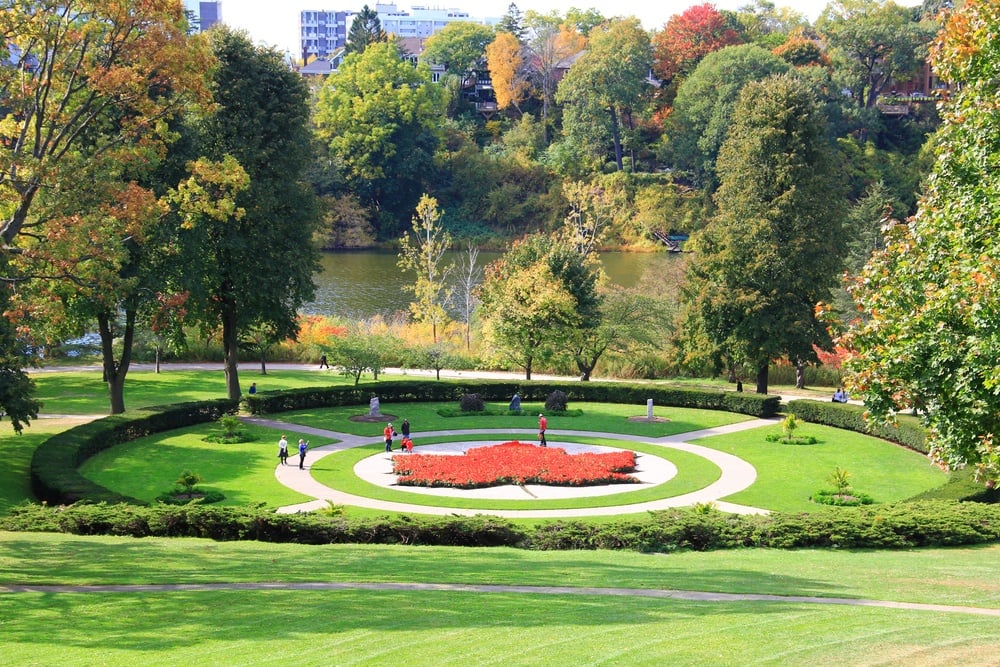 Wondering what to do in Toronto for free? High Park, Toronto's largest recreational area, is a must-see on your Toronto itinerary! There is so much to do here, you could spend the whole day without getting bored. If you've got 3 days in Toronto then definitely try to check it out.
A visit to the park is best on sunny days when you can enjoy the myriad activities in the best conditions.
The park has various picnic spots and lovely eateries, so you can choose between bringing your own perfect meal, or grabbing something healthy and tasty right here.
You can paddle around the lake, or trek one or two of the gorgeous hiking trails which take you through Toronto's natural vegetation. Easy access to public transport makes it an ideal stop for everyone depending on busses and trains to get around!
Visit the Chinese garden, which covers everything in pink during the cherry tree blooming in April – March. Find ducks, geese, and squirrels along the Grenadier lakefront. You'll even come across a charming little zoo with llamas and peacocks – and admission is free!
Whether you're hiking, picnicking, or playing some laid-back sports match with the locals, it feels like you've left the city far behind, relaxing in the countryside.
It's so big that the crowds never get too much, and you're bound to find something you love doing! It's also the perfect place to enjoy some free activities when your money's running a little tight.
Cost – $30 USD
How long should I stay here? 2 hrs
Getting there – Take the train from Toronto Union Station to Bloor and walk for 20 mins.
3. Visit the Toronto Islands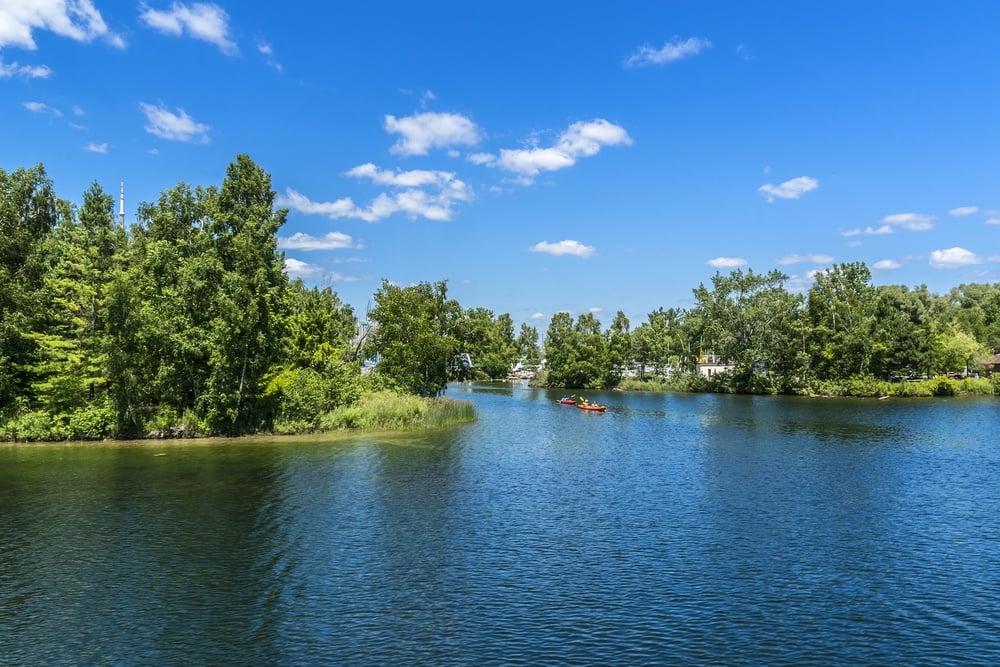 Also referred to as 'The Islands', the Toronto Islands are a wonderful green space you can explore in a variety of ways. Leave the city behind – right behind – and catch a ferry from Downtown Toronto. It only takes 15-minutes and if you've got 3 days in Toronto then they are worth the time for sure.
The islands are connected by a series of pathways and bridges, enhancing the natural beauty of the area even more! Together, they stretch for 5km. You can rent a bicycle and ride along the waters-edge paths, or simply take a stroll. It's the perfect spot to enjoy a picnic.
The sandy beaches are pristine and ideal for swimming. You can also rent a kayak here. We suggest you do. An hour or two rental will allow you to explore the islands from the most beautiful angles. You can also rent it for half a day, and moor your little vessel at a few of the more secluded beaches. It's the ideal laid-back day in Toronto!
The Island is basically a gorgeous park, with a great many activities and sights for people of all ages. The funny thing is, it wasn't always an island as it separated from the mainland only in the last 100 years due to flooding in the lake.
Cost – $30 USD
How long should I stay here? 2-3 hrs
Getting there – Head to the Jack Layton Ferry Terminal at Bay Street on Queens Quay and take a ferry to Hanlan's Point, Centre Island or Ward's Island.
4. Allan Gardens Conservatory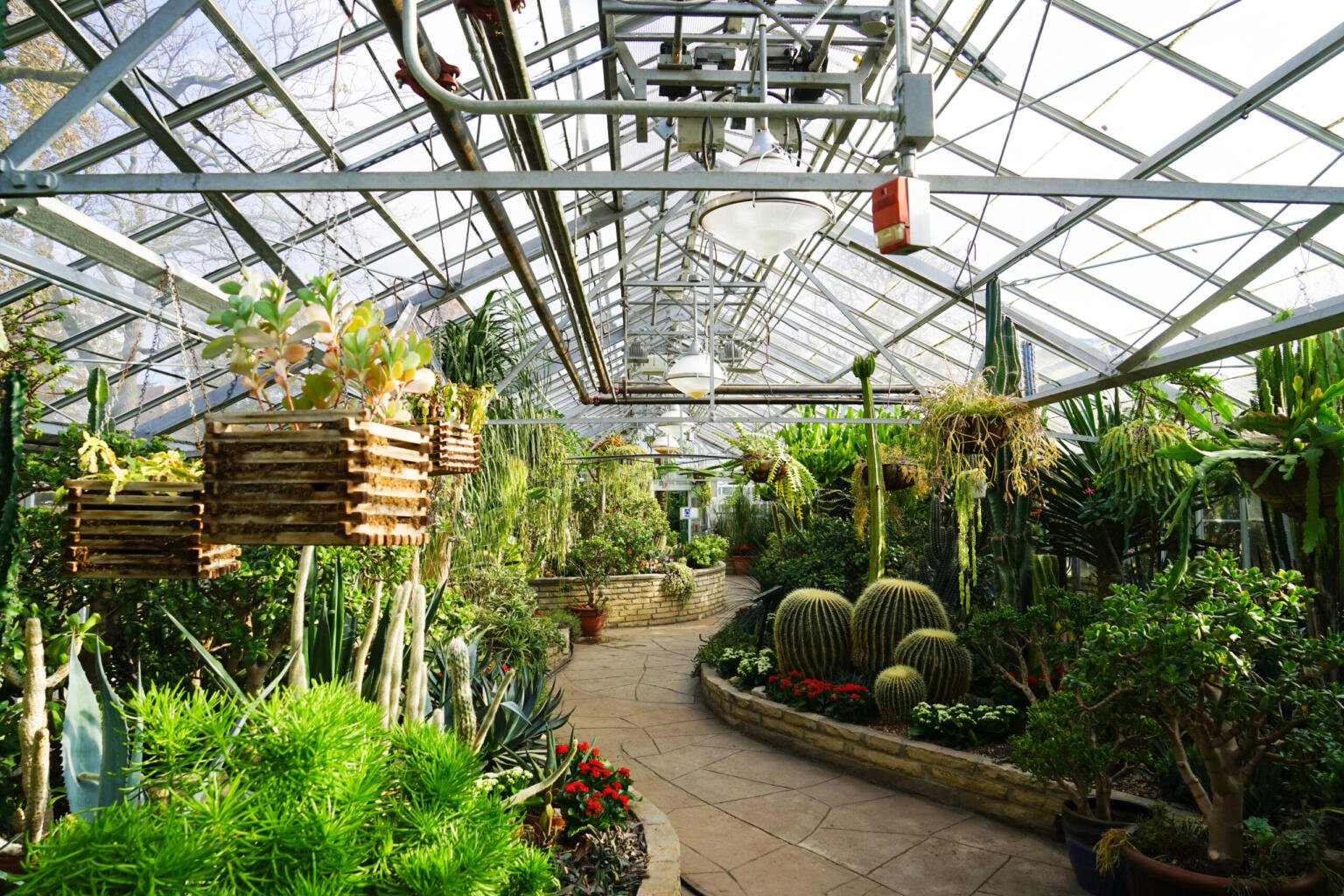 Nestled away in this uniquely beautiful structure, you'll find exotic jungle and desert plants blooming year-round! Even in Toronto's freezing winters, you'll find these plants alive and thriving!
The gardens were founded in 1858, with the first hall constructed in 1979. It is one of the oldest parks in Toronto and remains exquisitely beautiful. The last hothouse was added in the 1950s, moved here from Toronto's Exhibition Park. Whether you're visiting for a love of plants or architecture, you'll adore it.
The conservatory nurtures rare tropical plants from around the world inside a full five greenhouses. The so-called 'cool-house' even has a waterfall and a small pond. Be sure to also see the Cactus House – the strange desert plants are amazing.
Allan Gardens is also fully free to the public. Check if they have any seasonal shows when you're in Toronto – they're famed for them!
If you're touring Toronto, you simply have to visit this gem, and spend some time exploring the magical hothouses!
Cost – $30 USD
How long should I stay here? 2 hrs
Getting there – Take the Line 1 subway from St Andrew Station to College Station and walk 10 mins.
5. Niagara Falls Day Trip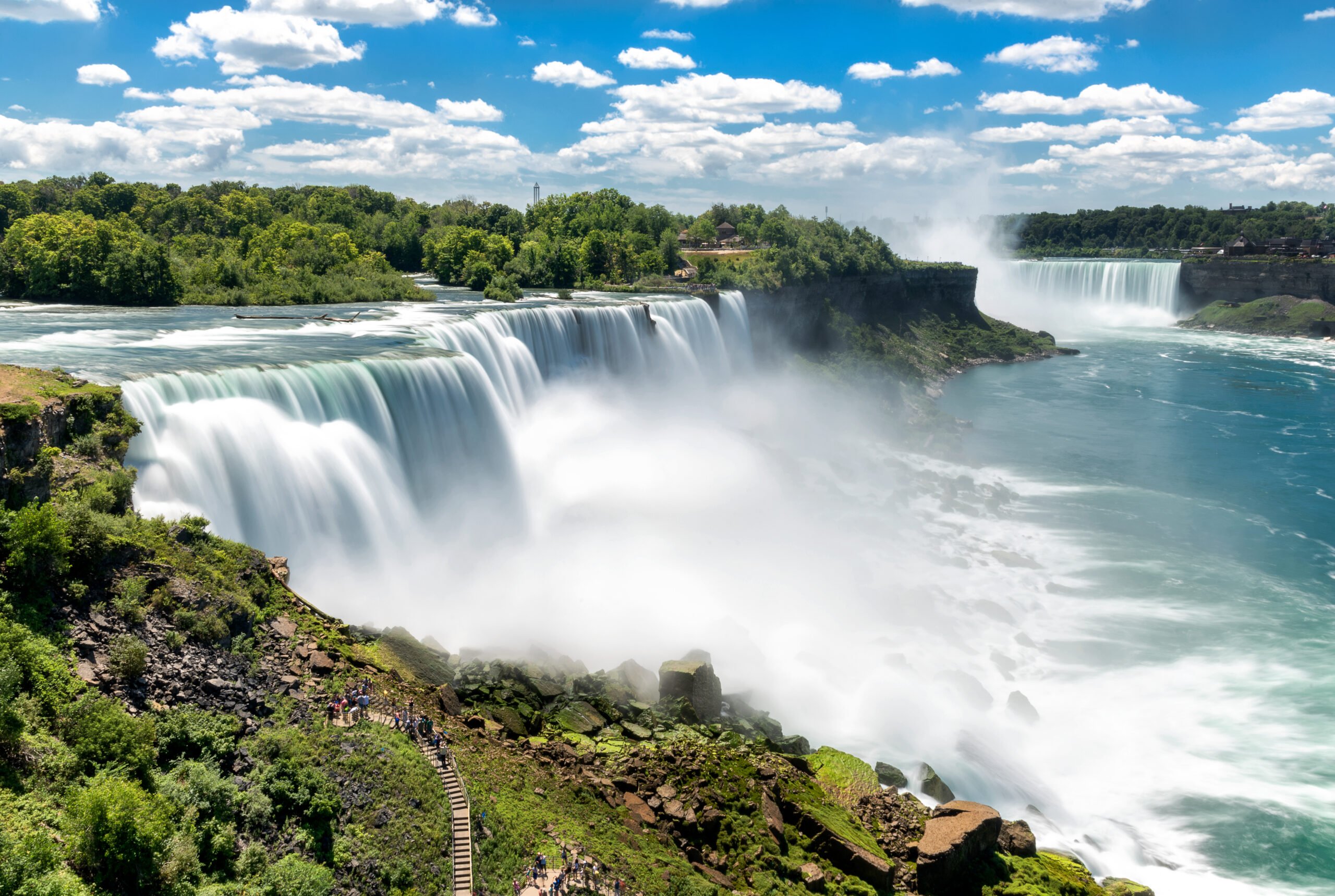 No trip to this area of Canada would be complete without visiting this magnificent natural wonder. Sure, Niagara Falls is a bit touristy but it's for good reason and you've just got to visit if you get the chance. Taking a day trip here is the perfect way to get out of the city and see some of the natural sides of Canada that the country is famous for. Be sure to see the falls from the Canadian side too as it's better than the view from the US!
Cost – $30 USD
How long should I stay here? All Day
Getting there – Take the ViaRail from Union Station or the GO Train which is seasonal. An organised tour is also a great way to visit.
Is This the Best Daypack EVER???
Toronto is a rainy city – on average, over a third of the year experiences rainfall. But it tends to drizzle rather than come down in a deluge, and there are many days with no rain at all. When to visit Toronto depends on what you're looking for!
If you're interested in sunny days and street markets, summer (June – September) is the best time to be in Toronto Canada. The city is vibrantly busy and cheerful at this time, and you can do more outside.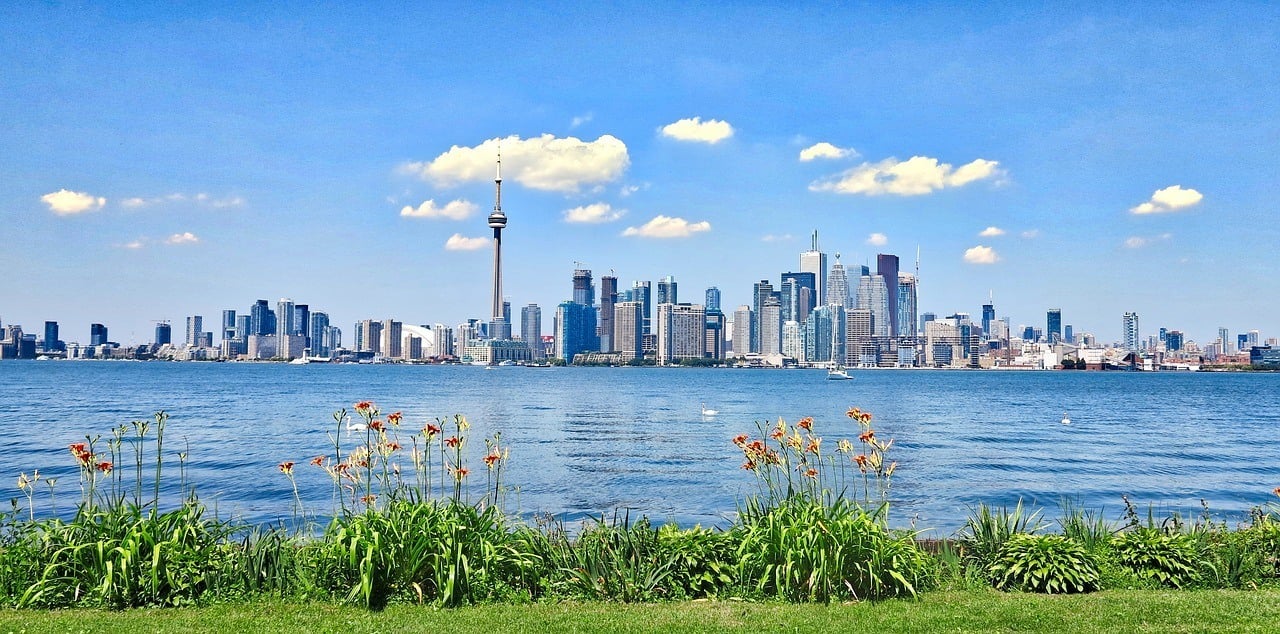 If you'd prefer to avoid the crowds and the summertime prices without experiencing that winter chill, we suggest you go in spring (March – June), or fall (September – November)! It's still lovely although you might miss the great summer markets.
Winter is a very different experience in Toronto, and often the way people picture Canada! Freezing cold, and often snowy. If you don't mind the cold, we love this time of year! The indoors are warm even though it's cold outside, and you can get back to your accommodation and curl up in front of the fire with fluffy socks and a toasty hot chocolate!
How to get around Toronto
Toronto has a great transport system that runs across a subway, streetcar and bus and is known as the Toronto Transit Commission (TTC). This network is extensive and covers many of the different neighbourhoods and suburbs.
You'll have to buy a pass or a token to ride on the TTC. Be sure to buy a day pass for CA$12.50 or a week pass for CA$43.75 if you plan on using the TTC a lot.
The subway also connects the city to the Toronto Pearson International Airport.
The Ferry also connects the city to the Toronto Islands and Union Station is connected to all major cities in Canada as well as many in the US.
Use Bookaway to find the best deals on transport – buses, planes, trains, and ferries. It'll save you a load of time when organising transport and you'll probably nab an EPIC DISCOUNT too!
Book your transport on Bookaway NOW. Get the best price for the best ride… then use those savings to buy the best feed in town!
Book Your Transport Here!
Toronto is one of the safest places in the world! It's considered to be the safest large city in North America and competes globally for the same title. So there really isn't much to be concerned about – night and day, it's a great place to be.
Still, there are certain safety precautions that never hurt. Like any city, there are pickpockets and dangerous people. So if you walk alone at night, avoid quiet, unlit streets. Stick to places with other people. And if you do walk back to your accommodation alone, keep pepper spray on you! It's always a good thing to buy whenever you land somewhere new.
To avoid pickpocketing, keep your bag securely closed and on your person.
In such a safe, positive place you have little to worry about. But it's always good to be careful.
You should also consider what season you'll be visiting Toronto in and pack accordingly. Toronto is somewhere that experiences relative extremes of weather compared to what most of us are used to. From super cold in the winter to warm and sunny in the summer.
Don't Forget Your Travel Insurance for Toronto
Don't get caught out in the excitement of booking your trip and forget about the most important bit, travel insurance! It might not be the most fun part of planning your adventures but if anything should go wrong then you'll be glad you took the time.
ALWAYS sort out your backpacker insurance before your trip. There's plenty to choose from in that department, but a good place to start is Safety Wing.
They offer month-to-month payments, no lock-in contracts, and require absolutely no itineraries: that's the exact kind of insurance long-term travellers and digital nomads need.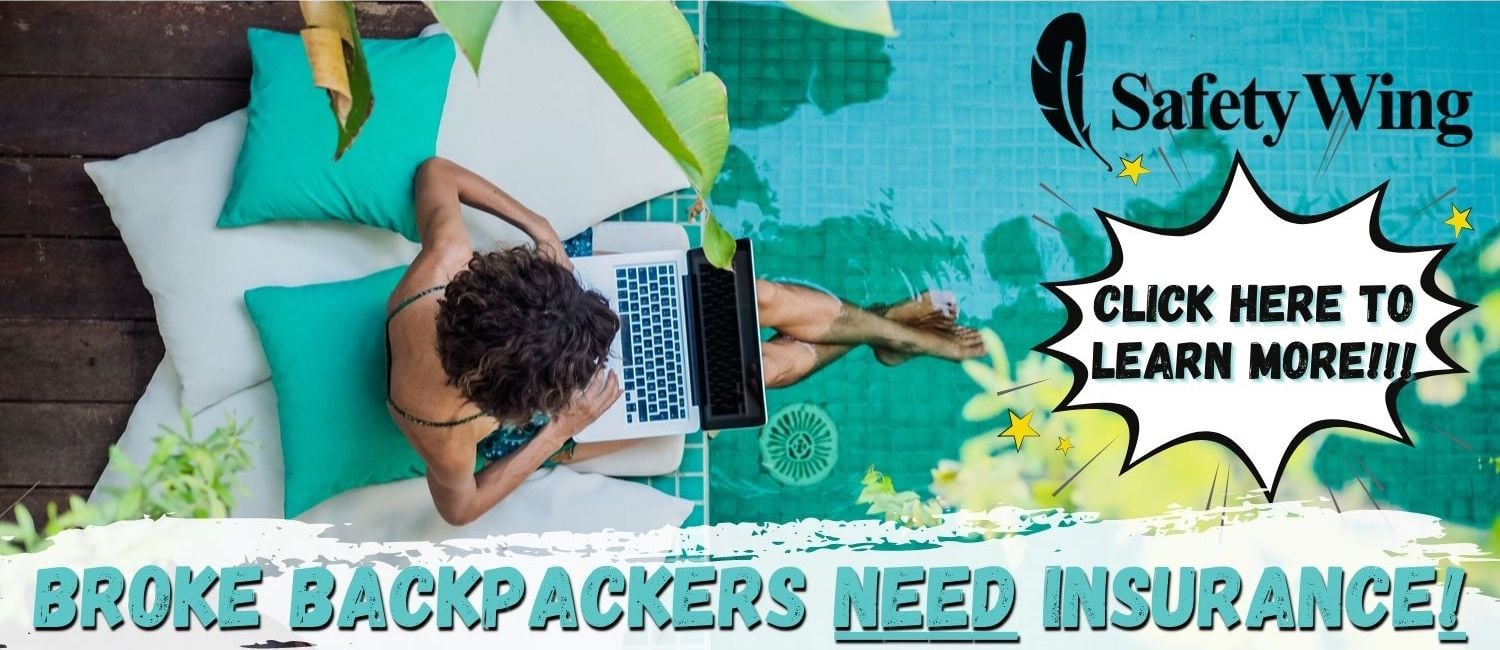 SafetyWing is cheap, easy, and admin-free: just sign up lickety-split so you can get back to it!
Click the button below to learn more about SafetyWing's setup or read our insider review for the full tasty scoop.
FAQ on Toronto Itinerary
Find out what people want to know when planning their Toronto itinerary.
Final Thoughts
Canada is growing as a fantastic tourist destination, due to its unique culture and range of activities. We've put together all the best Toronto attractions and points of interest. You'll leave the city has seen and experienced all the very best Toronto has to offer!
Whether you're spending the weekend in Toronto or the month, there are lots to keep you entertained. We suggest you try to go during the middle of the week, or the weekend, as this is when most events are open to the public.
Go on day trips to the surrounding countryside and nearby cities, visit iconic Toronto landmarks, and enjoy the fusion of diverse nature with a modern metropolis. It's the perfect destination for a family holiday, a romantic rendezvous, or a solo backpacking trip! Pack for rain and shine, and book those flights!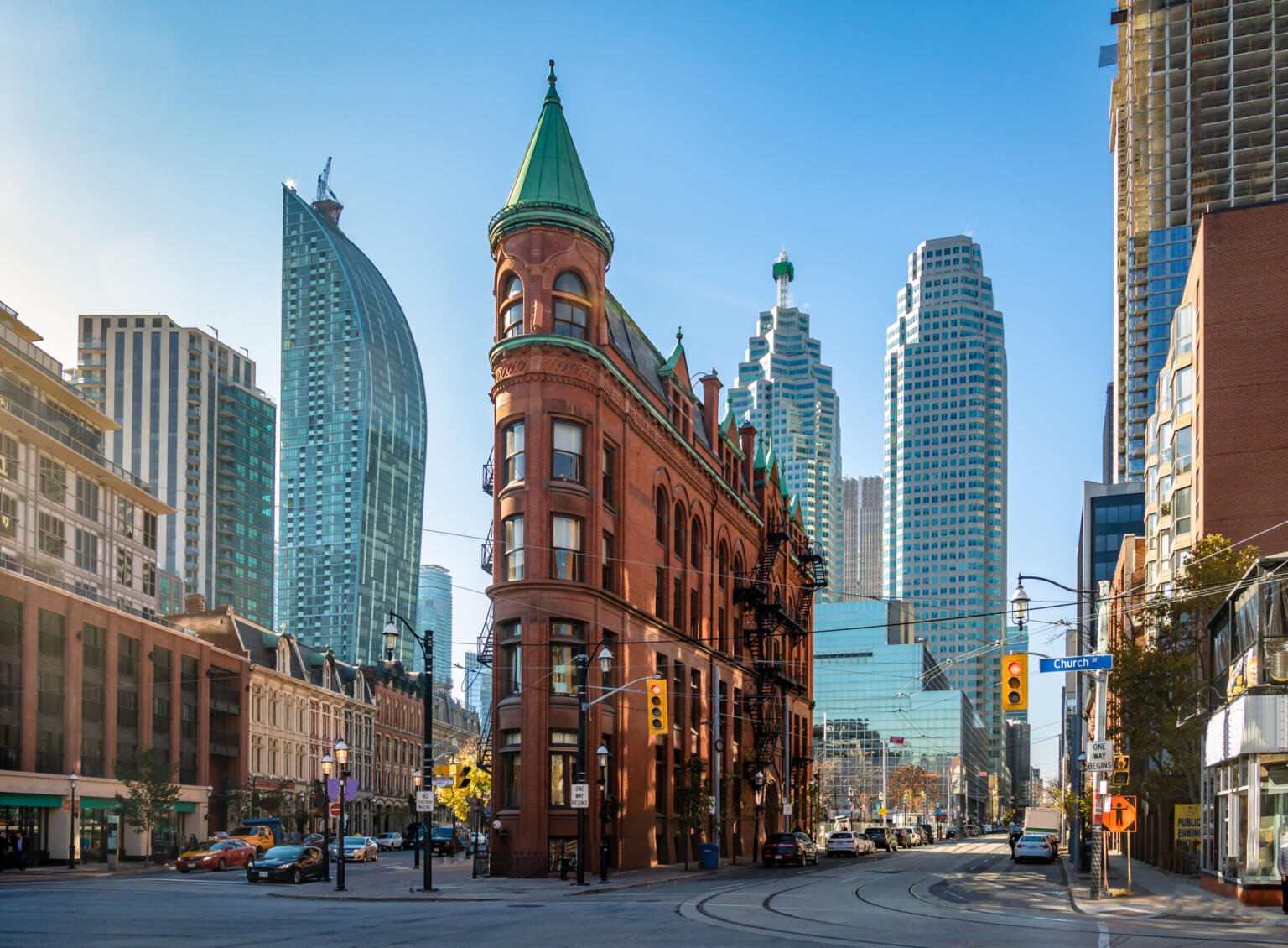 ---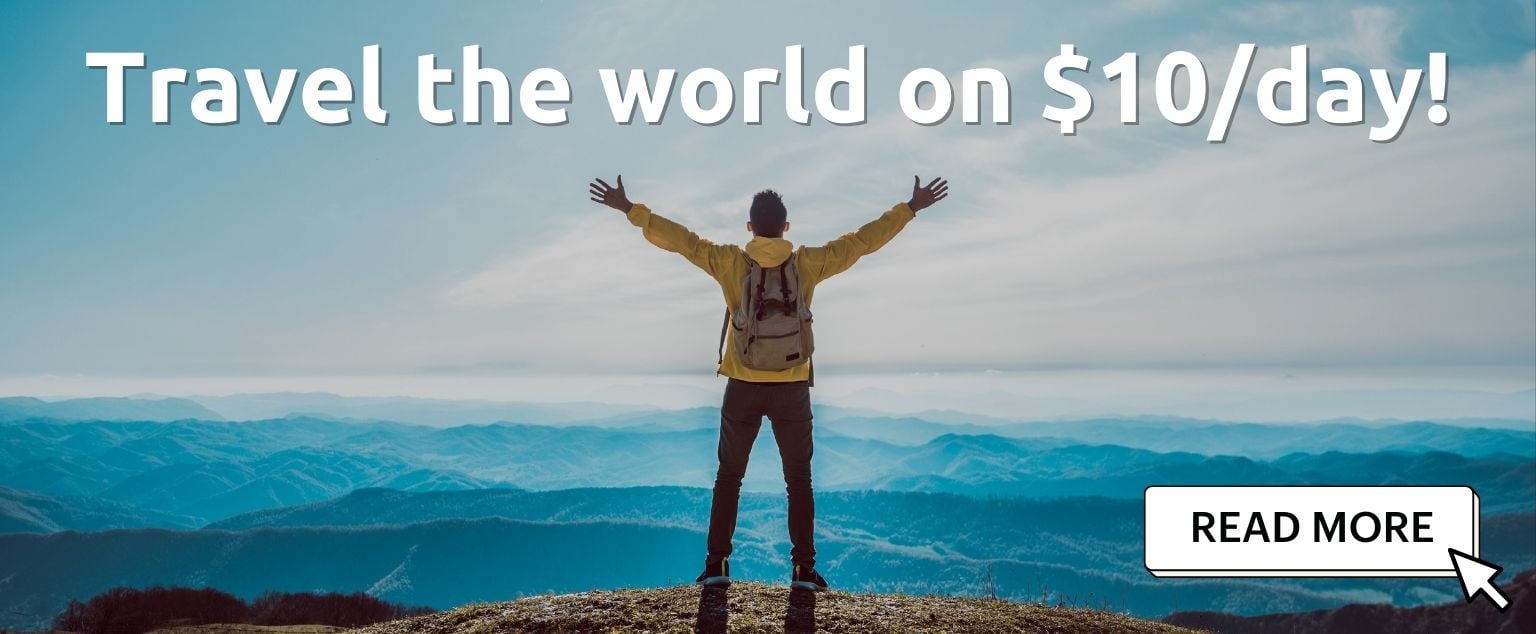 And for transparency's sake, please know that some of the links in our content are affiliate links. That means that if you book your accommodation, buy your gear, or sort your insurance through our link, we earn a small commission (at no extra cost to you). That said, we only link to the gear we trust and never recommend services we don't believe are up to scratch. Again, thank you!