Modern, bold and very hip, Toronto is Canada's most populous city as well as being one of its most popular, receiving 47 million visitors annually! Famed for the Jetson-esque CN tower, and the tranquil shores of Lake Ontario, there is a lot going on in Toronto to keep visitors busy.
Because of its sheer size and diversity, choosing where to stay in Toronto can prove kinda tough. That is why we have compiled these handy rentals in Toronto guide to save you the hassle.
So, let's get started with our guide to the very best Airbnbs in Toronto.
In a Hurry? Here's Where to Stay in Toronto for One Night
First Time in Toronto
Modern High Rise Downtown Condo
This small but stylish condo is modernly appointed, uber-clean and centrally located downtown. It commands epic views out over the city and just perfect for the traveler hungering for a taste of modern, city living.
Places to Visit:
Plenty of nearby bars, restaurants and stores

The CN Tower is a bus ride away.
Is this amazing Toronto Airbnb booked for your dates? We've got your back with our other favorite properties below!
Quick Answer: These are the Top 5 Airbnbs in Toronto
Overall Best Value Airbnb in Toronto

Overall Best Value Airbnb in Toronto

Modern High Rise Downtown Condo

>

$

>

2 Guests

>

Large Windows w/ City Views

>

Well-Equipped Kitchen & Spacious WC

>

$

>

2 Guests

>

Large Windows w/ City Views

>

Well-Equipped Kitchen & Spacious WC

VIEW ON AIRBNB

Best Homestay in Toronto

Best Homestay in Toronto

Enormous Room Downtown

>

$

>

2 Guests

>

Private Bar Area in Room w/ Stools

>

Tons of floor space

>

$

>

2 Guests

>

Private Bar Area in Room w/ Stools

>

Tons of floor space

VIEW ON AIRBNB

Best Airbnb for Couples in Toronto

Best Airbnb for Couples in Toronto

Beautiful Loft in the Heart of Downtown

>

$$

>

2 Guests

>

Fully-Equipped Kitchen

>

Washer & Dryer

>

$$

>

2 Guests

>

Fully-Equipped Kitchen

>

Washer & Dryer

VIEW ON AIRBNB

Best Airbnb for Families in Toronto

Best Airbnb for Families in Toronto

Quiet & Stylish Queen West Apartment

>

$$$

>

6 Guests

>

Breakfast included

>

High Chair & Crib

>

$$$

>

6 Guests

>

Breakfast included

>

High Chair & Crib

VIEW ON AIRBNB

Best Luxury Airbnb in Toronto

Best Luxury Airbnb in Toronto

Glam Penthouse Condo w/ Sauna

>

$$$$

>

4 Guests

>

Enormous Gourmet Kitchen

>

Access to Sauna & Yoga Studio

>

$$$$

>

4 Guests

>

Enormous Gourmet Kitchen

>

Access to Sauna & Yoga Studio

VIEW ON AIRBNB
Why stay in an Airbnb?
Local Experience
Whether you're staying in a private apartment or shared house, visitors can get in touch with their hosts through the Airbnb mobile app. You can use the Airbnbs chat for fast and efficient communication. If you have any questions about your trip, what to do or where to go – your host can help.
Lots of Airbnbs provide city or neighbourhood guides with helpful suggestions for things to do in your destination – like a favourite coffee shop or unique (or cheap) pubs and restaurants. Some even include transit information, directions to amenities like grocery stores or gas stations and the availability of public transport. This is a great way for travellers to find the best local spots as hosts usually include what they've come to love about their city from years of living there!
Save some time by booking with Airbnb rather than spending years on Google to find out what's around you.
Affordability
No matter your budget, Airbnb has a place for you to stay – from entire apartments to single rooms, houseboats and even castles. There are over six million places worldwide to choose from.
Don't split up into two to three hotel rooms! The Airbnb platform accommodates any size, from single travellers to large groups. Everyone gets to stay together, which makes the travelling experience much more comfortable and at the same time way more affordable. Save your money by paying per night, rather than per person. A lot of rentals have more than one bedroom or an extra pull-out couch, futon or trundle bed. Hosts also provide a nice set of clean sheets, a good quality comforter and extra pillows and blankets.
You don't want to spend a lot of money on having to eat out every night either? Just add the filter "kitchen" into your search and you can choose any home that lets you cook at home with all the cutlery, glasses, pots and pans provided.
Safety
Are Airbnb reviews legit? Airbnb wants every guest to be safe so they created a world-class review system where tenants are encouraged to be honest about their experience because it stays invisible until the reviewing period has locked.
Guests are given the power to tell the truth and "make or break" the place they stayed at since the platform forbids the owner to change or remove the review. Every comment you can read on Airbnb is based on finished stays and experiences. Plus, some hosts often depend on the money they earn renting their property and one bad experience from any guest would devastate their income. It might be a bleak perspective, but hey, that's something of a guarantee you'll be cared for!
Airbnb also has a 24/7 emergency line with someone ready to assist you. In the worst case, Airbnb will provide a driver or make sure you find a safe place. If you choose this booking platform, you will always be in good hands, without any doubt.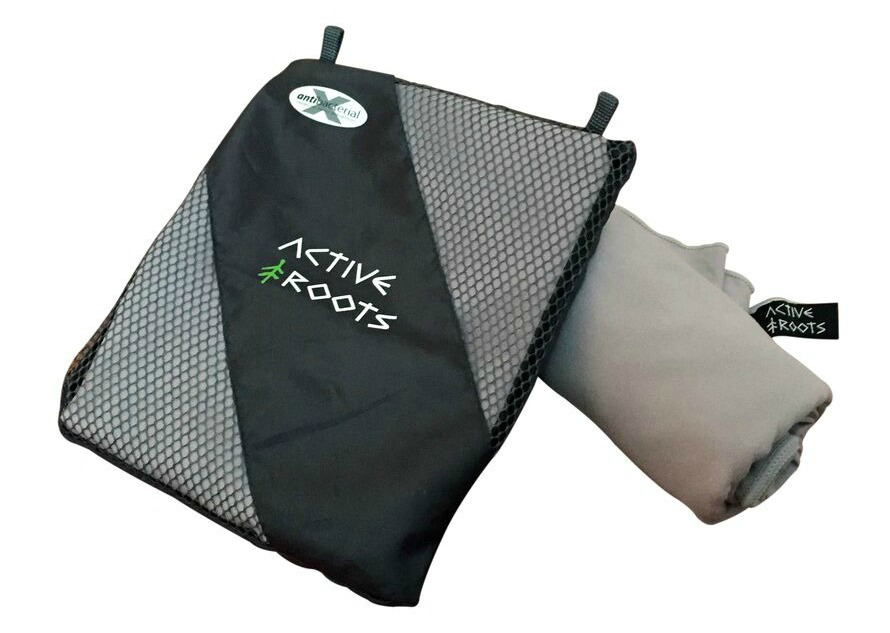 You should always have emergency cash hidden on you – pick up this awesome security belt with its hidden pocket before your next trip. It's perfect for hiding cash, cards and a passport photocopy.
The 15 Top Airbnbs in Toronto
$
2 Guests
Large Windows w/ City Views
Well-Equipped Kitchen & Spacious WC
This one bedroom and one bathroom Toronto apartment is located right in the heart of Downtown Toronto. It's within walking distance of all the best that Toronto has to offer. This modern high-rise building also comes with an elevator, so you won't have to worry about hefting your luggage up a hundred stairs.
Also, the city views below the large windows in this Toronto Airbnb are breathtaking. Moreover, the kitchen is fully equipped with all you need, and there is a full-sized bathroom as well. Although this place is small in size, it's stylish and enormously comfortable and is at quite an affordable price!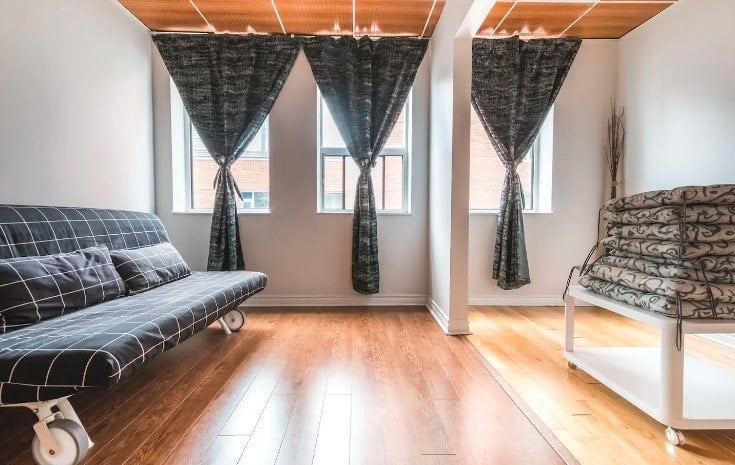 $
2 Guests
24/7 Kitchen Privileges
Lock-on Bedroom Door
Located in the core of Downtown, this budget-friendly, one-bedroom room in a shared apartment is a steal. There is a fully equipped kitchen that guests are welcome to use, which is actually cleaned daily by the hosts. In fact, the hosts have specified that guests are allowed to use the kitchen 24/7, so there are no cooking restrictions whatsoever – midnight feast anybody?!
This Toronto Airbnb room is located on the third floor of a building, however, there is an elevator if you're feeling lazy. That being said, it is worth noting that the WiFi isn't particularly strong or fast here at this Airbnb, so if you're looking to stream Netflix or surf YouTube, this isn't the Toronto Airbnb for you. However, if you're looking to save a pretty penny and stay in a simple and sweet room, this is definitely the best Airbnb in Toronto for you!
$
2 Guests
Washer & Dryer
Surrounded by International Eateries
Ready to get some work done? Good because this one bedroom and private bathroom short term rental in Toronto is yours for the taking. It's a minimalist styled room, free of all distractions except for two beautiful pieces of artwork. The bed is fluffy and sweet dreams are practically guaranteed after a night in that heavenly bed.
Inside your room, there is a simple desk and chair where you can really crack down and get good work done. Additionally, the hosts allow guests to use the shared kitchenette for coffee, tea, and simple meal preparation. There is also a washer and dryer that guests are allowed to use. Moreover, this Toronto homestay is located close to downtown and is actually in a vibrant and colorful neighbourhood in and of itself, that has wonderful eateries all just within a few blocks.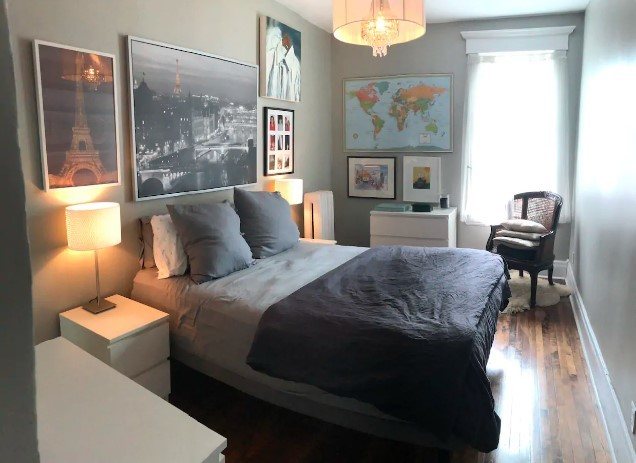 $$
2 Guests
Cozy Reading Chair
Historic Home Close to the Action
This one bedroom and one shared bathroom in a historic Toronto homestay makes for an excellent stay for the solo travelers out there. This 900 square foot Toronto apartment is within walking distance to all the attractions and is mere steps away from the subway. Inside the guest room, there is a queen-sized bed that is both cozy and inviting.
Specifically, this Toronto Airbnb is located in the Church and Wellesley neighborhood that is close to all the action, while still being on a beautiful historic street. Additionally, the room itself is nicely styled, with fun artwork, nice nightstands and lamps, and a comfortable reading chair.
The Best Travel Backpack?!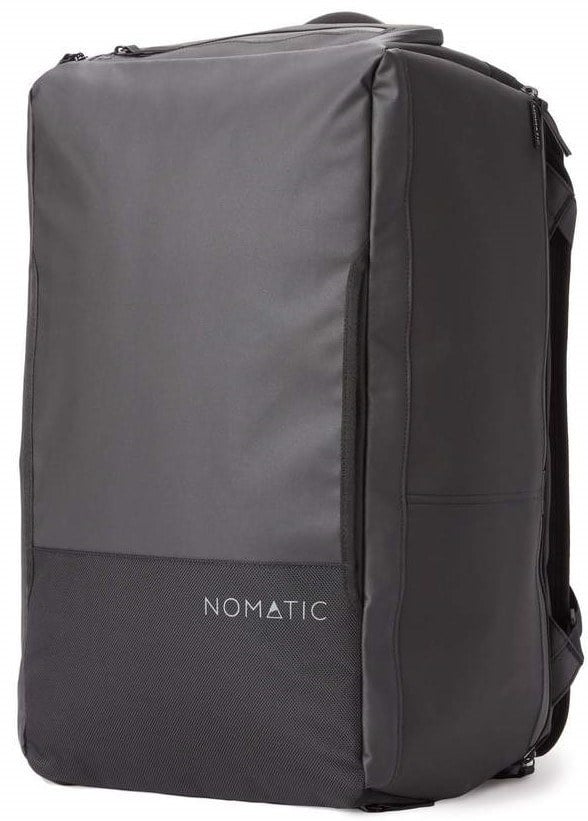 Pssssst! Not picked the perfect travel backpack yet? The Broke Backpacker team has tried out over thirty backpacks this year! Our favourite carry on backpack is the Nomatic Travel Bag.
Read our full review!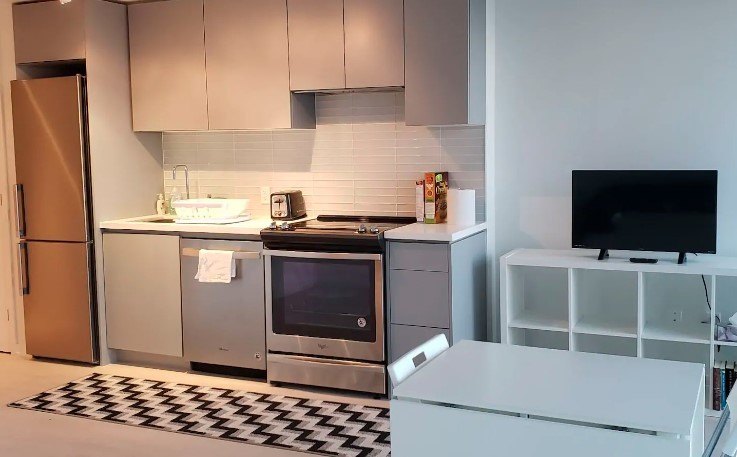 $$
2 Guests
Breakfast Included
Floor to Ceiling Windows
Downtown Toronto is where the true, throbbing pulse of the nightlife happens. From the swanky CC Lounge and Whisky complete with plenty of disco-ball chandeliers to the chic Pravda Vodka Bar, to the old-fashioned Library Bar, there is plenty of unique pubs and lounges to explore in Downtown. Staying at this Toronto Airbnb puts you in the center of all the dancing, drinking, and festivities.
The floor to ceiling windows provide an incredible view of Lake Ontario and of the CN Tower as well. Furthermore, paid parking is available underground. There is a washer and dryer available to use, as well as a fully-equipped kitchen perfect for making late-night snacks and curing a case of the munchies.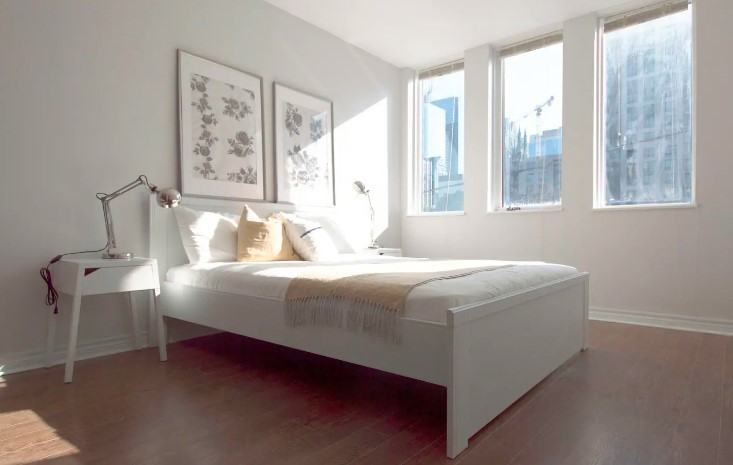 $$
2 Guests
Fully-Equipped Kitchen
Washer & Dryer
Sitting on the second floor of an apartment building, this cozy apartment is beautifully styled with tons of crisp, bright, white furnishings. Everything is modern and sparkling clean. Take advantage of the fully-equipped kitchen and the snug living space. This Airbnb in Toronto is the perfect soft, warm, inviting spot to snuggle up with your significant other!
Situated right on the dividing line between Old Town and the Church-Yonge Corridor, in this Toronto Airbnb you get a taste of both sides of the city.
$
2 Guests
Private Bar Area in Room w/ Stools
Tons of floor space
This one bedroom and one shared bathroom Toronto homestay is a dream come true. It's on a very quiet residential street surrounded by Trinity Bellwoods Park, close to the Fashion District. Public transit options are located just a few minutes away.
This particular Toronto Airbnb is truly enormous. It has a queen-size bed and tons of floor space. In fact, there is enough floor space inside the room itself that you could easy waltz around the place or practically teach a small yoga class! Guests are welcome to access the kitchen, and inside your room itself, there is a small high-table with two bar stools. Quite the find of unique homestays in Toronto!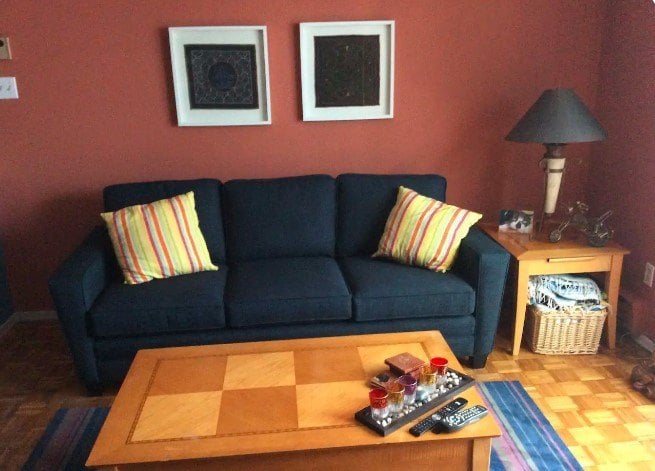 $$
2 Guests
Breakfast Included
2 Free Bicycles to Borrow
Corktown district is located just a bit East of Downtown. This Toronto Airbnb puts you close to the pulse of the city, yet situates you directly on a quiet, residential street. If you want to walk to the center of Toronto, it's just a quick 10-minute stroll. There are a few shops and restaurants nearby, including sushi, Greek, and Ethiopian!
This private room short term rental is for a room in a townhouse, on the top floor of a forty-year-old building. There's even a garden patio to enjoy filled with plenty of plants. Furthermore, guests are invited to use the kitchen to the full extent and to use the BBQ grill out on the patio, or hang out in the living room and watch some Netflix. Lastly, there is also plentiful free street parking.
$$$$
6 Guests
Gym Access
Incredible City Views
This penthouse apartment has a view to die for. While not quite clocking in a perfect 360-degree view of the city, you'll take in a whopping 270-degree view from this Toronto Airbnb. With two bedrooms and two bathrooms, and a total of three beds, this Toronto Airbnb is perfect if you're looking to splurge a little.
Guests can access the washer and dryer, gourmet kitchen, outdoor balcony, and even a gym in the building! For a nice little surprise, there are no TVs in this luxury Toronto Airbnb, so instead of screen time, enjoy taking in the gorgeous views of the city night and day. Of course, there is good WiFi, so you can always binge-watch Netflix on your iPad if you'd rather…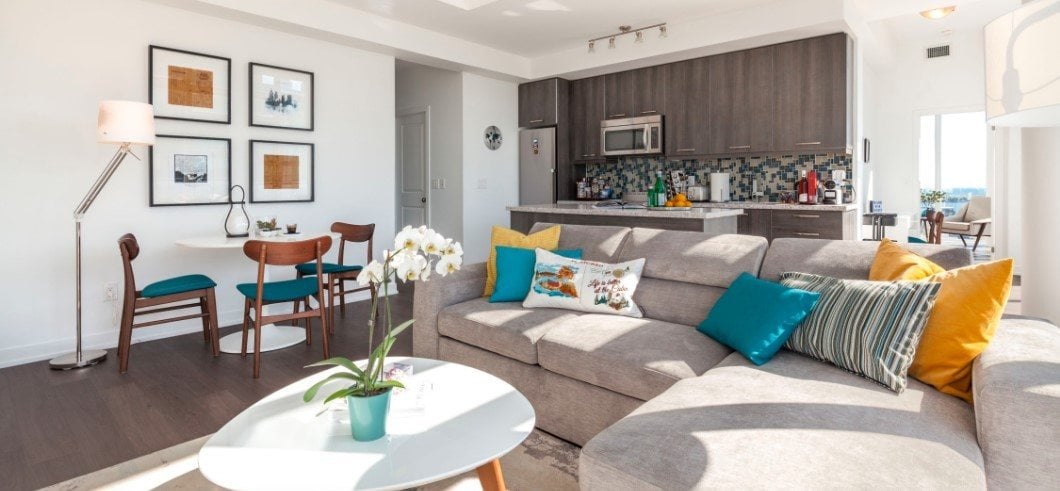 $$$$
4 Guests
Enormous Gourmet Kitchen
Access to Sauna & Yoga Studio
From this glorious penthouse condominium, you can take in the panoramic views of the CN Tower, Lake Ontario, and the city lights below. Floor to ceiling windows completely blanket this Toronto Airbnb in sunshine and warmth. This incredible two bedroom and two bathrooms short term rental in Toronto allows guests access to a sauna and a yoga studio. With yoga studio access, go get your asana on!
Specifically, this Airbnb in Toronto is nestled behind the historic First Post Office and is just a quick walk to the renowned 200-year-old St. Lawrence Market. In this rental, you'll be surrounded by top-notch bars and restaurants as well. Go ahead and indulge yourself in a little Toronto glamour and beauty at this astounding most luxurious and best Airbnb in Toronto!
$$$
6 Guests
Breakfast included
High Chair & Crib
This Toronto Airbnb is the perfect place to stay if you are traveling with your family. With two bedrooms, one bathroom, and a total of three separate beds, six guests can easily fit into this beautiful Toronto apartment. This neighborhood is great, convenient for both shopping and eating around Queen Street. Also, the apartment is stylishly designed and quite spacious.
The TV room even has built-in Netflix and Chromecast, so if you want to whip up a meal in the fully-equipped kitchen while the kids watch Dora the Explorer, you can do so with ease! The outdoor patio is small and perfect for enjoying a quiet cup of tea before rocketing off to exploring the city. There is also a crib and high chair provided by the hosts as convenient family features for those traveling with young ones. This is definitely one of the best Airbnb in Toronto for traveling families!
$$$
8 Guests
Free Parking
Open Floor Plan
This three bedroom and two bathrooms Airbnb in Toronto comes with a total of four beds. If you and a group of friends are looking for where to stay on your next trip to Toronto, look no further than this Toronto Airbnb! Within ridiculously close walking distance are some tourist hot spots: Distillery District, St. Lawrence Market, and the Waterfront.
Furthermore, this open floor plan is completely in vogue so you can exist in style. With accent pillows, stainless steel appliances, and warm fuzzy blankets, all your friends are sure to drool over this chic apartment. Technically, this apartment is in the Distillery neighborhood of Downtown Toronto and is filled with the rustic charm of old town. Also, you can kiss your parking worries goodbye with the private parking garage!
$$
2 Guests
Two additional sofa beds
Huge bathtub
This one bedroom and bathroom Toronto Airbnb rental is perfect if you're looking to stay in central downtown. Although this space has one bedroom, it does have two additional sofa beds, so technically a group of four could squeeze into this cozy short term rental. The bathtub is superb if you fancy a long soak after a day of exploring the city on foot.
Overall, the space is well laid out, clean, and tastefully designed. Indeed, one might go so far as to call it dappe! Lastly, this Toronto Airbnb is located on the ground floor, so you won't have to struggle up too many stairs at all.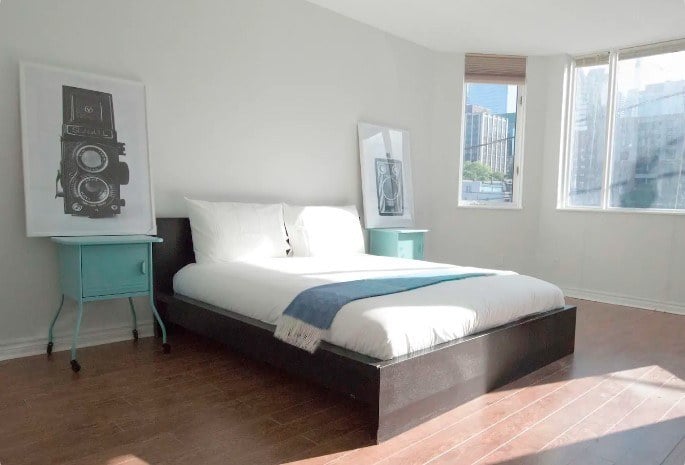 $$
2 Guests
Washer & Dryer
Hotel Quality Queen Bed
Old-fashioned, yet completely trendy, this retro apartment just has a taste of vintage hinted through the art and furnishings. This one bedroom and one bathroom Airbnb in Toronto, does have an additional sofa bed in the living room, should you be traveling as a trio. Moreover, this beautiful loft is located in the downtown area, just a quick five-minute walk from the Queen Subway. You have to appreciate an affordable Airbnb that has a fully-equipped kitchen, washer and dryer, and even a lock-box as a nice added security feature.
Top Value Airbnb in Toronto's Chinatown– Comfy Private Room
$$
2 Guests
Laptop Friendly Workspace
Breakfast Included
This private room with a shared bathroom Toronto homestay is a wonderful option for those looking to stay in Chinatown. If you want to walk to the most popular attractions in Toronto, such as the CN Tower or the Aquarium, it will take a twenty to thirty-minute walk.
However, public transportation including buses and subways, makes everything easy to reach! The home itself is historic and has a beautiful outdoor flower garden on the ground floor right outside the entrance to the building. The private room itself has a desk and chair, queen bed, reading lamp, full-length mirror, and wardrobe.
What to Pack for your Toronto Airbnb
Our Broke Backpacker editors have put together a shortlist of their Airbnb essentials, which you can find here.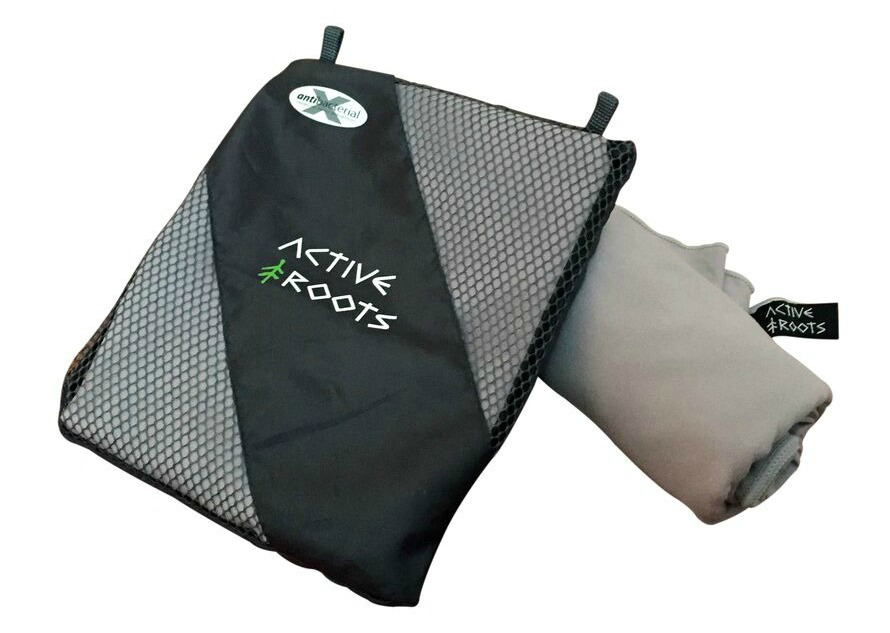 1. Active Roots Microfiber Towel: Most Airbnb's provide towels, but I always keep my own handy on my travels in case I can't get the linens cleaned during a long stay. The Active Roots Microfiber Towel doesn't just sound fancy, it kinda is fancy. The super comfy material is absorbent and quick-drying – perfect for after a shower or a quick jump into the water. Use it as a beach towel, picnic blanket or yoga towel too. Lightweight and compact, it'll hardly take up any space in your suitcase.
2. Packing Cubes: Having your luggage accessible and organized can make your holidays a lot more enjoyable. Packing cubes help you to pack everything in proper order, prevent wrinkling and losing stuff in the depths of your suitcase. The cubes are see-through and water-resistant. If your Airbnb doesn't have a place to store your clothes, you can use the cubes as an improvised closet to keep everything accessible yet tidy.
3. Active Roots Toiletry Bag: Many Airbnb hosts will provide basic toiletries, but not everyone is happy to find a simple bar of harsh soap so you'll want to come with some of your own supplies in case. This Active Roots Toiletry Bag keeps all of your bathroom essentials organized, accessible and safe from leaking into your suitcase. The bag stands on its own or hangs off a towel rack. Made from water-resistant and durable material, you can be sure that this bag will survive lots of great holidays.
4
. Suitcase Locks: Maybe you don't trust the airport services or maybe your suitcase is full to bursting. These locks will make sure that everything inside will stay inside. The locks are high quality, robust and TSA approved – you can be sure that your luggage is safe from opportunistic theft.
5. Reusable Shopping Bags: Are you familiar with the massive problem with plastic pollution, especially in developing nations? Avoiding consumer-end single-use plastic isn't a massive challenge to those of us privileged to travel. Start by shopping with reusable shopping bags. They're long-lasting, they fit everything you need and can be used as beach/picnic/day bags too. In some countries, plastic bags are either banned completely or you have to pay for them so a bag that accompanies you on every trip will go a long way.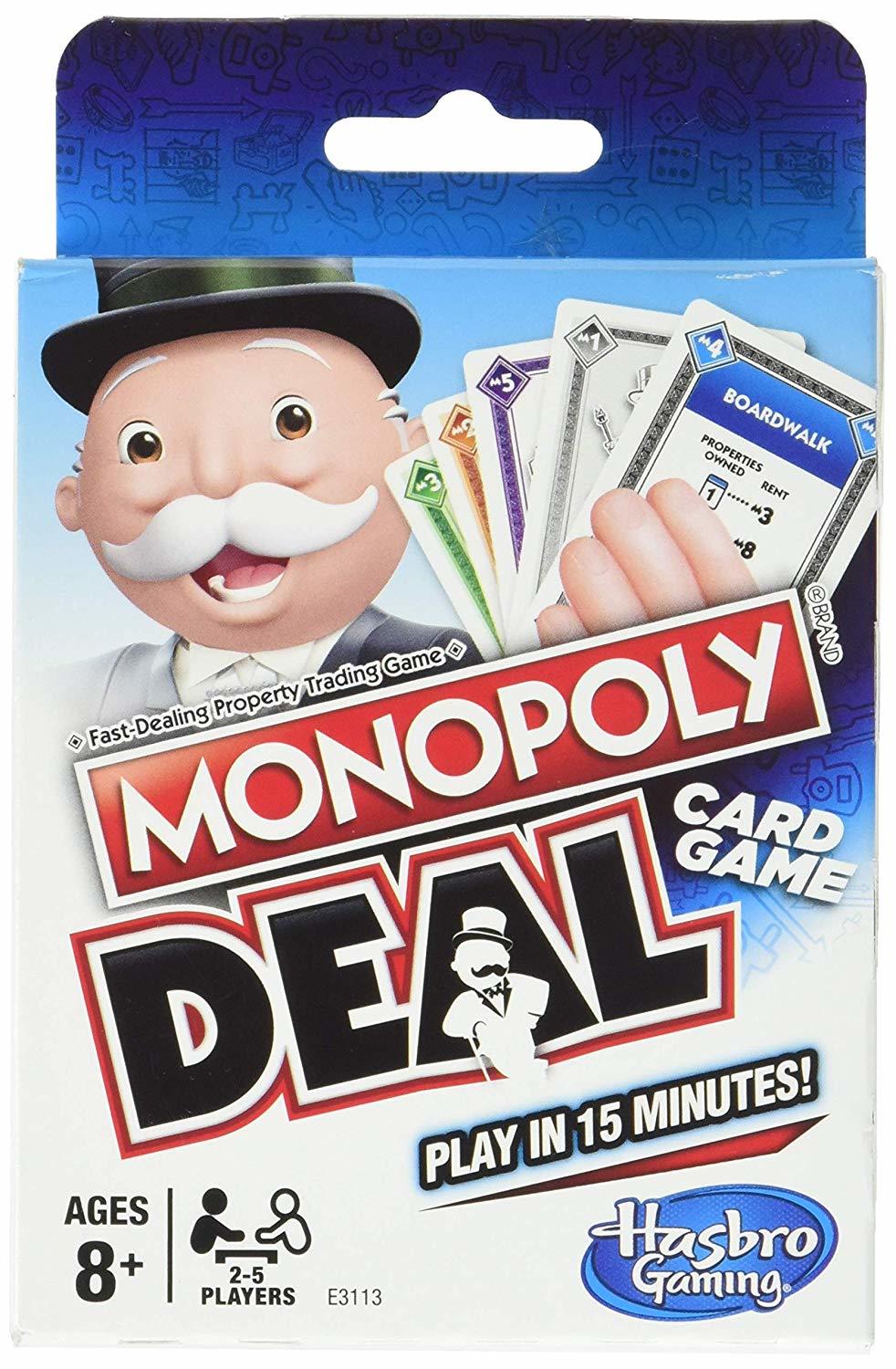 6. Monopoly Card Game: Yes, downtime will happen, even on holiday. The age-old solution: card games! Basic cards can get a bit boring so next time bring along Monopoly Deal Cards. It's a version of the board game, gets your brain cells involved and brings a lot of fun. Up to 5 people can play at a time, which is perfect when travelling in a small group or with your family.
Check out these other great resources
We have loads more information to help you plan your trip.
Final Thoughts on Toronto Airbnbs
Toronto is a multicultural, global city with a lot going on. Whatever your Toronto itinerary is, we are sure you will have an amazing time.
When heading off to Toronto, we hope that we took all your travel worries off your mind by providing you with this handy-dandy list of the best Airbnbs in Toronto. If you're looking for the best Airbnb in Toronto for your group of friends or for your family trip, we hope you found something.
Oh, and don't forget to sort your travel insurance before heading to Toronto! We've put together a roundup of the best travel insurance for backpackers – check it out here, or if you're low on time, get a quote from World Nomads, our favorite travel insurance provider.
Yay for transparency! Some of the links in this post are affiliate links. This means that if you book your accommodation, buy a book or sort your insurance, I'll earn a small commission at no extra cost to you. I only link to stuff I've actually used and never endorse crap. Your support helps me keep the site going.
---
Need More Inspiration?
Like this post? PIN ME!!!
Lily Allen-Duenas is a wandering yoga instructor, massage therapist, and reiki master healer. For the last two years she's been journeying around the world, teaching yoga on island resorts in Cambodia, surf hostels in Sri Lanka, and wellness centers in the Phillipines. Lily loves building her life around her passions— yoga, health, wellness, and travel. You can follow her journey at wildyogatribe.com or get social with her @wildyogatribe