Imagine a country where cities are rich in culture, mountains rise above the clouds, and forests dominate the landscape. Stricken with natural beauty, Canada offers all of this and more.
The massive country stretches across the northern American continent, reaching from the freezing edges of Alaska and the Northwestern Passages to the bustling cities of North America.
One of the main reasons for Canada's natural beauty is the difficulty of travelling and accessing many regions. This means those passionate about exploring are bound to enjoy a once-in-a-lifetime experience surrounded by billion-year-old cliffs, mountains, fjords, and rainforest islands – without grappling big crowds.
But Canada has much more to offer than natural landscapes, boasting some of the most regal gardens, historic buildings, and modern architecture. As the second biggest country in the world, it's no surprise that there are some incredibly beautiful places in Canada.
Read on for our pick of the country's most beautiful highlights.
1. Cape Breton, Nova Scotia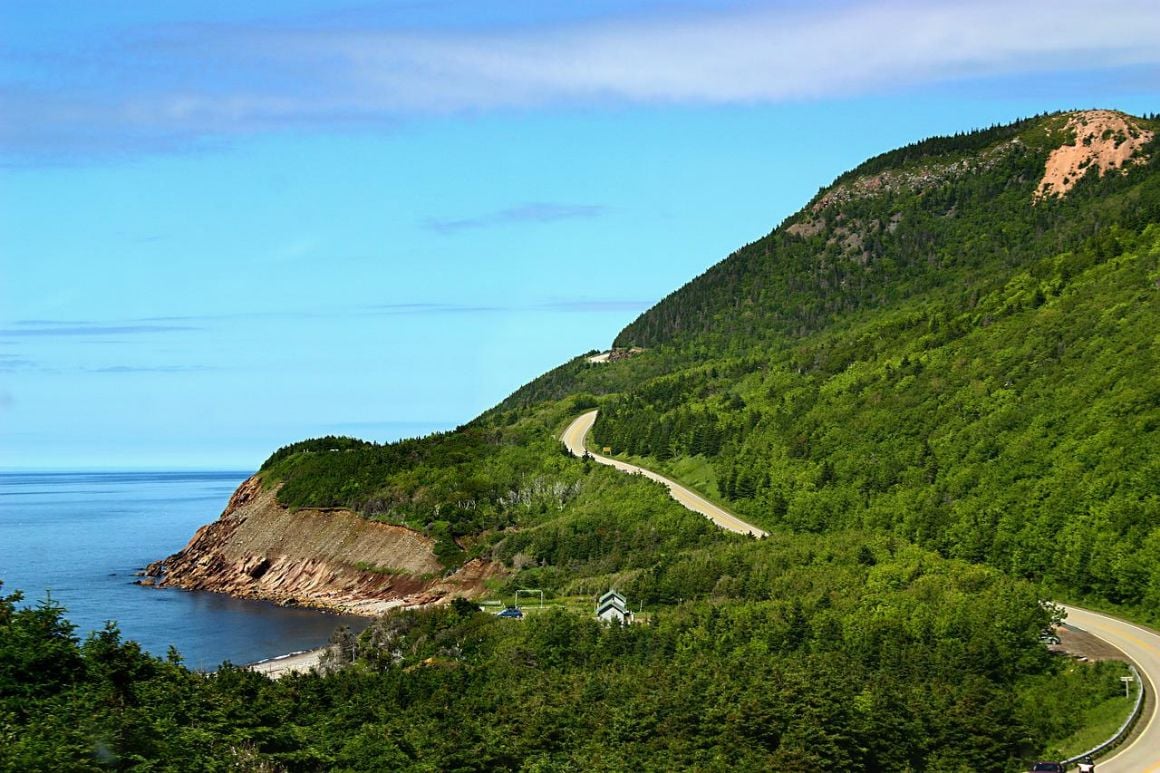 Surrounded by the cold waters of the North Atlantic Ocean at the eastern end of Nova Scotia, Cape Breton is an island overflowing with cultural heritage and natural beauty. An absolute must-visit for anyone travelling to Canada.
The island has a diverse history influenced by the French, Aboriginal, Irish, Scottish, and English populations that inhabited the area over the past centuries.
Named after an Italian explorer who stumbled upon the North American coastline in 1497, the Cabot Trail is a 185-mile route that hugs the rugged coastline of the North Atlantic. This extensive trail is the best way to explore the island.
It's widely known as one of North America's most beautiful drives. Passing through dense forests, a dramatic coastline, quaint fishing villages, sprawling golf courses, and even the iconic Cape Breton Highlands National Park.
After you've experienced a good dose of natural beauty, head into the small town and enjoy traditional Celtic and Acadian music for a colourful peek into the diverse traditions of the region.
To get to the island, you must drive across the Canso Causeway. The best time to visit is mid-late summer and in October when the Celtic Colours Festival is held annually.

Unlock Our GREATEST Travel Secrets!
Sign up for our newsletter and get the best travel tips delivered right to your inbox.
2. Vancouver Island, British Columbia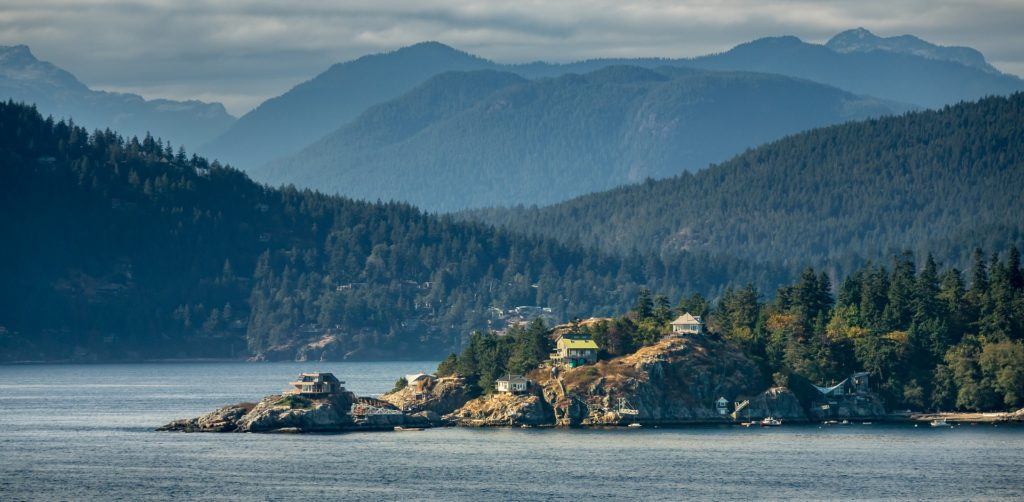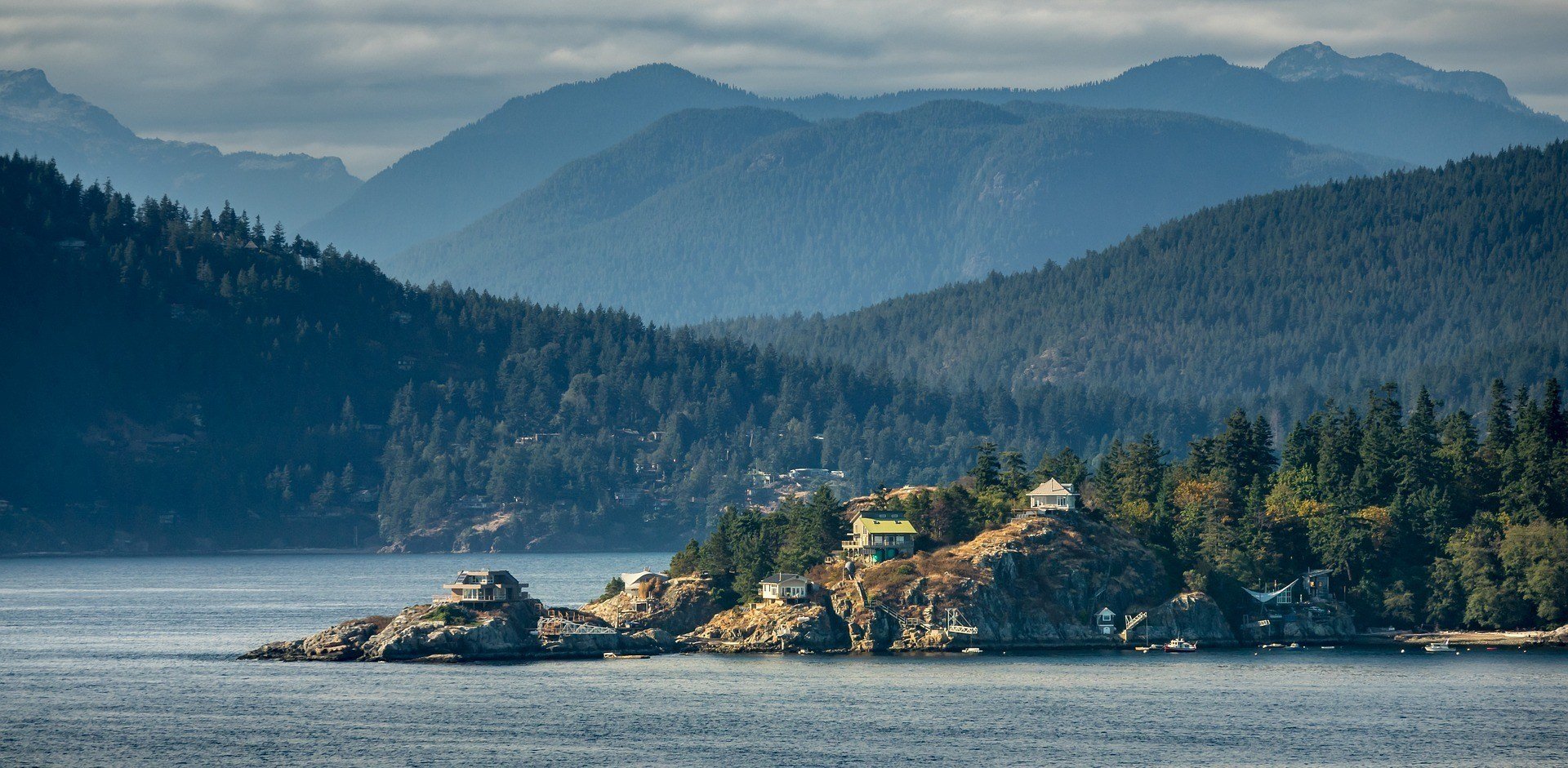 Known for its rugged yet striking coastline, massive trees, and abundance of wildlife that live in the area, Vancouver Island is a haven for all sorts of outdoor adventures. If you're a fan of hiking, biking, camping, and paddling, this island just west of the metropolis of Vancouver has everything you could wish for.
The casual lifestyle that the West Coast of Canada is so loved for shines through on this island. It attracts everyone from families to solo adventurers seeking some time in nature.
The island was established as a Colony of Vancouver in 1849 when abundant coal mines brought a new industry and economy to the area.
The town of Tofino is one of the most picture-perfect in the country. Around Tofino, there are plenty of gorgeous beaches along the coastline, typically dotted with sunbathers and avid surfers enjoying the sunshine.
The island is also home to a bunch of provincial parks, including the famous Goldstream Provincial Park, Cape Scott Provincial Park, and Rathtrevor Beach Provincial Park.
Conveniently, Vancouver Island is one of the most easily accessible beautiful places in Canada. It's also a year-round hotspot, making it the perfect quick getaway or day-trip location for Vancouver locals.
3. Abraham Lake, Alberta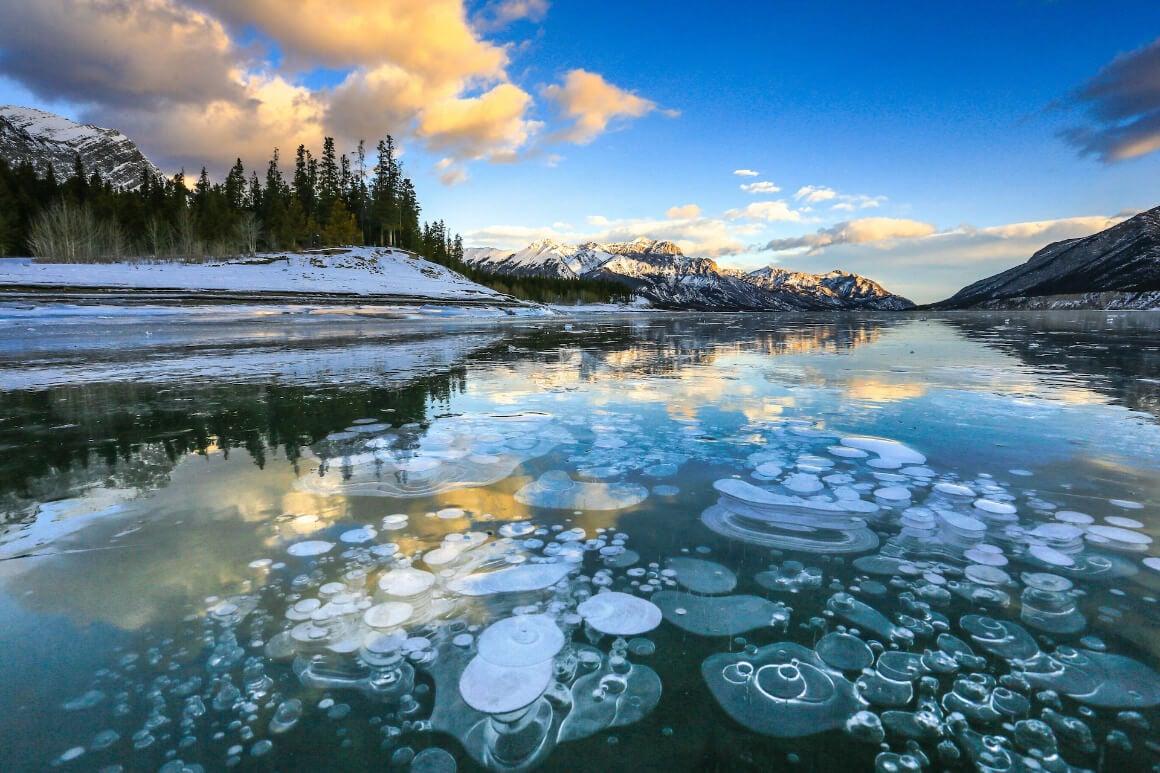 If you've seen pictures of Alberta, you've likely already laid eyes on the beautiful Abraham Lake. The artificial lake is best known for its impressive methane ice bubbles preserved below the crystal clear ice of the water during winter. There is no shortage of amazing lakes in Canada, but this one is my favourite.
The methane production in the lake is caused by dead organic matter flora and fauna sinking to the bottom of the lake. When this matter starts to decompose, it releases a methane gas that rises to the top of the lake, only to be frozen into spectacular bubbles along the way.
One of the most unique places to visit in Canada, the lake can be found on the north Saskatchewan River. It attracts several visitors to wow at its psychedelic-looking bubbles between December and March.
Preachers Point is one of the best places to view and photograph the phenomenon. In shallower sections, visitors can even walk on the lake and ice skate on the ice.
A big part of its popularity can be attributed to its proximity to both Banff and Jasper National Parks. This makes it a convenient stop-over on a visit to these astonishing Canadian national parks.
4. Butchart Gardens, British Columbia
Blooming for over a century, The Butchart Gardens is a 119-year-old garden world-known for its incredible display of over 900 varieties of flora. The Butchart family founded the gardens and still owns it to this day. After years of welcoming visitors to the estate, the gardens have earned themselves a place as a Canadian National Historic Site.
Like many English-style gardens, the Butchart Gardens are most beautiful in spring and late summer, when the colourful flowers and trees are in full bloom. Tulips, daffodils, and hyacinths scatter the grounds like a multicoloured carpet as topiarized bushes and towering trees rise above you.
Paying homage to a variety of flora from different parts of the world, the gardens include an Italian Garden, a Meditteranean Garden, and a Japanese Garden. Of course, the English Rose Garden, with its rose tunnel, is a must-see during the summer months.
Every Saturday evening during the summer months, fireworks light up the sky in a display of colour and light. The gardens make for a wonderful day trip from Vancouver.
5. The Bay of Fundy, New Brunswick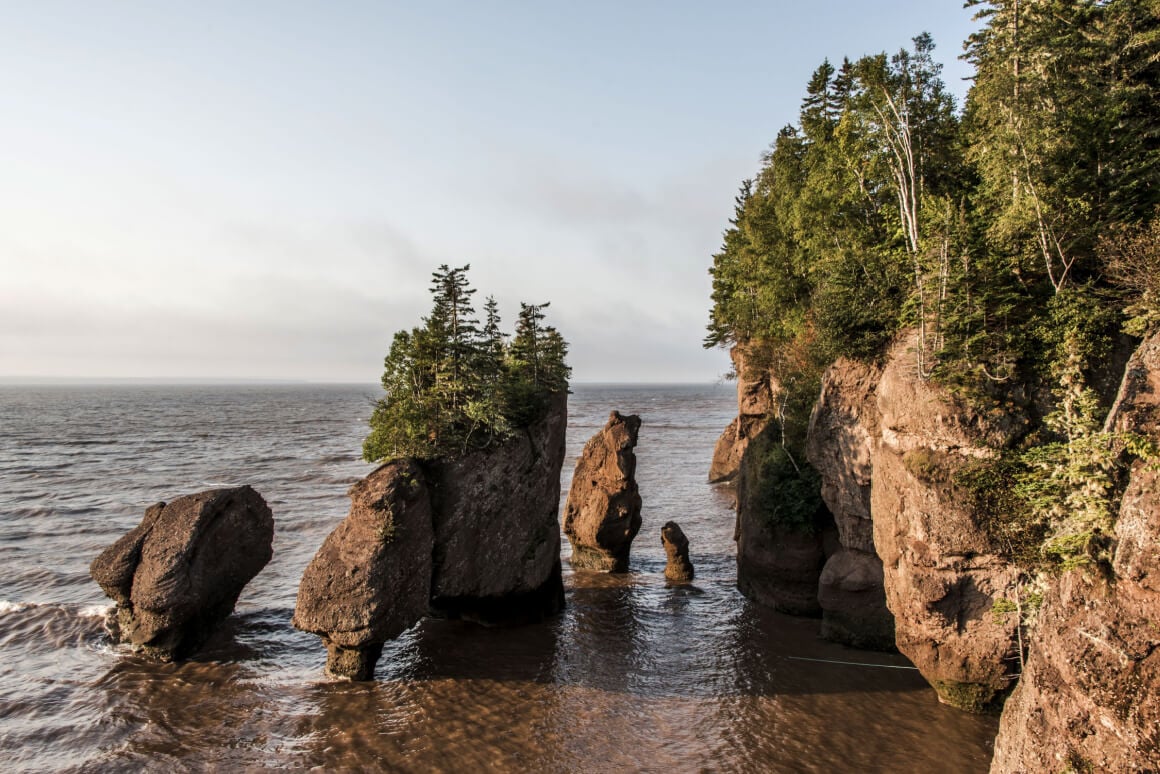 Located between the provinces of New Brunswick and Nova Scotia, the Bay of Fundy is one of the top ten places to visit in Canada. Famous for its massive difference between low and high tide, the bay is also known for its exquisite shoreline cliffs and pristine beaches. They house some of the world's most unique fossils.
Visitors can canoe or kayak around the cliffs. They have been battered away into abstract pinnacles over thousands of years of water erosion.
Topped with lush pines, the best time of the year to marvel at these cliffs is in summer. This is when the water is clearest and the trees are green.
The Bay of Fundy stretches 170 miles along the ocean. Its high tides, which are the main attraction, are caused by a unique combination of the shape of the bay and the way the rocks move in a natural rocking motion.
Dinosaur and other animal fossils from the area date back 200 million years ago and are uniquely 'complete' for their age. The presence of these fossils, combined with the natural beauty and high tides, have earned the bay a Unesco World Heritage Site title.
6. Dempster Highway, Yukon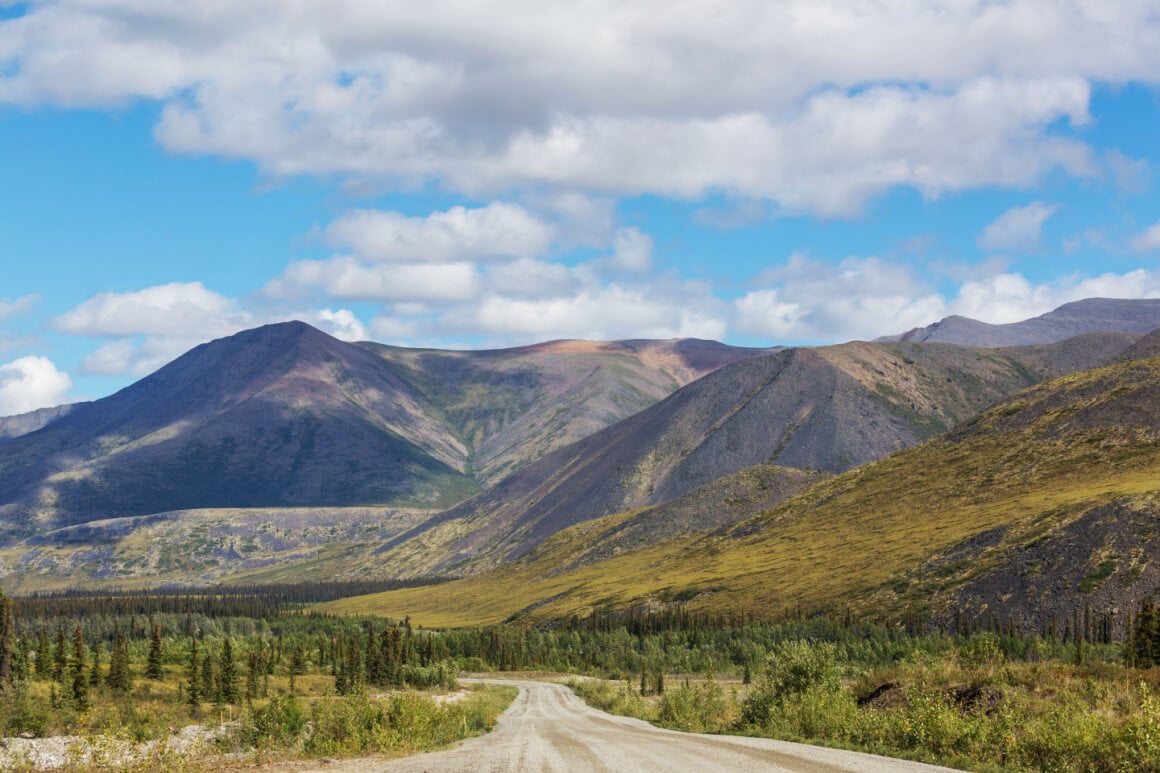 Sometimes referred to as the Yukon Highway, the Dempster Highway connects the northwest territories of the country over the Mackenzie River. Known as the Canadian road trip of a lifetime, the highway is one of the few remaining roads that cut through Canada's Arctic wilderness.
Stretching 456 miles through the most remote parts of Canada's northern states, the highest part of the road reaches an elevation of 4229 feet. While the road is a means for getting from A to B, it's also one of the most beautiful places in Canada.
I highly recommend you take the journey slowly and enjoy the stunning scenery as you go. Along the way, you could stop to hike through the ever-changing terrain, camp, fish, and view the exciting wildlife that lives within its bounds.
The road was built between 1959 and was completed in 1978. It follows the trail of an old dog sledge route that connected Dawson City to Fort McPherson and was nicknamed the 'Road to Remorses' by the construction workers who worked on the project for its isolated location.
Sweet, sweet FREEDOM…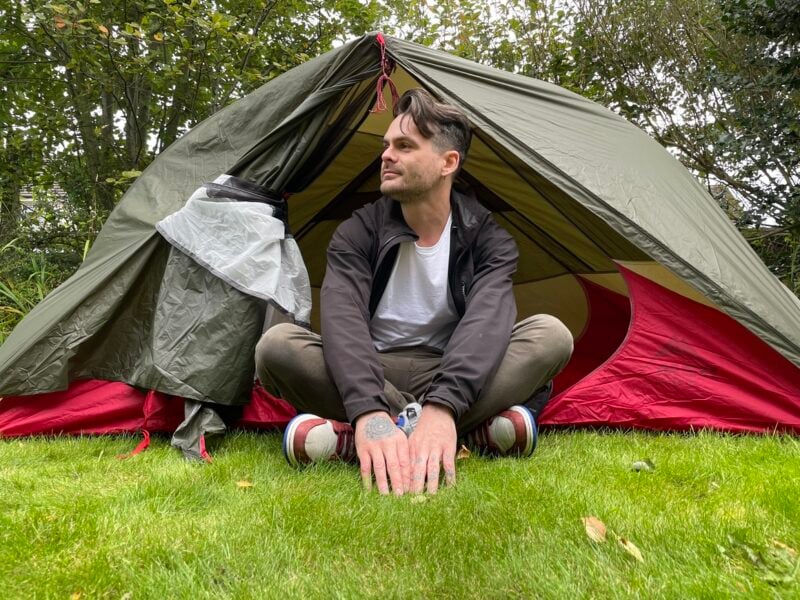 Here at The Broke Backpacker, we love freedom! And there's no freedom as sweet (and CHEAP) as camping around the world.
We've been camping on our adventures for over 10 years, so take it from us: the MSR HUBBA HUBBA is the best damn tent for adventuring…
View on REI
Read Our Review
7. Western Brook Pond, Newfoundland, and Labrador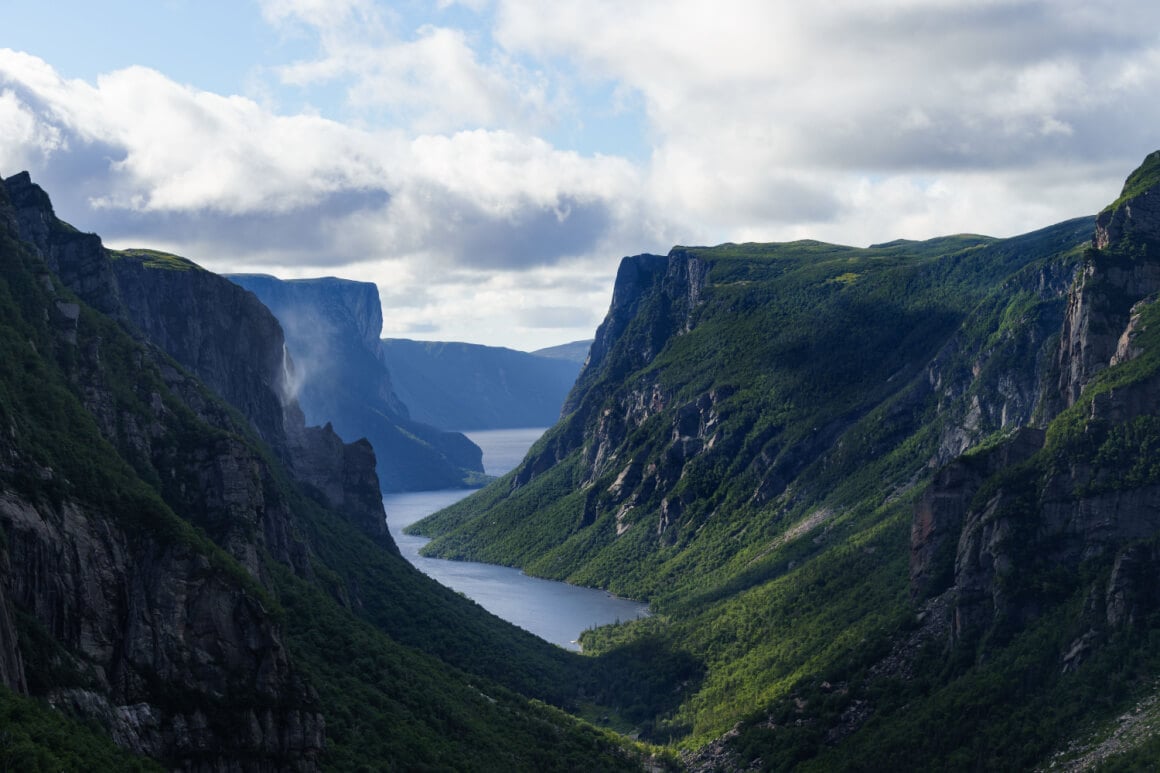 For amazing scenery and unrivalled photo opportunities, Newfoundland and Labrador, in the eastern part of Canada are home to incredible fjords and lakes. Western Brook Pond is a rare sight in Canada, a landlocked fjord carved by century-old glaciers.
The pond was once connected to the ocean but was cut off from the saltwater millions of years ago. Today, the freshwater pond boasts incredible cascading waterfalls. One of the most beautiful is the Pissing Mare Falls. Plunging 1150 feet from the sky, it is one of the tallest waterfalls in North America.
One of the most remarkable ways to experience these impressive fjords is to take a boat tour, admiring the towering carved fjord cliffs from the water. Almost untouched by development and human activities, the waters here are especially clear. Because of this, there are very few tour boat companies, so be sure to book your spot in advance.
Some of the best hiking in Canada is available here, where visitors can venture to the top of Western Brook Pond Gorge to be rewarded with incredible 180-degree views at the summit.
8. The Canadian Rockies, British Columbia, and Alberta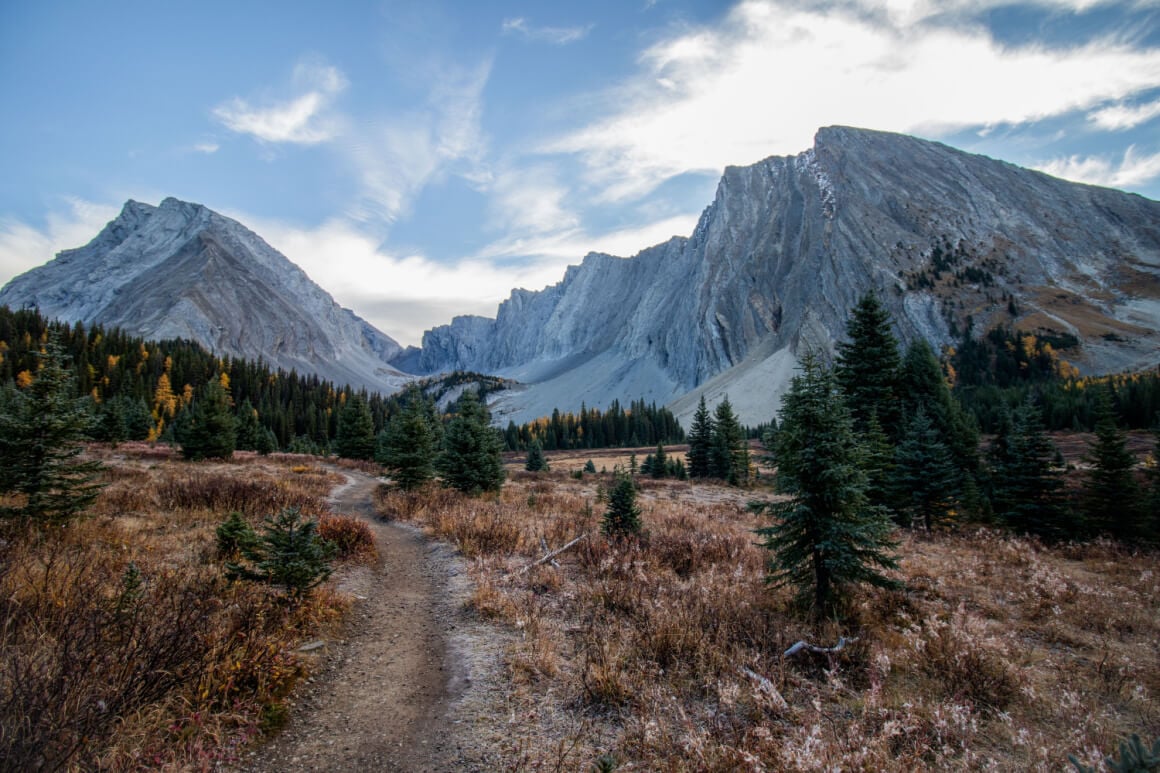 No better place encapsulates the quintessential beauty of Canada than the Canadian Rockies. While full Rocky Mountains stretch across Canada and into the USA, Canada's scenic mountains take the cake when it comes to natural beauty.
The Canadian Rockies extend from Canada's northern Arctic across the country and are home to five national parks in Canada alone. To make the most of the views, ride up the Banff Gondola and admire 360-degree views of the alpine peaks, lakes, and waterfalls surrounding you.
While the mountains are one of the best places in Canada for snowsports during the winter months, summer is just as beautiful. During the warmer months, the meadows are carpeted with a kaleidoscope of colourful wildflowers and butterflies. Waterfalls cascade down the mountains from melting snow too.
For a summer-time dip, Bear Lake, Dream Lake, and Sprague Lake are three of the most picture-worthy spots that make this one of the top 10 places to visit in Canada.
Whether you visit for snowsports during the winter or hiking in the summer, the glacial scenery will no doubt have you snapping photos throughout your trip.
9. Banff National Park, Alberta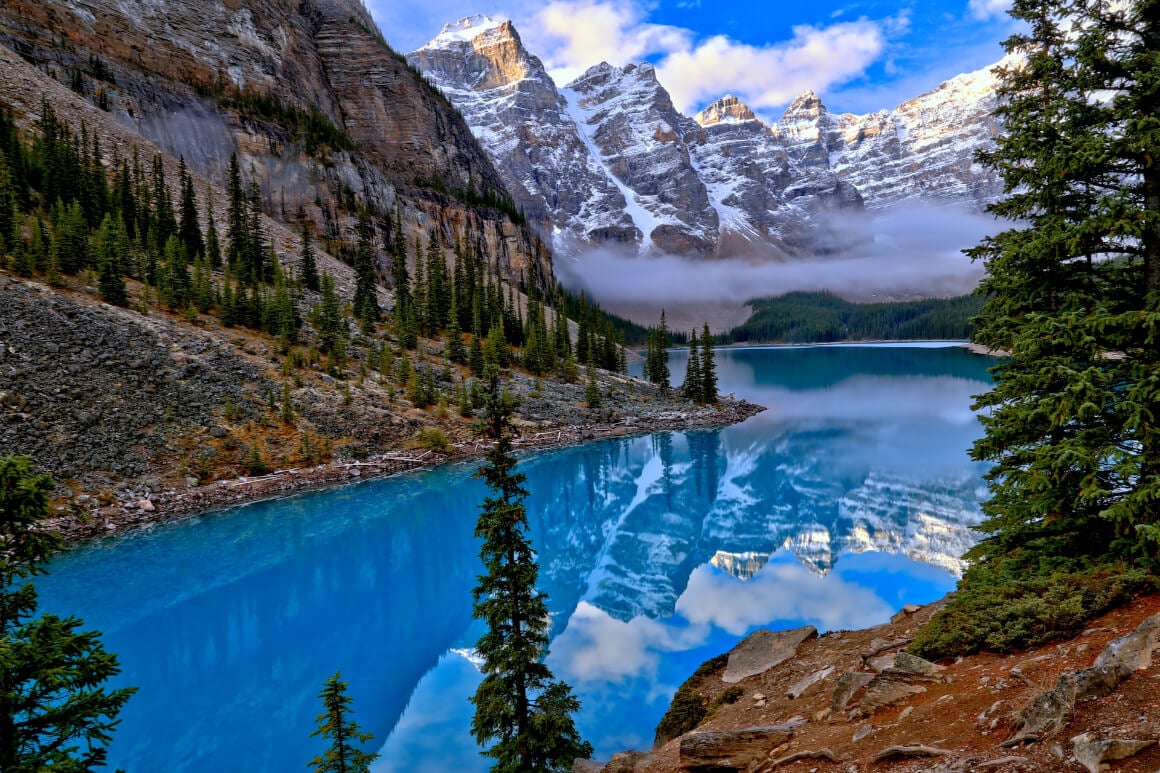 Although this location is technically set within the Canadian Rockies, we thought it deserved its own mention. Banff National Park is Canada's oldest national park, surrounded by the Canadian Rocky Mountain peaks, crystal clear glacier lakes, and neverending pine forests.
No wonder it's one of the country's top attractions – it's for sure one of the best places to stay in Canada.
Located in Alberta's Rocky Mountains, the park stretches across a mountainous landscape housing exquisite glaciers, lakes, snowcapped mountain peaks, and dense coniferous forests. Banff National Park is every outdoor lover's dream. It's perfect for hiking mountain trails, mountain biking, backcountry skiing, snowshoeing, or even horseback riding.
Within this sprawling ark, some of the most impressive scenery can be found at Moraine Lake, The Vermillion Lakes, and The Three Sisters. With its turquoise water reflecting the tall snowy peaks of the mountains surrounding it, Moraine Lake is an alpine extraordinaire and one of the most beautiful places in Canada.
The Vermillion Lakes offer similar scenery that comes to life during golden hour. Draped with a heavy coating of snow, The Three Sisters are three of the most impressive mountain peaks in the park. While popular with advanced hikers and even expert mountaineers, these towering peaks are an impressive site from every angle.
10. Cavendish Beach, Prince Edward Island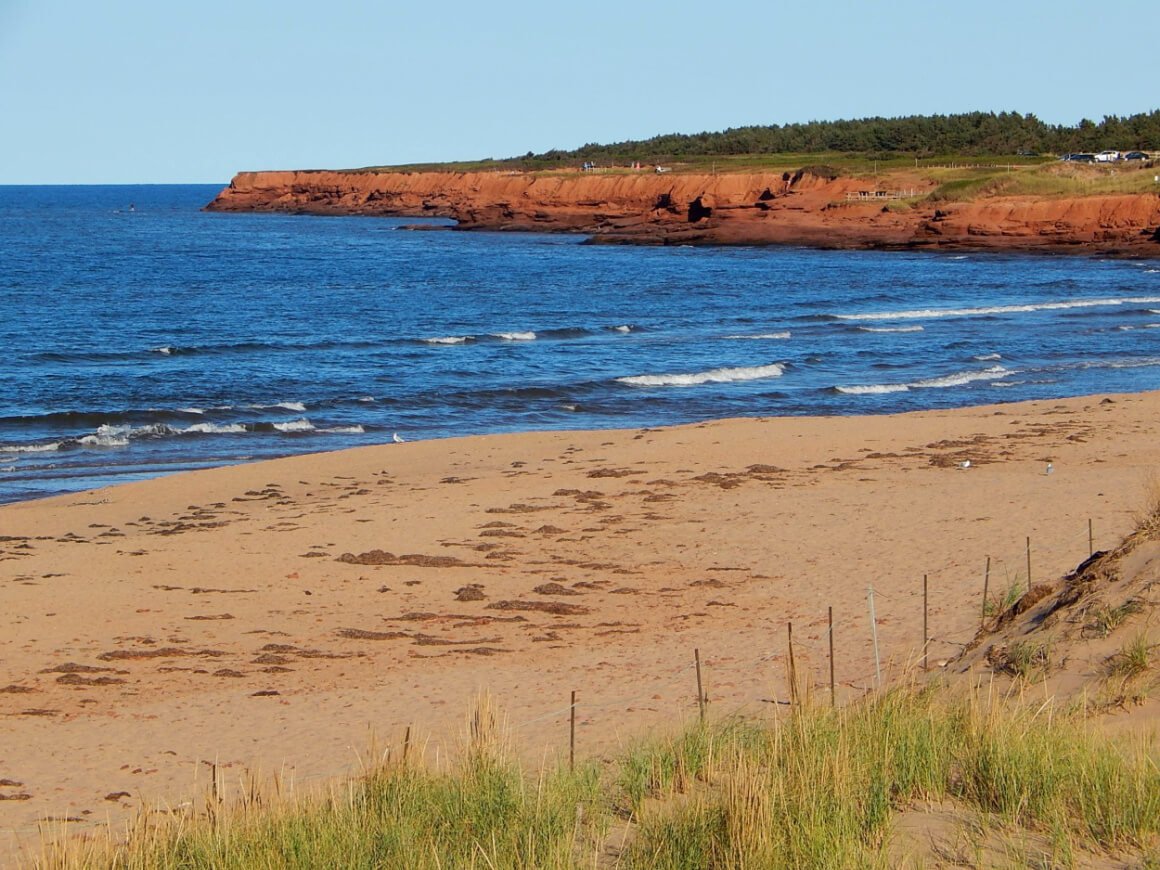 Prince Edward Island is known for its gorgeous beaches and family-friendly fun. Known as the gateway to the island and the national park within it, Cavendish Beach is an exquisite stretch of coastline perfect for family fun and romantic getaways.
With architecture inspired by northern European settlers, a walk through the small fishing and countryside villages will quickly transport you to another era.
While the entire region is a beauty worth exploring, Cavendish is known for a few of its most popular attractions, including the Cavendish Cliffs, Green Gables, Avonlea Village, and Cavendish Beach.
Best visited at golden hour when the sunshine reflects a bright red against the red sandstone, the Cavendish Cliffs overlook the Gulf of St. Lawrence. For a touch of culture and history, the Green Gables Heritage Place is the 'home' of one of Canada's most loved fictional characters, stars of story books, plays, and films – Anne of Green Gables. Many films and books took inspiration from this iconic and idyllic 19th-century farmstead with its green roof and red woodland pathways.
Have you sorted your accommodation yet?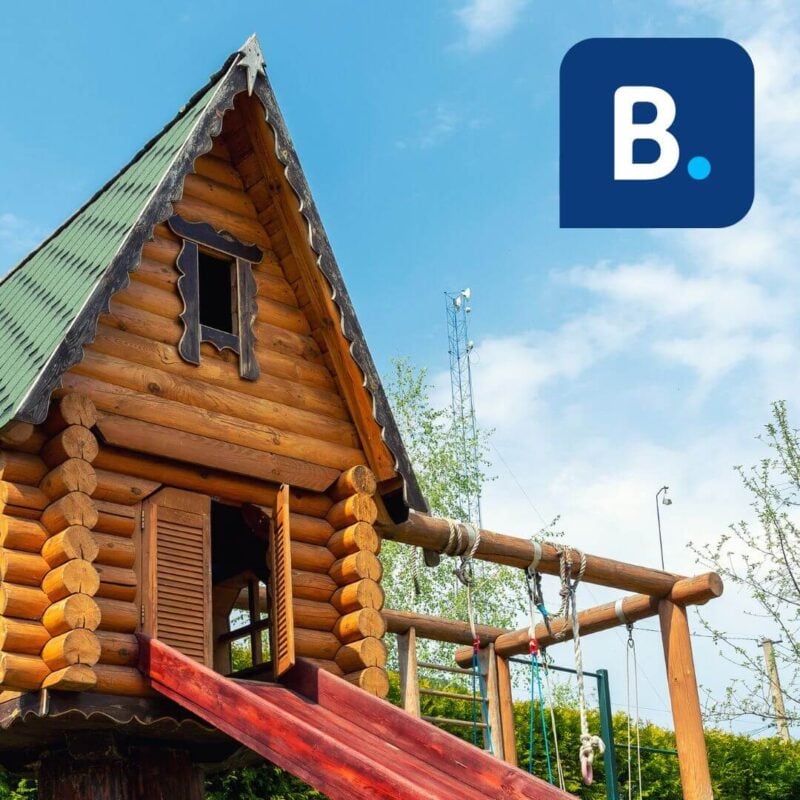 Get 15% OFF when you book through our link — and support the site you love so dearly 😉
Booking.com is quickly becoming our go-to for accommodation. From cheap hostels to stylish homestays and nice hotels, they've got it all!
View on Booking.com
11. Okanagan Valley, British Columbia
One of BC's top wine-producing regions, Okanagan Valley, is as much a haven for outdoor adventurers as it is for wine connoisseurs.
Set against a peaceful lake backdrop with wafting notes of lavender and grapes, the region is a beautiful place in Canada to attend festivals. Or, to stroll through farmers' markets, eat delicious food, cycle, and trail run.
12. The Montreal Biosphere, Montreal
To add some culture to this list, the Montreal Biosphere is a museum dedicated to raising awareness of the outdoor environment and environmental issues in the region. Housed in a spectacular translucent sphere, this modern building is not only one of the most unique in the city but also an educational wonder.
13. Yoho National Park, British Columbia
With its emerald clear lake and exquisite surrounding mountains, Yoho National Park is easily one of the most quintessentially Canadian places. Set on the slopes of the Great Divide, this park is home to towering glaciers, cascading waterfalls, and dense coniferous forests.
14. The CN Tower, Toronto
Set amongst the shimmering Toronto skyline, the CN Tower stands above the rest and is easily the city's most iconic image. A visit to this tower should be on everyone's Toronto itinerary, with exceptional 360-degree views of Lake Ontario and the city of Toronto from its viewing platform, which stands 1815 feet above the ground.
15. Niagara Falls, Ontario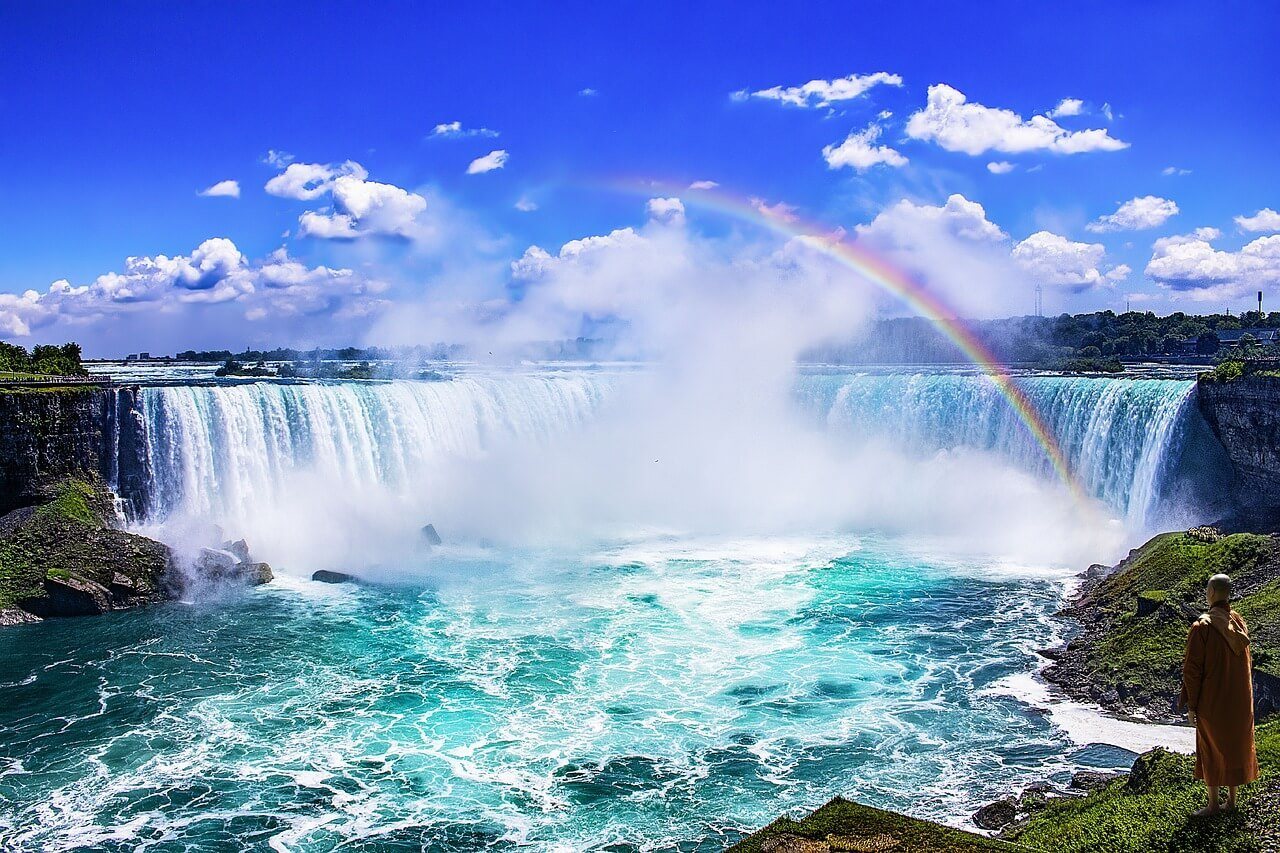 One of Canada's most popular tourist attractions, Niagara Falls, really is worth the hype. You can't imagine the raw power of this natural waterfall until you are being blasted by its mist.
A day tour here is unforgettable. The falls were formed at the end of the ice age when melting glaciers created massive freshwater lakes.
16. Chateau Frontenac, Quebec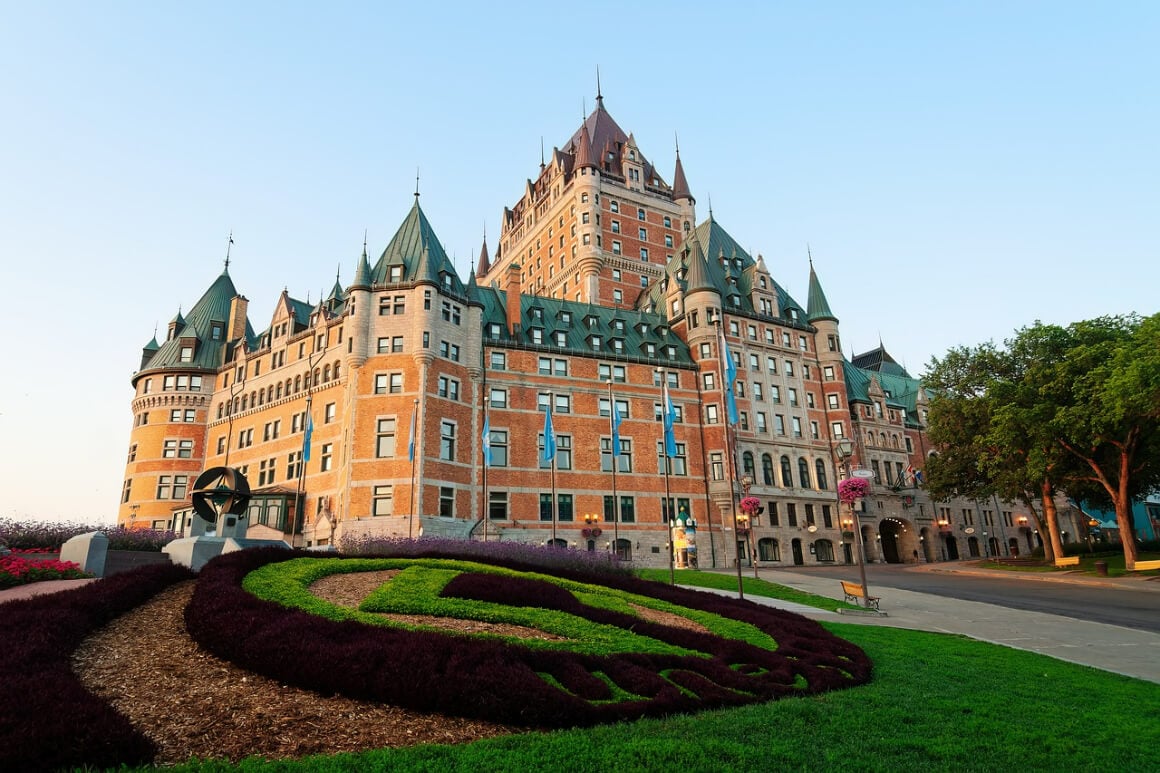 Overlooking the city of Quebec, Chateau Frontenac is a historic hotel that looks more like a regal European castle. Located in Old Quebec, the palace is easily one of the most beautiful places in Canada. It was built in the 1780s and offers a good idea of Canada's grand railway hotels.
17. Montmorency Falls, Quebec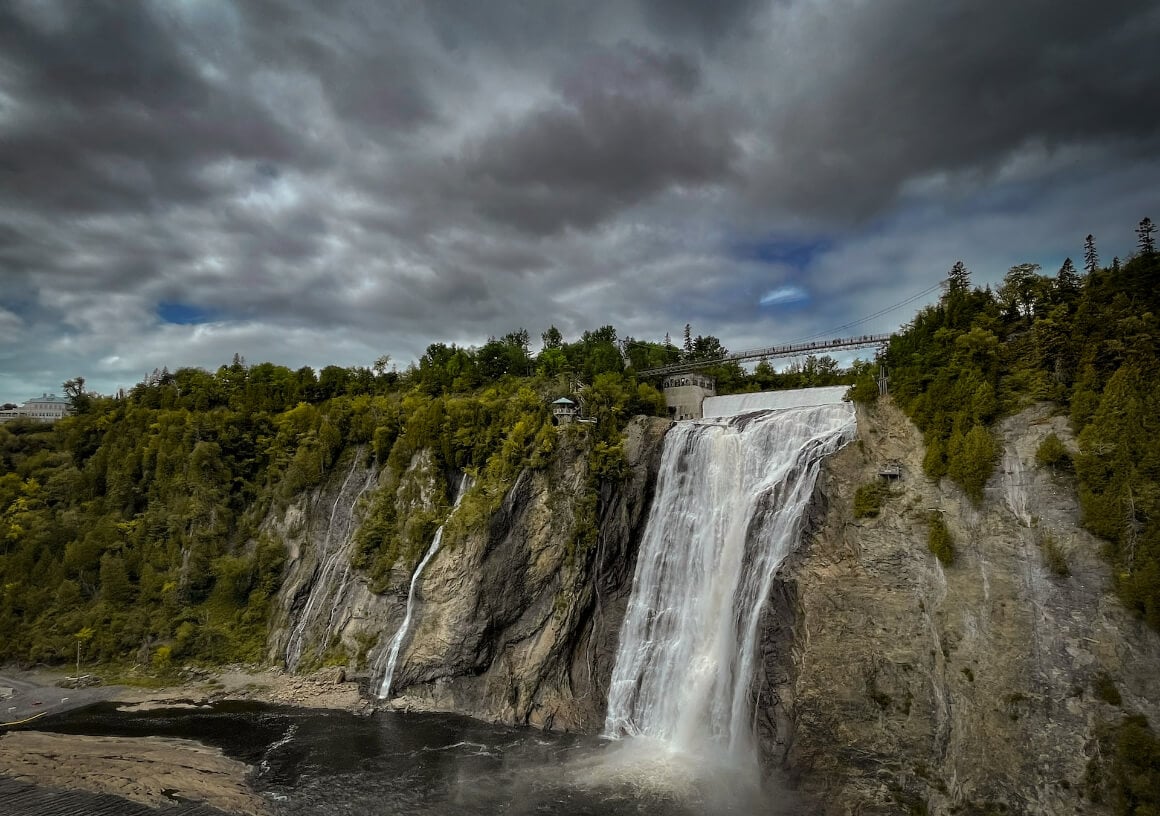 Just a few minutes from downtown Quebec, Montmorency Falls Park houses an impressive rushing waterfall that drops 275 feet from the Montmorency River. Falling from a higher distance than the legendary Niagara Falls, the waterfall promises exceptional scenes of the raw power of nature.
Travel with peace of mind. Travel WITH a security belt.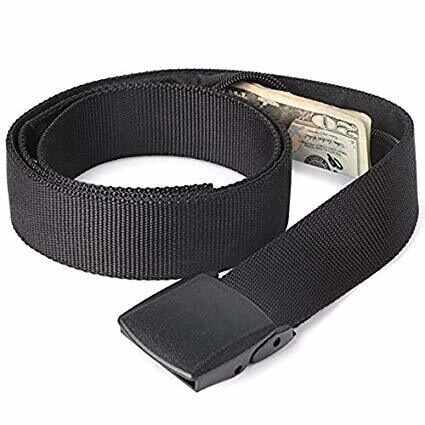 Stash your cash safely with this money belt. It will keep your valuables safely concealed, no matter where you go.
It looks exactly like a normal belt except for a SECRET interior pocket perfectly designed to hide a wad of cash, a passport photocopy or anything else you may wish to hide. Never get caught with your pants down again! (Unless you want to…)
Hide Yo' Money!
18. St Johns, Newfoundland, and Labrador
The capital and largest city in Newfoundland and Labrador, St. Johns, is a quaint town-like city on the top of the Avalon Peninsula. Best known for its multicoloured row houses set against an exquisite mountain backdrop, this city has an authentically European charm.
19. Yellowknife, Northwest Territories
Brought to life by the gold mining industry in the 19th century, Yellowknife is a small city in Canada's Northwest Territories with a small-town feel. The city offers a strong sense of local culture and pride in Canadian history and is an exciting place to learn about Canada's gold mining industry.
20. Victoria, British Columbia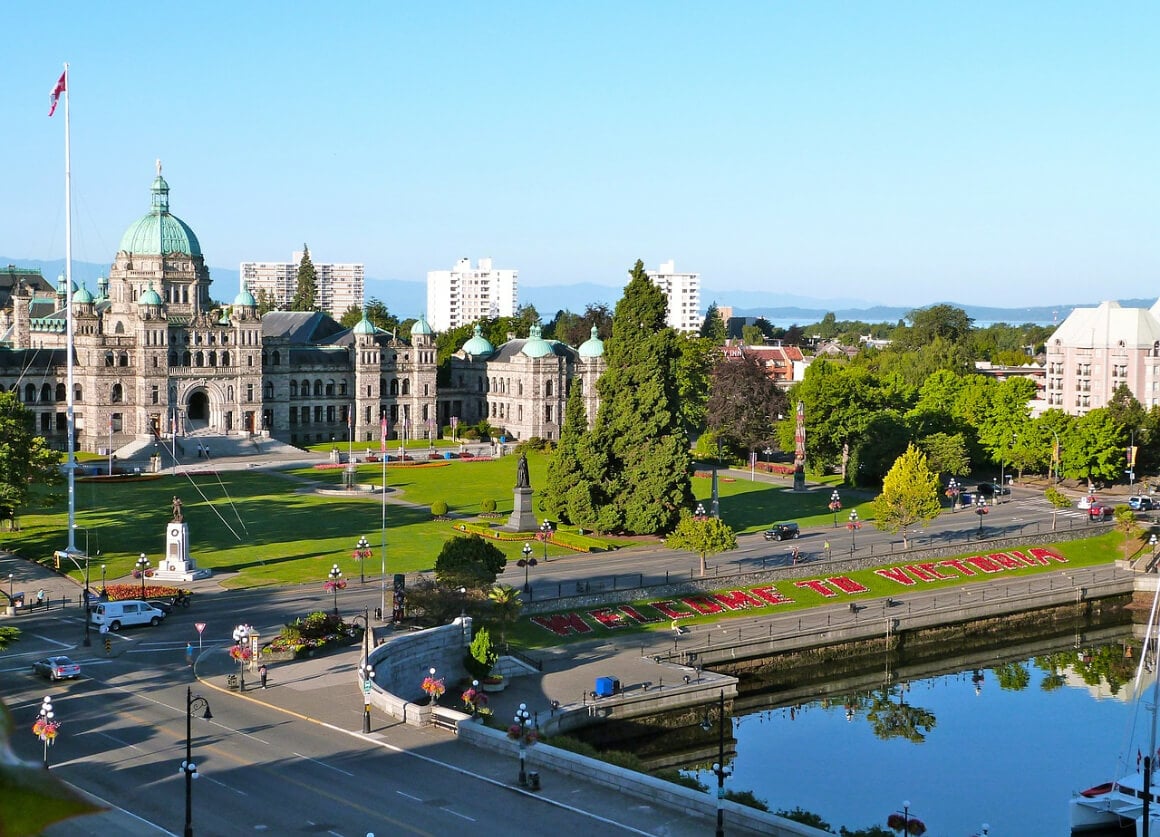 Last, but certainly not least, Victoria on Vancouver Island is an exquisite city famous for its rich British influence and heritage, magnificent architecture, and regal English gardens. If you squint, this city could transport you back to an era of horse-drawn carriages and afternoon tea delights.
How to See Beautiful Places in Canada
Although the country is vast, there are plenty of beautiful and unique places to visit in Canada.
Travelling by air is the best way to get across the country quickly. With many international and domestic airports, flying is an excellent way to cover large distances but is typically expensive. For example, a round-trip flight from Toronto to Vancouver is around $450.
Renting a car and exploring the country on a road trip is another great option, but many cities and attractions are far away from one another, which means you might spend more time than anticipated on the road. That said, this is the most affordable option, costing around $65 to rent a car per day.
Rail travel is another alternative. With tracks crisscrossing Canada, this is an exciting (yet slow and sometimes expensive) way to get around. A one-way ticket across the country costs between $500 and $2000.
Stay Insured When Visiting Canada
Do you need travel insurance? ABSOLUTELY! Before you head off on the trip of a lifetime, make sure one mistake can't ruin it all. Ensure you have some Canadian travel insurance, you would be silly to not.
ALWAYS sort out your backpacker insurance before your trip. There's plenty to choose from in that department, but a good place to start is Safety Wing.
They offer month-to-month payments, no lock-in contracts, and require absolutely no itineraries: that's the exact kind of insurance long-term travellers and digital nomads need.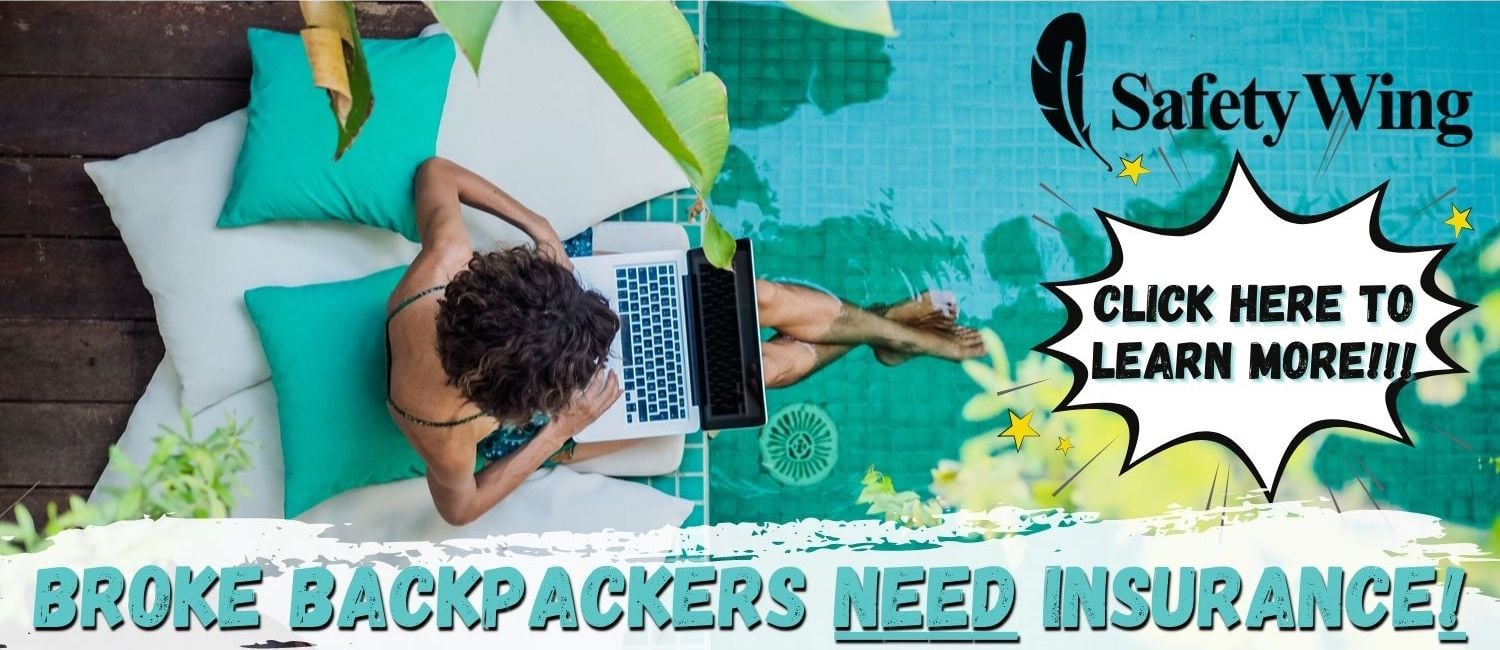 SafetyWing is cheap, easy, and admin-free: just sign up lickety-split so you can get back to it!
Click the button below to learn more about SafetyWing's setup or read our insider review for the full tasty scoop.
FAQs About Beautiful Places in Canada
Here are some. of the most frequently asked questions about Canada's most beautiful places.
Final Thoughts About Beautiful Places in Canada
The second-largest country in the world, Canada is home to an incredible variety of natural wonders, cultural attractions, and scenic locations. Forests cover half of the country, and the country boasts one of the longest coastlines in the world.
An incredible location for the wanderlust traveller, some of these beautiful places in Canada are so extraordinary; you just have to see them to believe them. If I had to choose one place from this list to visit, it would be the Okanagan Valley. With canyons falling into turquoise blue water surrounded by lush vineyards, this fertile valley has scenery, culture, and cuisine to satisfy all travellers.
With many outdoorsy locations and stunning cultural and historic attractions, you'll be spoilt for choice when it comes to finding exquisite places to visit in Canada.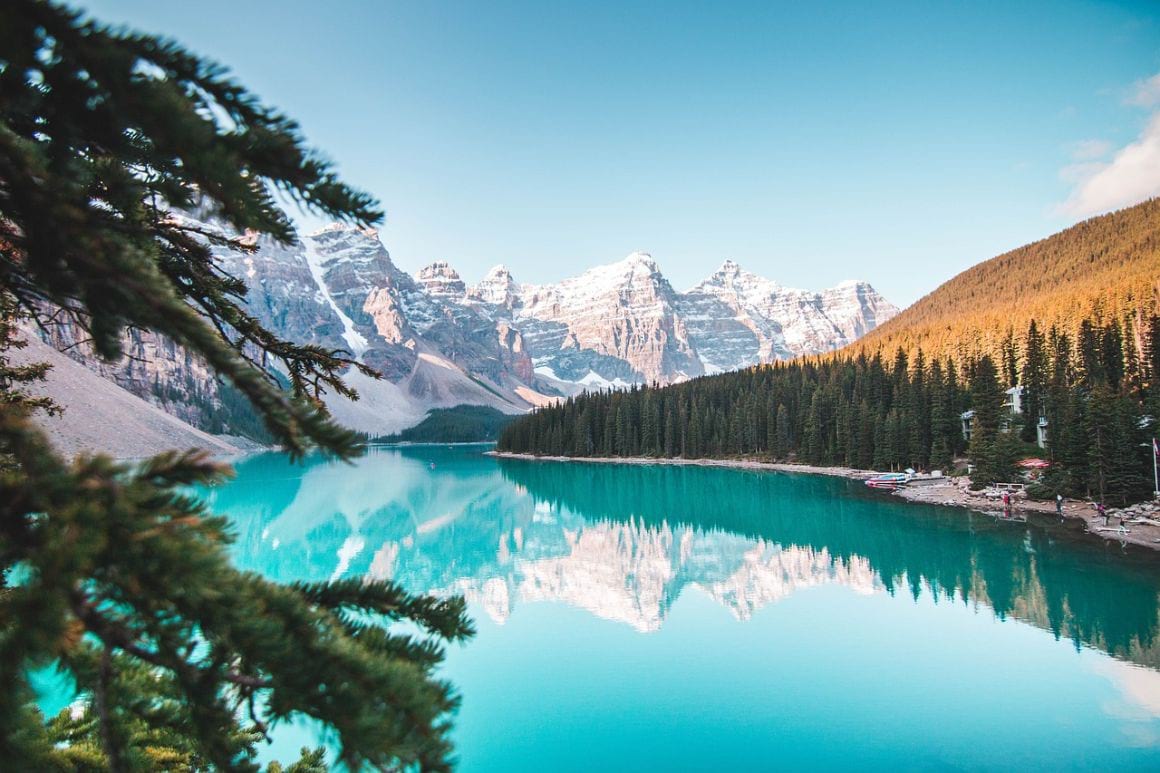 ---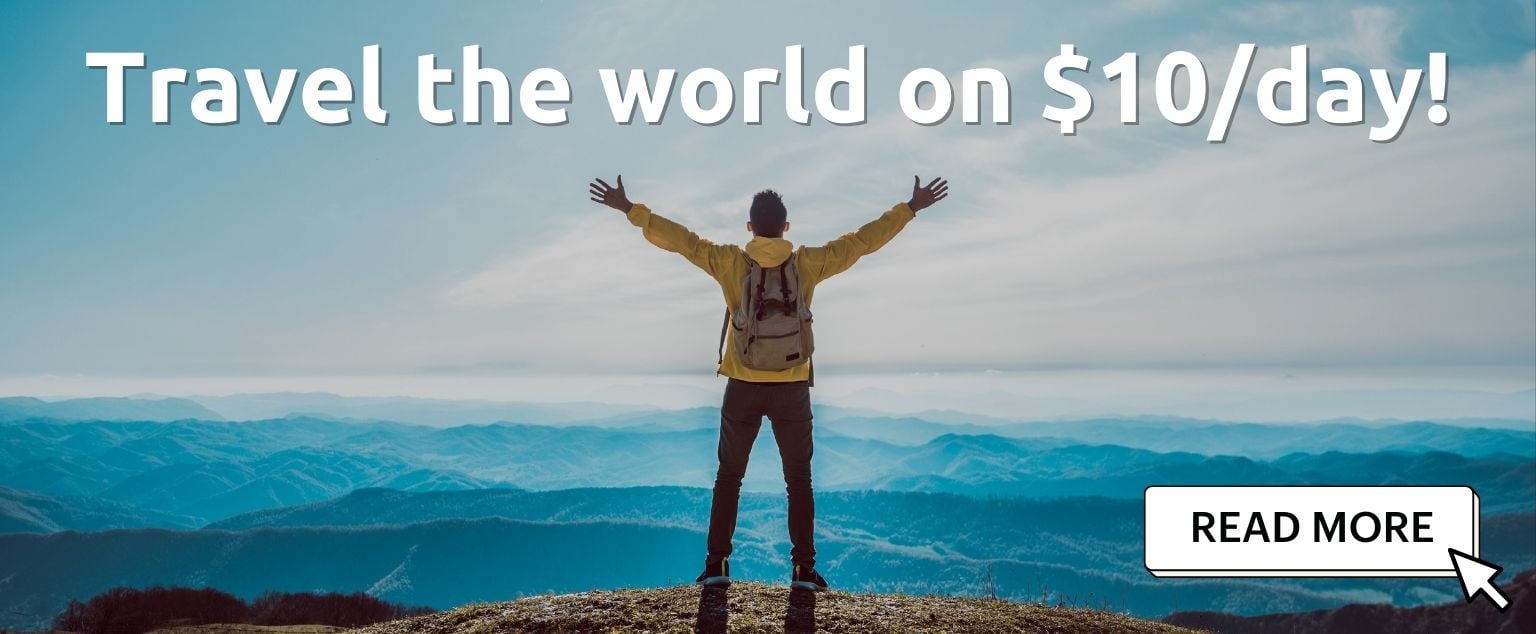 And for transparency's sake, please know that some of the links in our content are affiliate links. That means that if you book your accommodation, buy your gear, or sort your insurance through our link, we earn a small commission (at no extra cost to you). That said, we only link to the gear we trust and never recommend services we don't believe are up to scratch. Again, thank you!