The world's second-largest country (yes, that fact always throws me, too), Canada is a behemoth of a destination. Vast prairies and craggy mountains, glistening lakes and unique native wildlife, all come together to create a natural wonderland of epic proportions.
Then there are the towns and cities: its historic towns boast charming cobbled streets, old Francophone architecture, and picturesque lakeside resorts. Not to mention the cosmopolitan of Vancouver and all the timeworn gold rush settlements… The list goes on.
But is Canada expensive? Most people would say yes, but that's not always the case. There are ways of travelling in Canada on a budget, you just need a little know how.
It's all about carefully planning your expenses, and knowing where to splurge and where to save. This guide is here to help you navigate all of that – from your initial flights to your accommodation and everything in between.
A well planned budget is a good thing to have. It's no different for a trip to Canada than it is anywhere else: you'll want to factor in pretty much every conceivable cost, from accommodation, flights and sightseeing, to souvenirs and food (and everything in between). In this guide, I'll be covering:
How much it costs to get there
Food prices
Canada travel cost
Prices of things to do and see
Cost of sleeping arrangements
The travel costs listed in this guide are estimates and subject to change. Prices are listed in US Dollars.
Canada uses the Canadian Dollar (CAD). As of July 2022, the exchange rate is 1 USD = 1.28 CAD.
2 Weeks in Canada Travel Costs
See below for a summary of how much you should expect to pay on a 2-week trip to Canada:
ESTIMATED EXPENSE: $200 – $1400 USD for a roundtrip ticket.
Is Canada expensive to fly to? That really depends on where you're flying in from. Obviously, if you're hopping over from the US (especially one of the northern states), it's going to be much cheaper than if you're jumping on a jet plane from Germany. Location is everything, basically.
You can get cheaper flights to Canada, however – it's all about being flexible with when you can travel. For example, high season tends to be an expensive time to fly, costing around 44% more than other times in the year. For the cheapest month to fly to Canada, try November, in the depths of the low season.
The busiest airport in Canada is Toronto Pearson International Airport (YYZ). It's not exactly close to the city though: try 25 miles (40 kilometres). From here, Downtown Toronto is around a 40-minute drive away. With this sort of distance public transport is a must, so you'll want to factor this in to your Canada budget, too.
See below for the average cost of a flight to Canada from a selection of international air travel hubs:
New York to Toronto Pearson International Airport 89 – 370 USD
London to Toronto Pearson International Airport: 372 – 799 GBP
Sydney to Toronto Pearson International Airport: 1967 – 2500 AUD
Vancouver to Toronto Pearson International Airport: 199 – 514 CAD
As I mentioned, being somewhere like New York for a trip to Canada is very handy indeed – and very helpful for your travel budget. You can make things a bit cheaper, if you're flying in from elsewhere, by opting for a flight with multiple connections. It's much longer, but can save you a decent amount of money.
And if you're wondering where you should be looking for plane tickets to Canada, check out a site like Skyscanner. It's just better to have all those cheap flights lined up in front of you rather than trawling a million sites yourself.
ESTIMATED EXPENSE: $50 – $150 per night
Whenever you take a trip, the price of accomodation is usually going to take up a large chunk of a travel budget. You might be wondering is Canada expensive for hotels or Airbnbs? The answer is that it can be. The enormous nation has a range of accommodation options in Canada, which means that, depending on where you travel to, the price can vary wildly.
Thankfully, there's a sizable selection of affordable accomodation for budget travellers to opt for. Everything from modern city-centre hotels to far flung mountain cabins and everything in between.
To get you started with planning your big adventure, here's a selection of hotels, hostels, Airbnbs and cabins that should suit your Canada travel budget…
Hostels in Canada
Backpacking Canada on a small budget is totally achievable, and luckily the nation's healthy hostel scene makes it even more easy on the wallet.
There's a long list of funky city centre hotels to make good use of as well as more remote hostels surrounded by nature that are geared up for outdoors enthusiasts.
The cheapest hostels in Canada start at around $30 per night.
Canada's hostels are often professionally run and perfectly clean, well maintained and safe. Not only that but by choosing to stay a night in a dorm, you get to save on the cost of a hotel room and make the most of hostel facilities.
Guests usually have full access to communal kitchens, lounges and maybe even free tours and events.
If you think staying in a hostel in Canada is the right choice for you, here's a couple of options to check out:
Samesun Vancouver – Situated in the bustling central Vancouver (and conveniently close to public transport), this bright and friendly hostel is a super social place to stay. There's a big list of events going on and even an onsite bar to enjoy a few drinks with new friends.
Planet Traveller Hostel – This hostel has been designed to make your stay in Toronto as fun as possible. The owners have clearly worked hard to create a clean, stylish place to stay inside a historic building – just look at those custom designed rooms. There's also the bonus of a free daily breakfast.
Auberge Saintlo Montreal – Packing a punch when it comes to value for money, this centrally located Montreal hostel comes with a long list of perks: free breakfast, co-working spaces, daily activities and a fully-equipped kitchen to name just a few. Plus it's conveniently set right near a metro station.
Airbnbs in Canada
If you're looking to travel cheaply, then you'll probably think you won't find many Airbnbs in Canada. However, there's a massive selection of Airbnbs to choose from and they can be incredibly budget friendly.
You also have vacation rentals in all shapes and sizes; from rooms in suburban houses to peaceful tiny homes in the countryside to whole swanky apartments in urban areas. All that choice means more of a chance of finding something you want that fits neatly into your budget.
The cheapest can be priced as low as $65-100.
If you're not already looking at Airbnbs, then you should probably start. The benefits are numerous. If you're a very independent traveller, they're great: you get to live like a local, staying in a local 'hood rather than a tourist hotspot.
Plus the benefit to your budget can be huge. Almost always you'll have a kitchen to use, sometimes stocked with supplies ahead of your arrival, plus things like washing machines and other amenities that make life easier (and cheaper).
Sound good? Then check out these handful of Airbnbs to get you started…
Ultra Modern Vancouver Apartment – Book yourself into this modern apartment in hip Yaletown, Vancouver, and you'll have the perfect base for your city explorations. It's bright, it's clean and the views from up high are pretty amazing. Plenty of bars and restaurants nearby.
Loft in Montreal – Set in the middle of Montreal, this loft apartment will have you wanting to stay longer in the Francophone city. It's a spacious studio apartment with room to spread out and make yourself at home.
Chic room in Toronto – This affordable option features rooms in a sprawling cottage in a quiet Toronto neighbourhood. It's all about rustic-meets-modern chic, with Lake Ontario literally right there. Public transport will have you in central Toronto in around 40 minutes.
Hotels in Canada
Hotels in Canada can be fairly pricey – especially if you're booking yourself into a high-end city hotel. But, although Canada is expensive for hotels, it doesn't always have to be. There are some fantastic budget-friendly hotel chains that make for reliable options; you'll find these in towns and cities up and down the country.
You can expect to pay around $80 per night for budget-friendly hotels.
More often than not, choosing to stay in a hotel will mean paying more for accommodation, but there are some plus points worth considering. For one thing, hotels are usually located in the best parts of the city, close to public transport, eateries and big ticket tourist sights. Basically hotels are all about convenience.
There's some top budget friendly hotels that are located in Canada's big cities that you can rely on, even if you don't have a lot of cash to spend. These affordable options are perfect for when you just want somewhere to sleep the night while you spend your days out and about exploring a new destination.
Here's a little roundup of the best cheap hotels in Canada.
Stay Inn Hotel Toronto – Conveniently located just a 15-min drive from Toronto's International Airport, this is a smart, budget-friendly option. Breakfast is included in the price, plus it's close to big transport hubs so you can get around pretty easily.
The St. Regis Hotel – This Vancouver hotel is a classic accommodation option complete with two onsite restaurants and a complimentary breakfast. Rooms are comfortable, and the location is perfect for exploring the city and heading to the beach alike.
ByWard Blue Inn – This place feels more like a B&B than a hotel; it's warm, friendly and has plenty of personality. The beds are comfortable, breakfast is included, and it's walkable to top locations in Ottawa.
Unique Accomodation in Canada
A trip to Canada would not be complete without a visit to some of its more wild, far-flung regions. And this is where some of Canada's more unique accommodation options come into play: cabins.
Cabins in Canada may seem like run-of-the-mill (and pretty basic) places to stay in Canada, but that's definitely not always the case. Some cabins are shiny and modern, incredibly decked out with contemporary everything.
The privilege does not come cheaply though – expect to pay around $150 for a stay in one of Canada's cool cabins.
The bonus? Having nature literally on your doorstep, out your bedroom window and just below your deck: everywhere, essentially. Being surrounded by nature – all its mountains, rivers and forests – yet being cosied up in a comfy cabin with all the mod-cons, you'll feel tranquil and excited to get out there and explore.
Here are a few examples to start you off on your search:
Four Pines Cabin – This modern cabin has a very cool location, being set on a tiny island in Kawartha Lakes, connected to the mainland by a small bridge. Inside, this off-grid cabin has been carefully curated to feel authentic and natural but is mercifully modern too.
Rare Lakefront Shipping Container Near Asessippi – If you thought you knew cabins, think again. This bright yellow and white ex-shipping container takes up space on the Lake of the Prairies, Manitoba. It's been designed by an award-winning architect and is beautifully designed throughout. Super relaxing spot.
Vineyard Barn – This cabin is a converted barn in a vineyard in the Annapolis Valley. Here you can luxuriate among the farmland, which also includes its very own boutique cidery and winery. Interiors have been gorgeously designed to match the serenity of the location.
ESTIMATED EXPENSE: $0 – $150.00 USD per day
Canada is a huge country, which means any long distance travel is inevitably going to add up. The cost of transport for your trip is going to depend on how much travel you want to do and what mode of transport you opt for. There's the choice of trains, buses as well as a few short-haul flights, too.
Public transport in Canada is fantastic and will ferry you across vast swathes of the country. The distances are enormous; one train trip can last days and take you across a range of beautiful landscapes. You just have to factor in the cost and the time into your trip.
Canada's train network doesn't always cover all of the destinations, however, and you may find yourself looking to hop on a flight or even renting a car and embarking on a Canadian road trip. When you do want to take public transport, you can rest assured knowing that it's modern, straightforward to use and tickets can easily be purchased in advance online.
This is a closer look at how to get around Canada and how much public transport will cost you once you're on the ground.
Train Travel in Canada
Canada's rail network offers up an awesome way to explore the country. Most trains are operated by VIA Rail, which is a government-run organisation. VIA Rail run intercity and long-distance services, with a whopping 14,000 kilometres of track making it all possible.
The train network is impressively run and there are some amazing routes to try out. For example, the two-day trip from Jasper to Prince Rupert is an incredible journey, while pretty much any train into Manitoba offers a ride through sweeping wilderness.
But the rail services in Canada don't connect to every part of the country. That means you won't be getting to Edward Island, the New Territories, or even Newfoundland by train.
Train travel is also very much not the cheapest way to travel around Canada. Some services come with eye-wateringly high prices, particularly in peak season (around 40% higher from June to October). Prices of long-distance trains are actually pretty comparable to the cost of flying instead.
But you can bag yourself a cheaper train ticket by purchasing in advance, so it pays to be organised, basically.
And helpfully, there are also a few different rail pass options offered by VIA Rail. One is the Canrailpass, which offers one-way trips within Quebec and Ontario over a 21-day period:
Canrailpass
7 trips – from $699
10 trips – from $899
Unlimited – from $1299
There's other options besides. The Amtrak North American Rail Pass offers unlimited stops at over 900 destinations on the Amtrak route. A pass for a 30-day period costs $565 (peak/high season) or $350 (off-peak/low season).
Bus Travel in Canada
For an altogether cheaper way to get around Canada than using trains, try the buses on for size. The long distance buses in Canada are usually run by Greyhound, but they've recently cut many of their routes.
Thankfully, there are a number of regional companies that connect up the dots, meaning bus travel is still a viable option. Megabus is one of the big ones; as is the Autobus Maheux, which is centred in the region of French Canada.
On the whole, bus travel in Canada is clean, efficient and reliable. It can get you from A to B without too much hassle or discomfort: expect reclining seats, air-conditioning, Wi-Fi and movies.
If you're travelling long-distance, buses take a stop every hour or so at service stations. One bonus is getting to see some seriously awesome scenery as you go. Another bonus, mainly with night buses, is that you get to save on a night of accommodation.
In short, buses are not expensive in Canada. Relative to trains, buses are downright cheap – and you can make them even cheaper by securing tickets in advance. There are a bunch of different apps you can download to make life easier regarding bus tickets and timetables.
An example fare is from Montreal to Toronto. This takes around nine hours and costs around $40. Toronto to Winnipeg – a colossal journey covering over 2,000 kilometres – will only set you back $150. Vastly cheaper than a train plying the same route.
Ferry Travel in Canada
You will probably come across ferry travel in Canada, particularly if you're on either coast, British Columbia or the Atlantic coast.
Boats are a convenient way to get around, and sometimes the only way to get places. In British Columbia, ferries are run by BC Ferries. They're pretty affordable, but can get busy during the peak summer season. An example fare is $17 for a foot passenger between Vancouver and Victoria.
On the East coast, ferries are a great way to get between its various island locations. There's a ferry service that runs throughout the year between North Sydney, Nova Scotia, and Port aux Basques, in Newfoundland. This costs $43 for a typical walk-on (i.e. foot) passenger; for a car, that's $110. It takes six to eight hours.
Getting Around Cities in Canada
Getting around Canada is one thing, but getting around its cities is something else to consider for your budget. Most cities tend to have well run, well connected and modern public transport networks.
Montreal, for example, has a straightforward public transport system; Vancouver has buses, ferries and the SkyTrain; Toronto has a smorgasbord of options, from boats and buses to street cars and its very own subway system.
Public transport in cities is operated by the local municipality, so prices vary. But mostly these are affordable ways to get around, with a number of different options for ticket pricing – including a few travel passes, too.
For example, Vancouver's public transport is operated by TransLink, who offer various day passes to travel on either the SeaBus or SkyTrain network. They also have a Compass Card, a reloadable plastic travel card that makes fares slightly cheaper than buying a new ticket every time.
Vancouver's public transport network features three travel "zones". Here are the prices for one trip within each of those zones:
Zone 1 – $3
Zone 2 – $4.25
Zone 3 – $5.75
If you're heading to Toronto, you'll be happy to know that you can also opt for a money-saving pass. Here they have a day pass as well as something called a PRESTO Card, which is a reloadable travel card that makes things that much more hassle free. Day passes cost $13 and can be used for unlimited travel until 5:30 a.m. the next day.
Renting a Car in Canada
Ok, so if you want to really explore Canada, a car is the only way to go – especially if you're on a budget. The trains can take you only so far, and will really eat into your budget, while buses, though cheap, likewise can't take you everywhere.
Not only that, but a road trip in Canada is literally an incredible experience. You'll get to drive through wide expanses of beautiful scenery, and wind through mountain passes along jagged peaks and Alpine lakes, all the while having the freedom to stop whenever you feel like it.
But is Canada expensive for car rental? Well, like many places in the world it varies, depending on what month you're travelling, what company you use, how old you are, what car you want to drive, and the distances you'll be travelling.
You'll be able to find all major international car rental companies operating in Canada's towns and cities. No matter what company you use, however, in order to secure the best possible price it's a good idea to book as far in advance as possible.
Generally speaking, the average cost per day of renting a standard car in Canada is around $60.
But it's not just the rental cost you need to factor in to your budget. There are several toll roads across the country to be aware of; the Ontario Highway 407, for example, is $0.50 per kilometre. There's also then the cost of fuel, which can really add up if you'll be driving a lot.
Want to save some cash and explore Canada by rental car? Use rentalcar.com to find the best deal possible. There are some great prices on the site and they aren't difficult to find.
ESTIMATED EXPENSE: $30-$50 USD per day
Canadian food is great because it's not particularly one thing or another. Instead of one cohesive cuisine, Canada boasts a whole mash-up of international gastronomic traditions that have come together.
While some dishes represent the nation's diversity and tapestry of different communities, many take inspiration from necessity and the rich natural environment of the country. Either way, you're going to be able to find pretty much anything you want in Canada – especially in cities – as well as some surprising regional treats along the way.
Here are some Canadian eats you just have to try on your trip:
Poutine – You've probably heard of this world-famous Canadian classic. If not, get ready to drool: it's French fries topped with cheese curds and mouth-watering gravy. Other toppings, pulled pork and bacon included, can also be added. Average cost is $4.
Nova Scotia lobster rolls – Unless you're vegetarian, you cannot not try one of these. Think fresh lobster meat stuffed into a fluffy bread roll, all seasoned and sauced to perfection. Sometimes paired with deliciously crispy fries. Costs around $10-15.
Montreal smoked meat – Also not for veggies, but very delicious, Montreal smoked meat consists of deli-style beef brisket that's been very slow-cooked for over a week and then smoked. It's then coated with mustard and served in rye bread. Costs around $10.
While these dishes may not be the cheapest way to eat in Canada, they're certainly very tasty and need to be tried if you're into your food. For money-saving tips as you travel around, cast your eyes below…
Look out for breakfast deals – A good way to go to start the day. Local diners and cafes often have signs advertising dirt cheap breakfasts with all the trimmings. These can be as low as $3 for a cooked breakfast, or for a stack of pancakes and maple syrup. It is Canada, after all.
Cater for yourself – Not as fun as eating out, but most definitely the cheapest way to travel is to simply provide for yourself. Go to grocery stores and supermarkets to pick up ingredients and eat at home for way less than a meal out. Good for tight budgets.
Eat at university areas – Places with university buildings and students are the place to go to find the widest selection of cheap eats. You'll find everything from kebabs to cheap Italian restaurants.
Where to Eat Cheaply in Canada
It's good to know dishes to try and a few tips for the best ways to eat cheaply here, especially when Canada is not exactly super cheap for food. It's also good to know a few establishments to keep your eyes peeled for when you're on the road. These include…
Chinese food – Chinese restaurants are a big deal in Canada's cities and towns. Places such as Omni Palace (a popular chain) offer a whole bunch of a la carte choices, while all-you-can-eat buffets in other places provide a challenge for big eaters.
All hail the sandwich – Sandwiches are a big part of Canadian cuisine, and they come in a wonderful array of shapes and sizes. There's banh mi, bagels, subs and the aforementioned Montreal smoked meat sandwiches. These cheap eats (usually around $2-3) provide a hearty meal on the go and means you can enjoy a slice of local food culture, too.
Eat street food – Big dishes for $10? Sure thing. The street food scene in Canada is thriving, no more so than in Montreal, which features is very own Time Out-sponsored street food market. Just shows you how much street food is a core of the eating scene here.
But if you want to do things super cheaply and cook for yourself – and find pre-made dishes at bargain prices – then you'll want to head to one of Canada's many supermarkets. The best ones in terms of bang-for-buck prices are…
Giant Tiger – With numerous locations, this discount chain store has everything you could want. The price-matching scheme means you can bag yourself the best deal on anything from fresh produce to ready meals.
Real Canadian Superstore – A standard in the world of supermarkets in Canada. The 120+ stores offer a wide selection of goods as well as electronics, clothing and other items you may need on your trip. Very competitive prices.
ESTIMATED EXPENSE: $0-$30 USD per day
If you're wondering whether or not Canada is an expensive place to buy alcohol, the answer is yes. The government sets the minimum price that alcohol can served for in bars, pubs, clubs and supermarkets, resulting in pretty steep prices in some places. In fact, alcohol is Canada around double the price of the US.
For example, the minimum price for a glass of wine is $3 per 142ml glass. For beer, you'll pay a minimum of $3 per 341ml bottle or 355ml can. That's the minimum you'll find anywhere. In reality, expect to pay double that in many if not most drinking holes.
And for those looking to sample a few local beverages when you're in Canada, make sure you have these two on your tick-list:
Parallel 49 craft lager – There are a ton of breweries scattered across Canada, but one option that's light, fresh and easy to drink is the lager offered by Parallel 49. Fairly affordable, too.
The Caesar – This cocktail is Canadian born-and-bred; it was created in Calgary in 1969. A bit like a Bloody Mary, except with the addition of clam juice. Don't knock it till you've tried it. Costs $10-15 for one.
That said, it doesn't mean that alcohol can't be affordable in Canada; it can. You just need to know what to drink and where to drink it. Around university areas, you can find more drinks deals. Supermarkets are also perfect places to grab a bargain.
Note, however, that – with the exception of Quebec – it's unlawful to drink in public in Canada. Several municipalities are loosening the rules, but time will tell how long this will last for.
ESTIMATED EXPENSE: $0-$80 USD per day
Canada has a little bit of everything. Its towns and cities are hotchpotches of history and culture. There's the centuries-old town centres, like the charming historic core of Montreal; there are the gargantuan grand railway hotels that rise up out of mountain landscapes; there are shiny skyscrapers and viewing towers to glimpse a good view of city skylines.
Then obviously there's the nature: from lakeside havens in the Great Lakes area come summer, to the beautiful wilderness afforded by Canada's national parks (Banff, for one thing), you won't have much trouble finding a slice of the natural world to explore in this giant country.
While hiking in Canada in itself is free, it's not expensive in Canada to experience some nature. You have to pay to go access some national parks; a single day entry to Banff National Park, for example, is $8. For nature-lovers, consider the Discovery Pass. This gives you access to all national parks in Canada for a whole year from the month of purchase. It costs $72.25.
Whether you're raring to head for the hills, rivers and lakes, or if you're just looking forward to the museums, gold rush towns and quirky city neighbourhoods, here are a few ways to make sightseeing cheaper in Canada:
Cycle and walk around cities – If you've got a big checklist of things to do in any given Canadian city, the cost of seeing it all via public transport can really add up. Save on cash by walking everywhere, or hiring a bike to get around and see the sights (some accommodation offers free rental bikes, so you might want to look out for that).
Keep eyes peeled for passes – Lots of municipalities and regions of Canada have their own "attraction passports" that enable cheap/free entry to a variety of sights, from museums to viewing towers. One example is the CityPass in Toronto; it's $86 for access to five top attractions including the Royal Ontario Museum, CN Tower and the Aquarium of Canada.
Travelling on a budget around Canada is looking pretty good so far, right? All the big costs have been covered in this guide: the accommodation, the flights, getting around this behemoth of a country, even the food (which we all know is the most important thing).
But there's one other thing to factor in, and those are the costs you don't usually factor in. Unforeseen costs – highway tolls, luggage storage, souvenirs, soap – can quickly rack up and could topple your carefully stacked budget. For that reason, once you've worked out your total budget, add another 10% for all these sometimes unpredictable, off-the-cuff expenses.
You'll also want to think about…
Tipping in Canada
Tipping is normal in Canada, and is something that you'll definitely have to factor into your budget.
Just like in the US, tipping is expected and is part of the culture here. There's no getting around it, so if you're not from a tipping nation, or not sure how much to tip in Canada, make sure to commit this section of the guide to memory.
Most establishments and people will expect around a tip of around a 10-15% total of whatever service you're paying for.
In a restaurant, the waitstaff are usually tipped between 15 and 20% of the bill. When paying for your bill, most of the time you'll be paying by card at the table. The machines will usually suggest around 20-25% as a default, but you can decline and change the amount on the card machine. It's up to you to decide how much you want to tip.
In bars and pubs, I would recommend leaving $1 per drink you order.
If you're staying in a hotel, leaving a few dollars for the housekeeping staff, the bellhop and the concierge or valet is something you should work into your budget. The same goes for taxis and tour guides; around 10-15% is always very much appreciated.
Get Travel Insurance for Canada
Travel insurance time, everyone. It's a very sensible but admittedly pretty dull thing to think about. But it could really come in handy. Nobody knows what could be just around the corner, not just for you, but for the world (how about a war? Or a global health crisis?). As recent events show, these things can happen.
It doesn't have to be these doom and gloom scenarios that get you thinking about travel insurance though. It can help for little things that could end up being huge costs: an extra night in a hotel because you missed your flight, a lost wallet, any number of silly mistakes.
ALWAYS sort out your backpacker insurance before your trip. There's plenty to choose from in that department, but a good place to start is Safety Wing.
They offer month-to-month payments, no lock-in contracts, and require absolutely no itineraries: that's the exact kind of insurance long-term travellers and digital nomads need.
SafetyWing is cheap, easy, and admin-free: just sign up lickety-split so you can get back to it!
Click the button below to learn more about SafetyWing's setup or read our insider review for the full tasty scoop.
If you're still worried about the prospect of Canada being expensive, here are some more tips to help keep things affordable during your adventures…
Keep an eye on how much spending money you use each day and set a daily budget for yourself: If you blow the budget on a booze one day, try and do some free hiking activities in the following days that keep you under budget.
Visit in low season – Things get super expensive during the high season. That's from about May to September/October. Train travel, bus travel and flights increase around 40%. Travel in early spring or in winter (November is cheapest) and you'll definitely save some money.
Bring a cool box for road trips – Rather than stopping at roadside eateries or paying through the nose at tourist sights, take pre-made snacks and picnics with you to eat as you go. A cool box is essential for this. You can pick one up from any big supermarket.
Have a water bottle: Don't waste money on plastic, bottled waters; carry your own and refill it in the fountains and the tap. If you're worried about potable water, get a filtered bottle, like the GRAYL, which filters out 99% of viruses and bacteria.
First Nation gas stations – Driving around Canada? Wait to fill up your tank at First Nation gas stations. Fuel is tax exempt at these establishments (you'll pay around $0.30 less), plus you'll be supporting a local business.
Seek out free events – No matter where you are, you'll probably come across a free local event somewhere. That could be a Christmas market, an outdoor concert or a farmer's market. It's a good chance to soak up local culture and save on your travel budget, too.
Take the bus – Hopping on a Megabus or Greyhound can save you a whole ton of cash compared to trains or flights. Plus you can save even more if you book early. Some Megabus tickets can be as low as $1 – seriously!
Earn money while you travel: Teaching English while traveling is a great way to make ends meet! If you find a sweet gig, you may even end up living in Canada.
Stay connected – Before you travel get yourself a prepaid eSim for Canada so you're good to go as soon as you land.
Canada isn't that expensive at all, really. Any pricey parts of this country are easily avoided, and it's very easy to travel around without breaking the bank. Train travel and alcohol aside, you shouldn't have a problem navigating this country even on a shoestring budget.
As long as you remember the basics – you know, looking for lunch/breakfast deals, booking cheap bus tickets, staying at bargain Airbnbs and cooking your own meals – then you should be absolutely fine. You'll have an awesome time exploring Canada without worrying about your bank balance.
What we think the average daily budget for Canada should be:
If you stay sensible, with the occasional spontaneous splurge, you'll be able to enjoy Canada for a daily price of around $150.
---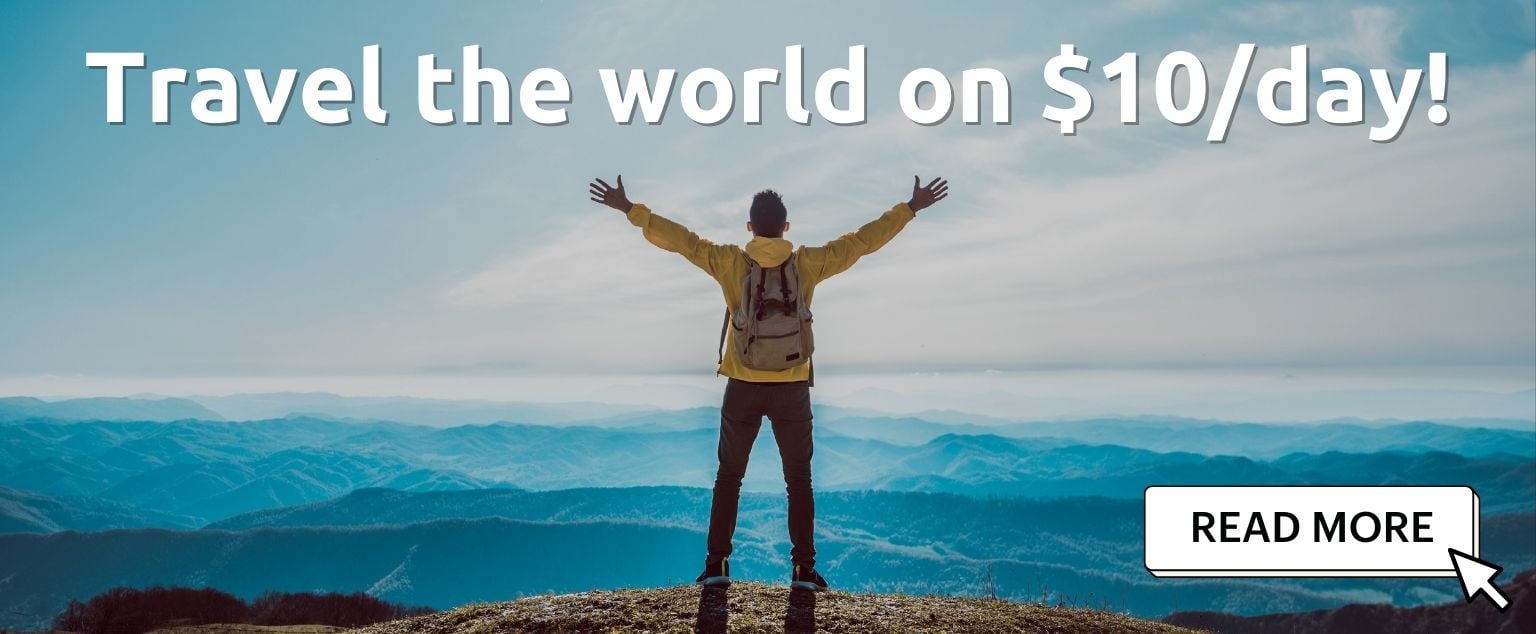 And for transparency's sake, please know that some of the links in our content are affiliate links. That means that if you book your accommodation, buy your gear, or sort your insurance through our link, we earn a small commission (at no extra cost to you). That said, we only link to the gear we trust and never recommend services we don't believe are up to scratch. Again, thank you!