Canada, known as the Great White North, is one of the largest and most diverse nations on earth.
A bastion of natural beauty, from craggy, snow-capped mountain peaks to gorgeous crystalline lakes, Canada has it all.
It also boasts more lakes than any other country on earth – with over two million altogether! But with so many lakes to choose from, where do you begin?
Don't panic, we've managed to narrow it down, and put together an epic guide to the top 10 best lakes in Canada.
From household names to insider favorites, you're sure to find plenty of lakes to make you fall in love with Canada.
Whether you want to drive right up to the shore or get killer views after a long wilderness hike, below are some of the most famous lakes in Canada.
Top 10 Best Lakes in Canada
Out of Canada's staggering two million lakes, here are the very best to visit!
Lake Louise, Alberta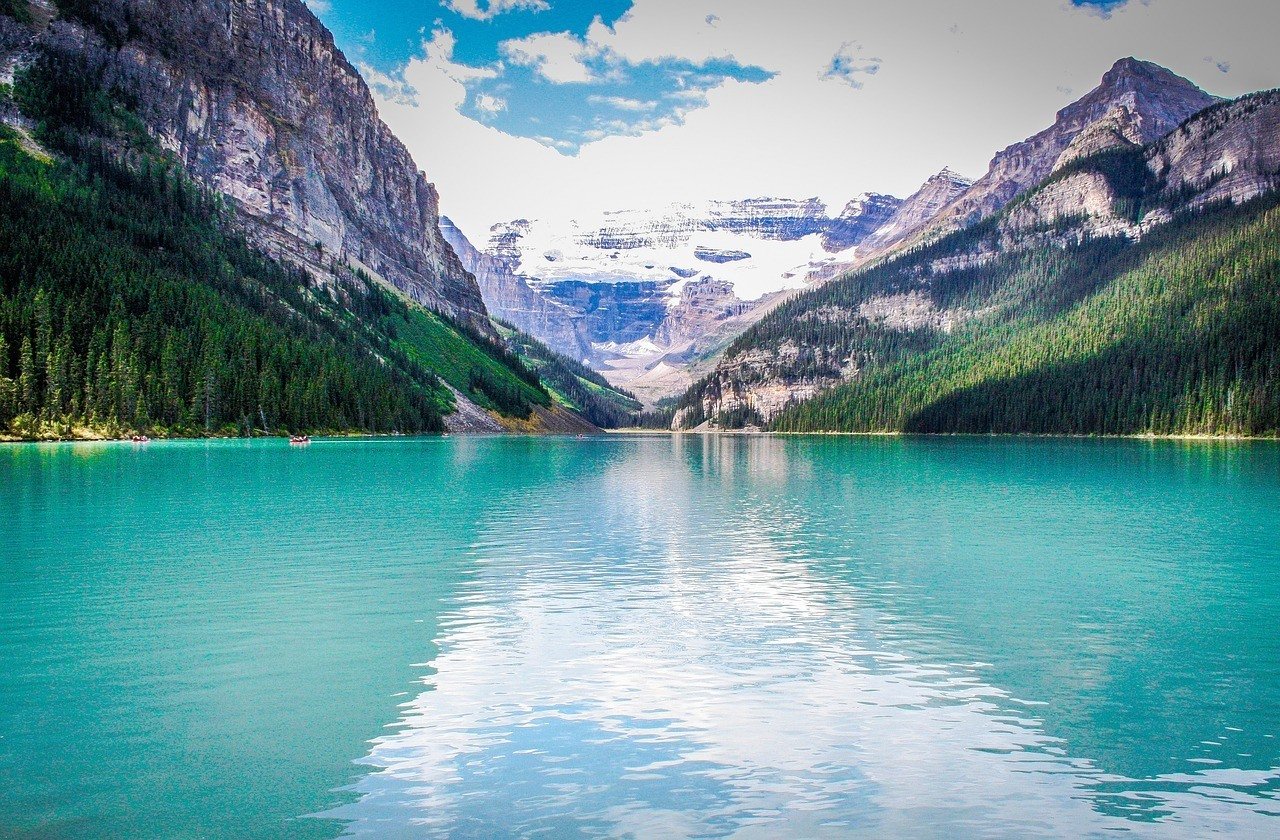 – Size: 0.08 km2 (0.031 sq mi)
– Location: Banff National Park, Alberta
Whilst not the biggest lake on this list, it is arguably the most famous. Nestled in the Canadian Rockies, Lake Louise is the jewel in the crown of Banff National Park.
The imposing Mount Victoria towers over the lake and feeds it from its massive glacier. Frozen for much of the year, the famous turquoise waters are only accessible in the summer months.- it is rightfully regarded as one of Canada's most beautiful spots.
Heading out on a canoe is a great way to experience the lake. The water temperature rarely goes above 39°F (4°C), so you'll want to keep arms and legs inside the boat at all times!
Hikers will love walking the amazing trails through the mountains that constantly glimpse Lake Louise. There are some easy lakeshore hikes, like the hour-long Lake Louise Lakeshore Trail.
The Lake freezes over in November and becomes a hot spot for skating, snowshoeing, dog sledding, and skiing. Also, look out for Ice Magic – an ice carving event featuring world-class carvers.
It sees millions of tourists every year due to its accessibility on the Trans-Canada Highway, and rightly so.
Where to Stay Near Lake Louise
The obvious spot to stay near Lake Louise is the incredible Fairmont Chateau Lake Louise, located right on the lakeshore. It's the perfect fairytale setting for all of your outdoor adventures.
Home to no less than eight dining options, there's also a heated swimming pool if the lake is too chilly!
Lake Minnewanka, Alberta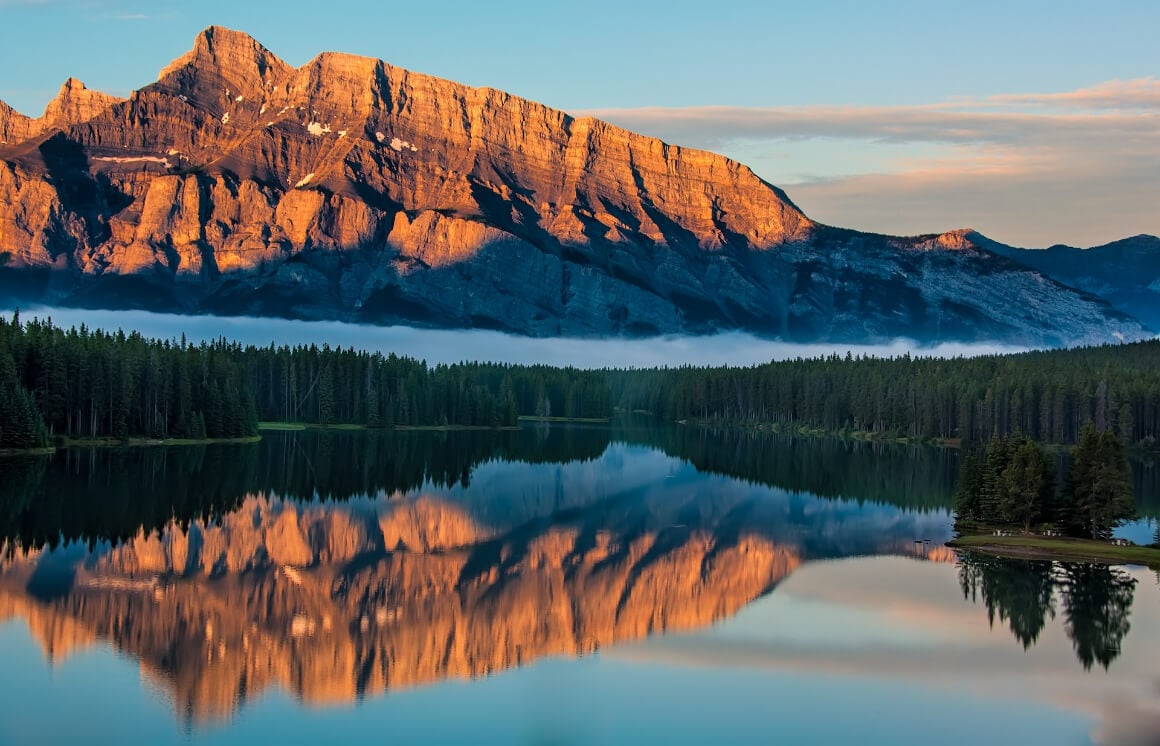 – Size: 22 km2 (8.5 sq mi)
– Location: Banff National Park, Alberta
Sticking with the incredible Banff National Park, drive just an hour down the highway to Lake Minnewanka. Located just 5km (3 mi) from the town of Banff, Minnewanka is the Rockies turned up to 11.
In the local Stoney Nakoda dialect, Minn Waki means the Lake of Spirits. Inhabited by First Nations people for more than 100 centuries, it won't take you long to realize why.
Nature is abundant: deers graze at the shoreline, birds chirp in the aspen trees, and grizzlies stalk the hills.
The lake is alive in the months of summer with mountain bikers, fishermen, kayakers, and hikers.
It's also the only lake in Banff National Park to allow the use of powerboats, meaning there is also a lovely guided cruise. Knowledgeable guides will teach you about the geological and First Nations origins of the lake.
In the winter months, Lake Minnewanka is a hot spot for spotting the Aurora Borealis – the Northern Lights.
Where to Stay Near Lake Minnewanka
The town of Banff is the perfect jumping-off point to explore Lake Minnewanka. Peaks Hotel & Suites is located in the center of town, a few steps from the bustling Banff Ave. The friendly front desk staff are full of local knowledge.

Do You Want to Travel FOREVER??
Pop your email in below to get a FREE copy of 'How to Travel the World on $10 a Day!'.
Okanagan Lake, British Columbia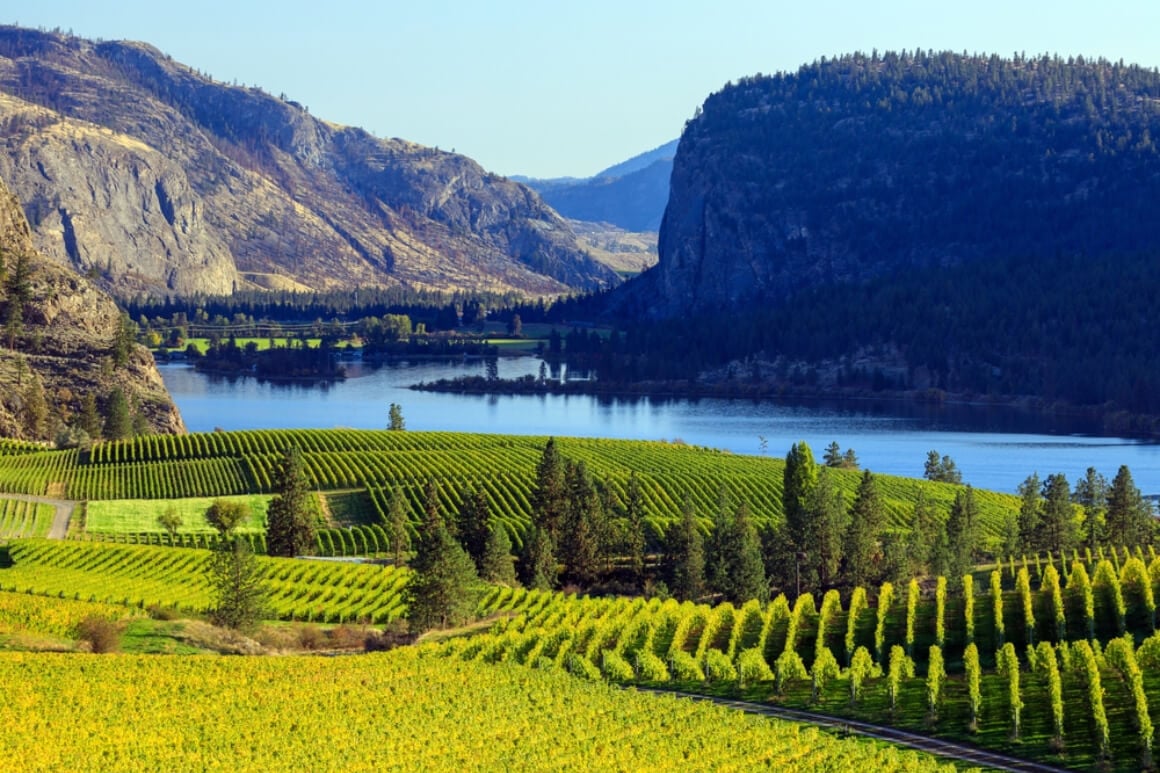 – Size: 384 km2 (135 sq mi)
– Location: Okanagan Valley, British Columbia
If watersports, vineyards, and beaches are your jam, then Lake Okanagan is the one for you. The summer weather is more like California than Canada!
Located about halfway between Vancouver & Banff, Lake Okanagan is a water lover's paradise. The lake has every kind of boat on offer; pedal boat, sailboat, or powerboat.
You can head out to explore the water from countless marinas and more than thirty beaches! These beaches are perfect places to snorkel in crystal clear waters, the average July temperature is around 73°F (23°C).
You can keep active off the water too, the hike up nearby Mount Knox will reward you with jaw-dropping views. Winter visitors will love Silver Star, the world-class ski area located at the north of the Lake.
A foodie's mecca, you can find more than 40 world-class wineries within a twenty-minute drive of Kelowna, the main city. There are countless craft breweries, and orchards producing unique ciders and endless fresh food options around every corner.
Where to Stay Near Okanagan Lake
If you're heading to the lake and the mountains, The Shore is a great spot to base yourself. Fully equipped apartments have everything you need – including access to BBQ grills.
Not to mention it's right across the road from the lake, perfect for those sunset moments!
Lake Superior, Ontario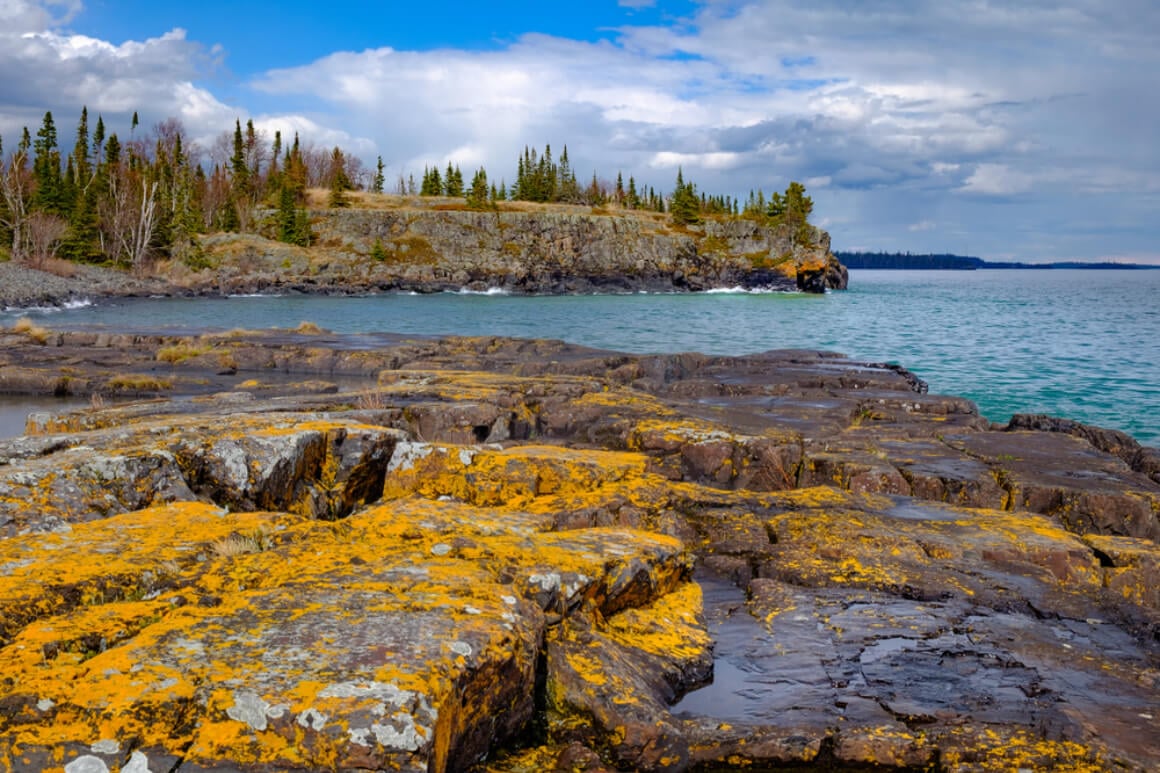 – Size: 82,000 km2 (31,700 sq mi)
– Location: Western Ontario
The biggest lake in Canada and the second largest in the world – Lake Superior certainly lives up to its name! Containing a whopping 10% of the world's freshwater, it is the largest of the 5 Great Lakes.
Just over an 8-hour drive from Toronto, the Lake Superior Provincial Park is a great place to base yourself if you love the outdoors.
Chock full of hiking trails like the short but steep Nokomis Trail – an hour-and-a-half climb with incredible vistas of Superior and Old Woman Bay.
Exploring a little further on this side of the lake? Try and find 17th-century pictographs at Agawa Rock, and delve into the First Nations heritage of the area. Located a 500-meter walk from the parking area, these culturally significant images are well worth the walk.
Lake Superior Provincial Park is a dark-sky reserve. This means it's an excellent place to camp out under the stars; gaze out over the Milky Way, and maybe see the Northern Lights.
Where to Stay Near Lake Superior
Michipicoten sits just outside of the reserve, a scenic hour's drive into the center of the park. Sandra's Marina Bay House is the best place to stay at Lake Superior.
The thoughtful host has made the property very homely, so you'll settle right in. It even has a waterfall that you can see from the property!
Moraine Lake, Alberta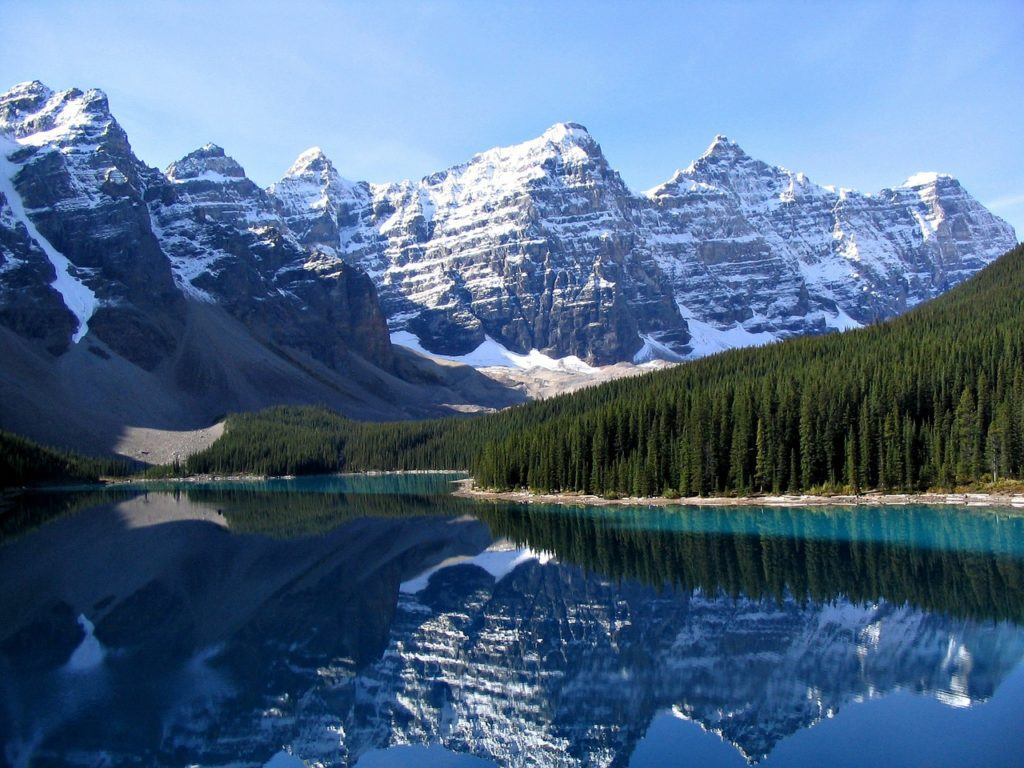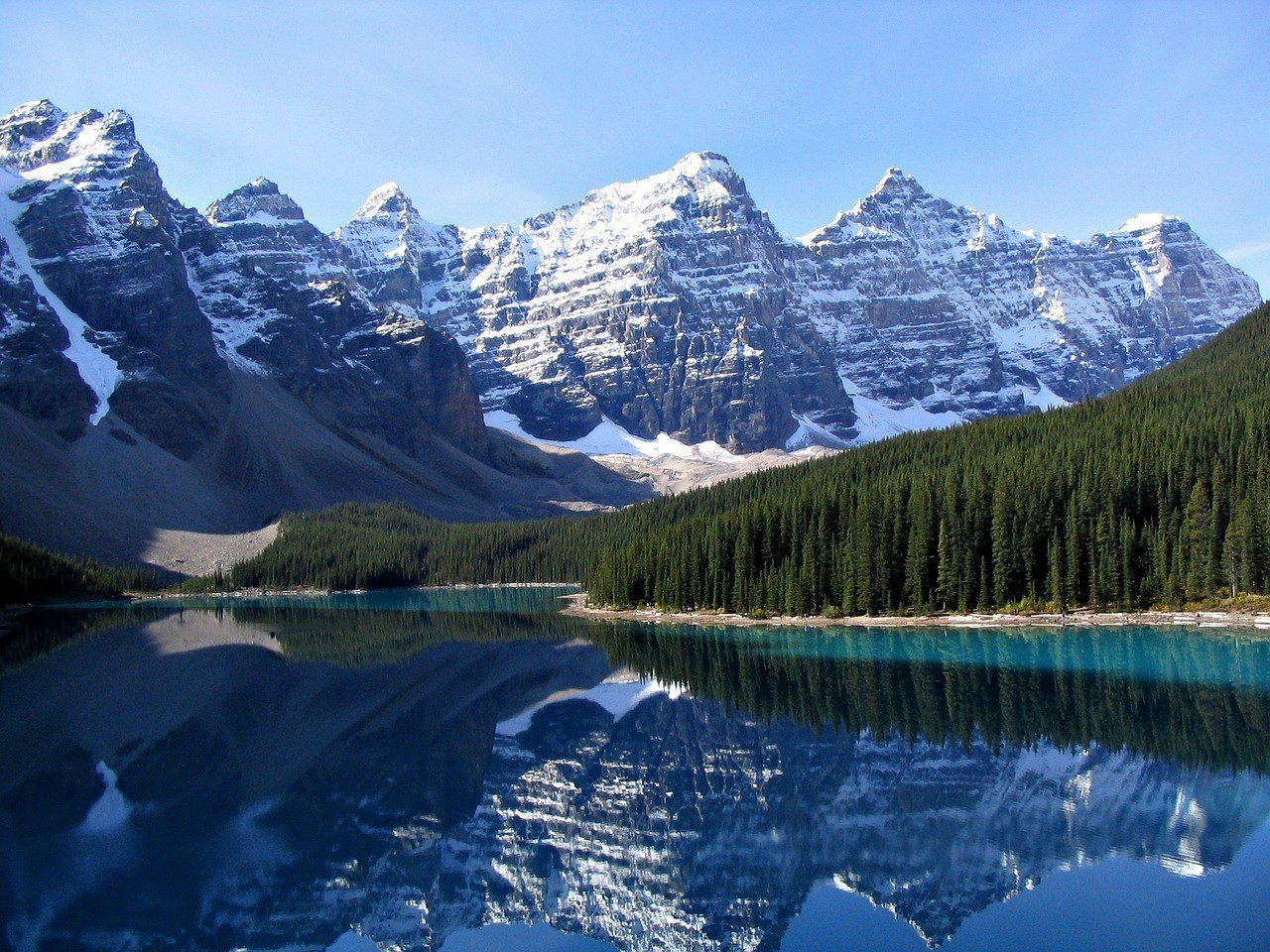 – Size: 0.5 km2 (0.19 sq mi)
– Location: Banff National Park, Alberta
Moraine Lake might give you a hint of déjà vu. Not only one of the most photographed views in all of Canada – but for a long time, this was printed on the $20 bill.
Set 14km (9 miles) from Lake Louise, Moraine Lake is a worthwhile addition to any trip in the Rockies.
The Lake is set in the impressive Valley of the Ten Peaks. Surrounded by glacier-fed mountains with peaks well over 3000 meters high, Moraine Lake remains frozen well into the summer months. When it thaws, you are rewarded with incredible blue-green waters – the result of tiny fragments of rock that enter the water from its glacial streams.
Most people stop by for the view, as part of an organized tour. However, the more adventurous will adore the hiking trails.
The Larch Valley Trail is considered one of the best hikes in the whole national park. Challenging at first, any competent hiker should be able to manage the 9km out and back trail.
If price isn't an issue, you could rent a rather expensive canoe from the only operator Moraine Lake Lodge. It's well worth it, Moraine Lake is one of the most beautiful lakes to canoe in Canada.
The Lake is only accessible during the summer, and parking fills up early, so plan ahead.
Where to Stay Near Moraine Lake
There is only one hotel at Moraine Lake, the lavish Moraine Lake Lodge. The hotel has incredible views of the lake and mountains. Guests love complementary canoe rentals and nature talks.
Emerald Lake, British Columbia
– Size: 1.1 km2 (0.42 sq mi)
– Location: Yoho National Park, British Columbia
Yoho National Park sits inside British Columbia, just to the west of Banff National Park. Often overlooked for its more famous neighbor, Yoho isn't to be missed. Yoho has fewer tourists but just as many breathtaking moments!
Emerald Lake was "discovered" by mountain guide Tom Wilson, during the creation of the Trans-Canada railway.
Chasing after horses that had gone astray, he reached the crest of a hill and was greeted by the sublime view of Emerald Lake. He named it for the emerald hues – a result of silt traveling down the glacier to rest in the lake.
Just a ten-minute drive from Highway 1 and the town of Field – it's a great place to stop and unwind.
A circular hike of the lake only takes an hour (5 km). Look out for ospreys and bald eagles feeding on the abundant fish in the lake!
It's a much cheaper spot to rent a kayak than in neighboring Banff National Park.
Where to Stay Near Emerald Lake
Emerald Lake Lodge has lakeside cabins with log fires to enjoy the view from. You can also layer up and relax under the stars with fellow guests at the communal fire pit.
Lake Ontario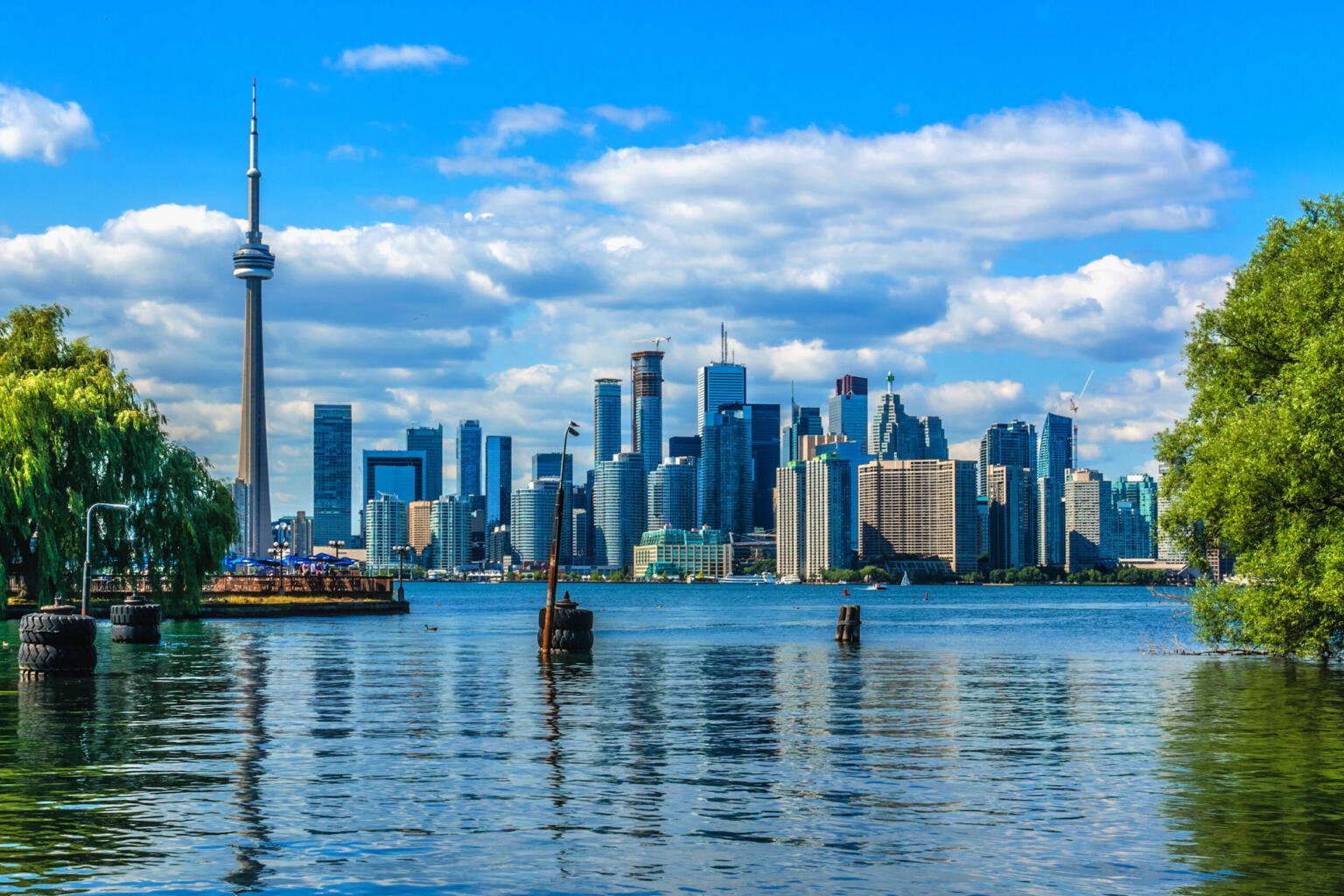 – Size: 19,000 km2 (7,340 sq mi)
– Location: Toronto, Ontario
Lake Ontario is probably the most visited lake on this list, but not by tourists.
Canada's largest city Toronto and its surrounding communities have a combined population of well over 6.5 million people. During summer, it is a breath of fresh air from the city for locals.
In the Huron language, Ontario means Great Lake. Although it might be the smallest of the Great Lakes, it's still the world's 14th largest lake.
Lake Ontario supplies drinking water to an astonishing 9 million people.
An awesome spot for sailing, windsurfing, and canoeing. If you're feeling extra adventurous head out for a swim. You'll be in a unique club of about 50 people if you get to the other side of the lake – it's a 51 km swim one way!
If you love being awed by the power of nature, the best day trip from Toronto is to Niagara Falls. You can witness the Niagara River which has the most powerful water flow of any river in North America.
Where to Stay Near Lake Ontario
If you want to be near the water, but still in the heart of the action, you should consider a stay at Le Germain Hotel Maple Leaf Square. With freshly decorated rooms and comfy beds, this is a little oasis of calm in the big city.
Peyto Lake, Alberta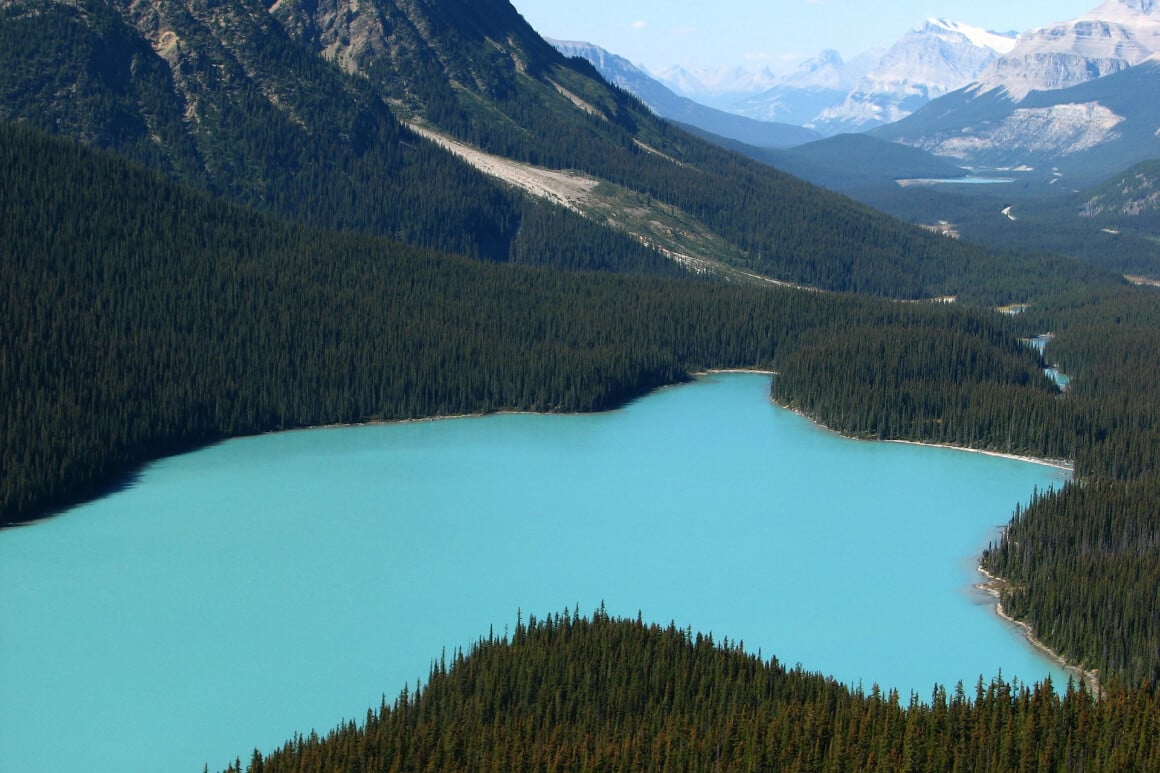 – Size: 5 km2 (1.7 sq mi)
– Location: Banff National Park, Alberta
Is this the most beautiful lake in Canada? There are some colorful lakes on this list – but the hues of Peyto Lake might hand it the award for the most beautiful.
In the winter, the water appears quite dark in contrast to the snowy white peaks that surround it. It's the summer months that make it truly incredible.
The deep turquoise waters are quite unlike anywhere else in Canada. If you show it to your friends, they'll think it's photoshopped – that's how gorgeous it is!
Named after Bill Peyto, an early explorer and fur trapper, you can find Peyto Lake in the iconic Banff National Park.
See the lake on a short ten-minute hike from the Icefields Parkway to the top of Bow Summit. Tour groups can clog the path in the summer months, but you can find a variety of trails heading further up into the hills or down to the lakeshore.
Where to Stay Near Peyto Lake
The nearest township is Lake Louise, so you can see this easily if based at the Fairmont Chateau Lake Louise. Banff is a great place to base yourself for exploring much of the Icefields Parkway; with an abundance of shops, restaurants, and nightlife.
Garibaldi Lake, British Columbia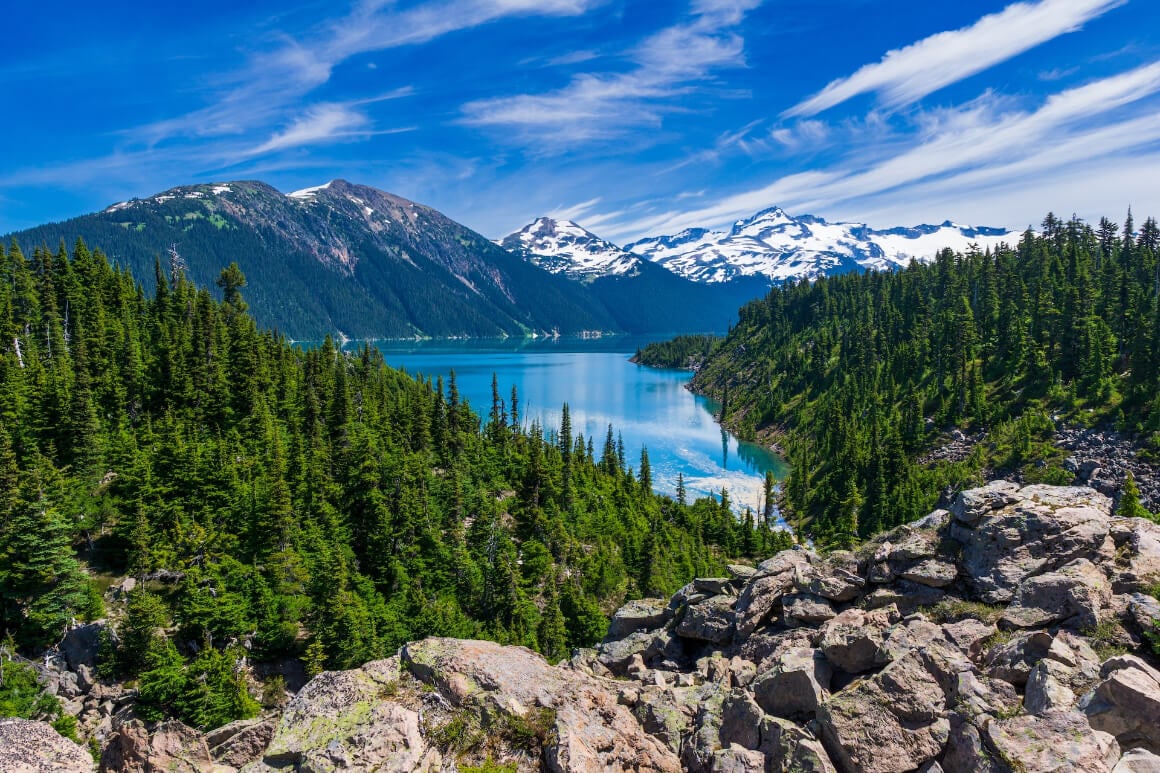 – Size: 9.94 km2 (3.8 sq mi)
– Location: Garibaldi Provincial Park, British Columbia
Pack your backpack, grab your walking poles and lace up your hiking boots (and if it's winter, bring your crampons)!

Whilst most lakes on this list have been relatively easy to access by car, Garibaldi Lake is only accessible on foot.
Drive north of Vancouver for 90 minutes, or base yourself in nearby Squamish, and you'll find yourself on the doorstep of the stunning Garibaldi Provincial Park.
The trail is 18 km (11 mi) out and back, and you'll climb nearly 1000m on your way to the lake. Your reward for six hours hiking each way is incredible views of the turquoise water surrounded by pristine forest.
The area is well equipped for overnight camping, but arrange passes with BC Parks.
Can you feel yourself sweating just from reading about the hike? Don't fear, you can always get a birds-eye view, with this excellent one-hour sea-to-sky helicopter tour from Whistler. You even get to touch down on top of a glacier!
Where to Stay Near Garibaldi Lake
Most hikers camp at the lake, but in the summer months, it is possible to hike in and out in a day.
If you love hiking and getting away from technology Sunwolf Cabins is sure to tick all your boxes. These boutique cabins are all disconnected from tv and the internet, allowing you to reconnect with nature.
Maligne Lake, Alberta
– Size: 19.7 km2 (7.6 sq mi)
– Location: Jasper National Park, Alberta
Finishing up the list we're heading to Jasper National Park to see what's arguably the best of the top 10 lakes in Canada.

Maligne Lake is Jasper's most iconic lake. It's 21 km long, surrounded by beautiful glaciers and mountains, and has that classic clear Rocky Mountain water.
The lake's most famous site is Spirit Island, which is a tiny islet. You can visit it on a Lake cruise between spring & summer, or you can canoe yourself there.
If you want to camp under the stars there are three campsites accessible by canoe only. The lake is well stocked with trout, and there's no better way to spend a summer's day than fishing on the lake.
It's a great spot for day hikes, but for the more adventurous there's the 44 km Skyline Trail. The three-day hike offers great views, with more than half the trek above the treeline.
Where to Stay Near Maligne Lake
Jasper is a great little town, and the obvious point to explore the park from. If you want a base for a few days, you should consider Bear Rock Inn. It's a small guest house with lovely modern touches in a heritage home. Hosts Bert & Maria will see that you're well looked after.
FAQ about Best Lakes in Canada
Final Thoughts
Every visitor to Canada should see the breathtaking Lake Louise at least once in their life. Standing on the ice in winter, or paddling a canoe in summer while gazing up at the mountains and glaciers is a sight that will stay with you forever.
One of the most incredible experiences that money can buy is a helicopter tour from Whistler over the mountains and lakes of the Garibaldi National Park.
It's such an incredible country to visit, and the scenery in Western Canada won't disappoint. If you hike, canoe, ski, or just love a great view – Canada has a lake for you!
ALWAYS sort out your backpacker insurance before your trip. There's plenty to choose from in that department, but a good place to start is Safety Wing.
They offer month-to-month payments, no lock-in contracts, and require absolutely no itineraries: that's the exact kind of insurance long-term travellers and digital nomads need.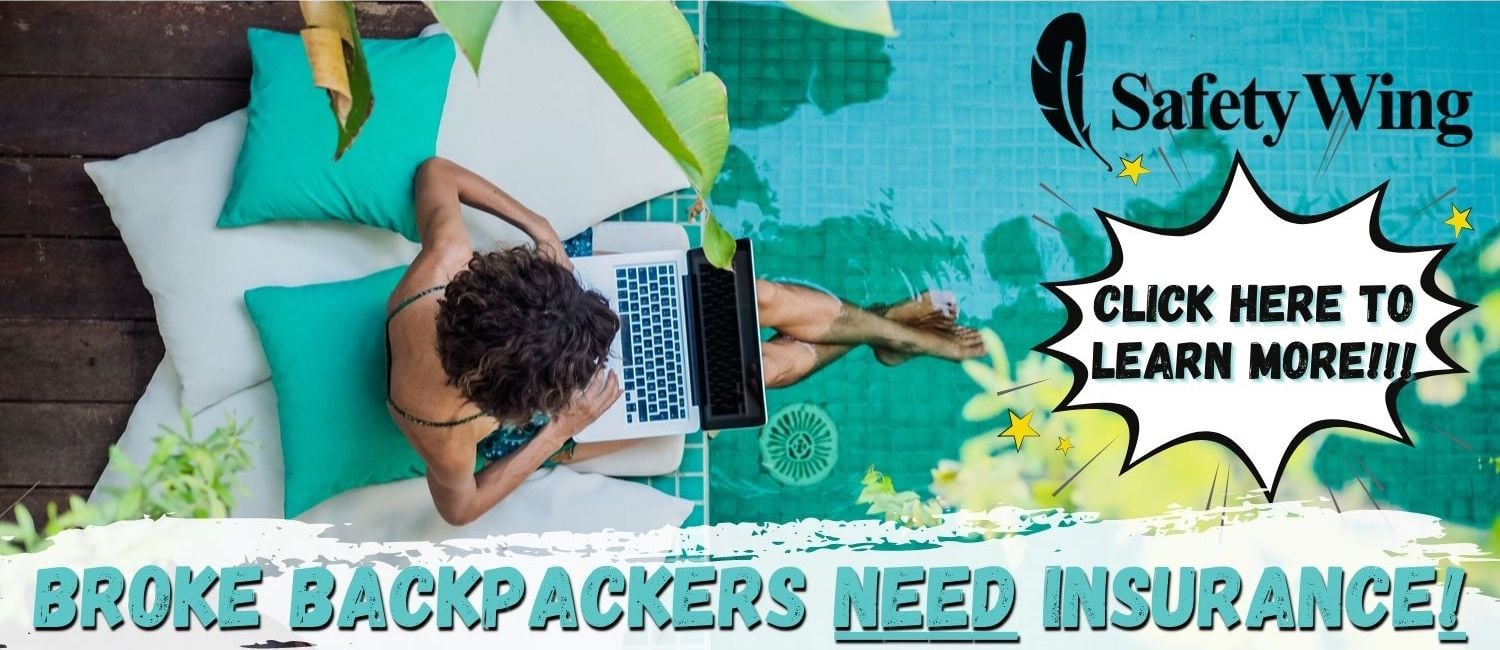 SafetyWing is cheap, easy, and admin-free: just sign up lickety-split so you can get back to it!
Click the button below to learn more about SafetyWing's setup or read our insider review for the full tasty scoop.
---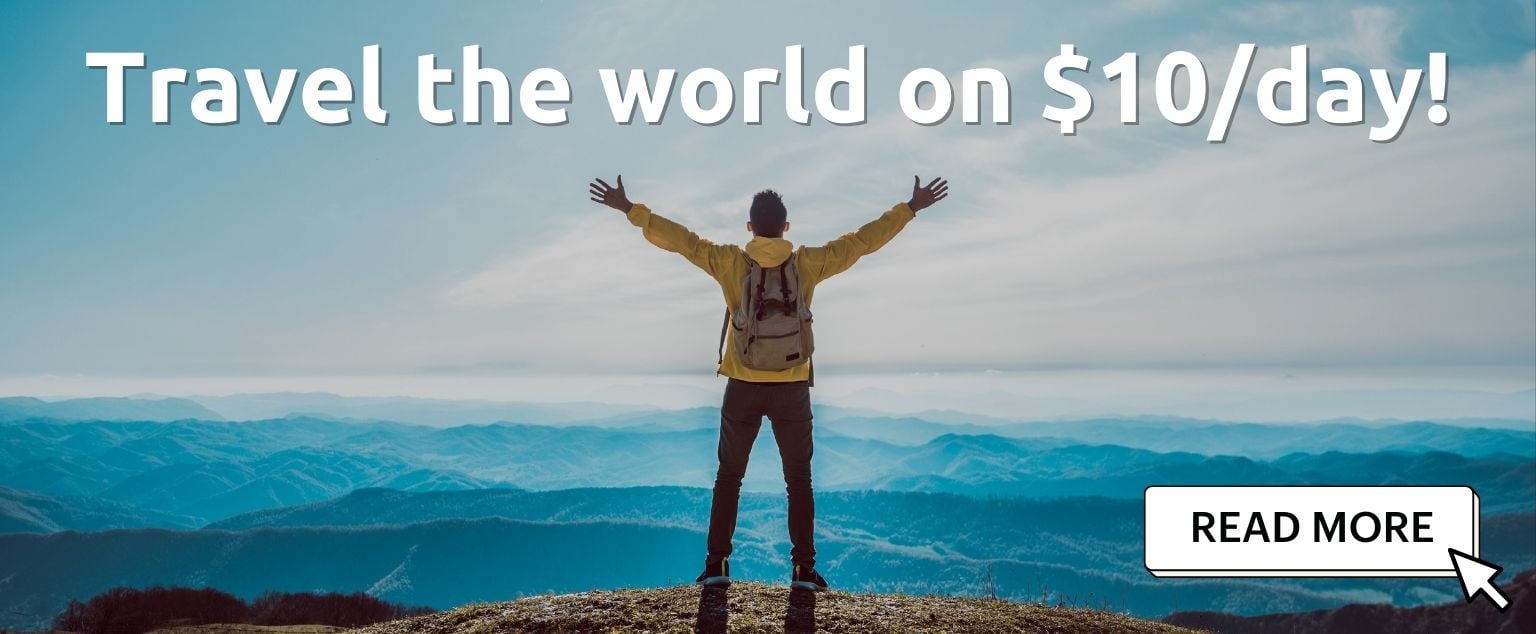 And for transparency's sake, please know that some of the links in our content are affiliate links. That means that if you book your accommodation, buy your gear, or sort your insurance through our link, we earn a small commission (at no extra cost to you). That said, we only link to the gear we trust and never recommend services we don't believe are up to scratch. Again, thank you!