Looking for the best and most convenient way to spend a weekend in Toronto? We've got you covered! This vibrant city is full of amazing things to do and we want to make sure you don't miss out on anything.
If you're looking for a weekend of artistic and cultural immersion, wanting to do a food tour of the city, or you're simply hoping for 48 hours of exploration, you're going to love Toronto!
We've laid out all the must-see spots, how to get around and where to stay. Forget about running from one end of the city to the other trying to follow an itinerary, take a look at our guide to build your own plan for an EPIC weekend visiting Toronto!
Psst! Visiting Canada and want to know the ins and outs of having a rad Toronto weekend? We've got all you need to know about this metropolitan city.
Where to Stay in Toronto
Where you stay in Toronto will make or break your trip. You want to make sure you are staying in the heart of the action so you don't waste any precious time commuting. It's best to find a place to stay in Downtown Toronto. From there, you can conveniently access most of the top attractions, which is important when you're short on exploring time!
There are a handful of cool hostels and homestays in Toronto, and many fabulous hotels. For every budget, style preference and location, there is a magnificent place to stay. Check out a few of our faves!
A Toronto hostel with a homely feel, you can enjoy much more than just a good night's sleep here. It's central location near Kensington Market, the largest museums and bus terminal, it is easy to get out and explore Toronto.
Modern, comfortable and plush, this downtown Toronto apartment is in a super central location with all the amenities you could need for a relaxing city stay. Near the CN Tower, Harbourfront Centre and Entertainment District, you don't need to worry about long bus rides from here.
If this condo is already taken though, there are plenty more Airbnbs in Toronto to consider.
Affordable, trendy, and perfectly located, the Rex Hotel is an ideal place to experience Toronto life. Simple and cozy, you don't need to give up comfort at this budget spot. It is just 10 minutes walk from art galleries and some of the top Toronto hotspots!
We all deserve a little bit of luxury. Up the ante of your weekend in Toronto with a stay at this lavish hotel. With an on-site restaurant, pool and gym, you may not want to leave! Ideally located near the Entertainment District and Distillery District, you an reach all the best spots of the city with no fuss.
Getting Around Toronto
When you're staying in Downtown Toronto it is pretty easy to walk whenever you wanna go. The streets are pedestrian-friendly, and it gives you the chance to stop by hidden gems that aren't on your list! For those who love to explore on their feet, there are walking tours of Toronto that show off the cities highlights.
If you are staying a little bit further out of the centre, Toronto has a reliable public transport system as well as your usual app options like Uber.
Public Transport
The TTC (or Toronto Transit Commission) is the cheapest way to get around. There are a few different options that will depend on your points A and B.
Subway – this is the fastest way to travel but it doesn't service the whole city. Running underground, make sure you take note of which stops are nearest to your stops.
Bus – although slightly slower, buses run wider routes, and will help you get closer to your destination.
Streetcars – much like a tram, the streetcars in Toronto can be found on most main roads, and service major routes. An even slower way to travel, the streetcar is more of an experience than a convenience.
Taxi Cabs/ Uber
Cabs are available throughout Toronto but can be a pretty pricey way to travel. They are easiest to hail at the airport, but ordering an Uber will save you up to 50% of your fares. If you're not going to walk, and you don't have the patience for public transport, Uber is your next best bet.
If you're looking for some unforgettable nighttime partying, here are the best options:
Famous Last Words
Serving fun cocktails, wines and craft beers since 2016
Hosts cocktail classes
A really cool bar made of Scrabble pieces!
This cool bar is located Pacific Avenue and is a hotspot for cocktails and great music. Combining a love of books with super epic drinks, if you are doing a solo visit to Toronto this is a great place to meet people. Be sure to try out the 'How to Stop Time' cocktail – its unbelievable!
Horseshoe Tavern
An award-winning old tavern, almost 71 years old!
The best places to see top local bands
A building with tons of history and even more character
The Horseshoe Tavern is the best place in Toronto to check out local live music. Bands, solo artists, and singing groups are playing almost every night! Located on Queen Street West, there's always an energetic vibe and fun crowd.
Friday Night Live at the ROM
Inside the Royal Ontario Museum – one of the largest museums in North America!
Held every Friday from 7 pm to 11:30 pm
Tickets to the event will cost you around $20 per person
This is a weekly event held at the ROM with DJs, dancing and dangerously fun times. There is good food, flowing drinks, and a party full of people ready to welcome you to Toronto, the right way!
Toronto is a paradise for your taste buds! There is so much good food that a mere 48-hour visit may actually not be enough! Here's what you absolutely can't miss out on.
St. Lawrence Market
Named by National Geographic as one of the best food markets in the world!
Take a cooking class and learn to make delicious food
Find everything from flowers to food and even arts and crafts on sale
St Lawrence Market is a great place to explore, especially for first-timer Toronto visitors. Here, you'll find some of the most delicious foods in Canada. The market vendors sell arts, flowers, and antiques. You can enjoy a true farmer's market in the hall every Saturday from 5 am to 3 pm. If you want to find the best bites, join a food tour of the St Lawrence Market.
Kensington Market Food Tour
Taste delectable sweet and savory foods of many international origins
Dietary restrictions can be catered for – allergies, vegetarian, vegan etc
Another great way to taste your way around Toronto is a food tour through Kensington Market! This market became a National Historic Site in 2006 and is an extremely popular spot to visit. The food here is from a number of different nations, from Chinese to Portuguese and even Jewish.
Little Italy
Find yourself in a bustling district of amazing food
Authentic Italian food
Close by to Kensington Market
Don't think you have tried all the best food in Toronto until you have stopped by Little Italy. Filled to the brim with incredible Italian restaurants, you can find every delicacy with its own local twist. There are also bars and cultural hotspots to see when you're already stuffed!
Canadians are pretty passionate sportsmen! If you're looking for a sports fix, you're really going to enjoy Toronto's sporty spots.
Hockey Hall of Fame
Get to touch the Stanley Cup
Try out being a hockey player for a few hours in the Be A Player Zone
See a 3D Stanley Cup documentary in the TSN Theater
Whether you're a hockey fan or not, the HHOF is a must-see when in Toronto. With a balanced mix of historic memorabilia and interactive hockey fun – this is a great way to enjoy the sport. Open every day, the museum welcomes visitors for just $20 admission.
Throw an Axe!
Try out this popular activity
Get out all your frustrations/excitement in a uniquely fantastic way
Find a new and different hobby to possibly take back home (safely, of course)
Although a relatively new sport idea, axe throwing has taken off in Canada! It has even become a competitive sport. You will find many establishments that have set up targets to practice – or learn new – axe throwing skills. BATL Grounds is a great place to try it out, with multiple spots across the city.
Air Canada Center
Watch some of Canada's best ice hockey matches
Catch live performances from top artists and celebrities!
Home of the Toronto Maple Leafs, Toronto Raptors, and the Toronto Rock
Anyone hoping to see a real live ice hockey game – in all it's glory – needs to book tickets for an ACC match. If you're visiting between October and April, you'll be able to see many ice hockey and/or baseball games. Otherwise, have a look at whether there's a concert happening in the stadium as those are year-round.
If you're looking to be entertained, you're in luck, there's a whole damn district for it! Toronto is filled with live music venues and theaters that host some epic shows!
Ed Mirvish Theatres
Enjoy an authentic theater experience with amazing shows
Canada's largest commercial theatre production company
Nearby restaurants for pre-show dinners
Brilliant plays, musical and theatrical shows can be seen in this enthralling theater. Run by the Mirvish family – who have decades of theater experience – there is always a brilliant show to watch. This is the perfect opportunity to dress up and enjoy a sophisticated night out.
Roy Thompson Hall
Run by a non-profit organization, kept open thanks to donations and volunteers
See both well-known and up-and-coming artists and musicians!
The hall was named after a $4.5 million donation was made in honor of the late Roy Thompson
From Orchestra performances to well-known celebs, the Roy Thompson Hall is often alive with the sound of music. Concerts on offer include classical, stand-up comedy and even jazz. This is a lovely way to spend a relaxing evening, especially if your fave artist is in town.
Sony Centre (Meridian Hall)
The hall is 50 years old and the largest soft-seat theatre in Canada
Enjoy an unobstructed view from every one of the 3,191 seats
Hosts a variety of dances, concerts, galas, and festivals!
The Sony Centre is a large, impressive theatre, offering shows galore. You can enjoy graceful ballets, funky jazz concerts, and even stand up comedy acts that will make you cry with laughter! Check out their calendar to see if there is a show during your weekend visit.
10 Other Awesome Things to do in Toronto This Weekend
There's A LOT to do in Toronto. If you have some extra time in the city, consider checking out some of these! Pack up your Toronto itinerary with some amazing activities.
#1 – Hike through High Park
Toronto's largest public park is High Park. It is the best place to get out and enjoy some fresh air while in the city. There are hiking trails for you to try out, as well as a list of other fun outdoor options.
Grab some new pals and try out a game of baseball or soccer on one of the sports fields. You can even visit the llamas and emus in the mini zoo.
If those aren't appealing to you, you can simply chill out with a bite to eat on the lakefront. It can be quite romantic if you want it to be – especially this summer with Toronto's annual Shakespeare in High Park event!
The Royal Ontario Museum is a fascinating collection of art, culture, and natural history, displayed in the largest museum in Canada! You can visit between 10am and 5:30pm, every day of the week; general admission tickets will cost you $20.
There are a number of engaging galleries to browse through, exhibition displays to see and a host of information to digest. You can grab a souvenir at the boutique store, and enjoy a coffee and meal at the onsite cafe.
The museum is known to attract over a million visitors each year – so expect a crowd!
#3 – Edge Walk at the CN Tower
If the idea of standing 168ft above the ground, overlooking the city with birds flying by and the wind in your hair excites you – then you're in for a treat. The CN Tower was named one of the Seven Wonders of the Modern World, and rightfully so!
Locals and tourists alike can be found enjoying the height of this brilliant tower looking out over the magnificent Toronto skyline. The most exciting part – and one not to miss during your weekend Toronto trip – is the Edgewalk!
On the roof of the tower's 360 Restaurant, you can walk along the outside of the tower. You're strapped in with a harness, of course. But the exhilaration of being so high is sure to get your adrenaline pumping!
#4 – CineForum
This somewhat unconventional cinema house is an absolute must for film lovers! Reg Hartt is a captivating man, and has opened a (quite illegal) cinema in his house and shows regular films. It's a Toronto must to stop by and pay a 'donation' to see movies.
What makes it even more interesting is the way Hartt will randomly stop a film mid-through to discuss it. His commentaries are hardly an annoyance – in fact, most find them to enhance the experience!
Hartt often has to fight with officials to keep CineForum open, and so it has no promised future. It's better to visit before it's too late!
#5 – Tiff Bell Lightbox
This gigantic center takes up an entire block right in the heart of Toronto's entertainment district. You can visit the center to enjoy films, talks, parties, and exhibitions all year! It's also home to the International Film Festival, as well as other smaller festivals throughout the year.
Anyone remotely interested in film, screenwriting and the rest of the industry will enjoy the center's library, it holds a wealth of knowledge.
Tickets to see films and other presentations will cost between $14 and $24 per adult.
#6 – Casa Loma
An impressive medieval castle, situated right in the middle of modern Toronto, the Casa Loma is quite a picture – inside and out!
Visitors can join guided tours – either live or audio – through the massive building. Then, you can enjoy some time in the extensive gardens, taking in the unimaginable beauty!
You can also book an escape room game inside the castle. Join a bunch of people and see if you can solve mysteries throughout the castle rooms.
#7 – Walk of Fame
Enjoy a view of a different kind. The Canadian Walk of Fame is made of 13 blocks of maple leaf 'stars' embedded in the sidewalks.
Unlike Hollywood's version for celebrities, the Canadians honored in this Walk of Fame are all successors in their respective fields. Everyone from movie directors and singers, to doctors and activists! Allowing smart and dedicated residents the chance to get their names on a block.
Take a walk down the streets and view the names of all the honored Canadians.
#8 – Explore Queen Street West
This trendy neighborhood is bursting with life! You will find sidewalks dotted with hip restaurants and vibey bars, and meet with artists, writers and other creative souls that walk the streets.
You can take a whole day to explore, or just pop by for a tasty meal and discover some amazing coffee shops. If you're wanting to make some lasting memories, opt for a tattoo or piercing from one of the local studios!
One thing not to miss out on is a photo in the famous Graffiti Alley. It'll be sure to make all your Insta-followers wish they were in Toronto too!
#9 – Kayak the Humber River
A great break from all the wonderful, but sometimes tiring, city exploring is an exciting kayaking experience.
The Humber River is Toronto's largest river, and arguably the most compelling! The view is simply breathtaking, it is also the perfect place for a water-based adventure.
There are many companies that you can book with, some offering SUP, canoeing and other water sports as well. No fear if you've never tried these activities out before, many places offer beginner lessons in addition to advanced tours.
#10 – Chill on One of Toronto's Beaches
Toronto may be a bustling city, but it also has some gorgeous white sand beaches for you to enjoy right next to the Toronto harbour! There are a lot of them, so you can really take your pick.
Some of the best include Sunnyside Beach, Hanlan's Point, and Cherry Beach. Of course, to enjoy a day of tanning and swimming you'd need to be spending a summer weekend in Toronto.
Even in winter, the view of the clean sand and the pristine sea is worth a walk along the nearby beach roads.
If you've never been to Toronto, or Canada in general, you may have some questions on what to expect. Check out these few FAQs to answer your burning questions.
Don't Forget Your Toronto Travel Insurance
Being a smart traveler means being prepared for all scenarios. Being prepared for all scenarios means having good travel insurance before you set off.
World Nomads' mission is to support and encourage travellers to explore their boundaries. They offer simple & flexible travel insurance, and safety advice to help you travel confidently.
They've been doing it since 2002 – protecting, connecting, and inspiring independent travellers just like you.
Get a quote below or read our in-depth review!
World Nomads provides travel insurance for travelers in over 100 countries. As an affiliate, we receive a fee when you get a quote from World Nomads using this link. We do not represent World Nomads. This is information only and not a recommendation to buy travel insurance.
By now, you should be completely ready for your trip to Toronto.
While you're not likely to be able to get through everything we've mentioned in this guide in just 48 hours in Toronto, be sure to pick out the best for you! Whatever your reason for visiting this wonderful city, you'll find great things to do.
We hope your bags are packed wisely, and your taste buds are ready!
---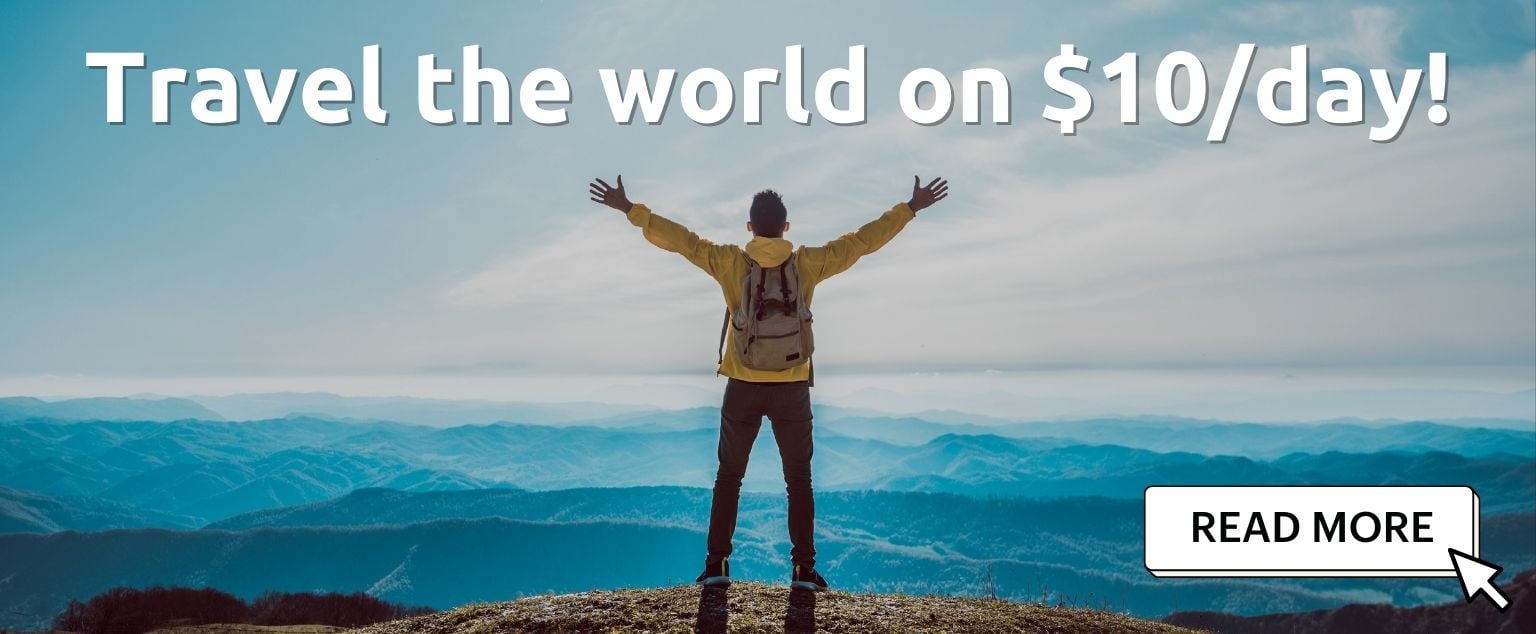 And for transparency's sake, please know that some of the links in our content are affiliate links. That means that if you book your accommodation, buy your gear, or sort your insurance through our link, we earn a small commission (at no extra cost to you). That said, we only link to the gear we trust and never recommend services we don't believe are up to scratch. Again, thank you!