You're going to love Toronto. Architectural landmarks and a cool skyline, a lakefront location with beaches a stone's throw away, islands to explore, a multicultural population that results in a super dynamic city from its old Victorian centre right out to the park-filled suburbs.
Though it is a cool place to visit, there are a few things about Toronto that aren't so cool. For one thing, this Canadian city gets ultracold in winter – sometimes dangerously so – then there are social issues: a significant homeless population, petty crime, and terrorism.
Also, Canada has been hit several times in the past few years by terrorist attacks. However, we are here to set the record straight with our ultimate guide to staying safe in Toronto – it's going to be one heck of a ride.
If you are worried about visiting this amazing city, or even if you just want a few pointers as a solo female traveller who's planning on visiting, we have just about everything covered to make sure that your trip goes as smoothly, as safely and as awesomely as possible.
Let's figure out if Toronto is safe for you to visit!
COVID-19 UPDATE
Whilst COVD 19 has not gone away, the world is opening up again to travellers. However, entry to Canada remains very limited and arrivals will have to self-isolate for 14 days.
For the most up-to-date safety information and what you should be doing to help, please consult the WHO and your local government.
15/07/2020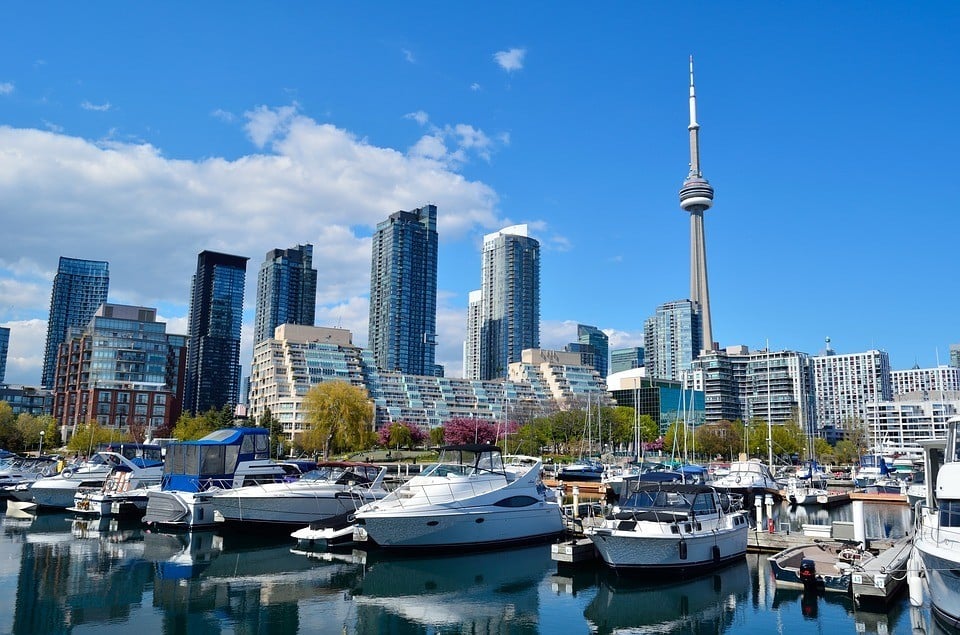 How Safe is Toronto? (Our take)
Stacked with a load of cool stuff to see and do, Toronto is one of the top cities to visit in Canada. The CN Tower, art galleries, and tons of cultures to soak up, it's no wonder you want to visit!
However, there are some things about Toronto that make us question its safety – just a little bit.
You'll probably want to take precautions against petty crime, as this exists in touristed areas; you may also want to steer clear of some particularly rowdy drinking areas at night, as these can get pretty rowdy indeed. There's also a sizeable homeless community to be aware of.
This only really makes certain areas of Toronto unsafe; overall, we'd say it's not really a dangerous city at all.
Is Toronto Safe to Visit? (The facts.)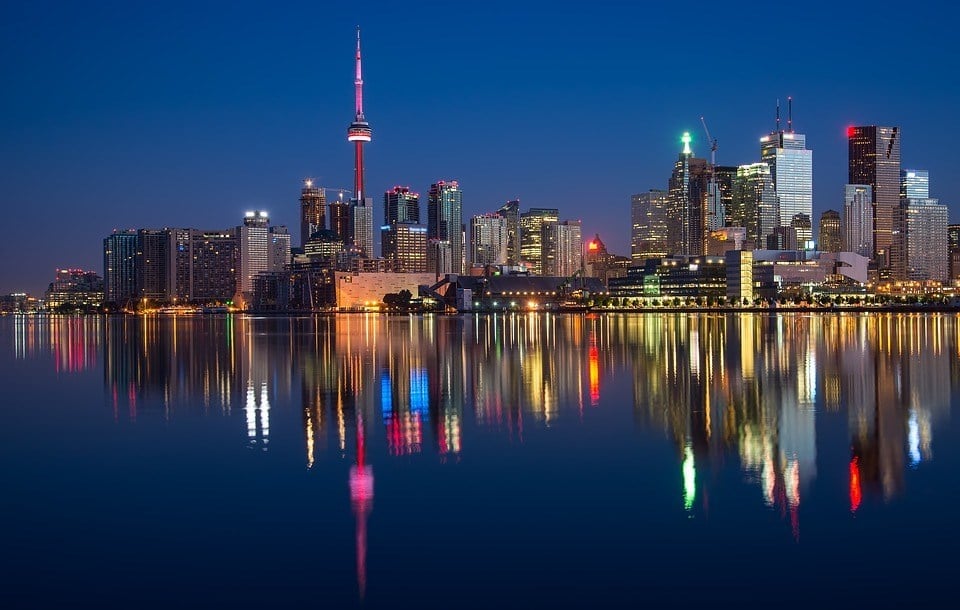 We're happy to announce that Toronto is safe to visit – and the stats agree.
Crime levels in Toronto are pretty low, especially when compared to other big, global cities around the world. In 2017 The Economist ranked 60 major cities in terms of safety – Toronto ranked 4th: the safest city in North America.
Yet Toronto does have a rising homicide rate; in 2018 it had the highest homicide rate in Canada. For comparison, New York City had a rate of 3.05 (homicides) per 100,000, whilst Toronto had 3.11 per 100,00 – yes, higher than NYC and the highest rate for the city in 27 years.
Worryingly the crime rate as a whole has been rising over 3 consecutive years. However, much of the violence in Toronto is actually gang-related, with young people frequently victim and perpetrator.
However, tourism in Toronto has not been affected by this. The city received 15 million overnight visitors in 2017, with tourists, on the whole, bringing in $8.8 billion to the Canadian economy and providing over 300,000 jobs across the city.
Canada, as a whole, ranks 6/163 on the Global Peace Index. It's pretty peaceful in Canada.
Is it Safe to Visit Toronto Right Now?
It might seem relatively safe in Toronto, given its rankings on peacefulness and safety, but it's not always great.
Toronto can be seriously affected by adverse weather conditions. In winter snowstorms completely freeze the city; these can cause havoc. In summer, thunderstorms are pretty frequent – not to mention that it gets super hot. Tornadoes also can affect the city during June and July.
Recently, terrorism has been a threat to the city. The UK government website states "terrorists are likely to try to carry out attacks in Canada" after a spate of attacks around the country. Though it's not a severe warning, it's still probably a good idea to be vigilant.
Other than that, there's nothing in Toronto's (or Canada's) politics or society right now that should stop you from making a trip to this major city.
Do you need Travel Insurance for your trip? Even if you're only going for a few days, that's more than enough time to get smote by wrathful angels. Have fun in Toronto, but take it from us, overseas medical care and canceled flights can be seriously expensive – insurance can, therefore, be a life-saver.
Travel mishaps can and do happen and it is well worth thinking about insurance before you leave home.
We have used World Nomads for years now and I have personally made several claims. Why not get a quote from them yourself?
Do be sure to read the terms and conditions to make sure that the policy covers your needs.
Getting an estimate from World Nomads is simple – just click the button or image below, fill out the necessary info, and you're on your way!

If you want to shop around a little, then read up on competing companies and what they can offer. There are lots of insurances out there, so don't feel limited.
Whilst Canada is statistically one of the safest and most peaceful countries in the world Toronto is, of course, another issue. Being a major city there are going to be more things to watch out for and be aware – but what things? To help you with navigating the city like a pro and staying safe as you're going about your daily discoveries, we're sharing with you our very best safety tips for travelling to Toronto.
Look after your belongings when you're out and about – if they're not easily steal-able, they probably won't be stolen.
Don't walk around with important stuff – wads of cash, important documents, passport; if they're not with you, they can't get stolen. Wear a money belt.
There are sketchy parts of Toronto – but many of these are on the outskirts that you probably won't be visiting.
However, there are some places to be on higher alert – the neighbourhood of Bloor as well as Dundas Street, Queen Street and College can get quiet and a bit dodgy after dark.
Other areas to be wary in – are Kipling & Albion, Regent Park, and Moss Park, St. James Town and the Jane & Finch area.
Be aware of the Toronto's sizeable homeless community – they shouldn't cause you too much trouble, but it's probably best to steer clear; many the city's homeless are suffering from mental illnesses making them a little unpredictable.
Ignore panhandlers – they're often around Queen West and Kensington Market. It shouldn't cause trouble but best avoided.
Recreational cannabis is legal – since October 2018. Be careful that you're doing it legally and that you know your limits.
Plan your routes ahead of time – do you know what area you'll be walking through? Will it be dark? Try to familiarise yourself with maps beforehand rather than walking around on your phone the whole time.
If somebody does try to mug you – do not resist. Hand your things over; you don't want to get hurt.
If someone tries to assault or otherwise attack you – make a big fuss, scream, kick and run (Toronto Police advice).
Be careful of backpacks and bags – on public transport and busy places, keep nothing valuable in easily accessible pockets.
Know that thieves use distraction techniques – might bump into you, drop something, ask you directions, anything seemingly normal; don't trust overfriendly strangers or "weird" stuff happening in front of you.
Watch your surroundings at ATMs – probably best to withdraw cash inside a bank and during daylight hours.
Try to blend in – no Osprey daypack, no hiking gear, try to look more like a city dweller than an intrepid tourist.
But don't look flashy – all your designer duds with a flashy handbag and plenty of jewels = gold dust for a potential thief.
Prepare for nature – if you plan on camping or hiking. Weather, terrain, and wildlife can be deadly, so plan, plan and plan some more.
Stay aware of the weather forecast – you don't want to get stuck somewhere in thick snow, especially if you're not used to it.
Get yourself a sim card – if your data plan doesn't cover Canada. It'll help you feel safe, especially if you get lost somewhere.
Don't be afraid to ask for help – Canadians are friendly, so ask a family, a shopkeeper – almost anyone – if you need some help.
It might seem like a lot to remember, but these pointers will most certainly put you in good stead to not come to any harm or have anything stolen from you whilst you explore Toronto. Of course, sometimes it's all about the wrong place, the wrong time, but to avoid being in the wrong place at the wrong time in the first place, keep our tips in mind; they'll help you to travel smart and not put your safety at risk.
Keeping your money safe in Toronto
As a world traveller, or even just as a tourist, there's always a worry of having your cash stolen – no matter where you are in the world. Suddenly having no money is just about as annoying and frustrating as a trip abroad can get.
Although you (and your money) will probably be safe for the most part if you memorise at least a few of our safety tips, there is no guarantee that a pickpocket or petty thief might target you. However, there is a simple solution out there…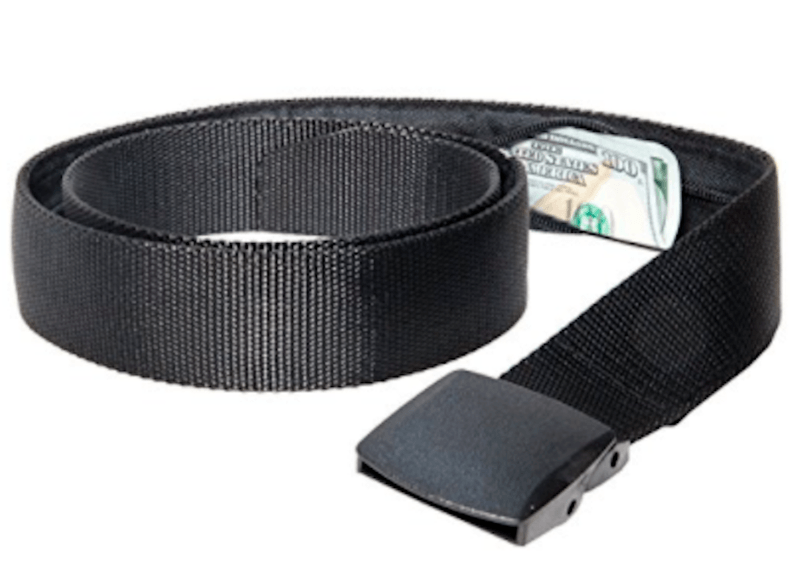 A money belt may seem like a dorky accessory but trust us: having one of these will definitely lessen your chances of losing any money whatsoever. There may be a lot of choices, but hands-down our favourite is the Active Roots Security Belt.
You can see it above; looks like a normal belt, right? That's what we love most about it, the simplicity – that, and it's cheap and sturdy, too!
There are a lot of other money belts out there, but often they come with one large and bulky central compartment that feels uncomfortable (especially if you're already wearing a belt), there are loads of zips, and it can look pretty obvious under your clothes. The two-in-one style of the Active Roots Security Belt is something we're 100% on board with. It's simple and will save your money for a budget-friendly price! You can read our in-depth review here.
If you need a little more room for your passport and other travel valuables, have a look at a full-size money belt that tucks under your clothes instead.
If neither of those options appeals to your refined fashion sense, don't compromise! Opt for an infinity scarf with a hidden zipper pocket.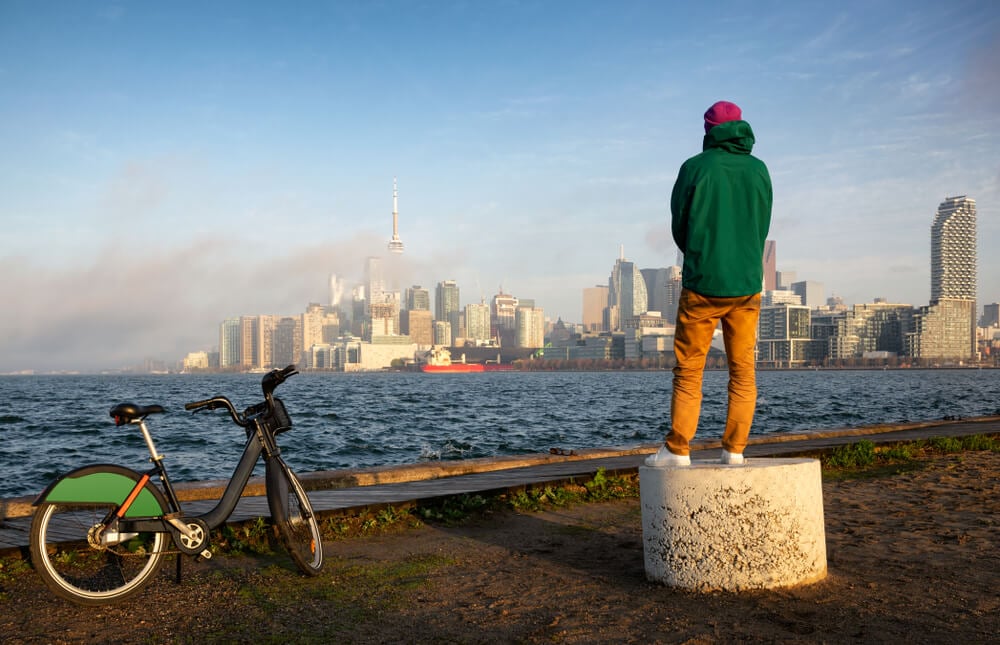 There's nothing quite like solo travel. For us, travelling the world by yourself is one of the best ways to get around the globe. Being by yourself you have to rely on your own street smarts and travelling know-how and basically get to level-up as a person – how cool is that?
However it can be easy to only see the positives, with people 'living their best lives' in Instagrammable destinations, but solo travel ain't always great. You can get lonely, bored – even jaded with the whole thing, so here are a few top tips to keep you sane and safe in Toronto.
Book into one of Toronto's top hostels in order to meet other travellers. This is the best way to keep away the 'solo travel blues': chat to people and get involved in the hostel life. Don't shy away from the sofas and couches of the common area, instead get to know your fellow travel buds.
If your hostel offers up social events, get involved! Things like walking tours, bar crawls and other group activities are the perfect way to break the ice with the people you're staying with. Not only that, but these sorts of things are going to help you get to grips with Toronto – and learn a little bit about the city and its culture as you do so.
If you don't feel like staying at a hostel, you can still book yourself on tours. There are free walking tours that you can take of the Downtown area; get on one of these and you can get to know other people and learn more about the city. In addition, if the weather's bad, the tour heads underground and follows the city's underground path system.
For a more local view into the city book yourself a Toronto Greeter. This is an awesome initiative whereby a Torontoite will guide you, personally, through their local neighbourhood. Great way to get to know the real Toronto.
If you want to get some markets in, head to St. Lawrence Market. Voted the best market in the world by National Geographic, you can try some good food, hang out, take snaps of colourful produce and then take a breather with a decent cup of coffee watching the hustle and bustle.
Don't forget to stay aware of your surroundings in the city. It may seem tame and everyone may seem friendly, but don't be lulled into a false sense of security; acting as if nothing bad could happen may lead you to become a target of crime. Remember to trust your gut and remove yourself from sketchy situations.
Don't be afraid to go out and socialise but don't drink too much. Toronto is a big city and it's really not a good idea to get completely wasted – especially if you don't know how to get back. Remember the address of where you're staying, go out with people from your hostel, or if you're worried, just chill and have a few drinks in with your fellow travellers.
It's not smart to keep all of your belongings in one place. Obviously, you'll have a bag, but when it comes to having all your bank cards, IDs and cash in one wallet – that's not a good thing. Spread the wealth around your bag and think about investing in a special emergency credit card for, well, emergencies.
Speaking of bags, travel light. Cities are not the place for huge backpacks or multiple bags; this makes it easier for you to "lose" things. Having loads of stuff is just not a good look in a city, especially if you need to use some sort of public transport system – be considerate! Not only that: it's heavy and uncomfortable.
Being a city, the number one thing about Toronto is to make sure you don't feel isolated. Of course, there are tons of people walking around cities everywhere all the time, but it doesn't mean every single one of them is going to talk to you. Instead, put yourself out there; chat with other travellers at your hostel, even the staff; keep in touch with your family, but remember to take days off for some chill time.
Is Toronto safe for solo female travellers?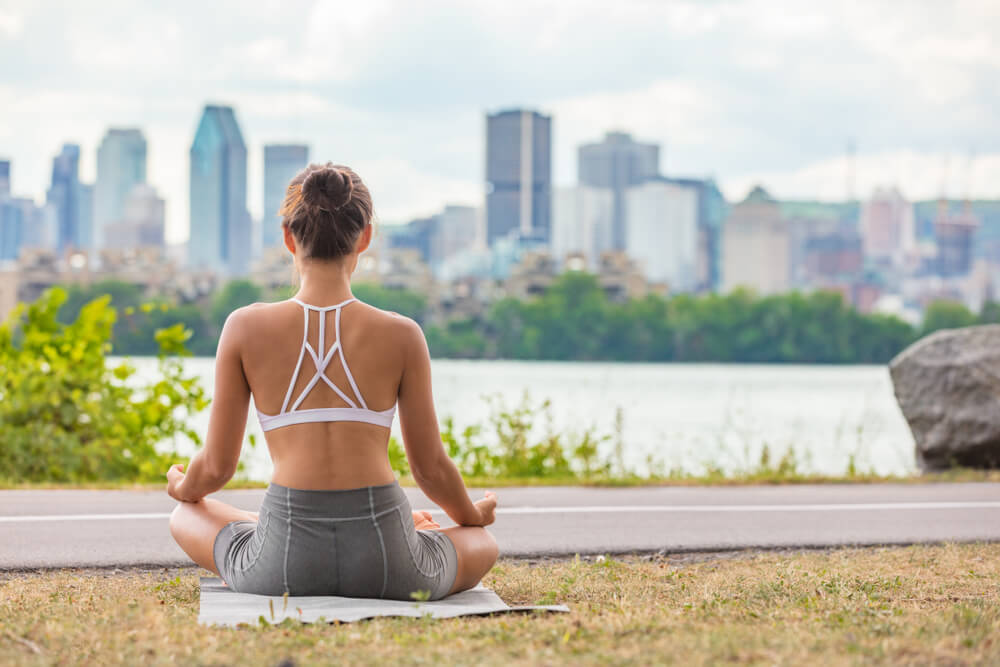 Toronto is a super fun city and there's a lot going on here that's going to be great for solo female travellers. In fact, it's a good all-round destination for solo female travellers because of its relative safety compared to other world cities and the sheer amount of stuff you can do.
However, it is still a city and unfortunately, female travellers will have to be more on alert than male travellers. Though that's more than annoying, we're here to help; so check out our insider's tips on solo female travel in Toronto to travel smart and have an awesome time.
Find yourself some female-friendly accommodation. There are some great places to choose from that have been frequented by solo female travellers before you, so have a look online, read relevant reviews and choose the best place for you; this is the best way to start your trip.
Keep your phone charged. The most unsafe thing you could probably do is have no way to contact anyone or navigate your way around if you're somewhere unsafe or you encounter an emergency situation. We're not talking just alone in the city at night after a club, for example, but being out in the wilderness nearby on a day trip hike – you'll surely want a working phone.
If you're going out drinking you should be careful – especially in areas like the Club District. There are many bars in Toronto that are safe for females; if in doubt, ask the female staff at your accommodation – they'll probably just the spot. Most bars are safe, but some aren't so nice for ladies.
Avoid drunk guys. Basically, the Entertainment District can get very stupid with drunken guys and fights; the testosterone levels alone are enough to put anybody enough if we're honest.
Be careful around Jarvis Street, parts of Parkdale and around Parliament. These areas are not really safe for women to be walking alone by themselves at night.
On the whole, in fact, Toronto isn't a good place to be wandering around by yourself at night. Use your street smarts: grab a taxi or Uber if you need to get home at night; it's just not worth the stress and the risk. Given the choice of ways to get home at night, we'd actually opt for an Uber every time. Taxis can be crazy (more on that later) and the night bus is nicknamed the "vomit rocket" – we'll leave that to your imagination.
Make sure someone's looking out for you. Be it a friend you can message on the way home in the cab, or somebody back at the hostel who you told your evening plans to. It's just better (safer) that someone knows what you're up to than no one.
Toronto's huge homeless population can be intimidating to many and especially to a woman by herself. Around Moss Park, with its many boarding houses, probably won't be the best place for you to be taking a stroll – any time of day; it's really not nice.
Try to dress down and blend in with the locals. It's a shame that you can't wear what you want to wear, but dressing more conservatively just means less hassle – especially on nights out. Besides, in winter, you will want to wear a lot of clothes anyway!
Don't be daunted by eating out alone. Although the prospect is kind of a loser-ish one (we've totally been there), it's actually fine and a chilled way to eat. Head to a sushi bar, for example, or grab a book and head to a cafe for lunch.
Don't lose your money to a pickpocket! 
There are tons of ways to store valuables and goods while traveling but a travel scarf has to be the least obtrusive and the most classy.
The Active Roots Zipper Scarf is your run-of-the-mill infinity scarf but with a hidden pocket that's big and sturdy enough for a night's cash, your phone, a passport and (hell with it) some snacks too!
Having some good plans even before you travel to Toronto is a good idea as a solo female traveller. Even getting some tips and advice from solo female traveller groups online is going to put you at an advantage – you may even be able to buddy up with a fellow female in the city!
Part of planning is accommodation. You are definitely going to want somewhere chilled, comfortable, but social enough to stay that it's going to feel like a decent oasis away from the city streets of Toronto; this kind of thing can actually make or break a trip to anywhere.
Finally, we would just advise that you be kind to yourself! Don't try to do everything the guidebook tells you to do; if you want to just go for a coffee and wander around the streets, or even go shopping, do that! You're still in a new city, so experience it the way you want to!
Is Toronto safe to travel for families?
Toronto is a super family-friendly city and you'll be pretty amazed at the sheer amount of things you can see and do here.
There are a ton of museums, some awesome food to eat, interesting culture and a ton of top day trips to embark on.
For one thing, you could go to Toronto Zoo – there are even baby rhinos and polar bears here! Then there's the Young People's Theatre, which is a great place to catch a show on cold days. Of course, the Legoland Discovery Centre is a great place for kids: it needs no explanation.
Getting around the city itself should be no trouble thanks to Toronto's decent public transport system. However, we would advise against travelling with little ones during rush hour as it can get really busy.
When it comes to food, Toronto has a ton of different family-friendly restaurants that can cater to all sorts of dietary needs as well as picky eaters. The city also has a whole different variety of food on offer and may be a good chance to introduce something new to the tastebuds, with everything from delicious noodle dishes to Middle Eastern cuisine on offer.
If you want to get out and about to let off some steam, the Harbourfront is a great area to roam around in summer or winter. When the sun's out, you can grab a cruise to one of Toronto's islands and see the city's skyline from afar; in the winter you can try out some ice skating.
For accommodation that's perfect for families there are some great places that won't cost the world, but still have sizeable rooms to fit everyone in; these usually come with amenities like swimming pools as well. You could even get yourself a self-catering apartment and truly feel like a local in the city (and rustle up some packed lunches, too).
If you want a list of some kid-friendly activites, then check out our article on the top things to do in Toronto.
As far as safety goes, don't worry: you'll be completely safe in the city. Just remember to wrap up warm in cold winter weather and stay hydrated during the sweltering summer.
Is it safe to drive in Toronto?
Driving in Toronto, with its terrible traffic, is really not recommended – especially if you just want to see the sights around the city.
The public transport system should get you anywhere you need to be efficient enough, meaning that driving is just not needed.
Some people will want to drive, of course, to sights outside of Toronto itself – such as Niagara Falls or the Wine Region, for example. If that's you, you'll probably want to know how to drive safely in Toronto.
Hiring a car in Toronto can be quite pricey – and so can petrol, especially when compared to the US. So there's that to start with.
It's probably best to avoid driving into, out of, or anywhere in the city, this is 6:30 to 9:30 am and 3:30 to 6:30 pm; particularly the 401 and the Gardiner Expressway should be avoided during these times.
By law, you must wear a seatbelt (but you should be doing that anyway) and smaller children must use a child seat. You're also not allowed to use a mobile phone whilst driving; if you're caught doing so you can get a pretty steep fine.
It's actually very illegal and super stupid to drink and drive. Being in any way stoned is also illegal and stupid. If asked to do a breathalyser by police, it's compulsory to follow what they say.
Note: you can turn right at a red light, which can be a little tricky if you're not used to it as you'll have to watch out for pedestrians. In general, actually, you should be careful of pedestrians everywhere in the city; there are a lot of pedestrian crossings throughout Toronto and people seem to just cross whenever they feel like it.
Another thing that can cause a hazard in the city are the streetcars. You should watch out for their stop signs and you should park up beside it – wait behind until it starts going again.
Driving conditions in winter can be extreme. It's best to be prepared and watch weather broadcasts.
Parking in the city gets pricey since you have to pay to park pretty much anywhere. Getting a ticket is not unheard of; the city makes $50 million annually from this!
In conclusion, driving in Toronto is safe, but unnecessary – unless you're planning on a road trip out of the city.
Is Uber safe in Toronto?
Uber is a very good and safe way to get around the city. In fact, at night Uber becomes arguably the best way to get around.
However, Toronto is also moving towards training its Uber and Lyft drivers – for public safety. So at the moment, Uber is safe in Toronto, but it's about to get a whole lot safer (hopefully)!
Are taxis safe in Toronto?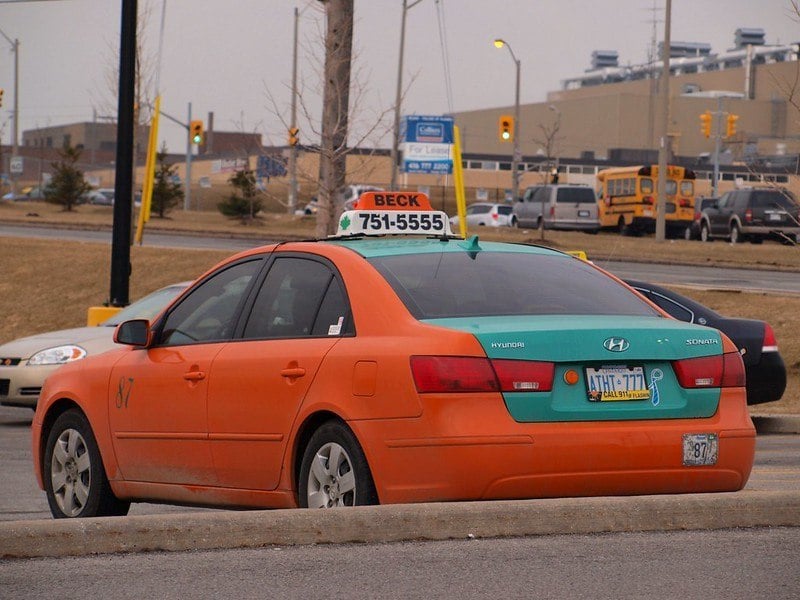 Taxis in Toronto are easy to find and all in all pretty safe.
The main problem with taxi drivers in Toronto is that they tend to be on the fast side, maybe a little too fast.
You can hail a taxi on the street; look out for yellow taxis or a car with a "TAXI" sign on the roof. If the light's on, you can hail it. Taxi ranks themselves are actually pretty rare, but hailing a taxi is pretty easy on most street corners of the city. Alternatively, you can join a queue for a taxi in front of big hotels and office buildings.
Taxis use a meter. These begin at $4 and increase in increments of 25 cents each 0.17 kilometres (or 50 cents per minute).
Going to the airport you will usually get a flat rate from a taxi company. Speaking of which, there are also radio taxis in Toronto which you can call and book in advance.
If you want to feel safe in a taxi the best place to sit, first off, is to sit in the backseat of the cab. It's not rude, it's just something to keep yourself safe. If you're worried that the taxi driver is taking you a strange route, you can follow the route on your maps. Don't hesitate to jump out of the taxi if you think you're being taken somewhere that isn't your destination.
A legitimate taxi company will have its company name and contact information, complete with a phone number, visible in the car – if a taxi doesn't have these things, don't use it. Other ways to spot a licensed taxi are a meter and a radio; two things that are compulsory for taxi drivers in Toronto.
If you want the number for a reputable cab company to book one in advance you should ask at your accommodation for a recommended taxi company to use. There is also an automated number that connects you, free of charge, to one of the many taxi companies in the city.
Basically, the taxis are safe in Toronto – if a little fast; it's just important that you always get in a licensed cab.
Is public transportation in Toronto safe?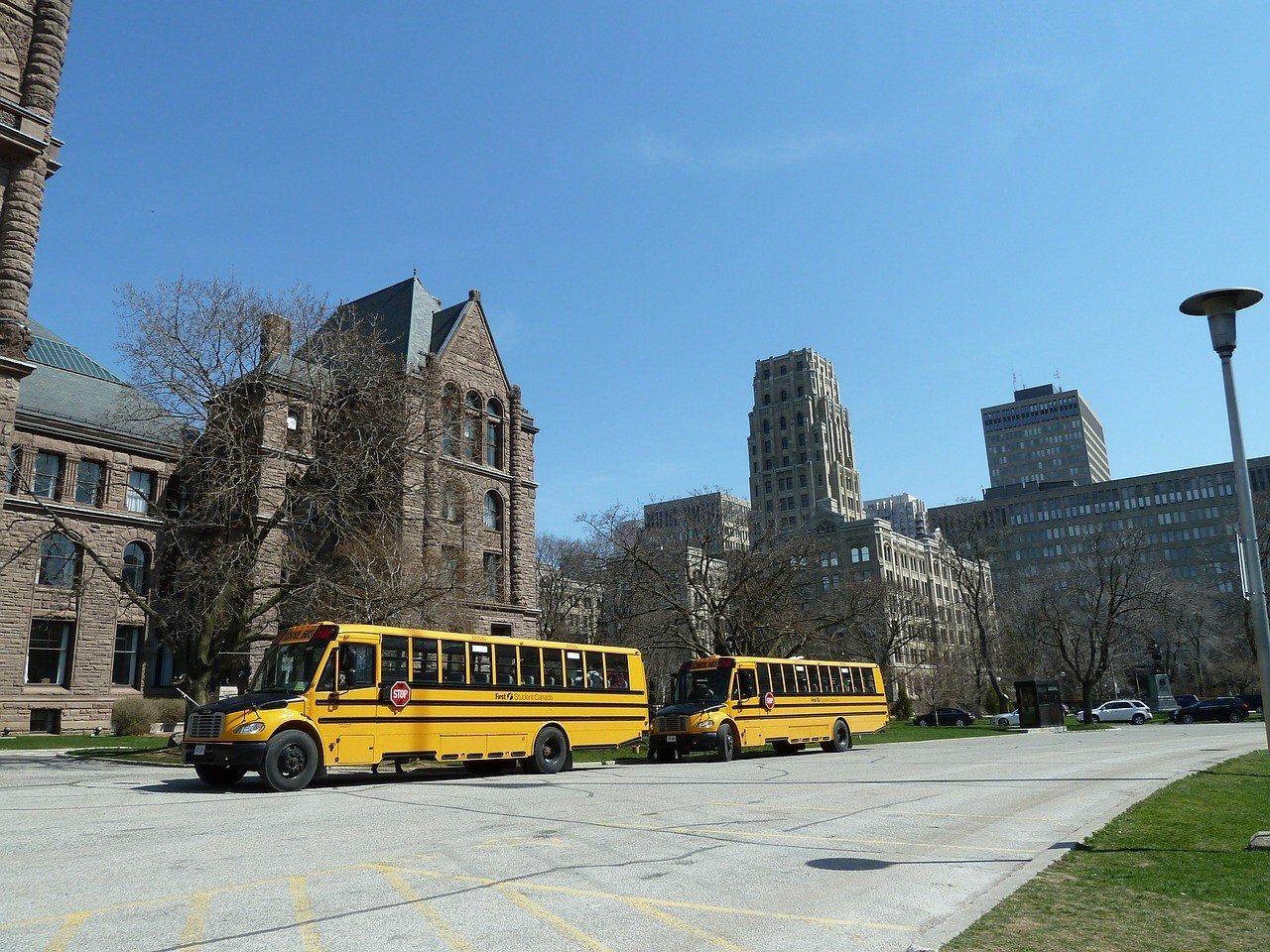 Public transport in Toronto is very easy to use and super streamlined, being run by just one company: TTC.
There are a subway system, streetcars, and a bus service to try out. It's a good idea to get your head around how it all works, and where all the lines and routes go if you want to keep yourself safe in the city.
In general, to stay secure on all of the public transport here are a few tips:
Keep belongings on your lap to keep them out of easy reach.
Have your fare ready and available so you don't spend time rummaging through your bag.
Try to sit near the bus driver or guard on a train if you're worried about travelling late at night.
If someone's bothering you on public transport move seats and tell someone (ideally the driver).
Try not to fall asleep for obvious reasons.
The subway system in Toronto runs very frequently. For example, in rush hour that's every 2 minutes. It runs from 6 am to 1:30 am. Happily, all trains stop at all stations, so you don't have to worry about accidentally catching an express train.
Each subway station has a staffed entrance; the staff will be able to help you with stuff like directions and ticketing. You can spot a subway entrance with the "TTC" sign with the name of the station above it.
On the other hand, the streetcars run above ground mostly around Downtown. These trams are pretty iconic and a must if you're travelling through the city. In fact, National Geographic named Route 501 Queen streetcar one of the best streetcar rides in the world!
When riding one, just drop your fare into the box, pull the yellow cord when your stop is coming up, and exit through the rear doors – simple. Streetcar stops are marked with a white pole with red stripes.
The city's buses aren't always frequent; plan your trip before you get on one so you don't miss a connection or get lost. They're not always frequent, so missing one could put your day into a spin. In addition to the confusion, not all the routes run at the same time.
The buses work pretty much like the trams: put your money in, pull the cord, exit through the rear.
Be careful of the night bus. It can get pretty rowdy so it's best avoided – unless you are one of those loud drunk people yourself!
Keep everything on you in transit!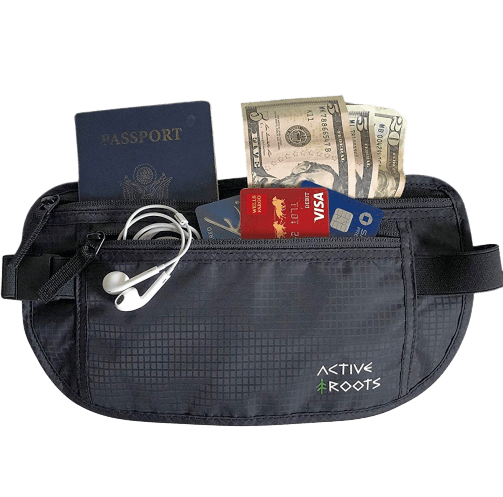 When moving from place to place, you shouldn't store travel documents in a bag, even if it's under your seat or overhead.
A full-sized money belt that stays tucked under your clothes keeps your documents and cash organized during your travels and assures nothing critical gets left behind or stolen.
Is the food in Toronto safe?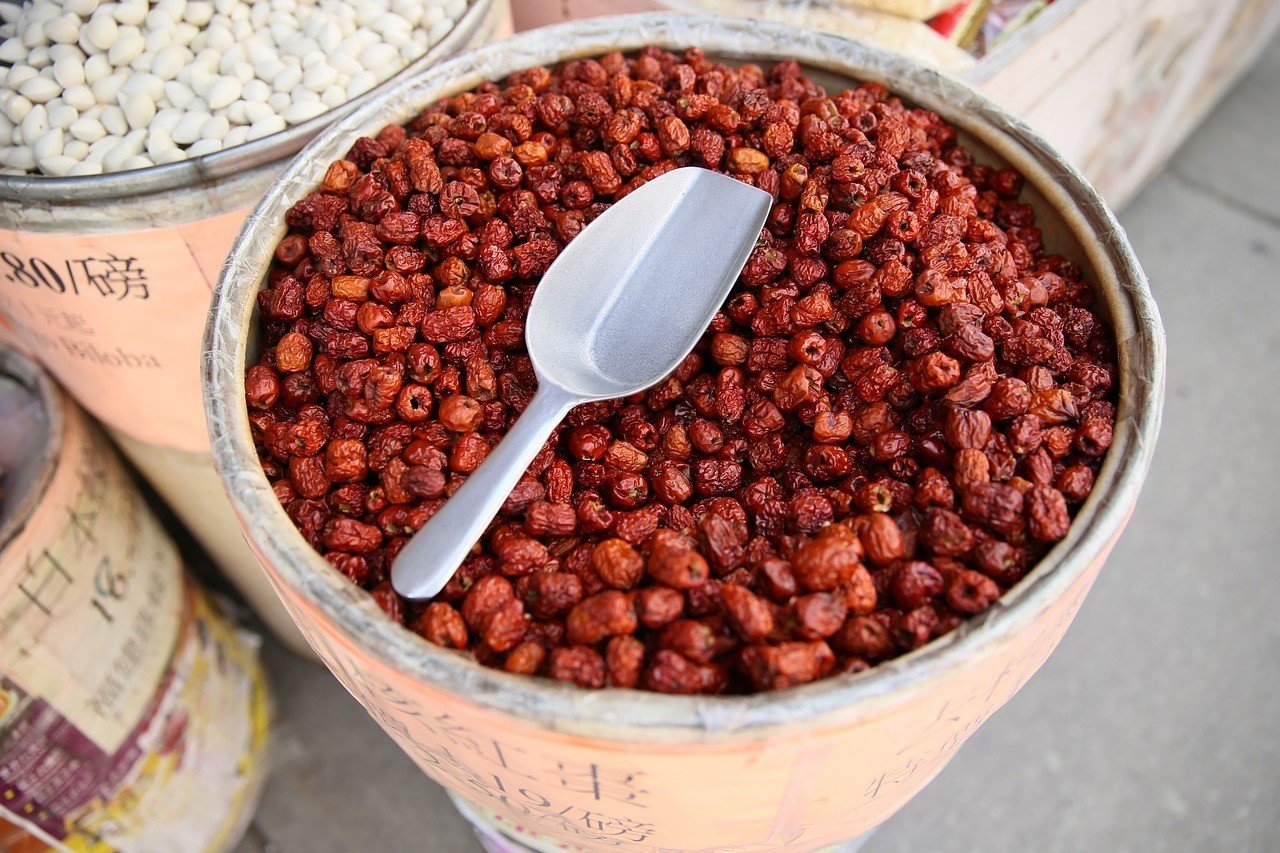 Being a multicultural city, Toronto has a whole lot of different cuisines on offer. This is a total foodie city with some iconic meals and delicious dishes on offer. You can have waffles for breakfast, Singapore style lor mee for lunch, and fancy lobster for dinner.
There are also a whole ton of fresh fruit markets, hipster bars, and cool restaurants, with new establishments and eateries opening up all the time. It's a pretty safe city to eat in, but to ensure you know your stuff when it comes to Toronto's gastronomic world here are some tips…
Street food should not be avoided – it's definitely a tasty way to eat. However, do make sure you head to places that have queues, that look clean, and that look as though they're cooking up food freshly and very hot. Pre-cooked snacks aren't half as tasty.
Try out Winterlicious Program. Of course, some of the restaurants are going to be expensive in Toronto, but if you're there in January and February you can try this program. It is a scheme whereby some of the city's best restaurants serve up tasty three-course meals for as little as $15. There's a similar scheme across two weeks in July called – you guessed it – Summerlicious.
If you're travelling to Toronto on a budget you can stay healthy by heading to Toronto's fresh food markets. Buying the fruit and veg on offer here isn't like in developing countries; this stuff is all totally fine. You'd wash stuff you buy from markets at home anyway, right?
Know that the dining scene is pretty casual and low-key. You only really need to dress up if you're going to a high-end restaurant.
Know the restaurant closing time. A lot of places shut between 2:30 and 5:30 PM meaning if you want (very) late lunch, you may have to skip the restaurant and go to a cafe. Similarly, many kitchens tend to close by 10:30 pm so if you want late-night eats head to Chinatown, Danforth or the trendy area of Yorkville.
You should definitely try all the different food from Toronto's Asian communities. Some traditional Turkish food, some Thai dishes, Vietnamese. Just because they're from different cultures, it doesn't mean they don't abide by the same food hygiene rules that apply to all eateries in Toronto. Find places that look totally busy, ideally with locals.
Look up reviews online of places that are going to be the best for you. Sometimes judging a restaurant by how it looks outside isn't always the best. Read reviews on TripAdvisor, check out what's hot in the city on Instagram, things like that, and you won't waste your mealtimes in Toronto.
Wash your hands. Exploring a city all day can make your hands pretty grubby, so give 'em a scrub before you start to eat. The last thing you want is for you to make yourself ill.
Toronto has a ton of good stuff to try out and you shouldn't be afraid to go and eat pretty much everything that the city has to offer. The best thing about Toronto is that if you don't like Asian food, you don't have to eat it; if you don't fancy burgers, you can go elsewhere.
There's just so much on offer in the city. It's best to steer clear of tourist traps – we're talking gawdy restaurants, perhaps with touts outside them, that are almost always located in touristy areas or around tourist sights. Hit up local haunts and get your chow on like a pro!
Can you drink the water in Toronto?
The tap water in Toronto is completely safe to drink – it's right on the shores of Lake Ontario, after all!
So you can leave the bottled water in the shop, save on plastic waste, and fill up your refillable water bottle before you hit the city streets. If you decide to do so, we've put together a list of best travel water bottles to help you out.
Want to save the world?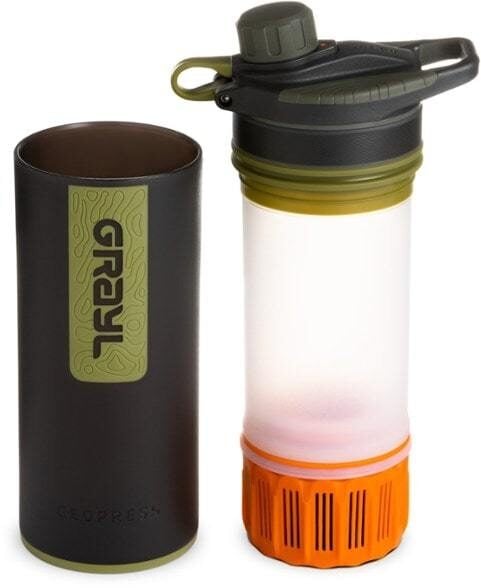 Single-use plastic bottles are a huge threat to Marine Life – Be a part of the solution and travel with a filter water bottle.
The GRAYL GEOPRESS water bottle is the ONLY all-in-one filter water bottle setup you'll need. Whether you need to purify the water from a hostel sink in Kathmandu or a stream trickle in the Andes, the Geopress has got you covered.
Read our full review of the GRAYL GEOPRESS!
Is Toronto safe to live?
This city is a pretty safe place to live – and the locals seem to think so, too.
There aren't many places that you "can't" go, just certain areas and neighbourhoods (which we've already mentioned) that you should be more aware of – or that you shouldn't be wandering around by yourself late at night. It's important for you to know where to wander and where to stay in Toronto.
Toronto does have problems with shootings and gang crime. However, these are isolated incidents and contained between gangs themselves; not something that you're likely to get involved with.
The only way you're going to find yourself in trouble with things like that is if you're going looking for drugs, which we highly un-recommend. Cannabis is legal for god's sake!
With a big drinking culture, weekends in Toronto can be rowdy, especially in the Entertainment District and the west side of Downtown. Once the clubs close, the revelers spill out onto the streets and do what they do as a drunk person: shout, fight, vomit – you know.
There's also an issue with homeless people, but you won't be hassled too much. If you're from any big city, it's probably something you're (unfortunately) used to.
You will have to deal with how cold it gets in winter: seriously cold. The roads can be super busy with traffic and a fair bit of pollution. Housing is also pretty expensive in Toronto.
When it comes to where to live in Toronto, however, we would recommend finding a suburb like North York or Richmond Hill. If you're single, and love city life, the Downtown Core with its condos and swish apartments is where it's at.
Overall, Toronto claims to be one of the most multicultural cities in the world. Living there will mean having a whole diversity of festivals, art, and food at your fingertips at any time and ready for you to dive into.
Basically: Toronto is a cool and safe place to live.
How is healthcare in Toronto?
The healthcare in Toronto is, as you may expect, top-notch.
Medical facilities across the city are of a high standard. You won't have any worries at all if you fall sick here.
It is very important to have health insurance though because you'll need to pay the bills otherwise – and especially if you need emergency assistance, they can be big.
If you are in an emergency situation and need to go to a good hospital, St Michael's Hospital (right in the middle of Downtown) is a great teaching and research hospital with a world-class emergency unit.
There's also plenty of specialist care to be found around the city, from dental to children's and women's health.
If you need to simply just see a doctor about a minor ailment or injury, head to your nearest walk-in clinic. The best bet for finding a good one is to ask at your accommodation for a recommendation.
Even easier for medical advice than a clinic is a pharmacy, where you can buy non-prescription meds over the counter and pick up your prescriptions. Thankfully there are late-night and 24-hour pharmacies to be found in Toronto, one such is Shoppers Drug Mart and another is Rexall Pharma Plus – both large chains.
Overall the medical care in Toronto is of such a high standard, and so widespread, that you've got absolutely nothing to worry about. On top of that, everybody speaks English – a bonus.
Final thoughts on the safety of Toronto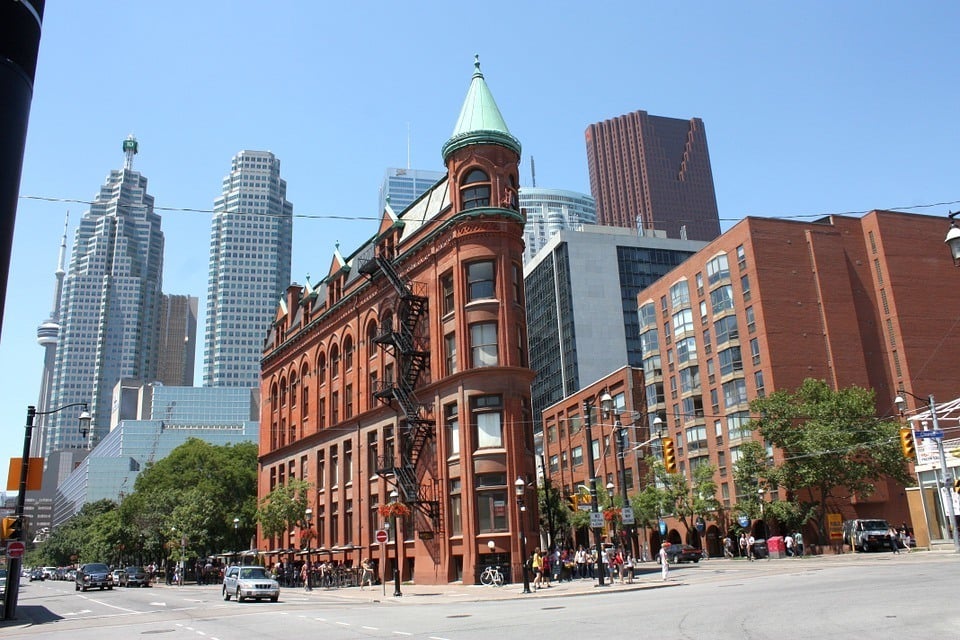 Toronto may have a rising crime rate, but that is something that won't be affecting you. The statistics on this city and Canada's safe reputation, basically speak for themselves. Being rated so high on international rankings and indexes based on how peaceful a country is, or how safe a city is, chances are pretty high that you are going to be absolutely fine when you're visiting this buzzing metropolis of a city.
There may be a few places in the city that you shouldn't be venturing into, for safety reasons, at night – but do just that (avoid them) and you'll stay out of harm's way: it's pretty simple. Similarly, though the weekend crowds after the bars and clubs close can be pretty rowdy, you may well end up being one of the drunken revellers yourself. If that's not you, then steer clear of the situation.
Being a city, however, you never know when things can happen – that's why we've given you all these tips and nuggets of information that are going to help you travel smart around Toronto. The city can get cold: wrap up warm and watch the weather. It can be sketchy at night in some areas: don't go there. Pickpockets do exist here: wear a money belt.
And you'll need travel insurance to cover your ass from all sorts of unforeseeable events.
Disclaimer: Safety conditions change all over the world on a daily basis. We do our best to advise but this info may already be out of date. Do your own research. Enjoy your travels! Some of the links in this post are affiliate links which means we earn a small commission if you purchase your insurance through this page. This costs you nothing extra and helps us keep the site going.