Tucked away on the crags of southern Vancouver Island, trust us when we say the capital city of British Columbia is worth the journey! Victoria is known for boasting Canada's rampant outdoors and stunning scenery right in its backyard.
Within the city itself, there's a colorful past to discover. You'll find stately Victorian residences, castles and mansions, and First Nations monuments.
There's a lot to see here, no doubt. However, you may find that you're still scratching your head over exactly where to stay in Victoria. There are a few areas to choose from, each offering something slightly different to travelers.
To help you out, we've created this guide on the best accommodation in Victoria, Canada. Combining our own experiences with hints and tips from travel experts, we've got the lowdown on the coolest places to stay for any travel style and budget.
Ready? Let's get started!
Looking for a specific place to stay? These are the top-rated places to stay in Victoria.
This Airbnb is ideal for families visiting Victoria. The home is stylishly decorated with modern amenities, and features a large deck and outdoor space for kids to run around in. The home is close to shops and top attractions, creating a convenient and comfortable base for your trip to the city.
This no-frills, simple hostel offers great-value accommodation next to Victoria's Upper Harbor. Rooms are all private, and there's a pool, sauna, and gym on-site! Downtown isn't too far from here, making this a great base for exploring Victoria.
This gorgeous boutique hotel offers spacious rooms, contemporary features, and elegant decor. With a 4-star rating, guests can enjoy valet parking, a fitness suite, a beauty center, and a fantastic on-site restaurant. It's got a fantastic location, offering the ideal base for exploring James Bay and the rest of the city.
Victoria is divided into 11 neighborhoods, each with its own distinct personalities and unique landmarks. It's also one of Canada's most walkable cities, so you can easily explore everything on offer without spending your budget on public transport. As a result, most residents make their daily commute on foot and the population is one of the fittest in Canada!
This extraordinary city is brimming with urban delights, rich heritage, a diverse culinary scene. It's the craft beer capital of BC, and its abundance of natural beauty earned it the accolade 'City of Gardens'.
If you're visiting Victoria for the first time or are just staying for a couple of days, we recommend staying in James Bay. This spirited neighborhood has views, cuisine, and a huge range of activities to get you acquainted with a bit of everything this destination has to offer.
Burnside Gorge is the best place to go if you're visiting Canada on a budget. It's a laid-back area close to the historic quarter, and is where you'll find some of the cheaper accommodation options.
If you're looking to let off some steam, knock back a couple of drinks, and party like a Vancouverite, check out Downtown. It's a bustling area the top spot for where to stay in Victoria for nightlife, hosting some of the best bars in the city.
Over on the east coast of the island, Oak Bay is one of the coolest places to stay in Victoria. It's got a unique village ambience, an arty high street, and endless ocean views.
Vancouver Island bears that awesome Canadian hospitality, and we reckon Rockland is the best place to stay in Victoria for families. There's plenty here to entertain even the twitchiest of toddlers or trickiest teenagers!
Let's take a look at the 5 best neighborhoods to stay in Victoria in more detail. They're each a little different, so make sure to pick the one that's best suited to your travel needs.
1. James Bay – Where to Stay in Victoria for the First Time
If you want a piece of everything Victoria has to offer, then James Bay is one of the best areas to stay in. As the oldest part of the city, it's loaded with heritage and landmarks. Its waterfront setting gives desirable views out to sea, as well as of the Olympic Mountain Range.
St James Bay is located just southwest of Downtown and is popular with tourists and residents alike. Stay here to explore Victorian architecture, dreamy seascapes, and the freshest seafood in town.
This private guest suite comes can sleep up to four guests on one double and one sofa bed. You get your own private bathroom and a personal coffee maker, fridge, and microwave, as well as access to a shared kitchen. The property is ideally situated within walking distance of the top activities and sights of Victoria, so you can explore at ease.
Given its epic location and stylish interiors, this inn is a steal for the price! The rooms are bright and comfortable, and some feature kitchenettes which is ideal for long stays. There's a garden and pub on-site for guests to recharge in, as well as a restaurant. This heritage hotel offers tours and activities so you can make the most of your time in the city!
This boutique four-star hotel has spacious rooms, elegant decor, and contemporary features. Each room comes with its own kitchen, but the on-site restaurant is well worth a visit. It's pet-friendly and family rooms are available. Downtown, shops, and restaurants are just five minutes away from the hotel on foot.
Things to See and Do in James Bay:
Grab fish and chips on the Fisherman's Wharf.
Sign up for a whale-watching excursion.
Explore the landscaped gardens of Beacon Hill Park and crane your neck at the world's tallest free-standing totem pole!
Watch the sunset over the ocean from Holland Point Park.
Scout for seals at Fisherman's Wharf.
Ogle the ornate parliament buildings on Belleville Street.
Get to grips with nature at the Bateman Foundation Gallery of Nature.
Cycle or walk to check out the First Nations Breakwater Murals.
Delve into Jurassic and natural history at the Royal BC Museum.
Feel like you've stepped into a storybook at the historic Emily Carr House and Gardens.
Take a scenic coastal cruise for the best views in town.
Tell time the old-fashioned way at the Ogden Point Sundial.
2. Burnside Gorge – Where to Stay in Victoria on a Budget
The neighborhood of Burnside Gorge is the commercial and industrial district of Victoria. It sits north of Downtown and has a number of interesting attractions and parks to check out. There are also a number of chain hotels and independent guesthouses in this area, making it an ideal option if you're traveling on a budget.
Rock Bay is a cool part of the neighborhood to hang out in, where you can find a cluster of local breweries. You can even cross over to West Victoria via Bay Street, making Burnside Gorge a great base for discovering Victoria.
This guest suite is bright, airy, and boasts an incredible garden to relax in. It has a fully equipped kitchen and two bedrooms, making it ideal for groups or small families. Downtown is easily accessible by public transport and the gorge is just 300m away!
This no-frills, simple hostel in Victoria offers budget (but comfortable) private rooms which cater to the needs of any traveler. There is a guest pool for a refreshing post-sightseeing plunge, plus a sauna and gym. It's definitely more than your average backpackers', making it a great pick for accommodation.
Best Hotel in Burnside Gorge: Arbutus Inn
This comfortable Burnside Gorge accommodation features cheerful rooms fitted with a fridge, kettle, and microwave. There are family rooms available and the motel has free parking for guests. Top sights are just a short walk away, including Chinatown and the Royal British Columbia Museum.
Things to See and Do in Burnside Gorge:
Stroll across the Selkirk Trestle.
Take a plunge in the Gorge Waterway, a natural swimming area.
Have a laugh at one of the comedy shows hosted by Hecklers Bar and Grill at the weekend.
Take a sprint through Topaz Park to soak up the community vibes.
Work out your muscles at the Boulder House Climbing wall.
Take a day trip to the Swan Lake Christmas Hill Nature Sanctuary, a hilly park which is a haven to wildlife.
Step into Victorian-era Victoria at the Point Ellice House Museum and Gardens, kitted out with original furnishings.
Eat trendy food on the patio of Glo Restaurant and Lounge.
Go brewery hopping in Rock Bay – you've got a range of options to work your way through!
Stock up on anything you need at the Mayfair Shopping Mall.
3. Downtown – Best Area to Stay in Victoria for Nightlife
Victoria's Downtown neighborhood is your ticket to bars, pubs, and world-class restaurants, making this our top choice for where to stay in Victoria for nightlife. Much of the action is centered on the scenic Wharf Street and happy-go-lucky Bastion Square.
During the day, there are some quirky landmarks, museums, and galleries and to explore. It's also a fun spot to chill with views of boats in the harbour, especially when you've had a big one the night before.
This brand new, modern studio apartment has a sophisticated design and is the perfect space no matter how long you decide to stay in Victoria. Perched on the Inner Harbour, this is one of the coolest Airbnbs in Victoria thanks to its great views over the water. The apartment is ideal for two guests or solo travellers.
Best Hostel in Downtown: HI Victoria
This Downtown Victoria hotel is housed in a heritage building in the historic center and is close to the bars, nightlife, and all the attractions! The high-speed Wi-Fi is ideal for digital nomads, and there's an equipped kitchen for guest use. There are heaps of social spaces where you can get to know other travelers, and the friendly staff will make sure you have everything you need.
This 3-star hotel in Victoria offers rooms with city views and has a huge rooftop 'beach club' with a volleyball court and BBQ area. It's set in a classic building with contemporary furnishings and provides a continental breakfast each morning. This hotel is ideally located close to top attractions, and there are bars and even a nightclub on-site!
Things to See and Do in Downtown:
Check out the big 'Canada 150' sign down by the river.
Make some creepy crawly friends and brave holding a live scorpion at the Victoria Bug Zoo.
Grab dim sum in Canada's oldest Chinatown neighborhood and admire the authentic architecture.
Dip into nautical heritage at the Maritime Museum of British Columbia.
Watch the boats from the Inner Harbour Causeway and stay around in the evening for al fresco dining and lively bars.
Head to Bastion Square for chilled bars, seasonal markets and live music.
Treat yourself to a sustainable, artisan meal at Q at the Empress – which is designed with a modern twist on royalty.
Take your pick from the traditional pubs of Wharf Street.
Wander the totem poles and learn about carving at the Thunderbird Park.
Party late at Distrikt nightclub (found at the Strathcona Hotel!)
Have a pint in Big Bad John's, the first bar in BC to hold a licence to serve.
Sip on the best cocktails in town at Clive's Classic Lounge.
4. Oak Bay – Coolest Place to Stay in Victoria
Oak Bay covers the eastern side of Victoria. This sprawling neighborhood is known for its bays, parks, and residences which flank the waterside and overlook the Haro Strait. Most of the culinary and cultural attractions is focused on the village-like Oak Bay Avenue. To explore the wider neighborhood in full, you'll benefit from a car or bicycle.
Languid, scenic, and subtly swanky, we think Oak Bay is the coolest place to stay in Victoria. Picturesque streets are lined with galleries, delis, and boutiques in the shade of the region's namesake trees. Let yourself be lured into cafes with freshly baked pastries, and be tempted to stay out late in the classy bars.
If you want to stay in Oak Bay but are travelling on a tighter budget, check out this charming studio suite. The accommodation is self-contained and has a private entrance, as well as a private bathroom, fridge, and microwave. The suite is situated in a peaceful area, and is ideal for solo travellers, business travellers, or couples. Oak Bay Village is close by, while Downtown Victoria is a short bus-ride away.
It doesn't get much closer to the beach as this little vacation rental in Oak Bay! You'll get the best of both worlds here; guests can relax to the sound of the waves while only being 7 minutes from Downtown by car. The suite features a kitchenette and dining area ideal for two guests, and the host can assist with kayak rental if you want to go out on the water.
If you fancy splashing out a bit, this 5-star Oak Bay hotel is well worth the price. The pool, sauna, and tasteful restaurant make this one of the coolest places to stay in Victoria. All rooms feature kitchenettes and some come with ocean views. The hotel is situated right on the beach, and the marina and parks are close by.
Things to See and Do in Oak Bay:
Hire a kayak and explore the bay and its islands at leisure.
Take a boat cruise around the Oak Bay Islands Ecological Reserve.
Wander the Oak Bay Marina and Turkey Head Walkway.
Lap up the tranquillity in shoreside Queen's Park.
Breakfast on focaccia and Italian coffee at Ottavio Italian Bakery, Delicatessen and Cafe.
Get a touch of luxury at the waterside Boathouse Spa & Baths.
Go gallery hopping along Oak Bay Avenue.
Call into Sweet Delights for some sugary souvenirs.
Pack a picnic and cycle the length of Beach Drive.
Bask in the views from the Anderson Hill Park.
Kick back with charcuterie and French burgundy at Vis-a-Vis bar.
Soak up the sun and bathe in the calm waters of Willows Beac.h
5. Rockland – Best Neighborhood in Victoria for Families
Rockland is the realm of Arts and Crafts mansions, bountiful gardens, and the grand Craigdarroch Castle. This niche neighborhood sits between Downtown and Oak Bay on a craggy hilltop. The area is heavily residential despite being home to many of Victoria's top attractions, making it our top recommendation for where to stay in Victoria with family.
Due to its location, other areas of Victoria can be explored pretty hassle-free. It's an ideal base if you want a vacation that's as action-packed as it is laid-back. It's full of mansions and great estates, and lot's of family-friendly accommodation.
This gorgeous house sleeps six guests, making it ideal for families or groups. There are two bedrooms and a fully-equipped kitchen, as well as all the comforts of home. Board games and cable TV are provided for entertainment on rainy days. Outdoors, there's a delightful patio and garden to enjoy, and there are numerous beaches within walking distance.
This family-friendly home sits just north of Rockland. There are two double bedrooms, as well as a modern kitchen and newly refurbished bathroom. The home features a spacious deck with BBQ and plenty of space to run around outside, and children's toys can be provided for entertainment. The house is tastefully decorated and is close to shopping, dining, and sightseeing.
Best Affordable Hotel in Rockland: The Craigmyle
Families will love staying in a suite at The Craigmyle. Breakfast is included in the room rate, so you can fuel up before a day of exploring. The hotel is steps from the Craigdarroch Castle and eateries, as well as other top attractions.
Things to See and Do in Rockland:
Explore Canadian and Asian works at the Art Gallery of Greater Victoria.
Enjoy a slice of history at the Victorian Craigdarroch Castle built in the late 1880s, furnished with original period decor.
Visit the official residence of the Lieutenant Governor and the ceremonial home of all British Columbians, Government House, and wander around the expansive gardens.
Relax in the colorful blooms of Abkhazi Garden.
Observe the ocean and city views from the Gonzales Observatory.
Have a nosy around the Ross Bay Villa, a cute 19th-century cottage overlooking the Ross Bay Cemetery.
Pick up farm-fresh veggies, seasonal fruits and artisan products at the Moss Street Farmer's Market, weekly on Saturday mornings.
Take your tea with a freshly baked scone or piece of cake at the Cary Mews Tea House.
Here's what people usually ask us about the areas of Victoria and where to stay.
ALWAYS sort out your backpacker insurance before your trip. There's plenty to choose from in that department, but a good place to start is Safety Wing.
They offer month-to-month payments, no lock-in contracts, and require absolutely no itineraries: that's the exact kind of insurance long-term travellers and digital nomads need.
SafetyWing is cheap, easy, and admin-free: just sign up lickety-split so you can get back to it!
Click the button below to learn more about SafetyWing's setup or read our insider review for the full tasty scoop.
Victoria is a unique and special city, with so much appeal for all types of travelers. It's got it all – riveting museums, awesome restaurants, zesty nightlife, and jaw-dropping beaches.
If you're still unsure where to stay, then your best bet is James Bay. It's got a bit of everything Victoria has to offer, making it the ideal spot for getting to know the area. You'll find all kinds of accommodation there, and it makes a great base for exploring the rest of the city.
Do you own an awesome hostel, hotel or apartment? Want to be featured in our list? Email [email protected] to find out how.
---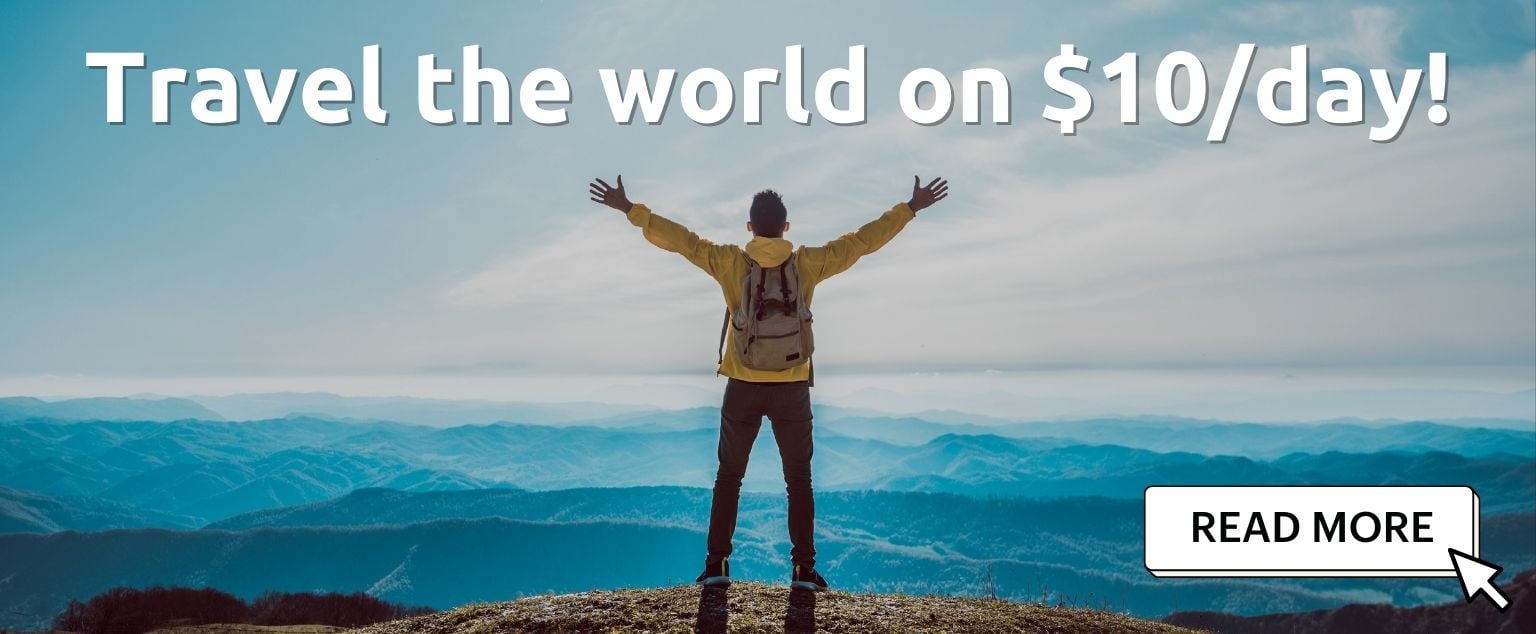 And for transparency's sake, please know that some of the links in our content are affiliate links. That means that if you book your accommodation, buy your gear, or sort your insurance through our link, we earn a small commission (at no extra cost to you). That said, we only link to the gear we trust and never recommend services we don't believe are up to scratch. Again, thank you!