Victoria is the place to go in Canada if you want to embrace British life. Wait, what?
Yes, if you're in North America but can't get to London, this is your best bet. The capital of British Columbia, you'll find many daytrippers from Vancouver and Seattle here enjoying the city's pubs and sampling the best fish and chips in Canada.
To truly enjoy the city, we'd suggest more than a day trip. So, you'll need to think about somewhere to stay. Rather than a dull chain hotel or a noisy hostel, how about vacation rentals in Victoria? A home away from home, they're great value for money and have bags of character. The only problem is, it can take a while to find the one for you!
Let us help you out. We've put together a list of the best Airbnbs in Victoria, taking into account everything from budget and location to travel style. Not only that, we've found the top five Airbnb Experiences, too. Let's get planning your vacation together!
Quick Answer: These are the Top 5 Airbnbs in Victoria
Overall Best Value Airbnb in Victoria
Overall Best Value Airbnb in Victoria
Whimsical Heritage Loft
> $$
> 5 guests
> Self-check-in
> In a historical building
Best Budget Airbnb in Victoria
Best Budget Airbnb in Victoria
Great Room near City Centre
> $
> 2 guests
> Great location
> Queen-sized bed
Best Airbnb for Couples in Victoria
Best Airbnb for Couples in Victoria
Boho-Chic Character Loft
> $$$
> 2 guests
> King-sized bed
> Lots of house plants
Best Airbnb for Families in Victoria
Best Airbnb for Families in Victoria
Secure Downtown Penthouse
> $$$$$
> 6 guests
> Three rooftop terraces
> Pack and play crib
Over-the-Top Luxury Airbnb in Victoria
Over-the-Top Luxury Airbnb in Victoria
Exquisite Downtown Luxury Condo
> $$$$$$$
> 4 guests
> Rooftop terrace with fireplace
> Views of the Empress and Olympic Mountains
What to Expect from Airbnbs in Victoria
Unlike neighbouring Vancouver, Victoria doesn't have loads of high-rise buildings. You can be assured that no matter where you stay, you won't be miles off the ground! Instead, expect a blend of colonial splendour with more modern offerings around the harbour, boasting splendid views of the surrounding landscapes that Victoria is so famous for.
There's a very local feeling when it comes to Airbnbs in Victoria. Your hosts will know the area like the back of their hands and be only too happy to share their recommendations on things to do and see. With the largest and most luxurious Airbnbs, you may be welcomed by a business instead of a local host; however, that shouldn't have any effect on your stay.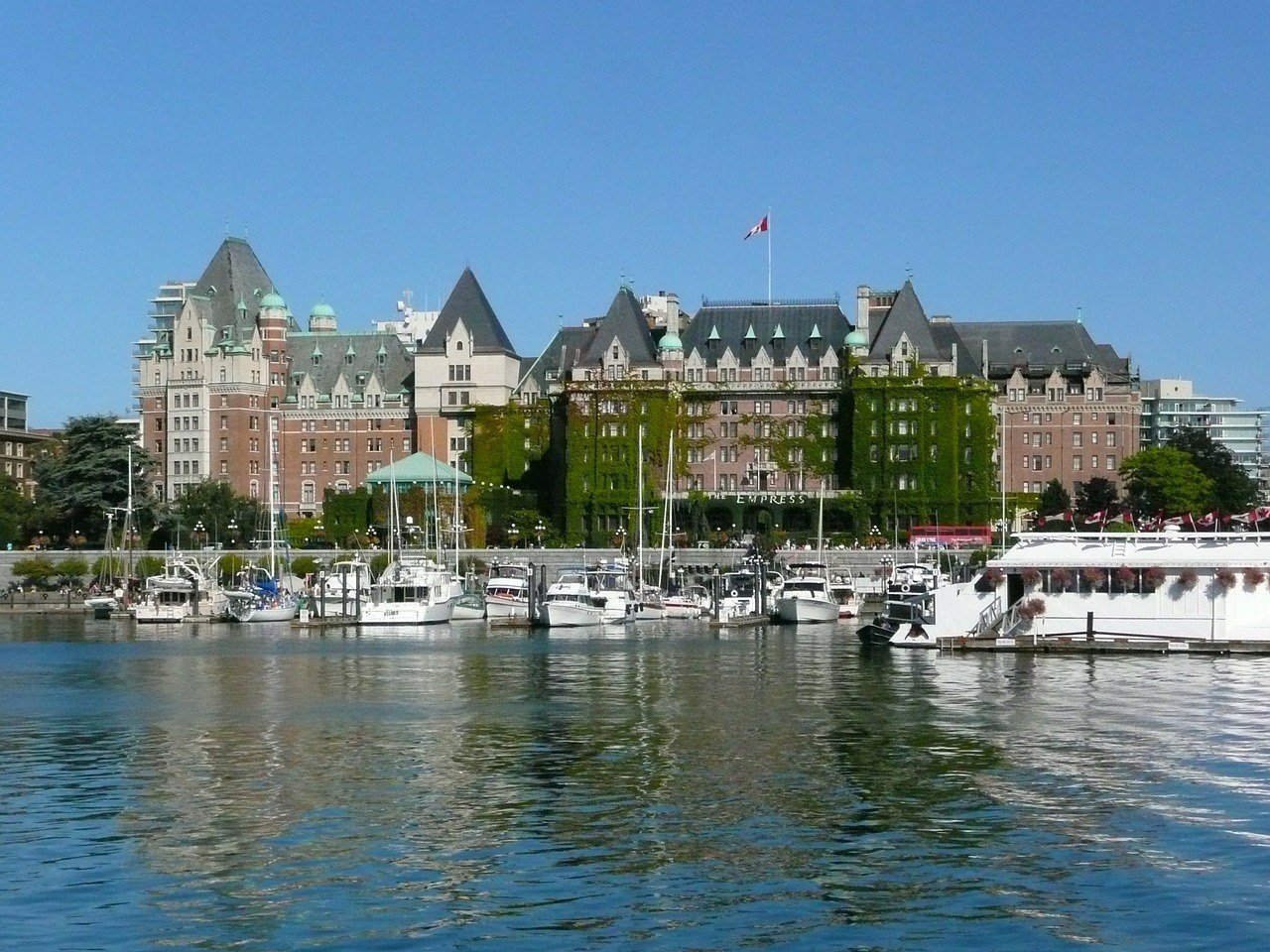 Entire Flat
Entire flats are probably the most common property on Airbnb. But that doesn't mean you'll be getting something drab and run of the mill in Victoria.
Entire flats here can be anything from a penthouse overlooking the city's pretty harbour to a heritage loft packed with house plants and bursting in character.
There's a large concentration of flats around Downtown and the harbour. However, you can find them in other areas too, such as James Bay and the neighbourhoods immediately outside downtown.
Most flats here will come with a living space, fully equipped kitchen, and, thanks to the low rise buildings in Victoria, epic views!
Townhouse
If you want a true home away from home rather than a flat, a townhouse is probably your best bet. With entire houses boasting multiple bedrooms, fully equipped kitchens, lovely living areas, and sometimes even a garden, they're wonderful if you're travelling with a group of friends or family.
Again, because of their size, you can mostly find townhouses in residential areas outside of Victoria's busy Downtown area.
If you really like the sound of a townhouse but can't justify booking one, don't worry. Whether you're a solo traveller and you don't need the space or a budget traveller who just can't stretch to it, there's a solution. You can just book a private room in a townhouse instead – the best of both worlds! A homestay in Victoria is a great way to keep your costs down and have a local experience.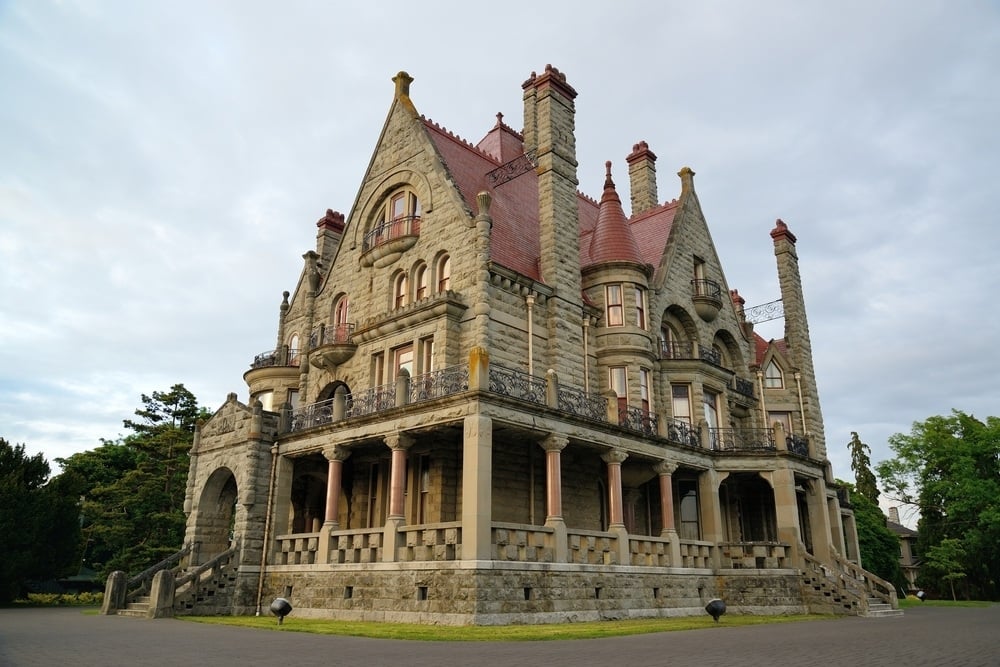 Bed and Breakfast
Bed and breakfasts are top places to stay for so many reasons. Somewhere between a hostel and hotel, they're often perfect if you're on a budget.
However, because these are locally-owned businesses with love and care put in by their owners, you won't feel that they're cold and characterless as you may do with some budget hotels. And for the extra few dollars over a hostel, you'll be able to have your own comfy room (probably with a queen bed) – oh, and a private bathroom!
The clue is in the name too – come down to a hearty and delicious breakfast the next morning. You really do get a lot of bang for your buck in a B&B!
You're likely to find them slightly further out from Downtown, in residential areas such as Rockland.
Why Stay in an Airbnb
Still not convinced you should stay in a vacation rental? You will be after these five awesome reasons to book an Airbnb!
Local Experience: With a local host to give you recommendations, you can get off the beaten tourist trail. Find hidden gems for things to do, eat, and see without the guidebook! This goes for all travel destinations in Canada, not just the charming city of Victoria!
Unique Properties: Hotels and hostels can blend into one if you travel regularly. Freshen up your stays by booking an Airbnb with its selection of cool and unusual properties.
Affordability: Save yourself a few dollars, or just get more for your money. Airbnbs offer a lot of bang for your buck, so you'd be silly to overlook them.
Safety: Both host and guest are vetted by Airbnb's rating system. If that's not enough, their customer support team is on hand 24 hours a day too!
Airbnb Experiences: Airbnb offers more than just a place to stay: its Experiences platform helps you see your new destination with the help of local guides. More on that later!
Travel with peace of mind. Travel WITH a security belt.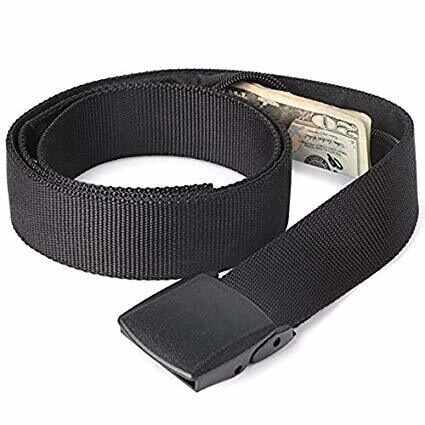 Custom-designed BY the Broke Backpacker FOR broke backpacking, the Active Roots Security Belt will keep your valuables safe no matter where you go.
It looks exactly like a normal belt except for a SECRET interior pocket perfectly designed to hide a wad of cash or a passport copy. Never get caught with your pants down again! (Unless you want to.)
Check on Amazon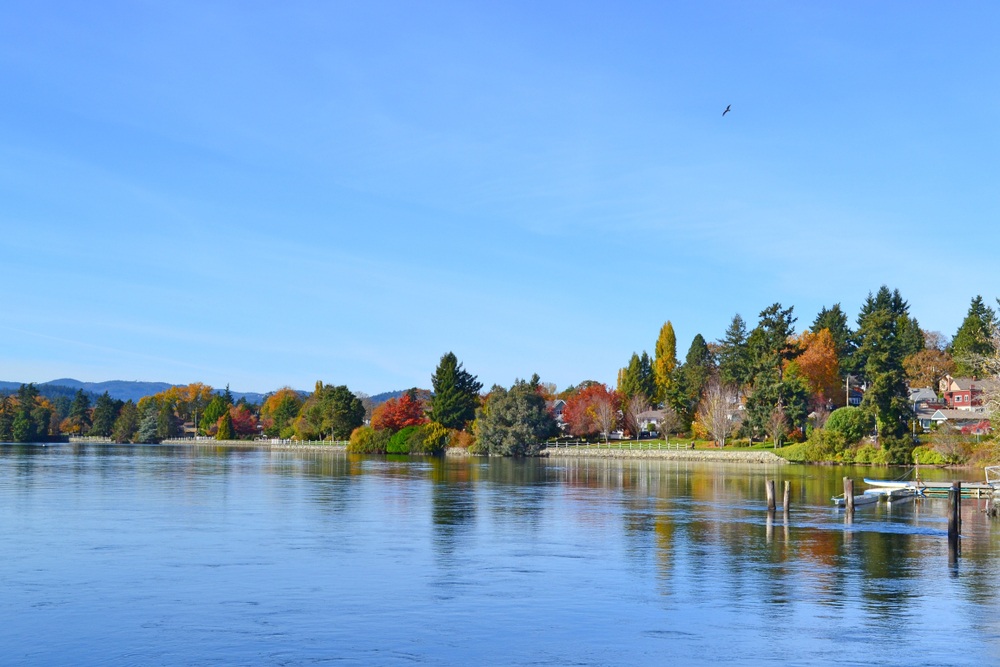 The Top 15 Airbnbs in Victoria
Well, you now know all about why you should stay in a vacation rental, so let's check out the best ones. Here are the 15 best Airbnbs in Victoria. Which one takes your fancy?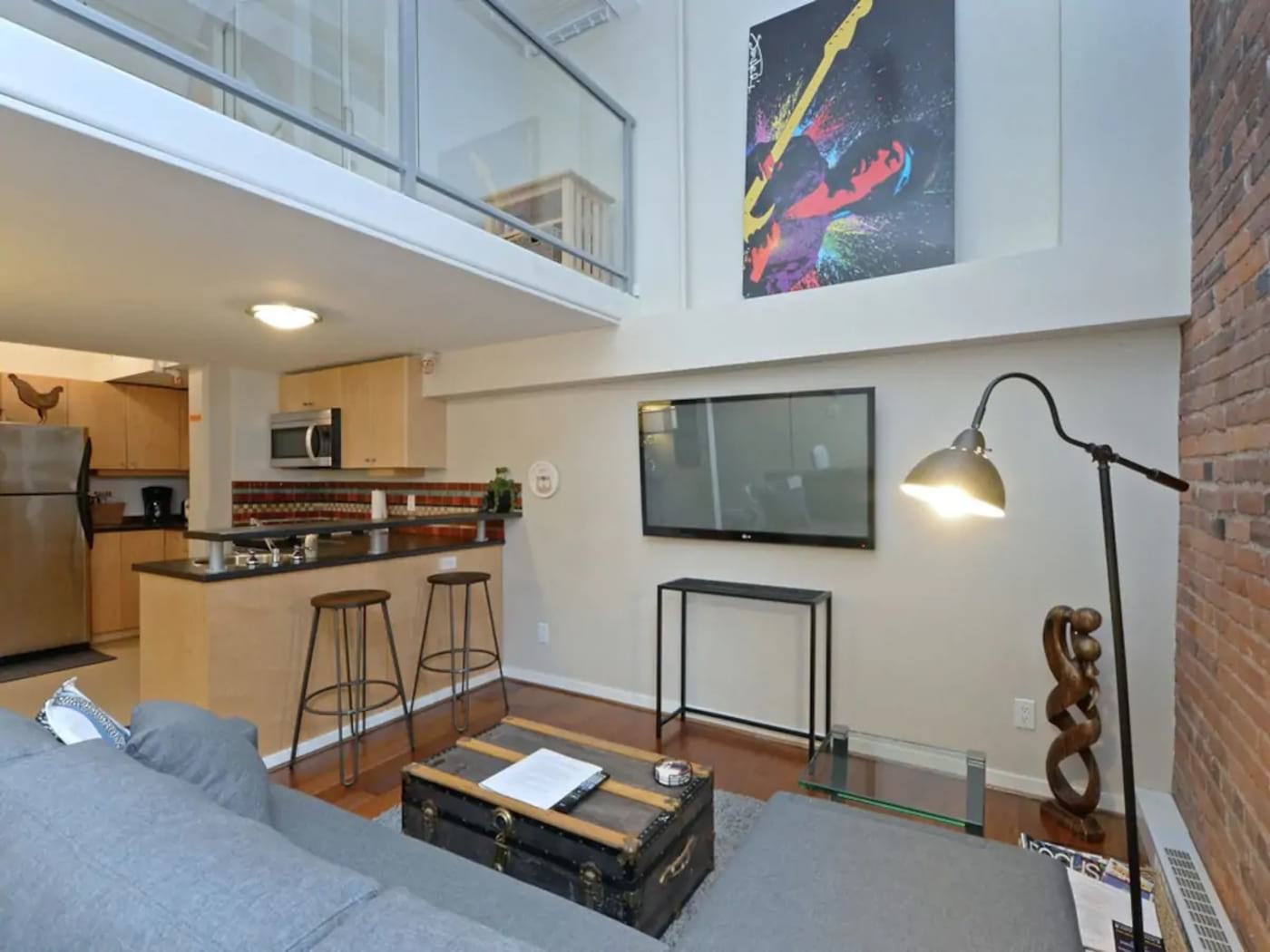 5 guests
In a historical building
Looking for a great value Airbnb in Victoria? You just found it. This loft apartment is in a heritage building and has space for up to five guests. This charming apartment boasts a fully equipped kitchen and views out over the harbour through the large windows.
Should you fancy an evening in after a busy day of exploring, chill out in front of a movie or curl up with a book in the reading nook.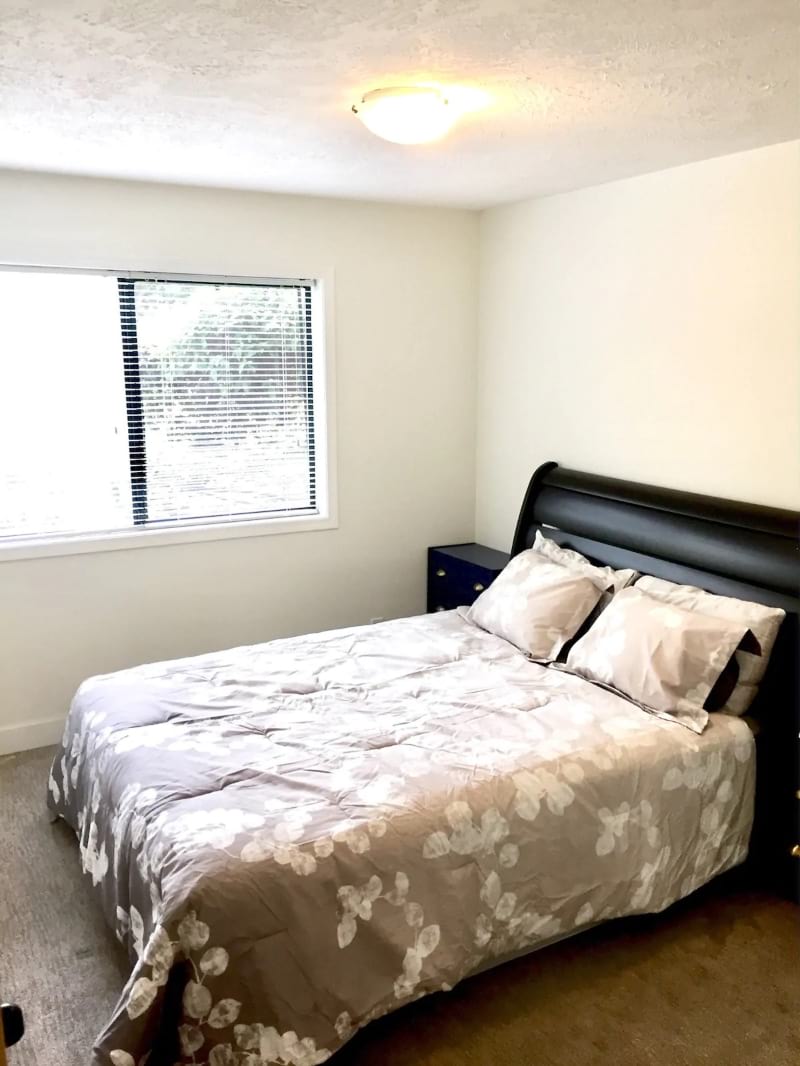 Just a hop, skip, and a jump from Downtown Victoria, you have this wonderful budget property. Sharing the home of your local host, you'll be able to get the lowdown on what to do in town. In your room, there's a queen bed, a small fridge, and tea and coffee making equipment.
2 guests
Access to shared spaces
Solo travellers often are advised to pick one of the many hostels in Victoria. However, not everyone wants to stay somewhere that can get quite noisy and crowded. Look at a homestay instead. This bedroom near Downtown Victoria has everything you'll need for a comfy stay that won't cost the earth. You've got access to the shared spaces in the house, too, so catch up with your host if you don't want to spend the evening in your room alone.
2 guests
Lots of house plants
See that photo above? That's the view you'll get when you wake up from your king bed on the mezzanine that overlooks the living area. This beautiful flat is an architectural marvel, and it's sure to sweep your other half off your feet. As well as what you can see above, you'll get a rooftop BBQ. It's all located in a heritage building, where you'll share the gated courtyard with other residents.
The BEST Travel Backpack?!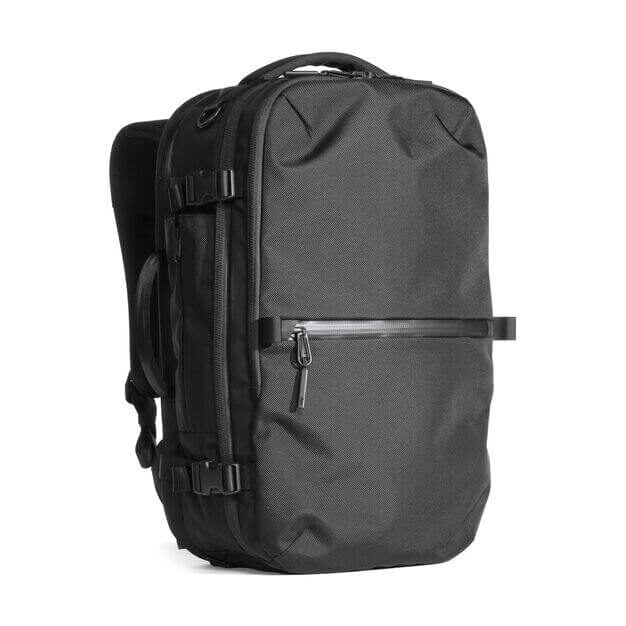 Pssssst! Not picked the perfect travel backpack yet? The Broke Backpacker team has tried out over thirty backpacks this year! Our favourite travel backpack is the Aer Travel Pack 2.
View on AER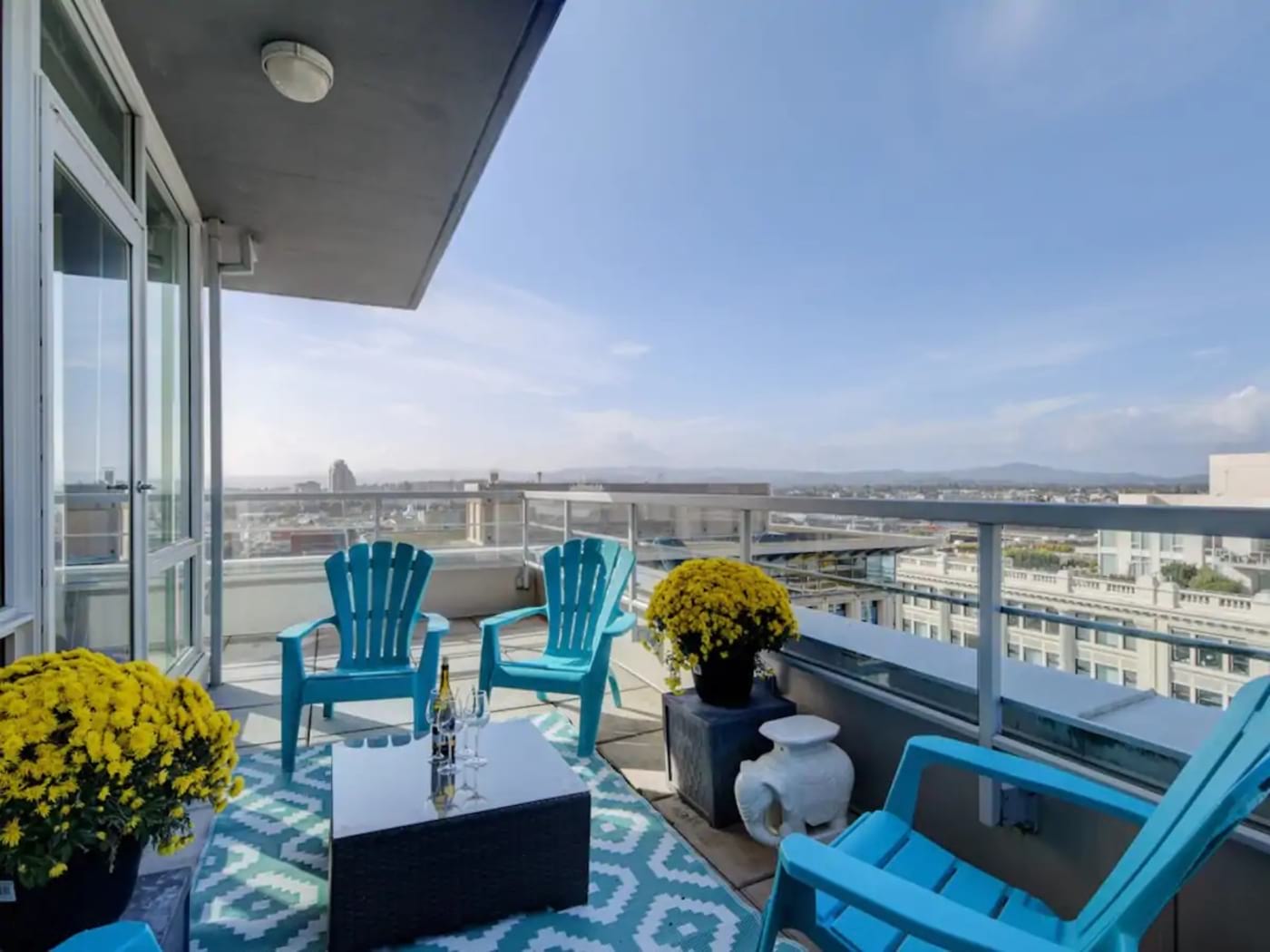 $$$$$
Three rooftop terraces
6 guests
Pack and play crib
You don't have one or two roof terraces here, but three to choose from. And as one of the highest residential buildings in Victoria, it's safe to say you have sublime views of your surroundings. This awesome flat is suitable for families of any age; however, it's particularly suitable for those with young children. That's because it comes with a pack & play crib for infants. There's also a full kitchen, Netflix, and secure underground parking.
$$$$$$$
Rooftop terrace with fireplace
4 guests
Views of the Empress and Olympic Mountains
This luxury Downtown condo is everything you could ask for in Victoria. The views of the Olympic and Empress mountains are sure to take your breath away, so why not enjoy them on the roof terrace in front of the fire. There are cocktail making facilities, so do it with an Old Fashioned in your hand. If you prefer to go up in the morning, there's freshly roasted coffee in the apartment for you, too.
A minimalist apartment set in a hotel, this gorgeous studio is a wonderful place to enjoy the city from. The floor to ceiling windows and open plan living area give you a feeling of space and relaxation, as well as views out over the harbour. Don't want to cook in the kitchen? Head up to the rooftop patio and throw something on the BBQ. We recommend doing so at sunset!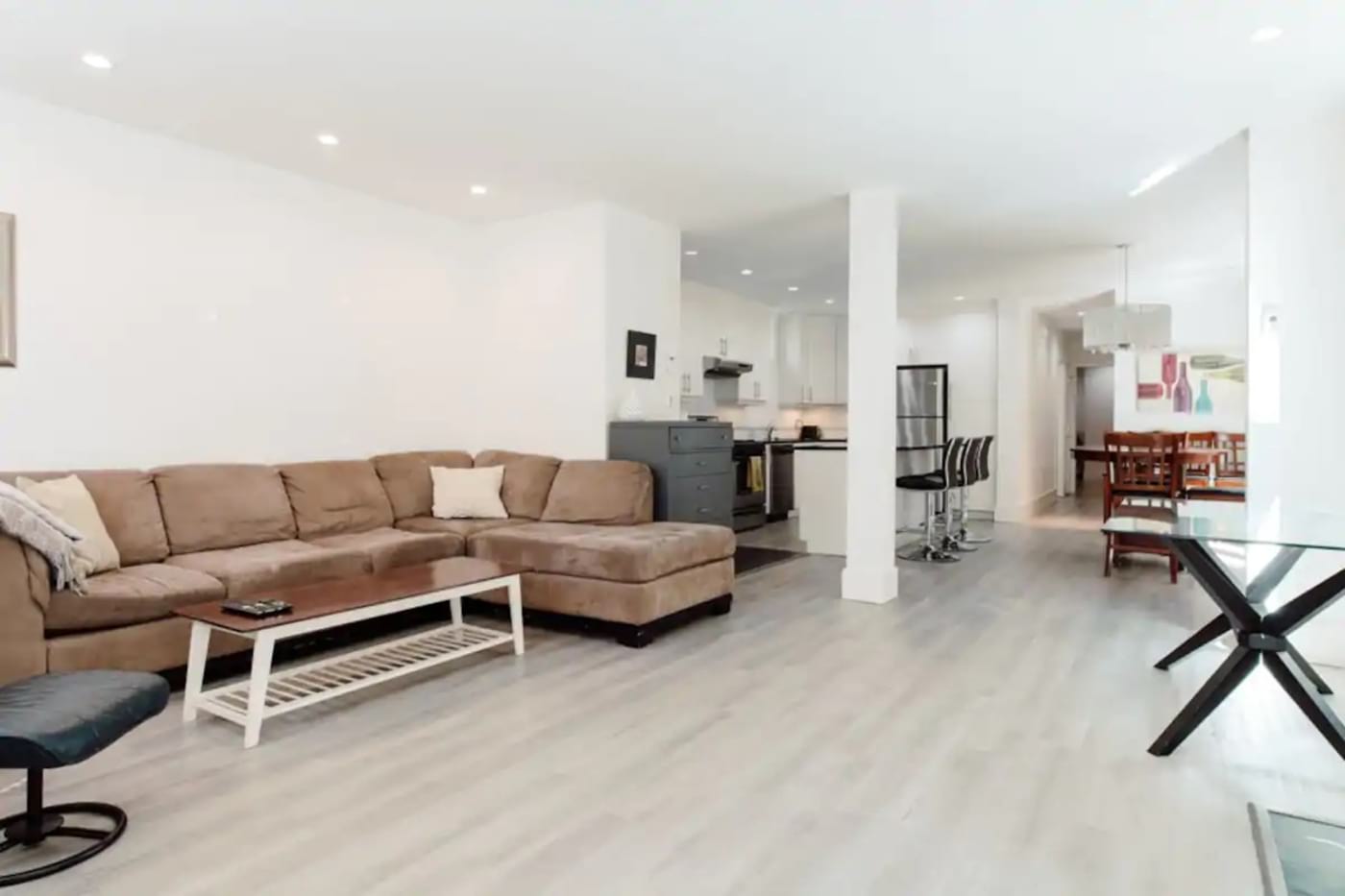 The traditional appearance of this townhouse from the outside doesn't quite prepare you for the contemporary and modern look inside. However, it's a very pleasant surprise! With a large living area boasting an L-shaped sofa, it's perfect for catching a movie or spending some quality time with up to three travelling companions. Because of its location outside of the city centre, you're assured of a good night's sleep, but you're still close enough to make the most of Victoria's attractions and nightlife!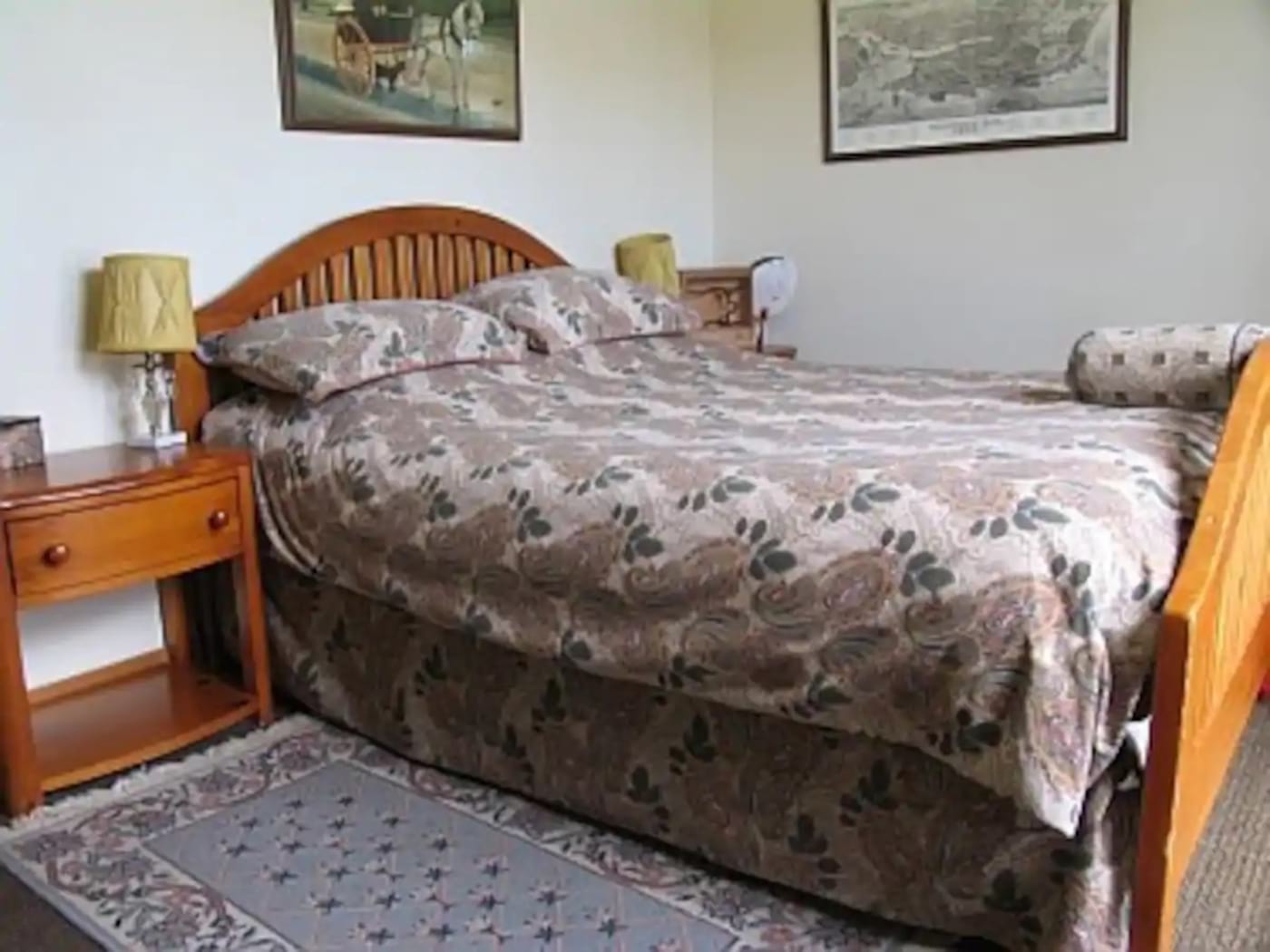 2 guests
Two blocks from Downtown
Wake up from your queen bed to the sound of a horse and carriage passing your window before heading downstairs to a fully cooked breakfast. Doesn't sound like a bad start to the day, right? This cosy B and B is just two blocks from town, so you can enjoy everything the city has to offer while saving a pretty penny. You have a full en-suite bathroom in your room, so maximum privacy is ensured.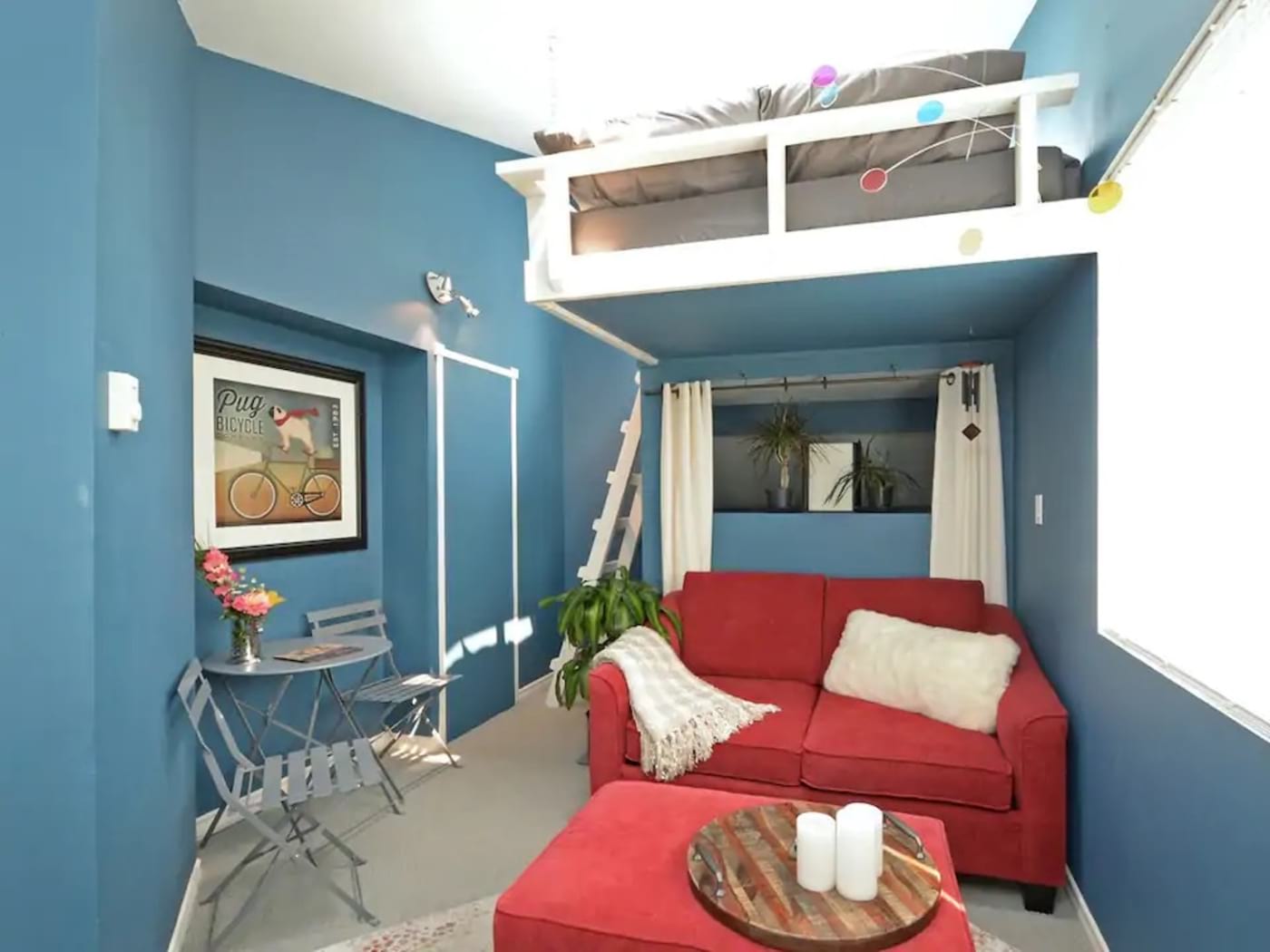 $$
Laptop-friendly workspace
3 guests
Mezzanine queen bed
This cool and cute room is everything a digital nomad could hope for from a stay in Victoria. Not only does it have a laptop-friendly workspace and fast Wi-Fi, but it's also in the heart of James Bay – a stone's throw from Downtown. As well as your quirky room, you've got access to the communal kitchen and a shared bathroom. Because the room has its own living area, you can kick back when you're not working.
$$$$
Sweeping views of the harbour
With floor to ceiling windows in a curve like the prow of a ship, it's doubtful you'll get a better view of Victoria's Harbour from anywhere – unless you're out on the balcony of this place! The waterfront studio is part of a condo. You'll also have access to a gym during your stay. It's everything you could want!
2 guests
Den and office space
Another condo, stay here if you want access to one of the coolest outdoor common areas in Victoria. As well as the swimming pool, there's a shared hot tub, a fire pit, and sun loungers where you can make the most of that BC sun. The flat is best suited to couples or business travellers who want to be right in the heart of Downtown Victoria.
4 guests
Lots of houseplants
Airbnb Plus properties are hand-picked for their excellent reviews and hosts, who show incredible attention to detail. To get this badge is an achievement in itself – so to be crowned the best, you know this place must be good. The two-story loft is in a heritage building dating back to the end of the 19th century. Though it has original features, modern and contemporary conveniences have been carefully blended to create an apartment dripping with charm and character!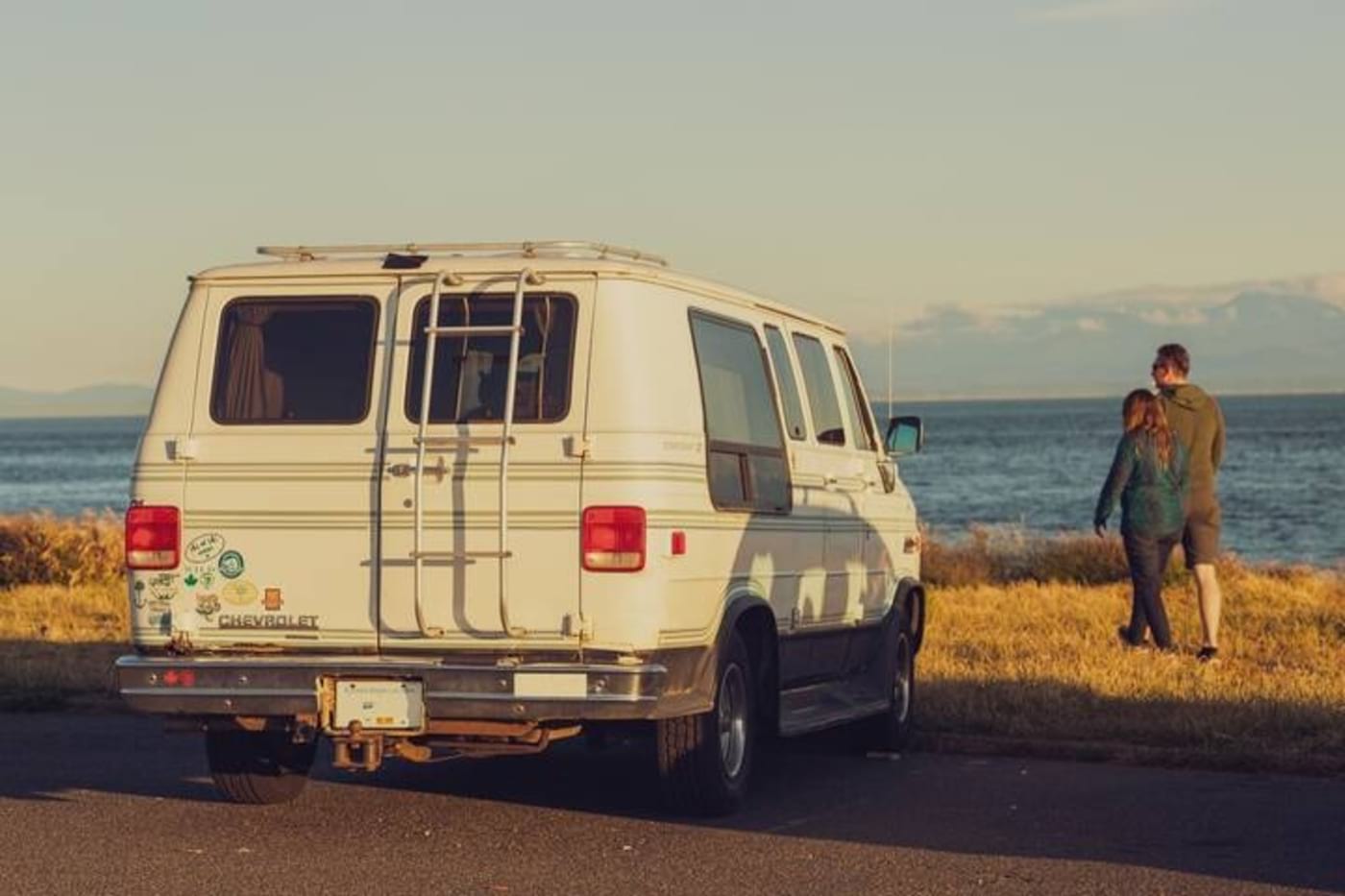 2 guests
Freedom to explore!
Victoria is surrounded by the natural beauty of the Empress and Olympic Mountains, not to mention loads of forests, lakes, and rivers. Sometimes it's nice to just have the freedom of the open road. This retro campervan is perfectly set up for a couple or solo traveller to park up wherever they like and enjoy the scenery. Bring nothing more than your clothes and food – everything else is included!
Best Airbnb in Victoria for a Group of Friends | The Common Room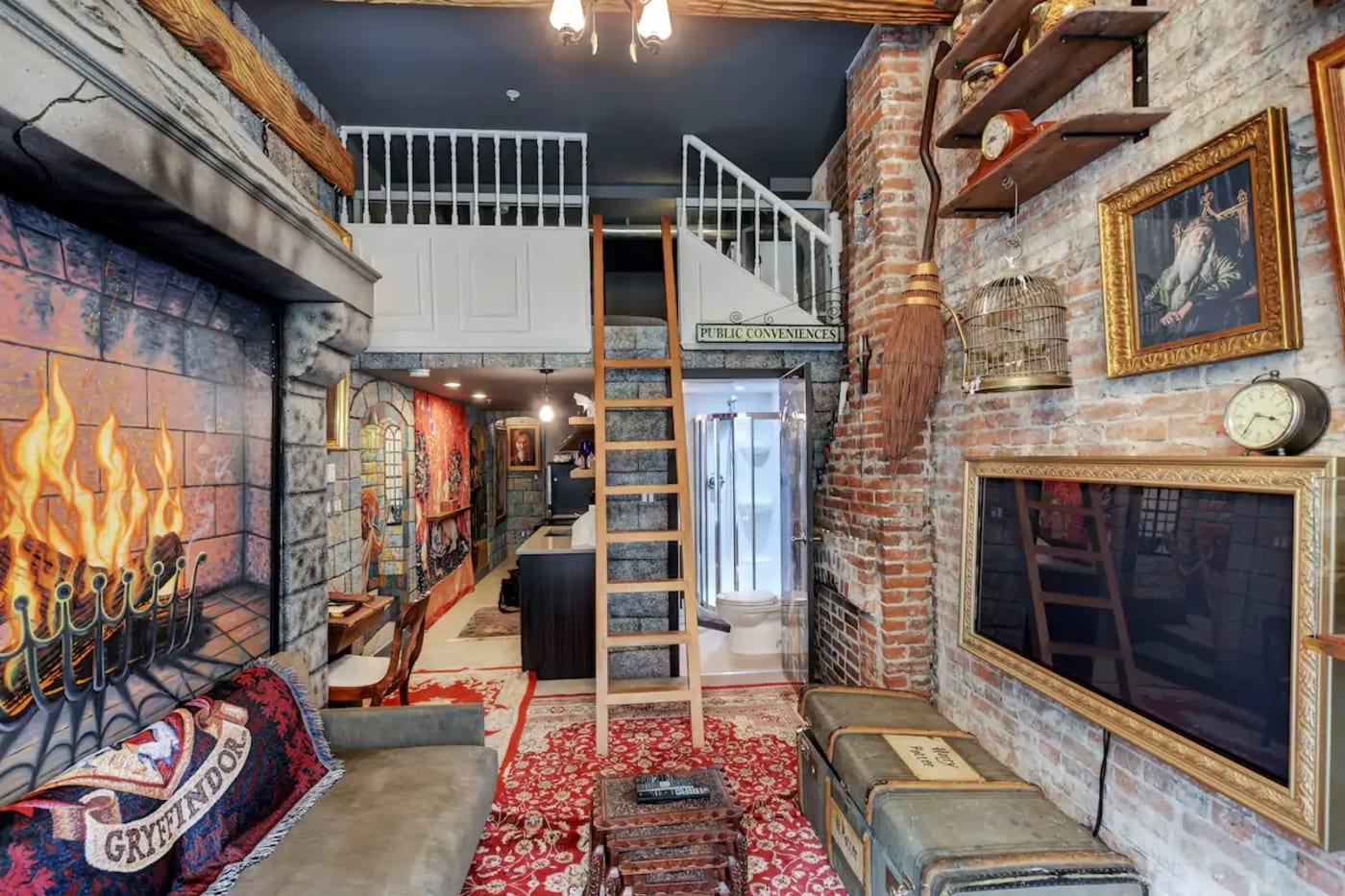 4 guests
Harry Potter theme
If you and your group of friends just love Harry Potter, you simply have to stay here; it's the closest thing you'll get to Gryffindor Common Room! Enjoy a game of wizard's chess as you look out over the street or relax in front of the faux fire. As well as all the Harry Potter props, you will actually find the necessary stuff, like a fully equipped kitchen, tea and coffee, and a TV with DVDs and Blu-Rays… bet you can't guess what films!
Top 5 Airbnb Experiences in Victoria
Now that you've seen the best Airbnbs in Victoria, let's plan out what to do when you arrive. Hate to be bombarded with tour companies and deals? Go straight to the source with Airbnb Experiences.
Enabling hosts to show off their hometown or city, these tours are curated by locals and can be anything from hiking or kayaking to a cooking class in a Victorian's kitchen.
Here are five of the best Airbnb Experiences in Victoria that introduce you to this fascinating metropolis and its stunning surroundings. Let's go!
This small group tour will see you hike up Mount Finlayson, a 419-metre mountain about 14km northwest of the city. Though the hike is steep, it only takes 1.5 hours, and because you're in such a small group, you can stop whenever you like. As well as the adrenaline rush of conquering a mountain peak, you'll spot waterfalls and an abandoned train bridge on the way – great for photographers.
Ideal if you're travelling with a partner, this hike will allow you to discover some of the best beaches on Vancouver Island's west coast. Get views over into Washington State from the Juan de Fuca Trail or simply sit back and enjoy the sound of the waves crashing into the shore as you enjoy your lunch. Travelling with a dog? You're welcome to bring them too!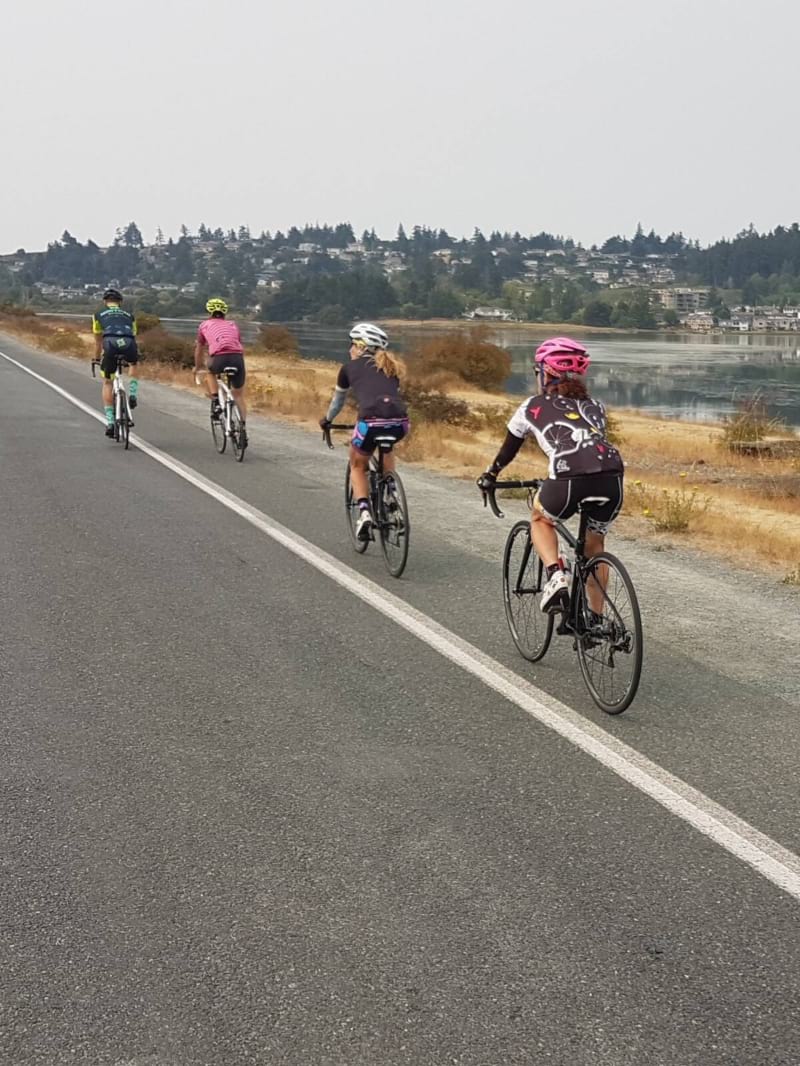 When you rent a bike, there's always the risk that you'll get some rental bicycle that isn't up to much. Not here, though – a state of the art Colnago bike is just what you need to get out onto the roads in BC. Starting and ending in the Market Square, your guide can tailor your trip to what you and your small group want to see – a great way to keep up a fitness or exercise regime while on vacation!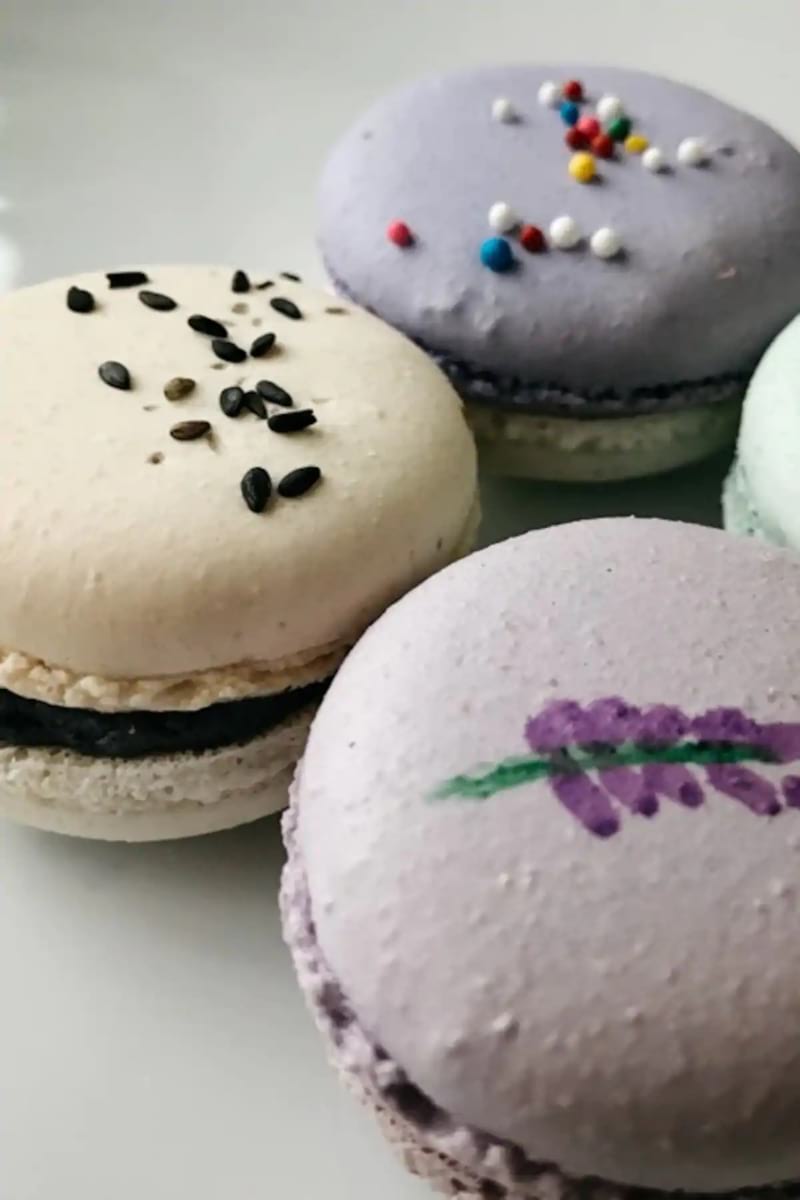 While Victoria is known for the best fish and chips in Canada, that's not all. Starting at the Victoria Public Market, you'll stop off at some of the coolest foodie hotspots in town – and yes, of course you'll be tasting the produce. Victoria's food scene is truly global, so expect Polish pierogi, French macarons, and Italian baked goods!
The best way to get to hidden beaches is on a stand-up paddleboard or in a kayak. This 90-minute adventure will see you make the most of the calm, flat water and get views out across and below the water. Expect to see birds, fish, and maybe sea lions! Even if you've never paddled before, it doesn't take long to get comfortable on the boards. Who knows, you might start doing it more regularly?
Final Thoughts on Victoria Airbnbs
So, there we have it. Those are the best Airbnbs in Victoria, as well as some pretty awesome activities to do when you're there. Whether you want to stay in a penthouse overlooking the harbour, a cosy and friendly bed and breakfast, or a traditional townhouse, we've got you covered.
Still can't decide? No worries, just go for our overall best value Airbnb in Victoria – the Whimsical Heritage Loft. Not only is it great value for money in a superb location, it's got bags of character, too.
Wherever you choose to stay, we hope you have a wonderful time in British Columbia. And be sure to check your insurance options with World Nomads before travelling!
And don't forget to take out Travel Insurance for your trip! I have been using World Nomads for some time now and made a few claims over the years. They're easy to use, professional and relatively affordable. They may also let you buy or extend a policy once you've started your trip and are already abroad which is super handy.
If there's one insurance company I trust, it's World Nomads. To find out why I use World Nomads, check out my World Nomads Insurance review.
Getting an estimate from World Nomads is simple—just click the button or image below, fill out the necessary info, and you're on your way!

---
Find out how YOU can support the site.
We're a big site with a big team and this job isn't always easy. But we do it because we love it – we love providing epic and free content. We love the knowledge that our content keeps you adventuring. We don't ask for money, but if you'd like to find out how you can help the site in more organic ways, click the button below.
Thank you for your support 🙂
And for transparency's sake, please know that some of the links in our content are affiliate links. That means that if you book your accommodation, buy your gear, or sort your insurance through our link, we earn a small commission (at no extra cost to you). That said, we only link to the gear we trust and never recommend services we don't believe are up to scratch. Again, thank you!