Victoria may be one of Australia's smallest states – but it's brimming with all kinds of breathtaking sights to satisfy your wanderlust. Melbourne, the capital of Victoria, alone easily trumps all lists on the most liveable (not to mention the coolest) cities down under.
But, only a short drive outside Melbourne, and you've got a myriad of national parks, dope surfing, and quirky Gold Rush cities.
We say drive because road trips in Victoria are the best way to make the most of what this beautiful state has to offer. It gives you the freedom to really take your time and find those hidden sweet-spots where the public buses don't go.
But when it comes to planning a road trip in Victoria – where should you  start?
Well, here! We've mapped out three adventurous itineraries for you to choose  from – all  you have to worry about  is what day you hit the road.
Let's dive in and get those bags packed.

Do You Want to Travel FOREVER??
Pop your email in below to get a FREE copy of 'How to Travel the World on $10 a Day!'.
Why Roadtrip in Victoria?
Not sure a road trip is the best way to get around? Well, here are five reasons why we think it's a win-win.
Year-round appeal: It's true you'll want your layers during the winter months. But even with a frosty nip in the air, road trips in Victoria are always a recipe for adventure. What's not to love about snow capped mountains and diminished crowds?
The Great Ocean Road: Victoria is home to one of the world's most talked-about road trips. This is a chance to see those famous limestone towers for yourself and experience some of the best surf in the world.
Awesome national parks: While the Australian coast gets (and deserves) a lot of the glory, there is plenty of scope for avid hikers and rainforest lovers in Victoria.
Remarkable wildlife: From koalas to penguins, Victoria is home to some of Australia's most exotic and endangered wildlife.
Tasty tucker: While on the road, you can enjoy simple fish 'n' chips on the beach or treat yourself to some of the world's best oysters. Victoria is also home to some world-class wine cellars for you to pop your head into.
Without further ado, here are our Victoria road trip ideas in detail. Starting with:
From: Melbourne
To: Melbourne
Total Distance: 1,060 km
Days: 8
Top road trip stops: Grampian National Park, Mount Gambier, 12 Apostles, Great Otway National Park, Apollo Bay, Torquay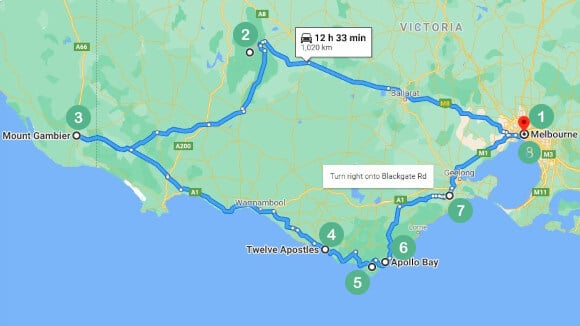 The Great Ocean Road is arguably one of the best road trips in Australia. But why stop there? Our ultimate itinerary takes you beyond the magnificent Limestone Coast. This epic 8-day road trip also includes lush national parks, a deluxe spa town, and cities built upon ancient volcanoes.
Road trip highlights:
Cruise the legendary 243 kilometres that comprise the Great Ocean Road
Catch a wave in Torquay – Australia's Surf Capital
Marvel at the volcanic landscape of Mount Gambier
Explore the fern gullies and waterfalls of the Grampian National Park
Sight whales off Logan's Beach (May – October) and look for wild koalas in the gum trees at Kennett River
Day 1: Melbourne to Daylesford (2 hours)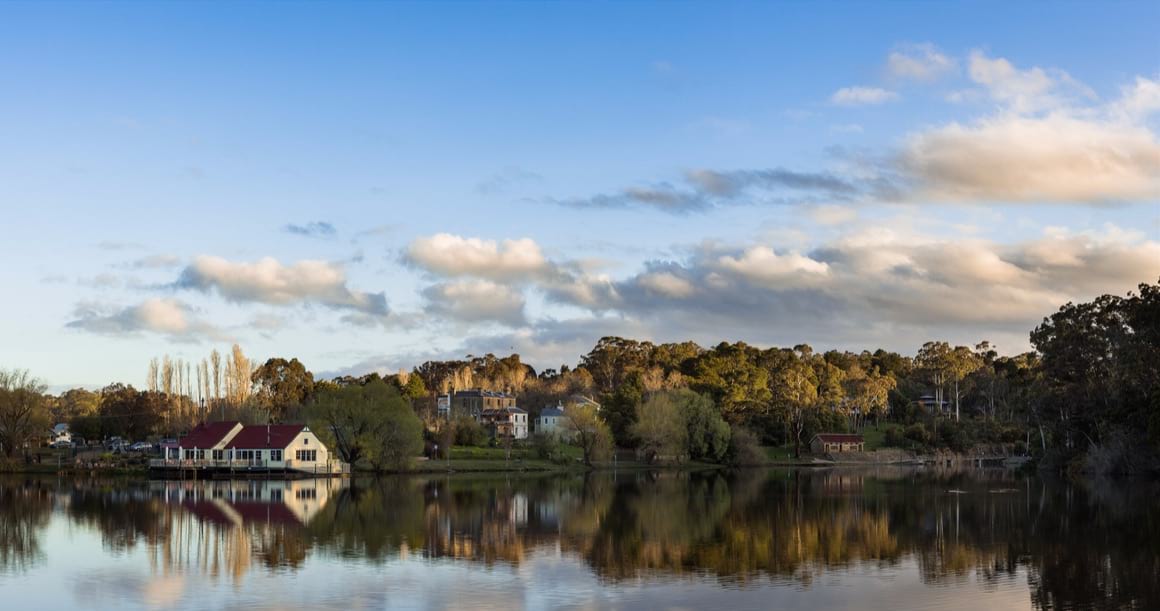 Skip the freeway and take the backroads that skirt the eastern rim of the Lerderderg State Park. Stop off at Mount Macedon – a town overflowing with gardens built beneath a dormant volcano. Once in Daylesford, soak up the natural mineral waters – it's a spa town after all.
The Hepburn Springs Bathhouse is the place to go if you're feeling flush. The Hepburn Springs Bathhouse is the place to go if you're feeling flush. On the other hand, the Peninsula Hot Springs cater to budget backpackers looking to get hot and muddy. Accommodation in town isn't cheap, but you can head up the road to Hepburn Springs and score yourself a free camping spot.
Day 2-3: Daylesford to Halls Gap (2 hours)
Now that you're feeling zen, you can tackle the sights of one of Victoria's treasures – the Grampians. On the way, why not take a detour via 1852. The town of Sovereign Hill is basically a living museum – it's not changed a bit since the Gold Rush.
Once at Halls Gap you'll find hiking trails, Aboriginal rock art, the MacKenzie Falls, and natural waterslides to explore. Spend a couple of nights in Halls Gap to make the most of the park.
Day 4: Halls Gap to Mount Gambier (2 hours 30 minutes)
We'll leave the highlands behind and travel to one of South Australia's best-kept secrets today: the Blue Lake of Mount Gambier. There are several places to stop for a short hike along the way, including the Mount Abrupt trail. Mount Gambier is a small town just over the state border that is built on the slopes of a volcano.
Once you've arrived, stroll around the cobalt blue crater lake, dive into a cenote, and wander the sunken garden of the Umpherston Sinkhole. Divers can book a magical underwater tour of the Engelbrecht Caves, while hikers can trek around the Blue Lake.
Day 5: Mount Gambier to Princetown (3 hours)
And back into Victoria! Stop at Discovery Bay to kayak, or Cape Bridgewater to spot the furry colony on the 'Seal Walk'. You can even do a cage dive if you want to get even closer.
Once you leave the cute seaside town of Port Fairy, you'll officially enter the Great Ocean Road leg of the journey, and those legendary limestone shapes will start to rise from the roaring surf.
There'll be plenty of time to stop at the various lookouts for photos before catching the sunset over the 12 Apostles.
Best stops: Discovery Bay Coastal Park, Cape Bridgewater, Port Fairy, Warrnambool, London Bridge, The Arch, The Grotto,12 Apostles
Where to eat: The Brass Compass (Bridgewater), Charlie's On East (Port Fairy), 12 Apostles Inn (Princetown)
Where to stay: The 13th Apostle Backpackers ($), Princetown Recreation Reserve ($), Twelve Apostles Motel Comfort Queen Bedroom ($$)
Day 6: Princetown to Apollo Bay (1 hour)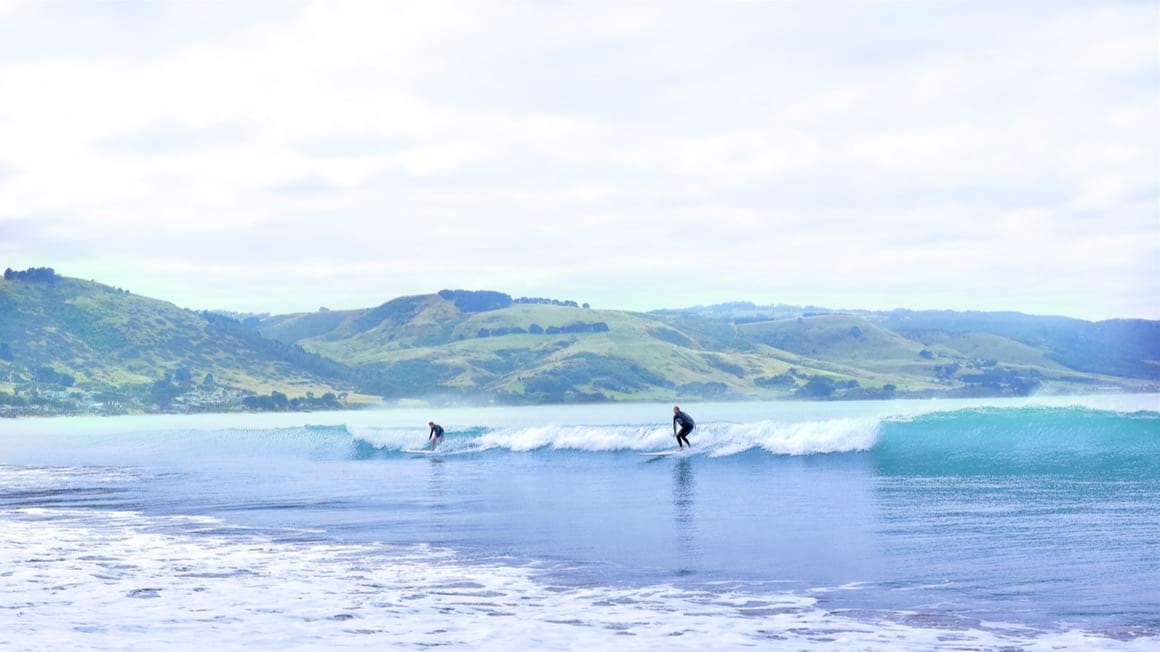 No Victorian road trip is complete without catching the sunrise. So, get up early and catch first light over the 12 Apostles.
You only have one hour behind the wheel today, which is for the best as you have your second national park on the agenda. The rugged hinterland of Great Otway is one of Australia's best national parks, and is excellent for hiking and chasing waterfalls. Ride the local zipline for a quick adrenaline rush and view of the canopy.
The welcoming Apollo Bay will be home for tonight. Nestled in the foothills of the park you can swim, surf, and kayak alongside the fur seals.
Day 7: Apollo Bay to Torquay (1 hour 30 minutes)
Take a break at Kennett River for a chance to spot wild koalas in the gum trees, and stop off at the lively beach resort of Lorne for lunch. We hope you like waterfalls – there are ten around the town to explore.
Park overnight up at Aireys Beach for a spot of surfing at Fairhaven Beach, or snorkelling at Step Beach. Tonight, let your salty hair down in Australia's Surf Capital – one of the coolest places to stay on the Great Ocean Road.
Day 8: Torquay to Melbourne (1 hour 30 minutes)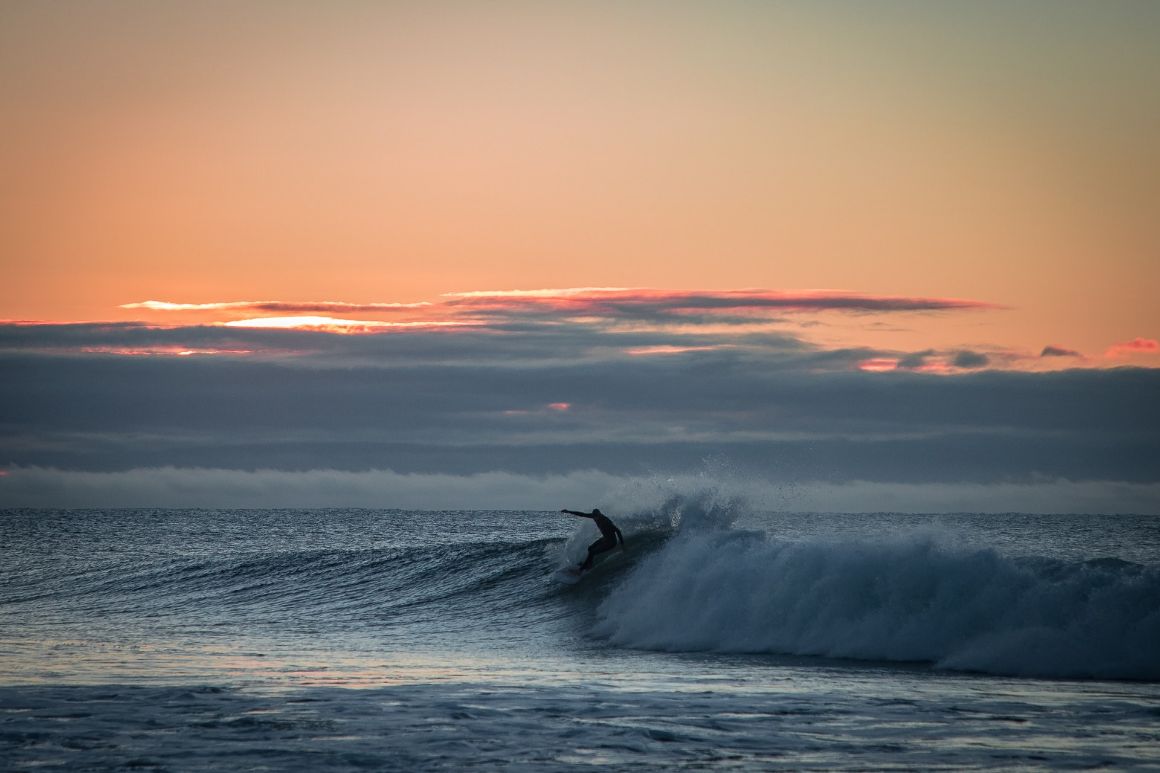 The final stretch of the road trip is short, so take the morning to soak up the atmosphere of Torquay. The best waves are at Bells Beach, while Front Beach is less daunting for surf newbies.
On the approach to Melbourne, stretch your legs along the Geelong waterfront or explore the botanical gardens.
Further up the coastal road we'll come to Melbourne's first port settlement – Williamstown. Stop to ogle the tall ships, dip into the maritime heritage, and wander the gardens before heading back to one of Melbourne's best hostels for the night.
Is This the Best Daypack EVER???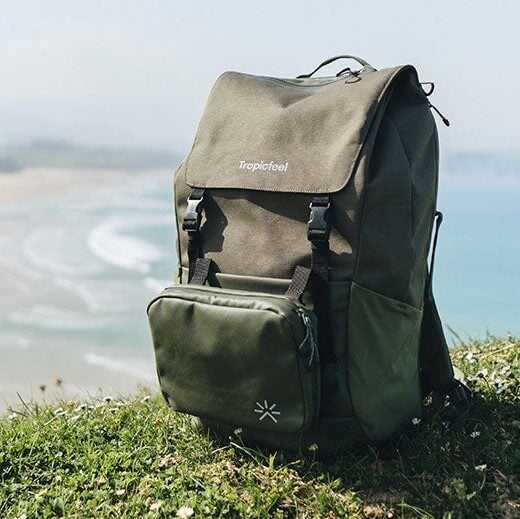 We've tested countlessday packs over the years, but the Tropicfeel Shell is something else. There are a lot of flashy backpacks on the market but not many come with a detachable wardrobe.
Weatherproof, eco-friendly, durable, feature-loaded, and comfy as fudge brownies: these are just some of the words people might use to describe the Tropicfeel Shell. But we just call it bloody beautiful.
Learn More • View on Tropicfeel
Small Pack Problems? 😉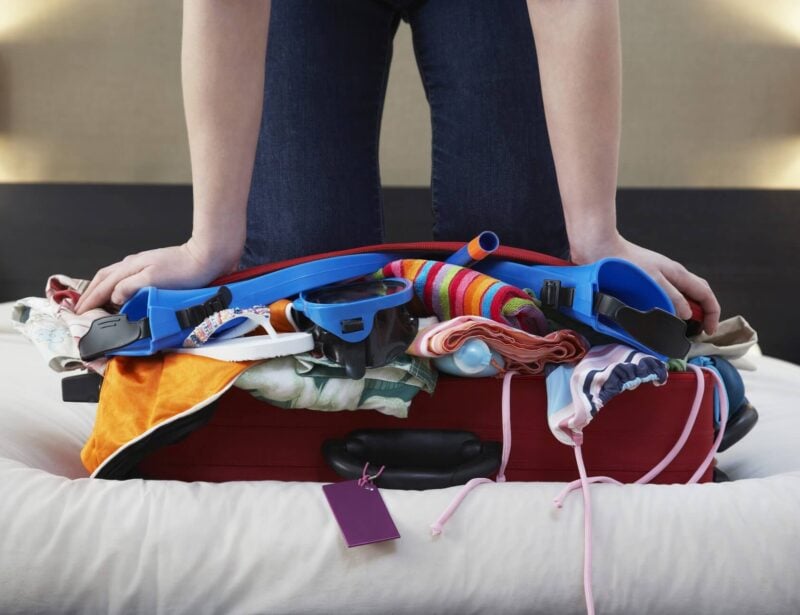 My missus travels with all her clothes in ziplock bags: don't be like my missus. UP YOUR PACKING GAME!
Packing cubes for the globetrotters and compression sacks for the real adventurers – these babies are a traveller's best kept secret. They organise yo' packing and minimise its volume too so you can pack MORE.
Or, y'know… you can stick to ziplock bags.
View Our Fave Cubes
Or Check Out the Sacks!
From: Wangaratta
To: Melbourne
Total Distance: 960 km
Days: 5
Top road trip stops: Mount Buffalo National Park, Ninety Mile Beach, Wilsons Promontory, Phillip Island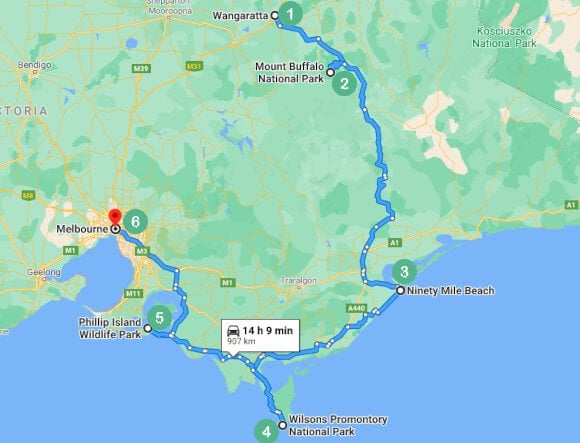 The Great Alpine Road is another of Victoria's ultimate road trip destinations. Our route takes you beyond the magnificent mountains, down along Victoria's sand-swept eastern coast.
If you travel the Great Alpine Road during the winter (June-October), don't forget snow chains for your vehicle and keep an eye on the forecast! The weather in Victoria can be quite unpredictable.
Road trip highlights:
Drive the 308 km that form the Great Alpine Road
Surf giant dunes and listen to sand that squeaks in Wilsons Promontory
Explore the best of the Australian Alps on foot, bike or horseback
Hit the slopes at the Hotham Alpine – snow permitting!
See the penguins on Phillip Island
*If you start this trip in Melbourne, factor in 2.5-3 hours driving time to our official starting place of Wangaratta.
Day 1: Wangaratta to Bright (2-3 hours)
We'll follow the Great Alpine Road south out of Wangaratta. A worthy detour is the town of Beechworth, rich in Gold Rush history and wine culture. Beechworth Honey is a must-go for honey lovers – so feel free to pick up a jar or two.
After passing through a cluster of wineries, your next calling point is the Mount Buffalo National Park. Home to waterfalls, fascinating rock formations and unforgettable views across the Australian Alps, this is perfect for hiking, biking, or horseback riding.
Choose to camp here overnight or head to the leafy alpine town of Bright and check into a guest house.
Day 2: Bright to Omeo (2-3 hours)
After yesterday's flat drive through farmland, things take a total u-turn as you tackle the stretch that gives the Great Alpine Road its reputation. The road snakes steeply up the mountains, offering beauty in every direction. Stop off at Hotham Alpine resort for skiing in winter or hiking/biking in summer.
Just before you approach Omeo, stop at the Kosciuszko Lookout. On a clear day, you can spot Mount Kosciuszko and Mount Townsend in the distance – the two highest peaks in Oz.
Best stops: Hotham Ski Resort, Danny's Lookout, Kosciuszko Lookout
Where to eat: Bella's Cafe (Harrietville), Mountain Kitchen (Dinner Plain), Omeo's High Plain Bakery
Where to stay: Colonial Motel ($$), Omeo Motel ($$)
Day 3: Omeo to Ninety Mile Beach (3 hours)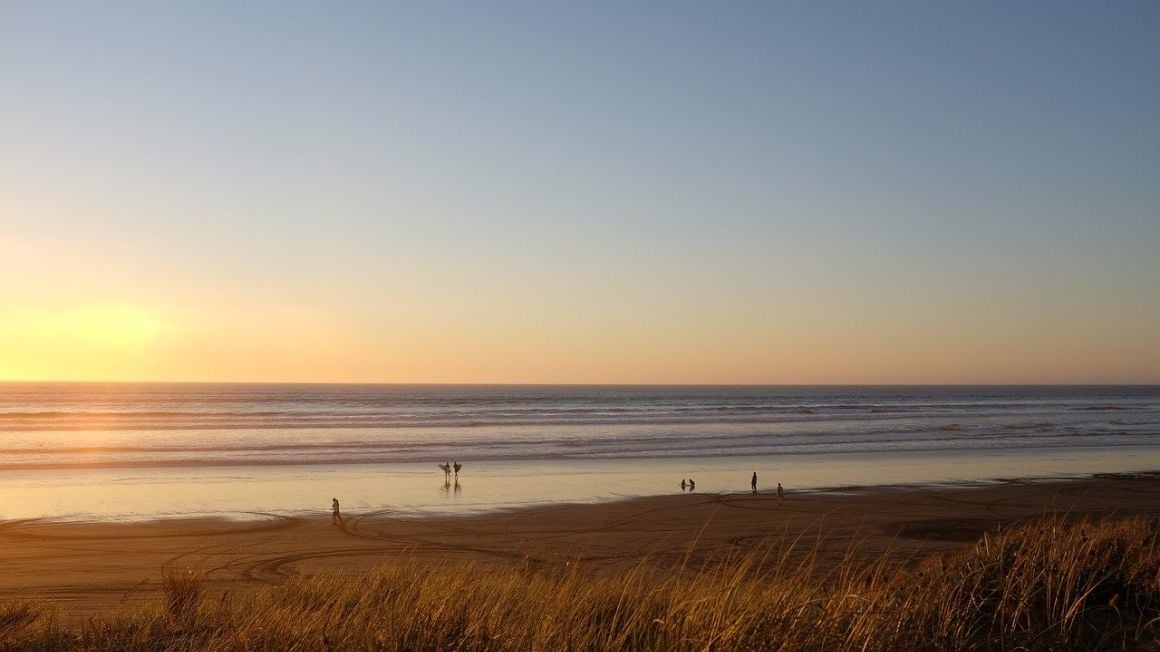 Spend the morning pottering around the historic town before heading south, completing the Great Alpine Road in Bairnsdale. This is a great place to stop off to learn about the indigenous heritage of the Gunaikurnai people of Gippsland. But the road trip doesn't end here.
Continue southwest and join the coast at Ninety Mile Beach. As one of the most unspoilt beaches in the country, the beach offers 90 golden miles of glorious swimming and cycling opportunities. Keep your eyes peeled for a dolphin or breaching whale.
Day 4: Ninety Mile Beach to Wilsons Promontory (2 hours 30 minutes)
Follow the coast,stopping along the way to look out at the islands sitting offshore. Today's destination is mainland Australia's southernmost tip: Wilson's Promontory.
Wilsons Prom is loaded with fun things to do, including snorkelling and surfing. If you don't fancy getting wet, skip the waves and surf the giant sand dunes instead.
Head down to Squeaky Beach to experience sand that squeaks as you sink your toes into it. Alternatively, there's a short but tasking hike to reach the summit of Mount Oberon.
Day 5: Wilsons Promontory to Melbourne (3 hours 30 minutes)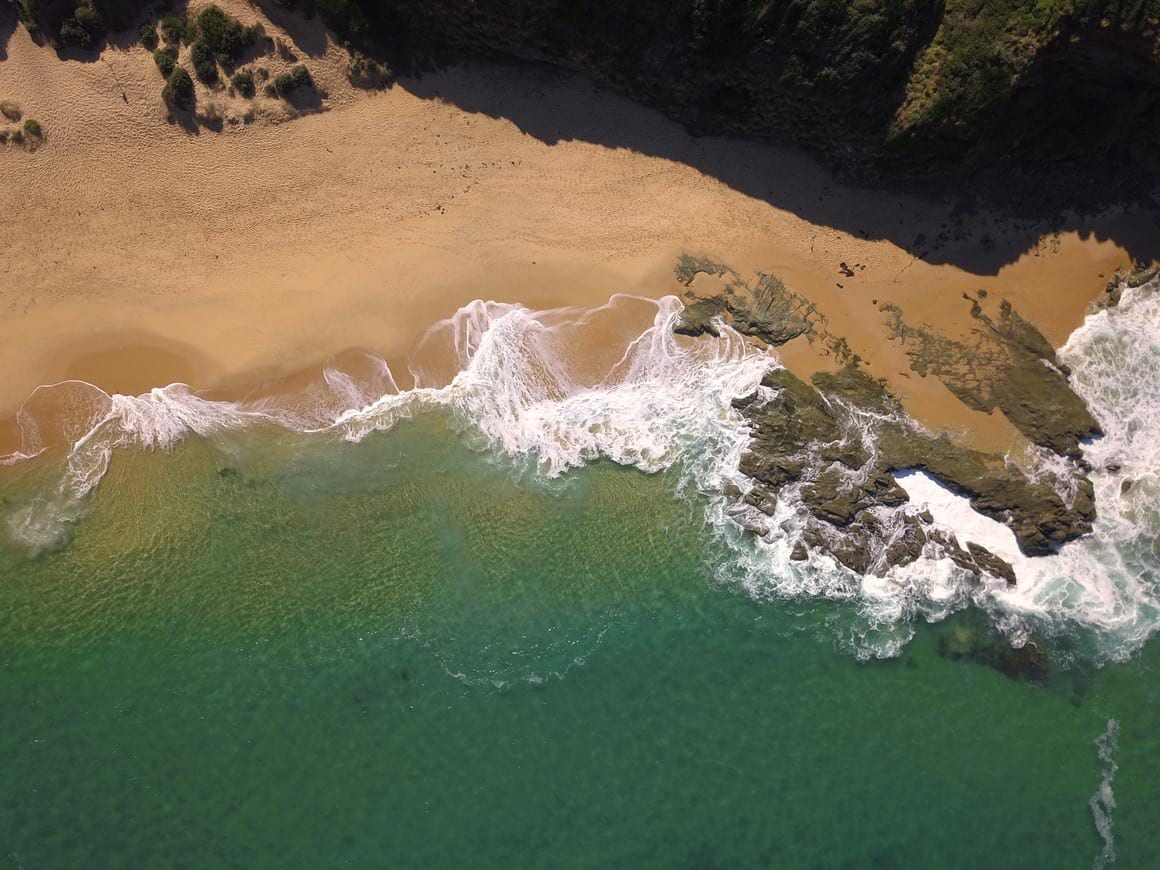 All good things must come to an end. Hug the coast all the way back to Melbourne, and stop off at coastal towns and bays along the way. The Bunurong Marine National Park is accessible from Cape Paterson and offers snorkelling with huge fish. Note that the water here is only suitable for strong swimmers.
Phillip Island is one of Melbourne's ultimate must-sees; take a detour on the way back and watch the penguins on their sunset waddle! You can opt to stay on the island for a night, or drive the two hours back to Melbourne to complete the trip.
From: Melbourne
To: Melbourne
Total Distance: 655 km
Days: 4
Top road trip stops: Daylesford, Bendigo, Mount Buller, Yarra Ranges, Dandenong Ranges
If you're looking for a short road trip to fill a long weekend in Melbourne, our short 'n' sweet inland loop is perfect. This one explores historic towns, fern glades, and fairytale forests sprinkled around Melbourne. This Victoria road trip itinerary also features mineral springs and wineries – feel free to treat yo' selves people.
Road trip highlights:
Pamper yourself in the spa town of Daylesford
Explore the Gold Rush era with Goldfields towns
Breathe in the Alpine National Park from the slopes of Mount Buller – plan your road trip in Victoria during winter so you can ski
Sip Chardonnay and sparkling wine in the Yarra Valley Wine Region
Take to the sky with a hot air balloon ride over the Yarra and Dandenong Ranges
Day 1: Melbourne to Daylesford (3 hours)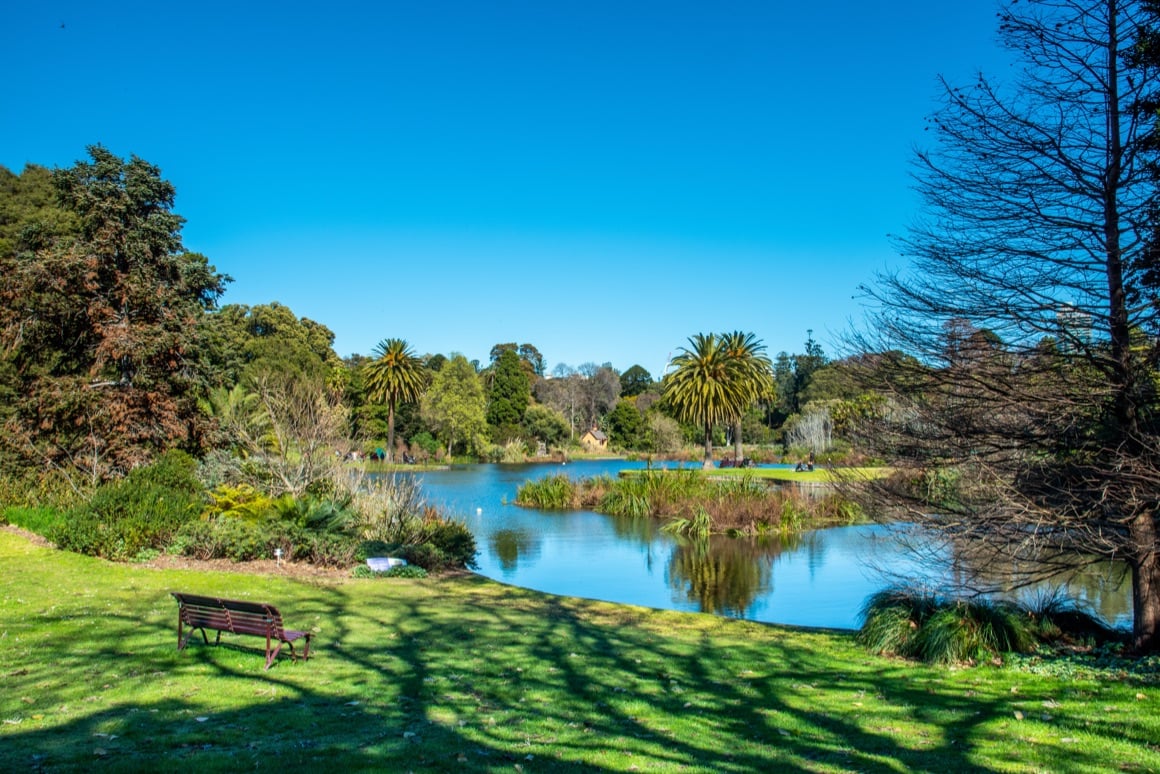 Head out of Melbourne to Ballarat and wander around the botanical gardens and the lake of this historic town. There's also the Ballarat Wildlife Park – home to Tasmanian Devils and other Aussie wildlife. Down the road is Sovereign Hill, where you'll often see people kitted out in 19th-century costumes and horse drawn carriages.
Once at your final destination, Daylesford, you can detox in the mineral waters of the spa town. The Peninsula Hot Springs isn't exactly cheap, but it is one of the more wallet-friendly options in town.
Day 2: Daylesford to Mansfield (3 hours)
Today, you'll cruise through Victoria's Goldfields region. Pretty Castlemaine and colourful Bendigo have plenty of galleries, gardens, and eateries to explore. Take a subterranean voyage 225 metres below ground at Bendigo to experience a glimpse into an ancient gold mine. If that's not for you, check out the retro tramway instead.
Get a burst of adrenaline at Bonnie Doon with some horse trekking or dirt biking. Mansfield is the gateway to exploring the Alpine National Park. In winter, Mount Buller is a powdery wonderland for skiers. Come summer, it transforms into a playground for hikers and mountain bikers.
Best stops: Castlemaine, Bendigo, Bonnie Doon, Mount Buller
Where to eat: Fig Cafe (Castlemaine), Ex Lion Tamer (Bendigo), Mansfield Pizza
Where to stay: Delatite Hotel ($$), Studiolux ($$$)
Day 3: Mansfield to Yarra Glen (1 hour 30 minutes)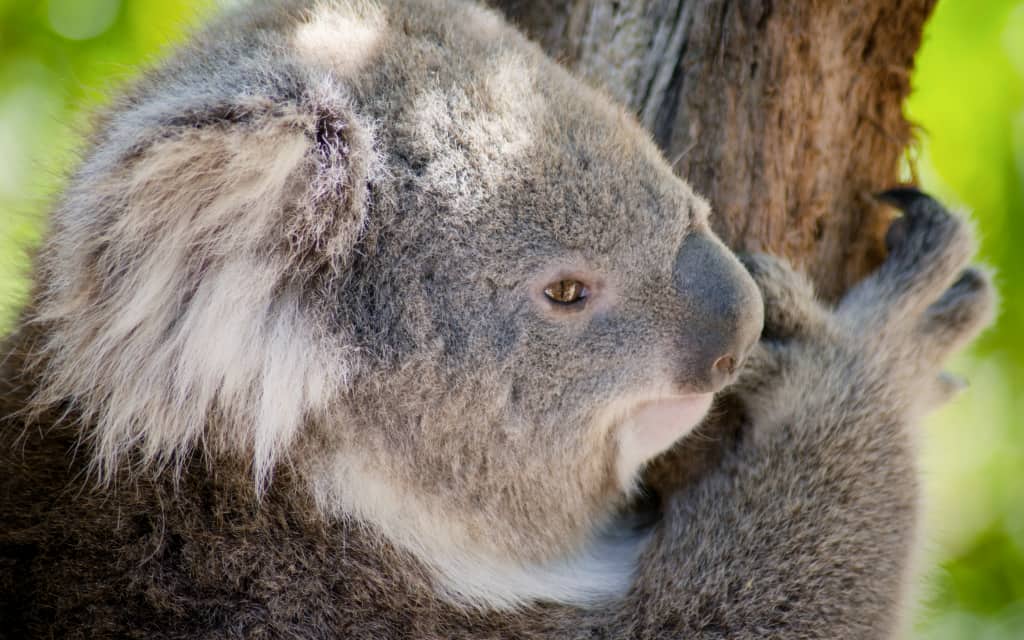 Today, you'll loop down towards the Yarra Ranges. If you like wine and/or bushwalks, then this is pretty much one of the best things you'll do while visiting Melbourne. There's a huge variety of bushwalks to choose from to experience the natural beauty of the wine region.
Meanwhile, the Healesville Animal Sanctuary is home to some of Australia's most endangered animals. You'll stay in Yarra Glen, which is handily located close to a scattering of the vineyards.
Day 4: Yarra Glen to Melbourne (2 hours)
Head back towards Melbourne via the Dandenong Ranges, an extension of the Yarra Valley. There's so much to do here, it's become one of our best places to stay in Melbourne.
Why not start the day with a hot air balloon ride over the verdant plains? The Currawong Bush Park is a great place to stop and look for native wildlife, or try out the zipline at the Glen Harrow.
Driving in Victoria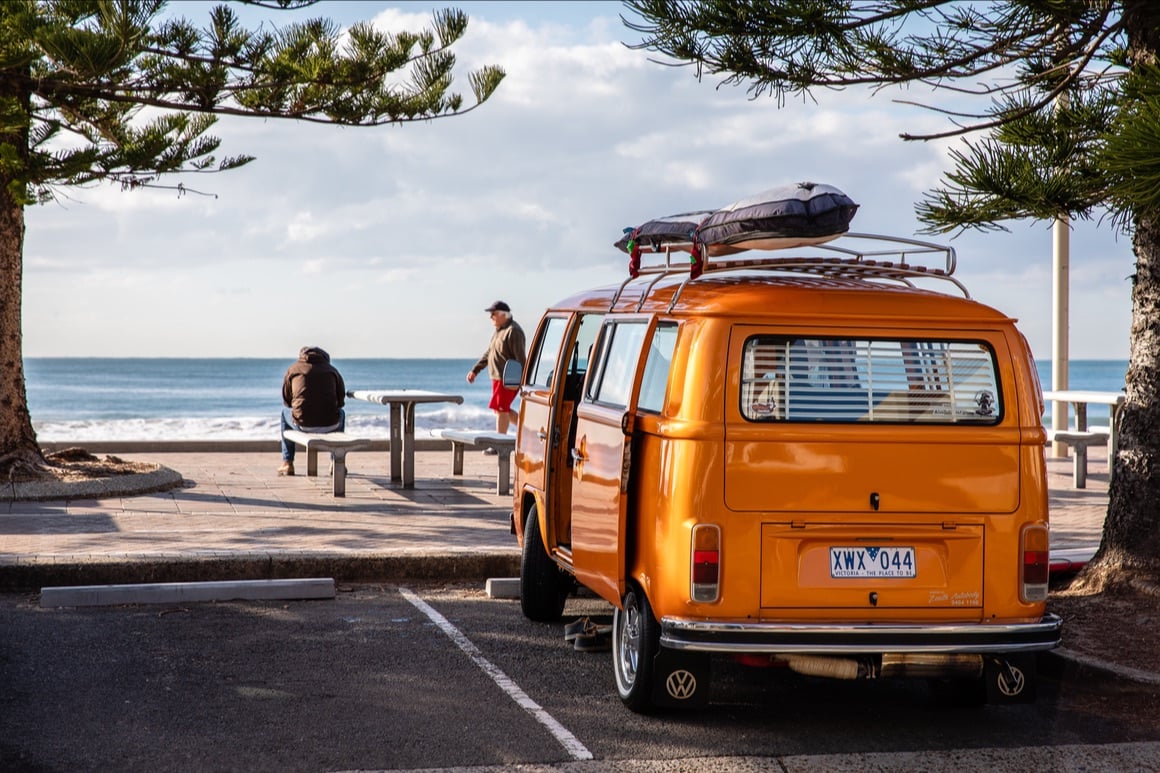 Roads in Victoria are a siren's call for road trippers – they're sealed and flanked with splendid panoramas. If you plan on driving during winter, take extra precautions as the highlands are subject to snow and ice. Yup, even the land down under experiences the odd snowfall.
Renting a Vehicle in Victoria
Renting a car or camper in Victoria is a doddle, and a popular choice with backpackers and holidaymakers. You'll find it easier to rent a vehicle in Melbourne, but it's possible in smaller cities too.
You'll need a valid driver's licence from your original country to rent a vehicle in Victoria (You'll also need photo ID if your licence doesn't have a photocard). If your license isn't written in English you'll also need an International Driving Permit (IDP).
When you pick up your wheels, the agency may add a few fees to your agreement. Make sure you factor these costs in when planning a road trip in Victoria:
Age surcharge. You need to be at least 21 to rent a vehicle in Australia, but most companies charge a surcharge for renters under 25.
Additional driver(s). If you intend to share the driving, your rental company will add additional drivers to your paperwork. Don't lie to save the cash – it's all for insurance purposes!
Deposit. You will need to pay a deposit (bond) that covers the vehicle against any unexpected damage. In Victoria, a typical deposit ranges from $200 – $1000. Usually, you must pay by credit card rather than a debit card.
Don't have a car? Well, we're going to have to sort that out! Use rentalcars.com to find the best deals on the web and save heaps of cash!
Road rules in Victoria
One thing to bear in mind as you plan your road trip in Victoria is the local road rules. Every state/territory in Australia has its own laws in place, and the police don't take kindly to reckless driving.
Incidentally, Victoria was the very first place in the world to legislate seatbelts. Now, buckle up and familiarise yourself with a few other handy rules.
Always park in the direction of traffic. That means the nose of your car should face the direction of travel. There's a penalty of up to AU$165 if you park the other way.
Think before you honk. Australia has a nationwide ban on needless honking, so only do it when it's deemed necessary.
Don't pick up any hitchhikers in Victoria. It's illegal (weird, we know) and warrants a $30 fine.
Don't forget to lock up and roll up the windows when you're away from your rental. It's a road rule, but it also keeps out any curious wildlife.
Don't drive too slow! Aussies are extremely laid back, but they don't mess around. If you want to take in a view, just pull up and have a few minutes break!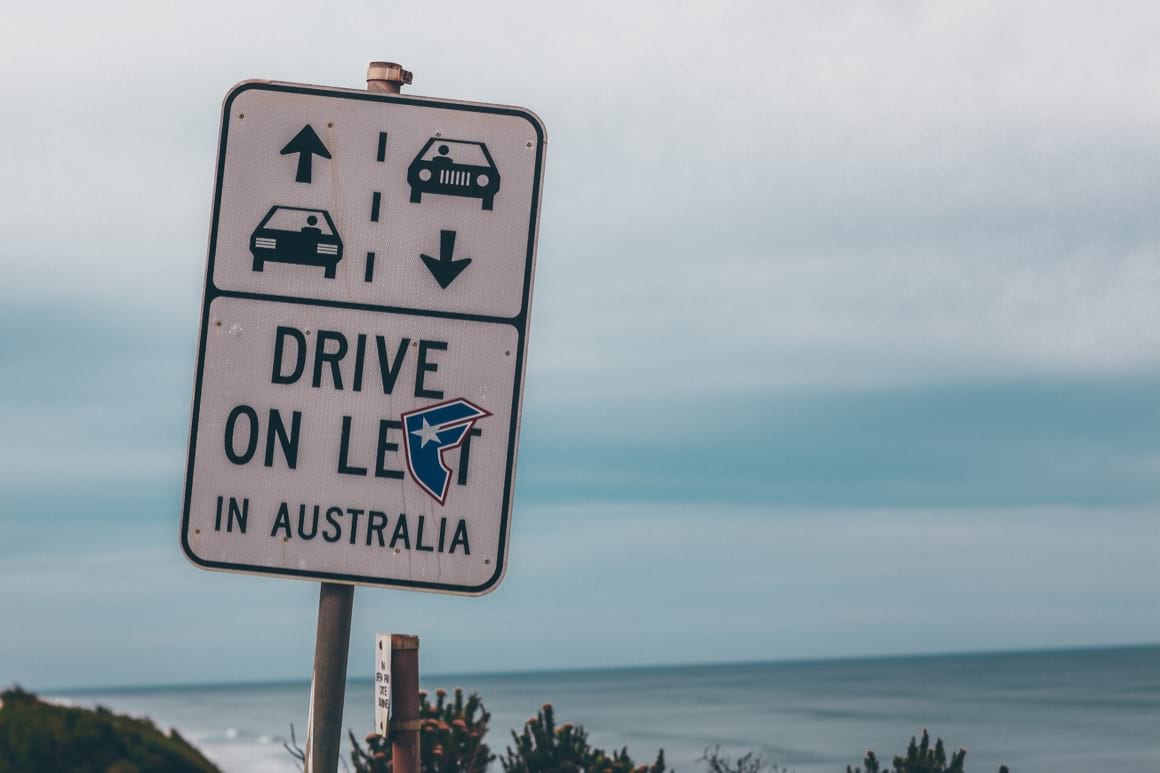 Okay, that's enough of the rules – it's time to start your adventure. We've compiled the three best road trips in Victoria for you to choose from. Ready?
Insurance in Victoria
Drivers in Australia must have Compulsory Third Party (CTP) insurance. This is a personal injury insurance policy usually included in the rental agreement by default. You might hear it referred to as 'Green Slip insurance'.
Your rental rep will give you a quote, but there's no harm in researching your options. Consult a third party, such as RentalCover.com who offer transparent, backpacker-friendly policies. Their no-frills, flat fee insurance policies usually include things like Personal Accident Insurance and Roadside Assistance.
In addition, your rental desk will probably try to flog you the likes of an 'Excess Waiver', 'Damage Liability Waiver' or 'Reduction Liability Waiver'. This is a fee that brings the remaining excess on your rental to zero. Prices vary but it usually comes in around $20 – $60 per day on top of your rental fee.
We're sure you'd rather spend your dollars on something much more interesting. That's why we suggest you do your research before travelling Australia, and use an independent insurance company when you plan your road trip in Victoria.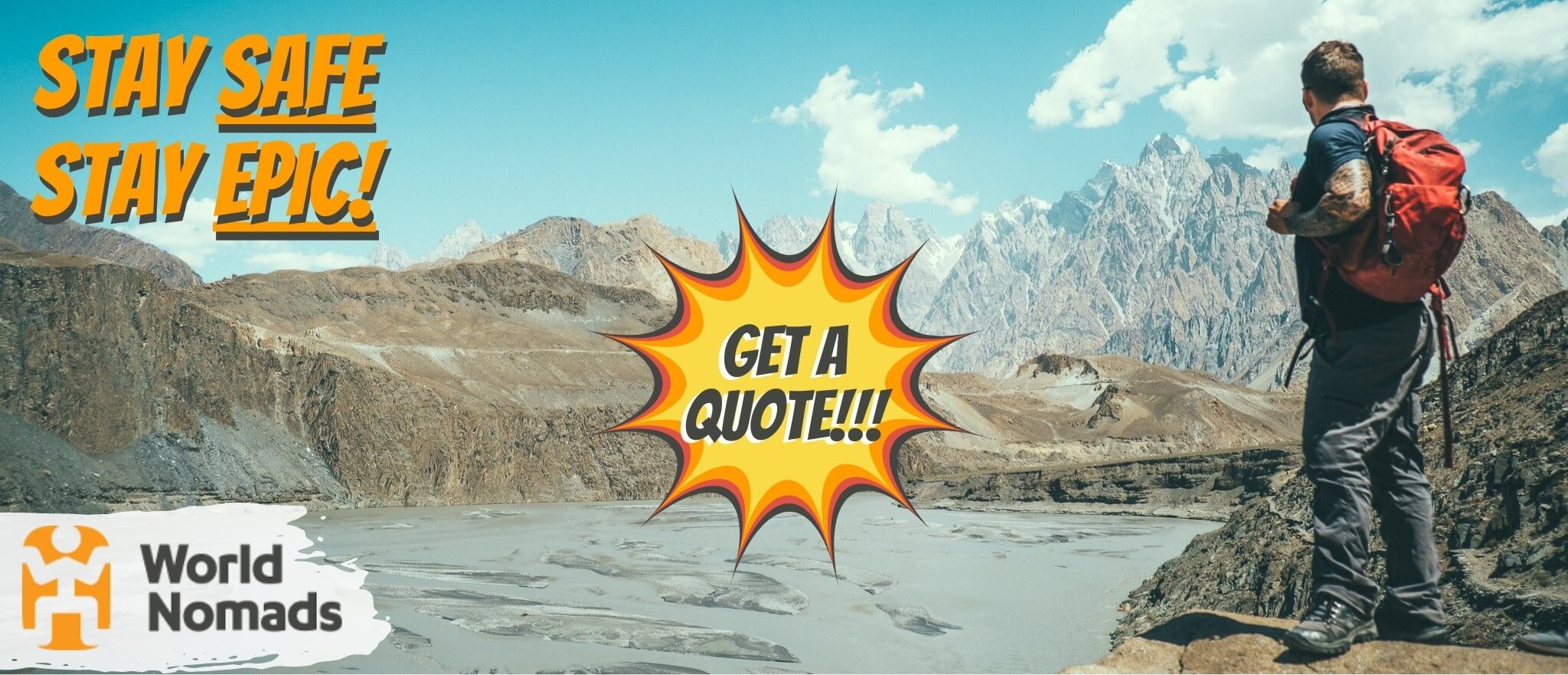 World Nomads' mission is to support and encourage travellers to explore their boundaries. They offer simple & flexible travel insurance, and safety advice to help you travel confidently.
They've been doing it since 2002 – protecting, connecting, and inspiring independent travellers just like you.
Get a quote below or read our in-depth review!
World Nomads provides travel insurance for travelers in over 100 countries. As an affiliate, we receive a fee when you get a quote from World Nomads using this link. We do not represent World Nomads. This is information only and not a recommendation to buy travel insurance.
What To Pack for a Road Trip in Victoria
Somewhere to hide your cash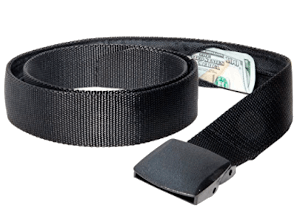 Somewhere to hide your cash
Active Roots Money Belt
This is a regular looking belt with a concealed pocket on the inside – you can hide up to twenty notes inside and wear it through airport scanners without it setting them off.
A travel water bottle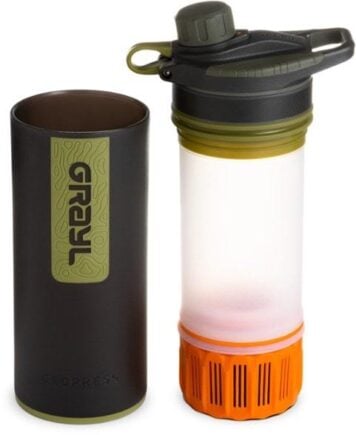 A travel water bottle
GRAYL Geopress Filtered Bottle
Having a filtered water bottle means you can drink from just about any source. The GRAYL Geopress is hands-down the most effective one we've ever used as well!
For those unexpected messes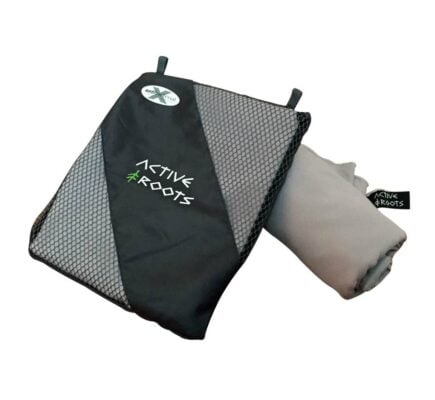 For those unexpected messes
Active Roots Microfiber Towel
Hostel towels are scummy and take forever to dry. Microfibre towels dry quickly, are compact, lightweight, and can be used as a blanket or yoga mat if need be.
When the power goes out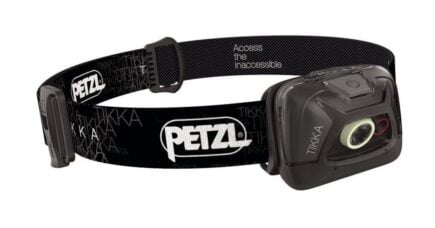 When the power goes out
Petzl Actik Core Headlamp
A decent head torch could save your life. If you want to explore caves, unlit temples, or simply find your way to the bathroom during a blackout, a headtorch is a must.
Sleep anywhere
Sleep anywhere
Active Roots Camping Hammock
Taking a tent backpacking is not always practical but hammocks are lightweight, cheap, strong, sexy (chicks dig hammocks), and allow you to pitch up for the night pretty much anywhere.
To stay a clean backpacker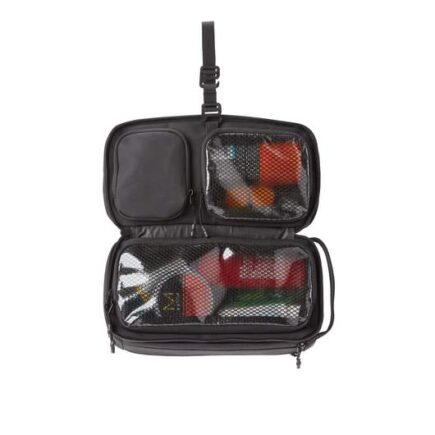 To stay a clean backpacker
Hanging Toiletry Bag
I always travel with a hanging toiletry bag as it's a super-efficient way to organize your bathroom stuff. Well worth having as it helps to have quick access to all your stuff.
Final Thoughts on the Best Road Trips in Victoria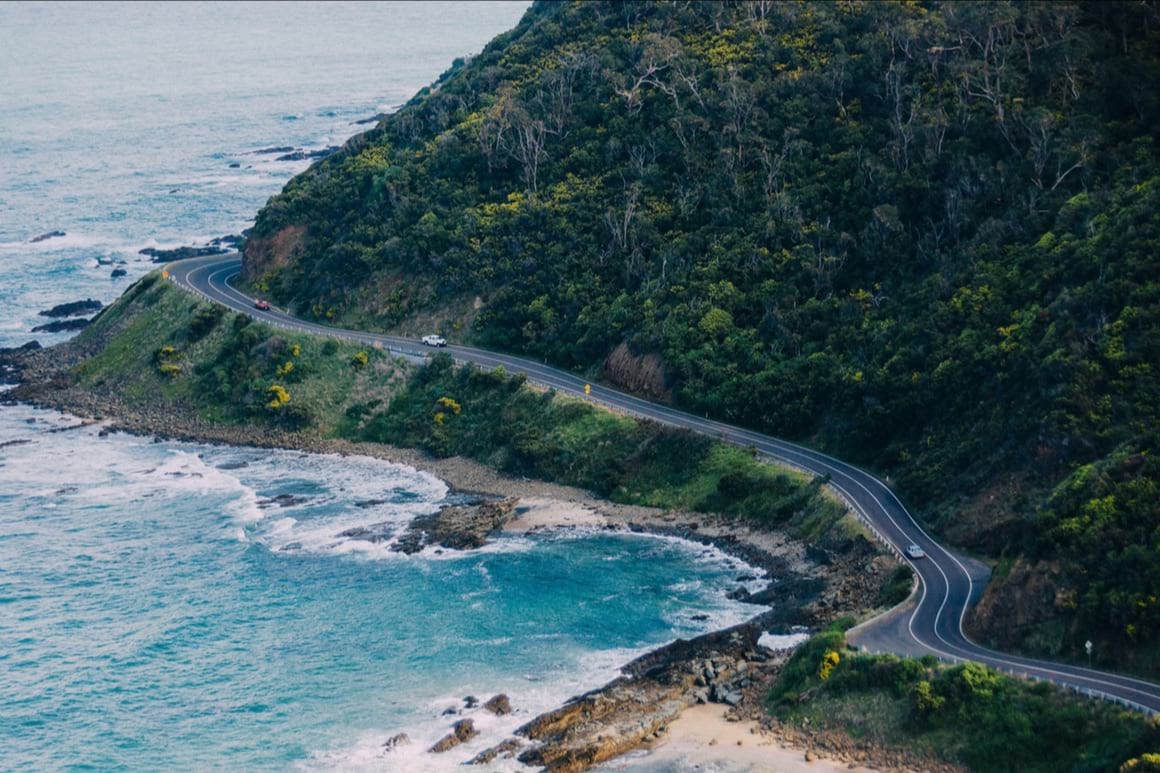 And that's it – three Victoria road trip ideas for you to take your pick from.
All three routes offer a variety of landscapes, activities, wildlife, and gastronomy to give you a well-rounded Victorian experience. Many places we've covered in our itineraries aren't accessible via public transport, so if you're looking to strike out from the crowds, here's your chance.
So, what are you waiting for? Score yourself a rental deal, grab your road trip gear and hit the road. Just don't forget the golden rule in Victoria – no hitchhikers!
---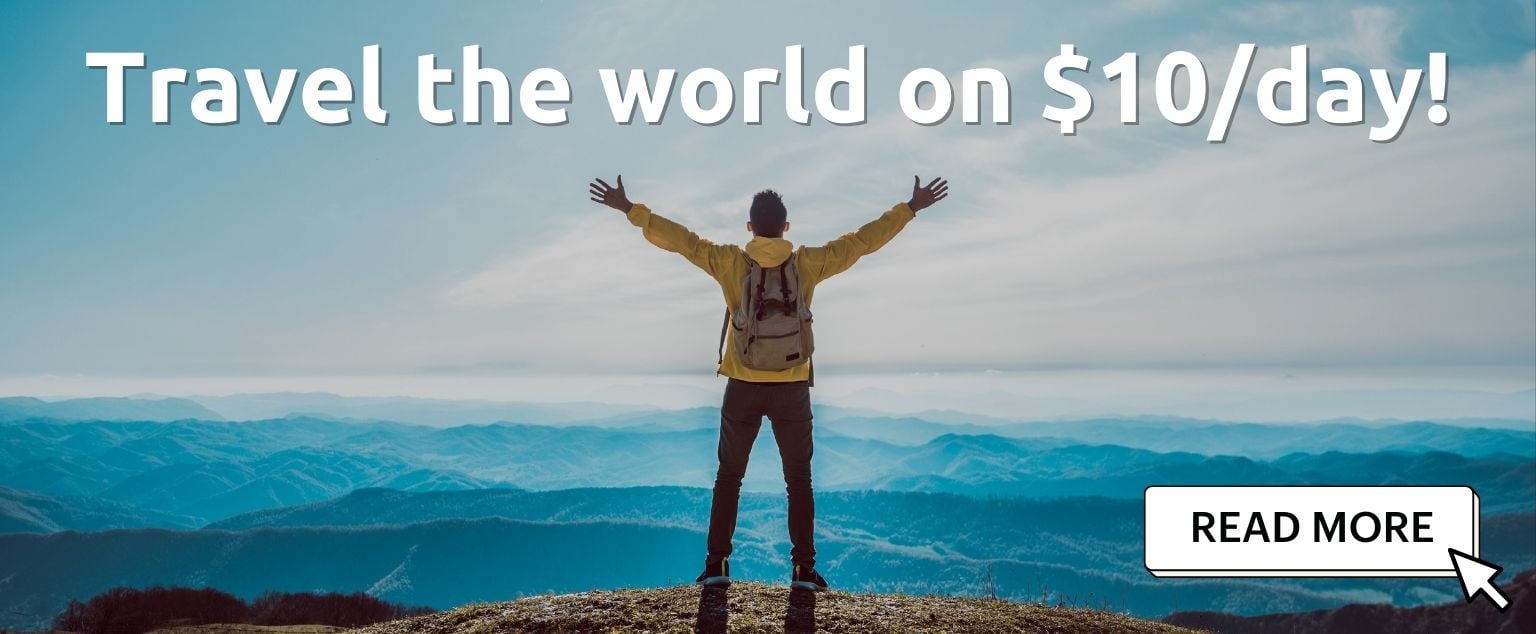 And for transparency's sake, please know that some of the links in our content are affiliate links. That means that if you book your accommodation, buy your gear, or sort your insurance through our link, we earn a small commission (at no extra cost to you). That said, we only link to the gear we trust and never recommend services we don't believe are up to scratch. Again, thank you!