When people ask the inevitable question "what was the best year of your life?" I usually respond "24": the year that I went backpacking in Australia. Good god, was that an amazing time.
The memories that I have from the 7-8 months that I spent both working and backpacking in Australia are some of the fondest that I have. It was such a positive experience for me both as a traveler and as a maturing adult. I learned how to succeed in a foreign nation and, most importantly, more about myself.
Choosing to go backpacking in Australia is a brilliant idea as there is so much to do and see. Learn how to surf on some the finest beaches in the world. Work and play in the bush or one of the many eclectic cities. See what all the fuss is about the Outback. All this and more is possible when you travel to Australia.
With this travel guide for Australia, you'll have everything that you could need to start your adventure. We'll cover topics ranging from "backpacking Australia on a budget" to "finding a backpacker job." You'll be right, ya filthy animals.
Why Go Backpacking in Australia?
Australia is a massive country with tons of things to do and see! From sailing around the Whitsundays to diving in the Great Barrier Reef to road-tripping just about anywhere, Australia's got it all. It's the goal of this Australia travel guide to help travelers get the most out of their backpacking trip by giving them plenty of ideas and tips on what to do and, especially, where to stay in Australia.
Bellow is a list of five travel itineraries for backpacking Australia. They vary from 10 days to 3 months in length and cover the majority of the must-see places in Australia.
If you're worried about finding accommodation during your travels, don't be. There are a lot of epic hostels all over Australia, offering a safe place to rest your head, great hospitality, and a chance to meet like-minded travellers and make new friends.
Australia 10-Day Backpacking Itinerary: Tassie
Duration: 10 days
Suggested route: Hobart > Freycinet > St Helens > Devenport > Cradle Mountain > Strahan > Hobar
Best time: December – March
Best place to stay: Pickled Frog (Hobart)
This is the best itinerary for tackling a Tasmanian road trip! You can travel in either direction or pick a city — other than the capital city of Tasmania, Hobart — to begin your route.
A 10-day itinerary would be ideal to travel this full circuit and make all of the best stops. Feel free to extend this journey if you would like to further explore the wonders of Tasmania. Hiking, biking, scuba diving, fishing, surfing, trekking, and learning a rich history are all activities that could require extra days in certain locations.
Australia 2-Week Backpacking Itinerary: Sydney to Adelaide
Length: 2 weeks
Suggested route: Sydney > Canberra > Melbourne > Great Ocean Road > Adelaide
Best time: October – November, March – April
Best place to stay: The Village (Melbourne)
See the best of Australia's cities on this 2-week itinerary around the southeast coast! Starting in Sydney, make your way south towards Melbourne stopping for a visit to Canberra. Once in Melbourne, be sure to explore its many laneways and soak in as much culture as possible.
Departing from Melbourne, you'll travel along the sublime Great Ocean Road and earn glimpses of the stunning 13 Apostles and the Great Otway. Spend a few days traveling on this road and then travel to Adelaide, Australia's most relegated and unknown big city.
Adelaide is a hidden gem that is just waiting to be discovered! This city is saturated with artists, amazing beaches, and tons of wine. After getting your fill here, grab a plane back to Sydney and head home.
Australia 3-Week Backpacking Itinerary: The East Coast
Suggested route: Sydney > Byron Bay > Noosa > Fraser Island > Whitsundays > Townsville > Cairns
Best time: May – November
Best place to stay: Nomads Byron Bay
This is the best itinerary for tackling an East Coast Australia road trip! You can travel in either direction, although, chances are you will fly into Sydney internationally. This is the best place to purchase a vehicle or organize your transportation (see Getting Around section).
This is a great 3-4 week itinerary for East Coast Australia, though, you can easily spend more time exploring these destinations.
Australia 4-Week Backpacking Itinerary: The West and the Red Center
Suggested route: Adelaide > Alice Springs > Darwin > Broome > Exmouth > Perth > Adelaide
Best time: April – October
Best place to stay: Beaches of Broome
Spend a month backpacking in the Outback on this backpacking route for Australia! Visit its top destinations like the mighty Uluru, the Kimberly, and the Nullarbor! Also on this itinerary are three of Australia's most remote cities: Adelaide, Darwin, and Perth. There's a little of everything on this itinerary.
Having a car for this month-long Australian itinerary would be very beneficial. Since the itinerary is a loop as well, you'll be able to rent and drop-off a car in the same place, saving you heaps of money in the process! Choose any of the aforementioned cities as a starting place for this exciting road trip.
Be sure to book your rental car before arriving to ensure you get the best price and your choice of car. Airport rentals can sometimes be the cheapest FYI. You can also purchase a RentalCover.com policy to cover your vehicle against any common damages such as tires, windscreens, theft, and more at a fraction of the price you would pay at the rental desk.
Australia 3-Month Backpacking Itinerary: The Land Down Under
Suggested route: Cairns > Brisbane > Syndey > Melbourne > Adelaide > Alice Springs > Darwin > Exmouth > Perth
Best time: September – December, May – July
Best place to stay: The Outback
See everything that Australia has to offer! Surf in Queensland, dive at the Ningaloo reef, trek in Kakadu; all of this and more is possible on this epic road trip through Australia!
This route for backpacking Australia is a pretty big, taking approximately 2-3 months to complete. It's highly recommended that you actually buy your own car in order to complete this. With your own vehicle, you'll have complete freedom and be able to accomplish this Australian itinerary in any way that you see fit.
Let's take a look at the absolute must-see places in Australia!
Backpacking the East Coast of Australia
The East Coast of Australia, consisting of the states of New South Wales and Queensland, is the most popular backpacking route in Australia! The East Coast has some of the best infrastructure, greatest thrills, and most beautiful places in Australia. No trip to Australia is complete without a stop in this amazing part of the country.
Traveling the 1500 miles from the ever-enchanting Sydney to Cairns will afford travelers lots of adventurous opportunities. You'll navigate ancient jungles, go walking in the bush, and (of course) visit some damn fine beaches. You could even charter your own yacht in several places along the East Coast. Some other highlights of backpacking the East Coast of Australia include camping on Fraser Island, sailing among the picturesque Whitsunday Islands, and diving at the Great Barrier Reef.
There is so much to do and see on the East Coast of Australia that we at Broke Backpacker had to create a separate budget backpacking travel guide to do it justice! Those interested in backpacking around this part of Australia should best refer to our informative guide where we break down heaps pertaining to New South Wales, Queensland, and everything in between. This includes the usual subjects like Accommodation, Itineraries, and How to Get Around.
Note that this guide will also cover locations that are not bound to the coast including the Atherton Tablelands and the Outback. You gotta see the desert while backpacking Australia even if you intend on being a beach bum 99% of the time.
Backpacking Canberra
Canberra is the federal capital of Australia and has a bit of rap for being boring as hell. Famously, one former prime minister wouldn't even live there when he was in office (though he denied any feeling any revulsion to the place). Truthfully, Canberra really isn't that bad so long as you know what you're getting yourself in to.
Canberra is a planned community that was designed to be a "garden city." For this reason, Canberra has an extensive amount of parkland, national monuments, and cultural centers. At the center of everything is the large and artificial Lake Burley Griffin, which acts as a sort of reference point.
Around the lake are Canberra's most prominent landmarks including both Parliament Houses (the old and new ones), the hallowed Australian War Memorial, and several museums and galleries. The National Museum of Australia, National Gallery, and National Portrait Gallery are all fine cultural centers worth visiting.
The best way to get around Canberra is by walking or biking. Thanks in part to abundant greenery and lack of traffic, these modes of getting around can be quite enjoyable. Take note that Canberra is still quite spread out so getting around on foot may take longer than anticipated.
If you find Canberra's parklands insufficient, then there are plenty more pastoral sights outside of the city. Namadgi National Park is the northernmost section of the Australian Alps and has lots of outdoor activities. Mountain biking, in particular, is very popular around Namadgi and the highlands of Canberra.
Ultimately, Canberra is a fine city to visit for a weekend. Those backpacking around Australia should come here for the bucolic scenery and small-townish lifestyle.
Backpacking Melbourne
Sydney's greatest rival is the super dynamic and culturally superior Melbourne. Melbourne is the former federal capital and, for this reason, was once the center of all things Australian. Melbourne lead the way in economics, art, sports, you name it until Sydney rose and began to challenge it. Backpacking Melbourne is an incredible and interesting experience.
Melbourne is a huge city with multiple districts. Most of the top things to do in Melbourne are found around the city center – in the CBD and Southbank. The CBD is buzzing constantly with action as here are some of the best cafes, bars, restaurants, and cultural sites in the city.
Flinders Street Station acts as the central nervous system of Melbourne and provides transport to any and all of the metropolitan area. Very close to the CBD are St. Paul's Cathedral and Collins Street, the latter of which is very fucking cool. Other notable attractions, like the Shrine of Remembrance, Queen Victoria Market, and Federation Square, are all a short walk away from the CBD.
Further outside of the city center are many more districts that make for great day trips. Carlton is a neighborhood rich with Italian heritage and home to the impressive Museum of Melbourne. St Kilda is the premier beach hangout and has a nightlife that is comparable to debaucherous King's Cross in Sydney. Brighton is where you'll find the iconic beach huts. Finally, Collingwood and Fitzroy are the favorite hipster hideouts in an already hipster city.
Melbourne's pedigree cannot be understated – this is one of the coolest places in Australia. You just have to visit this city and wander amongst its laneways all the while sampling as much music, food, and drink as possible. Looking for an epic place to stay in Melbourne? You can book our favorite hostel, the Village.
Backpacking the Great Ocean Road
Driving on the Great Ocean Road is a must-do while backpacking in Australia! It's one of many Great Australian Road Trips, however, it's one of the best.
Extending from Geelong to Portland – both of which are in Victoria – the Great Ocean Road offers some of the most stunning coastal scenery in the country. Driving along this route, around the many bends and on the edge of sheer coastal cliffs, is a truly amazing experience.
You'll see several prominent landmarks and attractions while driving along the 150 miles of the Great Ocean Road. The most famous of landmarks here are the Twelves Apostles, which are a group of limestone sea stacks that rise stunningly out of the ocean. There are, unfortunately, only eight now as several have collapsed in recent years. Other notable sites along the Great Ocean Road include The Grotto and Loch Ard Gorge.
Driving along the Great Ocean Road isn't just about the coast though; between Apollo Bay and Glenaire is Great Otway National Park, which is a wonderfully lush forest. Inside, you'll find a staggering array of plant-life and a number of picturesque waterfalls that make for great photographs.
There are plenty of places to stay along the Great Ocean Road if you fancy spreading the drive over several days (which is recommended). Apollo Bay is the most desirable, though Princetown and Port Campbell also make for great overnights.
Backpacking Adelaide
Backpacking Adelaide has had to deal with a somewhat dull and undeserving reputation. Just hearing its nickname, "The City of Churches," leads one to assume that Adelaide is an overly-strict and boring place to be. What many don't realize is that this nickname was never a reference to the city's piety – conversely, as an ultra-liberal city, Adelaide was a place of many churches and ideologies. In lies Adelaide's true self: a forward thinking and supremely eclectic city.
Adelaide or Radelaide has quietly been one of the best cities in Australia. Here is an amazing art scene, a thriving nightlife, and some of the best city beaches in Australia. Oh, did we mention that this is the wine capital of Australia? You can't throw a boomerang and not hit a winery in this part of the country.
Adelaide is a planned city – the first founded by freemen – and is extremely easy to get around. One could easily walk across the whole city proper in an hour or two. A tour of Adelaide should definitely include a walk around one of the many surroundings parklands, which includes lovely sights like the River Torres and the Botanic Gardens. For the best food and drink, one needs look around the likes of Rundle Street, South Hutt Street, and O'Connell Street.
Adelaide has some of the best city beaches in Australia. Glenelg is the glitzy beach with lots of clubs and cafes. The most beautiful beaches though are found in the southerly suburbs around Brighton, Port Noarlunga, and Aldinga.
There is wine country everywhere outside of Adelaide. The Clare Valley, McLaren Vale, and Barossa Valley are the most prestigious regions and, between the three of them, produce the majority of Australia's wine. Hahndorf in the Adelaide Hills is another popular pastoral town, known more for its beer and German heritage.
You could fly, but we reckon a road trip from Melbourne is the best and most rewarding way to get here.
Backpacking Kangaroo Island and the Yorke Peninsula
Within a day's drive from Adelaide are the seaside getaways of the Yorke Peninsula, The Fleurieu Peninsula, and Kangaroo Island. Between the three areas, there's over six hundred miles of coastline. Most of these beachs are hardly visited or even touched by any sort of tourist.
The Yorke Peninsula is to the north of Adelaide. On a map, the Peninsula is easily recognizable due to its distinct shape – like a large tail or a leg. Economically, agriculture – not tourism – is the region's leading enterprise. This has, for the most part, lead to the development of several small rural communities, many of which make for great backpacker bases.
Popular activities on the Yorke Peninsula include surfing, diving, fishing, and sampling the local produce. The surfing here, in particular, is some of the best in the state. Must-see locations on the Peninsula are Pondalowie Bay, Innes Australia National Park, and Berry Bay.
Kangaroo Island is one of the most popular holiday spots for South Australians and is fairly unknown outside of the state. Located across from the Fleurieu Peninsula, Kangaroo Island is Australia's third largest island and an important refuge for several threatened ecosystems.
With highlands, rugged coastline, and a number of pristine beaches, the natural setting of Kangaroo Island is some of the prettiest in South Australia. Flinders Chase Park, Admirals Arch, and the Remarkable Rocks are among the most splendid sights on the islands and shouldn't be missed.
Arriving at Kangaroo Island is a simple matter of taking a short ferry from Cape Jervis. Upon arriving, backpackers will have many lodging options. You'll find most of the hostels in the largest settlement on the island, Kingscote. Utilizing a local farmstay is becoming increasingly popular and many resemble hostels in their offerings.
Backpacking Uluru and Alice Springs
Smack dab in the "Red Center" of Australia, leagues away from any other city is Alice Springs; never before has the term "middle of fucking nowhere" been more applicable than with this place. Originally an outpost and then a military refuel base, Alice Springs now serves as a hub for visiting the many desert wonders of the region, including the famous Ayers Rock, which is locally referred to as Uluru.
Uluru is probably the most recognizable sight in the whole of Australia and for good reason: it's magnificent. Honestly, words don't really do this massive red rock justice and the pictures do little either. Uluru is meant to be seen and felt in person; only then will you understand it significance. As one local told me: "you stand there staring at (it) and then it begins to pulse; Uluru is the heartbeat of Australia."
Tourists can climb Uluru but the local Aboriginal peoples, who hold the mountain sacred, adamantly request that visitors not take part in this practice. Many White Australians are now choosing to respect these wishes and you should too; walking around the base of the rock is still plenty enough. NOTE that Uluru isn't actually very near to Alice Springs either – you'll have to drive another 6 hours to reach it.
There are a number of other hikes around Alice Springs aside from Ayers Rock. Kata Tjuta aka the Olgas and Kings Canyon are both definitely worth visiting as well.
The actual city of Alice Springs isn't much to write home about. Those expecting a weathered and rustic outpost in the middle of the harsh Outback will be upset to hear that the Springs is quite developed. This infrastructure comes with a number of positives and negatives too including plenty of awesome Alice Springs hostels, swimming pools and rampant racial tension, to name an unrelated few.
Backpacking Darwin
Darwin is the capital and largest city of the vast and empty Northern Territory. In an otherwise desolate place, Darwin exists today thanks to a booming mining industry and the need to create Asian shipping routes. More so than Alice Springs, Darwin has a distinctly frontier-like vibe, with a uniquely independent government and a population that really is one-of-a-kind.
By most standards, Darwin is a small city with very few areas and attractions. The Wharf Precinct, Bicentennial Park, and/or one of the few museums may be worthwhile but that's about all. If we're being honest here, my impression of Darwin is that it serves primarily as a weekend getaway for pent-up miners and a base for backpackers who are trying to find work. The parties are, predictably, over the top in Darwin as both worker and traveler alike just let loose.
The best part about backpacking Darwin is that it's very close to some of the Outback's best locations. Should you journey into the bush, bring lots of sunscreen and bug repellent though! You'll be miserable without them.
Kakadu National Park is widely considered a staple of the region and is a must visit for those backpacking Australia. Ubirr, Jim Jim Falls, and the Gunlom Plunge Pool are among the best of Kakadu. Also worth visiting is Litchfield National Park, which is a lovely place full of waterfalls and swimming holes that the locals love to cool off in.
Farther south is the small town of Katherine. Here is the impressive Katherine Gorge, located within the Nitmiluk National Park. Travelers can experience the gorge in many ways from chartering a boat to paddling in a kayak to hiking along the rim on Jatbula Trail. That final option is a 4-5 day one-way hike.
Backpacking Broome and the Kimberly
The Kimberly is a vast and wild section of Western Australia that borders the Northern Territory – many believe that this region contains the best of Australia's Outback. With an area roughly equivalent to California and a huge array of natural sites, the Kimberly is a grand Australian adventure.
Though the paved Great Northern Highway runs through the Kimberley, the best way to explore this region is on the un-sealed Gibbs River Road, for which you'll need a 4×4. Along the Gibbs, you'll see the best of Kimberley, including Windjana Gorge, Bell Gorge, and Mitchell Falls. Much-loved Purnululu National Park is technically located off the Northern Highway though you'll still need a 4×4 to access it.
At the western end of the Kimberley is Broome, which is the most visited destination in the region. This resort town, renowned for its pristine desert beaches, is immensely popular amongst Australians – especially for its budget accommodations. During the pleasant dry season (May-September) the population of the town almost triples.
Cable Beach is a massive stretch of near-perfect sand and is one of Broome's most popular attractions. Many people enjoy this beach at sunset from the backs of camels, who were introduced after one man went searching for Mecca.
Town Beach is another favorite among locals. Equally as beautiful as Cable, this beach is particularly noteworthy because of its "Staircase to the Moon." This phenomenon occurs when the tides recede and the moon rises at the same time, creating the illusion of a walkway to the heavens. A night market is held when the staircase is visible.
Other attractions in Broome include the red cliffs of Gantheaume Point and one of many historical sites concerning the aging pearling industry. The latter in particular is an interesting case study of race and exploitation in both old and new Australia.
Backpacking Exmouth and the Ningaloo Reef
Of a similar vein to Broome is the small community of Exmouth, located on the remote North West Cape. Here are some stunning beaches, awesomely rugged terrain, and, most importantly, one of the most precious ecosystems in Australia: the Ningaloo Reef.
Like Broome, Exmouth is a quiet beach town that swells in population during the four-month-long tourist season. There are the usual civilized amenities here i.e. hotels, restaurants, bars, markets, etc. Exmouth also has a couple of city beaches – Town Beach and Mauritius Beach – but these are kind of lackluster. Eager backpackers ought to head directly to Cape Range and the Ningaloo Reef.
Cape Range National Park has some of the most beautiful beaches in Australia as well as some great hiking opportunities. All of the beaches of the Cape Range are seemingly perfect with brilliant white sand and crystal clear waters. Some superlative beaches include Turquoise Bay and Sandy Beach.
Further inland, Cape Range has some wonderful canyons and gorges that make for great trekking spots. For the most popular hiking trails in the area, visit Charlie Knife Canyon, Yardie Creek Gorge, and Mandu Mandu Gorge.
Should you go snorkeling around Cape Range, chances are that you'll stumble upon the beginnings of the majestic Ningaloo Reef. The Ningaloo Reef is home to some amazing marine life including whale sharks! The coolest part about this reef though is that it's very close to the mainland. Unlike the Great Barrier, which is 150 miles from Cairns, you can literally swim (safely) to the Ningaloo Reef from the beach in some places i.e. Coral Bay.
Having a watercraft will, of course, unlock, more of the Ningaloo Reef. There are a number of sailing companies around Exmouth and Coral Bay though a kayak may be sufficient enough.
Backpacking Kalbarri
Halfway between Exmouth and Perth is the coastal town of Kalbarri and the national park of the same name. Offering classic Australian landscapes, Kalbarri makes for a great stopover when making the long drive up and down the western coast.
The town of Kalbarri is expectedly tiny – even more so than Broome or Exmouth. Not much to do here besides grabbing a quick bite to eat and sleeping. Kalbarri National Park, which surrounds the town, is the real reason to visit.
Composed of mostly sandstone, Kalbarri NP is full of awesome gorges and arches. The Z Bend is one of the most iconic tracks in the area as is the Hawks Head and Nature's Window; all offer excellent views of the Murchison River Gorge and the surrounding landscape.
The coastline around Kalbarri is stunning as well and very similar to the Great Ocean Road. Though shorter and less high than the GOR, the cliffs of Kalbarri are equally as dramatic and have their own Apostles in a sense. Island Rock and the Natural Bridge are notable sights along the coast and can be seen from various viewpoints, which are accessible by car.
Should the 6-8 hour drive from either Perth or Exmouth to Kalbarri still prove too long, there are a couple more stops along both routes. Between Exmouth and Kalbarri is Shark Bay, renowned for its amazing beaches, for the dolphins of Monkey Mia, and for some rare fauna. Found here are stromatolites, which are considered one of the oldest and most important lifeforms on Earth.
On the way to Perth, you'll pass by Nambung National Park. The most noteworthy attraction here is The Pinnacles, which are surreal, finger-like rock formations that rise prominently from the desert sands.
Backpacking Perth
Perth's primary claim to fame is that it is considered one of if not the most isolated major cities in the world. It's probably a good thing though; if Perth were any more accessible then it would definitely be overrun by now. With a booming economy, an extremely pleasant climate, and some of the most beautiful scenery in the whole country, Perth is certainly in the running for "best city to visit in Australia."
Aesthetically, Perth is great for backpacking since it's a very attractive city. The CBD, with its ever-growing skyscrapers, rises elegantly on the banks of the Swan River. From King's Park, which is very charming in its own right, the cityscape is totally laid out before you and yours to take in.
Inside of the city itself, there are a few tourist sites of note. London Court is a lovely street built in Elizabethan fashion complete with Tudor-style homes and coat-of-arms on the doors; obviously, not the most authentic of attractions but pretty nonetheless! Also worth seeing is the redeveloped Elizabeth Quay, which is Perth's answer to the Sydney Harbor.
For all its beauty, Perth is worth a weekend visit but, to be honest, the best parts are outside of the city anyways. To the north is Northbridge where you'll find the best eats and nightlife in Perth. Adjacent Fremantle is a separate destination in its own right (see section below) and definitely somewhere worth checking out. From Fremantle, you can book a ferry to the idyllic Rottnest Island for the chance to see the unique quokka and some gorgeous beaches.
Speaking of beaches, Perth has some of the best in Australia. Scarborough and Cottesloe are the city's most famous strips of sand. Mullaloo Beach and Pinnaroo Point are lesser-known but absolutely breathtaking.
Backpacking Fremantle
Though only a dozen or so miles from Perth, Fremantle considers itself its own city. Once the gritty, neglected port of Perth, Fremantle has grown into a culturally unique and independent commune. With a very cosmopolitan history and a thriving art scene, Fremantle is certainly distinct from its larger neighbor.
Fremantle is a small community of 20,000 people. You could certainly get around by just walking here but, remember, this is still an Australian destination; distances are (always) much longer than travelers think. It would behoove most to have some sort of transport, either in the form of a car, scooter, bike, or even a bus ticket. The local CTA (Central Area Transit) is usually free.
The top attractions in Fremantle are the old Fremantle Prison, Roundhouse, and Arts Centre. All of these are historical sites that have either been preserved or renovated to suit other means. The Arts Centre, once the old Fremantle Hospital, is now a public space. The Roundhouse was Western Australia's first permanent building that served (appropriately) as a prison; now it's a museum.
Being a port city, Fremantle has a great selection of food that harks from all over the world. Italian cuisine is particularly good in Fremantle, as the city has hosted a large community of Italian immigrants over the years. The much loved Cappuccino Strip is where you'll find the majority of these Mediterranean establishments. This strip is also famous for its exciting and diverse street performances.
Top off your time in Fremantle with a drink at one of its many after-hours spots. The nightlife in Fremantle is very strong and some Perthians even prefer it to their own city's.
Backpacking Tasmania
Tasmania is Australia's forgotten state – a bit of an afterthought that only evokes images of Looney Toon characters or barbarous locals it would seem. This probably is for the best though as backpacking Tasmania is a true hidden gem. This is a paradise, with fantastic landscapes, eccentric people, and some world-class cuisine. Tasmania is one of the best places in Australia and no one knows about it!
Tasmania is an island state, separated from the mainland by the Bass Strait. The majority of the population (40%) lives in the Greater Hobart precinct, which serves as the state's capital.
Despite it's seaparation from the rest of mainland Australia, Hobart is awesome city carrying a similar vibe to Melbourne. Though not as big, there's a lively undercurrent of culture to be found in its art and music scenes. There are also heaps of awesome backpacker hostels in Hobart, and you'll definitely meet some likeminded travelers for the onward adventures in Tassie.
Other settlements of note include Launceston, Bicheno, and Strahan, among other communes of varying size. Outside of these urban areas, Tasmania is mostly pristine wilderness, a good chunk of which is protected parkland or heritage site.
Tasmania is home to some very diverse geography. The interior of the island is very rugged, composed of jagged mountains and thick rainforests. The coastline doesn't disappoint either as there are some beaches and bays here that could easily rival those of the mainland. So varied and stunning are the landscapes here that Tasmania is often referred to as Little New Zealand!
Backpacking the Outback
The Outback. The Bush. The Fuck-all Middle of Straya. The reason why most who want to go backpacking in Australia visit in the first place. Many have little clue though has to how large and how imposing this region actually is.
Few actually comprehend the Outback's size or its conditions. Though the exact number isn't agreed upon, the Outback constitutes at least 70% of Australia's landmass and is around 2-3 million square miles. The whole of India is 1.5 million square miles – that's a lot of fuck-all!
Water is extremely sparse in the Outback. Temperatures vary widely depending on the season and time of year, from sub-zero to over 110 Fahrenheit. People die out here from exposure all the time. If you plan to venture out into the desert, you must be prepared.
The Outback isn't a singular destination that you just include in an itinerary – it's a collection of several desert regions that form an unfathomably large ecosystem. You can visit parts of the Outback but there's no way that you could visit the whole thing; there are huge swathes of the Outback that haven't even been charted yet.
A few of the Outback's top destinations have already been covered in this guide, like Alice Springs, the Kimberly, and the Nullarbor Plain. This section is for outlining some of the last remaining portions of the Outback that are relatively accessible. These places are, of course, minuscule in the grand scheme of things. By referring to the table below though, you may get some good ideas about where and how to properly experience the epic and humbling Outback.
Getting Off the Beaten Path in Australia
There's a lot of nowhere in Australia, which means that there are lots of opportunities to get off the beaten path. With the proper vehicle and supplies, you'll be able make your own expeditions into the lesser-visited places of Australia. Get ready for some of the longest, bumpiest rides of your life as you go exploring the Australian nowhere!
1. Visit the Outback
No backpacking trip to Australia would really be authentic without visiting the Outback. This is one of the harshest, most inhospitable landscapes in the world, and one of the defining features of the nation. Some of the best national parks in Australia, like Karijini, are only to be found in the Red Center as well.
Rent a 4×4 and go mobbing in the desert!
2. Witness Uluru
Uluru is a true natural wonder and has to be seen in person. Make the long journey to this shrine of a rock and feel the power that it emits.
3. Go Sailing in the Whitsundays
The Whitsundays are absolutely drop dead gorgeous and are one of the best places in Australia! Sail around the islands and be sure to visit Whitehaven Beach, which is one of the finest in the world.
4. Drink wine in South Australia
South Australia is the wine capital of Australia and produces some of the country's most highly regarded vintages. Visit one of the many wine regions surrounding Adelaide and try as much as you can!
5. Dive in the Great Barrier or Ningaloo Reef
Both the Great Barrier Reef and Ningaloo Reef are among the most impressive ecosystems known to man. Diving in either one is sure to be an amazing experience. Enter an alien, underwater world and be sure to have a waterproof camera!
6. Explore Melbourne
Melbourne is overflowing with culture. The food, the nightlife, the art, everything here is arguably the best of Australia!
7. Go surfing
Surfing is one of Australia's favorite pastimes and is practically the national sport! Anyone planning on backpacking around Australia simply has to try and get on a board. There's a beach for every skill level and plenty of Aussie mates who'd love to give a lesson.
8. Road trip!
Exploring Australia by car is the truest way to really experience the country. With your own set of wheels, you can go wherever you want and sleep wherever you want. As they say in Australia, "there's a lot of fuck-all out there" so go and find it!
We suggest starting with a road trip around Queensland as it is arguably the most popular route in Australia.
9. Attend a footie or rugby game
Australians are some of the biggest sports fans in the entire world! They go crazy for cricket, rugby, and footie. Fooite or Australian Rules Football is a strange mix of football, rugby, and basketball and is 100% unique to Australia.
10. Discover Tasmania
Tasmania is one of the most beautiful places in Australia! This island is far more rugged than the mainland and is full of spectacular mountains, forests, and coastline. Journey here to see a different side of Australia.
Australia is absolutely chalked full of backpacker lodges and hostels! These are among the best and most entertaining hostels in the entire world. People from every corner of the globe flock to Australia to party and have one of the grandest adventures of their life, be it in a city, on a beach or in the Outback.
Australian hostels are of a very high quality and are often the recipients of numerous backpacking awards. Most organize lots of events from pub crawls to game nights to communal dinners. There are very few hostels in Australia that I can really speak poorly of (feel free to ask me though).
Couchsurfing is, of course, a very legitimate means of staying in the Australian cities and is a great way to save some cash. Australians are an extremely welcoming bunch and have no problem inviting you over to their place for chicken parmy and a beer or ten.
At the end of the day though, the best way to sleep in Australia is by camping, either in a tent or in a campervan. Australia has some of the most pristine and wonderful nature in the world and it needs to be experienced in the purest way possible. There's nothing else like sitting next to a fire in the bush and sleeping under the stars.
The Best Places to Stay in Australia
Traveling to Australia on a budget is doable if you know a couple frugal tricks. If you can stick to a regiment, a comfortablebackpacker budget in Australia should be around $60-$80 per day. Doing so means sticking to hostels, cooking at home, and drinking goon, among other things.
A Daily Budget in Australia
Money in Australia
The official currency of Australia is the Australian dollar or AUD. As of May 2018, the official conversion rate for the Australian dollar is 1 AUD=0.76 USD. The value of the Australian dollar has fallen in recent years due to economic changes but the country is still prosperous and expensive by international standards.
ATMs are widely available and pulling out cash via a foreign card is an effortless affair. Most ATMs will charge a withdrawal fee on top of whatever international charges your bank imposes. Best to take out lots of cash at once to avoid paying too much in fees.
Should you be working in Australia, it's very easy to set up a bank account. All of the major banking corporations – Commonwealth, Westpac, NAB, ANZ – have basic savings accounts that are very convenient and easy to use for those who are on a working holiday in Australia. Drop by any bank and inquire about how to start your account.
If you had a job while backpacking Australia, definitely make sure to do your taxes at the end of the fiscal year! Backpackers are usually entitled to a huge tax return (for reasons that are hard to explain) and it would be a real shame to walk away from a big payday!
Travel Tips – Australia on a Budget
Camp: With plenty of gorgeous places to camp, Australia can be a great place to camp in the rural areas. You can also ask to pitch a tent in people's yards. Check out this post for a breakdown of the best tents to take backpacking. If you're feeling real adventurous and want to save some cash, consider picking up a backpacking hammock.
Cook your own food: If you are on a tight budget, you can save money by cooking your own food – I recommend bringing a portable backpacking stove.
Book your transportation early: Both plane and train tickets are much cheaper if you purchase them in advance. This rule does not apply to buses, which you can often book within the day or even hour.
Couchsurf: Australians are awesome, but I would be cautious if you are a woman travelling alone. Check for reviews. That being said, Couch surfing to make some real friendships and see this country from the perspective of locals.
To learn how to travel the world on $10 a day, check out the backpacker's bible.
Pack a travel water bottle: Save money – and the planet – every day!
Why You Should Travel to Australia with a Water Bottle
Plastic washes up on even the most pristine beaches… so do your part and keep the Big Blue beautiful
You aren't going to save the world overnight, but you might as well be part of the solution and not the problem. When you travel to some of the world's most remote places, you come to realise the full extent of the plastic problem. And I hope you become more inspired to continue being a responsible traveller.
Tl;dr – STOP USING SINGLE-USE PLASTIC! If you'd like some more tips on how to save the world, be sure to watch the video below.
Plus, now you won't be buying overpriced bottles of water from the supermarkets either! Travel with a filtered water bottle instead and never waste a cent nor a turtle's life again.
Australia has two distinct climate zones: a tropical one in the north and a more temperate one in the south. There are several microclimates found in each of these zones but, broadly speaking, they are still subject to the same sort of seasons. Note that because Australia is in the southern hemisphere, its summers are from December-February and its winters are June-August.
The south of Australia – composed of NSW, Victoria, South Australia, Tasmania, and (south)Western Australia – has a more temperate climate and usually has four seasons. In some places, like Perth and Sydney, these seasons can appear very similar to one another as the weather is pleasant year round. In other areas, like Melbourne or Tasmania, the weather is more unpredictable and even harsh at times, especially in the mountains. Melbourne famously gets "four seasons in one day."
The north of Australia, including Queensland, the Northern Territory, and (north)Western Australia is tropical and only has two distinct seasons: a hot, wet summer and a cool, dry winter. Summers – referred to as the big wet – can be oppressively hot and some places can receive biblical amounts of rainfall. The deadly box jellyfish also comes closer ashore in the summer resulting in near complete beach closures.
Summer really isn't a good time to visit the north of Australia. It's much better to visit in the winter – referred to as the big dry – when it's slightly cooler, drier, and devoid of deadly jellies.
Since the north is almost always visited in the winter, demand is very high during this time. Prices will be much higher because of short supply so be sure to keep this in mind before finalizing your itinerary.
Festivals in Australia
Aside from a few public holidays that are absolutely mandatory to celebrate, like Anzac Day, Australia Day, and New Year's Eve, the majority of festivals in Australia are musical. Having lived in the nation for some time, I can confidently say that are very few countries that have as many music festivals per capita as Australia! There seems to be a different one nearly every weekend in this country.
There are other cultural celebrations in Australia that showcase other forms of expression but they sometimes feel buried by the musical ones. I've included several prominent ones in the list below. They, in addition to the public holidays and the music festivals, make for a thrilling time.
Australia Day (January 26) – Australian Independence Day. One of the most important holidays in the country w/ lots of celebrations. The super popular Rainbow Serpent Festival is held on this weekend as well.
Fringe Adelaide (February-March) – Second largest arts festival in the world after Edinburgh's Fringe.
Anzac Day (April 25) – Day of remembrance for fallen soldiers. Usually a very somber and ceremonial day.
Gold Coast Film Festival (April) – Film festival in Australia's premier filmmaking city.
The Byron Bay Bluesfest (April) – One of the world's largest contemporary music festivals. Features blues, roots, alternative, and more musical styles.
Groovin' the Moo (April-May) – Popular touring festival w/ a diverse showcase of musical groups.
Wide Open Space (May) – Cultural festival that celebrates desert life. Music is very trancy and underground.
Splendour in the Grass (July) – Perhaps Australia's most famous music festival that attracts acts of all fame and varieties.
Melbourne Cup (November 5) – The most prestigious horse racing event in Australia. Lots of silly hats.
Falls Festival (December/January) – Another touring festival that is similar to Groovin' the Moo.
What to Pack for Australia
If you're not careful, Australia's wilderness will smack ya to next Monday. Get your packing for Australia right! On every adventure, there are six things I never go traveling without:
Australia has a nasty reputation for being full of deadly creatures that are out to get you at every turn. Killer snakes, spiders, crocodiles, jellyfish, hell even the kangaroos can really ruin your day here. It's important to remember though that death at the hands of these animals is usually very sensationalized and that statistics don't back up any sort of hysteria. Believe it or not, the common bee and wasp, not spiders, are actually the number one killers in Australia. Truth is this: Australia and it's wildlife isn't nearly as terrifying as one might think it is.
That being said, it is extremely important to take all cautionary advice and notices with the utmost seriousness. If a sign or a local says that an area is dangerous, either because of sharks or crocs or whatever, then, for fuck's sake, listen to them! Australians have become day-to-day experts on what can kill you and how to avoid it. At the end of the day, just follow this easy advice: if you don't see any Australians doing it, then don't do it yourself.
The elements should probably be your biggest concern while backpacking in Australia. Drowning is perhaps the #1 cause of death in Australia as the ocean currents can be very strong. The water may seem calm but, get caught in a wild rip, and you can quickly get submerged or pushed out to sea. Swim in designated areas and check signs for ocean conditions.
As mentioned before, heat is a major problem in Australia. Temperatures can soar to unthinkable heights and atmospheric radiation is a serious threat here. Forest fires caused by dry conditions are a serious problem as well, but usually only occur in the backcountry.
Sex, Drugs, and Rock 'n' Roll in Australia
Australians love to party; a lot. At least once, we've all that group of Australians who were constantly getting drunk and looking to score. Some observers may have even thought to themselves: "how the hell are they still doing this?" or "for what possible reason would you do that?" Well, there is one, I assure you.
Drugs and alcohol in Australian are astronomically expensive. On average, a pint of beer is $7-$8 and a spirit is a couple of bucks more maybe. Cigarettes cost somewhere in the late teens; and don't even get me started on the drugs. A pill or pinger is $20 each and a gram of coke will run you about $300; the white stuff is, expectedly, not very good either as it's been shipped a long way from South America and probably been cut a few times.
These ridiculous prices are why you see Australians partying all the time outside of their country: everything is just so much cheaper abroad and so they go crazy.
Prices be damned though, Australians still like to have a good time in their native land. Many go out in groups and buy rounds or shouts for one another. If you plan on drinking with the locals while backpacking Australia, it's very important to keep up with the shouts. Drinking a beer that someone has bought for you and not contributing to the shout is a dick move.
Be careful when drinking and driving as well. Australia has a zero-tolerance policy when it comes to drunk driving and any BAC over 0.05% will be met with harsh punishment. Random checkpoints are commonly set up and at all times of the day to pull over drivers and check their sobriety.
Travel Insurance for Australia
Traveling without insurance would be risky so do consider getting good backpacker insurance sorted before you head off on an adventure.
It's good to get lost sometimes, but it's also good not to get too lost. There are people that want you home in one piece.
There's one travel insurance provider The Broke Backpacker trusts for all his wildest shenanigans… World Nomads!
Click the button below to get a quote on your insurance or read our in-depth review of World Nomads' coverage. And then… let the shenanigans begin. 😉
Getting to and around Australia can be a long and arduous affair. Travel to Australia from the USA is a 13-hour plane ride and it seems that every Australian city is at least 8 hours' drive away from each other – Perth to Adelaide is a 1.5-day journey by car. Should you decide to travel to Australia, you'll be staring at the back of the seat or an empty road very often but the moments in between make the whole trip worthwhile.
Entry Requirements for Australia
There several different types of tourist visas available to those who wish to go backpacking in Australia. The three primary tourist visa types are:
Visitor visa (subclass 600)
Electronic Travel Authority Visa (ETA) (subclass 601)
eVisitor (subclass 651)
The 601 and 651 visas essentially function in the same way albeit with different application processes. The 600 is for those who want to stay in Australia for longer than 3 months at a time and for those who don't qualify for either a 601 or 651. The grand majority of nationalities can apply for all of these visas online.
The ETA (601) and eVisitors (651) are the simplest and easiest visas to acquire. Both enable unlimited entries into Australia within the span of a year – the duration of stay cannot exceed 3 months at a time. The biggest difference between these two types of visas is that they are only available to specific countries. Americans and Canadians, in addition to several other nations, must apply for an ETA. British, as well as most European citizens, must apply for an eVisitors visa.
The Visitor visa (600) is the most expensive of Australian visas but can grant the most time. Applicants can apply for a 3, 6, or 12-month duration at rates that vary from AUD140 to AUD1020. For any nation that doesn't qualify for a 601 or 651, the 600 visa is the only means of entering Australia.
Upon arriving at customs, your visa will be checked and you'll be subject to search. Australian customs takes declared items very seriously so you must be sure to do so. Also, note that criminal offences and felonies may bar you from entering the country.
Traveling to Australia During COVID-19 Times
Australia was one of the first countries to shut its borders and imposed some of the strictest quarantine rules in the world. I have heard incredible reports from people about how difficult it is to enter Australia during the COVID-19 outbreak, and even how some are unable to return.
If you're planning on entering Australia anytime soon, you WILL have to go into an obligatory 2-week quarantine at a government selected hotel. All costs of staying at this hotel will be paid by the traveler, to the tune of $3000 AUD. Fair warning: the hotel in Sydney offers very bland food – use Postmates instead. Don't be like these people either.
Once you complete the 14-day quarantine, congrats! You can travel freely around Australia; except not really. You must still follow the territorial rules, which, as of October 2020, are still fairly restrictive. You'll need to consult individual state guidelines to get the clearest picture.
There are two ways of traveling in Australia and both offer widely different experiences. The first is by public transport i.e buses, trains, and planes and the other is with your own vehicle in the form of a rental car or campervan. The latter option is the vastly superior method.
Using public transport to travel outside and in between the major cities can be a tedious affair. Traveling by bus can be convenient and cheap so long as you're staying on the East Coast where there are frequent stops. Bus travel in the bush, which pretty much includes all of South Australia, the Northern Territory, and Western Australia, can be long and, in turn, pricey.
Greyhound does offer hop-on-hop-off travel passes that can certainly be convenient. Check the rates at the official website and weigh the pros and cons of purchasing a pass.
Train travel is possible but this is a more luxurious form of travel i.e. more expensive. Taking the train in Australia is an experience in itself though and some long-distance routes, like the Ghan, can be very rewarding.
Flying is the primary means of getting around Australia due in part to the country's size. Flights are relatively cheap and actually quite convenient.
Hitchhiking in Australia is a common and very safe practice. Make sure to follow the usual rules of the trade though and, as always, use common sense. Be wary of hitchhiking in the Outback – cars may be far and few in between and you could be in real trouble if you're stuck out there in the baking sun.
Traveling by Campervan in Australia
By far the best way to get around Australia is by having your own vehicle. There are many car rental companies in Australia that offer long-term contracts. Each has a wide variety of vehicle types from sedans to 4x4s to campervans.
Campervans are definitely the most popular way of getting around Australia as they provide both transport and lodging at the same time. Living out of a campervan can be convenient, fun, and cheaper than conventional travel. By having the ability to sleep anywhere you want, you'll save money and get more out of your Australian adventure.
Thanks to the plethora of rental companies available, it's a breeze to hire a campervan while backpacking Australia. Most offer good rates especially for longer periods of time.
I recommend going with Wicked Campers if you plan on renting a campervan in Australia. Make sure to check the contract though – many rental companies impose certain restrictions on going offroading and over a certain amount of miles per day, and charge extra fees for not following these parameters.
If you plan on staying in Australia for a long time (more than 6 months) try buying your own campervan. Doing this will allow you more flexibility and, if you took care of the car, the chance to sell it when you're done. You can find adds for used campers in many hostels and on the online boards like gumtree.com.au.
When buying a camper, be sure to take the vehicle to the shop to get it checked before actually committing. Most auto shops are used to this kind of request and will charge a competitive fee.
Onwards Travel from Australia
Being the world's largest island and a continent that consists of a single nation, there are not too many ways to get out of the country by land or sea. Luckily, Australia benefits from some very, very cheap international airline routes.
You can continue your backpacking journey in Oceania, but the cheapest and most convenient flights out of Australia are usually bound for Asian destinations. Budget Asian airlines, like AirAsia, in addition to Australia's own budget airlines – Jetstar and Tiger – make traveling to Asia a breeze.
From any of the major Australian cities, and for as low as $100 sometimes, you can carry on your backpacking adventure in the likes of Indonesia, Japan, India, Philippines, even Pakistan! Seriously, you can get just about anywhere in Asia from Australia and for a great price.
Since AirAsia so ridiculously cheap and popular, you'll most likely end up connecting in its place of origin: Kuala Lumpur, Malaysia. Malaysia is a pretty cool spot and backpacking around the peninsula or on the island of Borneo is definitely worth trying. Otherwise, you can get just about anywhere from Kuala Lumpur. If you aren't connecting in KL, then you'll most likely end up in Bangkok, Thailand, which certainly has its own reputation.
Asia aside, you can, of course, head across the Tasman to start backpacking in New Zealand. Backpacking around New Zealand is a very similar experience to Australia in that you'll be paying the same prices and most likely living out of a campervan. Unlike Australia though, New Zealand has a wildly diverse geography and is much more temperate, both in terms of climate and native personality.
If you really want to go somewhere different, why not consider the Soloman Islands?! Our friends over at TravellingKing wrote a great article about visiting the Pacific-islander paradise. Check it out!
Most backpackers end up with fruit picking jobs in Australia. The work can be hard and life can be boring at times but the cost of living is quite low and those with a 417 visa will earn an extra year on their visa. If you can manage it, this is one of the best ways to have a working holiday in Australia!
Backpackers are so established in the fruit picking industry and businessmen are in turn so reliant upon them that it's usually very easy to find a job. There are dozens of online boards with postings for farm jobs in Australia. Some popular websites are:
When you arrive at your farmstay, you'll probably be surprised. Many of these farms look like hostels complete with bunk rooms, communal areas, and recreations. You'll have to pay for a bed but the prices are very cheap. Sometimes you may have to sleep off-premises, in which case a car really comes in handy; otherwise, there's always the bus.
You can make a decent living working on a farm. Most clear $600/week on average but a hard worker can definitely make more. Make no mistake though: this is difficult work. Farming in Australia isn't pretty but it can certainly be rewarding. You'll become quite close to both the land and to your fellow working backpackers.
Farm work isn't the only means of making money in Australia. Some of the best jobs for a working visa in Australia include serving, nannying, cooking, and cleaning. If you're really lucky, you may even find a job in mining. If you decide to work in the city, know that costs of living will be much higher.
Working Holiday Visas in Australia
Several nationalities have the option of applying for an Australian working holiday visa, which authorizes travelers to work legally in the country. This visa is an amazing opportunity for anyone who wants to stay and go backpacking in Australia for a longer-term.
There are two types of working holiday visas in Australia:
A Working Holiday visa (subclass 417)
A Work and Holiday visa (subclass 462)
(If you're thinking to yourself how stupidly similar these visa titles are, I'm right there with ya.)
Both visas entitle visitors the ability to work in Australia for a period of 12 months. Note that the possessor of a 417 or 462 can only hold a single job for a period of 6 months. Certain countries can only apply for a 417 or 462 i.e. the English can qualify a 417 but Americans must apply for a 462.
To apply for either visa, applicants will need to show that you have at least AUD 5,000 in their bank account. Both visas will also require a bill of clean health and a clean criminal record.
Applicants of a 462 visa will need to provide some key additional details. With the exception of the United States, those applying for a 462 must provide a letter of support from their government. 462 applicants will also have to pass a character test in which they'll need to prove that they're of good moral quality. Usually, a certificate of excellence, like a diploma or special certification, will suffice for this.
The most important difference between a 417 and 462 is that possessors of the former can apply for a second year given they've met some criteria. Unfortunately, American citizens and other 462 applicants can only have a working holiday in Australia for up to a year.
Volunteering in Australia
Australia is volunteering gold – there are lots of different volunteer projects you can join whether it be teaching, animal care, agriculture, hospitality, tourism, or pretty much anything!
For finding gigs, you have several options:
Workaway is crazy popular!
Or WWOOF Australia is perfect for anyone interested in working on the land. Organic farms and permaculture is their wheelhouse!
Most alternative sites to Workaway will have oodles of options.
And of those alternatives, we have one favorite at The Broke Backpacker: Worldpackers!
Worldpackers likes to put the focus on community. They connect you with meaningful volunteering opportunities that really help you feel like your contributing to local communities. PLUS their platform comes loaded with nifty features for connecting volunteers too!
And for an extra saucy bonus on top, Broke Backpacker readers get a special discount of $10 – 20% of the annual signup fee!
Just use the discount code BROKEBACKPACKER at checkout or follow the button below and your membership is discounted from $49 a year to only $39. Make Down Under your stomping ground. 😉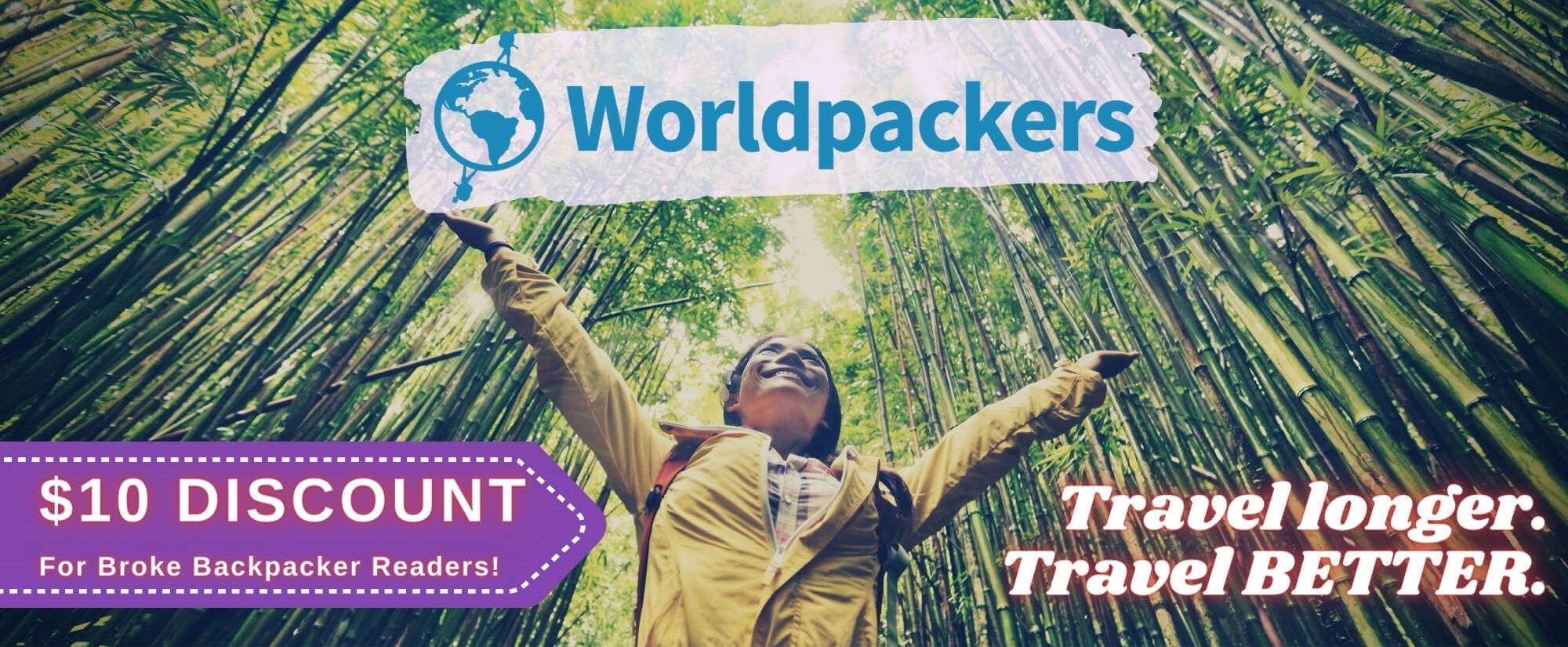 Worldpackers: connecting travellers with meaningful travel experiences.
Australian cuisine is heavily influenced by its colonial roots. English, Italian, Asian, and Greek styles are all present in modern day Australian cooking to varying degrees.
Being a colony of the British Empire first and foremost, Australian cuisine resembles most that of the English variety. Many staples like fish 'n' chips and meat pies are present in both. When dining out in Australia, expect a similar experience to as if you were dining out in the UK. The food will be hearty, heavy, and, at times, somewhat basic.
Being a nation of immigrants though, there is plenty more than the usual English fair. Asian cuisines of every shade are present in Australia and are actually some of the best you'll outside of the Asian continent. Several Mediterranean cultures call Australia home as well and have brought their cuisines with them. Thank the Italians for introducing a strong cafe culture in Australia – coffee in Australia is surprisingly delicious and taken seriously.
Barbecuing is a very important custom in Australia and is perhaps the highlight of the nation's culinary scene. Aside from the usual BBQ'd meats, Australians also enjoy various grilled game. Kangaroo is healthy and cheap. Other more exotic meats like emu, alligator, and even grubs are available in specialty markets.
Popular Australian Dishes
Below is a list of Australia's most popular dishes.
Australians are some of the most welcoming, exciting, and unabashed people that I've ever met. They have so little worries and give so little fucks that life just seems easier in their presence. Even immediate dangers, like an impending tidal wave or the jaws of a killer croc, are made insignificant by an Australian's devil-may-care attitude. 100%, these are some the coolest people that I've come across in my travels.
It can be argued that the Australian attitude derives from their inhospitable environment. An Australian is threatened on a near day-to-day basis either from deadly creatures, ridiculous climate patterns or from people that constantly need to remind them of these last two points. After a while, danger itself just becomes commonplace and desensitizing.
The fact that Australia is so geographically remote as well means that hardly any international presence notices or really holds Australia very accountable. Combine this with the Australian's grit and you have a people that just do whatever makes them feel good.
To be fair, Australians who live in their home country are a little different from the ones that you see traveling so much. Rooted Australians are still hard workers and seemingly proficient at any trade involving blue collar work. The country didn't become so prosperous and the people so rich because they constantly didn't give a shit; so let's not go so far as to say that they are good-for-nothings.
We mustn't forget either that Australia is inhabited by more than just White people and immigrants. Aboriginal people, the original Australians, are also present in modern Australian society, though to a smaller degree. Odds are you won't encounter many Aboriginal folk while backpacking through Australia; if you do though, just be respectful, open, and treat them the same as any other Ozzie. Refer to the Closing Thoughts section for more info.
Useful Travel Phrases for Australia: "That's Not a Knife" Edition
The Australian accent is infamous by now having been the subject of a million pop culture references. When asked to impersonate an Australian accent, most foreigners emulate characticatures like Crocodile Dundee or Steve Irwin. Hate to break it to you but the way in which many of these icons speak is either over-exaggerated or very demographically specific. Most Australians speak in a fairly neutral accent and with proper diction. Not every Australian yells "G'DAY MATE!" or puts so much twang into their voice when saying things like "like" or "right" or "fight." These are cultural stereotypes and pretty unfair.
The Australian accent can be pretty diverse. As you travel south – towards Adelaide and Melbourne – the manner of speech becomes more subdued and may sound more similar to that of an Englishman. Conversely, the farther north you go, the more the accent begins to sound like that stereotype. Let's be honest: many people from Queensland and the Northern Territory tend to sound very similar to the Crocodile Hunter.
Australians use a lot of slang; so much so that sometimes it can be hard to understand them. There is a lot of word chopping and sometimes it seems as if a random vowel is stuck at the end of every word to complete it. You'll catch on to the colloquialisms fairly quickly but, for a little extra help, I've included a list of some popular Australian slang.
Books to Read About Australia
These are some of my favorite travel reads and books set in Australia, which you should consider picking up before you begin your backpacking adventure…
The Backpacker Bible – Get it for free! Learn how to ditch your desk and travel the world on just $10 a day whilst building a life of long-term travel with an online income. To inspire and help the next generation of Broke Backpackers, you can now grab 'How to Travel the World on $10 a Day' for free! Get your copy here.
Follow the Rabbit-Proof Fence – Aboriginal siblings, stolen from their families, run away from their captors and begin a journey almost a thousand miles long back to home. A leading account of the Stolen Generation.
In a Sunburned Country – A quick-witted and very informative piece of travel writing from Bill Bryson. Written over the course of several trips to the Land Down Under.
Tree of Man – A man and his wife try and make something out of nothing, as they cultivate a little patch of land in the bush.
My Brilliant Career – The first of one of Australia's greatest epics. Tells the tale of a young woman yearning for life and adventure in the Outback. Written by Miles Franklin when she was 16 and, at the time, considered "culturally inappropriate" by the state.
A Brief History of Australia
The following is a brief history provided by Alexandria Zboyovski, who wrote our Backpacking the East Coast and Tasmania guides. Props to her for writing an excellent summary of Australia's short and fascinating history.
"Aboriginal Australians arrived on Australia mainland between 40,000 and 70,000 years ago. Their traditions relating to music, art, and spirituality are among the longest surviving in human history. Before the arrival of the British, the number of Aboriginal people living in Australia was between 300,000 and 1 million.
In 1770, Lieutenant James Cook claimed the land for Great Britain, after the Dutch first sighted Australia in 1606. In 1788, a fleet of 11 boats arrived in Botany Bay to establish New South Wales as a Penal Colony. Furthermore, convicts were sent to all states, but South Australia became a free colony in 1836. More than 162,000 convicts were transported to Australia from Great Britain.
Australia began to look like a desirable location after the discovery of gold and the kickstart to their economy. The Eureka Stockade at Ballarat, in 1854, was a rebellion against taxation. Some see this as a crucial event in the evolution of Australia's democracy.
Chinese immigration began at this period with 50,000 Chinese establishing roots in Australia.
In 1901, a federation of all of the states, the Commonwealth of Australia was created. The creation of Canberra marked it as the capital of New South Wales, with a temporary parliament in Melbourne.
The Australian and New Zealand Anzac Corps took part in the World War I Gallipoli Campaign, in 1915. April 25, ANZAC Day, was the same date as the first landing at Gallipoli. Australians remember and pay their respects to the sacrifices of their armed forces on this day.
After World War II and the Vietnam War, an influx of migrants moved to Australia. Between 1949-1974, The Snowy Mountains Scheme employed 100,000 people. 70% of these people were migrants from 30 different nations. Today, people from all over the world call Australia home. The continent has become known for its equality and lack of clear class distinctions."
Trekking in Australia
Hiking, or bushwalking, is one of the most popular pastimes in Australia! If you plan on going backpacking in Australia, you must go walking in the wilderness for a few days.
Venturing out into the bush in Australia is like taking a walk through the nation's history. Here is a forbidding land, full of harsh landscapes and bitter elements, the likes of which tested and tortured the original settlers. Should you decide to brave these wilds, you will gain real insight into the Australian identity. To enter the Australian backcountry you will also need to be prepared.
I always suggest getting a sturdy backpack as well, especially so if you intend venturing deep into the wilderness. You'll want the best you can find and not something cheap that will eventually be held together by duck-tape and carbiners.
Below is a list of some of Australia's best multi-day trails.
Surfing in Australia
Surfing is as much a part of the Australian identity as kangaroos or prawns on the barbie. Australia is extremely passionate when it comes to hanging ten and catching some waves. Obviously, surfing didn't develop in Australia by chance either; Australia has some of the finest beaches for surfing in the entire world and these attract thousands of surfers every year.
There are so many amazing surfing spots in Australia that it would seem more logical to note where you couldn't actually surf. Everywhere you go there's seems to be good breaks and swells. Of course, you won't be surfing in the Sydney Harbour or at the Melbourne pier but travel less than an hour and, boom, you'll be right in the middle of some prime waves.
Below is a list of some of Australia's top surfing locations. There's a pretty diverse selection from all over the country though the Northern Territory seems to be lacking in this regard.
Diving in Australia
Though the Great Barrier Reef receives the lion's share of attention, there are plenty more options to going diving in Australia! Sprinkled throughout the Australian coastline are many gorgeous reefs, sunken ships, and sea caves that are just waiting to be explored. These destinations definitely get far fewer tourists than the Great Barrier Reef and far more diving enthusiasts. If you're really into diving, then definitely check out any one of these spots (that aren't the Great Barrier)!
Joining an Organized Tour in Australia
For most countries, Australia included, solo travel is the name of the game. That said, if you are short on time, energy, or just want to be part of an awesome group of travelers you can opt to join an organized tour. Joining a tour is a great way to see a majority of the country quickly and without the effort that goes into planning a backpacking trip. However—not all tour operators are created equal—that is for sure.
G Adventures is a solid down-to-earth tour company catering to backpackers just like you, and their prices and itineraries reflect the interests of the backpacker crowd. You can score some pretty sweet deals on epic trips in Australia for a fraction of the price of what other tour operators charge.
Check out some of their awesome itineraries for Australia here…
It would take a lot of effort to really piss off an Australian. These are among the toughest and yet most easy going people that I've ever met. Time after time, Australians just roll with the punches (quite literally sometimes) and then proceed to take a piss and forget about whatever may have had a chance of bothering them.
That being said, it's still important to act like a decent human being and to show respect. No one likes an asshole coming into their country and stirring shit up. Backpackers especially have been the recipients of much criticism in recent years as some of their behavior has really been causing trouble. I hate to imagine a future where backpackers are ostracized because of a few dumbasses.
For the sake of all backpackers, be a good sort. Show respect to the locals and keep your wits about you. If you go out partying or drinking, do have fun and get rowdy (Australians love to do it too) but please don't get sloppy and act like an idiot.
On a different note, be sure to tread lightly when it comes to interacting with Aboriginal Australians. This group of people has been subject to unthinkable horrors in the past and are still treating the racial scars that are leftover. Though some White Australians still wallow in ignorance, Australia as a whole is becoming more aware of these people's struggles and is trying to mend the gap.
Should you encounter an Aboriginal Australian and they're open to conversation, be very mindful of their customs. Don't take pictures or enter Aboriginal land without asking first. Be sure to speak using respectful language as well. For more information on the subject of talking with an about Aboriginal natives, refer to this webpage.
---
Thanks for reading – that was fun! 😀
We bring you epic FREE content!
Find out how YOU can help support us.
We're a big site with a big team and this job isn't always easy. But we do it because we love it – we love providing epic and free content. We love the knowledge that our content keeps you adventuring. We don't ask for money, but if you'd like to find out how you can help the site in more organic ways, click the button below.
Thank you for your support 🙂
---
And for transparency's sake, please know that some of the links in our content are affiliate links. That means that if you book your accommodation, buy your gear, or sort your insurance through our link, we earn a small commission (at no extra cost to you). That said, we only link to the gear we trust and never recommend services we don't believe are up to scratch. Again, thank you!