In the weeks leading up to my 2014 Australian backpacking trip, I received advice from lots of people; do this, do that, go here, etc. The one place everyone agreed upon though, the one destination that I could in no way skip was Melbourne.
According to everyone who had been there – or even within 1000 miles of it – Melbourne is one of the coolest cities in the world.
Fast forward 3 months and I'm about to disembark from a plane at Melbourne's Tullamarine Airport for the purpose of a small vacation from my new home, Adelaide. What would I find in this supposed cornucopia of cafes, this haven for all things hipster, this department for the debaucherous and drunken? Well, I ended finding all of those actually.
Melbourne is, in fact, the trendiest and most culturally impressive city in all of Australia. I dined, I drank, I died and was reborn a massive footie fan in the MCG. Backpacking in Melbourne was absolutely one of the highlights of my entire 7 month sabbatical in Australia.
Being an Australian city though, backpacking in Melbourne isn't exactly a cheap affair. Food, drink, hostels, and everything else is quite expensive here. If you're sucked into the vortex of vices that is Melbourne as well, your funds are going to dry up quick.
Fear not my broke backpackers, I have seen the promised land and know how to do it on the cheap. With this Melbourne travel, you'll have everything that you could need to experience the city at a good price.
We'll cover topics ranging from "cheapest hostels in Melbourne" to "Melbourne daily costs." Everything and then some is covered in this guide; with it, you'll be more than prepared to go backpacking in this amazing city.
Melbourne is one of the most expensive cities in one of the world's most expensive countries. Backpackers and residents alike will pay exorbitant amounts of money for sometimes very basic accommodations.
For those that are backpacking Melbourne and the rest of Australia on a long-term on a working holiday visa, it isn't unheard of to share a room and pay close to a grand a month.
This doesn't mean that you can't go visit Melbourne on a budget. Melbourne can be cheap so long as you follow the tips outlined in this guide. By limiting unnecessary expenses and having good spending habits, you'll be able to afford Melbourne and still have a great time.
The average daily budget for Melbourne is around $75-$90. Those numbers used to be higher but following Australia's recent economic struggles, backpacking Melbourne has become a little more affordable.
You can even get by on less if you stick to the most stringent of backpacker tactics like Couchsurfing, cooking at home, and drinking outside of the bars.
The average hostel in Melbourne these days is around $25/night. Given the outstanding reputation of Australia's hostels as well, this is actually a decent deal.
Most of your expenses will revolve around drinking, eating, and, perhaps, the occasional shopping trip. Alcohol in Australia is notoriously expensive and the food isn't cheap either. Shopping in Melbourne, though some of the best in the world, is also costly.
Melbourne Daily Budget Breakdown
Below is a breakdown of the costs of travel in Melbourne for the average backpacker.
Melbourne Budget Backpacking Tips
There are always ways to save cash, and backpacking in Melbourne is no exception! With proper spending habits, you can stay in Melbourne without feeling screws tighten around your wallet.
Below is a list of tips for backpacking in Melbourne on the cheap. Follow these words of advice and you'll find that your dollar goes much further.
Always pre-fade before going out: Buying full-priced drinks at the bar is a great way to waste your money. Instead, buy booze at the store and drink with your friends at the hostel/their house/the park/anywhere besides the actual bar. Drink lots of store-bought wine; it's freakin' cheaper than water sometimes!
Cook at home as often as possible: One of the most proven ways of saving money for backpackers; buying your own groceries and cooking at home will save you heaps of cash.
Take advantage of free public transport: Between the city's Free Tram Zone and the City Circle Tram (Route 35), those backpacking Melbourne can actually see many of the city's top sights and not have to pay for transport!
Eat/drink during happy hour: Many bars and cafes offer drink and meal specials during the quieter hours of the day (4pm-6pm). Some of these deals can be quite affordable; the locals use them!
Get a job: Whether or not you have a working holiday visa there are plenty of opportunities to work in Melbourne. Many hostels will give you a free bed in exchange for a few hours of labor.
Bargain shop: Buy vintage go to one of the many op-shops in Melbourne! Most are independently owned and actually use a bartering system as well. Never pay full price for a product unless you have no other choice.
Do free shit: There are a ton of attractions in Melbourne that don't charge you any sort of entrance fee! None of these are dull or boring either.
Pack a travel water bottle and save money every day!
Why You Should Travel to Melbourne with a Water Bottle
Plastic washes up on even the most pristine beaches… so do your part and keep the Big Blue beautiful
You aren't going to save the world overnight, but you might as well be part of the solution and not the problem. When you travel to some of the world's most remote places, you come to realise the full extent of the plastic problem. And I hope you become more inspired to continue being a responsible traveller.
Plus, now you won't be buying overpriced bottles of water from the supermarkets either! Travel with a filtered water bottle instead and never waste a cent nor a turtle's life again.
Australia is famous for its amazing hostels and Melbourne has some of the country's best! Spread throughout the city, from the City Center to St Kilda, you'll find the perfect place for you.
Many hostels offer discounts to long-term inhabitants. These deals are usually catered to those backpacking Australia long-term with a working holiday visa.
Staying for a longer period at one of these hostels could be an awesome experience as everyone really knows each other and the camaraderie is really fantastic.
Other working holidayers opt to stay in an apartment. Most backpackers can still only afford a shared room though because of Melbourne's high prices. Check the local classifieds, like Gumtree, or check your hostel's bulletin board – many backpackers start in a hostel and end up moving into their own place.
Another option is Melbourne's amazing Airbnbs. They're less expensive than hotels, and only charge a little bit more than hostels. With a bit of research and luck, you can even find a whole place to yourself without having to empty your bank account completely.
To save the most money, you can, of course, reach out to potential hosts via Couchsurfing. Australians are an extremely hospitable bunch and love to host unsuspecting visitors. Be sure to follow all the usual courtesies and rules of staying with a stranger though.
The cost of accommodation also depends on where you're staying in Melbourne. The further out from the city center, the more affordable prices you'll find.
Best Overall Backpacker Hostel in Melbourne: The Village Melbourne
This fantastic hostel, located on the edge of Melbourne's CBD, is hands down one of the best backpacking hostels in the city. Newly renovated, The Village Melbourne offers plenty of backpacking amenities, from well-designed dorm rooms to a massive communal kitchen, crazy comfy chill-out areas, an activity center, and even an on-site bar, and nightclub!
The atmosphere here is amazing, The Village Melbourne has thought of almost everything when it comes to comfort and backpacker needs.
Melbourne City Hostel is a great place to meet other travelers or just chill out on your own. For those who want privacy, there are smaller 4 person dorms and gender-specific dorms as well.
People looking to mingle can attend one of the many social events organized by the hostel. Did we mention the free breakfast well? Yee, that's a nice added bonus.
Nestled just minutes away from the CBD, this fully equipped and furnished apartment unit is ideal for those travelling to Melbourne on a budget. All the basic amenities are provided, from A/C and heating, bathroom essentials to kitchen equipment. There's a Woolworths supermarket in the building near the entrance.
Best Party Hostel in Melbourne: United Backpackers
The United Backpackers is the best cheap hostel in Melbourne to party at! Between its stellar location in the CBD and its many alcohol-related activities, those looking to let loose should have little problem doing so in this hostel.
There is a pub located in the basement offering all the usual libations as well as game nights throughout the week. The facilities are clean and orderly so you won't have to worry about living in a sty.
Melbourne is literally filled with amazing places and things to do. To explore every single hotspot, you'd have to plan in quite some time in the city. To make the decision a bit easier, we've listed our favorite attractions below.
1. Visit the wineries of the Yarra Valley
Go wine tasting in Victoria's premier wine region! Many of the wineries are only a short drive away from Melbourne and make great day trips.
2. Go hunting for street art
Melbourne has some of the greatest graffiti in the world! Go wandering among the many laneways and back alleys for a chance to some stunning works of street art.
3. Get lost in the laneways
The laneways contain more than just street art – here are some awesome hidden bars and cafes. No backpacking trip to Melbourne would be complete without a walkabout in one its many laneways.
4. Go to an AFL match
Melbournians are absolutely bonkers for Australian Rules Football. Attend a game at the MCG or Etihad Stadium for a chance to see this crazy game and the locals in their natural element.
5. People watch at Flinders Station and Federation Square
Flinders Station and nearby Federation Square are like the switchboards of the city – everyone and everything passes through these hubs during the day. Just chill here and watch them go by.
6. Pay a visit to the Shrine of Remembrance
Aside from being a gorgeous piece of neoclassical architecture, the Shrine of Remembrance is perhaps the most important memorial in Australia. Pay respects here and be sure to climb to the top for an awesome view.
7. Party in St Kilda
Those backpacking in Melbourne will have a blast partying in St Kilda! Here are some of the best backpacker bars in Melbourne, not to mention a nice beach to relax on.
8. Shop till ya drop
Melbourne is famous for its many shopping streets and districts. On one of these streets, you can find just about anything from elegant clothing to exotic paraphernalia to organic produce. Great examples include the Hawthorn district, Queen's Market, and Melbourne Central Shopping Center.
9. Explore Melbourne's outlying neighborhoods
Some of the best neighborhoods in Melbourne are located on the edges of the CBD. Visit the likes of Collingwood, Carlton, and Brighton for a taste of something different.
10. Enjoy the amazing cafe and bar culture
Melbourne is one of the best places to eat and drink in not only Australia but the entire world! Here you can have just about any type of food imaginable including Thai, Italian, French, and much, much more. Be sure to get a big dinner in as well as you'll most likely be out all night drinking!
Looking for a little inspiration? Well here's a sample itinerary for spending 3-4 days in Melbourne! Perfect for when you've only got a weekend in Melbourne. Give it a look and use it for yourself if you like.
Day 1 in Melbourne: The CBD
On our first day backpacking in Melbourne, we knock out all of the city's main attractions, which are conveniently located close to one another in the CBD (City Center). With the Free Tourist Tram covering most of the area, you won't even have to walk much either!
Start your day at Flinders Street Station – this iconic, Edwardian-era building is one of the most well-known buildings in the city as well as its main transportation hub. No matter where you end up, you'll always be able to get back here.
Before jumping on the tram, make the short walk over to Federation Square. This public space is full of ultra-modern and abstract architecture, not to mention some killer views of the skyline. Nearby is St. Paul's Cathedral, Melbourne's most admired church, and the ACMI, whose Screen World's exhibit is one of the top free things to do in Melbourne.
Also be sure to check Hosier Lane across from Federation – this is one of the best places to see Melbourne's famous street art.
From here, hop on the Free Tourist Tram and head counterclockwise. Moving (roughly) in a circle, you'll pass by Cook's Cottage, the Fitzroy Gardens, and Parliament House before ending up at the Royal Exhibition Building. This ornate structure is one of Melbourne's most beautiful landmarks and its gardens are a great place to lounge.
Back on the tram, start heading west. Along the way, you'll see the State Library of Victoria, Queen Victoria Market – the largest outdoor market in the southern hemisphere – and the Flagstaff Gardens. Upon arriving at the hallowed Etihad Stadium, you'll begin the final leg back to Flinders Street Station.
After finishing the tram loop, be sure to actually walk inside the CBD. Here are the city's famous laneways, where you'll find some awesome street art as well as some cool cafes and bars. Grabbing a drink at one of the many watering holes found along AC/DC Lane, Centre Place, and Degraves Street is a great way to end the day.
Day 2 in Melbourne: The Hoods
On day 2 of backpacking Melbourne, we explore the satellite neighborhoods to the north of the CBD. These include Carlton, Fitzroy, Collingwood, Hawthorn, and Richmond.
There are no large attractions in these neighborhoods but what they lack in landmarks they more than make up for with charm. The best way to experience these areas is to just wander around.
Carlton is the westernmost of these neighborhoods and our first stop. Historically, Carlton has been the home of Melbourne's largest Italian population – it is thusly the best place to find good coffee and Italian food. The University of Melbourne is also here so there's a large and lively student population present.
Moving east we head to Fitzroy and Collingwood next, these closely-knit neighborhoods are where all the hipsters and bohemians like to hang out. Due to their presence, there is a great amount of street art and galleries in these neighborhoods as well as lots of live music.
At night, these neighborhoods host some of the best nightlife in Melbourne, complete with cheap drinks and rowdy performances. Further south is the Hawthorn district, which is one of the main shopping areas of Melbourne. Here, you can find just about anything from high fashion to ridiculous bobbles.
If you're a diehard shopper, you can spend an entire day visiting all of the stores in Hawthorne – for now though, let's just make it a stopover.
Finally, you'll end the day in the Richmond district. The shopping here is also fine as are the cafes and bars. Richmond hosts a large array of breweries as well.
The most important attraction in Richmond though is probably the MCG (Melbourne Cricket Ground). The MCG is the largest stadium in the city and, for a people that worship sports so much, this is their church.
Day 3 in Melbourne: The Beach
You can't visit Melbourne and not the beach at least once. On our possibly final day of backpacking in Melbourne, we head south towards Southbank, South Yarra, St Kilda and Brighton. Along this route, we'll see some of the city's most impressive buildings as well as its only (real) beaches.
Heading south from the CBD, we'll stop first in Southbank, which is home to several of Melbourne's most impressive sights. While walking, you'll notice the Eureka Tower dominating the skyline as well as the National Gallery of Victoria.
The most significant landmark in the area though is the exalted Shrine of Remembrance. The Shrine, a brilliant example of neoclassical architecture, and pays tribute to the Australian soldiers who participated in WWI. Be sure to climb to the top of the shrine for some excellent views of the city.
Moving on, we make our way to South Yarra and St Kilda. South Yarra is one of the most affluent areas of Melbourne and has some of the poshest bars in the entire city. For broke backpackers though, nearby Albert Park is the more lovely and cheaper attraction.
St Kilda is Melbourne's premier beachside neighborhood. Many compare this district to a borough of Sydney and even go so far as to call it a "Little Sydney."
Expect lots of beachy attractions here like the Palais Theater, Luna Park, and, of course, the sand and surf itself. Some of Melbourne's best backpacker bars are in this part of town as well.
Wrapping up our third day of backpacking in Melbourne, we spend the late afternoon in Brighton. Here are some of the loveliest and most peaceful residences in the city.
Walking amongst these mini-mansions and elegant Victorian houses makes for a very relaxing afternoon. Be sure to the visit the famous, multi-colored Brighton Bath Houses as well, which are among the city's most loved landmarks.
Optional Day 4 in Melbourne: The Yarra Valley
Have an extra day in Melbourne?! Then take the train out to the Yarra Valley and go wine tasting! Here are some of the best vintages and varietals in all of Australia not to mention some gorgeous countryside.
To get to Yarra by public transit, you'll have to catch the train to Lilydale and then connect with the 685 bus. Upon arriving in the Yarra Valley, the best way to get around is by bike – there are lots of paths here and none are too strenuous.
The wine in the Yarra is fantastic. Chardonnays, sparkling, and Pinot Noirs are the most well-regarded grapes here.
Off the Beaten Path in Melbourne
Wanna get out of the city? My best advice is to rent a car and just start driving; either to some beachside community or to the more rugged northern reaches of Victoria. Go somewhere less visited by tourists for a real taste of the state of Victoria.
Below are a few suggestions for the best daytrips from Melbourne.
Phillip Island
One of the most popular day trips from Melbourne, this idyllic island is home to some amazing coastline as well as an adorable penguin colony! Every night around sunset, the colony walks from the sea to their nests on the mainland, a mini-migration known locally as the "penguin parade." For surfers, Phillip Island is also one of the best and most reliable places to catch some waves.
Bendigo
Bendigo is a small and lavish city located northwest of Melbourne. Having benefited from the great Australian Gold Rush, Bendigo is full of elegant buildings, built with wealthy and royal sensibilities.
There are a number of wineries surrounding the city that produces some nice, bold reds. Several music festivals, like Groovin' the Moo and the Bendigo Blues and Roots festival go down here as well.
Great Ocean Road
The Great Ocean Road is perhaps the most famous Victoria landmarks outside of Melbourne. This stunning section of coastline, located southwest of Melbourne, is most known for its towering cliffs and sea stacks.
It's one of the best road trips in Victoria, so we highly recommend renting a car and going for a little trip along this route. Be sure to see the Twelve Apostles, Loch Arch Gorge, and the Great Otway National Park, which is located to the north of the Great Ocean Road.
Grampians
The Grampians are a rugged section of the Great Dividing Range that serve as one of the best outdoor getaways near Melbourne. There are plenty of things to do in The Grampians, but hiking and rock climbing here are among the best in Victoria.
In addition to these adventurous activities, the Grampians also host some of the best-preserved Aboriginal art in all of Australia!
Wilson's Promontory National Park
At the southernmost tip of Victoria – and thus the southernmost tip of mainland Australia – is some of the finest coastline in the nation. Superlative stretches of sand, like Norman Beach and Squeaky Beach – the latter is named for the sound the sand makes when you walk on it – are among the top reasons to visit this paradise.
The Promontory, one of Australia's best-known national parks, is also home to some of Australia's most beloved creatures like wallabies, wombats, and kangaroos. Camping is the best way to stay here.
Best Walks in Melbourne
For a good mix of urban hikes, check out these top 5 walks around Melbourne:
Capital City Trail: Perhaps Melbourne's most loved walking track is this 30 km hike that will take you by many of Melbourne's most famous landmarks including the MCG, Southbank, the Yarra River, and Docklands.
Bayside Coastal Art Trail: A 17 km walk from Brighton to Beaumaris, it's an informative and interesting track that features over 90 interpretive signs that illustrate local art and culture as well as great views of the coast.
Kokoda Memorial Walk: The Walk of 1000 Steps. This 5 km track through the woods is meant to recreate the conditions of Australian soldiers in Papua-New Guinea. It includes informative plaques and exposes.
Albert Park Lake: One of Melbourne's prettiest and largest parks. Great views of the CBD and lots of recreational facilities.
Merri Creek Trail: A 21 km bucolic track that runs along the Yarra River. It can be connected with the Capital City Trail and greater Yarra River Trail.
Below are my best Melbourne travel tips, including how to travel around Melbourne, a guide to the food and coffee culture, and the best time of year to visit Melbourne.
Best Time of Year to Visit Melbourne
The weather in Melbourne is famously unpredictable; many Melbournians like to joke about how the city receives four seasons in one day. Miss the summer sun? Just wait 5 minutes. Yearning for the rain? That'll be back in another 5 minutes, trust me.
Erratic behavior aside, Melbourne actually benefits from a wonderfully temperate climate. There are four distinct climates; extreme weather is very infrequently. In my opinion, Melbourne can be visited at any time of the year depending on what you want to do.
Summers (December-February) in Melbourne are generally warm. Rain is still common in the summer, sometimes in bucketfuls. Melbourne does suffer from an intense heat wave or two during this time, lasting between 2 and 3 days.
Instances of flooding have occurred during this time in the past. Summers are still the busiest season in Melbourne and so prices will be at their highest.
Winters (June-August) are cool but not cold in Melbourne. Rain consistently falls and fog is very common during this time. Snow occurs in the hills surrounding the city, but is practically unheard of in the CBD. Visiting Melbourne during the winter means that you can go skiing in Alpine National Park too!
Spring (September-November) and Autumn (March-May) are generally the best times to visit Melbourne. Spring is the wettest time of the year and everything is lush during this time. Autumn is more varied with any type of weather possible. The best part about these seasons is that the tourists will begin to dry up and prices will be lower.
Get in and out of Melbourne
There are several ways of getting in and out of Melbourne by land, sea, and air.
If you're traveling by bus or your own vehicle, there are several roads leading to Melbourne. To the east, the A1 runs all the way up the South Pacific Coast to Sydney and beyond. North, there are several highways leading to the Australian countryside, other major cities like Sydney, and just general fuck-all nowhere. West, the A1 continues all the way to Adelaide and South Australia – along this route you'll find the famous Great Ocean Road.
Being Australia though, all roads will be very long and somewhat arduous. From Melbourne, it's 11 hours to Sydney and 9 hours to Adelaide – that 11-hour drive to Sydney isn't even on the scenic A1, but on the more efficient and less pretty A/M41. By all means, road trip across Australia – it's one of the best things to do in Australia – but don't expect it to be a short journey.
Need help deciding between Sydney or Melbourne? Check out our helpful guide.
Most who want to go backpacking in Melbourne opt to fly into the city. Both of Melbourne's airports – Tullamarine and Avalon – are serviced by multiple airlines and ticket prices can be quite affordable at times. Note that most international flights fly into Tullamarine while domestics usually land in Avalon.
Victoria has an extensive rail system with several operators covering dozens of routes. All rail lines lead back to Melbourne – the hub of the state – so it should always be easy to find your way back. Check out V/Line for regional train travel in Victoria.
You can actually catch a ferry across the Bass Strait to Tasmania! The trip takes approximately 10 hours and drops you off in Davenport. Tickets can be pricey – $100 for the most basic type of seat – but for nautical nuts, this is a great journey.
When you're ready to travel to Melbourne, forgo buying tickets at the station and book them online instead! You can now book transport in advance for most of Asia using 12Go and doing so can really save you some stress (and maybe money, too).
How to get around Melbourne
Melbourne has a fantastic public transport system that allows visitors and residents alike to get around the city hassle-free. Between the many buses, trains, trams, and alternative forms of transport, those backpacking Melbourne should have little problem navigating the city.
First and foremost, those backpacking Melbourne have to take advantage of the City Circle Tram and the Free Tram Zone, both of which are free to use. Many of the city's top attractions are located either within or near these zones, meaning you can see the best of Melbourne without paying for a ride!
If you find yourself in a situation where you have to pay for a ticket, you'll have to use a myki card. Paper tickets are no longer dispensed on Melbournian public transport. You can buy a myki card at most machines and stalls for 6 AUD ($4.50). To use a myki card, simply make sure you have credit on the card – you can charge it at machines – and tap the card to a reader upon entering public transport.
Myki rates are 4.30 AUD ($3) for two hours and 8.60 AUD ($6.50) for a full day within a single zone. Melbourne is broken down into several zones and if you cross any one of them with public transport, you'll have to pay a variable amount as opposed to a flat rate.
You cannot sell or return your card to the city once you have finished with it. Best thing to do then is drop it off in a myki donation box located either in the station or in your hostel.
Walking is, of course, the most reliable and cheapest form of transport and Melbourne is a very pedestrian-friendly city. Try renting a push bike as well while backpacking in Melbourne – there are several dedicated bike lanes located throughout the city.
Long Distance Travel from Melbourne
Hey guys, guess what? This is Australia; everything is a long ways away! 10 hours is a day trip in Australian terms! If you're planning on traveling across this nation, you'll have to really be prepared for some long travel times.
From Melbourne, you can, of course, catch a long distance bus or train to the likes of Darwin, Perth, and Brisbane. Travel times will be in measured in days as opposed to hours for these locations though. Some of Australia's greatest train rides, including the Ghan, are along these routes though.
Flying really is your best option when it comes to long-distance travel in Australia. The locals have come to rely heavily upon airline travel as well, so prices have become quite reasonable. Trust me: unless you're road tripping and have time on your hands, you want to fly in Australia.
On that note, if you do in fact have the luxury of time on your hands, you must go on a road trip in Australia! It is one of the best and most popular ways to experience the country. Whether you trip from Melbourne to Adelaide or head back east, Australian road trips are almost unbeatable.
Safety in Melbourne
Australia is one the safest countries in the world, a place where you're more likely to be the unfortunate victim of a kangaroo beating than a stabbing or violent mugging. Take away the wilderness aspect of your journey and you're going to be pretty safe while backpacking in Melbourne.
Let's be honest, if you're really looking for some trouble, just go pissed drunk in one of the many pubs; the odds of you getting in a fight increase substantially at this point. Bar fights and general hooliganism are quite common in Melbourne, so the police presence is quite high at night.
If you should be apprehended by the police and still have the capacity to remember this guide's suggestions, just calm down and don't cause any more trouble; best case they'll sit you down and make you take a breather; worst case you'll get thrown in the drunk tank for the night.
Melbourne's trams can be quite dangerous to the unsuspecting pedestrian. These steel behemoths are extremely large and travel surprisingly quickly, two facts that the city council likes to remind Melbournians. Be sure to look both ways and only use official crossings when crossing tram tracks.
Travel Insurance for Melbourne
Traveling without insurance would be risky so do consider getting good backpacker insurance sorted before you head off on an adventure.
I have been using World Nomads for some time now and made a few claims over the years. They're easy to use, professional and relatively affordable. They may also let you buy or extend a policy once you've started your trip and are already abroad which is super handy.
If there's one insurance company I trust, it's World Nomads.
ALWAYS sort out your backpacker insurance before your trip. There's plenty to choose from in that department, but a good place to start is Safety Wing.
They offer month-to-month payments, no lock-in contracts, and require absolutely no itineraries: that's the exact kind of insurance long-term travellers and digital nomads need.
SafetyWing is cheap, easy, and admin-free: just sign up lickety-split so you can get back to it!
Click the button below to learn more about SafetyWing's setup or read our insider review for the full tasty scoop.
Melbourne Accommodation Travel Hacks
Let's face it, sometimes we all need to stay in a hostel. Hostels are great for meeting fellow travelers and just having space where you can do your thing at your own pace.
Backpacker accommodation in Melbourne is far from cheap, however. I will just say the prices are staggering once you learn what they are. So, stay at a hostel for a night or two and consider your other options:
Couchsurf!: If you manage to land a Couchsurfing spot in Melbourne, you will have successfully eliminated your biggest cost: accommodation. I'll be honest with you. Couchsurfing is more popular than ever before.
I've been told Couchsurfing hosts in Melbourne can receive up to 50+ requests PER DAY! Point being, whilst I would not explicitly count on Couchsurfing in Melbourne, I would sure give it an honest go. Make sure you send a very convincing message short of selling your body and your soul.
Tap into your backpacker network: If you have done any sort of backpacking before, odds are you know someone who knows someone from Australia. Australians love to go backpacking! Before you begin your Melbourne backpacking trip, I suggest you put your feelers out there and ask your network of friends if they know of someone whom you can crash with for a night or two.
This might sound far-fetched, but honestly, this has helped me out multiple times in Melbourne as well as in other cities. As it turns out, my friend of a friend host was awesome and we are still friends! Ultimately, if you can find a balance between a hostel night and a free night, you will have more cash beer and coffee.
Eating and Drinking in Melbourne
Melbourne is one of the world's leading gastronomic destinations, not to mention the best place to grab a bite in all of Australia. The dining scene here is absolutely astounding, offering some of the best Asian food that you can find outside of the actual continent in addition to some of the best international food period.
Those backpacking Melbourne have to take some time out of their itinerary and budget for eating out in this city.
Spread throughout the city, there are many cafes and pubs offering thirsty travelers a brief respite or jolt of energy. The coffee in Melbourne (and Australia as a whole actually) is high-quality thanks in part to the prominent Italian immigrant population.
You can find good food and drinks just about anywhere in Melbourne, though the CBD will have the most culinary options. Below is a brief breakdown of the most popular types of food in Melbourne and where to generally find them.
Australian: everywhere
Chinese: Chinatown – predominantly Cantonese.
Thai: Just about everywhere.
Indonesian/Malay: CBD, Flemington, Southbank
Vietnamese: Richmond, Footscray
Japanese: CBD, Collingwood – lots of sushi and traditional kuni.
Italian: Carlton
Greek: CBD/Greek Precinct
French: CBD, Collingwood, South Yarra
Turkish: CBD, St. Kilda
Lebanese/Arab: Brunswick, Coburg
Indian: CBD
African: Footscray, Fitzroy – mostly of the Ethiopian variety.
Jewish: St. Kilda, Caulfield
Spanish: CBD, Fitzroy
All of these cuisines and many, many more are all available to try in Melbourne! Each one is sure to impress you with its high quality and authenticity.
Nightlife in Melbourne
Melbourne is perhaps the best place to party in Australia! This city caters to nearly every type of person, be them binge drinker, raver, kickbacker or miscreant. With public transport that runs 24/7 and zero alcohol curfew, it's never been easier to have a good time in Melbourne!
Melbournians pride themselves upon their city's nightlife. Nowhere else in Australia can one stay out until 7 am and drink throughout the entire night. Whereas Sydney succeeded (somewhat) in instituting a controversial 2 am bar lockout, Melbourne quickly abandoned the idea. No wonder everyone is moving there!
Each district of Melbourne offers a different kind of after-hours experience. The CBD is famous for its exciting mix of bars found in the lowest laneways as well as the highest towers.
When walking around this part of town, you'll stumble upon tiny speakeasy-like haunts in the dusty corners of laneways – my favorite is Hell's Kitchen. After wandering the alleys, ascend to a rooftop bar, like the eponymous Rooftop Bar, to soak in the suds and views.
Head to Southbank for a drink next to the lazy Yarra River. As befitting of a laid-back afternoon, there are lots of beer halls, like the Hophaus and Belgian Beer Cafe, around here.
The hipster neighborhoods of Collingwood and Fitzroy are – as befitting for a bohemian – cheaper, more relaxed, and usually full of musicians. Walk up and down Smith Street for a cheap domestic pint and some live music. Nearby Carlton, being an Italian neighborhood, is full of little cafes, complete with outdoor tables and chairs.
Visit chique South Yarra and Prahran for a more upscale night out. This is a very rich part of town so you'll have to be dressed to the nines and willing to spend a lot. The Emerson is one of the most lavish bars in this area.
Finally, no party is complete without a trip to debaucherous St. Kilda. This beachside suburb is like a little Sydney inside of Melbourne. There's a little bit of everything here, but travelers will feel exceptionally welcome at one of the many backpacker bars i.e. Red Eye Bar.
Books to Read while Traveling in Melbourne
Make Money Online Whilst Backpacking Melbourne
Traveling in Melbourne or Australia long-term? Keen to make some cash when you are not exploring the city?
Teaching English online is a great way to earn a consistent income—from anywhere in the world with a good internet connection. Depending on your qualifications (or your motivation to obtain qualifications like a TEFL certificate) you can teach English remotely from your laptop, save some cash for your next adventure, and make a positive impact on the world by improving another person's language skills! It's a win-win! Check out this detailed article for everything you need to know to start teaching English online.
In addition to giving you the qualifications to teach English online, TEFL courses open up a huge range of opportunities and you can find teaching work all over the world. To find out more about TEFL courses and how you can teach English around the world, read my in-depth report on teaching English abroad.
Broke Backpacker readers get a 35% discount on TEFL courses with MyTEFL (simply enter the code BACKPKR), to find out more, please read my in-depth report on teaching English abroad.
Whether you are keen to teach English online or looking to take your teaching game a step further by finding a job teaching English in a foreign country, getting your TEFL certificate is absolutely a step in the right direction.
Making Money…Not Online
If Teaching English isn't really your thing, perhaps a working holiday or internship with Global Work and Travel may be another viable option for makin' that sweet moolah. They offer opportunities in major cities throughout Australia, including Melbourne. They'll support you throughout the entire process; from VISA guidance to finding you the perfect placement. You've got to be between the ages of 18 to 35 though…apologies if this isn't you!
Being a responsible backpacker in Melbourne
Reduce your plastic footprint: Perhaps the best thing you can do for our planet is to make sure you do NOT add to the plastic problem all over the world. Don't buy one-use water bottles, the plastic ends up in landfill or in the ocean. Instead, pack a tough travel water bottle.
Go and watch A Plastic Ocean on Netflix – it'll change how you view the plastic problem in the world; you need to understand what we are up against. If you think it doesn't matter, get off my fucking site.
Don't pick up single use plastic bags, you're a backpacker – take your daypack if you need to go to the shop or run errands.
Bear in mind, that many animal products in countries you travel through will not be ethically farmed and won't be of the highest quality. I'm a carnivore but when I'm on the road, I only eat chicken. Mass-farming of cows etc leads to the rainforest being cut down – which is obviously a huge problem.
Need more guidance? – Check out our post on how to be a responsible backpacker.
Backpacking in Melbourne will bring you ample opportunities to participate in debauchery, and it is very important to have fun, let loose, and get a bit wild at times—as the Aussies tend to do. Most backpacking trips I have been on across the world have included at least a few mornings where I wake up knowing I went too far.
There are some things that will put you in the category of a straight up jackass if you do them. Being super loud and obnoxious in a tiny hostel at 3 AM is a classic rookie backpacker mistake. Everyone in the hostel will hate you when you wake them up.
Show your fellow travelers (and locals) respect whilst backpacking in Melbourne and anywhere else for that matter!
---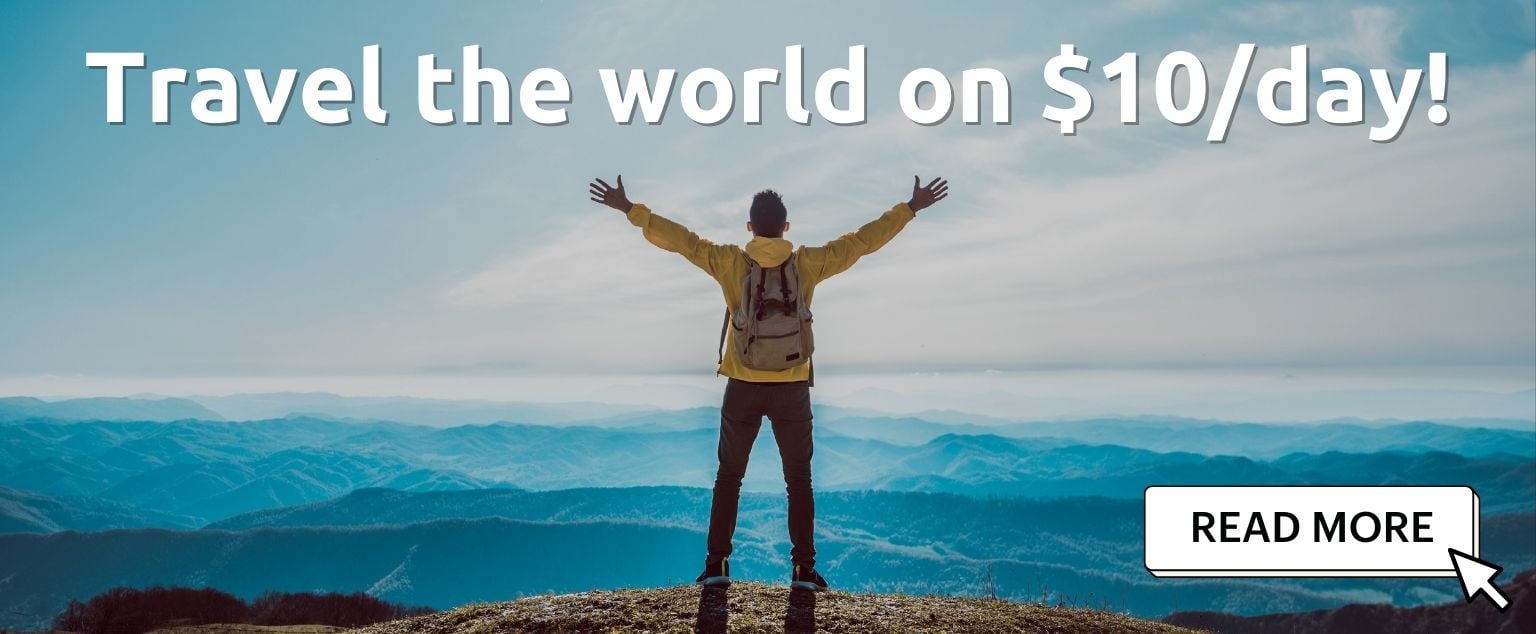 And for transparency's sake, please know that some of the links in our content are affiliate links. That means that if you book your accommodation, buy your gear, or sort your insurance through our link, we earn a small commission (at no extra cost to you). That said, we only link to the gear we trust and never recommend services we don't believe are up to scratch. Again, thank you!