Melbourne is a multicultural haven, full of foods and cultures that can't be found in the same concentrations in any other city in Australia. And that's part of what makes the city such an exciting place to visit, because you will be able to eat, shop, and experience things that come from all over the world. This is a city that you visit because you want to experience that diversity in a very Australian way!
However, Melbourne isn't all great food, it's also gained a reputation lately as one of the most dangerous cities in Australia. A lot of this is media hype, but there are places in Melbourne that should be avoided if you want to have a safe and happy visit to the city. This isn't hard to do, especially with our ultimate list of the best places to visit while you're Down Under in Melbourne!
Backpacking Melbourne is simply a must. The city has so much to offer for every traveller that you could spend weeks just exploring the different neighborhoods. Since not all backpackers can stay for this long, we've created an epic Melbourne itinerary. It might just be a guideline but at least you can be sure to fit in all of the important hotspots.
#1 – National Gallery of Victoria
Why it's so awesome: This gallery is actually made up of two different venues, the NGV International and the NGV Australia, both of them containing world-class art. There are also a number of exhibits by Aboriginal artists, which means that you can check out this part of Australia's past and present.
What to do there: Make sure you don't miss the Rembrandt, Tiepolo, and Bonnard that makeup part of this gallery's permanent collection. The entrance also boasts a water wall that's a great place to take photographs to remember your day by!
#2 – The ACMI – Cool place to see in Melbourne with friends!
Why it's so awesome: If you love the movies, then you need to check out what's on at the ACMI while you're in the city. This venue has hosted favorites like David Bowie Is and the DreamWorks Animation: The Exhibition. Basically, if it has to do with the cinema and the biggest and best exhibitions in Melbourne, then it's probably going to be held at this venue.
What to do there: Before you arrive in Melbourne, check out what shows they have on at the ACMI. And don't think for a minute that this venue only shows movies. In fact, it's held Melbourne's most popular talks, events, and blockbuster exhibitions over the last decade. And if you enjoy the show, make sure you check out the shop on the way out for some great souvenirs.
Why it's so awesome: This drive is a little way out of Melbourne on the Great Ocean Road, but it's an absolute must-see while you're in the city. This drive is one of the best in the country, with stunning ocean vistas running alongside the road for miles. There are several great beaches where you can stop off along the way and you'll get the chance to see the Twelve Apostles. These are imposing rock formations that rear up out of the ocean like sentries.
What to do there: You can take a load off and book a Great Ocean Road Reverse Tour where you'll beat the crowds, yet still be with a bunch of like-minded travellers. Or, you can hire a car and take the drive up on your own if you're confident enough. Make sure you stop along the way, there are a lot of different lookout points where you can take pictures, so take advantage of them. Remember to stay safe while taking selfies though, by not leaning too far over that lookout point railing (that water is freezing). If you prefer, you can join an ecotour. And look out for koalas, it's not uncommon to see them by the side of the road or trying to cross!
#4 – The Queen Victoria Market – A great place in Melbourne if you love to shop!
Why it's so awesome: This is an open-air market that's filled with people who are passionate about their products and want to share them with everyone. It's where the locals go for fresh vegetables, meat and small goods, but it's also become popular amongst tourists for its relaxed vibe and great food. You'll find everything at this market from food to clothes and toys, so wander the aisles and see what you can discover.
What to do there: The market is closed Mondays and Wednesdays so make sure you pick the right day to go. And while you're there, wander the stalls looking for a bargain or for a unique souvenir to take home with you. When you're done, check out some of the food options in the area. There's a doughnut van called the American Doughnut Kitchen that makes juicy, gooey concoctions that are to die for!
Why it's so awesome: Australia doesn't have enormous skyscrapers like other countries so they can't compete when it comes to tall observation decks. Instead, they choose to compete in another way. The Eureka Skydeck is hair-raising, in the best sense of the word. The Edge extends three meters from the 88th floor of the Tower and is designed to creak when you walk on it. So basically, you're walking on glass that sounds like it's going to break under your feet.
What to do there: This Skydeck is only for people with strong stomachs and nerves of steel, but once you're up there the view is worth the fright. You can even book in advance to get exclusive offers and the chance to upgrade to the Edge Experience (which involves a glass cube 300m above ground with you inside it). It's the best view of Melbourne you'll get in the city, and you should try going up there at night if you want to see the city's lights against the dark. We understand if heights aren't your thing though and you'd prefer to stay in an Airbnb with great views instead.
#6 – The Astor Theater
Why it's so awesome: The Astor Cinema has been in operation since 1936 and is the last cinema with a single screen in Melbourne. The building is Art Deco and the insides hark back to the old days of theater, with golden curtains and a distinctly old-world feel to everything. The movies on offer match that impression. The theater shows a mix of classic and new films as well as film festivals, independent films and double features for the really hardcore movie fans.
What to do there: This theater has a lot of special events and the sumptuous surroundings make a movie feel that much more amazing. You can get a cheap ticket on Mondays, Wednesdays and Thursdays, so check out what's showing, take your friends with you, and enjoy a 1930s cinema experience!
Why it's so awesome: Everyone needs a break from the city sometimes and the Royal Botanic Gardens in Melbourne will give you the rest you need. These gardens contain more than 8,500 species of plants, lush lawns and pristine water features, which all make it the best place in the city to sit down and revitalize.
#8 – Brunswick Street – One of the more unique places to visit in Melbourne!
Why it's so awesome: Melbourne is a busy modern city, but it still has its alternative side and the center of that is Brunswick Street. This is where you'll find shops, people, cafes and restaurants that are all a bit different. The vibe is determinedly bohemian, and you'll find everything from great second-hand bookstores to the best vintage clothes shops.
What to do there: Make sure that you check out the vintage clothes shops. Melbourne is famous for them and there are several of them in this area. Try Vintage Sole, Yesteryear Vintage Clothing and Hunter Gatherer just to name a few. And other than that, just wander and see what you can find. This is a great place for people watching too as the vibe is relaxed and cool and attracts that kind of crowd too.
#9 – The Curtin House
Why it's so awesome: Spending time at the Curtain House is like seeing all of Melbourne in one shot. This house has six floors of interesting, amazing and weird shops that have become famous for their variety. The only reason you'll need to hide your money while traveling in Melbourne is here because of the risk that you'll spend all of it in one go. You'll find a specialist bookshop, hairdressers, restaurants and the best bars in the city all packed in together.
What to do there: Explore of course! Have a haircut, look for books and clothes and make sure you check out the bar and band room at the famous Toff in Town. When you're tired, you can get a meal and spend the rest of the night at the Rooftop Bar, overlooking the city. In fact, if you don't have much time in Melbourne, you can get a pretty good snapshot of the whole city just by spending a day in this building.
#10 – Chinatown
Why it's so awesome: This Chinatown district has been in Melbourne for over 160 years and it shows no signs of slowing down. It's packed full of restaurants, shops and sights, the likes of which you'll rarely see outside of China, and is a fascinating and busy place to spend an afternoon and evening.
What to do there: Make sure you explore the shops, karaoke bars and duty-free stores, but mostly you should go to Chinatown to eat. There are so many amazing restaurants in this area that you'll probably have trouble picking one, so don't even try! Instead, go from one to the other and eat snacks, mains and desserts at different places.
#11 – Old Melbourne Goal – Possibly one of the most important places to visit in Melbourne
Why it's so awesome: Australia was once a giant open prison and so a visit to a small prison should be way high on your Australia itinerary. You may have your complaints about the modern criminal justice system but one look at the past will probably change that. This place is a haunting reminder of just how bad things got in the past and it will definitely make you grateful for the modern day. The goal opened in 1845 and is one of the oldest buildings in Melbourne. 133 people were hung in this building, so there are a lot of ghost stories about it.
What to do there: There's lots to see and do in this goal. You can wander around the creepy, historical building on your own, experience a modern-day arrest procedure, and stand in the dock of the Court. And if you're interested in exploring the more ghostly side of the goal, there are regular one-hour tours where you'll learn all the grisly details. Also, make sure you have a look at the armor and death mask of famous Australian outlaw Ned Kelly. He's an icon and almost a role model to the locals, so his blood-soaked armor holds pride of place.
#12 – St. Kilda – A great place in Melbourne if you love to shop!
Why it's so awesome: There are two main strips in St. Kilda that you need to see. The first is Fitzroy Street, with high-end designer stores and restaurants. And the other is Acland Street, which is where cake lovers come to put their blood sugar through the roof. This street has been famous for its cakes since 1934 and there are several cake shops along with it that you absolutely must experience!
What to do there: Go with an empty stomach and eat some cake! Better yet, stay in a hostel in St. Kilda so you can eat cake for breakfast! You'll find everything from Cheesecake to vanilla slices and chocolate creations that will test your willpower and the strength of your trouser waistline! And afterwards, go down to the beach and work it off paddle boarding, or just sit in the sand and digest.
#13 – The Melbourne Museum
Why it's so awesome: This museum is enormous and filled with displays, cinemas, postmodern art and interactive areas. It's a great place for the whole family too as there are permanent galleries just for children as well as a wealth of interesting displays where they can interact with the exhibits and learn through play. For adults who are interested in Australian history, there are displays about some interesting and slightly unusual facets of it.
What to do there: This museum is huge so it's usually best if you make the choice to see only a few displays. The display dedicated to Phar Lap, Australia's most famous racing horse, is a must-see as long as you're not squeamish. The horse's body is preserved and on display, so maybe don't let the kids see it. There's also a slightly disturbing display about the history of mental health treatment in Australia. It'll make you very grateful that you were born in modern times.
#14 – The Cherry Bar
Why it's so awesome: Melbourne is the center of the live music scene in Australia and this bar is the reason why. Over the years, it's booked some of Australia's best up-and-coming talent as well as the country's biggest bands and singers.
What to do there: Just enjoy the scene. This small bar is famous for the quality of the acts it books and yet it hasn't changed in over a decade. It's still a little, rough and ready bar with graffiti on the walls. And that roughness is all part of the bar's charm.
#15 – Yarra Valley – A must-see for foodies!
Why it's so awesome: Melbourne is a huge sprawling city where we recommend first-time visitors stay in the CBD. You wouldn't think that there could be a green, lush area so close to it until you reach the Yarra Valley. Less than an hour from the CBD, this is the state's best food and wine destination and you'll find wineries, cellars and gourmet dining establishments everywhere.
What to do there: If you like wine, you'll be in heaven. Take a winery tour around to the best wineries in the region and then put some food in your stomach to soak up all that alcohol at one of the many amazing restaurants set amongst the rolling green hills. And if you're in the mood for something sweet, visit the Yarra Valley Chocolaterie and Ice Creamery for the best sweet snacks in the region. Join a gourmet tour to really get the full experience.
#16 – Lygon Street
Why it's so awesome: Melbourne is an intensely multicultural city and nowhere is this more clear than in Little Italy on Lygon Street. This area contains some of the best restaurants and eateries in the city as well as dessert shops, books stores and independent theaters.
What to do there: Eat your way across Italy. The bars and restaurants in this area are top-notch and you can go from one to the other enjoying a variety of courses. When you're ready to walk around and work off all the food, check out the Readings Bookstore and the independent theater La Mama. You're bound to find something to do!
#17 – Abbotsford Convent
Why it's so awesome: This site was a convent in the 1800s, then an orphanage and an aged care facility. And the weight of that past can be felt the moment you step onto the grounds and look up at the gothic spires. Now, it's a creative hub, with amazing art inside and stunning surroundings. So if you're looking for a bit of history and a relaxed, natural area, this is the place to visit.
What to do there: Australia doesn't have a lot of history, its western history is only a few hundred years long after all, but what it does have is fascinating. Explore this site and the history it represents but enjoy the present as well. The artwork in the galleries and the gardens are amazing and are well worth seeing. And when you're hungry, try the restaurant on site. It's a vegetarian restaurant where you pay what you think the meal is worth.
#18 – Federation Square
Why it's so awesome: This community hub has a geometric design that has caused a lot of argument over the years and yet it's still the center of the city. There's always something going on in this area including events, talks, performances, markets and activities. So no matter what you enjoy, chances are that you'll find an event in this area that you'll love!
What to do there: Before you arrive in the city, check out what's on in Federation Square and make sure you attend the events that you're interested in. But if that's too much effort, just show up when you have a free afternoon! There's sure to be something going on there that'll interest you.
#19 – The MCG
Why it's so awesome: Australians love their sport and AFL in particular and yet this game is nearly incomprehensible to outsiders. That doesn't matter though, because the best part of the game is the sense of comradery. At sports events in Australia, there's no anger or aggression against opposing teams. Instead, there is a general sense of community and togetherness that's hard to beat.
What to do there: If you're there in the right season, you can watch a game with a meat pie in one hand and a beer in the other. But even if you're in Melbourne during the off-season, there are lots of sports played in the MCG including cricket. And make sure you check out the National Sports Museum while you're there for a snapshot of Australia's obsession with everything sports-related.
#20 – Phillip Island – A very cool place in Melbourne to go for a day
Why it's so awesome: Phillip Island is a short way from Melbourne and is basically a beach island that's populated by animals. There's great swimming and surfing on this island, but the animal watching is the real draw. You'll see seals and tiny penguins marching across the sand like soldiers. And that's a sight that sticks with you.
What to do there: Enjoy the wildlife! There are more seals on this island than people and the tiny penguins are quite possibly the cutest thing ever! Every evening at the same time they come ashore at the beach and march towards their burrows, and this is something everyone should see at least once.
#21 – The Crown
Why it's so awesome: The Crown is basically a big entertainment complex that contains everything you could want for a fun, easy day out. There are a huge number of shops of all descriptions, eateries, theaters, nightclubs and cafes, so no matter what time of day you go there you'll find something happening.
What to do there: Wander around the shops, duck into one of the many cafes for a coffee, and then round out your afternoon by eating at one of the many restaurants in the complex. You can also spend some money in the casino or go dancing. And if you get bored with that, the Crown is located over the river, so have a stroll along the promenade to work off all that food!
#22 – The Shrine of Remembrance – Possibly one of the most important places to visit in Melbourne
Why it's so awesome: Not everywhere you go when you're on holiday will be fun and amazing. It's also important to visit the places that make you think, remember and acknowledge the sacrifices that made our current world possible. The Shrine of Remembrance was built to honor the victims of the First World War. But over time, it has become a memorial to all the Australians who died in every war. The site is beautifully lit up, and the architecture is reminiscent of Roman buildings.
What to do there: Take a moment to remember the sacrifices of the people who came before while you visit this venue. These types of memorials are important because they remind everyone of the cost of hate and fear, so spend some time remembering the pain of the past in the hope that it won't be repeated in the future.
#23 – Chapel Street
Why it's so awesome: This street is filled to the brim with boutiques, restaurants and entertainment areas. It's a vibrant area where you can check out the latest fashions in clothes and food while you enjoy watching some people watching.
What to do there: While you're in Chapel Street, make sure you do more than shop. Some of the oldest and most important buildings in the city are in this area, so take the time to explore. Have a look at the Jam Factory, the Prahran Town Hall and Prahran Market.
#24 – The Immigration Museum
Why it's so awesome: Australia has a strange and sometimes tragic history and most people who live there came from all over the globe. You can explore this history through the Immigration Museum, which emphasizes the importance and the role of diversity and immigration in the past and in the present.
What to do there: If you want to understand more about Australia's history then you can explore the museum on your own. The museum's collection of resources and information is vast, so spend some time getting to know this side of this highly diversified country.
#25 – St. Paul's Cathedral
Why it's so awesome: This museum is located on the corner of Flinders Street and Swanston and is one of the most important landmarks in the city. The building is an unusual yellow-brown color because it's made from sandstone and limestone, which is highly unusual for this type of construction. It was completed in 1891 on the site where the first public Christian service was held in 1835.
What to do there: The inside and the outside of the building are well worth a look as they were designed by some of the best architects alive at the time. The building is distinctly Victorian in design, reflecting Australia's past, and the colors and design really stand out and are different to everything else in the city. Make sure that you spend some time in the interior as well as it features rich and contrasting colors and elegant stonework.
#26 – Degraves Street
Why it's so awesome: Melbourne is famous for its laneways. You can turn down one and find yourself in a completely different place, even a different country. And Degraves Street is one of the best and the most famous in the city. It connects Flinders Lane and Flinders Street and has a real Parisian feel to it, with a surfeit of cafes and laneways.
What to do there: This is a great place to have a meal, dessert or coffee. There are also some great places where you should try some wine before you explore the shops. Make sure you look around the stationary store Il Papiro and eat some gelato at Pidapipo before you go.
#27 – Lune Croissanterie
Why it's so awesome: This store was created by brother and sister team Kate and Cameron Reid and it's fast become the most popular patisserie store in the city. The croissants are just about good enough to die for and the crowds inside the store and the line outside of it back that up.
What to do there: You'll have to wait in line to get into the store, but it's absolutely worth it. The croissants are created in a climate-controlled lab and they're perfectly crisp and golden with layers of pastry. Make sure you try the plain croissants because they're incredible, but take some other varieties home with you as well.
#28 – The Adelphi Hotel Pool – One of the more unique places to visit in Melbourne!
Why it's so awesome: Australia is hot, which is why the locals swim every chance they get. If you need to cool off, then why not do it in the most famous pool in Melbourne? The rooftop pool at the Adelphi hotel is glass-bottomed and it actually hangs out over the street below. This means that you can watch tiny little people scurrying below while you get some exercise.
What to do there: You don't have to stay in the hotel to use the pool, but you do have to pay an entrance fee. Just grab your towel and enjoy the view. And once you're done, you can always try one of the hotel's restaurant options for amazing meals and first-rate service.
#29 – The Spleen Bar – A great place to visit in Melbourne at night
Why it's so awesome: This bar is small and unpretentious and yet it's been operating for more than 15 years. In fact, it's become the go-to bar for cheap drinks and snacks as well as an unbeatable Monday night comedy lineup. All the biggest acts in Australia try out their new material at this bar, so prepare for a laugh.
What to do there: If you want to see the comedy shows on Monday, arrive early so you can get a seat. The Spleen Bar isn't large, and entrance is free, so you don't want to miss out. Then just grab a drink and enjoy the show. The quality of the shows are consistently good and who knows, you might see a star!
#30 – Centre Place
Why it's so awesome: This alley has great food, amazing shopping and some of Melbourne's best street art as well. The art changes regularly because of the repainting schedule, so even if you've seen it before, it's worth stopping by to see if there's anything new.
What to do there: Eat, shop, and take photos of street art. Get there early if you want to explore without the crowds, but otherwise be prepared to have a lot of stranger in your pictures.
#31 – The Bunjilaka Aboriginal Cultural Center
Why it's so awesome: The Australian Aboriginal culture is vibrant and filled with stories and this museum seeks to teach some of those stories to the public. To this end, you'll find lots of artworks, traditional performances and storytelling rituals in this museum. And you'll walk away knowing more about this ancient culture than you did before.
What to do there: You'll find a lot of fascinating exhibits in this area, particularly if you don't know very much about the Aboriginal culture. Don't miss the Deep Listening Space, where you can listen to Aboriginal people telling their cultural stories about creation and the time after it. Also, make sure you check the schedule of events while you're there so you don't miss any performances or exhibits.
#32 – Hamer Hall – One of the nicer places in Melbourne to sightsee!
Why it's so awesome: Hamer Hall is one of the best concert halls in the city, with lots of great shows, but the real draw is the view. You can walk up the stairs on the outside of the hall until you get to the top where you can get stunning views of the city and the riverside.
What to do there: Go there in the early evening and watch the sunset paint colors over the city. Make sure you do it on one of the days when there's a show on at night too because this is the best place for concert music and theater performances in the city.
#33 – Readings – A great place to visit in Melbourne if you are alone/traveling solo
Why it's so awesome: A lot of bookstores have vanished recently, killed off by technology, but there are some that are going strong because they've learned to adapt. This bookstore has taken hold of the night crowds in Melbourne, with late night book readings that draw in audiences even at 10pm on Saturday nights.
What to do there: Make sure you go to one of the readings if there's one on while you're in the city but check out the store during the day as well. This bookstore has a great range, helpful staff, relaxing vibe and a strong sense of community to it, which is why it has lasted despite technological advances. And when you're done in the bookstore, you'll be in Lygon Street, which is one of the best areas for tourists. So check out the other stores in the area as well.
#34 – The Arts House
Why it's so awesome: If you love the theater but don't really have the money to see a big show then you can see something amazing at this venue. The Arts House stages cutting-edge local shows at around half the cost you'd pay anywhere else. This venue provides high-quality shows, so no matter when you go, you'll get to see something that you'll enjoy.
What to do there: Check the schedule of what's on at this venue while you're in the city. The owners of this venue like to push the margins, which is why they stage shows that are innovative and unusual. This includes theater, and dance, as well as digital, visual and live art shows. They also have art festivals throughout the year so check out what's on while you're there.
#35 – Hawker Chan – An unknown (but awesome!) place to see in Melbourne!
Why it's so awesome: Australia is very close to Asia and sometimes that's super obvious such as when this country adopts its food trends. In Singapore, street food is often served in hawker centers, with lots of stalls gathered together. And in Melbourne's Hawker Chan, this has been adopted to Australian tastes. This location serves simple food, but it's good enough to have people lining up around the corner for it!
What to do there: Get there early if you want to avoid the lines but be prepared to wait anyway. Try the chicken soya dish for a fraction of the price you'd find anywhere and see why this location got its Michelin stars.
#36 – Heide Museum of Modern Art
Why it's so awesome: This museum was founded by John and Sunday Reed, collectors who supported the local modernist movement in the 1930s and 1940s, and it's still going strong in this spirit. It's filled with Australian modern artists and artwork, and it's worth seeing just to experience the Australian creative spirit up close.
What to do there: Take some time to check out the art work first, but once you're finished there, go out to Heide's green sculpture park. You'll find iron cows and an idyllic green area with metal sculptures all nestled next to the river bank. This is an awesome place to sit and relax while you enjoy the farmyard feel.
#37 – The Nicholas Building – An awesome place to visit in Melbourne for half a day!
Why it's so awesome: This is ten stories of shopping and adventure that was first built in the 1920s. You'll find everything here from boutique retailers to art studios and tailors, all in one place. You won't find anything ordinary to buy here, which is what makes it the perfect place to pick up some unusual items for yourself or for friends back home.
What to do there: You could spend a whole afternoon in this building just exploring the ten floors, and you probably will too. Make sure you check out RetroStar for vintage goods, Mattt for handmade satchels, and L'ucello the specialist haberdasher. You're bound to come away with something beautiful and unusual when you visit this spot, so just keep your eyes open and go with it.
#38 – Beach Road – One of the most incredible free places to go to in Melbourne
Why it's so awesome: if you love the idea of driving down winding, seaside roads but don't have the time to do the Great Ocean Highway, then this is a great alternative. This road twists along the southeastern side of Port Phillip Bay from Brighton all the way to Mordialloc and there are amazing ocean views all the way along. The road also travels through some of Melbourne's richest areas, so if you want to see how the wealthy live in Australia, this is the perfect place to do it.
What to do there: Take your camera, some friends and snacks and just enjoy the drive. There's nothing quite like riding along an ocean road with the wind in your hair and your camera at the ready, so make sure you enjoy the experience. Also, take your swimmers along with you and have a dip at Half Moon Beach. It's shaped like its name and is set at the bottom of an atmospheric, slightly intimidating scrub-covered cliff. Just be careful and remember that Australian beaches are usually rougher than what you would get overseas. So, if you aren't a strong swimmer, stay close to the shore.
#39 – The Forum
Why it's so awesome: This building went up in the 1920s and is a lavish nod to Moorish architecture. It almost went derelict over the years but was saved and became the city's best location for great rock and roll artists and shows. The inside of the building is amazing too. When you step inside, you'll see that the ceiling is blue and dotted with lights like you're looking at the night sky and the walls are designed to look like a gothic courtyard. This makes it an awesome place to see the kings and queens of rock and roll.
What to do there: The Forum was refurbished in 2017 and all the original features are now out in the open for you to enjoy. Make you sure have a close look at the mosaic floors, which were hidden until the renovation. But what you really want to see in the Forum is one of the shows. In the past, the venue has played host to stars like Nick Cave as well as comedy and theater performances. So, when you have a free night, see what they have on and grab yourself a ticket!
Get insured for your trip to Melbourne!
ALWAYS sort out your backpacker insurance before your trip. There's plenty to choose from in that department, but a good place to start is Safety Wing.
They offer month-to-month payments, no lock-in contracts, and require absolutely no itineraries: that's the exact kind of insurance long-term travellers and digital nomads need.
SafetyWing is cheap, easy, and admin-free: just sign up lickety-split so you can get back to it!
Click the button below to learn more about SafetyWing's setup or read our insider review for the full tasty scoop.
Find out what people want to know about the best places to visit in Melbourne
Melbourne is the second largest city in Australia, and it's filled with an amazing amount of diversity. This is what makes the food so great and it also affects the vibe of the city too, making it progressive, edgy and exciting! With this complete guide to the city, you'll be able to find the best experiences in the city that suit your taste, your budget, and the amount of time you have to spend there.
---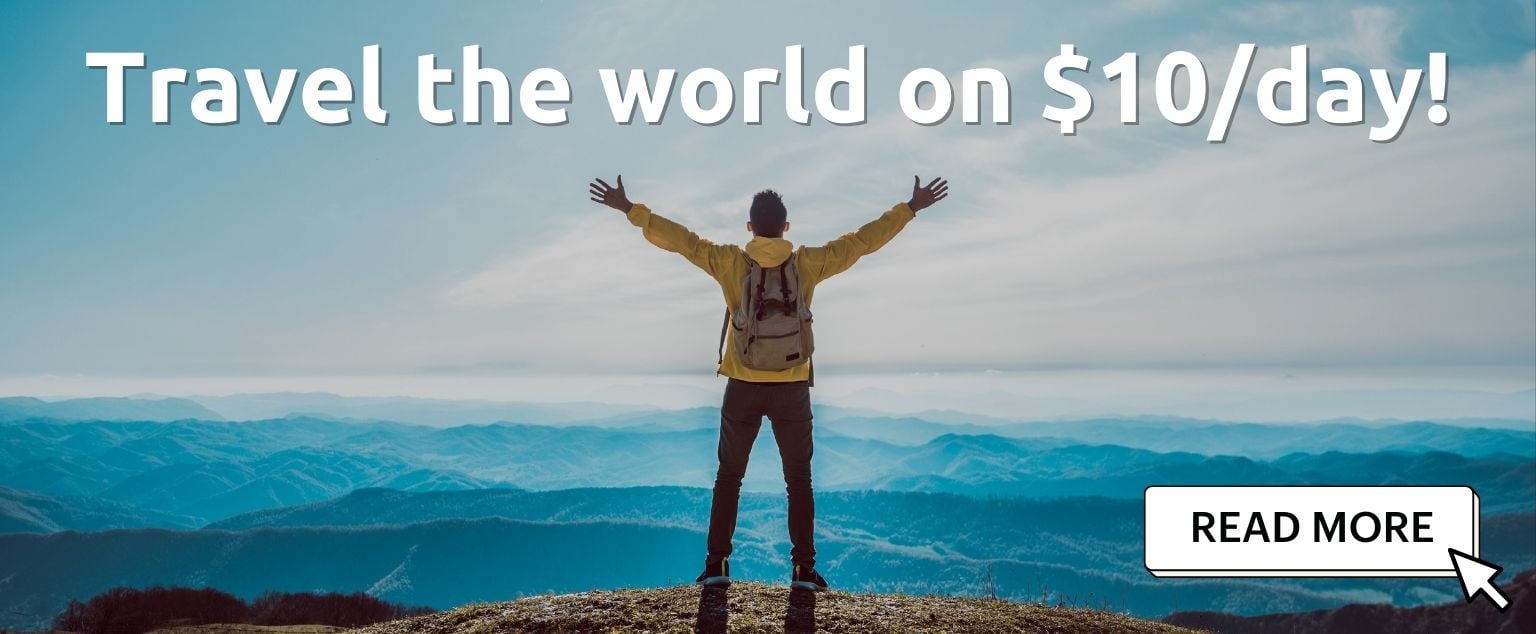 And for transparency's sake, please know that some of the links in our content are affiliate links. That means that if you book your accommodation, buy your gear, or sort your insurance through our link, we earn a small commission (at no extra cost to you). That said, we only link to the gear we trust and never recommend services we don't believe are up to scratch. Again, thank you!