Seeing as you've wound up here, we guess you're planning a trip to South Australia's laid-back capital. Now, all you need to do is suss out how to get there.
Oz is mammoth – so there is a lot to see. There's a dramatic coastline flanked by plunging coastal cliffs and incredible limestone towers. Further inland, you'll discover vast national parks peppered with waterfalls. It's also a gateway to some of Australia's most scrumptious vineyards.
There's only one way to truly appreciate this natural wonderland, and that's by creating the ultimate Melbourne to Adelaide road trip itinerary. Don't worry if you don't know where to start – we've got you covered! We've mapped out two of the best road trips from Melbourne to Adelaide, all you need to do is pick one!
Or, if you're not so good at making decisions – make it a double! Take one route to Adelaide, then return with the other to Melbourne for the ultimate road trip experience.

Do You Want to Travel FOREVER??
Pop your email in below to get a FREE copy of 'How to Travel the World on $10 a Day!'.
Why Roadtrip from Melbourne to Adelaide?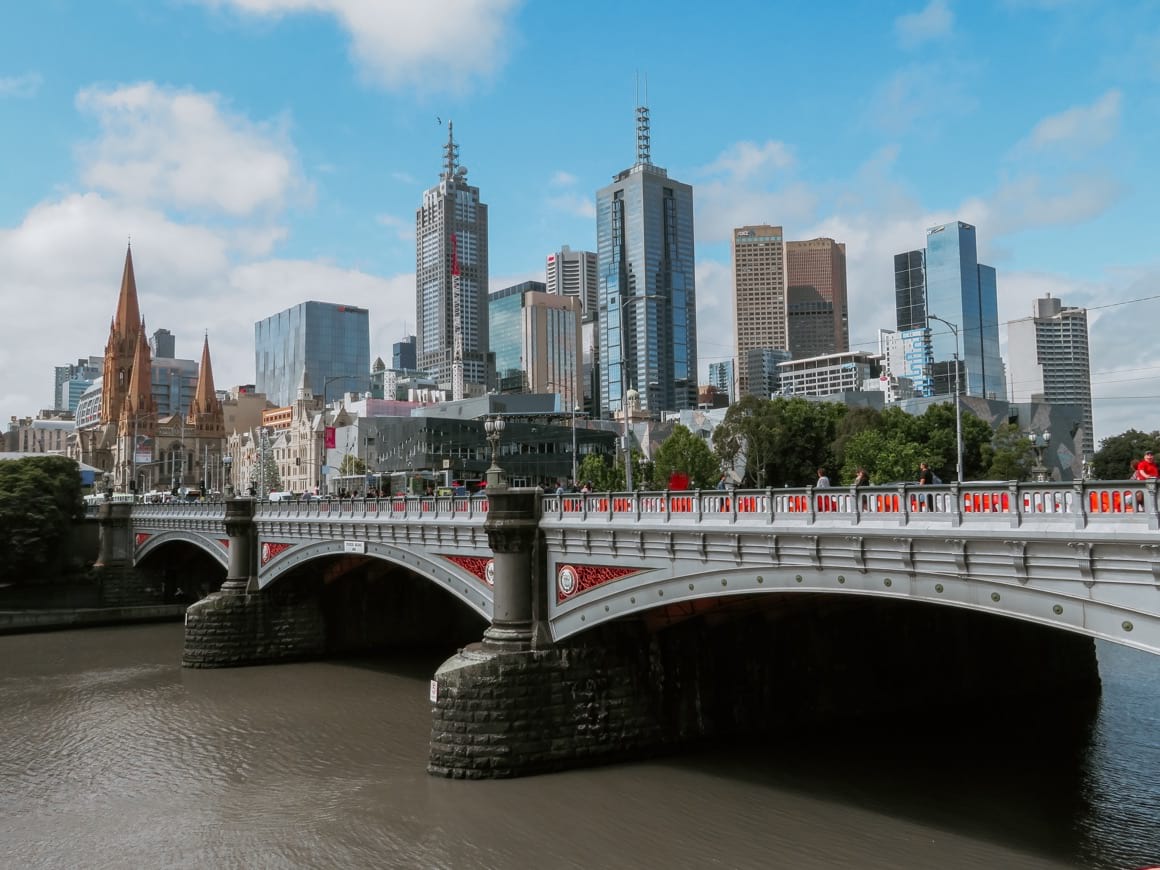 Did you know that if you drive non-stop, you could get from Melbourne to Adelaide in merely eight hours? As much as that's the case, you'd be crazy not to turn the outing into a proper adventure.
But let's get specific. Here are five reasons why taking road trips from Melbourne to Adelaide is our favourite way to travel between the two cities:
Travel at your own pace. The scenery of Australia is incredibly diverse (it's much more than oceans and desert). In our opinion, van travel gives you more opportunities to take it all in and linger in the places you love.
Rad surfing. Well, this is Australia, after all. If you take the Great Ocean Road route, you get to surf in the official Aussie Surf Capital, Torquay. Time your road trip right, and you could even watch the annual Rip Curl Pro surf contest at Bells Beach.
Gorgeous scenery. When you start planning a road trip from Melbourne to Adelaide, you'll see that these states are scenic dreamlands. Highlights range from the iconic Limestone Coast to the vast wilderness of the Grampians and the cenotes of Mount Gambier.
Trekking: As much as you can appreciate the above from your cushy driver's seat, nothing beats giving the limbs a stretch. Whichever route you pick, break up the drive with hiking. If you've got some spare cash, there are bountiful other outdoor activities to try. During the summer months, throw a tent in your boot and save some dollars at a cheap (or free) campground.
Wonderful wildlife. The best road trips from Melbourne to Adelaide give you the chance to spot some of Australia's incredible native fauna. Whales, fur seals, koalas, and kangaroos – we've got all the tips on where to find them.
Driving from Melbourne to Adelaide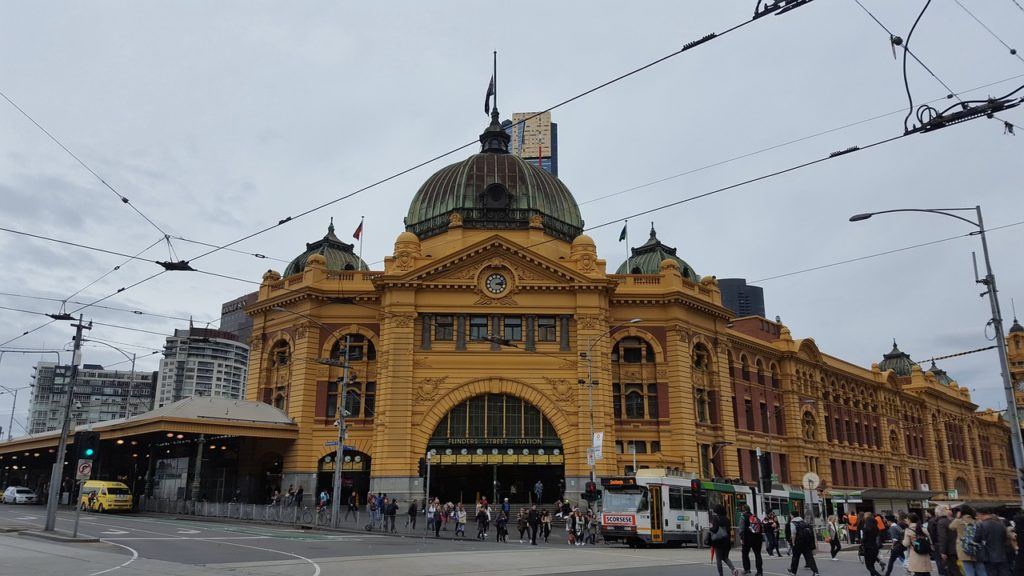 Sealed and well-maintained, the roads between Melbourne and Adelaide are a doddle for road trippers. You will notice more congestion on the roads over the Christmas holidays, especially along the Great Ocean Road strip and its lookouts. The roads are quieter over winter, but be prepared for wetter and windier conditions.
As with pretty much any city in Australia, renting a vehicle for your road trip from Melbourne is easy as pie. There are plenty of rental companies in Melbourne to choose from, so we recommend shopping around for the best price.
Renting a Vehicle from Melbourne to Adelaide
You can rent a regular car, 4X4, or campervan for your road trip adventure. A 4X4 isn't necessary unless you've got your heart set on a beach drive or some off-roading.
In order to pick up your vehicle in Melbourne, you will need a valid driver's licence from your home country. Some rentals will ask to see your passport, too. Subject to your nationality, you might also need an International Driving Permit (IDP).
The one drawback to renting a car in Melbourne is the expenses. To avoid surprises, bear the following costs in mind when planning your road trip from Melbourne to Adelaide:
Age surcharge: Drivers must be aged at least 21 to rent a vehicle anywhere in Australia. But if you're under 24, in most cases, you'll need to pay an age surcharge.
Bond/deposit: You will need to pay a deposit (bond) to cover your rental against any damage. The figure varies depending on the vehicle and the rental agency, but it usually ranges between $200 – $1000.
Additional drivers: Planning to split the driving? Make sure you add any additional drivers to your rental agreement. Worst case – your insurance won't cover you if an accident happens while an unregistered driver is behind the wheel.
Insurance: Most likely, all rental companies will try to sweet talk you into purchasing their insurance. But if you're a broke backpacker, it's worth shopping around and getting insurance with a third party. This way, you have some spare cash to put towards your other road trip essentials.
Don't have a car? Well, we're going to have to sort that out! Use rentalcars.com to find the best deals on the web and save heaps of cash!
Road Rules in Melbourne and Adelaide
Before you plan your road trip from Melbourne to Adelaide, familiarise yourself with local road rules. Aussie cops aren't the kind to take bribes if you're caught breaking one! If you're not a native Aussie, remember that each territory and state follows its own road laws.
As your road trip takes you through Victoria and South Australia, here are a few to get you started:
No reckless honking. Australia has a nationwide ban on unnecessary honking, so only use it if you really have to. The fine is AU$300 in Victoria.
Don't pick up any hitchhikers until you reach South Australia. Hitchhiking is illegal in Victoria and can land you with a $30 fine.
Being overtaken? Let them go ahead. Increasing your speed while being overtaken is another big no-no.
Mind the gap in Melbourne. If you step more than 3 metres away from your car your windows can't be open any more than 5 centimetres, and your vehicle needs to be locked. Which is common sense, really.
Keep your foot down, but not too much. You can receive fines for speeding as well as driving too slowly across the entire country.
Don't forget the obvious ones, like driving without your seatbelt fastened or texting behind the wheel. And we probably don't need to tell you what Aussie police think of driving under the influence. On popular backpacker routes like the Great Ocean Road, it's not uncommon to get pulled over for on-the-spot tests.
Alright, alright…enough of the rules. Let's check out our two ultimate Melbourne to Adelaide road trip ideas. One follows a fairly famous road that we'll bet you a packet of Tim Tams you'll have heard of. Meanwhile, our alternate option weaves you through the Aussie outback.
First up, you guessed it – it's that ocean drive.
From: Melbourne
To: Adelaide
Total Distance: 1,121 km
Days: 5
Top Road Trips Stops: Torquay, Lorne, Great Otway National Park, 12 Apostles, Logan's Beach, Mount Gambier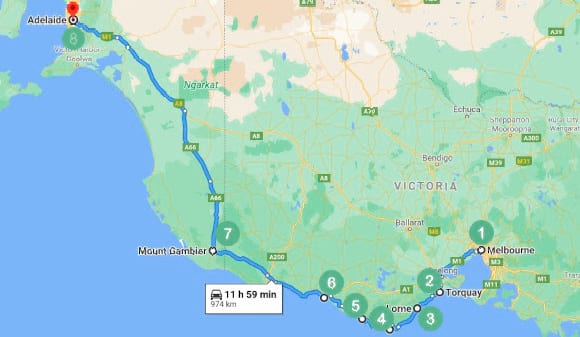 You can't put 'Australia' and 'road trip' in the same sentence and not have the Great Ocean Road spring to mind. This legendary route spans Torquay to Allansford, and is popular with backpackers, holidaymakers, and Aussies alike year-round. It's an absolute must-see for anyone travelling around Melbourne.
During summer the route buzzes with fellow road trippers – especially in the high season of January and February. If you can, we recommend this option in the shoulder season (February/March or October/November) when it's warm but less busy.
Despite its popularity, it's not one of those places that's overhyped. There's no shortage of surfing spots, hikes, climbs, and more. You could even pause for a Great Ocean Road skydive! The coastal views are great from the car window but even better with 360-degree visibility from 15,000 feet.
Our road trip covers the full length of the route, plus a few other scenic treats.
Road trip highlights:
Drive the fabled 243 kilometres that make up the Great Ocean Road
Catch a wave in Torquay – the Surf Capital of Australia
Cruise the Limestone Coast and see the 12 Apostles and other iconic landforms
Spot whales off Logan's Beach (between May and October) and look for wild koalas munching eucalyptus at Kennett River
Explore a subterranean world beneath the volcanic town of Mount Gambier
Day 1: Melbourne to Lorne (2 hours)
Before you begin your trip, we really recommend staying at one of Melbourne's awesome Airbnbs to recharge and get ready for your adventure. Nothing's worse than being unprepared and having a nice place to sort out all the little details is essential! Before you set off and sit on your ass in a car, take advantage of one of Melbournes sunset kayaking tours along the Yarra River with a seriously picturesque backdrop of the city lights. Give your arms the right to hang at your sides for hours! You even get to reward them by having a fish n' chips meal from inside the kayak for the most authentic on-the-water dinner ever.
Less than 90 minutes of driving will bring you to Torquay, where the Great Ocean Road officially begins. Australia's Surf Capital is home to surf brands Quiksilver and Rip Curl, plus, obviously – some cracking waves at Bells Beach. Surf newbie? Try Front Beach for milder waves. We can tuck into fresh seafood at Aireys Inlet before hitting the surf a second time at Fairhaven.
Once in Lorne, check out a couple of the local waterfalls (there are ten nearby) and chill in Victoria's answer to Byron Bay. Lorne is an awesome place to stay along the Great Ocean Road, although accommodation can be on the pricier side. If you're camping however, there are a few free campsites around.
Day 2: Lorne to Great Otway National Park (1 hour)
Not too much driving today, but it's a beautiful stretch of road with lots of stops. While following the Great Ocean Road, you'll have endless sea to the left and ancient bush to your right. Take your time to check out waterfalls and viewpoints before arriving at the national park; Apollo Bay is a great stop-off for some kayaking or stand-up paddleboarding. Peer up at the gum trees in Kennett River for your chance to spot some wild koalas.
Lace-up your bush boots and explore the rugged hinterland of Great Otway. Watch the sunset at the oldest lighthouse in Australia, and round up the day wandering among the glowworm studded Melba Gully.
Best stops: Sheoak Falls, Kennett River, Apollo Bay, Marriner's Lookout, Great Otway National Park, Triplet Falls, Cape Otway Lighthouse, Melba Gully
Where to eat: Kafe Koala (Kennett River), Apollo Bay Fishermen's Co-Op (Apollo Bay), Lightkeeper's Cafe (Cape Otway)
Where to stay: Aire Crossing Campsite (free), Bimbi Park – Camping under Koalas ($), Bimbi Park – Standard Cabin Shared Bathroom ($$)
Day 3: Great Otway National Park to Port Fairy (2 hours 10 minutes)
Keep your camera poised – today is the pinnacle of the Great Ocean Road. Follow the Shipwreck Coast, so-named for the countless ships that sunk to their watery graves off the coast. You'll see those iconic limestone peaks that form the 12 Apostles, as well as the other landmarks of the marine park.
If you've been stashing your farming dollars, why not splash out on a helicopter tour for a birds eye view of the towers. Look for whales at Logan's Beach before settling down for the night in Port Fairy.
Best stops: 12 Apostles, Gibson's Steps, London Bridge, Lord Ard Gorge, Logan's Beach, Warrnambool Botanic Gardens, Port Fairy Lighthouse
Where to eat: 12 Rocks Beach Bar Cafe (Port Campbell), Fishtales Cafe (Warrnambool), The Hub at Port Fairy (Port Fairy)
Where to stay: Port Fairy YHA ($), Gardens Caravan Park ($$), Retro on the River ($$)
Day 4: Port Fairy to Robe (3 hours 10 minutes)
Now you've completed the Great Ocean Road leg of the journey, you'll continue to Adelaide along the Limestone Coast and into South Australia. Day 4 is packed with wildlife sightings and natural landscapes.
Follow the 2.5km Cape Bridgewater seal walk or book a cage dive to snorkel with the local fur seal colony. Allow plenty of time for volcanic Mount Gambier – home to crater lakes and cenotes. Divers can book a magical underwater tour of the Engelbrecht Caves, hikers can trek around the Blue Lake.
Once in the pretty seaside town of Robe, kick back with some locally made wine and fish 'n' chips.
Best stops: Point Danger, Cape Nelson Lighthouse, Cape Bridgewater Seal Walk, Petrified Forest, Mount Gambier, Umpherston Sinkhole
Where to eat: Portland Strawberries (Bolwarra), Presto Eatery (Mount Gambier), Adventurous Spoon (Robe)
Where to stay: Robe Haven Motel ($$), Sea Vu Caravan Park ($$), The Sugar Shack – be amazed ($$)
Day 5: Robe to Adelaide (3 hours 40 minutes)
If you're in a 4X4, you can take it for a hair-raising spin on the dunes of Long Beach. Later, stretch your legs with a short hike along the saltwater dunes of Ocean Beach in the Coorong National Park. Look out for wombats, penguins, kangaroos, and local birdlife. Before or after, enjoy a scenic lunch of pastries from the Meringue Bakery on the lakeside.
Take a detour via Port Elliot for our last surf of the trip and mooch along the waterfront in Victor Harbour. By dusk, kick back and toast the end of a stellar road trip in some of Adelaide's best accommodation.
Is This the Best Daypack EVER???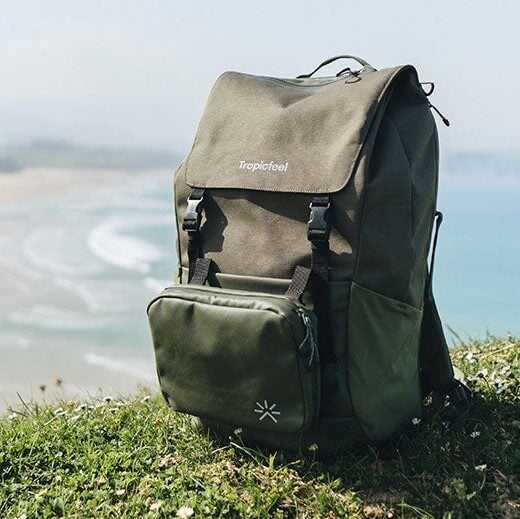 We've tested countlessday packs over the years, but the Tropicfeel Shell is something else. There are a lot of flashy backpacks on the market but not many come with a detachable wardrobe.
Weatherproof, eco-friendly, durable, feature-loaded, and comfy as fudge brownies: these are just some of the words people might use to describe the Tropicfeel Shell. But we just call it bloody beautiful.
Learn More • View on Tropicfeel
Small Pack Problems? 😉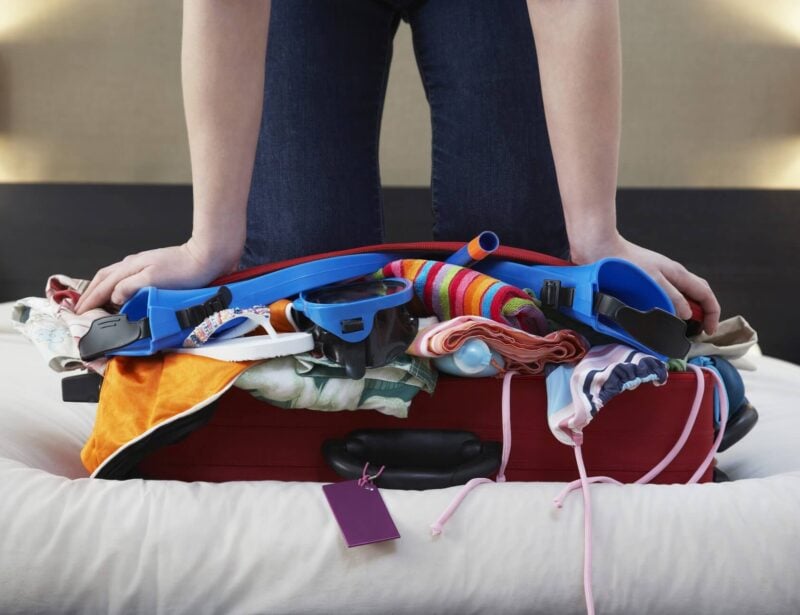 My missus travels with all her clothes in ziplock bags: don't be like my missus. UP YOUR PACKING GAME!
Packing cubes for the globetrotters and compression sacks for the real adventurers – these babies are a traveller's best kept secret. They organise yo' packing and minimise its volume too so you can pack MORE.
Or, y'know… you can stick to ziplock bags.
View Our Fave Cubes
Or Check Out the Sacks!
From: Melbourne
To: Adelaide
Total Distance: 865 km
Days: 4
Top Road Trips Stops: Ballarat, Grampians National Park, Wartook Valley, Coonawarra, Murray Bridge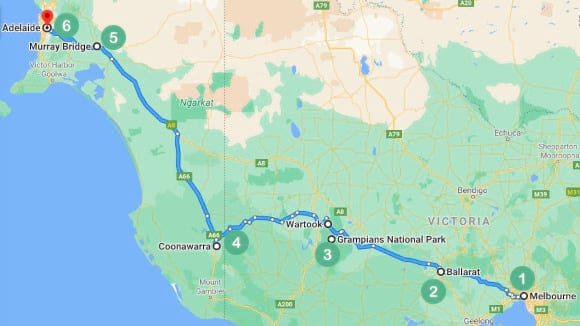 Already tackled the Great Ocean Road? Or would you rather not get your fancy rental all sandy? In that case, you'll want the sister road trip from Melbourne to Adelaide. The Inland Alternative meanders through tousled mountain vistas and roaring waterfalls. Plus, you'll cross through one of Australia's best wine regions.
This option includes a full day to soak up the glorious Grampian park. But, if you're pressed for time, you can do a whistle-stop tour and condense this one to three days. While not as famous as the coastal drive, we love this Melbourne to Adelaide road trip itinerary just as much. And why, you wonder? Here are five reasons.
Road trip highlights:
Explore the tumbling waterfalls, fern gullies, and Aboriginal art of the Grampian National Park
Sip some of Australia's most cherished red wine in the Coonawarra vineyard region
Meet the White Kangaroos of Bordertown (they're Western Greys, not albinos)
Stroll through historic towns from the Gold Rush era. Besides a few Coffee Clubs, they've not changed much
Fulfil your fantasy of skydiving over the glittering South Australia coast
Day 1-2: Melbourne to Halls Gap (3 hours)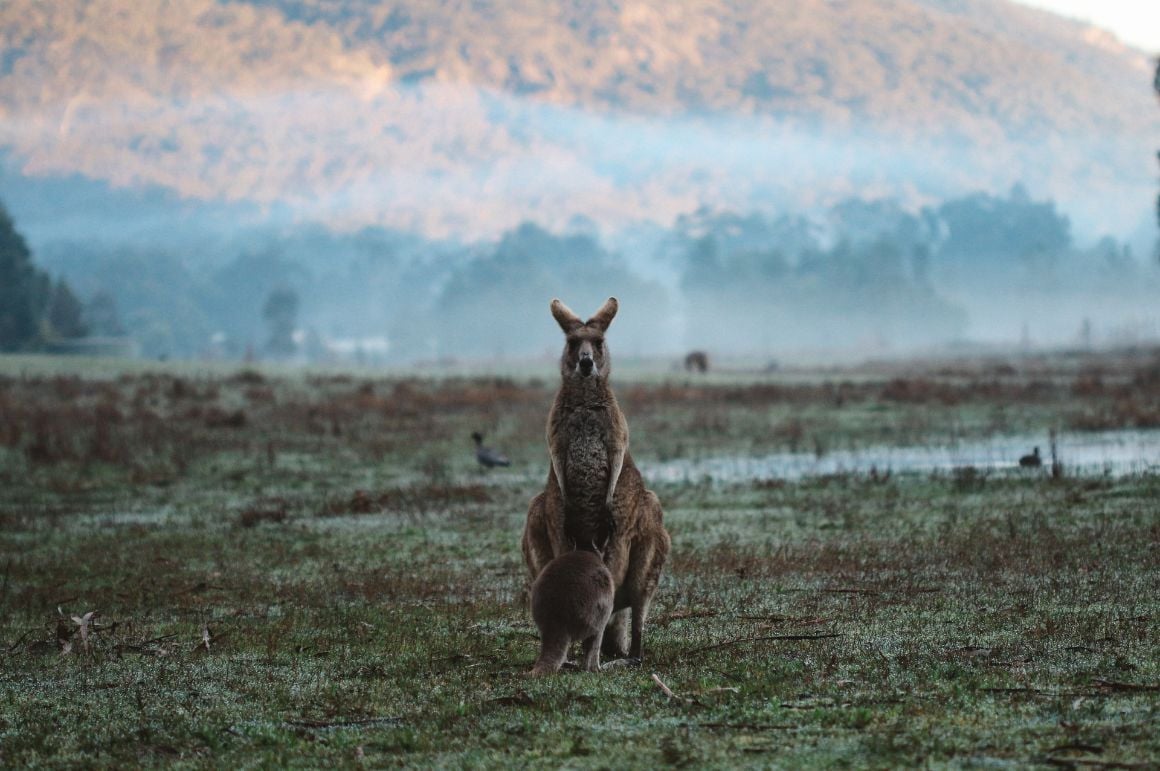 Grab a brew from your favourite Melbourne coffee fix and hit the road before the city wakes up. Take a quick gander back to 1852 at Sovereign Hill – this is quite literally a time capsule of Aussie's wealthy heritage where you'll see costumed folk roaming the streets. You can even visit a mine while you're there. If you're in the market for something scarier, you can go meet the crocs and Tasmanian Devils down the road at Ballarat Wildlife Park.
Halls Gap is the gateway to the magical Grampians, and it's worth spending the whole second day here to explore. This epic national park is home to numerous hiking trails, Aboriginal rock art, the MacKenzie Falls, and natural waterslides. The Balconies viewpoint is the best spot for sunset before settling in for the night.
If you only have three days for your road trip from Melbourne, skip the second night, and just leave in the morning.
Day 3: Halls Gap to Coonawarra (2 hours 30 minutes)
As you head north out of the national park, you can indulge in your second fix of mountain vistas in the Wartook Valley. If you fancy doing something adventurous, you can go horseback riding, rock climbing, or take a quad bike tour through the craggy wilderness.
Once at Coonawarra, you'll see it's one giant cluster of wineries. So park up the rental (safety first, kids), hire some bicycles and make an afternoon of it. If wine isn't your thing, you can nip up the road to explore the Naracoorte Caves. Alternatively, you could even take a drive over to the seaside town of Robe.
Day 4: Coonawarra to Adelaide (4 hours 30 minutes)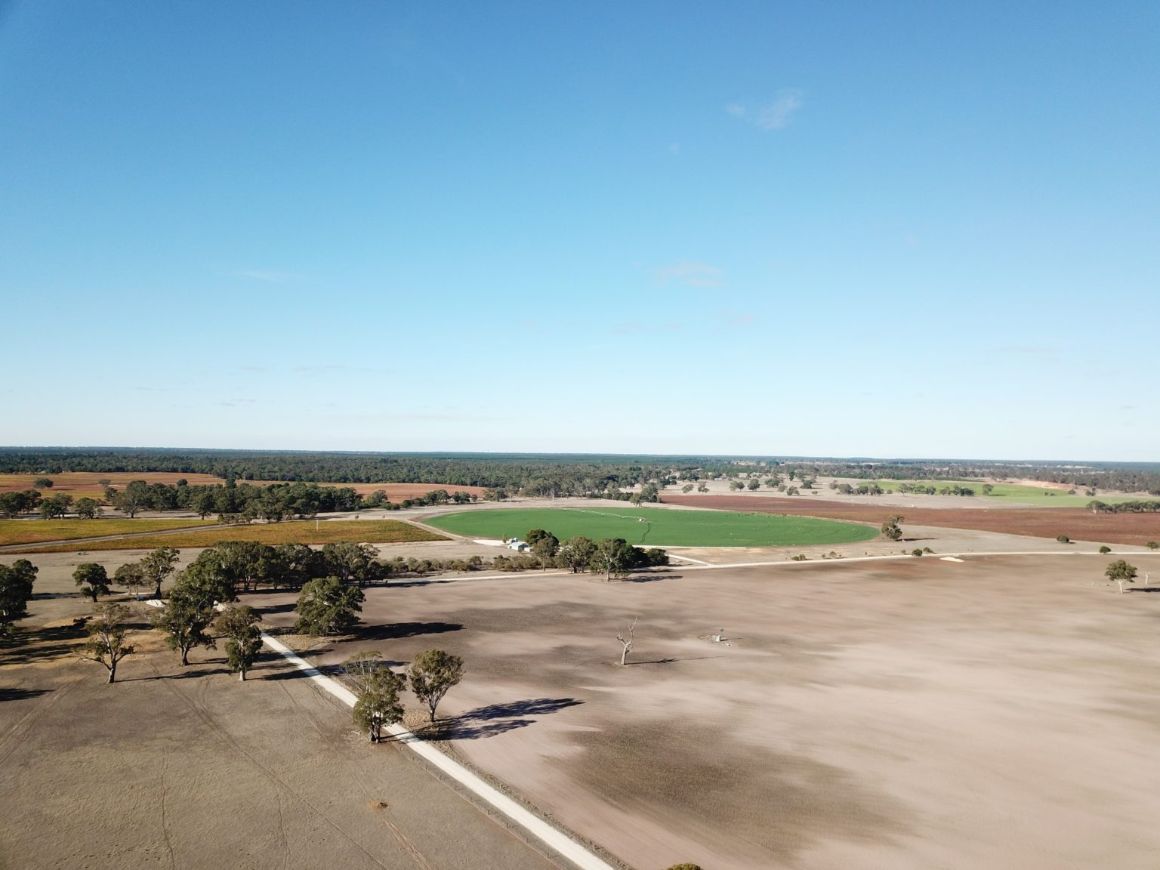 Hit the road early and plough north through the Victorian wine plains. Head out of Coonawarra and make a detour via the Bordertown Wildlife Park – home to a friendly mob of White Kangaroos. Turn off just before Tailem Bend if you want to squeeze in a cheeky skydive over the sand-swept Coorong National Park. Why not say hello to the life-sized rhino and giant olive sculpture in Tailem Bend, too?
Time permitting, stop off at the languid Murray Bridge where you can cool down with a peaceful paddle along the Murray River by kayak. From here, it's only an hour to your final destination – Adelaide!
With so many things to do in Adelaide, we recommend you spend a couple of days here to make the most of what this city has to offer.
What To Pack for a Road Trip in Melbourne to Adelaide
Somewhere to hide your cash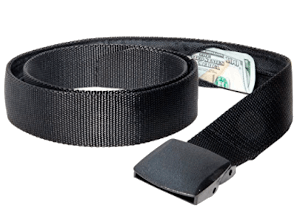 Somewhere to hide your cash
Active Roots Money Belt
I never hit the road without my security belt. This is a regular looking belt with a concealed pocket on the inside – you can hide up to twenty notes inside and wear it through airport scanners without it setting them off. This is hands down the best way to hide your cash.
A travel water bottle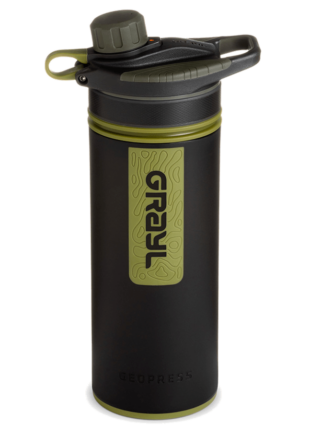 A travel water bottle
Grayl Geopress Water Bottle
Always travel with a water bottle – it'll save you money and reduce your plastic footprint on our planet. The Grayl Geopress is both a purifier AND temperature regulator – so you can enjoy a cold red bull, or a hot coffee, no matter where you are.
For those unexpected messes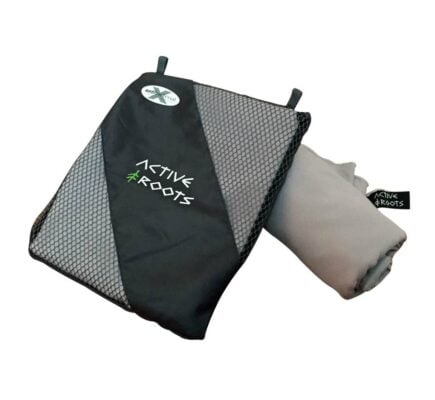 For those unexpected messes
Active Roots Microfiber Towel
It's always worth packing a proper towel. Hostel towels are scummy and take forever to dry. Microfibre towels dry quickly, are compact, lightweight, and can be used as a blanket or yoga mat if need be.
When the power goes out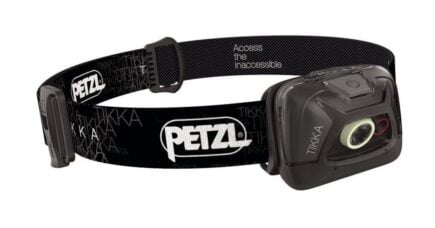 When the power goes out
Petzl Actik Core Headlamp
Every backpacker should have a head torch! A decent head torch could save your life. If you want to explore caves, unlit temples, or simply find your way to the bathroom during a blackout, a headtorch is a must. Currently, I'm using the Petzl Actik Core rechargeable headlamp – an awesome piece of kit! Because it's USB chargeable I never have to buy earth polluting batteries.
Sleep anywhere
Sleep anywhere
Active Roots Camping Hammock
Taking a tent backpacking is not always practical but hammocks are lightweight, cheap, strong, sexy (chicks dig hammocks), and allow you to pitch up for the night pretty much anywhere. Right now, I'm rocking an Active Roots parachute hammock – it's light, colorful, and tough.
To stay a clean backpacker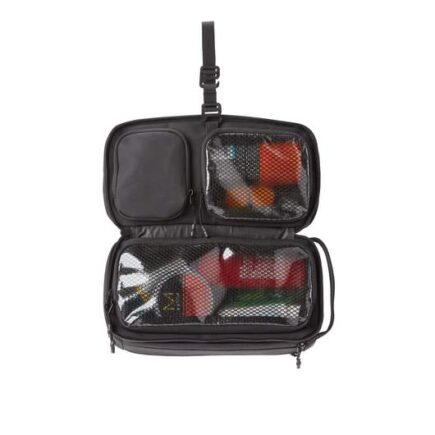 To stay a clean backpacker
Hanging Toiletry Bag
I always travel with a hanging toiletry bag as it's a super-efficient way to organize your bathroom stuff. Well worth having, whether you are hanging it from a tree whilst camping, or a hook in a wall, it helps to have quick access to all your stuff.
Insurance in Melbourne and Adelaide
There you have it – two fabulously scenic road trips between two of Australia's most exciting cities! While you're mulling over which route to take, we want to remind you about nobody's favourite topic: insurance. We know it's not the most riveting, but it's still one of those road trip essentials that requires some thought. We hope you never need to use it, but it's best to have it there as a safety net and peace of mind.
While driving in any Australian state or territory, it's mandatory to have Compulsory Third Party (CTP) insurance. This is a third-party personal injury insurance policy, and it should be included in your rental by default. You might see it listed as 'Green Slip insurance'.
Note that comprehensive (or full) car insurance isn't mandatory in Australia. However, all car rentals will try to sell you something along the lines of an 'Excess Waiver', 'Damage Liability Waiver' or 'Reduction Liability Waiver'. Basically, this surcharge brings the remaining excess on your rental to zero if you have an accident. In Oz, this usually amounts to $20 – $60 per day on top of your rental fee, which we're sure you'd rather spend on other things.
That's why we suggest you check out a couple of independent insurance companies instead. For example, get a quote from RentalCover.com. Their package works as a flat fee and includes a few added bonuses, like Personal Accident Insurance and Roadside Assistance. Regardless of who is to blame, they've got your back in the event of an accident. Your rental might still insist on taking your credit card details, but in a worst-case scenario, Rental Cover will reimburse any deduction made by your rental.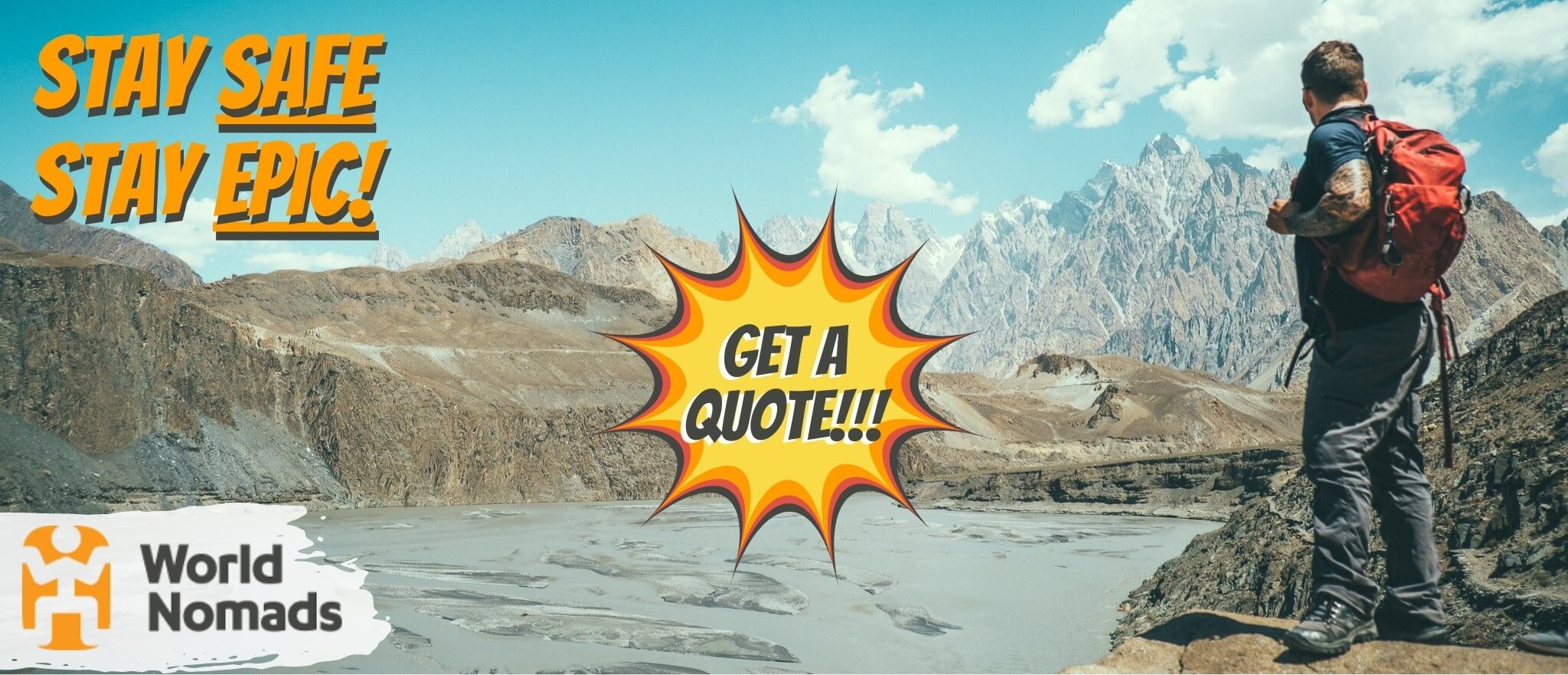 World Nomads' mission is to support and encourage travellers to explore their boundaries. They offer simple & flexible travel insurance, and safety advice to help you travel confidently.
They've been doing it since 2002 – protecting, connecting, and inspiring independent travellers just like you.
Get a quote below or read our in-depth review!
World Nomads provides travel insurance for travelers in over 100 countries. As an affiliate, we receive a fee when you get a quote from World Nomads using this link. We do not represent World Nomads. This is information only and not a recommendation to buy travel insurance.
Final Thoughts on the Best Road Trips from Melbourne to Adelaide
And that concludes our Melbourne to Adelaide road trip ideas! (Plus all the other essentials you need to know to ensure your trip goes without a hitch)
We think both routes are equally rewarding, but they couldn't be more different. On the one hand, you've got surfing and seafood; on the other, you've got wilderness and wine. That's why we'd tell you to take one route from Melbourne, spend a few days exploring Adelaide, then head home on the other.
The things both of our road trip itineraries have in common is heaps of natural wonders and the chance to encounter Australia's unique native wildlife.
We hope you're able to pick the best road trip from Melbourne to Adelaide to suit your own adventure style. Now – go book yourself a rental, and stock up on Cheezels.
---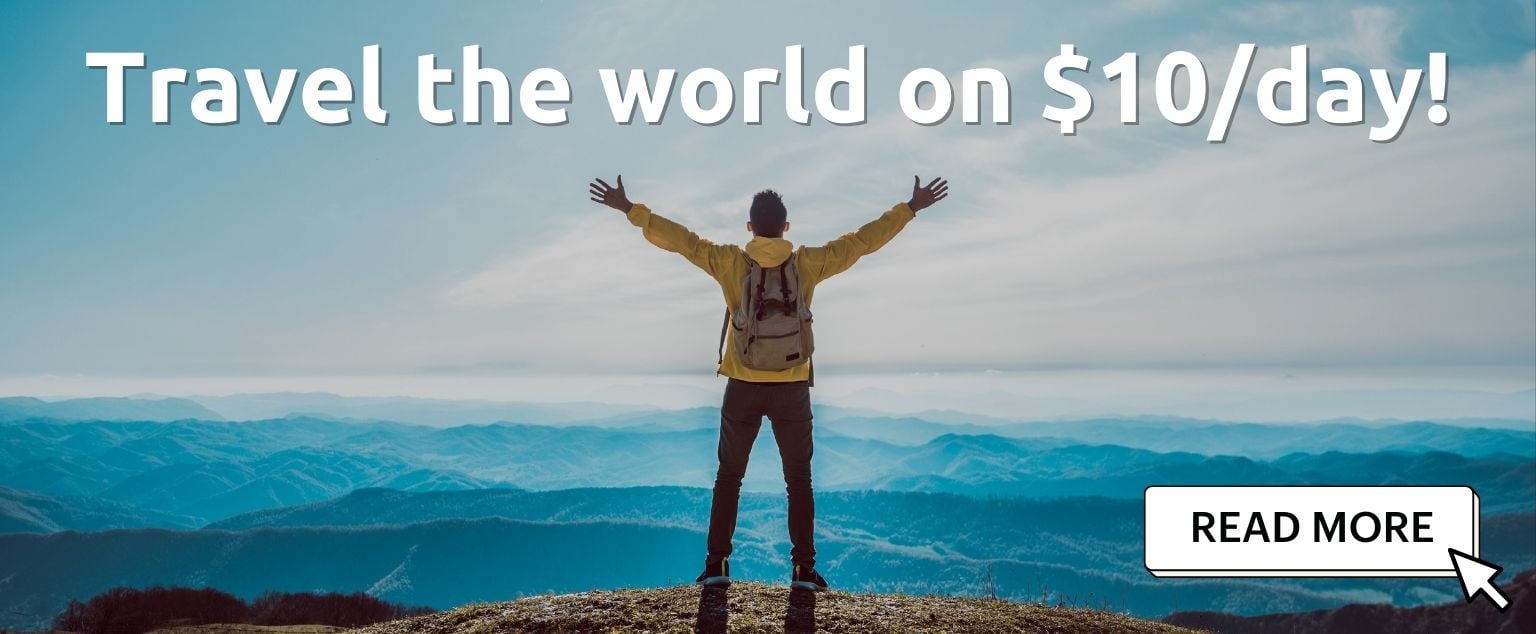 And for transparency's sake, please know that some of the links in our content are affiliate links. That means that if you book your accommodation, buy your gear, or sort your insurance through our link, we earn a small commission (at no extra cost to you). That said, we only link to the gear we trust and never recommend services we don't believe are up to scratch. Again, thank you!