Famous for years as a backpacking destination, Australia still packs a punch as a prime place to travel. Beautiful beaches, dramatic desert outback, cool laid-back cities, plenty of surfing, plus the largest coral reef in the world – it's definitely got a lot going for it.
But in recent years Australia's got… well, pretty expensive. So what do you do as a backpacker on a budget? Where do you stay? Surely you can only get gross accommodation on a budget these days…?
Nope. You can travel Australia relatively cheaply. So we've helped you by listing the best hostels in Australia not only by category but also by city, to make it super easy for you to find the best hostel for you.
This is your one-stop guide for backpacker hostels in Australia!
So book your time off work, get yourself a guidebook and scroll down to see some of Australia's best hostels…
Quick answer: The Best Hostels in Australia
NOT the capital of Australia; with its sparkling beaches, shining city, and landmarks like the Opera House and Sydney Harbour Bridge, this is the city that attracts people to explore Australia. Modern and fun – and glitzier than most others across Australia – Sydney has a poppin' nightlife and a great surfing scene as well as nearby national parks packed full of interesting nature. A good place to base yourself as a new arrival to Oz.
There are many neighborhoods and areas in the city, so be sure to find out where to stay in Sydney first before you start your travels.
Best Overall Hostel in Sydney – Bounce Sydney
$$
Bar & Restaurant
Cable TV
Outdoor Terrace
Located right next to the central station, this on of the top hostels in Sydney gets top marks for convenience – getting around the city is SO easy from here. Combine really good vibes with the staff that create a homely atmosphere easily earn it the title of the best overall hostel in Sydney.
If you want to party here, go ahead and party. But it's also quiet enough that you can just find a space to chill out if you want that; 3 communal lounges AND a separate TV room make it easy to do either. PLUS a rooftop terrace, which is pretty sick. And when it comes to the kitchen, well, is 8 fridges enough?!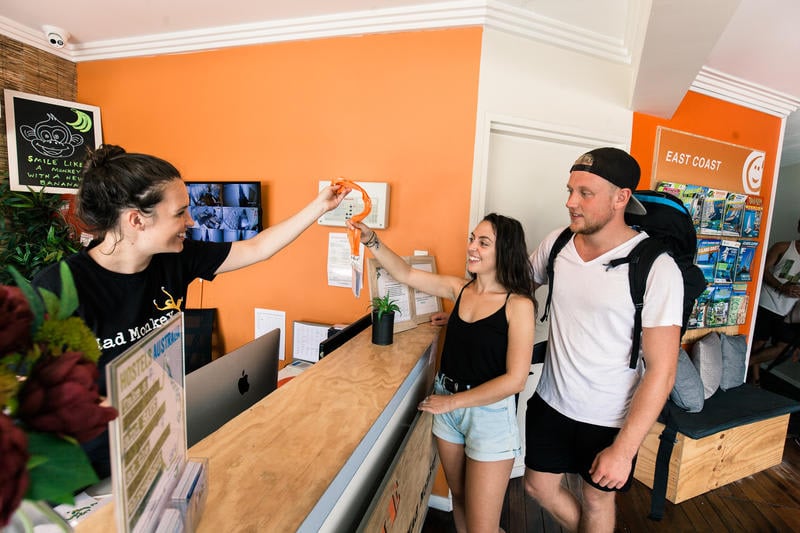 $$
Free Breakfast
Common Rooms (loads)
Aircon
Oh, here we go… Mad Monkey, Sad Monkey, Weird Monkey, whatever. Always something to do with a monkey with party hostel names, isn't it? But this one IS good. It's run by a great bunch of staff who make it easy to meet new people, chat, mingle, etc. Great for socialising, basically.
It's also the best party hostel in Sydney because it's reaaaally close to the bars and restaurants and the other assorted nightlife of the city. There's a free breakfast too, so you can exorcise that hangover as it haunts you in the morning. Oh, also there's a games room with… guitars, Netflix, all that sorta stuff to keep you entertained.
Best Hostel for Couples in Sydney – Bondi Backpackers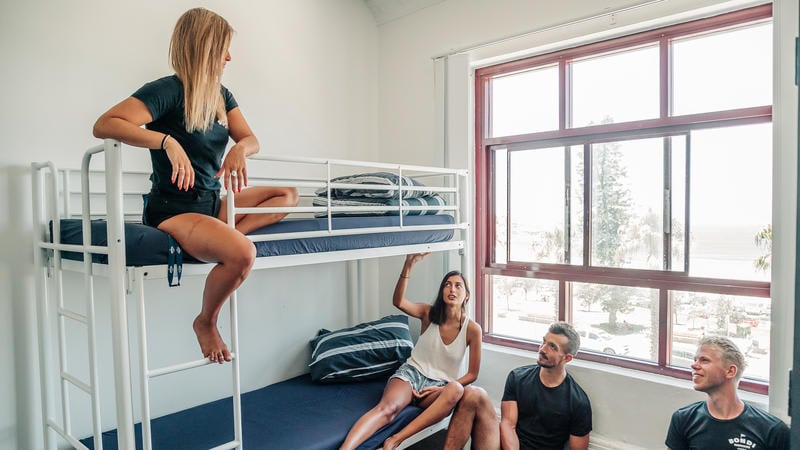 $$
Surfboard Hire
Book Exchange
Late Check-out
Literally (and we mean LITERALLY) seconds to Bondi Beach, this is a great place to have a great time with your boy/girlfriend/etc. Think palm trees, sand, rooftop cocktails – this is living your best life together, Bondi style.
From the rooftop of this Sydney backpackers hostel, you can see the beach. It's pretty much an amazing view. With that and cool things like surfboard hire, wine and cheese nights and all that shebang, you can rest assured that this is the best hostel for couples in Sydney.
Sorta the rival to Sydney, Melbourne is like its cooler, more laid-back, slightly hippified wayward sibling. At the same time, this cosmopolitan city is crazy about sports – it's part of what runs in the blood of the city; they're passionate about AFL football, horse racing and cricket, to name just a few, and have many buildings dedicated to them. Liberal and with a number of kooky subcultures, plus packed with cool cafes and trendy eateries, this is the capital of cool and one of the best places to stay in Australia.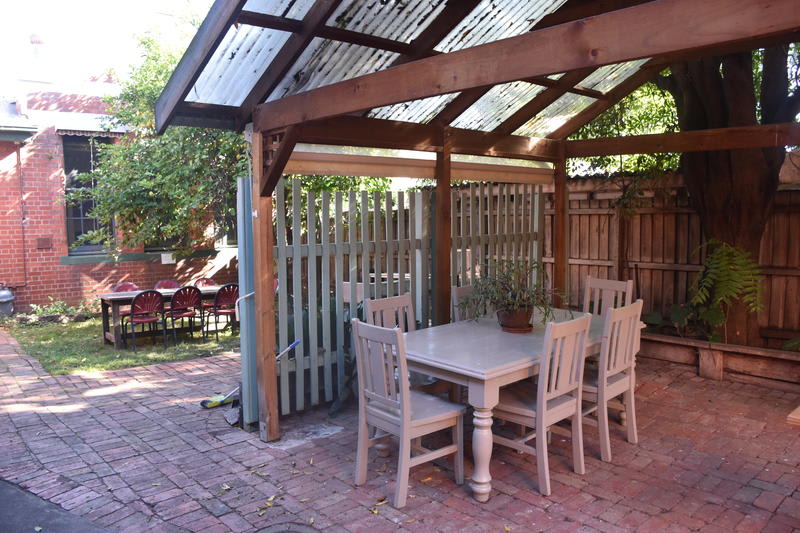 $$
Games Room
Late Check-out
BBQ
Smack bang in a thriving, trendy suburb of the city, staying at on of the best hostels in Melbourne means being surrounded by cool places to eat, drink and shop (if your backpack space allows you the pleasure). Located right by a city tram stop, getting around and further into the centre is simple.
Another plus point is that it's set inside a heritage building, which is pretty cool: it means this Melbourne backpackers hostel's got high ceilings, whitewashed walls, sun-dappled garden – perfect for a few beers.
Best Party Hostel in Melbourne – Base St Kilda
$$
Bar
Free Breakfast
No Curfew
If you wanna stay where all the nightlife happens, then stay here. This top hostel in Melbourne comes packed with a fun atmosphere where a load of awesome people congregate to drink and make merry. And we think that sounds like fun.
As with many good party hostels the world over, staff are on hand here to make sure everyone has a great time. The bartender will mix you up your fav cocktails, too. Basically, it's the best party hostel in Melbourne because, well, it's awesome. Silent discos, foam parties, the odd comedy night – it's literally poppin'!
$$$
Free Breakfast
Shuttle Bus
Bar
This cool Melbourne hostel is not only set in a 150-year-old heritage building, it's also got brand new beds, USB points, privacy curtains, you know – all the good stuff. But there's also some pretty nice double rooms on offer here: great for couples, 'cause you don't wanna stay in a dorm, right?
Enjoy your FREE continental breakfast with your other half every morning before taking a stroll to the BEACH a couple of minutes away. Or, you know, hop on the tram and zip into town to explore. You can see why it's the best hostel for couples in Melbourne. Sounds a couples retreat!
This city is a big ol' holiday resort city. It's definitely the place to go for holiday fun – and works as a very decent jumping off point to explore the islands of the Great Barrier Reef. But it's more than that. Hot and humid, the city still has a soul; it's a friendly and laid-back city with a slow pace.
It is decidedly geared towards tourism, however, with many souvenir shops, restaurants, bars, clubs, cafes – I mean, we're not complaining! Again, find out where you want to stay in Cairns first, and the whole decision of finding a hostel will be a lot easier.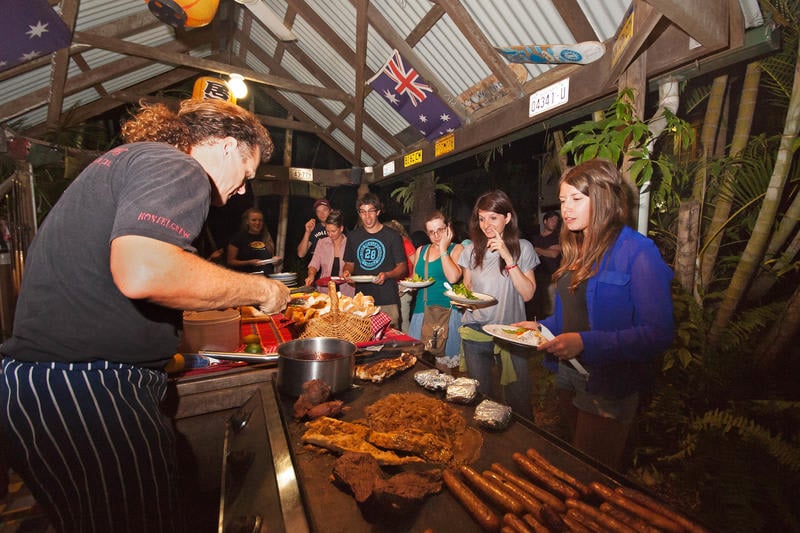 $$
Communal Kitchen
Outdoor Swimming Pool
Airport Transfers
A great mix between a party hostel and a place to unwind, our top pick for one of the hostels in Cairns has a welcoming atmosphere that will make most people feel comfortable and at ease. It's newly decorated and has tropical gardens with an outdoor pool.
Besides swinging around on a hammock all day long, this oasis for travellers puts on a couple of social nights a week and is located pretty much right next to Cairns central station. Less than 15 mins to the Lagoon (the most lively area of town), it's smaller than most other Cairns backpackers hostels, but that just means it's more personal.
Best Party Hostel in Cairns – Asylum Cains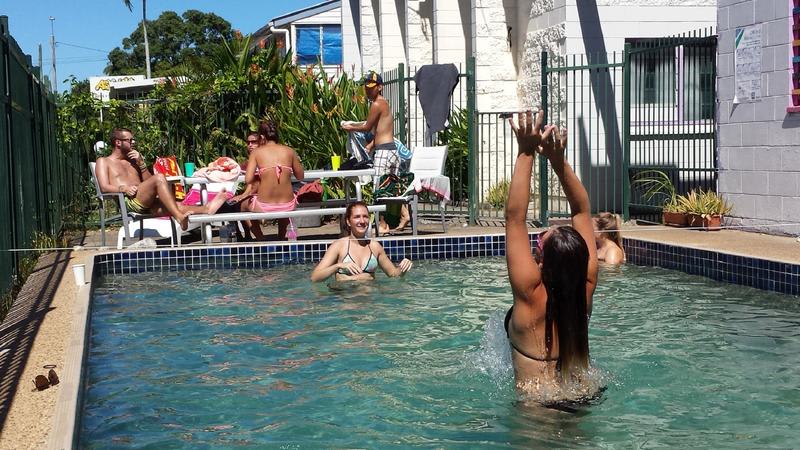 $
Outdoor Swimming Pool
Cable TV
No Curfew
Yep, it's called Asylum, which makes you think this place must be a lil' bit CrAzY – and you might be right, actually. The word 'ASYLUM' is actually graffitied on the outside wall. You know it's a party hostel when everyone's got a T-shirt from that hostel, right?
Pub crawls, pizza parties, a relaxed bring your own alcohol policy (the only one in town, apparently), this is definitely the best party hostel in Cairns. If you want to meet other people and socialise on a budget, this is the place. If you don't – don't come here! (They specifically say that).
$$$
Aircon
Bicycle Hire
Outdoor Swimming Pool
Right in the middle of everything, this top hostel in Cairns is the place to go for couples looking for something, well, a lil' bit more upscale than other places. I mean, it's got Flashpackers in the title. E.g. The facilities are top-notch and well looked after.
This is the best hostel for couples in Cairns, especially if you want somewhere quiet to unwind and chill out with your other half. It's got a relaxing atmosphere and staff that really know about hospitality. And all of that is just a 2 min walk from the beach. Lovely.
South of Cairns, Brisbane is a chic and cultured city scattered with art galleries, trendy rooftop cocktail bars, and natural, unspoilt beaches. Like eating? There are some great restaurants here and a fast-growing foodie scene. Surrounding is… what's basically a natural paradise. There are tranquil seas filled with whales, turtles, dolphins – and further south, vineyards and prime surf spots.
There are amazing areas in Brisbane, each a bit different than the other. Rather stay with the young University crowds or with the central city party people?
$$
Free Parking
Free Breakfast
Postal Service
Wow. It's really colourful and blocky – looks like some kinda regenerated containers all put together to form a cool hangout for travellers. Inside it's all clean edges, colour pops, and graffiti art. You know the drill. Possibly one of the coolest hostels in Brisbane.
There's a big kitchen here – like, really big, 12 cookers big – as well a rooftop complete with sunbeds and city views. Sounds pretty good right? There's also clean comfy lounge areas that boast Netflix-ready TVs. Not right in the middle of the city, but a free ferry will sort you out. Easily the best overall hostel in Brisbane.
Best Party Hostel in Brisbane – Bunk Brisbane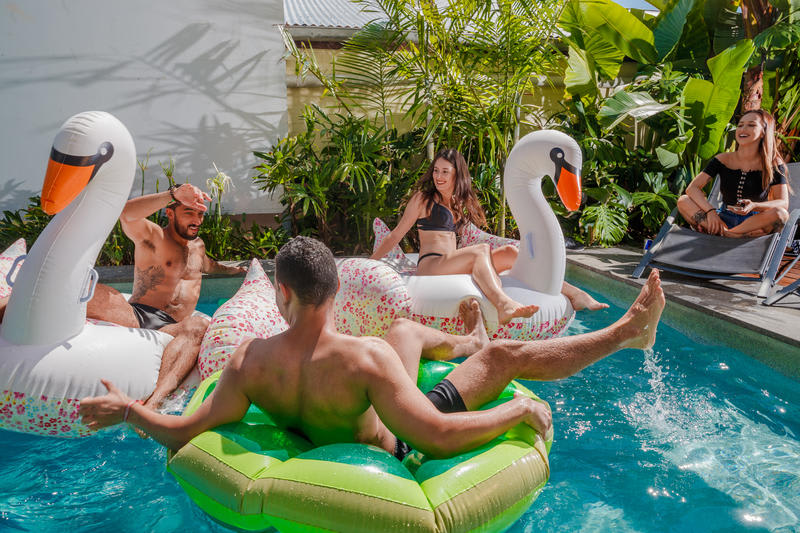 $
Outdoor Terrace
Free Breakfast
Swimming Pool
Very stingy with Wi-Fi (30 mins free per day then the "cheapest" in Australia), but not very stingy with a party atmosphere, this Brisbane backpackers hostel boasts a nightclub and a bar – open till late. That's pretty cool if you're looking to turn up.
Also helping to make this the best party hostel in Brisbane are the nightly events, drinks deals, and the fact that it's located nice and close to bars and pubs – just a 10 min walk away.
Best Hostel for Couples in Brisbane – Aussie Way Hostel
$$
Laundry Facilities
Communal Kitchen
Swimming Pool
We love that this place is set in an old colonial building – think wooden floors, open verandas and stylish design. It's close to all the restaurants and shops in town so you can go out food, have a few drinks, enjoy some shopping together. You know, couple stuff.
The private rooms at this best hostel for couples in Brisbane are nice if you want to spend some nights more privately than a dorm (we don't blame you). The pool is great for sunbathing and chatting to other guests if that's your thing. But there's no drinking here. And that probably means quieter evenings.
Things DO go missing sometimes…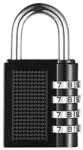 Psst! Heading to a hostel? Don't forget to pack a padlock! It's well worth having one so you can secure your locker and protect your stuff!
The mainstay of the backpacker scene, Byron Bay has grown up from a tourist town geared towards whale watching into a bohemian, hippy-chic (if that's a thing) sorta place where weary travellers check in – and then check out for a few days. Beach barbecues, sumptuous sunsets, yoga on the terrace – these are all the activities of backpacker-friendly Byron Bay.
Best Overall Hostel in Byron Bay – Wake Up! Byron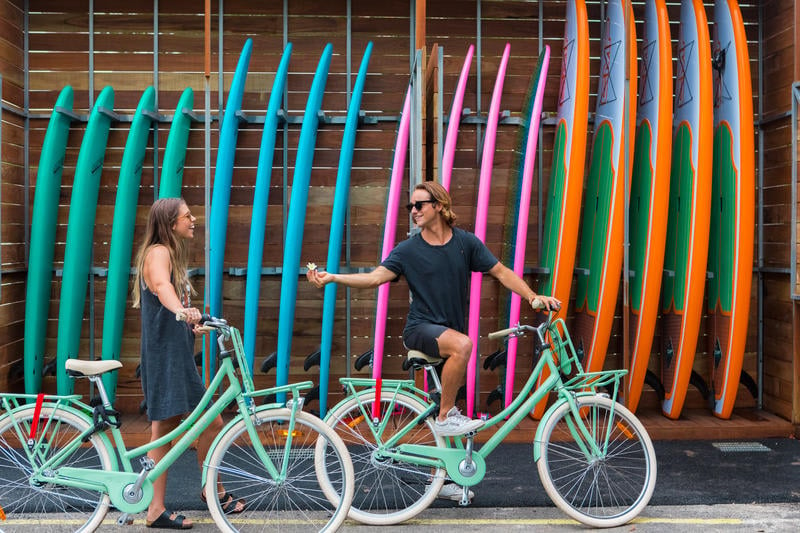 $$
(Free) Bicycle Hire
(Free) Surf/Paddleboard Hire
(Free) Yoga Classes
All the free stuff on offer here, and the nature of that stuff, all is quintessentially Byron Bay. They even offer free personal training sessions at this top Byron Bay hostel for all you fitness fanatics out there. Then you fill yourself up on all the protein possible at the FREE BBQ night!
With so much free stuff here – and yes, that also includes a free pancake breakfast – we can't help but say this is one of the best hostels in Byron Bay. I mean, there's a free shuttle bus into the centre of town, too. What's not to like about all these perks? Oh, and there's also a bar and restaurant
Best Party Hostel in Byron Bay – Nomads Byron Bay
$$
Hot Tub
Free Breakfast
Late Check-out
Just behind one of the big hotels in town, it's a mere 2 min walk to the beach from this Byron Bay backpackers hostel – the same great location for a fraction of the price. And we're all 'bout that.
Being the best party hostel in Byron Bay, you'll never be bored. You can hang out with your own booze in the 12-seater Jacuzzi and meet other backpackers. Or you can take part in many of the free activities, such as lighthouse walk, or the more raucous pub crawls and VIP nights.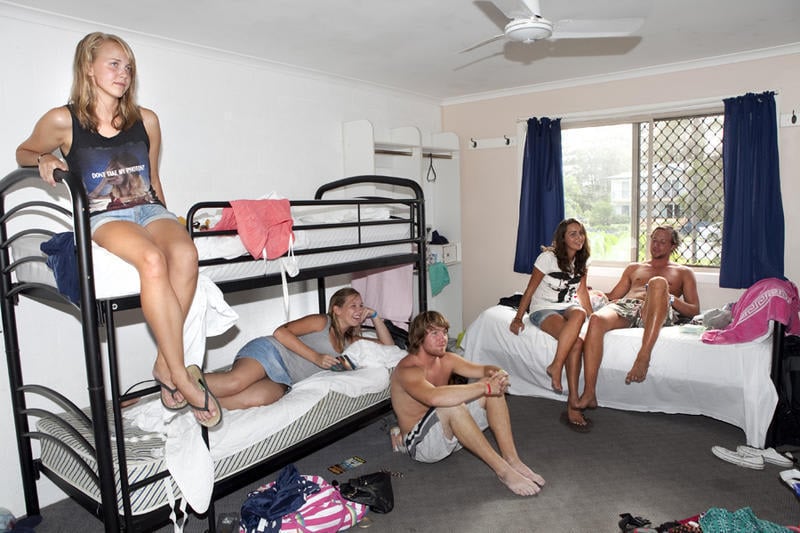 $$$
Bicycle Hire
Cafe
Swimming Pool
You won't find stag/hen parties and general partygoers here (they literally don't allow it), so it makes for the ideal choice when it comes to the best hostel for couples in Byron Bay. Set among the sand dunes alongside pristine waters, this secluded surfing spot is all about beach life.
At this top hostel in Byron Bay, they've got comfortable private rooms, complete with pool views, hanging chairs and hammocks for the day (and night) chilling. It's basically just a really cool place for you and your partner to hang out. And the staff are really helpful – especially if you wanna learn to surf!
Best Hostels in Surfers Paradise
I mean, the clue's in the name. Surfers Paradise is called this because it has this massive beach complete with some pretty prime waves. Not only that, but this city has a high-rise skyline with the famous SkyPoint observation deck with views across the city and sea. It's a touristy resort town set along miles of sand, sure, but there's regular evening markets, as well as cafes, shops and nightclubs, making it a fun place to stop.
$$$
Swimming Pool
Free Breakfast
Communal Kitchen
Just 100 metres from the beach, the one of the best hostels in Surfers Paradise has an ace location. Of course. It's also shiny and new, having been recently renovated: this means new beds, new bathrooms, new just about everything. Rooms even have private balconies!
It isn't a budget hostel in Surfers Paradise. It's huge: there's a hot tub here, plus a swimming pool, with a load of sunloungers spread about so you can catch some rays. Basically, it's sorta like a resort… except with dorms… and it's for backpackers.
Best Party Hostel in Surfers Paradise – Budds In Surfers
$$
Pool Table
Free Breakfast
Swimming Pool
Very friendly staff – check. Netflix on the TV if you don't wanna party one night – check. Cheap drinks deals – check. Yes, as you can tell, this is the best overall party hostel in Surfers Paradise.
They have themed nights and big nights out, which are always fun. It's a casual kinda place with a party atmosphere. You're gonna make friends if you stay at this Surfers Paradise backpackers hostel, that's for sure.
$$$
Bar
Games Room
Swimming Pool
It's not really a party place, but this top hostel in Surfers Paradise has a warm and friendly feeling to it. Staying here means you can choose to stay and chill by the pool, hop on the nearby tram to other beaches, or go shopping at the massive mall close by.
Or you can stay in and do a quiz night, pizza night, poker night, making it a pretty fun place. We say it's the best hostel for couples in Surfers Paradise, especially if you're an active, sociable couple who don't just wanna sneak around and talk to nobody.
Perth is a very liveable city. Many expats choose to base themselves here for the long term. Particularly older ones. But don't let that put you off. It's famous for its great weather, unfussy lifestyle and nearby stretches of sandy bays. Perth is surrounded by natural parkland, with the Bush being just a short drive away. Back in town, there are places to eat and drink and fun activities to try out – all connected by an amazing transport system.
If you've never visited Perth before, make sure to inform yourself about where to stay beforehand. Each of Perth's neighborhoods offers something different, so you'll want to choose the perfect one for you.
$$
Free Breakfast
Outdoor Terrace
Pool Table
A family friendly atmosphere, staying at this Perth backpackers hostel is like living in a big shared house. They've got welcoming common rooms and two modern kitchens, making for a nice place to get chatting to your fellow travellers.
There's no worrying about if the sheets have been changed, or what sort of monster has used the bathroom before you – it's super clean. It's not a party hostel, but… what can we say? It's one of the best hostels in Australia, let alone one of the best hostels in Perth. Perks include free pasta, free brekkie – and free laundry!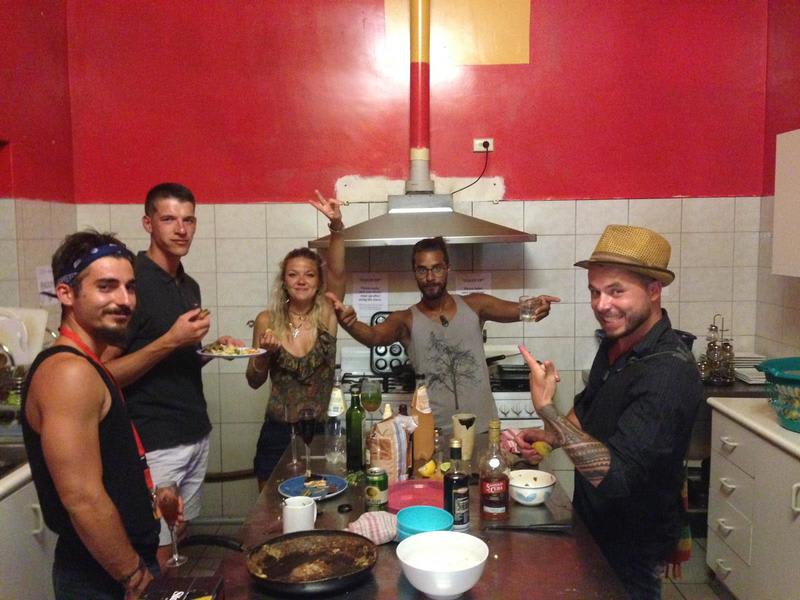 $
BBQ
24 Hour Reception
No Curfew
Awesome atmosphere. That's what you want out of the best party hostel in Perth right? It's packed full of fun people looking to have even more fun in the city. I mean, it's run by young backpackers, so if YOU'RE a young backpacker you'll love it here.
Daily activities, including free yoga, BBQs, and bar outings (pub crawls, basically), make it the sorta place where you'll never get bored. But yeah, the atmosphere at this Perth backpackers hostel is really good. Almost like a family vibe. It's also close to shops and the city centre.
$$
Free Parking
Free Surfboards
Bar and Cafe
Right on Cottesloe Beach, this top Perth hostel looks out over the Indian Ocean and may not be in the centre of town, but it's quiet, chilled and is a great spot for spending time laying out in the sun with your partner like you're on a real beach getaway.
So it's our best hostel for couples in Perth – mostly because of its calm location, amazing hotel quality private rooms (complete with private rooms), and a warm atmosphere. Plus there are some social events (burger night is one of 'em), so if you wanna get to know your fellow guests, you sure can do that easily.
What to Pack for your Australian Hostel
Pants, socks, underwear, soap?! Take it from us, packing for a hostel stay is not always quite as straight forward as it seems. Working out what to bring and what to leave at home is an art we have perfected over many years.
Check out our definitive Hostel Packing list for our top packing tips!
Why you should travel to Australia
So, that's it – our big round-up of the best hostels in Australia. There are some properly cool places to stay in Australia aren't there?
It's a HUUGE country and has literally so many places to stop off and check out, so we've narrowed down the list for you so you aren't too overwhelmed by the massive choice of hostels and cities on offer.
It's a destination for many first-time backpackers looking to have rowdy nights with other travellers and spend time kicking back on beaches. But there's a lot out there for people who wanna soak up Australia's natural wonders as well as enjoy the metropolitan areas with their great food and drink scenes.
If you're travelling on a budget or heading on a holiday with your partner, Australia and all of its fun, friendliness and fantastic scenery are waiting for you.
Get booking your best place to stay and enjoy the trip of a lifetime!
And, if you still can't work out where to start and where to go, just go ahead and book a bed in our best overall hostel in Sydney – Bounce Sydney – that's where a lot of travellers begin their adventures.
You'll be on the beach having a beer in no time.
Travel Safety Tips for Australia
And don't forget Travel Insurance! We've put together a roundup of Travel Insurance for backpackers – check it out here, or if you're low on time, get a quote from World Nomads, our favorite travel insurance provider.
Getting an estimate from World Nomads is simple – just click the button or image below, fill out the necessary info, and you're on your way!

Over to you
By now I hope our epic guide to the best hostels in Australia has helped you choose the perfect hostel for your adventure!
If you think we've missed anything or have any further thoughts, hit us up in the comments!
---
Find out how YOU can support the site.
We're a big site with a big team and this job isn't always easy. But we do it because we love it – we love providing epic and free content. We love the knowledge that our content keeps you adventuring. We don't ask for money, but if you'd like to find out how you can help the site in more organic ways, click the button below.
Thank you for your support 🙂
And for transparency's sake, please know that some of the links in our content are affiliate links. That means that if you book your accommodation, buy your gear, or sort your insurance through our link, we earn a small commission (at no extra cost to you). That said, we only link to the gear we trust and never recommend services we don't believe are up to scratch. Again, thank you!