Byron Bay is a jewel in the hearts of many a backpacker who have traveled here. Surf culture reigns supreme. No shirt, no shoes, no problems. Byron Bay is so chill that I am amazed that anyone here can even hold down a full-time job of any kind.
It's that easy going.
Byron Bay is the quintessential Aussie surf down full of progressive types, joint puffing locals, and beautiful beaches stocked with ever breaking waves.
Bottom line: Byron Bay is an awesome place to go backpacking.
In fact, Byron Bay is such a cool spot that I wrote an entire guide to the best hostels in Byron Bay for 2020.
Backpackers, surfers, and hippies alike can score all the insider knowledge needed to sleep cheap and comfortably in this Australian coastal paradise. There is a hostel for everyone in Byron Bay.
By the end of this hostel guide, you should have your accommodation all sorted out so you can dedicate your energy to your Australian backpacking adventure.
Now let's get to it…
Quick Answer: The Best Hostels in Byron Bay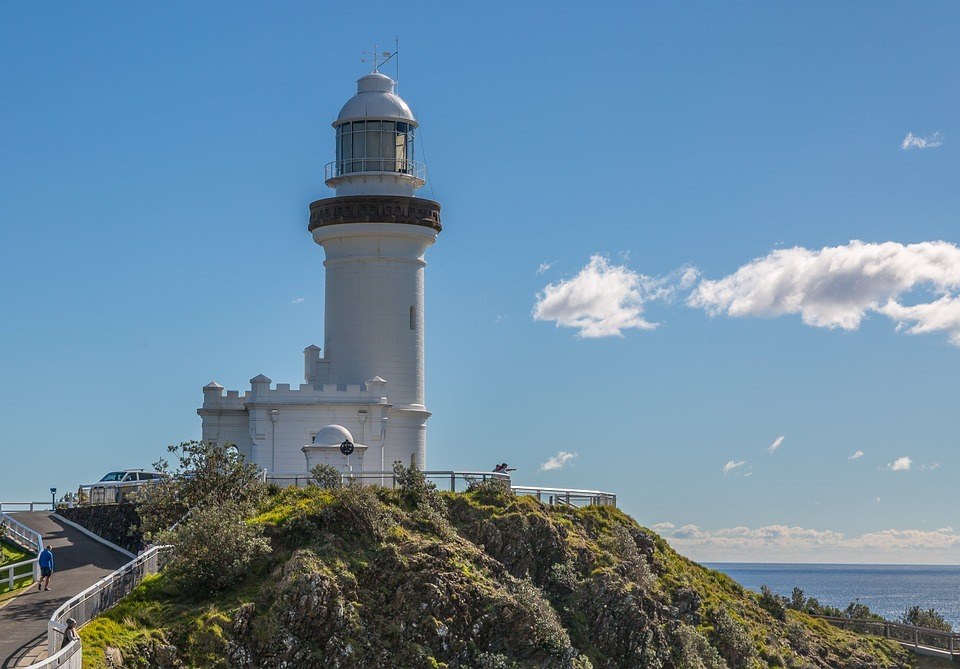 The 10 Best Hostels in Byron Bay
These are, hands-down, the best places to stay in Byron Bay! Choose the best one for your style of travel and then kick back.
If you can, stay in Byron for a week or two! It's a chill place where you can meet lots of like-minded travellers. Backpacking Byron Bay is a great experience for every traveler, and it doesn't even have to be expensive if you're staying in these awesome hostels.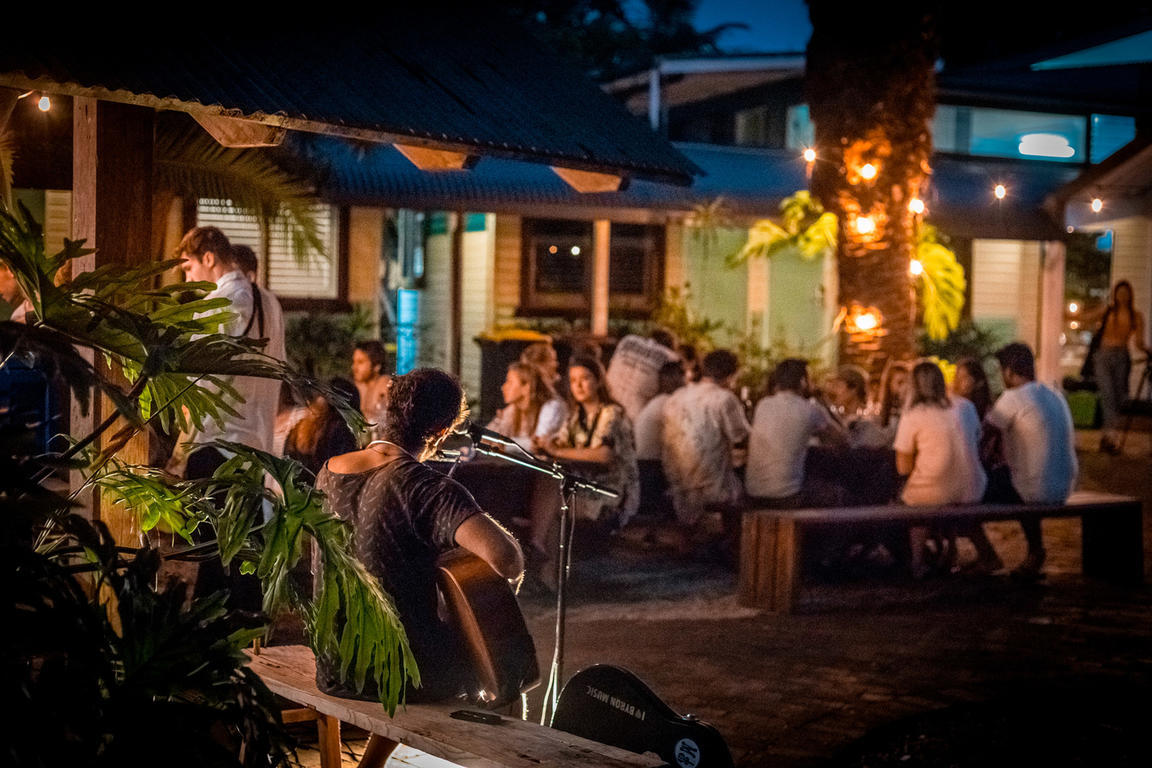 $$
Bar
Self Catering Facilities
Air Conditioning
Wow, well, this is definitely, definitely a strong choice. Wake Up! Byron Bay (cute name) is a newly refurbished property and you can really see it: the bedrooms and dorms are basic but clean and functional with an easy-to-love minimalist seaside chic. The kitchen is utterly huge with about a million gas cookers and ample storage for food. And when it comes to common areas, there are plenty of places to hang out and do literally nothing. You'll probably like the fact that Wake Up! is also home to the ever-popular Tree House Bar & Grill. So, wow, yeah, for the best hostel in Byron Bay in 2020, we reckon you'll find it here.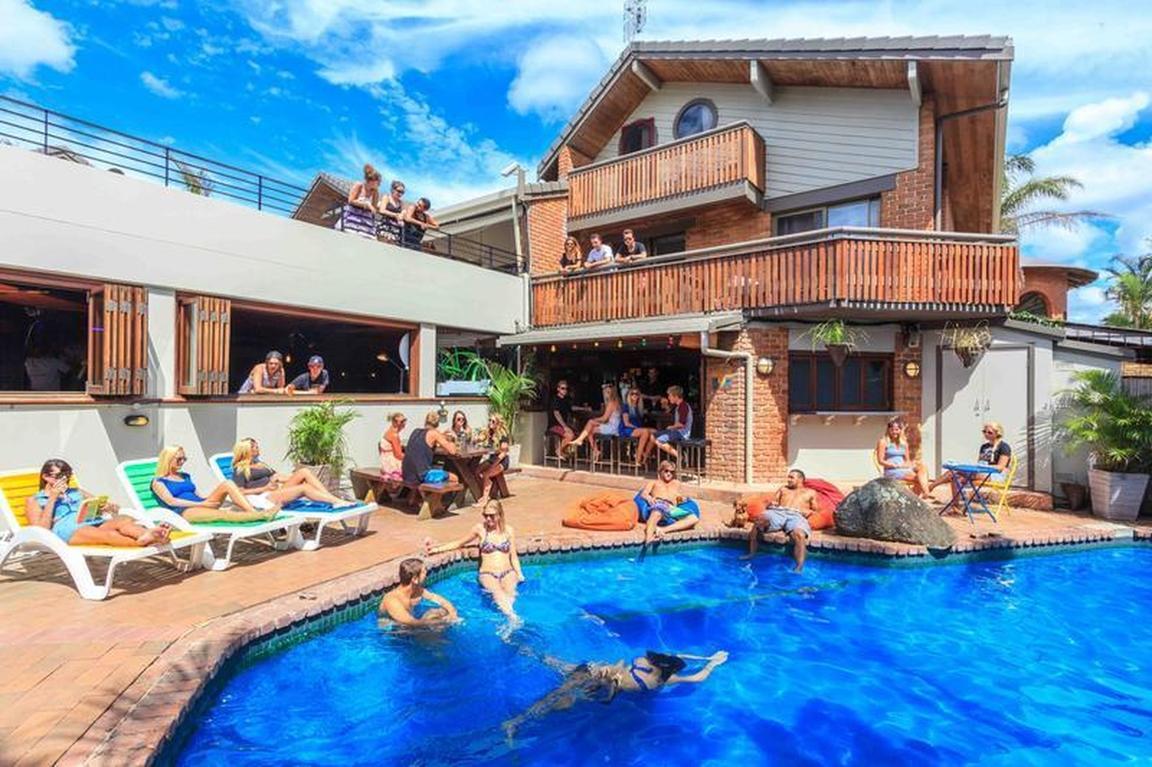 $$
Cafe & Bar
Self Catering Facilities
24-Hour Reception
Everyone's keen to chat at Aquarius Backpackers Byron Bay, making it a great choice if you wanna be meeting new people and making friends. There's plenty of space to socialise, an outdoor pool, FREE DINNER EVERY NIGHT (!!!) and even cool little extras like free boogie board rentals. All of this adds up to a top hostel in Byron Bay. Oh and there's a cafe and bar on site, and everyone knows that the most fun friends are always met over a beer or two. Unless you don't drink, in which case you just soak up the ambience instead.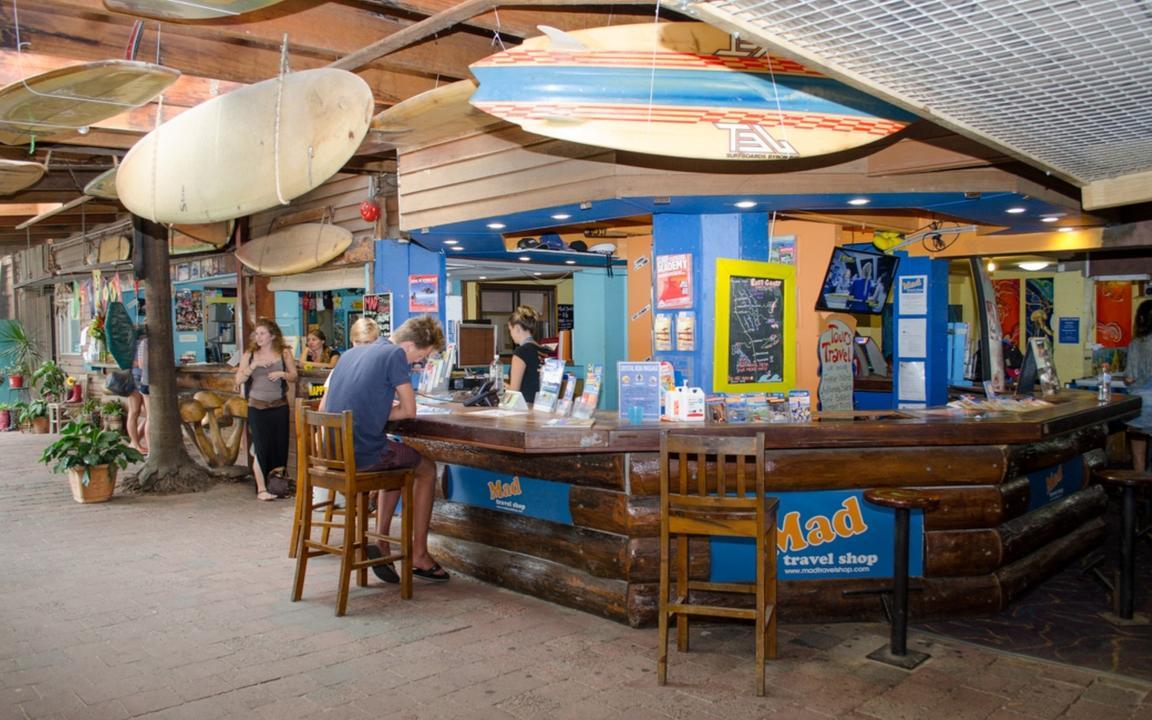 $
Swimming Pool
24-Hour Security
Activities
This is not exactly a massively cheap option for a budget hostel in Byron Bay, but it is nevertheless a well priced recommended hostel. In Byron Bay the cost of hostels is much of a muchness and there's not a lot in it, so it's only a little bit you'll be shaving off your price-per-night budget. Formerly a hippie hangout in the '70s, Arts Factory Lodge is a little further from the beach than other hostels (hence the small saving), there is a range of rooms on offer here – even jungle camping. You'll also have access to cool things like didgeridoo making, yoga, table tennis, so you'll never be short of things to do.
Best Cheap Hostel in Byron Bay #2 – Cape Byron YHA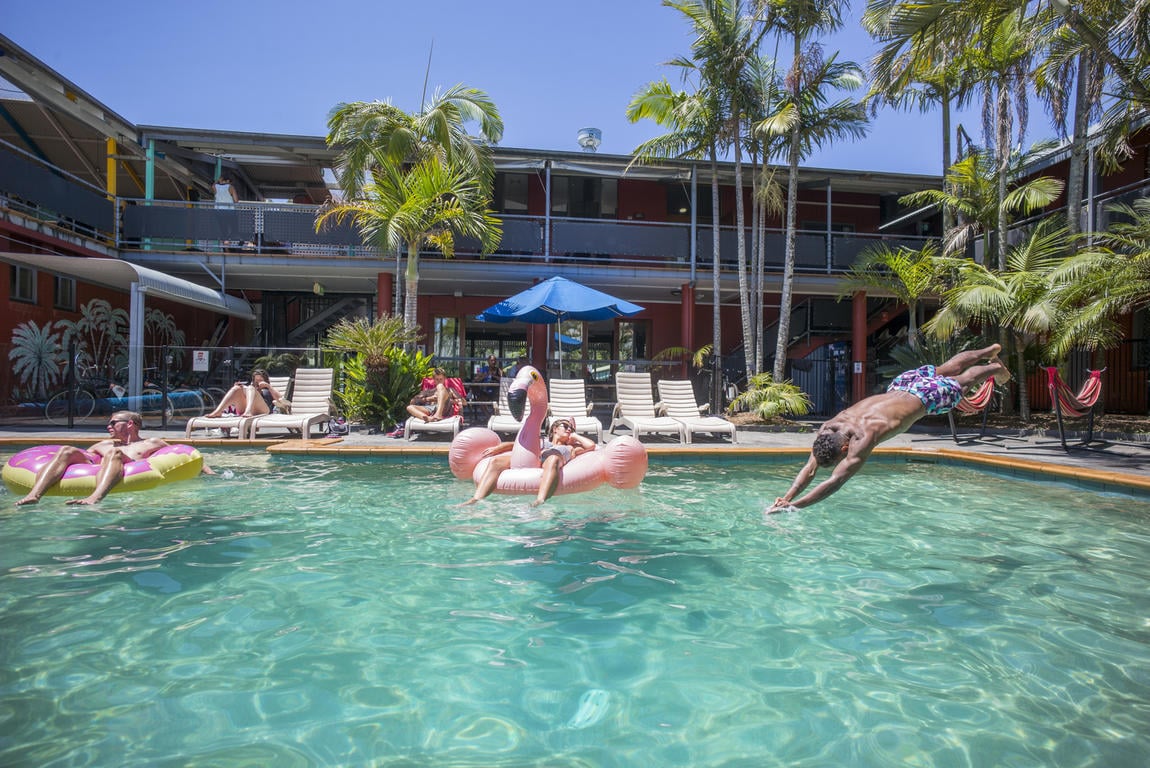 $
24-Hour Reception
Self Catering Facilities
No Curfew
It's another youth hostel in Byron Bay. This YHA hostel is older, and to be honest, it shows, but the location is better here if you like being in the centre of town. Whilst it is a little older than the other YHA hostel, it's a teensy bit cheaper and really, if all you're after are simple, basic rooms, places to hang out, a place to make your own food (aka a kitchen), plus a whole load of weekly activities – as well as a dive centre and free use of bodyboards – then you'd do well to stay at this actually top hostel in Byron Bay. Basic doesn't mean bad, people!
Best Cheap Hostel in Byron Bay #3 – The Aviary
$
Surfing Lessons
Day Trips
Self Catering Facilities
Huge curveball here: this is the actual cheapest place in town, but you wanna know why it's last on this list? Because it's a different approach to a hostel, in that what's on offer here are pre-set private tents. Yep, tents. This makes it easily the cheapest option when it comes to a budget hostel in Byron Bay. But the tents have got air mattresses, pillows, duvets – they're alright! It's also out-of-town, which helps with that price. But if you like being away from the hustle and bustle of it all, and if you like a chilled vibe that's closer to nature than other hostels, and majorly if you LOVE (or like) camping, then The Aviary is a decent choice.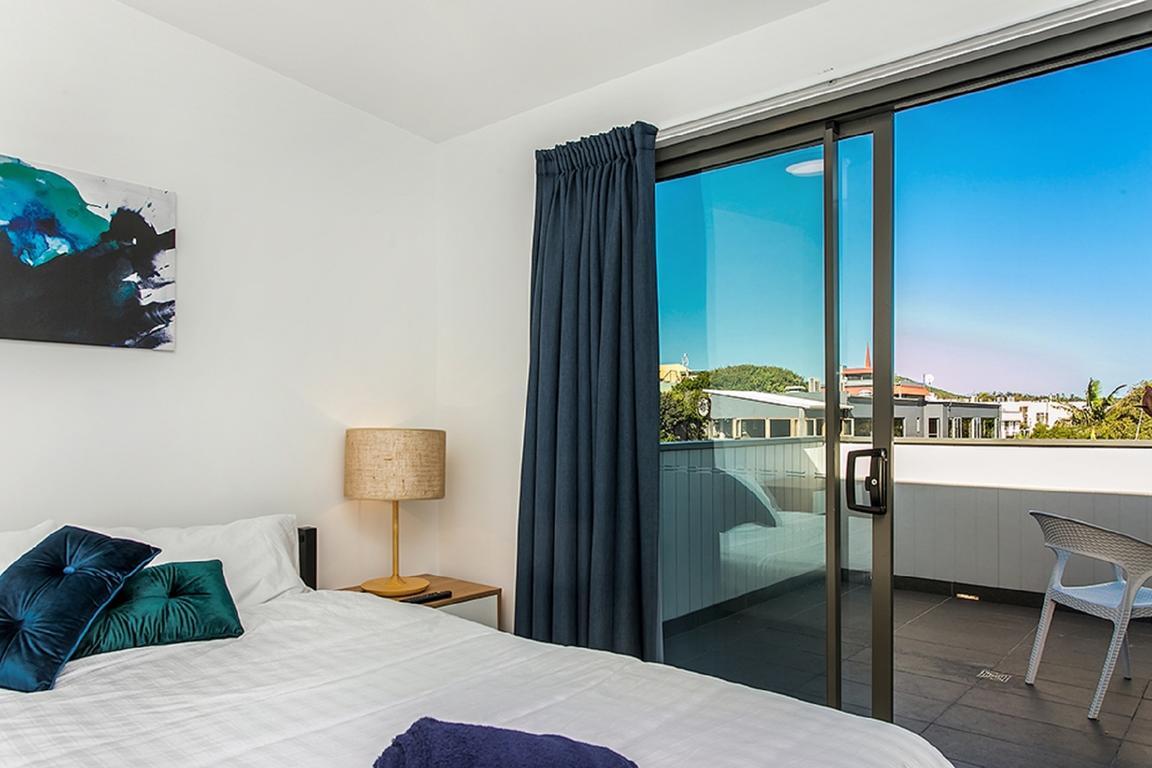 $$
Heritage Building
Bar & Cafe
24-Hour Reception
Hey now, hey, hey, this is nice. A brand new Byron Bay backpackers hostel, and it's in a listed heritage building that's like 100 years old (well, it's from 1929). For this alone it could earn itself the title of the coolest hostel in Byron Bay quite easily. Being a relatively new endeavour the hostel is still pretty shiny, with clean modern dorm rooms and sleek, polished private rooms. Being in a couple can get tricky when you know you're gonna have to pay for two beds in a dorm, often more expensive than a private room. So go for the private here and get that hostel experience in a V nice setting indeed.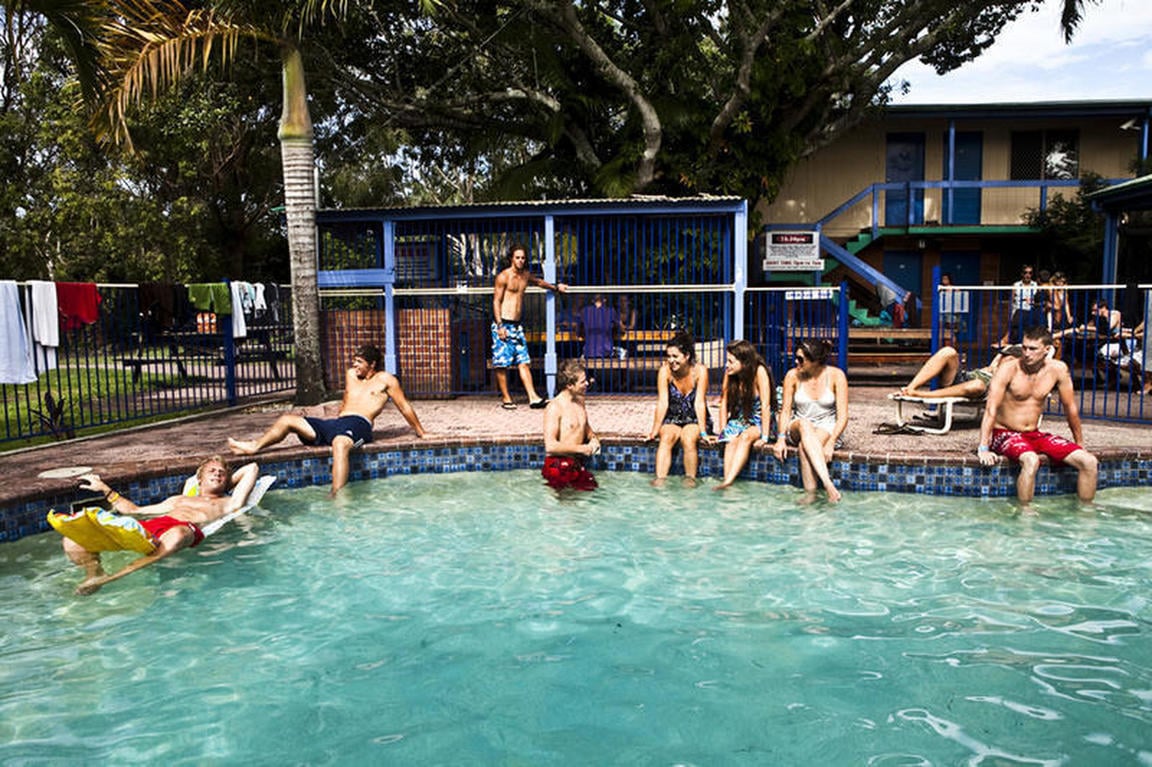 $$
Swimming Pool
24-Hour Security
BBQ
The atmosphere at the simply named Backpackers Inn on the Beach is a great balance – whilst their 'no stags, no hens' policy keeps away anyone who wants to completely destroy themselves, there's enough going on here to keep up a lively vibe that's conducive to a good time. Impromptu BBQs (this is Australia), fire shows, live music, and VIP nights – plus a unique horseshoe-shape to the whole place for maximum socialising – add up to a whole lot of beachside fun at this Byron Bay backpackers hostel. Chuck in those comfy rooms and we're sold.
Best Hostel with a Private Room in Byron Bay – Nomads Byron Bay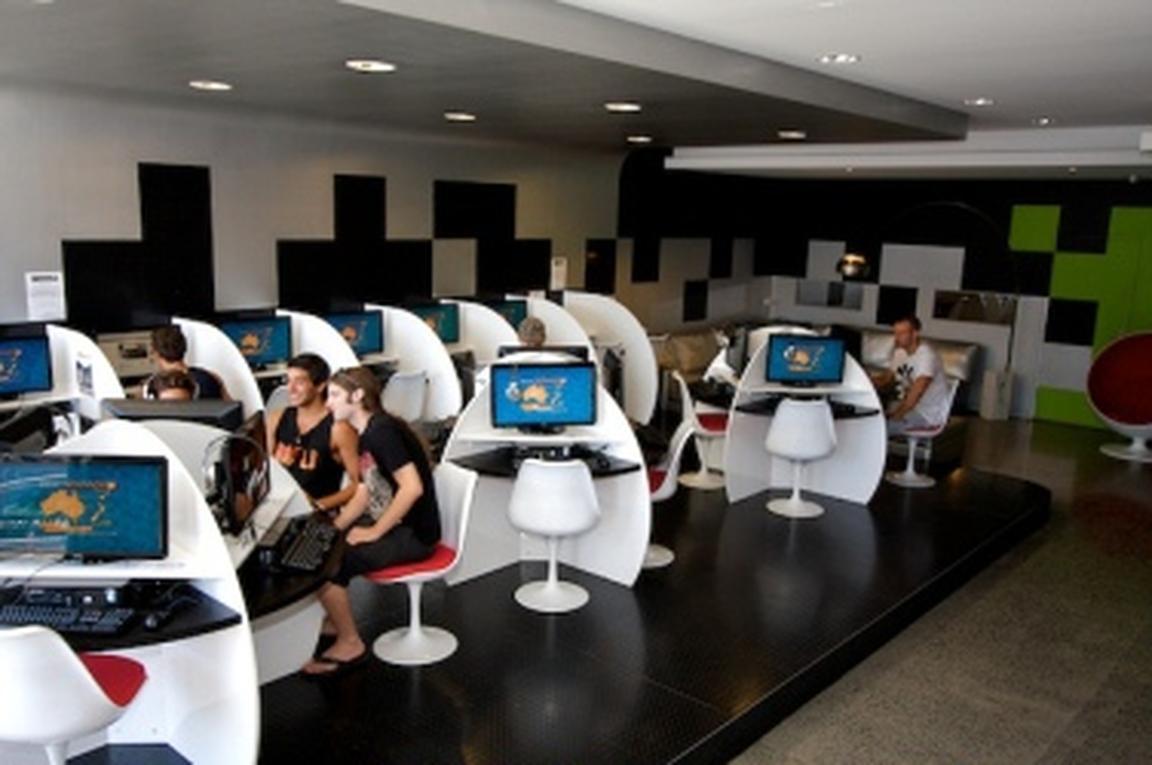 $
Outdoor Terrace
Free Breakfast
Air Conditioning
Two 12-seater hot-tubs, hammocks, benches, decking – the outdoors living at Nomads sounds pretty sweet to us. This Byron Bay backpackers hostel isn't directly on the beach but it is just a couple of minutes' walk from it, and sometimes it's all about that anticipation of a beach day, right? Does that make it sound better? Ah, it's hardly far. But seriously: think air-conditioned dorms and private rooms, a sun-trap of a courtyard, free breakfast, and a more centre-of-town location if you fancy hitting up the nightlife. All good material for a top hostel in Byron Bay. Plus the 8-bed dorms here are quite the bargain.
Things DO go missing sometimes…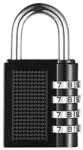 Psst! Heading to a hostel? Don't forget to pack a padlock! It's well worth having one so you can secure your locker and protect your stuff!
More Best Hostels in Byron Bay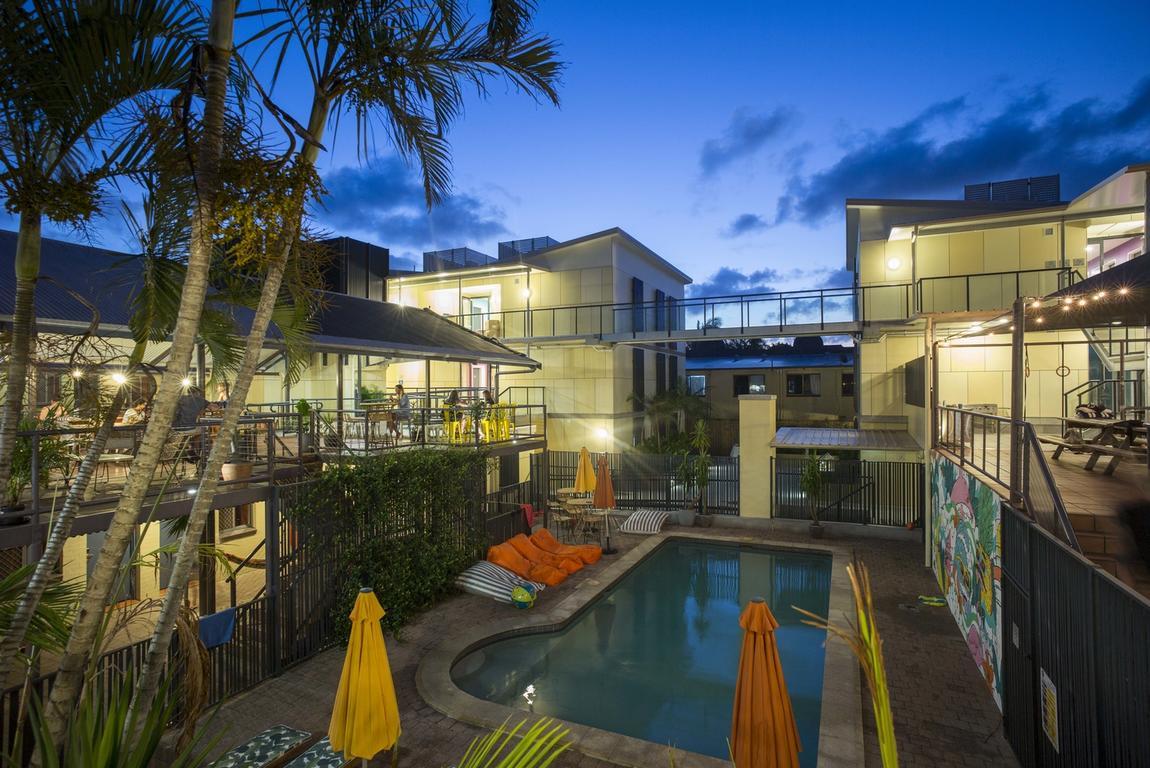 $$
Self Catering Facilities
Common Areas
Swimming Pool
This is Byron Bay's newest hostel, which means that it still has all the hallmarks of newness, mainly in that it's shiny and the decor is modern and up to date. This (official) youth hostel in Byron Bay is a sprawling centre: it's well thought out, well decorated, a haven for people who like other people. The kitchen alone is massive. There's pizza night, BBQ night movie-and-popcorn night to keep you entertained in the evening, if you're not too tired out from all the cycling, snorkelling, surf culture, hiking or just chilling the F out. Well-positioned to become the best hostel in Byron Bay one day. Maybe.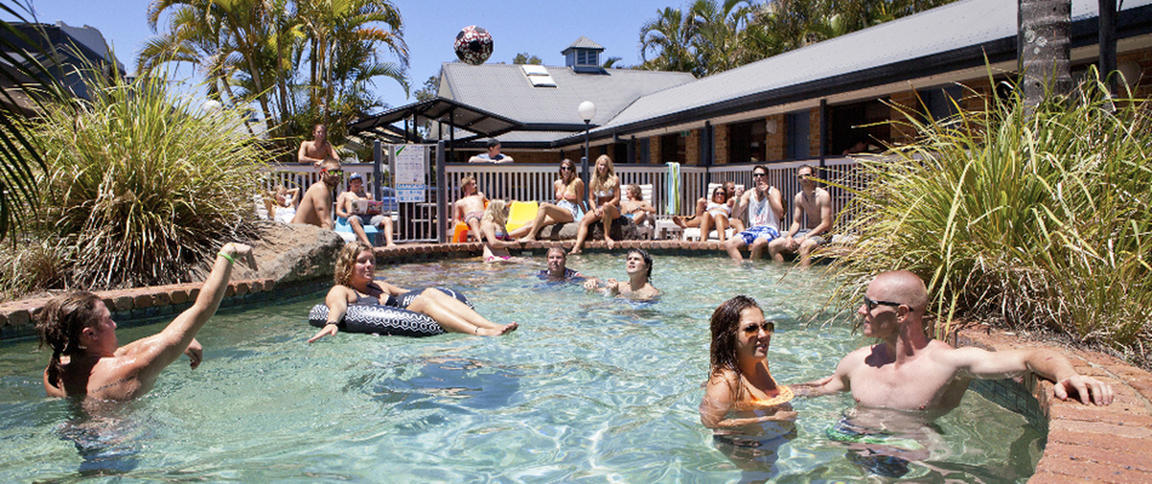 $$
BBQ
(Free) Bike/Board Hire
Self Catering Facilities
This recommended hostel in Byron Bay is not the best hostel in Byron Bay, but it does come with a pretty unique 'open concept' philosophy whereby the place is big and lacking in hideaways in an effort to get everyone to socialise. You open your door and boom, you're part of it all. Which is 100% fine if that's what you want in your Byron Bay backpackers hostel. Don't worry: they also offer self-contained apartments so you can socialise and then retreat to your own little cubby hole. Free bike and board usage sounds good to us, too.
The BEST Travel Backpack?!
Pssssst! Not picked the perfect travel backpack yet? The Broke Backpacker team has tried out over thirty backpacks this year! Our favourite travel backpack is the Osprey Aether (comes in 55 – 85 litre sizes).
View on Osprey
View on REI
What to Pack for your Byron Bay Hostel
We don't often travel without these essentials.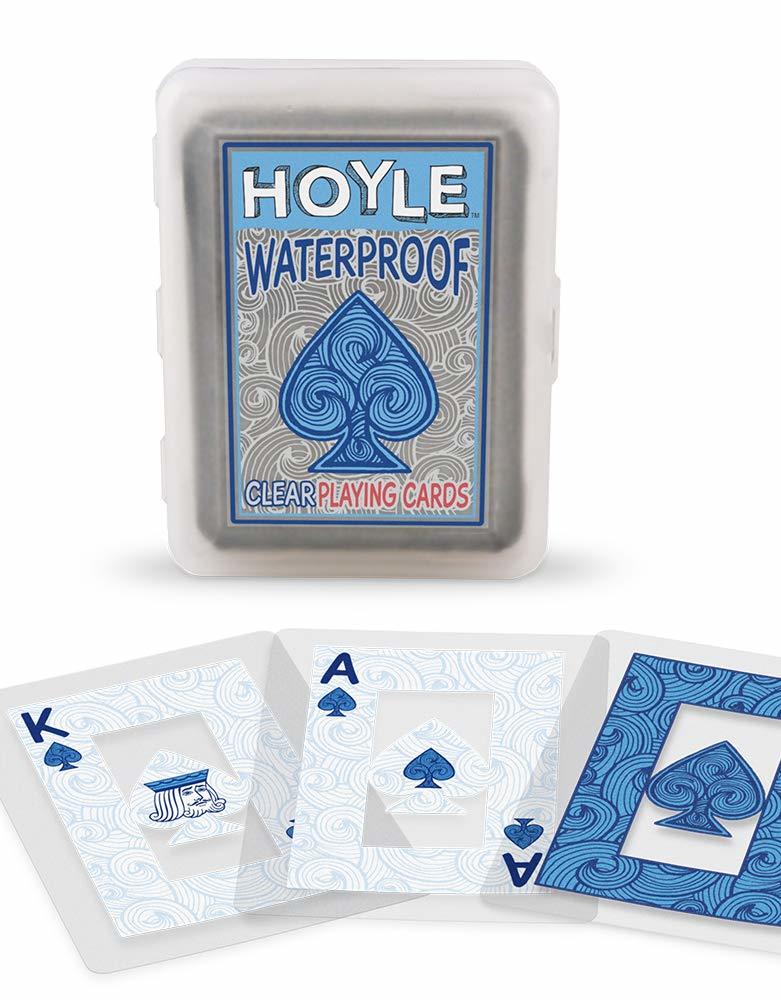 1. Playing Cards: Name your ideal night: I'm for a few cheap beers and some card games. Oh, and you don't even have to be drinking to enjoy a game – having cards with you traveling definitely helps out on those long airplane or beach days! Make sure to snag a waterproof deck to protect from the pool, ocean or Chang.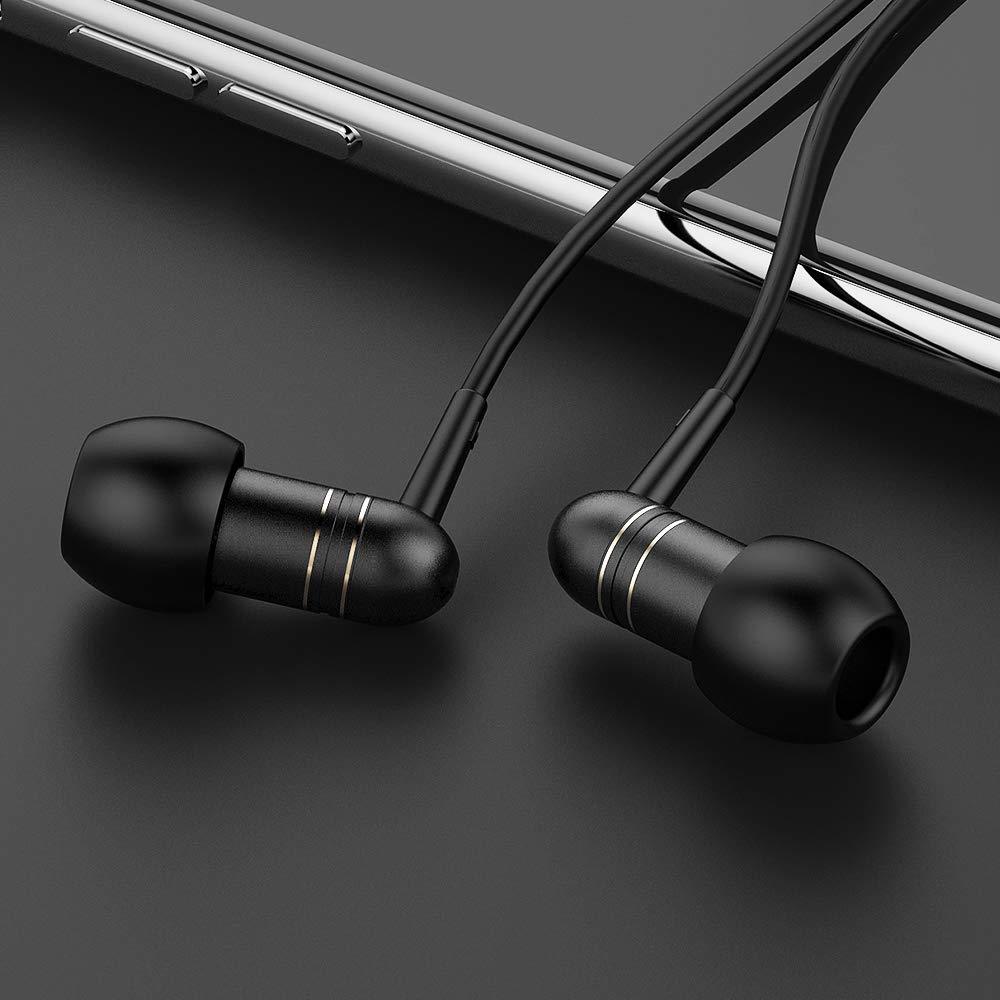 2. Noise-Cancelling Earbuds: Noise in hostels… is a thing. Your bunkmate coming in late, motorbike traffic just below your window, construction on the property or the round-the-clock rooster that seems to follow you to every f*cking hostel. Having a way to escape the noise while you sleep makes for a well-rested morning. Noise canceling ear-buds are a great solution, just put on your favorite artist or load a quick Netflix episode to fall asleep too.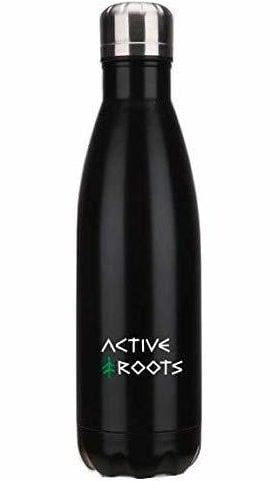 3. Active Roots Water Bottle: Sturdy and durable, the Active Roots water bottle survives the roughest adventures while keeping your drink cold or hot for at least 24 hours. Vacuum-sealed and made from stainless steel, the bottle can fit 25oz, which is plenty to keep you hydrated. Super cool bonus: the bottle isn't just super useful, it helps to reduce the single-use plastic waste – save the planet by filling up your bottle.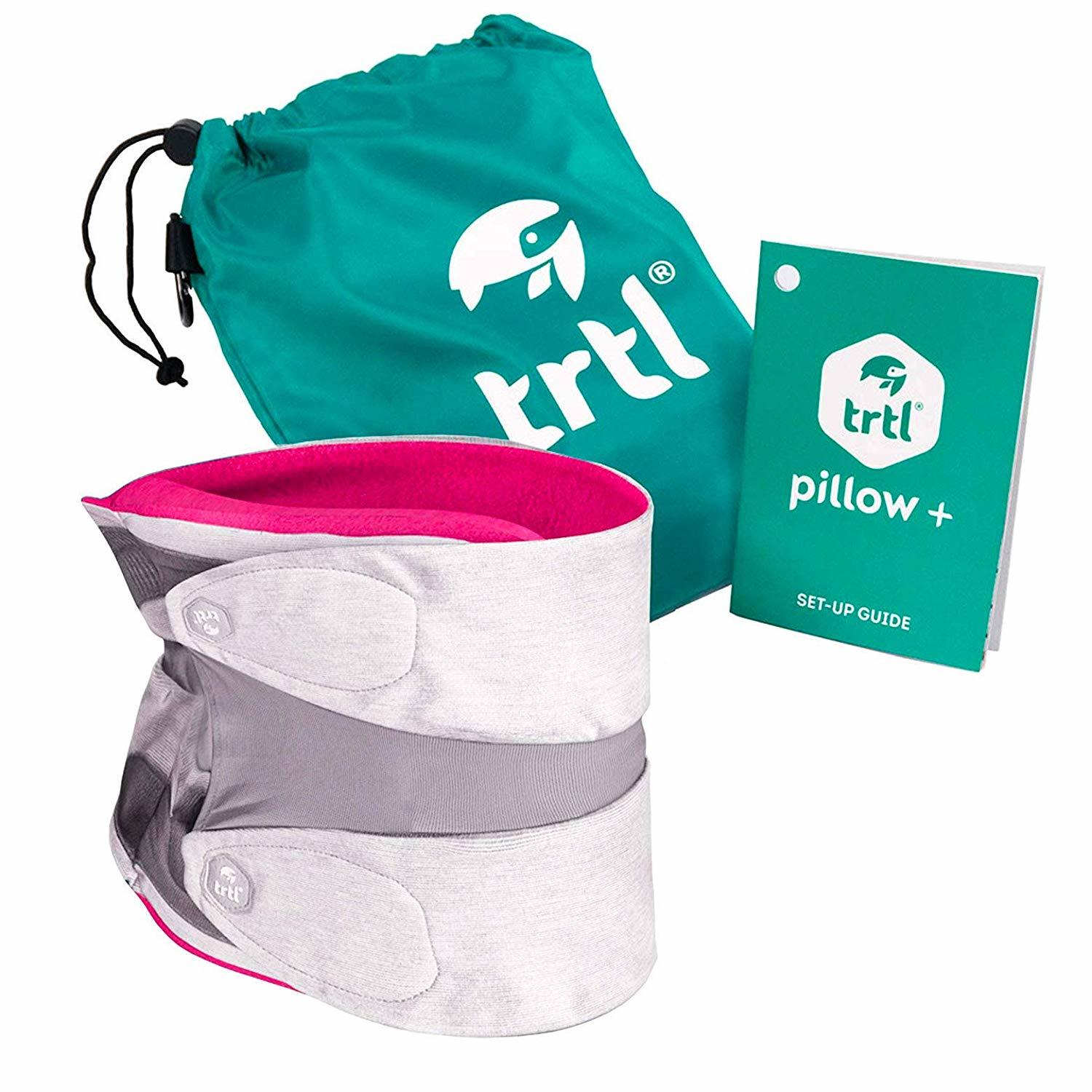 4. TRTL Travel Pillow: Get rid of the red eyes and yawning with this TRTL travel pillow. It's not just a normal neck pillow (I mean, look at it!), the ergonomic design gives your neck and head so much comfortable support that you'll actually be able to have some decent rest. Super easy to carry and clean, it takes up so little space compared to a traditional travel pillow.
5. Active Roots Toiletry Bag: Keep your bath-and-beauty items organized and in the right place with this water-resistant bag. With large compartments, mesh and enclosed clear sections, you can fit everything you might need inside. Hang it up or let it stand on its own – this bag is a must-have for dorm-lifers.
6. Power Bank: Probably one of the most important travel accessories – a decent power bank. Charging your phone up to 5 times in a row, the Anker Power Bank is a true lifesaver on long adventures or bus rides. Slick looking, handy and not too big, it easily fits in even the smallest travel bag or your pocket. Charge 2 devices at the same time with the double USB port.
Why you should travel to Byron Bay
Alright! If you've made it this far than you have seen my guide to the best hostels in Byron Bay to completion. Good on ya!
You are now ready to rock into this surf town with the all of the great hostel options before you. Booking a hostel is always easy when you are well informed, eh? That's what I am here for.
Byron Bay is truly a backpackers paradise. It is not surprising in the least that some backpackers come here and well, never leave. You've been warned…
Right so are you still feeling conflicted about which hostel to book? Too many appealing options in front of you?
Usually when someone is having trouble deciding which hostel to book, I simply recommend booking my top pick for best overall hostel in Byron Bay: Wake Up! Byron Bay. Just keep it simple and book the hostel that feels right!
Happy travels guys! Hope you catch a few waves and then some!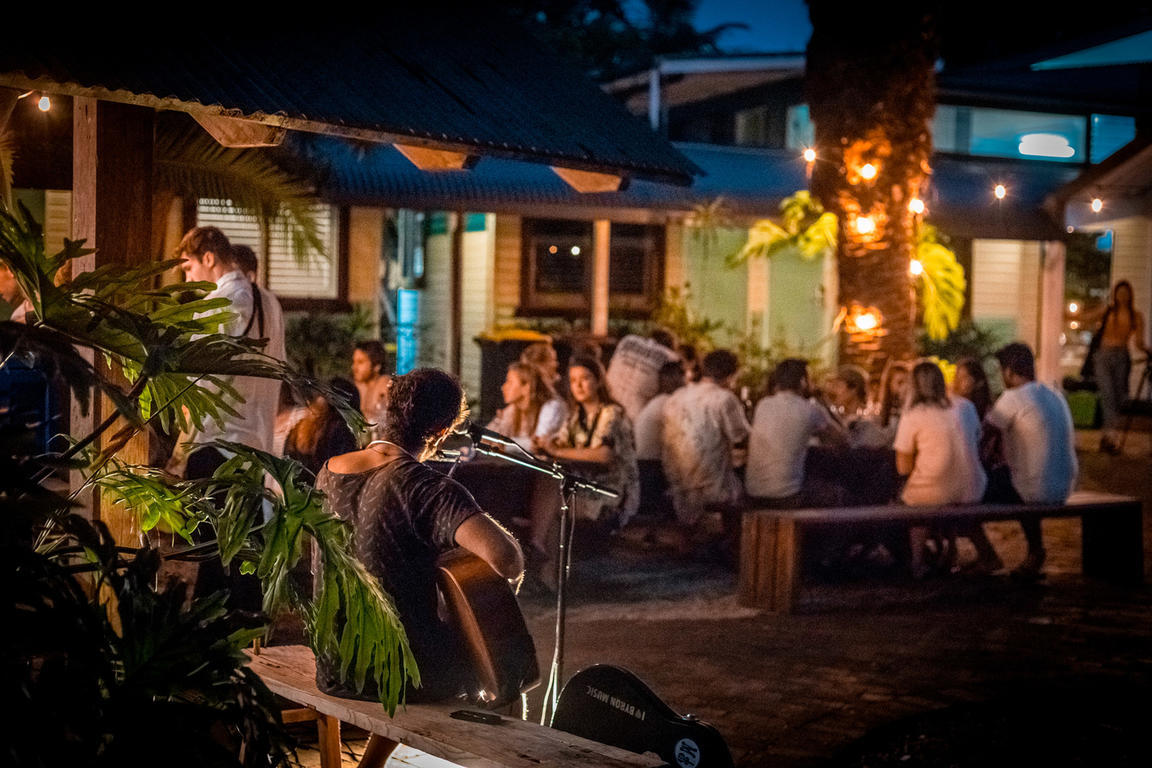 Travel Safety Tips for Byron Bay
And don't forget Travel Insurance! We've put together a roundup of Travel Insurance for backpackers – check it out here, or if you're low on time, get a quote from World Nomads, our favorite travel insurance provider.
Getting an estimate from World Nomads is simple – just click the button or image below, fill out the necessary info, and you're on your way!

More Epic Hostels in Australia
Hopefully by now you've found the perfect hostel for your upcoming trip to Byron Bay.
Planning an epic trip all across Australia?
Don't worry – we've got you covered!
For more cool hostel guides around Australia, check out:
Over to you
By now I hope our epic guide to the best hostels in Byron Bay has helped you choose the perfect hostel for your adventure!
If you think we've missed anything or have any further thoughts, hit us up in the comments!
Want to support the site? We work hard to put out the best backpacker resources on the web, for free! It's all about helping out our tribe of awesome backpacker readers [that's you!]. Want to know how you can show your support – find out here!
For the sake of transparency, some of the links in our content are affiliate links. This means that if you book your accommodation, buy a book or sort your insurance, we earn a small commission at no extra cost to you. I only link to stuff I've actually used and never endorse products or services that are not up to scratch. Thanks for your support.