There are too many damn hostels around the world! After devouring an entire thesis worth of reviews, recommendations, listings, and photos of backpackers doing yoga, that's the only logical conclusion I could reach. Well, that and this bangin' list of the best hostels in the world!
Seriously—no stone was left unturned in the search for these worldwide hostel starlets. Online, offline, the TBB archives, the TBB team, and even my personal traveller network: I went deep.
Some of the entries on this list come from my own personal experience, of course, but plenty don't. Let's be honest—not even the most experienced backpacking vagabond could possibly stay at all of the world's best hostels. If they said they did, they're lying.
That's why I'm presenting to you the most honest list of the top hostels in the world on the interweb. Party hostels, unique hostels, beach hostels, and hostels hiding at the furthest corners of the planet, it's all here. From real travellers to real travellers via a real traveller (me), it's time to go hostelling around the world!
What is a hostel? Well, a hostel is a piece of budget accommodation with shared living spaces (to accommodate more guests and lower rates) – pretty simple! But what is a good hostel?
A good hostel is a fond memory. It's a place you refer a traveller to at the next nearby destination you arrive in.
But a 'best hostel'? A 'best hostel' is a place you refer travellers to even once you've well-and-truly moved on abroad.
"Oh, dude, you're going to Sri Lanka? I just know the most amazing hostel—the best I've ever stayed at. You have to go!"
The best hostels in the world stick with you: they're sticky places. You check-in for a couple of days, and then you find yourself extending. Travel plans (if you had any) go out the window, and you'll have to recalibrate for this unexpected gem.
Insider tip: To find these kind of hostels (and make the whole booking process a hell lot easier) check out HOSTELWORLD. You'll have endless options to choose from, in almost every hidden corner of the world.

A 'best hostel' slows you down in the best possible way. Usually, it's because you quickly found a crew of travel buddies; awesome hostels draw in awesome people. That's the natural order of things.
But, ultimately, anything can make the best hostels… as long as you vibe with it. Insane throwdowns, unbeatable brews from the espresso machine, a comfy-ass bed, staff that make you feel like family, or even just the perfect sky to watch. Whether you're a hostelling lady or a budget backpacking gentleman, there's a sticky place out there for you.
As long as it feels like home. As long as you don't want to leave.
Europe has a mad hostelling scene! Long regarded as one of the two major regions in the world for baby's first backpacking adventure, Europe's backpacker pads are some of the nicest hostels in the world for the proverbial nomadic newbie.
Tight facilities, high bed turnover, and extra attention to safety and sanitary practices are just some of the standards to expect in Europe along with endless trimmings.
While there are also certainly independent and more family-style guesthouse-hostels, a lot of widespread hostel chains dominate Europe's major destinations.
Of course, Europe is big, and the standard venture hostelling through the Western locales is always going to present a much different experience to the best hostels in Eastern Europe, the Balkans, and beyond. Things get cheaper and cheekier, so you know I just gotta throw a tasty spread at you!
Best Hostel in Amsterdam, The Netherlands – Flying Pig Beach
The truly excellent Flying Pig Hostel chain in Amsterdam is the premier place to stay in Europe's hedonistic party capital. And, yes, they are most certainly party hostels!
The offerings are:
Flying Pig Downtown Hostel as the biggest and, thus, most likely to go bonkers.
Flying Pig Uptown Hostel is the smaller and homier choice.
Flying Pig Beach Hostel is outta town and right by the beach! With shuttle service to and from the city centre, it's the choice of hostel for keeping your sleeping and binge substance consumption separate.
They all cater to a different niche while still serving the overall purpose that most backpacker hostels in Amsterdam do—getting absolutely, royally, downright fucked. The standards are high and vibe always good at all three hostels meaning that the only real choice is which one appeals to you.
Personally, I'd book at Flying Pig Beach Hostel. I got the recommendation from a mate who got stuck there for a while, and she still considers it one of her favourite hostels around the world to date!
Oh, man, this city is funkin' insane and if every recommendation for hostels in Budapest that I've ever received is grounds to go by, then it's sole purpose is to destroy the livers of backpackers worldwide!
Grandio Party Hostel is easily one of the craziest hostels in the world, and they don't hide it. It's a grunge palace—there are no other words for it. It's seedy, it's dirty, it's a surefire downward spiral into alcoholism, and that's why it's so damn special!
Best Hostel in Timisoara, Romania – Freeborn Hostel
I have a dream of travelling to Romania, and part of that stems from my friend's insistence that I one day stay at Freeborn Hostel. It's neither a hippy haven, a grunge palace, nor a tightly-wound Western hostel chain: it's a home.
Best Hostels in Sarajevo, Bosnia and Herzegovina – War Hostel
Here's a recommendation from the Broke Backpacker team, and it may just be the most unique hostel in the world! Is it a comfortable stay for the night? Hell no!
For anyone that doesn't know the sobering history of the Yugoslav Wars and the dissolution of Yugoslavia, this is one of the most poignant homages you will encounter.
It's a real-life dedication constructed by survivors of the war for backpackers to experience the soundscape, lifestyle, and conditions people were subject to in one of the most barbaric conflicts in modern Western history.
Number two of the beginner backpacking regions, Southeast Asia also attracts travellers of the young, bright-eyed, and yet-to-be-jaded variety. Parties are endless and really the main focus for people, along with clearing their chakras.
Hostels in Southeast Asia tend to have somewhat more basic amenities and services than their European counterparts, although that largely depends on where you are (eg. Singapore vs. Thailand vs. Laos).
While you generally won't find the cheapest hostels in the world there anymore (backpacking in Southeast Asia simply isn't as low-cost as it used to be), you will find some of the best value ones.
Best Hostel in Bali, Indonesia – Tribal Hostel
Tribal Hostel – Bali's first purpose-built co-working hostel and perhaps the greatest hostel in the world!
An ideal hub for Digital Nomads and backpackers, this very special hostel is now finally open…
What is Tribal Hostel (other than the brainchild and passion project of the world's most renowned 21st-century swashbuckler)?
Mmm, I easily could have filled this list with Thailand's insane hostels. I considered a party hostel in Koh Phanghan, but this is way cooler!
Pai is a sticky place through and through. People roll in, roll up a doob, and then they forget to roll back out. If you're a fan of greenery, hippies, and backpacker bubbles, you'll dig Pai.
And, if you stay at the Pai Circus Hostel, you'll probably go straight into the mud. It's a good hostel, albeit not sensational enough to be worthy of being in the top 10 hostels in the world.
If you haven't heard of Mad Monkey Hostels, then you've definitely at least heard a backpacker retell a debauched tale that took place in a Mad Monkey hostel.
One of the best hostel chains in the world and a legend amongst Cambodia's backpacker hostel scene and Southeast Asia as a whole, Mad Monkey Phnom Penh is the don that started the pehn-phnom-enal madness.
Is Phnom Penh the best Mad Monkey hostel? Na, probably not. There are more top-notch choices in…
Holy hell this place is gobsmacking—easily one of the most beautiful hostels in the world! Just look at it!
Let's list just exactly what here is the tits:
Breakfast is on-point.
Coffee is equally on-point.
The beds are heavenly.
The views! (I'll take the world's best mountain hostel over the world's best beach hostel any day.)
Again… that lushness!
Well, Asia is big! It's also hella expansive—there really ain't that many cultural similarities between Japan and Lebanon.
Once you step outta Southeast Asia, the well-denoted backpacking trail kinda evaporates (except, arguably, in parts of South Asia). Some countries have a tight-knit Europe-inspired hostelling scene (eg. Israel), some have next-to-nothing (eg. all of Central Asia), and some places are so cheap that you may as well just haggle a private room (eg. hostels in India).
Similarly, the vibe and standards of hostels in Asia vary greatly depending on where you are. From dingy squalors to pimped-put boutiques and even a splattering of some sustainable eco hostels, there's a lot on display.
However, there are some true hidden gems out there too. Asia pulls in some extremely intrepid backpackers of the strangest kind, and the best hostels in the world…?
They pull in the best people.
This isn't a recommendation. Tomorrowland remains serene and perfect perched above the cloud forests of Sri Lanka's lush hill country, but the new management can lick my bum.
But, man, oh man. Flash me back to 2019 before all that shit went down and it was possibly one of the stickiest places. It was my sticky place. This isn't a recommendation – it's an homage.
Best Hostel in Kathmandu, Nepal – Alobar1000
Alobar1000 is another entry which shows that amenities don't signify the top hostels worldwide. It certainly ain't gonna let you down either though!
Things are clean, the showers are hot, and most importantly the staff are friendly. But I can also guarantee you that after a stay at Alobar1000, you'll walk away with a crew.
Look, pretty much all the hostels in Japan are going to be the nicest hostels in the world, so I wouldn't stress too much. Counter to the previous two features, this one is all about the amenities!
It's just damn sexyl! …so it shouldn't be a surprise that it's consistently rated as the best hostel in Tokyo. It's got all the modern trimmings you'd expect from a 21st-century backpacker accommodation smack-bang in the heart of metropolitan Tokyo. Pod-style dorm beds and swanky rooms in a ship run just as tight as any military maritime vessel.
Best Hostel in Nazareth – Fauzi Azar
Ahh, there's a whole story here. To summarise, I did a stint working on a review of the Abraham Hostel chain in Israel—one of the best hostel chains in the world and, definitely, in Israel.
Now, while their Tel Aviv and Jerusalem featurettes are certainly impressive, the real standout is the offshoot of their lineup, Fauzi Azar. An exquisite converted-Arab-mansion in the Old Town of Nazareth, you get something there you just can't get in the hotel-like atmosphere of Tel Aviv's hipster-and-hummus chaos—personality.
Relatively expensive, top-of-the-line, and usually located somewhere very pretty—that about sums ups the hostels in Oceania! The backpacker accommodation options in the Pacific Islands are more touch-and-go, however, the hostels in Australia and New Zealand follow the standard set by Europe. You get plenty of rocking communal facilities and events alongside a lot of structure.
Australia and New Zealand are dream of working holiday destinations for many backpackers worldwide. At their backpacker hostels, you're going to meet a wide variety of travellers of all styles. If you're keen on finding work in hostels around the world, the high wages in these countries are certainly delicious too.
Best Hostel in Byron Bay, Australia – Arts Factory Lodge
Mmm, Byron Bay. Now, whatever quandaries I may have with my hometown, it's hard to deny its crowning place in Australia's backpacking scene. And of all the backpacker hostels in Byron Bay, none are more quintessential Byron than the Arts Factory.
This is another of the top-rated hostels in the world—winner of no short number of awards—and it's certainly the best hostel in Queenstown! That's why I'm sending you here: for Queenstown.
Queenstown is the biggest backpacker hub of New Zealand and its picturesque tourism and adventure capital. A snow-town in the winter months, an everything-else-town in the summer months, and a party-town all-year-round.
Honestly, I thought North America's hostel scene was kinda wack, and then I realised that I forgot that Mexico classifies as North America. Yay, Mexico!
Canada and the USA's backpacker hostels are yet to truly embrace the budget accommodation concept of the world hostelling scene. Major cities tend to have more options, but it's nothing compared to Europe, Oz, and NZ. They definitely still bring the facilities a budget backpacker needs, but they're way overpriced and travelling by hostel is extremely limited.
However, you'll still find some of the coolest hostels in the world in Mexico. As the gateway to Central and South America's avid backpacking culture—and the most culturally vibrant country in North America—things get more adventurous there.
Best Hostel in Montreal, Canada – M Montreal
I realised that while I had plenty of the world's best hostels featured on this list, I didn't have a whole lot of large-scale hostels (probably due to my not-so-secret love affair with off-beat and intimate locales). Enter M Montreal.
How does 350+ beds sound? To me, existentially horrifying, but some people dig this scene! A huge rotation of new humans every day to converse and party with along with the supreme furnishings of a hostel of this size and popularity.
Best Hostel in Denver, Colorado – Ember Hostel
I have a soft spot in my heart for Colorado because of weed, mountains, and weed. Plus, I've met good peeps from there.
So on that note, yup – they're 420-friendly! I'd also say that they're another of the best luxury hostels in the world, but that kinda comes with the territory when your premises are a historic mansion with the boutique trimmings to finish.
Best Hostel in Chiapas, Mexico – Hostal El Nagual
Thank you, Mexico, for being North America's saving grace for the broke budgeteers of the backpacking arts! This is the type of hostel I love recommending: a basic and cheap pad that becomes a community for the bohemian souls and bleeding hearts that wander in. In case you're wondering, yes, this was another recommendation from my dirtbag network.
It's super basic; I really can't admonish the amenities. That's not the point though! It's a brilliant hostel in Mexico that would rather draw in a special kind of traveller rather than the Cancun/Tijuana crowd.
Falling somewhere between Southeast Asia's insanity and Europe's attention to detail is the remainder of the Americas. Again, it's a very wide net, but there are a few standard things to expect amongst Central America's hostels.
Plenty of surf, sun, and nature is the name of the game, and some of the world's craziest hostels—a full-power party paradise—are to be found backpacking the Central America region. The drugs are also way better quality than in Asia, so you know how bananas that shit is gonna get!
Best Hostel in Boquete, Panama – Bambuda Castle
Oh, snap! Shut it down, boys, it's a fucking castle: this is the best hostel in the world, life won, list complete! (It's not; please keep reading.)
Ok, so maybe I got overexcited, but can you blame me? There's a goddamn rock climbing wall up the castle tower. There are also two hot tubs, which is cool, but still not as cool as Spiderman-ing up a castle wall!
Best Hostel in San Juan Del Sur, Nicaragua – Naked Tiger Hostel
You're looking at one of the best party hostels in the world. The theme? Pool parties and everything that entails! (Mainly booties and booze.)
The view from the pool is undoubtedly divine: a lush 180-degree hilltop panorama of the bay and sunsets (looking west). Happy hour is daily meaning the cheap booze just gets cheaper and the badonkadonk-bods just get more bootylicious!
South America is extremely diverse, and the backpacker hostels across the continent reflect that. Much like Asia, "You can find anything you want here," and that is 100% true, albeit generally at a higher cost (Peru and Bolivia notwithstanding).
There's a well-carved backpacking scene across South America. From the shamanic practices of the Andes and Amazon to some of the best surf destinations in the world to the snowy powder of Colombia (heh), you're going to find a hostel to meet every desire in South America.
Surfies, hippies, party people, culture vultures, historians, and adventure-seekers all travel to South America, and you'll find them all at some of the most beautiful hostels in the world!
Best Hostel in Minca, Colombia – Casa Elemento
This is a tentative recommendation with an anecdote to accompany.
I dived into their online listings scouring the reviews before I stumbled on a 5-year-old review from none other than my cousin:
Truthfully, I wanted to find a Peruvian tripper's den to recommend; you're in the land of Ayhausca, baby! They generally don't advertise on Hostelworld though, so here's Wolf Totem Guesthouse. This place has been "designed as a holiday from the holiday for the long-term traveller".
I feel that so hard.
Sometimes, as a traveller, you don't want to keep moving. You just want to stop somewhere and… sit for a bit. That's when you stay at Wolf Totem Guesthouse.
Africa—the last great backpacking frontier. Whereas near-untouched regions like Central Asia offer untold exploration for the pure-adventurists, many parts of Africa are more of a place for adventure-seeking tourists. You'd be hard-pressed to find a backpacker who isn't piqued by Africa though is perhaps saving it for later in their career of vagrancy.
Backpacker hostels in Africa are few and far between. The major destinations—like Morocco, Egypt, and South Africa—have them in droves, as do many major cities. Outside of that, they aren't the most common form of accommodation in Africa and a lot are still going to be working out the kinks.
All the same, they're definitely going to be your best hub for meeting travel buddies in Africa to hit the road with!
What's the list missing so far? One of the best surf hostels in the world! Have you heard that Morocco has killer waves?
So if you're looking to get your gills or test your mettle, travel to Morocco. Down on the southwest coast, you'll find this darling specimen Morocco's amazing hostels open to the grommets and veteran carvers alike.
Not of the surf variety, but certainly another of the world's best beach hostels. Off the east coast of Africa and Tanzania is the jewel of Zanzibar Island (man, we really have been around the world)!
Zanzibar boasts some of the most stunning beaches and shoals in the world, and at Drifter's Backpackers, you get a front-row seat. A few steps from the dorm and you're already staring at the turquoise glimmers of the Indian Ocean. It's the best hostel in Zanzibar for sure.
I messaged another Broke Backpacker writer—and kinda my mentor (shh, don't tell him)—for some dope recommendations of hostels in South Africa. He slammed me with a lot of wicked choices (South Africa's hostelling scene is actually mad), but I just had to settle on Away with the Fairies. Why?
The cliff edge bath. Imagine taking a hot bath—bubbles and all (bubbles not included)—a drink in one hand and a rubber ducky in the other. Now, imagine that same bath, except that you're staring out from a clifftop at the South African wilderness
Almost very nearly. Very soon you'll be indulging in the hostel life in all manner of crazy places. But first, the essentials!
A specially built co-working hostel?
Tribal Hostel Bali is finally open – this custom-designed co-working hostel is an absolute game-changer for digital nomads, wandering entrepreneurs and excitable backpackers alike…
Is this the best hostel in the world? We think so… Come check it out and see if you agree 😉
What to Pack for All Hostels Worldwide
Generally, just your beautiful self and that dashing smile. Probably a spare pair of undies too. Past that, here are some other nifty gadgets that always makes staying in hostels that much more enjoyable.
Still struggling to pack your backpack? Then check out my essential list of hostel packing to speed things along!
Are Hostels Safe?
Truthfully, yes. Hostels are the safest places you will visit in your travels (except maybe Japan). The worst thing you're possibly looking at having happen is getting something nicked, and even then, that's very unlikely. Remember to hide your cash and valuables, and you'll be fine.
People can be drunk and stupid in hostels. Hell, I've met some massive douche-canoes in hostels. But I've never met someone with genuinely ill intent.
Hostels are homes for travellers. We like to take care of our home and the people inside of it. 99.9999% of backpackers worldwide are staying in hostels because they want to meet like-minded travellers, feel the warmth, and have a safe place to rest their head so damn far from home.
So, no, don't fear—hostels are safe. But also, on that note, be one of the cool hostellers. Remember to smile, drop your ego with your shoes at the door, and stay open to all the travellers you meet living in hostels around the world.
Don't be a douche-canoe: everyone is there to have a good time. Good vibes only.
Getting Insured for the Hostel Life
The chances of harm are pretty low in a hostel, but things still happen! You could topple 60 feet out of a jungle hammock or right over the edge of a cliff bath. So, you need the right travel insurance for staying in a hostel, right?!
Plus, if you're staying at the world's coolest hostels, then you're probably travelling around the world. That just means you really need to consider some damn good travel insurance no matter what!
Members of The Broke Backpacker team have been using World Nomads for some time now and made a few claims over the years. They're an easy to use and professional provider that the team swears by.
If there's one insurance company The Broke Backpacker trusts to cover them while roaming the planet's furthest reaches, it's World Nomads. To find out why we recommend World Nomads, check out the World Nomads Insurance review.
World Nomads' mission is to support and encourage travellers to explore their boundaries. They offer simple & flexible travel insurance, and safety advice to help you travel confidently.
They've been doing it since 2002 – protecting, connecting, and inspiring independent travellers just like you.
Get a quote below or read our in-depth review!
World Nomads provides travel insurance for travelers in over 100 countries. As an affiliate, we receive a fee when you get a quote from World Nomads using this link. We do not represent World Nomads. This is information only and not a recommendation to buy travel insurance.
Time to Book, No?
Take it from me—the world's top hostels don't stay that way for long. Nothing lasts forever.
There was another hostel I wanted to put on this list; it was a glorious hippy palace on the mountain above the clouds. A place I stayed for months, made many treasured friendships, and really truly felt had a little spark of magic within its walls.
Alas, nothing lasts forever.
That hostel is gone now, or at least, the ownership changed. With that, the magic was gone, and on a very sad, sour, and insidious note.
So, yeah, it is bloody well high time you booked yourself into one of the best hostels in the world! Find your own damn beautiful bubble, and do it now! Time is fleeting, and these sparkling hubs for nomads, dirtbags, trippers, and hot-blooded and bright-eyed backpackers won't be there forever.
Lastly (since you're almost definitely going to have a favourite hostel that I missed), hit me up in the comments below! Lemme have a little look because maybe I did miss something special. Maybe your fave is just the kinda place I'd like to stay one day.
A sticky place.
---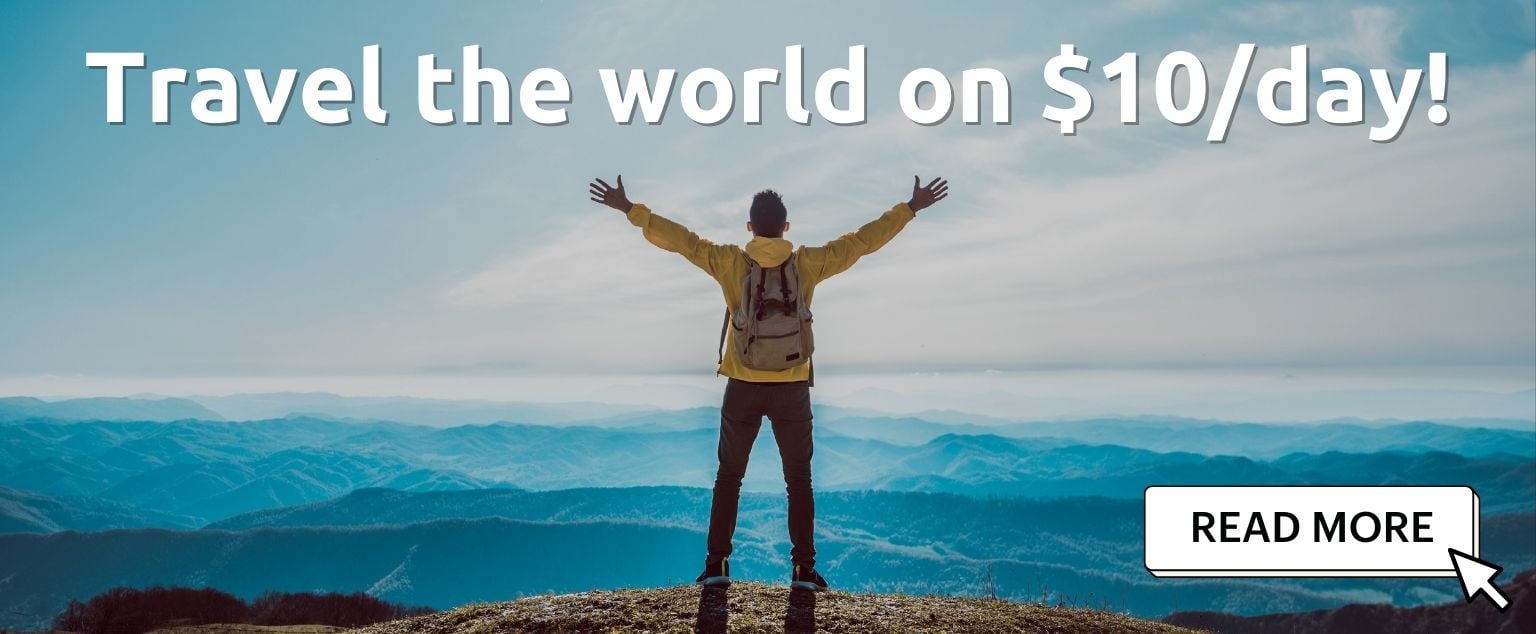 And for transparency's sake, please know that some of the links in our content are affiliate links. That means that if you book your accommodation, buy your gear, or sort your insurance through our link, we earn a small commission (at no extra cost to you). That said, we only link to the gear we trust and never recommend services we don't believe are up to scratch. Again, thank you!