Backpacking China is an attack on the senses. From the unbelievable sight of the Great Wall stretching off to infinity to the mouth-numbing sensation of hot pot, to the soothing sounds of an old man playing an erhu in the park. Get ready for sensory overload on any visit to China.
China is a country of vast contrasts. It's one of the oldest civilizations on the planet and at the same time one of the most rapidly developing countries. Here you'll find ancient temples right down the street from megamalls and shiny skyscrapers towering above traditional courtyard homes.
While China is a fascinating country to explore, it's definitely not the easiest place to visit. Having lived in the country and traveled extensively for six years, I can definitely attest to this.
But successfully making it through an extended backpacking trip in China feels like a massive accomplishment. You will have traveled in one of the largest and most intimidating countries in the world and seen some truly unique sights along the way.
I'm here to help you do just that: visit China like a pro! I've written this epic travel guide to China in hopes that it will help you, my fellow broke backpacker, ace this country. Read this guide closely and sure to have an excellent time in this country.
Why Go Backpacking in China?
China is an absolutely massive country with just about every environment imaginable. The country is full of mega-cities, epic mountains, barren deserts, lush forests, and sandy beaches. When backpacking China, you're definitely spoiled for choices.
In a country so huge, it's best to stick to a specific region if you're strapped for time. You could spend an entire lifetime exploring China and not see it all. Trust me – I lived there for 6 years and traveled extensively, but still only scratched the surface.
Below I have highlighted the best travel itineraries for traveling around China. It's no secret how massive China is, so don't even try to see most of the country in one trip. Instead, check out my 5 itineraries below for some inspiration!
Backpacking China 7 Day Itinerary #1: Beijing to Chengdu
Let's start by acknowledging that one week in China definitely is not enough time to explore this country. That being said, you can still hit some of the highlights of the country with just seven days.
You'll want to fly into Beijing and spend a few days taking in the famous sights such as the Great Wall and Forbidden City. Hop on an overnight train to save time and head to the historical city of Xi'an to see the Terracotta Warriors.
From there, make a beeline for Chengdu to visit the giant panda reserve and eat the mouth-numbingly spicy hot pot. You can catch a flight out of the country from Chengdu, most likely to Southeast Asia.
Backpacking China 10 Day Itinerary #2: Beijing to Huanglong
With ten days, you can follow the above itinerary (Beijing, Xi'an, and Chengdu) but add a visit to some of Sichuan's magnificent national parks. A short flight from Chengdu will get you to the dreamlike Jiuzhaigou, where you can spend a day exploring the stunning landscapes and taking in the Tibetan culture.
Pay a visit to Huanglong (Yellow Dragon) the next day to see the incredible terraces that are said to resemble a dragon coming down the mountain.
Backpacking China 2 Week Itinerary #3: Yunnan and Guangxi
If you have two weeks to spare in China, I highly recommend you spend a majority of your time in the southwest part of the country. Yunnan province alone offers enough to fill two weeks. Start in the provincial capital of Kunming, which is known as the Spring City for its pleasant weather.
The city is great, but you'll want to venture out quickly to dedicate more time to places like Dali, Lijiang, and Shangri-la. Spend your days cycling around massive lakes or trekking around snow-capped mountains.
From Yunnan, you can catch a flight or overnight train to Guilin, the capital of Guangxi. A short bus ride will take you to the backpacker haven of Yanghsuo, where you can cruise on a bamboo raft down the Li River past majestic karst mountain peaks. There's also cycling, hiking, and rock climbing on tap here, in addition to some seriously wild nightlife.
Backpacking China 1 Month Itinerary #4: The Full Loop
So you have a whole month in China, do you? That's great news, as you'll be able to cover some serious ground thanks to the country's extensive rail network. Based on my experiences traveling all over the country, I'd combine the above-mentioned itineraries and add a bit more.
In addition to Beijing, Xi'an, Sichuan, Yunnan, and Guangxi, you can tack on a backpacking trip to Hong Kong, which is technically part of China but feels worlds apart. From here, you've got unlimited options for onward travel.
You could also travel to Macau as well. That's super close to Hong Kong and a whole other adventure.
Backpacking China 1 Month Itinerary #5: Beijing to Hong Kong
Backpacking Beijing
To say that Beijing is a mega-city is an understatement. This sprawling metropolis has a population of around 25 million and seems to go on forever and there are just so many epic places to visit in Beijing. Here you'll see the clash between ancient and modern China up close, as ancient landmarks such as the Forbidden City are contrasted with futuristic high-rises.
As with much of China, Beijing seems to have one foot firmly planted in the past and the other in the future, resulting in a bit of confusion as to what exactly the present is.
When backpacking China, you should definitely start your adventure here in the capital. Beijing offers so much that you could easily spend an entire month here and not do it all. Chances are you aren't blessed with that much time to spend in one city, though.
Never fear, as I've put together an epic guide on what to do with 72 hours in Beijing. This itinerary takes you to most of the major landmarks and also has some solid recommendations for dining and nightlife.
While you can fill your days in Beijing by sticking to the well-trodden tourist path, there are lots of great side adventures that you can add to make your trip a bit more interesting. Taking a bus for 1-2 hours in any direction can lead you out of the urban sprawl and to some pretty incredible places.
You can go rafting and bungee jumping out at Shidu, hike up to a serene Buddhist temple in the mountains, or hike on the wild Great Wall.
A major highlight of any visit to Beijing is indulging in the culinary and nightlife scenes. Beijingers know how to eat, and they sure know how to party. Whether you're sampling the legendary Beijing roast duck or just eating weird shit on sticks at the Wangfujing night market, you'll never go hungry in the 'Jing.
If you're looking to party, you've got several choices as well. With cheap drinks and good times abound in the student haunt of Wudaokou, there are more bars than you can count in the trendy Sanlitun district, or you can dance all night at the clubs around Worker's Stadium. After a big night out, you can even hit a 24-hour dim sum restaurant to soak up some of that booze.
Need help deciding between Shanghai and Beijing? Check out our helpful guide.
Backpacking Yunnan
The name of this province in southwest China literally translates to "South of the Clouds," and you'll quickly see why if you choose to visit Yunnan. Home to many stunning mountain ranges that literally touch the clouds, it's a very appropriate name. If you're into adventure travel, nature, and unique local culture, you've come to the right place.
Most trips to Yunnan will start and end in Kunming, a "small" city of 6 million. There's enough to do here to keep you busy for a few days, such as strolling around the central Green Lake Park, hiking in the Western Hills, or visiting the quirky Bird & Flower Market.
Kunming is home to a sizeable expat population, and it's one of your best bets if you're thinking of sticking around a while to teach English in China or study Chinese.
There's a very established backpacker route through Yunnan that goes from Kunming to Dali, Lijiang, the Tiger Leaping Gorge, and Shangri-la. This is far and away one of the most beautiful areas of China, full of towering mountains and rushing rivers.
Forget those images you may have of giant cities full of traffic and smog. This is the reason backpacking China is such an incredible experience.
While each of these towns can seem overwhelmingly crowded and touristy, rest assured that it's never that hard to escape. Chinese tourists tend to follow a herd mentality and stick to their tour bus.
Simply jump on a bicycle and start pedaling or skip the cable car and hike up that mountain and you'll find yourself in near solitude. Check out our comprehensive guide to backpacking Yunnan to plan an epic trip to this corner of China.
Backpacking Sichuan
If you've ever eaten in a Chinese restaurant, you've probably had something labeled as Szechuan. That's the old spelling of this province that's famous worldwide for its cuisine.
The common flavor here is known as ma la in Chinese, meaning "numb and spicy." Set your taste buds ablaze with classic Sichuanese dishes such as Kung Pao chicken, Mapo tofu, and of course, hot pot.
In the provincial capital of Chengdu, you can pay a visit to the massive giant panda base. This is far from a zoo, as it's a fully functioning research facility and conservation center. It's best to visit early in the morning when the cute and cuddly "bear cats" (the literal translation of their Chinese name) are munching away on bamboo.
Chengdu is one of the coolest cities in China, so you might as well stick around a few days and explore. The people here are known to be super laid-back and friendly. Head to the People's Park to soak up the local culture, which includes lots of tea sipping and group dancing. There are plenty of great hostels and bars here, so you'll meet lots of fellow backpackers during your stay.
Sichuan is home to some of China's most famous national parks. Jiuzhaigou is one of most picturesque places in the country, with turquoise lakes, epic mountain peaks, and massive waterfalls. Those looking for a serious adventure here will want to sign up for an eco-tourism trek in the nearby Zharu Valley. On this 3-day trip, you'll reach the summit of a sacred Tibetan mountain at 4,200 meters. It's one of the most challenging and rewarding adventures I've ever had in China and something I'd highly recommend.
Backpacking Guangxi
When it comes to backpacking China, it's hard to beat the town of Yangshuo. Just a few decades ago, this was a sleepy rural Chinese town with little to no tourism infrastructure. When long-haired backpackers started showing up looking to scale the town's beautiful karst mountains, a new industry was born.
Yangshuo is now one of the most popular backpacker destinations in the country, with a ton of hostels, restaurants, bars, and travel agents. It has also become a hot spot for domestic tourists, who flock here by the tour bus-load to crowd the West Street. Don't be discouraged, though, as once again it's very easy to escape the crowds. Just rent a bicycle or a motorbike, and you'll find yourself out in some of the most unreal landscapes you've ever seen without a tour group in sight.
Another spot worth visiting is the area known as the Longji Rice Terraces. The name means "Dragon's Backbone," as the terraced rice paddies are said to resemble exactly that. Unfortunately, they decided to put a hideous cable car in here. Chinese tourists tend to be lazy and avoid hiking at all costs, so it's not surprising. Despite this eyesore, it's still a great place for a few days of casual hiking.
Backpacking Shaanxi
Shaanxi Province is home to one of the most famous sights in all of China – the Terracotta Warriors. As a matter of fact, this UNESCO World Heritage Site is said to be the most impressive archaeological discovery of the 20th century. This is the mausoleum of Qin Shi Huang, the first emperor of a unified China. As with many things in China, there's a fascinating story behind it.
Qin Shi Huang survived three assassination attempts and was justifiably fearing for his life. The emperor became obsessed with finding an "elixir of life" in search of immortality. He also had a gigantic mausoleum constructed and had it surrounded by thousands of life-like statues of warriors and chariots to protect him in the afterlife. This was later discovered by workers who were digging a well in 1974, and it quickly drew international attention.
To visit the Terracotta Warriors, you'll want to base yourself in the provincial capital of Xi'an. Set aside a day to explore the impressive site, and at least 1-2 more to see what Xi'an has to offer. Here you can rent a bicycle and ride around the entire length of the ancient City Wall.
Be sure to visit the Muslim Quarter in the evening, where you can find tons of delicious street food. Xi'an is famous for a few dishes, such as the yang rou pao mo lamb stew and rou jia mo, which are basically Chinese pulled pork sandwiches.
Backpacking China is all about adventure, and that's precisely what you'll find at Mt. Huashan. Proclaimed to be "the world's most dangerous hike," this one isn't for the faint of heart.
Here you'll walk along narrow pathways with precipitous drops off to the side. You're strapped in for safety, but that doesn't make it any less terrifying. If you survive, you'll be able to say you conquered one of the Five Great Mountains in China.
Getting Off the Beaten Path in China
Those looking to skip out on matching hat-wearing, flag-following, selfie-snapping hordes of Chinese tourists will want to head straight for northwest China. Perhaps no place in China is more off the beaten path than the autonomous region of Xinjiang.
The area is home to numerous ethnic groups, including Uygurs, Kazakhs, and Mongols. It's been the sight of some serious unrest in recent years, meaning most tourists stay far away.
While many in China will try to convince you that Xinjiang is far too dangerous, you just need to exercise some caution and patience and you can have a perfectly fine trip here. In addition to some of the most mesmerizing landscapes in the country, Xinjiang also has some of the most delicious food in all of China. It's pretty hard to beat some spicy grilled lamb with a nice piece of naan. Despite their bad reputation across China, the Uyghur people are known to be incredibly hospitable and welcoming to visitors (unless you're Han Chinese, that is).
While we're talking about lesser-visited parts of China, we can't leave out Inner Mongolia. If you can't make it to actual Mongolia, this is a pretty decent backup. You can still sleep in a yurt in the desert and then go horseback riding in the seemingly endless grasslands. All of this can easily be arranged from one of the hostels in the capital of Hohot.
Another great spot for some off the beaten path adventures is Qinghai Province. This is one of the most sparsely populated regions of China, meaning you won't have to share the stunning landscapes with a bunch of tourists. Here you can soak up the Tibetan culture without the added hassle of traveling to Tibet. You can also visit the largest lake in all of China.
It should be noted that by just being in China, you're already sort of off the beaten path. Sure, the country gets a whole bunch of international visitors every year, but you're still very much a novelty here.
Even in the big cities of Beijing and Shanghai, don't be surprised to hear people shout "Laowai! (Foreigner!)" and point at you. They might even try to take a picture with you. Such is life when you're traveling in China. Even though the country has been open for several decades, foreigners are still surprising to most locals.
China is a country that's so rich in experiences that it's really tough to whittle them down to a Top 10 list. The country is full of historic sites, amazing nature, bustling cities, and some of the most delicious food in the world.
I personally love Top 10 lists, though, so I'm going to do my best! Here's my top 10 things to to while backpacking in China!
1. Hike on the Great Wall
Chairman Mao once said that you aren't a real man until you climb the Great Wall. While his famous remark may need to be adjusted for the modern PC era, you get the gist.
You simply cannot go to China without hiking on the Great Wall, one of the New Seven Wonders of the World. There are plenty of options for visiting the wall from Beijing, but they are definitely not all great.
Whatever you do, stay far, far away from the Badaling section. That is unless you want to see what a Disneyland version of the Great Wall looks like. This restored part of the wall comes complete with a cable car and a neverending stream of tourists.
You're better off visiting more remote sections such as Jinshanling or Jiankou. Better yet, why not bring your tent and camp on the Great Wall? In my six years of living and traveling in China, nothing even comes close to that.
Perhaps it had something to do with the bag of 'shrooms and bottle of wine we brought, but it'll be an unforgettable experience even without psychedelics and booze.
2. Visit Jiuzhaigou National Park
It's already been mentioned a few times in this guide, but that's just how good Jiuzhaigou is. After years of living in the chaotic, polluted capital of Beijing, I couldn't believe my eyes when I visited Jiuzhaigou. This massive national park in Sichuan is without a doubt the most beautiful place I've been in China.
Of course, it's also one of the most popular. While the hordes of pushy tourists can diminish the experience a bit, all you have to do is venture off on one of the trails to escape them.
3. Harbin Ice and Snow Festival
If you're planning on backpacking China in the winter months, be sure to schedule a trip to the northeastern city of Harbin. China's Ice City is home to the biggest ice and snow festival in the world, and it's absolutely incredible.
Artists from all over the world flock here to craft massive sculptures out of the ice and snow. In typical Chinese fashion, the ice sculptures are packed with plenty of neon lights to make for quite the trippy experience.
4. Visit the Fujian Tulou
The southeastern province of Fujian is home to the amazing tulou compounds. These massive circular structures are basically an entire village. On the lower floor, you'll find common rooms and ancestral worshipping halls, while the upper floors are full of individual residences.
During World War II, the US government mistakenly thought these traditional compounds were missile silos. Fewer and fewer people are living in them today, as the rush to modernize has led many to move into bland high-rise buildings.
There are several you can visit, though, and a few days exploring them by bicycle is an experience you won't soon forget.
5. Hike Tiger Leaping Gorge
If you're backpacking in China, chances are you'll end up hiking the Tiger Leaping Gorge at some point. This world-class hiking trail weaves high above the Yangtze River in the mountains of Yunnan is a can't-miss experience. The hike takes 2-3 days depending on your speed, and it passes by some of the most stunning scenery China has to offer.
There are plenty of guest houses along the way, including the aptly named Halfway House, which has what just might be the most scenic toilet you've ever used. You'll just have to go there and see for yourself.
If you smell something funky along the trail, that's not your Grateful Dead t-shirt that you forgot to wash. It's the wild weed growing high up here in the mountains of Yunnan. If you care for a toke, you can pick up a bag from the nice grannies along the trail. They even have bananas and Snickers for when you inevitably get the munchies.
6. Take a High-Speed Train
Few countries can compete with China when it comes to train travel. The country is building high-speed rail lines at a rapid pace, adding more and more connections with each passing month. Take the lightning-fast train from Beijing to Shanghai, and it'll make the US look like a 3rd world country.
These bad boys reach speeds of up to 350 km/h and will get you from one city to the next in just 4.5 hours. If you're backpacking China, there's really no need to buy flights. Forget making the trek out to airports on the outskirts of the cities, and stick to the impressive rail network.
7. Check Out Ancient Buddhist Grottoes
China is home to three different Buddhist grottoes – Longmen, Yungang, and Mogao. Visit one of these sites to see the impressive Buddhist carvings in the caves. These are considered to be some of the finest examples of Chinese Buddhist art, and they really are an incredible sight to behold.
By visiting the Yungang Grottoes in Datong, you can also check out the awe-inspiring Hanging Monastery to make for an awesome short trip. A trip to the Longmen Grottoes in Luoyang is easily combined with a visit to X'ian, so you can cross two items off the list.
8. See the Pandas in Chengdu
The giant panda is known as China's national treasure, and there's no better place to get up close to these adorable bears than in Chengdu. The city is home to a massive giant panda research base, where you'll see dozens of them snacking on bamboo and wrestling with each other. Just don't expect any of them to start doing kung fu.
It's super easy to arrange a tour here from your hostel and a visit only takes half a day. There's all kinds of panda swag available in Chengdu as well if you're looking for that perfect souvenir.
9. See the Terracotta Warriors
Yes, this is one of the most touristy places in China. Yes, it can kind of be a pain in the ass getting there. None of that matters. You can't go backpacking in China and skip out on this amazing archaeological site.
Just imagine how much effort went into the construction of this massive tomb full of life-sized warriors and chariots, all of which was done to appease the first emperor of China as he neared the end of his life.
10. Outdoor Adventures in Yangshuo
Backpacking is all about adventure, and that's exactly what you'll find in this scenic town in Guangxi. Whether you're into rock climbing, hiking, cycling, or simply jumping on a motorbike and exploring, Yangshuo has got you covered.
Sure the center of town is packed full of package tour groups, but this is still a backpacker's paradise in China. However you spend your day, be sure to visit the legendary Monkey Jane's at night for a rousing game of beer pong. Tell her the Grateful Gypsies sent you.
You may be surprised to hear it, but there are a lot of kickass hostels in China. While it may not be as popular as places like Thailand or Indonesia, China has enough domestic backpackers to support a thriving hostel scene. Even in random cities that draw very few foreign travelers, it's possible to find a bed in a dorm in a cool hostel.
You've got tons of choices for hostels in cities like Shanghai and Beijing. Many of them can help arrange tours and have special events such as dumpling parties or movie nights.
Prices for hostels in China vary depending on where you are. It's possible to get a bed in a dorm for anywhere from $10-20 a night, while private rooms tend to go from $30-50.
If you're really looking to save on accommodation, Couchsurfing is also quite big in China. It's possible to find both local and foreign hosts, especially in the big cities where you have lots of foreigners working and studying. We hosted upwards of 100 guests between our apartments in Beijing and Kunming and know of a few Chinese friends who also open their doors to Couchsurfers.
The Best Places to Stay in China
Your budget for backpacking in China will depend on a lot of things, namely how many places you go to and what level of comfort you need. Obviously, your budget will go up if you visit a ton of destinations and have to buy several plane and train tickets. Which type of ticket you choose will impact your budget as well, as soft sleeper train tickets are far more expensive than the dreaded hard seats.
The good news is that even in China's big cities, it's possible to get by on a budget of $40-50 a day. Public transport is cheap (around $0.50 to $2 for bus and subway tickets), and you can easily find a bed in a dorm for $10-15.
If you don't mind eating like a local, your money will go a long way in China. Street food is readily available and is both delicious and cheap.
One of my favorites is a jian bing – this Chinese crepe with egg, green onion, chili sauce and a fried wonton only costs about $0.50 and will keep you going for a few hours. You can always find a bowl of noodles, a plate of dumplings, or a common dish like eggs & tomatoes on rice for $2-3.
One of the biggest expenses on your backpacking trip to China trip will definitely be entrance tickets. Entrance to the Forbidden City costs around $10, the Terracotta Warriors will set you back about $24, and a one-day pass to Jiuzhaigou plus the bus ticket runs almost $50. Be sure to do a bit of research into ticket prices so you can decide which places you can and can't visit.
Thankfully, there are several free or cheap things to do in China as well. One of my favorite activities is finding a local park, such as Bei Hai in Beijing or Green Lake in Kunming. These are the best places to soak up the local culture and you can easily spend a few hours of your day without burning a hole in your wallet.
A Daily Budget in China
Money in China
China's currency is the Renminbi (RMB). The current exchange rate is $1 = 6.3 RMB (April 2018). When talking prices with people, they'll rarely say renminbi. The preferred terms are yuan or the slang kuai.
It's not hard to find ATMs in China, but you may be charged a fee by both the local bank and your bank. If you're American, you can sign up for a Charles Schwab checking account and have ATM fees reimbursed at the end of the month.
While cash was king in China for a long time, it's all about the e-pay now. People in China prefer using WeChat to pay for just about everything these days. Sadly, you'll need a Chinese bank account to be able to join them. Never fear, as it's also very easy to pay with a credit card for most things in China.
Travel Tips – China on a Budget
Camp: Camping in China can be a great option in rural areas, or even on the Great Wall! Wild camping in China is definitely in a grey area. It can be legal and it can be illegal. They are purposely vague on this subject in order to give authorities the freedom to choose what to do. As long as you stay under the radar, you should be fine.
Check out our expert's roundup of the best backpacking gear to get equppied for some outdoor adventures.
Cook your own food: If you are on a tight budget, you can save money by cooking your own food – I recommend bringing a portable backpacking stove.
Book your transportation early: Both plane and train tickets are much cheaper if you purchase them in advance.
Couchsurf: Especially in the big cities in China, it's not too hard to find a host whose couch you can crash on. They might be expats who are working there or locals. We hosted tons of Couchsurfers when we lived in China and always had a good time. Travelling with Couchsurfing is an amazing way to make some real friendships and see this country from the perspective of locals.
Pack a travel water bottle: and save money every day!
Why You Should Travel to China with a Water Bottle
Plastic washes up on even the most pristine beaches… so do your part and keep the Big Blue beautiful
You aren't going to save the world overnight, but you might as well be part of the solution and not the problem. When you travel to some of the world's most remote places, you come to realise the full extent of the plastic problem. And I hope you become more inspired to continue being a responsible traveller.
Plus, now you won't be buying overpriced bottles of water from the supermarkets either! Travel with a filtered water bottle instead and never waste a cent nor a turtle's life again.
Since China is such a massive country, the best time to visit China really depends on where you're going. Generally speaking, the spring and autumn months are the most pleasant. In places like Beijing, Xi'an, and Shanghai winter can be painfully cold while summer can be hot and muggy. Weather is less of a concern in places like Kunming (it is called the Spring City after all) and Hong Kong (it's always warm there).
As far as crowds go, they are definitely bigger in the summer months. Another thing to keep in mind is China's holiday schedule.
Backpacking China during the Spring Festival (Chinese New Year) should be avoided unless you can plan things out super far in advance. Everything sells out and it's absolute chaos as 1.7 billion people try to make it home for the country's most important holiday. You could also always plan one of China's many festivals into your backpacking trip if desired, with anything from cultural celebrations to dance parties, you're bound to find something. It's based on the lunar calendar, so be sure to look it up before planning your trip.
Other busy holidays in China include Labor Day (May 1st) and National Day (October 1st). Labor Day isn't so bad as far as crowds go, but it's still a good idea to book things like train tickets well in advance. National Day is a "Golden Week" where people get a long holiday, so it's quite crazy at that time as well.
In my humble opinion, the best time to go to China would be a few weeks before National Day or right after. The weather is pretty good across most of the country at this time, and you can just miss the crowds by going before or after the major holiday.
You could even stick around during National Day and soak up the patriotic atmosphere in Beijing. Just don't expect to be able to get a train ticket out until after the holiday week.
Festivals in China
When it comes to Chinese holidays, nothing comes close to the Spring Festival. Also commonly called Chinese New Year, this festival lasts for 15 days in celebration of the Lunar New Year. It's a fascinating and chaotic time in China, as everyone tries to get home to spend the holiday with loved ones. If your trip to China coincides with Spring Festival, be aware that transportation will be hard to come by, and that most businesses will be closed for a day or two.
China has many other traditional festivals throughout the year. One of the most interesting for visitors is the Dragon Boat Festival, which takes place sometime in June. There are several places where you can watch the amazing dragon boat races.
China loves drinking beer, so it should come as no surprise that there are several beer festivals. The biggest and most famous is the Qingdao Beer Festival in August. It's a raucous affair with tons of food, carnival rides, live music, and of course a shit ton of beer. Those more into quality over quantity can find craft beer festivals in the big cities of Beijing, Shanghai, and Shenzhen.
Music festivals are catching on in a big way in China, with more and more being added every year. There are jazz festivals, rock festivals, and even psytrance festivals such as Spirit Tribe in Yunnan. Some festivals are in a city park while others are out in the countryside and include camping. Having been to several music festivals in China, I can say that it's usually a good time.
What to Pack for China
What you pack for China travel really depends on where you're going and what time of year it is. Definitely be sure to bring a good pair of hiking boots and some activewear for your adventures on the Great Wall and Tiger Leaping Gorge.
For regular sightseeing days, it's nice to have some comfortable walking shoes and a hat/sunglasses. I also like to carry a small backpack to keep things like my water bottle, raincoat/umbrella, phone charger, and camera bag.
If you're going to be spending time in the big cities and plan on going out, bring some decent clothes as well. Don't worry if you forget something, as shopping for clothes is super cheap and quite fun in China.
My friend Claire also put together this great female packing list for China post – check it out!
Generally speaking, China is a very safe country to travel in. My wife always likes to comment to people that she felt safer stumbling down the streets of Beijing alone and drunk at 3AM than she does going downtown in my hometown of Detroit for a concert. Fair point, Rachel.
Of course, you have to exercise a bit of common sense when backpacking China just like any country.
Despite what my wife says, bad shit definitely can and will happen in the middle of the night, especially in bar districts. One of the biggest safety concerns in China is drunk locals trying to pick a fight. For some reason, Chinese men love to try and show off their drinking prowess (which they most certainly don't have) in front of foreigners. Sadly, this sometimes leads to confrontations.
If you find yourself in such a situation, it's best to just walk away. It's never a one-on-one fight here, as the mob mentality always takes over. Plus, as a foreigner, you will immediately receive the blame and be the one who spends the night in a cold, miserable jail cell.
Just like many places around the world, pickpocketing is a huge concern when backpacking China. Be mindful of your things on public transportation and at crowded tourist sights. I once had a guy pick my wallet, grab the cash, and drop it on the ground in the blink of an eye when stepping off a bamboo raft in Yangshuo. These people are pros, so you have to be vigilant at all times.
For many travelers to China, the air pollution is a major concern. While you won't have to worry about this when you're out trekking in the mountains, it's definitely a problem in the big cities.
It's not a bad idea to invest in a good facemask with a filtration system if you're going to spend a lot of time in the cities. Take it from me – I moved out of Beijing after 5 years because I couldn't take the pollution anymore.
Extra Travel Tips for Safety in China
For more information and safety tips, check out Backpacker Safety 101 for tips and tricks to stay safe whilst backpacking China.
Pick yourself up a backpacker security belt to keep your cash safe on the road.
I strongly recommend travelling with a headlamp whilst in China (or anywhere really – every backpacker should have a good headtorch!) – check out my post for a breakdown of the best value backpacking headlamps to take travelling.
Sex, Drugs & Rock 'N Roll in China
While the Chinese like their booze, they really aren't that good at making the stuff. Chinese beer is watered down and tasteless, and most of it is only 3-4%. Their wine is absolutely atrocious, so don't even bother with it.
When it comes to strong stuff, China is all about baijiu. This spirit that is distilled from sorghum tastes somewhat like rocket fuel, and it could probably power your car if you ran out of gas. Some dude said you have to try the stuff 300 times or so to finally acquire a taste for it. I never made it that far and I doubt you will, either.
One thing about drinking in China is that things tend to escalate quickly (think the news team battle in Anchorman). Drinking is somewhat a competitive sport in China, as men love to go glass for glass until one of them inevitably passes out. The concept of grabbing a casual drink at the bar is pretty foreign here, so you'll have to go to the expat haunts if that's what you're looking for.
Drugs in China is definitely a grey area. When we lived in China, people back home were always so surprised to hear that we still puffed tough. "Don't they have the death penalty there!?" was a common reaction.
While drugs are most definitely illegal in China, this isn't Indonesia. If you're caught with a bit of weed, the worst that will probably happen is that you'll be forced to pay a fine and get deported.
As far as getting the goods goes, it's not that difficult in the big cities of China. You name it, they got it. I won't go into details here (my mom might be reading!), but we had some pretty wild nights while backpacking in China. From all night raves in the clubs of Beijing, to day "trips" in the mountains outside of Kunming. Our 3rd eyes were opened once or twice in China.
When walking around the alleyways of Beijing or Shanghai, you'll most certainly notice several "hairdressers" with red lights in the window. Just like Amsterdam, you ain't going to these places to get your hair cut. Prostitution is another grey area in China, but chances are nobody is going to bust in and arrest you if you go for a cheeky "haircut."
Travel Insurance for China
Traveling without insurance would be risky so do consider getting good backpacker insurance sorted before you head off on an adventure.
World Nomads' mission is to support and encourage travellers to explore their boundaries. They offer simple & flexible travel insurance, and safety advice to help you travel confidently.
They've been doing it since 2002 – protecting, connecting, and inspiring independent travellers just like you.
Get a quote below or read our in-depth review!
World Nomads provides travel insurance for travelers in over 100 countries. As an affiliate, we receive a fee when you get a quote from World Nomads using this link. We do not represent World Nomads. This is information only and not a recommendation to buy travel insurance.
China has tons of international airports, meaning you have plenty of choices to start your trip. Your best bets for flying into China are definitely the bigger cities like Beijing, Shanghai, Guangzhou, or Shenzhen. There are direct flights from these cities to Europe, and North America.
In this section, we'll take a look at entry requirements for China and how to travel around the country.
Entry Requirements for China
The visa policy of China is quite complicated. Your best bet is to study the Wikipedia page carefully to see if you need a visa and what kind you should apply for. You'll want to arrange your visa beforehand at a Chinese consulate or embassy. Be sure to have all the necessary paperwork, as they tend to be very picky and look for any reason to send you out the door to a print or copy shop.
When applying for your Chinese visa, be sure to ask for the maximum amount of time and multiple entries. For example, Americans can now get tourist visas that are valid for ten years with multiple entries of up to 90 days each.
Even if you've only got a month-long trip planned, you might as well go ahead and ask for this visa. That way you won't need to go through the painful process again!
If you're just passing through China, the good news is that there are several cities you can now visit visa-free if just in transit. Big cities like Beijing and Shanghai now offer 144-hour visa-free visits, while several others give you 72 hours. This isn't enough time to see much of China, but it does allow you to check out the highlights of a city before catching a connecting flight.
Most major cities in China have an airport and tickets aren't too expensive if you book in advance.
A word of warning on domestic air travel – China is notorious for long and unexpected flight delays. That's because the military controls the airspace. I once sat on a plane for 3 hours waiting to take off for no apparent reason. Thankfully, you shouldn't have to fly much in the country.
Traveling by Public Transport in China
As I've previously mentioned, the rail network in China is absolutely epic. There are now high-speed trains linking most of the major cities in the country. For example, taking a train from Beijing to Shanghai will take about the same amount of time as a flight (unless of course the flight is inevitably delayed) and it's much more enjoyable. For checking train times and booking tickets, I highly recommend Travel China Guide.
When it comes to buying train tickets, you usually have several choices.
The cheapest option is a hard seat (not just a clever name – these are not at all comfortable). A step up from this is a soft seat. On longer journeys, you can also buy a sleeper ticket. Hard sleeper means six beds to a cabin, while soft sleeper means four. In my experience, hard sleeper is usually the way to go. It's much cheaper than the soft sleepers and way better than the seats.
Of course, you can always catch a bus to get from point A to point B in China. That's one of the things I love most about backpacking China – no matter where you're going, you can get there cheaply via public transportation. We even managed to get to a friend's village way out in the mountains of Yunnan by a combination of train and bus!
Rather than just rocking up at the bus stop in the hope they will have space to fit you on, you can now book tickets in advance for most of Asia using Bookaway– I love Bookaway and use it myself pretty often when backpacking around Asia.
Hitchhiking in China
If you have patience, it's definitely a viable option to hitchhike in China. That being said, you'll definitely want to have a sign in Chinese and hopefully at least a beginner level of Chinese. Don't expect that truck driver driving outside of Xi'an to speak any English.
We never tried hitchhiking in China – I'd much rather take the train to guarantee I'm getting to where I'm going on time – but some Couchsurfers who stayed with us managed to get all the way from Beijing to Xinjiang in just ten days by hitchhiking. I thought they were nuts, but they pulled it off!
For more hitchhiking tips, check out our Hitchhiking 101 Post.
Onwards Travel from China
You've got nearly unlimited options for backpacking through China and onwards. If travelling by air, the country's several international airports offer connections to just about anywhere in the world. Thanks to budget airlines like AirAsia, you can even get from Beijing to the Maldives for just $150!
If you're looking to travel by land or sea, you've got plenty of choices as well. Those looking to go backpacking in Southeast Asia next can get from Yunnan or Guangxi to Vietnam by train or bus. You could also catch a 24-hour bus from Kunming all the way to Luang Prabang in Laos.
As for sea crossings, you could board a ferry in Tianjin or Qingdao travelling to South Korea.
One of the great train journeys in the world can bring you from Beijing all the way to Moscow. You can choose between the Trans-Siberian or Trans-Mongolian if you'd like to add a stop in Mongolia. There are tons of options for this trip, which you can plan online or with a travel agent in Beijing.
China has the largest and fastest growing economy on earth. As such, job opportunities are out there for all comers. Loads of multi nationals have operations in China and do need English speaking staff – however, to really exist in China's economy a degree of fluency in Mandarin will be advantageous.
One notable exception is teaching English. China is crying out for native English speakers and fluency in Mandarin is usually not a requirement. Many ex-pat teachers have a very positive experience in China. Note that some institutions prefer American teachers, others English, and there have sadly been some reported instances of native speakers of colour being given low priority.
Work Visa's in China
China Work visa (Z Visa) can be issued to those who have first obtained an employment permit, and intend to work in China. A Chinese government issued working permit or employment license is required. Z visa is usually issued for one entry.
It is normal for would be workers to China to arrange Visa' through their employer prior to leaving home.
Au Pairing in China
If you have a way with children and don't fancy teaching, being an Au Pair is a viable option. Global Work and Travel offer an au pair program, where you'll be given a trip coordinator to support you throughout your stay. They even assist with VISA processing and an online au pair course should you need it.
Teaching English in China
Speaking English is a highly-valued skill all over the world. For locals, it opens up whole new worlds of employment opportunities and travel.
Perhaps one of the best options for backpackers wanting to explore China long-term and experience living in this truly incredible country is to get a Teaching English as a Foreign Language certificate online.
TEFL courses open up a huge range of opportunities and you can find teaching work all over the world. Broke Backpacker readers get a 35% discount on TEFL courses with MyTEFL (simply enter the code BACKPKR).
To find out more about TEFL courses and how you can teach English around the world, read our in-depth report on teaching English abroad.
Au Pair in China
If you have a way with children and don't fancy teaching, being an Au Pair is a viable option. Global Work and Travel offer an au pair program, where you'll be given a trip coordinator to support you throughout your stay. They even assist with VISA processing and an online au pair course should you need it.
Volunteer in China
Volunteering overseas is a great way to experience a culture whilst doing some good in the world. There are lots of different volunteer projects in China which you can join ranging from teaching, to animal care, to agriculture to pretty much anything!
China may be an economic powerhouse, but there are still areas where backpackers can donate some time and skills and make a big difference to smaller communities. English teaching is in high demand all over the country, as is help in hospitality and online marketing. You'll need to apply for an F-visa to volunteer in China, which lets you stay for up to 90 days.
Want to find some awesome volunteering opportunities in China? Then signup for Worldpackers, a platform that connects local hosts with volunteer travelers. As a Broke Backpacker reader, you'll also get a special discount of $10. Just use the discount code BROKEBACKPACKER and your membership is discounted from $49 a year to only $39.
Programs run through reputable work exchange programs, like Worldpackers, are generally very well-managed and highly reputable. However, whenever you are volunteering do stay vigilant especially when working with animals or children.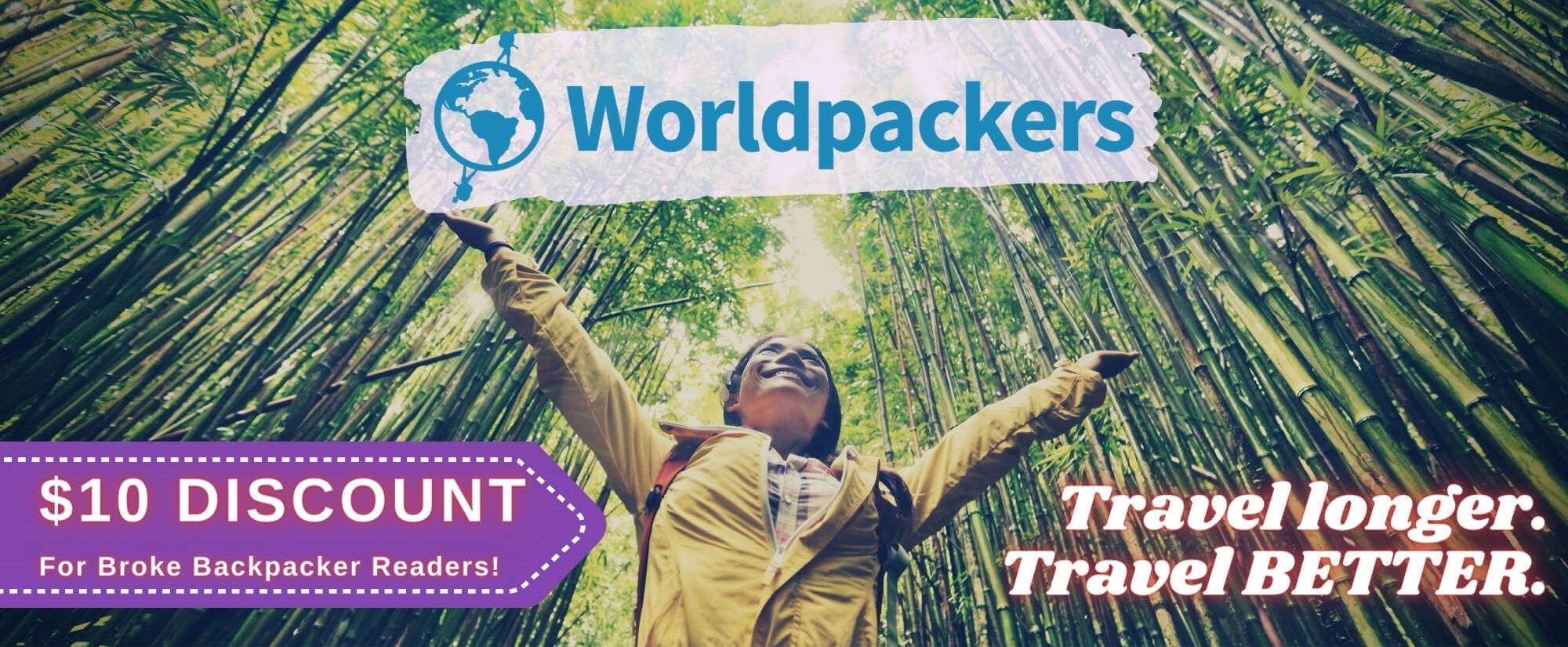 Worldpackers: connecting travellers with meaningful travel experiences.
So, so much. It doesn't matter how long your trip to China is, eat everything! The food is mind-blowing.
For Chinese cooking classes, check out this site for awesome deals.
It's not hard to meet the locals in China. With a population of over 1.3 billion, it's the most populous country on Earth. While everyone from China is considered Chinese, there are actually 56 different ethnic groups.
A vast majority of the people are Han (around 90%), but there are 55 other ethnic minority groups. Great places to experience ethnic minority cultures include Yunnan, Guangxi, Ningxia, Sichuan, and Xinjiang.
No matter where you are in China, the best place to meet people is in the local park. People love gathering at parks to do things like practice tai chi, dance, fly a kite, play chess, or just drink tea and chat. Sure, there will be a big language barrier if you don't speak Chinese, but that shouldn't stop you from interacting with locals. After all, they'll probably stop you to take your picture anyways!
While people in China may seem a bit cold and standoffish at first, it's usually just because they really aren't that used to interacting with foreigners. A smile and a simple "Ni hao" really goes a long way here.
Learn a few phrases in Chinese and you'll be making friends in no time. Don't be surprised if people invite you to join them at a restaurant or bar and proceed to force-feed you tons of food and beer!
Dating in China
A common sight in the big cities of China is a local girl with a lao wai (foreigner) dude. The place is practically a gold mine for single foreign men. I once had a buddy who would wait until about 2AM and go down into the clubs in the Wudaokou area in Beijing in his pajamas to pick up girls. "Like shooting fish in a barrel," he would say. He did pretty well, too.
My yellow fever was only temporary, so I can't speak much on the subject. One thing I will say is that Chinese men get incredibly jealous and pissed off when they see foreign dudes picking up local girls. The ratio really sucks for them, so it's hard enough as it is. That's why I imported my American girl and gave up on the whole scene.
While far less common, you'll definitely see foreign girls dating Chinese men. Cultural differences tend to get in the way, though, so many of these romances are short-term.
A Brief History of China
We might as well start the recent history of China lesson with the founding of the modern-day People's Republic of China. After a long Civil War and years of Japanese occupation, the PRC was founded on October 1, 1949 by Mao Zedong. His Communist Party had won the war, and he took over as the new leader of a new China.
Although he's still revered in China – his face is on every bill, after all – Mao put the country through hell. His disastrous policies during the Cultural Revolution and Great Leap Forward caused millions to starve and die, setting China back several decades. The official policy on Mao is that he was right 70% of the time, which makes you wonder who did that math.
Things started to change in China during the time of Deng Xiaoping. His Reform and Opening policy ushered in a new era for China. The Chinese economy began opening up to the outside world and private enterprises finally started to spring up.
Deng was much more of a pragmatist than Mao, as he famously said, "It matters not whether the cat is black or white, as long as it catches mice." And this new Chinese economy most certainly caught some mice.
Over the next few decades, the Chinese economy boomed. The population also grew, breaking one billion by the 1982 census. Tourism finally started to open up, and foreign businesses began moving into China as well. The drab Maoist era seemed long gone as the Chinese started driving Audis, eating KFC, and dancing to jazz.
While much had improved for the people of China, many still wanted more reforms. In 1989, students protested in Tiananmen Square calling for democracy and more freedoms. Eventually, the government stepped in and declared martial law. Armed military officials and tanks were sent into the square to suppress the protests. In what came to be known as the Tiananmen Square Massacre, hundreds to thousands of people were killed (there are no official figures on the death toll). A dark cloud would hang over China for years as a result.
China in Modern Times
Under president Jiang Zemin, China continued to enjoy substantial growth. While many people still wish for a change in the government, they remained quiet after witnessing what had happened in 1989. The country did experience change in the 90s, as Hong Kong and Macau were both peacefully returned to China.
The next president of China was Hu Jintao, who served from 2003 to 2013. During his tenure, China's economy continued to grow rapidly, eventually surpassing Japan to become 2nd in the world. While much of the developed world struggled to recover from the global financial crisis, China made it through relatively unscathed. During this time, China also began to extend its influence around the globe.
Next in line was Xi Jinping, who remains the president of China. While his predecessors have stuck to the two 5-year term limit, Xi recently passed reforms that removed this limit. It appears as if he is setting himself up for a long run as China's head of state.
In borrowing a popular phrase from the US, he has been focused on achieving the "Chinese Dream" for the people of China. Only time will tell how things will work out.
Useful Travel Phrases for China
With its four tones and thousands upon thousands of characters, Chinese is definitely an intimidating language to learn. You'll definitely need a bit of the language when backpacking China though, as English is not exactly prevalent there.
Here are some useful Chinese travel phrases to get you started:
If you're interested in learning Chinese, you should follow the Chinese Language Blog. There are tons of articles on vocabulary and grammar as well as Chinese culture.
Books to Read about China
Internet in China
The internet in China sucks, plain and simple. This isn't because of a lack of access or speed, but because of censorship.
These are the things you won't be able to freely access in China – Facebook, Twitter, Instagram, YouTube, Google, and yes, it's sad but true, porn as well. If you need these things in your life, you'll want to get a VPN before heading to China. I always used Astrill when I lived there and found it to be the most reliable.
In the past few years, many companies have brought to market a plethora of VPN products and China is for sure a big market because of the reasons stated above. Depending on your budget, you can find VPNs starting from only $3/month, many will give you a 30 day free trial and much more. To find the right one for you and your needs, check this VPN list.
When you can actually get on the websites you want to use, the internet is just fine. Chinese people are absolutely obsessed with being online (who isn't these days?), and you can find WiFi just about everywhere. Internet bars are also huge in China, that is if you want to join chain-smoking teenagers playing RPG games.
Oh, you may also find this SIM card For China post helpful.
When it comes to must try experiences while backpacking China, nothing tops camping out on the Great Wall. This isn't possible on every section, but there are a few where you can get away with it. I've camped out on both the Jinshanling and Gubeikou sections of the Wall with no issues and would highly recommend giving it a shot.
Other excellent hiking opportunities include the Tiger Leaping Gorge in Yunnan and the Zharu Valley eco-trek just outside of Jiuzhaigou National Park in Sichuan. You can do the Tiger Leaping Gorge on your own but will need to sign up for a trip with a local guide for Zharu Valley.
Yangshuo is one of the top backpacker towns in China and is full of must-try experiences. It's also one of the only places in China where you can rent a motorbike. Get some wheels and explore the stunning countryside full of karst mountains, stopping to try some rock climbing or enjoy a bamboo rafting trip on the river.
Trekking in China
I've already mentioned several of the best treks in China in other sections of the guide, but I'll repeat myself in case you passed over them. Your best bets for trekking include the Tiger Leaping Gorge in Yunnan, the Zharu Valley in Sichuan, and the Longji rice terraces in Guangxi.
There are several mountains you can "climb" in China as well. I put climb in quotes because the Chinese way to climb a mountain is by walking up several thousand stairs. Not quite as adventurous as actually climbing a mountain…
On your first time visiting China, it may seem like an absolute free-for-all. People drive like maniacs. There's litter everywhere. People spit on the sidewalk. Men binge drink and yell at their waitresses in restaurants. This may seem like an invitation for you to do the same, but you're better than that.
As a foreigner in China, you're representing all of us (they tend to group us all together). Perhaps by witnessing more civil behavior from tourists, these less than ideal habits in China may start to disappear.
That being said, a great thing about travelling in China is that there aren't a ton of social norms you have to worry about. You can pretty much dress however you want, you can loudly slurp your noodles, and you can get blackout drunk at a bar and they'll still serve you.
You can also pretty much say whatever you want since English is generally very lacking in China. However, there are a few things to consider.
When in China, you want to avoid talking about the "3 Ts" – Tiananmen, Tibet, and Taiwan. These are very sensitive topics and can easily cause a huge argument. You may have strong feelings on Tibetan independence, but mainland China is not the place to voice those. Having said that, if you're looking to continue your travels after China, we highly recommend you go backpacking through Taiwan (Just don't speak too much about it when you're in China!)
Also, be sure to be respectful in important historical and cultural sights. This is especially true in places like the Forbidden City and Tiananmen Square. You'll see tons of armed guards there, and they're not messing around. Don't go in areas that are blocked off, don't take offensive photos… you know the drill.
It's Time to Go Backpacking in China
China may not be on the top of many backpacking lists, which is understandable. The visa process can be time-consuming and expensive depending on where you're from. It's true that the pollution in the big cities can be pretty awful. And yes, the people in China can be a bit… shall we say, intense. However, the juice is definitely worth the squeeze if you put forth the time and effort for a massive backpacking trip.
Once you get home and reflect on all those amazing experiences – hiking on the Great Wall, eating some mouth-watering Sichuan cuisine, seeing the Terracotta Warriors, cycling amongst karst mountains – you'll realize it was absolutely worth it. Hell, you'll probably start scheming up a way to get back to China to do some of the things you inevitably missed on your first trip.
When I first moved to China, I thought I would stay a year and give teaching English a try. Then something happened. I fell in love with learning about other cultures and languages. I also fell in love with backpacking, which is great because those interests go hand-in-hand. For the next several years, I was fortunate enough to travel extensively around China, all the while trying the food, experiencing the holidays, and trying my best not to butcher Chinese.
Almost a decade later, and I've now lived in three countries and done extensive backpacking trips across South America and Southeast Asia. For me, it all started in China.
I know there are more glamorous places to visit in the region. I'm aware you can go visa-free to several others. I also know that there's no place in the world quite like China and that you can't really say you've traveled the world until you've visited her most populous country. So go ahead and apply for that visa, because trust me when I say it's well worth it.
---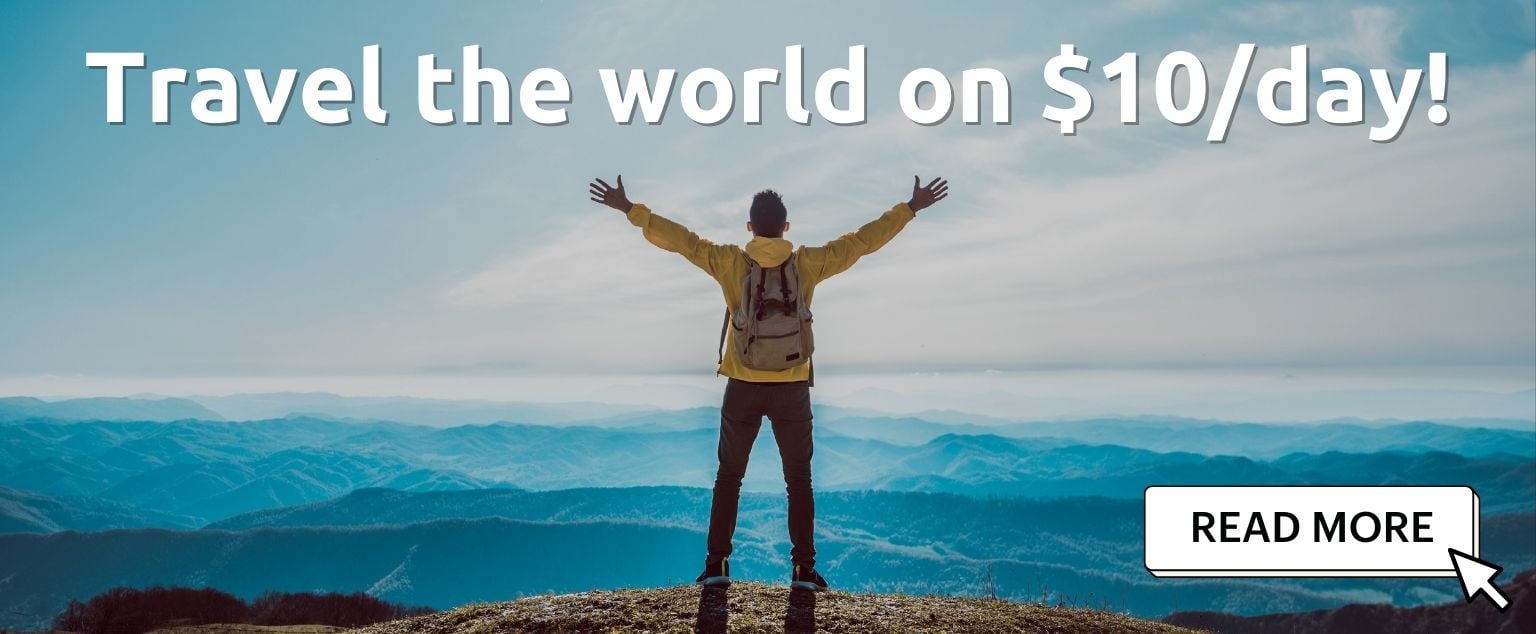 And for transparency's sake, please know that some of the links in our content are affiliate links. That means that if you book your accommodation, buy your gear, or sort your insurance through our link, we earn a small commission (at no extra cost to you). That said, we only link to the gear we trust and never recommend services we don't believe are up to scratch. Again, thank you!