Exotic and sometimes bizarre animals. Towering, otherworldly mountain ranges. Endless stretches of dense forest near the top of the world. When it comes to parks, China has it all and yet it isn't the kind of location that most people think about when they want to see parks. But actually, this country has lots of wild, natural areas and the national parks in China are simply first-rate.
If you're looking for something more scenic and peaceful while you're in China, then it's time to explore some of the best parks that this huge, fascinating country has to offer.
What are National Parks?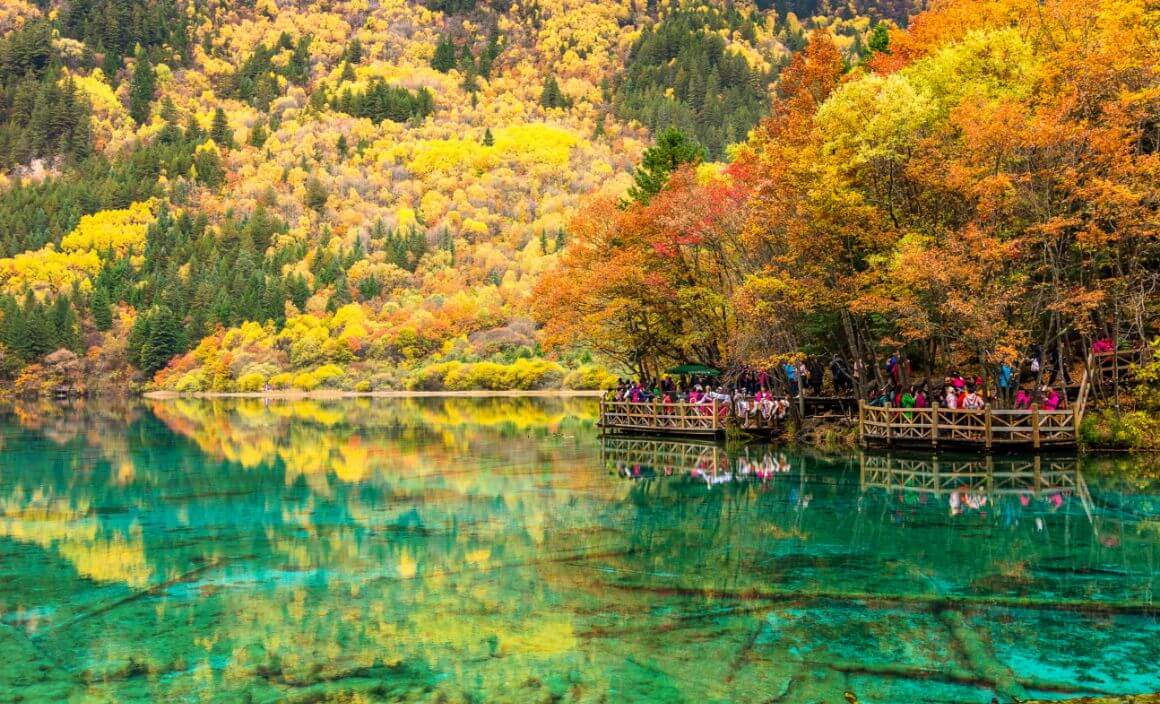 National parks are a relatively new innovation in China and protect the richest and most biodiverse areas in the country. In 2020, a new 'National Parks and Protected Areas' system was put into place to strengthen the protection of these parks and to ensure that visitors and locals respect the life and the beauty that they shelter.
The parks in China are varied. Some of them cradle and celebrate China's most popular landmarks, like the Great Wall and dwindling panda habitats, while others are simply stunning natural landscapes, from forests to mountains, water features, and grasslands, that absolutely must be protected so that future generations can experience them too.
National Parks in China
No matter what type of park you most enjoy, you'll find an enticing option when visiting China. In fact, you might be surprised at just how beautiful and extreme some of the national parks in China actually are!
Badaling National Forest Park
Size: 29.4 square kilometers (11.35 square miles)
Location: 1-3 hours driving from Beijing
Cost of Entrance: 35 CNY for adults, free for children
Badaling National Forest Park is just outside of Beijing and is one of the most popular national parks in China because it gives you a chance to walk a restored section of the Great Wall. It does get very crowded though, so you might want to choose a different park if you prefer a quieter atmosphere.
Home to around 539 species of plants and 158 animal species, this park was the first ecological public forest area in China. This makes it an important marker of China's recent efforts to protect its natural resources and areas.
Apart from the Great Wall views, the park is best known for its stunning red foliage trees and towering mountain peaks that stretch as high as 1,238 meters above sea level. If you're looking for specific sites in the park, then don't miss Red Leaf Ridge for stunning autumnal foliage, the Syringa Valley for lush forests, and Azure Dragon Valley for a landscape that looks like a stunning beautiful 3-D painting.
With all that in mind, the absolute best time to visit the park is in October or June, when seasonal changes leave the forests at their best.
Where to Stay Near Badaling National Park
Located just 3.9 km from the Great Wall and the park, this luxurious hotel offers private accommodations in stunning surroundings. The architecture and theme are simple and work on bringing nature inside and the hotel also has a tennis court, 3 restaurants, an outdoor pool, and a kid's club.
Size: 27,134 square kilometers
Location: Central China, Sichuan, Ningxia, and Shaanxi provinces
Cost of Entrance: varies depending on the reserve
It's quite obvious what this park is famous for. It was designed to protect the habitat of China's most popular animal and is home to around 1,340 adorable wild giant pandas, which is around 80% of the Chinese giant panda population. It stretches across 3 provinces and work is underway to create protected areas between them.
This park is pivotal for protecting panda numbers and efforts are ongoing to strengthen the standards and policies around it. This national park is home to 67 panda reserves, which is why visiting at least one of the reserves is one of the best things to do in China's national park. The Wolong Nature Reserve is a good choice if you're visiting for the first time as it's just 2 hours drive from Chengdu, has a lot of resident pandas, and also has a night program so you can see the pandas once the sun goes down.
Giant Panda National Park is also a haven for other rare animals like snow leopards and the Sichuan golden monkey, so you should take your chance to see some of these unique species if you can.
Where to Stay Near Giant Panda National Park
This fabulous hotel is ideal if you want to be comfortable but still close to the pandas. It's just a 5-minute drive from the Chengdu Panda Base and boasts an indoor pool, an outdoor pool, and a spa where you can get pampered. It also has Oriental-style rooms with private bathrooms and bathtubs.
Size: 62 square miles (160.5 sq km)
Location: Southern Anhui province
Cost of Entrance: 150 RMB per person
Huangshan National Park has some of the most spectacular natural scenery in all of China. Known particularly for the Yellow Mountains, which were named for the famous Yellow Emperor, not their color, this park is easily accessible from the city of Shanghai.
This is one of the smallest of China's national parks, but its unique landscape makes it well worth a visit. The mountain range of Huangshan reaches a height of 6,115 feet (1,864 m) and has a cable car that will allow you to reach the peak without having to wear out your shoes. However, you can also hike up or try one of the many hiking trails through the mountains.
All of these hikes will take you past some of the sights that this national park is famous for. If you have the time, make sure you see at least one of the park's "Four National Wonders", which are the Strange Pines, Sea of Clouds, Absurd Stones, and Hot Springs.
This park is also a good choice if you're interested in historical villages and architecture as there are several ancient villages nearby where you can walk, bike, or stay in a traditional inn.
Where to Stay Near Huangshan National Park
Located in the city of Huangshan, this boutique hotel is just 7km from the national park and provides private units with bathrooms. There's a restaurant and bar at the hotel as well as air conditioning, in case you get overheated, as well as rooms of varying sizes to suit all travel groups.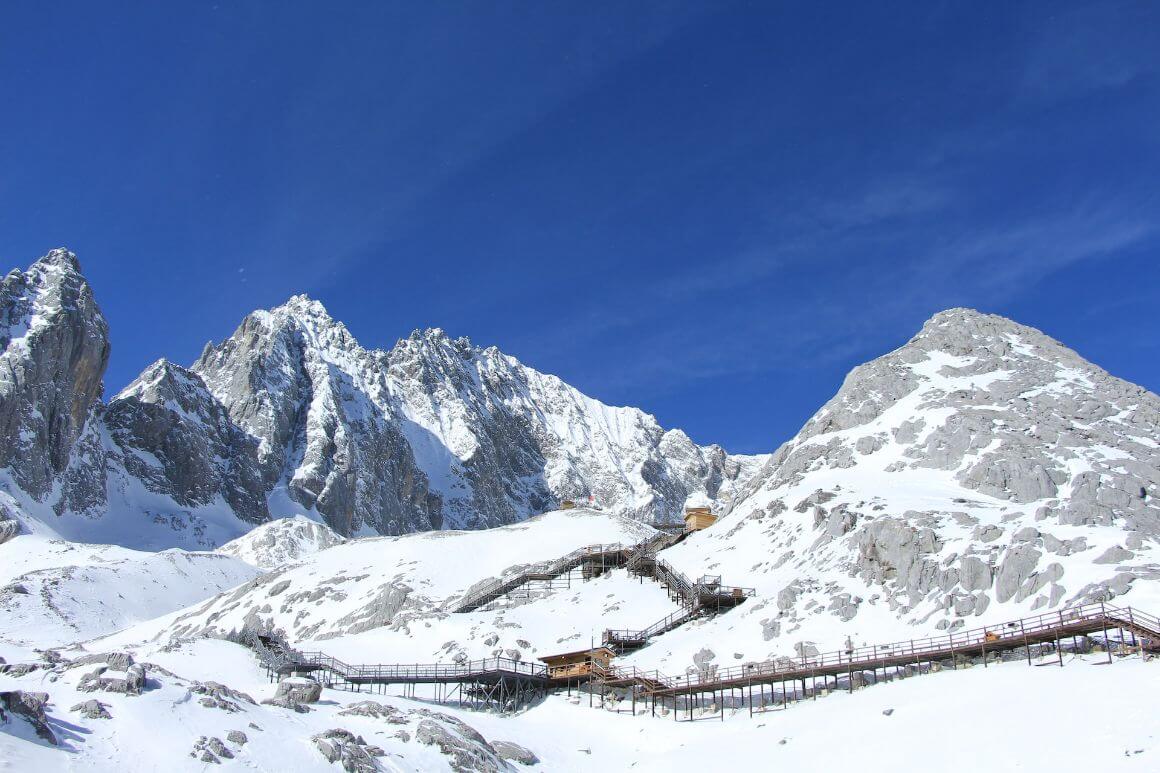 Size: N/A
Location: 1 hour's drive from Lijiang
Cost of Entrance: 100 RMB
It's fairly rare to learn about ethnic history and the natural world at the same time, but that's exactly what you can do at this park. Lijiang Jade Dragon Snow Mountain National Park is home to the Jade Dragon Snow Mountain, the holy mountain of the Naxi people and the embodiment of their protector, the war god Sanduo.
The Naxi are the descendants of the ancient Qiang tribe and while you're in the park, you'll get the chance to see the Impression Lijiang show held daily at the mountain's foot, which will teach you more about the Naxi legends and culture.
Aside from that, this park offers stunning glaciers, snowy peaks, waterfalls, and upland meadows. It boasts a cable car that will take you to the top of the mountain or you can hike up to enjoy the views under your own power. One of the park's cable cars will even take you to one of the highest observation platforms in the world at an elevation of 4,680 m (15,350 ft).
Between Jade Dragon Snow Mountain and Haba Snow Mountain, you'll find the Tiger Leaping Gorge, one of the best hiking spots in all of China's national parks and a place of astonishing natural beauty.
In most cases, the best time to visit national parks in China is flexible, but that isn't the case with this park. The views are best enjoyed between November and April when there's lots of snow on the peaks and clear days.
Where to Stay Near Jade Dragon Snow Mountain National Park
This upscale hotel is located in Shuhe Old Town and is less than 20km from the Jade Dragon Snow Mountain. It has Naxi-style décor and is surrounded by green mountain areas while offering easy access to the city. The hotel has several upscale amenities like rooms with private swimming pools or gardens.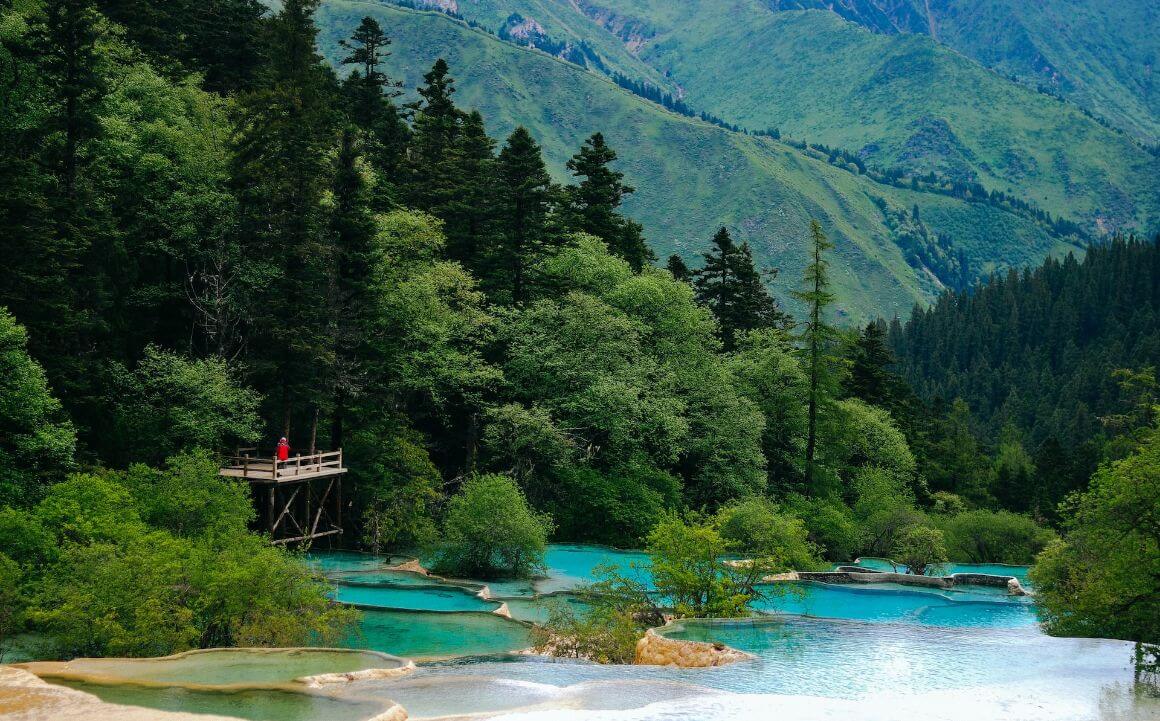 Size: 280 square miles (720 sq km)
Location: 2-hour flight from Chengdu, north Sichuan Province
Cost of Entrance: 80 yuan/person
Jiuzhaigou National Park is also known as 'Nine-Village Valley' and was originally settled in the 1300s by Tibetan pilgrims. The remoteness of the area kept it hidden until it was accidentally discovered in 1972 by a lumberjack.
The park is one of the most beautiful places in China. It's home to stunning stretches of mountain valleys, alpine scenery, and fascinating traditional Tibetan villages. It's also a UNESCO World Heritage Site and a World Biosphere Reserve but doesn't see many tourists because of its remoteness.
This is one of the national parks in China that's known for both its scenery and the protected species that make their home in the park. While you're there, you'll get the chance to see a magical fairyland, complete with colorful lakes with waterfalls, forested slopes, and picturesque little villages that will spark your imagination!
One of the most popular sites in the park is Long Lake, which is the lake with the highest elevation in the park and is a startling mix of blue and green against the mountain behind it. You should also take the chance to see Five Colors Pond and keep your eyes open for the incredibly varied bird life.
Where to Stay Near Jiuzhaigou National Park
This exceptional hotel is close to the park and offers a garden. There is free private parking and the hotel is just a short drive from the center of town, so you won't miss out on any amenities. There's also an on-site restaurant so you can have a quick meal after a long day.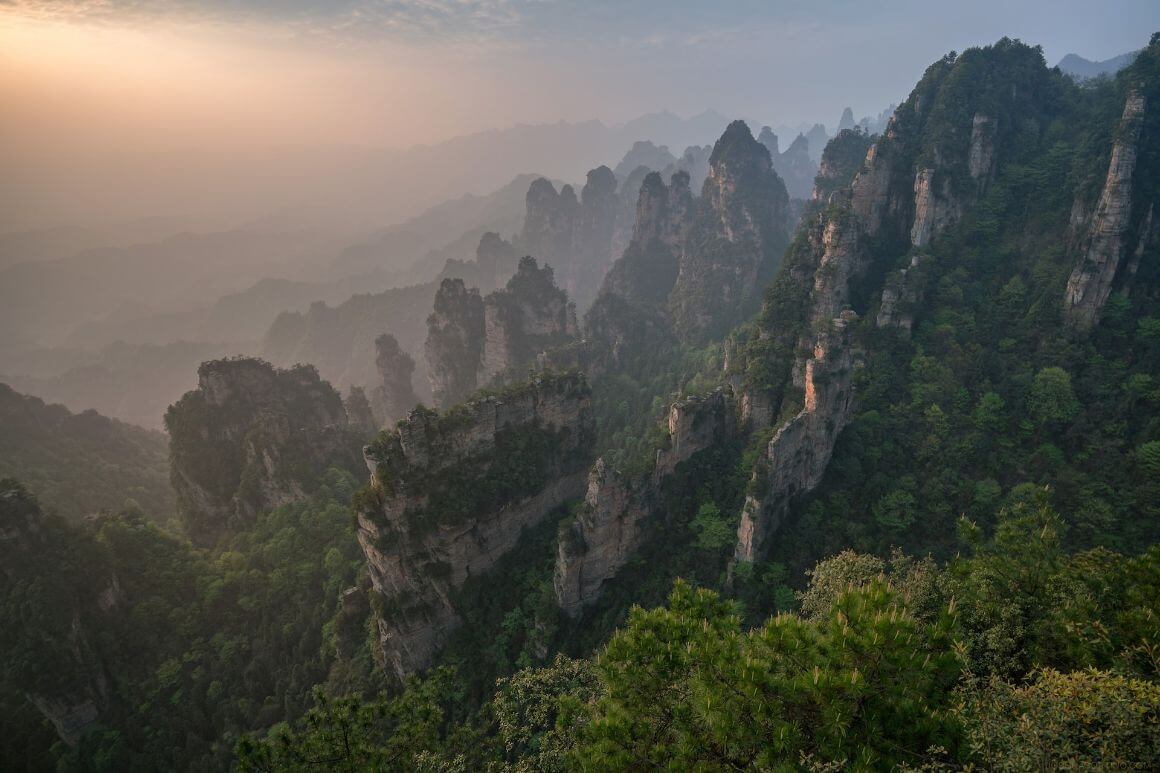 Size: 4,810 ha (11,900 acres)
Location: Zhangjiajie, Hunan Province
Cost of Entrance: CNY 118 Yuan per person
This park is famous for its connection to Avatar, the award-winning movie. The otherworldly pillar mountains, known as the Hallelujah Mountain, inspired the movie's floating mountain scene, and these scenes were filmed in this area.
However, this park also has another claim to fame. It was recognized as China's first national forest park in 1982 and is part of the much larger Wulingyuan Scenic Area. This is one of China's national parks that offers absolutely stunning natural scenery and is known for its adventure activities and sports.
Obviously, the pillar mountains are the park's most popular sight, but you should also make sure you climb up the 999 steps on Tianmen Mountain and spend time walking on the world's longest glass bridge at Zhangjiajie Grand Canyon.
The infrastructure in this park is better than most, with 3 cable car systems and a monorail that will help you see some of the park's most famous sites. If you enjoy mountain views, then take the Bailong Elevator, which is set on the side of a cliff and will take you 326 meters (1070 ft) to the top of the mountain in less than 2 minutes.
You can visit this park at any time of year, but September and October offer the mildest weather and beautiful autumn foliage.
Where to Stay Near Zhangjiajie National Forest Park
This glass lodge is just 1.8 miles from the park, so it's amazingly convenient. It features unique glass units that have their own fully equipped kitchens and bathrooms, and some even have a balcony or seating area. There's also a restaurant and a shared lounge on site so you can have a meal or socialize during your stay.
Have you sorted your accommodation yet?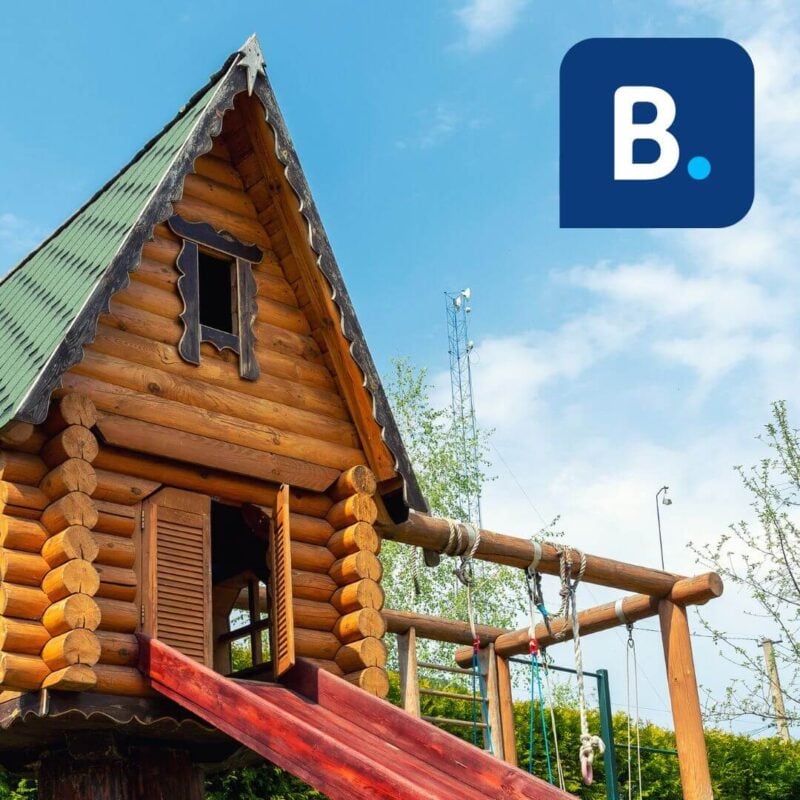 Get 15% OFF when you book through our link — and support the site you love so dearly 😉
Booking.com is quickly becoming our go-to for accommodation. From cheap hostels to stylish homestays and nice hotels, they've got it all!
View on Booking.com
Three Rivers' Source National Park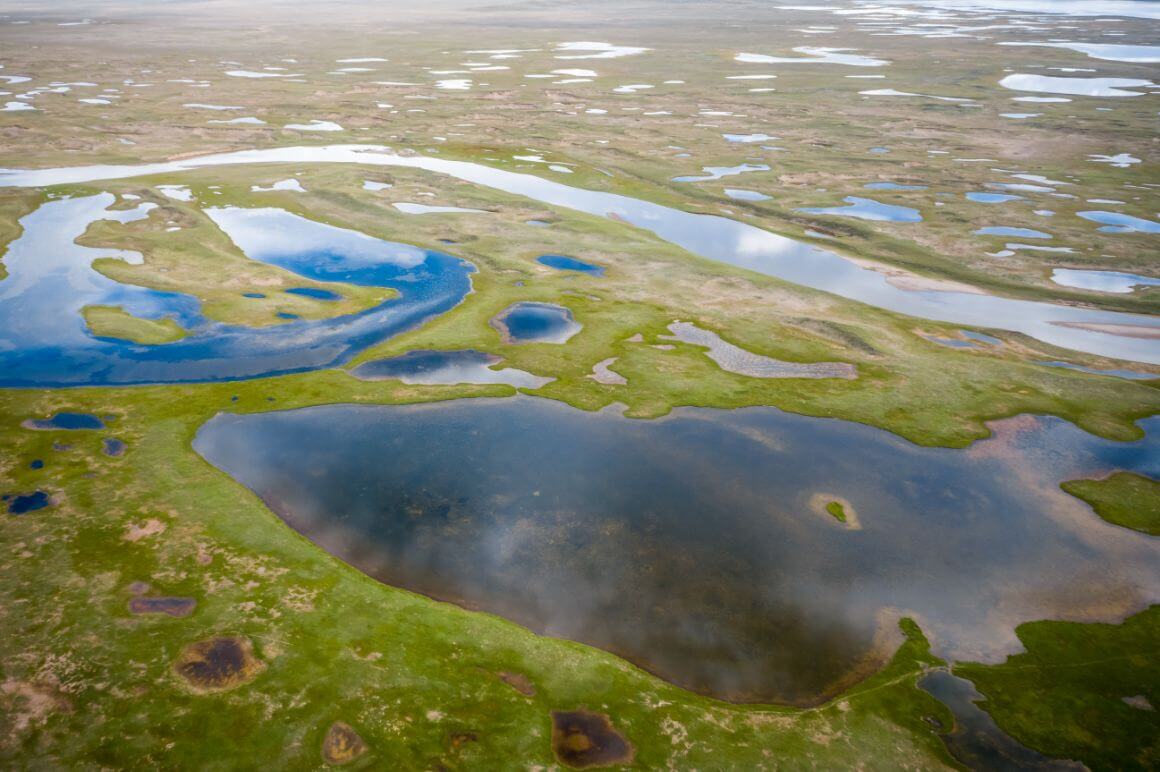 Size: 123,100 km2
Location: The hinterland of the Qinghai-Tibet Plateau
Cost of Entrance: CNY 80
Three Rivers' Source or Sanjiangyuan National Park is one of the highest national parks in the world, with an average altitude of more than 4,500 meters. It's named for and is the source of 3 famous rivers, the Yangtze, Lancang (Mekong), and Yellow Rivers, and is a lush, verdant area with abundant biodiversity.
This is the largest park in the world, featuring a mix of stunning scenery, Tibetan culture, wild animals, ancient forests, and glaciers. Unfortunately, most of the park is forbidden to tourists as the environment and wildlife are fragile and are easily negatively impacted by human activity. Many types of wildlife and vegetation live in the park including the Tibetan antelope and blue sheep.
You can enter part of the park to explore under strict rules or take in the views by relaxing on the train to Tibet, which passes by the Tanggula Snow Mountain and Hoh Xil National Nature Reserve.
The best time to visit this park is in May when you'll get the chance to watch thousands of pregnant Tibetan antelopes pass under the Qinghai-Tibet highway to give birth in Hoh Xil.
Where to Stay Near Three Rivers' Source National Park
This luxurious hotel is located in Xining on the Tibetan plateau. It's a beautiful, comfortable place to stay where you'll have a private bathroom and shops on all sides. The hotel also has a tennis court, a great breakfast buffet, an indoor swimming pool, and entertainment facilities.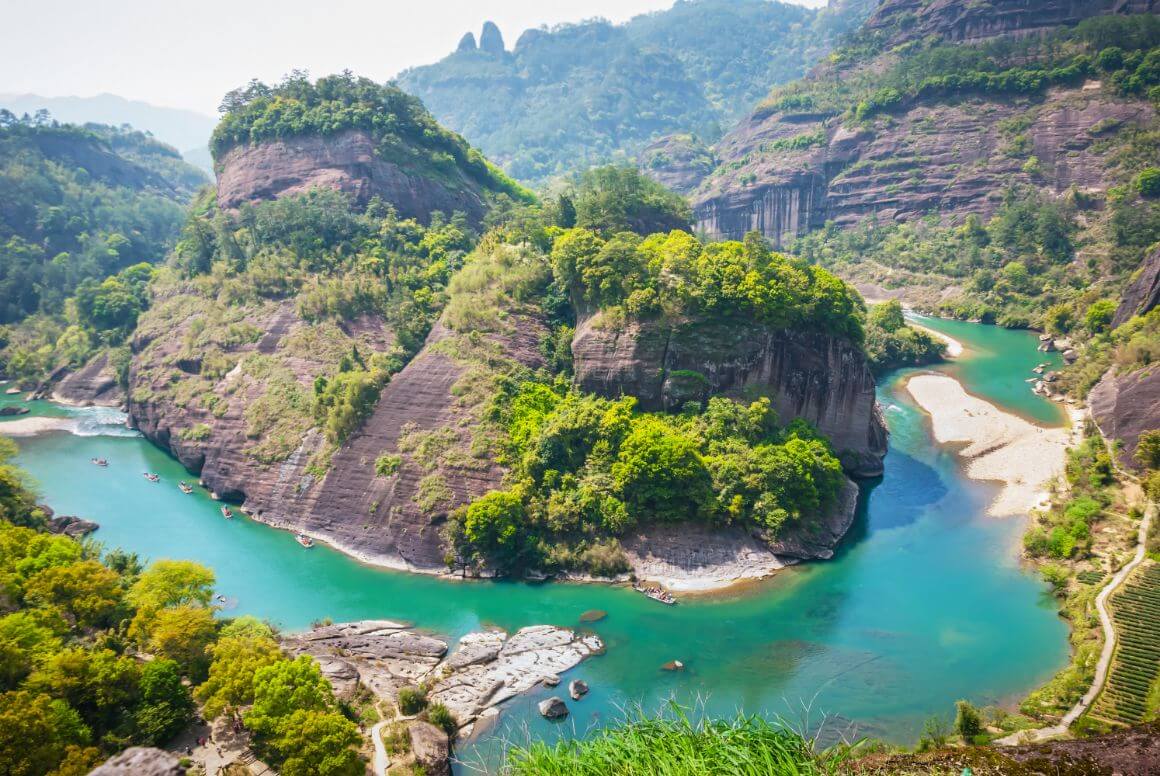 Size: 107,044 ha
Location: Fujian Province
Cost of Entrance: ¥140 for 1 day
Located at the border of the Fujian and Jiangxi provinces, this national park has Wuyi Mountain at its core. It's a Biosphere Reserve and a UNESCO World Heritage Site as well as one of the biggest subtropical forests in the world. And it's easy to get to as well as it's also just a 3-hour bullet train trip from Xiamen.
This national park has several scenic spots and is home to thousands of different types of protected and ancient wildlife. One of the top activities in the area is to take a bamboo raft trip on Nine Bend Stream, which is a great way to see the peaks of Mount Wuyi.
You also might want to see the Da Hong Pao mother trees in the Dahongpao Tea Tree Area, which gave rise to the famously delicious Wuyishan rock teas. This is also one of the best national parks in China to visit if you enjoy history as it's home to numerous 11th-century Daoist temples and shrines. It also has the hanging coffins of Wuyishan, a mysterious place where people buried their dead in the natural cracks, caves, and gaps of the cliff at seemingly considerable risk to life and limb.
Where to Stay Near Wuyi Mountain Park
This superb hotel has a restaurant, a garden, and a terrace. Featuring family rooms, this property also provides guests with a children's playground to keep your little ones entertained. And if you're looking for a tour of the park with an expert, then make sure that you ask at the front desk for great recommendations!
Hainan Tropical Rainforest National Park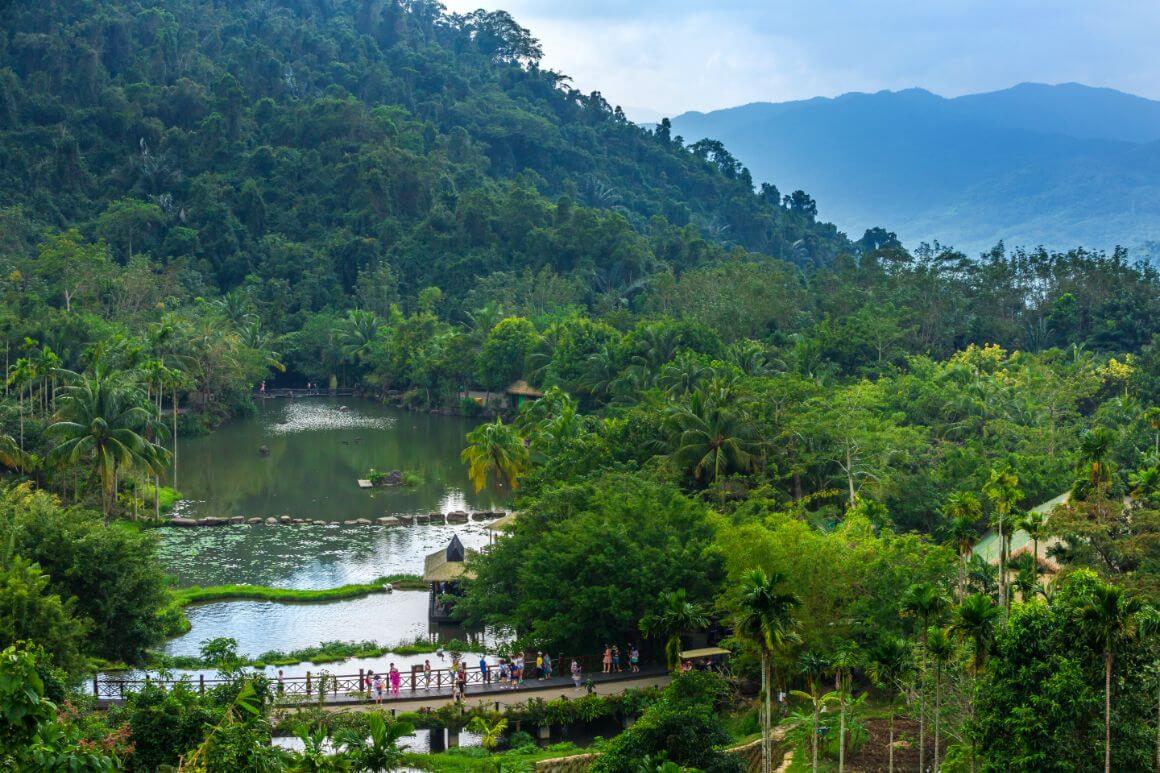 Size: 4,269 square kilometers
Location: Hainan
Cost of Entrance: Variable
This is one of the more unusual national parks in China. It's actually an island located in the Beibu Golf across from Mainland China and was created to protect the island's unique ecosystem. The island is home to the world's rarest primate, the Hainan gibbon, as well as a variety of birds and amphibians.
More than 95 percent of this park is virgin forest, making it home to the most concentrated and best-preserved tropical rainforest in the country. The park also contains nine cities and counties as well as a number of existing reserves and is home to the Li ethnic group, who have lived in the area for generations.
While you're in the park, check out the Jianfengling National Forest Park for its amazing hiking trails around the lakes and up the peaks. You'll have the chance to see lots of the area's rare flora and fauna during your hikes, so take your camera with you!
You won't have to pay to enter the main part of the island, apart from the transport costs of course. But you will have to pay an entrance fee for some of the individual areas of the island.
Where to Stay Near Hainan Tropical Rainforest National Park
This world-class hotel is close to the beach and right in the center of the island. It's decorated in a French style and surrounded by lush tropical forests. The hotel has a day spa, tennis courts, a golf course, and pools as well as rooms with private balconies.
Is This the Best Daypack EVER???
Mount Lu National Park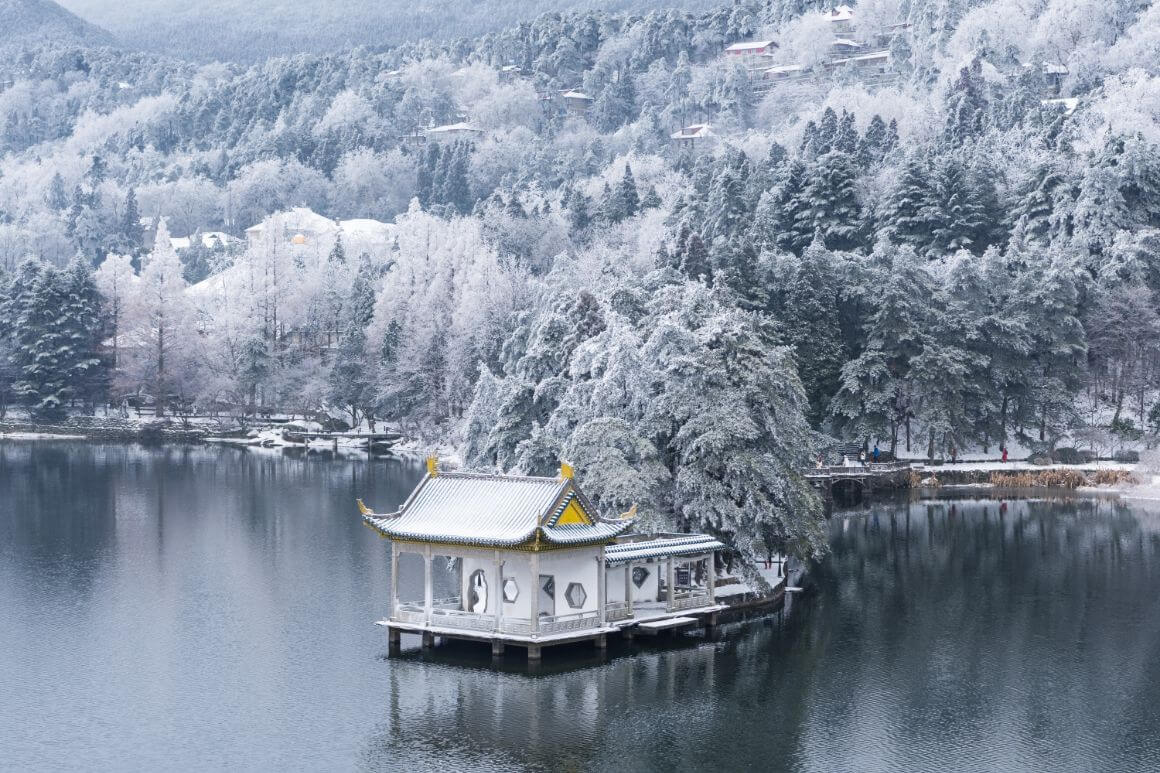 Size: 25 by 10 kilometers
Location: 20 kilometers south of Jiujiang City
Cost of Entrance: 180 RMB general entrance plus fees for entrance into separate areas inside
If you'd prefer to explore without the crowds, then you might enjoy this park. However, be aware that it sees fewer tourists and its pathways aren't as well maintained, so make sure that you take a good map with you.
Mount Lu has been listed as a UNESCO World Heritage Site since 1996 and is one of the spiritual centers of China. And in the past, it was known as the Summer Capital because Chinese leaders spent their summers on the mountain to enjoy the cooler summer weather.
This is one of China's national parks that is known for its beautiful scenery and religious buildings. In the 19th and 20th centuries, the area was a retreat for foreign Christian missionaries, and the buildings that they built are still there to explore.
While you're in the park, you'll probably want to see sites like the White Deer Academy, one of the most important academies in Ancient China, and the Immortal Caverns. The Wulao ('Five Old') Peaks are also a must-see, as the sunrises and sunsets are amazing from this vantage point. You should also take the time to see the Three Layer Springs, which is the most famous rushing waterfall in Lushan.
Where to Stay Near Mountain Lu National Park
With a restaurant, fitness center, and bar, this unique hotel is perfect if you want to explore Mount Lu and the national park and be pampered at the same time. It's also close to local public transport options and has a shared lounge and garden so you can relax and get tips on exploring the park from other travelers.
Size: 80 km (50 miles)
Location: Between Guilin and Yangshuo
Cost of Entrance: Free
This is a more relaxed park, where you can choose your activities or experience something that most travelers don't see! It's located just a 2-hour flight from Shanghai and stretches between the cities of Yangshuo and Guilin. It's best known for its sheer karst hills, which have been made famous in some of China's most iconic poems and ink paintings.
The karst peaks of this park line the banks of the famous Li River and are best seen via a cruise or rafting trip. One of the most popular spots in this park is Yellow Cloth Shoal, which is featured on the 20-yuan banknote, but you should also take the chance to see sites like Peak Forest, Mural Hill, and Elephant Trunk Hill.
This is one of the national parks in China that's known for its outdoor activities. So, if you're the adventurous type, why not go stand-up paddle boarding on the Yulong River, go hiking, or do a cycling tour? Another great way to see the area is in an all-terrain vehicle so you can choose your own route!
Where to Stay Near Guilin Lijiang National Park
Located close to the Li River, this fabulous hotel is in the city center and is close to all the city's attractions like Zhengyang Pedestrian Street as well as public transport. It's Guinness record-making artificial waterfall performs every night, and the hotel offers an indoor swimming pool, fitness facilities and free airport pick-up service.
Final Thoughts
China's national parks aren't as well-known as parks in other countries but they're rapidly becoming a great way to experience stunning natural landscapes and China's most iconic animals. They're also pivotal to the preservation of China's flora and fauna, so make sure that you support them while you're in the country.
If you only have the time to visit one park, then we recommend Zhangjiajie National Forest Park. As one of the first recognized parks in the country, it has amazing scenery and great infrastructure that will help you see and enjoy as much as possible.
---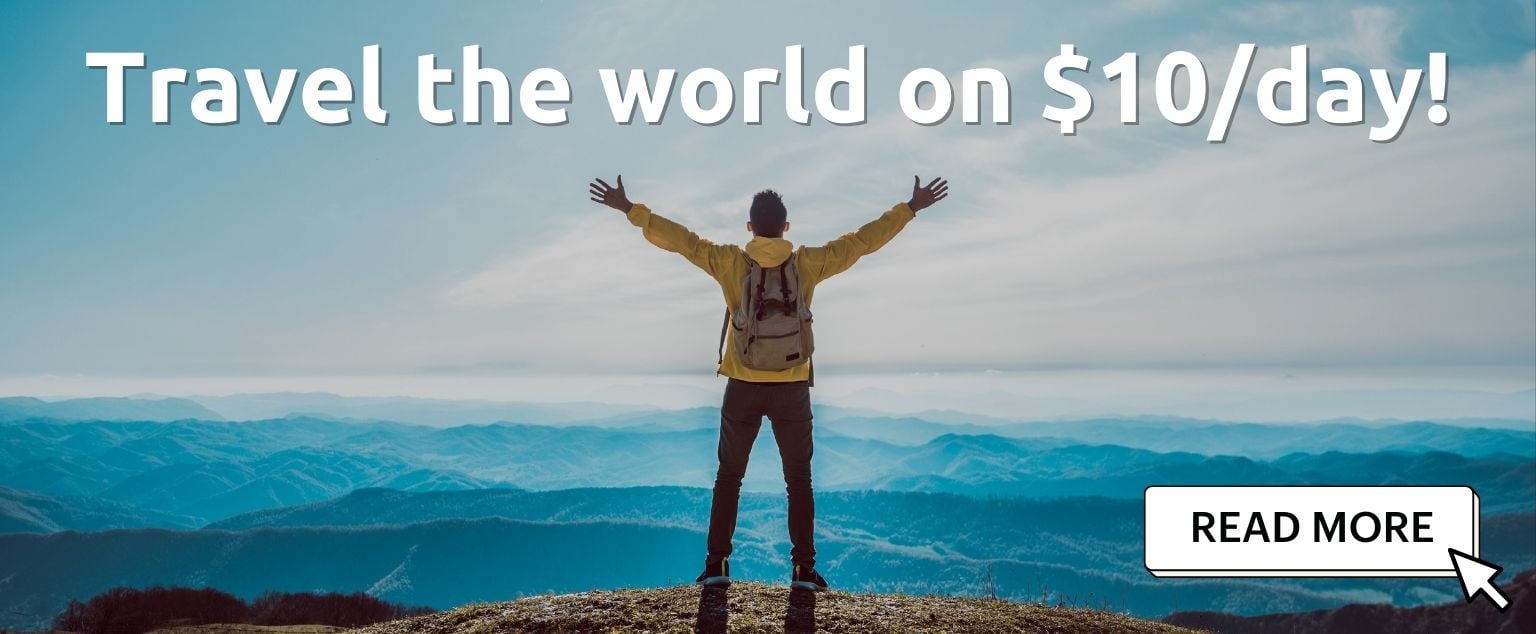 And for transparency's sake, please know that some of the links in our content are affiliate links. That means that if you book your accommodation, buy your gear, or sort your insurance through our link, we earn a small commission (at no extra cost to you). That said, we only link to the gear we trust and never recommend services we don't believe are up to scratch. Again, thank you!