An elephant sits upon my chest, or so it seems…
I never thought I'd experience being out of breath simply by lying in bed trying to sleep. My whole body is heavy as I become aware of how my head is literally and figuratively more in the clouds than usual. It's a strange feeling – not having enough oxygen; it's something I usually associate with scuba diving, far below sea level, rather than being hundreds of metres above it.
I flopped over and came face-to-face with my potential remedy: an oxygen machine, strapped in and ready to go in my room. Fumbling with my phone, I scanned the QR code that let me deposit the £1 required to activate 30 minutes of life support. At 4,014 metres, I was sleeping in one of the highest towns in the world.
And now, dear reader, you have the opportunity to learn from my mistakes, to triumph from my successes and to plot your own truly incredible road trip through this very special and mystical part of the world.  This is, however, a journey which requires some meticulous planning and my goal today is to arm you with all of the information you need to head out into this very special part of the world.
So let's dive in and see how you can delve into your own adventure through the Western Sichuan, a true (and independent) taste of the Tibetan Plateau.
Situated on the eastern fringes of the Qinghai-Tibet Plateau, the Garze Tibetan Autonomous Prefecture, along with various regions in Sichuan, Qinghai, Gansu, and Yunnan provinces, shares geographical, cultural, and ethnic connections with Tibet. Even as backpacking China has become more popular, these areas have remained relatively untouched, giving them an air of isolation from the fast-paced urban life.
Why Travelling in Western Sichuan Will Give You More Freedom Than Travelling in Tibet
Unfortunately, under the watchful eye of Beijing, Tibet has become a tricky place to travel without a special permit. So, it's a little challenging to access Tibet over land unless you're a Chinese national.
In Tibet, access requires not only a Chinese visa and passport but also a specific entry permit with limitations on movement. Visitors to Tibet are also typically required to be accompanied by an official guide, which significantly adds to the overall cost of the trip and inevitably limits your freedom to explore.
We decided not to make Tibet our final destination to avoid these issues. Western Sichuan offers a less touristy, alternative experience that allows you to go off the beaten track but is still home to many Tibetan communities.
Travelling to Western Sichuan is more straightforward compared to the Tibet Autonomous Region, as all that is required is a standard Chinese visa for entry and your normal passport. This makes Western Sichuan an excellent destination for those seeking awe-inspiring Himalayan peaks, exceptional hiking opportunities, and an intriguing glimpse into Tibetan culture, all without the restrictions of travelling in Tibet Proper.
Here's exactly how we journeyed from massive Beijing to one of the most beautiful regions in China…
Stop #1 Beijing, 44m Above Sea Level
Let's start in Beijing, where we start our expedition on a train track rather than a road. We contemplated driving to Chengdu, and whilst you could do it that way, it would add another two days.
Coming from the UK, unfortunately, my standards for train travel are somewhat low (think overpriced, understaffed, never on time and packed carriages), but this does mean I am easily pleased when my train isn't delayed for seven hours because a cow has strolled onto the tracks for a quick snack. Despite my low standards, please believe me when I say the Chinese high-speed rail network is phenomenal.
The trains are comfortable, clean, affordable and efficient. And they're always on time, which is slightly mind-blowing. You also have more affordable options as traditional slow trains are readily available that offer standing (no seat), hard seat, hard sleeper and soft sleeper tickets.
If you're not on a tight budget, I recommend the hard sleeper option. I once booked a hard seat for an 11-hour slow train to Inner Mongolia and sat next to a goat- safe to say it wasn't the most comfortable experience (the goat was lovely, though), but you can read more about that some other time.
We took one of the more direct high-speed trains to Chengdu, which left from Beijing West train station and took about 7.5 hours. Depending on your route, the slow train option can take anywhere between 18-30 hours.
Most train ticket booking is done online via various apps, and only available in Mandarin – so unless your language skills are top-notch, I suggest using trip.com for all your train booking needs.
Stop #2 Chengdu, 500m Above Sea Level
Chengdu is one of my favourite cities in China. Although most visitors are drawn there to visit the famous Giant Panda Research Base, the city has loads more to offer, from sweaty, spicy Sichuan deliciousness to unique hip-hop culture.
The city has adopted the laid-back attitude of the Giant Pandas and applied it to their everyday life. Food is the focal point of all daily activities, and in the summer, it's so hot there's not much point in moving.
Compared to other cities in China, such as Beijing and Shanghai, Chengdu has a reputation for offering a lifestyle away from the grind. Something that, in my opinion, can be confirmed by the opening hours of their coffee shops; we struggled to find a coffee shop that wasn't Starbucks open before midday.
What's great about this is that you don't need to actively search for a taste of what authentic life is like in Chengdu. Head to one of the parks, and you're sure to see a bunch of locals playing chess, dancing, singing or doing Taiji (Taichi).
One of the most important things to do in Chengdu is eat. Sichuan is renowned for its unique spice flavours – coming from the Sichuan peppercorn, which I describe as having a sort of tingly popping-candy effect combined with chilli spice.
To celebrate the release of Disney's 'Mulan', McDonald's made a Szechuan (Sichuan) Sauce in the 90s with a completely mad one-day-only revival in 2017 thanks to a Rick and Morty Episode that caused actual riots. Packets of the sauce ended up being sold for around $200 on eBay- so take this as your friendly PSA to keep an eye out for Sichuan sauce if you're short on travel funds.
Chengdu is one of the best locations for food travellers looking for a taste of authentic China. Most restaurants won't cater to tourists who can't handle their spice – they'll serve you food the way it should be.
If you haven't travelled to China before – Chinese food is so diverse and scrumptious that it doesn't even compare to the American/ British-ized version that you'll find at your local takeaway restaurant. Forget everything you think you know and prepare to have your head explode with sensational spiciness. I've included a list of dishes you simply must try here:
Hot Pot
Mapo Tofu
Kung Pao Chicken
Sichuan Dumplings
Dan Dan noodles (spicy dry noodles)
For the more adventurous… pig brain
Once we ate ourselves to discomfort and bliss, we were ready to hire our car and begin our trip on route 318. Route 318 is China's longest national highway (5,476km) that runs from Shanghai to Zhangmu on the China- Nepal border. Most people start their Tibetan Plateau journey in Chengdu, Sichuan and end their trip in Lhasa. 
It's also known to be one of the most dangerous highways in the country. The winding roads, unpredictable weather and altitude make it a pretty challenging route to take. If you're not into driving – there's another over-land train route to Lhasa from the neighbouring Qinghai province.
And so, packs upon our backs and valiant vehicle secured, we hit the road searching for a more authentic experience within Western Sichuan.
Top Chengdu Tips:
Meet the Giants: Pandas spend about 12 hours a day eating. Make the most of your time and go see one munching away at some bamboo at the Giant Panda Sanctuary.
Tingle your Tastebuds: Eat everything you can in Sichuan (within reason). But dedicate an afternoon to a sweaty, spicy, sensational hot-pot lunch.
Balance: Chinese people believe that too much "dampness" in the body is caused by the interaction between the humidity or wetness from the external environment and the "dampness" inside the body. To counteract this imbalance, a lot of Southern Chinese food is very spicy so that when you eat, you can literally restore balance by sweating out the excess water in your body.
One Night of C-Rap – Chinese hip hop has increased in popularity over the last decade, and Chengdu is the centre of it all. Experience the rise of this genre at a local hip-hop night.
Explore a park with literary connections: This park was home to a thatched cottage of a Chinese poet called Du-Fu, who moved there in 749 AD. Take refuge from the hustle and heat of the city and sip some green tea in this tranquil park.
Stop #3: Moxi Town, Hailuogou Glacier Forest Park, 1600m above sea level
One of the challenges and pleasures of travelling is the unknown and unexpected events that nature throws at you. Serendipity, keep an eye out for her, she's always lurking in the shadows when you're on the road. My vision of leaving the steamy, spicy, hot-wok Chengdu for cooler breezes and mountain air was squashed by heavy rains and a landslide blocking our original route to Moxi Town.
Rolling into Moxi town after a five-hour detour through treacherous mountain roads and a whole load of rain, we were greeted with wooden buildings and narrow cobbled streets, a calming atmosphere we were relieved to see after our hair-raising drive.
The town is overlooked by Mount Gongga, or "Minya Konka" in Khams Tibetan. Known colloquially as "the King of Sichuan Mountains", Minya Konka is the highest mountain in Sichuan province. At an elevation of 7,556m – it's not the most accessible mountain to climb (only 50 mountaineers are known to have scaled it), but when the clouds clear, there is an impressive view from Moxi Town.
Hailuogou Glacier Park was enchanting to us; following our time in the bustling heat of Chengdu, Moxi exuded an undeniable atmosphere of tranquillity. The morning after we arrived, we were greeted by the melody of heavy raindrops tapping on the roof of our rustic cabin, the faint chime of distant yak bells, and the gradual crescendo of a local women's choir, harmonising beneath the protective canopy of the church's square. 
We visited Hailuogou Glacier and Forest Park, home to low-altitude glaciers, ancient forests and hot springs. Sadly, the weather wasn't entirely on our side, so we couldn't get a cable car to see the stunning glacier. Instead, we hiked around the primitive forest areas and saw the Red Rock Shoal. These rocks have been wrapped by a kind of orange algae that consequently turned them.. well.. red. It was pretty impressive to have such a bold colour slapped in the middle of the scenery.
Note: There was a 6.6. magnitude earthquake that struck Moxi town in September 2022, which led to the death of 66 people. As of the time of writing this article, the town is still recovering and is closed to tourists.
Top Moxi Town Tips:
Breakfast is the most important meal- Wake up early and wander the streets of Moxi town for a freshly steamed, mouth-wateringly delicious baozi. Enjoy the early-morning sounds of people getting ready for the day, make your way to the Catholic Church and listen to the community choir practicing their singing. Marvel at the giant Mao Zedong statue while sitting next to the statue of Jesus. Ponder how weird things can be. Beat the crowds and enjoy the quiet of it all.
Or perhaps lunch is more important – If you're not into all that early-morning stuff – there are many other food options for breakfast. Moxi is where we began to see more yak produce, I suggest sampling some yak yogurt and butter.
Walk, walk, walk – Explore the sights of Hailuogou Glacier Park. Visit the Red Rock Shoal.
Don't forget your ID – An annoying reality – but most national parks in China will require you to show your passport and valid visa. Sometimes, you'll get away with showing a photo of your ID, but it's best to just carry it with you.
Stop #4: Yajiang, 2569m above sea level
As we made our way towards Yajiang, the vast expanse of the grasslands unfolded before us. We started to climb higher onto the plateau – the air was thinning, and we were starting to feel mild effects from the altitude.
We were driving up a twisty road up the side of a mountain, and when we got to the top, we took a moment to rest, not realising we'd reached a self-proclaimed "highest service station in the world" at 4600m. I say service station; it was more like a car park with a shack serving out-of-date snacks and oxygen cylinders. So, of course, we bought some stale crisps and some oxygen and began our journey down the other side of the mountain.
Our homestay for the night was a room in a traditional Tibetan building called Miya Hotel. Wooden beams panelled the inside of the house, and around the home were ornately decorated cabinets. Tibetan flags lined the spacious living area, presenting intense splashes of colour around the room.
The owner of the hotel, wearing simple jeans and a t-shirt, was wonderfully friendly and explained to us he'd only learned Mandarin through watching the TV. Instead, he spoke a language known as Zhaba, spoken mainly by the Shaba people, who are recognised as ethnic Tibetans. His wife, dressed in a simple yet colourfully embroidered Tibetan robe, gave us food and a salty Tibetan tea meant to help with the altitude sickness.
The following day, they cooked us breakfast, consisting of salted potatoes, pickled vegetables and another round of salted milk tea – a different taste experience compared to the intense flavours of Chengdu. We were supposed to drive off toward Litang, but he encouraged us to stay and visit a temple at the top of a nearby mountain.
While he suggested this, he backtracked and said we might not manage to get up the treacherous mountain path in our little car and offered us his sturdy four-by-four. Too polite to accept his kind offer, we set off in our car as he anxiously waved us goodbye. 
As we made our way up the impossibly steep hill on a road that can only be described as a dirt track with every pothole you can imagine along it – we were beginning to question our inhibition to be awkwardly polite and reject kind offers from people.
The road was rough and crumbled away as we shuddered up in first gear, the car crunching and squealing over sizable rocks but ultimately crawling forward like a wounded beetle, determined to make it to the top. Despite a near collision and careful maneuvering to get past a truck of gigantic proportions, we made it to the 4300m high temple.
High on the plateau, Tibetan families piled into the temple's courtyard, waiting for a ceremony to begin. Rosy-cheeked children ran around whilst their mothers, clad in velvet fabrics with ornate jewellery, coloured strings and multi-layered strings woven into their braids, were casually chatting with one another. Dozens of red-robed monks sat on the stone floor, their Buddhist chants echoing off the ancient temple walls. 
The event began with a loud cymbal crash, drawing cheers from the audience while dancers adorned in masks burst into the square. We were witnessing a Cham Ceremony, an annual festival dedicated to transforming evil into good, through ancient dance movements performed in harmony with the monks' mantras. 
We later learned that the masks represent the face of evil, symbolising that malevolence originates within, born from human vices such as ignorance, anger, desire, jealousy, and ego. The ceremony's purpose is to remove this evil, ultimately offering a clearer path to transformation.

Top Yajiang Tips:
Listen to your new friends – Despite language barriers, our host taught us some valuable lessons. One of which is listening to local advice…
Keep calm and carry on – Near-death experiences might lead you to some of the most beautiful destinations in the world. But you gotta keep calm and breathe.
Acclimatise – Drink salted milk tea (SuYouCha) to relieve altitude sickness.
Follow the path unknown – unplanned adventures seem to bring the most reward. Let this be your friendly reminder not to plan every moment of your journey, see where the unmapped road takes you and remain open to pastures anew.
Stop #5: Sky Country (Litang), 4014m
Shortly before we left on our road trip, Litang became renowned for a bizarre reason. A viral video spread on DouYin (China's domestic version of TikTok) of Ding Zhen, a 20-year-old Tibetan, on his way to buy instant noodles. As per the mysteries of the internet, the video took the internet by storm. He quickly captured the hearts of millions as people became enraptured with his "innocent smile" and "cute demeanour".
Ding Zhen's fame increased the number of searches for Litang through China's biggest travel agency by 620% in 10 days – and it was evident Litang's tourist department had taken advantage of this fame. As we emerged through a tunnel, we were greeted by a 15-metre-high poster of the famous boy's face with the slogan "Welcome to Litang, the home of Ding Zhen".
We discussed the rise of the new local celebrity with our homestay owner in Yajiang, who told us "This region is more than Litang, and Litang is more than Ding Zhen" – he was concerned that the rest of China would develop a singular view of the region shaped by the popularisation.
Honestly, Litang wasn't quite the authentic experience I'd been expecting. I was drawn to this town from reading about the incredible horse racing festival, the Tibetan monasteries and the challenges of living in a town so high above sea level.
Litang, one of the highest inhabited towns in the world, is 400m higher than Lhasa. The town lies on the higher eastern edges of the great Tibetan Plateau, and it is claimed that Litang County is the highest continuously inhabited district in the world.
The town, situated amongst snow-capped mountains, expansive open grasslands, beautiful monasteries and an abundance of yaks, is well worth a visit. However, potentially due to the town's newfound fame, it seemed like it was going through an industrial shift, enhancing its infrastructure (shiny new roads with street lights) but also taking away some of its atmosphere.
During the first week of August, crowds flock to Litang to see the famous Horse Racing Festival.
Horses are essential figures for Tibetan nomads, serving practical and spiritual purposes. Despite modern modes of transport like motorbikes, trains, and cars, horses are relied upon for traversing rugged terrains, facilitating trade, and undertaking laborious tasks. There is also pride in horsemanship, where young men race bareback or stand atop their steed while it gallops.
Tibetans' spiritual symbolism is equally fascinating, as horses are a symbol of luck, an embodiment of the wind horse—a representation of the human soul—and act as a harmonising force among the elements of wood, water, earth, and fire. The festival is held annually over seven days (or three days, depending on the year), so it's an awesome time to pass through.
Even though we weren't in Litang for the actual festival, we were fortunate to witness some of the preparations. We had the chance to observe local Tibetans erecting their ornate embroidered tents in preparation.
We even saw two horse riders practising for a race, or perhaps they were riding out for some fast-paced fun. Seeing these two equestrians wearing woollen chubas (an ankle-length robe) and distinctive fedoras, galloping gracefully across the vast plain, left a lasting impression—a profound glimpse into the essence of Tibetan culture.
Top Litang Tips:
Sleeping – Accommodation that officially allows tourists to stay is scarce. Try to find a homestay if you can, but don't try your luck with camping here – even in summer, the temperatures at night plummet, and the conditions are pretty harsh.
Acclimatise – Altitude sickness can be a real risk here. Staying for the night was a challenging experience, but I wouldn't risk staying here without first acclimatising at a lower altitude and taking herbal remedies or other medication. Come prepared with (Western) medicine and oxygen.
Plan: Plan your trip to Litang during the first week of August so you don't miss the Horse Racing Festival.
Expectations – The town has lost some of its traditional charm as infrastructure has been the city's key aim over the last few years. You can visit Litang Monastery, built in 1580 by the 3rd Dalai Lama, to see some traditional architecture and lifestyle.
Prophetic Poetry – The 6th Dalai Lama penned a poem about Litang, saying, "Oh, you white crane, grant me your wings, I won't venture too far, just a brief flight to Litang and back." Following his mysterious disappearance in 1707, his devotees interpreted this poem as a premonition of his reincarnation in Litang. Consequently, the 7th Dalai Lama (1708-1757) was discovered in the residence of Ren-khang, who would subsequently govern Tibet for five decades. Theoretically, you can visit the residence from 9:30 am to 5 pm, but it might not be that accessible to tourists.
Stop #6: Yading Nature Reserve, Daocheng County, 4000m
We left route 318 to go North towards Yading Nature Reserve in Daocheng County. One of the most beautiful and well-preserved reserves in China, Yading Nature Reserve centres around three snow-capped mountains. Surrounded by ancient forests, vast grasslands, crystal-clear lakes and glaciers, you'll surely experience some of the most beautiful places in China, and the world, here.
In Tibetan Buddhism, mountains and mountain ranges are often assigned spiritual significance, and the most important among them are sometimes considered physical manifestations of Buddhist deities, as is the case with the three main peaks of the Yading Nature Reserve. Yading also claims to be the real "Shangri-La", meaning a lost paradise.
There are many hiking options in Yading, ranging from one-day hikes to overnight and 5-night hikes. There is said to be good karma in completely circumnavigating a mountain, so originally, we planned an overnight hike around the highest peak at 6032m – Mount Xiannairi, the embodiment of the Boddhisatva of Compassion. Again, the forces of nature seemed to be against us (this time altitude), so we had to scrap these plans.
All hikes in Yading are mostly 4,000m above sea level, so taking the steps to acclimatise properly is essential. I was lucky enough to get used to the elevation relatively quickly – mainly thanks to our stop in Litang, but my travel buddy wasn't so fortunate. Experiencing severe altitude sickness (fever, headache, dizziness), he had to travel back to Daocheng town to recover at a lower altitude.
Not wanting to miss out on the beautiful scenery, I remained in Yading Village and solo-hiked from the Luorong grasslands to two stunning lakes. Reaching my first destination, I caught a glimpse of the turquoise-coloured Milk Lake beautifully reflecting two holy mountains in its waters before the clouds covered the reflection.
A 5km hike from there is the Five-Colour Lake , another glacial lake with crystal-clear waters. As I crossed the ridge and saw the lake, I saw a snow-capped mountain mirrored in the iridescent blue waters. The silence was immense – I could hear the wind casting ripples on the water and the distant sounds of mountain goats knocking rocks with their hooves. The real Shangri-La or not – the scenery alone was enough to make anyone feel the spiritual significance of the place.
I walked back down to the grasslands at around 2 p.m., and the crowds had settled in. The empty paths I walked up were jam-packed with humans, some seriously struggling to hike to the lake due to altitude sickness.
As I returned to the grasslands, rain clouds descended and formed a mist, covering the mountains I had just walked amongst. A naturally formed curtain of mist symbolised the end of my time in Daocheng Nature Reserve – and I was just about ready to say goodbye after warming up with a steaming bowl of yak broth noodles.
Top Yading Tips:
Sleeping – Stay in Yading Village so you'll wake up inside the national park. You'll beat the crowds by getting one of the first shuttle buses to Longtong Ba, the start of the hiking trail.
Oxygen – Breathing canned oxygen can temporarily help with altitude sickness while you're breathing it. You can stock up on these in Daocheng Town, which might improve severe cases of altitude sickness. Some people were using oxygen bags – which I heard could be more medically effective but weren't readily available. I just stuck to the natural salty milk tea remedy.
Acclimatise – Try and gradually increase the altitudes you're staying at. Some people fly into the closest airport and suffer as a result. Travel slowly, take your time, and enjoy the journey.
Expectations – The overnight hiking conditions are harsh, and there's little help regarding navigation or resources. You'd be very much on your own, and if you're not confident in your camping/hiking abilities, it's probably best to hire a guide.
Stop #7: Shangri-La, Yunnan, 3610 m
No matter how much you want to keep exploring, recovery and rest are necessary for long-term travel. As my buddy's altitude sickness was in full swing, we had to reroute to neighbouring province Yunnan for an oxygen fix. And what better place to go for some R and R than a second Shangri-La?
Shangri-la is a Tibetan word meaning 'a land of sacredness and peace', something we were seeking after our adventures on the plateau. The city itself is home to a mix of ethnic minorities, such as the Naxi and Khampas people.
Dukezong ancient town is about 1,300 years old and features traditional Tibetan houses, temples, and pagodas. You can stroll around the winding, cobblestoned alleyways, get lost in the smells of Yak-products (and see decorated yaks paraded in the streets) and stumble across the main square where locals dance every evening.
Shangri-La holds an interesting mixture of young people with a passion for coffee, beer, and fashion, yet still want to maintain traditional customs and values. It felt like the city was advancing more than other places we'd travelled on the plateau.
For views of the old town, you can visit Dafo Temple (Chaoyanglou), located in Guishan Hill Park. Here, you can try spinning the world's largest prayer wheel, Zhuangjin Tong, which needs six people to make it turn.
Outside the town, there's plenty to explore, from grasslands to hikes, from snub-nosed monkeys to horse rides. We visited Ganden Sumsteling Monastery, about 5km away from Shangri-La town, an incredible monastery built in 1679 and the largest and most important Tibetan Monastery in Yunnan province.
Top Shangri La Tips:
Sleeping – Stay in the midst of it all and sleep at a homestay in the old town. There are some traditional Tibetan options. 
Eating – Shangri-La can get pretty cold and rainy, so there's no better way to warm those cockles than with a steamy yak hot pot. If you're not into that, you can eat at the Flying Tiger's Cafe for your yak-burger fix.
Drinking – Sample some deliciously brewed beer at China's largest independent brewery, Shangri-La Beer. These beers are available in bars/restaurants around Shangri-La, so look out for their colourful logos. And if nightlife is your thing, you can get your fix – there are bars which sometimes host incredible live music events from local artists. 
Dip into some painting – Go to a local art studio (many in the old town's centre) and paint a Thangka- a traditional Tibetan Buddhist painting.
Your packing list might look a bit different depending on what exactly you're planning to do, but here are a few things no Western Sichuan wanderer should leave home without…
You need to travel to China with a tourist visa to apply for before your travels. Most visas allow you to have 90 days of entry.
The great firewall of China is hard to break. Luckily, you can get yourself a VPN so you can still access all your favourite sites. Some VPN's work better than others – I'd recommend:
> Express VPN
Some hotels/hostels don't have a permit to accept international citizens. They are legally required to register you with a police station/hold.
Your passport / visa needs to be scanned
Not all places follow this rule. Especially if you're only staying for one night.
Unfortunately, some places advertise / make themselves available for you to book online as a foreigner, but then when you turn up, you might get turned away as they realise they aren't allowed to accept you (or they can't be bothered to register you with the police station)
There are some reports about just registering yourself in these situations- but that could be a bit too much mafan (too much effort). 
Usually, in rural areas people are nice enough to help you out in these situations and will let you sleep in their homes, arguably a nicer way to travel and see the place you're in.
You can hire a car relatively easily with an international driving permit.
Getting Insured BEFORE Hitting the Plateau
It's always a good idea to grab some good travel insurance before heading out on a road trip, especially one that goes this high!
ALWAYS sort out your backpacker insurance before your trip. There's plenty to choose from in that department, but a good place to start is Safety Wing.
They offer month-to-month payments, no lock-in contracts, and require absolutely no itineraries: that's the exact kind of insurance long-term travellers and digital nomads need.
SafetyWing is cheap, easy, and admin-free: just sign up lickety-split so you can get back to it!
Click the button below to learn more about SafetyWing's setup or read our insider review for the full tasty scoop.
Well, we are reaching the end of this epic adventure, and I hope this has inspired you to get out there. There's no better way to spend your time than exploring parts of the world that aren't frequently visited – get off the beaten track and meet people so far removed from your social bubble that your world gets turned upside down.
Being so high above sea level gave me a different perspective on our world – I felt so small and insignificant compared to the wall of holy mountains lining the plateau.
I recommend bringing clothes that cover a range of weather – within one month of travelling, I went from wearing a dress to a down jacket and thermals, back to a dress again. Prepare for rain. Bring a camera. Take your time on the road and explore roads less travelled on the map – Western Sichuan offers so much more than the popular route 318 – you just need to see where it might take you.
---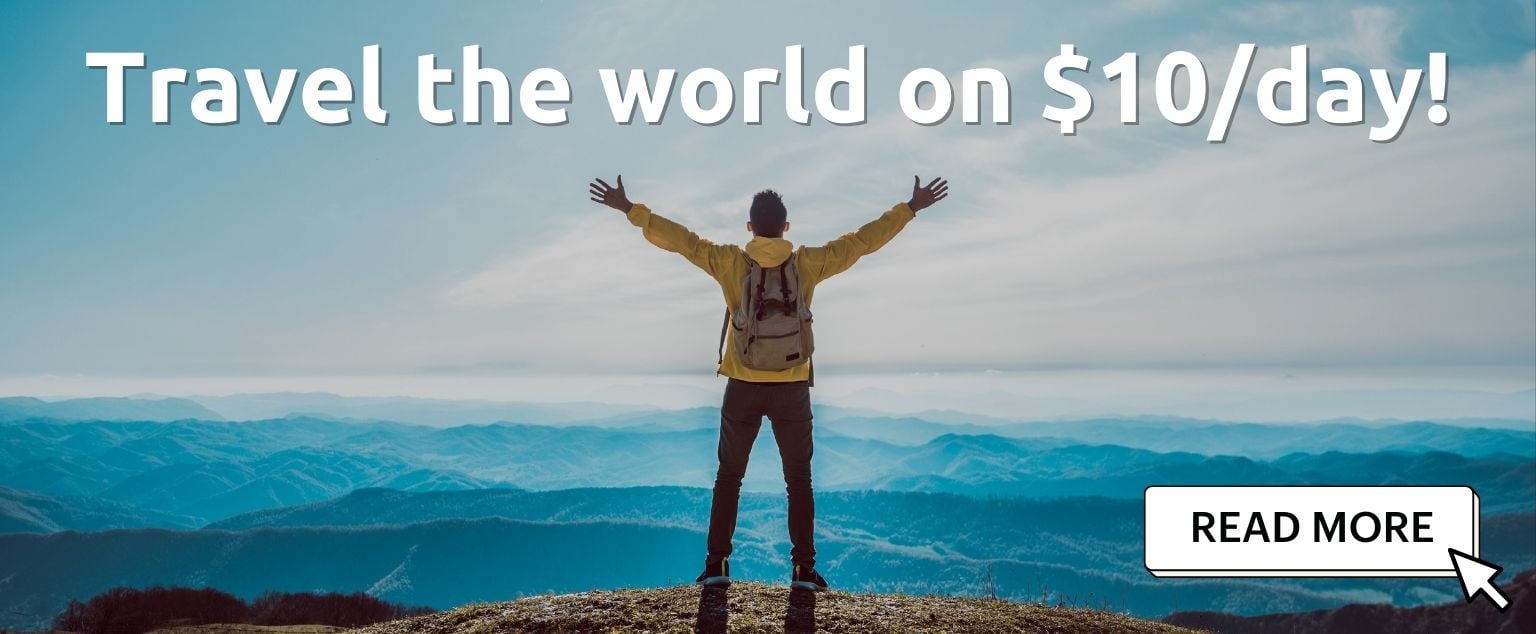 And for transparency's sake, please know that some of the links in our content are affiliate links. That means that if you book your accommodation, buy your gear, or sort your insurance through our link, we earn a small commission (at no extra cost to you). That said, we only link to the gear we trust and never recommend services we don't believe are up to scratch. Again, thank you!