Hong Kong is one of the most vital and exciting cities in Asia. Not only is it a fascinating mix of cultures, but it's also one of the most important economic and tourist hubs in the world.
However, it can also be a little intimidating. Hong Kong has a reputation for being expensive, that isn't completely deserved. Hong Kong has something for everyone. Whether you're on a big budget or a tight one, you'll find restaurants, affordable hotels and hostels, and attractions that will fascinate you and suit your wallet.
This city has some of the best restaurants in the world as well as affordable local places with delicious dishes. It has designer shops and local shops with shelves piled high with exotic foods, crafts and other goods. There is no end to the things you can see, do and eat at every price point.
To help you find options that suit your preferences and wallet at every price point, we've created this list of the best places to visit in Hong Kong.
Before you start reading the excitement below, you are going to want to check out where to stay in Hong Kong first. This diverse city is absolutely sprawling, meaning it's heaving with great accommodation options and it can be a bit overwhelming sifting through them all. Good thing we've got you covered isn't it!
#1 – Sky 100 Hong Kong Observation Deck – One of the most amazing places in Hong Kong!
Why it's awesome: There's nothing like getting the full view of the Hong Kong skyline when you arrive in a new city, and you can do that from the Sky 100 Hong Kong Observation Deck. The high-speed elevator will take you to the 100th floor in 60 seconds, where you'll get a 360 view of every part of the city. For the price of admission, you can also spend some time looking at the displays and learn more about Hong Kong and its culture. This will not only deepen your understanding, but it will also help you develop a deeper appreciation of the city and its people.
What to do there: You should spend time looking at the view, trying to spot the hostel you are staying in from up above and taking pictures, but you can do more than just gaze at the scenery. The 360 view means that you can enjoy Hong Kong's iconic skyline from the best vantage point possible, and you can use a high-end telescope to take a closer look at the city. There's also an interactive multimedia exhibition which will give you a fascinating glimpse into Hong Kong's history and culture.
#2 – The Symphony of Lights, an incredible light show every night!
Why it's awesome: There's nothing quite like a musical and light performance, but none beat the Symphony of Lights which takes place at 8pm every night from Tsim Sha Tsui promenade. The light show is a fifteen-minute performance where lights and lasers light up the Hong Kong skyline across Victoria Harbour. The display spreads as far as Causeway Bay all the way down to Central Hong Kong.
What to do there: Find your favorite spot on the Tsim Sha Tsui promenade, or if you time it right, you can even enjoy a junk boat cruise along Victoria Harbour. The best place to see the light shows from Tsim Sha Tsui promenade looking over at Victoria Peak as most of the lights are on top of the buildings on Hong Kong island. The show happens every day at 8pm, so make sure you. get there early to grab the best spot!
#3 – Wong Tai Sin Temple
Why it's awesome: Exploring a travel destination's past is all well and good, but sometimes you want to understand the present as well; Wong Tai Sin temple will allow you to do this and it is a must-do on any Hong Kong itinerary. It's a Buddhist temple that was first built in 1920 and then replaced in 1968, so you're quite literally looking at architecture and religious beliefs from the sixties. This makes it an excellent way to examine recent history and understand more about how present-day Hong Kong came to be.
What to do there: Spending time in Wong Tai Sin Temple is all about observing everyday life. If you aren't Buddhist, you probably won't understand a lot of the architecture or the activities in the temple, but that doesn't mean that you can't be a part of them.
This temple is dedicated to the Taoist god of horse racing and healing from sickness. The complex consists of several large buildings, all with unique decorations and purposes. While you're there, you'll probably see fortune-tellers and locals burning incense in the halls. If you're really lucky and you're there in the fall, you'll get to glimpse the festival held in the Gods' honor.
#4 – Hong Kong Heritage Museum
Why it's awesome: Chinese history is long and varied, and very different from that of Western countries. It's also not widely studied outside of Asian countries, and a visit to the Hong Kong Heritage Museum is a way to remedy that. It's a way to better understand a country that has become a powerhouse on the world stage, and one that's also turning into a popular travel destination. Along the way, you'll see some fantastic pieces of art.
What to do there: The museum has a rotating schedule of exhibits, so make sure you see what's on offer while you're in Hong Kong. There are six permanent galleries which are dedicated to Chinese art and Cantonese opera. Another permanent exhibition is a children's area, where they can enjoy the displays and learn in fun and interactive ways. The museum is interesting at any time, but it's especially fascinating during one of Hong Kong's frequent rain showers, when you can learn about the city and stay dry at the same time.
#5 – Hong Kong Science Museum – Awesome place to visit in Hong Kong with kids!
Why it's awesome: The Hong Kong Science Museum is spread across four floors, and there's a surprise at every turn. It strikes a good balance between entertainment and education that will have children and adults of all ages enthralled and eager to see more. It boasts lots of interactive displays that probably won't be what you're expecting, making you wish you could go back to science class!
What to do there: There are four floors of displays in this museum, so make sure you explore every one of them to find something you're interested in. The Dinosaur Model Making Workshop is particularly popular with people of all ages, as is the video gallery. If you really enjoy the museum, make sure you have a look at the gift shop on the way out for souvenirs to remind you of your visit.
#6 – Victoria Peak – One of the most incredible free places to go to in Hong Kong!
Why it's awesome: Sometimes you tend to focus on the street-level details when you first arrive in a new city. This is understandable, after all, there's always a lot to see and do, but it also means that you forget about the bigger picture. And you definitely forget that there's something beyond the concrete jungle. But when you visit Victoria Peak in Hong Kong, you see the bigger picture in living, glorious color. You get to ogle at the concrete and glass of the city set against the lush green forest and the dark blue ocean. And the contrast is truly magical!
What to do there: The view at Victoria Peak is amazing at any time. In the daytime, you'll see the whole of the city set out like an enormous child's toy. At night, you'll get a perfect view of the lights of the city set against the darkness of the ocean. While you're there, make sure you explore the enormous park at the peak, with its many lookouts. And if you get tired of all that nature, you can spend some time at the Peak Tower and Peak Galleria, which has an observation deck, as well as restaurants and shops.
Why it's awesome: No matter how old you are, everyone should see Hong Kong Disneyland at least once in their lives. This is the place where dreams are made; a world that was created from one man's imagination and his desire to tell stories. There are some downsides to visiting Hong Kong Disneyland, of course – mostly the crowds and the commercialism of this particular park. But it's something else to see all your favorite Disney characters and places brought to life right in front of your eyes.
What to do there: Hong Kong's Disneyland includes seven separate lands: Mystic Point, Main Street, U.S.A., Grizzly Gulch, Toy Story Land, Adventureland, Tomorrowland, Fantasyland, and Future: Frozen Land. As you wander around these lands – some of them very familiar – you'll see performances, musicals, Disney characters, and rides, all of which will call to the child inside of you and remind you of old favorites. There are also ample chances to get photos and lots of unhealthy food to eat, so forget about your diet and your adult life for a day and just enjoy it!
#8 – Ocean Park – A fascinating educational place to visit in Hong Kong!
Why it's awesome: Ocean Park in Hong Kong has something for everyone. The kids will love the rides, the animals and the aquarium, and may also learn something about Hong Kong along the way. But this park isn't just for kids; it's for anyone who wants to get a glimpse of old Hong Kong or who wants to see a panda – China's iconic animal!
In fact, Ocean Park is so popular, that if you ask any kid in Hong Kong which theme park they love the best, they always say Ocean Park! The dolphin show is a real crowd pleaser and the pandas are super adorable.
What to do there: Ocean Park's aquarium is the perfect place to spend an hour or so out of the heat. It boasts an extensive collection of exotic fish, a touch pool, and is a fascinating place to spend some time for adults and children alike. If you're looking for something more exciting, Ocean Park also has rollercoasters and the Giant Panda Adventure, where you'll get to see this iconic animal, as well as red pandas and the endangered Chinese Giant Salamander.
#9 – Lan Kwai Fong – A must see for foodies!
Why it's awesome: The heart of Hong Kong is its food. No other city in the world can match it for both local dishes and their mastery of a range of cuisines from around the world. It's rare to get a bad meal in Hong Kong, and nearly impossible in Lan Kwai Fong.
This area includes main streets and small alleys, all of them packed to the brim with restaurants quite literally stacked on top of each other. In these streets, you will find anything you have a craving for, and it will probably be the best version that you've ever eaten.
It is also the number one place to be for nightlife. With the best clubs, rooftop bars and speak easy joints on Hong Kong Island, no night out would be complete without taking a trip to LKF.
What to do there: Make sure that you bring your appetite and spend some time wandering the streets before you choose a place to eat. The ground level is only the start, so check the directories located at the main entrances to the buildings to see what the higher levels have to offer.
There's nothing better than taking a seat in one of the outdoor patios and watching the crowds as you enjoy your meal, so make sure that's a part of your experience.
If you're in town for nightlife, LKF is a popular place to mingle and meet other travellers and expats on a night out. There are a ton of bars and clubs, plus the 7/11 is open 24/7 which is usually where you find the international crowd having a street beer or two (the bars can be quite expensive). Be warned though, time seems to disappear in LKF. You plan to go for one drink, the next minute it's 6am!
#10 – Tian Tan Buddha – A beautiful and scenic place to check out in Hong Kong
Why it's awesome: You may have seen the Tian Tan Buddha or 'Big Buddha' in pictures, but nothing prepares you for how big this statue is in reality. It's one of the largest Buddha statues in the world and took 12 years to complete. Surrounded by acres of green, there is an astonishing view over the forest and ocean. This is the perfect place to get that iconic picture of your trip to Hong Kong with the most glorious backdrop possible.
What to do there: The 'Big Buddha' is located on Lantau Island above the Po Lin monastery, which you'll have to walk through on your way to the statue. The monastery was founded in 1906 and contains several incredible architectural features, such as the Hall of Bodhisattva Skanda and the Main Shrine Hall of Buddha. Before you head up to take pictures of the seated Buddha, make sure you explore this piece of Hong Kong's past in detail.
To get to the Tian Tan Buddha, you can take the Ngong Ping cable car from Tung Chung in Lantau Island, which offers an incredible view of the mountains and surrounding ocean as you journey up to the top. If you're lucky, you might get a car with a glass floor so you can see the mountains below.d
#11 – Hong Kong Park – A beautiful outdoor place to visit in Hong Kong
Why it's awesome: Hong Kong is an incredibly busy city; sometimes, you just need a place to sit and be peaceful. It's even better if you can do that amongst nature. Hong Kong Park is enormous and boasts water features and small forests with mature trees. It's the perfect place to relax when you've had a long day and need some rejuvenation.
What to do there: You literally don't have to do anything in this park. You can just find a nice, shady spot, sit down, and relax – maybe even take a nap. If you're feeling a little more active, go and see the birds in the aviary, spend time in the greenhouse, or visit the Hong Kong Visual Art Center. But don't feel bad if all you do is sit and watch the water. Everyone needs some time to sit and relax sometimes.
#12 – Tsim Tsa Tsui
Why it's awesome: This is the heart of the city and it's probably the place you'll see the most of while you're in Hong Kong. Nathan Road is the main street running through this area and is lined with shops of almost every type, selling everything you could imagine. It's crowded and busy with people, cars, buses and transport of every kind. Shops blast out conflicting styles of music and lights flash every color possible. It's quite literally a place that overloads your senses, and that's what makes it so exciting!
What to do there: First, you need to shop until you drop on Nathan Road and check out the high-end designer shops on Canton Road. Once you've had your fill there, go down to the Cultural Center and check out the Hong Kong Space Museum and Hong Kong Museum of Art. This complex is right on the waterfront, so if you're there in the evening, consider sticking around to watch the evening light show across the harbor. You'll have the best vantage point in the city!
#13 – Man Mo Buddhist Temple – Possibly one of the most important places to visit in Hong Kong
Why it's awesome: The Man Mo Temple is one of the oldest in Hong Kong and yet it's still vitally important in everyday life. This temple is dedicated to The God of Literature and the God of War; people come here to burn offerings and voice their most private wishes. The temple itself is ornate and lushly decorated, with the heavy scent of incense and the smoky air adding to the mystique.
What to do there: While you're in the temple, observe the reverence with which the locals choose their offerings and make their wish. Enjoy the architecture and the mysterious and worshipful hush of the rooms. Study the exuberant offerings and alters set all around. And walk away with a deeper understanding of the importance of sites like this in modern life in Hong Kong.
#14 – Pottinger Street
Why it's awesome: There are some places in the world where you can feel the history, and this is one of them. Dating back to the 1850s, this street was named after Henry Pottinger, the first governor of Hong Kong, and much of it remains unchanged since that time. The stone street is steep and difficult to traverse, yet there's a liveliness to the area that belies the long history.
What to do there: Pottinger Street is in the Central Hong Kong, so there's a lot to do in the surrounding areas in Hong Kong. While you're in the street, have a look at the souvenirs and quirky trinkets. Try on some of the costumes the vendors are selling and generally just enjoy the colorful, lively atmosphere.
#15 – Nan Lian Garden & Chi Lin Nunnery
Why it's awesome: The Nan Lian Garden is designed in the style of a Tang dynasty garden and reflects the wealth of the time, as well as its unique culture. The garden features pagodas, water features, and pavilions, all of them set in a serene and visually pleasing setting.
What to do there: Get a glimpse into China's history as you wander around these historic Nan Lian gardens, designed in a style that goes back to the 8th century AD. This was one of the golden ages in Chinese civilization in terms of culture and economic power, and this is reflected in the lushness and order of these gardens. While you're there, make sure you check out the Chi Lin Nunnery and its trendy and popular vegetarian restaurant as well!
#16 – Lamma Island – A beautiful outdoor place to visit in Hong Kong
Why it's awesome: Lamma Island can give you a taste of how Hong Kong was a long time ago when it was made up of small villages. It's like stepping back in time to when there were no cars and life was simple and quiet. Easily accessible from Hong Kong, this is an excellent destination for anyone who wants to really get away from the noise and busyness. But don't take this side trip if you don't enjoy hiking, because there isn't any other way to get around the island.
What to do there: Lamma Island is all about outdoor activities, so if you enjoy these kinds of pastimes, then this is the ideal place for you. You can hike the tiny island, swim in the ocean, or laze on the beach. If you spend a day here, it will be a day of pure relaxation where you enjoy nature at every turn. You won't starve while you're there either; there are seaside villages on the island with restaurants, so you'll be able to enjoy a good seafood meal before returning to Hong Kong's fast-paced lifestyle.
#17 – The Beach at Repulse Bay – A nice non-touristy place to visit in Hong Kong
Why it's awesome: You probably don't think of the beach in connection with Hong Kong, but you should. After all, it's an island, so naturally, it's surrounded by water and beaches. The beach at Repulse Bay is a soft sand beach with great views.
It's also surprisingly non-touristy. You'll probably only see locals during your time on this beach because all the tourists are enjoying the more obvious city attractions. This makes it the perfect place to get some sun without the crowds that usually gather at the seaside.
What to do there: The water is relatively warm in Repulse Bay year-round, and the temperature in Hong Kong never drops low enough to take a stroll along the beach uncomfortable. So, going for a swim and walking on the beach are both popular choices in this area. In fact, this is a beach to relax at, so don't expect lots of vigorous water sports. Instead, just enjoy the water and the sun. When you get tired of that, there are some great shops and restaurants lining the beach. When you're ready for a meal, choose a place to sit and eat while the sun goes down.
#18 – Big Wave Bay
Why it's awesome: If you like your beach time to be laidback and completely relaxed, then Big Wave Bay is the ultimate beach for that. Easily accessible from Hong Kong, this beach feels like it's a world away from the city, which is why it's such a favorite spot for locals and expats. It's the perfect place to go if you want to feel like you're completely out of the big city without leaving the area entirely.
What to do there: Big Wave Bay has a rocky headland where surfers can practice their craft, and soft sand where sunbathers work on their tans. This is one of the few places in Hong Kong where you can spend all day on the beach and have a good meal without having to change your clothes or put on shoes. The restaurants and food stalls are all outdoors and completely casual. So, after you've spent your day on the beach, take advantage of the chance to keep on relaxing during a great feed.
#19 – Temple Street Night Market – Easily one of the most fun places to check out in Hong Kong
Why it's awesome: There's nothing quite like the atmosphere of a market in Asia. The sights, sounds, and smells have to be experienced to be fully appreciated, and this market is one of the best in the city where you can do that. You can find anything you want here, plus a few things that you didn't know you wanted. The food stalls ensure that you'll eat well at the same time.
What to do there: This is an obvious one; the Temple Street Night Markets are made for shopping. Look for souvenirs to take home, jewellery to give as gifts, and strangely beautiful ornaments to remind you of your trip once you're back home. This market opens around 6 pm, but it takes a while to get going, so arrive later and bring your appetite with you, as there is a whole load of amazing street food for you to try.
When you're sick of shopping, you can go from food stall to food stall and try absolutely everything that catches your eye. There are also some stellar Airbnbs located nearby if you'd like to stay close to all the action.
#20 – Garden of Stars
Why it's awesome: Most people outside of Asia tend to think of Hollywood when they think about movie stars. But Asian countries have their own movie stars, some of them incredibly popular and well-respected. The movie scene is hugely profitable in Asia, and it's also an important part of the culture in Hong Kong. If you want to understand a little more about the city you're visiting, you need to understand which public figures the locals admire.
What to do there: This is a place to open your mind. Some of the names you may recognize – such as Bruce Lee – but many of them you won't. This is a place where you'll start to understand just how different the culture around you is. If you're curious and start researching some of the names, you just might find yourself with a whole new genre of film to explore!
#21 – Tai O Fishing Village – One of Hong Kong's coolest historical sites!
Why it's awesome: Hong Kong is an exciting city, but it's also noisy, polluted anlkd busy. If you get tired of all the rush and crowds, then a trip to the Tai O fishing village is the perfect antidote.
Here, you'll get a glimpse of a slower pace of life, have a chance to breathe, and enjoy a glimpse of Hong Kong's past. You'll probably get some fresh seafood to eat while you're at it too.
What to do there: There are no amusement parks, rides, or flashing neon signs in Tai O fishing village. This is a small village where the locals are welcoming to tourists but have their own lives. While you're there, take a boat ride around the village with one of the locals, visit the local market, and enjoy the freshest seafood you've ever had.
It's a great way to support the locals in their chosen way of life and a chance to enjoy some peace and quiet before you plunge into the streets of Hong Kong again.
#22 – Ten Thousand Buddhas Monastery – A beautiful and scenic place to check out in Hong Kong
Why it's awesome: The Ten Thousand Buddhas Monastery isn't a monastery. It's listed as a historic site, and the unusual statues along the approach make it memorable even before you arrive at the temple complex. The architecture in the complex is impressive and nearly as good as the view, which can be seen from key points and includes long, sprawling acres of lush green forest.
What to do there: The walk up to the Ten Thousand Buddhas Monastery is a long one. You must make your way up a long, curving staircase with around 400 steps – all in near-tropical heat. And yet, this monumental task doesn't seem so bad in this case. That's because there are golden Buddha statues all the way up, each of them with a unique expression and other quirks, making the journey one of exploration and discovery. Once you get there, explore the impressive structure and Buddha statues and make sure you take lots of timeouts to enjoy the impressive view from every angle.
#23 – Hong Kong Museum of History – One of the most underrated places to see in Hong Kong
Why it's awesome: Most historical museums share pieces of the past with guests, but this one goes a step further and goes back nearly 400 million years! It tells the story of Hong Kong through a variety of forms, including audio-visual, dioramas, graphics and archaeological findings; it truly does delve deep into this city's fascinating past.
What to do there: Make sure that you spend some time in the Hong Kong Museum of History. It can be tempting to rush around so that you can get back to the shopping and eating, but try to take your time. Delving into the past is the best way to get a thorough understanding of a place, and this display deserves that time and attention.
If you have time, you should also check out the Space Museum in Tsim Sha Tsui. It's a small museum with only a couple of rooms, but it has a space theatre which is super cool and will wow the kids.
#24 – Happy Valley Racecourse
Why it's awesome: Most gambling is illegal in Hong Kong, except for betting on the horses; there are only two places where the locals can do that, so the racecourses tend to be packed. This makes the Wednesday night races the place to be for anyone in the know – you even get to wear costumes. Each Wednesday night is themed, so choose your night, your theme and dress accordingly.
What to do there: Obviously, you can bet at the racecourse, but if that isn't your scene, then there's plenty else to do. This is one of the busiest social centers in the city on race nights; everyone comes to have a drink, socialize and show off their costumes. The racecourse also has a popular beer garden, which is the perfect place to spend some time on a warm night.
#25 – The Dragon's Back – A must visit place to visit in Hong Kong on the weekend!
Why it's awesome: The popular Dragon's Backhike takes you through some of the most picturesque natural areas of Hong Kong. On a clear day, you can see all the way to Lamma Island across a stretch of blue sea. The hike is just strenuous enough to give you a great workout without completely exhausting you.
What to do there: The path starts at To Tai Wan and takes you along the crest of the mountain and past several beaches, including Big Wave Bay and Shek O beach. You can stop off along the way for a swim and then continue or conclude your hike at either beach. The walk is one of the easiest in Hong Kong; there are a lot of sightseeing platforms along the way where you can take in the views and snap some pictures.
#26 – Yuek Po Street Garden – A nice quiet place to see in Hong Kong
Why it's awesome: This traditional Chinese garden is home to a market that's essential to the everyday life of Hong Kong's locals. Here, you'll find songbirds – one of the most popular pets in the city – in bamboo cages, as well as small insects. This market sells mostly bird-care paraphernalia and is popular amongst older locals, who dote on their birds in return for being able to listen to their sweet songs.
What to do there: Slow down when you're in this area. This is a place where an older culture is on display, and you don't want to miss it. Although you can buy some unique souvenirs at this market, the best part of the experience is listening to the songs around you and drinking in the sight of locals doting on their tiny, noisy pets.
#27 – Yau Ma Tei Theatre
Why it's awesome: When you think of Chinese opera, you probably think of Beijing, but there's just as strong a tradition of opera in Hong Kong, and this is where to see it. The Yau Ma Tei Theatre is the only surviving pre-war theater in Hong Kong; it's been recently revamped to bring this ancient art into the modern world! If you're interested in this ancient tradition, this theater is the place to go.
What to do there: Enjoy the sights and sounds of the theater with its brightly colored, voluminous costumes, white, red and black face paint, and hugely ornate headdresses. Cantonese opera is unique and includes lots of gongs, falsetto voices, and information about Cantonese culture you won't find anywhere else. It's obviously in Cantonese, but they have subtitles in English so you can understand what's going on.
Don't miss the historic fruit market alongside the theater; it's been there for over a hundred years and offers some of the freshest fruit in the city – a great place to grab a snack before or after the performance!
#28 – Jumbo Restaurant – A great place to visit in Hong Kong at night
Why it's awesome: The Jumbo Restaurant floats at the Aberdeen Promenade and took over four years to build, with a budget into the millions. It serves some of the best, freshest seafood dishes and brings in tourists and locals alike, which lets you know that the food must be delicious. It has even played host to celebrities like Chow Yun Fat and Tom Cruise, as well as Queen Elizabeth.
What to do there: When you eat at the Jumbo restaurant, it's an experience to be savored, so plan to spend some time on this floating light show. The seafood dishes are particularly good, but if you don't like seafood, they have a variety of dim sum and Cantonese dishes as well. The ambiance is a big part of the experience, so make sure you make a production of the meal and get every drop of enjoyment possible out of it!
#29 – Kam Shan Country Park
Why it's awesome: If you want to see animals, then the Kam Shan Country Park is the place to do it. This is one of the oldest parks in Hong Kong and is known as Monkey Hill, for obvious reasons. It's home to around 2000 monkeys, who live in the trees, visit the beach, and hang out by the road. Just make sure that you don't take any food in with you, as they get over excited if they think they're going to get fed.
What to do there: The park itself is a lovely slice of nature; you can easily hike through it while enjoying the sight of the monkey families going about their day. There will be plenty of opportunities for you to take photos as well, just make sure that you don't get too close – monkeys can be unpredictable! There are also several well-preserved wartime ruins left throughout the area if you're interested in that facet of Hong Kong's history.
#30 – The Mong Kok Ladies Market
Why it's awesome: Markets are great, but the tourist markets can be expensive. The vendors tend to put up their prices for the tourists, and if you don't know what you should be paying for something, you can end up spending too much. But the Mong Kok Ladies Market is for the locals; it's where the locals go to get everything from kitchen utensils to ornaments. If you're careful and remember to bargain, you can get a great deal.
What to do there: Like many other places in Hong Kong, this market is for shopping! Make sure you know what you want, be ready to bargain and be prepared to walk away if you don't get the price you want. It might seem a little strange to Westerners, but bargaining is part of life in lots of areas of Asia; no one will take it badly unless you're rude. So find yourself a unique knickknack and get to work!
#31 – Kowloon Walled City Park – Possibly one of the most important places to visit in Hong Kong
Why it's awesome: The Kowloon Walled City Park is now a beautiful, serene Chinese-style park that allows tourists and locals to enjoy a piece of nature in the middle of the city. But until 1993, it was one of the most densely packed and lawless places in the modern world.
The Kowloon Walled City was once a Chinese fort. But after it fell into British hands there was a serious power vacuum that allowed criminals to take control of the entire area. In the years after, this 6.4-acre area housed more than 50,000 people and was ruled by triads. For a long time, it was Hong Kong's haven for prostitution, gambling, and drug trafficking.
What to do there: In 1993 the government finished evicting all the residents of the Walled city and demolished the illegally erected buildings, replacing them with a traditional Chinese park. Traces of the old city were preserved however, such as the yamen, or imperial government administration building. But mostly, this is a place to relax and explore the beauty of nature in a place that was once ruled by the very darkest parts of humanity.
Get insured for your trip to Hong Kong!
World Nomads' mission is to support and encourage travellers to explore their boundaries. They offer simple & flexible travel insurance, and safety advice to help you travel confidently.
They've been doing it since 2002 – protecting, connecting, and inspiring independent travellers just like you.
Get a quote below or read our in-depth review!
World Nomads provides travel insurance for travelers in over 100 countries. As an affiliate, we receive a fee when you get a quote from World Nomads using this link. We do not represent World Nomads. This is information only and not a recommendation to buy travel insurance.
Find out what people want to know about the best places to visit in Hong Kong
We've talked about a wide range of different types of attractions in Hong Kong that suit every budget and taste. By visiting these places, you'll experience some of Hong Kong's history, its amazing food culture, popular sightseeing spots, and some more unusual sights, all at the same time! By working your way through this list, you'll be sure to have a great time while you're in Hong Kong, all without breaking the bank!
---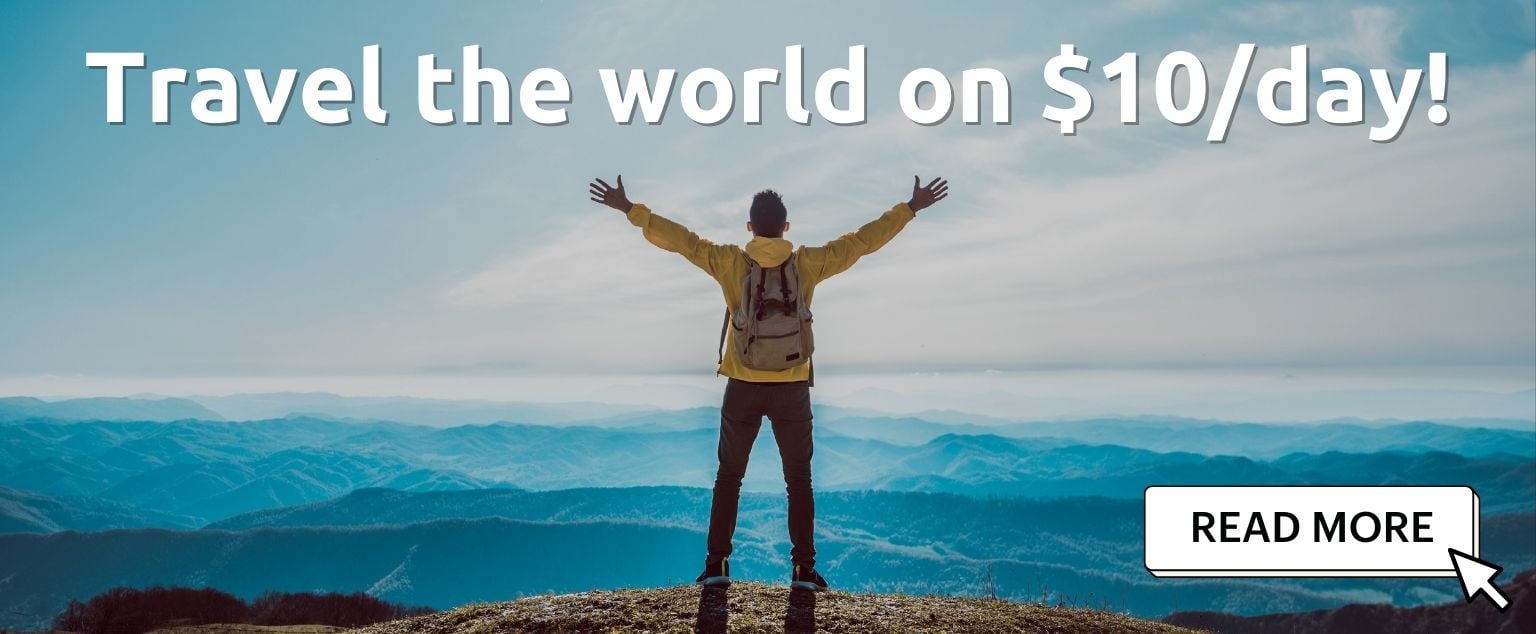 And for transparency's sake, please know that some of the links in our content are affiliate links. That means that if you book your accommodation, buy your gear, or sort your insurance through our link, we earn a small commission (at no extra cost to you). That said, we only link to the gear we trust and never recommend services we don't believe are up to scratch. Again, thank you!