Hong Kong is in many ways "China Lite" and makes a perfect introduction to the nation. It mixes Far Eastern and British influence in equal measure and has become one of Earth's truly unique city-states. It is a sprawling, urban behemoth and when the neon lights come on at night, can feel like a Sci-Fi movie set!
That said, Hong Kong is more than just skyscrapers and there are lush mountainsides, islands and traditional fishing villages for when the city gets too much.
Hong Kong is crowded and finding a bit of space for yourself can be a challenge. That's why we love Airbnb in Hong Kong. The rentals in Hong Kong range from cozy to spacious, from modern to eclectic all of which add a unique and special flavor to your Hong Kong trip.
Below on our list, you're sure to find your home away from home in Hong Kong. Ready to dive in and find the Hong Kong Airbnb of your dreams? Let's get to it!
In a Hurry? Here's Where to Stay in Hong Kong for One Night
First Time in Hong Kong
Superior Studio in Tourist Hub
This space offers 1 bedroom with 1 bathroom. It is situated in the bustling Tsim Sha Tsui area so you won't need to go far to be near the action. This room is great for Digital Nomads coming with a computer desk and superfast internet.
Places to Visit:
Explore the bussling Tsim Sha Tsui area

Night market's and street Bar BQ's

Bars & Restaurants nearby
Is this amazing Hong Kong Airbnb booked for your dates? We've got your back with our other favorite properties below!
Quick Answer: These are the Top 5 Airbnbs in Hong Kong
Overall Best Value Airbnb in Hong Kong

Overall Best Value Airbnb in Hong Kong

Superior Studio in Tourist Hub

>

$

>

2 Guests

>

Fiber Optic WiFi

>

Good Location for Bars & Cafes

>

$

>

2 Guests

>

Fiber Optic WiFi

>

Good Location for Bars & Cafes

VIEW ON AIRBNB

Best Homestay in Hong Kong

Best Homestay in Hong Kong

Hidden Gem Room Close to Action

>

$$

>

2 Guests

>

Fully Equipped Kitchen

>

Near Victoria Park & Times Square

>

$$

>

2 Guests

>

Fully Equipped Kitchen

>

Near Victoria Park & Times Square

VIEW ON AIRBNB

Best Airbnb for Couples in Hong Kong

Best Airbnb for Couples in Hong Kong

Romantic Chestnut House In Wan Chai

>

$$

>

2 Guests

>

King Sized Bed

>

Darling Balcony w/ Table & Chairs

>

$$

>

2 Guests

>

King Sized Bed

>

Darling Balcony w/ Table & Chairs

VIEW ON AIRBNB

Best Airbnb for Families in Hong Kong

Best Airbnb for Families in Hong Kong

Outstanding Deluxe Home

>

$$$$

>

8 Guests

>

High Chair, Crib & Family Features

>

Free Airport Pick-Up

>

$$$$

>

8 Guests

>

High Chair, Crib & Family Features

>

Free Airport Pick-Up

VIEW ON AIRBNB

Best Luxury Airbnb in Hong Kong

Best Luxury Airbnb in Hong Kong

Opulent Apt. w/ Private Rooftop Terrace

>

$$$$

>

4 Guests

>

Jaw-Dropping Rooftop Terrace

>

Breakfast Included

>

$$$$

>

4 Guests

>

Jaw-Dropping Rooftop Terrace

>

Breakfast Included

VIEW ON AIRBNB
Why stay in an Airbnb?
Local Experience
Airbnb gives travellers the unique opportunity to live "like a local" and your experience will be completely different from that of staying in a hostel in Hong Kong. If you decide to book a shared home with your host, you get to look inside a local's daily life, learn about their culture and you might even be able to taste some traditional home-cooked meals.
There are few other ways short-term travellers can get into the homes and lives of locals, so this is a great way to create new connections. As an added bonus, you'll contribute to the local economy and build relationships.
Reach out to your host with questions about things to do or where to eat and they will be happy to help out and give you the best spots and tips. Don't be shy, Airbnb hosts are known for their caring and open hospitality.
And who knows? Next time you might be staying as a friend and not as a paying guest! (No promises though.)
Affordability
No matter your budget, Airbnb has a place for you to stay – from entire apartments to single rooms, houseboats and even castles. There are over six million places worldwide to choose from.
Don't split up into two to three hotel rooms! The Airbnb platform accommodates any size, from solo travellers backpacking Hong Kong to large groups. Everyone gets to stay together, which makes the travelling experience much more comfortable and at the same time way more affordable. Save your money by paying per night, rather than per person. A lot of rentals have more than one bedroom or an extra pull-out couch, futon or trundle bed. Hosts also provide a nice set of clean sheets, a good quality comforter and extra pillows and blankets.
You don't want to spend a lot of money on having to eat out every night either? Just add the filter "kitchen" into your search and you can choose any home that lets you cook at home with all the cutlery, glasses, pots and pans provided.
Safety
Worried about safety? Airbnb wants every guest to be safe and secure. They require hosts to have a keyed door lock and an interior deadbolt or chain. The privacy inside the rental depends on what kind of place you are looking for but you can always find details in the booking description.
Remember that you are living in someone's home – they want to keep it safe, too. Some properties even have CCTV and a doorman so you don't have to worry about any undesired visits.
Airbnb also has a 24/7 emergency line with someone ready to assist you in case of any problem. They're even able to provide a driver, book you a hotel or send a doctor in a medical emergency.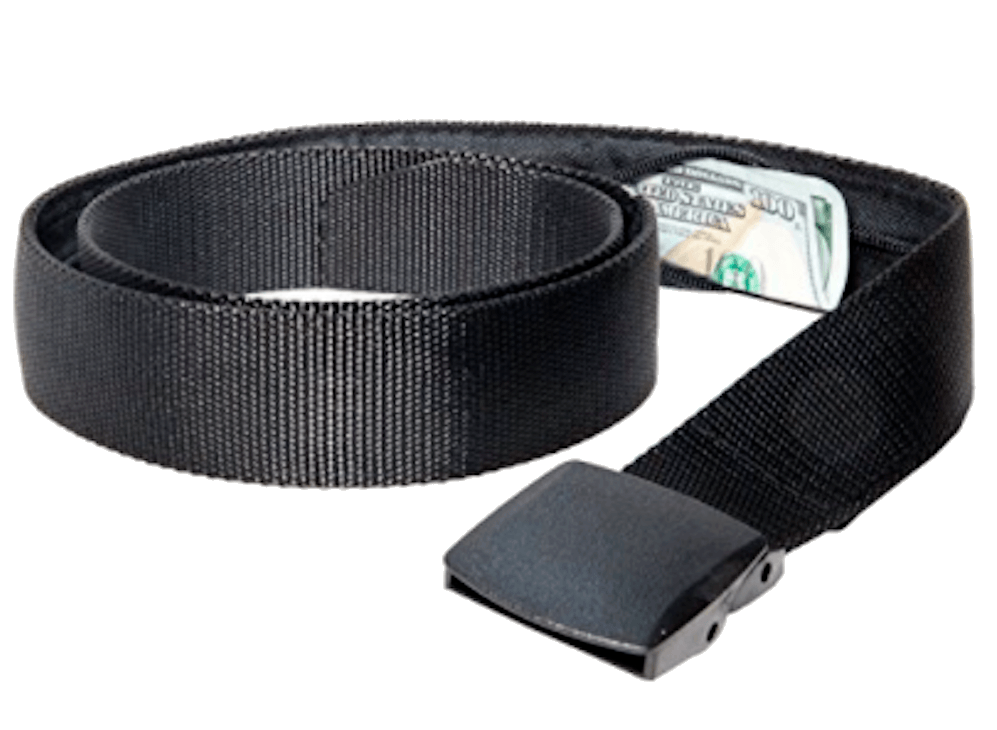 You should always have emergency cash hidden on you – pick up this awesome security belt with its hidden pocket before your next trip. It's perfect for hiding cash, cards and a passport photocopy.
The 15 Top Airbnbs in Hong Kong
$
2 Guests
Fiber Optic WiFi
Good Location for Bars & Cafes
A one bedroom and one bathroom studio apartment in Tsim Sha Tsui is yours for the taking. This 280 square foot Hong Kong apartment has been newly renovated and is decorated with a luxury hotel room's style in mind. There are plenty of amenities that make this Hong Kong Airbnb a dream come true for the digital nomads out there, such as an office table and chair as well as super-fast fiber-optic WiFi clocking in at 1000 Mbps.
Additionally, there is a comfortable sofa and a huge refrigerator, plus even a dehumidifier to ward against humidity. The location of this apartment couldn't be better, surrounded by a hub of restaurants, pubs, cafes, and shopping malls. It's just a two minute walk to the metro station.
$
2 Guests
24-Hour Security Guard
LCD TV & High Speed WiFi
Located in Tsim Sha Tsui, this one bedroom and one bathroom private room in a Hong Kong apartment makes for an excellent short term rental for the budget travelers out there. The room has one double bed, a safe box, TV, hair dryer, and towels.
Now, the room is small coming it at only seven square meters but this is pretty normal for Hong Kong where space is at a premium. However, the apartment building itself is quite large, as it has three elevators and a 24-hour security guard staffed out front. The air conditioning unit is strong, and keeps the room nice and cool on hot days! Also, the WiFi is high speed and there is an LCD TV as well.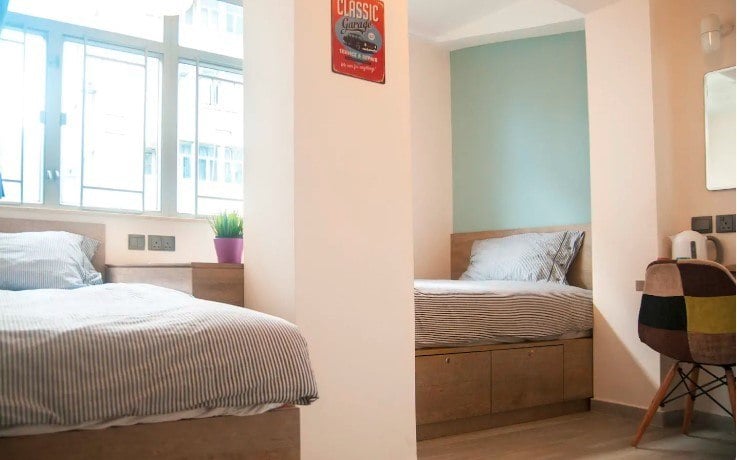 $$ 26
2 Guests
Open Design Concept
Across Street from Night Market
This private room in an apartment is a wonderful Hong Kong Airbnb for digital nomads. It's quiet & private and complete with a private bathroom so this room is perfect for getting your head down and some work is done. There is a small desk space with a comfy chair, as well as good WiFi.
The location is close to the metro station, in Yau Ma Tei district. It is close to banks, 7-11 stores, and is actually right across the street from the main night market area. We all know how perfect some late-night dumplings are after clocking in a long night on the computer!
$
2 Guests
Strong Aircon
Chic ambiance
Cozy and stylishly decorated, this one bedroom and one bathroom Hong Kong apartment is ready for you to snuggle up in. Located in the quiet neighborhood of Jordan, it is close to various metro stations. The room is clean and well equipped. The building also has an elevator, so you won't have to walk up hundreds of stairs.
While there isn't a kitchen, there is a refrigerator to make storing leftovers or some milk for your morning cereal convenient. So for those who are looking for a very affordable place to stay while solo traveling, while not wanting to cram into a hostel dorm room, this is the Hong Kong Airbnb for you!
The Best Travel Backpack?!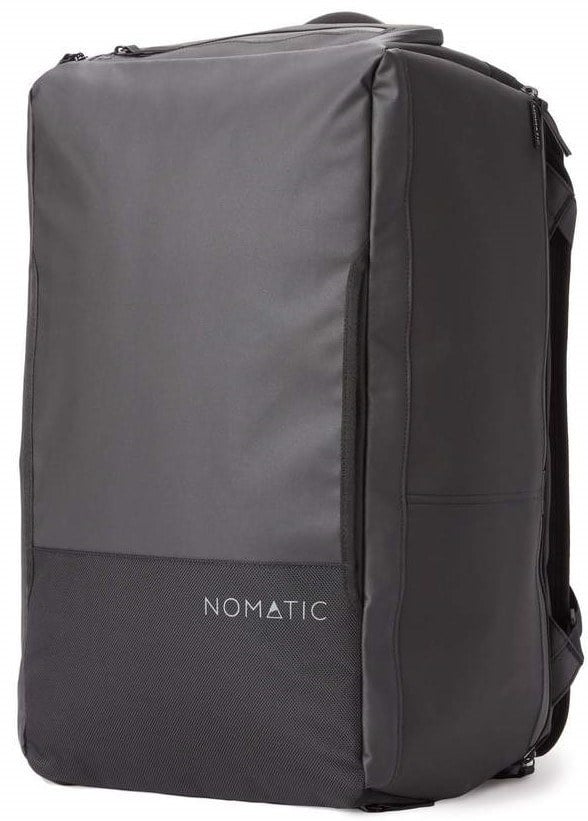 Pssssst! Not picked the perfect travel backpack yet? The Broke Backpacker team has tried out over thirty backpacks this year! Our favourite carry on backpack is the Nomatic Travel Bag.
Read our full review!
$$
2 Guests
Well-Equipped Kitchen
Nightlife at Your Doorstep
While there are some great bars in the popular tourist area of Tsim Sha Tsui, the very best bars are across the water canal in Hong Kong's Central district. From the incredible cocktails at the Dr. Fern's Gin Parlor to the outdoor rooftop bar of the Envoy, to the romantic atmosphere at The Old Man, you're sure to find the perfect spot when staying at a Hong Kong Airbnb around here!
This one bedroom and one bathroom apartment in Central is quite large for Hong Kong standards and it is located close to the best nightlife Hong Kong has to offer. With a well-equipped kitchen, and a tiny dining room table, plus a large leather couch, there is more in this Airbnb in Hong Kong than meets the eye. In fact, we'd go as far as to say it's one of the best Airbnbs in Hong Kong for those who are looking to stay in comfort while not breaking the bank, all while having nightlife available right off front your doorstep.
$$
2 Guests
King Sized Bed
Darling Balcony w/ Table & Chairs
This one bedroom and one bathroom studio apartment in Wan Chai is close to the Central district so is great for walking around the city. In fact, this Hong Kong Airbnb sits just a few blocks from plenty of great local food eateries, grocery stores, and convenience shops. The bathroom is decently sized, and the balcony is wonderful to enjoy a breath of fresh air or a cup of tea.
There is even a small table and two chairs set up on the balcony so you can enjoy a glass of wine outside with your significant other. Moreover, it is spacious enough to roll out a yoga mat, should you wish to get in some outdoor yoga practice! The environment of the Hong Kong apartment is nice and cozy, with a bean bag chair, and lots of personal touches.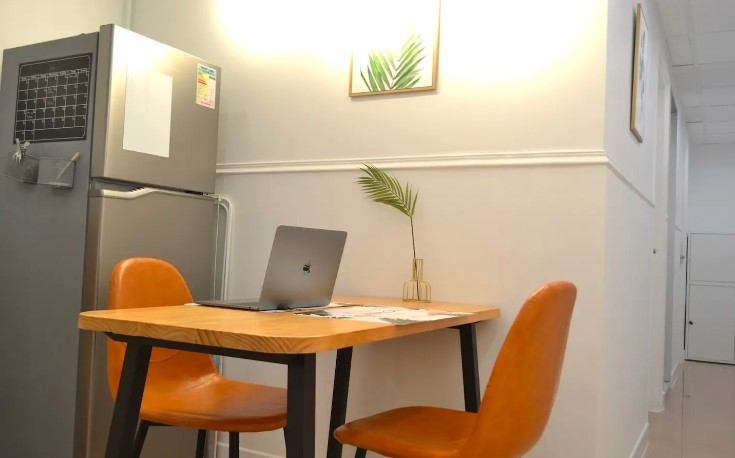 $$
2 Guests
Fully Equipped Kitchen
Near Victoria Park & Times Square
This one bedroom and private bathroom short term rental in Hong Kong is quite the find. Located at the center of Causeway Bay, this apartment has been recently renovated and is sparkling clean. While there are a total of seven private rooms in this apartment, all rooms have private bathrooms and their own air conditioning units. There is a well-equipped kitchen that guests are welcome to use and a washing machine that guests can take advantage of.
It's very close to all the tourist hot spots in the area, just a three-minute walk to Times Square and a one minute walk to Victoria Park. With public transport, you're just 35 minutes away from Disneyland if you were curious! This is one of the best Airbnbs in Hong Kong in terms of location and amenities.
$$
2 Guests
Personal Refrigerator
Rooftop w/ City View
This one bedroom room is a wonderful Hong Kong homestay. It's located on the Tin Hau/Tai Hang district of the island, and is known for the incredible food scene, from delectable ramen to bite-sized sushi to comforting Italian food! Close to this short term rental in Hong Kong are plenty of supermarkets, drugstores, and laundry shops so its perfect for day to day living.
There is even a swimming pool and basketball courts just three minutes away so you can stay active! The hosts are known for being incredibly accommodating and friendly so you're sure to feel right at home at this fun homestay in Hong Kong. Inside the room itself, you'll have a double bed and a personal refrigerator. Also, you'll have access to a beautiful rooftop where you can catch some great views over the city!
$$$
4 Guests
Huge Wall Windows
Gourmet Kitchen
Spread out in luxury and style in this one bedroom and one bathroom loft apartment. Located in the heart of Wan Chai, you're surrounded by incredible things to do and see right off of your doorstep. In fact, there is a Michelin Star Noodle Restaurant right next door. Fancy some fancy noodles, anyone?
For self caterers, you can enjoy cooking in the gourmet kitchen, complete with a convenient Nespresso machine. Enjoy free breakfast on your first day, so you won't have to stress about getting up and about if you're jet-lagged yet not ready to get out of your pajamas. It's also worth mentioning that there are huge wall windows where you can see an incredible view of the mountains and the city below!
Also, once a week, there is a free cleaning service and linen changing provided. Putting together all of these details and factors, we're sure you agree with us that if you're willing to splurge a little, this is one of the best Airbnbs in Hong Kong!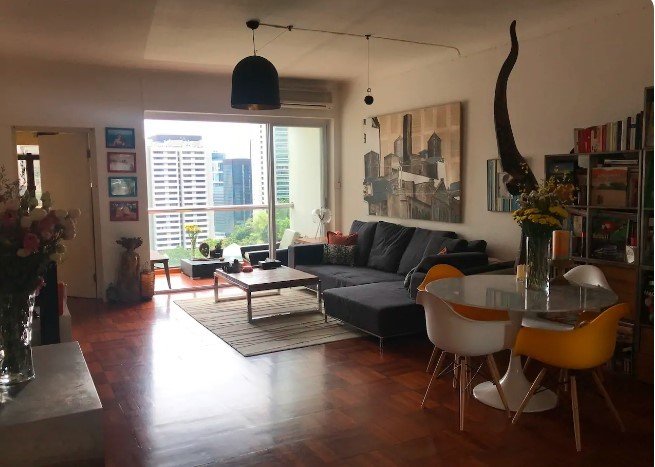 $$$$
4 Guests
Jaw-Dropping Rooftop Terrace
Breakfast Included
This two-bedroom and three bathrooms Hong Kong apartment offer guests quite an opulent stay. It's enormously spacious, with a full dining table with six chairs, and a large "L-Shaped" sofa. Enjoy being surrounded by the sparkling glass of skyscrapers in this short term rental. You can even see a bit of the harbor in between the buildings.
Located in Central Hong Kong, it's just a two-minute walk from the top Hong Kong attractions and lots of restaurants and cafes. This bright and spacious Hong Kong Airbnb promises guests a fantastic stay! Breakfast is included and there is also a washer and dryer available which is quite the nice added convenience.
$$$$
8 Guests
High Chair, Crib & Family Features
Free Airport Pick-Up
This single level home has three bedrooms, four beds, and two bathrooms. It is located in the heart of Causeway Bay, situated right on Hennessy Road. With a very well-equipped kitchen, you can cook up a storm as the kids stay entertained by a 60'' Samsung TV with an additional Apple TV and PS3, as well as a stack of DVDs to choose from. Complete with a crib and high chair, as well as babysitter recommendations, this Hong Kong Airbnb has plenty of family features that will make your stay with young ones a breeze.
If you were looking for a picnic or a stroll in the park, Victoria Park is just a four-minute walk from this Hong Kong Airbnb. And if the kids were wondering, it's just a 28-minute ride to Hong Kong Disneyland on the metro. What's more, is that the host provides free airport pickup! Free airport pick up is just the icing on the cake for one of the best Airbnbs in Hong Kong!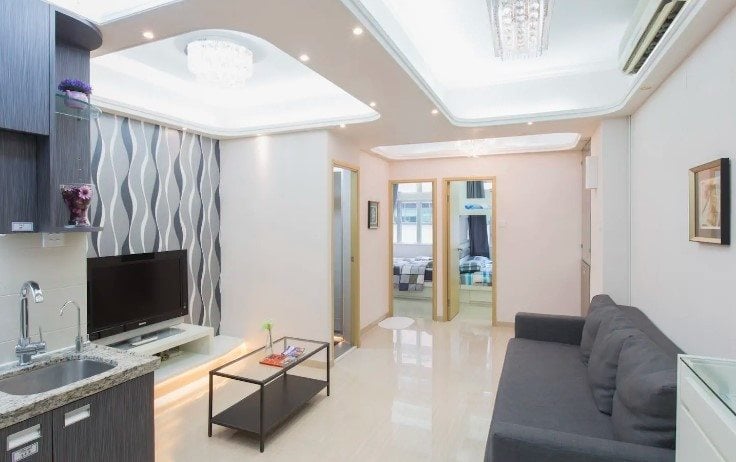 $$$
8 Guests
Beautiful Outdoor Terrace
5 Beds & Tons of Space
This three bedroom and two bathroom apartment has a total of five beds inside the apartment. Located just a five-minute walk from the Causeway Bay, this Hong Kong Airbnb puts you in a prime location for things to do and see in Hong Kong. There's also a delicious ramen restaurant, Ichiran, which is open 24hrs a day that is just a few blocks away. Additionally, there is a large outdoor terrace, with patio furniture, so you can enjoy some peace and quiet and fresh air. Beautifully styled, this Hong Kong Airbnb is sure to please even the pickiest of friends!
$
4 Guests
Laundry Machine
24hr Locked Street Gate
When renting this two bedroom and one bathroom Hong Kong apartment you'll have it all to all to yourself! It's right in the middle of Kowloon and there a ton of restaurants in the area, and the city market is just two blocks away. This flat is clean and quite spacious for Hong Kong standards. There is a laundry machine inside the unit, which is quite a perk.
However, it's important to note that there isn't an elevator, and you'll have to climb five flights of stairs. If you're traveling with more than four guests, the host has generously offered to provide an air mattress or a baby crib to suit the guests' needs. In terms of security, this Hong Kong Airbnb is secured with a 24-hour locked street gate at all times.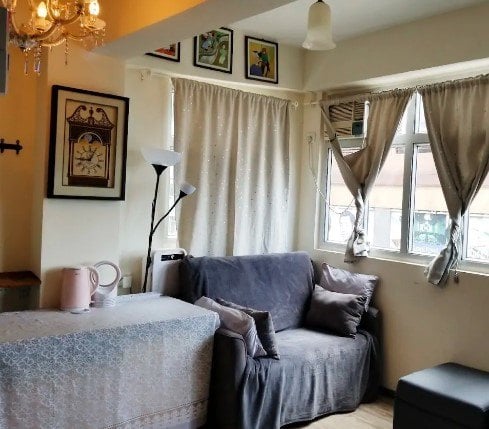 $$
2 Guests
Washer & Dryer
Free Beverages
This one bedroom and one bathroom Hong Kong apartment is located in the heart of Kowloon City, very close to shopping centers and many restaurants. Even the big city park is just a quick walk away! It's bright, modern, and minimalist. Also, there is a huge sound system with KTV as well as a piano inside the apartment. There is a partition that can separate the living area into two separate rooms should privacy be needed.
There is a patio to get a breath of fresh air should you wish during your stay at this great Hong Kong Airbnb. Inside the apartment itself, it's filled with lots of extra goodies like power converters, extra blankets, and complimentary toothbrushes. This host has even stocked the fridge with free beverages for guests to enjoy. Truly, this host has gone above and beyond to ensure guests feel right at home.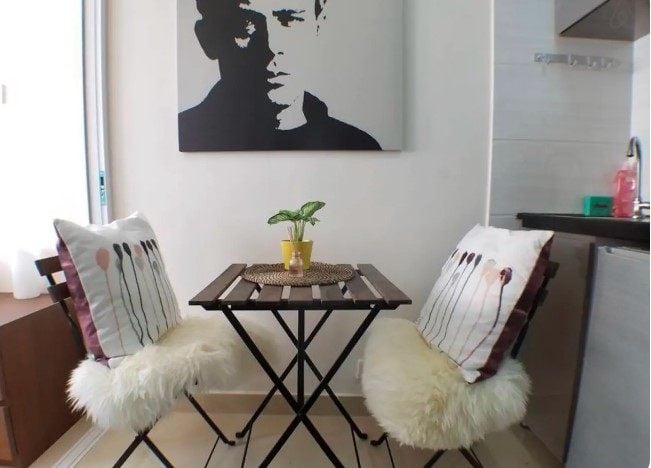 $
2 Guests
Ultra High-Speed Wifi
Dehumidifier for Easy Breathing
This cute and cozy one bedroom and one bathroom studio apartment is incredibly convenient. Located in one of the best tourist areas in the city! There are tons of popular local eateries, as well as fancy restaurants in this area. Everything you could need is right here in Tsim Sha Tsui. Additionally, this short term rental is just a one minute walk from the Tsim Sha Tsui metro station so getting around Hong Kong will be as easy as pie.
Inside this Hong Kong apartment, you'll find a table and chairs, large mirror, air conditioning unit, dehumidifier, 37'' TV, as well as ultra high-speed fiber-optic wifi at 1000 Mbps. Plentiful sunshine streams into this room, and it will make you feel like you're in your own secret oasis, which makes this short term rental one of the best Airbnbs in Hong Kong.
What to Pack for your Hong Kong Airbnb
These essentials will make your Airbnb stay easier and maybe loads nicer.
1. Active Roots Toiletry Bag: Many Airbnb hosts will provide basic toiletries, but not everyone is happy to find a simple bar of harsh soap so you'll want to come with some of your own supplies in case. This Active Roots Toiletry Bag keeps all of your bathroom essentials organized, accessible and safe from leaking into your suitcase. The bag stands on its own or hangs off a towel rack. Made from water-resistant and durable material, you can be sure that this bag will survive lots of great holidays.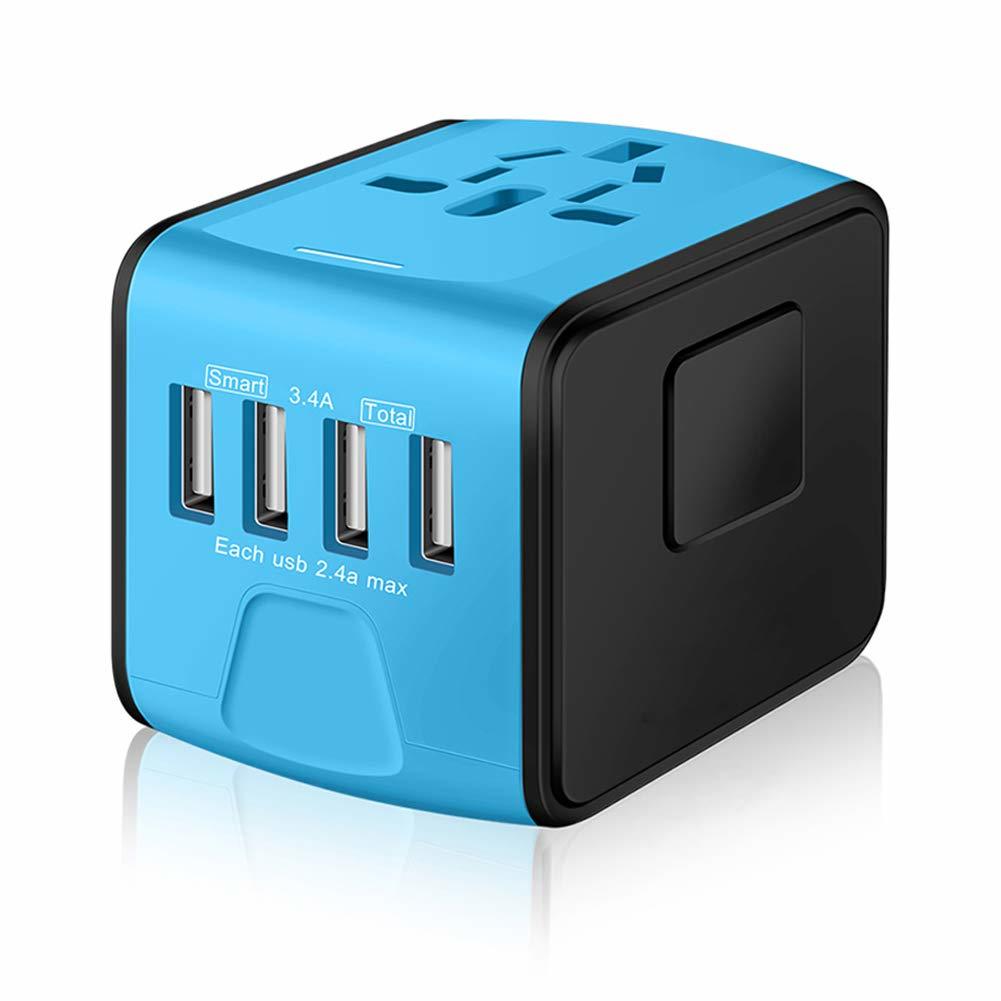 2. Universal Travel Adapter: Don't land in a new country without the right adapter to charge your devices. This can be a logistical nightmare as your phone runs out of juice but you still need to plot a course to your rental. This universal travel adapter covers 150 countries, and you'll always be able to charge your phone (and 4 more devices simultaneously), no matter where you are in the world.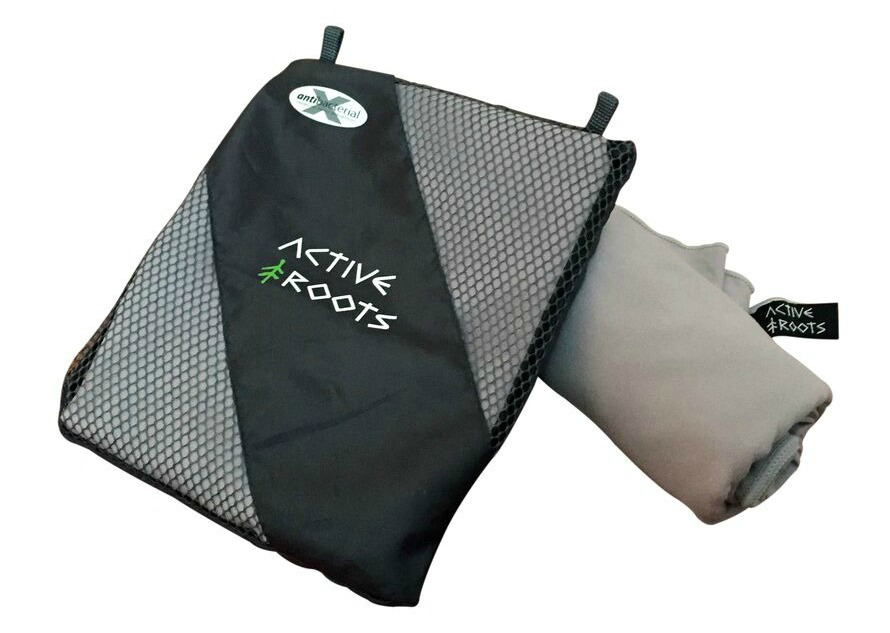 3. Active Roots Microfiber Towel: If you don't want to trust your Airbnb to provide clean towels, it's always smart to bring your own. Problem is, most towels take up a lot of space in your suitcase. The Active Roots Microfiber Towel is made of super-light material, which hardly takes up any space. Plus, it's incredibly comfortable and quick-drying. Great for a day around the pool or at the beach. The material is antibacterial, so it won't smell funny, even on long holidays.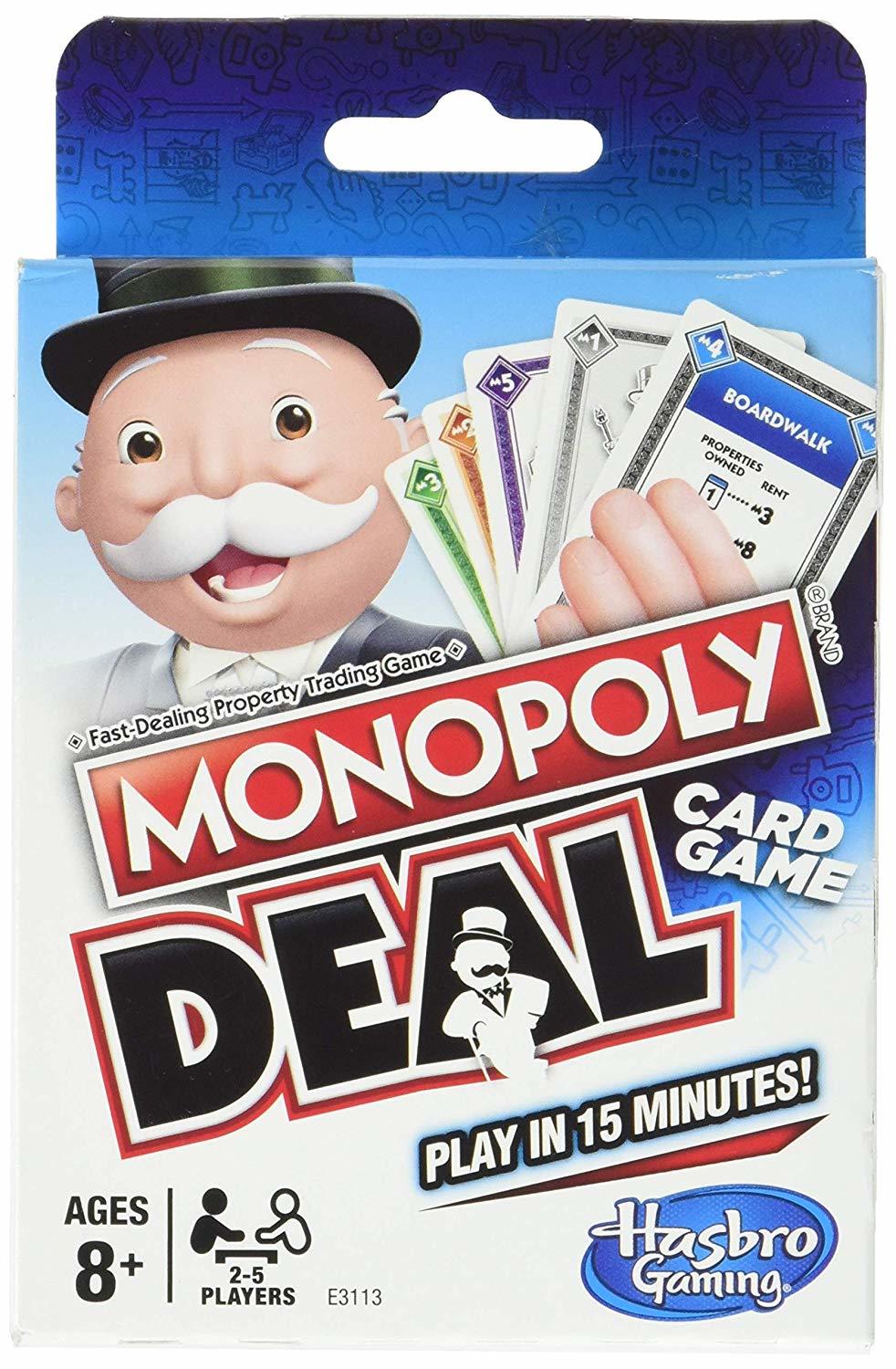 4. Monopoly Card Game: Growing up, who didn't love playing Monopoly with family and friends? Monopoly Deal is a Card game based on the original board game version. It's fast-paced and fun to play – perfect for young and old. Take this card game with you on your travels and you can be sure that even the most boring evening will turn into a fun night – plus, your travel buddies will love you (no promises though)!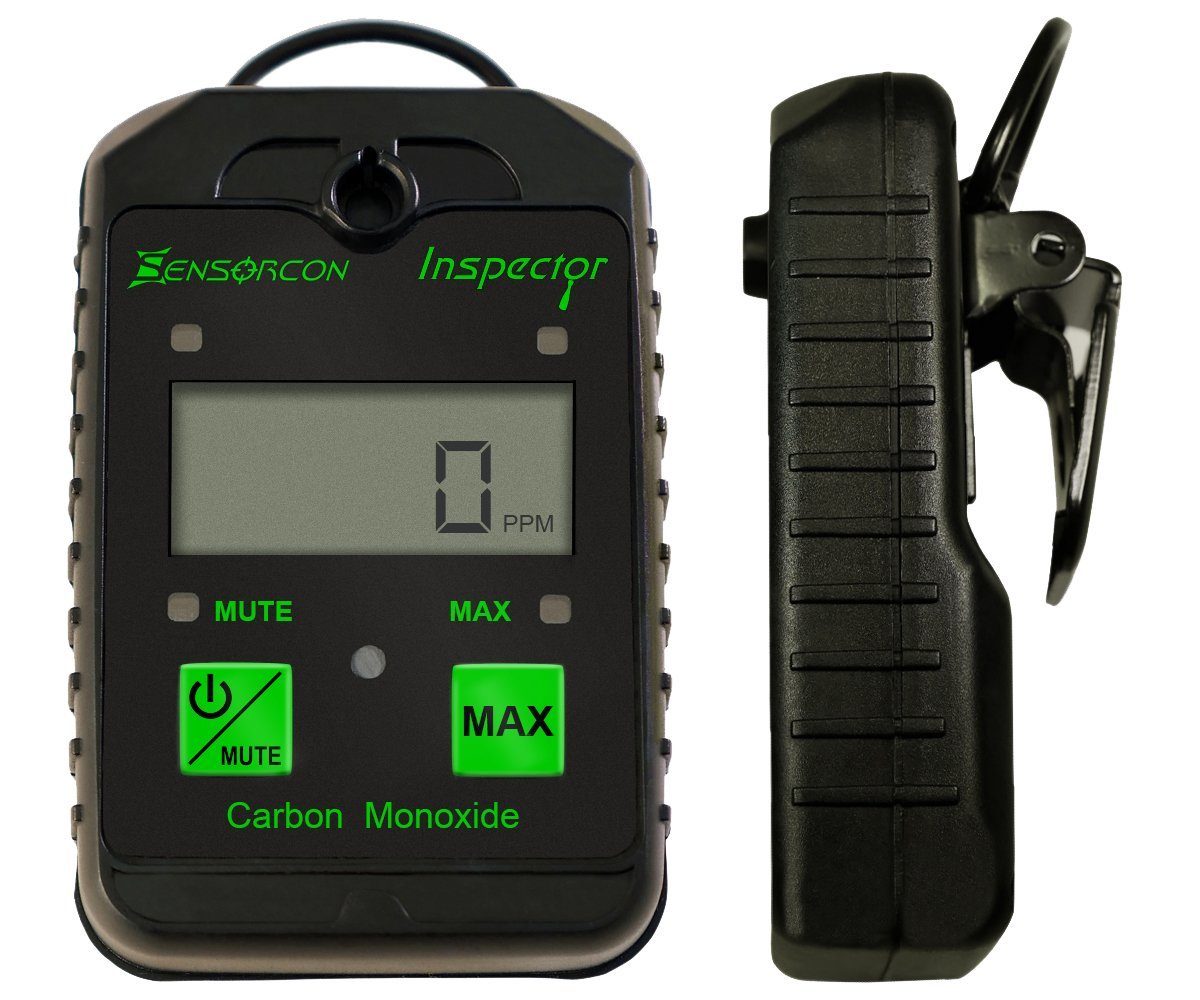 5. Carbon Monoxide Detector: If you're from the U.S. or the E.U., you probably have a CM detector in your home. A lot of accommodations elsewhere don't have any protection installed since there are no fixed regulations for CM monitors. Pack one of these guys for some extra peace of mind.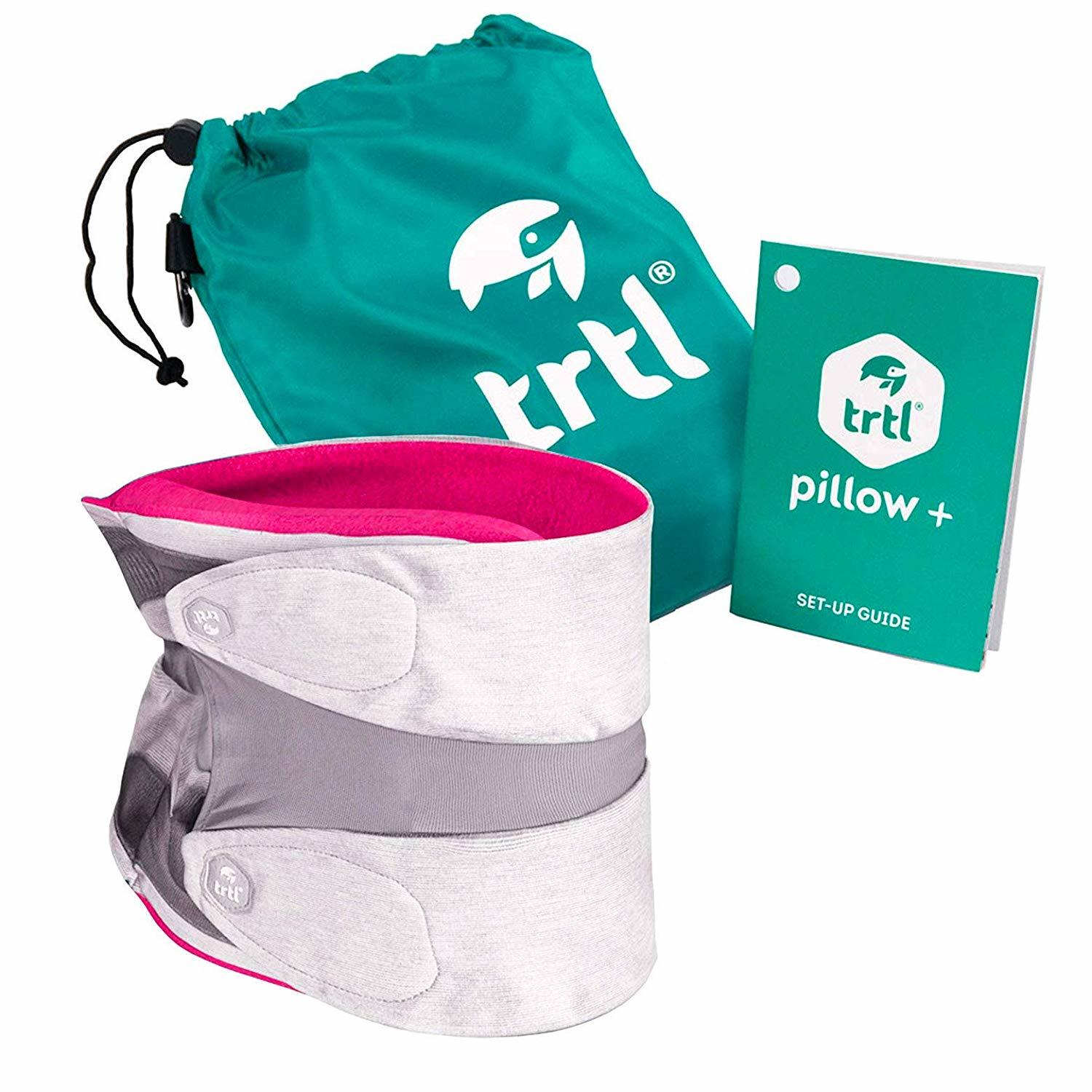 6. TRTL Travel Pillow: Bus and plane rides are definitely not the most enjoyable things in the world, and as far as travel pillows go, most don't add a lot of comforts either. The TRTL travel pillow is a game-changer for long term travels. The ergonomic design supports neck and head, while the internal system provides temperature regulation and safety for your spine. This travel pillow allows sleeping in an upright position – you'll be able to get some proper rest on those 2cm-reclining coach seats!
Check out these other great resources
We have loads more information to help you plan your trip.
Final Thoughts on Hong Kong Airbnbs
Hong Kong is certainly filled with a lot of hustle and bustle, but there is also natural beauty threading in and around the city itself. From the Sham Chun River that runs through Hong Kong, to the mountains that provide a gorgeous backdrop to the skyscrapers, Hong Kong is a wonderful place to plan a trip to!
We hope that one of the Hong Kong Airbnbs on our list suits your fancy and will be the perfect place for you to call home during your Hong Kong trip. These short term rentals are packed with personality and quality amenities, even the Hong Kong homestays are packed with charm and welcoming people.
If you're heading off to Hong Kong you might want to get a fast quote from our friends over at World Nomads Travel Insurance. Whether you catch a cold or you need a helicopter to come pick you up on a mountaintop, they'll have you covered for way less money than you think.
And don't forget to sort your travel insurance before heading to Hong Kong! We've put together a roundup of the best travel insurance for backpackers – check it out here, or if you're low on time, get a quote from World Nomads, our favorite travel insurance provider.
Getting an estimate from World Nomads is simple – just click the button or image below, fill out the necessary info, and you're on your way!

Yay for transparency! Some of the links in this post are affiliate links. This means that if you book your accommodation, buy a book or sort your insurance, I'll earn a small commission at no extra cost to you. I only link to stuff I've actually used and never endorse crap. Your support helps me keep the site going.
---
Need More Inspiration?
Like this post? PIN ME!!!
Lily Allen-Duenas is a wandering yoga instructor, massage therapist, and reiki master healer. For the last two years she's been journeying around the world, teaching yoga on island resorts in Cambodia, surf hostels in Sri Lanka, and wellness centers in the Phillipines. Lily loves building her life around her passions— yoga, health, wellness, and travel. You can follow her journey at wildyogatribe.com or get social with her @wildyogatribe