Hong Kong is quite unlike anywhere else on earth and is chock full of unique and exciting activities. Whether you are visiting for fun, business or simply to experience a different culture, you'll be blown away by everything it has to offer. From its ancient temples to futuristic theme parks and everything in between – Hong Kong literally has it all!
You wouldn't want to arrive in Hong Kong without a plan, as you may end up missing some amazing things to do! While the attractions are relatively easy to access, no matter where you are, there are optimal ways to see and do the best on offer. Which is exactly what we've highlighted in this detailed Hong Kong travel guide!
Best time to Visit Hong Kong
First things first, when is the best time to head down to this beautiful location? There isn't necessarily a wrong time to visit Hong Kong, but each season has pros and cons of its own. The table below is pretty helpful.
| | Average Temperatures | Chance of Rain | Crowds | Overall Grade |
| --- | --- | --- | --- | --- |
| January | 18°C/64°F | Low | Medium | 🙂 |
| February | 19°C/66°F | Low | Calm | 🙂 |
| March | 21°C/70°F | Medium | Calm | 😀 |
| April | 25°C/77°F | Medium | Calm | 😀 |
| May | 28°C/82°F | High | Medium | 🙂 |
| June | 30°C/86°F | High | Medium | 😐 |
| July | 31°C/88°F | High | Medium | 😐 |
| August | 31°C/88°F | High | Medium | 😐 |
| September | 30°C/86°F | Very High | Medium/Mid-Autumn Festival | 🙁 |
| October | 28°C/82°F | Medium | Busy | 🙂 |
| November | 24°C/75°F | Low | Busy | 🙂 |
| December | 20°C/68°F | Low | Busy | 🙂 |
Where to stay in Hong Kong
When choosing your accommodation in Hong Kong, it's good to know that there are several neighborhoods of varying atmospheres to choose from. If you're wanting shopping malls, nightlife and being in the center of excitement, then staying in Hong Kong central is your best bet. Causeway Bay or Wan Chai are also fantastic choices too!
Lantau Island is not only where you will land, but also home to Hong Kong's Disneyland, so this is usually a family favorite location. The Western District is a slightly "quieter" neighborhood, perfect for those who need some peace and tranquility at night. Alternatively, you can stay in Kowloon, which is busy, but full of budget accommodation and backpacker lodges.
The Hop Inn on Mody is a comfy, affordable hostel nestled in the center of TST, Kowloon. There are both female-only and mixed dorms, sleeping 4 – 8 people each. It's the perfect mix of quiet rooms and colorful artistic decor, with open common areas to chill and meet other travelers, making it one of the best hostels in Hong Kong!
Conveniently based in northern Kowloon, this spacious apartment is as cool as the bustling streets outside. With exposed brick walls and quirky egg-shaped chairs, it's every hipster's dream – minus the avocado. It also boasts high-speed WiFi, 24-hour security and easy access to the subway.
Check on Airbnb
Best budget hotel in Hong Kong – Ovolo Southside
This may be budget accommodation, but it certainly won't seem like it when you're there. The hotel has 162 rooms, each as comfy and stylish as the next. The floor-to-ceiling windows show off the beauty of Hong Kong, while you rest comfortably in your soft, relaxing bed! Enjoy in-room comforts, as well as on-site extras such as a restaurant and fitness center.
Best luxury hotel in Hong Kong – The Upper House
If you're looking for sophisticated luxury, The Upper House is where you want to be. Located in the Central District, guests can easily access and enjoy the many attractions to be found in the area. This hotel features large, spacious rooms and all modern amenities. With gorgeous views, elegant decor and an all-around luxurious feel, you won't want to go home after staying here!
Hong Kong itinerary
Wherever you choose to base yourself in Hong Kong, you'll have easy access to transport and accessing the attractions and sights on this itinerary will be a breeze. Taxis in Hong Kong are cheap and come by often, and the Star Ferry shuttles crowds across from the main island to Kowloon and back often each day.
If you are visiting Hong Kong for the weekend then the business and financial districts will be quieter but the shopping areas and temples may be busier.
Day 1 Itinerary in Hong Kong
Big Buddha | Peak Tram | Hollywood Road | Tai Kwun | Quarry Bay | Symphony of Lights | Drinks at the Old Man
Stop 1 – Visit the Big Buddha
Why it's awesome: See the second-largest seated Buddha in the world.
Cost: Free unless you want to go inside (in which case purchase a meal ticket ranging from Us $ 9 – 13)
Food Recommendations: The Po Lin Monastery is home to the Tian Tan Buddha, here you'll find the Po Lin Kiosk, the Po Lin Restaurant, and the Deli Vegetarian Cafe.
The Tian Tan Buddha stands at 34 meters high and is a must-see for any trip to Hong Kong! You can visit this ginormous statue any day of the week. To get to the platform that the statue sits on, you'll need to walk up the grueling 268 steps – quite a workout, but oh so worth it!
For those with mobility issues, or simply unable to fathom a 268-step climb, opt for the small, winding path that leads up to the Buddha instead! Once at the top, you'll have insaaaane views of Lantau Island, as well as a close-up look of this huge landmark.
You can choose to go inside the statue, there are 3 halls inside and they are full of Buddhism relics and interesting items. However, staying on the outside of the statue doesn't mean you'll miss out on anything though. You'll be able to catch some fabulous photos either way!
Day 1/Stop 2 – Go up the Peak in the Peak Tram
Why it's awesome: View Hong Kong Island from the highest peak – and have a ton of fun!
Cost: US $13 for a return ticket, including a tram ride and Sky Terrace entrance.
Food Recommendations: Settle in at Hong Kong Day, for some Hong Kong-style milk tea and delicious french toast with views over the surrounding town.
Victoria Peak is the highest point on Hong Kong Island and draws a crowd of tourists each day. This mountain stands at 552 meters above sea level and was used as a natural signal for cargo ships in the 19th century. Today, it is simply a beautiful place to visit and enjoy!
On top of the peak, you will find The Peak Tower. Inside this fantastic building, there are shops and restaurants galore, as well as Sky Terrace 428 – Hong Kong's highest outdoor observation deck! Madame Tussaud's Wax Museum can also be found inside The Peak Tower.
At the peak, visitors can also take advantage of the Madness 3D Adventure experience, the Post Love to the Future mailbox, and the amazing nature walks available.
Coffee Lover? Be sure to get a cup of Pacific Coffee – voted the best coffee in Hong Kong!
Day 1/Stop 3 – Stroll down Hollywood Road
Why it's awesome: lots of arts and culture galleries and places of interest to visit
Cost: Free to explore – only pay for food and gallery/temple entrances where necessary.
Food Recommendations: Stop in at Grassroots Pantry for a healthy, organic brunch.
Hollywood road is one of the oldest, and most famous, roads you will find in Hong Kong. It is approximately 1 km (0.6 miles) long and features many cultural and historic landmarks.
Fun Fact, Hollywood Road was built and named in 1844, before the famously known Hollywood, California! Along this road, you will find art galleries, museums, and temples galore. These show off the history of Hong Kong, and the culture that the state has preserved all these years.
Some attractions to look out for:
Man Mo Temple
Hollywood Mural
Hollywood Road Park
Liang Li Museum
Insider Tip: Although not quite on Hollywood Road itself, you should definitely make a detour to check out the Alex Croft G.O.D graffiti wall in Graham Street.
The Best Travel Backpack?!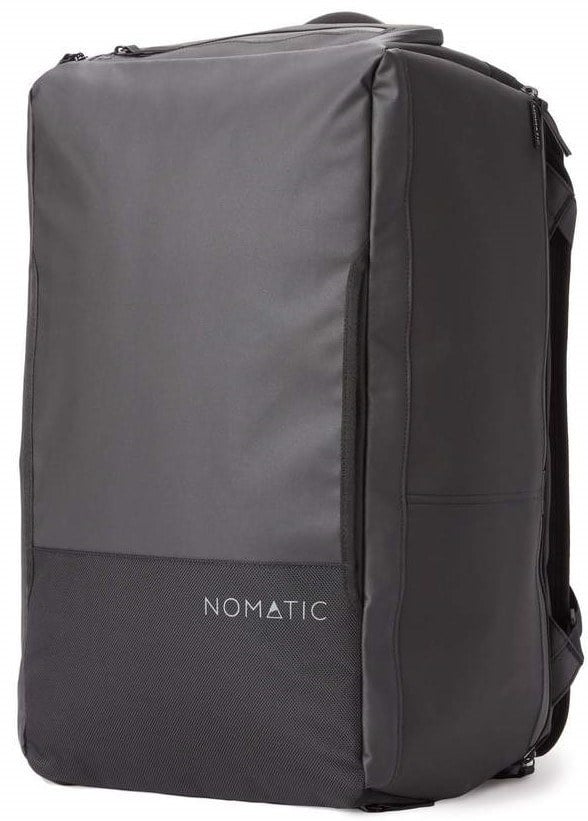 Pssssst! Not picked the perfect travel backpack yet? The Broke Backpacker team has tried out over thirty backpacks this year! Our favourite carry on backpack is the Nomatic Travel Bag.
Read our full review!
Day 1/Stop 4 – Tai Kwun Centre for Heritage and Art
Why it's awesome: Learn more about the history of Tai Kwun and Hong Kong in general.
Cost: Free to enter the center.
Food Recommendations: A host of beautifully designed, contemporary and stylish restaurants have opened their doors in Tai Kwun. You can't go wrong, whichever you choose!
This newly-restored center in the heart of Central HK is a must-see while in Hong Kong! You don't need long to explore it, but it is well worth a visit.
As the name suggests, it's a center full of Hong Kong's heritage and many forms of art. From music and performing arts to workshops and events, chances are that whenever you visit, there will be something interesting happening!
It is advised that you book a pass, which will guarantee your entry. During peak times, the center only allows a certain number of people in, so you are not promised a spot unless you have the pass!
Day 1/Stop 5 – Quarry Bay Park
Why it's awesome: A large space full of nature, sports and relaxing views.
Cost: Free
Food Recommendations: You can find a delicious seafood lunch at the Cull 'n Pistol, just outside the park.
The Quarry Bay Park is a leisure park, perfect for a break in your day. Relax after all that exploring and enjoy some downtime in this big open space!
The park offers some great active options! If you're in a group, you can try out the tennis courts or basketball courts. There are also fitness stations dotted around the park, so you can burn some calories and stay fit if you feel the need.
Mostly, though, this is the perfect spot to chill. The most relaxing places in the park are likely the Tai Chi garden, the lookout tower, the seafront promenade, and the conservation center. You can also view some of the amazing plants in the gardens.
Be sure to check out the Fireboat Alexander Grantham Exhibition Gallery before you leave!
Day 1/Stop 6 – The Symphony of Lights
Why it's awesome: One of a kind dazzling show of lights and music.
Cost: Free to watch the show
Food Recommendations: Enjoy a dinner buffet as you watch the lights show from a table in Congress Plus.
Each night, at exactly 8 pm, tourists and locals will make their way to the harbor to amaze their senses with the Symphony of Lights show! This show is a mix of dazzling lights and glorious orchestra music.
It can be seen from both the Hong Kong main island and Kowloon and is one of the top attractions in Hong Kong. As well as from The Peak, and other rooftop bars and lounges, but from those spots, you won't be able to hear the music… So why not just take a boat cruise and enjoy the show from the water??
The best way to see the show is to find a comfy spot, preferably where they serve dinner and drinks and sit back to relax. The show only lasts around 10 minutes, but it's a definite must-see!
Day 1/Stop 7 – Drinks at the Old Man
Why it's awesome: Enjoy a quiet drink to end off your evening.
Cost: Expect to fork out around US$4 for a drink.
Food Recommendations: To complete the classy theme, find an elegantly crafted meal at Gough on Goughs.
Whether you are a Hemingway fan, or not, The Old Man is sure to delight and entertain you! This cozy bar has been fashioned in a way that honors Hemingway and his love of literature.
Ready for some classy and seriously elegant cocktails? Bingo! This venue is the ultimate place to end of a busy day. The quiet atmosphere and innovative drinks are sure to be the cherry on top of a perfect first day in Hong Kong!
Insider Tip: This is not a place for cheap drinks and getting drunk. It's very much an experience, so expect to pay a little more than usual.
In a rush? This is our favorite hostel in Hong Kong!
Hop Inn on Mody
The Hop Inn on Mody is a comfy, affordable hostel nestled in the center of TST, Kowloon. There are both female-only and mixed dorms, sleeping 4 – 8 people each. The hostel is the perfect mix of quiet rooms and colorful artistic decor!
$$

Free WiFi

Linen Included
Visiting Hong Kong? Don't risk having to sit on the floor or change your itinerary because you missed the last ticket at the station! Find the best transport, best time and the best fare with Bookaway. And why not use what you've saved to treat yourself to a nice convenience-store beer on arrival?
It only takes 2 minutes! Book your transport on Bookaway now and guarantee your seat easily.
Day 2 Itinerary in Hong Kong
10, 000 Buddhas | Kam Shan | Sham Shui Po | Ladies Market | Yau Ma Tei Theatre | Ozone
Stop 1 – 10, 000 Buddhas Monastery
Why it's awesome: Enjoy a serene visit to these spectacular temples.
Cost: Free
Food Recommendations: Enjoy delicious coffee and a light, refueling meal at Beans Cafe, just down the road.
Day 2 starts in the north of Kowloon, at the 10, 000 Buddhas Monastery. Slightly off the beaten path, on a hill in Sha Tin New Territories, sits the 5 temples, 4 pavilions and 1 pagoda that make up the 10, 000 Buddhas Monastery! To get there, from Kowloon, it takes around an hour if you take the bus, a taxi cab could do the trip in around 20 minutes too.
Fill up on a big breakfast before you leave, because this is going to involve a lot of walking! There is much to explore once you are here, and with a long hill and many steps to climb, those with mobility issues will, unfortunately, find this a hard activity to take part in.
Take a walk through the forest – beware of the wild monkeys though – and take your time to really appreciate the serenity that this place offers. Many people come here to meditate and reflect on their thoughts.
Insider Tip: Contrary to the translation of its name, the monastery houses 13, 000 Buddha statues in total.
Day 2/Stop 2 – Picnic Kam Shan Country Park
Why it's awesome: Brilliant nature walks.
Cost: Park entrance is free.
Food Recommendations: If you haven't brought along your own picnic, the park's kiosks are there to get food from.
Before we head back to the city, one more stop in a nature lover's paradise is exactly what you need. The Kam Shan Country Park is a beautiful spot!
If you're using public transport, you'll need to set aside about an hour and a half to reach your destination. If you can find a taxi cab, though, you can take a short 9-minute drive to reach the park.
Once there, you can look forward to being greeted by a horde of monkeys! These cute little creatures are quite an attraction for most visitors to the park, but careful that they don't steal your lunch!
Inside the park, you can revel in the natural beauty. From bird-watching to nature walks, and even simply sitting still to enjoy the foliage and fauna, this is a great spot for a mid-morning picnic! The park is fully equipped with public toilets, seating areas, and food kiosks.
Day 2/Stop 3 – Sham Shui Po
Why it's awesome: Find some of the best Hong Kong food available.
Cost: Things are cheap here but it depends on what you buy.
Food Recommendations: Go on a Sham Shui Po food tour! From all-day dessert to famous Dim Sum and everything in between.
Sham Shui Po is a district you can't miss on your Hong Kong trip! Firstly, you absolutely must try out Tim Ho Wan, the district's only Michelin-star restaurant, offering some of the best Dim Sum you'll ever eat.
You can visit the many shops, from clothes to electronics, and even toys! There are many a special and sale to be found along these crowded streets too, so keep your eyes peeled.
The main attraction, though, is the food! We suggest walking around for a little while, just enough to gain an appetite, you know? Then, make your way through your list of faves – bite-by-bite. Try out a 3-course traveling meal – doing each course in a different eatery.
Day 2/Stop 4 – Ladies Market
Why it's awesome: Great place to find souvenirs and gifts for home.!
Cost: Only pay for what you buy.
Food Recommendations: This is the best place to try out some street food stalls. Find one of the many vendors located throughout the market.
You don't need to be a lady to enjoy the Ladies Market in Mong Kok. You can find great discounts on almost anything here – especially clothes! Although we make no promises about the quality of the goods.
Made up of independent vendors, the market is really a gathering of all sorts! Even if you're not looking to stuff your suitcase full of items to take home, this market is the ideal place to view Hong Kong life as a local.
Insider Tip: You may find very cheap brand names here – know that these are most likely really impressive knock-offs.
Day 2/Stop 5 – See the Yau Ma Tei Theatre
Why it's awesome: Fantastic cultural performance.
Cost: Around US $250 for a performance.
Food Recommendations: You can find a delicious meal at Our Restaurant.
Whether or not you're an avid Opera fan, visiting the Yau Ma Tei Theatre is a great place to visit on a trip to Hong Kong! The theatre is 100 years old and holds much of Hong Kong's history in its walls.
You can take a guided tour of the theatre and learn more about the kinds of efforts that goes into running such a theatre, as well as learn about the building's history.
Hoping to catch a real-live opera performance? Have a squiz at the schedule to see when they are on. You can also book an opera singing class at the theatre – who knows, you may go home an opera singer!
Day 2/Stop 6 – Cocktails in the Sky at Ozone
Why it's awesome: Have a drink in one of the world's top 10 highest bars!
Cost: Drinks are quite expensive – around US$25 for a cocktail.
Food Recommendations: Ozone has its own a la carte menu that you can order from.
Provided you're not afraid of heights, this is an experience you should have at least once in Hong Kong. The Ozone bar is listed on the list of the 10 highest bars in the world! It's situated on floor 118 of The Ritz-Carlton hotel. The elegant, rich decor gives the bar a classy feel, and the large windows allow for the perfect
The friendly staff, delicious cocktails, and breathtaking views make this an experience on its own! You can get anything from beer to top-quality whiskeys and wines. Their menu includes sushi and scrumptious tapas, so you can easily enjoy a luxury dinner on the terrace, overlooking Hong Kong.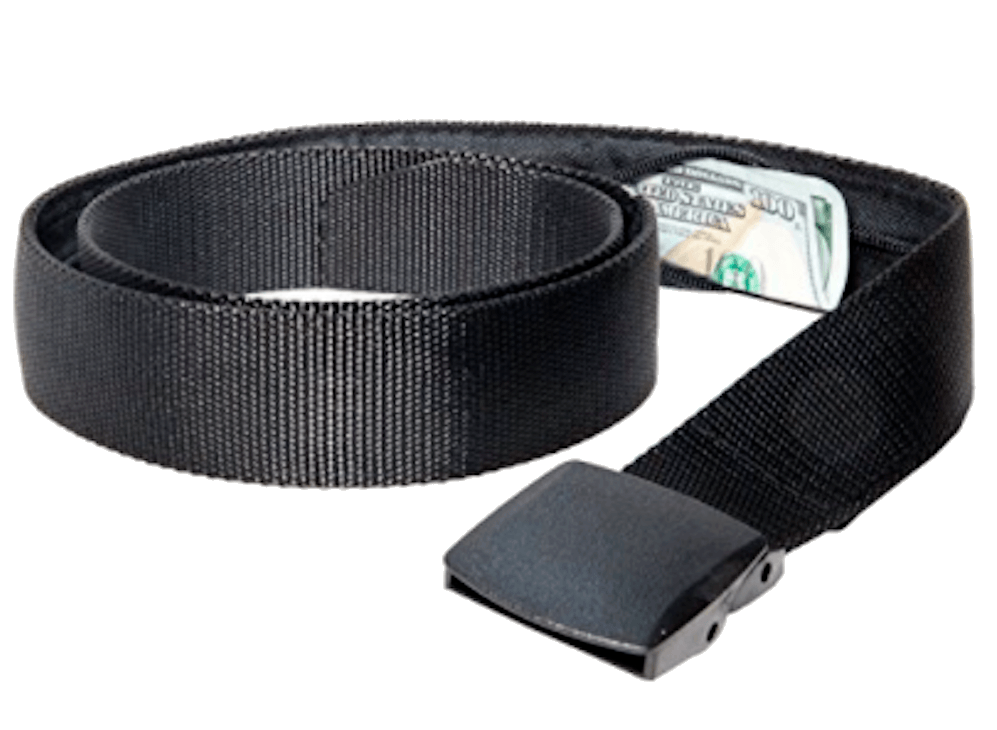 You should always have emergency cash hidden on you – pick up this awesome security belt with its hidden pocket before you travel, it's perfect for hiding money, a passport photocopy.
Day 3 and Beyond
Ocean Park | Hong Kong Disneyland | Lamma Island | Tai Chi Class | Dragon's Back
Aside from the itinerary, there are loads more stuff to do in Hong Kong. If you're lucky enough to be spending three or more days in this exciting city, be sure to check out some of these exciting, quirky and memorable activities!
Ocean Park
US $62 for 1-day general admission.
Enjoy rides, attractions and even shopping!
Great fun for solo, couple and family group travelers.
The Ocean Park in Hong Kong is so much fun, you really need an entire day to fully enjoy it! You'll find adventure rides, bumper cars, a cable car, jumping castle, even wet rides. You would want to miss the chance to visit the many animal encounters, from koalas to pandas and marine animals, too!
To eat, there is a list of amazing restaurants, as well as food kiosks for a quick bite in between the fun! You can get anything from traditional Hong Kong dishes to seafood. There are also some amazing desserts, cakes and other sweet dishes available from the several restaurants and bakeries.
Shopping is an experience on its own in the park! Check out the Waterfront Gift Shop and take an ocean-themed souvenir home with you, or go to The Panda Kingdom Shop and pick one of the many panda-related gifts on offer there.
The park is big on conservation! The seafood served in the restaurants is all sustainable, they encourage visitors to bring reusable bags, and charge for plastic bags to be taken when shopping or taking home doggy bags. They also offer conservation resources on their website and app.
Hong Kong Disneyland
US $79 for a standard entrance ticket
A full day's worth of fun
Rides, attractions, shopping, Dining and accommodation available!
Spending several days in Hong Kong and not going to Disneyland just wouldn't be right at all!
Navigate your way through 7 themed areas, namely:
Adventureland – enjoy thrilling adventures like visiting Tarzan's Treehouse!
Grizzly Gulch – a wild western experience; fasten your seatbelt for thrilling rides!
Main Street – learn more about Disney's world of animation; get on some slower rides.
Mystic Point – everything mystical and magical; explore and discover, with some slow rides.
Tomorrowland – step into the future with some BIG, LOUD and thrilling rides!
Toy Story Land – dive into the world of toys, with a mix of big drops, thrilling rides, smaller rides, and some awesome character experiences!
Fantasyland – explore the magic of Disney with slow rides and character experiences such as Winnie the Pooh and Dumbo the Flying Elephant!
As well as rides, you can enjoy fantastic entertainment! Watch Moana on stage and meet Chip n Dale on Main Street! Or, if you're looking for some more sophisticated entertainment, go and check out the Hotel Orchestra at the Disneyland Hotel.
Stop off for a bite to eat at one of the many themed eateries, from fancy restaurants like Chef Mickey to quick foods and outdoor carts like the Lucky Nugget Saloon.
Ready to
Ferry over to Lamma Island
Great scenic cycling trails
Multicultural island
A short 20-minute ferry ride from the main island
If you're in Hong Kong for an extended period, a trip to Lamma Island is absolutely worth it! This fishing village-turned multicultural hub is home to many different types of people and offers some splendid sights.
You can hike the Lamma Island family trails or take a breathtaking cycle around the island. Fill up on a delicious lunch at the Rainbow Seafood Restaurant. Then, make your way to the Lamma Fisherfolks Village where you can learn about this community and even take part in some of their fishing activities if you wish to!
You can spend a good 7.5 hours doing the sea kayaking and hiking tour around the island – a wonderful, active way to spend a day! Be sure, though, that you don't leave the island before grabbing a coffee at the Book Worm Cafe. Sit down with a good book – read one of theirs or bring your own – and relax after a day of walking!
Other sights to see are the power station, the wind power station, and so many gorgeous picnic spots and beaches to relax in. Whether you visit the island for an entire day or just a few hours, it makes for a great break from everyday life! If you need to stay over, there are affordable and comfy spots to rent a room on the island as well.
Take a Tai Chi Class
Take your pick between free open groups and paid smaller groups
Great activity to embrace the culture
Learn a new skill to take home
Tai Chi is an ancient Chinese martial art, known for its health benefits. If you've never tried it before, doing a class in Hong Kong is a brilliant idea! Not only will you be learning from masters of the art, but the culture of the activity is well-preserved as well.
You can find many places to catch a Tai Chi class, most are free and open, taking place in public spaces. Some of these will have numbers or emails where you need to book ahead of time, while others let you simply drop in and find a space! These will usually be in a public park, under the shade of a large tree or next to a calm body of water.
The carefully choreographed moves, along with the peaceful setting allow for a tranquil, yet energized experience! This truly is a rejuvenating activity for both body and mind.
If you prefer to learn in a more private setting, you can book one of the private classes on offer, which are not free but offer you some privacy in a smaller group.
This is actually something you can do on more than just one occasion, if you find the right spots, you can try and catch a Tai Chi class each morning of your stay.
Dragon's Back
Voted Asia's Best Urban Hiking Trail by TIME Asia in 2004
Ann easy, scenic hike
Amazing views of the beaches below
Hiking Dragon's Back is thought to be the best way to start a hiking habit! The peak is easy to access and doesn't require a very high level of fitness. The scenic views are well worth the climb as well, as from the top of the ridge you get to see a more natural side of Hong Kong.
The name, Dragon's Back, comes from the shape of the spinal ridge. The ridge is situated between the Wan Cham Shan and Shek O Peak.
The ridge is a 4-hour bus ride from Central Hong Kong. It is best to do the hike before it gets hot, so you'll want to leave quite early in the morning or find closer accommodation for the night before. The bus will bring you right to the foot of the ridge, allowing you to start your hike without too long of a pre-walk!
There are different hiking options, ranging from 5 – 8 km, and will take around 2 to 3 hours. Finishing the hike will leave you either at the bus stop, where you can take a bus to Shek O Beach, or it will take you right to Big Wave Bay beach, depending on the route you decide to take.
Once the hike is done, you can enjoy the afternoon soaking up the sun on the soft beach sand. There are also some great lunch spots to fill you up for your trip back to your hotel.
Don't forget to pack a good book!
Fodor's Hong Kong Full-color Travel Guide : This is our top recommendation for an awesome and inspiring read on this magical city.
Staying Safe in Hong Kong
Hong Kong is relatively safe and violent crime is rare. There is a signifciant criminal underworld in Hong Kong but it is not a concern tourists or backpackers in Hong Kong need worry about. However, always travelers are encouraged to stay vigilant when in crowds and to keep valuables safe.
There is a high police presence all throughout Hong Kong, which creates a safe feeling for both locals and tourists.
The public transport in Hong Kong is relatively safe and reliable, and walking through the streets and parks shouldn't be an issue! If you a female traveling alone, however, take the necessary precautions and try not to walk down secluded streets on your own, especially at night.
Don't forget to sort your travel insurance! We've put together a roundup of the best travel insurance for backpackers, or if you're low on time, get a quote from World Nomads now, our favourite travel insurance provider.
Getting an estimate from World Nomads is simple – just click the button or image below, fill out the necessary info, and you're on your way!

Day trips from Hong Kong
Whether you're looking for a trip to a neighboring city, or simply an organized tour around Hong Kong, this list should be helpful in choosing what you need!
Night at Sky100 Observatory With Sparkling Light Show
Get your pass to Hong Kong's Sky100 Observatory and marvel at the beauty of the skyline at night! The observatory is located on the 100th floor of the International Commerce Centre (ICC), allowing for majestic views of Hong Kong below. Take the super fast elevator that will get you up there in just 60 seconds!
This activity includes your entrance into the observatory after 6:30 pm, just in time to get a great view of the Symphony of Lights show! You'll also get to enjoy the Observatory's own light show on their large deck windows. The activity includes dinner as well, with accompanying wine to complete the evening.
Premium Hong Kong Island Tour with Dinner Cruise Light Show
This 9-hour tour will show you the absolute best of Hong Kong, and it's a great idea if you only have one day to spend in this majestic destination! Hotel pickup is arranged between 12 pm and 1 pm, allowing you to have a slow morning. Then, the tour guides will proceed to take you through Hong Kong's Central District.
See some of the best attractions throughout Hong Kong and relax as you are guided by knowledgeable tour guides. The tour includes entrance to all the major attractions, such as the Peak Tram, Sky Terrace and the Star Ferry trip to Kowloon! You'll also be treated to a dinner cruise, from which you'll be able to watch the Symphony of Lights show up close.
Hong Kong: Deluxe Island Tour and Lunch
This Hong Kong Tour is a full 7 hours and will take you around the island in an air-conditioned coach, as you sit back and relax. There is also a ride on the double-decker tramway from Happy Valley to Causeway Bay, with stops along the way that introduce you to the local life!
The tour includes all the major landmarks and attractions and gives you ample opportunities to take gorgeous photos along the way! Take the tram up to Victoria Peak and spend some time up there; visit the Sky Terrace and enjoy a delicious meal on board the Jumbo Kingdom floating restaurant. Your tour includes entrance to all stops as well as your meal!
Venetian Macau: Gondola Ride with Ferry from Hong Kong
If you're in the mood for a more romantic activity, take advantage of this idyllic gondola ride through the canals of the Venetian Hotel. The trip includes the ferry ride from Hong Kong to beautiful Macau and back., making it the perfect day trip during your stay!
You have a choice of 3 routes, each as picturesque as the next – you really can't go wrong! The gondoliers are skilled at their jobs and will take delight in singing opera and chatting you (without interfering with your romantic moments) as they skillfully navigate through the canals. Food and drinks are not included in the tour, but you can easily find a fantastic spot to sit and enjoy a meal before you head back to Hong Kong.
Hong Kong: Water Sports or Island-Hopping Cruise
Choose between water sports or an island-hopping cruise, enjoying a day out on the sea and soaking in the Hong Kong sun. Both cruises offer a light breakfast, buffet lunch, and unlimited drinks – alcoholic and non-alcoholic.
The watersports cruise will take you along Victoria Bay, starting with a slow trip down the coast. Then, you have a choice of which water activities you'd like to take part in. Spend the day enjoying the water, stopping only for a scrumptious buffet lunch, and making your way back to land as the day ends!
The Island-hopping cruise is a great chance to see some of the smaller islands of Hong Kong. Dock at Lamma island, among others, and get a first-hand look into island life. Spend your day exploring, enjoying good food and drinks, and seeing Hong Kong from a new perspective!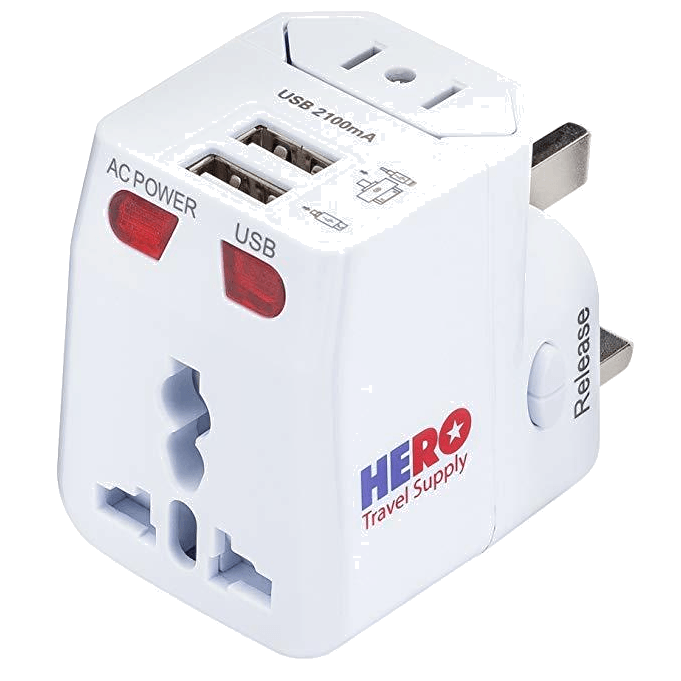 One of the best investments you can make is a
worldwide travel adapter
that will work anywhere! The one featured here is tough, reliable and a solid buy – Don't leave home without one.
GET IT HERE
Conclusion
Now, you can easily plan your trip to Hong Kong, knowing where you should go and what you should do when there! All there is to do now is book your trip and decide how long you have to spend there. Be double sure that you make time to try out Hong Kong's food – as this is usually a large part of the enjoyment for visitors!
We hope you found valuable information in this Hong Kong guide, and that you're able to travel Hong Kong with the knowledge you need. Also remember that in between the larger, better-known attractions are tiny sights and scenes that are not often found in other parts of the world. Keep your eyes peeled and be sure to arrive in Hong Kong ready to learn and embrace all their culture has to offer you!
Yay for transparency! Some of the links in this post are affiliate links. This means that if you book your accommodation through the site, The Broke Backpacker will earn a small commission at no extra cost to you. Your support helps me keep the site going.
---
Need More Inspiration?
Like this post? PIN ME!!!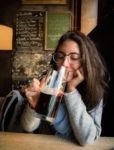 Writer and Editor, Ana Pereira is a California native, inspired by Earth exploration and introspection. Recently, she spent several months exploring Africa and South Asia. She spends most of her "down-time" out in the wilderness, climbing, hiking, and beyond, and is feverishly passionate about travel and health.