The semi-autonomous trading province of Hong Kong is world famous as a big, gleaming metropolis. It's a Mecca of high-rise buildings and bustling streets. In fact you could easily be fooled into thinking this region was simply a city and nothing more. But you'd be wrong…
With its skyscrapers vs. sea and mountains outlook, hiking in Hong Kong is more natural than you'd think. The undeveloped, hilly terrain hugging high-rises, makes hikes here exciting, challenging, and they come with the bonus of awe-inspiring views of the city sprawl.
In a region that's more known for night markets and rooftop bars, the hiking scene here is underrated. Lucky for you, because that (often) means uncrowded trails.
Like anywhere in the world, you'll need to be prepared on any of its trails. But it's totally worth it. As long as you have the right knowledge and kit, you'll have the most unforgettable trip ever.
To help you out we've created this handy guide to hiking in Hong Kong, listing the best hikes, how to get to them, what to take with you, and more. Let's get hiking!

Do You Want to Travel FOREVER??
Pop your email in below to get a FREE copy of 'How to Travel the World on $10 a Day!'.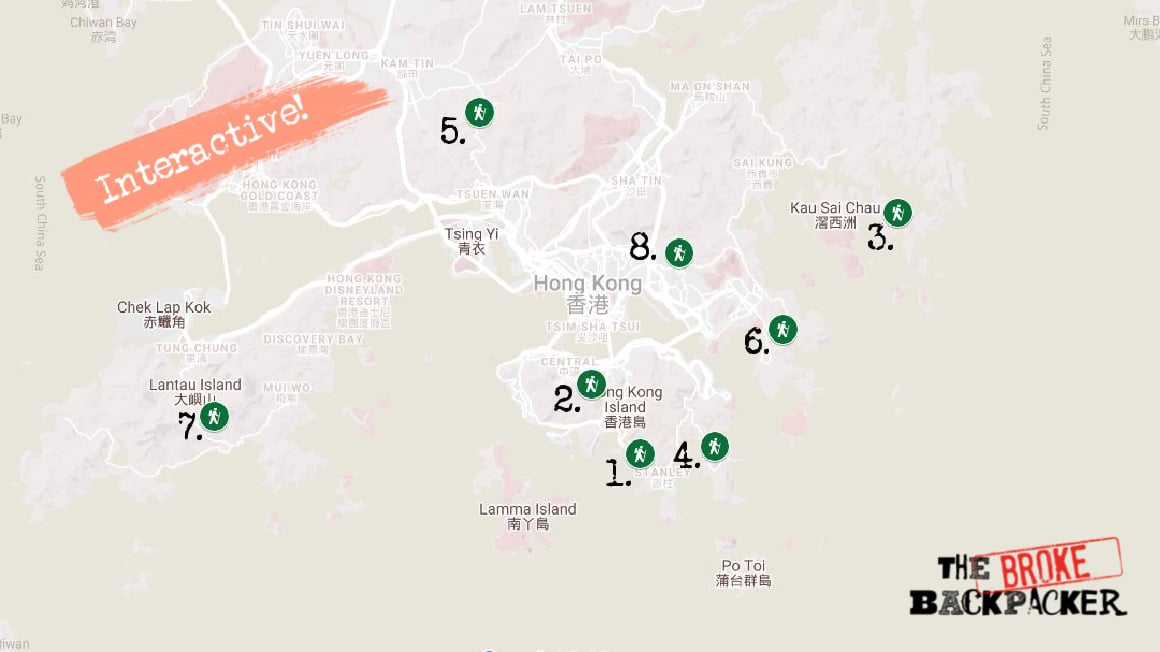 Hong Kong is mainly thought of as just a massive city and most visitors don't really stay outside. To a certain extent, that is true. But in between pockets of ultra-dense urban population, high-rises, and skyscrapers, there is a surprising amount of undeveloped terrain.
It's undeveloped for basically only one reason – it's mountainous. Too hilly for humans to make any development here worthwhile. That means much of Hong Kong is quite untouched by any type of concrete complexes.
No wonder they build upwards here and reclaim land for property development: there are just so many jagged mountains to deal with.
In fact, around 40% of the land area of Hong Kong is made up of Country Parks, which are like national parks. There's a diverse ecosystem present in Hong Kong, with around 3,000 species of plants thriving in the humid, subtropical climate.
The trails here may not be well known, but they are beautiful. They have an adventurous feel to them, with plenty of jungle terrain to trek through, steep stairways, ridge walks, and – almost always – amazing views.
Hiking in Hong Kong can be challenging. The heat can put extra stress on your body, so you'll have to make sure you carry enough water. Rest stops are not easy to come by. Some of the more difficult hikes have sheer drops to contend with, while the tropical climate can bring tropical downpours, making routes more treacherous.
Don't worry, though; we'll be getting deep into Hong Kong's best hikes, so you know where to stay, exactly how to tackle them, and how to stay safe when you're out on the trail.
Hong Kong Trail Safety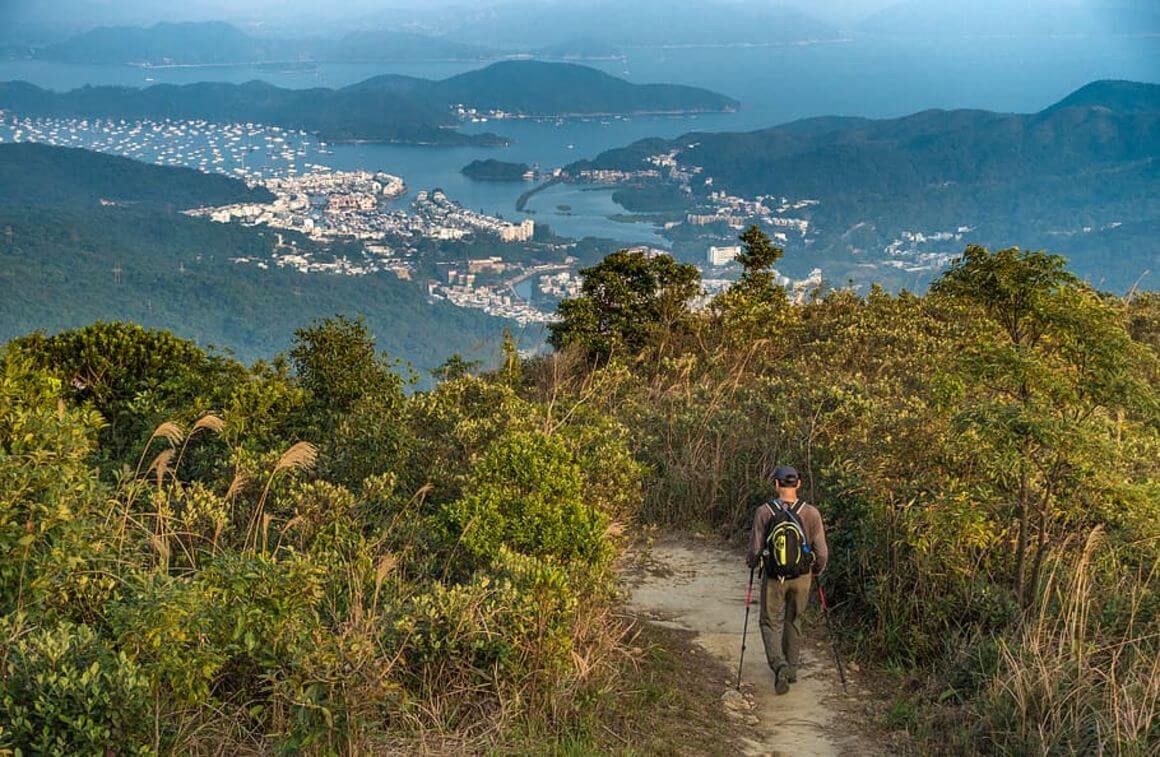 As with any hiking destination in the world, if you're deciding to hit the trails in Hong Kong, you should be prepared.
We're going to run through some practical safety tips so that you can fully enjoy the beautiful landscapes that Hong Kong has to offer, without worrying.
The number one key to hiking in Hong Kong is to plan your journey. It's never a good move to spontaneously decide to start hiking up a mountain just because you see a signpost while you're out in the city.
The solution? Plan in advance. This is as much knowing where you're going and how to get there as it is assessing your fitness level.
It also means being prepared with the correct equipment. Years-old trainers with no tread left – or flip-flops – just won't cut it. You'll need proper hiking footwear with good grip. Check out our day hike packing list at the end of this article for more insight into what you need to take with you.
Another point is staying hydrated. Hong Kong gets seriously hot, and pushing yourself as you clamber uphill in the heat and humidity puts a strain on the body. Adequate water supply is essential.
Check the weather before you go. Tropical downpours in Hong Kong can make routes seriously slippery; pay attention to the weather forecast before you head out on any trail.
Also, note that a lot of hikes in Hong Kong feature steep cliff edges and ridges. For this reason, it's best to keep away from edges and avoid shortcuts. Hiking with a buddy is also something we'd highly recommend.
To top it all off, make sure you've got insurance. Good travel insurance is must-have anywhere in the world, hiking or no hiking.
ALWAYS sort out your backpacker insurance before your trip. There's plenty to choose from in that department, but a good place to start is Safety Wing.
They offer month-to-month payments, no lock-in contracts, and require absolutely no itineraries: that's the exact kind of insurance long-term travellers and digital nomads need.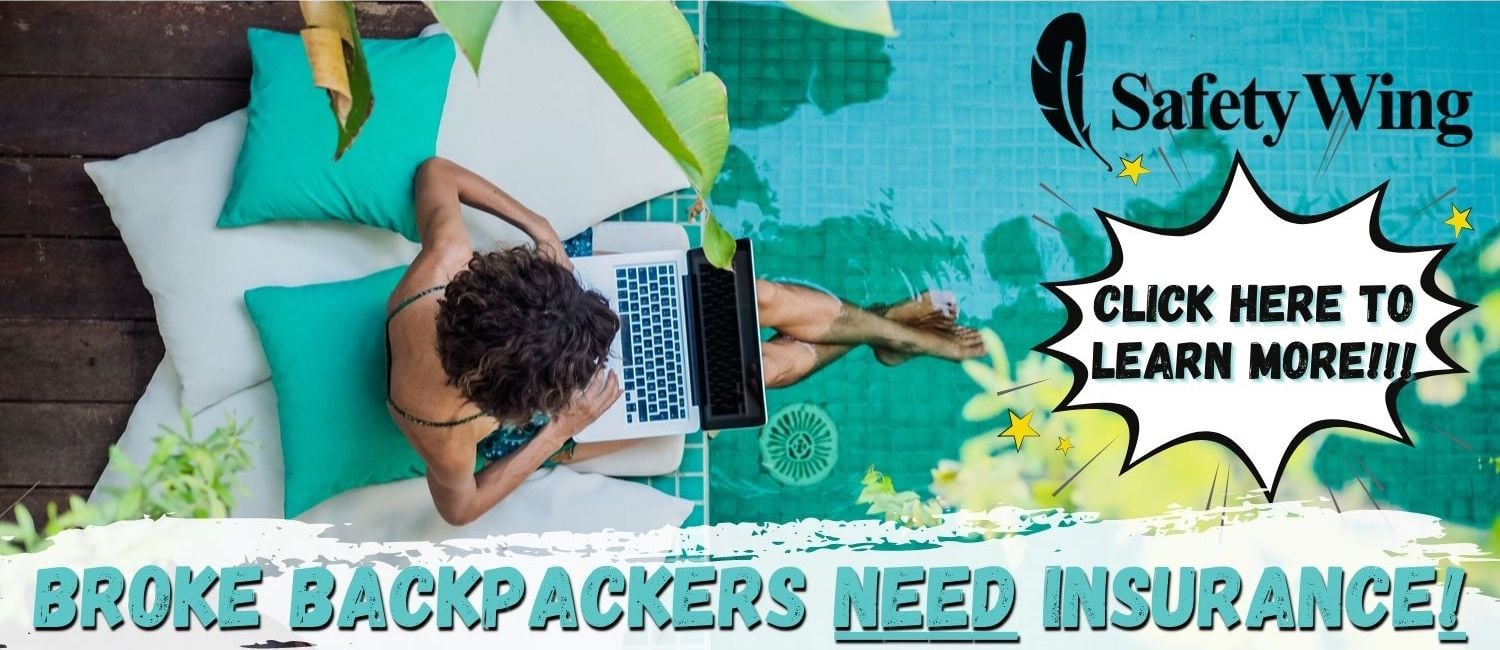 SafetyWing is cheap, easy, and admin-free: just sign up lickety-split so you can get back to it!
Click the button below to learn more about SafetyWing's setup or read our insider review for the full tasty scoop.
Without further ado, here are the very best trails Hong Kong has to offer – from the easy to the challenging. There's something for just about everyone, and all pretty accessible, too!
1. Twin Peaks – The Best Day Hike in Hong Kong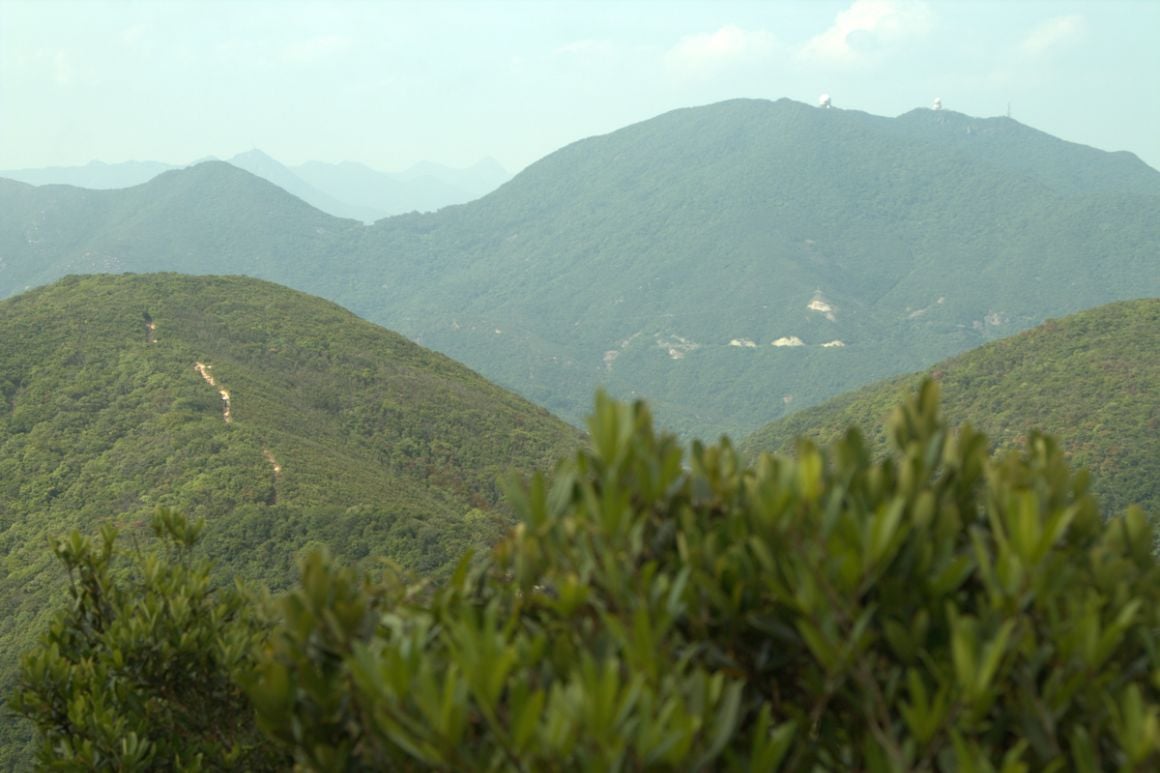 Nope – the name of this hike has nothing to do with the cult David Lynch TV series, Twin Peaks. Instead, this Hong Kong hike takes its name from a pair of mountains of similar height, known in Cantonese as Ma Kong Shan. As far as hikes go, this one is a good all-rounder.
It's not too strenuous, but enough to work up a sweat (and an appetite), and there are some great views to be had of the bay and the city. Because of its accessibility and middling challenge level, it's a pretty popular hike in Hong Kong with both locals and tourists.
To get there, take a bus to Wong Nai Chung Reservoir Park, then take the stairway that winds its way up to Tai Tam Reservoir Road, where you'll find the trailhead.
Be warned: this hike does include a lot of concrete steps. Like, a lot. We're talking over 1,000. Some purists may consider these many man-made steps not "natural" enough for a hike, but we're still on board and it still a good work out. And the fact that there are steps actually helps make this not completely gruelling. Besides, they're well maintained!
It can be pretty taxing, so make sure to take plenty of breaks if you're feeling the heat. Whatever you do, don't forget to hydrate. Eventually, the steps do meander their way up through the trees, passing through the Tam Tai Country Park alongside Deepwater Bay, Repulse Bay, and on to the endpoint – Stanley.
Prepare yourself for epic views of Hong Kong's skyscrapers and channels. Well worth the steps.
Length: 4.7 km
Duration: 3-4 hours
Difficulty: Average
Trailhead: Stanley Gap Road (22°13'29.7?N 114°12'30.0?E)
2. Wan Chai Green Trail – Best Short Hike in Hong Kong
As one of the central hikes in Hong Kong, the Wan Chai Green Trail is extremely accessible. Starting In the heart of Wan Chai, where the city merges with the subtropical nature of Hong Kong, the trail takes you immediately out of the concrete jungle into a world of lush trees and rock formations.
To kick things off, get yourself to MTR Wan Chai Station and ride the tram all the way to O' Brien Road, where you'll be able to access the route from Lee Tung Street. The starting point is the Old Wan Chai Post Office; built in 1913, it's also the oldest surviving post office in Hong Kong. Duck into the post office for a moment to feel the antique ambience and pick up a trail map.
From here, the road rises steeply, and it's fairly well signposted. Eleven signs along the way offer up interesting information about the mix of nature and urbanisation, pointing out things like banyan trees.
Once you're at Kennedy Road and begin climbing the steps, things get decidedly leafier, with rubber trees and ruins of old houses. There's the option here to detour to Lover's Rock, a phallic shaped stone, for a comedic photo op.
Otherwise, it's upwards through thick forest to the top at Wan Chai Gap Park. Take the bus back down if you're pooped out.
Length: 8.4km (Loop)
Duration: 1.5 hours
Difficulty: Easy/Moderate
Trailhead: Wan Chai Green Trail / ????? (22°16'14.7?N 114°10'19.0?E)
Small Pack Problems? 😉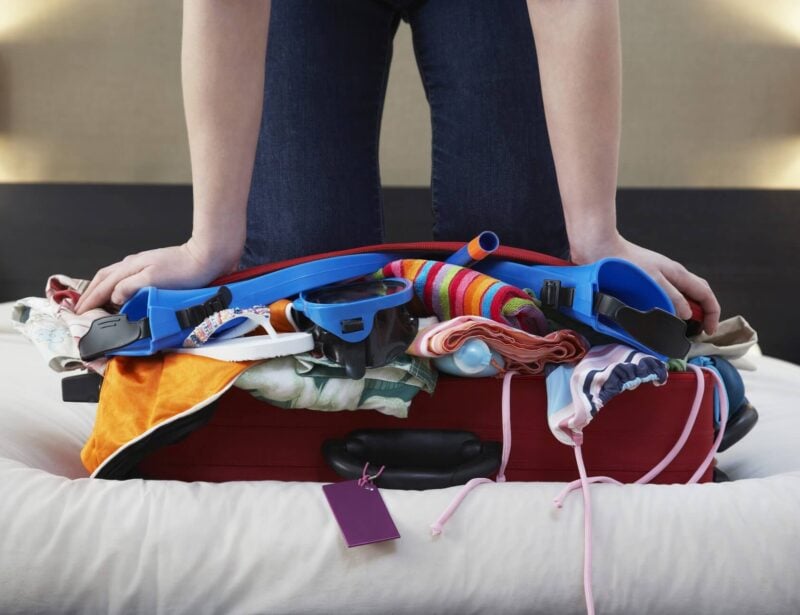 Wanna know how to pack like a pro? Well for a start you need the right gear….
These are packing cubes for the globetrotters and compression sacks for the real adventurers – these babies are a traveller's best kept secret. They organise yo' packing and minimise volume too so you can pack MORE.
Or, y'know… you can stick to just chucking it all in your backpack…
Get Yours Here
Read Our Review
3. The MacLehose Trail – The Best Multi-Day Hike in Hong Kong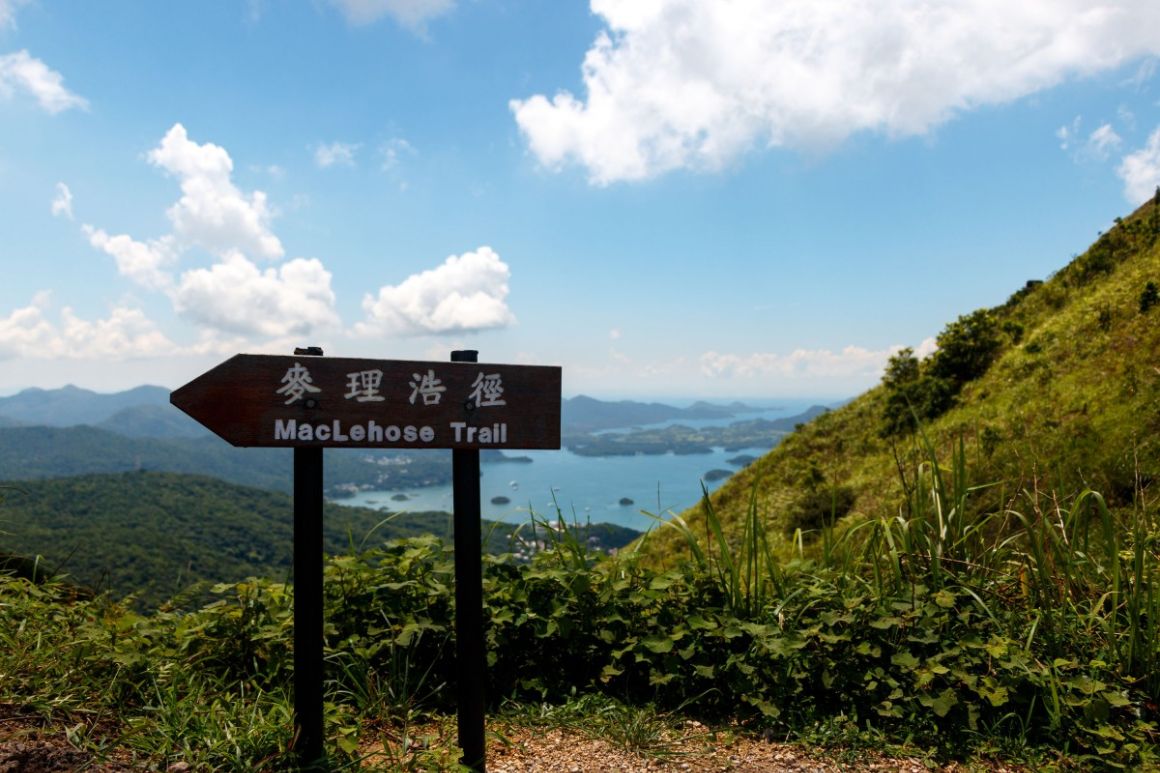 Though it's mostly known for its day hikes and easily accessible, city-meets-nature walks, there are still multi-day trails in Hong Kong. The 100-kilometre MacLehose Trail is the champion of them all.
This is not an easy hike, to say the least. Along with the heat and humidity, this trail winds its way across the whole of the New Territories, undulating up and down Hong Kong's highest peaks.
There are a multitude of different landscapes that this epic trail offers up such as reservoirs, jungles, ridges, and peaks. The views of the coastlines, beaches, and the urban hub of Kowloon are all incredible.
This particular hike is one for the well-prepared hiker. From start to finish, the trail features an incredible 7,000 metres in elevation gain. Pretty gnarly.
It's meant to be tackled in ten sections, and can be done in four days, but it depends on how leisurely you want to take it – and your own fitness levels, of course.
There's the option to do it either way, but we went east to west, starting in Pak Tam Chung and finishing up in Tuen Mun. There are opportunities to stay along the route, mostly in the form of "unofficial" campsites.
Though it is signposted, some parts of the hike are more remote than others: Needle Hill, for example, is a very out-of-the-way spot, but this leads down to a campsite. Needless to say, being prepared and having all the essentials is a must.
Length: 100km
Duration: 4/10 days
Difficulty: Difficult
Trailhead: Fuk Tong Mansion (22°23'42.6?N 113°58'40.3?E)
4. Dragon's Back to Big Wave – Must-Visit Hike in Hong Kong
As far as beautiful hikes in Hong Kong go, the Dragon's Back to Big Wave Bay trail is definitely up there as one of the best. Touted as one of the best urban hikes in the world, this one is a must if you're keen on hiking.
Because of this, it's a fairly well-trafficked route. But don't let that put you off – it's still well worth the effort.
Start this trek at Shek O – there is a bus there from MTR Shau Kei Wan Station. From here, the unpaved trail meanders off Shek O Road and the hike proper begins. You'll start to ascend, and after around 20 minutes of hiking, reach the Shek O Viewing Point. Stop for a breather and admire Shek O Beach.
Then, it's onwards to the summit of Shek O Peak (284 metres). The panoramic view here is quite something, taking in Hong Kong's complex coastline.
If it's hot, it can be quite intense up to this point. But once you're past the peak and onto the ridge of Dragon's Back, it's more shaded and less hard-going. Once you've tackled the ridge, you'll arrive at Pottinger Gap before starting the descent down to Big Wave Beach.
The descent is sharp, however, and the pathway is quite uneven – just one part of what makes this a fairly challenging hike.
But once you're down, it's all about having a much-deserved splash in the sea and chilling on Big Wave Beach. When you're ready, catch the bus back to town.
Length: 8.5 km
Duration: 4 hours
Difficulty: Moderate
Trailhead: Shek O Road (22°13'47.2?N 114°14'34.6?E, 2,)
5. Bay Kap Lung Ancient Trail – A Fun, Easy Hike in Hong Kong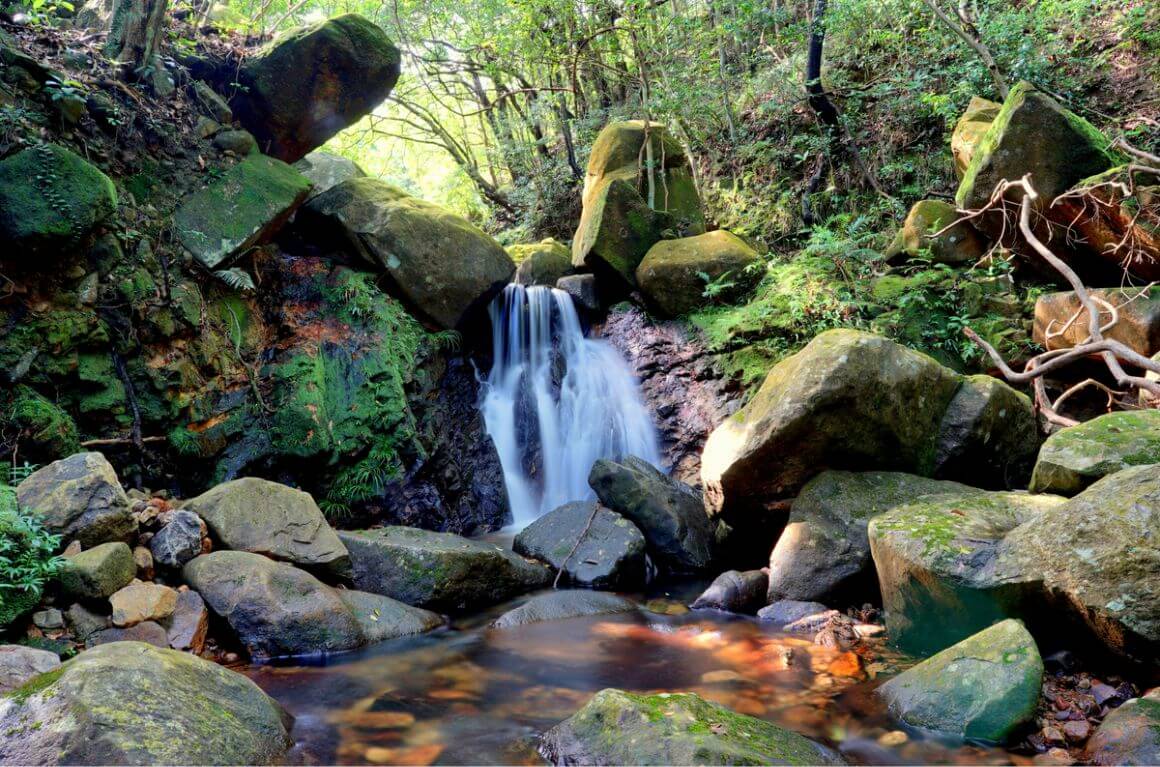 Bay Kap Lung Ancient Trail is not only one of the easiest hikes in Hong Kong – it's also very beautiful. It's also interesting: this is a long-established route that has been used by local traders for decades, giving it a historic credentials.
The stones that pave the way were laid generations ago. Cutting through nature, this old trail makes it feel as though you're trekking into a Hong Kong of the past. Note that these can be pretty slippery, however.
The trail is easy enough that families with children in tow could tackle it without too much difficulty. Why is it so easy? Well, for the most part, it's downhill, it's shaded, and is very easy to follow, marked by signs along the way.
To reach the start point of the hike, take the KMB 51 bus from MTR Tsuen Wan Station and get off at Country Park. The trailhead is a little further from where you alight the bus, and on the same side of the road, thankfully.
On this family-friendly hike, you'll cross streams, pass over waterfalls, and spot dragonflies and other interesting insects along the way. With its old trees, it's equal parts charming and adventurous.
If this hike isn't strenuous enough for you, there are other trails leading off from the main one, meaning you could more than double the distance and do some more exploring. Loop back if you like, or catch the bus back from Shek Kong Camp.
Length: 6.7km
Duration: 1-2 hours
Difficulty: Easy
Trailhead: Lui Kung Tin (22°25'29.2?N 114°06'23.3?E)
Save $$$ • Save the Planet • Save Your Stomach!
Drink water from ANYWHERE. The Grayl Geopress is the worlds leading filtered water bottle protecting you from all manner of waterborne nasties.
Single-use plastic bottles are a MASSIVE threat to marine life. Be a part of the solution and travel with a filter water bottle. Save money and the environment!
We've tested the Geopress rigorously from the icy heights of Pakistan to the tropical jungles of Bali, and can confirm: it's the best water bottle you'll ever buy!
View on REI
Read the Review
6. High Junk Peak – The Toughest Trek in Hong Kong
If you're not looking for easy hikes in Hong Kong, and you'd prefer your treks to be as challenging as possible, you should definitely try this one on for size. Starting in Ng Fai Tin, this trail cuts through the mountains and finishes at the summit of High Junk Peak, 344 metres above sea level.
The High Junk Peak Trail is easily accessed from MTR Diamond Hill Station via bus 91.. Once you've hopped off the bus, you'll find the trailhead at a green-roofed pavilion; take the stone steps from here upwards under the shade of the trees until the path opens up.
From here on out, it starts to get steeper. You'll begin to get glimpses of the urban landscape down below – and it only gets better and better as you make your ascent.
Be prepared to scramble up certain sections. Some parts can be particularly hard to climb, specifically Miu Tsai Tun. But the views are worth it, both of the scene below and your endpoint – High Junk Peak.
Then it's onwards, along the ridge, to the peak itself.
If you're up to the task – and you really want those spectacular views – ready yourself for a steep, tough climb, scrambling in some places.. If you do tackle the mountain, it means the entire hike would be around 600 metres elevation in total.
If that's not your thing, you can continue along the signposted trail to Tai Miu Wan at Joss House Bay for well-deserved rest and refreshments.
Length: 8.5km
Duration: 4 hours
Difficulty: Very difficult
Trailhead: Ng Fai Tin (22°18'58.4?N 114°16'55.1?E)
7. Sunset Peak – Best Hike for Views in Hong Kong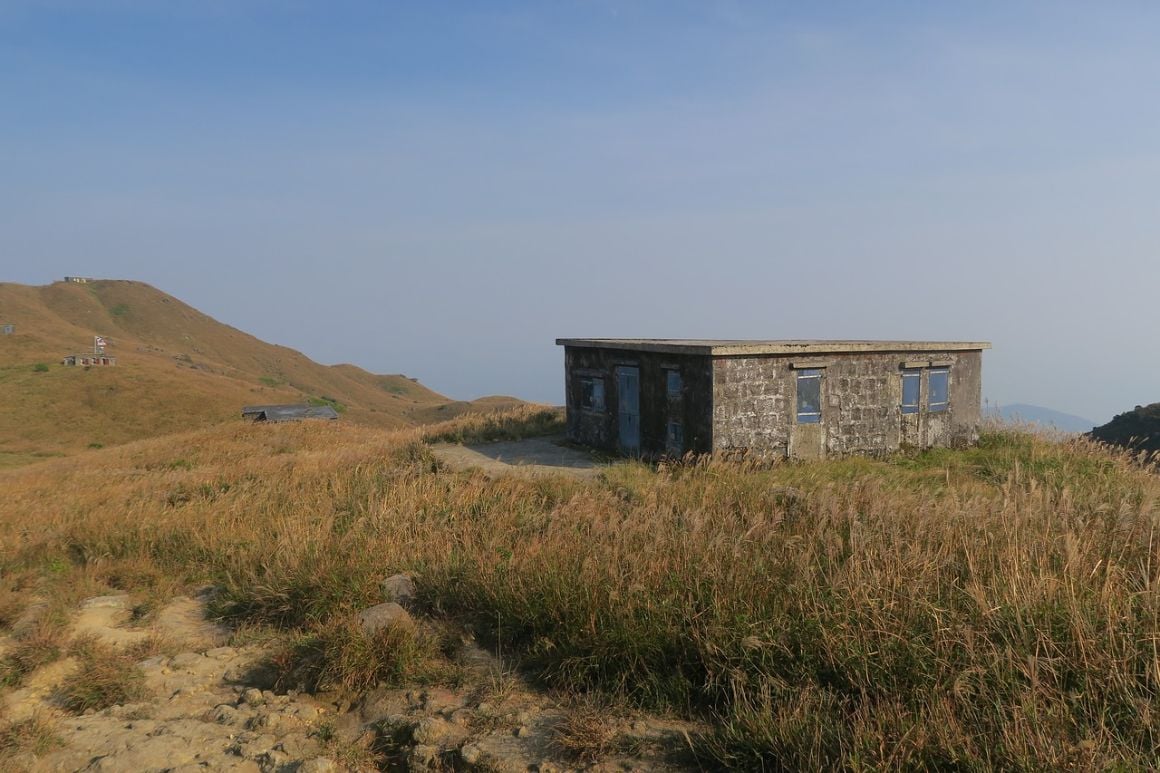 Although many of the hikes in Hong Kong are beautiful, nothing quite compares to Sunset Peak on Lantau Island.
This is the third-highest mountain in Hong Kong, at 869 metres above sea level, and – being a mountain and all – it's fairly difficult. The actually breathtaking views, however, make the hike totally worth it.
To get there, you'll have to take the ferry from Central Hong Kong over to Mui Wo, on Lantau. Then grab any of the local buses and get off at Nam Shan. Once you're there, follow the (not so great) signs for the South Lantau Country Trail, a larger hike, of which this is a section.
The Sunset Peak Trail is a natural path that undulates over rocks and tree roots with barely any urban development in sight. That makes it different to the backdrop you get for many of the other trails in Hong Kong.
While the South Lantau Country Trail continues onwards, if you want to tackle Sunset Peak itself, make sure you turn off at the signpost that points to it.
Interestingly, while the beginning of the hike is more lush and forested, as you begin to climb the landscape gradually changes. It opens up into dry grasslands dotted with big boulders and rocky outcrops that make for some pretty awesome photo ops.
If you do this hike at its namesake (sunset, obviously), then the photos will be all the more stark, with inky silhouettes against a glowing sky.
At the end of the hike, which finishes at Tung Chung Road, buses back to Mui Wo are easy to catch. Otherwise, carry on the trail to coastal Tong Fuk village.
Length: About 9 km
Duration: 4.5 hours
Difficulty: Average/Difficult
Trailhead: Pak Kung Au (22°14'53.7?N 113°56'35.9?E)
8. Kowloon Peak – Off the Beaten Path Trek in Hong Kong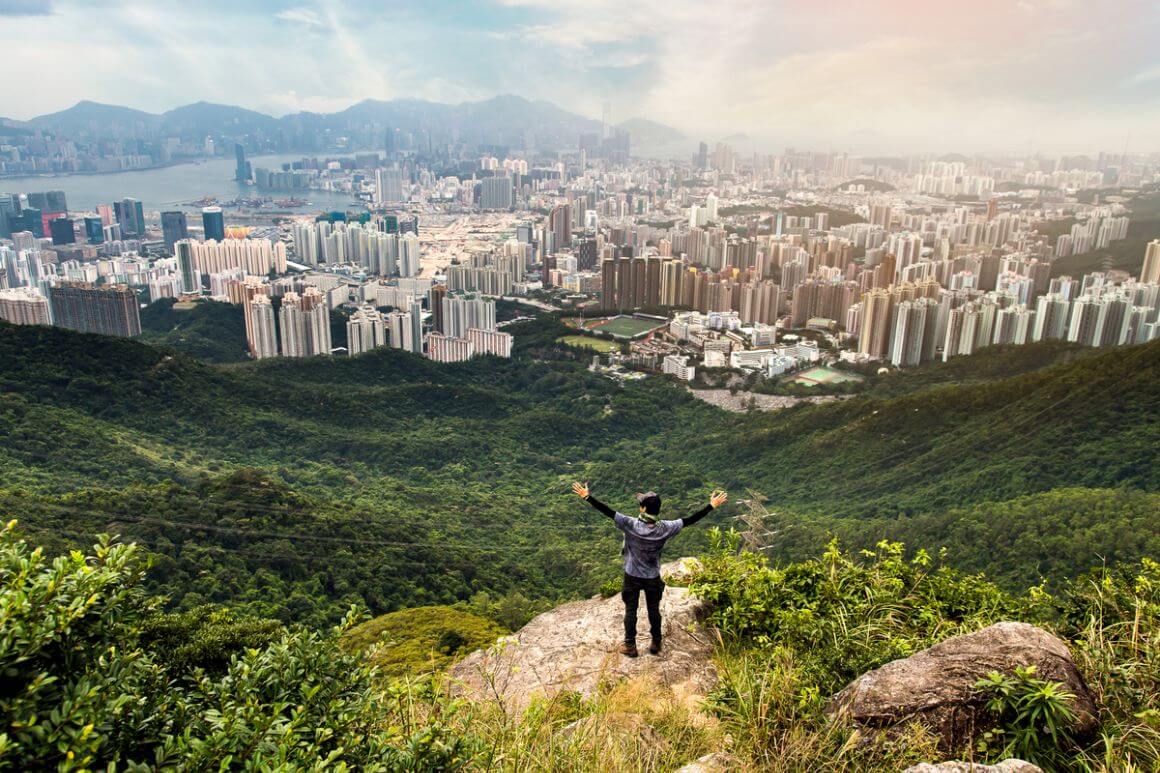 This is another one of those incredible Hong Kong hikes that take you from dense urban cityscape into forested hills in a matter of minutes. It's part of what makes hiking in Hong Kong so accessible and so picturesque: seeing that marriage of urban and natural.
Get off the MTR Choi Hung Station and jump on the green minibus from exit C2. The start of the hike – well, the first hour or so – along Clear Water Bay Road, is urban walking on thestreet.. The views are still great, and you're under the forest canopy.
Soon enough, you'll come across steps with a sign that says "Danger." Heed the warning: it's an uneven path that shouldn't be tackled in bad (wet) weather – and there are a lot of steps to tackle.
Eventually, you emerge to a view of skyscrapers. The ridge is the next part of the hike to tackle, which can be a bit hair-raising if you're not used to ridge-walking.
There's a marker point for Kowloon Peak itself. But if that wasn't enough, you can continue onto ominously named Suicide Hill. It's certainly off the beaten track, but just remember – if you don't feel confident, don't do this just for an Instagram pic. The hike to Kowloon Peak is enough!
The path leads back down to Fei Ngo Shan Road, where you can walk until you reach the bus stop – opposite the one you arrived at.
Length: 9.5km
Duration: 3.5 hours
Difficulty: Average
Trailhead: Clear Water Bay Road (22°20'03.9?N 114°12'38.9?E)
DON'T DIE OUT THERE! …Please 🙂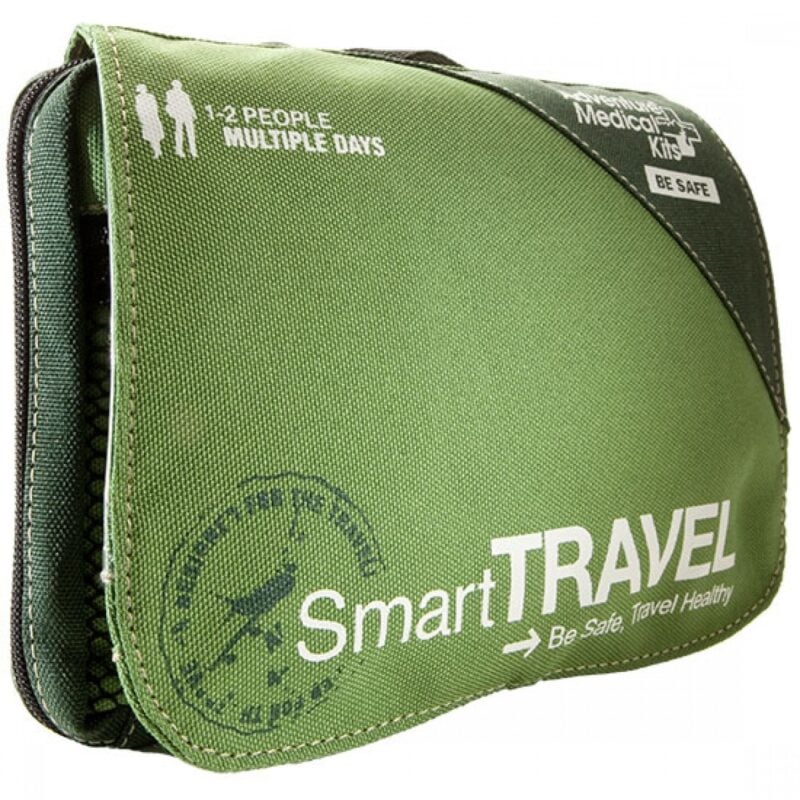 Things go wrong on the road ALL THE TIME. Be prepared for what life throws at you.
Buy an AMK Travel Medical Kit before you head out on your next adventure – don't be daft!
Buy on REI
And now for where to stay in Hong Kong. Well it is is pretty "small." Much of it is built up with skyscrapers and all manner of urban development, featuring high-end hotels and backpacker digs alike.
Actually, it doesn't matter too much where you choose to base yourself. The city is super well connected by public transport, meaning you can ride the MTR, bus, and even ferry to get where you need to be to start your hike.
Staying in the central part of the city has its advantages. Though it tends to be more expensive, a hotel here will mean you've got a more comfortable room to return to after a gruelling hike. You'll also have more space for your kit and dirty clothes – plus great transport links.
If you're on a budget, Mong Kok is probably more your scene. There are hostels and guest houses here, which are much more affordable in comparison to Central hotels. Staying here also means cheap eats on the doorstep and MTR stops.
The only downside, really, is that rooms are on the (very) small side, and there won't be many places to chill out after a hike. But if all you need is a bed and a shower before you hit the city at night, these sorts of places are great.
Camping in Hong Kong does exist! If you're doing a multi-day hike it's pretty much a must-do. If you don't mind staying a bit further away, places like the Wan Tsai Peninsula and other Outlying Islands are great for camping in Hong Kong.
This quirky and friendly Hong Kong hostel is a great base for exploring Hong Kong. It's right in the heart of the city meaning you can save money on transport, and it has all the amenities you'll need during your stay. You'll have access to the WiFi, lockers, and power points by every bed.
Whether you're after spacious rooms, optimum location, or spectacular views out over the city, this is the best hotel to stay in Hong Kong: it covers all the bases! It makes for a refreshing change to many of the city's corporate hotel chains as each room features different thoughtful details. There's even a fitness center to burn off the dim sum overload!
Conveniently based in northern Kowloon, this spacious apartment is as cool as the bustling streets outside. With exposed brick walls and quirky egg-shaped chairs, it's every hipster's dream – minus the avocado. It also boasts high-speed WiFi, 24-hour security and easy access to the subway. A lovely Hong Kong Airbnb.
Is This the Best Backpack EVER???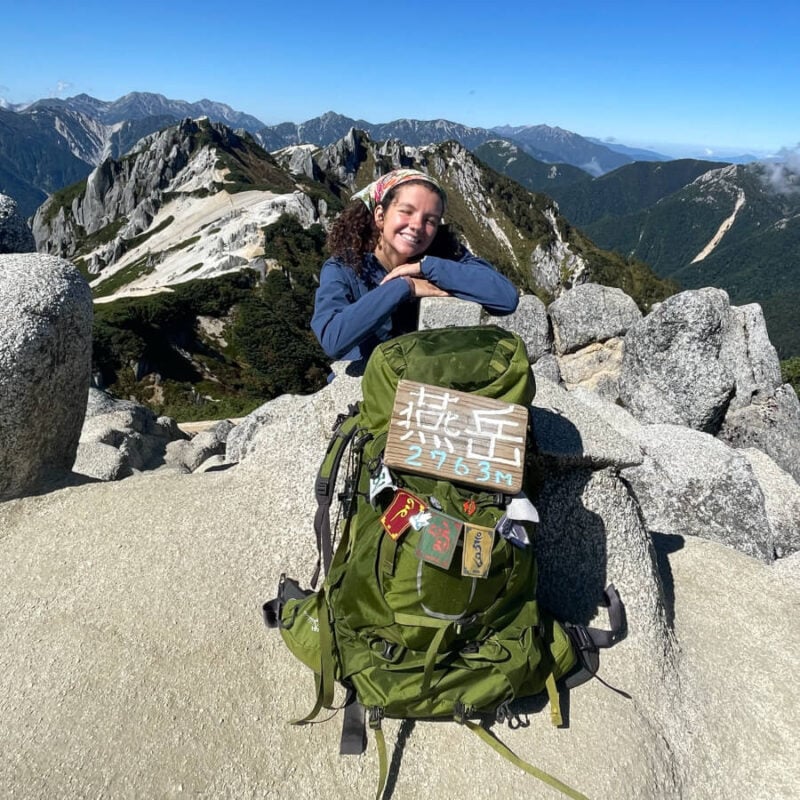 We've said it already, and we'll say it again: going prepared and having the right gear is pretty much essential when tackling any one of Hong Kong's trails. Climbing up a mountain in flip-flops is not cool, no matter what way you look at it.
You may think that some of the hikes in Hong Kong are pretty straightforward, but having the proper equipment is still a must. Things like blisters are not fun at all, so the right footwear is imperative. Likewise, getting caught in a tropical downpour without anything to protect you is definitely not epic.
On longer, more challenging trails, things get more difficult, and there are more variables to think about. Multi-day trails require food and possibly tents, while more difficult hikes will mean things like trekking poles are needed. Bug spray and DEET repellent wouldn't go amiss, either.
To help you get fully prepped for any hike in Hong Kong, check out our handy gear list below.
Trekking Poles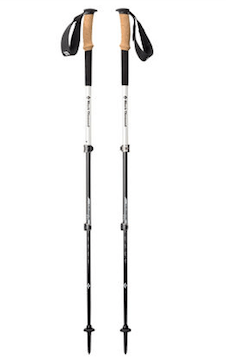 Trekking Poles
Black Diamond Alpine Carbon Cork
Price > $$$
Weight > 17 oz.
Grip > Cork
Headlamp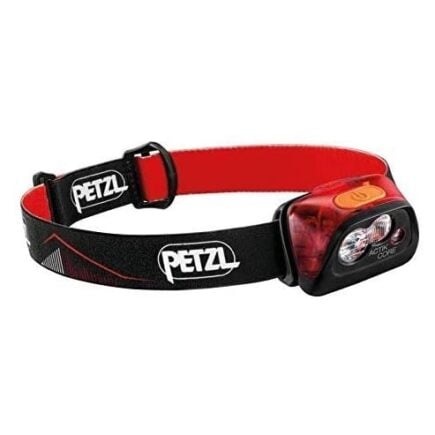 Headlamp
Petzl Actik Core Headlamp
Price > $$
Weight > 1.9 oz
Lumens > 160
Hiking Boots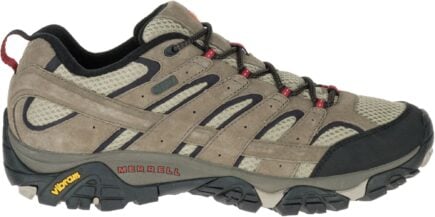 Hiking Boots
Merrell Moab 2 WP Low
Price > $$
Weight > 2 lbs 1 oz
Waterproof > Yes
Daypack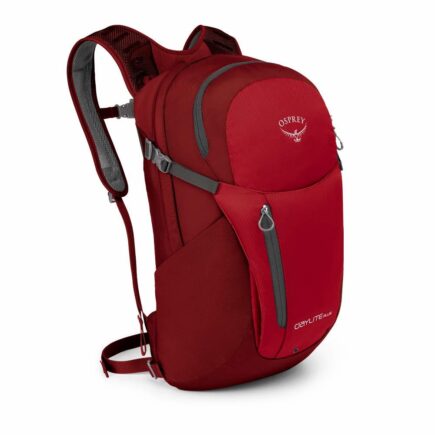 Daypack
Osprey Daylite Plus
Price > $$$
Weight > 20 oz
Capacity > 20L
Water bottle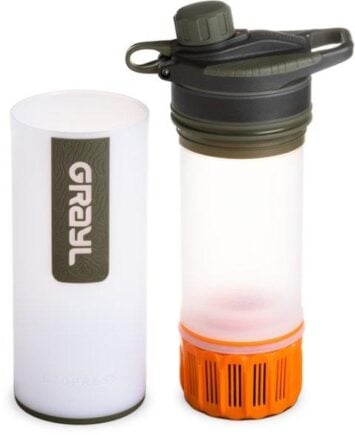 Water bottle
GRAYL Geopress
Price > $$$
Weight > 16 oz
Size > 24 oz
Backpack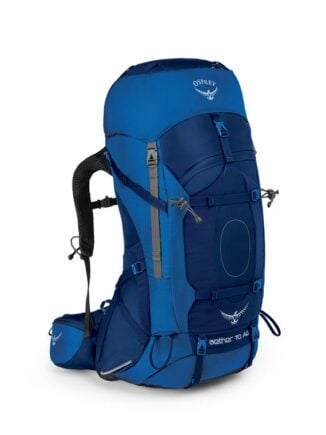 Backpack
Osprey Aether AG70
Price > $$$
Weight > 5 lbs 3 oz
Capacity > 70L
Backpacking Tent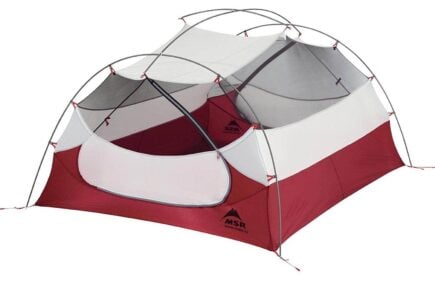 Backpacking Tent
MSR Hubba Hubba NX 2P
Price > $$$$
Weight > 3.7 lbs
Capacity > 2 person
GPS Device
GPS Device
Garmin GPSMAP 64sx Handheld GPS
Price > $$
Weight > 8.1 oz
Battery Life > 16 hours
Don't Forget Your Hong Kong Travel Insurance
ALWAYS sort out your backpacker insurance before your trip. There's plenty to choose from in that department, but a good place to start is Safety Wing.
They offer month-to-month payments, no lock-in contracts, and require absolutely no itineraries: that's the exact kind of insurance long-term travellers and digital nomads need.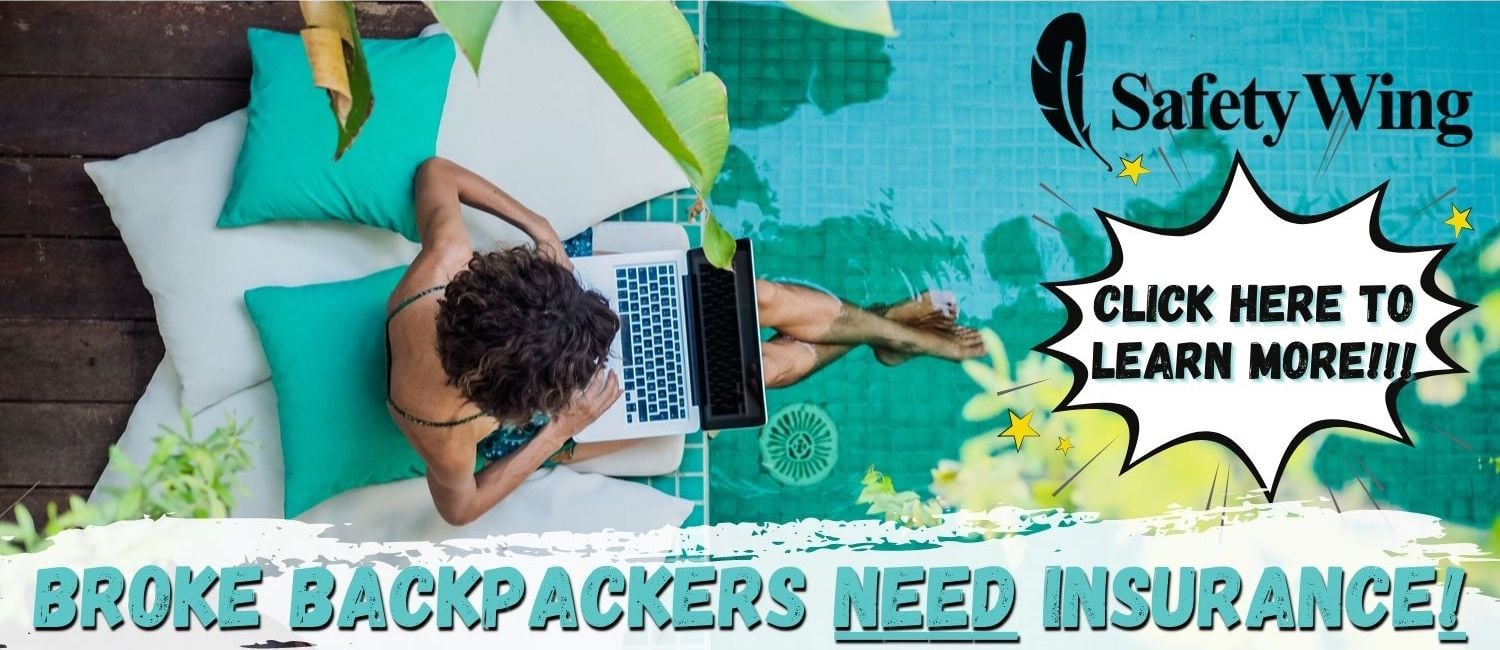 SafetyWing is cheap, easy, and admin-free: just sign up lickety-split so you can get back to it!
Click the button below to learn more about SafetyWing's setup or read our insider review for the full tasty scoop.
---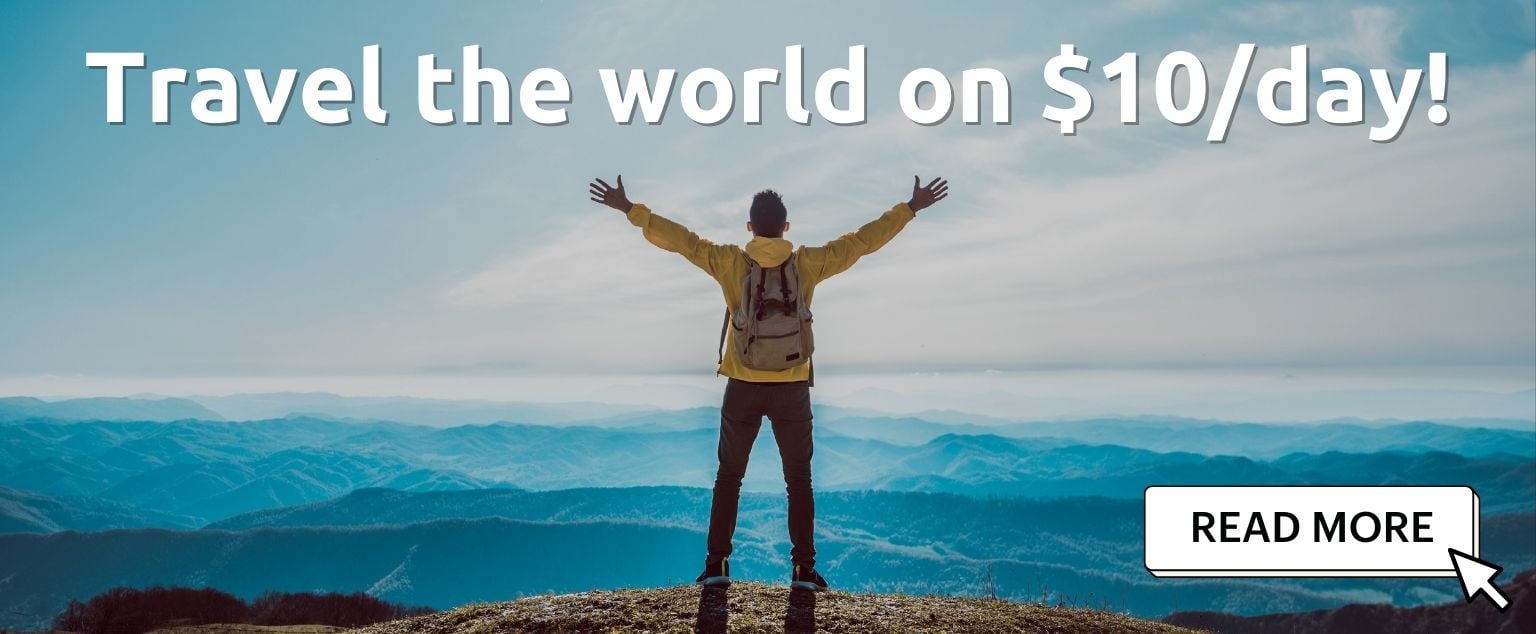 And for transparency's sake, please know that some of the links in our content are affiliate links. That means that if you book your accommodation, buy your gear, or sort your insurance through our link, we earn a small commission (at no extra cost to you). That said, we only link to the gear we trust and never recommend services we don't believe are up to scratch. Again, thank you!