Few places in Asia can stand up to the truly remarkable range of cultural diversity, mouth-watering cuisine, stunning beaches, and the dramatic mountainous landscapes found on the small island of Taiwan.
The fact is that the combination of towering peaks, stunning coastline, relaxing hot springs, blissed out temples, world famous night markets, and booming cities all come together to make backpacking Taiwan the experience of a lifetime.
With some of the friendliest locals in the world, Taiwan welcomes backpackers with open arms. If you are new to backpacking in Asia, Taiwan is a great place to begin your adventures. Taiwan is safe, clean, well-organized, and blessed with one of the best transportation systems in Asia.
Taiwan may not be very big, but it is jam-packed with awesome things to do. Surf beaches, absolutely gorgeous mountains, high-tech urban centers, and something delicious to taste at every turn…Need I say more?
This Taiwan backpacking guide with help you get to grips with this fascinating country. Together we will explore Taiwan travel tips, ideas for the top things to do in Taiwan, best places to visit, where to stay, Taiwan backpacking itineraries, travel costs, and much more…
Whatever it is you enjoy on any given travel adventure, you can be sure that backpacking Taiwan will be a truly epic life-experience. There is something for every backpacker to discover!
Why Go Backpacking in Taiwan?
Taiwan is very diverse both in terms of its ethnic makeup and it geographic layout. Depending on the region you plan on visiting, you can expect to find a wide variety of impressive landscapes.
Taipei is the fast-paced, beating heart of Taiwan. The capital city is one hell of a good time and there is a lot things to do in Taipei. The city is home to major industrial sectors, the international airport, modern-Taiwanese culture, and an overwhelming amount of tasty things to eat.
Once you get into the mountains, the scenery changes and a whole other world of exploration awaits. The temple dotted mountains are full of hidden gems. Trekking opportunities, hot springs resorts, mountain lakes, and Taiwanese mountain culture are among some of the highlights. Oh, and Taiwan has the largest density of high mountains in the world!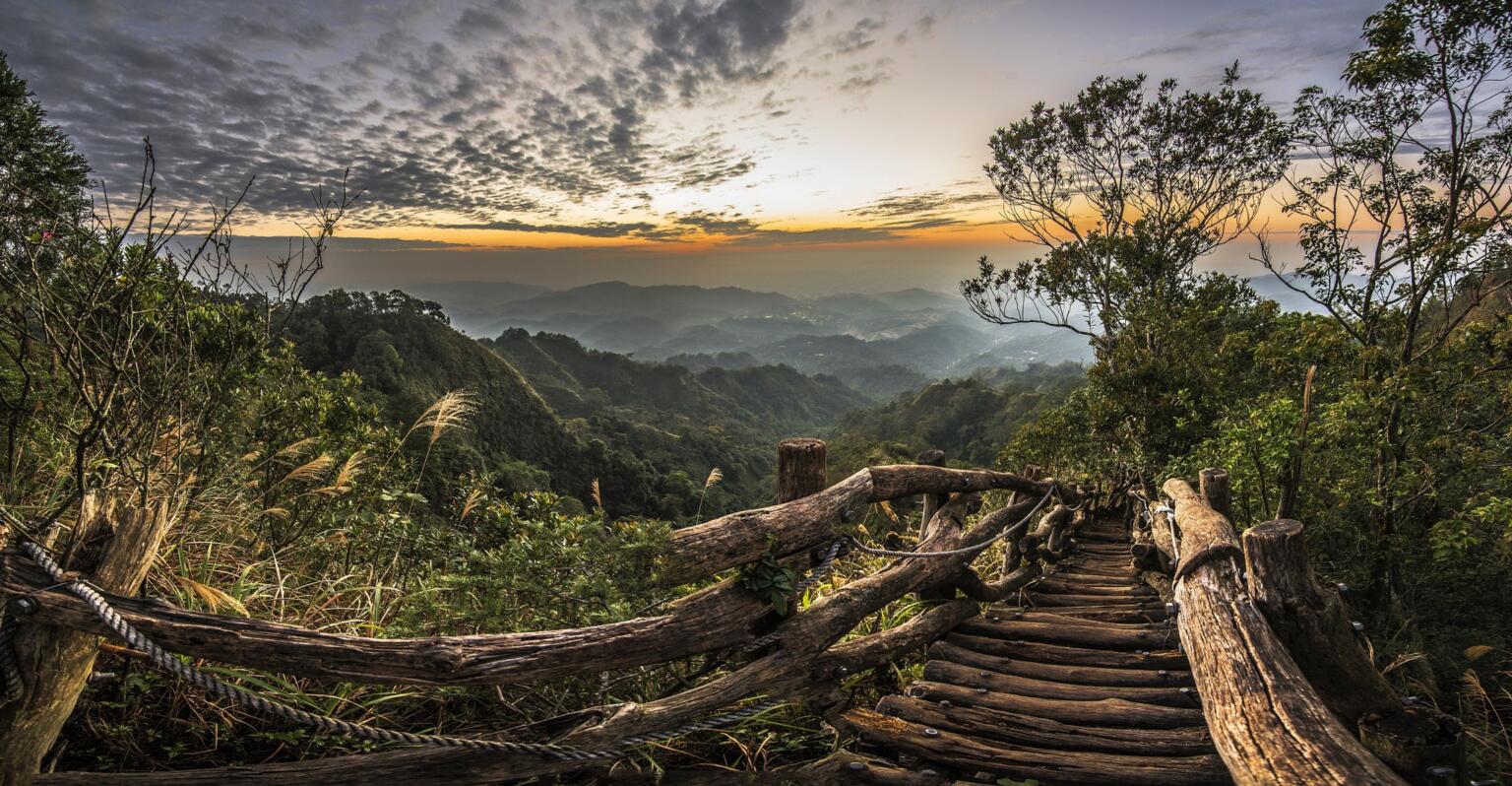 Places like the Taroko Gorge make you feel like you're in a scene from the film Crouching Tiger Hidden Dragon.
The southern tip of Taiwan couldn't be more different. On one side it is dry, hot, and looks a bit like Southern California. The other side is green, lush, and has more of a rainforest vibe. There is excellent surfing to be found all along the east coast of Taiwan.
In short, Taiwan ticks all the boxes when considering an epic place to go backpacking: mountains, cities, surf, and sun… all of the ingredients to make an awesome backpacking trip.
Now, let us take a look at some of your itinerary options for your backpacking Taiwan adventure.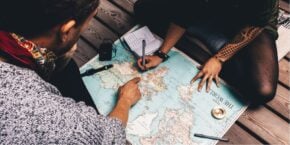 Heading Off-Grid? • Download This Guide as a PDF!
Sign up to The Broke Backpacker's EXCLUSIVE VIP AREA below and download our top backpacking guides as PDFs – go offline with peace of mind!
Best Travel Itineraries for Backpacking Taiwan
Looking for a Taiwan backpacking itinerary? Whether you have 2 weeks in Taiwan or a few months to really explore, I have assembled several Taiwan backpacking itineraries to help you make the most of your time in this epic country.
These Taiwan backpacking routes can easily be combined or customized!
7 Day Itinerary: Highlights and Culture
If you have only 7 days in Taiwan, you're somewhat limited. But never fear! You can play your 7 day itinerary in two different ways. You can make a super hectic whirl-wind tour of the country (by making use of the bullet trains). Or you can take it a little slower and get to know a few places more in-depth.
Since you will be arriving in Taipei, you can almost entirely base yourself in the capital city and make day trips from there. No matter the destination, the rules of getting the most out of a backpacking adventure don't change. Don't try to do too much!
Luckily for people backpacking in Taiwan, the country is well connected. One can easily spend two or three days and nights exploring Taipei. I say nights because the night markets are where it's at.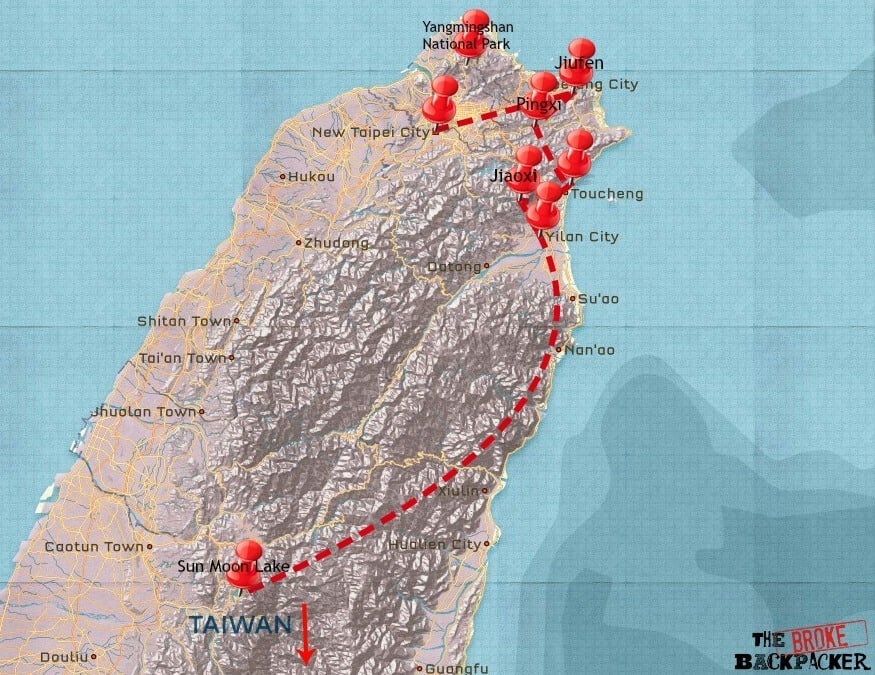 Start off by exploring the world-famous Shilin market. Your senses will explode from all of the smells and mysterious items being hawked from every angle.
Be sure to hit up the Longshan Temple and Chang Kai Shek Memorial Hall.
Wander the streets of Taipei's mesmerizing Old Town. Pop into a tea shop and sip delicious local infusions.
Elephant Mountain is a classic hike, so when you have had enough of the hustle of Taipei, it's time to get out beyond the city limits. Taking the Pingxi Railway Line allows for backpackers to visit multiple charming towns and villages in a single day. Check out this post for more awesome things to do in Taipei.
Jinguashi and Jiufen are fascinating towns just a short train or bus ride from Taipei. Learn about the dark history of the Japanese occupation in Jinguashi. Head to the Benshan Fifth Tunnel… be warned: for those with claustrophobia the tunnel might not be enjoyable.
Be sure to head north for at least a day or two to check out Yangmingshan National Park. There are hot springs and some great hikes to discover.
Time to get the blood pumping. Head to the beautiful Xiaozi Shan Hiking Trail. The trail can be easily accessed from the town of Pingxi. Stunning mountain views (and a challenging hike) await. For backpackers looking for something less-strenuous and equally as beautiful, be sure to check out the Sandiaoling Waterfall Trail.
If the big city isn't your thing then head straight for Yilan County where you will find beaches, fresh seafood, and hot springs galore.
You then have the option to head to Sun Moon Lake and even further south if you want to see more of the east coast before flying out.
14 Day Itinerary: East Coast Taiwan
If you are looking to backpack Taiwan in 2 weeks, you can actually cover a lot of ground thanks to the awesome train system. Due to the geography of Taiwan, the main roads and train lines follow the coast. One can opt for either a clockwise or counterclockwise 2-week itinerary, but clockwise is the way to go.
I recommend that you focus your 2 weeks in Taiwan on the east coast. The east coast is undeniably more beautiful, less-industrial, and overall more backpacker friendly. Getting into the mountains is never too difficult as well when you are ready to get off of the main coastal highways.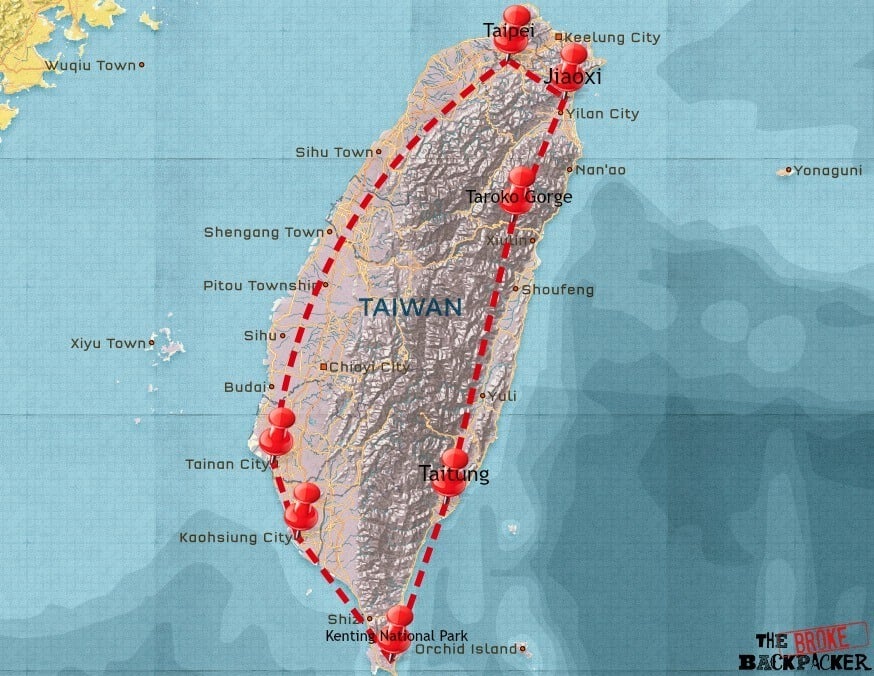 Start your journey in Taipei before heading to Yilan County and Jiaoxi. Here you can get your bearings with amazing food, hot springs, surfing, and fantastic hikes.
After a few days of exploring in Yilan, head south to Hualien and the Taroko Gorge. If you plan on doing any overnight camping in Taiwan, the Taroko Gorge is an ideal venue to make that happen.
Your loop continues with coastal stops at Taitung, Green Island, and Kenting, before looping north to Kaohsiung. You can end your trip back in Taipei after spending a few nights in Tainan.
Check out our Where To Stay in Taiwan guide for some top accommodation picks.
1 Month Itinerary: The Whole Damn Thing
It is possible to travel the whole length of Taiwan in one day. That said, nobody backpacking Taiwan would gain anything from doing that.
With a 1 month itinerary, you can be flexible, spontaneous, and really settle into the place that you like. I still recommend that you focus your month on exploring Taiwan's east coast in greater detail than the west.
If you can swing it, split your time between the coast and the mountains so that you can achieve a balance between the best of both worlds.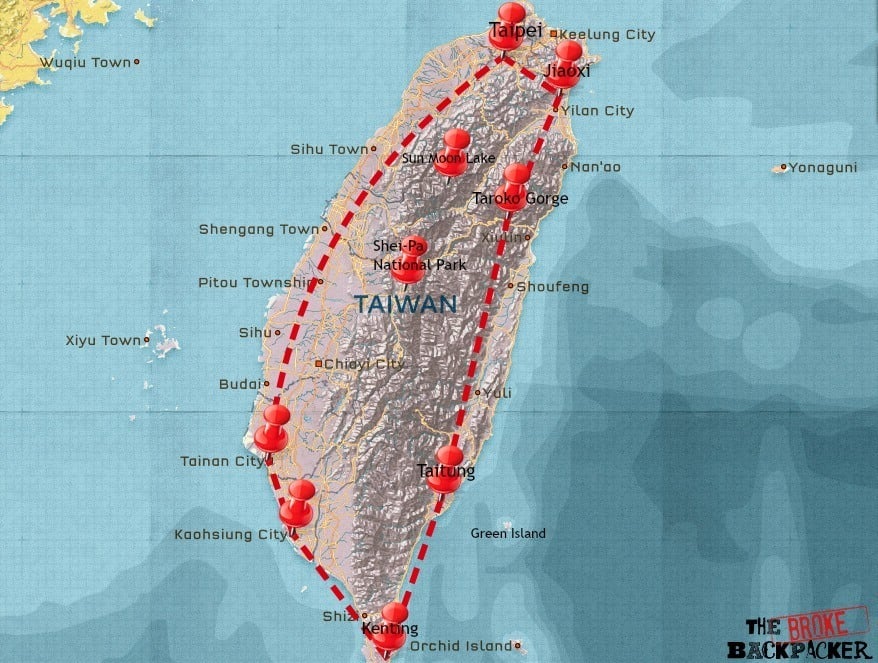 Get to know Taiwan's stunning national parks instead of just zipping through. Hit up Taroko, Kenting, Yangmingshan, Yushan, and Shei-Pa National Parks.
Camp as much as you can! Discover secret hot springs. Explore tiny indigenous villages. Take your time and really absorb what backpacking Taiwan is all about.
If you give yourself a week or so at the end of your Taiwan backpacking adventure to check out the west coast, then you will have successfully seen a vast majority of the country.
Places to Visit in Taiwan
Backpacking Taipei
Backpacking in Taiwan's capital Taipei offers up the opportunity to get to know one of Asia's most thriving cities. Taipei has been Taiwan's most important city for centuries and the history, culture, and landscapes reflect that.
Be prepared to be inundated with humans everywhere you go! Luckily, it's a backpacker-friendly city and there are so many awesome hostels in Taipei so you won't struggle to find a place to stay.
You have already heard me talk about the night markets in Taipei, but they are really such a crucial part of the Taipei backpacking experience that I will mention them again.
Get your ass to a night market in Taipei!
One of my favorite elements of the markets are the healthy chicken soup restaurants at every night market. They have a list of herbs for different ailments. Each option is great. I also like the hot plate steak places.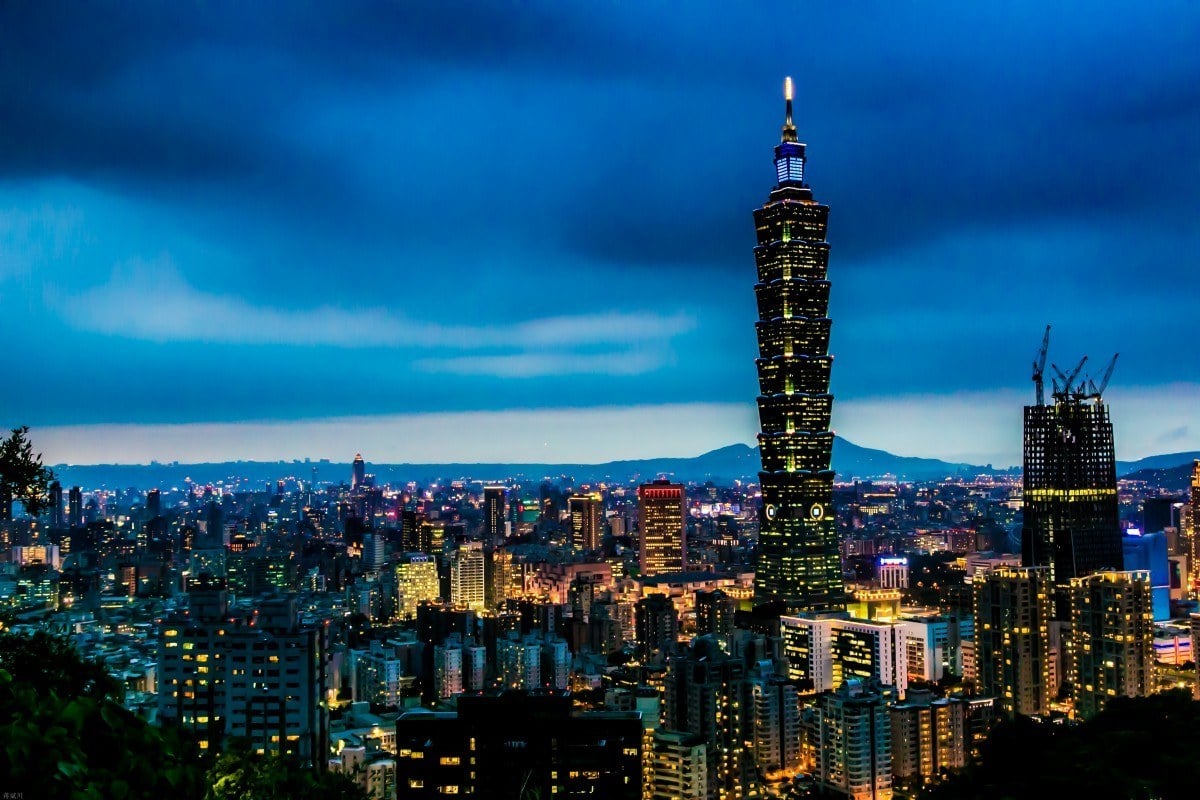 But you must try: stinky tofu, hot pot, duck blood soup, fried chicken, green onion pancake (fucking delicious), dan bing (Taiwanese omelet rolls, my favorite), soy milk, milk/tea with boba, and beef noodle soup.
Best Things to Do in Taipei
The most popular and busiest district for locals is Xinyi. It is a famous shopping district that might not sound as impressive and fun as it actually is. I'd say this area is definitely worth a wander if you have time. Every weekend everyone in Taipei goes to shopping districts to eat food, window shop, and just people watch.
Xinyi is always bumping and has some of the best food in Taipei. Shopping is the Taipei locals' biggest pastime (for better or for worse) so it is no surprise why this part of the city is so popular.
There are street performers and musicians too in this area – basically the whole Xinyi area is very full of life. Along with the amazing food scene, there are many other areas in town worth exploring. Be sure to check out Taipei 101. Formerly, the world's tallest skyscraper until the Burj Khalifa in Dubai in claimed that title in 2010.
Longshan Temple is a classic spot (if a bit overrated) to visit as well, though this part of Taipei is a bit grungy and locals tend not to hang out here.
My favorite places to grab a drink include Revolver, On Tap, The Brass Monkey, and Baby 18, which is an all-you-can-drink-bar (sometimes). Well, Baby 18 is more of a club and it has all you can drink a few nights a week, but it's not all you can drink every night. You've been warned.
Check out Taipei's 5 best neighborhoods to stay in for an idea of where best to land when you arrive.
Backpacking Jiufen
Jiufen is a charming (though popular) town a short bus ride from Taipei. Here, you will find charming alleyways brimming with Chinese tea houses, food stalls, and plenty of history from the days when Jiufen was a booming gold mining town.
For decades following World War Two, Jiufen fell into depression. There wasn't much happening here at all until about 20 years ago when the film A City of Sadness put it back on the map.
The street food hawkers specialize in taro balls and sticky rice in Jiufen.
The easiest way to get the Jiufen from Taipei is by bus. You can catch a bus from Zhongxiao Fuxing MRT Station. Take Exit 1 and look for bus making the 1062 route (Keelung) to Jinguashi. Try to go to Jiufen early in the morning as the streets of its old town can get insanely busy.
Backpacking Jinguashi
For another awesome place to visit after Jiufen, head to Jinguashi. There is a very interesting gold museum in Jinguashi that gives a historical insight to the town's past.
Go inside the Benshan Fifth Tunnel. The tunnel itself was once a former gold mine and the openings are actually very small in some places. It is hard to believe that workers toiled here in such conditions. For a few extra bucks, you can pan for gold yourself.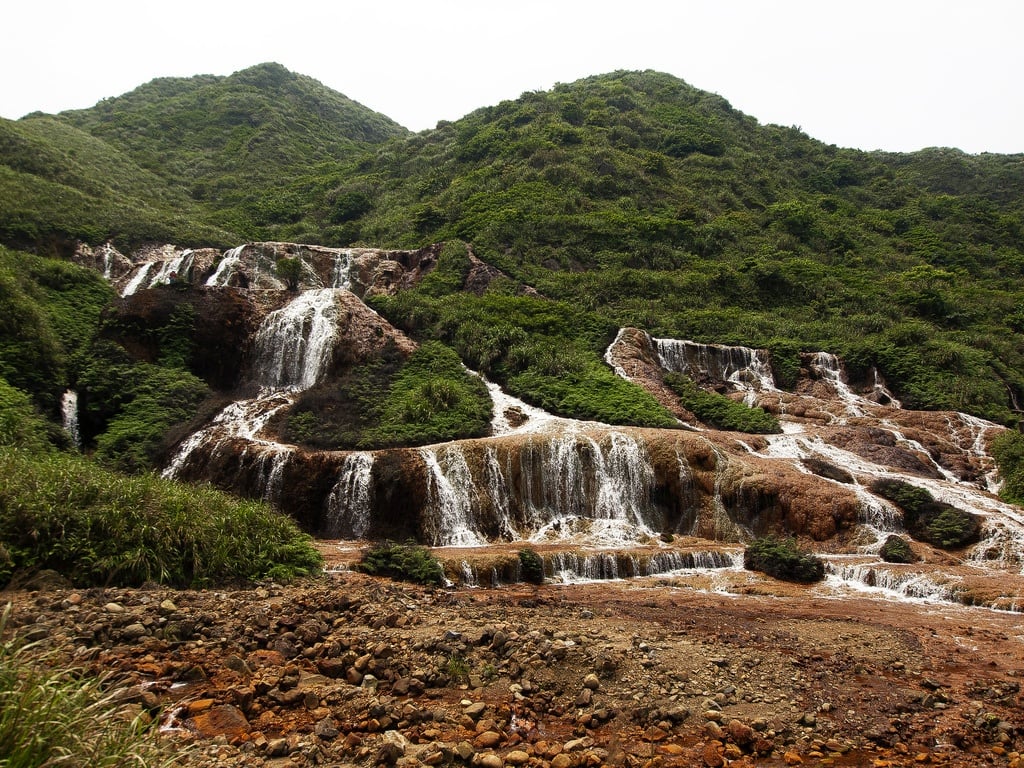 In Jinguashi, the main activities do revolve around the former gold mining industry. You can pretty much experience what the town has to offer in a single afternoon after visiting Jiufen.
I recommend heading back to Taipei to sleep unless you are especially keen on Jinguashi (which I don't see any reason you should be).
Backpacking Pingxi
If you happen to be lucky enough to experience Pingxi during the Pingxi Sky Lantern Festival then you have supremely lucked out.
The Lantern Festival, known in Mandarin as "Yuan Hsiao Chieh", is one of the more awe-inspiring spectacles in Taiwan. It celebrates the last day of the Lunar New Year. The Pingxi lantern festival involves the nighttime release of thousands of illuminated lanterns that light up the sky in hypnotic fashion.
Typically there are two different festivals in Pingxi involving lanterns. The first is in early March and the second is in the mid-fall festival. If you plan on being in Taiwan during either of these periods, definitely try to catch the Pingxi lantern fest!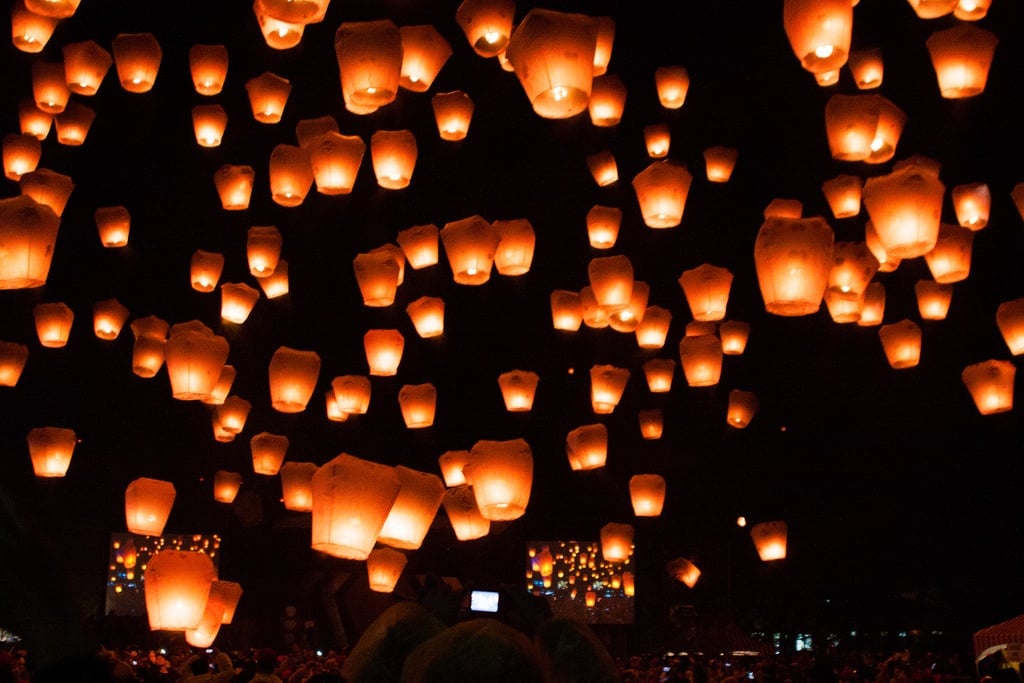 Pingxi is still worth a visit however in the likely event that your backpacking schedule doesn't line up with the lantern activities.
The Xiaozi Shan Hiking Trail is the perfect introduction to hiking in Taiwan. There are numerous waterfall hikes to be had around Pingxi as well. Sandiaoling Waterfall Trail is plenty beautiful as well.
Same goes here: head back to Taipei to sleep.
Backpacking Shifen
Another fine town along the Pingxi Railway line is Shifen. There are some interesting shops and many great places to eat in Shifen, though the main attraction lies a bit out of town.
A 20-30 minute walk from the Shifen center brings you to the Shifen waterfall. At 20m high and 40m wide, Shifen Waterfall is Taiwan's widest waterfall. It certainly is an impressive sight.
The less-impressive aspect of this waterfall is the HORDES of people visiting it on a daily basis. Your best bet will be to come super early in the morning or around sunset. The waterfall is truly beautiful, though to avoid disappointment try to come ahead of the crowds, and avoid on weekends.
Backpacking Yilan County
Just a short one hour train ride south of Taipei lies Yilan County. It doesn't take many days of exploring around Yilan County before one starts to appreciate the diversity of Taiwan.
If you are ready for some quiet time and surfing, head straight to the mellow fishing village of Wai Ao. In Wai Ao there are surf shops, bars, restaurants, hostels, and a small ex-pat community. My good friend lived in Wai Ao for a few years and he loved every minute of it.
The beaches around Wai Ao are swarmed in the summer (it is one of the closest beaches to Taipei), but the influx of people has improved the energy of the area in a positive way. Well, for the most part anyway.
Daxi is a town in Taiwan famous for its fish market and cut to order sashimi. If you love seafood and want to get your fix at very reasonable prices, head to Daxi. Walking around the market is an experience unto itself.
Outside of Daxi, there is a beautiful hike on the Cao Ling Trail which feels like a place straight out of a kung-fu movie. There is also plenty to do in Yilan City if you find yourself passing through en route to the volcanic Guishan Island, off the east coast.
Backpacking Jiaoxi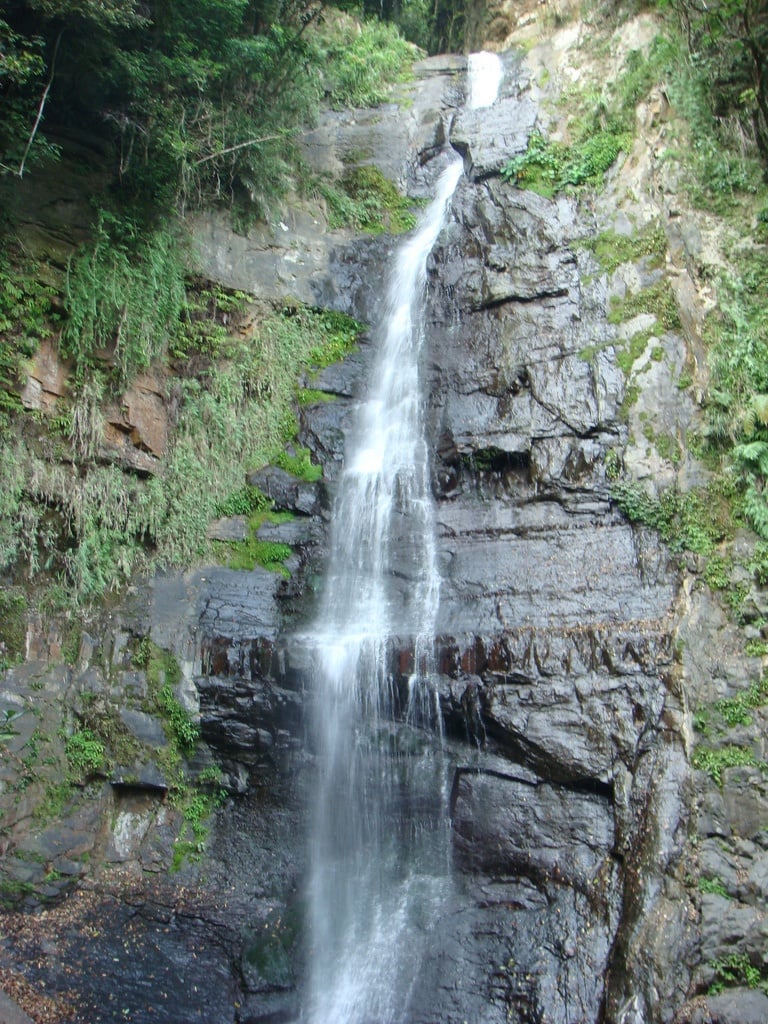 Want to detox in some hot springs with your lover? Come to Jiaoxi!
When Taiwan was occupied by the Japanese, Jiaoxi was one of the top places Japanese military personnel came for rest and relaxation. The hot springs themselves are reported to be the best in Taiwan because there's no sulfur smell.
You can go to public hot spring parks or ones with different kinds of baths and jets. My favorite, though, is to book a private room at a hot springs for an hour or two.
You can enjoy a good soak in the amazing hot water behind closed doors with your partner. Bottom line: it is an ultra-intimate and relaxing experience.
A brilliant way to end the afternoon is to head into Jiaoxi after the hot springs and tuck into a bowl of hot pot soup. You will be feeling like a million bucks after the hot springs and soup detox, I can promise you that.
Backpacking Sun Moon Lake
Sun Moon Lake is one of Taiwan's most popular spots. The lake sits at 762m and enjoys pleasant weather throughout the year.
For backpackers, you can have one of two experience here. The first scenario involves you becoming overwhelmed and pissed off by all of the people and tourism. The second, which takes some, effort, will have you thoroughly enjoying yourself.
Sun Moon Lake is another great spot to rent a scooter so you can explore on your own pace. There is a fun loop around the lake that you can combine with a picnic lunch.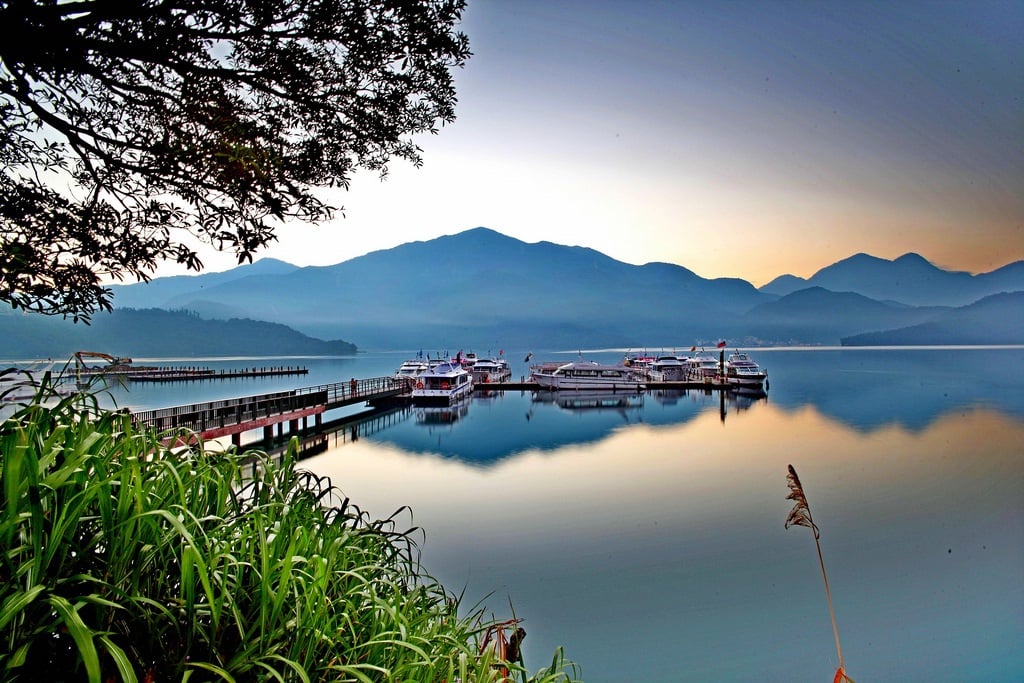 The majority of people tend to stick around the lake, so if you can get yourself into the mountains on foot for a full day of hiking, you will certainly leave the crowds behind. The Mt. Maolan Trail is a good place to start, though it is quite easy and short.
The Songbolun Nature Trail is another historical trail that is less visited. The surrounding hills are dotted with impressive Chinese temples. San Sheng Temple is worth a look. Take in the sunset at Wenwu Temple when the day-time crowds have vanished.
Travel CHEAP and Make a Difference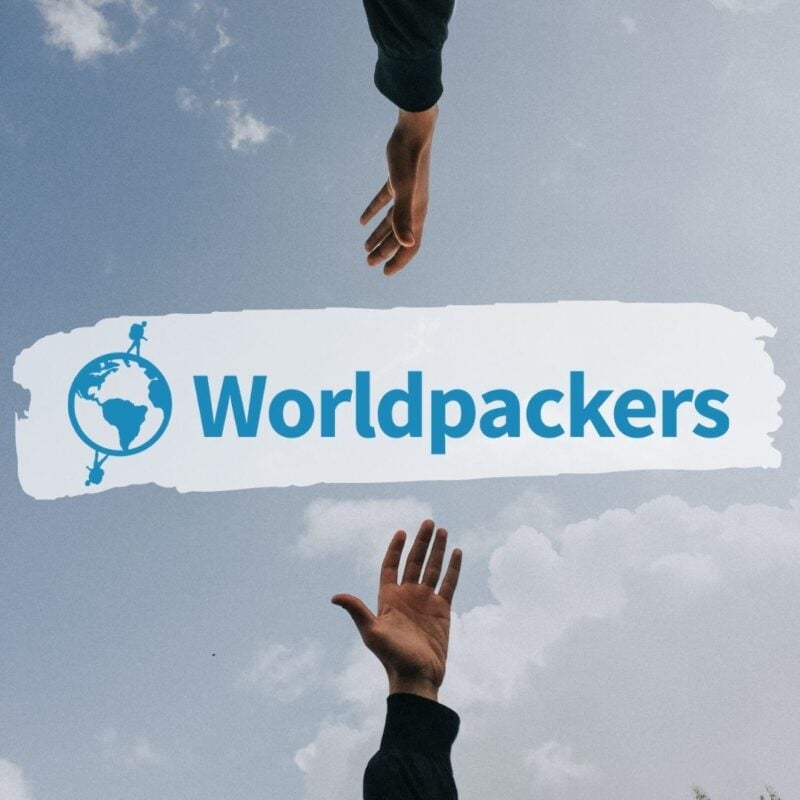 Worldpackers connects travellers with hostels, schools, NGO's and many more. Get free accommodation in exchange for volunteering a few hours a day. You won't just save serious $$$, you'll experience a different culture, cool projects, meet new people and integrate into the community in a different way.
Broke Backpacker readers get a $10 discount when you sign up. Use the discount code BROKEBACKPACKER. Plus, get 3 free months on your membership during their summer promo!
Travel well with Worldpackers
Backpacking Shei-Pa National Park
One of the most beautiful places for backpackers to go in Taiwan is Shei-Pa National Park. The park is home to the dominating Hsuehshan and Dabajian Mountain peaks in addition to a multitude of camping and hiking opportunities.
There are several areas around the park like Alishan and Wuling Farm that cater more so to Taiwanese families seeking an escape from city life.
For more rough and wild parks of the park, head to Guanwu Forest Recreation Area, and for a worthwhile challenge, climb Mount Hsuehshan (Xueshan). Hsuehshan is the second highest mountain in Taiwan and in East Asia, at 3,886 m.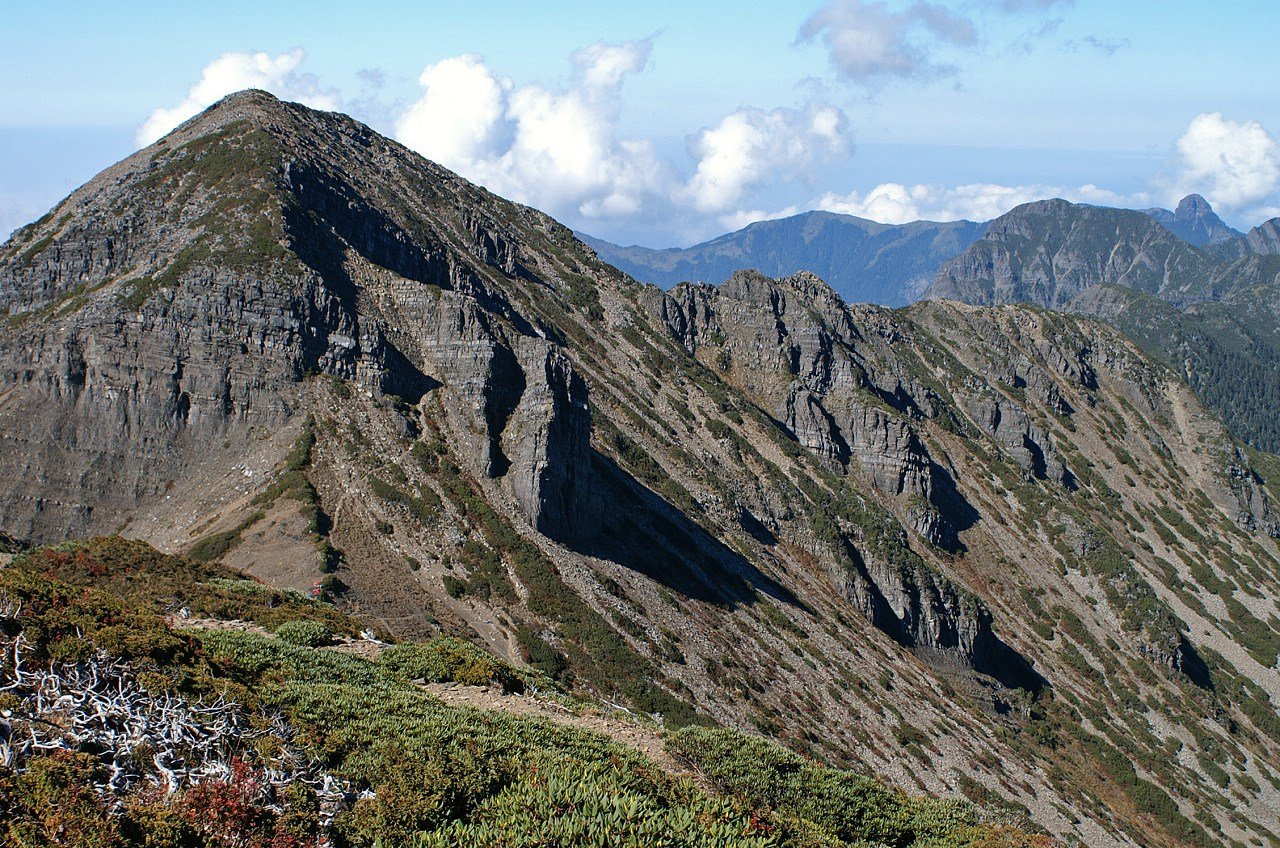 Be sure to check out the 80-foot Taoshan Waterfall, located at the end of the Taoshan trail.
Really, there is plenty to get into here in the realm of outdoor adventuring. If you have a few days, be sure to go for an overnight camping trip within the park.
If you don't have any camping gear with you, there is the option to base yourself in Taichung (which isn't super close) for the night or seek alternative accommodation in the park itself.
Backpacking Hualien and the Taroko Gorge
The Taroko Gorge is probably one of Taiwan's most iconic places. Located in Taroko National Park, the gorge is a meandering ecological marvel of marble and schist.
What makes the Taroko Gorge even more special – in addition to its natural beauty – is its spiritual vibe.
Some of the Pagoda's that dot the hillsides make you go "how in the hell did they get that there?". A seemingly endless number of hidden trails and footpaths take you atop impossibly steep cliffs thousands of meters above the river below.
Cross sometimes scary rope bridges in search of your own slice of paradise. Bring along a picnic and rest at an overlook spanning an endless sea of green, rock, and trees. Due to the large area making up Taroko National Park, it shouldn't be too difficult to escape the crowds.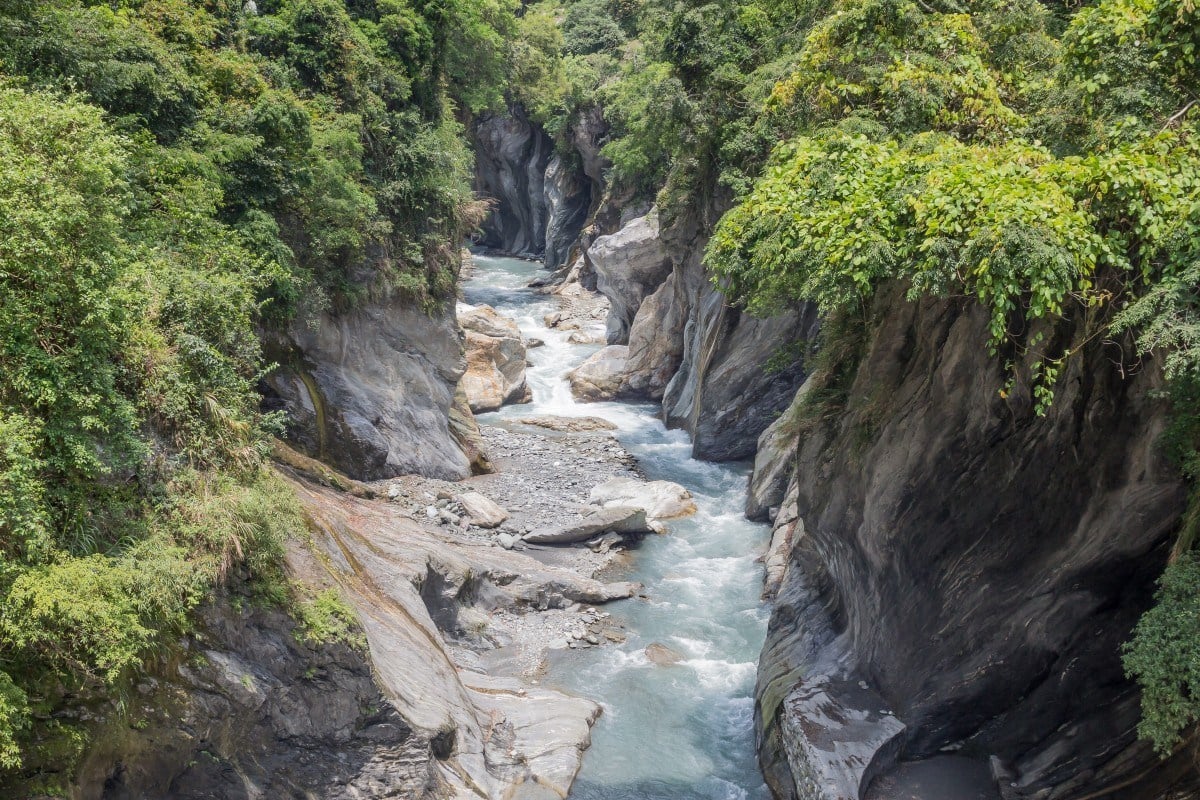 Be sure to check out the suspension bridge to Changuang Temple. You can pick up the trail to the temple directly behind the Eternal Spring Shrine.
Down in the river at the bottom of the gorge, there is excellent swimming and some equally impressive hikes to walk. It is possible to hire a guide to take you river tracing, which is essentially a hybrid of intense hiking in the river, rock climbing, and canyoning.
If you happen to be traveling with your own rock climbing gear you can find plenty of rock to keep you busy without hiring a guide.
Backpacking Taitung
Taitung has arguably the best surfing in Taiwan. Even if you do not surf, one can appreciate the beautiful landscapes and pristine beaches on offer here.
It is easy to see why some backpackers find themselves in Taitung for a few weeks or more. The vibes are excellent, the waves plentiful, and the beer is cold. What more do you need?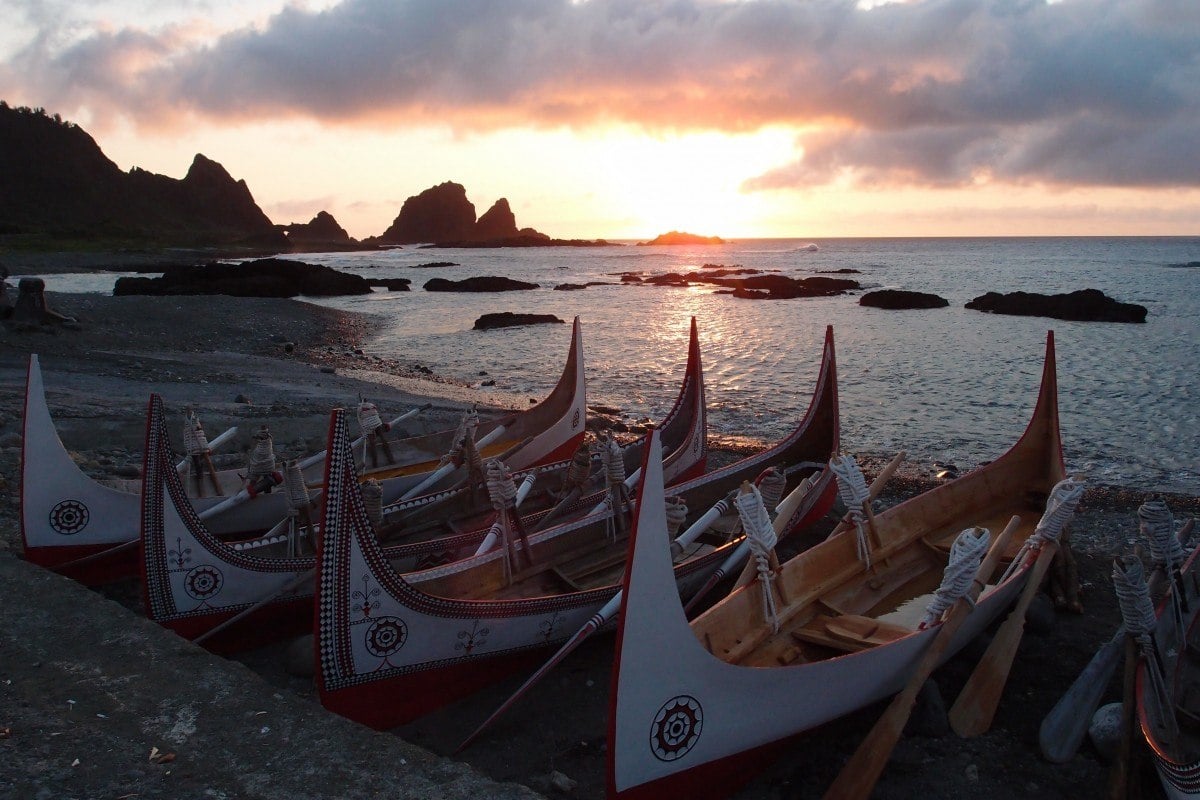 When summer rolls around, the skies around Taitung fill up with hot air balloons. Enthusiasts come here for Taiwan's International Balloon Festival, which happens in July and August annually.
Life in Taitung is rooted in traditional Taiwanese culture. I am happy to report that the coast has yet to be affected by industrial development or mass tourism. Taitung and its beaches are truly one of the hidden gems of Taiwan. Get here quick and enjoy the bliss-party while it lasts.
Backpacking Green Island
For an even slower pace of life and scuba diving opportunities, head to Green Island. Green Island itself isn't very big, so one can easily take it in with a scooter in a couple days (or just an afternoon).
Cruising around the island on a scooter, stopping where you want, and exploring the tiny villages is super cool indeed. Backpacking Taiwan doesn't get any easier going than this.
The real highlight, however, lies just off the coast. There is some fantastic scuba diving to take part in if you are like me and love to dive. The diving here isn't quite as cheap as you'd find if you were backpacking South East Asia, but it is reasonable nonetheless.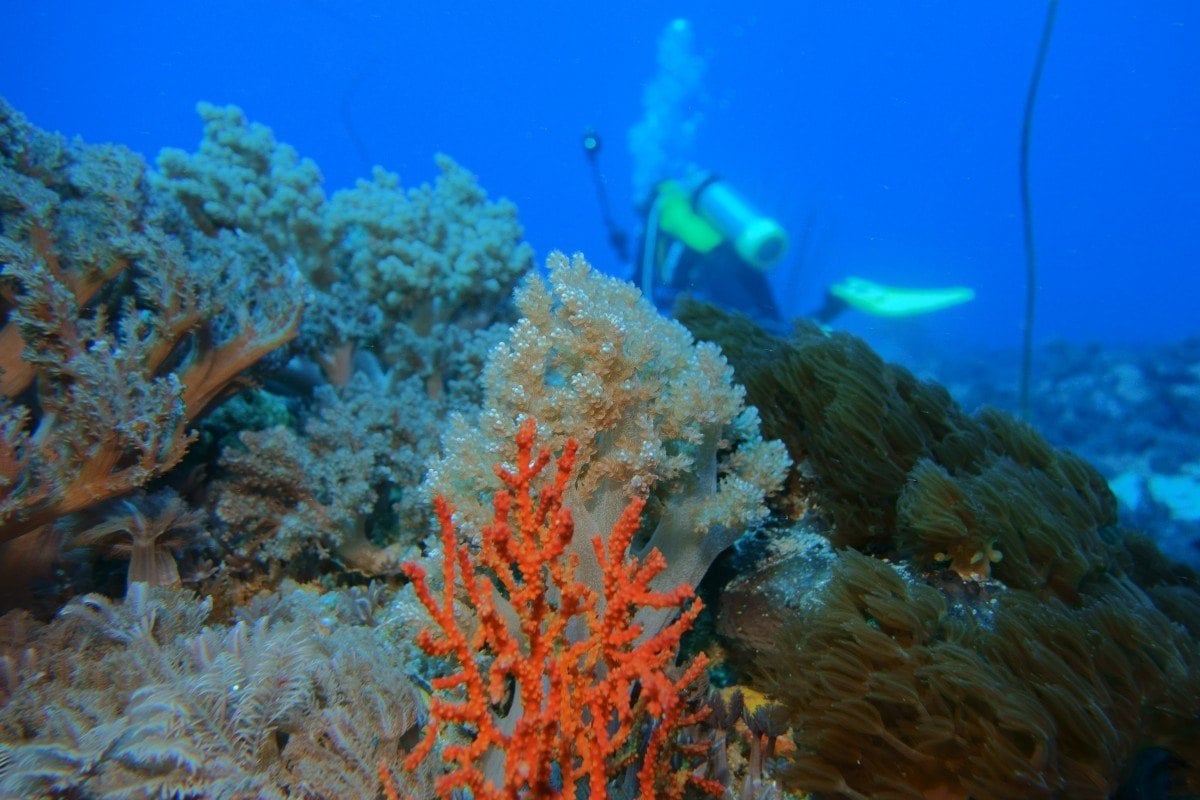 Fellow hot springs fanatics, listen up: Green Island is home to saltwater hot springs! The Jhaorih Saltwater Hot Springs to be exact. This is one of the few places on earth where you can soak in natural hot salt water.
People flock to Green Island from all across the globe just to experience these magical springs. After a day of diving or scootering, treat yourself to a luxurious soak in the fabled water. You'll be happy you did.
Backpackers can stay in Taitung before going to or arriving from Green Island.
Backpacking Kenting
Located at the very southern tip of Taiwan, Kenting National Park is a paradise for surfers and backpackers looking to get in some beach and hiking time.
Unlike a large majority of the rest of Taiwan, Kenting has a hot and dry climate. It has been called the California of Taiwan. Kenting boasts fantastic white-sand beaches and probably some of the best scuba diving in Taiwan is located in the reefs just off the coast.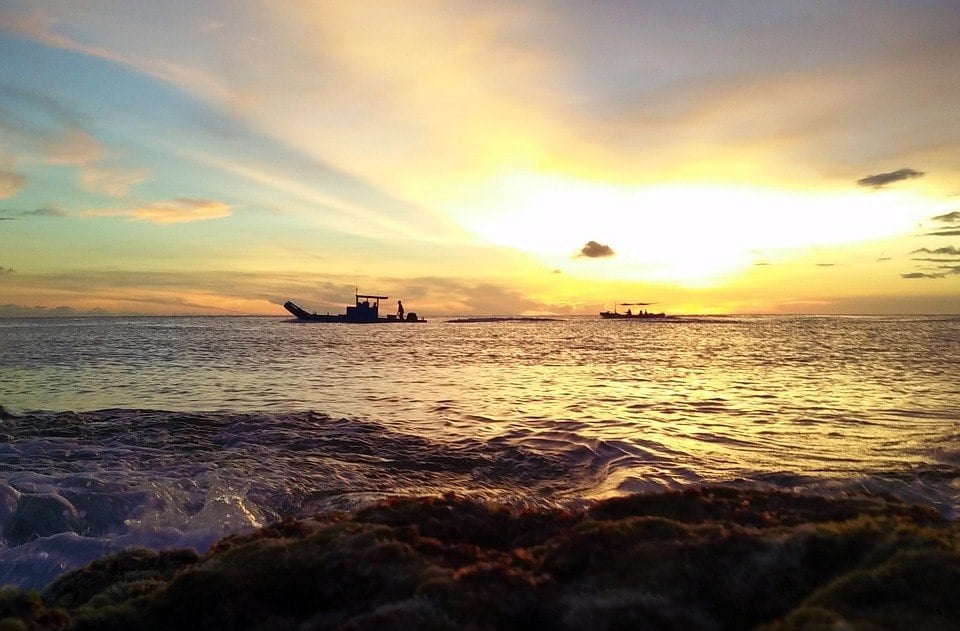 An afternoon spent exploring Hengchun town is well worth it. Be sure to check out the four old city gates in Hengchun. Of utmost importance: eat your way around the Hengchun night market! Backpacking Taiwan is all about the night markets if you haven't picked up on that by now.
To be honest, this part of Taiwan is also best explored by scooter. You can rent one for about $5-10 a day, so it is a no-brainer. Once you have a scooter you can really get off the beaten path and explore the areas around Kenting.
Jialeshui Beach is an excellent place to surf for all skill levels. If you have time, swing over to neighboring Orchid Island for some additional great diving and a taste of Taiwanese aboriginal culture.
Backpacking Kaohsiung City
The second biggest city in Taiwan is Kaohsiung. It's like Taipei's more relaxed, less successful brother in the south. It is a great place to visit if you like to go out and have fun, but you want a more relaxed vibe. I've been told by trusted sources that it is a great place to get laid if you are a solo backpacker.
A few decades ago, there wasn't much happening in Kaohsiung, but now things are changing very rapidly here for the better.
You can start your day by visiting the old British consulate. The old consulate is a beautiful red brick building that sits atop a hill overlooking the harbor. The hike to see it is a little uphill, but the views from the top make it worth it.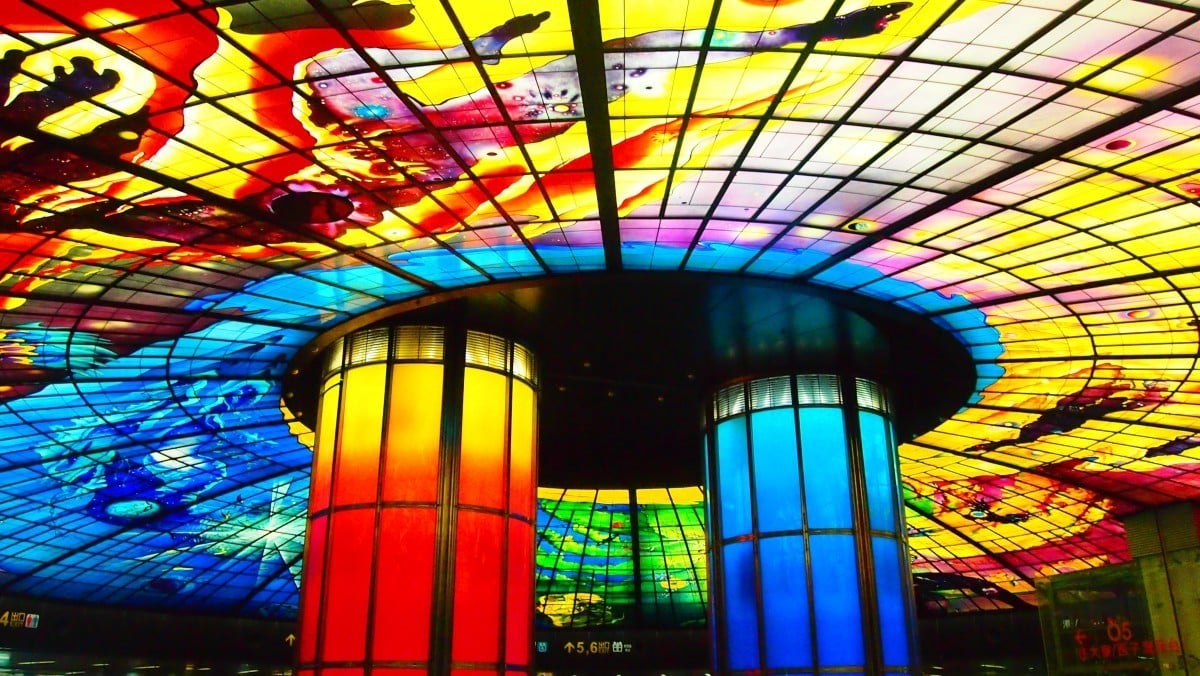 Next up, head to Lotus Pond and take it the wonderful Dragon and Tiger Pagodas. Sitting in a corner of Lotus Pond is the largest Confucius temple in Taiwan: the Kaohsiung Confucius Temple.
Top tip: Don't visit on September 28th as it is Confucius' birthday celebration and the crowds are insane.
If you have time, pop over to the hip Pier-2 Art District and grab a drink. End your day with a visit to the happening Ruifeng Night Market. There is street food galore so come hungry.
Backpacking Tainan
Welcome to the former capital of Taiwan, Tainan. The city is one of my favorite urban destinations for backpackers in Taiwan.
Tainan has the perfect mix of stunning architecture, magnificent temples, great food, and all of the inner workings of a hipster hot spot in the making.
Start off by checking out the Grand Matsu Temple. This impressive temple at one point served as the palace of Ning Jin, the last king of the Ming dynasty.
For lunch, head to the legendary Wang's Fish Shop for a bowl of soul-cleansing fish broth soup. All the dishes are prepared in the wee hours of each morning, so you can expect to have the freshest possible fish coming across your plate.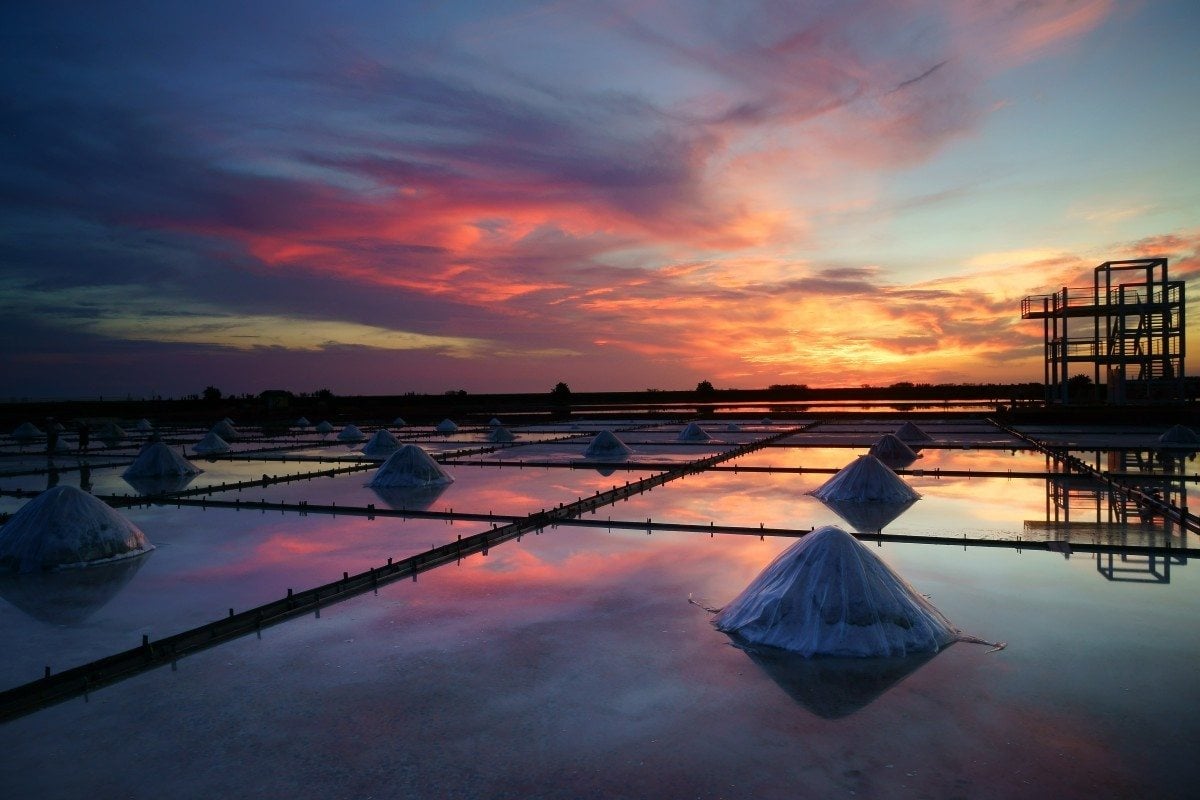 After lunch, you can take a meander through Shennong Street. Here, you will find cool cafes, bars, fashion boutiques, and art galleries. The area is wedged between a series of five canals and has a special, tucked away atmosphere. The King of Medicine Temple is among the very impressive structures to be found in this corner of Tainan.
The TCRC Live House is a fun dive bar to have a cold drink and catch some local live music.
Getting Off the Beaten Path in Taiwan
Taiwan is a small island with 23 million inhabitants and counting. Countless numbers of mainland Chinese tourists also account for a fluctuating number of non-permanent residents in Taiwan. People are everywhere.
Despite this, backpackers will be happy to learn that it really isn't difficult to get off the beaten track in Taiwan. The mountainous interior of the country is wild, sprawling, and far less inhabited than Taiwan's coastal urban centers.
One thing I have consistently observed about Chinese tourists — god bless them— is that they really like to travel in groups, but rarely, if ever, do they actually hike any distance. I am sure I am not the only one to notice this phenomenon.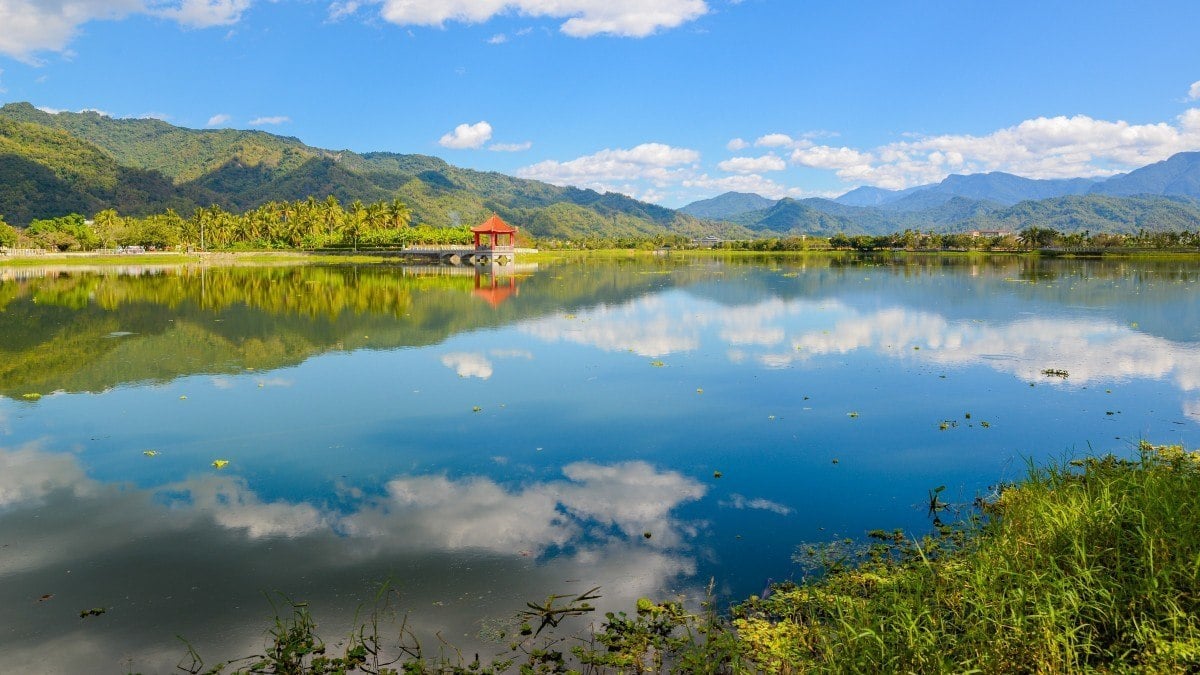 Fortunately for those looking to get off the beaten track in Taiwan, once you head out into the mountains on foot, you leave a boatload of bus-tourists in your wake. There are many established hot spring resorts in Taiwan, and there are also more than a dozen remote, wild hot springs pools to visit too.
Between the vast network of Taiwanese hiking trails, isolated mountain camping spots, quiet sections of the east coast, and the blissed-out far-flung temples and hot springs, getting off the beaten path in Taiwan is surprisingly easy and accessible. You just have to go and make it happen.
(More about trekking in Taiwan later in the article.)
Is This the Best Backpack EVER???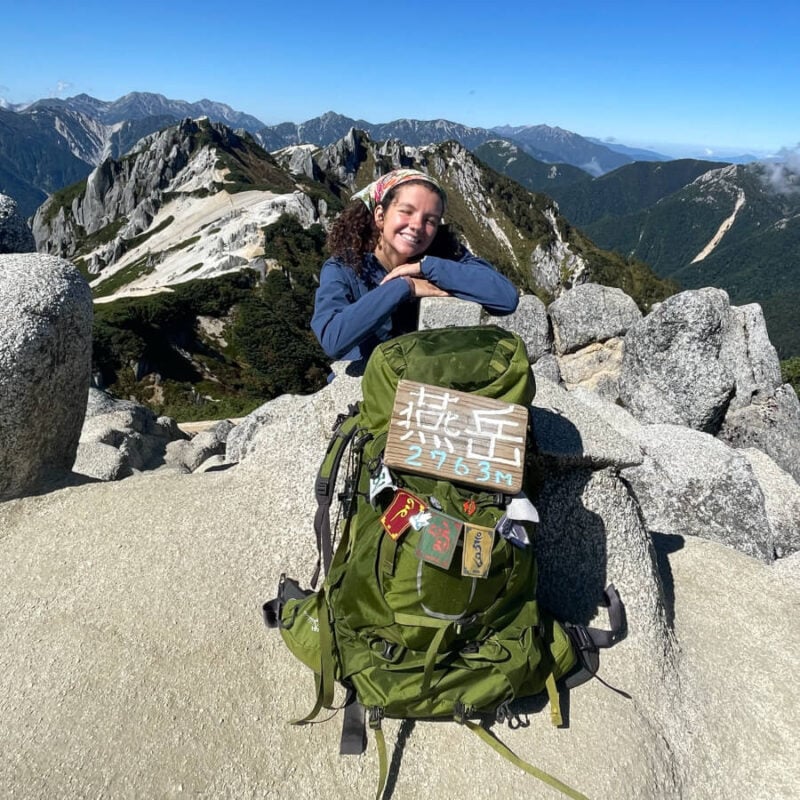 Top Things to Do in Taiwan
Below I have listed the 10 best things to do in Taiwan:
1. Climb Yushan (Jade Mountain)
Yushan is Taiwan's highest mountain at 3952m. The hike is one hell of a burnout, but the view are incredible. Start very early if you plan to do it in one day.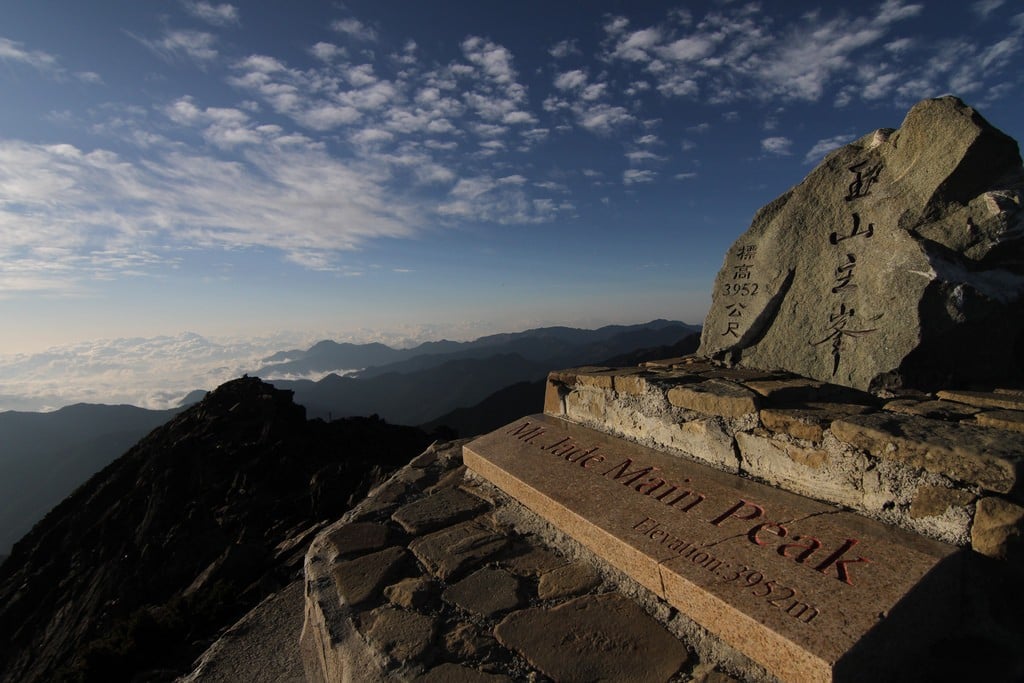 2. Soak in some Hot Springs
Taiwan is the land of Hot Springs. Whether you fancy a resort-style health-spa or a trek out to some wild hot springs, there is a pool of soothing hot water somewhere in Taiwan with your name on it.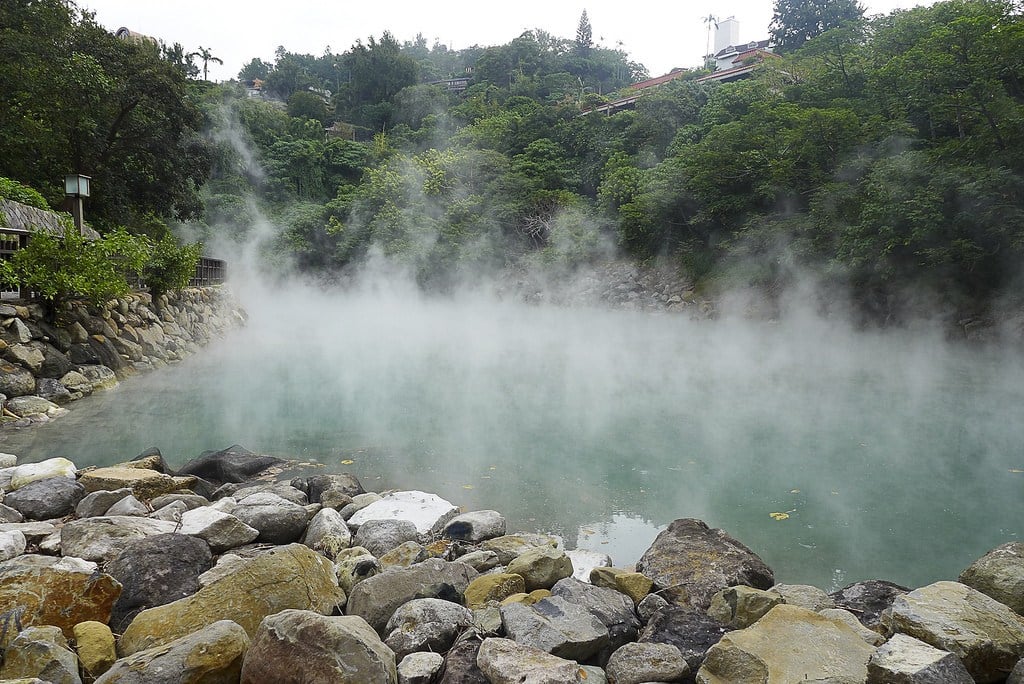 3. Go Surfing in Taiwan
Taiwan is home to some of the best surfing in East Asia. Many of the breaks are suitable for all levels.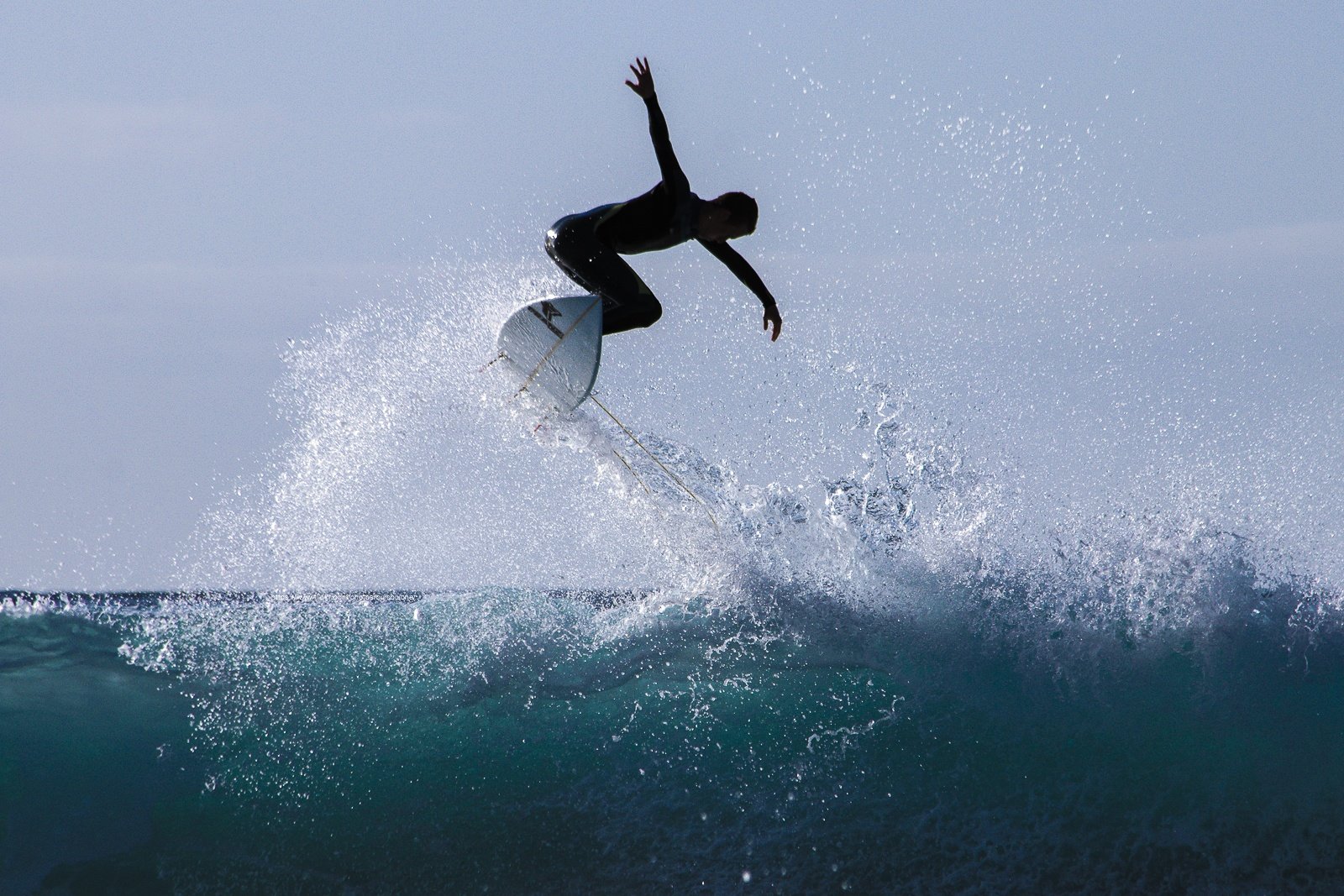 4. Experience the Blue Tears
On the Matsu Islands an annual algae bloom has become one the most impressive natural phenomena anywhere on earth. The best month to catch the magnificent spectacle is in August.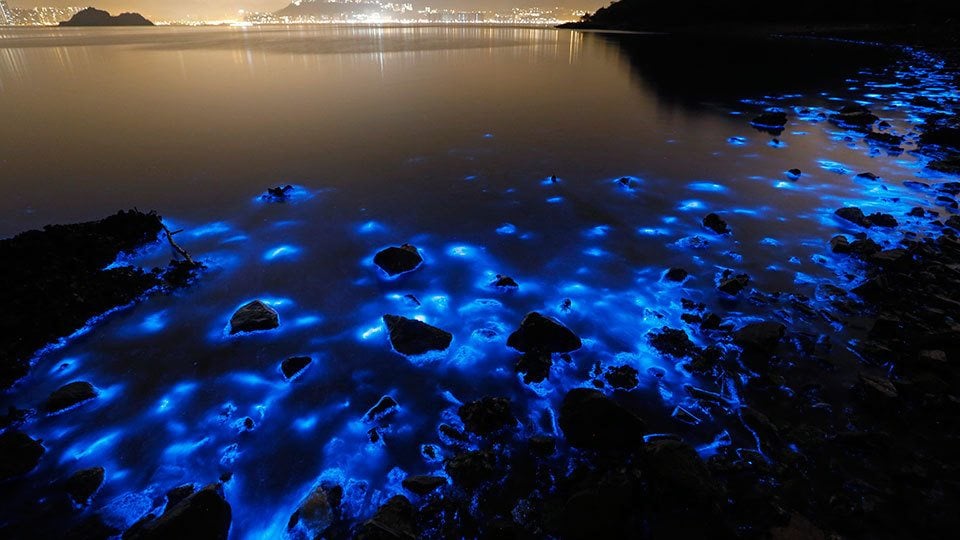 5. Taste the Bread at Wu Pao Chun Bakery
You have to be a very impressive bakery to make it onto this list. Wu Pao Chun is the definition of impressive (and super tasty). Get yourself there to try their award winning bread.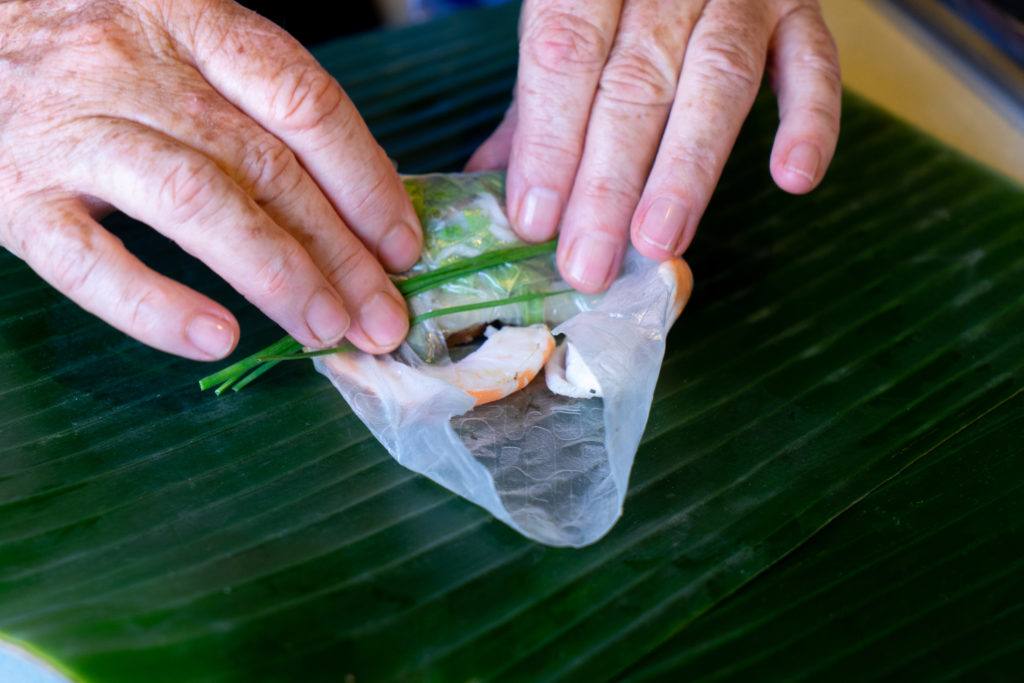 One of the best ways to get to grips with a new culture is through the food! Cookly partners with local cooking schools and restaurants in countries all around the world and is an awesome way to go on your very own culinary adventure. Book a Taiwanese cooking class here.
6. Visit the Longshan Temple
Take a few hours to admire all of the fine details that make the Longshan Temple one of the finest in Taiwan.
7. Go to a Night Market in Every City You Visit
Taiwan is famous for its night markets, and every big city has its own version. You can people watch and eat delicious (and often strange) food.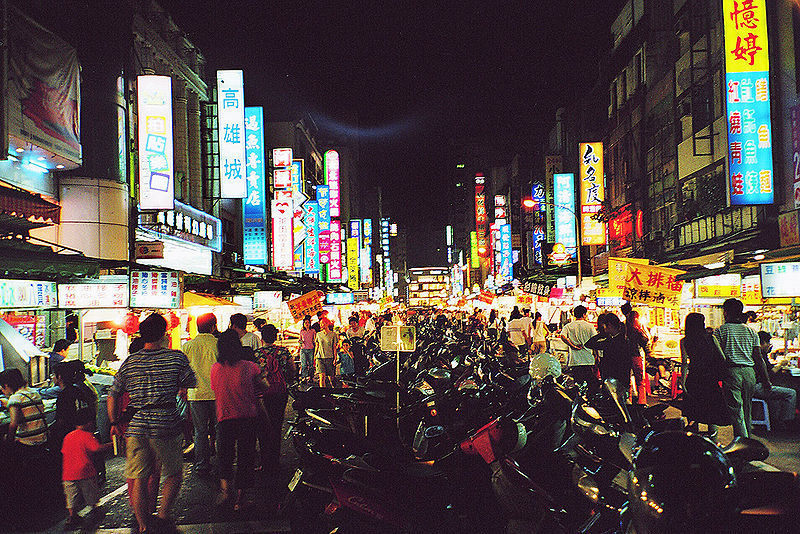 8. Explore the Taroko Gorge
Taroko Gorge may be one of Taiwan's most popular natural attractions, but the national park that encompasses the gorge is truly massive, so you can really spread your wings.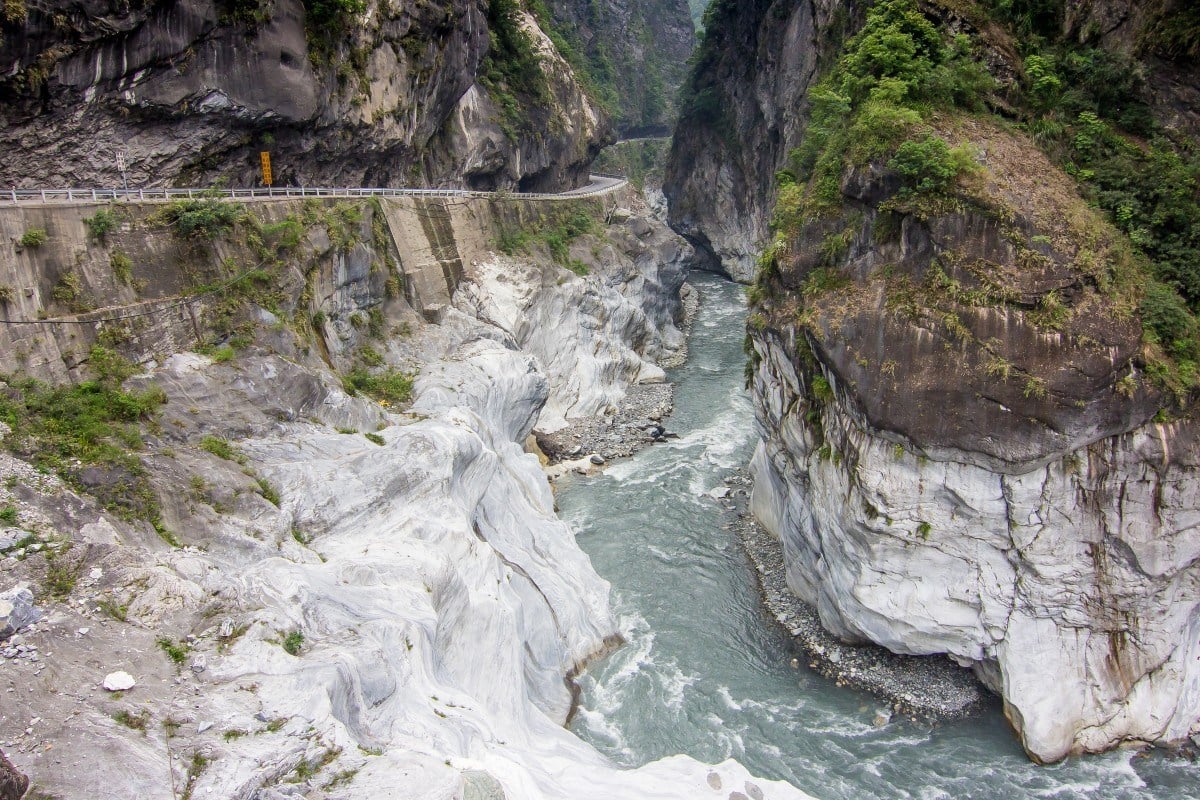 9. Eat Street Food
Eating street food is every backpackers favorite activity, right? Well in Taiwan there is some next level shit to try. Stinky tofu, basil seed bubble milk tea, xiao long bao soup dumplings, bizarre shaved ice jelly things, pork buns, and every imaginable type of fried/bbq meat. Hungry yet?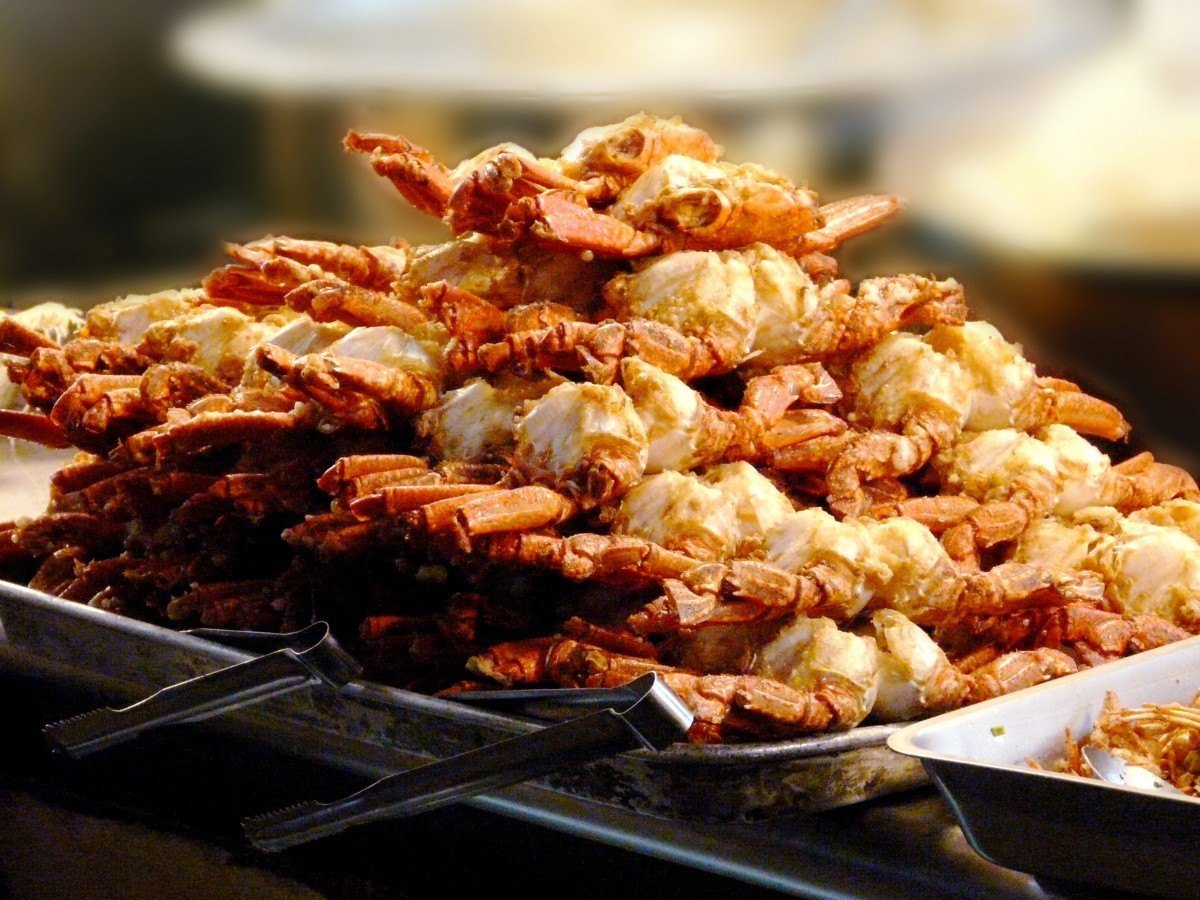 10. Rent a Scooter
The trains are great for getting you from A to B, but when you just want to discover new places on your own terms, renting a scooter in Taiwan is where it is at. Remember to always wear a helmet! Take a drive around Sun Moon Lake or get to know one of the islands off of the east coast.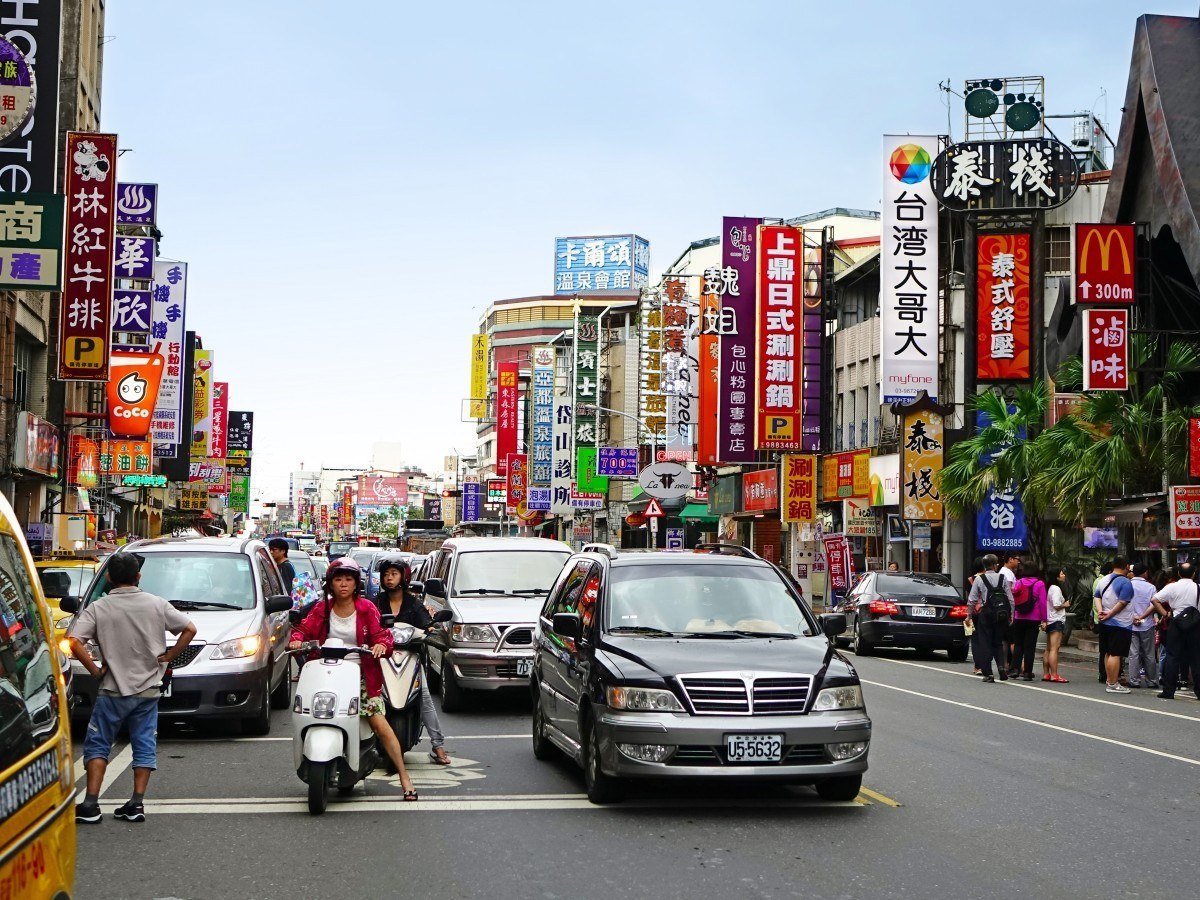 Small Pack Problems? 😉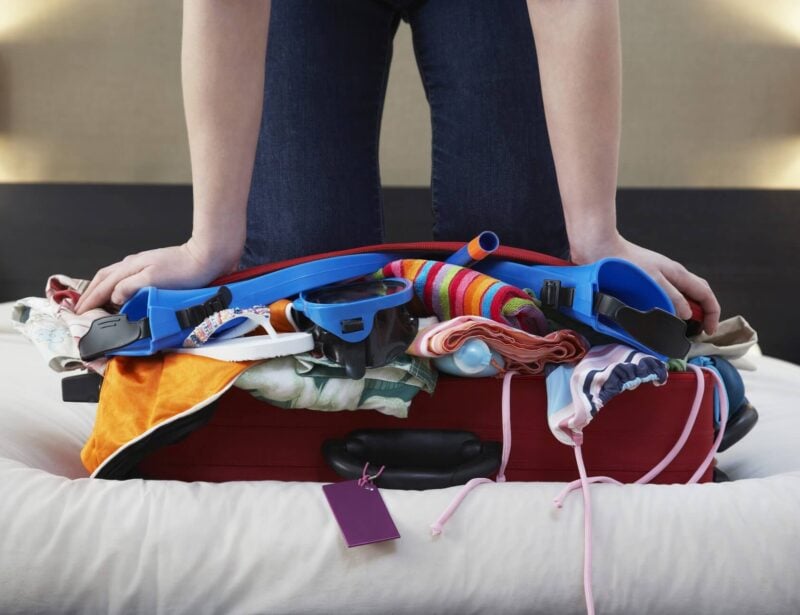 Wanna know how to pack like a pro? Well for a start you need the right gear….
These are packing cubes for the globetrotters and compression sacks for the real adventurers – these babies are a traveller's best kept secret. They organise yo' packing and minimise volume too so you can pack MORE.
Or, y'know… you can stick to just chucking it all in your backpack…
Get Yours Here
Read Our Review
Backpacker Accommodation in Taiwan
Backpacker accommodation in Taiwan is abundant and can be very cheap. You can sometimes find a dorm bed for as low as $7 USD! It is pretty common to find a private room at a hostel for between $30 and $50. Finding a decent place to sleep in Taiwan is not expensive at all.
Most cities and small towns have something in the way of budget accommodation. In Taiwan, it is a good idea to book your hostels in Taiwan in advance. There is always a lot of people traveling in Taiwan and they are after the same cheap hostel that you are!
Given the fact that Taiwan is blessed with beautiful awe-inspiring mountains, there is no good reason why you shouldn't bring along a good tent and sleeping bag. Your camping experience while backpacking Taiwan will be far more fun and unique than if you are sleeping in a hostel every night. Decisions, decisions.
One of my favorite ways to meet locals and save some cash is to use Couchsurfing. Couchsurfing truly is one of the best tools available to help save you money traveling. Plus, you are always bound to meet interesting people!
Obviously, in the era of COVID-19, Couchsurfing is no longer really possible. Let's hope this great traveler's resource comes back to us soon!
Best Places to Stay in Taiwan
Where to Stay in Taiwan

| City | Hostel | Why We Like It!? |
| --- | --- | --- |
| Taipei | Meander Taipei | Located in the hip Ximending area. Clean, comfy, and super cool. |
| Jiufen | Flip Flop Hostel | Hostel is in a 100 year old wooden building. Beautiful interior. |
| Yilan | East Hostel | Very well-run hostel that feels and looks brand new. |
| Sunrise Life Toucheng | Sunrise Life Toucheng | A quintessential Taiwanese surf hostel. Gooood vibes. |
| Sun Moon Lake | Perbed Hostel | Surrounded by scenic mountains and lakes. The hostel is right next to the main transport hubs. |
| Taichung | Plan A Hostel | Great location: walking distance to train station, shops, and cheap eats. |
| Hualien | Journey Hostel and Bar | Really fun bar onsite. Small, clean dorm rooms. |
| Taitung | Dulan The Travel Bug Bistro Inn | Artsy atmosphere and a basic, but free breakfast. |
| Kenting | Rainbow Wave Surfing Hostel | Great place to chill out, surf, and meet other travelers. |
| Kaohsiung | Trip GG Hostel | 3 minute walk to the Liuohe Night Market! |
| Tainan | Journey Hostel Tainan | Cheap private rooms, close to the train station. |
| Chiayi | Kite Hostel | Small scale hostel with homey vibes. |
Wild Camping in Taiwan
Wild camping is legal in Taiwan. There are plenty of awesome places to pitch your tent. Obviously, the mountains are ideal for camping from a comfort perspective.
You might find camping to be rather uncomfortable at low elevations. Taiwan is hot and humid, and coastal camping might prove to be more trouble than it is worth. Pray for a breeze if you wind up camping at the beach!
If you are unsure about whether or not a potential campsite is on private land, at least make an effort to ask the owner if you can get by the language barrier that is.
In general, if you pitch your tent around dusk and are gone by 7 am or so, no one should hassle you.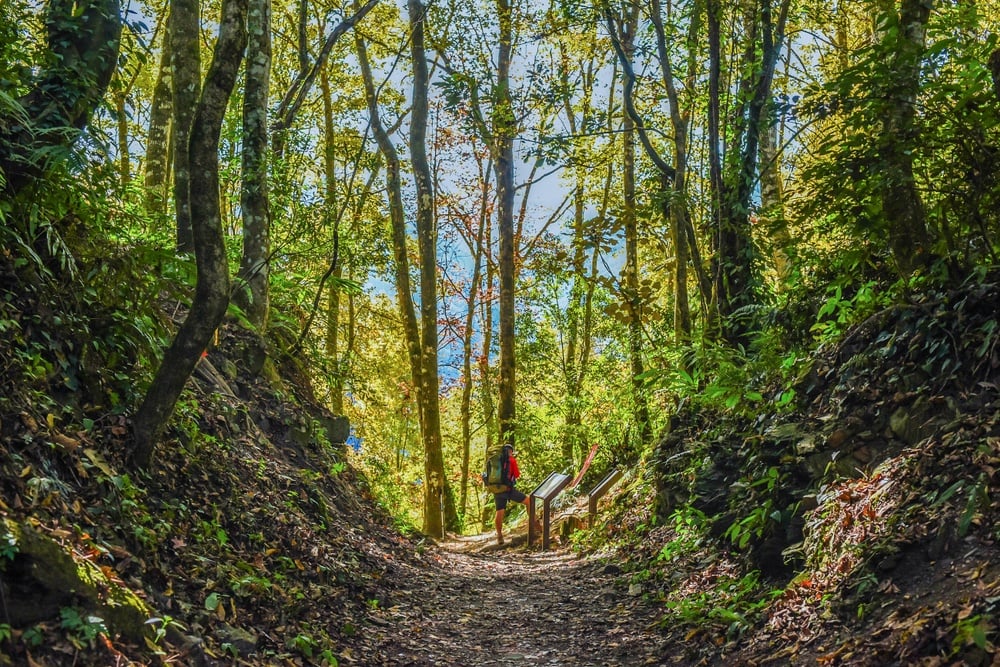 Get familiar with "leave no trace principles" and put them into practice.
If you are in the market for a solid, lightweight, and reliable tent, I highly recommend the MSR Hubba Hubba 2-person tent. This compact tent is up to the challenge of battling Taiwan's subtropical weather. To get to know this tent better, check out my in-depth MSR Hubba Hubba Review.
Taiwan Backpacking Costs
If you are planning on extending your backpacking adventure to South East Asia, Japan, or beyond you can usually find cheap flights from Taipei to other major hubs in Asia.
Good news! Taiwan is a cheap place to go backpacking. Whilst it is not as cheap as backpacking in Laos or India for example, you will find that you can get by on a shoestring budget in Taiwan.
It blows my mind that Taiwan is not on the typical Asia backpacking trail because it's a very backpacker-friendly country. You can eat well, sleep in a hostel, ride the train, and participate in some fun activities while spending on average between $25-45 USD per day.
Typically, eating will be your biggest cost. Food is cheap, but you also don't want to limit yourself. Remember all of those night markets I have talked about? You definitely want to try many new things all the time!
Hostel prices do vary, but you can almost always find a place to sleep under $15.
I recommend Couchsurfing as much as you possibly can. The more you Couchsurf and hitchhike, the more money you can spend on beer, good food, and activities. Pure and simple.
As I mentioned before having a good tent and sleeping bag are crucial to budget backpacking. Both will save you a ton of money on accommodation. Due to the climate you may not want to be camping all the time. I get that. But it is still great to have the option.
A Daily Budget in Taiwan
Here is what you can expect to spend on a daily basis whilst backpacking Taiwan:
Taiwan Daily Budget

| Expense | Broke Backpacker | Frugal Traveler | Creature of Comfort |
| --- | --- | --- | --- |
| Accommodation | $7 | $10-15 | $15-30+ |
| Food | $5-10 | $10-20 | $15-30 |
| Transport | $2-5 (short local bus) | $5-10 (longer local bus) | $20-30 (bullet train) |
| Nightlife | Stay Sober | $5-10 | $10-20+ |
| Activities | $5-15 | $15-30 | $30-100 (like for a guided tour or trek) |
| TOTAL | $25-45 | $30-50 | $50-100 |
Money in Taiwan
The currency in Taiwan is the New Taiwan Dollar (NT$).
Money comes in five denominations for paper money and five for coins. Paper money comes in NT$2000, NT$1000, NT$500, NT$200, and NT$100 denominations.
ATM machines are widely available in cities. If you are traveling with USD, you can get it exchanged into NT$ at a large bank. Find out whether or not your bank in your home country has fee-free international withdrawal. If so, activate it for your trip or for whenever you travel abroad.
Once I discovered my bank card had that option, I saved a huge amount in ATM fees! When traveling to Taiwan on a budget, every dollar counts right?
Travel Tips – Taiwan on a Budget
Shop and eat at convenience stores: Look, convenience stores are just different in Asia and in Taiwan in particular. This is where locals go to pay bills and parking tickets, get their mail, have a full-on delicious budget meal, study, and drink coffee. Basically one can do everything there. In general, things are cheap at convenience stores and they are good places to grab some budget supplies or food quickly.
Camp: As mentioned, with plenty of awesome mountains, lakes, sprawling farm land, hidden temples, and stunning coastline in the Taiwan, camping saves you money and can help you get off of the beaten path. Camping will no doubt require extra effort – but in the end you will find yourself sleeping in some pretty unique situations and places.,
Cook your own food: Cook in the hostel sometimes and travel with a portable backpacking stove and cook your own food to save some serious cash whilst backpacking across Taiwan. If you plan to do some overnight hiking trips or camping having a backpacking stove will be ESSENTIAL to your success. My two personal go-to stoves are the MSR Pocket Rocket 2 and a Jetboil.
I realize that most of the time you will want to eat out, but cooking your own food on the road (at least 1 meal per day) is a big step towards saving money in the long run.
Why Should You Travel to Taiwan with a Water Bottle?
Plastic washes up on even the most pristine beaches… so do your part and keep the Big Blue beautiful!
You aren't going to save the world overnight, but you might as well be part of the solution and not the problem. When you travel to some of the world's most remote places, you come to realise the full extent of the plastic problem. And I hope you become more inspired to continue being a responsible traveller.
STOP USING SINGLE-USE PLASTIC! If you'd like some more tips on how to save the world.
Plus, now you won't be buying overpriced bottles of water from the supermarkets either! Travel with a filtered water bottle instead and never waste a cent nor a turtle's life again.
Save $$$ • Save the Planet • Save Your Stomach!
Drink water from ANYWHERE. The Grayl Geopress is the worlds leading filtered water bottle protecting you from all manner of waterborne nasties.
Single-use plastic bottles are a MASSIVE threat to marine life. Be a part of the solution and travel with a filter water bottle. Save money and the environment!
We've tested the Geopress rigorously from the icy heights of Pakistan to the tropical jungles of Bali, and can confirm: it's the best water bottle you'll ever buy!
View on REI
Read the Review
Best Time to Travel to Taiwan
Taiwan is divided into two distinct climate zones. Northern Taiwan lies within a sub-tropical zone while the south of Taiwan sits within a tropical zone like Hong Kong.
April through June and September through October are the months when the weather is the most enjoyable. The high mountains can be fresh and pleasant at any time of year.
Typhoon season should be avoided (July-September). The skies open up and unleash some pretty fierce downpours of rain. The winds can also blow quite strongly. Summer brings heat, humidity, thunderstorms, and lots of rain.
Pick up a good rain jacket, especially if you plan on visiting during the typhoon season. Check out my list of the best jackets to take traveling here.
If you fancy doing a lot of hiking, you should go to Taiwan in the fall. Winter is low season and backpackers can typically find the best deals on accommodation and food during this time.
Festivals in Taiwan
There is always something fun to get into in Taiwan. Depending on the time of year you find yourself backpacking in Taiwan, there are many cool festivals to check out. Here are a few of the top festivals in Taiwan:
Pingxi Sky Lantern Festival – March and Mid-Fall: Experience the awe-inspiring sight of thousands of flaming lanterns filling the night sky.
Jinshan Fire Fishing Festival: Fire Fishing is an age-old dying art in Taiwan. This festival celebrates that tradition by helping keep it alive. That's right. Fishing with fire.
Mazu International Festival – March/Taichung: One of the most important cultural festivals in Taiwan. Local traditions regarding worship, martial arts, the arts, and industry are all on display during one of the biggest parties of the year.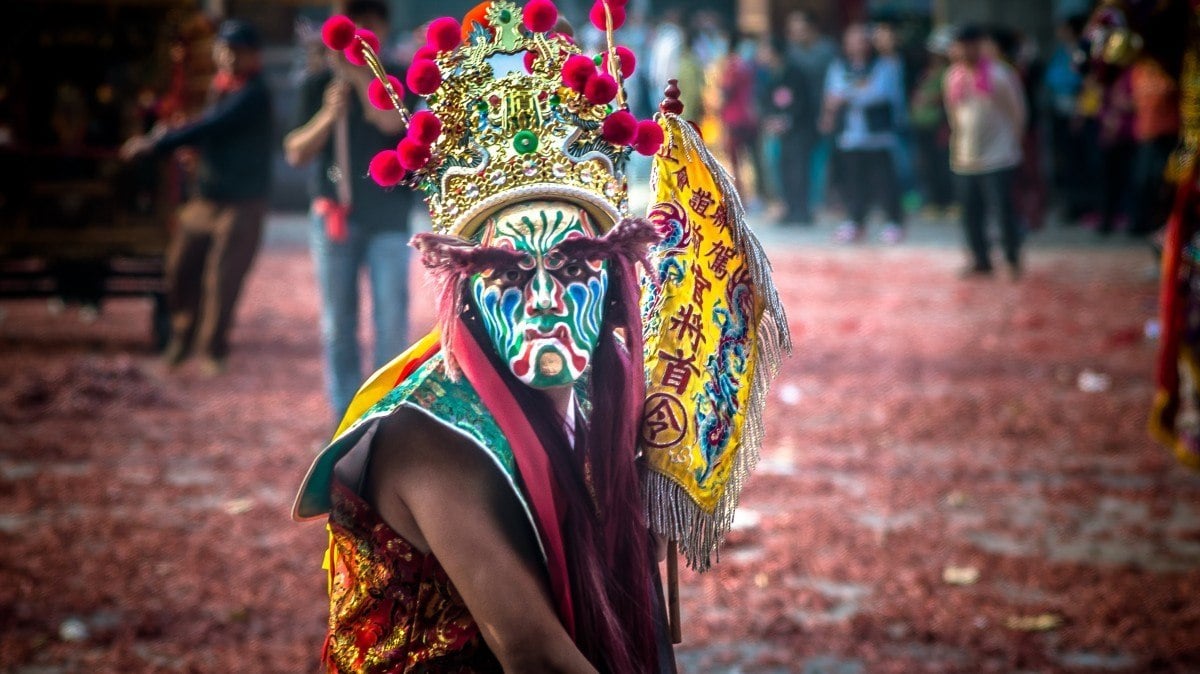 Taiwan International Balloon Festival – July and August/Longtien Village: Watch in awe as hundred of hot-air balloons from around the world take to the skies. If you are lucky, you can convince/pay someone to take you up for a ride.
Taoist Festivals – Throughout the year: Taoist festivals/parades are quite the spectacle. They often involves people (usually men) sticking needles, picks, hoops, and other scary objects into their faces.
Taiwan Open of Surfing – November and December/Jinzun: World-class surfers converge on Jinzun for a few days of epic surf competitions.
Chinese New Year – February: The new year celebrations get pretty wild. Parades, fireworks, crowds, and lots of strong drink are usually omnipresent.
What to Pack for Taiwan
Somewhere to hide your cash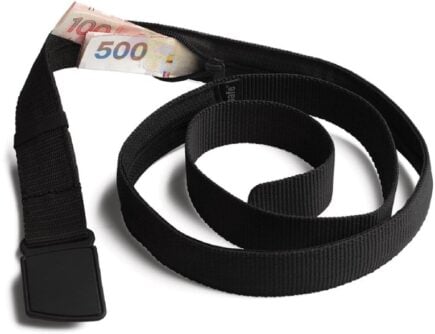 Somewhere to hide your cash
Travel Security Belt
This is a regular looking belt with a concealed pocket on the inside – you can hide up to twenty notes inside and wear it through airport scanners without it setting them off.
For those unexpected messes
For those unexpected messes
Microfiber Towel
Hostel towels are scummy and take forever to dry. Microfibre towels dry quickly, are compact, lightweight, and can be used as a blanket or yoga mat if need be.
When the power goes out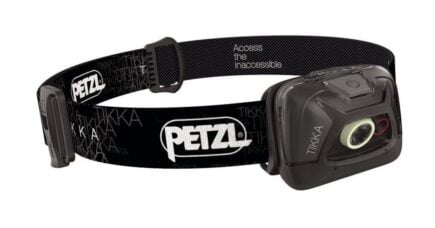 When the power goes out
Petzl Actik Core Headlamp
A decent head torch could save your life. If you want to explore caves, unlit temples, or simply find your way to the bathroom during a blackout, a headtorch is a must.
A way to make friends!
A way to make friends!
'Monopoly Deal'
Forget about Poker! Monopoly Deal is the single best travel card game that we have ever played. Works with 2-5 players and guarantees happy days.
To stay a clean backpacker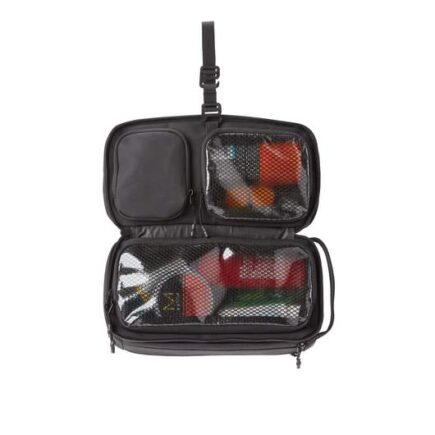 To stay a clean backpacker
Hanging Toiletry Bag
I always travel with a hanging toiletry bag. It's a super-efficient way to organize your bathroom stuff. This one by Nomatic is splash-proof and made to last.
Staying Safe in Taiwan
Taiwan is a relatively safe country to travel in. Violent crime against foreigners is almost unheard of.
Like in any country, pickpockets and petty criminals target touristy spots where potential targets are plentiful. Always keep a close eye on your stuff and as a general rule don't let your valuables out of sight until you have reached a secure place.
Drunk, alone, and lost when it's late at night is a recipe for trouble anywhere in the world. Use common sense, especially when knocking a few back. Don't get so drunk that you forget where you are staying and/or end up in the wrong part of town.
If you end up renting a scooter be careful on the roads. You will see immediately upon entering Taiwan that the motorcyclists and scooter drivers dart in and out of traffic with reckless abandon.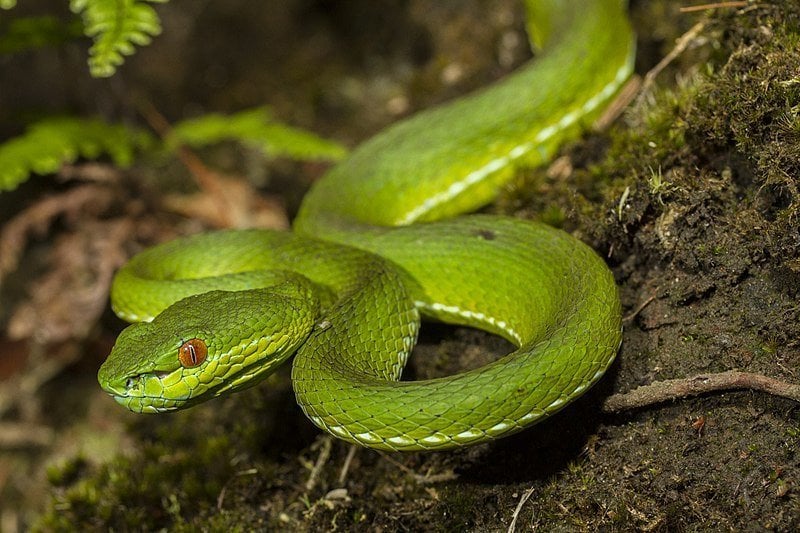 If you are hiking in the mountains, be careful where you put your hands and where you sit when you take breaks. Venomous snakes will bite you if you surprise them.
Dengue fever is present in Taiwan. Do your best to avoid the little mosquito bastards (covering up/using reppelent) and hope that you can avoid getting Dengue.
Check out Backpacker Safety 101 for tips and tricks to stay safe whilst backpacking in Taiwan.
I strongly recommend traveling with a headlamp whilst in Taiwan (or anywhere really – every backpacker should have a good headtorch!) – check out my post for a breakdown of the best value headlamps to take backpacking.
Sex, Drugs and Rock 'n' Roll in Taiwan
I'd say the most common drug of choice in Taiwan is alcohol. The Taiwanese do like to have a few cold beers, and I can't blame them. It gets hot as hell in Taiwan and a cold beer is just the thing sometimes.
The Taiwanese are very social drinkers. Going out for drinks with your mates is becoming as common as it is in western countries (especially in the big cities).
If you are after a little weed, the south is the best place to find it. It shouldn't be hard to score a few grams in one of the surf towns down south.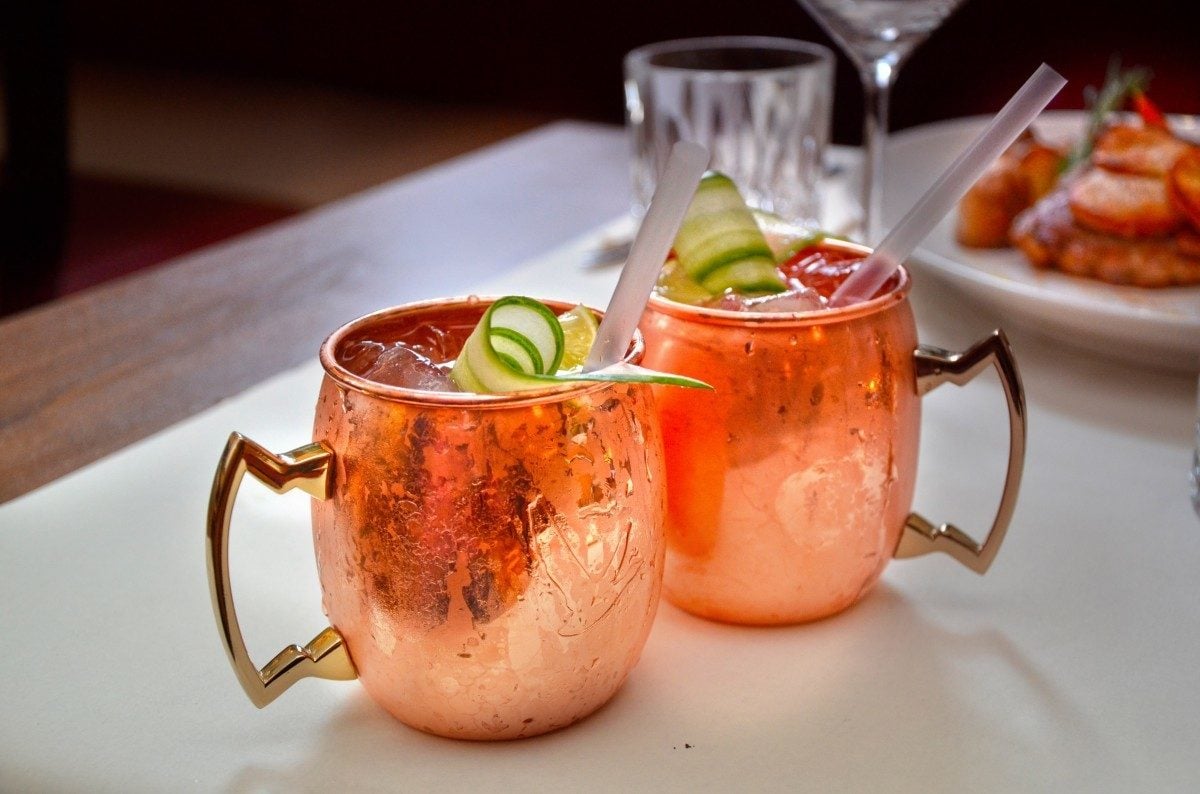 Though be careful when buying weed in Taiwan. The laws are quite strict and you certainly do not want to be caught buying weed by the police. A note for all you backpackers thinking about earning some quick cash selling weed in Taiwan: trafficking and possession in commercial quantities are punishable by death penalty. Take notice. Please don't let me see you on an episode of Locked Up Abroad.
Prostitution is fairly common in Taiwan as well. Barber shops and nightclubs are well-known to be fronts for brothels. Just be sure you know what you are getting into if you go down that road. I hope this goes without saying: always treat sex workers with respect. They are just doing their job, and for some, it might not be by choice.
Travel Insurance for Taiwan
Traveling without insurance would be risky so do consider getting good backpacker insurance sorted before you head off on an adventure.
I have been using World Nomads for some time now and made a few claims over the years. They're easy to use, professional and relatively affordable. They may also let you buy or extend a policy once you've started your trip and are already abroad which is super handy.
ALWAYS sort out your backpacker insurance before your trip. There's plenty to choose from in that department, but a good place to start is Safety Wing.
They offer month-to-month payments, no lock-in contracts, and require absolutely no itineraries: that's the exact kind of insurance long-term travellers and digital nomads need.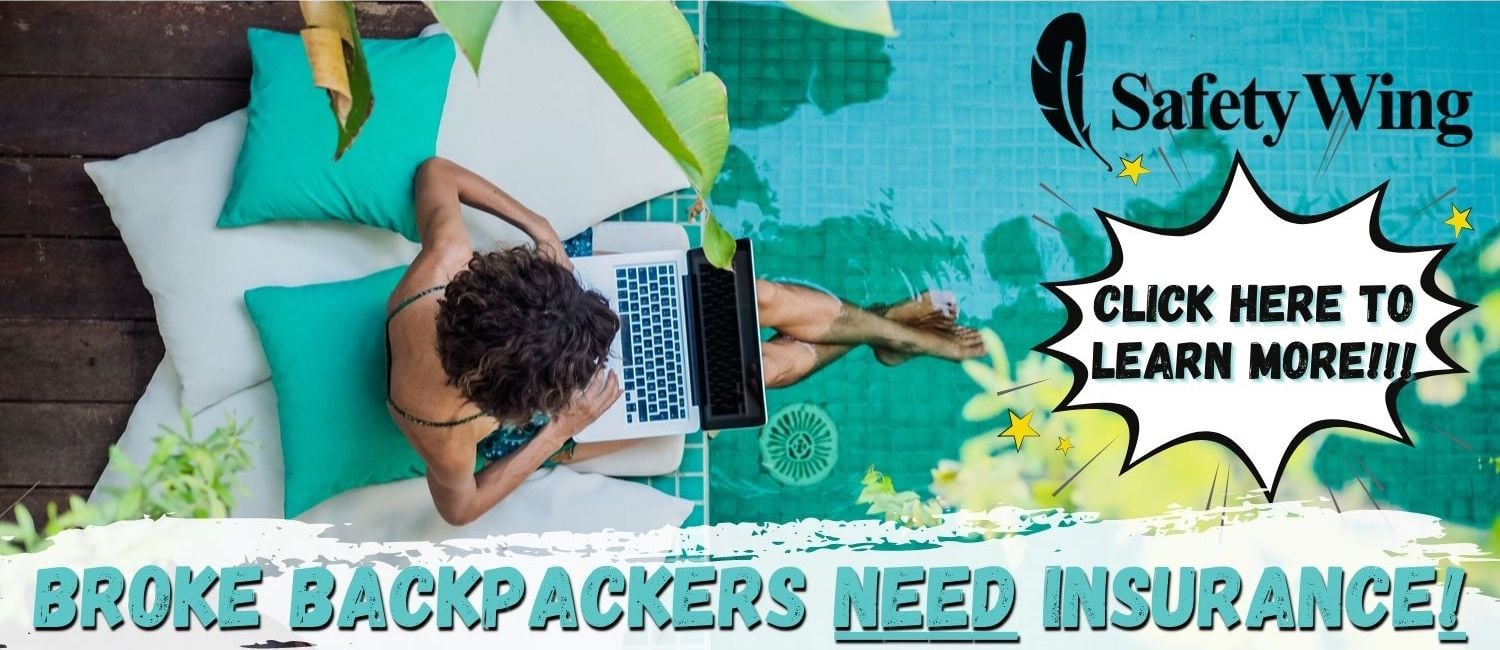 SafetyWing is cheap, easy, and admin-free: just sign up lickety-split so you can get back to it!
Click the button below to learn more about SafetyWing's setup or read our insider review for the full tasty scoop.
How to Get Into Taiwan
The main international airport in Taiwan is in Taipei (Taiwan Taoyuan International Airport). Just about every backpacker arriving into Taiwan will pass through this airport.
It is now possible to travel to Taiwan via ferry from China. Taking the ferry is bound to be a cool experience, though keep in mind that they are not super cheap.
These are the China—Taiwan ferry routes I know of:Fuzhou to Keelung via Matsu islands: Fuzhou – Matsu islands 2 hrs, overnight stay in Matsu, domestic Taiwan ferry Matsu – Keelung 10 hrs Pingtan – Taichung or Keelung: fast 3-hour hydrofoil Xiamen – Keelung: overnight ferry Xiamen – Kinmen island: No onward ferry from Kinmen to mainland Taiwan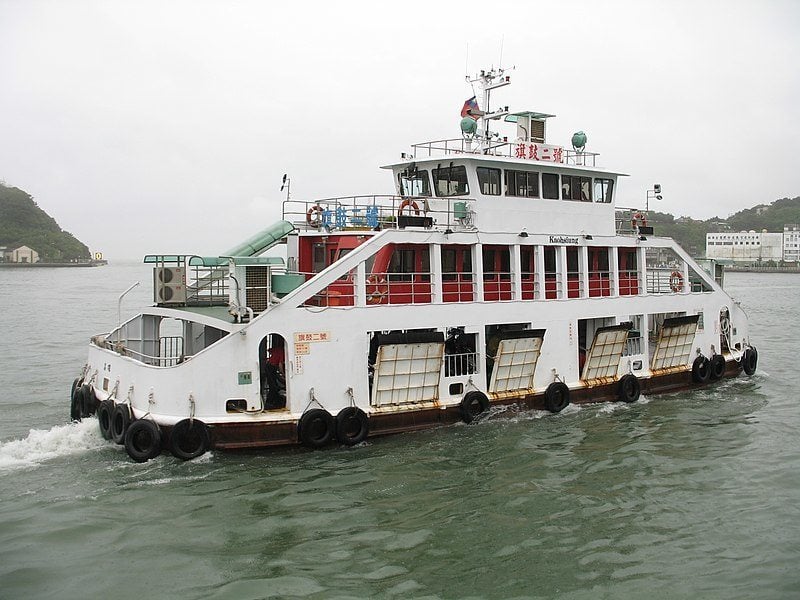 Entry Requirements for Taiwan
Unlike mainland China, many nationalities are not require to apply for a visa in advance.
If you wish to enter Taiwan as a tourist or short-term visitor (less than 90 days), you do not need a visa. No extensions or changes of status are permitted. Your passport must be valid throughout your intended length of stay and you must have a confirmed return or onward air ticket.
Citizens of the European Union, Australia, New Zealand, the UK, Canada, and the USA can get 90-day tourist visas on arrival.
Check out this article to see if your nationality requires you to apply for a visa in advance.
Have you sorted your accommodation yet?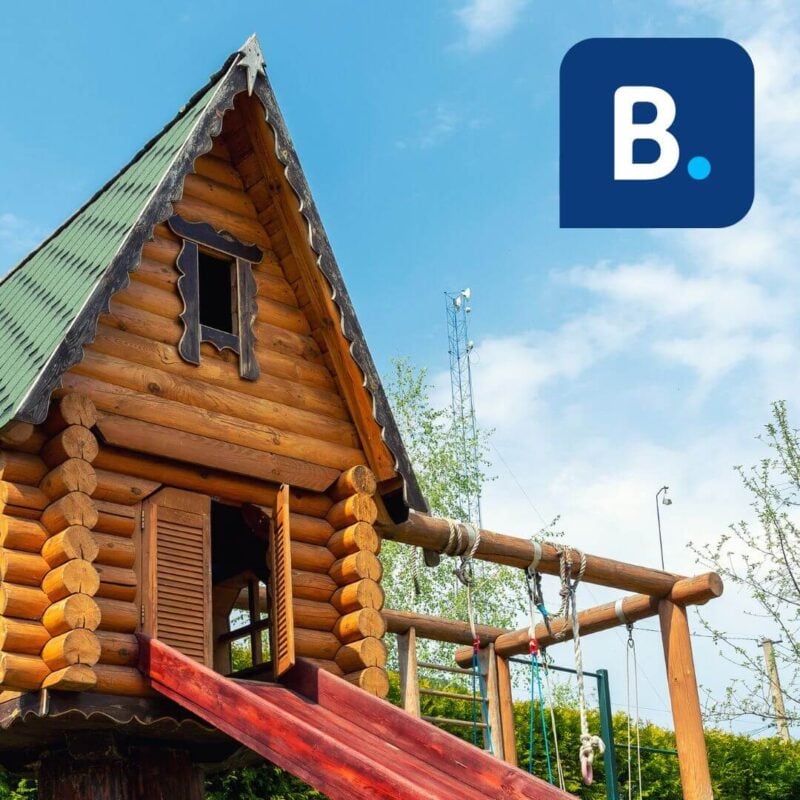 Get 15% OFF when you book through our link — and support the site you love so dearly 😉
Booking.com is quickly becoming our go-to for accommodation. From cheap hostels to stylish homestays and nice hotels, they've got it all!
View on Booking.com
Bus and Train Travel In Taiwan
Because English is so common and Taiwanese people are so friendly, Taiwan has to be one of he easiest and safest places for a backpacker to get around. The English signs, super easy public transport, and helpful metro workers make it almost impossible to get lost.
For people backpacking Taiwan, it is all about the train. The train network in Taiwan is a sight to behold. At any given hour of the day there is a train zooming across the island, and the bullet trains are incredible.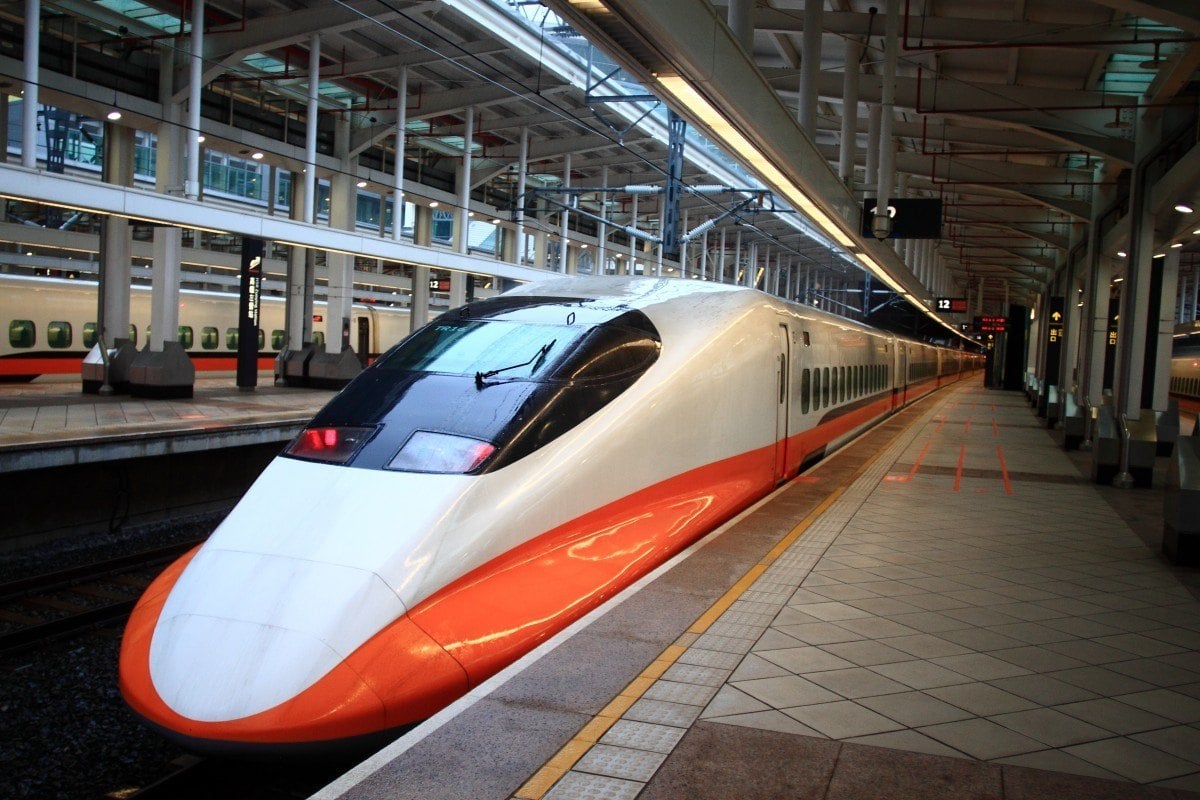 Public transportation is generally very affordable, safe, and efficient. That said, I would not categorize the bullet trains as cheap.
Buses are another fine option though obviously not as fast as taking the train. Tickets can be purchased at convenience stores, and train and bus stations.
For traveling in major cities, I recommend taking the metro, or grabbing an Uber in Taipei. Scooter rentals are popular with backpackers. Scooters are cheap and a great way to get off the beaten path in Taiwan.
Hitchhiking in Taiwan
I have heard that many backpackers have had great luck hitchhiking in Taiwan.
Getting a ride in the mountains, along the East Coast, in the countryside, on outlying islands, and around touristic destinations like Sun Moon Lake, Kenting, Jiufen, etc is fairly straightforward.
You should note that hitchhiking on main highways is illegal. I am not sure how this rule is enforced, but at least you are aware.
I would not recommend trying to hitchhike in the inner city. If you can find someone to help you make a sign with your destination written on it, you will probably have an easier go of hitchhiking.
Be aware of the risks while hitchhiking. Do not position yourself in a dangerous spot on the road when waiting for a ride. Watch out for snakes on the road side. Be careful if you stumble into the bush for a pee in between hitchhiking rides.
If a person sketches you out, fuck em. You have time. Be polite, don't say fuck em, but turn the ride down all the same. Better to wait for a ride that makes you feel 100% comfortable.
Onward Travel From Taiwan
Most folks backpacking Taiwan will depart the country from the airport in Taipei.
You also have the ferry options I mentioned above if you are planning on heading to China after Taiwan.
Working in Taiwan
For foreigners looking to teach English in Taiwan specifically, a work visa is what you will need. Here is some basic info:
Name: Working Resident Visa
Cost: $160
Documents: Original Bachelor's Degree, federal background check, a passport valid for at least 6 months, 2 passport photos, copy of flight itineraries, and possibly a copy of your job offer.
Length: This visa is valid for the length of the teaching contract.
Digital Nomads looking for a place to work for a few months can do so on a tourist visa (assuming you are working for a company outside of Taiwan), but don't expect to get hired by any Taiwanese companies without a proper work visa.
The Future of the SIM Card is HERE!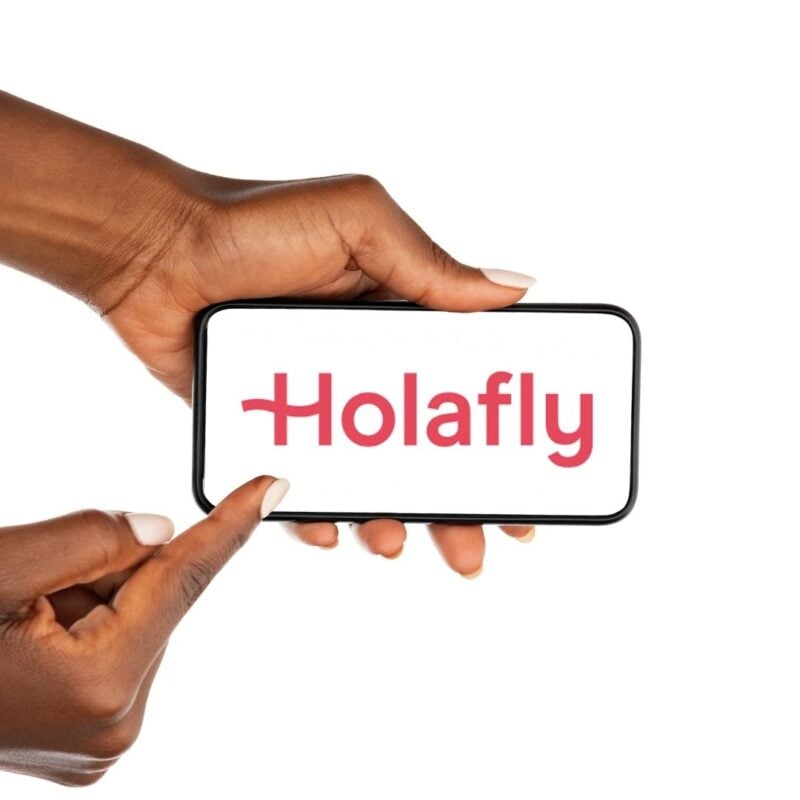 A new country, a new contract, a new piece of plastic – booooring. Instead, buy an eSIM!
An eSIM works just like an app: you buy it, you download it, and BOOM! You're connected. It's just that easy.
Is your phone eSIM ready? Read about how e-Sims work or click below to see one of the top eSIM providers on the market and ditch the plastic.
Grab an eSIM!
Teaching English in Taiwan
In addition to giving you the qualifications to teach English online, TEFL courses open up a huge range of opportunities and you can find teaching work all over the world. To find out more about TEFL courses and how you can teach English around the world, read my in-depth report on teaching English abroad.
Broke Backpacker readers get a 35% discount on TEFL courses with MyTEFL (simply enter the code BACKPKR), to find out more, please read my in-depth report on teaching English abroad.
Whether you are keen to teach English online or looking to take your teaching game a step further by finding a job teaching English in a foreign country, getting your TEFL certificate is absolutely a step in the right direction.
My good friend Andrew has been living in Taiwan teaching English for years and he is living proof that one can have an excellent lifestyle funded by English teaching wages.
Internet in Taiwan
Save for rural areas of the country, Taiwan has an excellent internet situation. Most big cities have places where you can connect to WiFi for free.
Almost all hostels without exception offer up decent free WiFi.
There are places in the mountains where internet will be super slow or unavailable, but hell, take that time for an online detox.
If you really want to be more connected in country, consider buying a Taiwanese SIM card for your phone.
Volunteering in Taiwan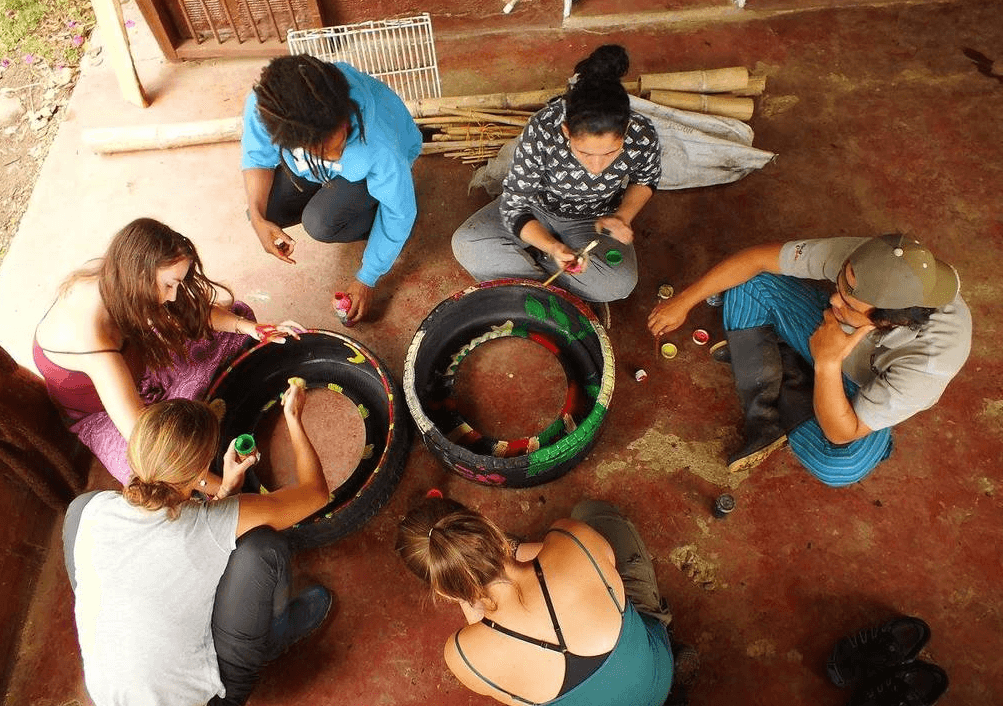 Volunteering abroad is an amazing way to experience a culture whilst helping your host community. There are plenty of different volunteer projects in Taiwan including teaching, construction, agriculture and pretty much anything.
Taiwan may host some of the world's most impressive cityscapes and skyscrapers, but its poorer, rural areas still benefit greatly from the help of volunteers. Community development projects are the main areas where travelers can make a huge difference to smaller communities. Other opportunities include hospitality, marketing, and teaching English. You can't volunteer in Taiwan with a tourist visa, so it's best to contact your nearest embassy for more information.
If you want to find volunteering opportunities in Taiwan, then we recommend that you Signup for Worldpackers – a volunteer platform that connects local hosts directly with traveling volunteers. As a Broke Backpacker reader, you'll also get a special discount of $10 when you sign up. Just use the discount code BROKEBACKPACKER and your membership is discounted from $49 a year to only $39.
Volunteer programs run through reputable work exchange programs like Worldpackers are usually very well-managed and reputable. However, whenever you are volunteering, do stay vigilant especially when working with animals or children.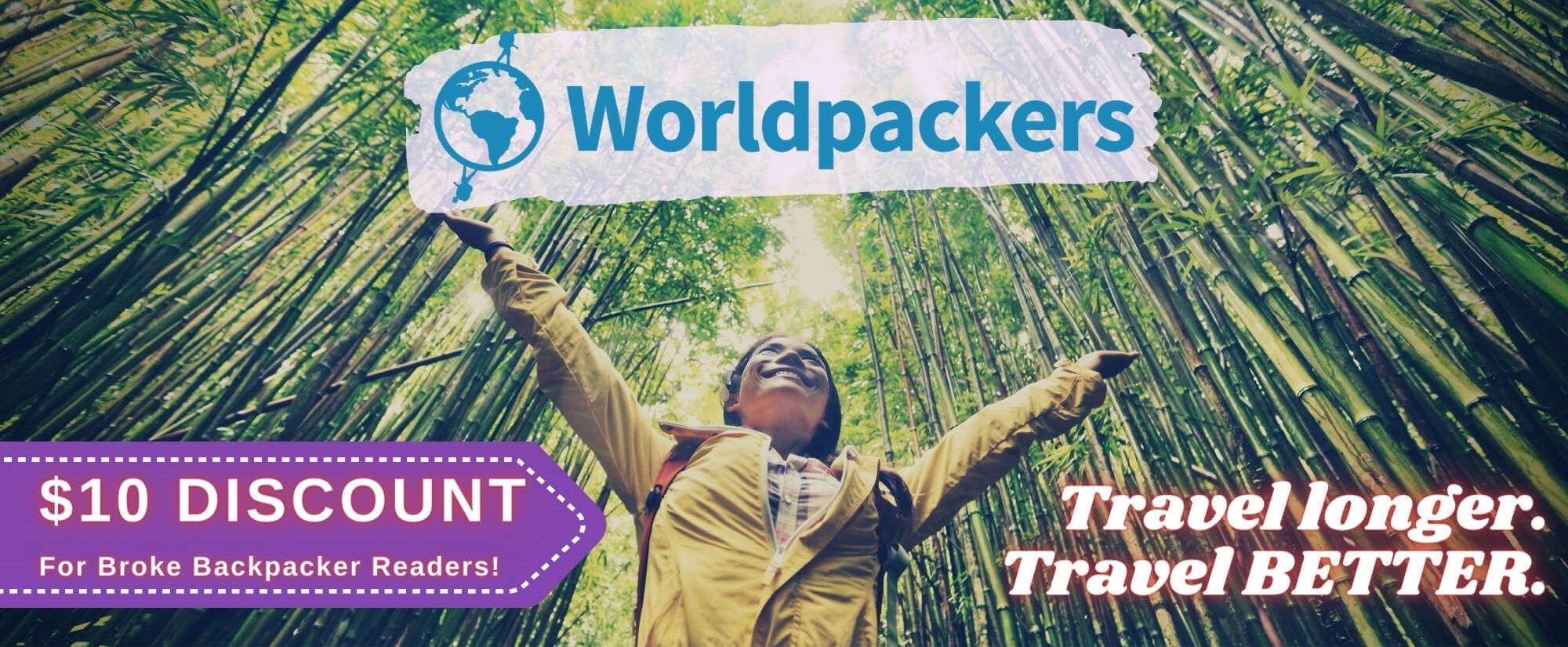 Worldpackers: connecting travellers with meaningful travel experiences.
What to Eat in Taiwan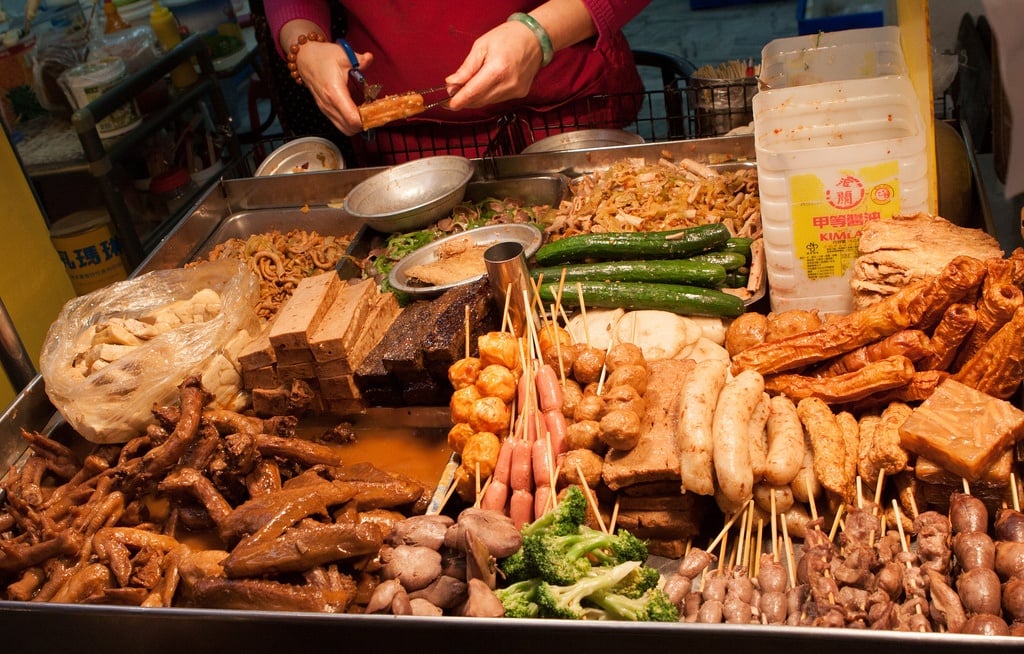 Onto one of my favorite subjects! If you have been paying attention you know the food scene kicks ass in Taiwan. There is an untold amount of amazing things to eat in Taiwan. Eating your way around Taiwan is one of the joys of backpacking here. You will certainly never get bored.
Oyster Omelette – Just as it sounds, though it is drenched in a thick, sweet chili sauce.
Beef Noodles – A Taiwanese comfort food. You can score dry or wet beef noodles and both are super yum.
Fried Chicken – The Taiwanese love fried chicken. It is every where at the night markets.
Da Chang Bao Xiao Chang/ Small Sausage in a Big Sausage – The big sausage is actually glutinous rice moulded in a sausage bun, a traditional Taiwanese pork sausage.
Misc. Weird Stuff – You might not know what that street food is is, but give it a try anyway.
Deep Fried Milk – They found a way to do it. The result is a crispy, sweet ball that makes for a good end to any dinner.
Lurou/Braised Pork Rice – Tasty, salty dish that will warm your soul.
Hot Pot – The Taiwanese spin on a classic, spirit-cleansing Chinese dish.
Bubble Tea – Not really a food so much as it is a drink, but you will probably be having at least one a day, so get to know them.
Stinky Tofu – A street food classic. Don't be afraid of the smell. Often comes with an amazing sauce on the side.
For Taiwanese cooking classes, check out this site for awesome deals.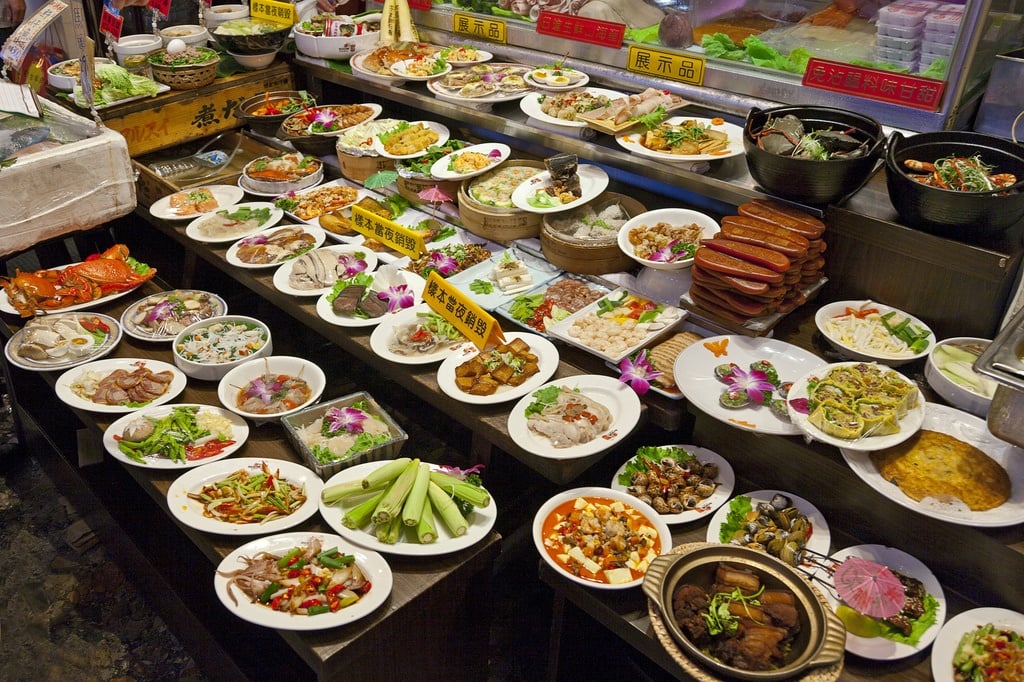 Taiwanese Culture
Taiwan is home to a very diverse population. There are more than 30 aboriginal indigenous groups in Taiwan. Each brings their own language and culture to the table.
Taiwanese aborigines are Austronesian peoples, with linguistic and genetic ties to other Austronesian people.
Related ethnic groups include those of Timor-Leste, the Philippines, Indonesia, Malaysia and Brunei, among others. Some of these ethnic groups have been settled in Taiwan for 5,000 years!
Now there will most certainly be a language barrier in rural areas or when dealing with older people. Do your best to try and get to know some Taiwanese locals.
A rewarding part of any backpacking experience is learning about local customs, traditions, and wisdom. Taiwan is jam-packed with all of those things and more. Volunteering is a great way to insert yourself into a local community.
Knocking back a few beers with locals is also the time-tested method for breaking down cultural barriers.
Useful Travel Phrases for Taiwan
When it comes to the languages spoken in Taiwan, the country certainly is not streamlined. What I mean is while Mandarin Chinese may be the official language, there are dozens of other languages spoken at the local level. The Taiwanese language is spoken by about 70% of the population.
With its four tones and thousands upon thousands of characters, Chinese is definitely an intimidating language. At least make a little effort to learn a tiny bit of Chinese and amuse the locals along the way.
Luckily for backpackers, English is super common in Taiwan and most people speak at least a little English and many people are practically fluent. The Taiwanese are very good with languages. Most people are at least bilingual knowing Mandarin and Taiwanese.
It's not uncommon for a Taiwanese person to speak 3-4 languages well. Also all street signs are in Mandarin and English, and on public transportation they always use Mandarin, then Taiwanese, then English.
Also in Taiwan nobody says "Mandarin." Mandarin is called Chinese and then there's Cantonese, which many people speak as well.
Here are some useful Chinese travel phrases to get you started:
Hello = Ni hao
How are you? = Ni hao ma?
I'm fine = Wo hen hao
Please = Qing
Thank you = Xiè xiè
You're welcome = Bù kè qì
Goodbye = Zài jiàn
I'm sorry = Duì bù qi 
No plastic bag = Wú sùji?o dài
No straw please = Bùyòng x?gu?n
No plastic cutlery please = Q?ng bùyào sh?yòng sùji?o c?njù
Where is the bathroom? = Xi shou jian zài na l??
What's this? = Zhè shì shén me?
I want a beer = Wo yào yi ge pí jiu
How much is it? = Duo shao qián? 
Dating in Taiwan
Perhaps more so than in other Asia cultures, Taiwanese people seem to really love dating foreigners.
Specifically Taiwanese women love dating western men, or at least it is far more common than vice versa.
On the surface, the Taiwanese might seem conservative, but having causal sex is not unusual when it comes to the younger generation.
Bars in big cities are really the top places to meet locals from the opposite or same sex. If you are interested in finding a partner for a one-night-stand odds are you can make it happen unless you are a total dick head. Then you have no chance.
Remember this: women in Chinese societies occupy a lower social status than men, and unfortunately this is still evident in the way that families are structured in Taiwan.
Be aware of the dominant role of patriarchy in Taiwanese society if you start going down the road of a serious relationship and its associated dynamics.
That is not to say you should embrace them. Far from it. Just be aware of how your potential partner (should she be female) might perceive your relationship.
Good news is Taiwan is one of the most progressive places in Asia for women's rights. Hopefully, this will translate into the society as a whole becoming less male-dominated. It certainly needs it.
Books to Read when Backpacking in Taiwan
Here are some of my favorite books set in Taiwan:
Taiwan: A Political History — To properly understand Taiwan and all of its many layers, check out this very well-researched read by Dennis Roy.
Forbidden Nation — For over 400 years, Taiwan has suffered at the hands of multiple colonial powers, but it has now entered the decade when its independence will be won or lost. Another important account that helps backpackers (and anyone for that matter) come to terms with Taiwan's history.
A Thousand Moons on a Thousand Rivers — Winner of the 1980 United Daily Literature Competition, this novel about love, betrayal, family life, and the power of tradition in small-town Taiwan was an instant bestseller when first published in Taiwan.
The Butchers Wife – A 1930s Shanghai case of a woman who murdered her husband inspired Li Ang to write this deep and harrowing novel that was an outrageous literary sensation. "May be the most frightening book ever written about women oppressed by men"–Los Angeles Times.
Lonely Planet Taiwan — Always good to have a Lonely Planet inside your backpack.
A Brief History of Taiwan
Taiwan has had quite the go of it. Originally inhabited by aboriginal people of Malay-Polynesian descent, Taiwan has been under the control of numerous different nations over the years.
Here is a short but important timeline to consider when trying to understand a bit of the history of Taiwan:
1624 – The Dutch gained control of Taiwan and established a colony with some settlements and forts. With the Dutch came Chinese laborers who eventually settled and married aboriginal wives. This was the first shift towards western cultural influence in Taiwan. Basically the Dutch ignored the fact that China controlled Taiwan and decided to colonize it anyway.
1662 – Cheng Cheng-Kung, better known as Koxinga, chased the Dutch out of Taiwan and tried to reinstate the Ming Dynasty in Mainland China. The ensuing period – a corrupt Chinese government full of rebellions – led to the phrase, "every three years an uprising, every five years a rebellion." Lots of internal shit was going down between China and Taiwan over this period.
1895 – China lost Taiwan to Japan under the Treaty of Shimonoseki following the Sino-Japanese War. The Taiwanese initially oppose Japanese rule and declare themselves an independent republic; however, the Japanese military put down the rebellion.
Japanese rule was harsh, but not corrupt. Treating Taiwan almost like a province, Japan built a strong educational system that taught all Taiwanese students the Japanese language, while also improving infrastructure, trains, roads, and industry. Now, a few generations removed from Japanese occupation, Taiwan still has visible effects from that time period.
1945 – After being defeated during World War Two, Japan gave up control of Taiwan. China placed Taiwan temporarily under the control of Chiang Kai-Shek and the Kuomintang (KMT) Nationalist party. When the Communists took control of mainland China, the Nationalists fled to Taiwan and the "temporary" control became permanent.
Modern Day Taiwan
The future of Taiwan is a big question mark. China has no plans to give up control of the small island-state.
The Taiwanese want to come to a modus vivendi with China and live next to each other as friendly neighbors. However, the authorities in Beijing (and some old timers in the Kuomintang) still live under the spell of the old Chinese Civil War, fought on the mainland between the Nationalists and Communists and strive for "unification."
International human rights watch groups have criticized the Chinese government for its harsh crack-down on dissenters in Taiwan. As China continues to establish itself as a big player on the world stage, Taiwan will likely remain under China's thumb, but only time will tell.
Some Unique Experiences in Taiwan
For many backpackers coming to Asia opens up a whole other world of new, exciting life experiences. Backpacking Taiwan offers up the unique opportunity to dive into one of East Asia's most interesting cultures.
Between the locals, beautiful natural landscapes, nightlife, and great food, backpacking Taiwan is a never ending feast of awesome experiences.
DON'T DIE OUT THERE! …Please 🙂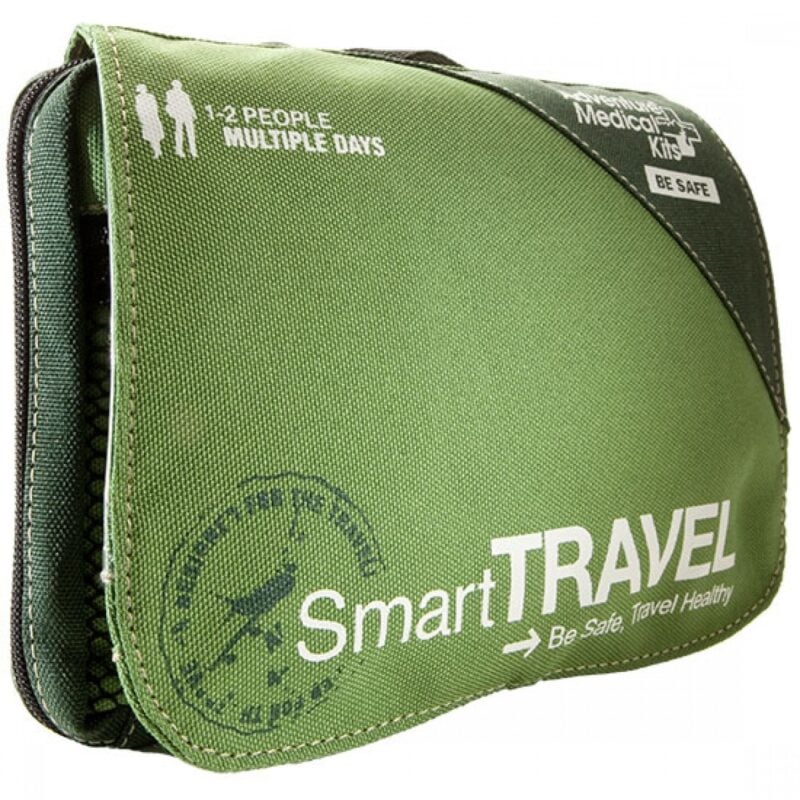 Things go wrong on the road ALL THE TIME. Be prepared for what life throws at you.
Buy an AMK Travel Medical Kit before you head out on your next adventure – don't be daft!
Buy on REI
Trekking in Taiwan
The nine national parks in Taiwan are home to some of the best trekking to be found in east Asia. Here are the 10 best hikes in Taiwan:
1. Wuling Sixiu Trail, Shei-Pa National Park: An amazing, challenging 3-4 day hike that takes you through the heart of Shei-Pa National Park.
2. The Beidawushan Trail: An easy 11-kilometer overnight hike in southern Taiwan. Pass by an ancient 1,000 year old cedar tree en route to breathtaking views of the Pacific.
3. The Yushan Peaks Trail, Yushan National Park: Crowded, but stunningly beautiful. If you start the second day early enough, you can summit the mountain in time for sunrise.
4. Wuliaojian, Sanxia, Taipei: If you are into getting a hell of a workout very close to the city, this hike is for you. Expect amazing views, but also expect to sweat a lot.
5. Dakeng Trail No. 4, Taichung: Enjoy a mixture of fixed ropes and steep steps. Said to be the best trail of all the Dakeng walks.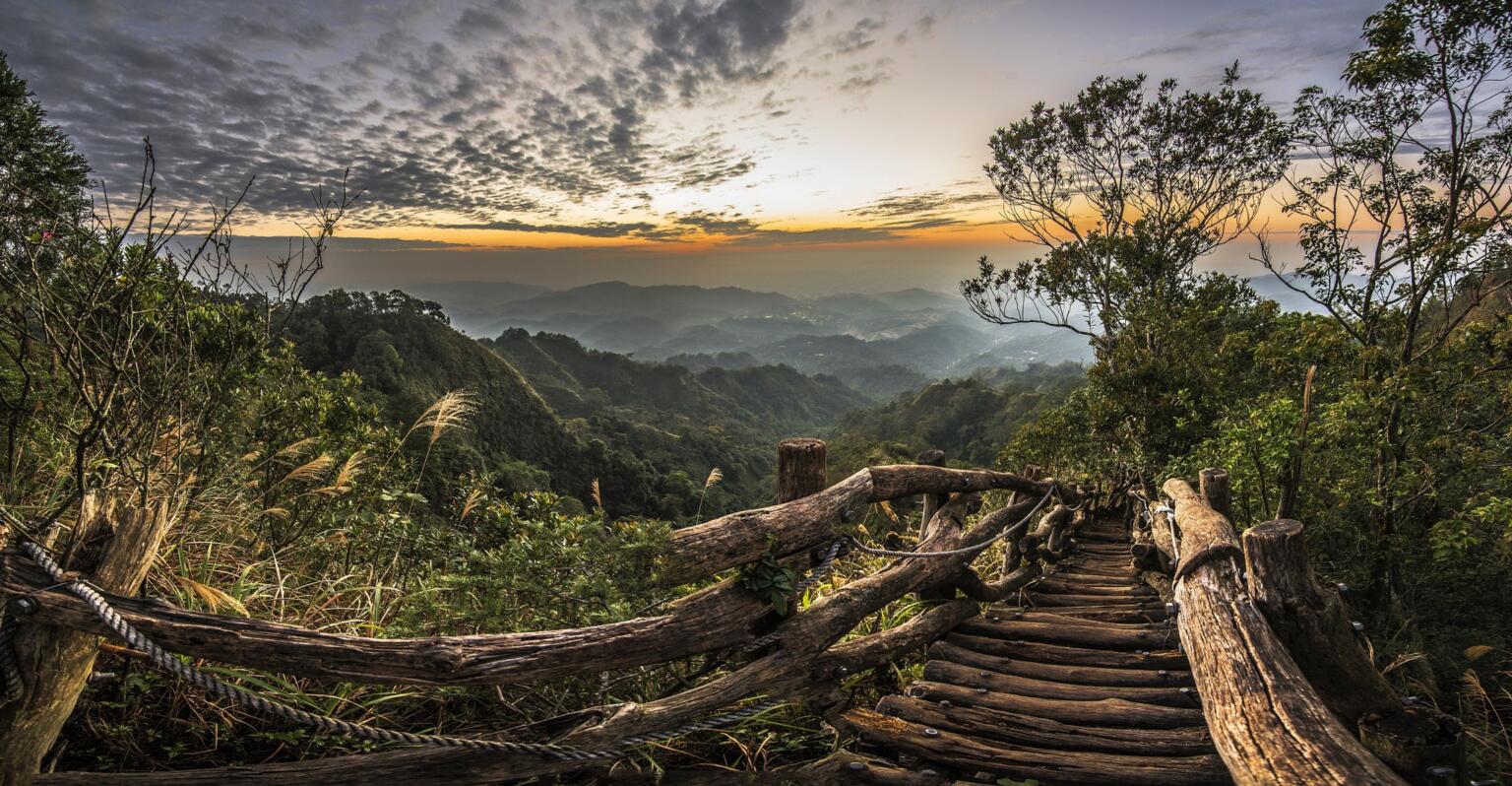 6. Zhuilu Old Trail, Taroko National Park: This is the classic Taroko Gorge hike. the best part is the slight element of danger present during the times when you skirt around narrow cliffs with the river looming some 500 meters below.
7. Hehuanshan Summit, Taichung: In clear conditions, the views are absolutely worth the effort to reach this magnificent peak.
8. Eryan Ping Trail, Alishan National Scenic Area: Another worth while sunrise hike candidate. Go early and beat the crowds.
9. Pingxi Crags, Pingxi: A brutally steep hike culminating in epic views at the top. There is some excellent rock climbing in this area too if you are keen.
10. Shuishe Great Mountain Nature Trail, Sun Moon Lake: A rather short hike when compared to some of the others on my list, but it breaks up the monotony of lake-side loafing.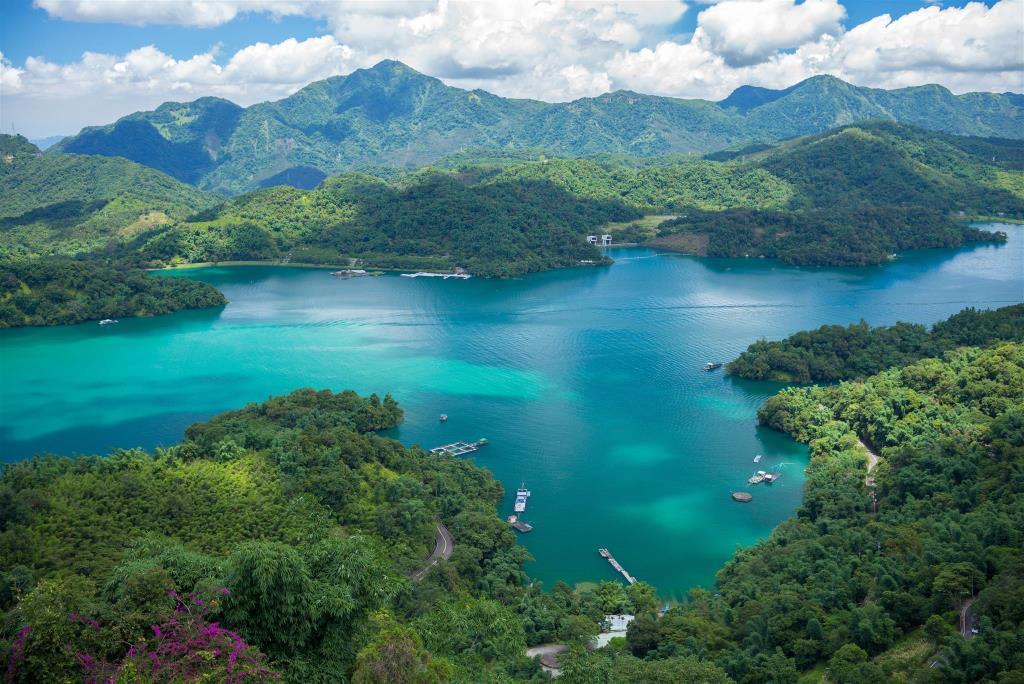 Scuba Diving in Taiwan
Overal,l the best times to travel to and dive in Taiwan are autumn and springtime, although the autumn months are more reliable. You certainly do not want to go diving during the Typhoon season as you will not see anything.
If you are new to scuba diving, there are a number of fine dive shops offering a PADI open water certification.
Here are a few classic Taiwanese dive sights:
Kenting Marine Park – directly south of the southern tip of Taiwan
Green Island and Orchid Island – off the east coast
Penghu Islands – off the west coast
Xiao Liu Chiu – off the south-west coast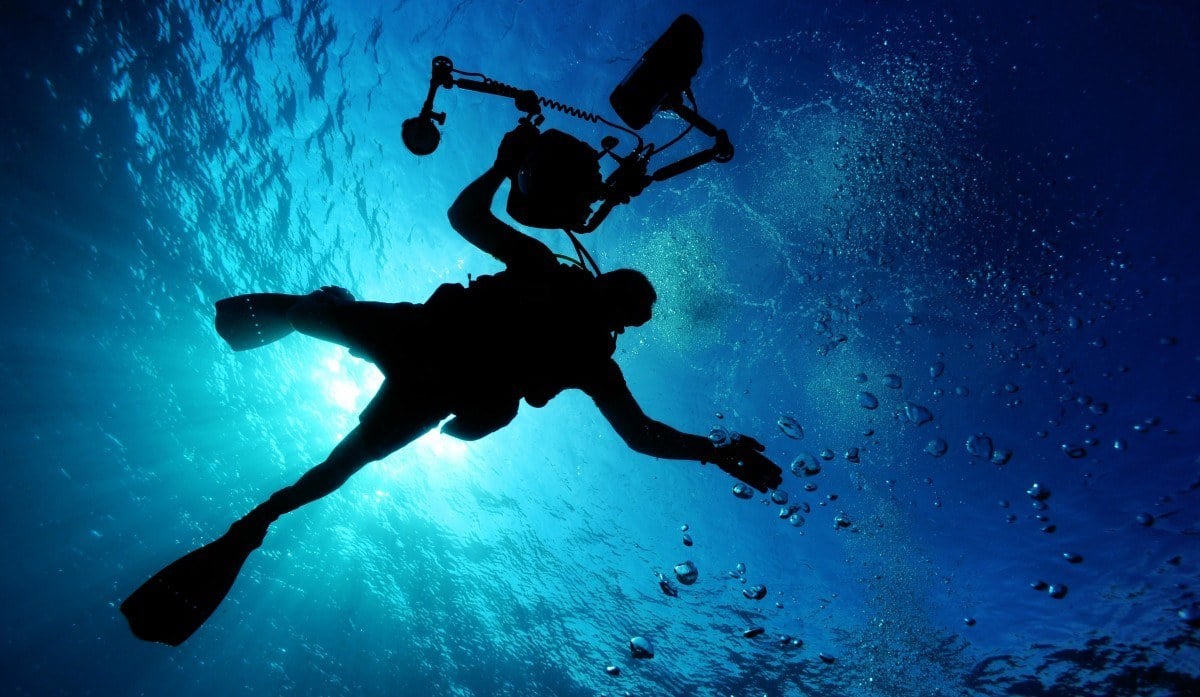 The most popular diving spots are Kenting and Green Island, both of which are well served by dive operators and organized tours.
Tourism has had – and is having – a major impact on marine life in Taiwan. Similar to hiking, leave no trace and cause no impact on the reefs you visit. Do not touch the coral or collect any shells.
Humans are having a great impact all over the world, and with a little effort and thoughtfulness, we can at the very least prevent unnecessary impacts on the reef systems.
Surfing in Taiwan
Surfing is fast becoming a popular sport in Taiwan. Surfers from around the globe speak very highly of Taiwans's surf breaks. Most serious surfers head straight for Taitung. Taitung is widely considered the best surfing destination in Taiwan.
Other epic surf spots include: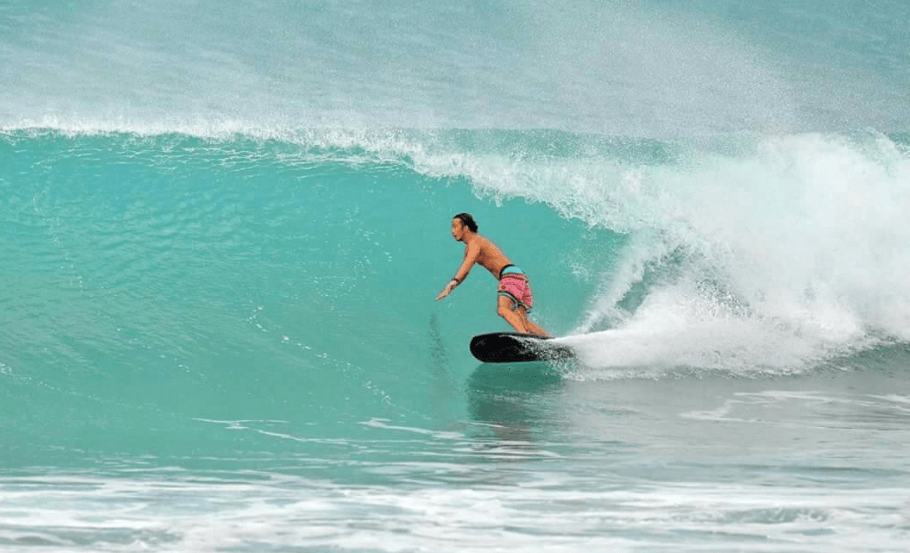 Waiao Beach, Yilan
Jialeshui, Pingtung
Donghe, Taidong
Joining an Organized Tour in Taiwan
For most countries, Taiwan included, solo travel is the name of the game. That said, if you are short on time, energy, or just want to be part of an awesome group of travelers you can opt to join an organized tour. Joining a tour is a great way to see a majority of the country quickly and without the effort that goes into planning a backpacking trip. However—not all tour operators are created equal—that is for sure.
G Adventures is a solid down-to-earth tour company catering to backpackers just like you, and their prices and itineraries reflect the interests of the backpacker crowd. You can score some pretty sweet deals on epic trips in Taiwan for a fraction of the price of what other tour operators charge.
Check out some of their awesome itineraries for Taiwan here.
Final Advice Before Visiting Taiwan
In Taiwan, there is no shortage of occasions or opportunities in which to get down. I am all for people having a good time and letting loose. That said, don't drink so much that you embarrass yourself, your country, and everyone within 100 feet of you.
Go to Taiwan and have the time of your life, do the things you've dreamed of, but be respectful along the way. Traveling the world makes you an ambassador for your country, which is awesome.
Try to limit or eliminate your consumption of plastic and single-use containers as much as possible. When I was traveling around Asia, I simply bought a cheap bowl and would just have street vendors fill it.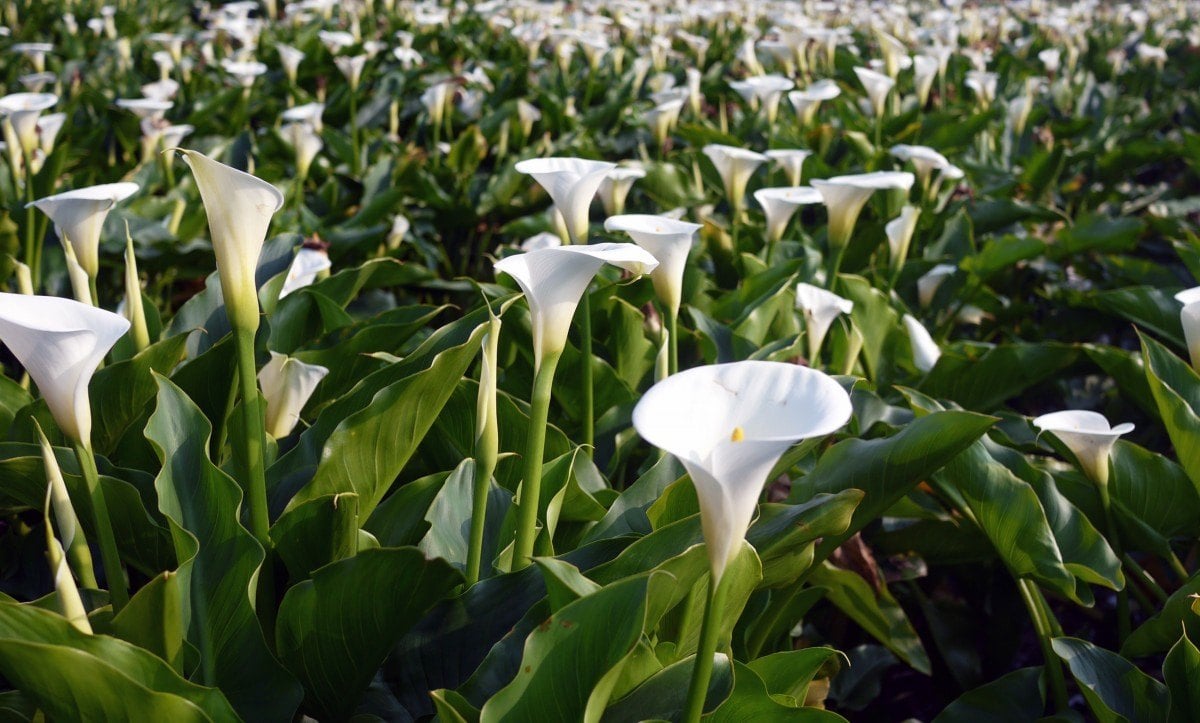 Climbing on ancient temple walls, monuments, or other historical artifacts should be avoided. Duh! Learn to appreciate the cultural treasures of Taiwan and don't be that asshole who adds to their demise.
Taiwan is probably the best kept secret in East Asia in terms of fantastic backpacking destinations. While tourism is growing every year, the backpacker scene is still in its infancy as far as I am concerned. Backpacking Taiwan is an open book and you have the chance to go and write your own adventure destiny.
I hope you are able to go on plenty of awesome adventures (with a little debauchery) during your time backpacking around this beautiful and powerful land. Best of luck on your journey!
*Special thanks to my good mate Andrew Rowland who provided me with lots of tasty insider information for this Taiwan backpacking guide.
---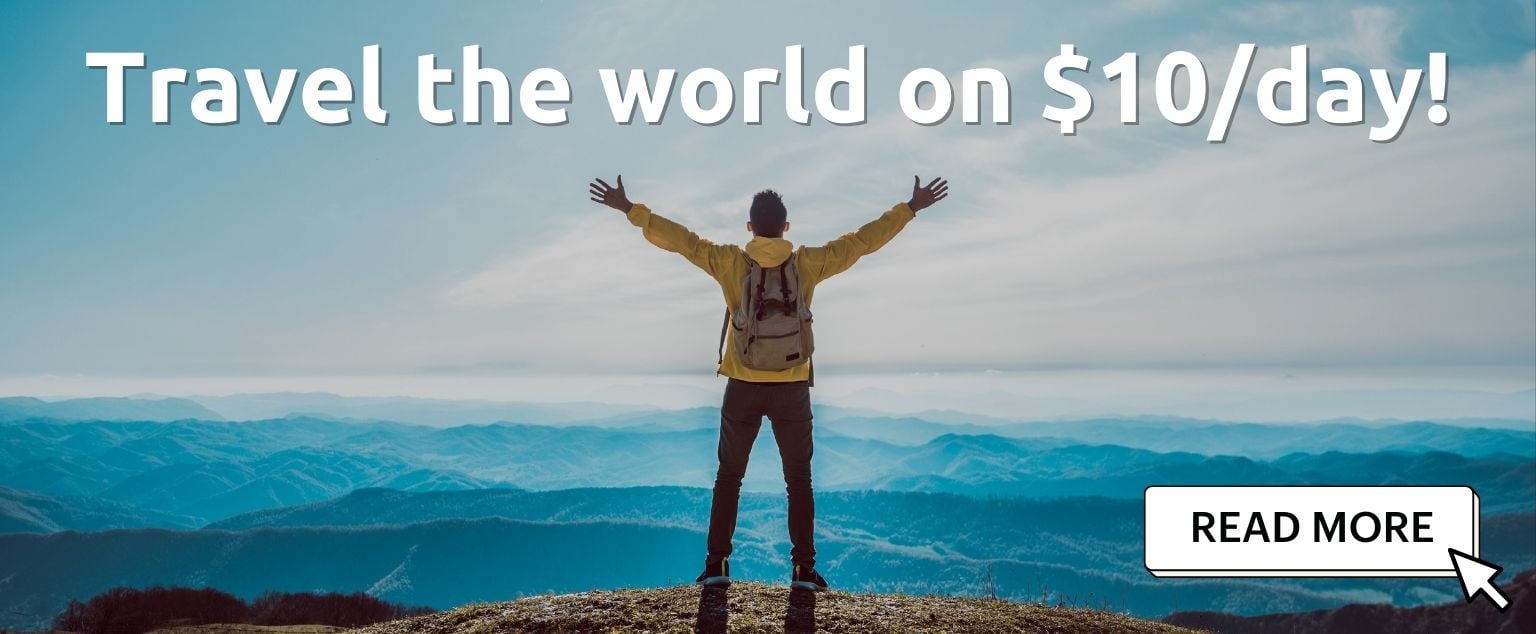 And for transparency's sake, please know that some of the links in our content are affiliate links. That means that if you book your accommodation, buy your gear, or sort your insurance through our link, we earn a small commission (at no extra cost to you). That said, we only link to the gear we trust and never recommend services we don't believe are up to scratch. Again, thank you!