Taiwan is a small island in East Asia and is known for its amazing food, its beautiful nature spots, and its complex, fascinating culture. It's incredibly popular amongst tourists from all walks of life who want to experience a taste of Asia. Because of its popularity, you'll find lots of great places to stay in Taiwan no matter what your budget or travel preferences.
Taiwan is a relatively small island and yet there's a lot to see. It has everything from vibrant cities to sprawling valleys and lakes and towering mountainous areas. The sheer variety of options can make it difficult to decide where to stay in Taiwan. There are so many cool cities as well as comfortable Taiwan accommodation options that it can feel overwhelming.
But that's why I'm here to help. When I'm trying to decide where I should stay in Taiwan, I want somewhere that's interesting, budget-friendly, and convenient. And that's exactly what I'll share with you in this easy guide. And then you can just get on with the business of enjoying this fascinating country.
Quick Answers: Where is the Best Place to Stay in Taiwan?
Map of Where to Stay in Taiwan
Taipei is the capital city of Taiwan and will probably serve as your entry point to the country. This is a modern, busy city that has its own distinct personality and vibe. Everything seems to jostle for position in this city, with skyscrapers, night markets, fine restaurants, and casual eateries competing for your attention. Basically, you could spend weeks in the city and you'll never run short of things to include in your Taipei itinerary, which is why it's overall the best place to stay in Taiwan.
When you're trying to decide where to stay in Taipei, you'll find an incredibly wide range of options. This includes everything from capsule hotels to 5-star modern accommodations with all the luxuries. Public transport in Taipei is fast and efficient, so no matter where you stay, you shouldn't have any trouble getting around to explore the city. For the ultimate in convenience, try the neighborhoods of Zhongzheng, Wanhua, or Xinyi to be close to everything.
If you want amazing food and to really get a good taste for the life and culture of Taiwan, Taipei is where you should start.
Best Places to Stay in Taipei
You'll find a bewildering variety of Taiwan accommodation options when you start looking for somewhere to stay in Taipei. But don't be disheartened by the sheer volume. No matter what type of accommodation you're looking for, here's where to start.
Best Airbnb in Taipei: Private Room in Apartment
The best part about staying in someone else's apartment is asking them about their city's best sites and restaurants. When you do this, you can explore local watering holes and amazing food! The hosts at this apartment offer a private bedroom and shared bathroom in a residential area close to the city center for the best of both worlds.
Best Hostel in Taipei: Flip Flop Hostel
This hostel in Taipei is located close to the main train station. The rooms are clean and welcoming, with lots of common areas so you can get to know your fellow travelers. The building is an old railway workers' dorm that's been renovated to modern standards and it offers dorm room accommodation.
Best Hotel in Taipei: Taipei M Hotel
When you're looking at hotels in Taiwan, you probably already know that it's worth spending a little extra money to get clean, comfortable, and convenient lodgings . And that's exactly what you'll enjoy at this hotel. It's close to transport as well as several top attractions and has a bar and restaurant on-site so that you can have a relaxing meal after a long day.
If you're looking for the best places to stay in Taiwan when traveling with your family, then Taichung will help you keep them busy and entertained. It's in central Taiwan and is one of the more unique cities you'll encounter. It's known for its local color and fun activities as well as the abundance of museums, most of them with exhibits and activities that'll appeal to every member of your family. Once your restless kids get a taste of the historic Taichung Park, colorful Rainbow Village, or the National Museum of Fine Arts and Natural Science, they'll be too tired and happy to complain.
There are a huge variety of top places to stay in Taiwan, no matter what city you're in, and Taichung is no different. However, if you're only staying in the city for a short time, then you probably want to be in the Central District, which is close to everything and offers lots of transport options.
When you visit Taichung, you'll be taken aback by its unique vibe and beautiful spaces. And make sure you check out the Lin Family Gardens and some Japanese style temples while you're there.
Best Places to Stay in Taichung
Taichung has a huge variety of Taiwan accommodation options. Whether you enjoy fancy hotels, basic hostels, or cozy apartments, you'll be able to find somewhere to stay that gives you a comfortable and convenient home base.
Star Hostel is located in a stunning Green building that's filled with 14,000 plants as well as shops, cafes and restaurants. The hostel is made using local material that gives it a natural, relaxing feel. As if that wasn't enough, it's also close to a night market and several museums and offers free Wi-Fi.
If you're looking for comfort and convenience when you choose hotels in Taiwan, this choice will exceed your expectations. It's located right in Taichung's Central District, close to the National Museum of Natural Science. It offers a fitness center (so you can work off all that amazing food), and stylish rooms with air conditioning and all the amenities.
Best Airbnb in Taichung: Walker Taichung
When you're looking for lodging in Taiwan, this is a great choice. It's right in the center of the shopping district and close to the bus station and high-speed rail. The rooms are elegantly decorated, spotlessly clean, and suitable for up to 2 guests.
Sun Moon Lake is a romantic delight and one of the best areas to stay in Taiwan. It's the largest body of water in Taiwan and a popular tourist destination for local and foreign tourists. There's nothing like sitting by the lake with someone you love. And as an added bonus, there are lots of restaurants, shops, and cafes that have sprung up nearby so you can take advantage of your surroundings.
But if you're not the kind of traveler who likes to sit around, then try some more adventurous activities. Hike beside the lake, take a bike ride through the surrounding hills, or go sailing on the lake. The natural scenery is simply stunning. There are also some interesting temples to explore as well a cable car, so you can get a bird's view of the whole area.
If you're visiting Sun Moon Lake, you probably want to stay as near to the lake as possible. Thankfully, lots of accommodation options have sprung up around the lake to help you with that goal.
Best Places to Stay in Sun Moon Lake
There are two sides of the lake to choose from when you're choosing a hotel. But as long as you're fairly close to the lake, you'll find it easy to get around using the local bus or boat shuttles that will take you from one side to the other.
Best Airbnb in Sun Moon Lake: Cabin
What could be better than staying in a cabin on the lake? Appealingly rustic, this accommodation still has all the modern amenities and is close to everything. During your stay, you can walk to the local bus stop, Ida Thao pier, the butterfly garden, and the local cable car station. The cabin offers complete privacy and has a balcony so you can sit outside and enjoy your surroundings.
This brand has a few different locations around the lake, so make sure that you choose the right one! The hotel's rooms are spacious and comfortable and have all the amenities. And the hotel is close enough to the water that you could walk there even on the warmest day!
Best Hostel in Sun Moon Lake: Perbed Hostel
If you're looking to stay near Sun Moon Lake on a budget, then this hotel is ideal. It offers lovely views because it's surrounded by mountains and close to Sun Moon Lake. It's also close to the local cable car which offers easy transport around the lake and beautiful views. The rooms are clean and cozy with bright and modern decorations.
The Kinmen Islands were the site of a battle between the Nationalists and Communists in 1949. However, these days it's better known as a tourist destination with some amazing scenery. In fact, the local scenery is so beautiful that the island is often called a "lake in the sea". Add some epic historic buildings and it equates to the coolest place to stay in Taiwan. This is a must see stop on any Taiwan backpacking adventure.
In terms of activities and things to do, the Kinmen Islands offer pretty much everything. There are great hiking and nature reserves, amazing forests, fascinating historic buildings and old architecture to explore. And you'll also find some great local beaches if you want to soak up the rays while you're in the area. There's also amazing food, but you've probably come to expect that from Taiwan by now.
So, make sure you get eating and exploring in the Kinmen Islands during your trip to Taiwan.
Best Places to Stay in Kinmen Islands
The Kinmen Islands are small, so basically all the areas are convenient and connected by transport. All you have to decide on is whether you want to be right in the center or if you want a little more peace and quiet around you. No matter where you choose, you'll be close to Taiwan's amazing public transport network.
Best Hotel in Kinmen Islands: New KM Hotel
This is one of the best hotels in Taiwan if you want to spend some time on the Kinmen Islands. It's close to the Jinning Township and offers a Jacuzzi and air-conditioned rooms as well as a variety of amenities. The Nantaiwu Mountains are a short drive from the hotel as well, so you shouldn't have any trouble exploring the region.
Best Airbnb in the Kinmen Islands: Full Apartment
If you're traveling with your family or friends, then this apartment is perfect. It's suitable for 4 guests and offers complete privacy as well as all the modern amenities. It has 2 bedrooms and a bathroom and is close to Jincheng District as well as to transport options.
Best Guesthouse in the Kinmen Islands: Take a Break B&B
Located in Jincheng Township, this B&B is simply charming; there's no other word for it. The entire building is surrounded by lovely gardens with quiet areas to sit and enjoy nature. The rooms are unique, with antique-style furnishings and all the amenities. They also offer a delicious breakfast every morning.
If you like cities, then you'll love Kaohsiung. It's got a busy, bustling vibe, great food, and fascinating historic sites making it the best city to stay in Taiwan. Kaohsiung is a little cheaper than the capital, so it's great when you want the city feel without stretching your bank balance. Kaohsiung is popular with local and foreign tourists and is the maritime and industrial hub of Taiwan. It's also a famously busy and crowded city, so don't expect much peace and quiet while you're there!
Kaohsiung has one of the best mixes of cultures, peoples, and communities you'll find in the whole country. It's also surrounded by stunning natural scenery, so most people who spend time in the city take day trips outside to go hiking or cycling. This is a relatively young city, but it still has historic sites such as the aptly named Love Pier and the Lotus Pond Shrine. It also has several interesting museums sprouting up such as the Fo Guang Shan Buddha Museum.
No matter what you enjoy doing while you're on holiday, Kaohsiung promises entertainment and a lively atmosphere. So, all you have to do is find the best hotels in Taiwan and start booking.
Best Places to Stay in Kaohsiung
Like any busy modern city, Kaohsiung has lots of Taiwan accommodation options at every price point and to suit every comfort level. All you need to do is find a place to stay in Kaohsiung that makes you feel comfortable and cozy without breaking the bank.
Best Airbnb in the Kaohsiung: Rm. R2
For more local and authentic lodging in Taiwan, you can't go past this modern and sleekly decorated condominium. It's suitable for up to 3 guests and close to the Luhe Night Market, the MRT station, and lots of food and shopping options. This is a very safe part of the city, so you can wander around at all hours looking for things to do without worry.
This hotel is a good choice if you want lodging in Taiwan that's right in the heart of the city and close to the local train station. It even has a bit of local flavor and is based in an old Taiwanese house that has been renovated to modern standards. It's close to local shops and restaurants and offers friendly, dorm-style accommodation.
If you want to be right in the center of the city, you can't do better than this hotel. It's surrounded by shops, within walking distance of the train station, and has a restaurant on-site so you'll never go hungry. The rooms are fully equipped for a comfortable stay and include your own private bathroom.
Lukang is the second oldest city on the island and it isn't as popular with tourists as other options. That means you'll enjoy a quieter experience exploring all the unique charms and history of this town. It's known for two things: amazing architecture and delicious food, so make sure that you take advantage of both of these things.
Lukang is located in the northwest of Taiwan and was once a busy seaport and trading center. Over time, it lost most of this prestige but the historic attractions and feel of the city have remained remarkably untouched. There are over 200 temples for you to explore in Lukang, many of them bright and vibrant and unlike the temples, you'll see anywhere else. There are also several unique attractions to explore such as the Taiwan glass gallery and Lukang Old Street.
Visiting Lukang is a good chance to see a historic city without the press of a lot of tourists while you're staying in Taiwan. And you'll find lots of hotels and guesthouses in this city that are as unique as some of the attractions!
Best Places to Stay in Lukang
Lukang is a smaller city than most of the others on this list, so you won't find the same variety of hotels and lodgings. However, this is relatively speaking, so you should still be able to find somewhere to stay that suits your travel style and budget.
Best Airbnb in the Lukang: Whole House
This newly renovated house is suitable for 3 people and is close to the Lugang Longshan Temple. The space is cool and comfortable and it's within five minutes' walk of the bus station and Wenwu Temple. You'll get your own kitchen and bathroom as well as complete privacy in this house.
There aren't too many hostels or hotels in Lukang, but this is a good choice when you're staying in Taiwan on a budget. The rooms are comfortably furnished and have a shared bathroom. It's also charmingly homey, so you'll have lots of chances to get to know your fellow travelers and make some new friends.
Best Hotel in Lukang: Joy Inn
Enjoy a unique stay at this hotel while you're visiting Lukang. It offers a terrace, Jacuzzi and free Wi-Fi to make your stay both convenient and relaxing. The rooms have fridges and minibars as well as a private bathroom. There's even an on-site restaurant that serves delicious food.
If you prefer the natural and the wild to the hustle and bustle of the city then you must spend some time in the Alishan National Scenic Park. This is one of the best areas to stay in Taiwan if you're into stunning, natural places. There are 25 mountains around the area to suit every nature lover.
When you arrive in the area, make sure you go on the Alishan Forest Railway first. The train snakes its way through the forest before stopping at a lovely little village where you can see the remains of a Shinto temple and experience the local Tsou culture. There are several small villages where you can stay, but Chiayi is one of the most popular because it offers a direct bus and railway into the park. The Alishan Township is also a good area to stay in for good proximity to the park.
When it's time to get out of the city and go hiking or explore waterfalls, gorges, and ravines, then it's time to visit the Alishan National Scenic Area.
Best Places to Stay in Alishan National Scenic Area
Your biggest concern when looking for the top places to stay in Alishan National Scenic Area is your proximity to the mountains. You don't want to be too far away and have to travel for hours. Instead we suggest you pick your hotel, hostel, or Airbnb based on proximity to the park, even if this means you have to spend a little more money.
Staying in an Airbnb is probably the best way to enjoy the Alishan National Scenic Area on a tight budget. This private room offers comfort and convenience while you hike and explore the natural beauty of the area. It's close to local eateries, to the local railway station and the forest trail for great convenience.
Best Hostel in Alishan National Scenic Area: An Lan Jie Hostel
This hostel is located in the city center and close to the train and bus station. It offers dorm rooms and private rooms to suit all travel preferences. Each room is decorated with a different theme based on the local culture and geographical features in the area.
Best Hotel in Alishan National Scenic Area: Alishan Hotel
If you want to be really close to the Alishan National Scenic Area, then you'll have to pay the premium for it. This 5-star hotel offers grand rooms that you probably won't get time to enjoy as you'll out so much! It has a kids' club, coffee bar, private bathrooms, bathtubs, and a restaurant. But of course, the real draw is how close it is to the park for those sunrise views.
Tainan is the oldest city in Taiwan and was once the capital, so you'll be overloaded with history when you visit. This is where you'll get to experience the most traditional aspects of Taiwanese culture still in existence. And as an added bonus, it's also one of the best places to stay in Taiwan if you enjoy great food as it offers the best food you'll find on the island.
You could spend days or even weeks exploring the history of this city including from the Taiwan Confucian Temple built-in 1665 to Fort Provintia, built-in 1653. The city has a fascinating historic district known as Anping District as well as great museums, night markets, and general shopping areas. You can also get out of the city for day trips to the Taijian National Park or Hutoupi Reserves if you'd prefer to get away from the concrete jungle for a while.
If you're ready for historic sites and cultural landmarks, then visit Tainan, the former capital and probably the most interesting city in all of Taiwan.
Best Places to Stay in Tainan
Tainan is just stunning if you're a history buff or just enjoy the atmosphere of older cities that have some real history behind them. And anywhere you stay in this city will have that same vibe. If you enjoy that atmosphere, try to stay close to Anping Old Street, so you're central to everything and will have your choice of places to eat and socialize.
Best Airbnb in Tainan: Y1 House
Suitable for up to 2 guests, you'll enjoy perfect privacy when you stay in this apartment. It's conveniently located on Zhengxing Street in the Central and Western District and is surrounded by convenience stores, restaurants, and the city's best attractions. So, when you make this apartment your base, you won't have to go far for some entertainment or a snack.
You can't get better than this; a centrally located hotel at a reasonable price. The Kindness Hotel is within walking distance of the Taiwan Confucian Temple and Chihkan Tower and is surrounded by places to eat. The rooms are clean, spacious and equipped with all the essentials you'll need for your stay.
Best Hostel in Tainan: U.I.J. Hostel
If you're trying to decide where to stay in Taiwan on a budget, this is a great choice. It offers lots of common areas like a bookstore and open kitchen so you can share your travels with friends. The dorm rooms are comfortable and just perfect if you're on a tight budget but still want to stay close to everything.
Everyone travels differently. Some people prefer fancy hotels, others are happy with basic Taiwanese hostels, and some travelers like to live like locals in cozy apartments. Whatever your preference, you'll be able to find a range of Taiwan accommodation options to suit your needs.
If you're looking for good hostels in Taipei, then this beat is just about perfect. The location is ideal, with a view of the mountains on one side and Taipei 101 on the other. It's a few minutes' walk from the night market, public transport, the Keelung riverside park, and lots of modern shops and restaurants. And the dorm rooms are comfortable, welcoming, and clean.
Best Airbnb in Taiwan: Modern Loft
When you travel, one of the best strategies for a good trip is to stay close to transport options. And this loft, located 2 minutes from the train station, fulfils that goal perfectly. It's also located in a vibrant local neighborhood where you'll probably spend most of your time gorging on the local food.
Best Hotel in Taiwan: Sato Castle Motel
This is a bizarre one of a kind motel located in Taipei. The outside is modern with a mock-castle façade. But once you get inside, the room decorations will leave your head spinning. Each room is different, from the soccer-themed rooms to the Geisha rooms. There's even a Lego castle themed room that your kids will love! The hotel is also conveniently located near the Taipei Ferris wheel and all its attached attractions.
Books to Read While Visiting Taiwan
Here are some of my favorite books set in Taiwan:
Taiwan: A Political History — To properly understand Taiwan and all of its many layers, check out this very well-researched read by Dennis Roy.
Forbidden Nation — For over 400 years, Taiwan has suffered at the hands of multiple colonial powers, but it has now entered the decade when its independence will be won or lost. Another important account that helps backpackers (and anyone for that matter) come to terms with Taiwan's history.
A Thousand Moons on a Thousand Rivers — Winner of the 1980 United Daily Literature Competition, this novel about love, betrayal, family life, and the power of tradition in small-town Taiwan was an instant bestseller when first published in Taiwan.
The Food of Taiwan: Recipes from a Beautiful Island — Get to know the amazing cuisine of Taiwan in intimate detail.
Don't Forget Travel Insurance for Taiwan
World Nomads' mission is to support and encourage travellers to explore their boundaries. They offer simple & flexible travel insurance, and safety advice to help you travel confidently.
They've been doing it since 2002 – protecting, connecting, and inspiring independent travellers just like you.
Get a quote below or read our in-depth review!
World Nomads provides travel insurance for travelers in over 100 countries. As an affiliate, we receive a fee when you get a quote from World Nomads using this link. We do not represent World Nomads. This is information only and not a recommendation to buy travel insurance.
Taiwan is one of the most interesting, exciting, infuriating, baffling, and tasty little countries in the world. It rightfully now receives thousands of visitors each year who want to experience its charms. Our tip, when you're staying in Taiwan, make sure that you see more than just Taipei and get around the country as much as you can. Taipei is an amazing city, but Taiwan has many faces and all of them are accessible if you just move around a little and keep an open mind.
---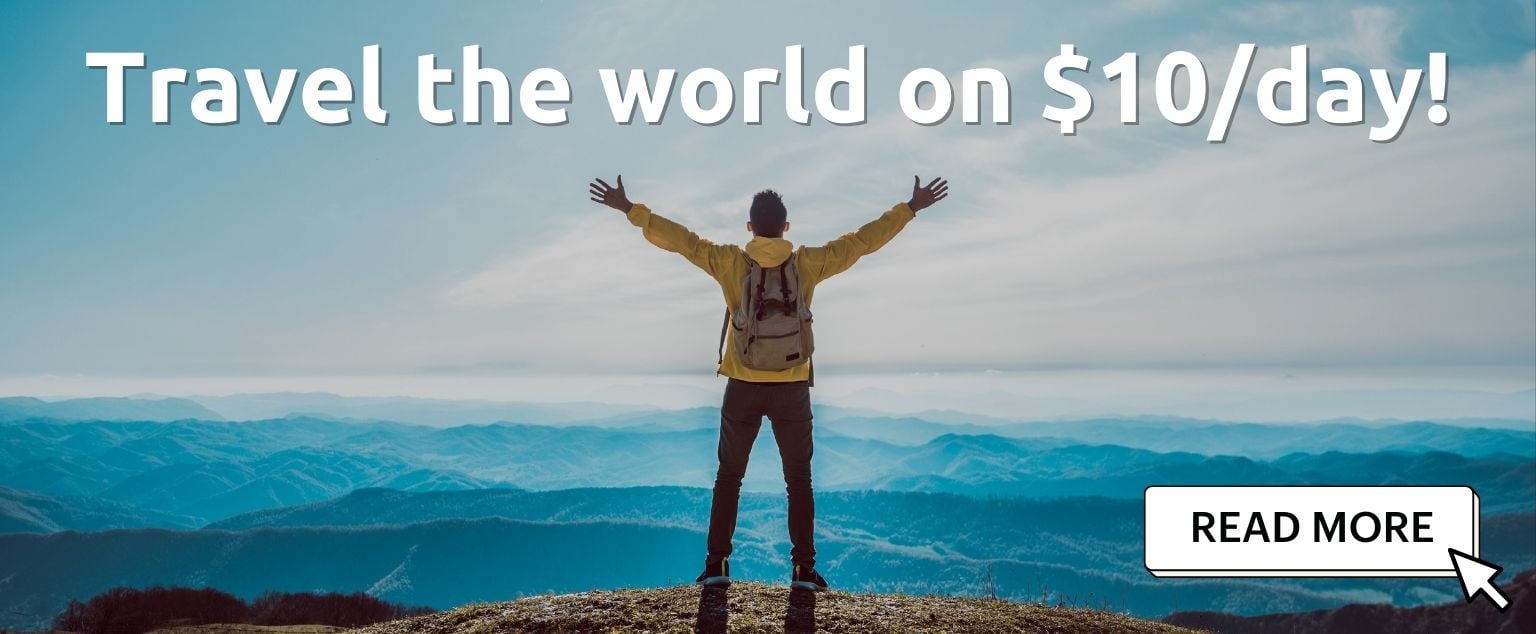 And for transparency's sake, please know that some of the links in our content are affiliate links. That means that if you book your accommodation, buy your gear, or sort your insurance through our link, we earn a small commission (at no extra cost to you). That said, we only link to the gear we trust and never recommend services we don't believe are up to scratch. Again, thank you!