Towering mountains and mythological beasts, shiny robots and shinier samurai; Backpacking in Japan is a truly fascinating experience. Over seventy percent of Japan is covered by towering volcanic peaks and snow-capped summits, and these mountains, which still hold important religious and cultural significance, provide nothing short of a paradise for budding adventure junkies.
Whilst backpacking in Japan, I never once felt threatened, and I was rarely frustrated. This is such an amazing country.
The main challenge in Japan is trying not to spend too much money; it's not a cheap country to travel in. I managed to spend an average of $30 a day over a three-week trip; I doubt it could be done for less, but there are a few travel hacks to backpack Japan on a budget and experience the country cheaply. There's even one way you can travel around Japan for free!
I've written this Japan travel guide so that I can share my insider knowledge with you. I'll show you how to travel in Japan cheaply and where you absolutely need to go. By the end of this guide, you'll be armed with more tools than ninja assassin and will have everything that you need to have an amazing time in this country!
Where to Go Backpacking in Japan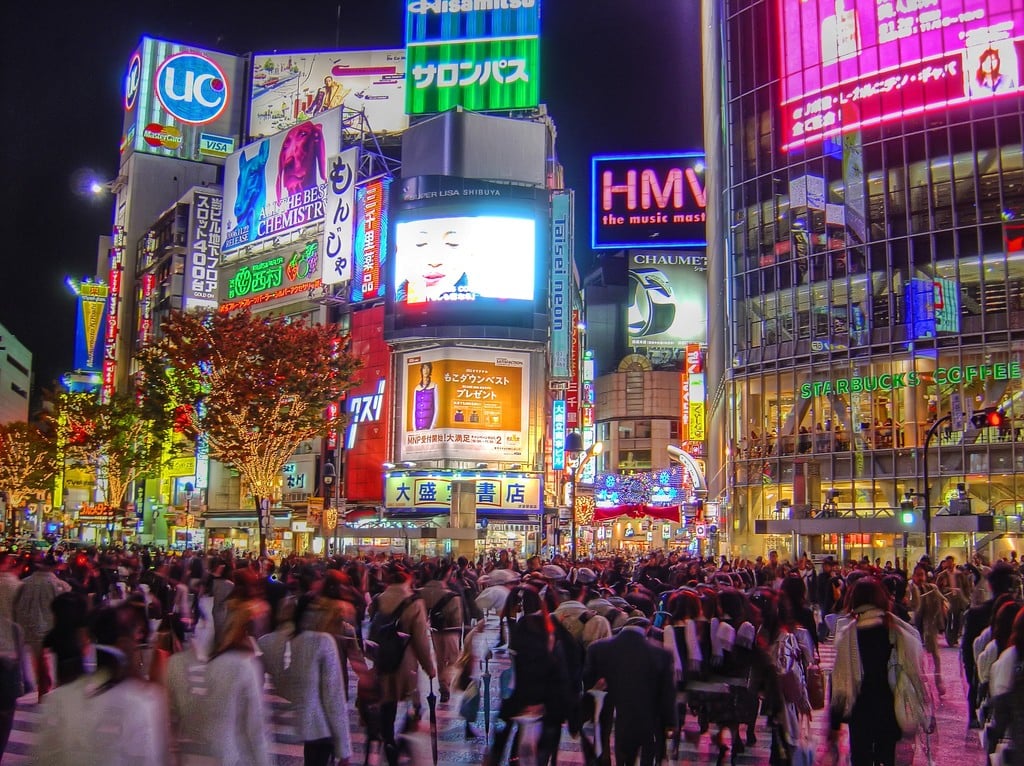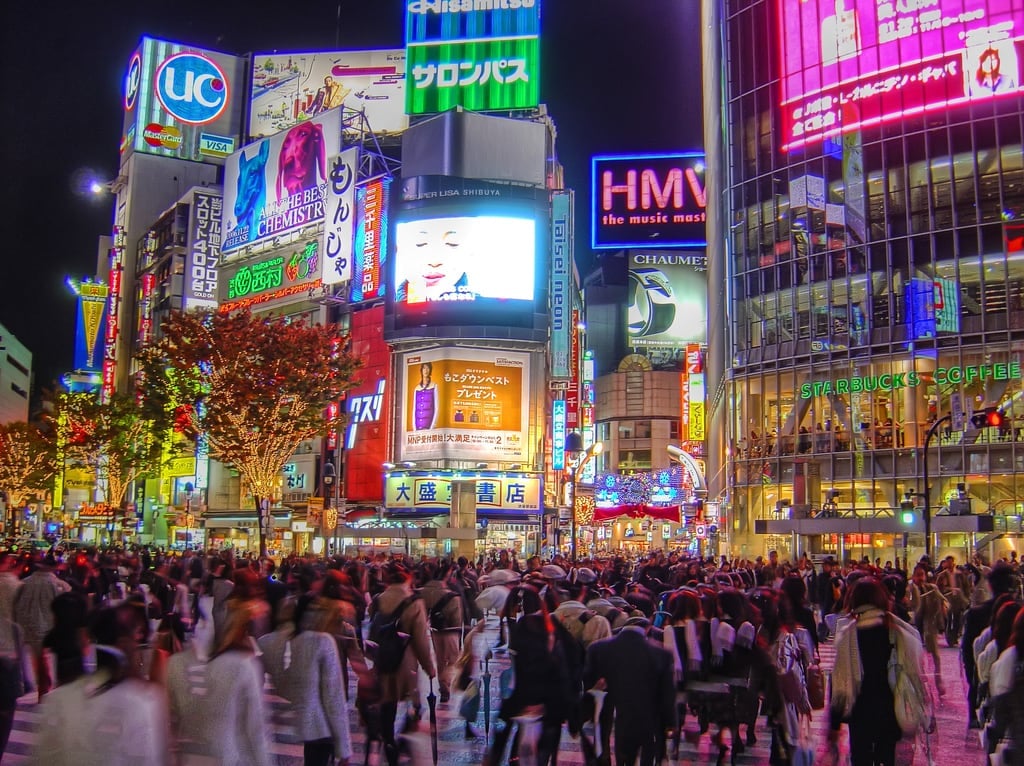 For me, Japan has always been the land of the Samurai. I have long admired the staunch bravery of the Samurai and the sheer tenacity of the Imperial Army during World War II. The wonderful thing about Japan is the painless mix of traditional feudal scenes with that of a buzzing, technological beast of a country.
Every area you travel to in Japan is wildly unique yet still, distinctly (oh, so distinctly) Japanese. The cities in Japan are unlike any other; they crackle and pop with energy. Tokyo is a futuristic wonderland of gliding transport, soaring buildings, and bright lights. Just a short way from Tokyo lies the ancient city of Kyoto and the first Japanese capital of Nara.
In Nara, Geishas still patrol the streets in traditional dress, temples lie hidden in tranquil bamboo forests and it feels as though you may encounter a band of marauding Samurai at any moment. Here is a great Japan backpacking route:
Whether you are after a chilled day-walk or a harder, multi-day, trek; backpacking in Japan has plenty to offer; I never got a chance to hit up any of Japan's hiking trails although I will be sure to have a crack at Mt. Fuji upon my return!
Best Travel Itineraries for Backpacking Japan
Honestly, there is so much to do and see in Japan. You can easily spend weeks, or even months, exploring the massive Tokyo and barely scratch the surface. If you have the time (and money) I suggest spending extra time staying in Tokyo and Kyoto! If you don't have the time, then check out these two awesome itineraries, which will give you some solid exposure to beautiful Japan!
Backpacking Japan 3 Week Itinerary #1: Japan's Mountains + Central Highlights
3 Weeks: Japan's Mountains + Central Highlights
This is the perfect itinerary if you have 2-4 weeks to explore Japan. Start off the adventure in Tokyo. I recommend staying here for 5 days at minimum. Like I said above, you can spend weeks in Tokyo and barely scratch the surface, but it is an expensive city.
Get the Odakyu express train (2x hours) from Odakyu station to Odawara (the base town of Hakone). If you buy the Hakone Freepass and combine it with your normal ticket fare you can save a bunch of money. Hakone boasts stunning views of the iconic volcano Mount Fuji!
The scenery here is incredible and it's famous for its trekking. It's also the cheapest area in Mount Fuji to conquer the summit. You'll need to spend at least 3-4 days here, especially if you wish to do some trekking.
Next, take a train from Odakyu to Shinjuku (870 yen), followed then by a highway bus to Matsumoto (3400 yen), which is famous for its old original 16th century castle Matsumoto, commonly known as Crow Castle.
Next, head to the Japanese Alps, which has some of the best skiing in the world! That said, you won't be here for winter season if you are timing your Japan trip with cherry blossom or trekking season. The Alps offer hiking, canyoning, mountain biking, and kayaking in the summertime.
Speaking of cherry blossom season, make sure you visit Kanazawa and stay during the springtime! Kanazawa is home to Kenrokuen, one of Japan's most beautiful gardens. In winter it's the end destination of the Alpine Route. There are a few attractions around the city like the Ninja Temple, Samurai & geisha districts too. If you stay overnight, there are a couple of epic hostels in Kanazawa as well.
Shirakawa and Takayama are next on the list. Shirakawa is a remote mountain town is also a UNESCO world heritage site, famous for their traditional gassho-zukuri farmhouses, some of which are more than 250 years old. Takayama makes for a great day trip.
Finally, head to Osaka and Kyoto to finish up this amazing trip! The two cities are neighbours but couldn't carry more different vibes if they tried. Visiting Osaka gives you a more laidback Japan – eccentric nightlife, quirky dialects, and less-reserved locals (within reason)
As for visiting Kyoto? With numerous temples, beautiful gardens, imperial palaces & bold, bright red gates at Fushimi-Inari Shrine, Kyoto is an unmissable destination.
The city upholds formal traditions like Kiseki dining with a Geisha. The bamboo forest is enchanting to stroll through & the nightlife is pretty good here. You'd want to spend at least 4-5 days staying in Kyoto.
Backpacking Japan 2 Week Itinerary #2: Japan's Southern Highlights
2-3 Weeks: Japan's Southern Highlights
For this itinerary, we will also start by staying in Tokyo, where you should try to spend at least spend the weekend - preferably more. Next head to Kyoto, another amazing city in Japan.
Next up is Nara, a city filled with history and Japan's first permanent capital. It's home to some of the biggest & oldest temples in Japan like Todai-Ji, the largest wooden building in the world. Hang out & walk around the city among the deer that wander about the city.
You'll only need to spend a day or so checking out Nara. Then head to Hiroshima.
Hiroshima was largely destroyed by an atomic bomb during World War II, but has since been rebuilt. You can visit the Hiroshima Peace Memorial Park visiting ruins surrounding ground zero. Make sure you visit the Hiroshima Atomic Bomb museum & Hiroshima Castle which is a fortress that is surrounded by a moat, next to a park. You only need a 2 or 3 days exploring Hiroshima, but make sure you take a day trip out to Miyajima Island one of the days.
Miyajima Island is full of ancient temples and forests. Just offshore is the big beautiful orange Grand Torii Gate marking the Itsukushima Shrine entrance.
The above itinerary is plenty to keep you busy for 2 weeks, but if you have a bit more time, catch a flight to the Okinawa Islands area. Okinawa is renowned for its incredible scope of activities: epic festivals and culture, year-round beautiful beaches, and off the beaten path adventure.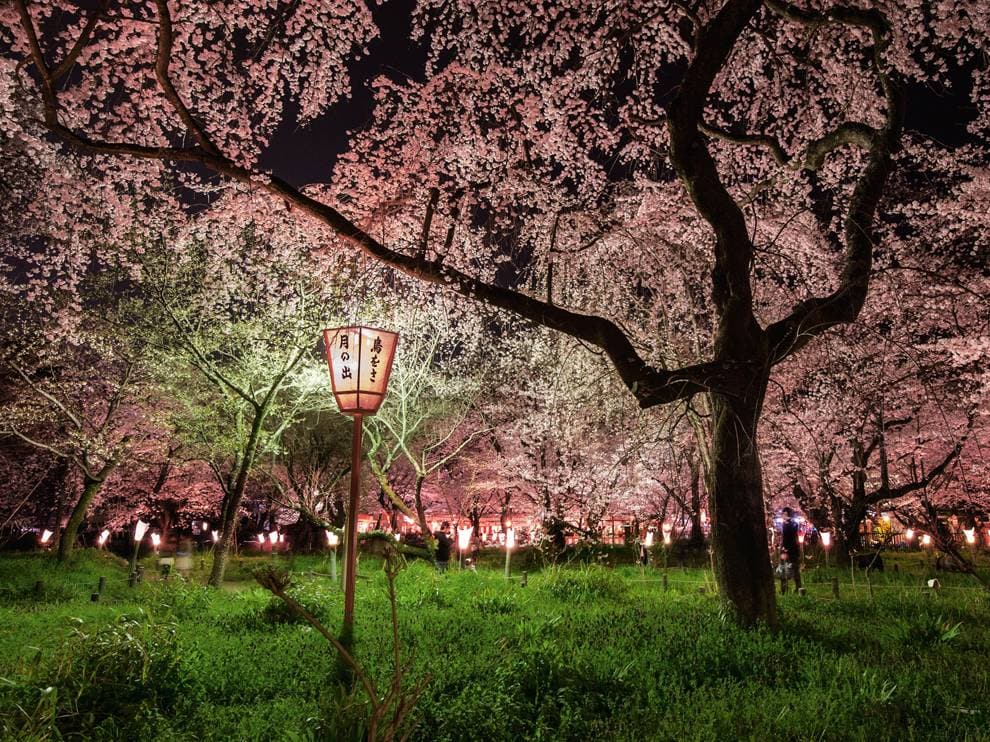 Here's Some More Info on Japan's Highlights!
Places to Visit in Japan
Backpacking Tokyo
Tokyo is an awesome backpacking destination. There is a lot to do here but it definitely helps to have a Japanese friend to show you around. When I first arrived in Tokyo, I crashed with a CouchSurfing host for the first couple of days which really helped my budget and also helped me get the most out of the city.
Even if you only have a passing interest in Anime you really should visit the Studio Ghibli museum. This needs to be booked in advance and can be booked from a machine in most convenience store chains.
The impressive Tsukiji fish market is the largest fish market in the world and is free to visit. Get there bloody early!
It is well worth booking a ticket for the Tokyo SkyTree. Being the tallest tower in Japan, not only do you get to see amazing 360 views of the city from the observation deck, but on a clear day you can even glimpse Mt. Fuji in the distance!
Explore the food culture. Food in Japan is really a level up, delicate, balanced, and decorative... Each dish a small work of art. If you love sushi get ready to indulge; do your research in advance so you know what to look out for, what you might like to try and appropriate dining etiquette.
The Kodokan (free entrance) is worth a visit although it's only particularly impressive if it's in use when you arrive; it is the largest Dojo in the world.
If you happen to find yourself in Tokyo during the winter, be sure to check out the Marunouchi Illumination, where the cobblestone street of Nakadori is lit up beautifully.
There are plenty of temples and palaces, and although these are worth visiting many of them have an entrance fee. If short on cash, I recommend waiting until Kyoto as the most impressive temples are found there. tokyo
The nightlife is also typically insane in the endearing Japanese fashion, and Tokyo is a super safe city to get loose in. Some of the parks in Tokyo can be rather good fun to visit too, and it is worth wandering around Harijuku to catch a glimpse of the infamous 'Harijuku girls'.
There are absolutely LOADS of awesome day trips that you can do from Tokyo. For further inspiration, you'll just have to check out some more of our content!
Backpacking Mount Fuji japan
Mount Fuji is Japan's most iconic mountain and watching the sunrise from the top is on many a backpacker's bucket list. Although it is one of the most popular things to do when travelling in Japan, bear in mind that it stands at an altitude of 3776m and altitude sickness is a real possibility even though the climb itself isn't very difficult. Anybody with a reasonable level of fitness can climb Mount Fuji but, if you can, it makes sense to do a bit of training first.
The Hakone township itself lies within the Fuji-Hake-Lzu National Park area & boasts stunning views of the iconic volcano Mount Fuji! The scenery here is incredible , and it's also the cheapest place to conquer the summit of Mt Fuji. Use your Hakone Freepass to explore all the attractions in the city like the Odawara Castle & Open Air Museum or relax in one of the natural hotsprings.
You'll want need to put at least 3-4 days on your itinerary here, especially if you wish to do some trekking.
Start the climb for Mt. Fuji from the fifth station around evening so by the time you reach the summit it is dawn and you can catch the awe-inspiring sunrise. Make sure you tackle the climb slowly; no need to rush. There are several rest stops on the way offering food, drink and a restroom and you can even buy oxygen (you're unlikely to need it) at these huts if you have altitude sickness.
Make sure you are loaded with plenty of water, enough warm clothes, energy bars and great hiking shoes. Also, put yourself up in a dope hostel around Mt Fuji; somewhere you can rest your head before and after the climb and meet some other cool peeps.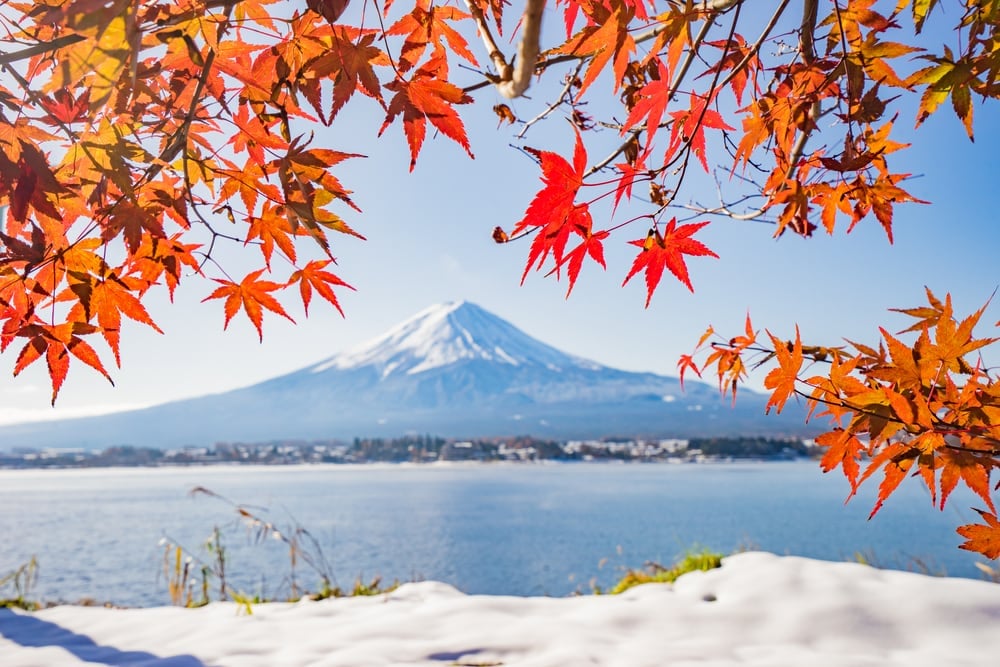 The climb is best attempted during the official season - From July till the end of August although this is the Mt. Fuji's busiest time and it can become crowded. At other times of the year, the trekking route is shut due to low temperatures and snow. If you're looking for a quiet sunrise and to be alone amongst nature, Fuji is the wrong mountain for you. But I will say that if you are going to Japan, you really should try to fit in a visit to Mount Fuji.
There is a popular Japanese saying - 'One who never climbs Mount Fuji is a fool; one who climbs it twice is twice the fool'. So go ahead and give it a shot!
Book Your Mount Fuji Hostel Here!
Backpacking Matsumoto
The city is famous for it's old original 16th century castle Matsumoto, commonly known as Crow Castle. Explore Matsumoto city, visiting Nakamachi street, it's lined with old merchant houses, the river is also a nice spot to eat dinner at night.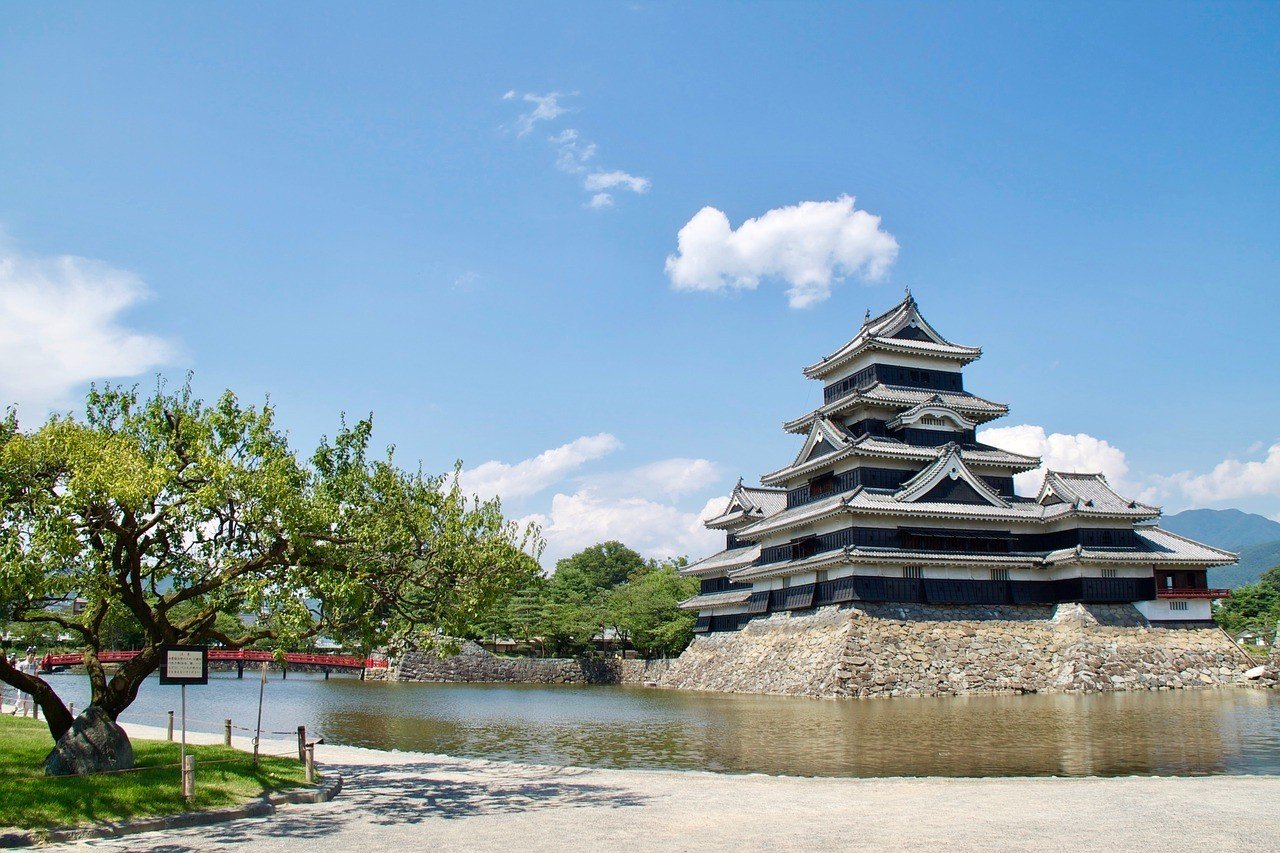 You only need 2 days here to see everything. To leave, in the morning get a train from Matsumoto to Shinano-omachi. Then take the incredible Alpine Route to Kanazawa. Just FYI, the Alpine Route is only open from April to November.
Backpacking the Japanese Alps
Japan is surprisingly a great place for winter sports. One of the most popular spots is the Japanese Alps. I must warn you that it is not the cheapest to go skiing in Japan.
There are plenty of resorts in the Japanese Alps where you can hire (or buy) equipment but it's obviously cheaper if you take your own stuff with you. Although a bit expensive, you could take a snowboarding lesson, most places offer coaching in English.
If you're hitting the slopes in winter, you'd want to head to Hakuba. It's in the heart of the Japanese Alps & is where the 1998 winter Olympic games were held. You're surrounded with 11 different mountains, so you've got quite a choice.
Hakuba Alps Backpackers is the place to stay during snow season. They also cater for summer too with hiking, canyoning, mountain biking, kayaking etc.
Book Your Japanese Alps Hostel Here!
Backpacking Kyoto
Kyoto is pretty damn special. It is crammed with temples, shrines, castles and legends...
If you are planning a trip to Kyoto fo the first time, you should try to stay in Gion, the Geisha district; it is crazy colourful. A Japanese friend gave me some tips on the correct etiquette when interacting with Geishas; Never talk to a Geisha or try to stop them for photos as this is considered extremely rude.
Kyoto's famed Golden Pavilion is well worth a visit; it's a stunning place to spend half an hour or so quietly contemplating the beautiful gardens set in the shadow of the impressive temple. Unfortunately, the entrance price is pretty steep and often it's pretty crowded; arrive early.
Nijo-jo is an impressive castle from the outside but is sadly rather empty on the inside; still worth exploring. Kiyomizu-dera (free) is well worth visiting. Dairoku-Ji was my favourite temple complex in Kyoto.
Kyoto upholds formal traditions like Kiseki dining with a Geisha. The bamboo forest is enchanting to stroll through & the nightlife is pretty good here.
There are hundreds of temples and shrines in Kyoto and you could spend a lifetime trying to visit them all. Among the ancient temples, you can also explore the hip, alternative side of Kyoto. Kyoto has a sweet underground scene too, though maybe not to the degree of Osaka.
Consult your guesthouse to find out which temples are nearest to you. I have heard great things about Arashiyama's bamboo forests, which an easy day trip from Kyoto.
For backpackers looking for an epic trekking adventure, consider going on the Kumano Kodo Pilgrimage Trek. This 3-day hike take you to 5 UNESCO World Heritage sites and even some hot springs so you can soak your weary bones.
Backpacking Nara
If you have a free day, you can make an easy day trip (by train) to Nara, Japan's historical capital. Nara is full of historic neighborhoods, chilled out parks, and more temples including Todai-Ji, the largest wooden building in the world.
Todai-Ji was the only building in Nara which I thought was worth paying to get into. Most of the other temples are less impressive and yet still cost around $10 to get into.
Check this picture:
That's me kicking ass with a Samurai I was introduced to through Couchsurfing. Seriously folks, in Japan, it's all about having unique experiences and discovering cool places you wouldn't normally hear about. My secret weapon for this is always travelling by Couchsurfing: it is simply the best way to get to grips with a new place and land on your feet with a social life.
Backpacking Hiroshima
Poignant Hiroshima Peace Memorial Park is heartbreaking. The park tells the story of how Hiroshima, a previously untouched (by the war) city in Japan, was nuked towards the end of WWII by American forces.
In the park, you'll find the Atomic Bomb Dome - site of where the first atomic bomb hit, and now just a skeletal reminder of the past. The park is free to get into and it costs under a dollar. It's well worth it to visit the museum.
You can store your bags in museum lockers for free. When visiting the museum, I recommend splashing out on the audio tour. There are two free films you can watch in the museum's small cinema. You can get free WiFi here as well so it's a good place to chill if you're stuck for a bit.
There is a library in the park where you can use a computer for up to an hour for free.
A good afternoon activity in Hiroshima is booking a tour of a Sake brewery. The brewing process is pretty cool and... the best part? You get a diverse sampling of sake at the end of the tour. After all of the heaviness regarding Hiroshima's history, you might find that you needed the sake tour more than you thought.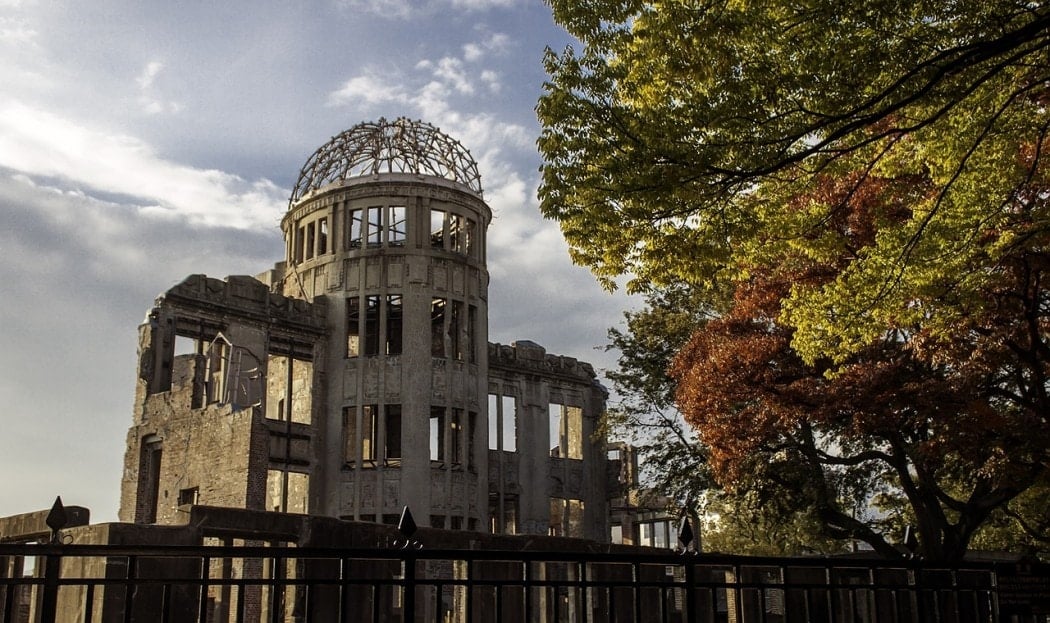 I personally found visiting Hiroshima to be a really worthwhile but somewhat distressing experience - do some research beforehand so that you have a basic idea of what occurred here before booking somewhere to stay.
If you have a spare day on your hands, head off to beautiful Miyajima. An easy day trip from Hiroshima, Miyajima is a fantastic island covered in gorgeous woods. Hike up into the hills to escape the tourist crowds and discover some awesome views as well as herds of cheeky deer.
Book Your Hiroshima Hostel Here!
Backpacking Osaka
Osaka is number three of Japan's major tourist destination cities. Not quite as culturally encroached as Kyoto yet not quite as... insane as Tokyo, Osaka is the brash, rash, and oh so lovable youngest sibling of the three.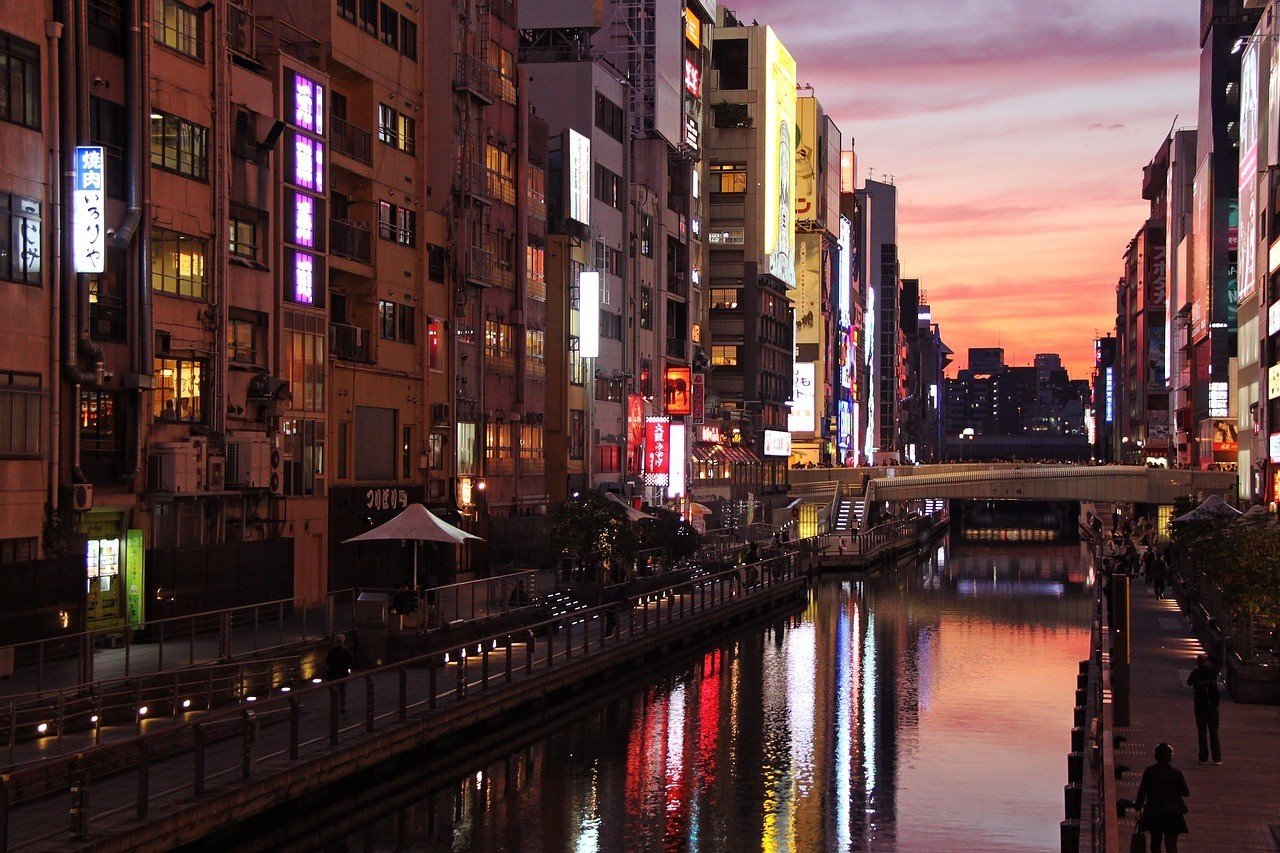 The locals in Osaka pride themselves on being a touch less tightly-wound then their kin across the isles. They have their eccentric slangs, are looser with their tongues (relative to other Japanese people), and even enjoy the odd comedy show.
There are no shortage of cool places to stay in Osaka - it's one of the places to go in Japan that are more suited to hosting backpackers. With tonnes of cool hostels and plenty of esoteric nightlife, it's a very good part of Japan to visit if you're feeling the isolation that sometimes creeps up when backpacking there. Foreigner or Japanese, you're bound to make some friends in Osaka.
Backpacking Nagasaki
Nagasaki is located on the southern island of Kyushu. Like in Hiroshima, there are museums about the bombing, a peace memorial, and a peace park with lots of sculptures and beautiful flowers.
Nagasaki is a really nice city to wander around – there are lots of Buddhist temples, gardens and an interesting Chinatown area. It has a pretty chill and laid-back vibe. You could happily spend a couple of days here.
Book Your Nagasaki Hostel Here!
Backpacking Sapporo and Hokkaido
Most travellers don't plan a trip to Sapporo and Hokkaido. In fact, Hokkaido gets way too little love amongst the backpacking scene in Japan, so I'm here to fix that! In summer, Hokkaido is a vibrant lush green wonderland of mountains, wildflowers, and fruits to pick.
Come winter, however... holy shit is it cold! But it's a dreamy Narnia-like snowscape with some of the most majestic fields of powder and frozen lakes that you'll ever lay eyes on.
The northenmost of Japan's four main islands, Hokkaido is to Japan what South Island is to New Zealand: a sparser population in a harsher landscape where only the most chill and off-beat of Japanese choose to live. If you're looking for the off-kilter black sheep Japanese (particularly the ones that like a little greenery in their ciggies), you'll find them in Hokkaido.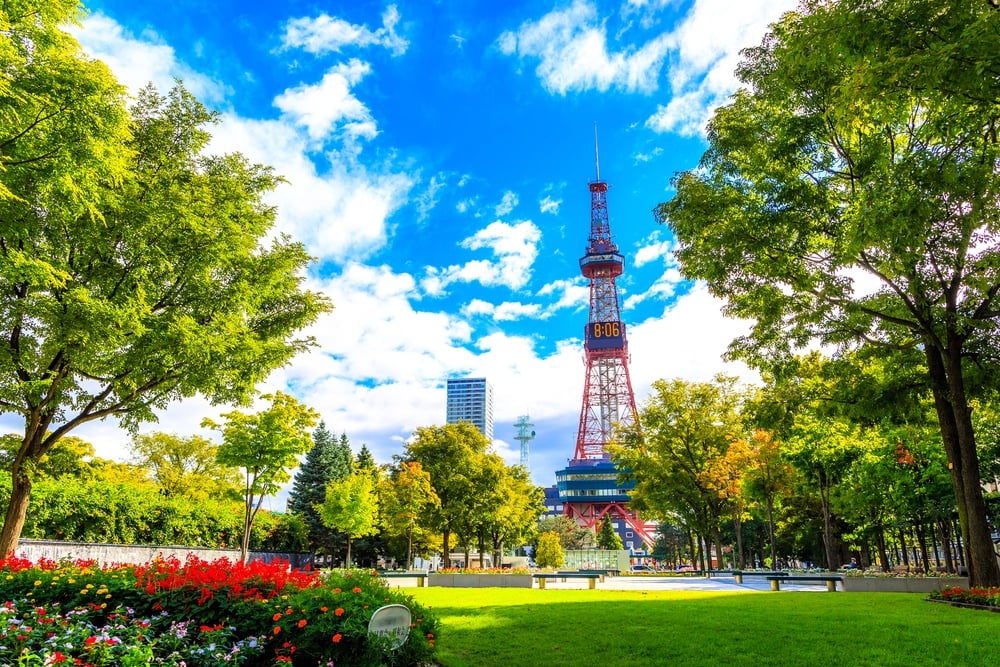 Sapporo is the capital of Hokkaido island, and, honestly, it's a pretty cool city. It doesn't have quite the smashing of tourist attractions that a lot of other Japanese cities do, but there are still plenty of cool hostels in Sapporo, quirky things to do, and infinite amounts of unrelenting food comas to swelter through.
Also, it's a pretty city! Mountains, greenery, and forest. Truthfully, I just have a real soft spot in my heart for visiting Sapporo.
Overall, Hokkaido is about as off the beaten path in Japan as you can get. Travelling it by hitchhiking is going to mean you meet the quirkiest and best of Japanese folks. And if you happen to travel it by motorbike, well, that's just a rite of passage for many young Japanese seeking their first adventure.
Book Your Sapporo Hostel Here!
Backpacking Okinawa
Well, we talked about the frozen north, so now we're talking about the summery south. The Okinawa islands are considerably further than you may expect from mainland Japan: they're about halfway between Japan and Taiwan.
As such, they have a much more temperate climate. I'd also go so far as to say that Okinawa's beautiful beaches kinda blow Japan's rather weak offerings out of the water. Much as Indians travel to Mauritius for their ultimate Hawaii-style holiday, that's why many Japanese visit Okinawa.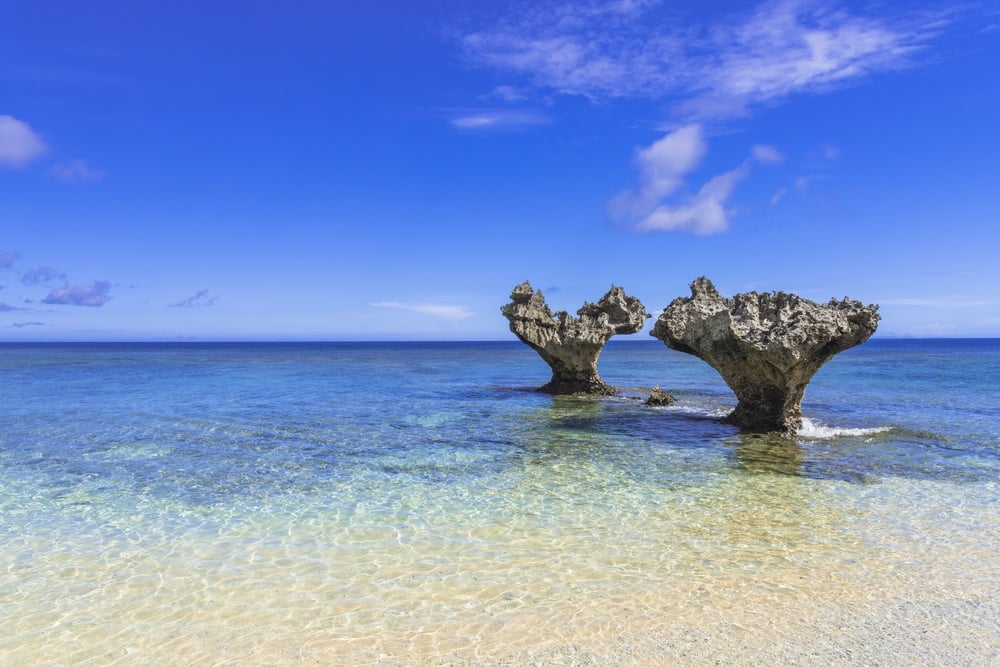 EXCEPT, Okinawa is not Japan - not really. Long before it's annexation and subsequent pilfering by American military bases, Okinawa was it's own vibrant land with its own people, language, culture, and music (not dissimilar to many Polynesian peoples). Travelling to Okinawa is both a chance to see a different side of Japan and to peek at the ugliness beneath the Geisha's mask of perfection (on that note, ask about the Ainu people when you reach Hokkaido).
Artefacts of history aside, there are plenty of fun things to do in Okinawa and its surrounding islands. Most of them involve beaches, sure, but backpackers love beaches! Beautiful, blissful, sunny beaches. Diving, surfing, and lounging about getting tanned all day - what's not to love!
Book Your Okinawa Hostel Here!
Backpacking Ishigakijima
Ishigakijima is about 400km south of the main island of Okinawa. The colour of the ocean and the fragrance of the flowers is mesmerising. It has the clearest blue waters and if you go snorkelling you will be surrounded by coral and tropical fish.
This is a pretty sweet spot for a romantic getaway, what with the peaceful waters, starry skies, and some of the best beaches in Japan that you'll find.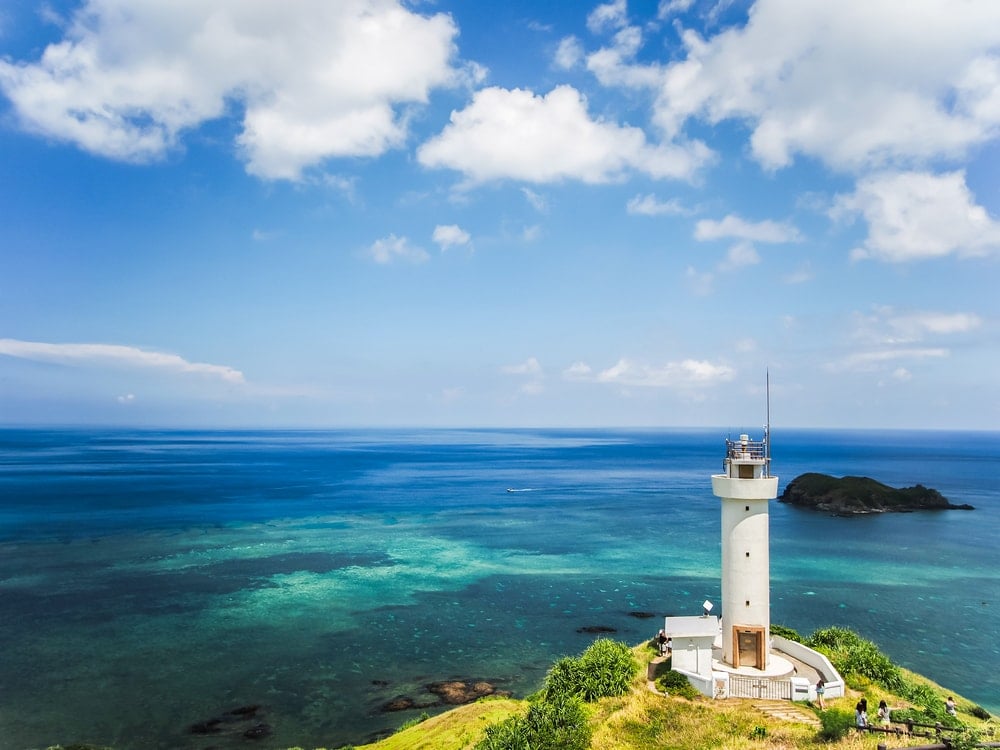 Want to get into some scuba diving in Ishigakijima? The real magic of the island lies beneath the surface of the ocean. You can go for dives and earn your scuba certificate in just a couple days, which enables you to go diving anywhere in the world after leaving Ishigakijima.
Ishigakijima has the most beautiful night sky in Japan! You could also go explore the Hirakubosaki lighthouse. This is the island to go to if you want to immerse yourself in the nature of Okinawa's outlying islands.
Book Your Ishigakijima Hostel Here!
Backpacker Accommodation in Japan
For backpackers on a budget, Couchsurfing is your best bet whilst backpacking in Tokyo. Outside of that, Japan's hostels and backpacker accommodation are cheap-ish (depending on where you are) but also undeniably excellent in that typical Japanese fashion.
There are however some truly awesome accommodation options as listed below...
Where to Stay in Japan

| Location | Accommodation | Why Stay Here?! |
| --- | --- | --- |
| Tokyo | Emblem Hostel, Sakura Hostel | The Emblem hostel is pretty cheap and awesome. |
| Hiroshima | K's House Hiroshima | My top choice in Hiroshima for backpacker friendly beds is K's House Hiroshima. It is a cozy and friendly backpacker's hostel where you will get to meet other backpackers! |
| Nagasaki | Nagasaki International Hostel, Nagasaki House Burabura | The Nagasaki International Hostel is a beautiful riverside property with traditional historic temples around which you can explore on foot. |
| Mount Fuji | K's House Fuji View | My suggestion would be K's House Fuji View with Japanese style private rooms and shared dorms with a great lounge on the roof top. You could visit the five lakes around Mount Fuji from here. |
| Kyoto | Bird Hostel | A great place to crash here would be Bird Hostel. Clean and comfortable with air conditioning, wifi and free tea! |
| Ishigakijima Island | Shiraho Friends House | This is the only real hostel property on this island It is a cozy little place with separate dorms for men and women. |
| Japanese Alps | K's House Hakuba Alps | Awesome spot if you want to hit the slopes in the Japanese Alps. They have reduced lift tickets for sale at the hostel, as well as a 20% off voucher for rentals! There's even extra space to dry clothes from snowboarding & an awesome kitchen to cook your own food. |
| Nara | Deer Park Inn, Oak Hostel | My favourite hostel in Nara was the Deer Park Inn, the only budget accommodation in the Nara World Heritage area. This place has a mountain-lodge feel and a great vibe. And like most hostels in Japan,  they have wifi and a shared kitchen. |
Top Things to Do in Japan
Backpacking Japan is all about having unique and crazy experiences that you cannot have anywhere else in the world. Below are the top 10 craziest, must-try things to do in Japan:
1. Watch a Sumo Wrestling Match
Large men pretty much rocking thongs and battling it out. Where else in the world do you get to see something so delightfully odd?
2. Real Life Mario Kart
Get ready to race! Nothing like speeding around one of the world's largest cities, in a tiny go-kart, while dressed up in costume. If you are looking for a bit of thrill and some fun then street go-karting is where it is at.
3. Drink Coffee with Cats
While the rise in popularity of this trend has it spreading across the globe, cat cafes actually originated in Japan. For those of you who haven't heard of this delightful treat yet, it's basically a normal cafe, but there are a bunch of cats... so you can sip on your coffee and pet a cat while you're at it!
But why stop the fun here?! There are also rabbit cafes, bird cafes, reptile cafes... there's even an owl cafe and goat cafe. Don't tell me your cappuccino doesn't taste ten times better when your non-coffee sipping hand is patting a goat's head.
4. Find out What an Earthquake Feels Like
Keen to feel what a real live earthquake feels like without, you know, experiencing an actual earthquake? Ikebukuro Earthquake Hall is awesome - you get the extremely interesting feeling of being in an earthquake with any of the risks while learning what to do should you find yourself in a real earthquake. And if you're a traveller, you're probably going to land yourself in some places where it could happen.
...Like Japan.
5. Get Lost in Another World
Enjoy the colorful and eccentric world of teamLab Borderless. This unique immersion will completely stimulate your visual senses. Crafted as a living museum, one without boundaries, teamLab Borderless is an ever changing ecstatic experience.
6. Eat at a Cosplay Restaurant
The basic idea here is that it is a normal restaurant, except the ladies are dressed in French maid outfits, and address you as "master." Any ladies reading this and not totally loving the idea?
Don't worry - they've got butler restaurants for you, too. Hell, there's even one where chicks dress up as the butlers. Basically, there's a rather strange themed restaurant for you, whatever your tastes, in Japan.
7. Then go to the Meguro Parasitological Museum
Not exactly the museum you had in mind? Well, entrance is free, and it's not exactly the type of museum you're going to find anywhere else on planet earth. With 300 parasite specimens to view, save this for a few hours after your tasty Ramen has been digested.
8. Random Robot-ness
If over-the-top performances and costumes are your thing than you need to check out the famous Robot Resturant Show. It is hard to describe this full on craziness. Everything from the entrance to the handful of extravagantly over done floors are pushing this Vegas like energy as you descend into the robot pit. The show itself is full of different themes and acts as two sides battle each-other.
9. Go to the Ramen Museum
Yep, this exists. Learn about the many flavours of Ramen, and, more importantly, taste them! This is so much better than the just-add-water kind we've all been rocking. This is one of the coolest things to do in Osaka.
10. Hang out in a Village of Foxes
No not foxy ladies. You can hang out with the wild animals, foxes, at Miyagi Zao Fox Village. Seriously. The foxes run around freely, some curiously approaching visitors, while others sleep away in the bushes. You can also buy some food to give them, and part of the village is more like a petting zoo - and who can say no to petting adorable foxes?!
Japan Travel Tips
Below I've listed tons of helpful tips for backpacking Japan, including an extensive section on how to travel on a backpacker budget, and a quick guide to Japanese food, history, and culture.
Best Time to Travel to Japan
Japan is best visited between March to May and September to November. If you want to catch the famous cherry blossom season (and, yes, you do) your best bet is to go backpacking in Japan between March and May. The delicate cherry blossom of spring and the vibrant hues of the autumn leaves are absolutely stunning!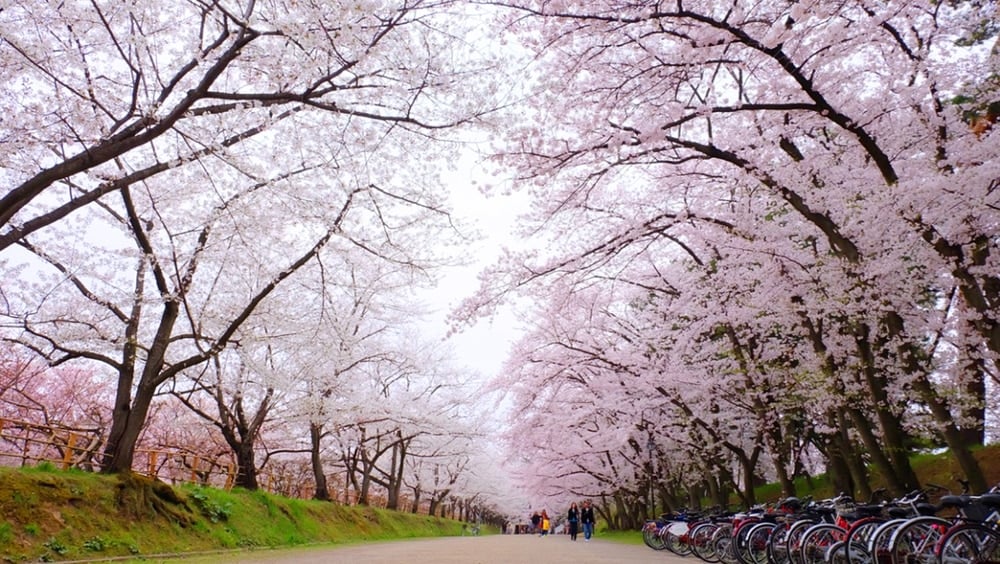 What to Pack for Japan
Get your packing for Japan right! On every adventure, there are six things I never go traveling without:
1. Security Belt with Hidden Pocket: I never hit the road without my security belt. This is a regular looking belt with a concealed pocket on the inside – you can hide up to twenty notes inside and wear it through airport scanners without it setting them off. This is hands down the best way to hide your cash.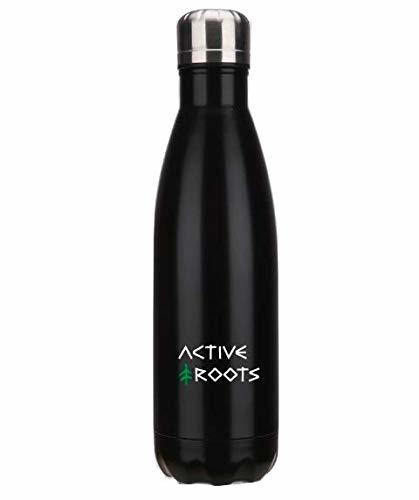 2.Travel Water Bottle: Always travel with a water bottle – it'll save you money and reduce your plastic footprint on our planet. AR bottle are tough, lightweight and maintain the temperature of your beverage – so you can enjoy a cold red bull, or a hot coffee, no matter where you are. For every AR bottle sold, we donate 10% to PlasticOceans.org – an initiative to reduce plastic in our oceans!
3. Microfibre Towel: It's always worth packing a proper towel. Hostel towels are scummy and take forever to dry. Microfibre towels dry quickly, are compact, lightweight and can be used as a blanket or yoga mat if need be.

4. Headtorch: Every backpacker should have a head torch! A decent head torch could save your life. If you want to explore caves, unlit temples, or simply find your way to the bathroom during a blackout, a headtorch is a must. Currently, I'm using the Petzl Actik Core rechargeable headlamp - an awesome piece of kit! Because it's USB chargeable I never have to buy earth polluting batteries.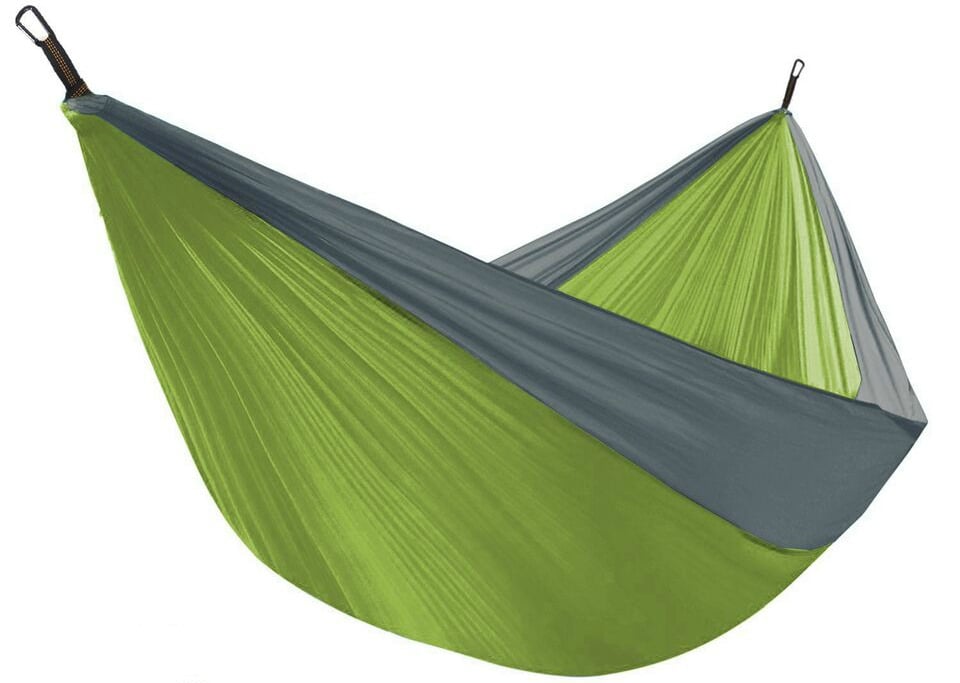 5.Hammock: Taking a tent backpacking is not always practical but hammocks are lightweight, cheap, strong, sexy (chicks dig hammocks) and allow you to pitch up for the night pretty much anywhere. Right now, I'm rocking an Active Roots parachute hammock – it's light, colourful and tough.
6. Toiletry Bag: I always travel with a hanging toiletry bag as it's a super efficient way to organise your bathroom stuff. Well worth having, whether you are hanging it from a tree whilst camping, or a hook in a wall, it helps to have quick access to all your stuff.
For plenty more inspiration on what to pack, check out my full backpacking packing list.
Books to Read About Japan
The Backpacker Bible – Get it for free! Learn how to ditch your desk and travel the world on just $10 a day whilst building a life of long-term travel with an online income. To inspire and help the next generation of Broke Backpackers, you can now grab 'How to Travel the World on $10 a Day' for free!
A Geek in Japan: Discovering the Land of Manga, Anime, ZEN, and the Tea Ceremony - Comprehensive and well informed, the book covers a wide array of topics with numerous photographs, providing a lively digest of the society and the unusual culture of Japan.
Kafka on the Shore - When you talk about Japanese literature, Murakami is the first name that comes to mind. A master craftsman of words, this guy is one of the coolest writers in the genre of magical realism. This book is an elegant and dreamlike masterpiece.
The Tale of Genji - Lady Murasaki's great 11th century novel, this is a beautifully crafted story of love, betrayal and death at the Imperial Court.
Memoirs of a Geisha - A masterful portrayal of the intriguing Geishas of Japan, this novel became the centre of a lot of controversies, but remains one of the most poignant portrayals of Japanese Geisha tradition.
Lost Japan - Originally written in Japanese, this passionate, vividly personal book draws on the author's experiences in the valleys of Japan over thirty years. Alex Kerr brings to life the ritualized world of Kabuki - a classical dance drama.
I am a Cat - The world knows about Japanese and their obsession with cats! This book is based on a nameless cat's observations of upper-middle-class Japanese society of the Meiji era, the essence of I AM A CAT is its humour and sardonic truths.
Useful Travel Phrases for Japan
Japanese is not an easy language, however, learning a few travel phrases long way! Many Japanese people do not speak English well, or feel embarrassed to, so knowing these travel phrases will help you connect with the locals!
Apps to Download before Backpacking Japan
You can check out this full list of apps that will help you when you visit Japan, but here's the tl;dr:
Maps.Me - Prone to getting lost or taking that 'shortcut' that adds another few hours onto a simple walk? This app is definitely for you. My favourite offline maps app, download your map and route before you venture out to keep you on track while backpacking Japan.
Hyperdia- I would advise you to download this app to figure out train routes and schedules.
XE Currency - I used this a lot when backpacking Japan. It is a great help while calculating expenses.
HIDE.ME - I always have a VPN ready to go on both my phone and laptop, I personally use Hide Me which is one of the fastest and most reliable options out there. This particular VPN allows for up to five connections which is handy for keeping all your devices connected without having to purchase multiple VPN packages.
Staying Safe in Japan
Japan is safe to visit - one of the safest countries in the world to visit in fact! Honestly, there isn't much crime here, and people don't really steal! You can leave your purse unattended in a metro station, and chances are, you'll get it back.
All the same, here are a few tips for safe and sound travels in Japan:
Sex, Drugs, and Rock 'n' Roll in Japan
Japan is big on sex, alcohol, and pop music to an often extreme degree. What you will not find very easily though is weed. They have very strict rules around the possession and consumption, and in Japan, you are guilty until proven innocent. The number of cops is insane and rumour on the street is that the cops are actively looking to bust anyone who looks foreign. So you're probably better off avoiding getting high whilst backpacking Japan.
Tokyo has one of the world's best concert scenes. The city is full of small and medium size concert halls called "live houses" in Japanese. There are plenty of genre specific venues in the city including punk, hip hop and jazz clubs. If you're in town you should definitely check out a show — even if it's a random band you've never heard of!
Most small shows cost 2000 - 3500 yen and might feature 2-4 bands. Japan also hosts one of the coolest music festivals in Asia - Fuji Rock. This festival is famous for its chilled open air forest theme - rural Japan at it's best! What better way to explore it than with a groundbreaking music festival. If you're around in Japan in July, make sure to check this festival.
Tinder is pretty common in Japan. Keep in mind that the Japanese are pretty old fashioned when it comes to love and sex. They prefer to be physically intimate only after confessing their love for each other. Also, it is not uncommon for a woman to ask a man out. So yeah don't be surprised if a Japanese woman is somewhat forward. Swipe away!
Travel Insurance for Japan
A wise man once said that if you can't afford travel insurance, you can't really afford to travel – so do consider purchasing some travel insurance coverage before you head off on an adventure! Traveling without insurance would be risky. I highly recommend World Nomads.
I have been using World Nomads for some time now and made a few claims over the years. They're easy to use, offer the widest coverage, and are affordable. Also, this is the only company I know of that lets you buy travel insurance after leaving on a trip.
If there's one insurance company I trust, it's World Nomads. Find out why I recommend World Nomads, check out my World Nomads Insurance review.
Getting an estimate from World Nomads is simple - just click the button or image below, fill out the necessary info, and you're on your way!

Japan Travel Guide - Getting In and Around
Arriving in Japan
The most common flight destination in Japan is Narita Airport (NRT), which is about an hour from Tokyo. There are a ton of international ferries to Japan, from Korea, Taiwan, China and Russia but for backpackers, Busan (Korea) is likely to be the only practical destination from which to take a boat to Japan.
Boats are generally cheaper than airfares, but their schedules can be unreliable, and travel times long and tedious. Unless you're travelling with cargo, spending two days on a ferry is really no fun. It's fairly straightforward to sort out your Japanese visa before you arrive!
Entry Requirements for Japan
A lot of countries do not need a Visa to enter Japan, and will receive 90 days on arrival. All other nationalities need to apply for a 'Temporary visitor' visa prior to arrival, which is generally valid for a stay of 90 days. Be sure to check out the official page for Visas for Japan, and then get the visa if required!
How to Travel in Japan
Japan has one of the world's best transport systems. Getting around is usually very easy but transportation can really dig a hole in your pocket. Although Japan is fairly expensive, there are a variety of passes for foreigners that can make travel more affordable.
My advice would be to backpack Japan using the super cool bullet trains.
So Shinkansen away my friend!
Hitchhiking in Japan
Hitchhiking in Japan is the key to true budget travel and the way to escape the country's ruinously expensive transport costs, but it can be fairly tricky. Though it is close to impossible to hitch a ride in Tokyo and other large cities, it gets easier as you move away from major cities.
Make sure to always hitch at an interchange or at a gas station and not on the expressways as it is prohibited to go there on foot and the police will rock up. Hitchhiking in Japan is still pretty uncommon so it is likely that you might be the first hitchhiker that your driver has ever even seen, much less picked up. The key to hitchhiking is to look as friendly as possible.
That said, this is one of the safest countries you can ever hitchhike and travel in.
Broke Backpacker Tip: Put up a sign in Kanji (Japanese script) that says Nihongo dekimasu which translates to 'Japanese can'. Put smileys in between your kanji characters to earn extra brownie points and more rides!
Onwards Travel from Japan
Being a series of islands, Japan shares maritime borders with:
China
North Korea (less of an option though)
South Korea
The Philippines
Russia
Taiwan
Japan Backpacking Costs
Backpacking Japan on a budget is possible, but I have to admit it is going to take some well-calculated planning and some sacrifices. If you map out your route and the things you want to do, you can book discount flight tickets, a multi-day rail pass, and other helpful money savers ahead of time.

It is possible to backpack Japan on $35 a day, but this will mean hitchhiking and wild camping while splurging on a few dorm beds, eating at convenience stores and food courts, and only picking a couple sites to visit. Transportation is the largest cost, so staying put will help cut costs too.

But this is Japan. If you want to eat sushi and go to a Robot dinner show, soak it up in hot springs and visit several beautiful shrines, and have a couple nights out on the town, you will want a minimum of $75 a day.

Were you expecting more? Many people think you need hundreds of dollars a day to visit Japan, but there are a lot of ways to save money and travel comfortably for well under $100 a day. Read on!

day pass rather than a few individual tickets./su_spoiler]
A Daily Budget for Japan
| Expense | Broke Backpacker | Frugal Traveler | Creature of Comfort |
| --- | --- | --- | --- |
| Accommodation | $10-$20 (camping advised) | $20-$30 | $40+ |
| Food | $6-$13 | $14-$25 | $30+ |
| Transport | $3-$10 (hitchhiking advised) | $10-$30 (JR Pass advised) | $50+ |
| Nightlife Delights | $4-$8 | $10-$20 | $30+ |
| Activities | $0-$10 | $10-$25 | $35+ |
| Total per day: | $23-$61 | $64-$130 | $185+ |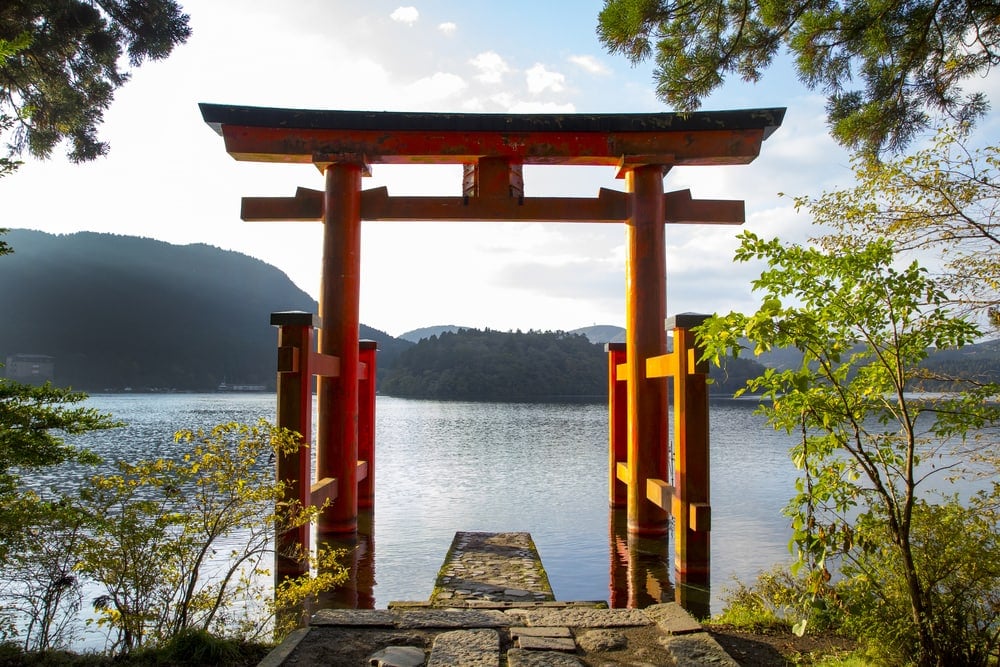 Money in Japan
There are lots of international ATMs but many of these, charge pretty insane withdrawal fees so it's advisable to avoid small ATM transactions and get out a bunch of cash at once - just make sure you hide it well.
Top Tips for Visiting Japan on a Budget
Japan can be a very expensive country, luckily though if you follow the classical budget travel tips below you can backpack Japan on the cheap...
Cook your own food: I took a small gas cooker with me to Japan and cooked a lot of my own meals whilst hitching and camping, I saved a fortune. Check out this post for a breakdown of the best backpacking stoves.
Couchsurfing: The best way to explore any country when you're broke is to get on Couchsurfing!
Eat local: Avoid the big restaurants and stick to street food, food courts, and convinence stores!
Camp, camp, and camp some more: Wild camping makes a HUGE difference in Japan, and it's super easy to get away with... you just take the right adventure gear!
Hitchhike: In Japan, it is so so easy to thumb a ride and it is an ace way to keep your transport costs down and instead spend it on smashing experiences. So hitchhike as much as you can when backpacking in Japan.
Pack a travel water bottle: Save money - and the planet - every day!
Joining an Organized Tour in Japan
For most countries, Japan included, solo travel is the name of the game. That said, if you are short on time, energy, or just want to be part of an awesome group of travelers you can opt to join an organized tour. Joining a tour is a great way to see a majority of the country quickly and without the effort that goes into planning a backpacking trip. However—not all tour operators are created equal—that is for sure.
G Adventures is a solid down-to-earth tour company catering to backpackers just like you, and their prices and itineraries reflect the interests of the backpacker crowd. You can score some pretty sweet deals on epic trips in Japan for a fraction of the price of what other tour operators charge.
Check out some of their awesome itineraries for Japan here…
Volunteering in Japan
Long term travel is awesome. Giving back is awesome too. For backpackers looking to travel long-term on a budget in Japan whilst making a real impact on local communities, look no further than Worldpackers. World Packers is an excellent platform connecting travelers with meaningful volunteer positions throughout the world.
In exchange for a few hours of work each day, your room and board are covered.
Backpackers can spend long periods of time volunteering in an awesome place without spending any money. Meaningful life and travel experiences are rooted in stepping out of your comfort zone and into the world of a purposeful project.
Worldpackers opens the doors for work opportunities in hostels, homestays, NGOs, and eco-projects around the world. We've tried and approved them ourselves - check out our Worldpackers in-depth review here.
If you're ready to create a life-changing travel experience and give back to the community, join the Worldpacker community now. As a Broke Backpacker reader, you'll get a special discount of $20. Just use the discount code BROKEBACKPACKER and your membership is discounted from $49 a year to only $29.
Teaching English in Japan
Speaking English is a highly-valued skill all over the world. For locals, it opens up whole new worlds of employment opportunities and travel.
Perhaps one of the best options for backpackers wanting to travel long-term in Japan is by working as an English teacher. But first, you'll need to get a Teaching English as a Foreign Language certificate.
TEFL courses open up a huge range of opportunities and you can find teaching work all over the world. Broke Backpacker readers get a 35% discount on TEFL courses with MyTEFL (simply enter the code BACKPKR).
To find out more about TEFL courses and how you can teach English around the world, read our in-depth report on teaching English abroad.
Make Money Online Whilst Backpacking Japan
Keen to live the digital nomad dream while travelling the world? Damn right you are!
Teaching English online is a great way to earn a consistent income from anywhere in the world with a good internet connection. Depending on your qualifications (or your motivation to obtain qualifications like a TEFL certificate), you can teach English remotely from your laptop, save some cash for your next adventure, and make a positive impact on the world by improving another person's language skills! It's a win-win!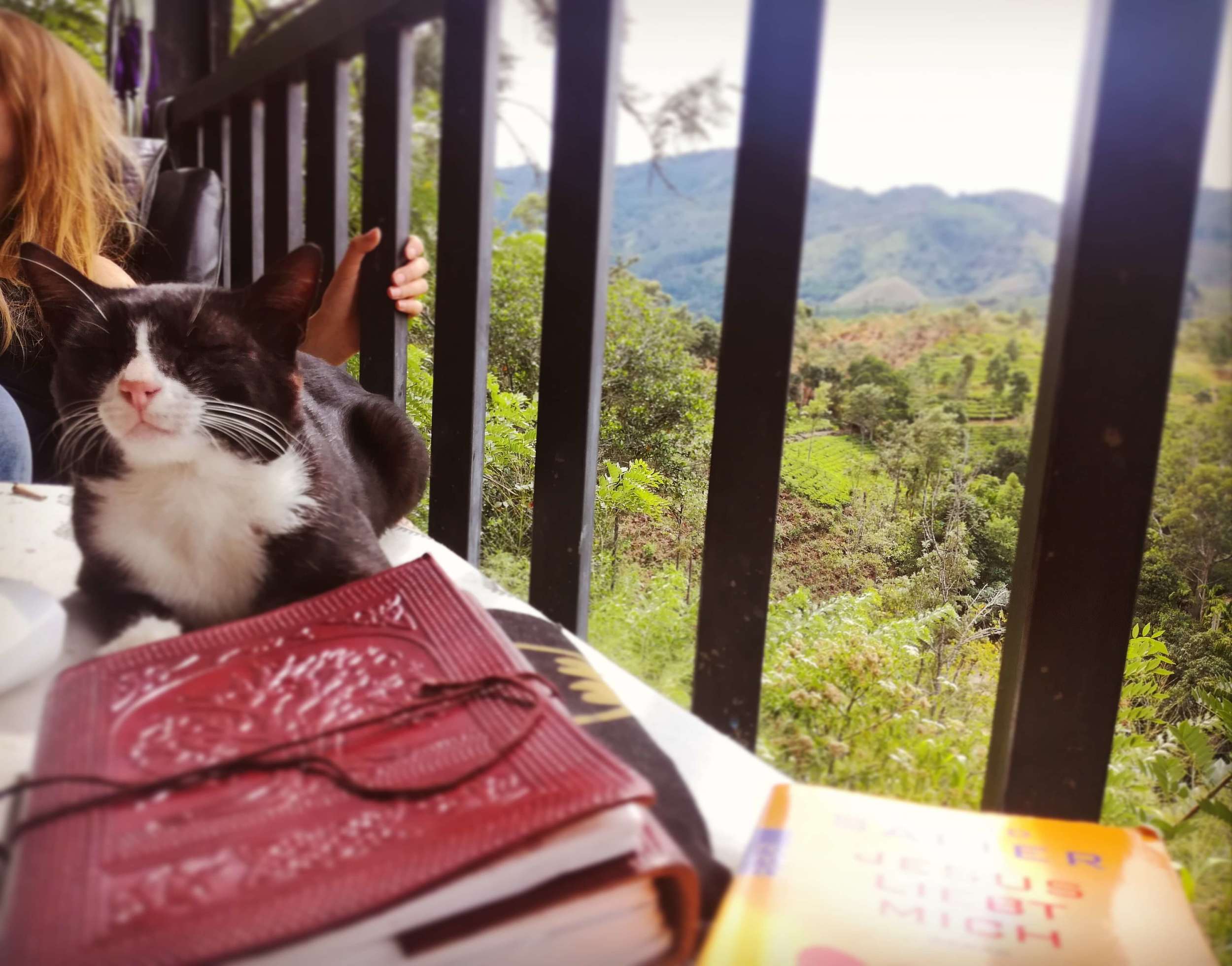 Check out this detailed article for everything you need to know to start teaching English online.
Whether you are keen to teach English online or in a foreign country, a TEFL certificate is absolutely a step in the right direction.
Internet in Japan
Many hotels and hostels will offer free wi-fi. You can also find free wi-fi spots at a lot of public transportation stations, cafes, and restaurants.
Must Try Experiences in Japan
Meet the People in Japan
While it is difficult to stereotype an entire society, there are some important things to understand about Japan.
Japan is organized into a hierarchy: age and status matter, and younger people show their elders respect and honor. It is rude to refer to seniors with informal language. In Japan, tone of voice and facial expressions matter a lot since spoken words can have several meanings.
Another highly ritualistic and meaningful custom in Japan is the gift giving etiquette. Gifts are given in many occasions.
In business and social settings, punctuality is a must. Seriously, no one is ever late. Even the public transportatino is on time. Time management is important in Japan. It is courteous to show up to a business meeting or social gathering early.
Japanese people value harmony and etiquette in a highly structured and traditional society. Japan isn't as "individualistic" as many Western countries. Your actions tend to reflect more on your family, community, and peers.
Make no mistake: Japanese culture is one of a kind. It's extremely fascinating not to mention totally unique. With a good dose curiosity, mixed in with the usual respect for local traditions, there will hardly be a dull moment for you while getting to know Japanese people.
What to Eat in Japan
When you go to Japan, you can't not try the most obvious foods like Ramen and Sushi but you must try some of the weird shit they have out there as well! Here is a list of Japanese food you must not miss out on!
Sushi: As I am assuming most of you already know, sushi is raw fish served on rice seasoned lightly with vinegar. It's available in a variety of flavours and textures and goes extremely well with soy sauce. You might think sushi sounds all fancy but it actually originated as street food in Japan. Rolled up in toasted nori seaweed or pressed into fat rectangular logs. Delicious sushi can be found all over Japan in every price range.
Ramen: Egg noodles in a salty broth and is Japan's favourite late night meal. It is simple to make and is oh so filling! One of the most popular ramen shops in Japan is Enji, it has ramen noodles dipped in a thickly concentrated fish-and-pork-bone-based broth - YUM!
Takoyaki: Octopus balls is a widely available snack in Japan. A crisp exterior surrounding a gooey center of octopus, pickled ginger and scallions - this is truly delectable!
Unagi: Fresh river eel grilled over charcoal and with some sweet barbecue sauce. It is said to be the ideal antidote to the heat and humidity of Japan's exhausting summers.
Tempura: Light and fluffy tempura is Japan's contribution to the world of deep-fried foods. It is usually seafood that is batter fried in sesame oil and served with either a tiny pool of salt or a soy sauce-flavoured broth. My favourite was the Prawns tempura!
Miso: Where would Japanese cuisine be without miso? This salty fermented bean paste forms the base of so many soups, sauces and marinades. Every region in Japan has its own special recipe.
Tonkatsu: Breaded and deep-fried pork cutlet which is melt-in-your-mouth tender. It is served with a side of miso soup and a mountain of shredded cabbage. This shows some sort of Western influence on Japanese cuisine.
Yaki-imo: Tokyo's streets are filled with the nostalgic, nutty aroma of roasted sweet potatoes that are sold by these Yaki-mo trucks. It is the feeling of familiarity and home that pulls people to these trucks.
Festivals in Japan
Cherry Blossom Festival: Between March and May, Japanese families picnic and party in the park amongst the blooming cherry trees.
A Brief History of Japan
In efforts to keep this section brief, I will only highlight Japan's modern history, and focus on the 20th century.
Japan and China have a long history of war. In the 20th century, Japan staged a bombing, known as the Manchurian Incident of 1931 to invade Manchuria, Northern China. This occupation reached its peak with the Nanking Massacre. This occupation was opposed by the US and other Western powers because of economic implications. Japan then allied with Germany during WWII.
The Japanese government was structured around imperialism, which also caused them to enter the Second World War. They seized several Pacific colonies, such as the Philippines and Malaysia. Much of their occupation in other countries ended in the second war when Japan was forced to surrender because of the nuclear atomic bombings.
This is probably one of the saddest and most significant turning points in Japanese history. Hiroshima was bombed by the US first in efforts to end WWII. They soon after bombed Nagasaki. These are the only nuclear bombs to ever be used. After the world saw the catastrophic implications of nuclear warfare, it has been a constant tension since. There are many moral implications here, as most of the casualties and people affected were civilians, not soldiers. Truly a sad event in human history.
Relations with the US were restored with the San Francisco Peace Treaty of 1951. In the decades following the Second World War, Japan's economy grew considerably. Japan still remains one of the world's most culturally and economically vital countries on the planet.
Closing Thoughts
Being a Responsible Backpacker in Japan
Reduce your plastic footprint: Perhaps the best thing you can do for our planet is to make sure you do NOT add to the plastic problem all over the world. Don't buy one-use water bottles, the plastic ends up in landfill or in the ocean. Instead, pack a tough travel water bottle.
Go and watch A Plastic Ocean on Netflix – it'll change how you view the plastic problem in the world; you need to understand what we are up against. If you think it doesn't matter, get off my fucking site.
Don't pick up single use plastic bags, you're a backpacker – take your daypack if you need to go to the shop or run errands.
Bear in mind, that many animal products in countries you travel through will not be ethically farmed and won't be of the highest quality. I'm a carnivore but when I'm on the road, I only eat chicken. Mass-farming of cows etc leads to the rainforest being cut down – which is obviously a huge problem.
Recently, my gear-venture, Active Roots has started to sell water bottles. For every Active Roots water bottle sold, we donate 10% to PlasticOceans.org – an awesome initiative aimed at educating people on the risk of single use plastic and helping to clean up our oceans. Help save the planet, whether you take an Active Roots bottle or not – TAKE RESPONSIBILITY for your plastic footprint, don't be a dick.
Need more guidance? – Check out our post on how to be a responsible backpacker.
Being a responsible backpacker is quite simple: be respectful of Japanese people and their culture. Japanese people value etuiquette, respect, and punctuality. Abide by these things, and be respectful when you are visiting temples, shrines, and sites.
The cities of Japan are the ultimate playground, with plenty of crazy and unique things to do, so enjoy yourself; just don't be a drunk asshole!
It's Time to Go to Japan!
Japan is a truly intriguing land with something for everyone and will give you a million "what in god's name..." moments - which is awesome.
Japan is one of my favourite destinations and you should definitely check it out even if you are on a tight budget!
Yay for transparency! Some of the links in this post are affiliate links. This means that if you book your accommodation, buy a book or sort your insurance, I'll earn a small commission at no extra cost to you. I only link to stuff I've actually used and never endorse crap. Your support helps me keep the site going.
---
Need More Inspiration?
Like this Post? PIN ME!!