More laid-back, more friendly, and more obsessed with food than Tokyo, there's a TON of cool things to do in Osaka. Japan's second city is a parade of foodstuffs, amazing nightlife, incredible shopping malls (some amazingly located underground), and even with all of that there's a fair bit of history and awesome architecture to soak up here. We're not going to lie: you're not going to be able to do everything in one visit to Osaka.
There are all the usual attractions and then there are a few more… unique sights to see in Osaka. To help you uncover them all we've come up with this epic guide to the best, most off the beaten track things to do in Osaka so you can get firmly off the tourist trail and discover the city for yourself. When it comes to local and offbeat, Osaka is your city.
So whether you're looking for fun activities in Osaka or just some of the truly top sights, we've got you covered. Wondering what to do in Osaka? Read on!
Top Things to Do in Osaka
Backpackers in Japan love Osaka. Starting with the best things to do in Osaka for anyone, these are the classic choices. These must do activities are for anyone visiting Osaka!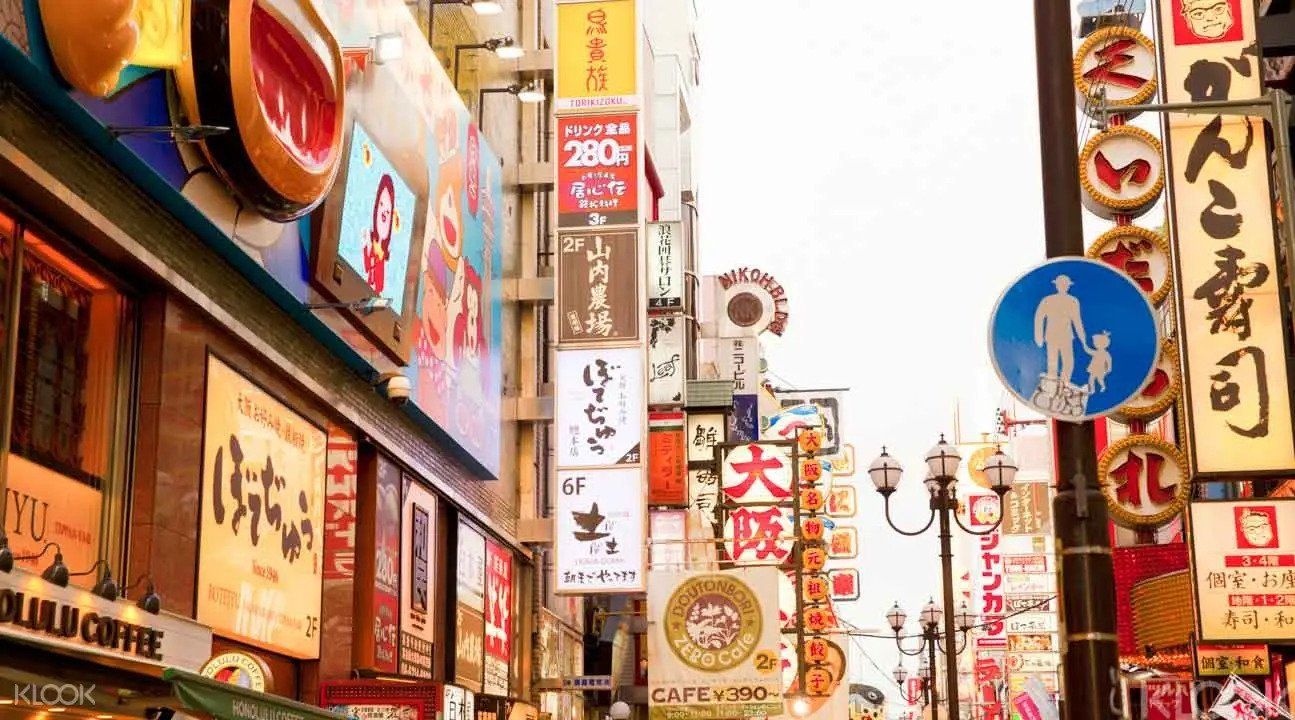 It's been described variously as the kitchen of Japan, home of Japan's soul food, and a whole load of other nicknames, but all that aside, seriously: Osaka is famous as the place to go to stuff yourself silly in Japan. There's even a word to describe just how food-mad Osakans are: kuidaore, which basically means to eat yourself broke.
Whilst there are enough English-menu joints spread across town, that just won't cut it. We heartily recommend you get yourself on a tour so you can really appreciate the breadth and depth of Osakan cooking. And actually know what the hell it is you're eating.
Trust me, eating yourself into a non-receptive state of food-comatose is one of the best things to do, not just in Isaka, but in Japan as a whole.
2. Take a stroll around the retro goodness that is Shinsekai
People tend to imagine Japan in two ways: wooden houses and paper doors and this whole "traditional Japan" idea OR they think of it as a mega futuristic place that's basically just one massive city on an island with a zillion skyscrapers and arcades and all sorts of mad stuff.
Not the case at all.
There was a place in time that existed between these two eras of Japan and it's called: the 20th century. Shinsekai is an area originally built in 1912 that got severely neglected after World War II.
Fast-forward to the 1980s and it got a facelift. Since then, people visit for the retro appeal of this place that really conjures "old days" Osaka. Ironic for a place whose name means New World. It's a bit of a change of pace from the usual Japan sights making it a more unique thing to see in Osaka.
First Time in Osaka
Umeda
Umeda (also known as Kita) is one of the main tourist areas of Osaka, with numerous attractions as well as leisure and dining options and nightlife.
Places to Visit:
Pore over the collections at the small but interesting National Museum of Art, Osaka.
Marvel at the soaring Umeda Sky Building and then head to the observatory for sweeping city views.
Take a relaxing stroll around the peaceful Nakanoshima-koen Park.
For more places to stay, check out our full Osaka neighborhood guide!
It's easy to forget that Osaka is basically a coastal town that's shot through with hundreds of waterways. A great way to see the city, and to pay a little bit of an homage to the watery heritage of the Kansai capital, is to explore Osaka via its most famous river: Dotombori Canal. See many of Osaka's points of interest from the relaxed and gentle sway of a cruise!
It's a cool thing to do in Osaka in spring or summer because, well, who wants to be on a boat in the middle of winter? Not us. In the balmy evenings seeing the glittering lights, the famous Glico man, and all sorts of other flashing ads from the comfort of a boat is perfect. It beats walking anyway – especially when it's crowded. It's super cool in Spring when the cherry blossom overhangs the water.
4. Visit Osaka Castle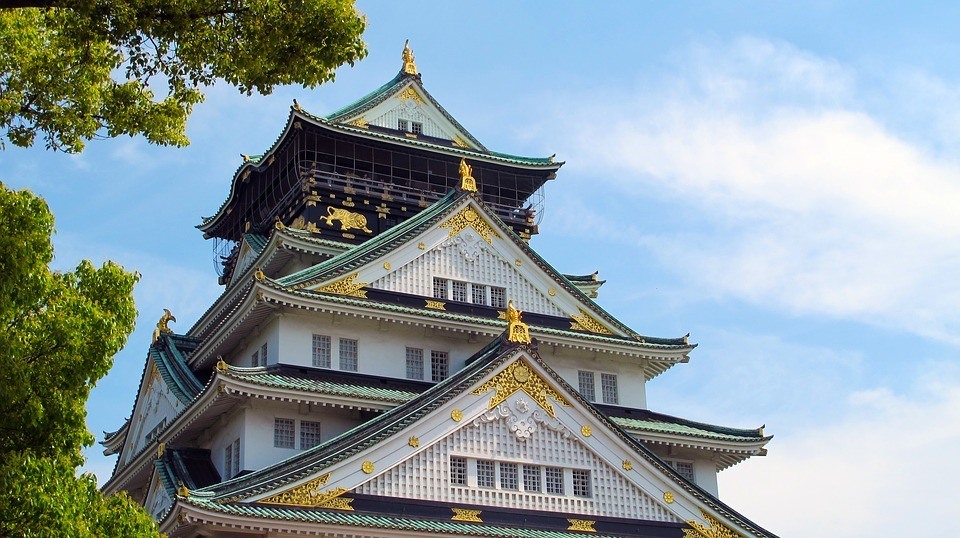 No trip to Japan would be complete without seeing one of the iconic Japanese castles. There's just nothing like it. And Osaka Castle is huge.
It was at one point the largest castle in Japan but since the early 17th century, this place has been attacked, hit by lightning, burnt, and demolished. In 1931, it was finally rebuilt in its current form.
Even so, going to see Osaka Castle has got to be one of the coolest sights in Osaka. It's surrounded by 600 cherry trees, making it one of the best things to do in Osaka in Spring, too. If you're lucky, you might be able to catch some people doing a spot of kooky cosplay photography on the grounds. We don't blame them – it's the perfect spot.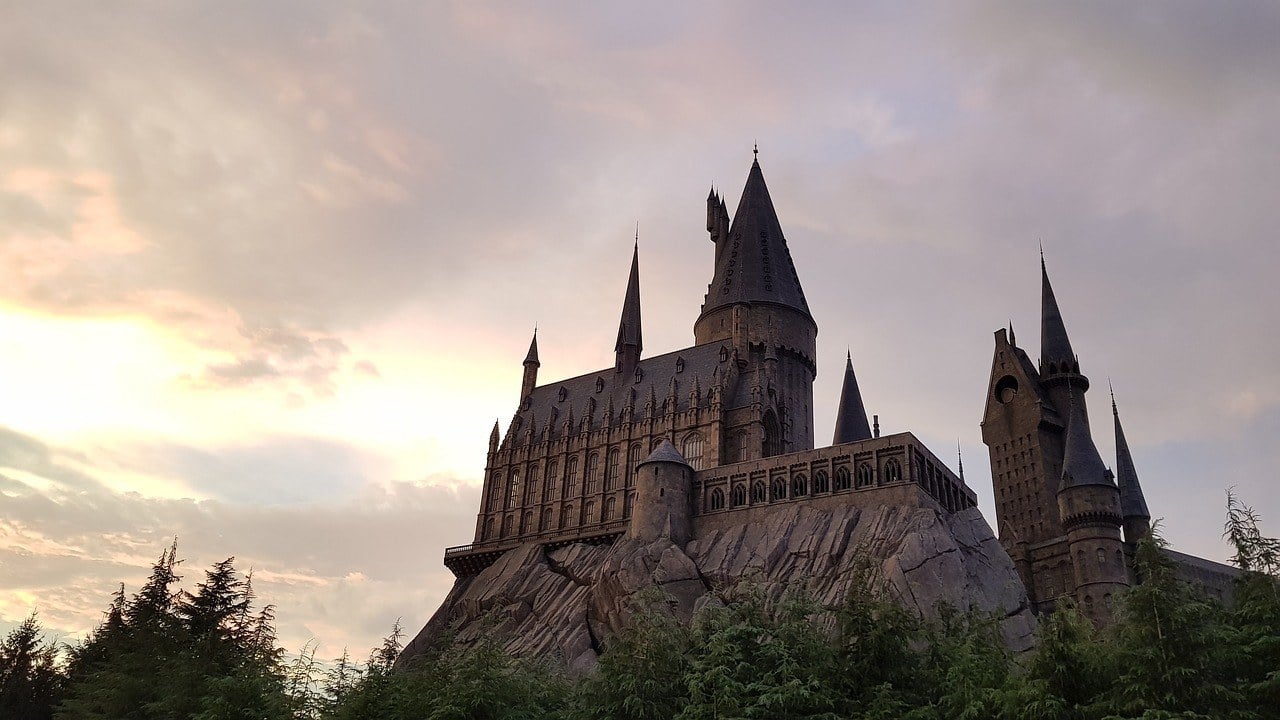 Who says you have to be a child to enjoy Universal Studios? A grand total of nobody, that's who. And visiting Universal Studios Japan is definitely one of the top things to do in Osaka.
Yes, there's all the usual stuff like an E.T. ride, a super fun Jurassic Park themed area, and even (cue screaming fans) its very own Wizarding World of Harry Potter. But being Japan, there are some cool differences – namely, you'll find characters from a TON of manga, anime and video games here.
That's right: listen up you sexy nerds! Here be stuff from Attack on Titan, One Piece, Dragon Ball, Death Note, Resident Evil… the list goes on. We'll see ya there.
6. Delve into the world of Japanese shotengai
Shotengai… What the heck is that? If you don't know, you don't know, but, honestly, these things are awesome. They're basically shopping streets and they're pretty dang retro. And in Osaka, it's all about Shinsaibashi Shotengai.
This one's been a merchant district for 400 years and it shows no sign of stopping. It's a 600-meter-long covered walkway (which automatically makes it a great thing to do when it rains) and is filled with just about everything you could ever desire.
From massive chain stores to tiny, quirky boutiques, eateries, strange cafes, and interesting alleyways leading off, there are LOADS to see. A quintessential Japanese experience. The more you look, the more you'll find. Maybe this isn't your cup of tea, but this is easily one of my top 10 things to do!
The Best Travel Backpack?!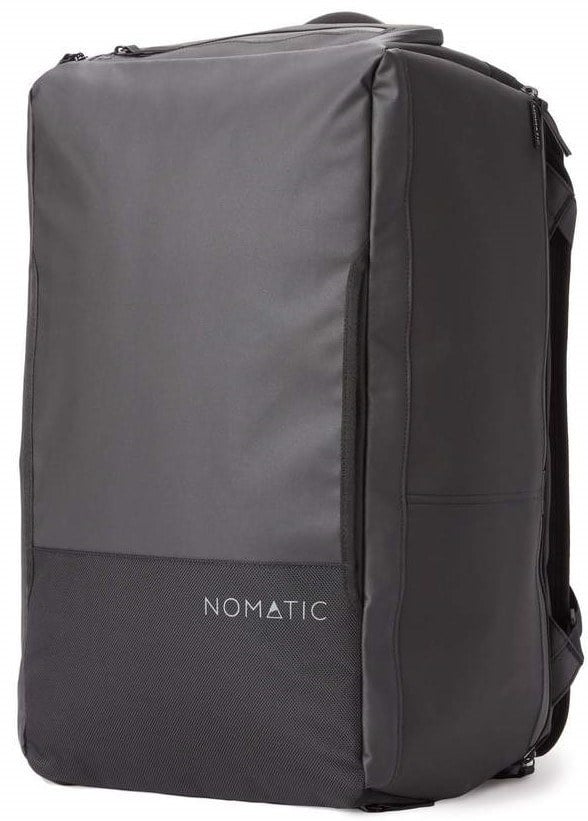 Pssssst! Not picked the perfect travel backpack yet? The Broke Backpacker team has tried out over thirty backpacks this year! Our favourite carry on backpack is the Nomatic Travel Bag.
Read our full review!
Unusual Things to Do in Osaka
Changing streams a bit from the more typical tourist activities in Osaka, now let's get weird. Why? Because I'm weird, and your weird, and Japan is definitely weird (and I haven't met a Japanese person yet who disagrees).
So let's talk about some of the more unusual oddities to check out in Osaka.
7. Become a Samurai master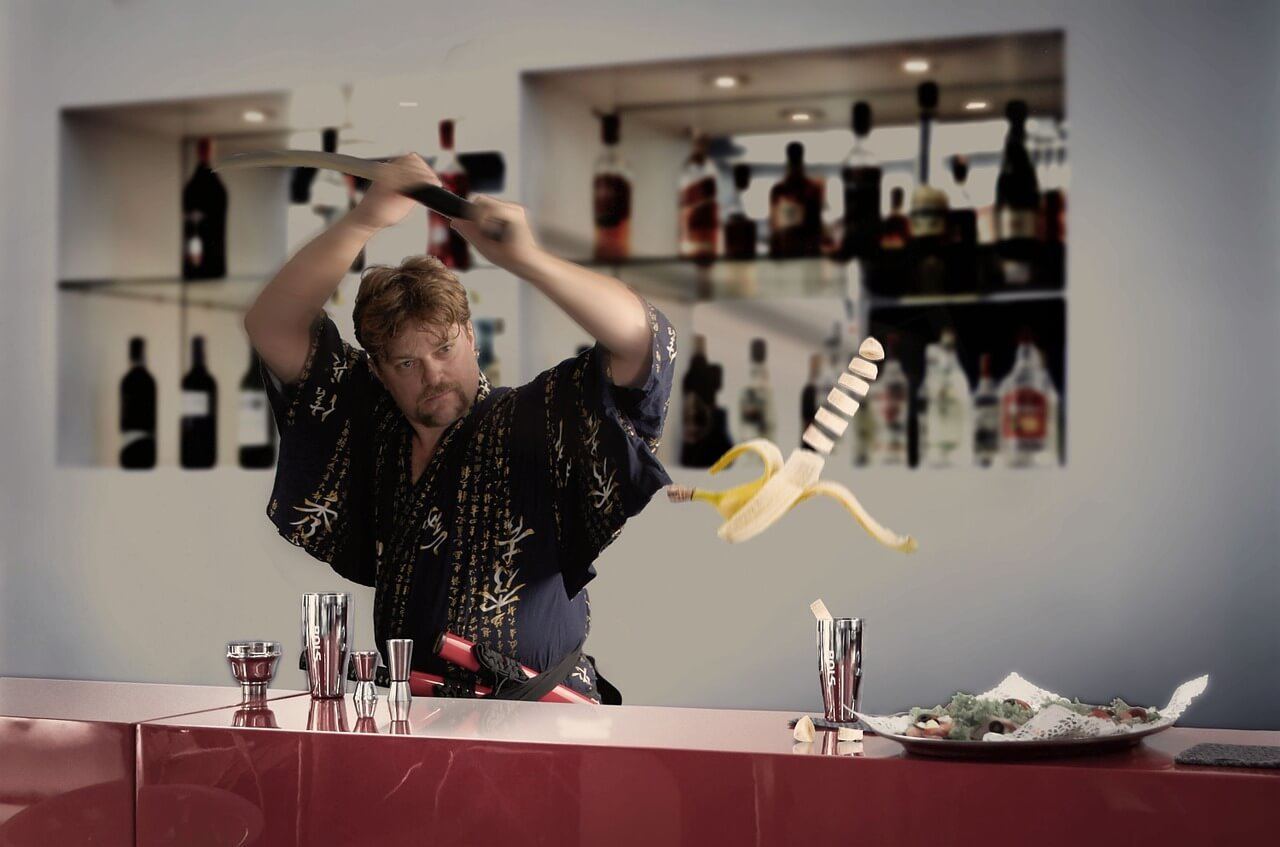 It might be a bit weird to start showing a hefty interest in samurai and sword fighting back in your own country, but, hey, guess what? You're in Japan! This is the land of the samurai. Nobody cares if you want to dress up and start waving a sword around: it's Japan.
Of course, if you start doing this on the streets with some cheap souvenirs, it might be a bit weird but don't worry, there are places you can go to fulfill your warrior wishes – places that literally offer training sessions and all the right gear. Everything. They'll even choreograph and film a fight scene with you in it! How is that not one of the literal best things to do in Japan?
Yeah so maybe this is a weird thing to do in Osaka but let me reiterate – this is Japan. Weirdness is the best part of the package. Well… and the food.
8. Go on a virtual tour of the city's sewage system at Osaka's Sewerage Science Museum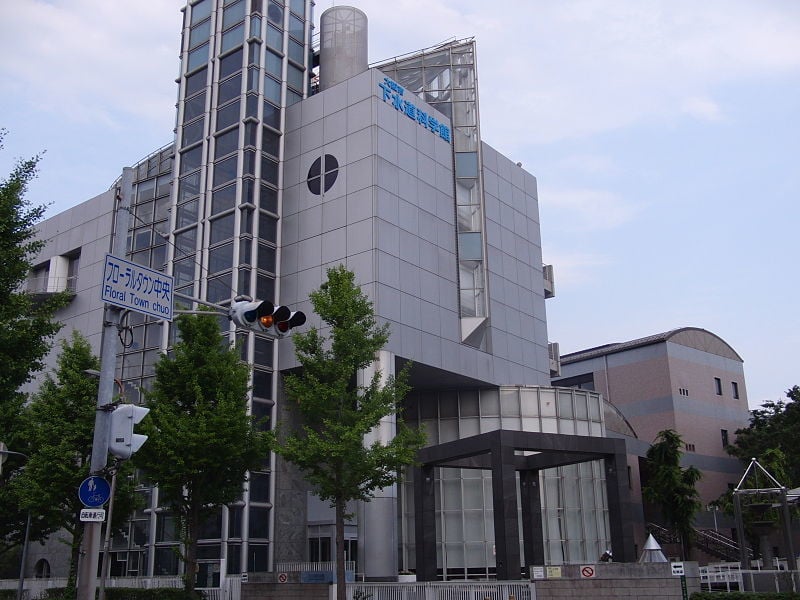 Japan is known for it's, ahem, unique way of approaching… well, almost everything. So for one of the best unusual things to do in Osaka, how about hitting up the Sewerage Science Museum?
Yep, you read right: sewerage.
This is definitely unusual, but we're not kidding you – this place is also amazing. Far from the "shit show" (heh)  you might be imagining, this museum is 6 floors of unadulterated sewer facts, interactive displays, walking through giant toilet seats, clambering through pipes, seeing how it all works and even getting to play a sewer-based, videogame. Maybe this is where the idea for Super Mario came from?
So yeah, it's definitely quirky and it's definitely unusual but it's also one of the best of Osaka's offerings… At the very least, it's a step off Osaka's beaten path. (Maybe stay on the path; who knows what you'll step in.)
9. Catch a Kabuki show at the awesome Shochikuza theatre
First things first: what's kabuki? We're glad you asked. Kabuki is traditional Japanese (all-male) theatre. It's the best of super dramatic, exaggerated movements, facial expressions, costumes and make-up. It's very old fashioned, it's very Japanese, and it's a must-see.
The place to see to it – and we mean THE place to see it – in Osaka is at the Shochikuza Theatre. This place is super cool. It was built in 1923 in Neo-Renaissance style that's based on one in Milan. With its revolving stage and trap doors and all sorts other goodies, it's one of the most unusual things to see in Osaka.
Sounds pricey, right? Wrong. Grab yourself a hitomakumi (single-act) ticket for ¥1,000-2,000 and experience the madness for yourself.
Safety in Osaka
Osaka might have a somewhat rougher image of the much more clean-cut Japanese capital of Tokyo, but even if it IS a bit rougher it's just because everyone's always out drinking and eating. Apparently Tokyoites spend most of their income on clothes – Osakans, on food!
But seriously, it's safe in Osaka. This is still Japan. It might be statistically a teensy bit more unsafe than Tokyo, and it might be a little rowdier after dark (especially at the weekends), but an "unsafe" place in Japan is still a lot safer than many other places on Earth. Just stick to basic travel safety tips and you'll be fine.
Knowing what to do in the event of an earthquake is probably a smart move – so wise-up! Typhoons can cause a problem, too (in that case, just stay indoors). Check out our roundup of the best travel insurance.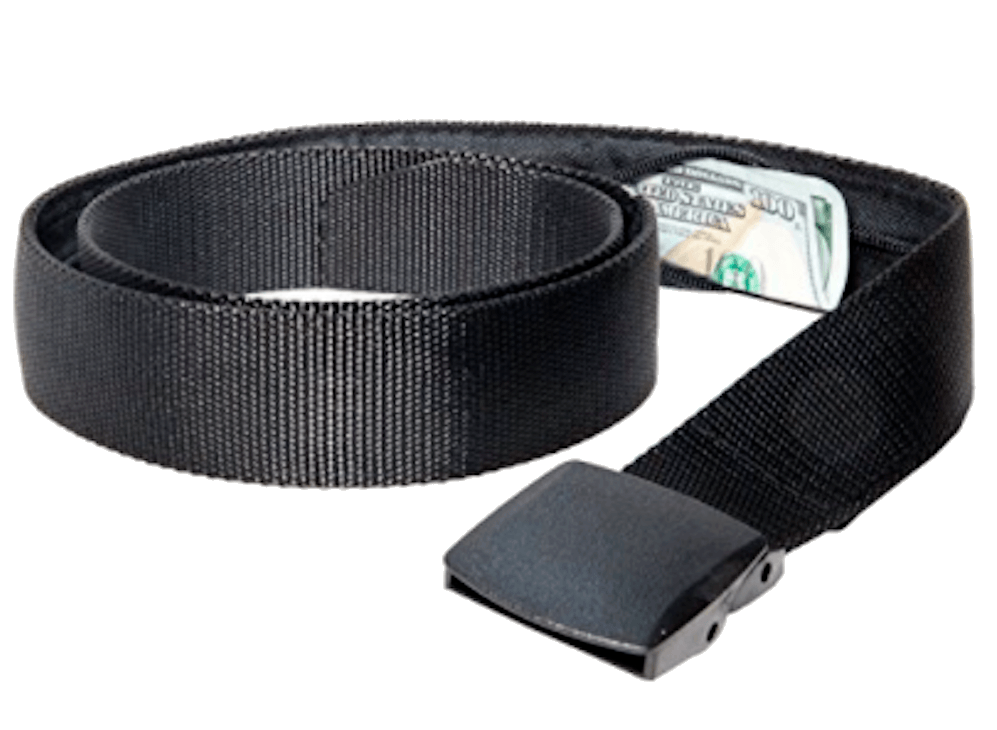 You should always have emergency cash hidden on you - pick up this awesome security belt with its hidden pocket before you travel, it's perfect for hiding money, a passport photocopy.
Things to Do in Osaka at Night
So, Osaka has a pretty dope nightlife! I mean, so does Tokyo, but Osaka is definitely famed for its more casual approach. People love to drink, go out, eat a bunch, and let their conservative Japanese nature go for a bit.
So, what kind of things are there to do in Osaka at night? There are heaps of activities from just drinking yourself silly on sake to karaoke. Because inebriation and karaoke are just such a match made in heaven.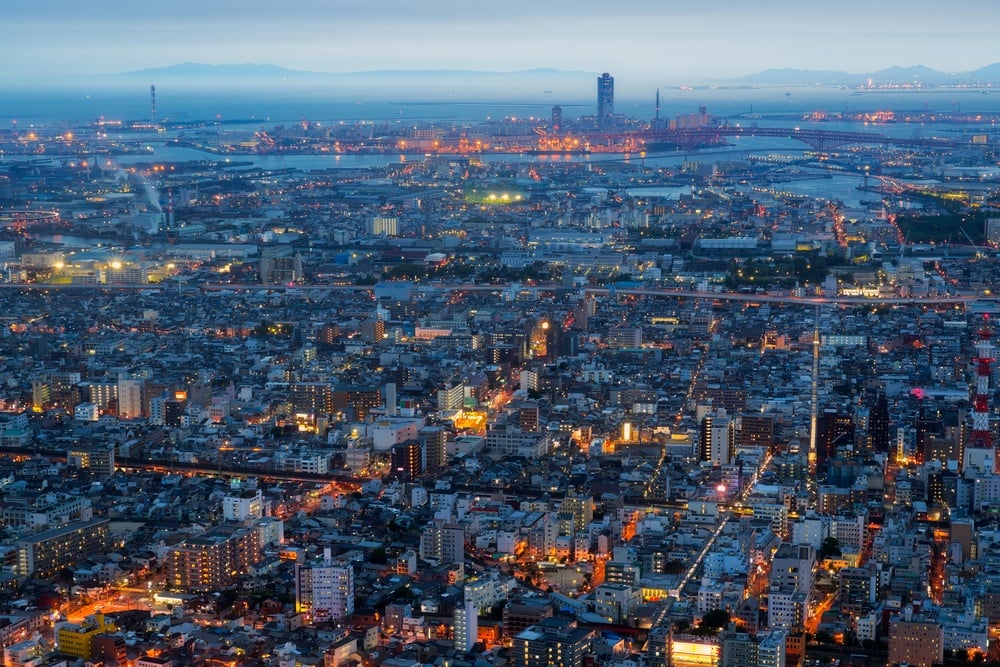 We're suckers for views of stuff from up high and we know you are too. This is made infinitely better when said stuff is lit up after dark. Love it. So for one of the best things to do in Osaka at night, you literally have to head up the weirdly named Abeno Harukas.
This building is the tallest skyscraper not just in Osaka, but in the whole of Japan. Yep – it's 300 metres tall. It houses a hotel, department store, art museum, and (of course) an observation deck. Take an elevator from 16F to 48-60F for visual bliss. Go for sunset and then watch as the sun sinks and the city starts to light up. Pure humanity.
On a clear day, you can see as far as Kobe, yet another huge Japanese city and this is easily one of Osaka's top sights.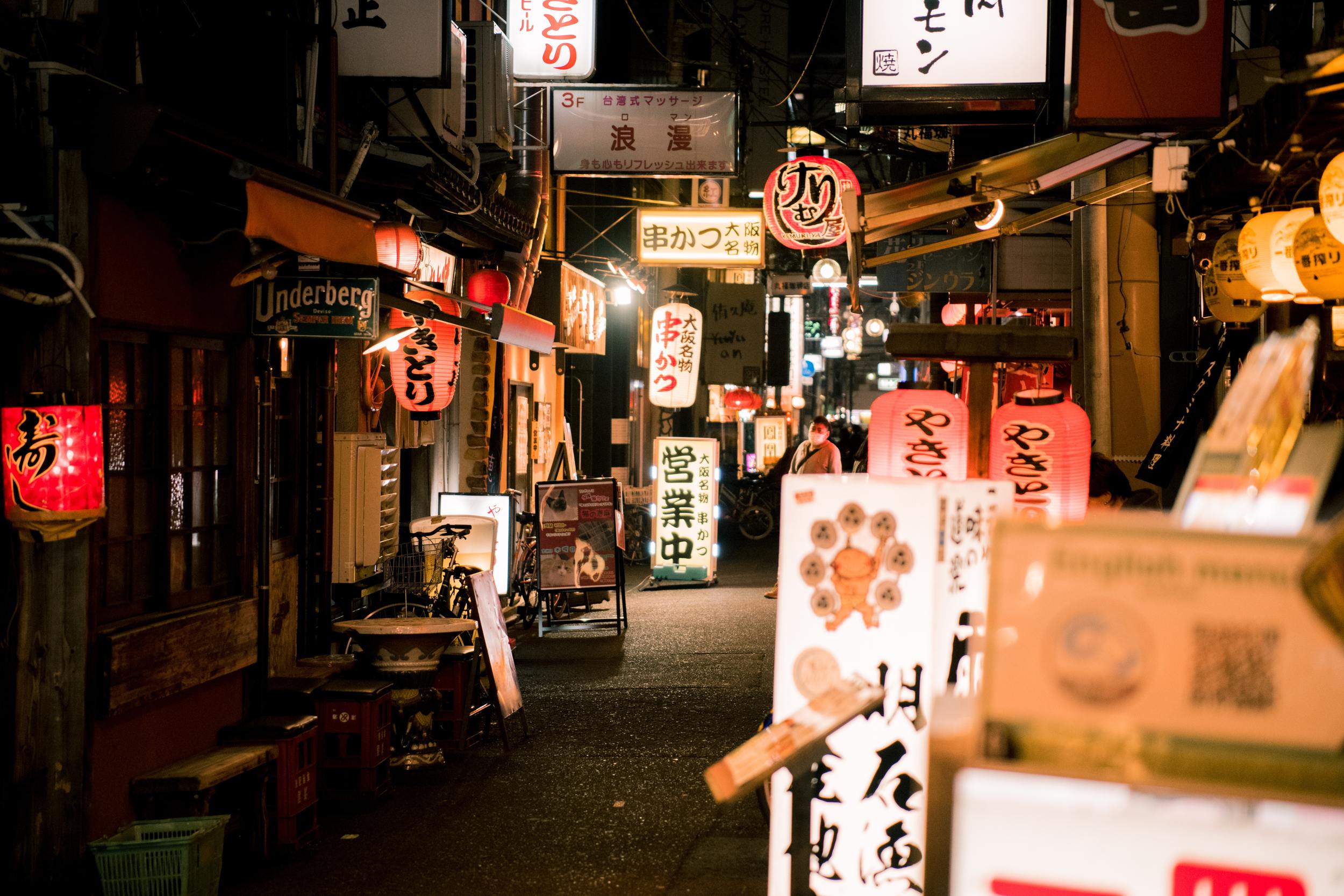 It's not exactly a secret that Osaka has an awesome nightlife. That's a given. With its live music scene, hidden bars, late-night drinking, and neon lights leading you everywhere, there's always something going on the city. The Osakans are pretty rowdy too.
So why not join them on an escapade of ducking in and out of local izakaya (traditional Japanese bars), sharing tables and counters with locals, and drinking one too many high balls? Why not indeed. The Namba area has a TON of these bars, but don't forget to bring cash. You won't find card machines at these establishments.
Know that street food is an option too. Like, it's a good option that you'll want to consider. Dotonbori is the area for excellent street eats.
Definitely, definitely, definitely one of the best things to do in Osaka at night.
The best of Osaka or the best of Japan? Love it or hate it, the classic Japanese cultural export "karaoke" is most definitely here to stay and most of all, in Japan itself.
So after a night of eating till you're full (and poor), and drinking till you don't care who hears you sing, do what the locals do and head to a karaoke joint for one of the most fun activities in Osaka at night. Don't worry, you can get a private booth; you could even do it by yourself if you REALLY want to. And if you've got the stamina to sing all night, join the locals again and line up at (very) late-night ramen joint for a bowl of steamy, noodly goodness at 5 A.M.
Visiting Osaka? Don't risk having to sit on the floor or change your itinerary because you missed the last ticket at the station! Find the best transport, best time and the best fare with Bookaway. And why not use what you've saved to treat yourself to a nice convenience-store beer on arrival?
It only takes 2 minutes! Book your transport on Bookaway now and guarantee your seat easily.
Where to Stay in Osaka
A fun and new Osaka hostel close to Kyobashi station, Hostel Bushi offers a comfortable sleep and cultural experiences within the heart of the city. Relax in the Japanese traditional baths, try on suits of armour, and admire the quirky military-themed designs.
There are mixed and female-only dorms and private twin rooms. There's a BBQ on the terrace and a shared kitchen if you want to make your own meals, and the sociable common room is a great place to meet other travellers.
Other plus points include free Wi-Fi, laundry facilities, friendly members of staff, a hot tub, hairdryers, a large work desk, and privacy curtains on the dorm beds.
Check out our hostel guide on Osaka for more information on this city's best hostels!
This private three-bedroom apartment in central Osaka can accommodate up to 12 people! One bedroom has a double bed and a single bed, another has a sofa bed, and the other has Japanese-style tatami mats.
It has a modern and well-equipped kitchen with a dining table and chairs, separate toilet and bathroom, a washing machine, a living area, outdoor space, Wi-Fi, and four free bicycles for you to use to explore.
Or you can read more about the best Airbnbs in Osaka!
Located in Minami, Hotel Amaterrace Yosuga is surrounded by top-notch restaurants, shops, and bars. The rooms are spacious and stylish, with a seating area, a desk, and a kitchenette (fridge, microwave, kettle).
All rooms have a private bathroom with a hairdryer and free toiletries. Some rooms have a balcony too. There's a lift in the building. Daily housekeeping services ensure everywhere is kept clean and tidy. Laundry facilities and luggage storage are more bonuses.
What to Do in Osaka as a Couple
Travelling as a couple? Or maybe your visiting Osaka by yourself but you just really love yourself and would totally date yourself? Is that weird? Na, it's Japan.
Here are some awesomely romantic things to get up to in Osaka to be all lovey-dovey and doe-eyed!
13. Go and proclaim your love at Shinto shrine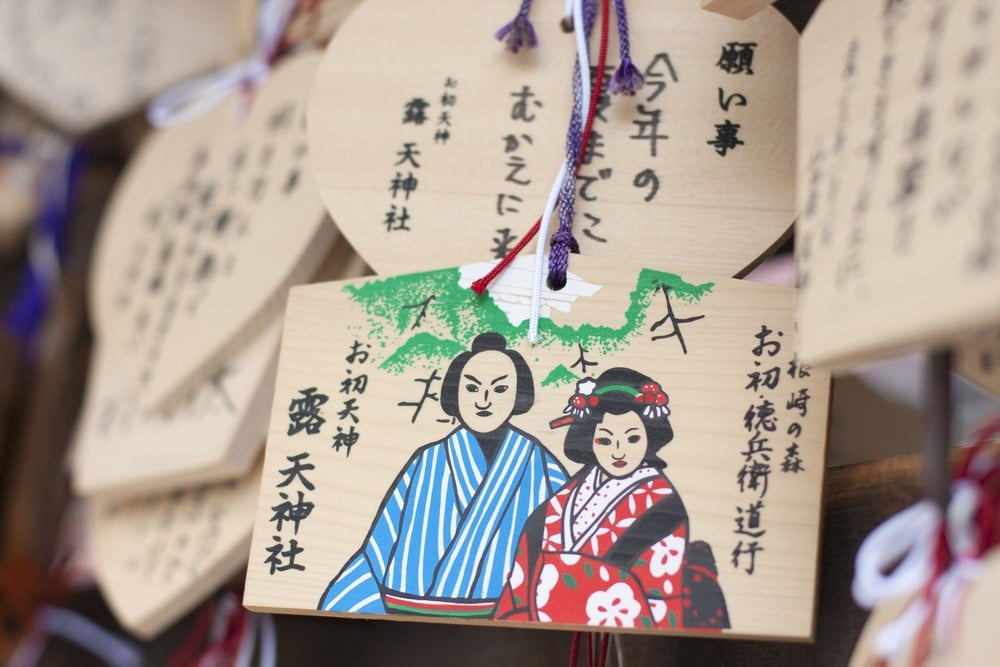 What could be a more romantic thing to do in Osaka with your partner, than to visit a Shinto shrine dedicated to a suicide pact?
What? Wait- hang on. Did I just write that? Oh, yes, I did.
Never fear: it's not as dark as it sounds. Well, it is a bit dark. It's a Romeo and Juliet story of the forbidden love between Ohatsu, a prostitute, and a local merchant. Not allowed to be together, the two committed suicide together near where the shrine stands now.
Today their story lives on in the form of a bunraku (puppet theatre) play. Couples visit the Ohatsu Tenjin Shrine to get amulets, trinkets and fortunes, and to pray for everlasting love.
Beautiful, isn't it?
14. Ride the HEP Five Ferris Wheel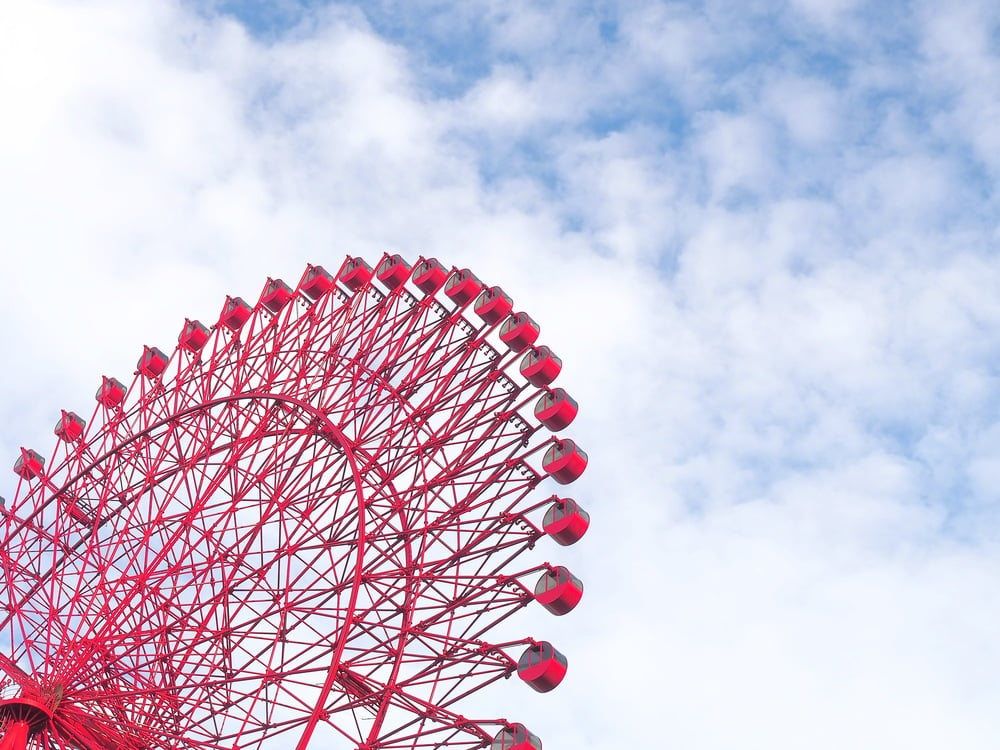 Osaka has, to date, a grand total of four ferris wheels. But the most iconic one has to be the HEP Five Ferris Wheel. This big red ride is unmissable as you step off the train in Umeda: it spans 75 metres in diameter and literally pops out the top of the HEP Five shopping mall. Unmissable.
It's also one not too pricey: just ¥600 per person. Accessed on HEP Five, 7F and Open till 10:45 P.M.
So for one of the more romantic things to do in Osaka, grab your partner by the hand, hop aboard a gondola, and soak up those Osakan landmarks at a pinnacle height of 106 metres above the ground. If you propose at the top and they say no, you can push them out!
…Sorry, was that too dark? I'm still riding high on the whole suicide pact thing. Moving on!
Do You Need Travel Insurance?
Don't forget to sort your travel insurance! We've put together a roundup of the best travel insurance for backpackers, or if you're low on time, get a quote from World Nomads now, our favorite travel insurance provider.
Getting an estimate from World Nomads is simple – just click the button or image below, fill out the necessary info, and you're on your way!

Best Free Things to Do in Osaka
Free is wonderful; I love free! Japan isn't exactly cheap (although, Japan ain't exactly expensie either), but if you're wondering what to do in Osaka on a budget, here ya go!
Because free is the best kind of cheap.
15. See the road that goes through a tower block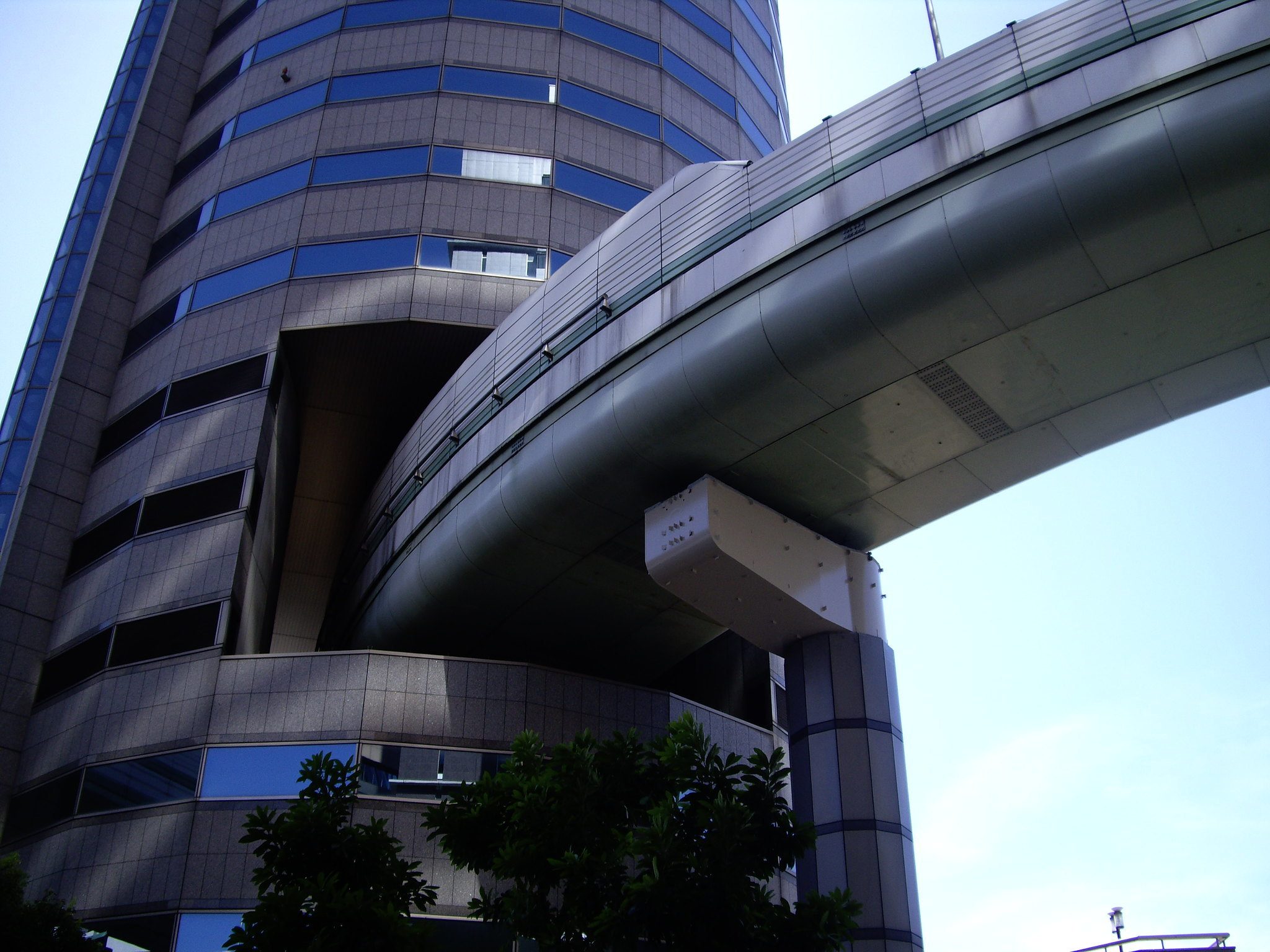 For architecture fans, the Gate Tower Building definitely counts as one of the best free things to do in Osaka. Period. Actually, for anyone who wants to see what lengths Japanese engineering goes to ensure that its urban landscape works as well as it should, it's pretty amazing.
What is it? Well, the Gate Tower Building is unique in that a major highway, the artery that is the Hanshin Expressway, literally runs THROUGH it from 5th, 6th & 7th floors.
Yes. It's a beautiful compromise between the road-building government and the office block-constructing landowners, who were building both things at the same time and came out of a stalemate with this frankly insane solution. This an unmissable must see in Osaka, hands-down.
16.  Throw some water at Fudo-Myo-o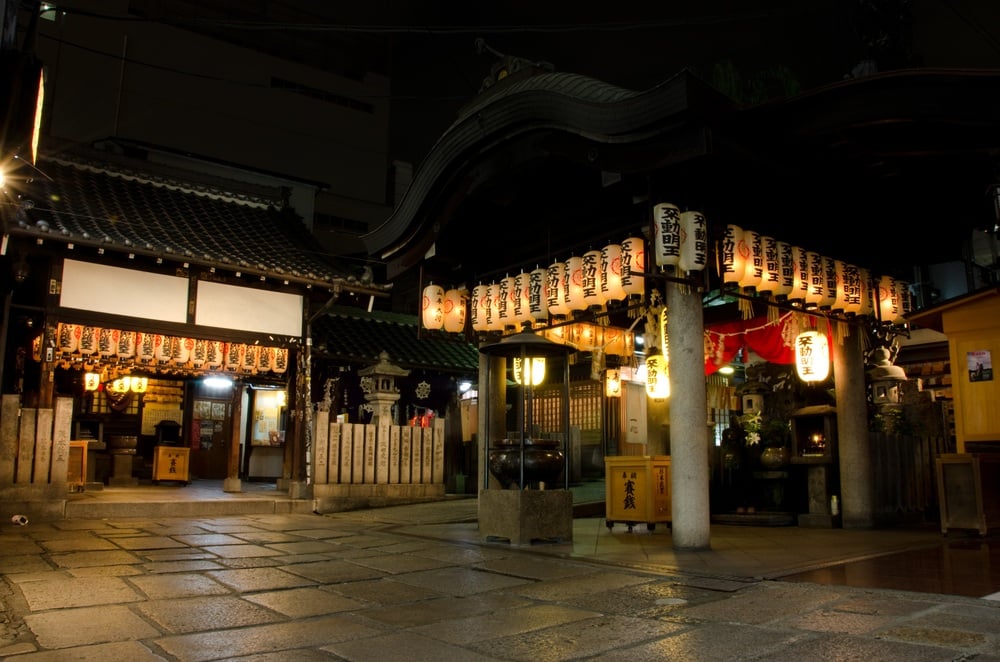 Like so many of Japan's most wondrous sights, this one is nestled down the charming Hozenji-Yokocho between buzzing Dotombori and Namba Station. An unmissable thing to do in Osaka would be to visit this tranquil spot: a small Buddhist temple called Hozenji.
Dating back to 1637, the temple itself – and in fact, MUCH of surrounding area – was destroyed in WWII, but one thing remained: a statue of Fudo-Myo-o, aka Acala "The Immovable". The statue of this fearsome deity is now unrecognisable from the layers of moss, but he's still there. Splashing water over Fudo-Myo-o is good luck and keeps the moss alive, so join in with one of the coolest free things to do in Osaka.
17. Take a break in a slice of urban nature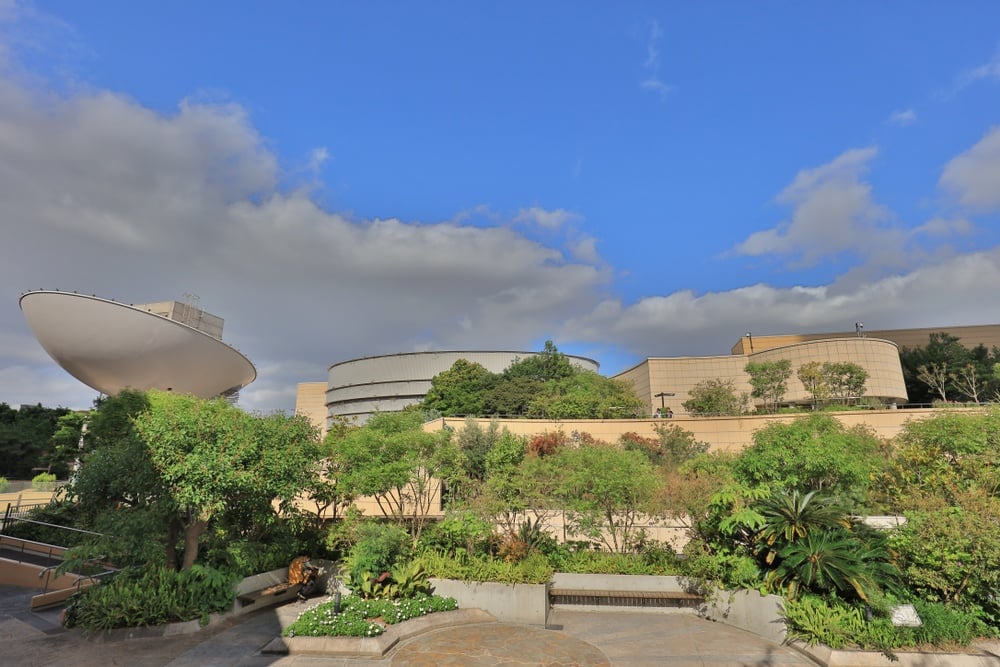 For one of the best free things to do in Osaka, we say head to Namba Parks. Not only is this a great shout for anyone interested in architecture, but it's just a very chill spot to take a break in the city.
Make a beeline to Namba Parks shopping mall, climb up a long set of steps to the roof. Here you'll find terraces of leafy trees waiting for you to wander around 'em. Find yourself a shady spot to relax for a while, sit next to koi pond, listen to the birds and the stream: it's ultra chill. And if you're big in the game, this is a prime hidden gem in Osaka for your Insta gallery.
And if you're wondering what do in Osaka at night for free, come here to see this super cool urban spectacle illuminated for the low, low price of nothing.
Osaka Packing List
Whether you're hitting up tourist spots or going off the beaten path in Osaka, make sure you're packed right!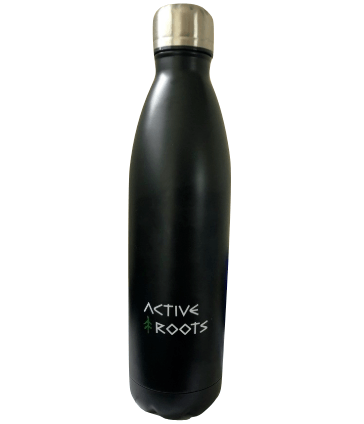 1. Travel Water Bottle: Always travel with a water bottle – it'll save you money and reduce your plastic footprint on our planet. AR bottle are tough, lightweight and maintain the temperature of your beverage – so you can enjoy a cold red bull, or a hot coffee, no matter where you are. For every AR bottle sold, we donate 10% to PlasticOceans.org – an initiative to reduce plastic in our oceans!
2. Microfibre Towel: It's always worth packing a proper towel. Hostel towels are scummy and take forever to dry. Microfibre towels dry quickly, are compact, lightweight and can be used as a blanket or yoga mat if need be.
3. Security Belt with Hidden Pocket: I never hit the road without my security belt. This is a regular looking belt with a concealed pocket on the inside – you can hide up to twenty notes inside and wear it through airport scanners without it setting them off. This is hands down the best way to hide your cash.
4. Camera or Cell Phone Camera Accessories: One thing's for sure – Japan is one of the most photography-worthy destinations out there. If you're relying on your mobile phone camera exclusively (which is totally common in digital-savvy Japan), enhance your lens with accessories to make those photos really pop!
5. International Adapter: Japanese outlets accommodate typical US two-pronged plugs, but for electronics that have three prongs or if your plugs are of a different variety, you'll need an adapter. Save yourself the hassle of trying to track down an adapter at your destination and paying twice as much than planning ahead by buying one online.
What to Do in Osaka As a Family
Are you travelling to Osaka with the kiddos and thinking maybe drunk karaoke and suicide pacts aren't the most approriate activities? Have no fear! There are still heaps of places to go in Osaka just perfect for families.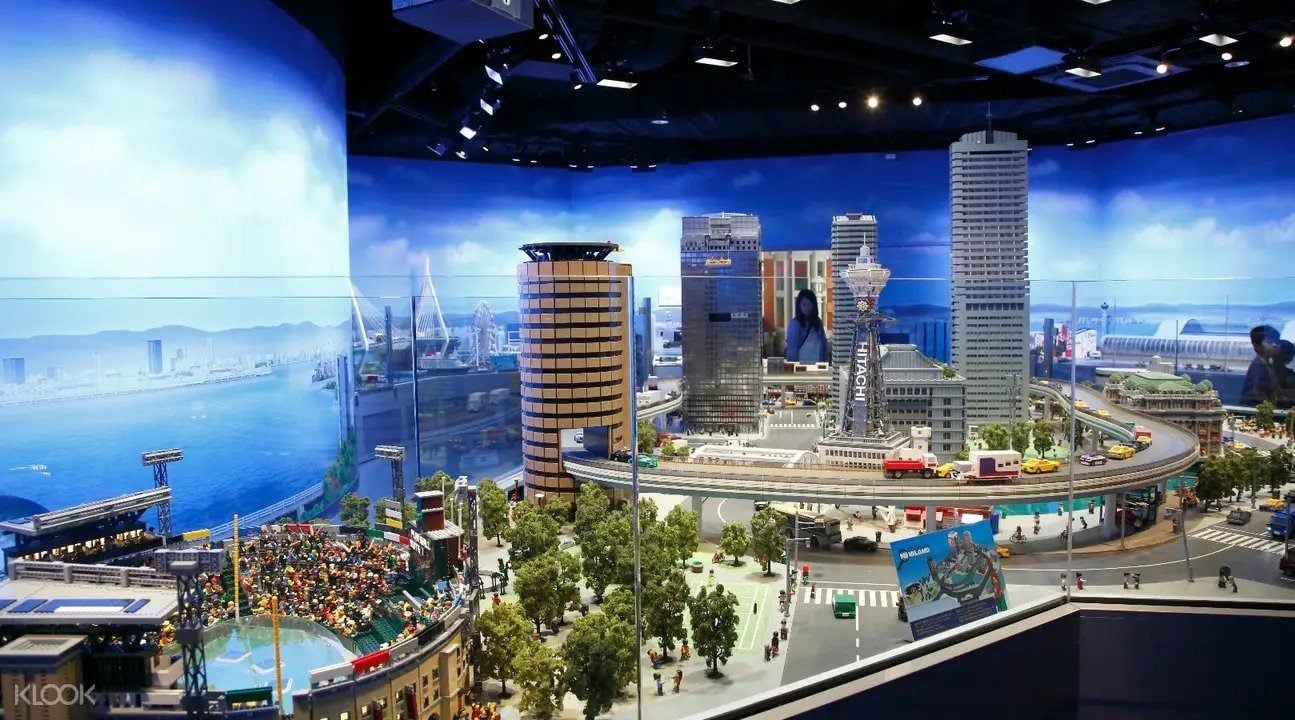 A day out at Legoland. How could this not be the ultimate itinerary hit in Osaka with kids? Impossible.
So make your way to the 3 million Lego bricks that comprise this awesome theme park, book your kids into a class to learn how to make all sorts of crazy Lego creations and take a break. Then take a tour of the Lego brick factory, hit up the 4D cinema, and when everyone's hungry, go eat some food that looks like giant pieces of Lego!
We kid you not. This place is awesome. There's even a Lego version of Osaka here. Kids of all ages will love it, but for really teeny tiny toddlers, there's the Duplo Play Area to keep 'em entertained.
Japan is all about nature. As much as it's all about mental cities, there's a lot of nature to discover in this amazing country: over 70% of it is mountains, after all!
One of the best nature spots in Osaka has to be Minoo Park. Easily one of the best things to do in Osaka with kids, there's all sorts of great little trails where you and your family can get lost the natural beauty of it all, from waterfalls to dojos tucked in perfectly manicured Zen gardens. Even better is that it only takes half an hour on the train from Umeda.
And for a bonus, we're also saying this is a top thing to do in Osaka in fall: you'll get to try the seasonal treat of momiji tempura – deep-fried maple leaves! Awesome.
Some More Unmissable Must Sees and Dos in Osaka
Just a few final must do things in Osaka to tie up the list. Sonna sugoi-naaa!
20. Go visit the sacred Koya-san
If you've only got a little bit of time, and you're good at packing your days with a whole lot of goodness, then we'd recommend taking a few trips outside Osaka for some sightseeing.
Whilst Kyoto is very easily reached on a (relatively) short train ride from Osaka, and so is the less busy Nara, we're recommending Koya-san as one of the best day trips from Osaka. Deep in the wilds of the Kii Peninsula, this mountain is home to a zillion little temples. It's the centre of Shingon Buddhism.
If you're keen on seeing unbridled nature and the very old temples of this UNESCO World Heritage Site, then the 1 hour 45 minute train journey from Osaka is totally worth it.
21. Treat yourself to a day at Spa World
Spa World. It already SOUNDS good, doesn't it? And you know what? It is good. It's absolutely insane.
Japan is pretty mad about their onsen (natural mineral hot springs), and Spa World is a theme park that encompasses ALL of that.
But it's not just about Japan's hot springs: oh no. There are themed zones taken from all the world's great hot spring-loving cultures, from Ancient Rome to Finland, and even an "Asian Zone." It's a mind-boggling wonderland of hot baths that will have you shrivelled like a prune by the time you've left.
Like onsen, there are male and female-only areas. That's right: everyone's naked. Maybe a good thing to do in Osaka by yourself. Costs ¥800 and you can stay as long as you like.
22. Learn about the different cultures of "homogenous" Japan at Osaka Human Rights Museum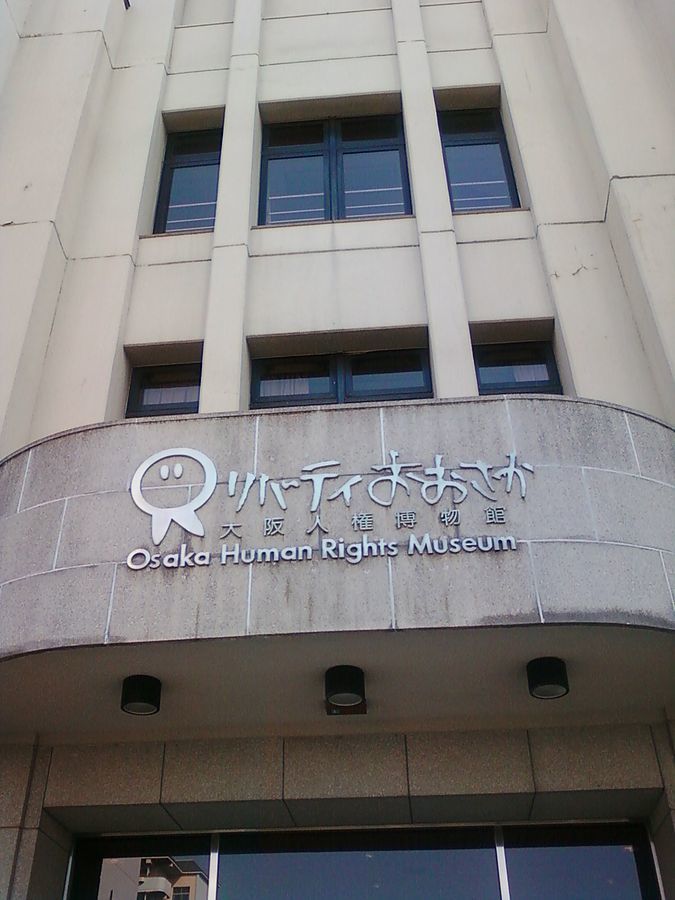 The old chestnut that is the idea of Japan being one culture, one race, one language is roundly smashed at this museum.
Ever heard of Ainu people? They're the indigenous people of Hokkaido. Ryukyu people? They're the indigenous of Okinawa.
At this museum, you get to learn all about these and other things, like the independence of the ex-Japanese colony, Korea. It's not just a cultural affair though: opened in 1985, it was meant to document human rights in Osaka and wants to spread knowledge of human rights in Japan and further.
It's enlightening, it's inside, and if nothing else it's a decent thing to do in Osaka when it's raining. It's definitely a must-go in Osaka for the culture and history buffs. Besides, 250 yen entry with a FREE audio guide ain'r bad either!
23. Take a day trip to Kyoto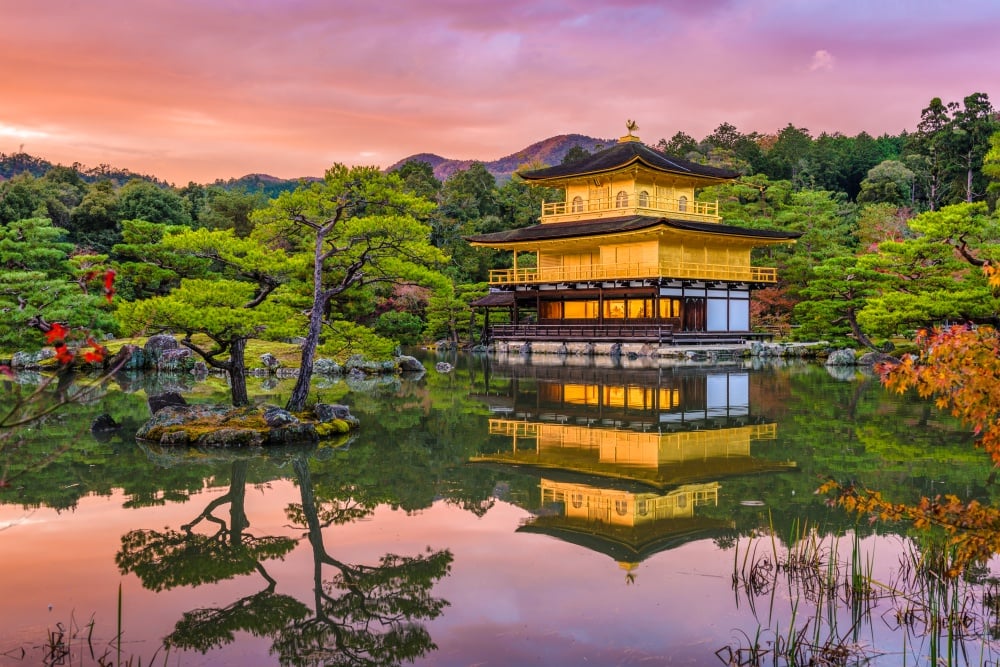 Another awesome day trip from Osaka is a trip to Kyoto. This is easily one of the most visited places in the whole of Japan, and staying there can be both expensive and frustrating. Basing yourself in Osaka is a lot more fun: trust me.
The train from Osaka takes just under an hour and before you know it you'll be hopping from World Heritage Site to World Heritage Site in a whirlwind of gold-covered pavilions, old geisha districts and the wonder that is the hundreds of vermillion torii gates at Fushimi-Inari Taisha – a super cool shrine. Afterwards, ride the train back to Osaka and be back in the foodie capital, where you can muse over your cultural day in Kyoto with some okonimiyaki and a couple of beers. Sorted!
Day Trips from Osaka
Find yourself the perfect day out from bustling Osaka with one of our picks for the best day trips to Osaka's surrounding attractions. Take your pick from stunning nature spots and ultimate photo-op destinations!
Enjoy a day of exploration through one of Kyoto's gorgeous natural wonders! With only a 2.5-hour bus ride between Osaka and Kyoto, the stunning Amamohashidate sand-bar can't be missed!
Its name translates loosely to 'bridge in Heaven' and the idyllic natural playground has no shortage of sights to see. Amamohashidate has been crowned one of the 'Three Views of Japan', and is the home to a plethora of 7000 pine trees.
Once you've drunk in Amamohashidate's dreamy beaches, enjoy a cable car ride in Kasamatsu Park from the observatory, where you can get a birds-eye-view of the unbelievable landscape! You'll gorge on a tasty buffet lunch of sashimi, sushi, and grilled fish before you head off to explore some more!
Then, visit the Ine no Funaya floating village, where fishermen make their homes and their living. Finish off your day trip to Kyoto with a visit to Miyama no Kayabukino no Sato, a historic area of rustic thatched-roof houses and peaceful scenery!
Experience a truly unreal side of Japan's landscape on an unforgettable day trip from Osaka to Shiga Kogen where you can play in the snow, if it's the season, that is. This is an unmissable thing to do in Japan during winter!
Begin your travels with a visit to the Jigokudani Monkey Park to see Japanese macaques enjoying a dip in the hot springs and frolicking in the snowy landscape.
Then go for a spin at one of the ski resorts in the Shiga Highlands, the largest ski area in Japan, and the location of events at the 1998 Winter Olympics. Enjoy an afternoon on snow sleds, snow scooters, snow bikes and, of course, skis. You can also experience panoramic views of the exquisite scenery of Nagano!
The travel time is quite hefty so you would have to hop on a train to Nagano Station fairly early, but it's so worth it!
If you're looking for a day trip from Osaka with some unique attractions and a historical touch, this Nara day trip is the one for you.
Take in the incredible views of Koriyama Castle as you meander through the streets of Nara on a 3-hour walking tour. The castle is one of the city's most prominent features, which was built in the 16th century and is known as one of the best cherry tree viewing spots in Japan! You can also admire the stunning castle gate which was relocated from Negoriji in Wakayama.
Amongst Nara's amazing landmarks, you can enjoy the bustling Yanagi-cho shopping street for some spectacular shopping time as you explore the historical city streets. Don't forget to stop off at the Kikuya sweet shop, which has a history dating back 400 years!
One of the most memorable stops on this trip is a visit to the world's only phone booth aquarium! Then head to the goldfish homeland on a trip to Kingyoda (the name alone is amazing), where you can explore the stunning ponds filled with the graceful golden fish.
Enjoy your final stop at the Koriyama Goldfish Museum, where you can discover the role of Kingyoda as Japan's premier goldfish supplier.
More Great Resources
Osaka's Top Attractions Summed Up
You probably already knew Osaka was cool, but maybe not this cool. There are a whole load of cool things to do in Osaka that are going to have you with literally no free time to just wander around (that's actually one of them, sorry).
There's often a big focus on food in Osaka, which is true, but there's also some awesome day trips from Osaka, some traditional history, kooky museums, and even the chance to be a samurai for a couple of hours.
However, there's just no getting away from the eat-yourself-stupid mantra that lies at the heart of this amazingly fun city though, so join in – take your wallet and your stomach and get ready to leave Osaka a few pounds heavier. You can always run it off later.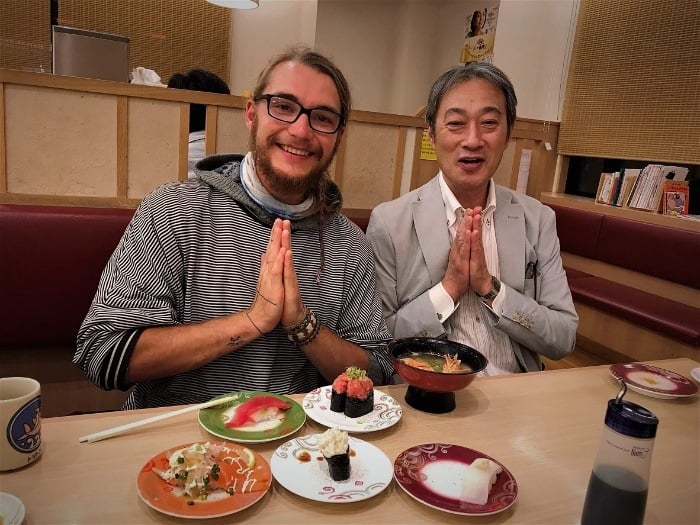 Yay for transparency! Some of the links in this post are affiliate links. This means that if you book your accommodation, buy a book or sort your insurance, I'll earn a small commission at no extra cost to you. I only link to stuff I've actually used and never endorse crap. Your support helps me keep the site going. 
---
Need more inspiration?
Like this post? PIN ME!!!